The 2019 Australian International Airshow and Aerospace & Defence Exposition held at Avalon Airport near Geelong in Victoria, is the 14th time the show has been held since its inception back in October 1992. This biennial show is one of the Asia-Pacific regions most prestigious and the largest of its kind in the southern hemisphere. This airshow, like the ones before has something for everyone, from aerospace industry professionals, the military, aviation enthusiasts, recreational pilots and the general public, there are attractions and displays to cater for the most discerning of interests.
The United States Air Force
The United States Air Force are no strangers to the Australian International Airshow with their participation stretching back to 1992, with many of its current aircraft either on static display or as part of the flying programme. The year 2019 sees the USAF exhibit aircraft types flown physically and remotely, and with the use of autonomous drones on the rise among the worlds air forces, its no surprise the Royal Australian Air Force recently announcing the purchase of the Northrop Grumman MQ-4C Triton, which saw a similar USAF example being remotely flown into Avalon during one of the trade days, the Northrop Grumman RQ-4B Global Hawk. The USAF were keen to show off the potential of this new technology that has been procured by the RAAF, with the RQ-4B Global Hawk having flown 13 hours from Guam piloted by operators based in Grand Forks, North Dakota. The Global Hawk landing during the Thursday trade day airshow was a world first, and was part of an overall USAF effort to demonstrate some of its potential when in service with the Royal Australian Air Force.
Along with the RQ-4B Global Hawk, the USAF also had the General Atomics MQ-9 Reaper on show, with one example on static display. This is another similar type that has been purchased by the Royal Australian Air Force under Project Air 7003, with between 12 – 16 examples of the armed medium – altitude, long – endurance (MALE) unmanned aircraft required to fullfil the Australian Defence Force's unmanned reconnaisance role since the retirement of the Heron UAV. Along with the MQ-4C Triton, the MQ-9 fleet will be operated by 92 Wing, which is part of the RAAF's Surveillance and Strategic Group (SRG) based at RAAF Edinburgh, with the first of type to enter service in the early 2020's.
General Atomics MQ-9 Reaper

Background – The MQ-9 Reaper system was initiated as a direct proposal by the U. S Air Force in response to the directive issued by the Department of Defense to support initiatives of overseas contingency operations. The Reaper is the larger version of the earlier MQ-1 Predator, and designed to execute time sensitive targets with precision, or to disable or destroy those targets. The 'M' is the DOD (Department of Defense) designation for multi -role, and the 'Q' is for remotely piloted aircraft system, whilst the '9' represents the ninth in the series of remotely piloted aircraft systems.
Mission – The MQ-9 Reaper is an armed, multi-mission, medium-altitude, long endurance remotely piloted aircraft, primarily employed in the role of gathering intelligence against high asset targets, and their destruction when called upon. The Reaper presents with a high amount of loiter time, which coupled with its wide range of sensors and multi mode communications suite, provides the MQ-9 with a capability unique to many unmanned aerial vehicles with strike, coordination, reconnaissance and the use of precision weapons against time sensitive targets in any theater.
Other roles the Reaper performs are intelligence, surveillance, close air support, combat search and rescue, precision strike, buddy laser, convoy raid overwatch, route clearance, target development and terminal air guidance. With these capabilities on hand, the Reaper is finely tuned in conducting irregular warfare operations supporting any objectives set out by any combatant commander.
Features – As a remotely piloted aircraft system, the MQ-9 Reaper requires certain assets to be in place for it to become a fully functional operational system, such as several sensor/weapon equipped aircraft, use of a ground control station, the Predator Primary Satellite Link, along with an operational maintenance and operations crew with spares, ready to undertake 24 hour missions. A basic Reaper crew mainly consists of a rated pilot who controls the aircraft and is in command of the mission, with an enlisted aircrew member who's primary role is of sensor and weapons operation, including mission co-ordinator when required.
The baseline MQ-9 Reaper system carries the Multi-Spectral Targeting System (MTS-B), that includes a robust suite of visual targeting sensors, which integrates an infrared sensor, color/monochrome daylight TV camera, image-intensified TV camera, laser designator and laser illuminator. The technological advanced imaging sensors onboard the Reaper allow full motion video to be streamed seperately or fused into the one stream. Adding to this feature, it also incorporates a laser range finder and designator, for the employment of precision laser guided munitions, such as the Guided Bomb Unit-12 Paveway II. (GBU-12). The Reaper is equipped with a synthetic aperture radar which enables it to employ current targeting systems in the USAF inventory such as the GBU-38 (JDAM) Joint Direct Attack Munitions weapon. As if this wasn't enough, the MQ-9 also employs four laser guided, Air to Ground missiles, such as the 114 Hellfire, capable of accurate, low collateral damage, that possess anti armor and anti personnel capabilities.
The MQ-9 Reaper which measures in at 36 feet in length, has a wingspan of 66 feet, and standing 12.5 feet tall, is surprisingly easy to transport with disassembly allowing it to fit into a single shipping container, or onboard an aircraft such as the Lockheed C-130 Hercules, giving it worldwide reach when called upon. The Reaper aircraft can operate from standard U.S airfields with clear line of sight to ground data antenna, that provides line of sight communications for take off and landing. Once forward deployed, the MQ-9's concept of operations will include a forward deployed ground station with crew to monitor and control take off and landing, whilst crew based in the continental United States will command and control the mission via beyond line of sight links.
432d Wing/432d Air Expeditionary Wing,
Creech Air Force Base, Nevada.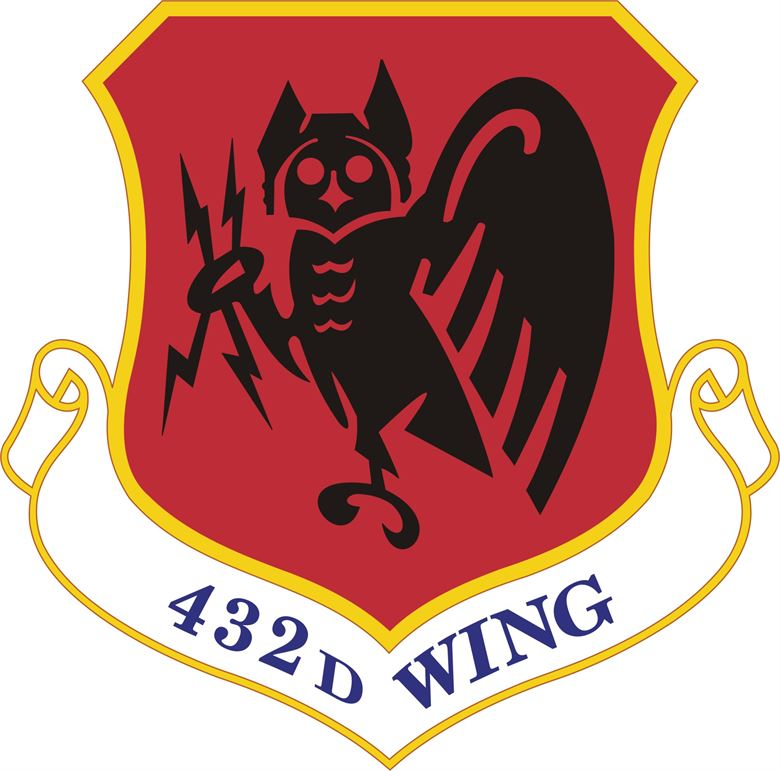 The 432d Wing and 432d Expeditionary Wing located at Creech Air Force Base in Nevada, is home to more than 130 MQ-1B Predator, MQ-9 Reaper and RQ-170 Sentinel remotely piloted aircraft in the USAF inventory. The 432d Wing is unique as its the first USAF Remotely Piloted Aircraft Wing to be stood up, and is also responsible for the training of pilots, sensor operators, and other crew members, on top of conducting persistent attack and reconnaissance combat operations worldwide. With 2,500 active duty, government civilians, and contract personnel in three different groups, including wing staff, the 432d Wing at Creech AFB have their hands full with their required mission under the assigned control of Air Combat Command.
Further reading and reference-
– https://www.creech.af.mil/About-Us/Fact-Sheets/Display/Article/449126/432nd-wing-432nd-air-expeditionary-wing/
– https://www.dvidshub.net/unit/432WG
– https://en.wikipedia.org/wiki/432d_Wing
Aviation Spotters Online Videographer Mark Pourzenic, along with Photographer Dave Soderstrom, where invited along by a member of the United States Air Force, 432d Wing Expeditionary Wing Public Affairs Unit, to interview and film the crew that flew over to participate in this years 2019 Australian International Airshow. We were more than happy to oblige and felt very privileged to have this opportunity given to us. So without further delay….
Aviation Spotters Online would like to thank the United States Air Force Public Affairs Unit, along with the Airshows Downunder Media Team for their generosity and help in providing the remarkable opportunities provided to bring this content to fruition.