The 2019 Australian International International Airshow and Aerospace & Defence Exposition held at Avalon Airport near Geelong in Victoria, is the 14th time the show has been held since its inception back in October 1992. This biennial show is one of the Asia-Pacific regions most prestigious and the largest of its kind in the southern hemisphere. This airshow, like the ones before has something for everyone, from aerospace industry professionals, the military, aviation enthusiasts, recreational pilots and the general public, there's attractions and displays to cater for the most discerning of interests.
Royal Australian Air Force –
The Royal Australian Air Force is no stranger to holding air displays and airshows, and has been a major supporter, and participant of the Australian International Airshow since 1992. As has been the tradition since the early 2000's with the now declining ADF Airshows held annually across bases throughout Australia, the RAAF has raised their participation among the likes of showcase days held at the Temora Aviation Museum, plus the Historical Aircraft Restoration Society 'Wings over Illawara' themed shows, on top of the Australian International Airshow held at Avalon, which are seen as major recruiting tools for anyone wanting to pursue a career in the Australian Defence Force. Along with impressing the general public and in particular young hopefulls wanting a career in defence, specifically military aviation, the Royal Australian Air Force puts in a large effort of presenting its aircraft that may have special markings or schemes applied, as is the case with its current fast jet fleet, and one in particular, the specially painted 'Tiger' Hornet from No. 2 Operational Conversion Unit based at RAAF Base Williamtown, New South Wales.
No.2 Operational Conversion Unit –
No. 2 OCU in the year 2019 finds itself in the final stages of operating the McDonnell Douglas F/A-18A/B Hornet as it has been since its arrival back in 1985. As 2OCU is primarily a fighter training unit of the Royal Australian Air Force, which conducts refresher courses for pilots returning to type, as well as training pilots to operate the Hornet, it also trains future instructors on the type. With the current 2OCU conversion onto the RAAF's newest fighter to enter service, the Lockheed Martin F-35A Lightning II Joint Strike Fighter, the training syllabus has moved from its current format to that of simulation/instruction, coupled with integration within the USAF's structure of training which is conducted at Luke AFB in Arizona.
Background and History –
The unit was first stood up at Port Pirie in South Australia during April of 1942, and was established as No. 2 (Fighter) Operational Training Unit ( No.2OTU), before relocating to RAAF Mildura, Victoria during May of the same year. It's role was to change as Australia was thrust into World War II, and provided training on many varied types of aircraft such as the Spitfire, P-40 Kittyhawk and CAC Boomerang, to name but a few. 1947 witnessed its disbandment before being reinstated in March 1952 at RAAF Base Williamtown, due to need and demand to train pilots for service in the Korean War. September 1958 saw it renamed as No.2 (Fighter) Operational Conversion Unit, and has since that time trained pilots with the CAC Sabre, Dassault Mirage III, Macchi MB326 and now in its final year of 2019, the McDonnell Douglas F/A-18 Hornet.
The Role of 2 OCU-
"Support the preparation for and the conduct of effective airspace control, counter air strike and combat air support operations through the provision of trained personnel".
No. 2 OCU which falls under 81 Wing, part of Air Combat Group, is primarily responsible for conducting operational conversion courses on the RAAF's soon to be retired McDonnell Douglas F/A-18 Hornet multi-role Fighter, which entered service in 1985, and 2019 sees its final year under the control of 2OCU before transition to the F-35A Joint Strike Fighter.
The training of students that have completed fast jet conversion with 79 Squadron in Pearce, and lead in fighter instruction through 76 Squadron, are then selected to be converted onto the Hornet, after which time they'll progress on through to the operational Squadrons, or onto other types such as the Boeing F/A-18F Super Hornet and EA-18G Growler. 2OCU also plays host to experienced RAAF pilots either converting from another type, or a refresher before re-joining frontline units. The instructors at No.2OCU are some of the most experienced RAAF Hornet drivers, and have a major role in the development of new tactics in co-ordination with other fighter combat instructors from the front line squadrons operating the F/A-18 Hornet.
The A/B model Hornets of 2OCU are easily identifiable by their yellow and black tail fin flash, with the base of the flash featuring a tigers head in yellow, that's outlined in black, with a red mouth, white fangs with white eyes.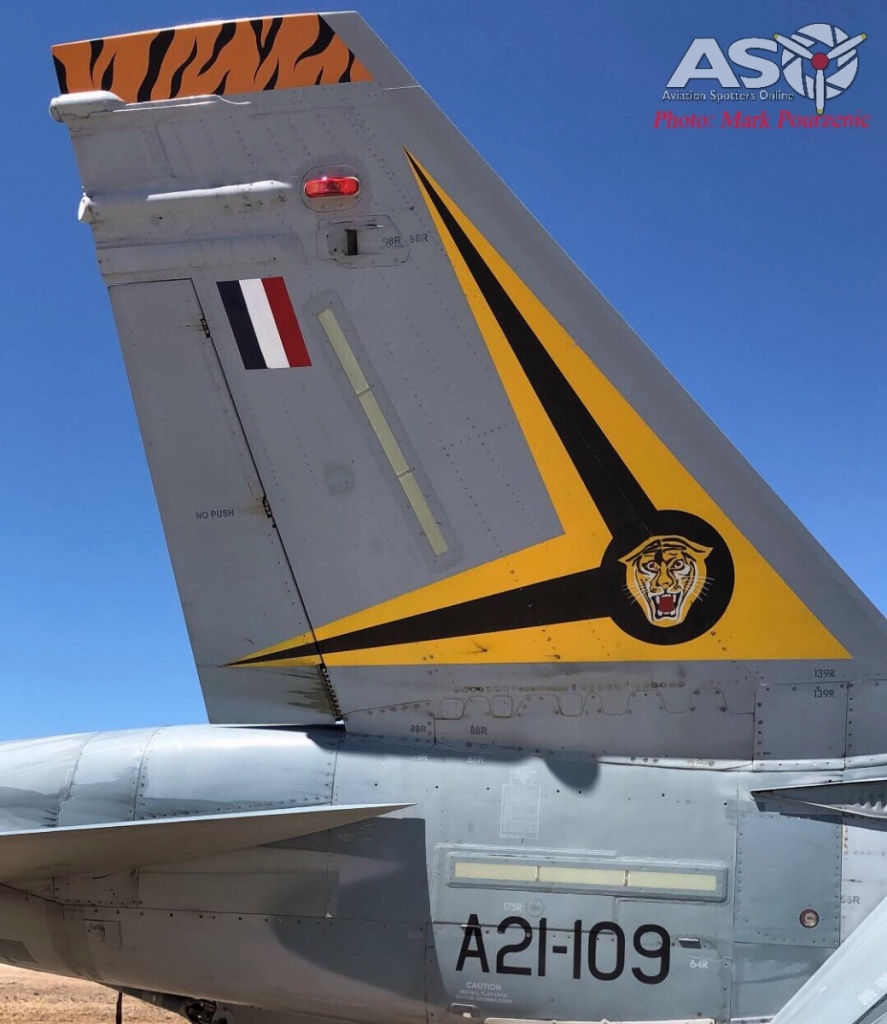 The units crest features a winged kangaroo carrying a joey in its pouch, symbolising "Mother Australia' flying with her young". The No.2 Operational Conversion Unit motto is – Juventus Non Sine Pinnis "The Young Shall Have Wings".
Conversion Course-
On average, Hornet conversion courses run for six months, during which time students must gain their instrument rating, before being taught basic fighter manoeuvres, air to air gunnery, air combat, and air to ground tactics. With the culmination of their training complete, students are prepared for their final course syllabus with Exercise High Sierra, which is run from RAAF Base Townsville, and has been in operation since 1986. This exercise lasts several weeks and involves day/night flying, along with the use of live weaponry in realistic, high pressure precision strike scenarios. Along with its mainstay of conversion training, 2OCU is also in the business of conducting refresher courses for pilots returning to type, aswell as fighter combat instructor courses (FCI), which run for up to anywhere in the timescale of four to five months, and can be in the time frame of every two years or so. To qualify for the FCI course, students are chosen from the most experienced F/A-18 pilots, and are trained in the complex art of training others to instruct, including dealing with complex scenarios related to operational flying at an elite level. On completion of the course, graduates are kept on with 2OCU as qualified Hornet instructors for a two year period, after which time they are posted off to the operational front line Hornet squadrons.
Current Status circa 2019 –
Since August 19 1985, with 4 x F/A-18B Hornets and 3 students, which where the first to be converted, 2OCU has remained the sole operator of the twin stick Hornet, or Tubs as they're known. Although a small number are, or have been operated by No's 3, 75 and 77 Squadrons, 2OCU can claim them as their own. During the first year of RAAF Hornet operations, 2OCU was responsible for displaying the Hornet to the general Australian population via Airshows and demonstration flights. During a turbulent time with the introduction of the Hornet into the 2OCU ranks in the mid to late 1980's, past airframes such as the Macchi and Mirage where transferred to other units, and sadly during this period, one F/A-18B Hornet from the OCU was lost at Great Palm Island in Queensland, during a night sortie in November of 1987, with the sad loss of the pilot. July 1990 witnessed 2OCU temporarily transferred to RAAF Base Richmond NSW, whilst Williamtown's runway was resurfaced. This same time period also saw the RAAF's fleet of Boeing 707's converted to the air- to -air tanker role which gave the Hornet fleet a capability that was included into future conversion courses. The mid 90's saw a complement of up to 18 Hornet airframes, with 13 of them being twin stick duals, and 12 instructors on hand, running two conversion courses per year, which kept the unit very busy.
Fast forward to 2005, the unit showed 12-14 instructors on strength with three conversion courses, including one fighter combat instructor course over the two year time frame. To put this into perspective, each course turns out six new Hornet pilots on average, and the unit would graduate 15 new pilots over each cycle. The duration of the conversion course has remained unchanged since the Hornets introduction in 1985, only the content has changed reflecting the technological change, such as the replacement of the Macchi to the BAE Hawk, along with experience gained with combat flying over Iraq. 2OCU has seen many changes over its time period and will continue to do so in the foreseeable future, as shown with its 32nd FCI course in 2013, and with Australia's first female fighter pilots graduating in 2017, the future looks brighter than ever.
McDonnell Douglas F/A-18B Hornet A21-116 –
If you haven't noticed by now that this article revolves around 2OCU's fabulous Tiger Hornet that was on show at the recent 2019 Australian International Airshow held at Avalon airport in Victoria, then let me introduce F/A-18B Hornet, A21-116.
McDonnell Douglas F/A-18B Hornet, Constructors Number ATF-16, McDonnell Douglas Number -614, was ordered in November 1981, and built as a Block 22 B model Hornet. After completion of build via the Government Aircraft Factories (GAF) / Aerospace Technologies of Australia (ASTA) at Avalon Airport in Victoria, was delivered to the RAAF on August 31, 1988. A21-116 has been noted wearing the colours of Tindal based 75 Squadron, and more recently with Number 2 Operational Conversion Unit, based at RAAF Williamtown in New South Wales.
A21-116 was rolled out at RAAF Base Amberley in Queensland on January 8 2019, after completion of this magnificent Tiger themed scheme to help celebrate No. 2OCU's final year of F/A-18 Hornet operations.
During the 2019 Australian International Airshow held at Avalon Airport, Aviation Spotters Online Videographer Mark Pourzenic fulfilled a desire that has eluded him for many years. He was able to finally interview an RAAF Hornet pilot, but not any pilot. What makes this so special is that the interview takes place with the current Commanding Officer of Number 2 Operational Conversion Unit, Wing Commander S. 'Woody' Woodland, and with the preceding video, you'll see the pride that he has in introducing A21-116 to the Australian public.
Aviation Spotters Online would like to take this opportunity to thank the Media Team from the Australian International Airshow, along with RAAF Public Affairs for their help and assistance with access, including time made available with Wg Cdr Woodland, and permission to allow us to capture history, of the current story that is the Royal Australian Air Force, along with the Australian International Airshow for future generations to enjoy.
Thank you
Mark Pourzenic
Aviation Spotters Online