This year as the Australian summer progressed we have all seen the nightly news reports and watched in horror and shock at the recent fires across this big brown land and witnessed the devastation that the fast-moving grass and bush fires can do and their massive impact on the towns they threaten and destroy.  Most Australians are in awe at the fires ferocity and destructive power and we have grieved with those who have lost. Fighting these fires takes a vast mix of ground appliances, people and aerial assets that work together to protect the farms, houses, animals and people in their hour of need.
Aviation Spotters Online have been following these aerial fire fighting machines and monitoring the increasing numbers of varying types which are here this season.  There are many questions about the fire fighting aerial assets, including roles conducted, specifications, locations and how they are managed. We present this overview of some of the types now in service and working across the country.
Individual States and Territories are responsible for the management and overseeing of fires and emergencies. The Australian Government, in conjunction with the States and Territories, established the National Aerial Firefighting Centre (NAFC) in 2003, after a series of very serious fires, to aid the coordination and procurement of the fire fighting aircraft fleet. Various State and Territory-owned aircraft, which are hired to meet the demand should the need arise, supported this season's fleet of 130-plus contracted machines. This brings the total number of aircraft available in the country to more than 500!
The aircraft call-signs
This season's mix of firefighting aircraft is vast to say the least, each aircraft has an important role to play with each individual aircraft being allocated a call-sign  for their intended role. So what are the roles and what do they mean? Listed below are the call signs and details of their intended roles.
Firebombing – BOMBER BMBR, Type 1, 2, 3 or 4 fixed-wing aircraft used for firebombing. This replaces the previous "Firebomber" callsign.
Fire intelligence gathering – FIRESPOTTER SPTR,  are light fixed-wing aircraft used primarily for fire intelligence gathering.  Normally applied only to single-engine aircraft but may be used for multi-engine aircraft used primarily for fire intelligence gathering.
Coordination of firebombing aircraft -BIRDOG BDOG are light fixed-wing aircraft used primarily for air attack supervision. Normally applied only to multi-engine aircraft but may be used for single-engine aircraft used primarily for air attack supervision
General fire support tasks (light rotary) -FIREBIRD FBIR, are light helicopters used for general fire support work, including air attack supervision, intelligence gathering, incendiary dropping and incidental firebombing. Normally only applied to Type 3 or Type 4 helicopters, but may be applied to larger helicopters if used exclusively for general support tasks (and not for firebombing or tactical fire crew insertion)
General fire support tasks (medium rotary) HELITAK HLTK, are Medium or heavy helicopters used primarily for firebombing or tactical crew insertion. Normally applied only to Type 1 and Type 2 helicopters but may be applied to larger Type 3 helicopters that are primarily used for firebombing
Remote sensing fire operations  FIRESCAN FSCN, are fixed-wing aircraft equipped with specialised intelligence gathering and mapping equipment.  Normally only applied to aircraft that regularly survey incidents from heights above the general fire traffic areas and whose tasking may require flying fixed patterns as well as regular transition between visual and instrument meteorological conditions
Each call sign is unique to the aircraft and large numbers are painted on the aircraft for identification from both the air and ground.
Fixed wing aircraft used for firebombing will be assigned a Type based on their water carrying capacity and design features, as specified below:
| | | |
| --- | --- | --- |
| Type | Engines | Water carrying capacity |
| 1 | Multi engine | Greater than 11,356 litres |
| 2 | Multi engine | Between 11,356 and 6,813 litres inclusive |
| 3 | Multi engine | Less than 6,813 litres |
| 4 | Single engine | Greater than 2,270 litres |
| 5 | Single engine | Less than or equal to 2,270 litres |
Australia's mix of aircraft this season sees everything from Very Large Air Tankers (VLATs), which is the type designation for the DC-10, with the term 'Large Air Tanker' (LAT) being applied to the C-130s and RJ-85, to smaller types like Air Tractors, in both wheel and float-equipped versions, and PZL Dromaders, which are known as Single Engine Air Tankers (SEAT). Other fixed-wing assets include Rockwell Commanders, Cessna 208 Caravans and Cessna 337s. These aircraft have a range of roles such as guiding the LAT and VLATs in on a bombing run or acting as fire spotters or general transports.
Southern Belle
The largest of the air assets is the McDonnell Douglas DC-10 or 'Bomber 910'. The modification of a civilian airliner into a firebomber was not something that happened over night. Four years of research and development, and approximately $30 million dollars spent to design and modify the aircraft to make it suitable for the role.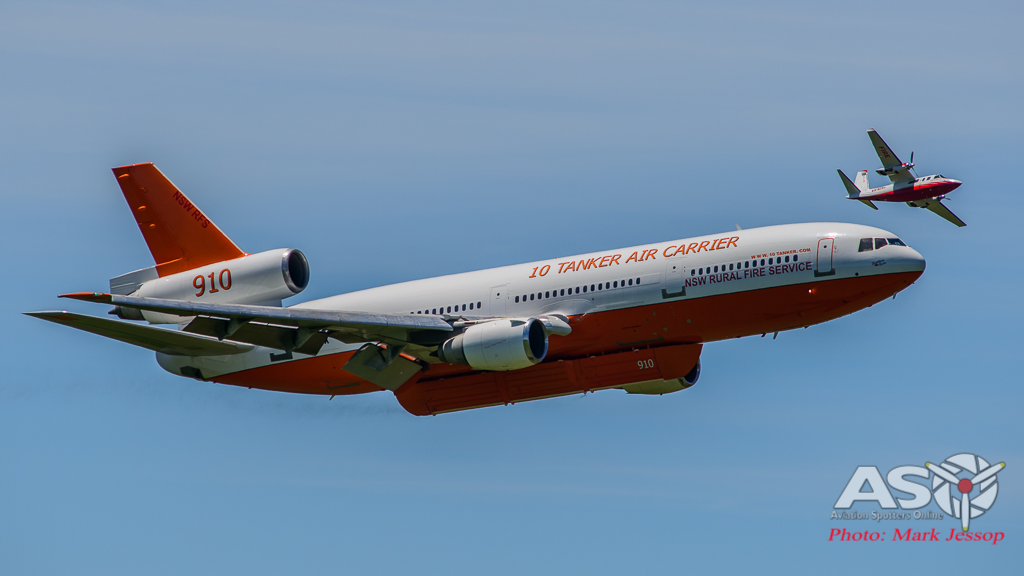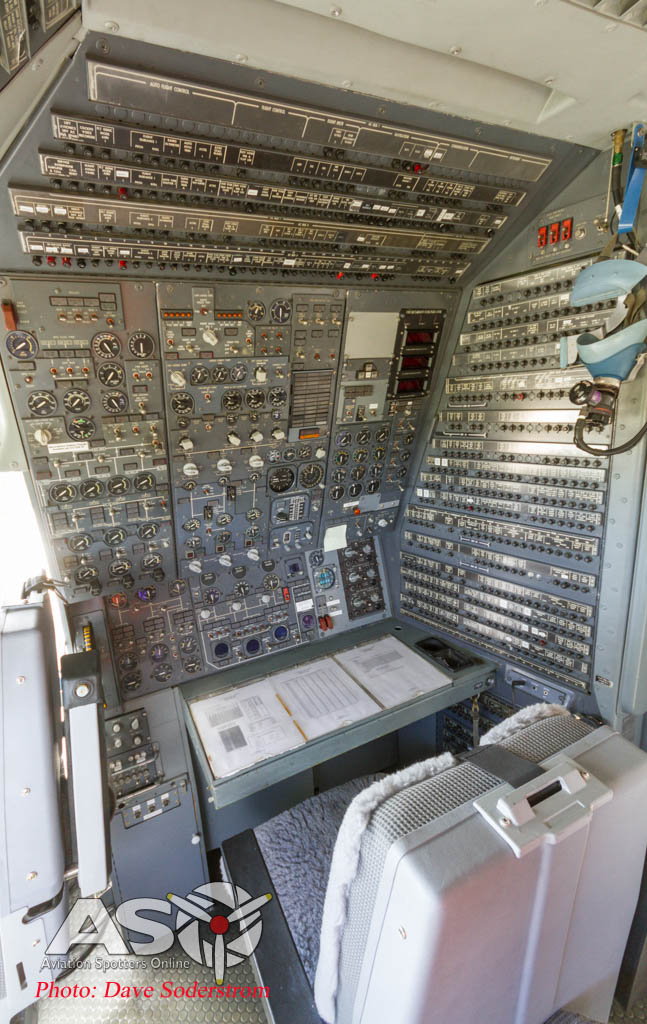 Like most aircraft of this vintage, the DC-10 was designed and is still operated with a Flight Engineer (FE). While this role is predominantly to monitor and operate the aircraft's complex systems the FE also has an added role on the DC-10 Tanker, that of Bombardier for want of a better term. This role includes coordinating the spread of the drop, water drop rates, patterns and spread. The FE is also the person responsible for the release of the water or retardant drop and pushes the red button as shown below.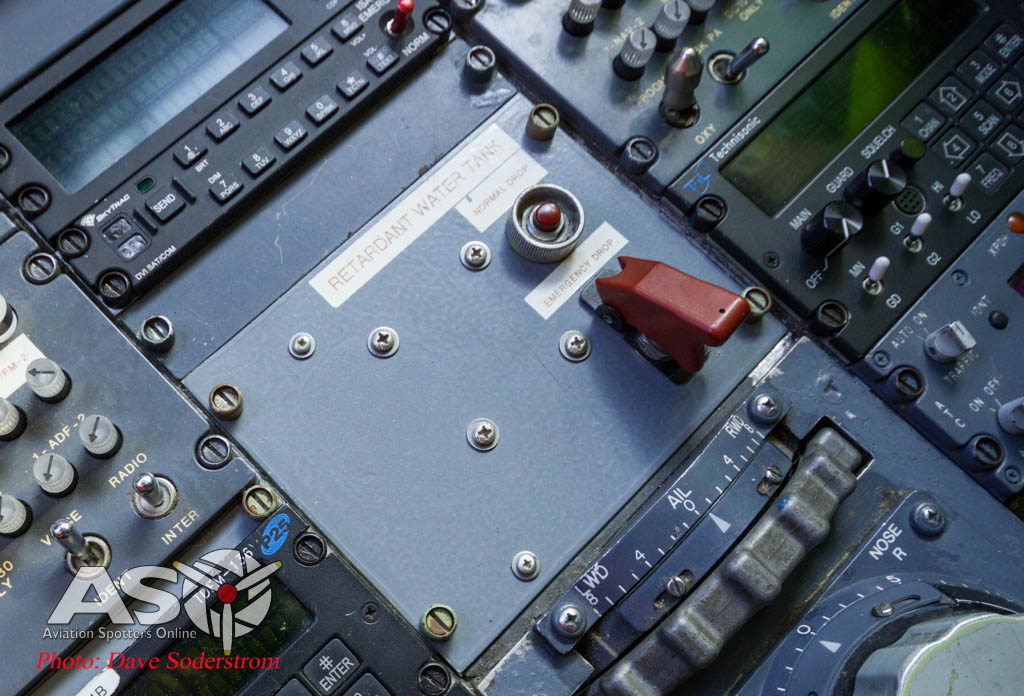 The DC-10s tank design might be somewhat familiar to look at. The 10Tanker engineers used the same design from the Erickson Air Crane. There are five tanks linked together, with aerodynamic fairings placed fore and aft. The five tanks and their suspension below the aircraft are rather unique too. The front and rear tanks are where it is attached via 14 hard points to the aircraft with the middle tank being linked to the afore-mentioned tanks. This means that little modifications were done to compromise the airframe, which also means the aircraft can still fly pressurised with a zero load in the tanks. The aircraft can also have the tank removed and returned to a commercial operation should the need ever arise.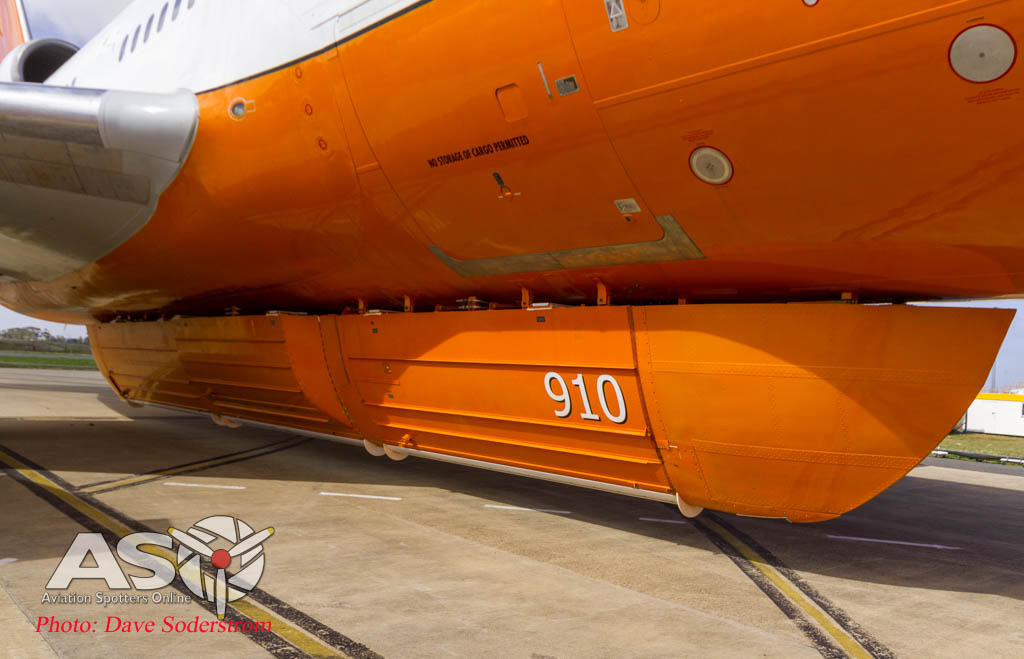 'Bomber 910' took up a contract in Victoria at the conclusion of its work for the New South Wales Rural Fire Service. The aircraft, crews and support packages were moved south and is noted here at is Avalon Airport base.
Video: DC-10 walk around and interview with Captain Dan Griffith
A site not seen very often is the retardant used in the air drops. This is some of the Phos-Chek MVP-F which is a medium viscosity retardant  which is loaded from the one tonne bags into the mixing stations for the various aircraft. It's a common solution retardant used across Australia by the various fire agencies.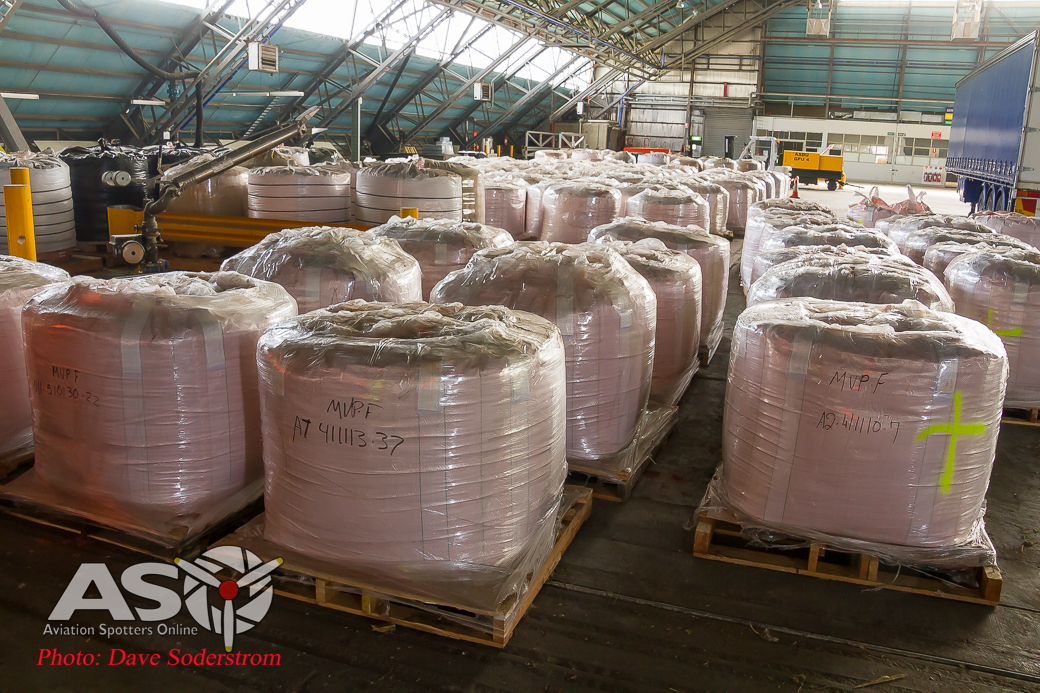 Lockheed L-100-30 Hercules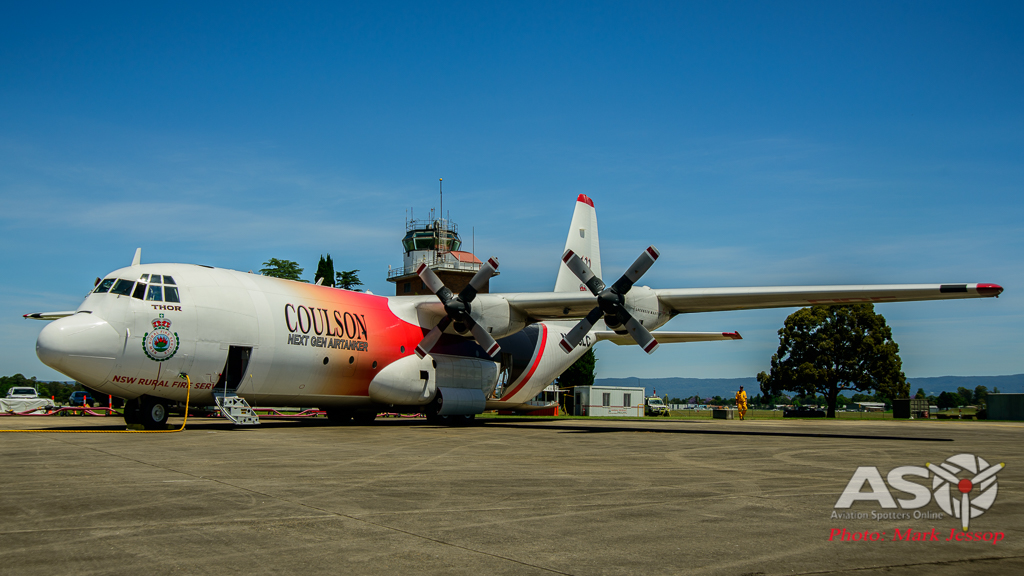 The New South Wales Rural Fire Service has contracted Coulson Aviation through Lyndon Air Cargo, for the supply of Lockheed L-100-30 Hercules N450LC 'Thor' or 'Bomber 132'. The aircraft is seen here at its New South Wales operating base at R.A.A.F Richmond North West of Sydney. The base its self is no stranger to C-130 Hercules operations having been the base for the R.A.A.F's 36 and 37 Squadrons since 1958. Thor  is a 1985 build civilian version of the Military C-130 Hercules. The aircraft has flown for Air China and other operators including Safair in South Africa and Lyndon Air Cargo from Anchorage who currently own the airframe and on lease it to Coulson.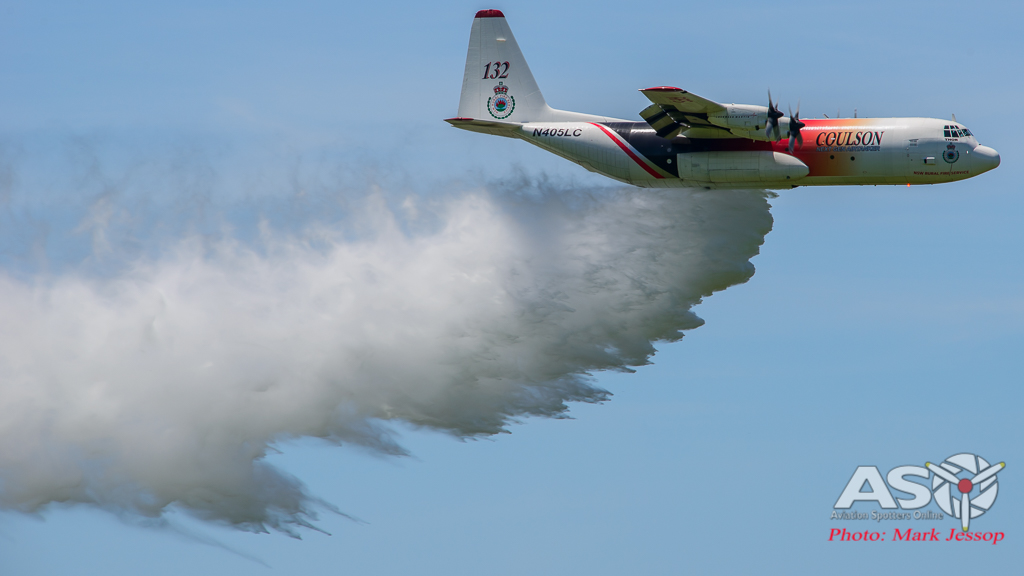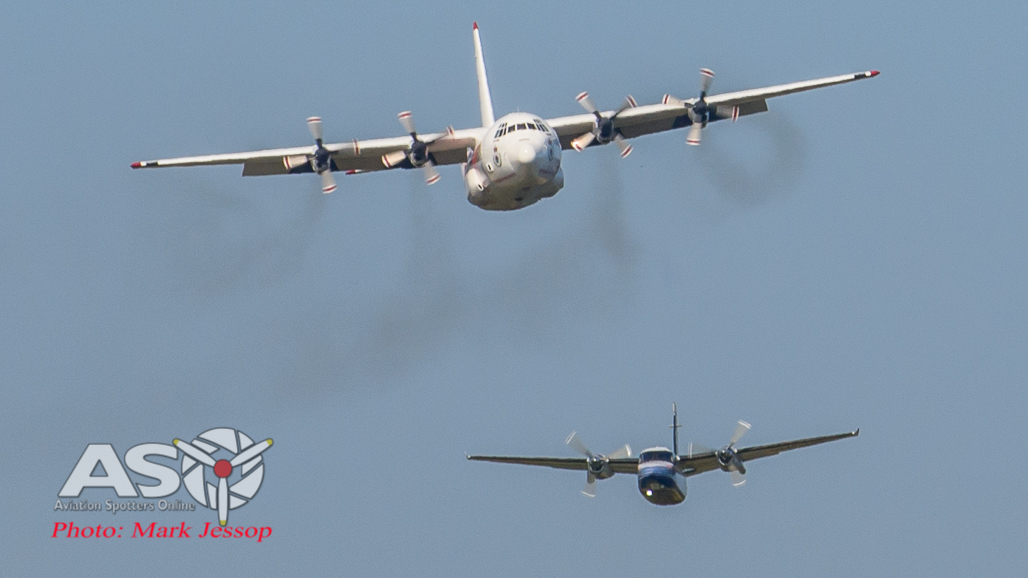 'Thor' is fitted with a 15,450 Litre retardant capacity tank, that is able to be refilled in 10 minutes. The Coulson designed 'SMART' tank design was part of a (US) $4.5 Million dollar project. A GPS linked computer controlled firebombing system controls the delivery of the retardant/water mixture to allow a constant flow delivery of the fire. The aircraft also carries it own on board mixing station so it can mix its own batches when positioned at remote airfields.
Coulson Aviation's other Lockheed C-130Q Hercules N130FF or 'Bomber 390'. This aircraft started life with the United States Navy (USN) as a EC-130Q being used in the Take Charge And Move Out or TACAMO role where its core role was as a communications relay in the event of a crisis. After its service with the Navy it was then transferred to NASA being used by the American Space agency until around 2004. It was then purchased by Coulson and became part of their Next Generation Airtanker project. The C-130 arrived at Avalon from Sacramento on December 1 2015.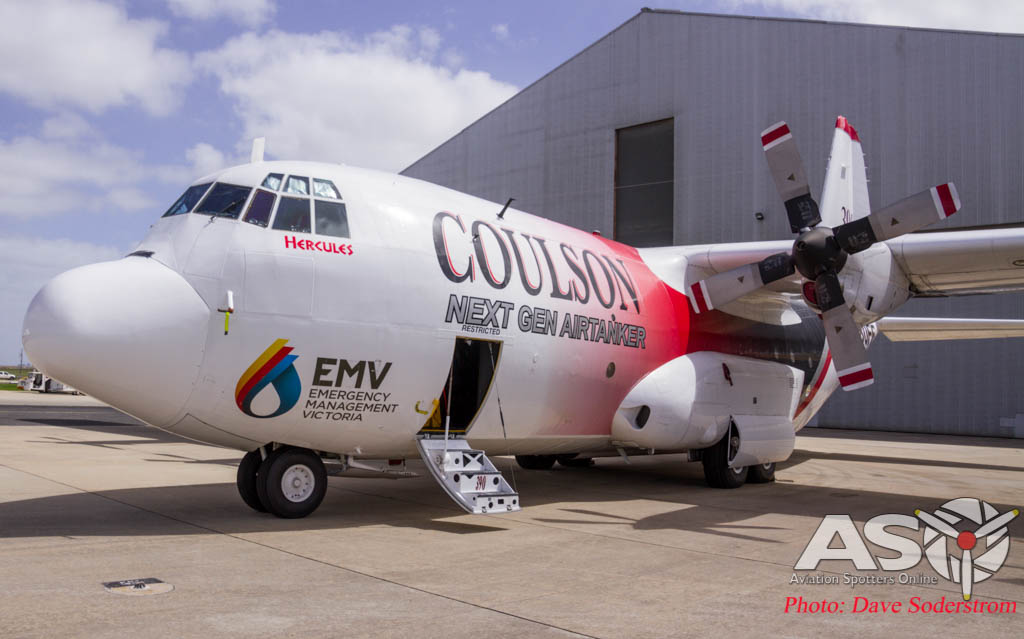 A lot of the airframe was rebuilt and the fitting of a large capacity retardant tank in the cargo hold. This tank setup was redesigned for the 2015/16 season and has seen the total tank capacity increase to 15,141 litres of retardant. Coulson are contracted this year to the Victorian State Government with this aircraft.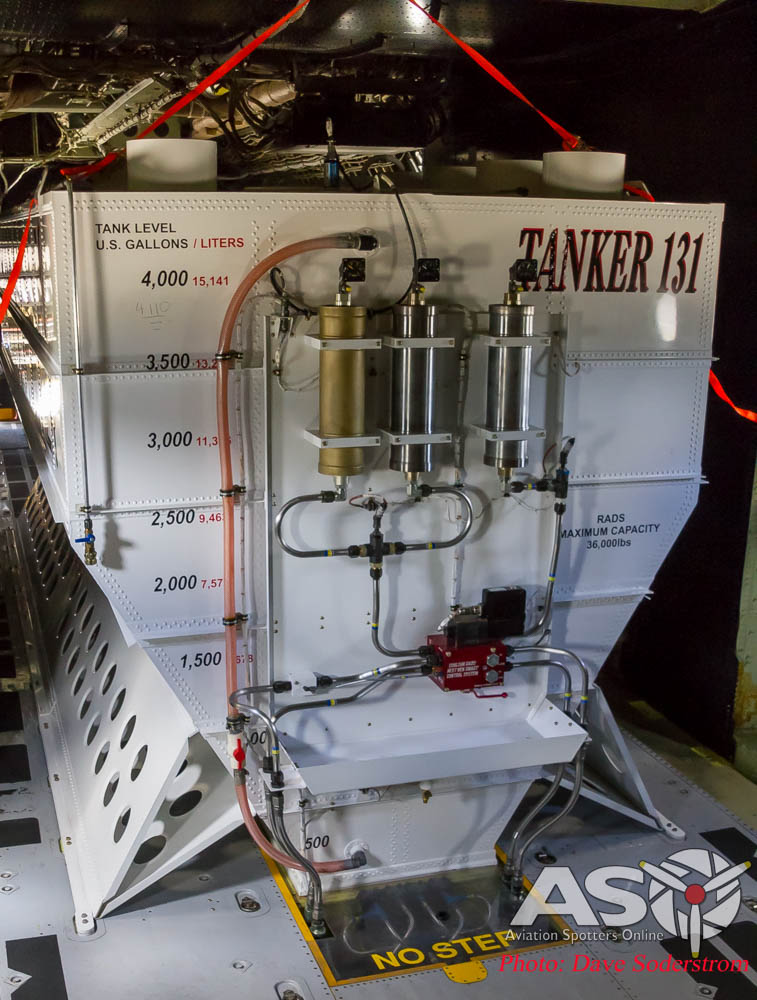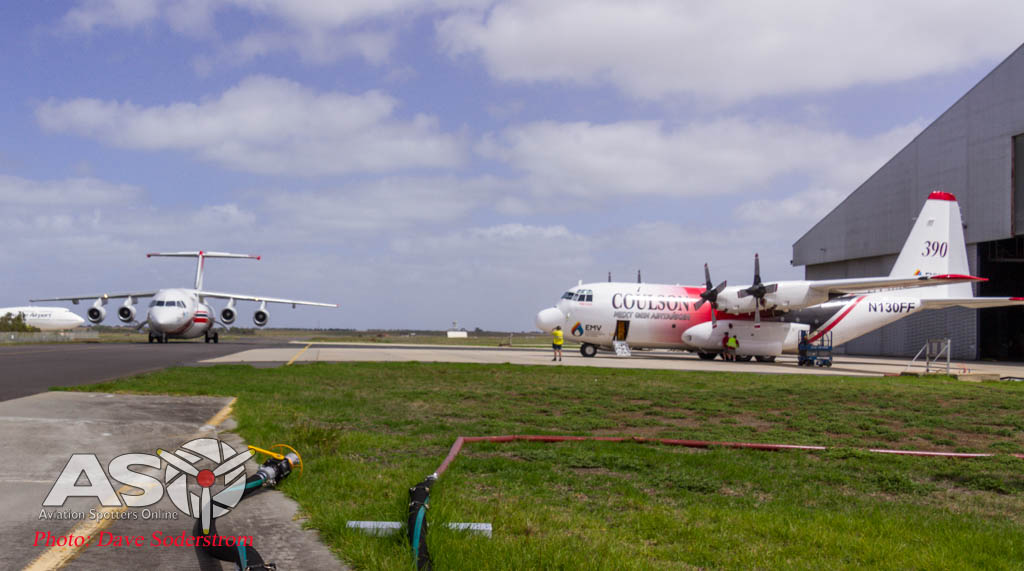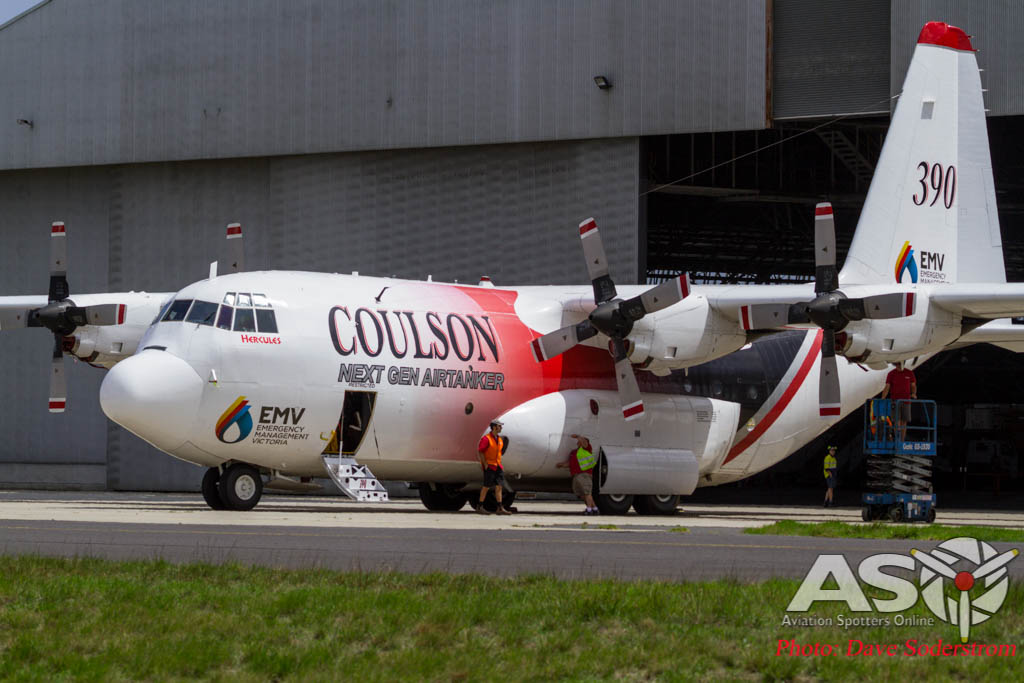 The fleet of VLAT's and LAT's have been tasked to help in other States and Territories this year. Here the C-130Q is show on return from flying to Tasmania and back to support fire operations in that state. Note the spread of red retardant along the aircrafts belly.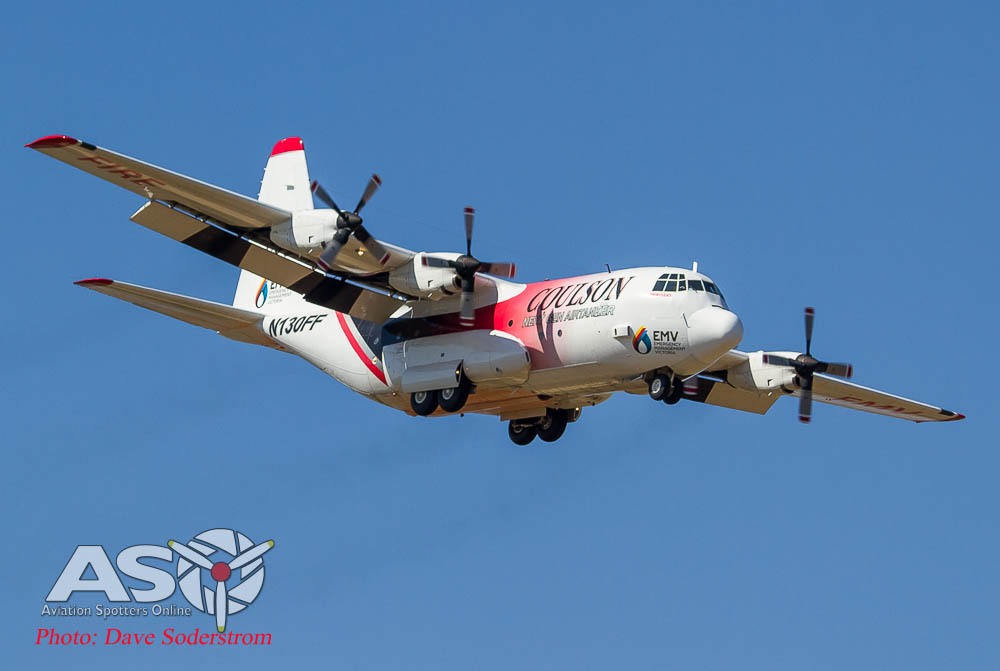 One of Coulson's C-130 Pilots, Travis Adams, was a Hercules Pilot in the United States Air Force, flying many hours on the type. The crews flying all the aircraft this season are well versed in their plane and craft.
An interesting modification to the C-130Q for its military operation which is still in place was this light modification under the tail. this was designed to aid in the retraction of the towed antenna arrangement in low light conditions. Bomber 390 departed Avalon headed for Norfolk Island and onwards to its home base on the 2/3/2016.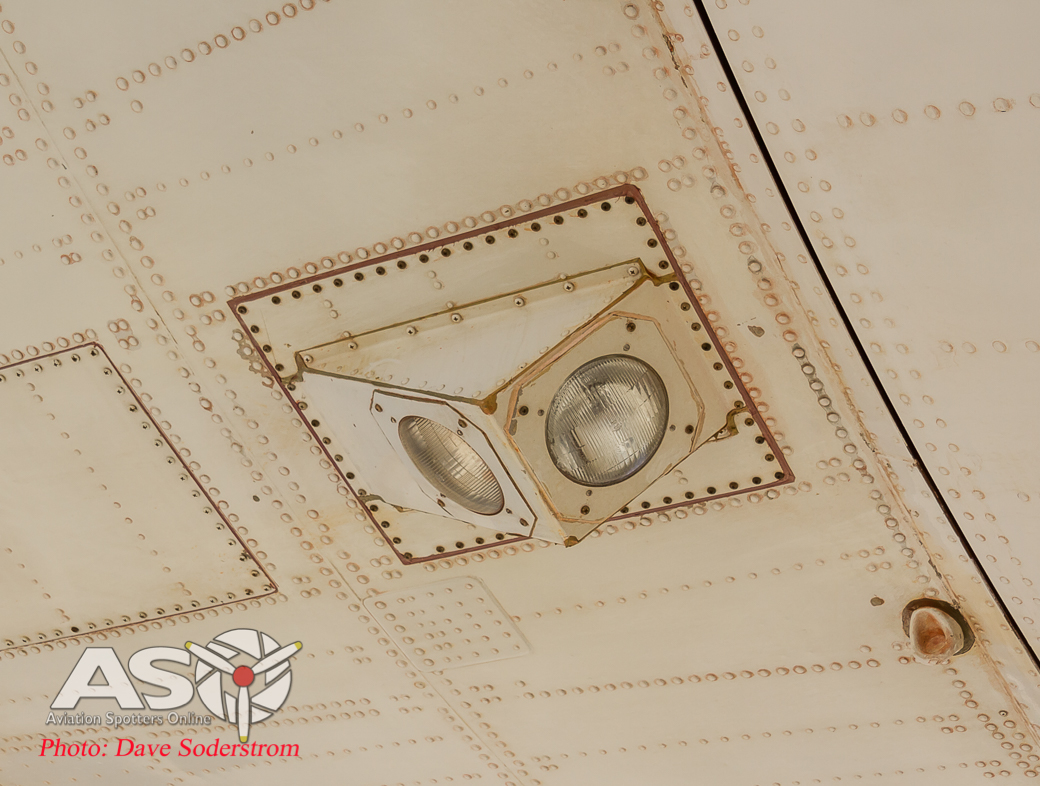 Avro RJ85
Conair's British Aerospace Avro RJ85 N355AC or 'Bomber 162' is another ex airliner which has a vastly different role than it was originally delivered. This 1996 build aircraft was delivered to Lufthansa's Regional division, Cityline and saw continued service until withdrawn in 2011. Converted with a bolt on water tank and drop design so as not to compromise the aircraft structure the RJ85 is back for its second fire season. The aircraft has a 11,305 litre retardant tank capacity, and combined with the four jet engines makes this aircraft well suited to slower speed water drops and the reliability and power from them. One of several RJ's in the Conair fleet this aircraft has been found to be a very well suited airframe to firebombing. With several more being converted and flown by other operators. The RJ85 arrived in Avalon from Abbotsford in November 18 2015.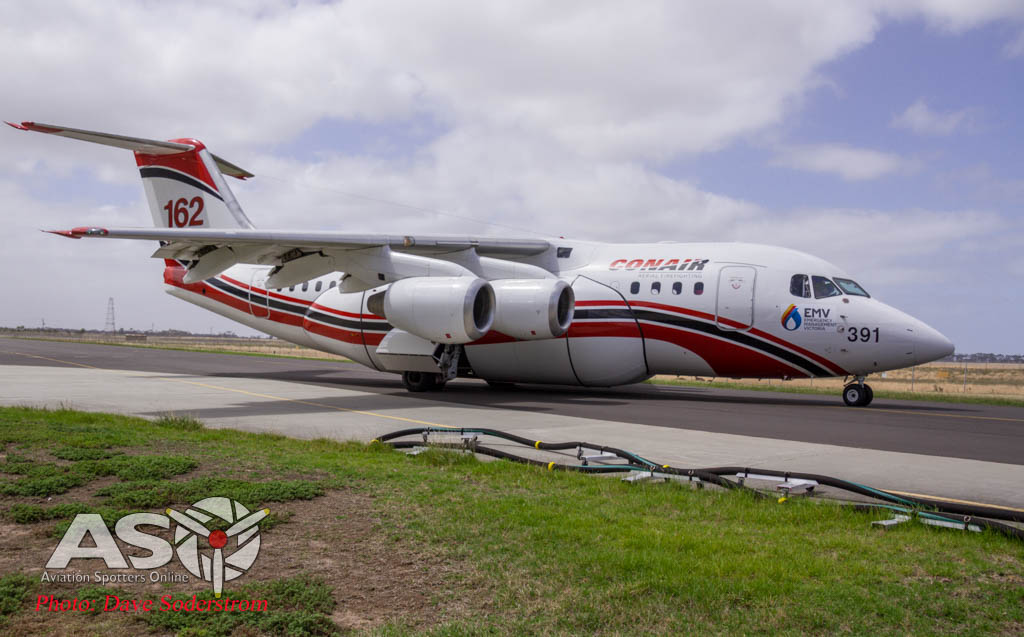 The Pilots take on the RJ85
RJ85 Pilot, Rick Roberts from Conair is based here on rotation this season and explains the modifications and flight characteristics the RJ85 presents to ASO.
"The RJ85 is plumbed with tank filling couplings on both sides of the aircraft." Rick explained that the aircraft is shut down in between flights for refills to lower the risks to ground crew.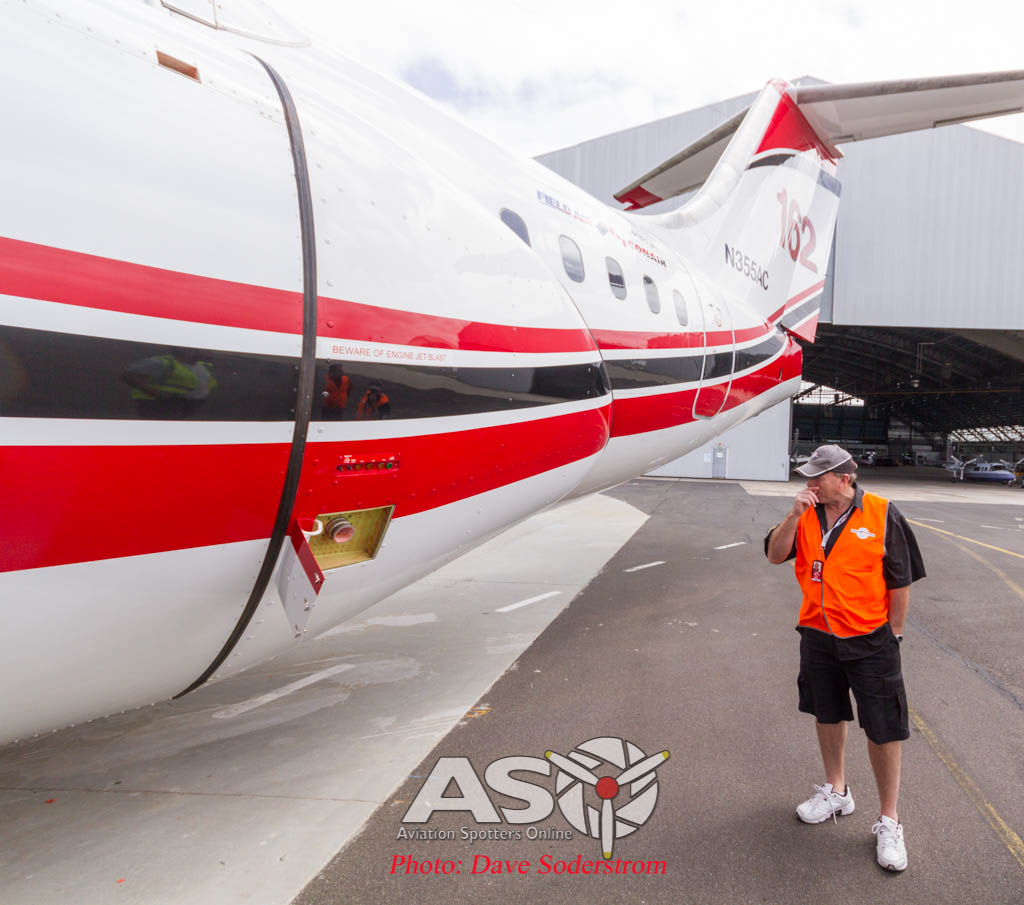 The RJ85 still has its airliner look within the cockpit. There are a few modifications which are for its bomber roles most noticeably is the bombing settings panel located at the bottom right of the console. The presentation of the aircraft is a testament to the maintenance crews of the aircraft.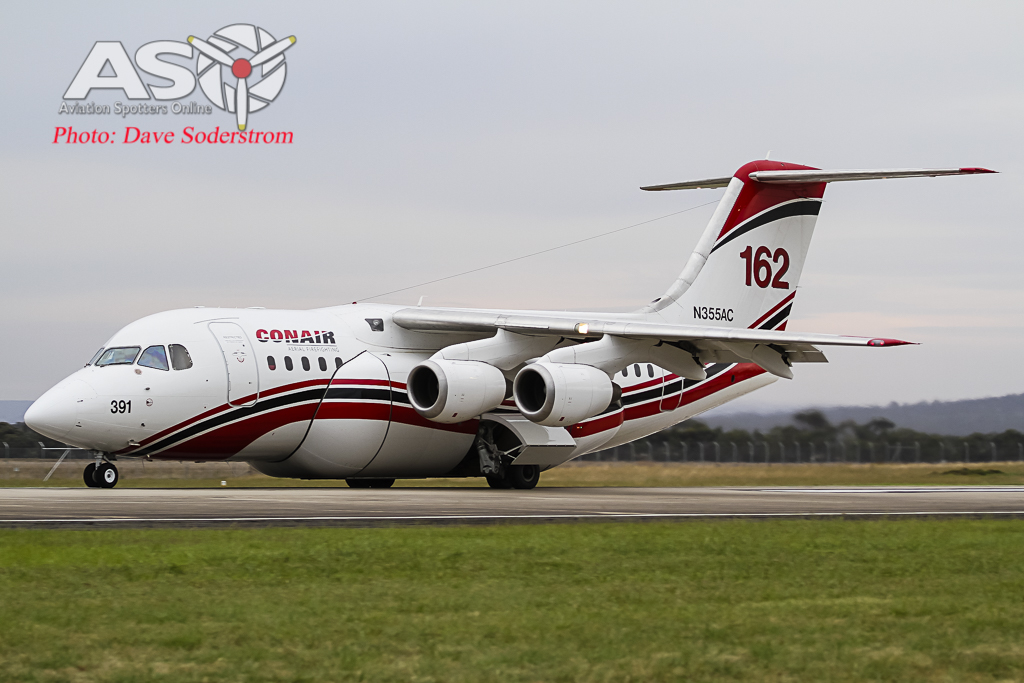 The RJ85 has its own unique door design and has been designed to allow the aircraft to land with them open should the need arise due to some sort of mechanical issue, providing sufficient ground clearance.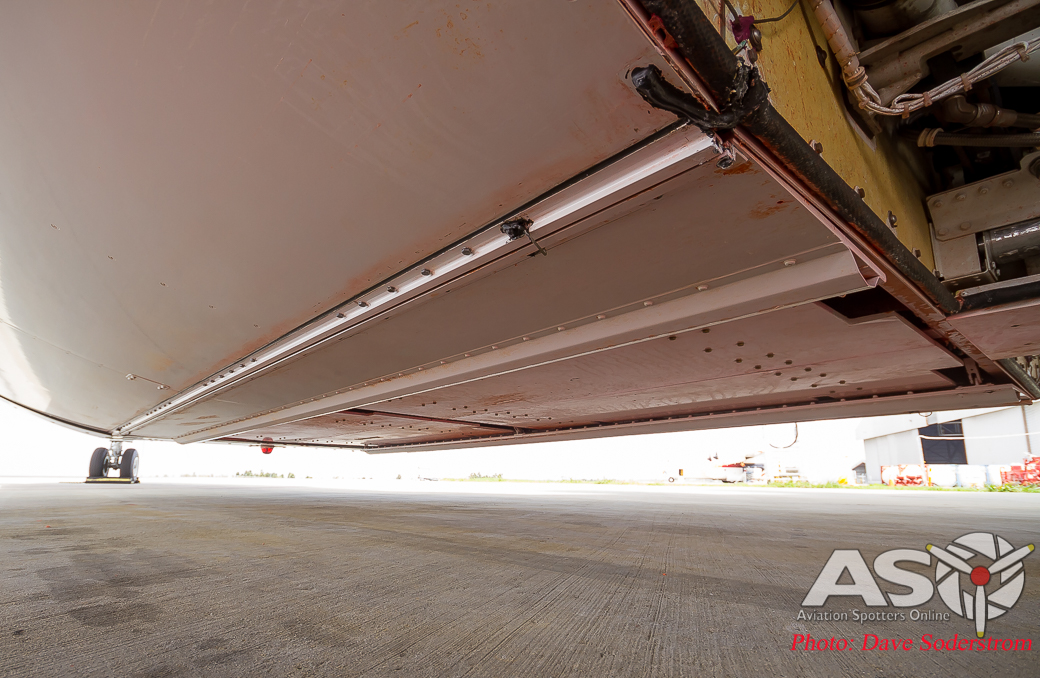 "Just like most SEAT, LAT and VLAT aircraft the RJ85 on deployment this season has a drop system which allows the aircraft to drop the retardant at different coverage levels, ranging from one through to eight", he said. "What is a coverage level (CL) you're asking? This is an International standard of measurement, of how much of the red stuff pouring out the back covers a given area of target. As an example a CL8 is 8 US Gallons of red retardant over a 100 square foot area.  To put that in perspective the average area of a study or office in a residential home is roughly 10 meters square. CL8 is the equivalent of dumping 32.6 litres of retardant on the floor".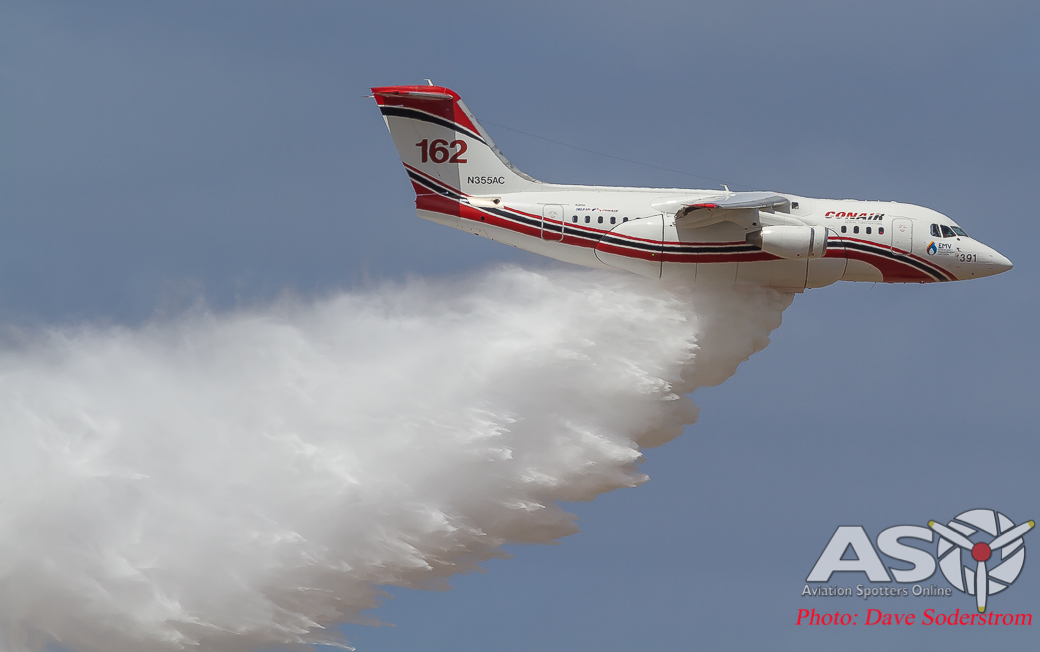 "The RJ85, C-130Q, L100 and DC-10 all have the split load capability as well. This means that when the aircraft is deployed to a fire one third, half or all of the load can be released at any coverage level in the operating spectrum, and down to one tenth and eighth or a sixth of the load at lower coverages, (depending on the particular aircraft). Splitting the load allows the Pilots to box in a fire. At a recent lighting strike fire as an example a 1/3rd, 1/3rd, 1/3rd load split was used to paint a triangle around the fire, which deprived it of more fuel load. The RJ is also certified to a full IA (Interagency Airtanker) standard for its drop pattern and coverage level. A key point of difference for the RJ85 is its ability to deploy with a full load and remain pressurised, this allows it to transit to distant fires at higher altitudes, thereby increasing dispatch speed, reducing fuel burn and flying over rather than around any weather on route". The selection panel is shown in the picture below.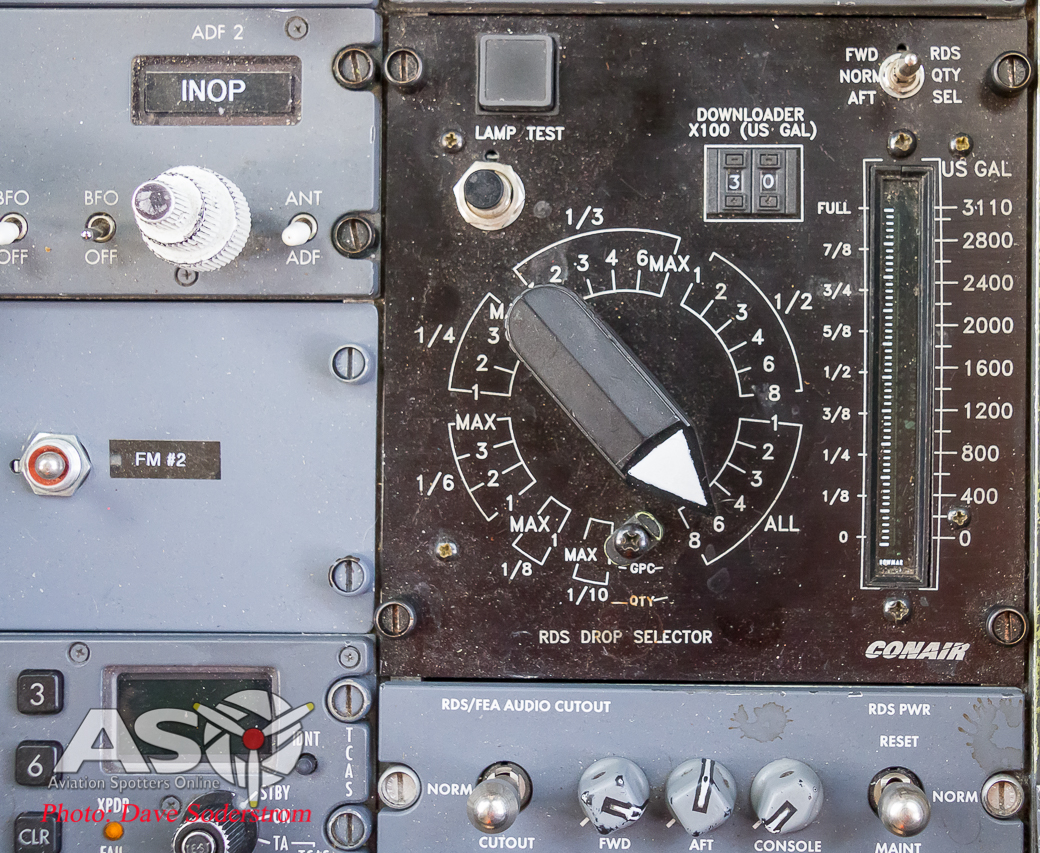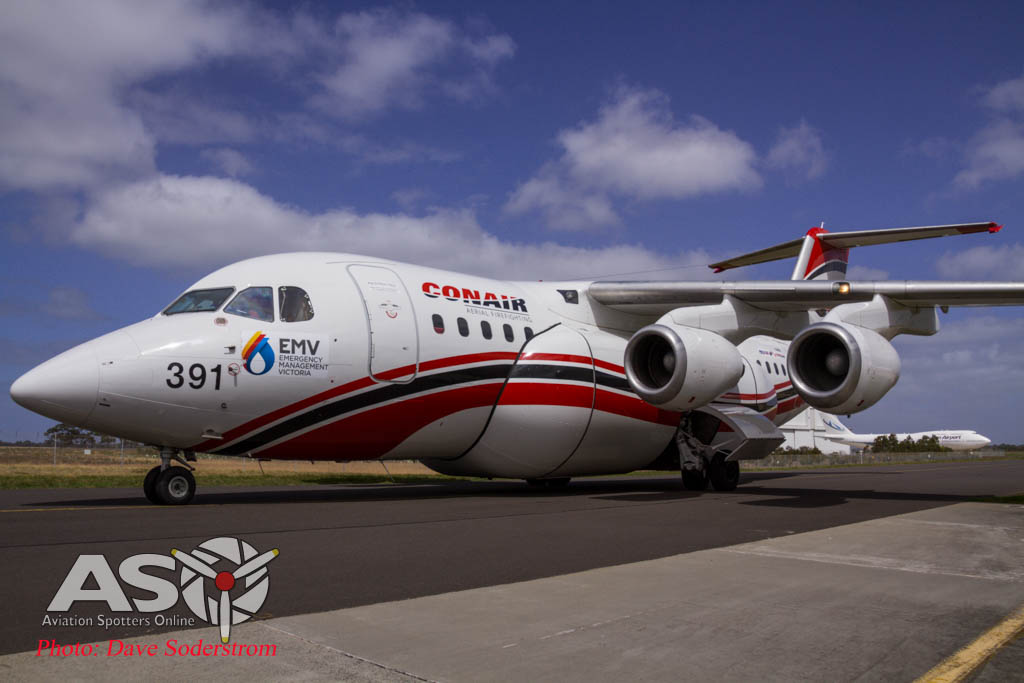 Critical times to fire fronts
Stephen also went on to explain the RJ's recent deployments. "The RJ85 has performed with very efficient transit times. As an example from commencement of the take off run at Avalon to arrival at the fire ground  the RJ was at Lorne in 12 minutes, Scotsburn in 9 minutes and Albury in 35 minutes. Stephen continues, "Reload times at Avalon Airport have been averaging between 12 and 14 minutes, including taxi time. The crew from Phos-Chek Australia have really got a great set up going and the ATC (Air Traffic Control) Tower at Avalon Airport has been exceptional".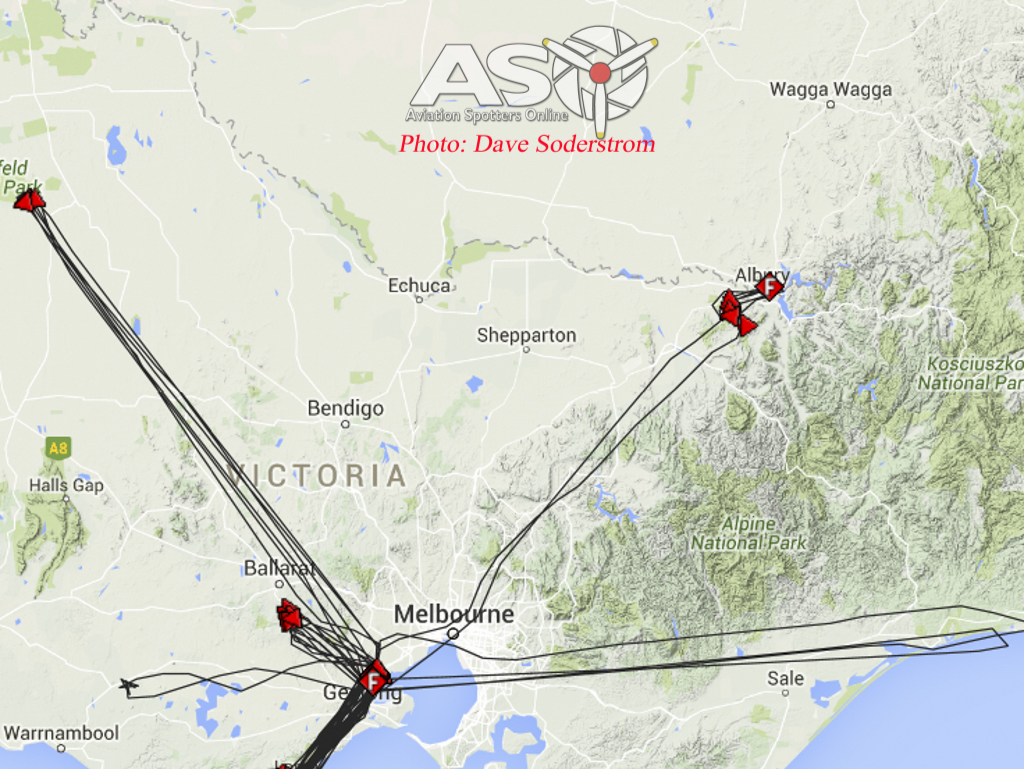 The map above gives an example of where the RJ85 has travelled so far this fire season. As you can see plenty of flights to and from the Wye River fire ground in support of operations there.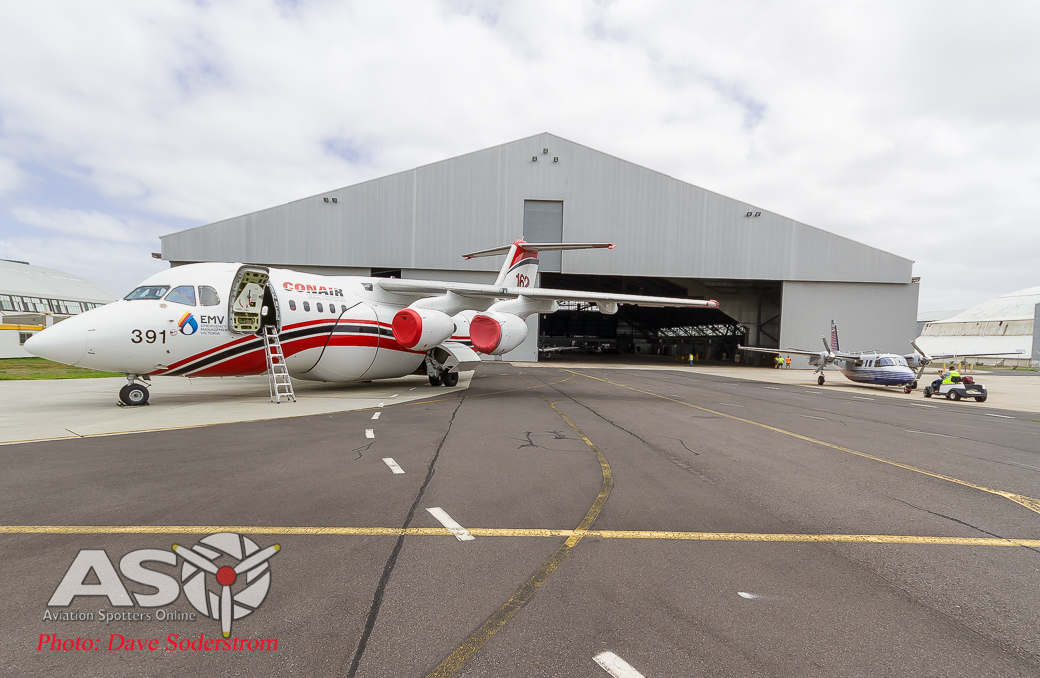 Tractors, Kings and Commanders .. the small fixed wing fleet.
Moving down in size to the smaller workhorses is the vast Air Tractor Fleet. Over 40 Air Tractor AT-802F's are on contract this season, including two in Fireboss configuration with amphibious floats installed. Field Air have five such aircraft, including four that run,  the 1700 shaft horse power Pratt & Whitney PT6A-67 engine. These aircraft also feature a host of safety features including lightning safe protection, TCAS, AMSAFE inflatable seat harnesses and vortex generators. Field Air have several based on contract in Victoria including two based at Hamilton,  'Bombers 352 and 353', two at Bairnsdale being 'Bombers 361 and 362'. And for the first time have two in Tasmania which are 'Bombers B715 and B228  with B228 being operated in conjunction with Pays Air Service.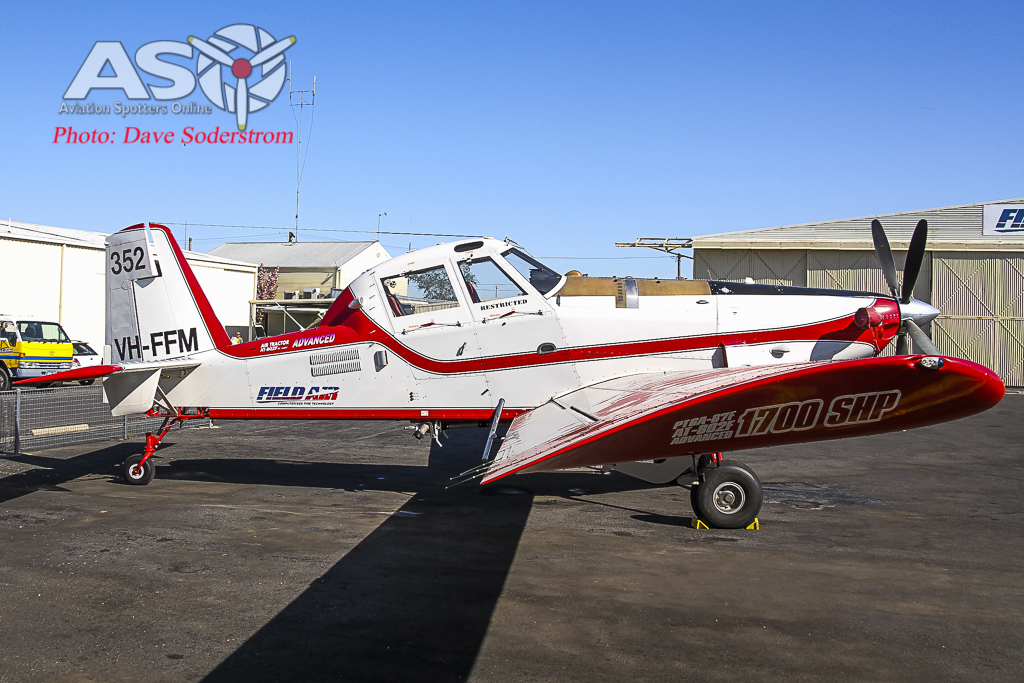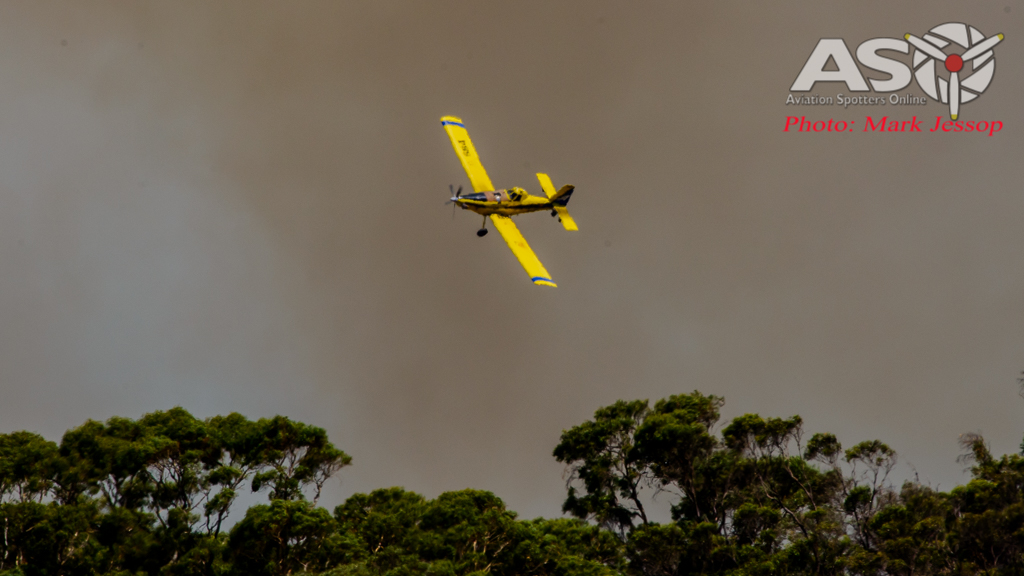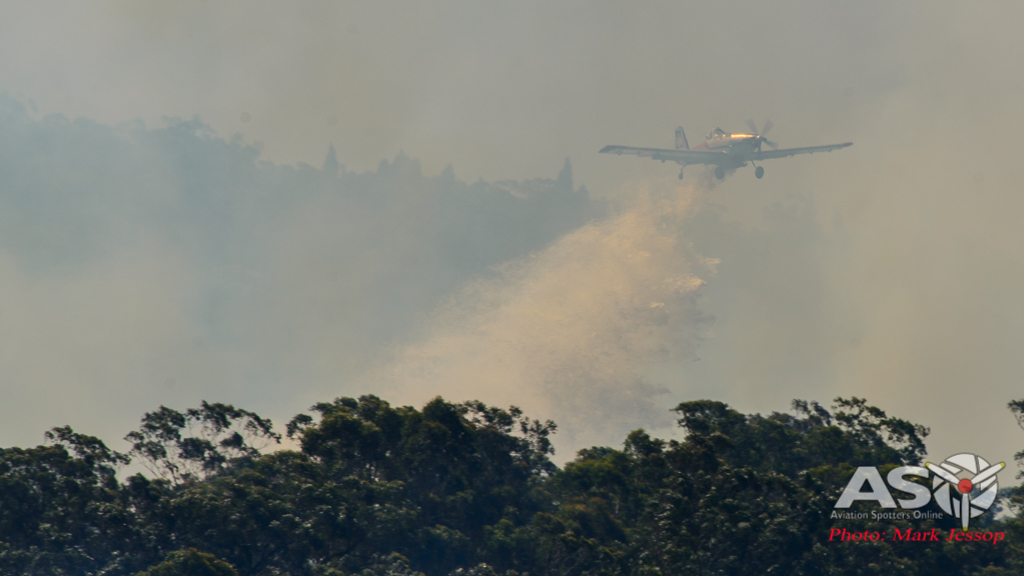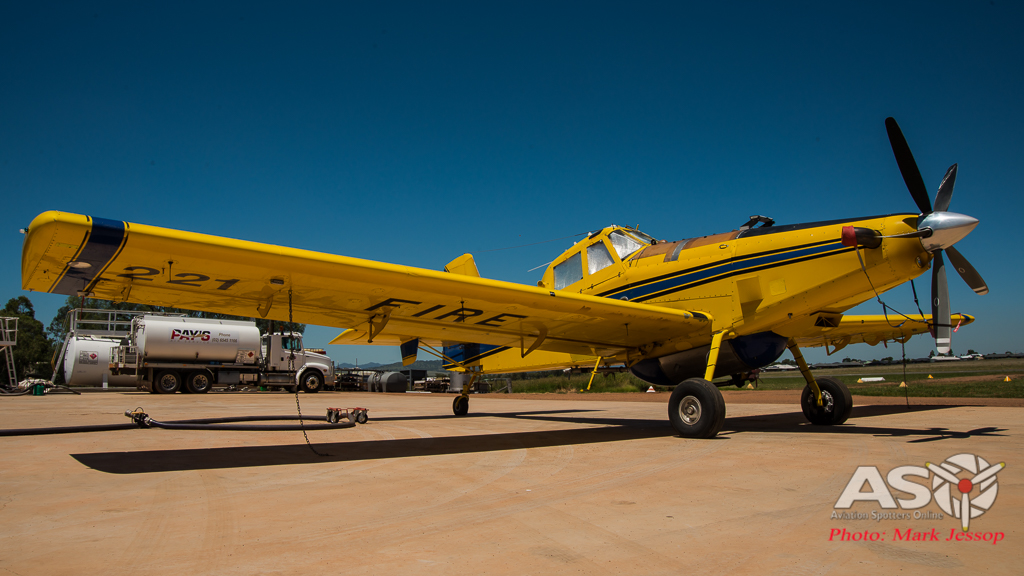 Pays Air Service AT-802A Air Tractor VH-LIR or Bomber 221. Pays Air Service are a large provider of fire fighting assets around Australia and have been in the business of operating them on government contracts now over many years. Pays have several Air Tractors in their fleet and for the 2013/14 season converted one of their Fireboss units into an amphibious version. Pay's aircraft are based in Scone New South Wales, and have been in business now for over 55 years. Founded by Colin Pay. Colin was known by airshow attendees for his display of his then owned Mustang, Kittyhawk and Supermarine Spitfire. Today the company is run by Colin's son Ross who continues to grow the business.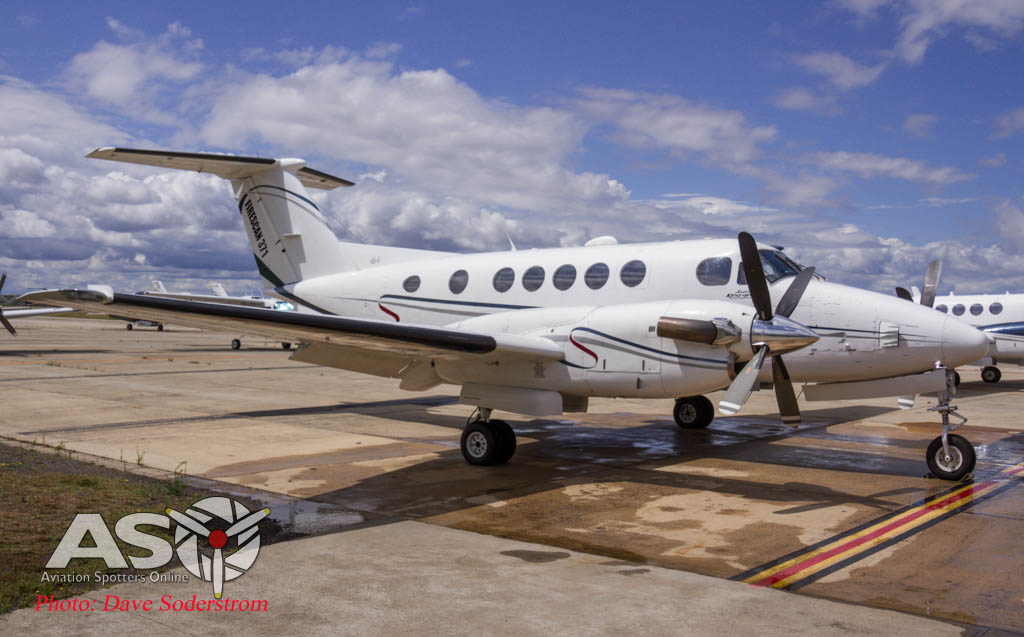 VH-ZMP Beechcraft B-200 King Air or Firescan 371 which is operated by Australiasian Jet out of Essendon Airport. This Firescan aircraft is operated with a downward looking camera which allows the crew to operate with live feeds being sent back to the management control centre. The camera is able to pin point hot shots which are not distinguishable by the human eye and allows more are to be covered in a greater time scale. The camera system is a Nitrogen fed and cooled crystal system similar to the cameras used by the SR-71 Blackbirds flown by the USAF.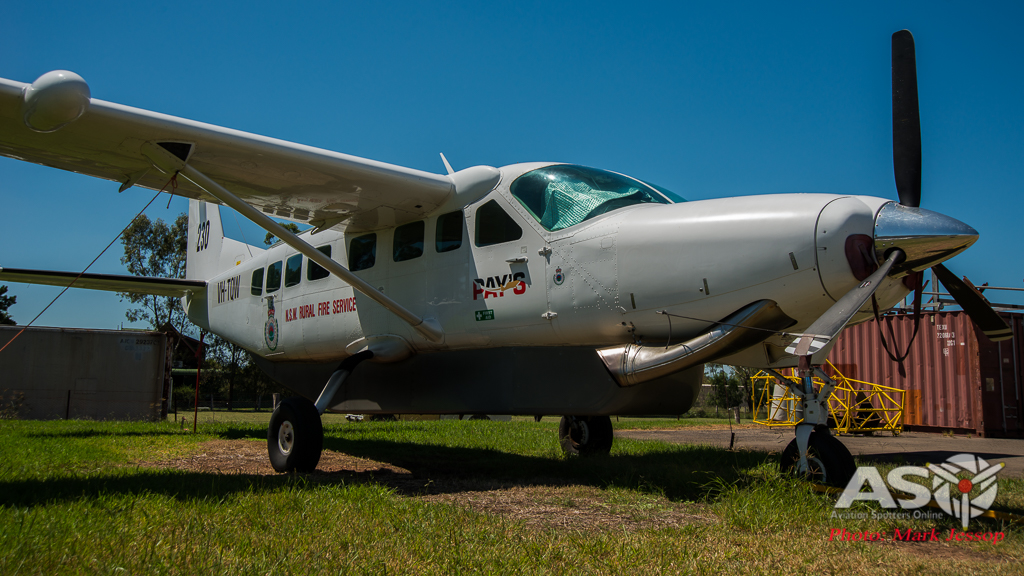 Rotary Wings – Elvis has left the building
The helicopter operations this year can only be described as an extremely eclectic range of machines. The biggest ones being the Sikorsky S-64 Aircranes and Sikorsky S-61s , with six Aircranes and two S-61s based here this season, A new type to fire operations here this season is the Boeing CH-47 Chinook. Imported and operated by United Aero Training and Helimax Aviation the crews have operated the Chinook and demonstrated its bucket operations as soon as the machine was assembled here. It flew to NSW and was conducting operations in both NSW and Victoria against large fires that were raging after its arrival. Across the country are a fleet of Bell 204, 206, 212 and 412s, MBB BK-117 and Eurocopter/Airbus Helicopters Dauphins, EC- 120,145, Squirrel's in both single and twin engine versions. Helicopter roles for this mix of aircraft, include Air attack supervision, Incident mapping, Winching and crew rappelling, aerial ignition and sling loads.
Rotary wing aircraft capable of firebombing will be assigned a Type based on their internal payload and water carrying capacity, as specified below.
| | | |
| --- | --- | --- |
| Type | Internal payload | Water Carrying capacity |
| 1 | 2,268 kg or greater | 2,650 litres or greater |
| 2 | Between 1,134 kg and 2,267 kg inclusive | Between 1,135 litres and 2,649 litres inclusive |
| 3 | Between 544 kg and 1,133 kg inclusive | Between 380 litres and 1,134 litres inclusive |
| 4 | Less than 544 kg | Less than 380 litres |
Erickson was founded in 1971 by jack Erickson from Oregon who built up a business to cater for the heli-logging industry. Three Sikorsky S-64E's were purchased for this role and quickly proved to be well suited to this role of heavy lifting. So successful was the operation of these large helicopters that in 1992 Erickson purchased the intellectual property of the S-64 from Sikorsky Aircraft. They assumed the responsibility for the type and became the Type Certificate holder for the Aircrane. And the success of this purchase has seen new build S-64s sold to operators in Italy and Korea as examples. The Company has had now been a regular deplorer of the Aircrane to Australia, which has ment many lives and properties being saved by the crews of these large aircraft.  Today Erickson has a fleet of over 90 aircraft which are seen across the globe.
The six Air Cranes in Australia this season and their registrations are as follows:
S-64E N6962R/740 'Olga'
S-64E N218AC/734 'Elsie'
S-64E N957AC/738 'Ichabod'
S-64E N154AC/739 'Georgia Peach'
S-64E N164AC/747 'Incredible Hulk'
S-64E N189AC/748 'Gypsy Lady'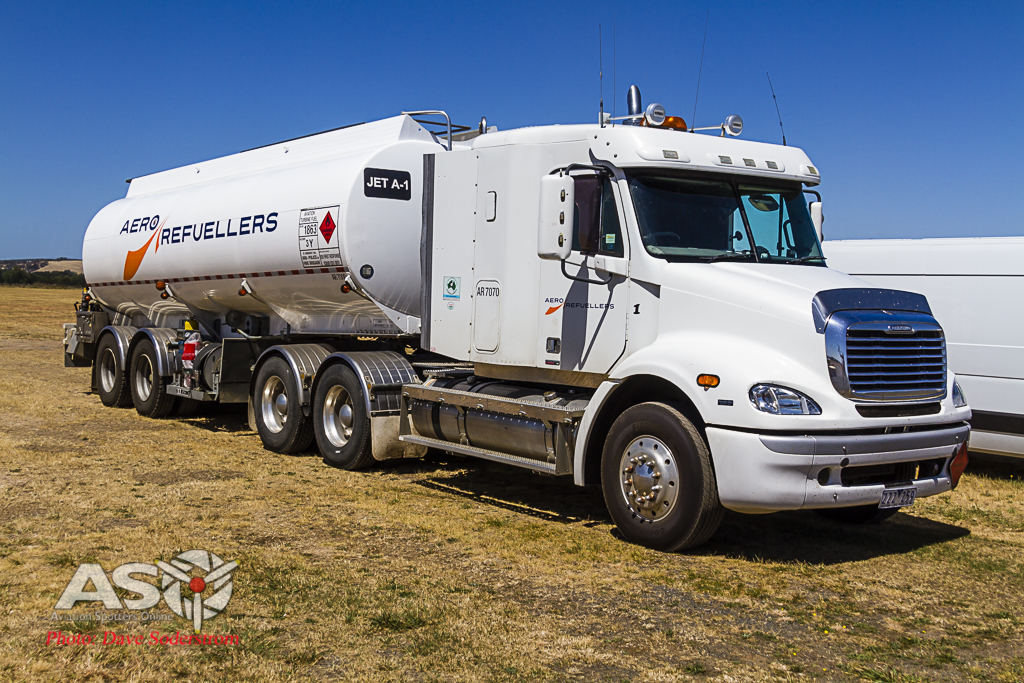 Each Skycrane has its own support team which includes a refuelling truck and support van. These support vehicles follow the aircraft on any deployment in order to best support the Aircrane's and S-61's Aero Refuellers have on call based staff around the clock to alloy the aircraft to operate continually.  The fuel is solely dedicated to the aircraft which means the semi combination and the spare part/support van will follow the Aircrane when it deploys away from its base.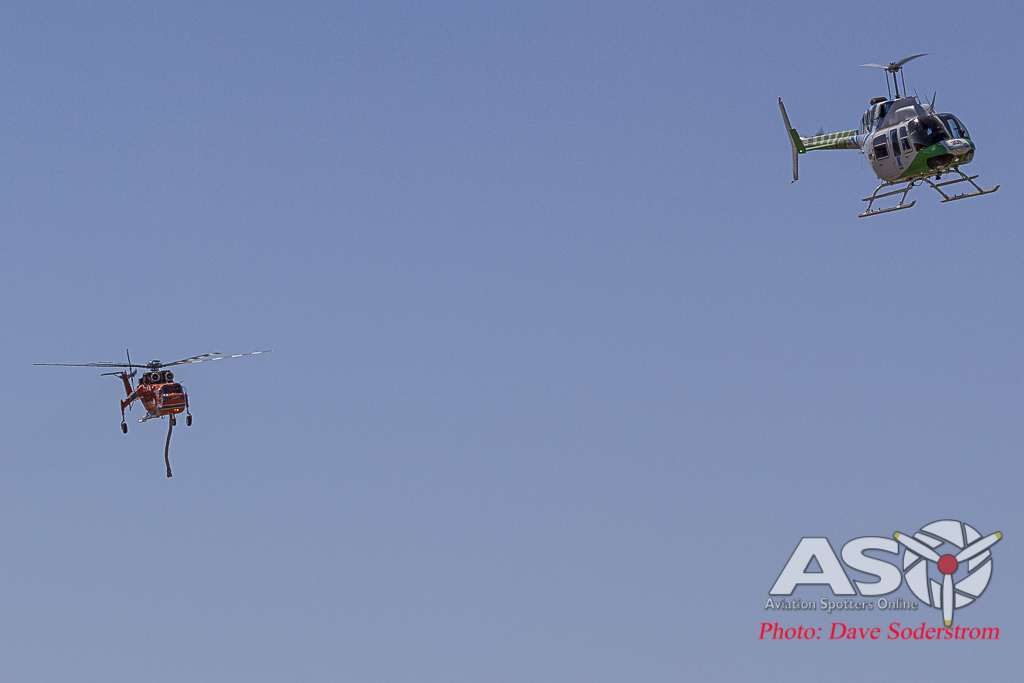 'Firebird 309' Bell 206 LongRanger, leads 'Helitak 342' back to Ballarat.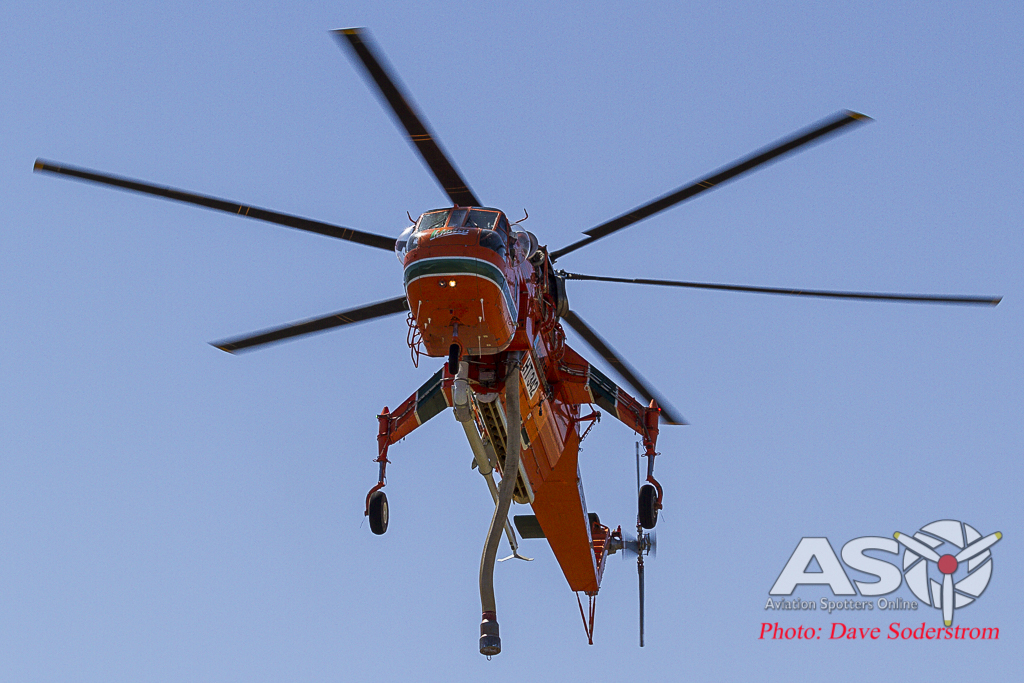 'Helitak 342′ returns after a successful deployment from Ballarat.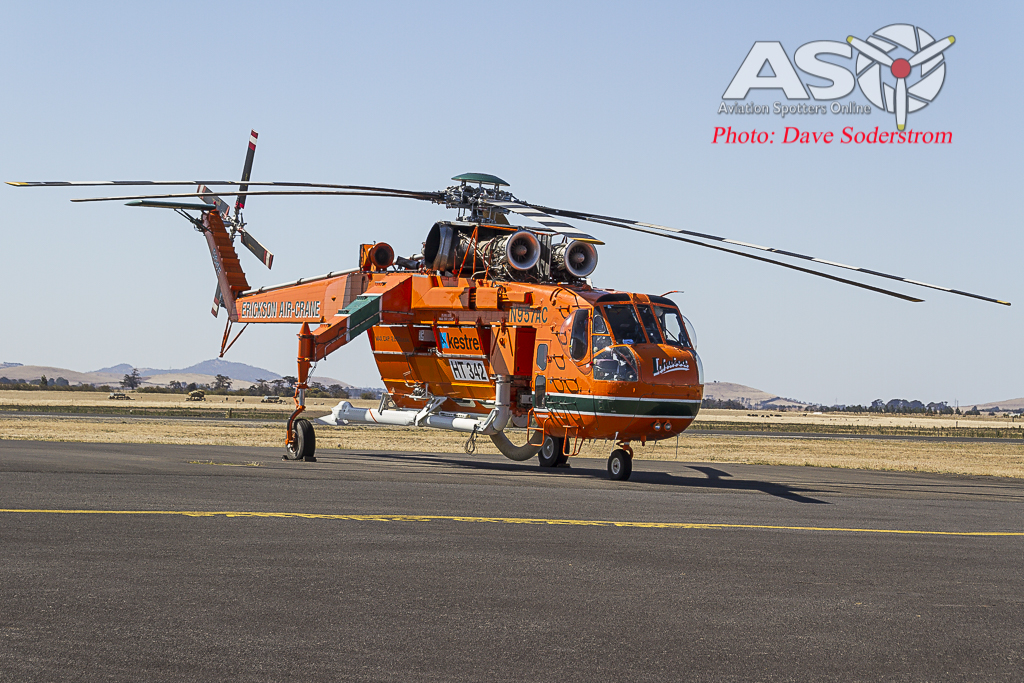 'Ichabod' at rest after being refuelled and the maintenance crew giving her a comprehensive inspection post flight.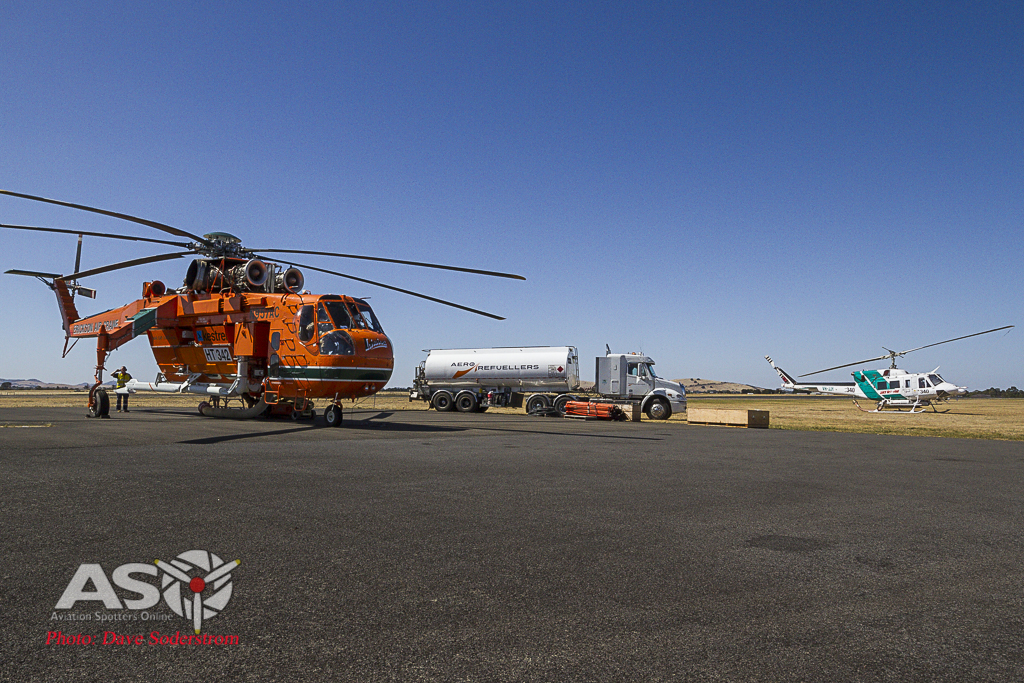 A scene across Australia this season, Big Brother and Little Brother on standby.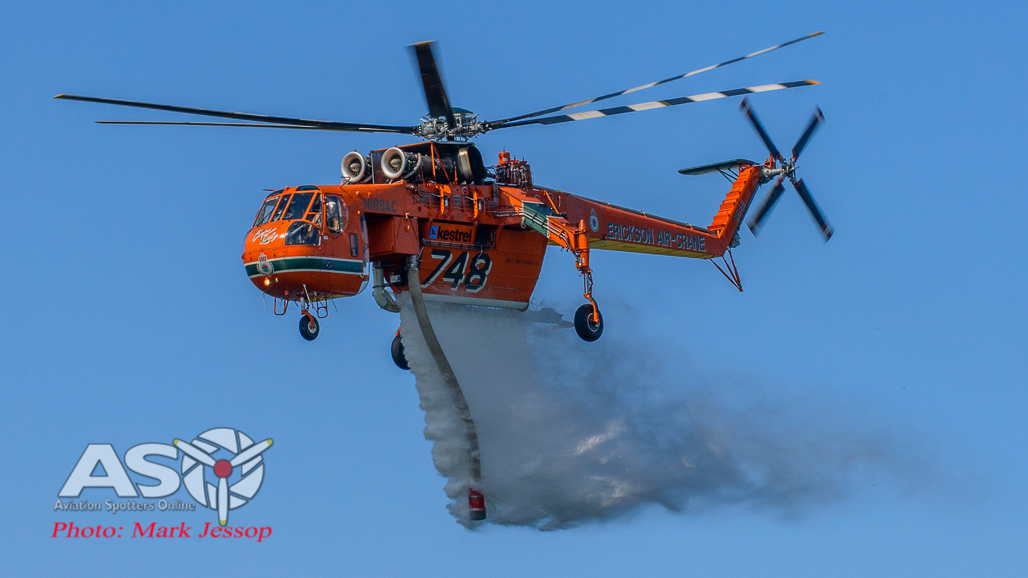 Kestrel/Erickson Sikorsky S-64E Aircrane N189AC 'Gipsy Lady' or 'Helitak 748' demonstrates a drop before its commencement of contract to the New South Wales Rural Fire Service.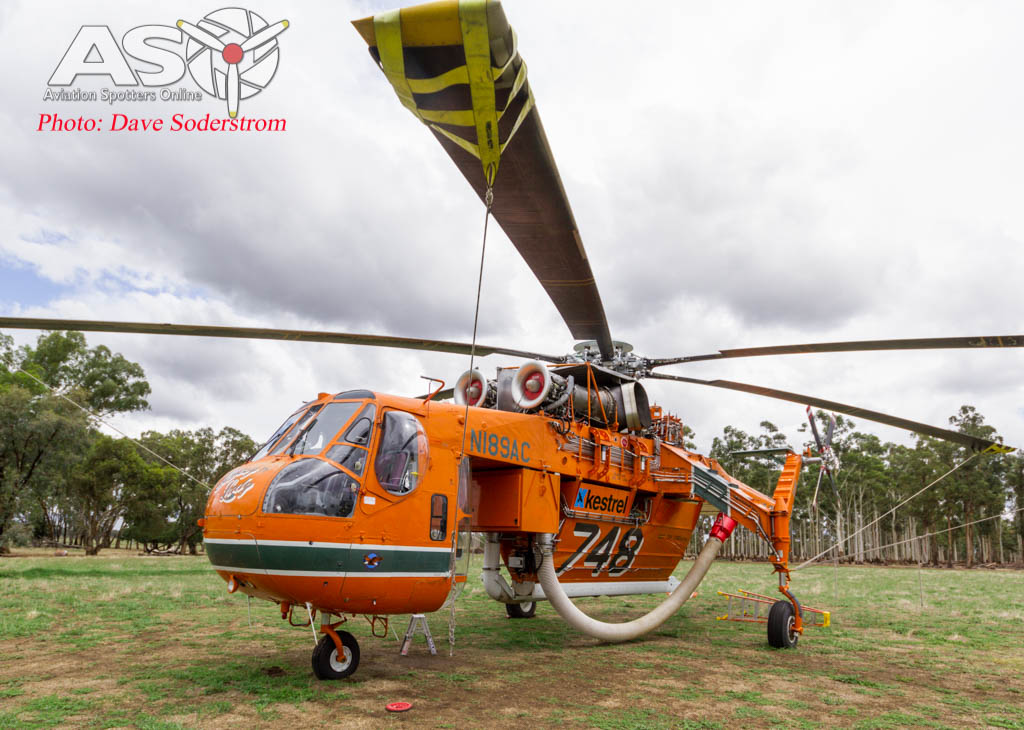 Kestrel/Erickson Sikorsky S-64E Aircrane N189AC 'Gipsy Lady' or 'Helitak 748'  after its NSW contract had finished repositioned the aircraft to Managlore in Central Victoria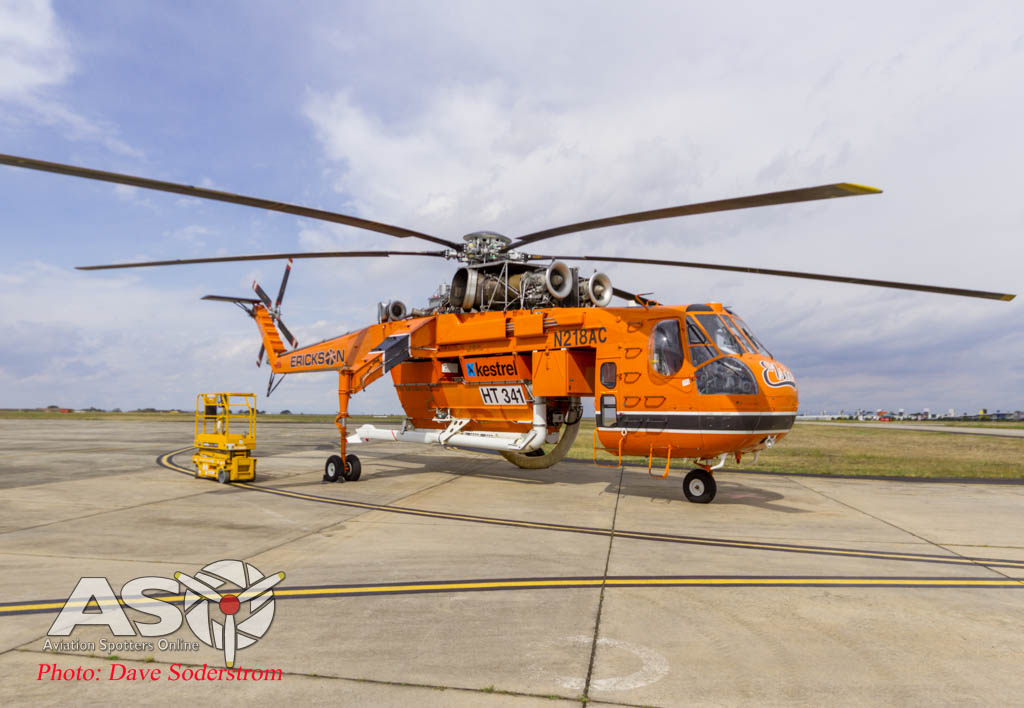 Kestrel/Erickson Sikorsky S-64E Aircrane N218AC 'Elisie' or 'Helitak 341' , is seen here based at Essendon Airport on Melbourne's Northern Outskirts. Note also the change in corporate colours and markings with a different type face and grey not green stripes now, compared with the images above.
Boeing CH-47D Chinook
Helimax Aviation's Boeing CH-47D Chinook, N947CH started life as a United States Army CH-47C and was delivered as 70-15022. While in Australia this season the Chook was allocated the 'Helitack 279' callsign. The helicopter is flown during fire operations with a crew of three. Pilot, copilot and engineer who monitors internal operations. Operated in conjunction with Camden, New South Wales based Aero Helicopters this season the helicopter was flown over to demonstrate the Chook's capabilities in the hope of wining a contract going forward. Once the Chook had arrived in Melbourne it was quickly assembled and was deployed at several fires in N.S.W and Victoria this season. The aircraft is to return next season with a new internal tank design which has been under development in the United States.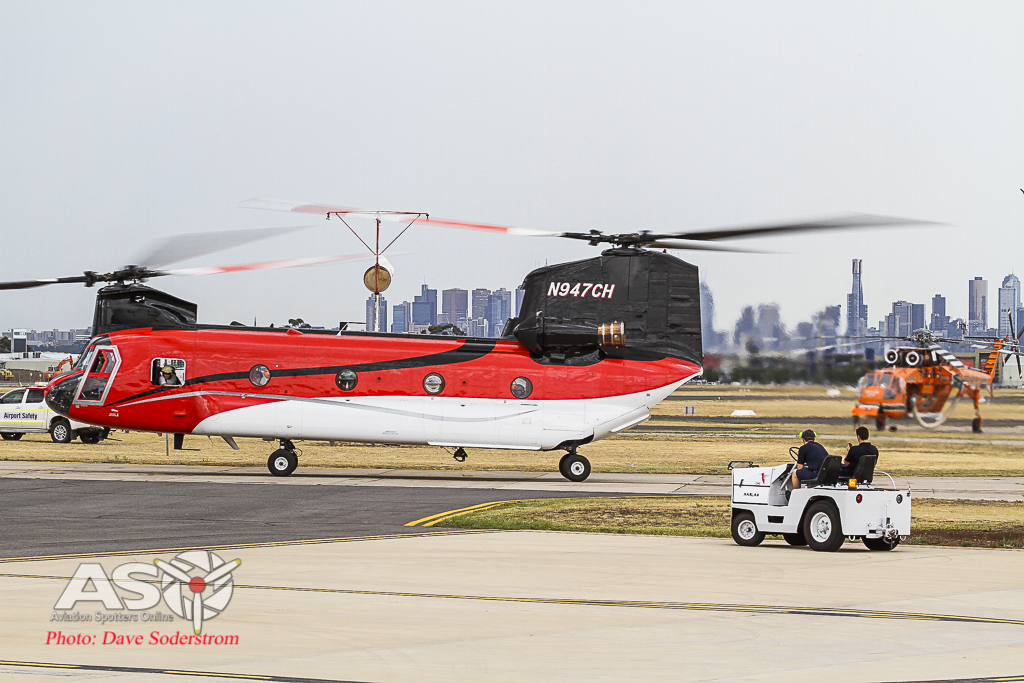 This is the first time a Chook has been used to fight fires in Australia. The helicopter is seen her on departure at Essendon passing one of the Erickson S-64s Air Cranes, set against the Melbourne CBD backdrop.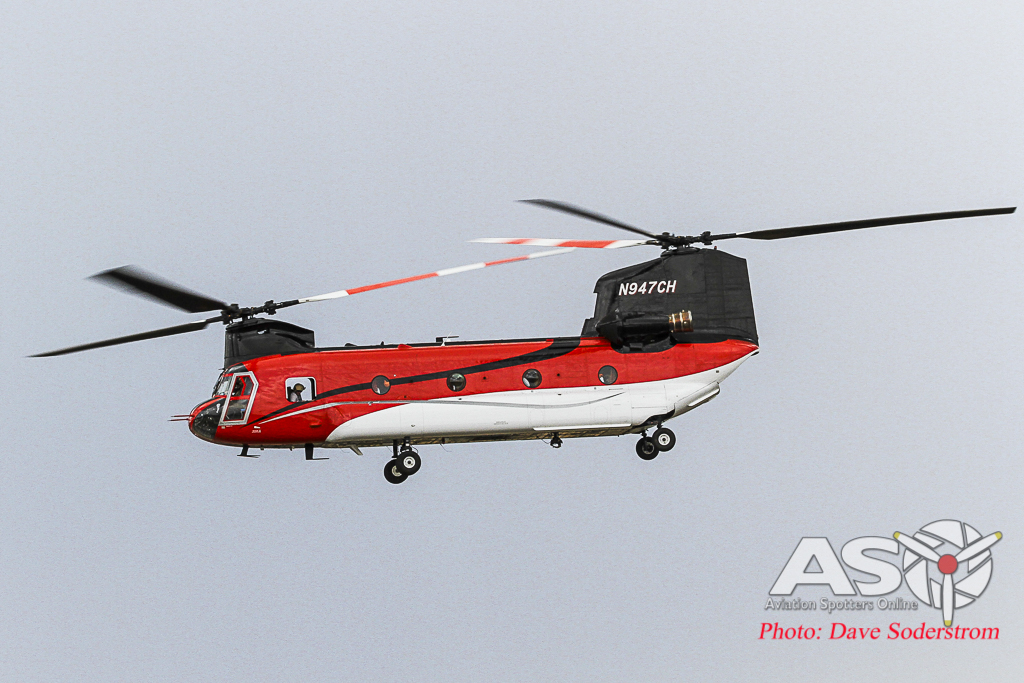 The CH-47D has a sling load Bambi Bucket capable of holding 7570 litres which is able to be split and control the coverage when in use.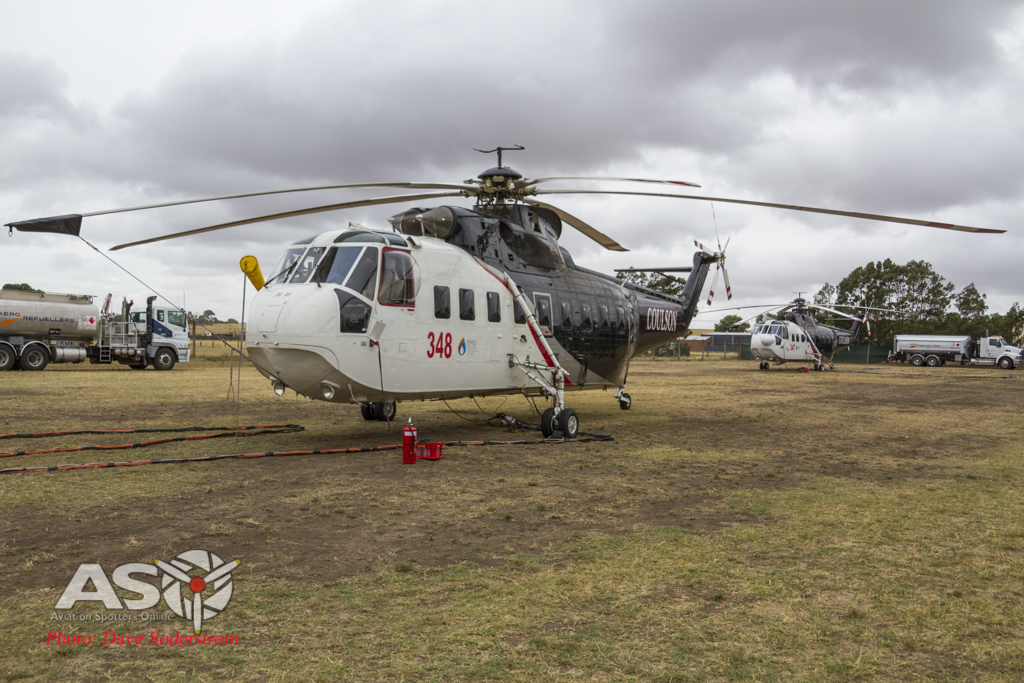 Coulson Aviation Sikorsky S-61N 'Firetak 347' C-FMAY and 'Firetak 348' C-FIRX at the operating base in Colac. This type of aircraft has been operating in Australia now for seven years. The Canadian crews of these aircraft returned with the ability to fly with either a 4000 Litre capacity water tank or as a 3000 litre Bambi bucket equipped aircraft. These aircraft were both built as civilian airframes and while they were built-in the 60's the Coulson crew maintain these aircraft in a first class state. The aircraft also undergo a comprehensive rebuild after so many hours and cycles. Interestingly C-FIRX was originally built as a passenger aircraft for New York Airways and then moved onto to fly for KLM Helicopters.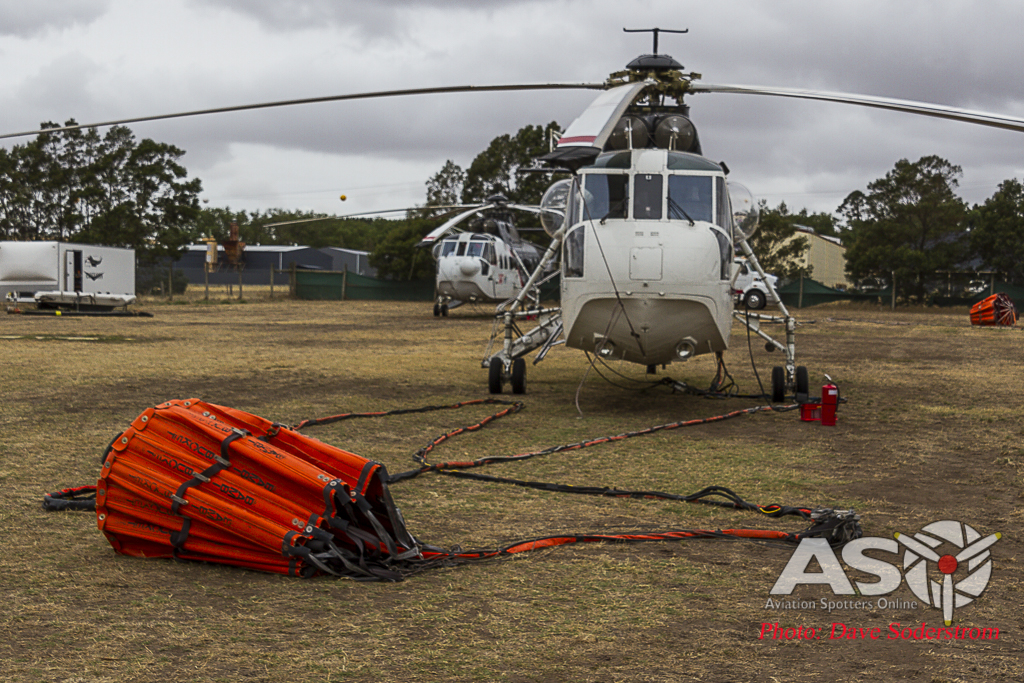 Coulson's two Sikorsky S-61s 'Firetak 348' and 'Firetak 347' at rest in Colac.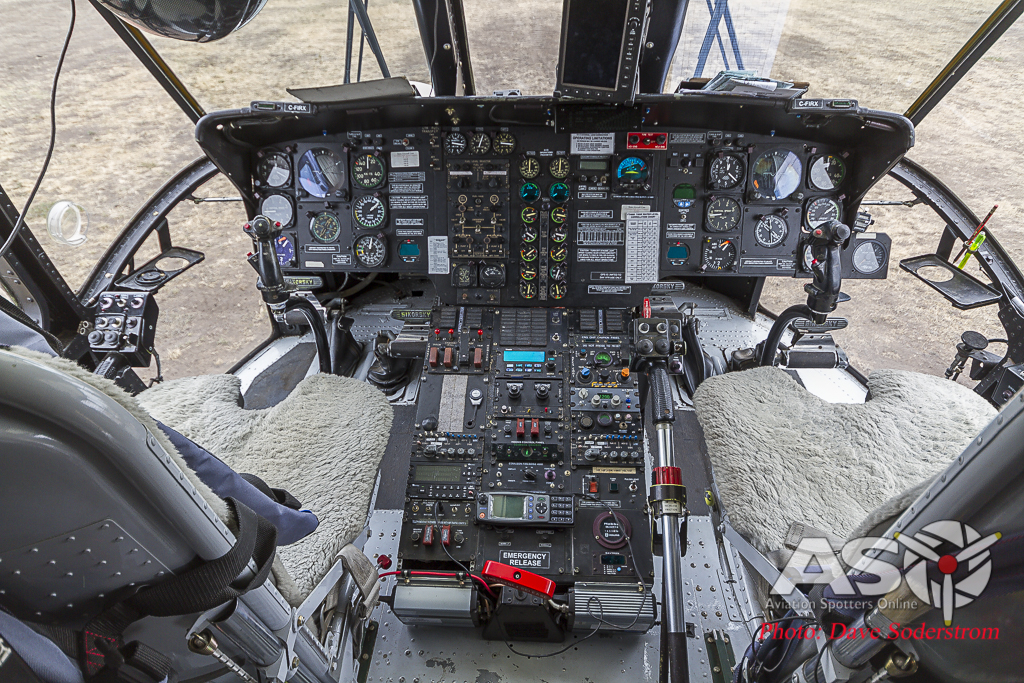 Cockpit of Sikorsky S-61N C-FIRX 'Helitak 347'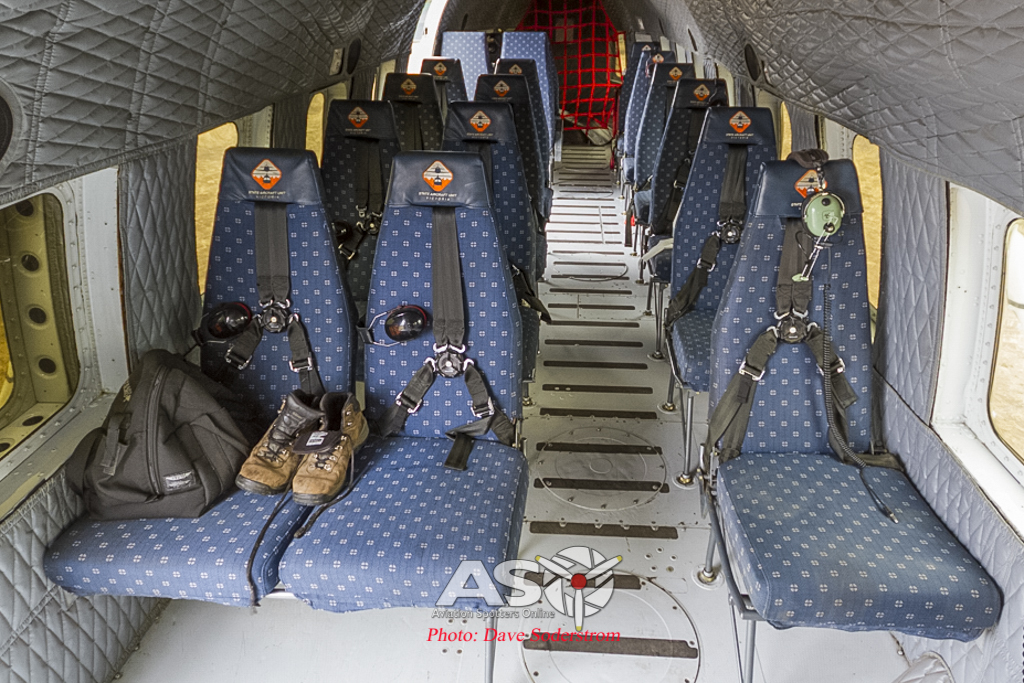 Both of the aircraft are fully configured for passenger carrying.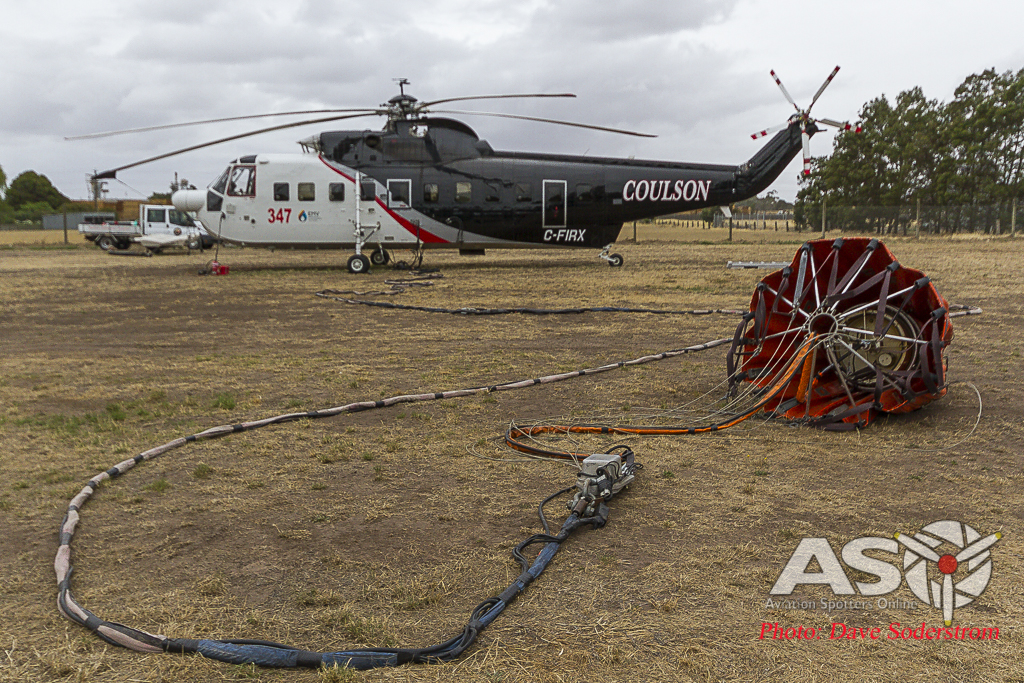 C-FIRX 'Helitak 347' with its 3000 litre bucket on standby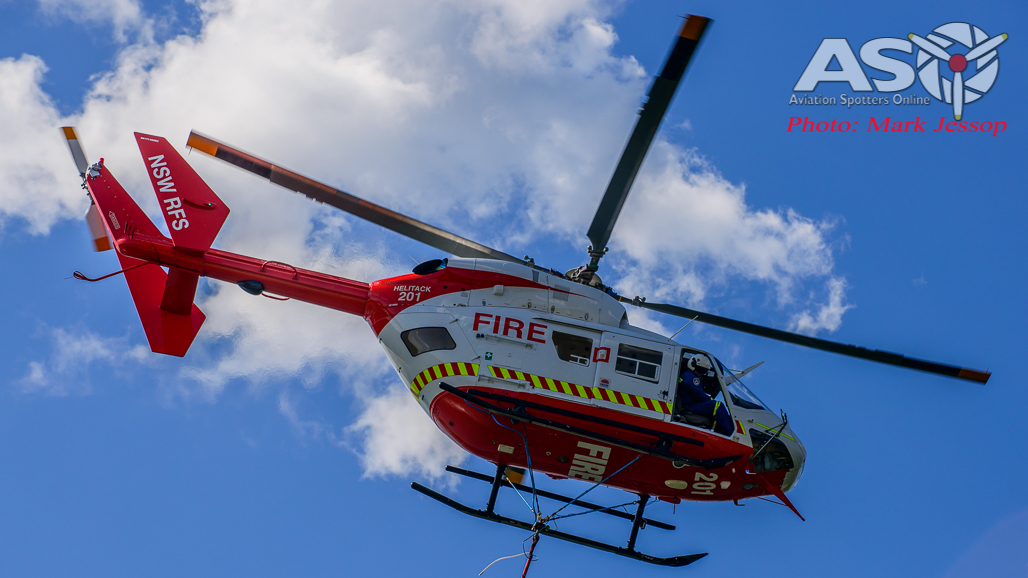 VH-VRP Kawasaki built BK117 B-1 or 'Helitack 201' is a 1990 build aircraft which is on contract to the NSWRFS this season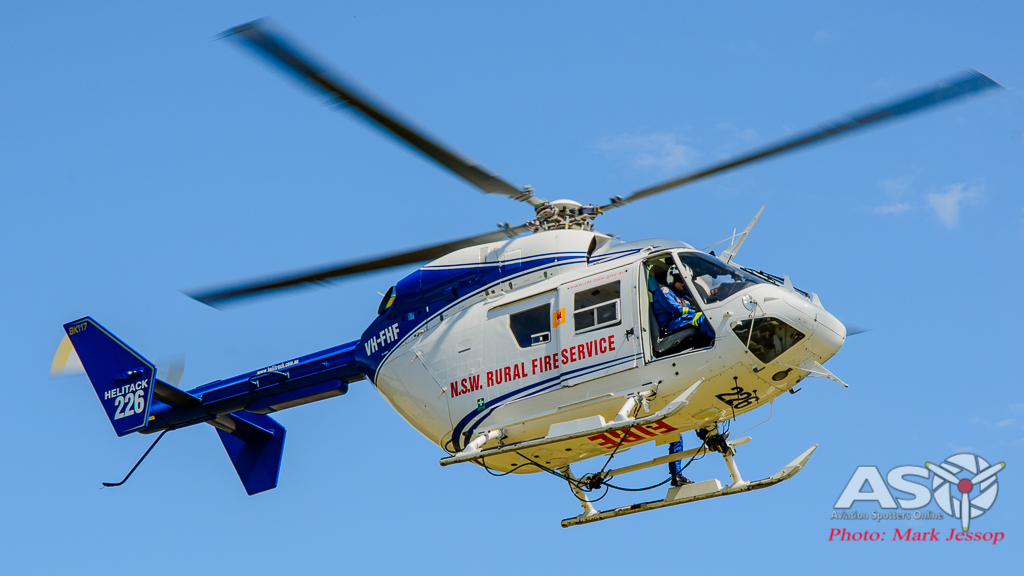 'Helitak 226' VH-FHT is also a  Kawasaki built BK117 B-2 built-in 1991. This helicopter operated by Trecked PTY LTD is also contracted to the NSW Rural Fire Service.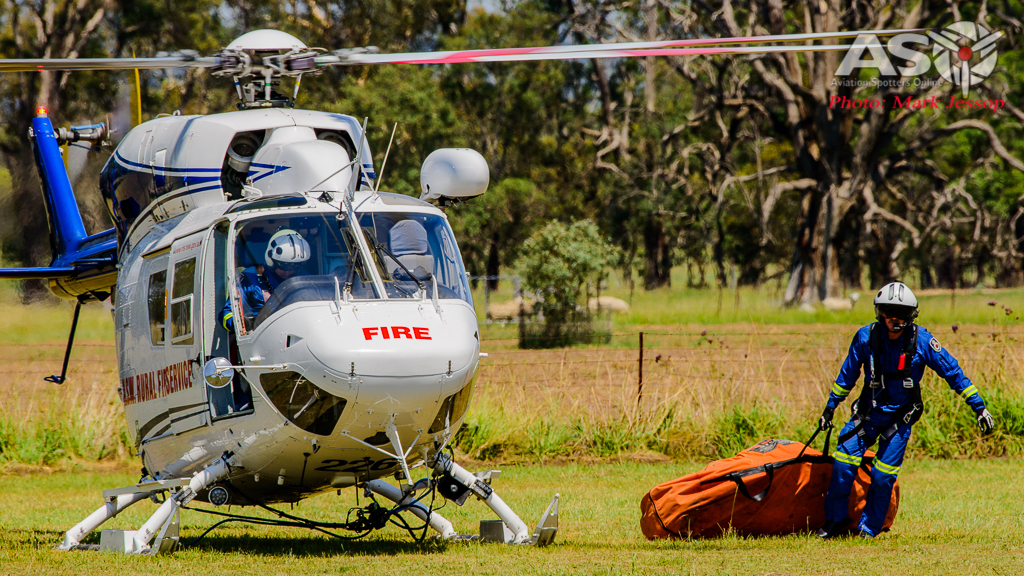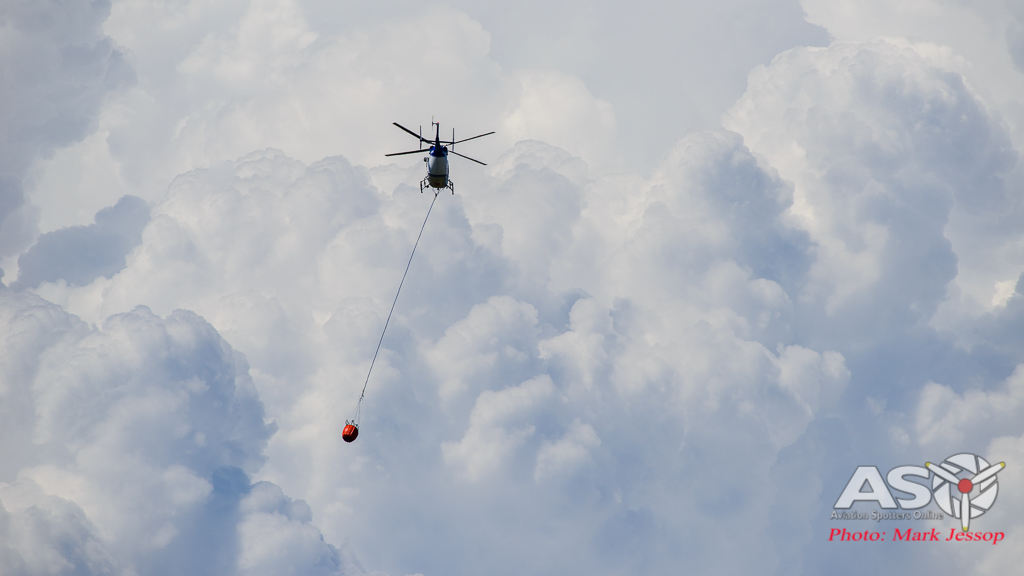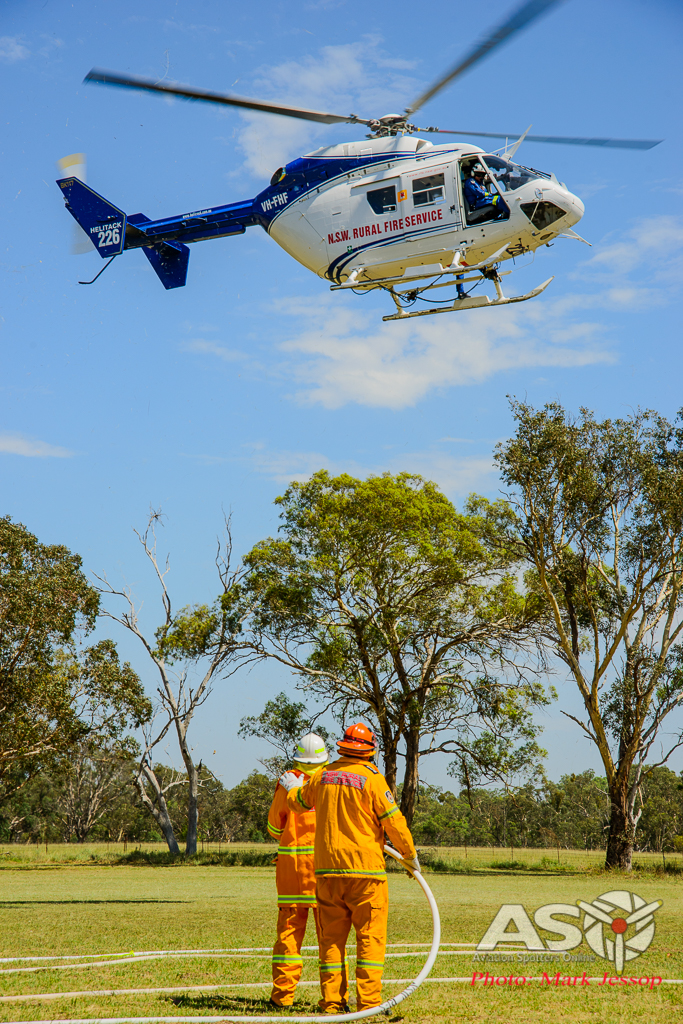 Air tractor and BK-117 working together on the Cooyal Fire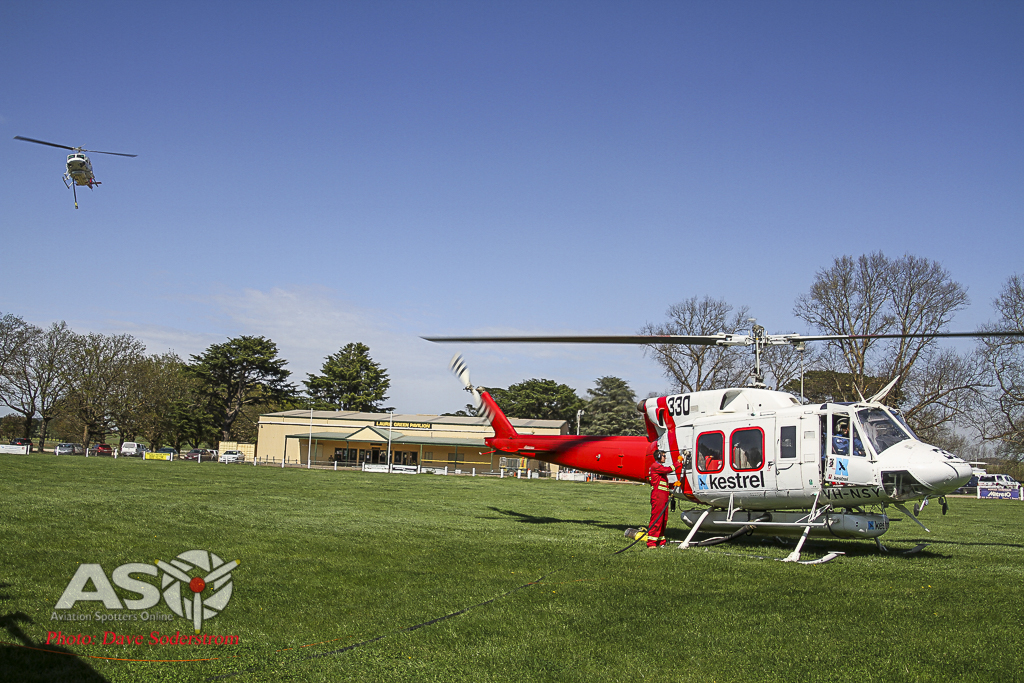 Two of Kestrel Aviation's Bell 212's. 'Helitak 330' takes on fuel while still operational also known as a Hot refuel while 'Helitak 337' VH-NEN hovers in a holding  position until the area is clear. On this day five firebombing helicopters were in operation from this base.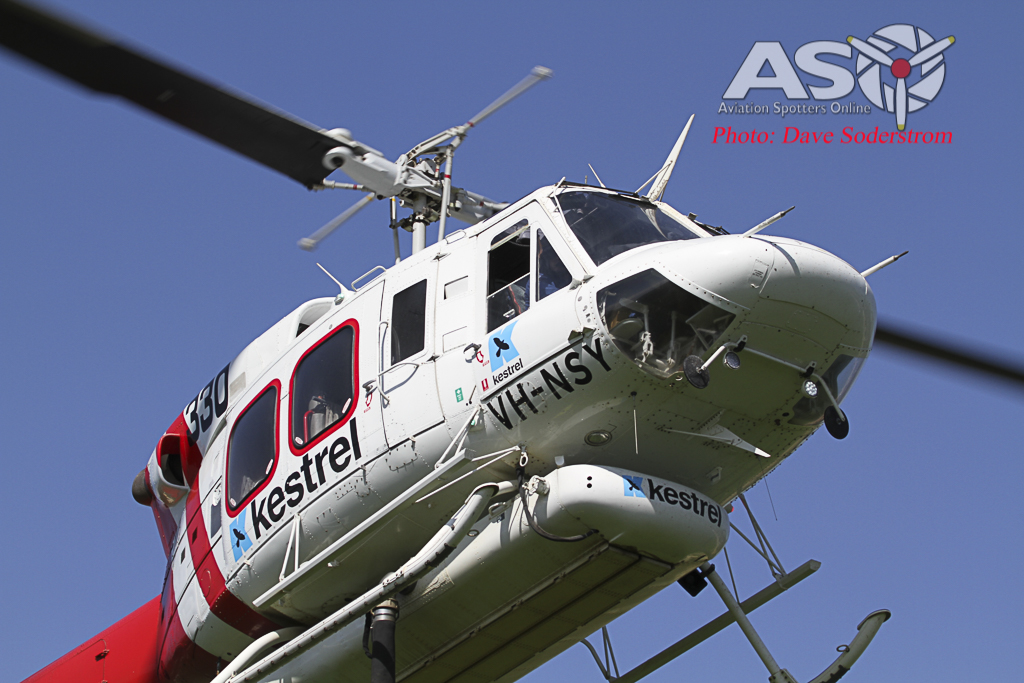 Kestrel Aviation's Bell 212 VH-NSY Helitak 330 is one of several Kestrel operated machines on contract this season. Firetak 330 is photographed here on approach to the operating base during the Lancefield fires.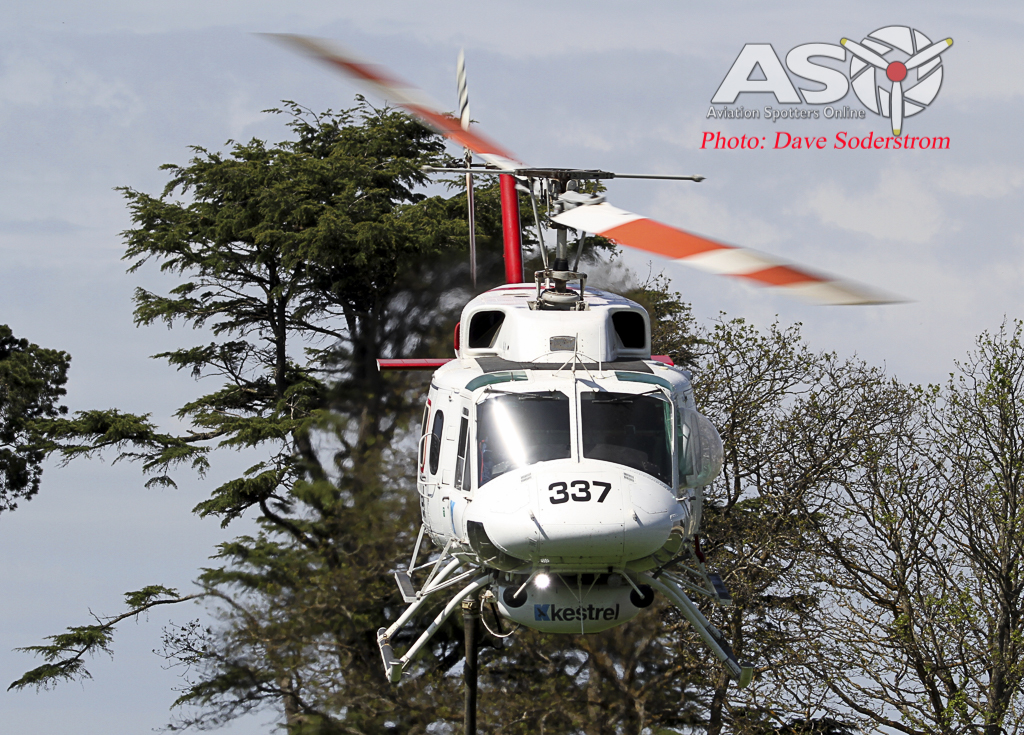 Kestrel Aviation's Bell 212 VH-NEN, 'Helitak 337' departs on another fire attack run.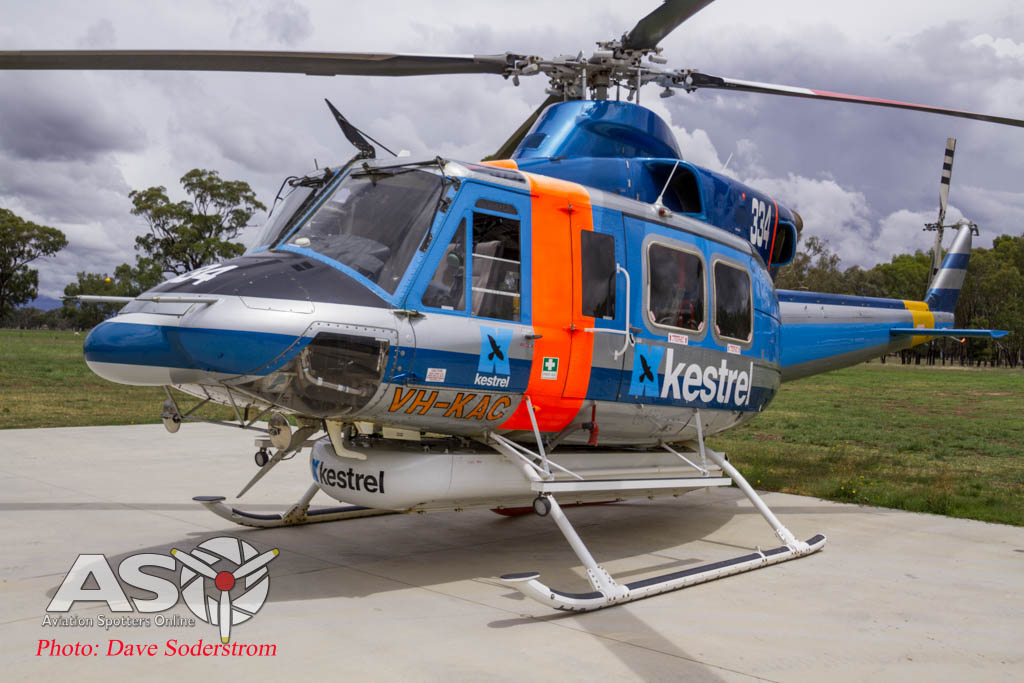 Kestrel Aviation's Bell 412SP VH-KAC, 'Helitak 334' at its Mangalore base in Central Victoria. This 412 was originally delivered to the Tokyo Metropolitan Police in Japan as JA6635. Flying with them from 1990 until 2009. It came to Australia in 2010. It is one of a few helicopters fitted out this season for smoke jumper repelling which requires the high mount skids to be fitted as shown above. Kestrel Aviation was established in 1985 by Captain Ray Cronin. Ray started Kestrel as he thought there was a lack of dedicated helicopter flying schools in Australia, Ray identified the need for a specialist helicopter training school and Kestrel was established at Moorabbin Airport. Kestrel soon outgrew its Moorabbin Airport operation and moved all facilities and staff to Mangalore Airport in 1989. In 2013 Kestrel announced a five-year exclusive cooperative agreement with American company Erickson Incorporated, to operate the Erickson S-64 Aircrane in Australia.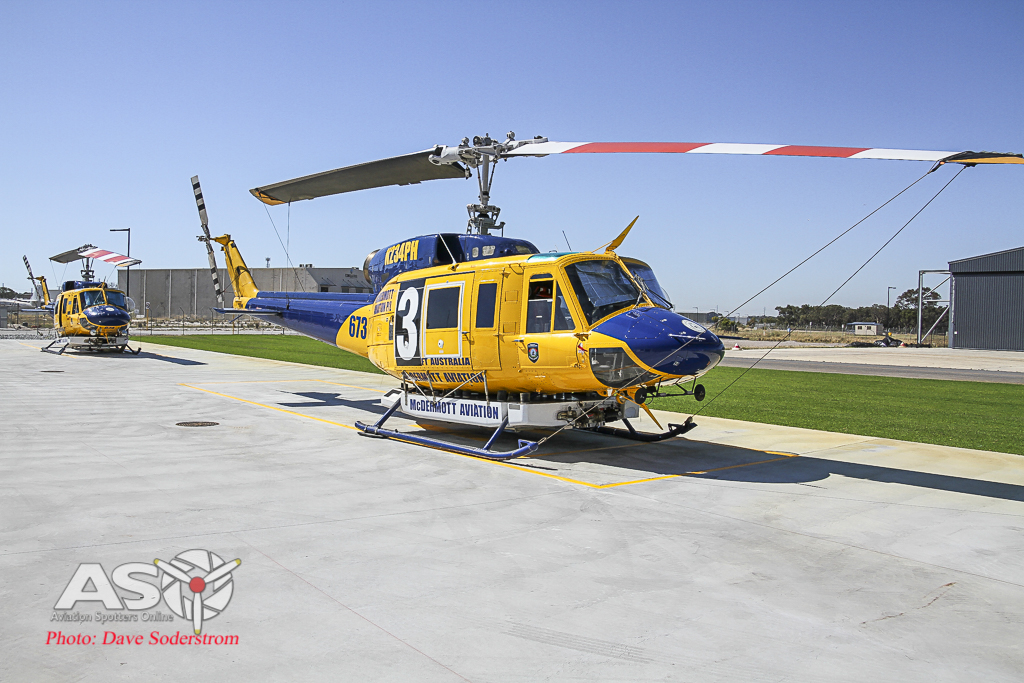 Two of McDerrmot's Bell 214B1's are deployed to Jandakot in Western Australia this season. A new hard standing and facility has been established in the Helicopter precinct. Bell 214B 'Big Lifters' N213PH 'Helitak 673' and P2-MLJ 'Helitak 674 are fitted with the 'Tsunami' firebombing tanks. These tanks can be filled in 35 seconds. The Bell 214B is the most prolific helicopter in the NAFC fleet by the numbers this season with a total of eleven contracted to the various State Governments.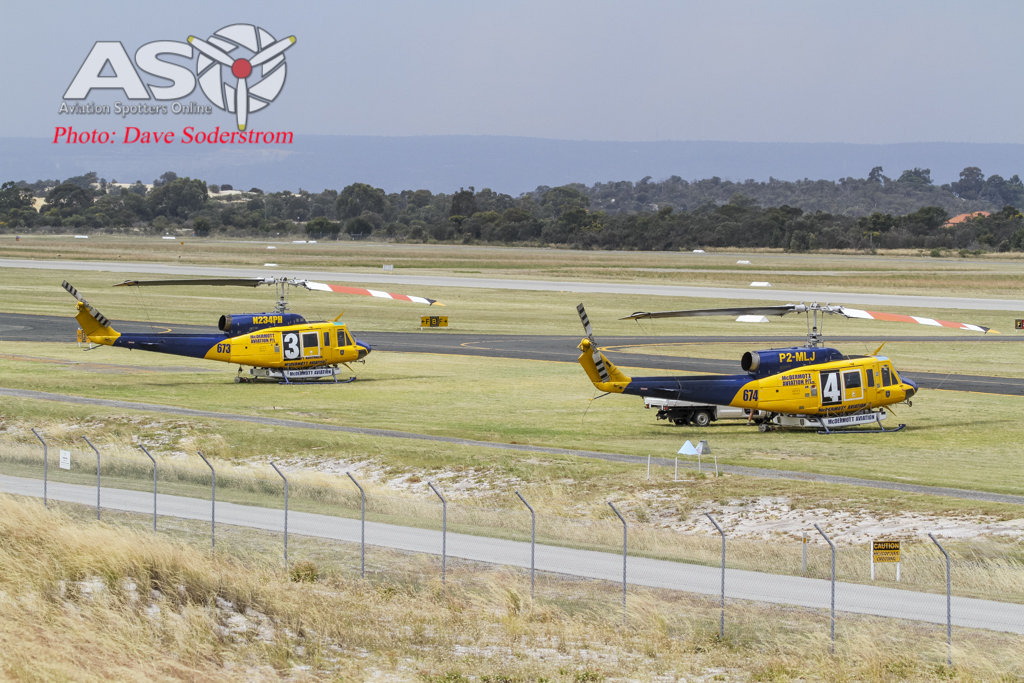 McDermott Aviation is a Sunshine Coast based operation at Cooroy in Queensland. The company is no stranger to Fire operations. Having been involved in contract work to various organisations over the years. McDermott has a vast array of aircraft on contract to the various states and territories this year. The fleet of Bell 204, 205 214 and AS 355 and SA365s can be seen around the country. An interesting side note is that the under belly tanks deployed on these aircraft are a join McDermott and Isolair U.S.A "Tsunami" developed system capable of holding 2650 Litres. McDermott also deploy slung  Bambi buckets on some of their machines with capacities ranging from 1400 to 3000 Litres.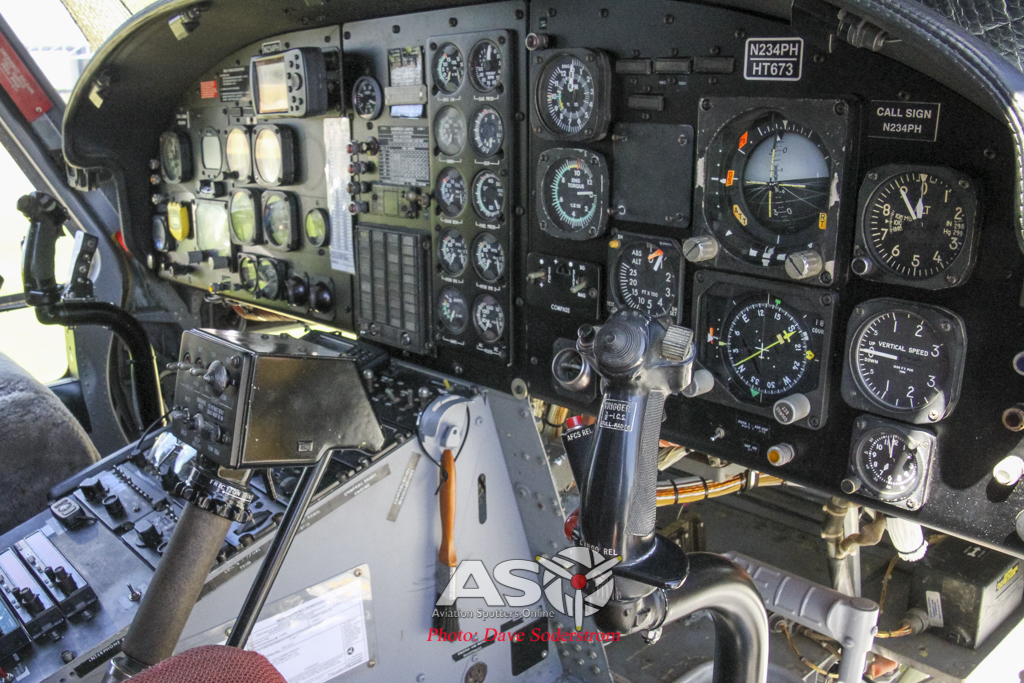 Bell 214B 'Big Lifter' N213PH 'Helitak 673' cockpit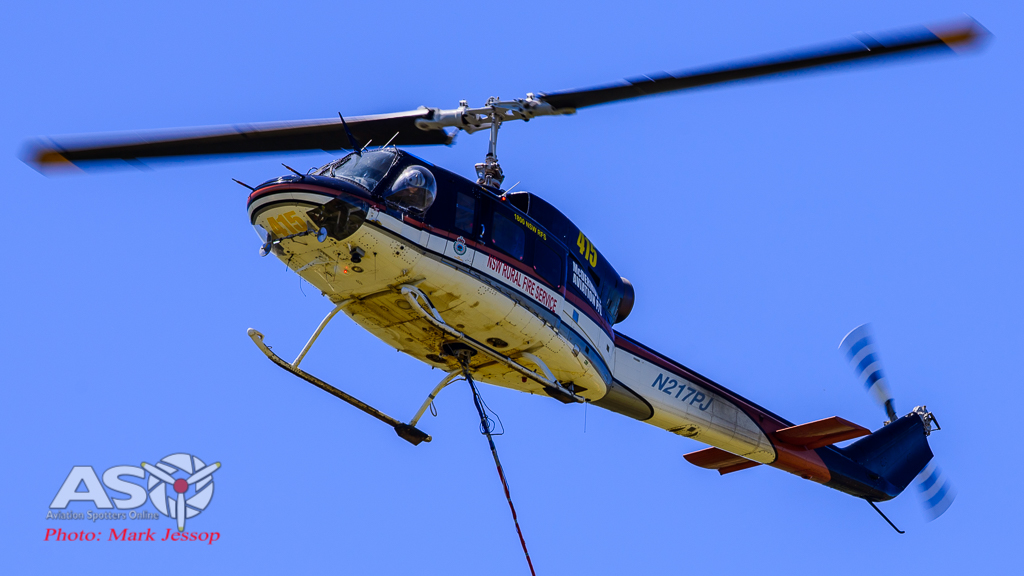 'Helitak 415' Bell 214B Which is owned by Helibro from Red Bluff California, is leased to McDermott Aviation operating on contract to the NSW Rural Fire Service.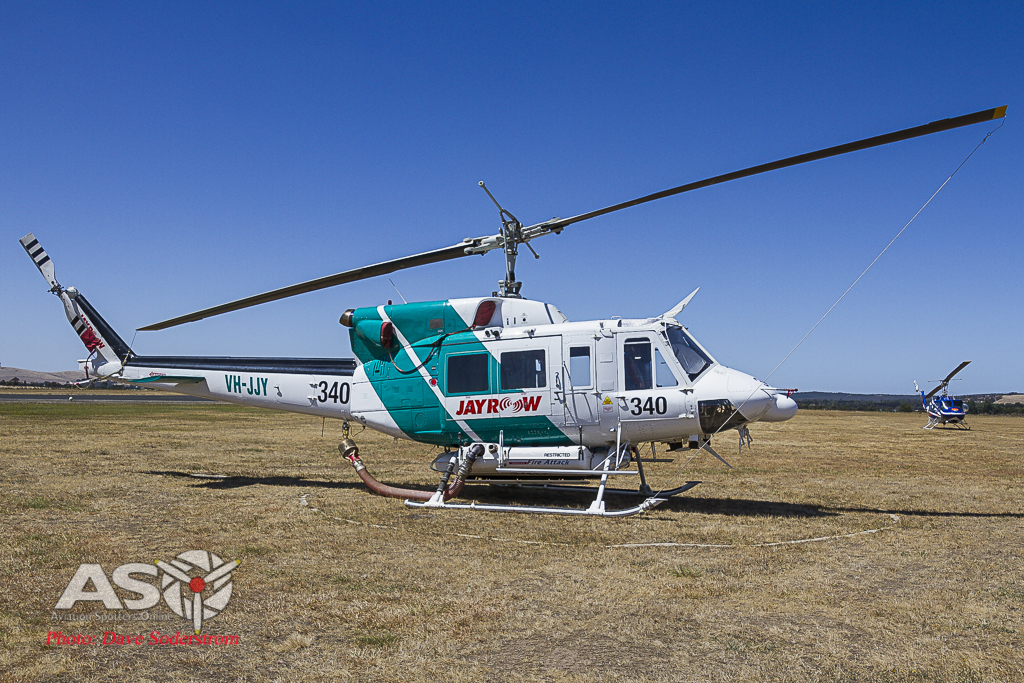 Jayrow Helicopters which is a Moorrabbin Airport based operator have a couple of Helicopters on contract this season. Jayrow which was established in 1965 is the largest and oldest Australian owned Helicopter company. Jayrow has two Bell 212s on contract in Ballarat this season. VH-JJY or 'Helitak 340' is seen here fitted with a 1400 Litre belly tank which can be filled within 45 seconds.  The Bell's are also certified to enable the transport and repelling of fire fighters into remote and inaccessible areas.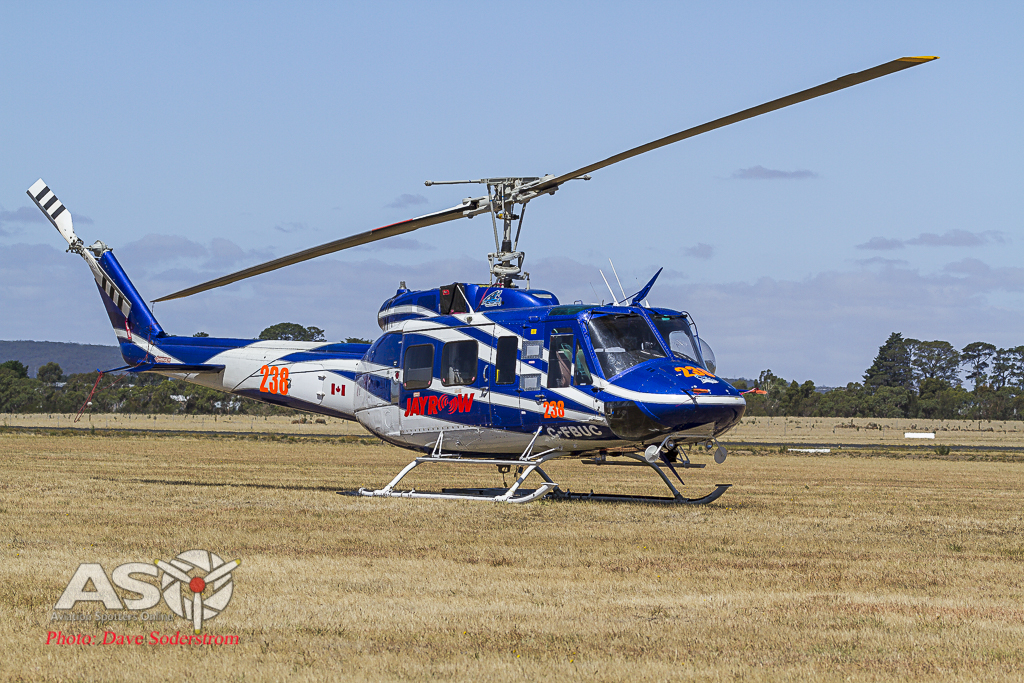 Jayrow Helicopters have leased this 1975 build Bell 212HP C-FBUC or 'Helitak 238' from Canadian based operator Great Slave Helicopters as a back up for Helitak 340.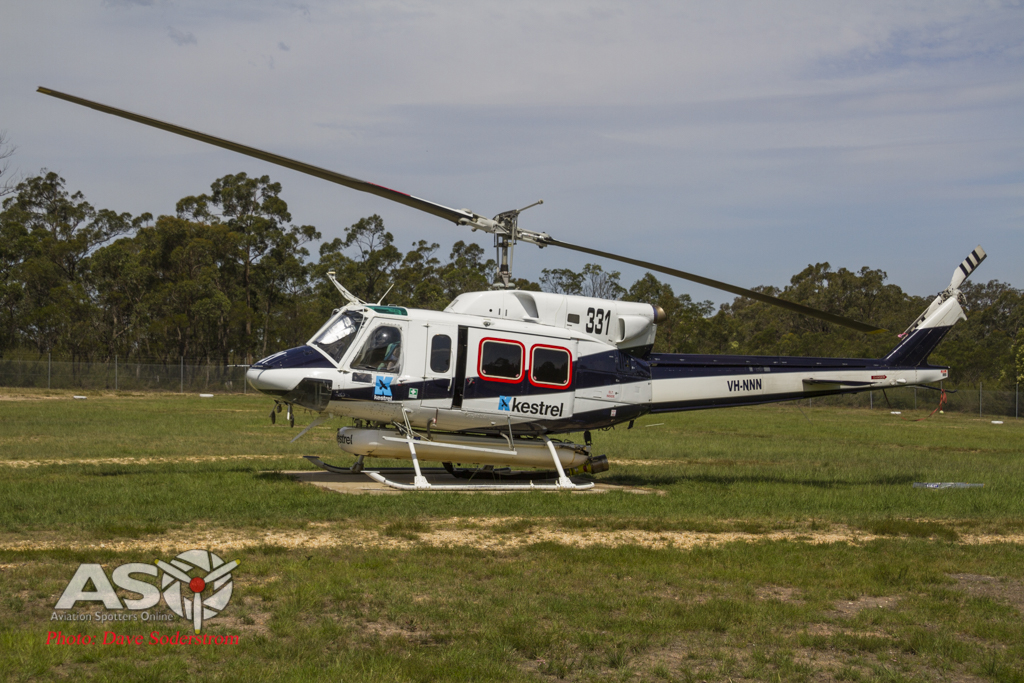 VH-NNN Bell 212 'Helitak 331' again supplied by Kestrel Aviation is based in Heyfield Victoria, this season.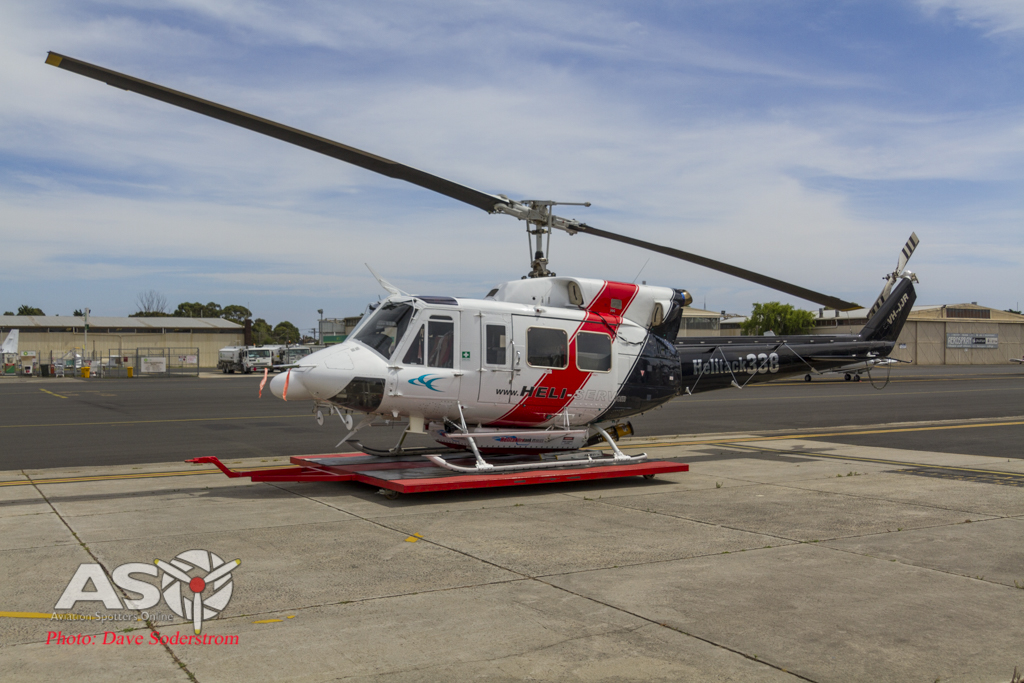 VH-JJR Bell 212 or 'Helitak 338' is operated by Moorabbin Airport based company Heli-Serv. This example has had an interesting life prior to coming to Australia. The aircraft was purchased new from Bell by the Royal Thai Army and for a number of years flew as part of the VIP fleet tasked to His Royal Highness Prince Maha Vajiralongkorn. The aircraft was sold on and moved to Australia in 2008 and has been fitted with a 1600 Litre underslung tank. The 212 is one of several helicopters on contract this season from Heli-Serv. along with this machine they have a number of examples of the Europoter Squirrel and Bell 206s. Heli-Serv has established in 2002 and are a regular contract provider of aerial firefighting aircraft for the Victorian Government.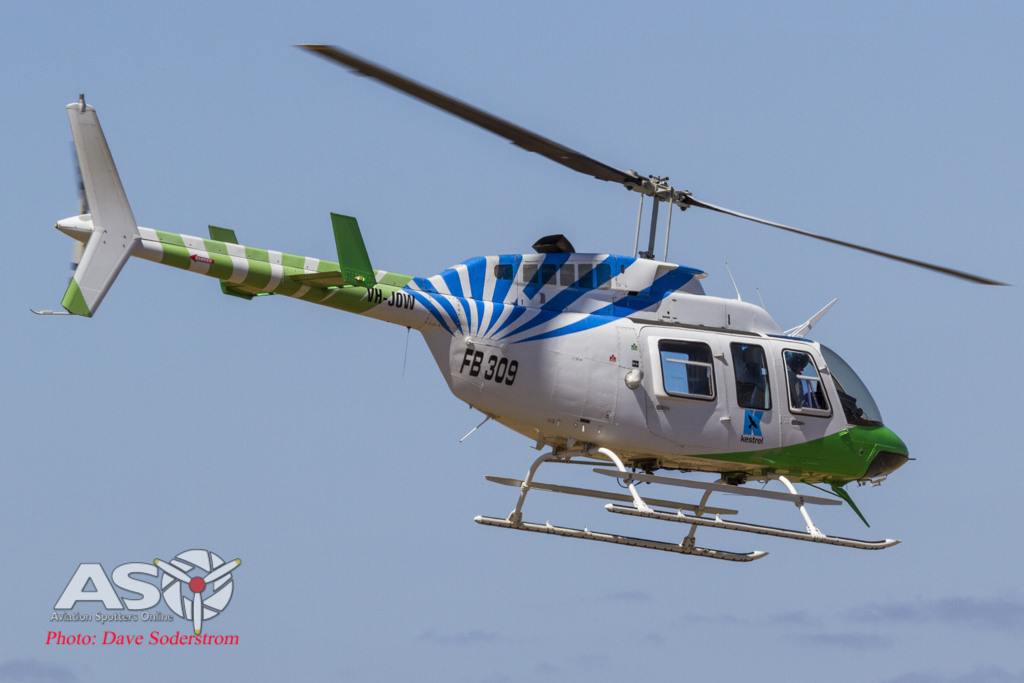 VH-JOW Bell 206L-1 or 'Firebird 309' is part of the Kestrel supplied fleet this season.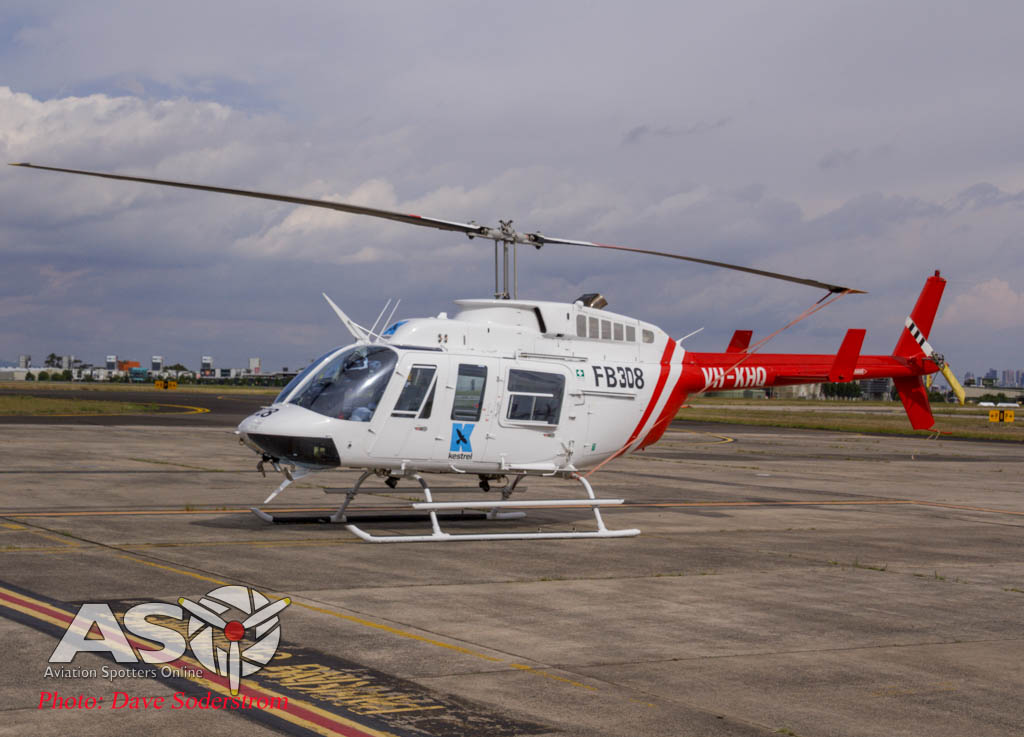 VH-KHQ Bell 206L-3 or 'Firebird 308' is another of the Kestrel supplied fleet this season and is seen here at its Essendon base.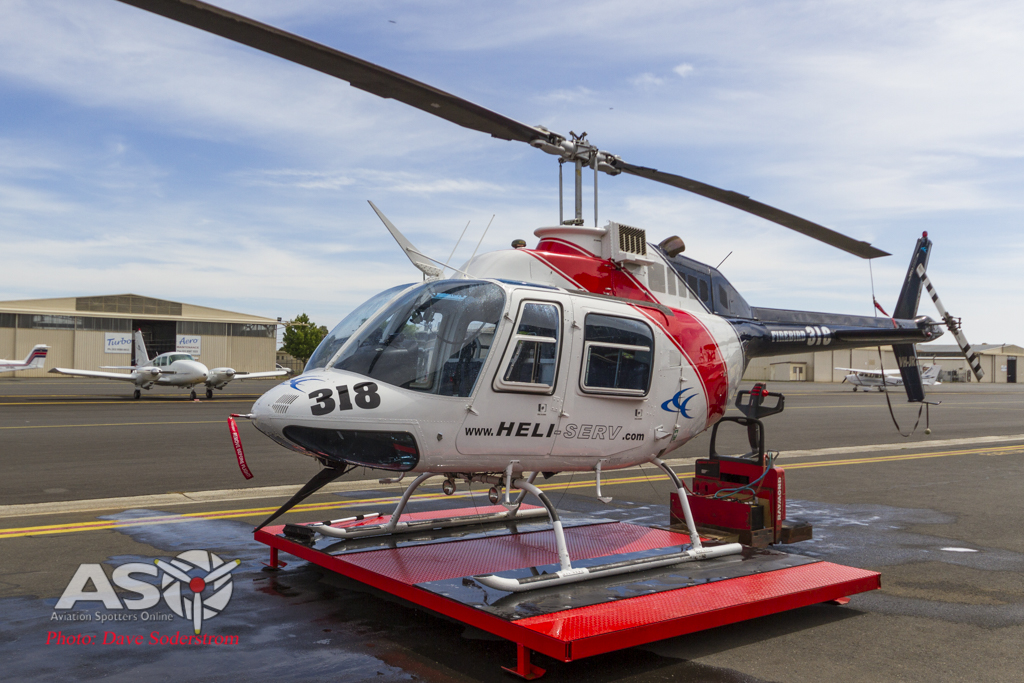 VH-JRE Bell 206 JetRanger 'Firebird 318' on contract from Heli-Serv, seen here on its moveable trolley at the companies home base at Moorabbin Airport in Victoria is one of six Bell 206's on contract this season. These helicopters have a wide range of roles which include, fire supervision, Incident observation, fire mapping, fire bombing with a 550 Litre Bambi bucket and general transport to name a few. The 206 is well suited to the supervision of fire bombing operations with its high (220 km/h) cruise speed which enables the helicopter to keep up with the large water bombing types.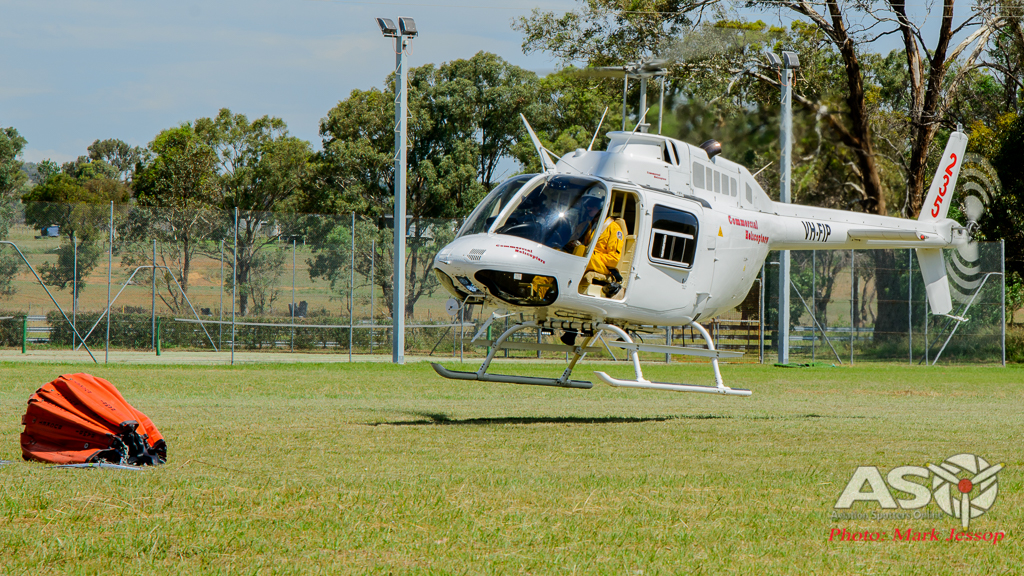 VH-FIP Bell 206B JetRanger 'Firebird 235' on contract from Commercial Helicopters based in Mudgee NSW is seen her ready to lift the Bambi Bucket at the Cooyal Fires in NSW.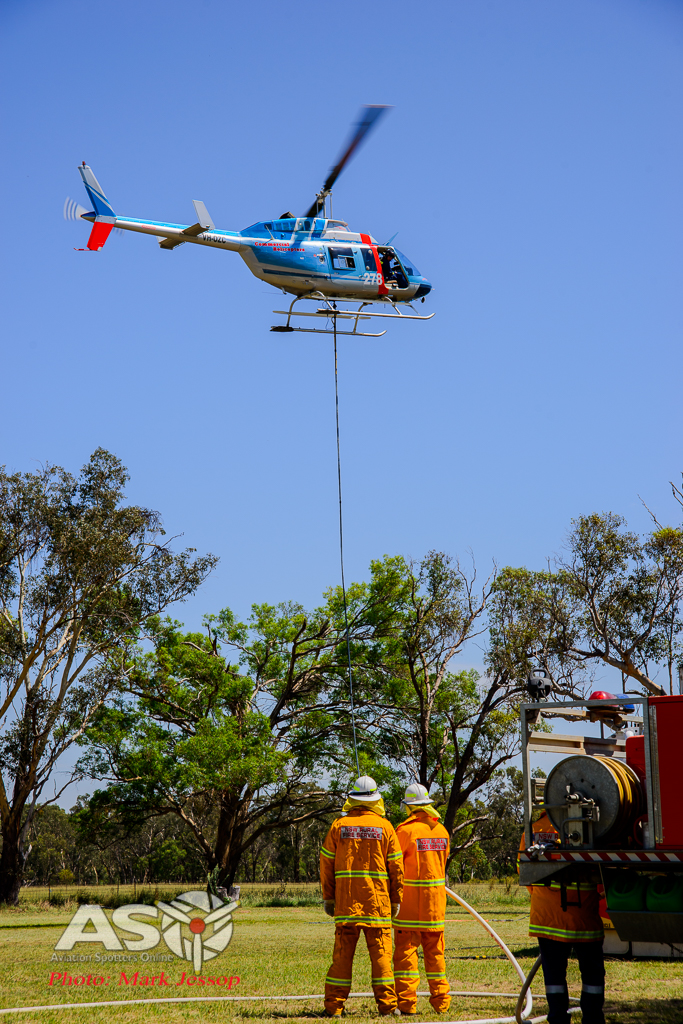 VH-OZC Bell 206L-3 JetRanger 'Firebird 278' on contract from Commercial Helicopters based in Mudgee NSW. Note the removed front doors to aid in clear visibility when operating with  the under slung Bambi Buckets. Something that should also be noted is the high level of training being done by Rural Fire brigades across the country. Thus trying allows them work with the various fire appliances in many many roles.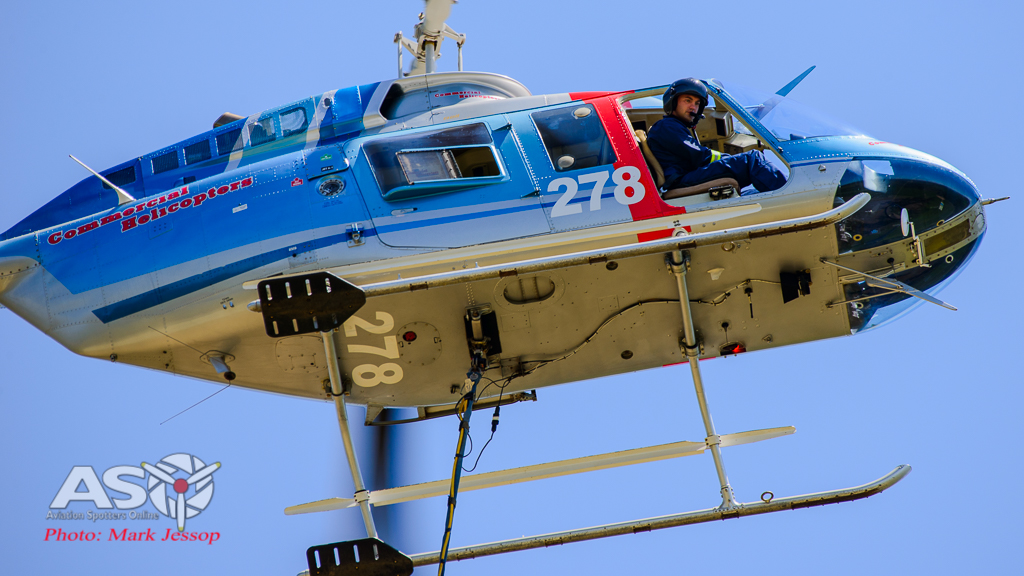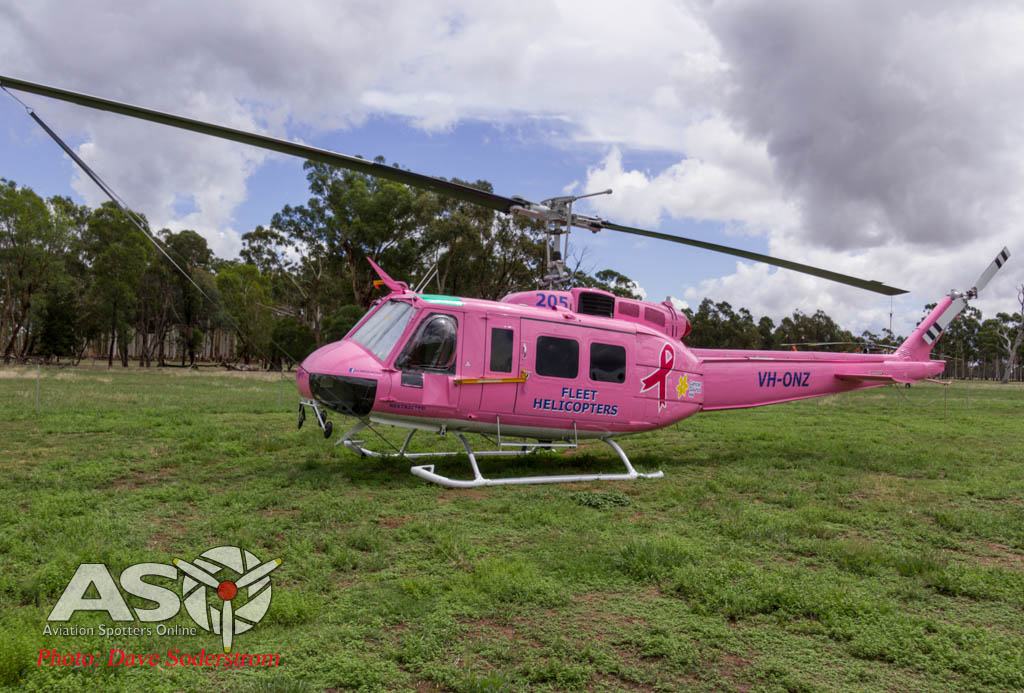 Fleet Helicopters Bell UH-1H, VH-ONZ Lucy or 'Helitak 205' . This aircraft was originally delivered to the United States Army as, 66-0746. Sold in to the civilian market it was purchased by Erickson Air Crane as N149AC. In 2008 it was registered in Australia and began operating for Aerial Agriculture in Armidale. It was extensively overhauled by Eagle Copters when it arrived and painted in this very noticeable livery. The bright pink paint work was added in aid of raising awareness for Breast Cancer through the Cancer Council. The agreement between the Cancer Council and the aircrafts owner was that they would donate an amount from every hour the aircraft is in operation. An extremely wonderful gesture.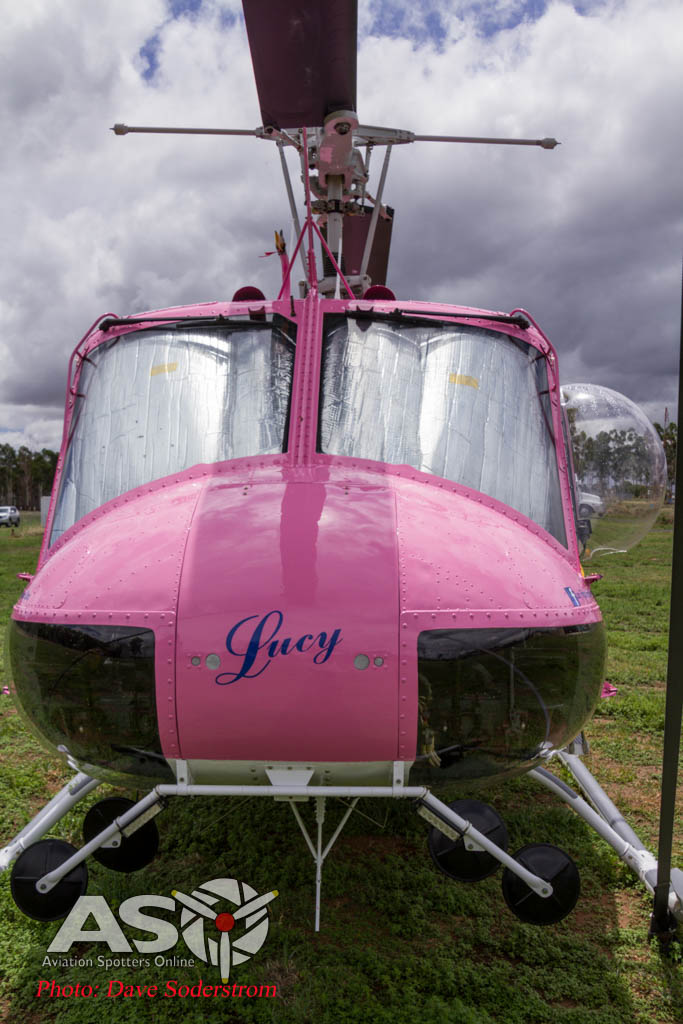 Fleet Helicopters Bell UH-1H, VH-ONZ Lucy or 'Helitak 205' , note the observation window which is for the pilot to get a clear and unobstructed view of the drop once it has been initiated.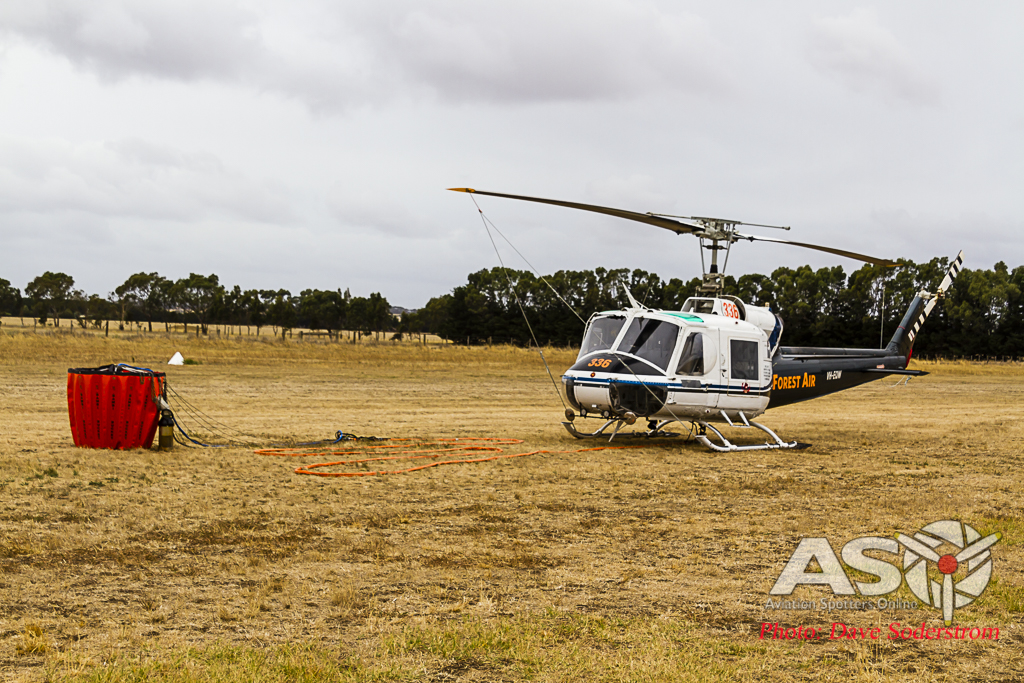 (Forrest Air's Bell 204B VH-EQW is a 1965 built machine which operates as 'Helitak 336' and flies with a longline 1290 litre bucket. )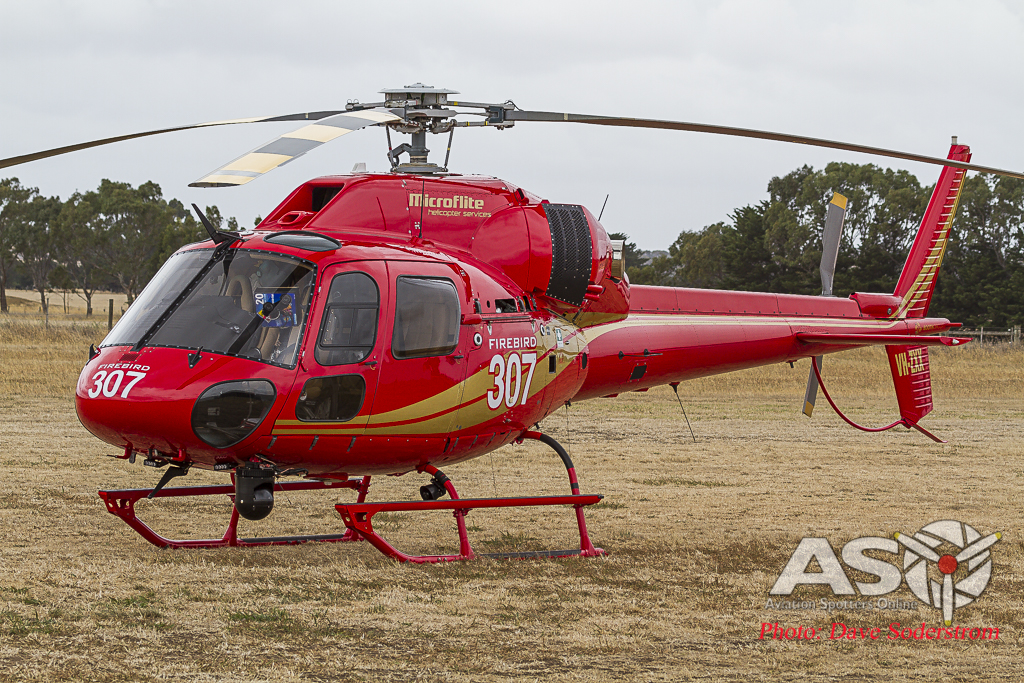 Microflite's, Eurocpoter AS355NP VH-ZXX, also known as 'Firebird 307'. This helicopter has an in-house developed sophisticated surveillance system is the first of its type and capability in Australia. Microflite has developed this from the ground up with a Wescam MX-10 camera. This single crew member set-up has three camera sensors which has enabled the crew to monitor the fires in both infra-red and in high definition which is sent in real time to the Emergency Management Victoria (EMV) control room when the machine is overhead a active fire which is vital for making accurate decisions in real time thus enabling the fire to be managed more effectively.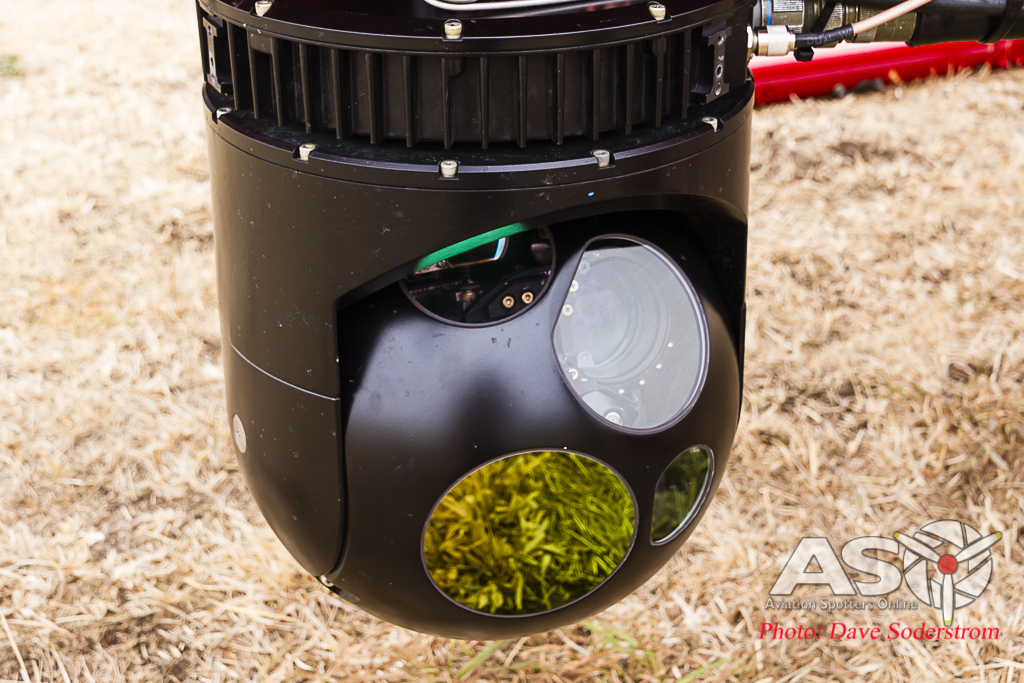 Wescam WX-10 camera in detail.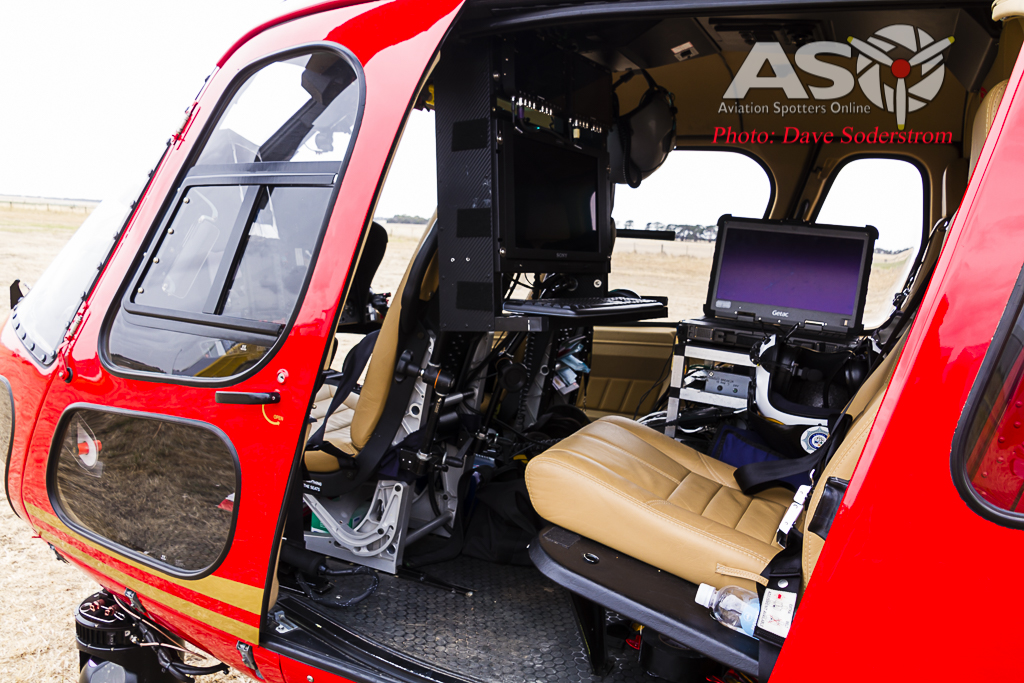 'Firebird 307's Cabin monitoring layout with four screens of display information, this installation is one of two set ups that Emergency Management Victoria (EMV) has for use this fire season.
A really interesting type which while it might look small has an impressive operational tempo and capability is the twin rotor Kman Aerospace K-MAX with its impressive 3000 litre under slung Bambi Bucket. This is the only one of its type in the country and certainly looks interesting with its twin rotor design.
Of course with out the people to fly, and maintain these machines the aircraft go no where. Crews from companies like Kestrel, Microflite, Coulson Aviation, Pay's Air Services, Field Air, McDermott Aviation, Truenorth Aviation, Forest Air, Heli-Serv, Erickson and Aerotech are some of the providers with contracted aircraft, maintenance crews, fuel truck drivers, aircraft refuellers and a multitude of other tasks to do during this season. This mix of people who hark from all corners of the globe including Australia, New Zealand, United States, Canada, Ireland and other further places afield. To these pilots, crews and people associated with the aircraft who work long hours and through hot weather and tough operating conditions we at Aviation Spotters Online would like to say thank you and we dedicate this feature to you for your efforts in this season which has unfortunately been intense right across the country.  Thank you.
The author would like to acknowledge the crews who volunteered their time and information to prepare this article. Thanks to John, Travis, Rick, Ray, David, Kevin, Dan, Ashleigh, Allardes,Ross, Kenny, Terry and Stephen. I owe you all a drink for the help, guidance and time you all spent with me, I hope this article does you all proud. Thanks everyone.
By Dave Soderstrom