What's on approach is a gallery where we can show off the latest aircraft around the airports.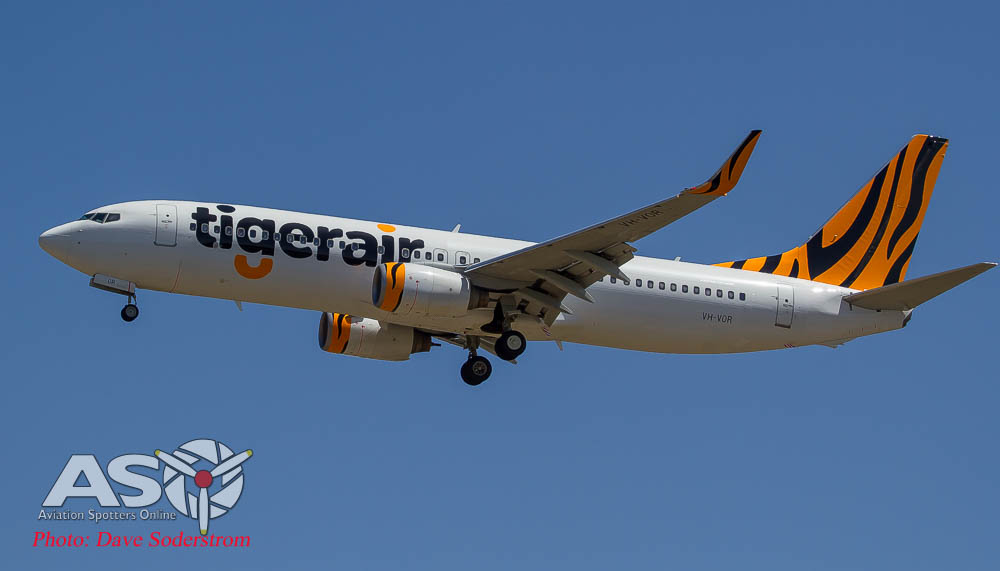 7/2/16 VH-VOR, Boeing 737-8FE is the second of three 737s being transferred from Virgin Australia to the wholly owned low cost airline Tigerair. The 737s are to be used on the airlines Bali services which include, Melbourne-Bali, Perth-Bali and Adelaide-Bali. The services are to commence on March 23rd, the aircraft will be operated on Virign Australia's air operators certificate, being flown by Virign pilots and Tigerair cabin crew. The aircraft have an all economy cabin class now allowing 180 seats in the aircraft.
VH-VOR was originally delivered to Pacific Blue in 2004 which was Virgin Blue's New Zealand based subsidiary. In 2006 it was leased to Polynesian Blue again another subsidiary of Virgin Blue. A final livery change came in 2012 where as part of the Virgin Australia re-branding where the airframe became Virgin Samoa. 2015 saw it return to the parent company fleet and now after a repaint with Townsville based painting company, Flying Colours it was noted on return from there this afternoon into Tullamarine Airport. to join VH-VUB.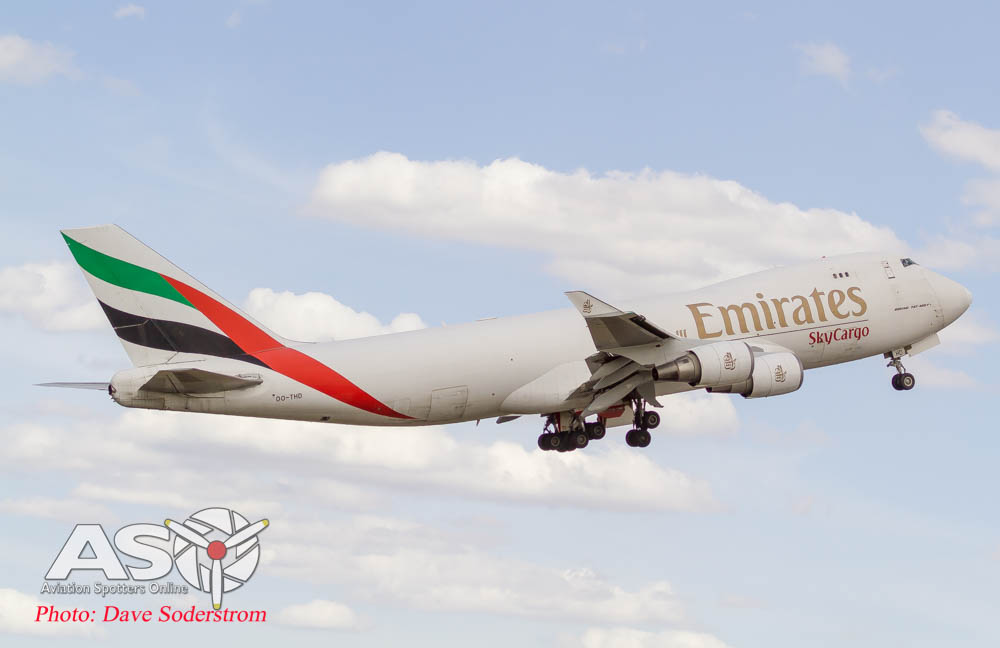 15/2/16 Emirates SkyCargo Boeing 747-4HAF(ER) dropped into Melbourne Airport this week. The aircraft flew in new parts and tyre for the stricken Airbus A380 A6-EEF which was subject to a hard landing earlier in the week. Its great to see the 747 at Tullamarine. This particular 747 is only 8 years old and is leased from T.N.T Airways.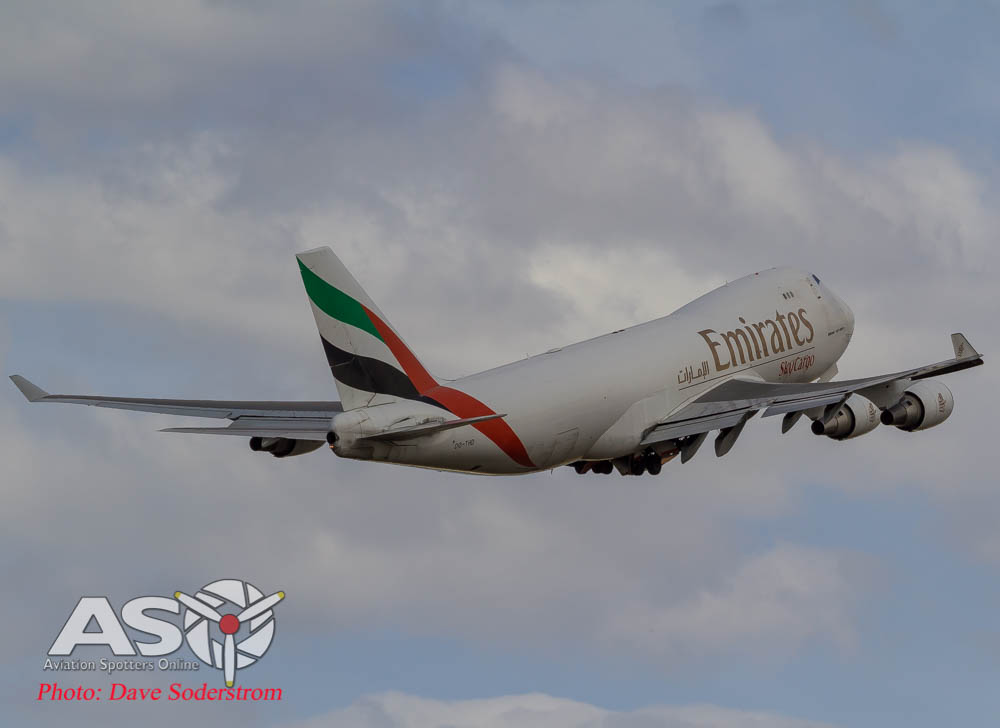 18/2/16 Another rare Boeing 747 Freighter flew into Avalon Airport this evening as CV852 from Singapore. Cargolux International Airlines is based in Luxembourg and is Europe's biggest all cargo airline with a fleet of Boeing 747-400 and 747-8 freighters, operating 11 and 13 respectively. The company was the launch customer and the world's first operator of both aircraft types. When LX-VCL was delivered to Cargolux at a ceremony on March 5th 2015 the aircraft was fitted with a distinctive logo, bearing the name Joe Sutter 'Father of the Boeing 747'. Joe was a Boeing engineer who led the team which designed the aircraft.  Tonights flight into Avalon Airport in Victoria's west was to bring in motorbikes and equipment for the World Superbikes held at Phillip Island. The aircraft's stay in Australia was short as a flight plan was filed soon after arrival for a departure as CV853 to Cotopaxi International in South America some 15 hours in flight time.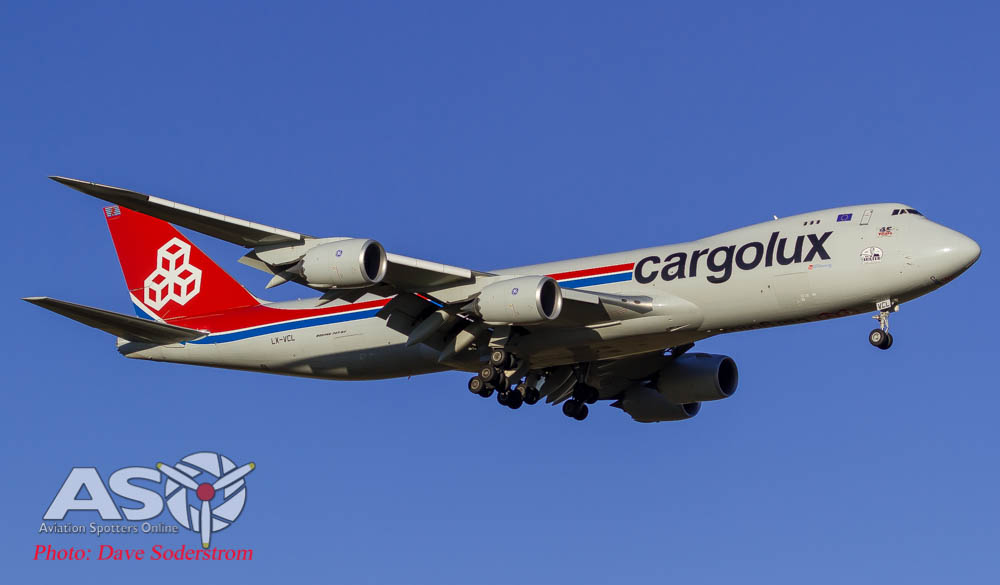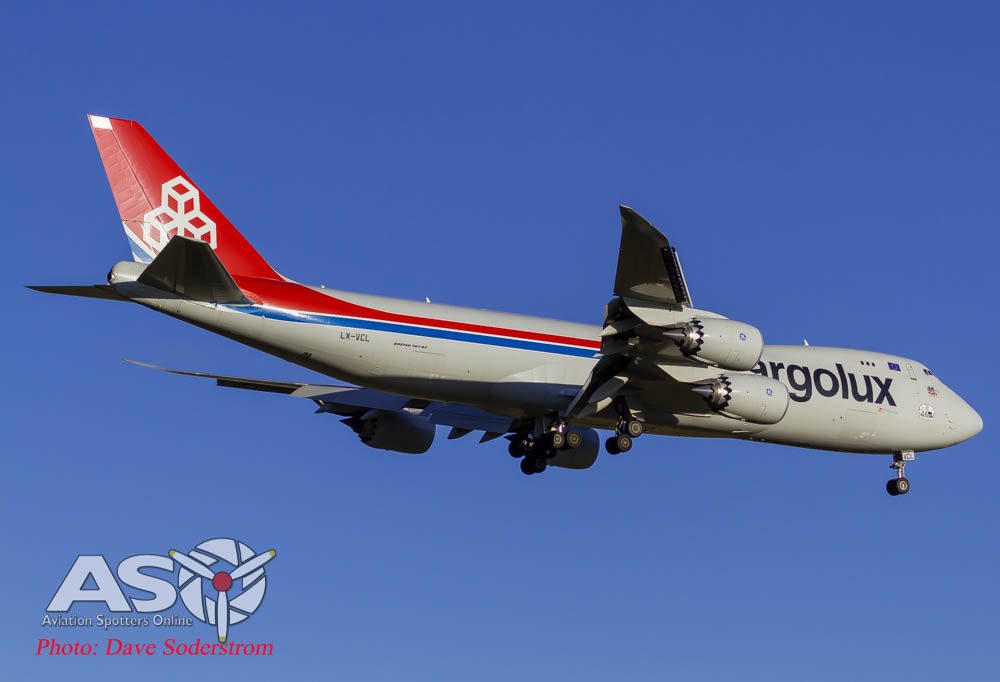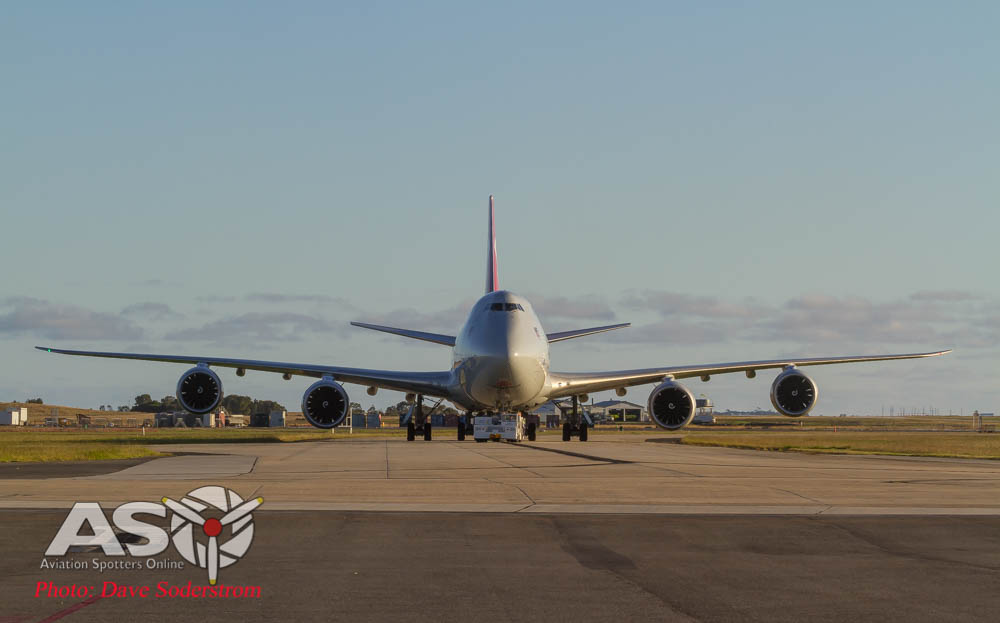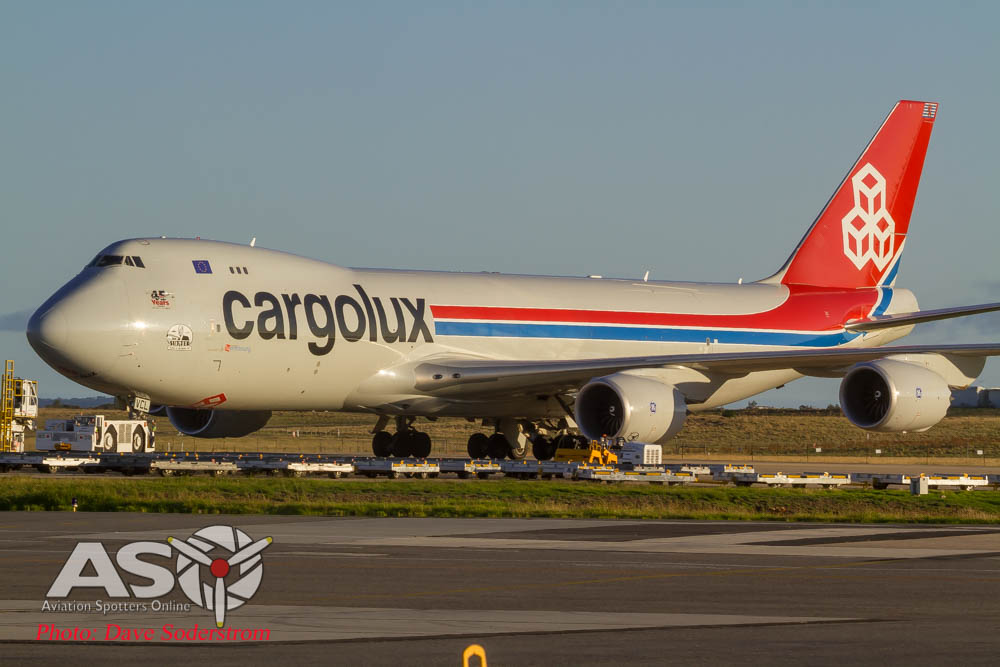 21/2/16 Another day another Freighter. Todays interesting visitor was another Emirates Cargo aircraft, this time a Boeing 777-F1H which was delivered to Emirates Cargo on the 25/8/2011.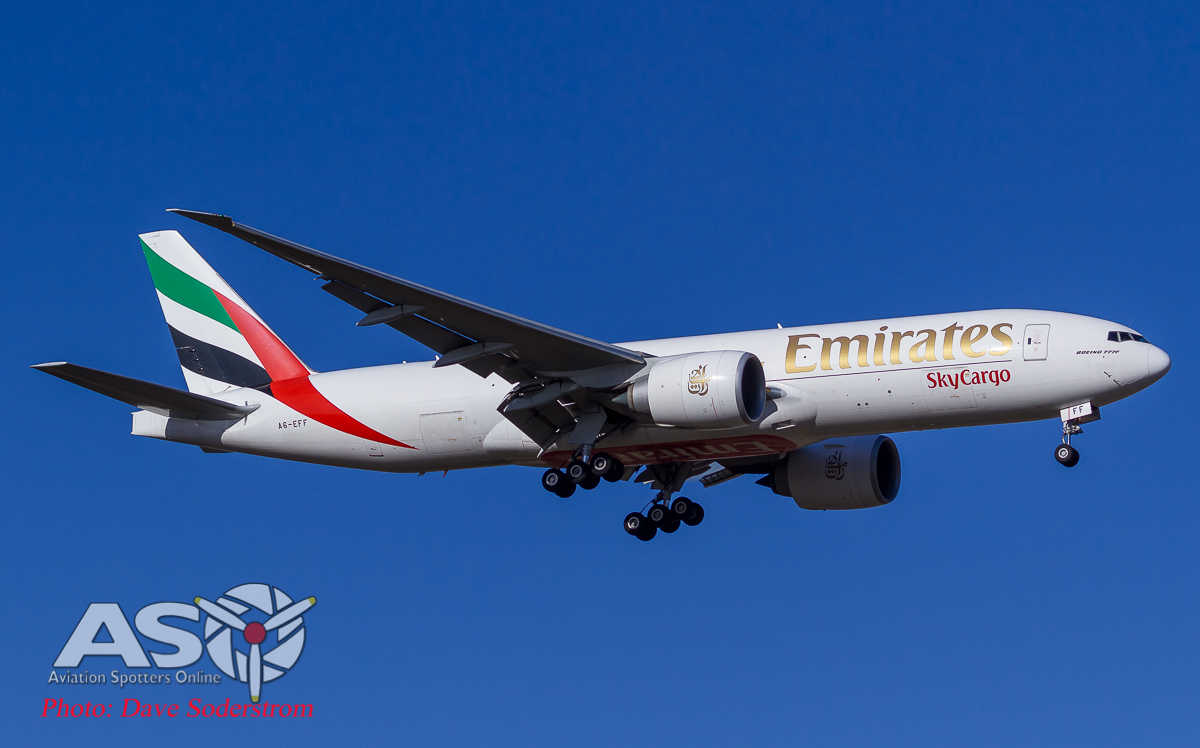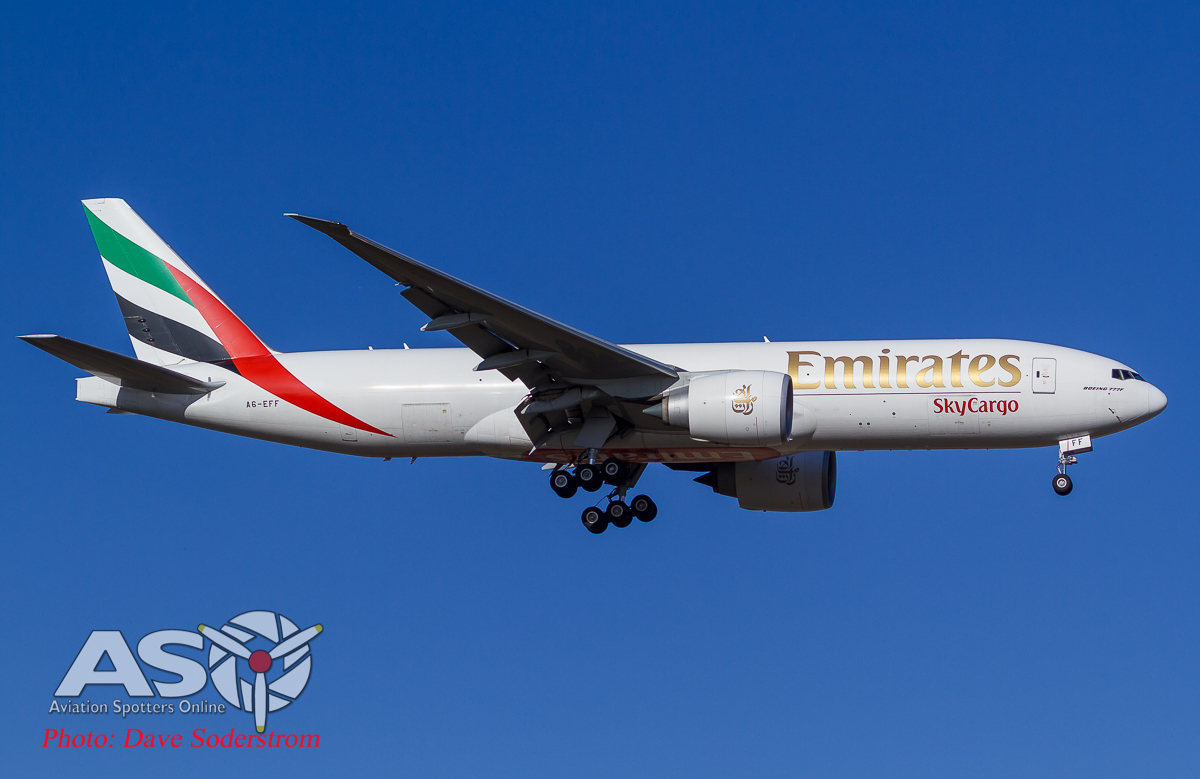 5/3/2016 Grey on Grey. The RAAF made an appearance at Tullamarine today. Lockheed Martin C-130J A97-447 was the aircraft that made the appearance. Its always nice to see some military hardware. A97-447 was delivered to the RAAF in 2000.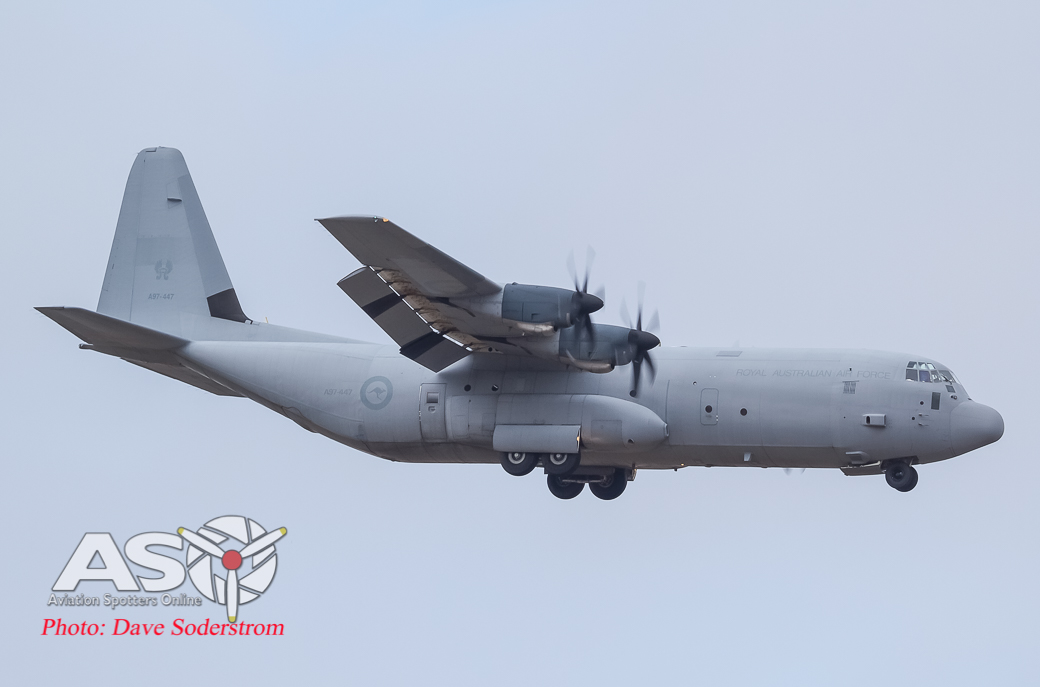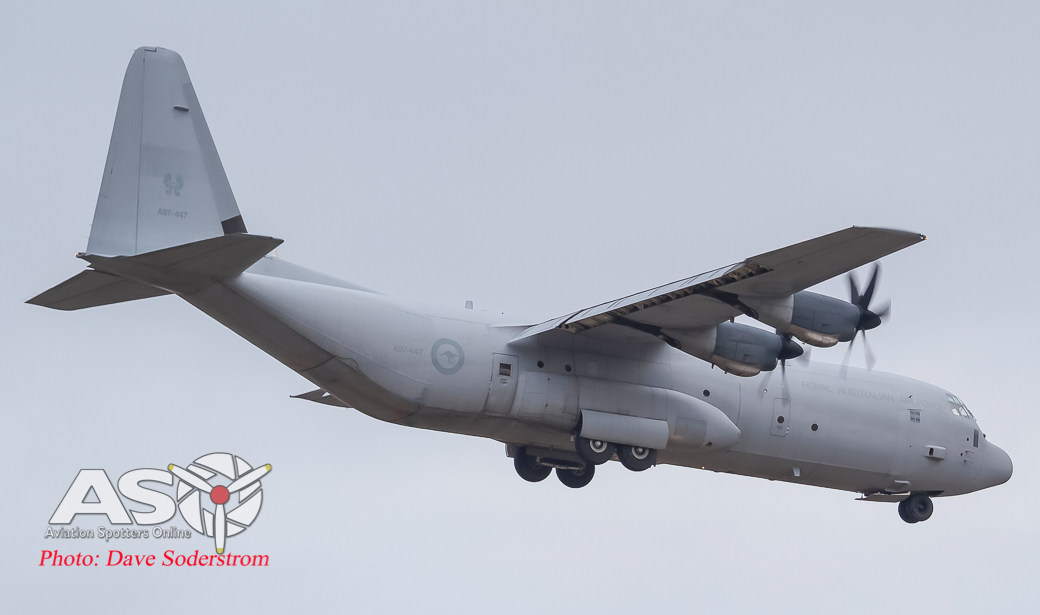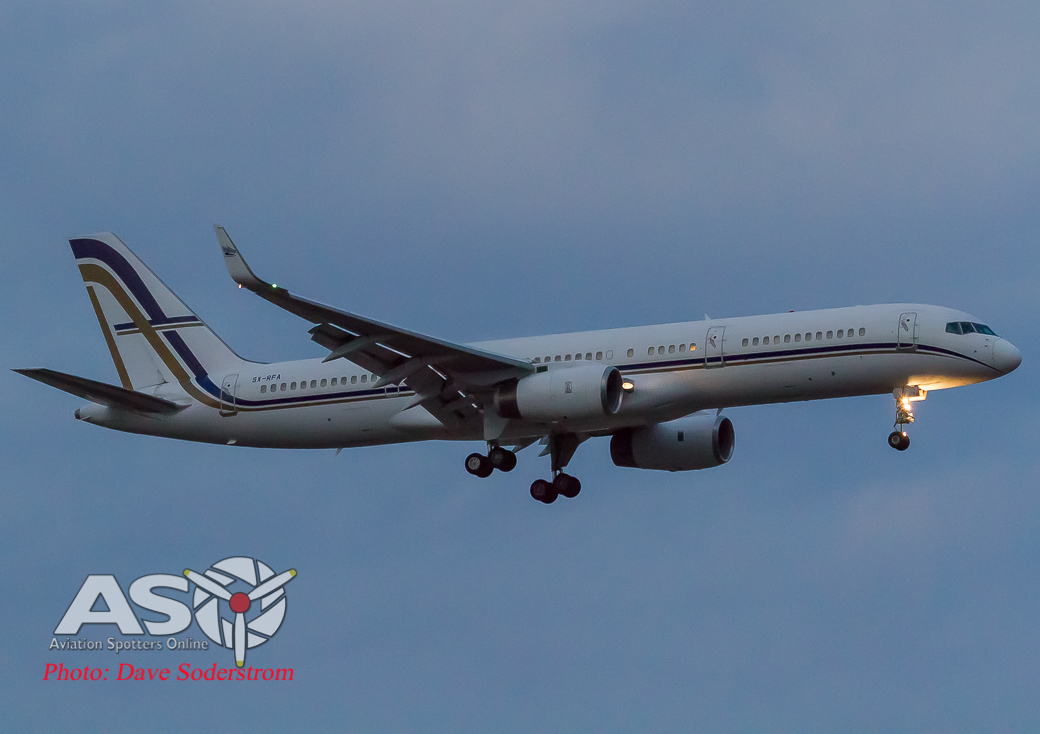 7/3/2016 Superstar arrives, the mistress of music Madonna arrived this evening aboard Gainjet Aviation's Boeing 757-23N. SX-FRA. The flight from Auckland to Melbourne arrived around 8pm local time at Tullamarine. The 757 is a rare treat for those who were there to see the Executive charter aircraft.
Originally delivered on 1/09/1999 to American Trans Air as N523AT, the 757 has had a host of operators including, ATA Airlines, VTA Airlines, Air Bashkortostan and finally Gainjet Aviation who took ownership in 2008. The aircraft is configured for 62 passengers with a Stateroom and En-suite.
Gainjet Aviation are based in Athens, Greece and operated a large fleet of VIP configured aircraft including 737-400, Gulfstream G650, Gulfstream G550 executive jet,  Bombardier Global Express XRS, Gulfstream G450, Embraer Legacy 600 and a Bombardier Challenger 604.
12/2/2016 Heavylifter drops in. Royal Australian Air Force Boeing C-17A, A41-209 called in today. Operated by 36 Squadron based at Amberley in Queensland.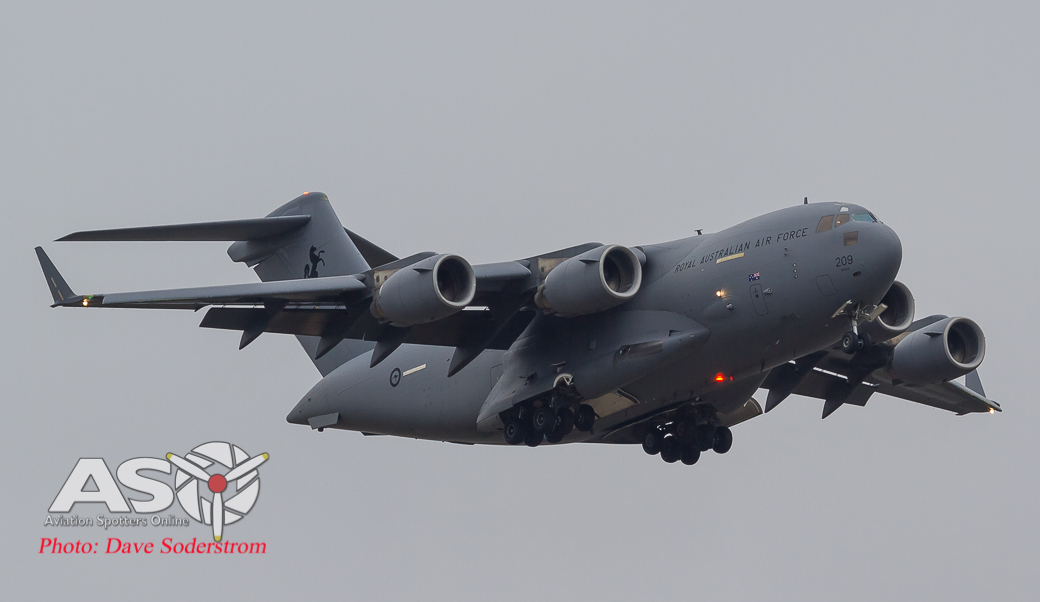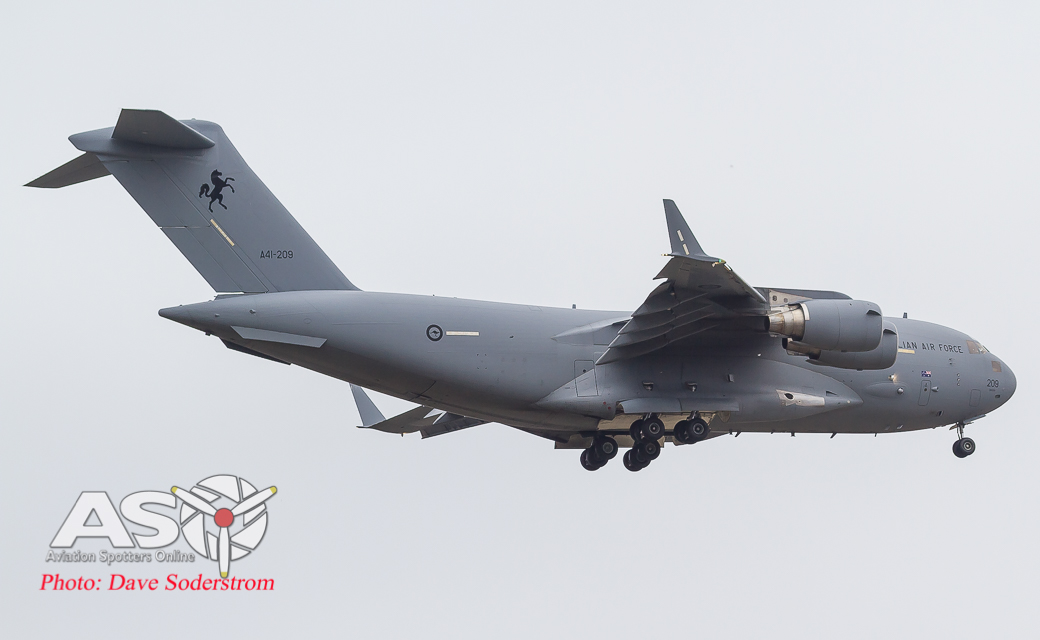 13/3/16 747 Heaven, Melbourne hosts the Formula 1 Grand Prix this month and every year there is a flurry of Cargo aircraft that brings the cars, and the vast array of equipment required to hold the event to our shores. Today saw the continued mass haulage of the equipment which included team spares and the F1 Safety and Medical cars. Avalon has been a hive of activity with four 747s flying in at various times during the day, the previous week has seen serval more 747s arrive also. Today three different 747s arrived from  two different operators. American operator Atlas Air and Russian operator Air Bridge Cargo flew in 747-400Fs and 747-8F respectively.
First to arrive was Atlas Air Boeing 747-47UF cn 29260 / 1240 was delivered from the factory to Atlas on the 17th February 2000.
The aircraft was quickly marshalled into the unloading area for unloading.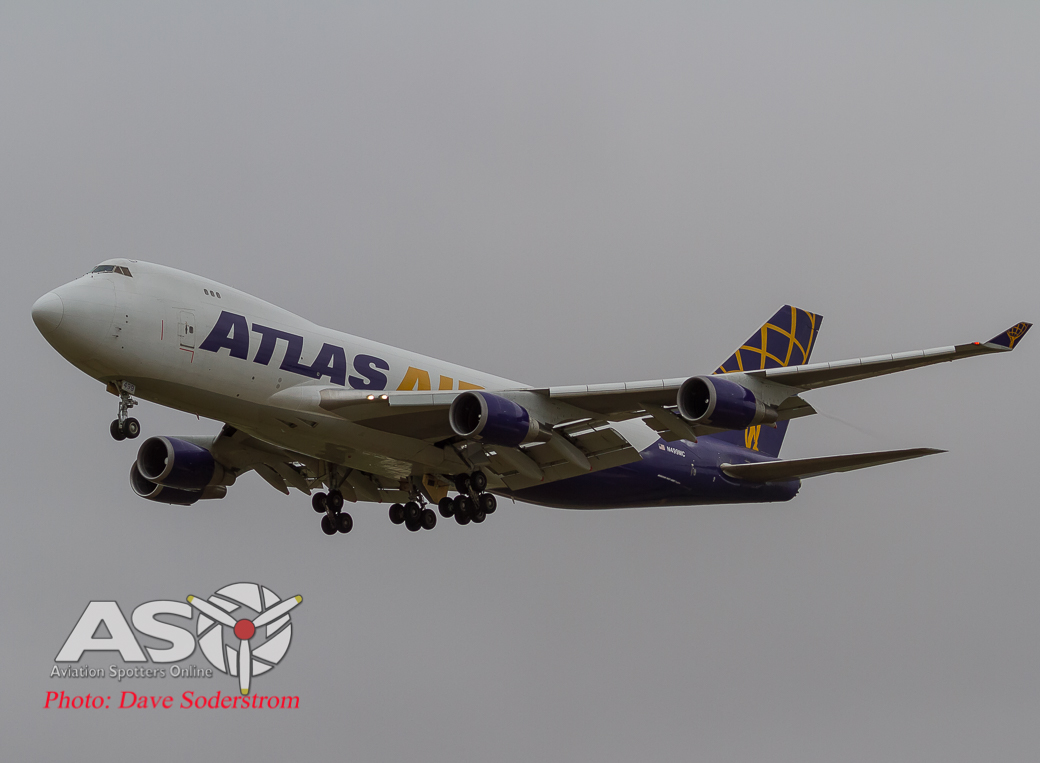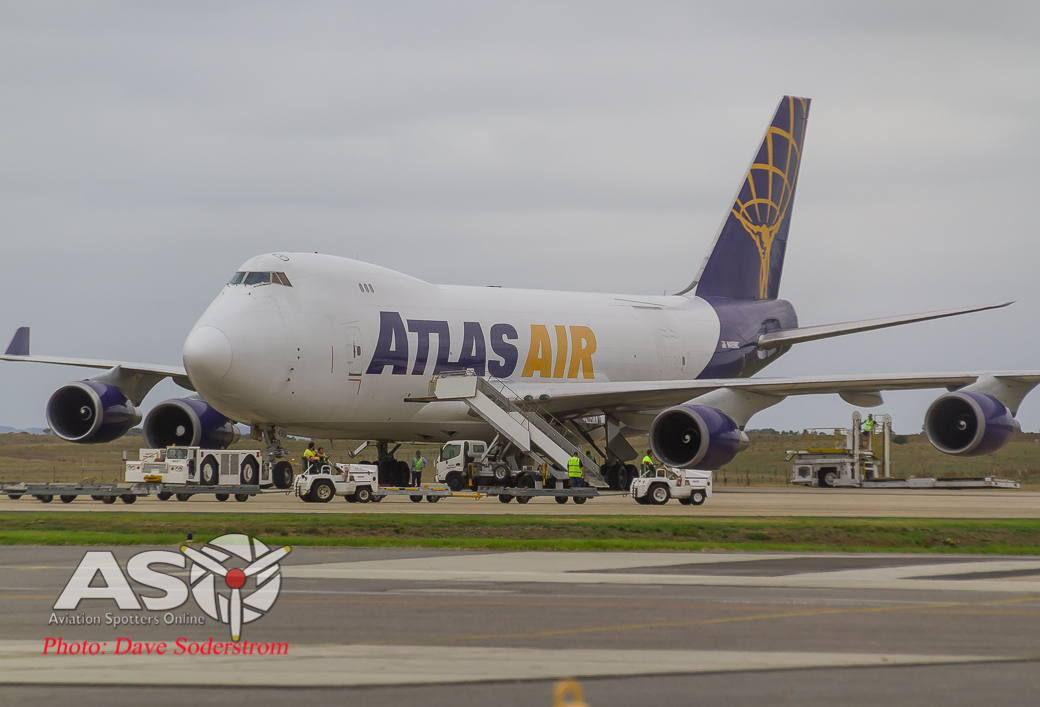 Next to arrive was Atlas Air Boeing 747-48EF cn 28367 / 1096, this aircraft was originally delivered to Asiana Airline  as HL7422 on 8/12/1996. It moved on to Air Atlanta Icelandic as TF-AMO and finally to Atlas Air in 2008.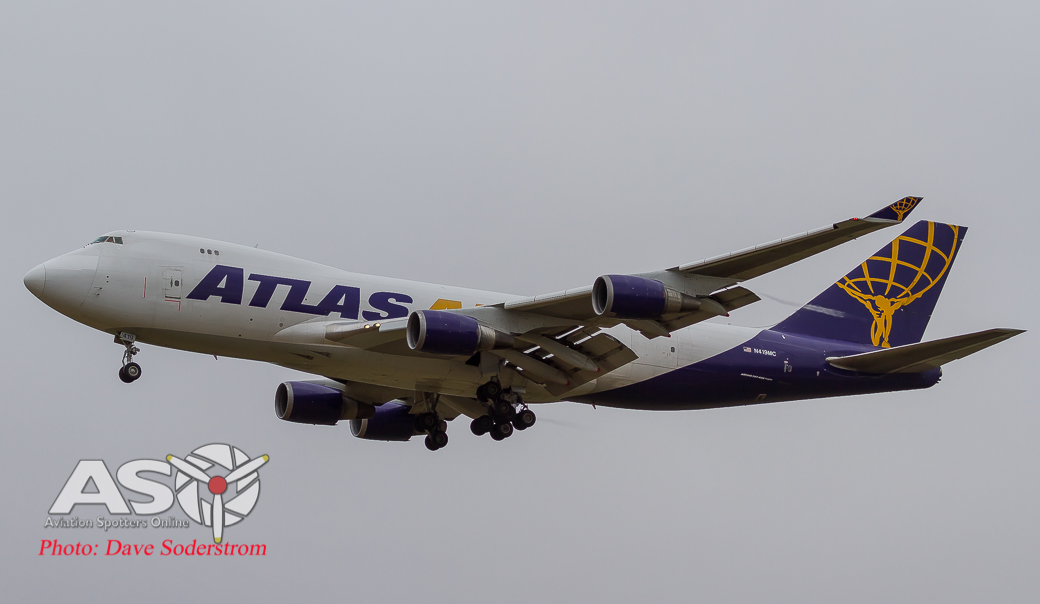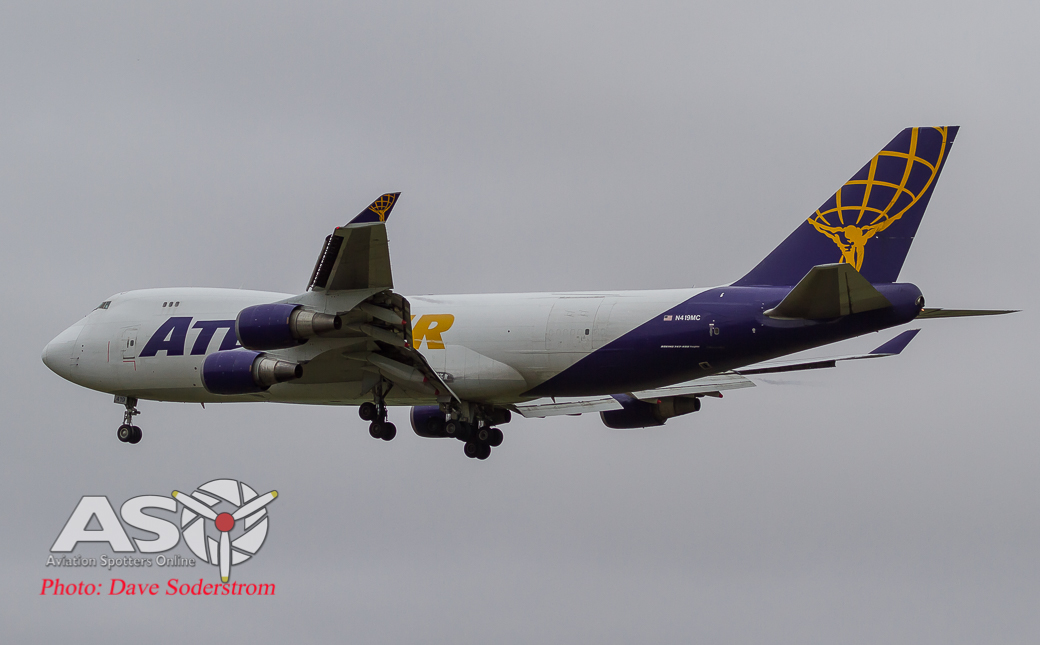 This arrival allowed for the shot of the two Atlas 747s facing each other off on the Avalon apron.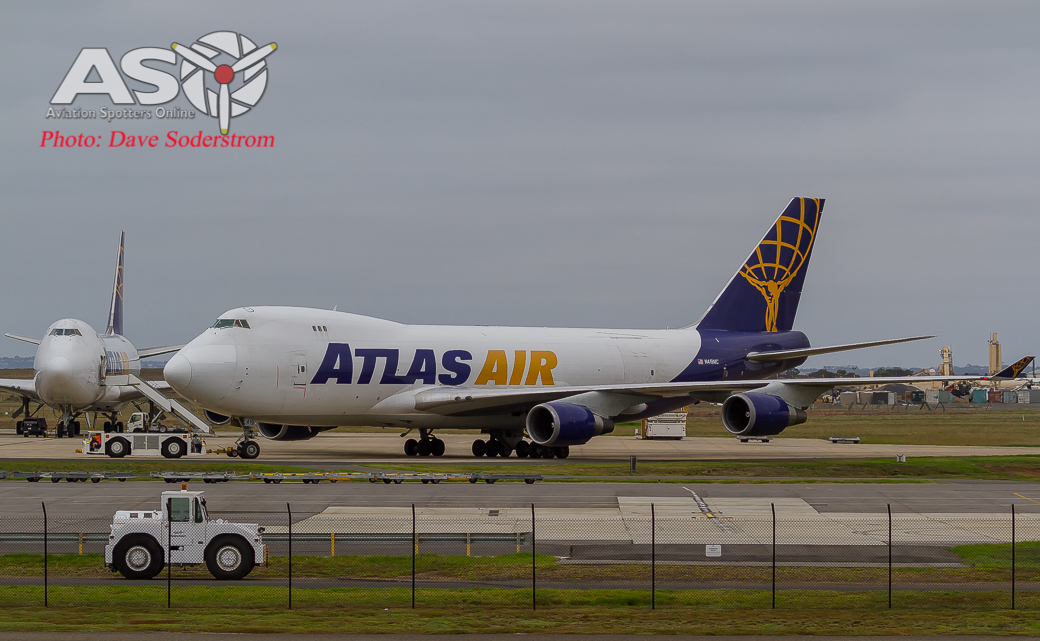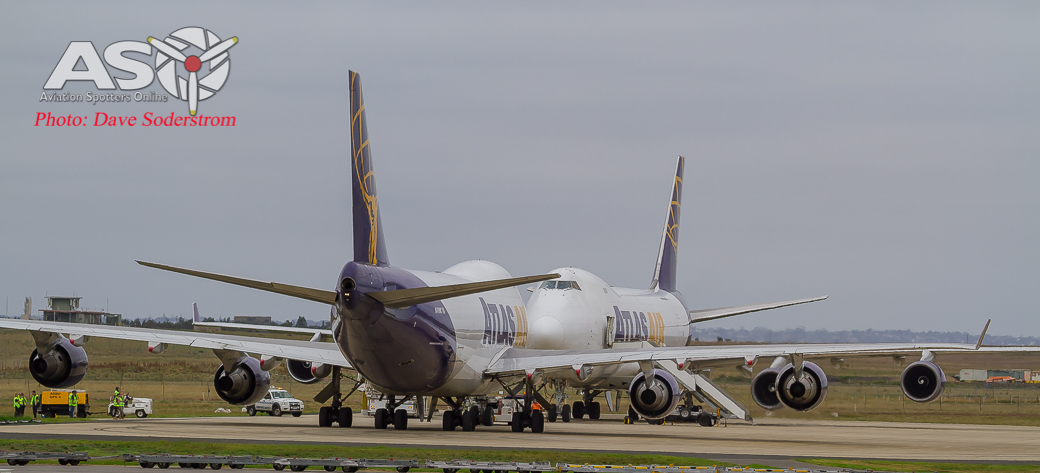 The third 747 to arrive was the modern version from Air Bridge Cargo. Boeing 747-8HVLF cn 37670 / 1482 was delivered to Air Bridge on the 23rd December 2013.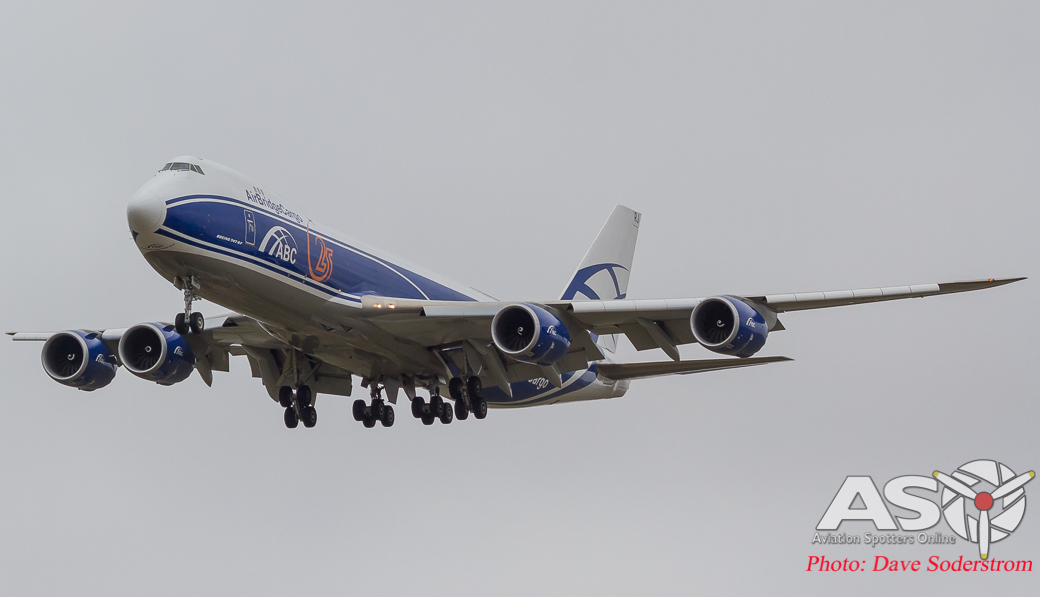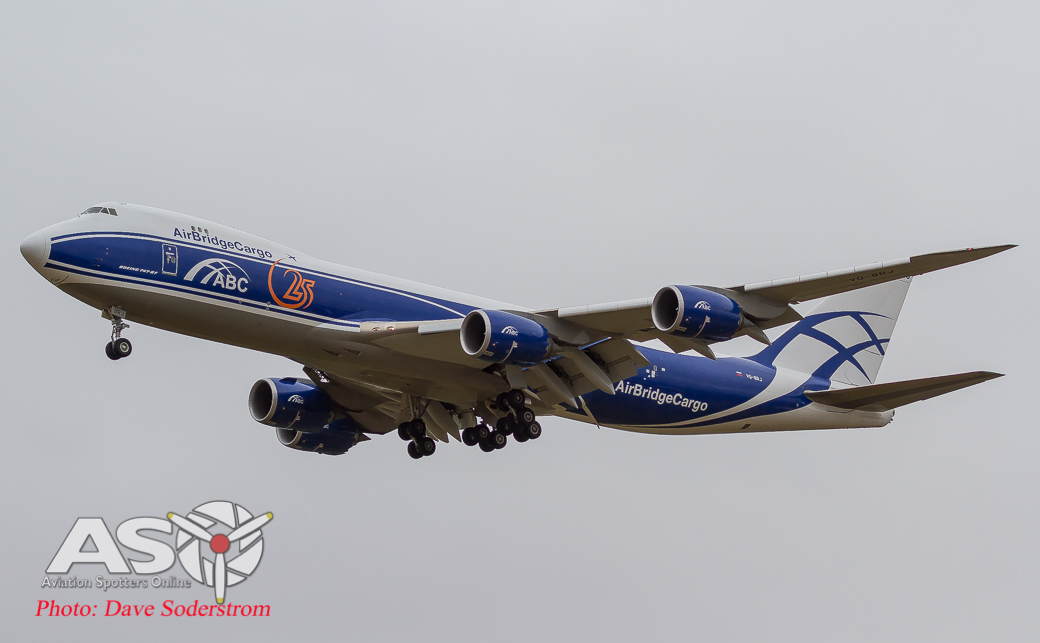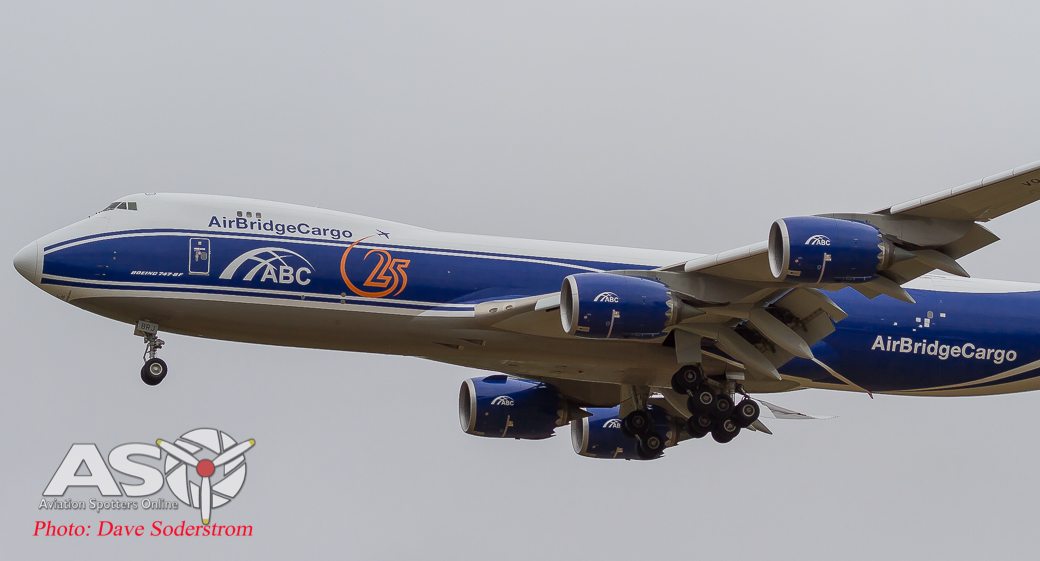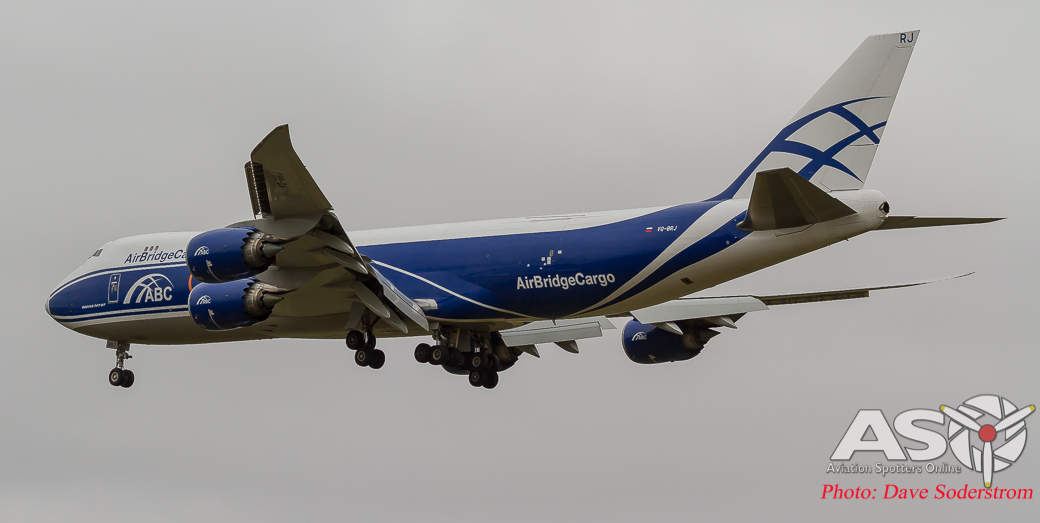 14/3/16 New airline starts RPT services into Tullamarine. Airnorth Embraer ERJ-170LR VH-ANT operated the inaugural service today.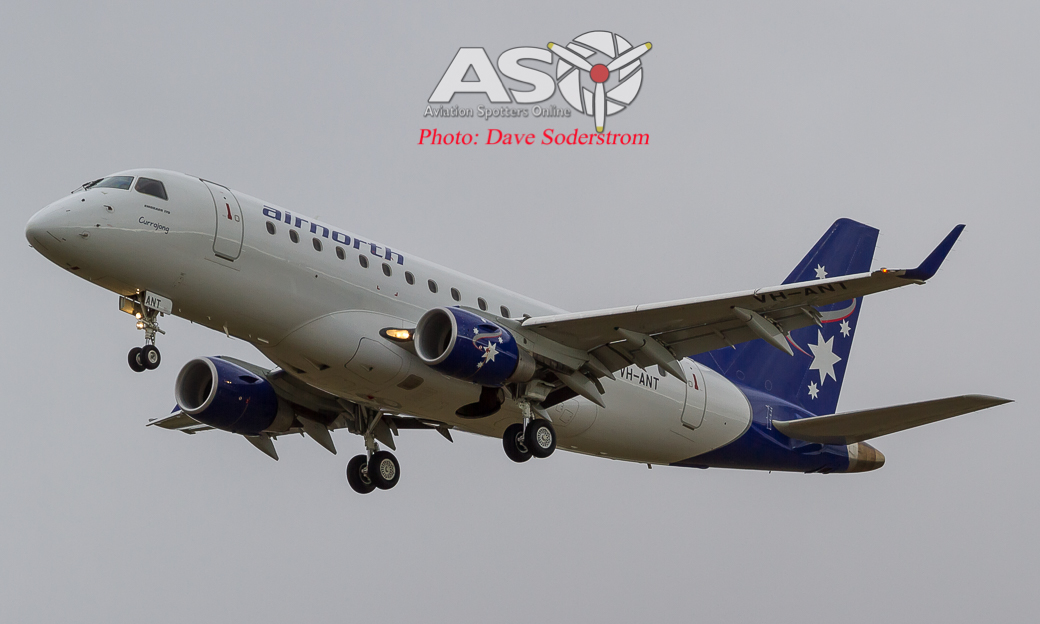 Airnorth commenced services in 1978 initially as a charter operator before moving into  RPT (Regular Public Transport) Services. Based in Darwin the airline continues to grow and operates a network around the North of Australia. The jetage came in 2007 with the introduction of the EMB-170. A major change came last year when Bristow Helicopters Australia purchased Airnorth, now the airline operates over 300 RPT services to over 20 destinations servicing four countries.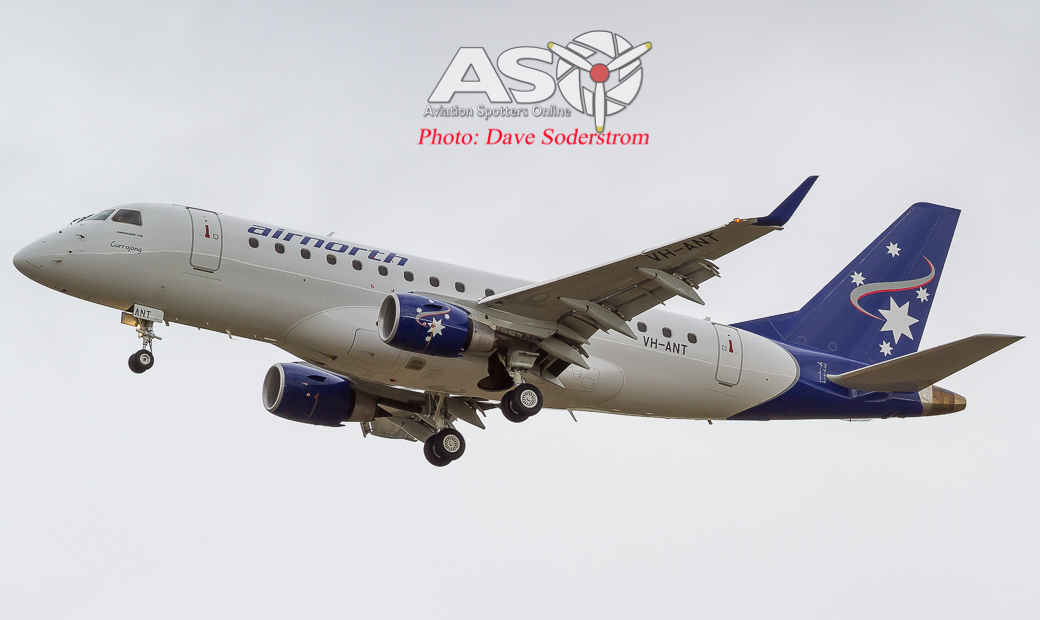 VH-ANT was delivered to Airnorth on the 22nd of April 2013.
15/3/2016 Ssssshhh! I see nothing…….nothing………Nothing! A welcome surprise and a very rare older model business jet has been operating out of Tullamarine the last few days. Grumman Gulfstream G-IISP, N510AG is operated by the Orion Air Group. It has supported Northrop Grumman's development of the multi-role, tactical-command data link (MR-TCDL). The aircraft was modified with 19-inch and nine-inch, satcom dish-antennas, as well as additional radomes on the top and bottom. The aircrafts mission in Australia is being kept under wraps at the present time however with the RAAF announcing the aqusiation of five G550 ELINT aircraft after the Defence White Paper release, one plus one equals G2!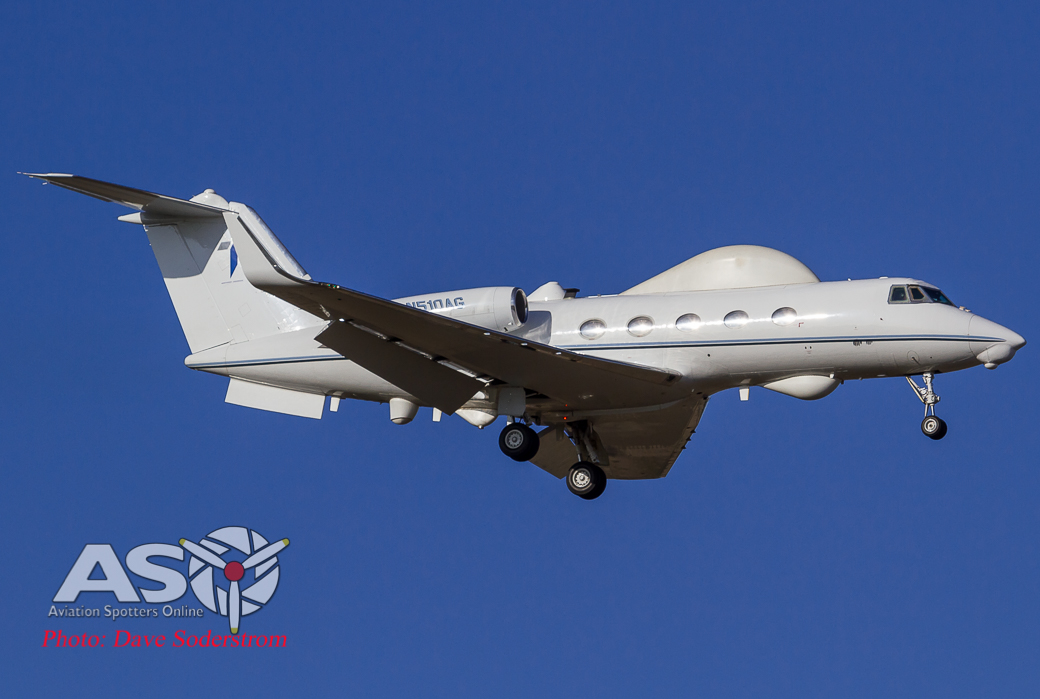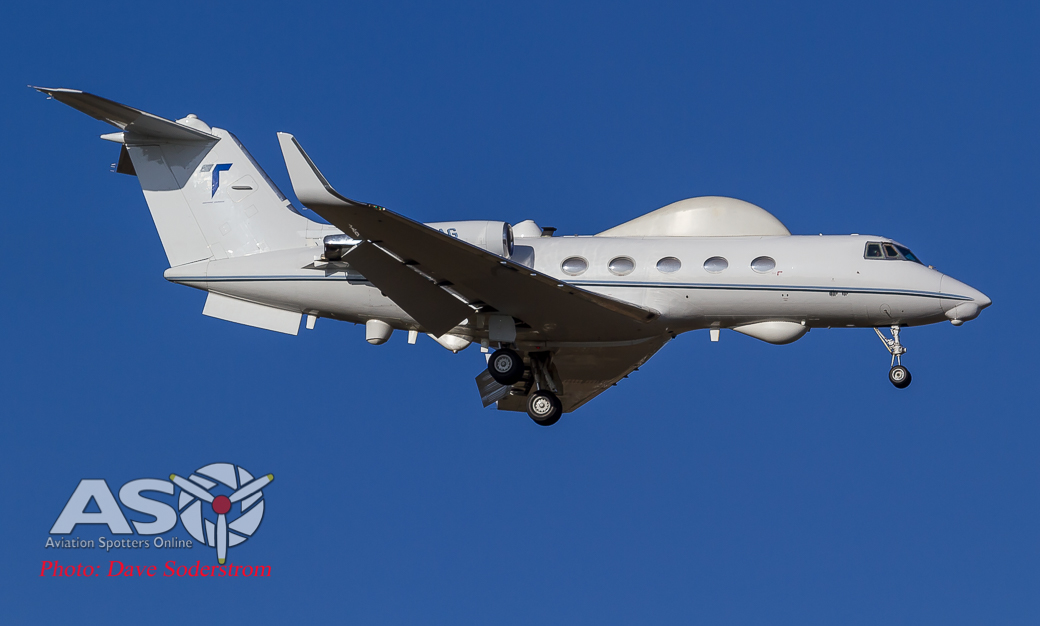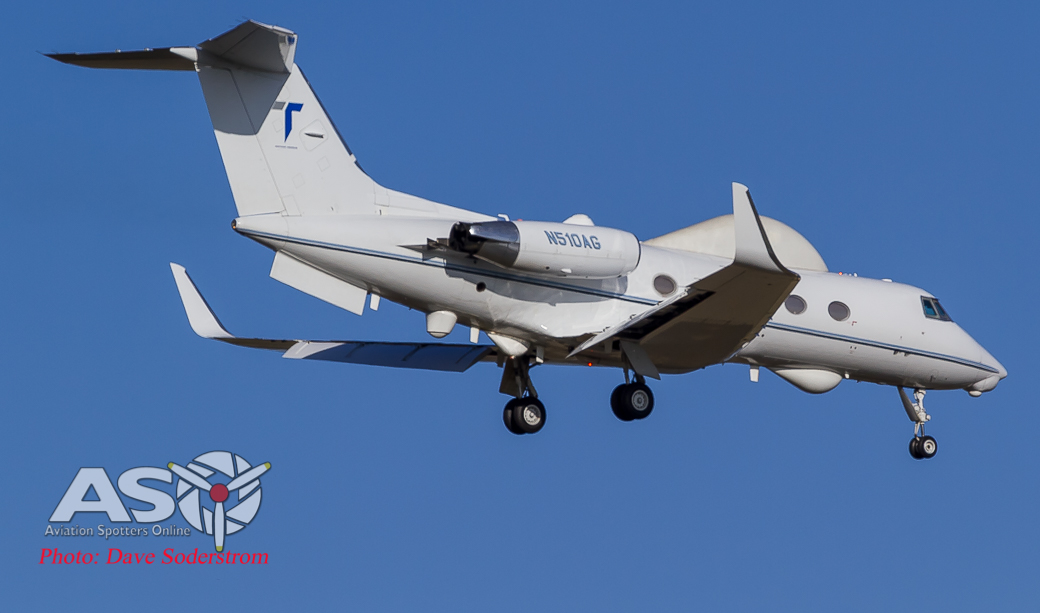 Week up to 21/3/16. What a week its been, Biz jets Military hardware and much more. Its been exciting as a spotter to be looking up and clicking away.  Royal Australian Air Force base Tullamarine has seen a lot of the ADFs front line assets call through. C-17A, F/A-18As, CH-47F and Kingairs to name a few.
RAAF Airbus Military KC-30A A39-003 called into the airport this afternoon.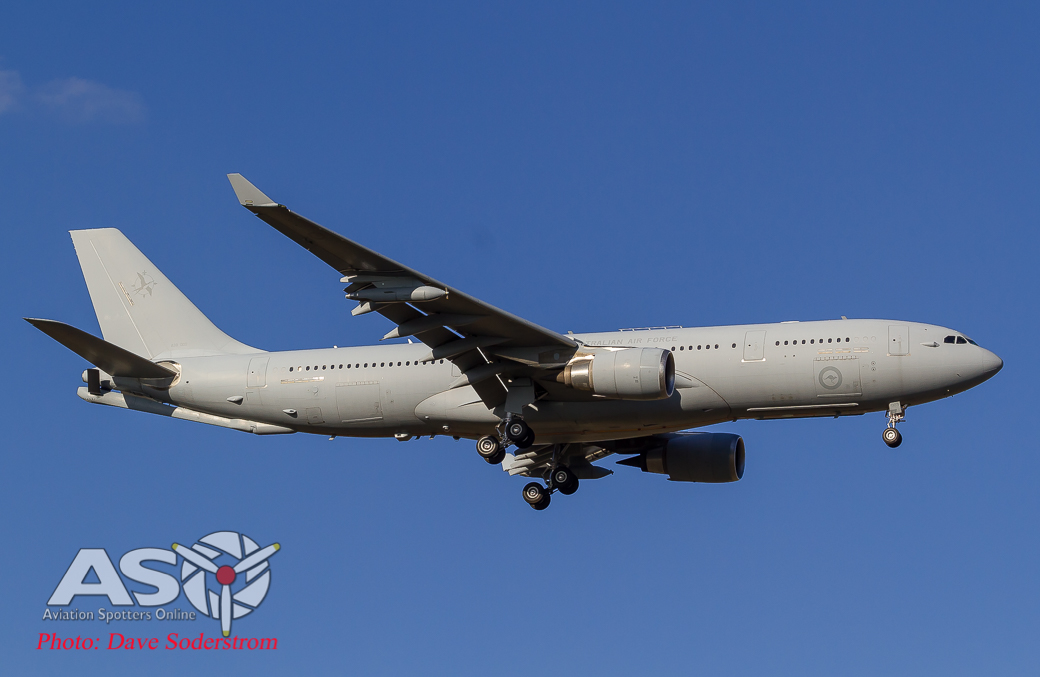 25/4/16 Cathay Pacific Cargo Boeing 747-467F made an appearance in the new corporate colours.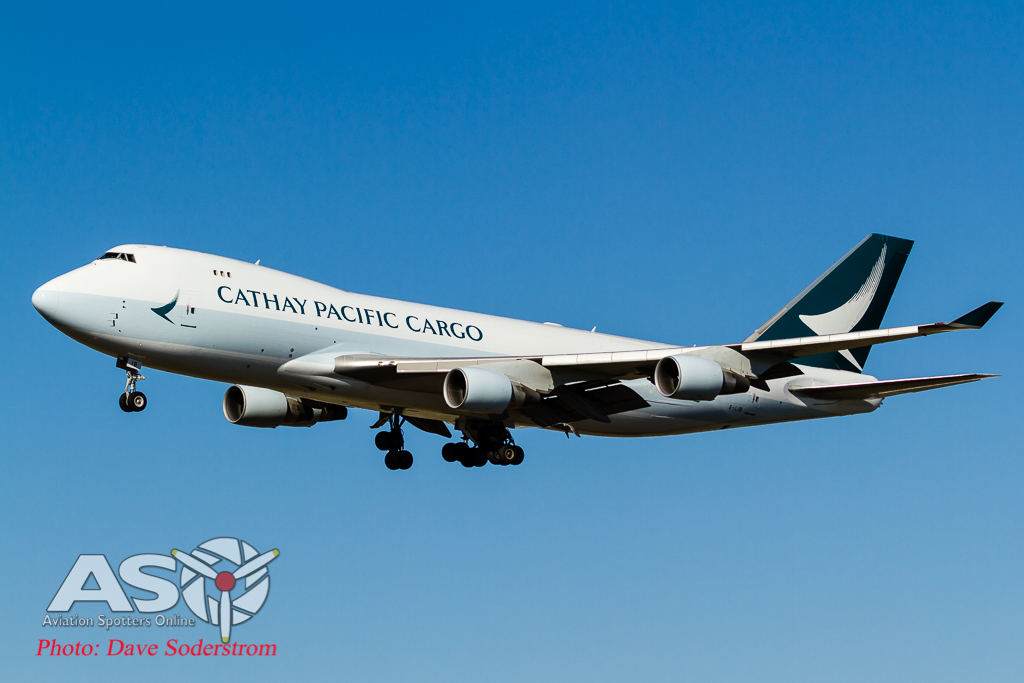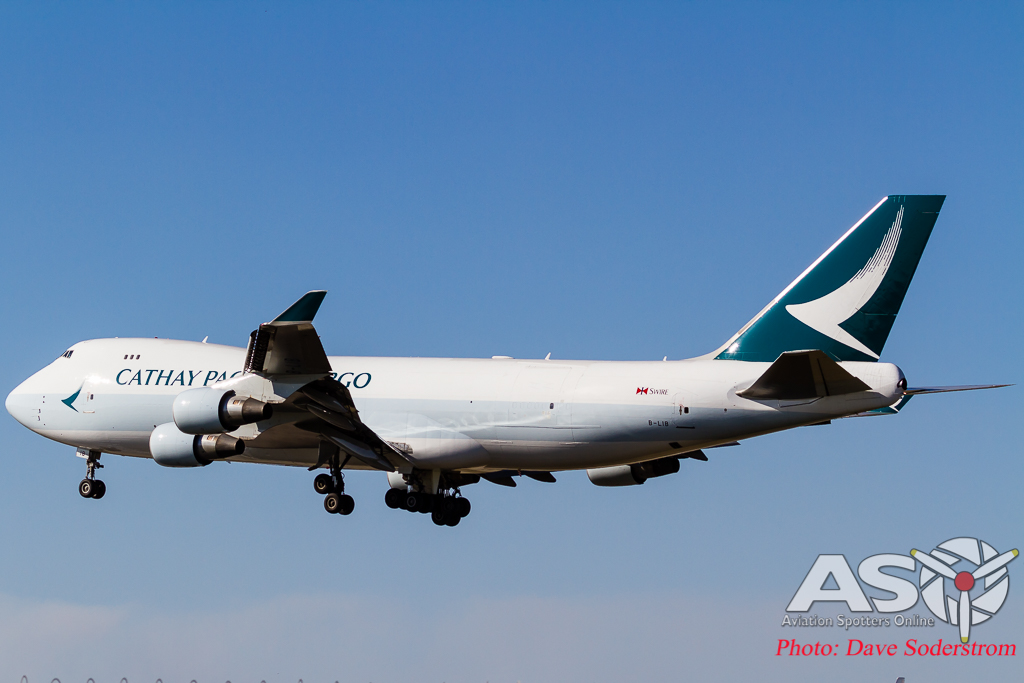 26/4/16 Another nice livery to catch prior to repainting. Regional Express purchased some ex Silver Wings SAAB 340B Plus airframes. VH-ZXK is one of them. The striking Silver liver makes a nice change form the traditional white livery.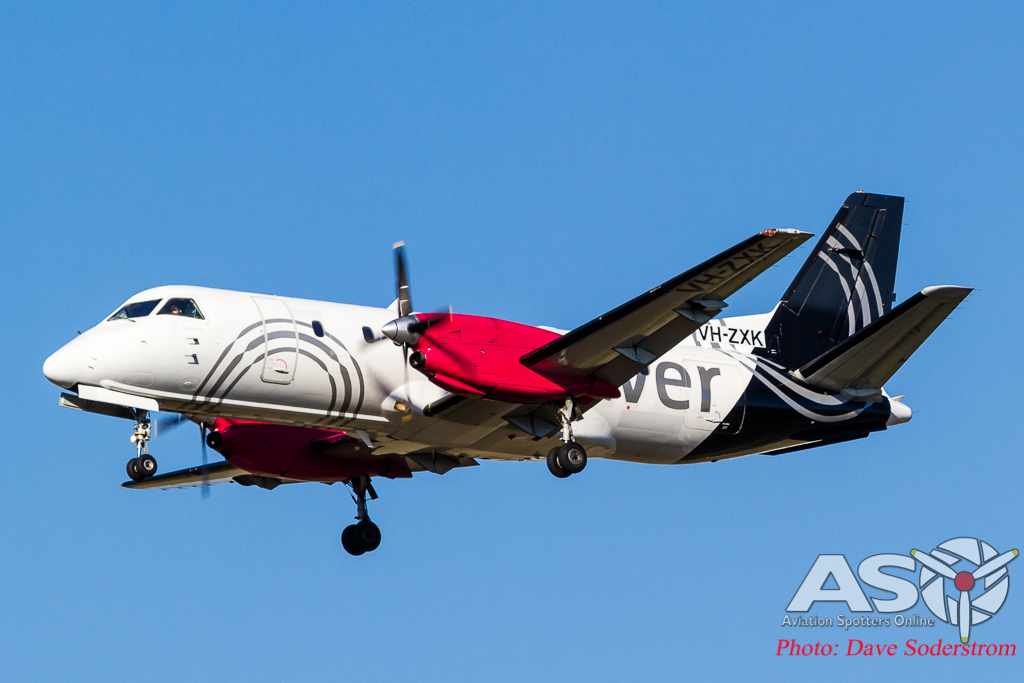 Wetter Autumn Movements.
8/5/16 A big day for Melbourne Airport with a few exciting movements.
First interesting visitor was parked up at the MAPS hangar. Bombardier BD-100-1A10 Challenger 300 N528YT, owned by a Chinese business person and based in Beijing.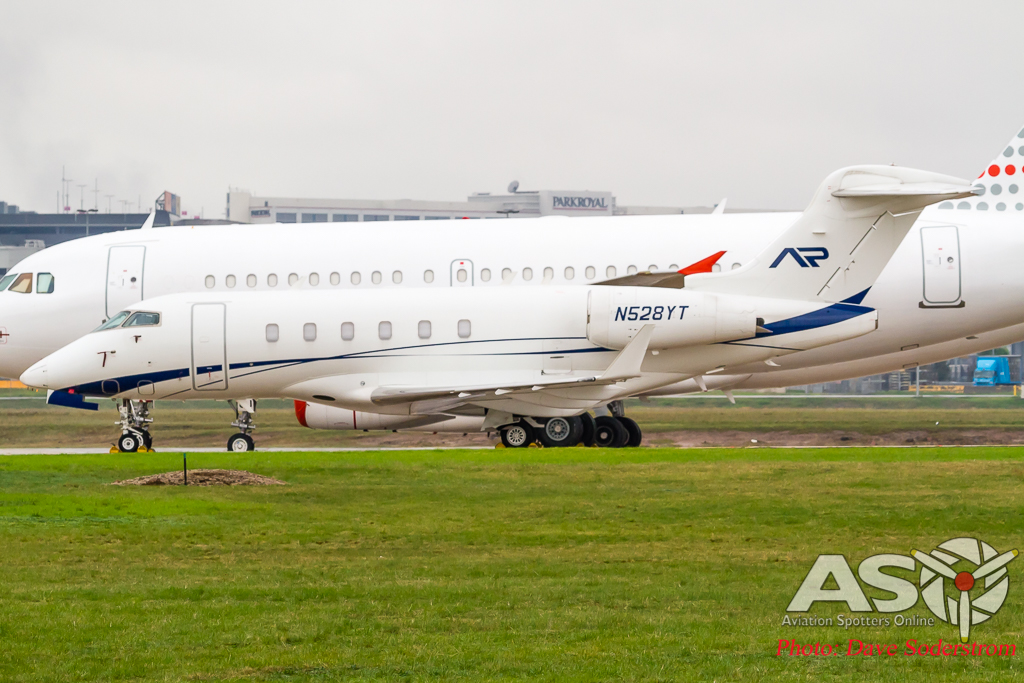 The second movement for the day was the quick arrival and departure of an RAAF AP-3C Orion. the aircraft made a touch and go on runway 34 before continuing its role and departing the airport.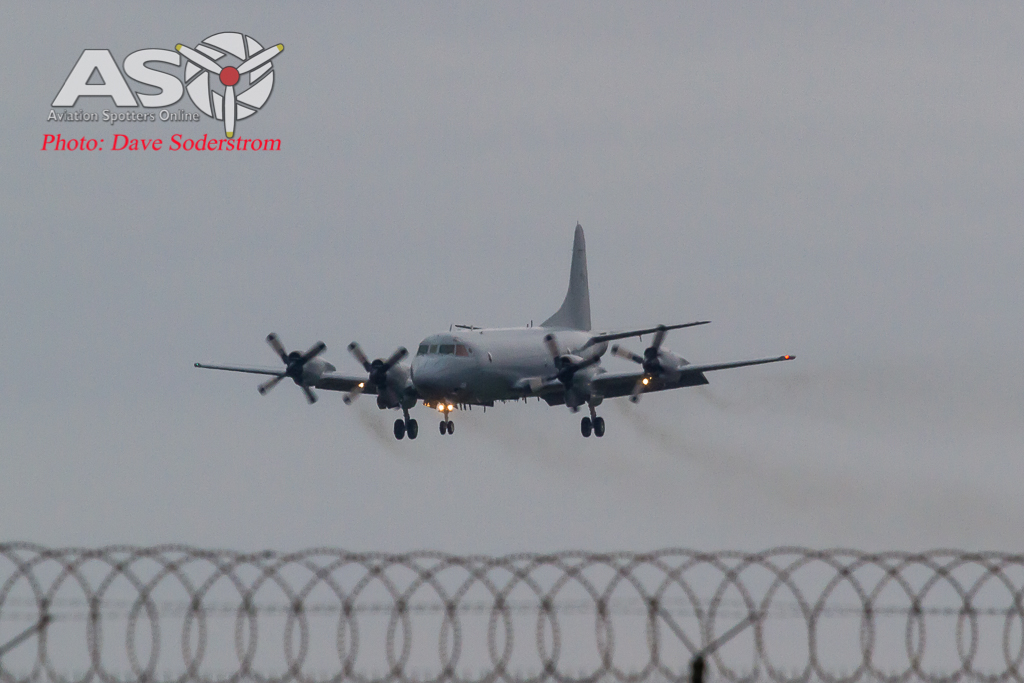 Next to arrive was another RAAF asset. Airbus Military KC-30A A39-003 arrived as Dragon34. This aircraft is no stranger to the airport having arrived in March. The aircraft then parked in the MAPS hanger for the rest of the day.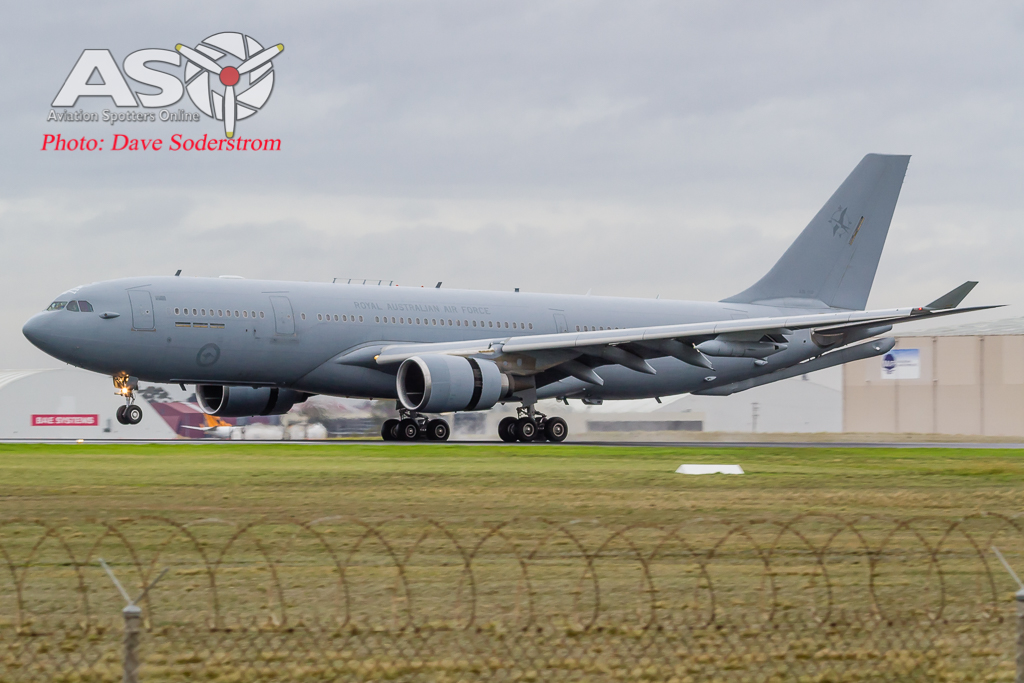 13/5/16 Night shift worker in the day light.
QANTAS Freight Boeing 737-376SF. c/n 23488-1352, VH-XMO was originally delivered to Australian Airlines on April 06, 1987. Flying with the airline until the QANTAS took over Australian Airlines. It then continued on in service with QANTAS and later Jetconnect until withdrawn from service in 2005. Ferried to Avalon the aircraft entered the hanger to be converted to a freighter, later emerging as VH-XMO.