Warbirds, Jets, aerobatics, frontline military hardware, models, glider, paragliders, rag-and-tube and a balloon; it had it all.
The second Hunter Valley Airshow was held at Maitland Airport (also known as Rutherford), a small local airfield just a half-hour's drive west of Newcastle, over the 28th & 29th of January and, just like the first one, held in 2015 (see that article HERE), it was great mix of aircraft and displays for enthusiasts and families.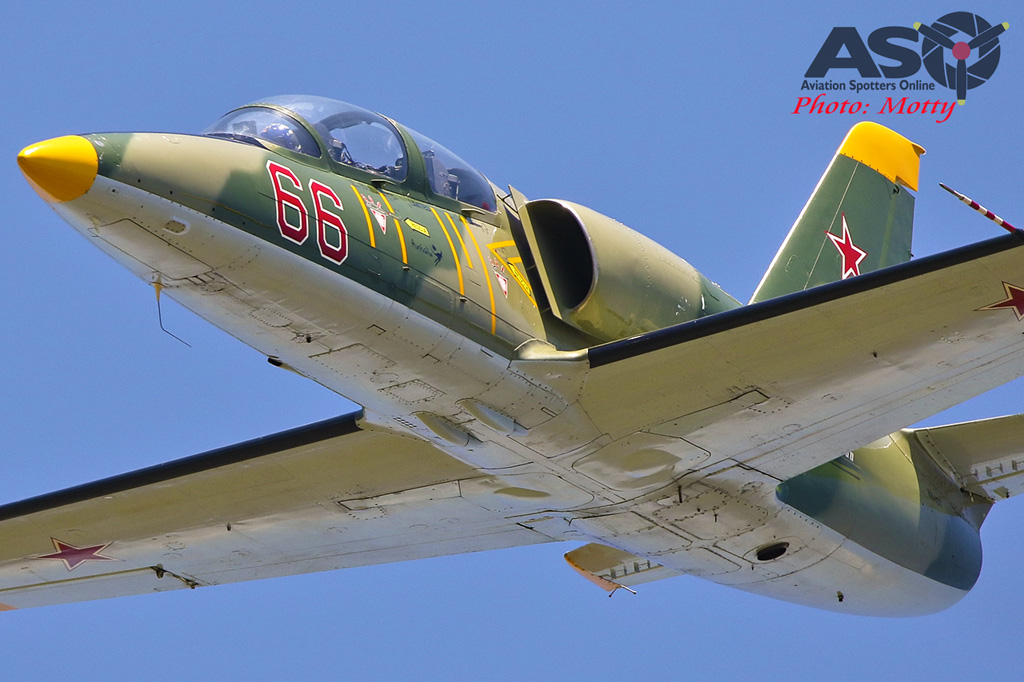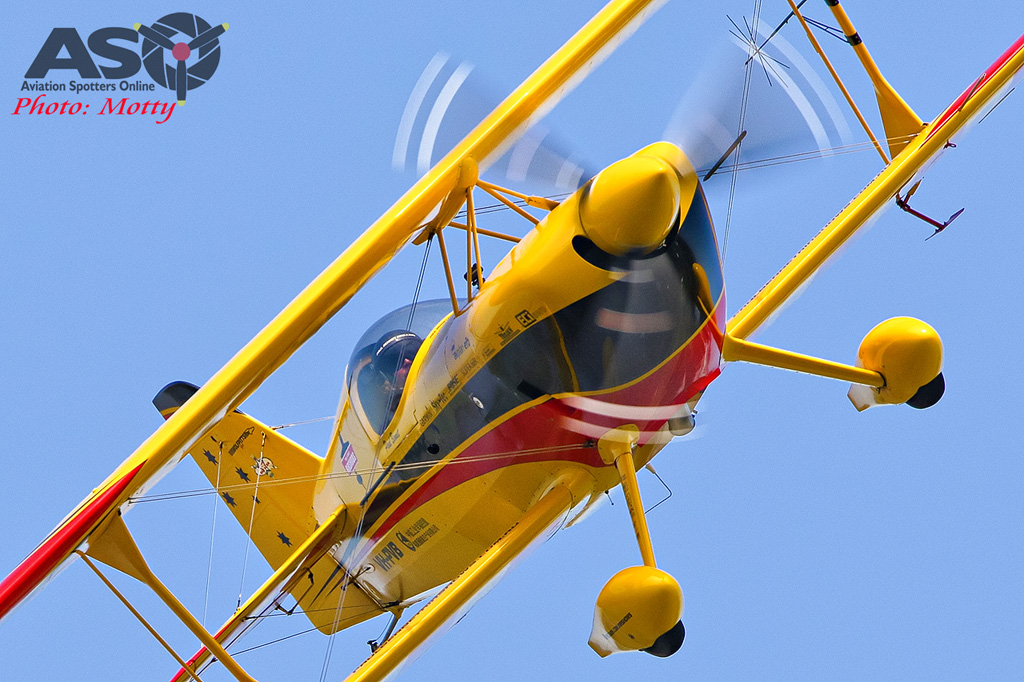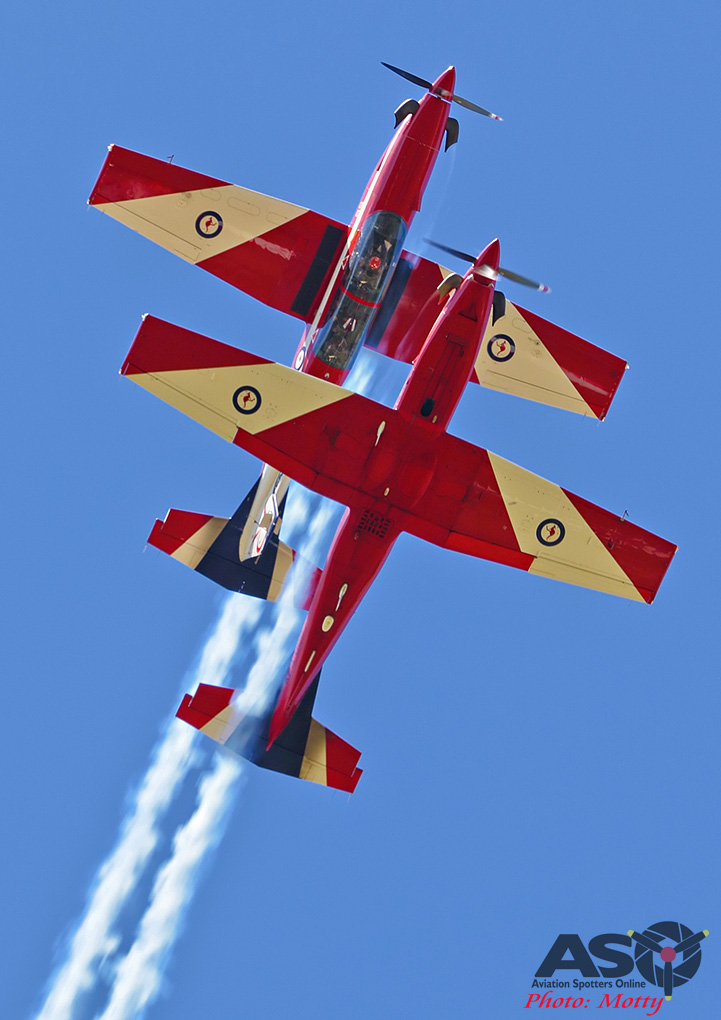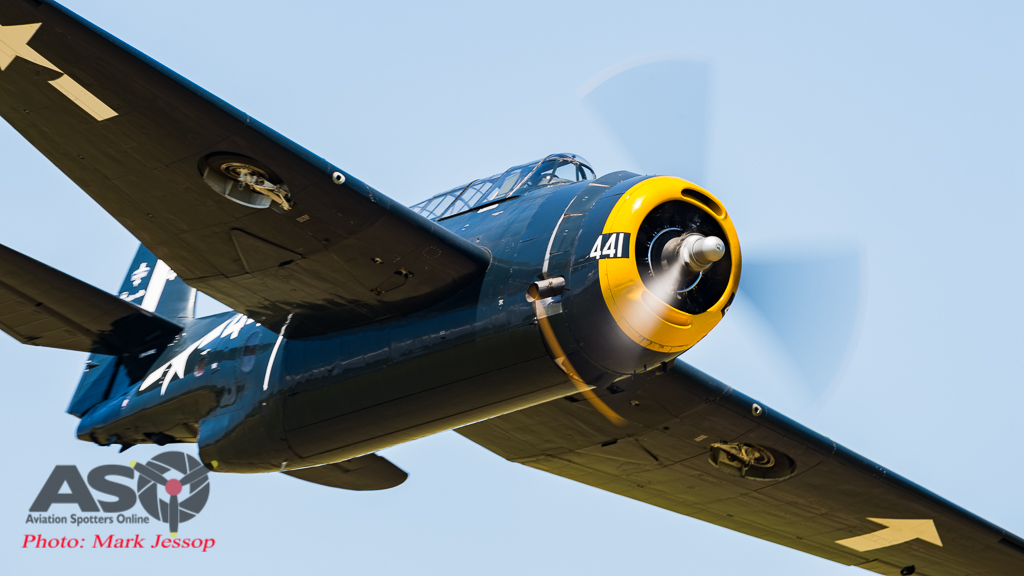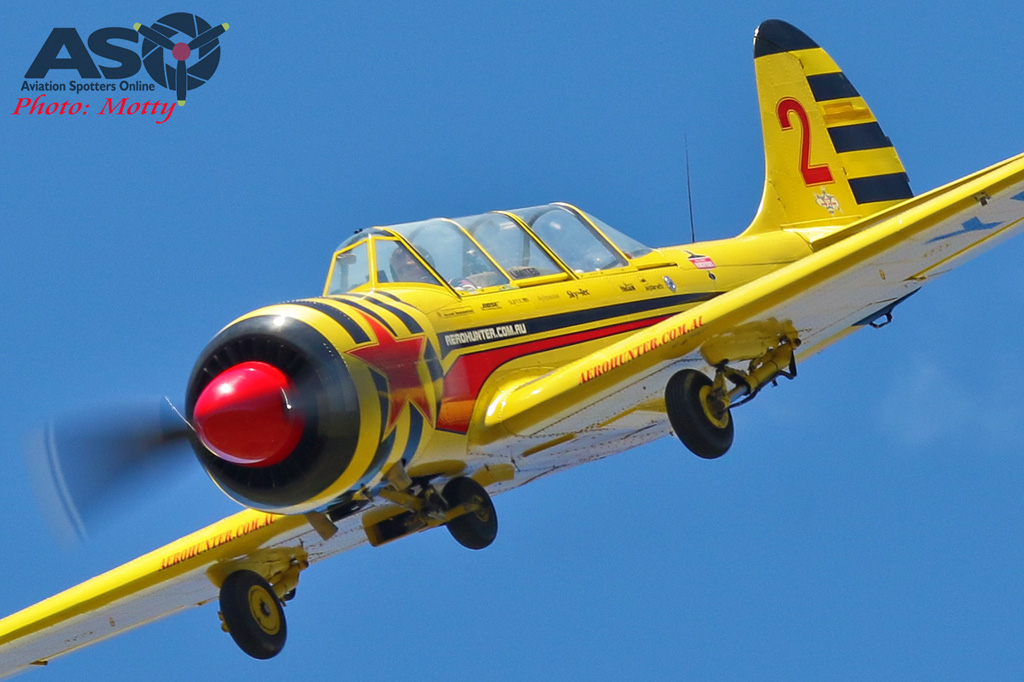 The excitement started to build on the Friday afternoon before the show as Paul Bennet and the team ran through some final practices for their displays and some of the visiting aircraft began arriving, particularly Graham Hosking's amazing F4U-5 Corsair, flown by Peter Clements, and Judy Pay's beautiful CAC Mustang with Bernie Heuser at the controls. The chance to see the Corsair parked next to Paul Bennet's Avenger was a real sight to behold. To think that both of these large aircraft used to operate from aircraft carriers.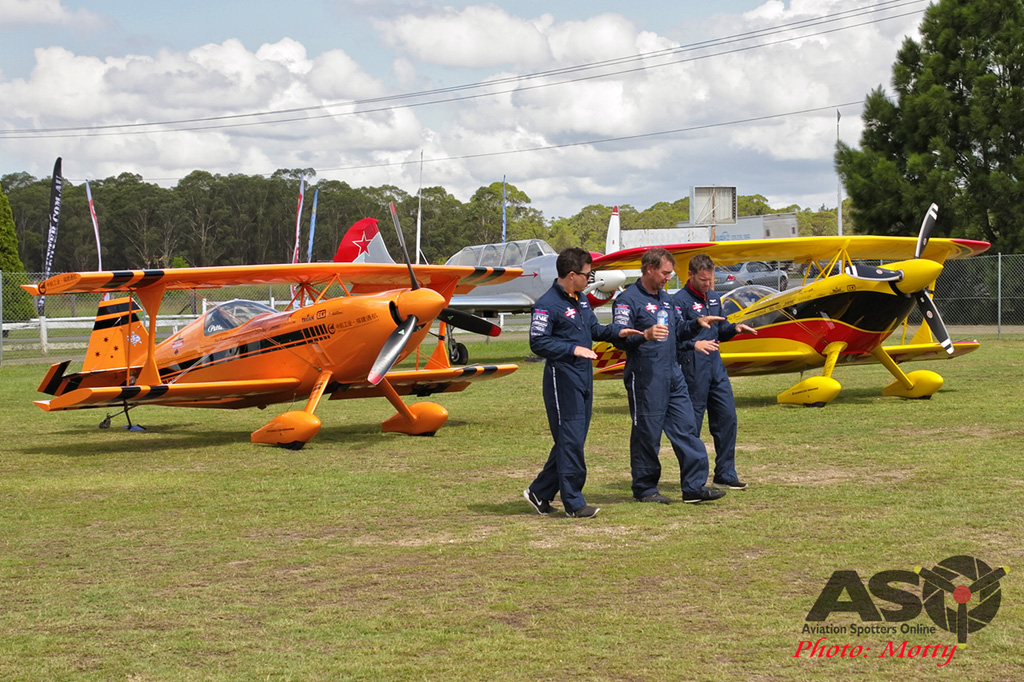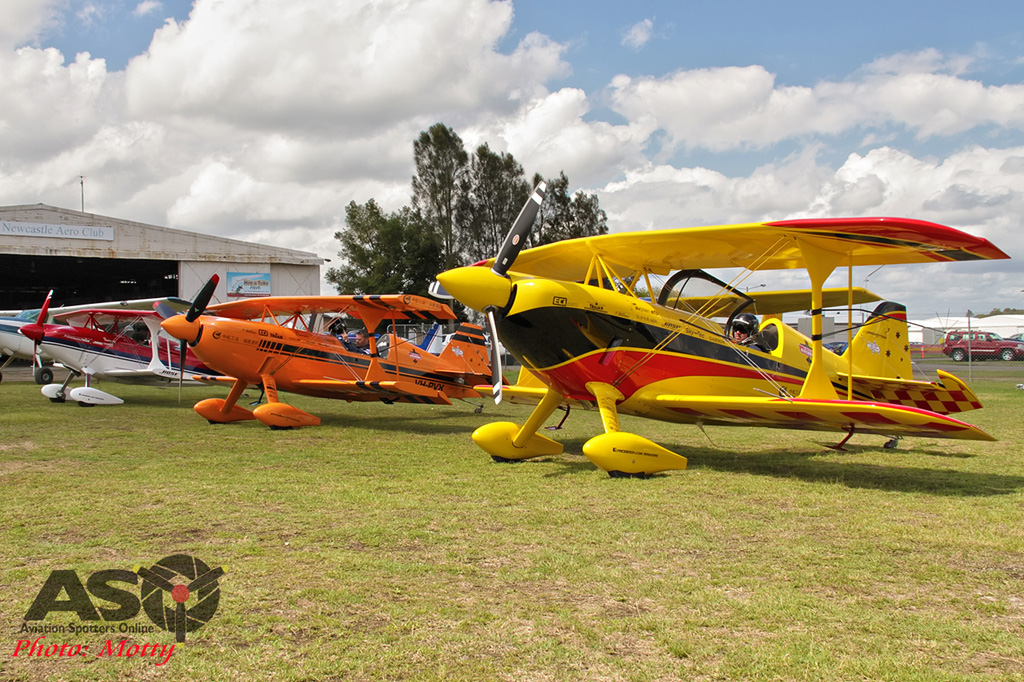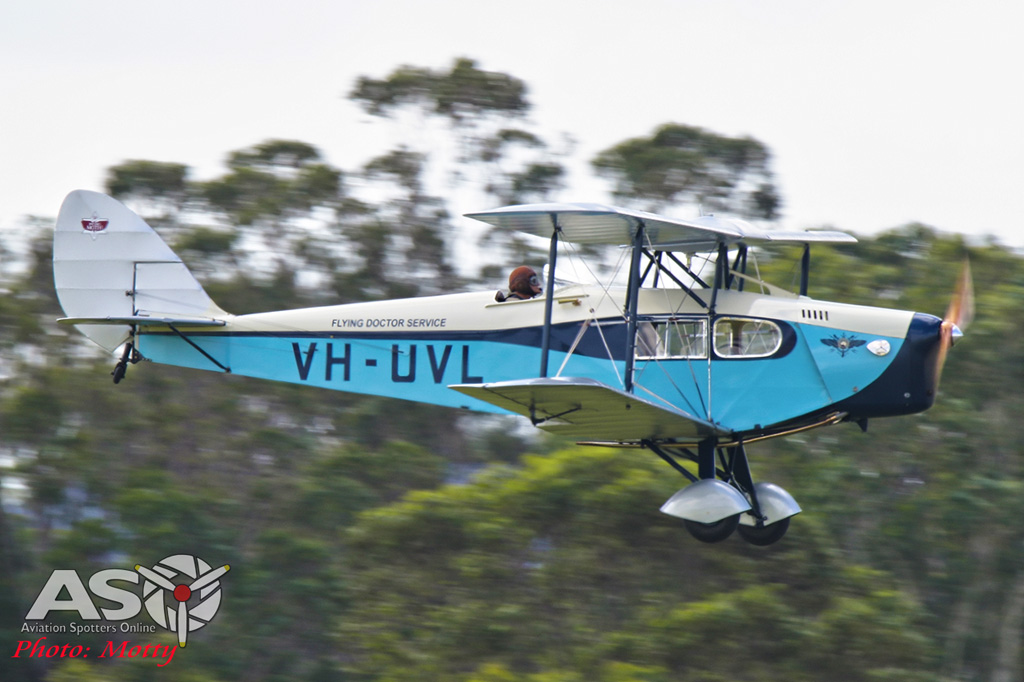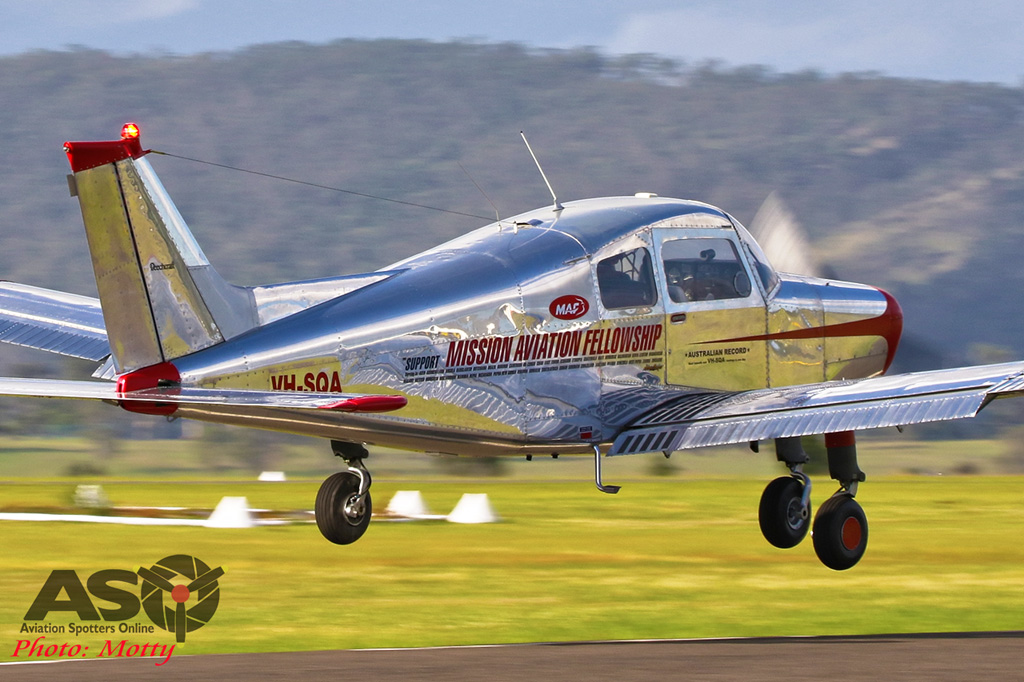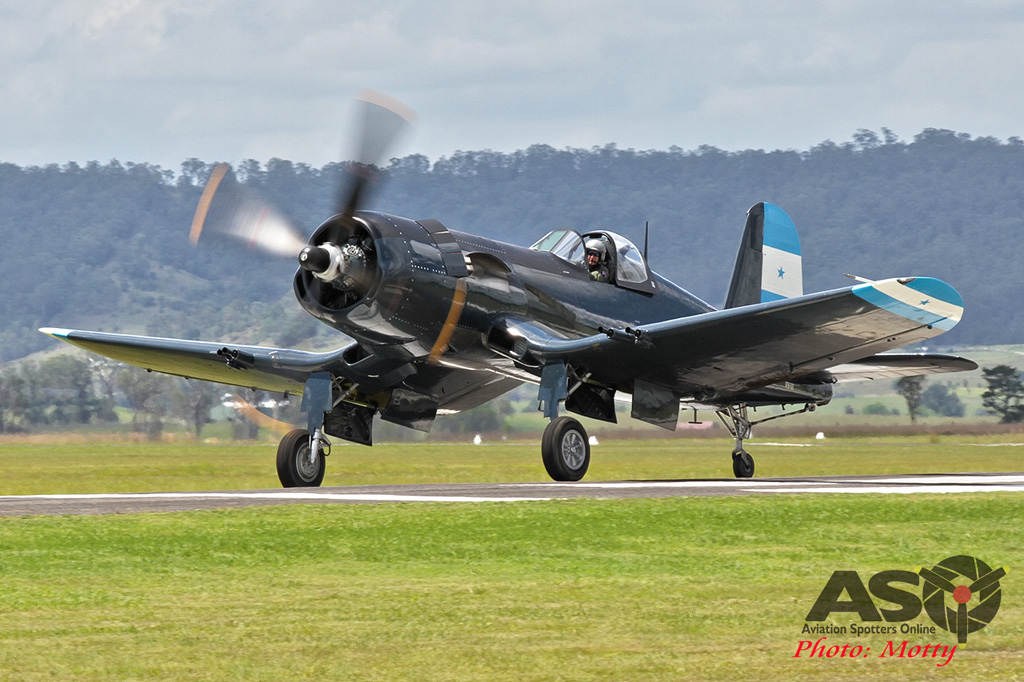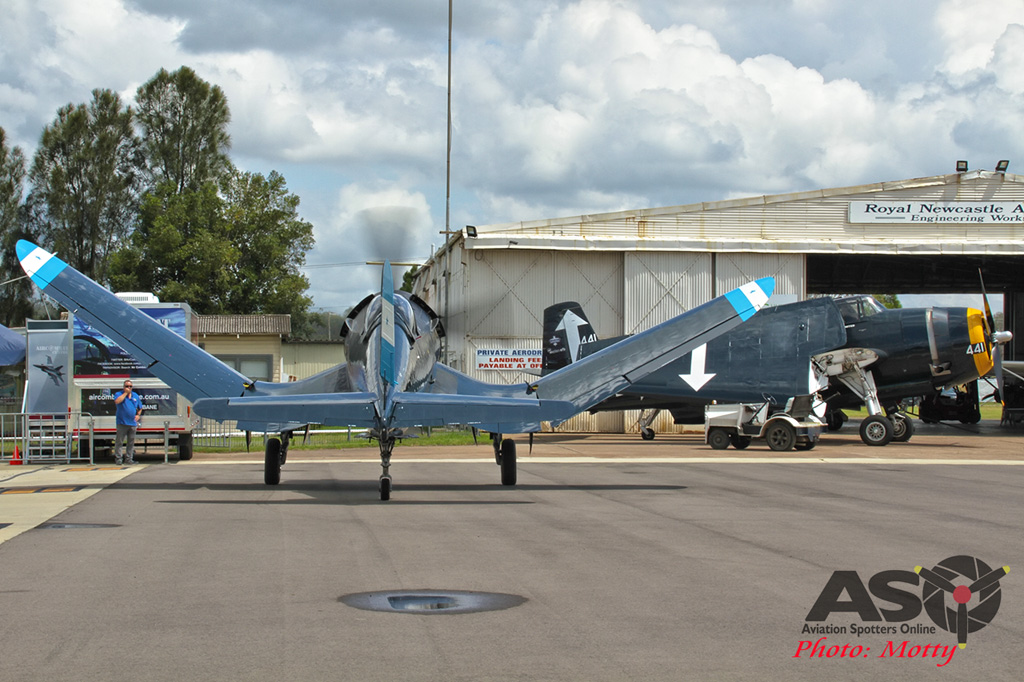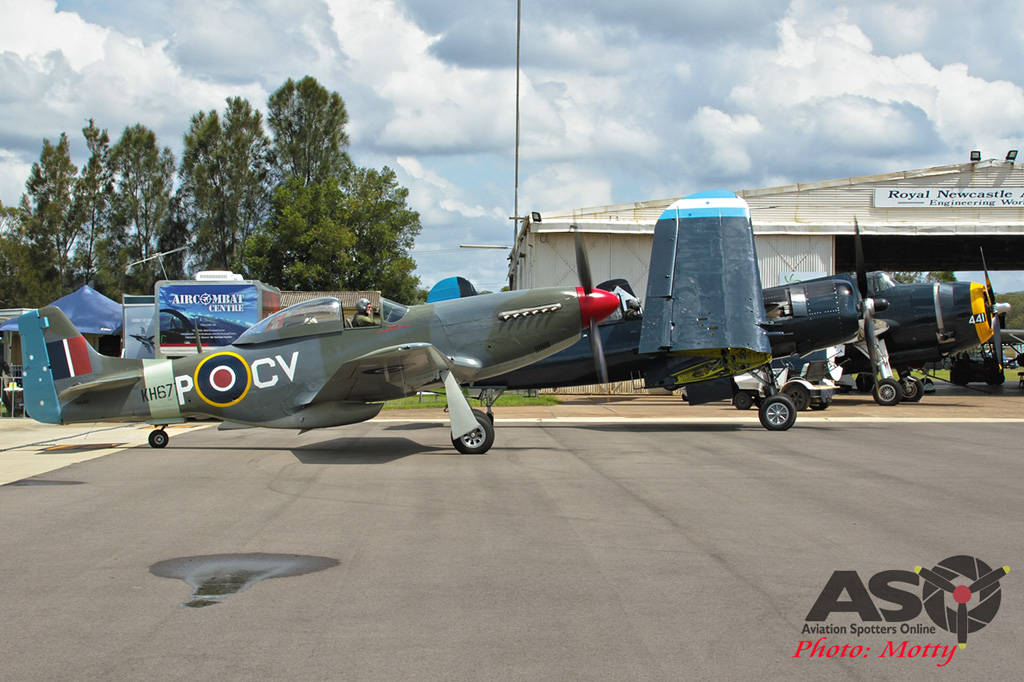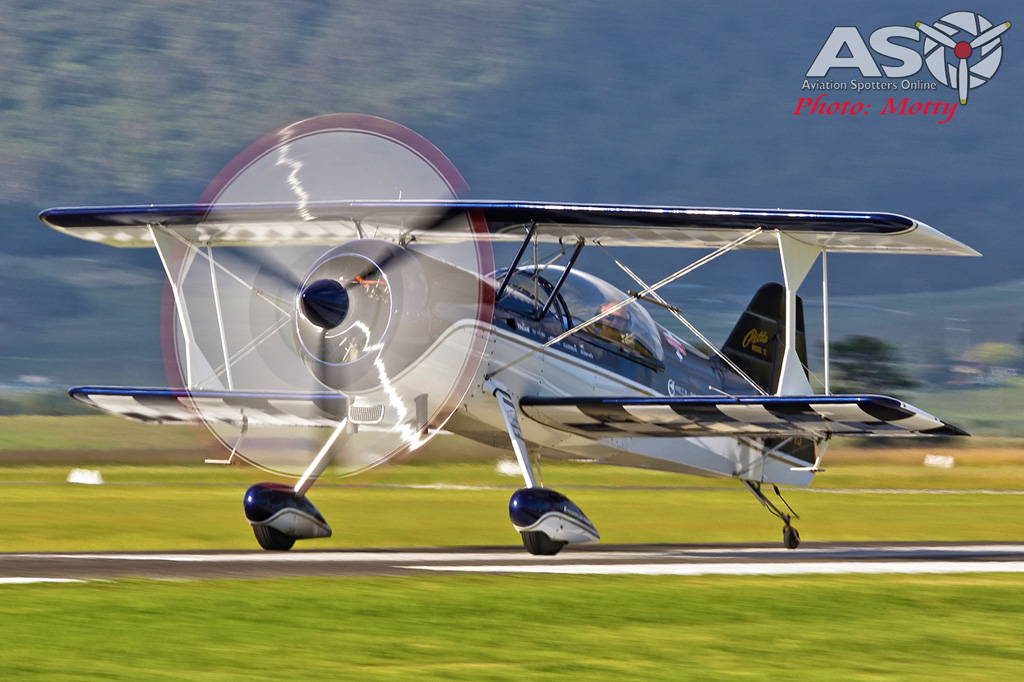 ASO's Motty was allowed the incredible opportunity to catch these two impressive machines in the air as well, as they took some time to familiarise themselves with the layout of the area and went through a practice of their displays (see that gallery HERE). Sadly, the Corsair suffered a landing accident before the show on Saturday and was unable to take part in the rest of the weekend's flying. Most importantly though, the pilot was ok and, hopefully, the aircraft can be repaired and back in the air before too long.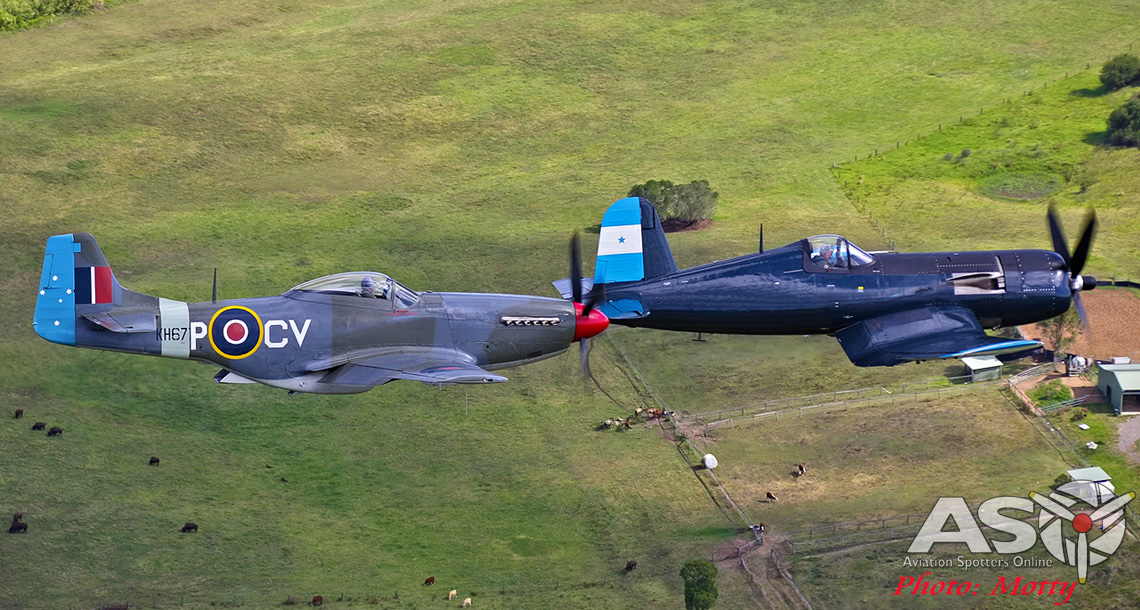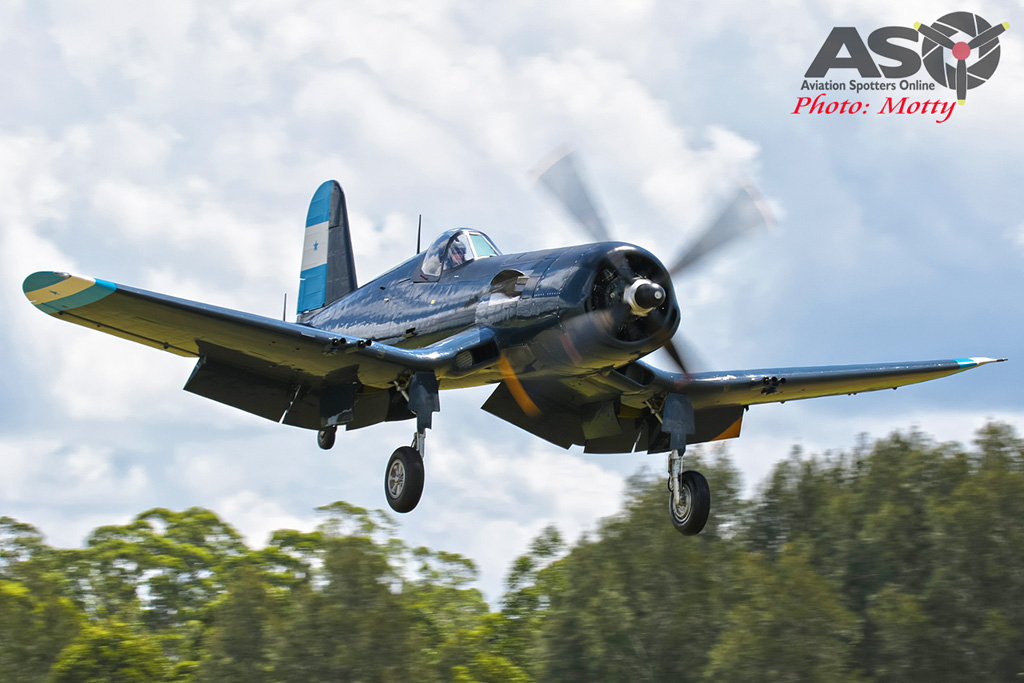 The forecast for the weekend was for soaring temperatures and Saturday dawned warm with low cloud and fog, which soon cleared to a bright, hot and sunny day. Sunscreen, hats and plenty of water would be the theme for the weekend.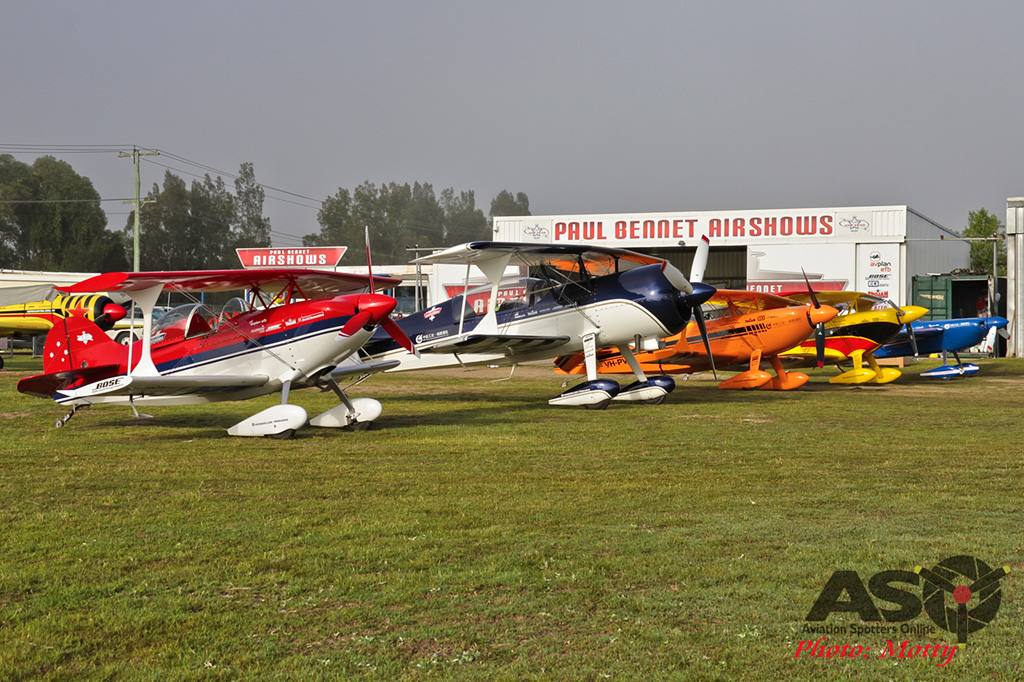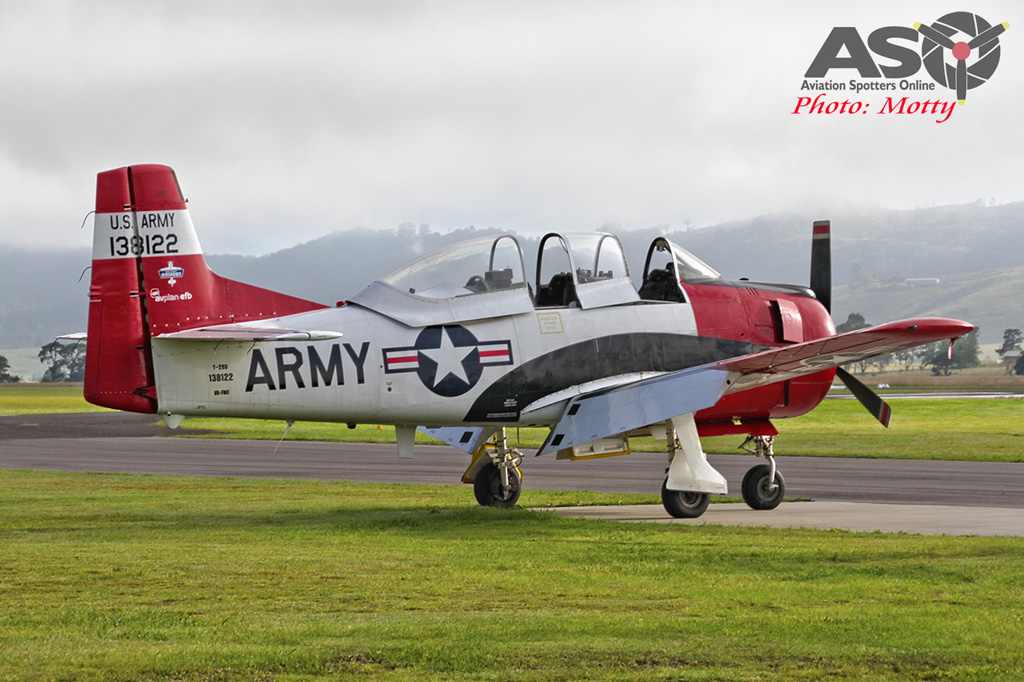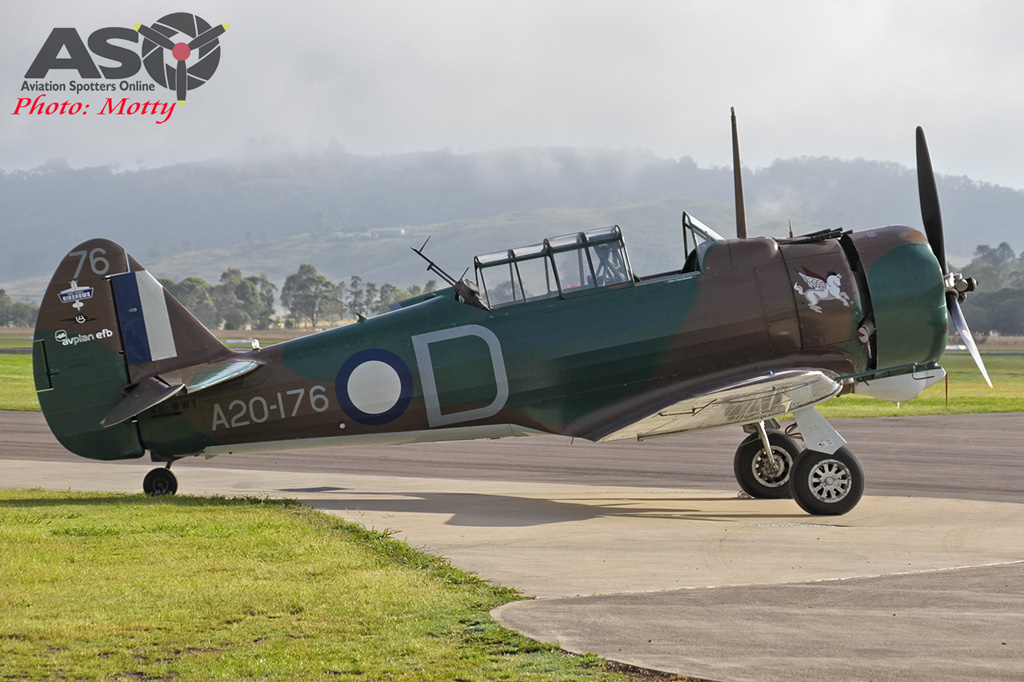 The flying displays each day began with a "missing man" tribute by the Paul Bennet Airshows team. Saturday's tribute was to Gerard Beiboer and Sunday's was for Peter Lynch. Gerard was a good friend to many at Maitland and played a major part in the organisation and operation of the 2015 event, but he passed away when his Pitts Model12 crashed just a few weeks after that show. Peter Lynch was a well-known member of Australia's aviation community and a great supporter of many events and causes, particularly the Evans Head airport and their Great Eastern Fly-In shows. Peter had passed away just a few days before this show when his Grumman Mallard crashed into the Swan River in Perth on Australia Day.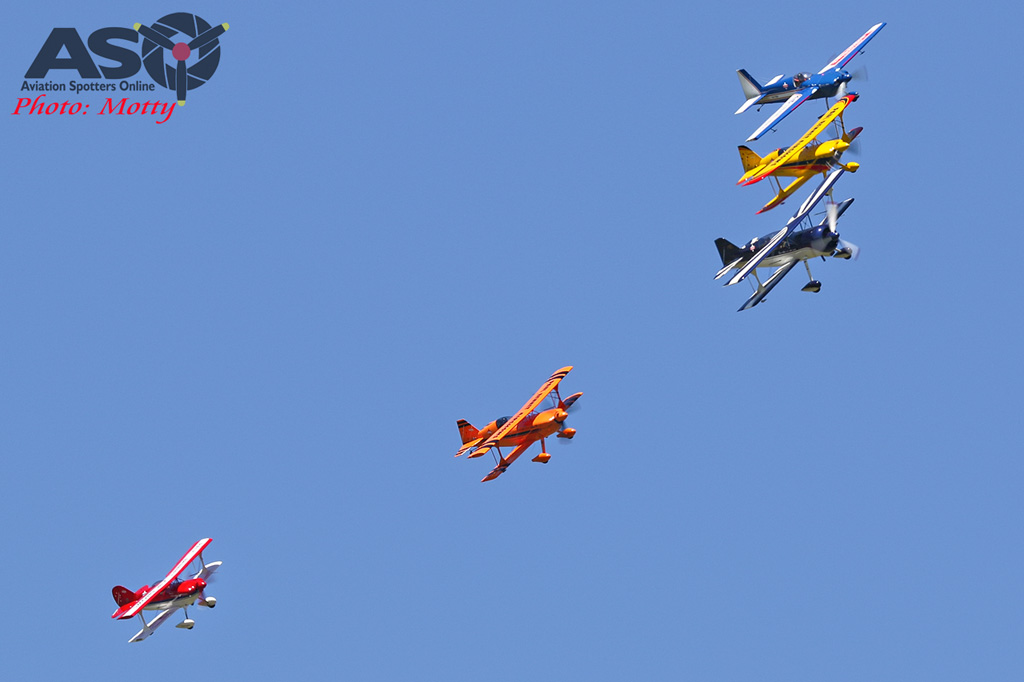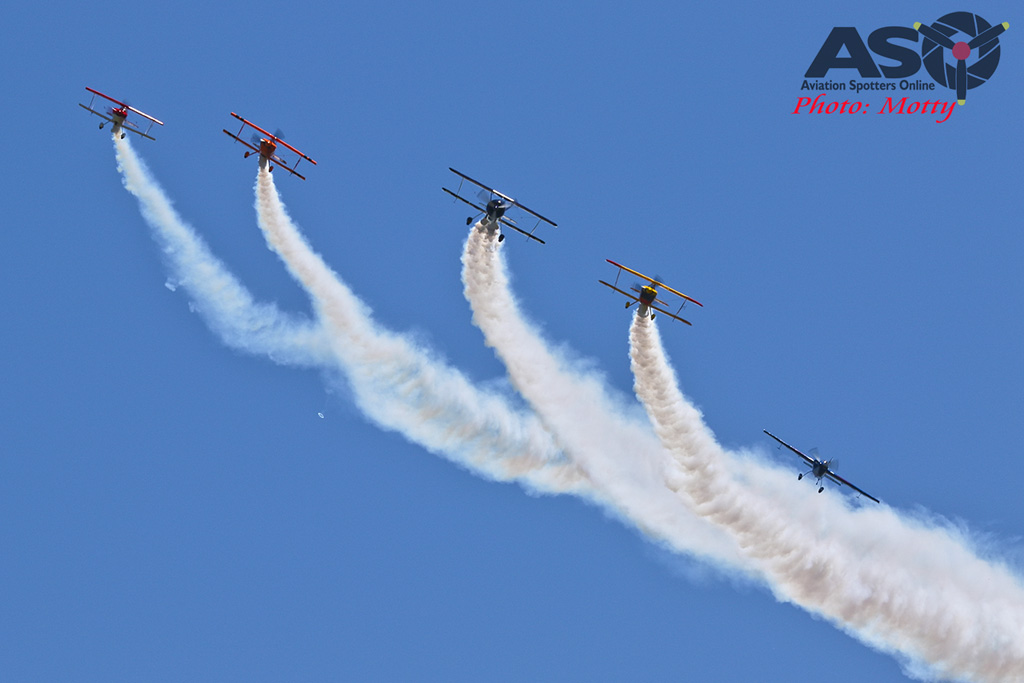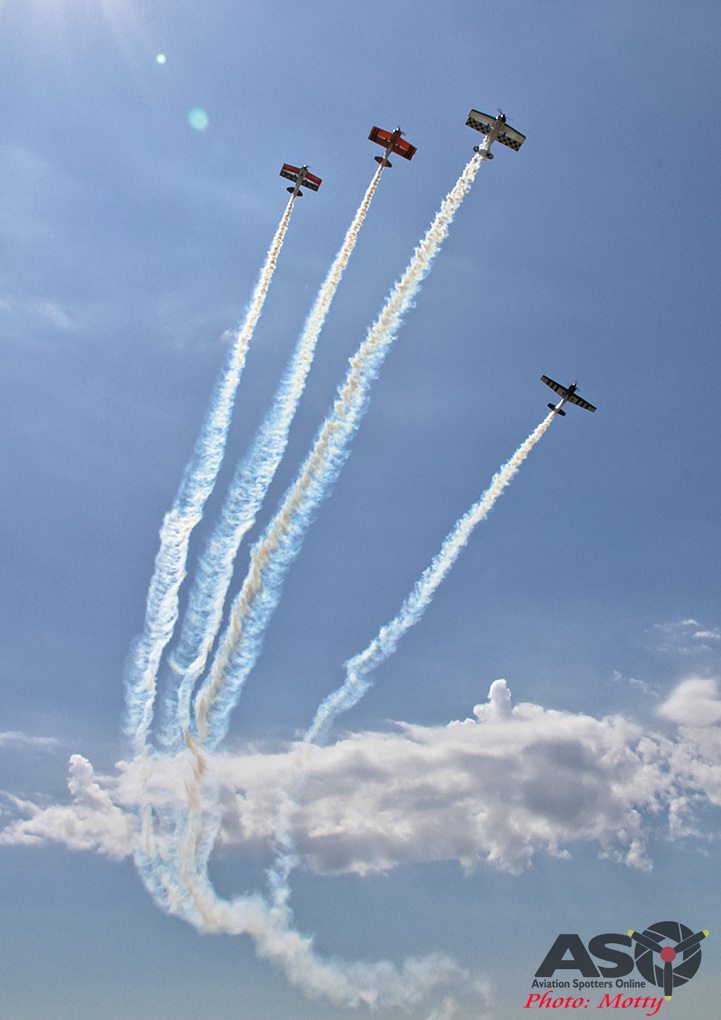 This was followed by a a flag drop where a parachutist descended trailing a large Australian flag while Paul Bennet circled in his bright yellow Wolf Pitts Pro.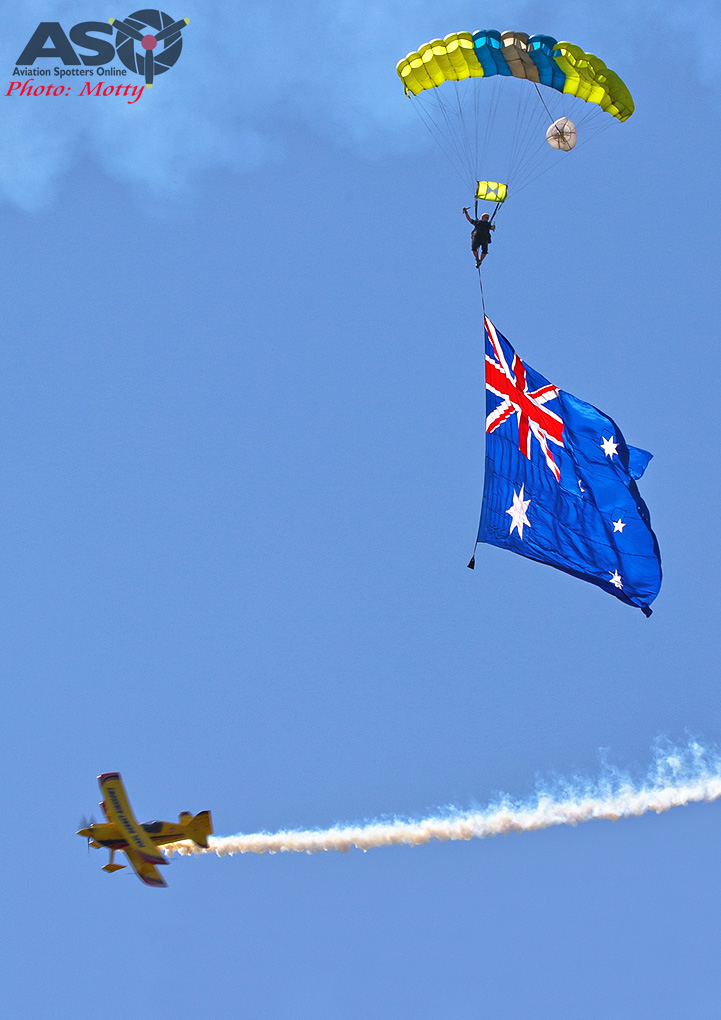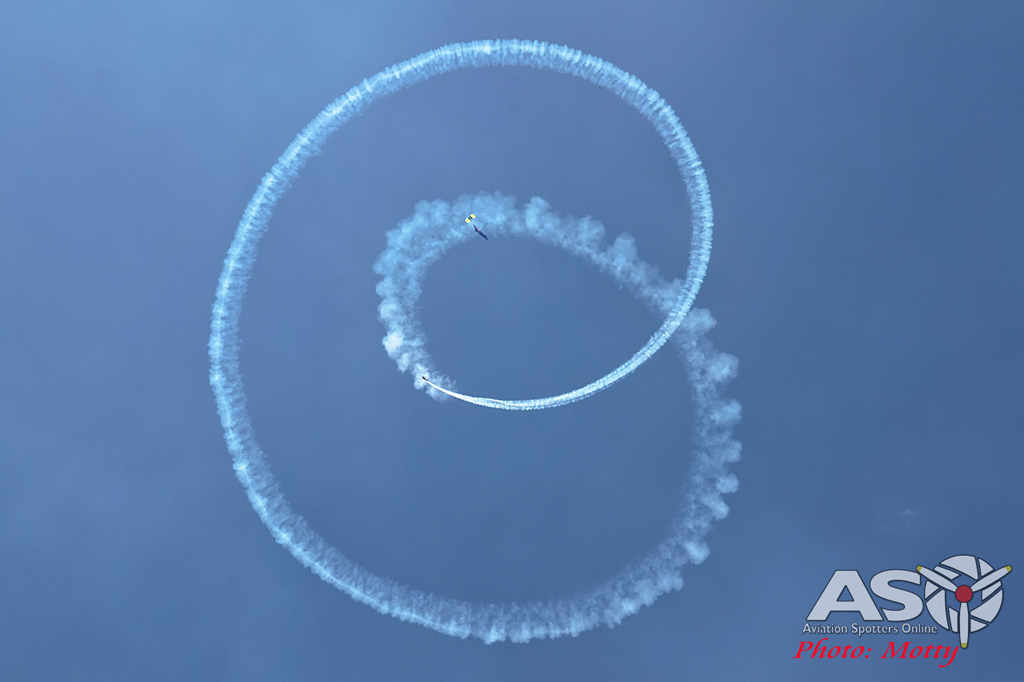 David Wainwright and Scott Duncan displayed the performance and agility of their powered chutes and Craig Baverey, Levi Wagner and Jeff Sparks put on a show with their incredible, large scale RC models. It takes a second look to tell some of these models from the real thing in photos and the skilful flying by the pilots added to the effect as well.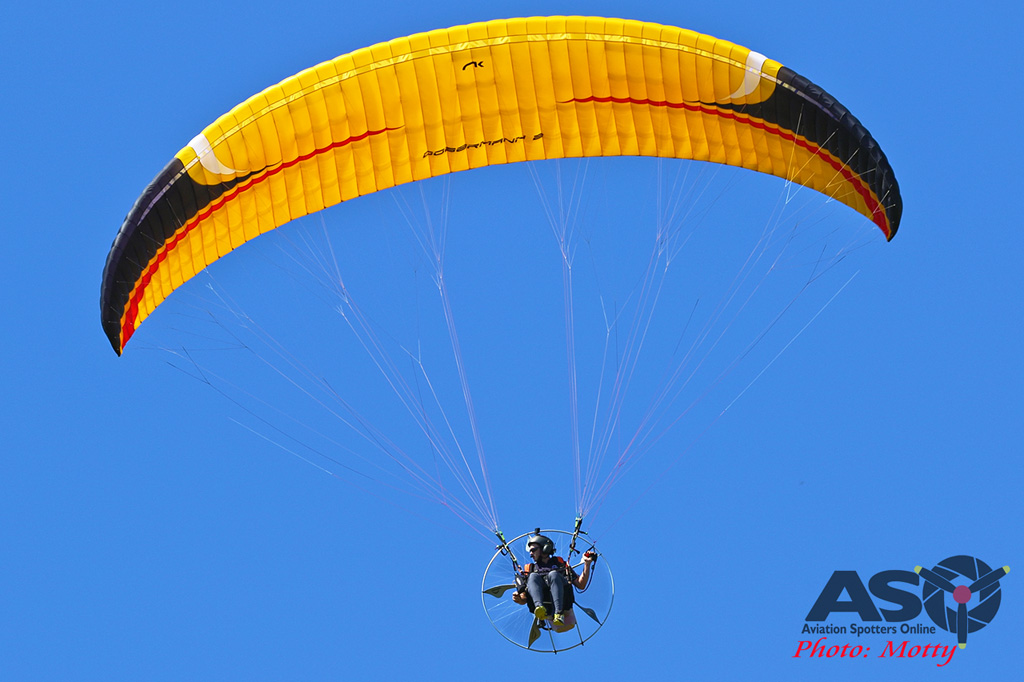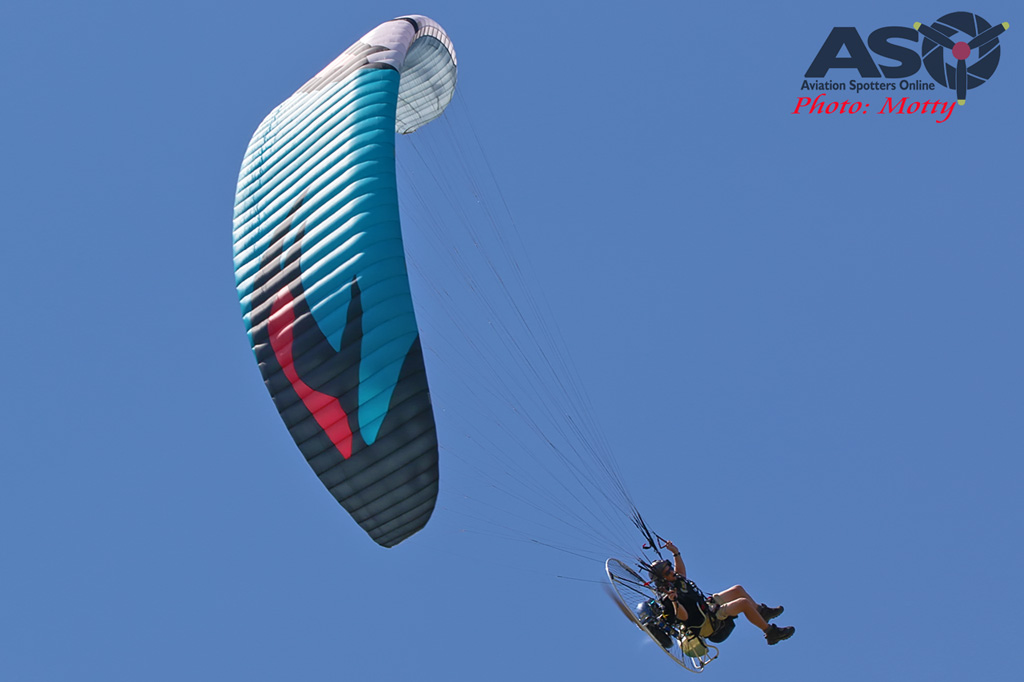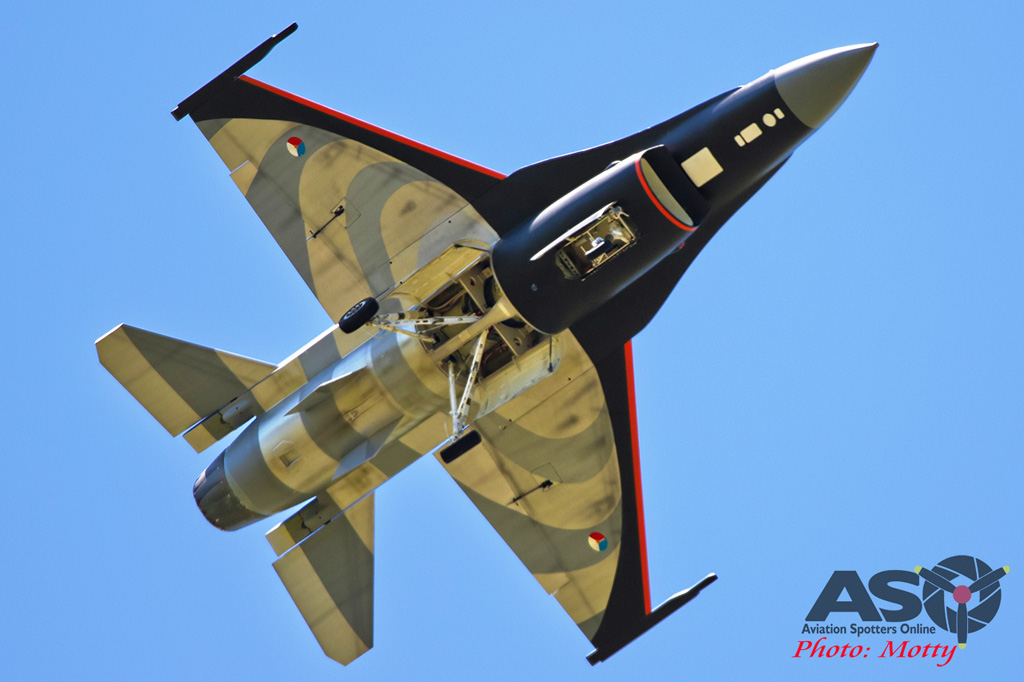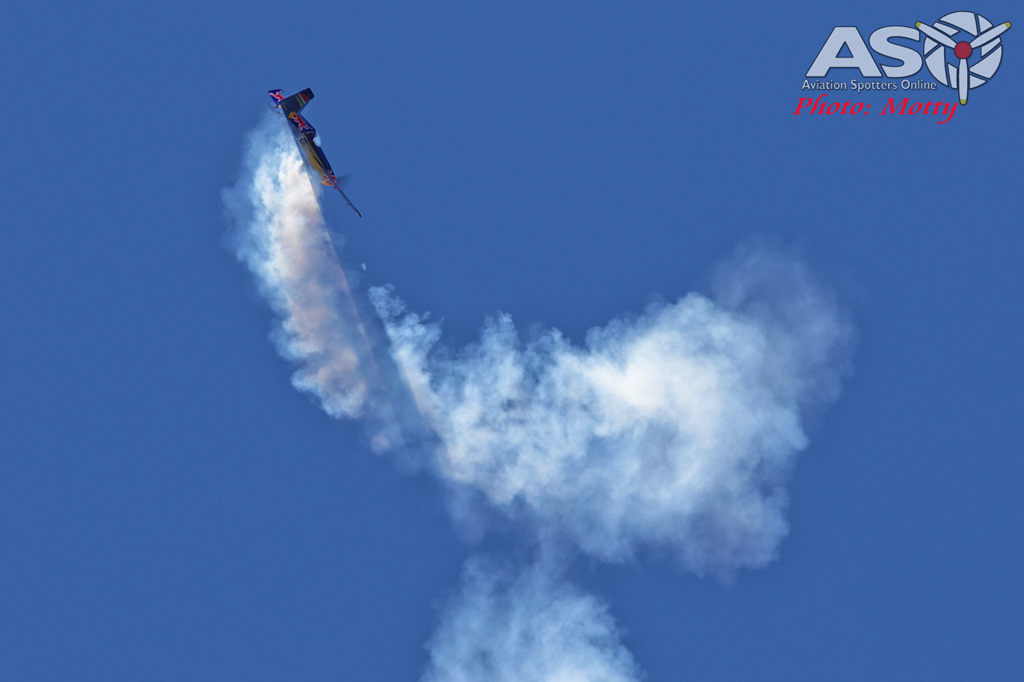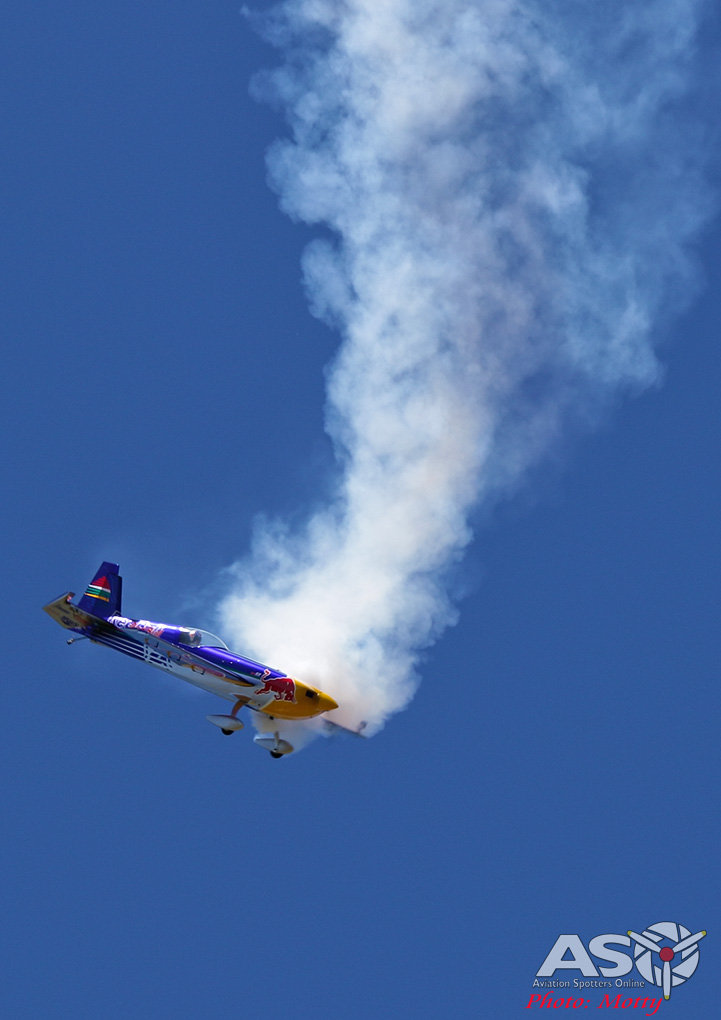 Craig Gunther displayed the Breezy from nearby Luskintyre, possibly one of the most unusual machines you are likely to see. Literally a basic tubular frame upon which the pilot (and a brave passenger at times) sit, very exposed at the front, and the wing from a Piper Cub on top. Open cockpit flying at its best.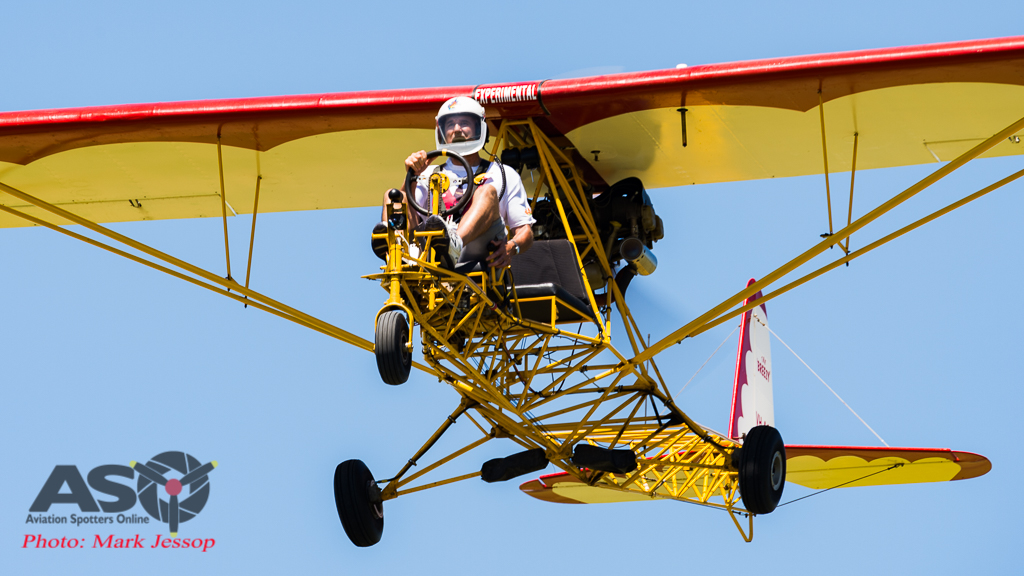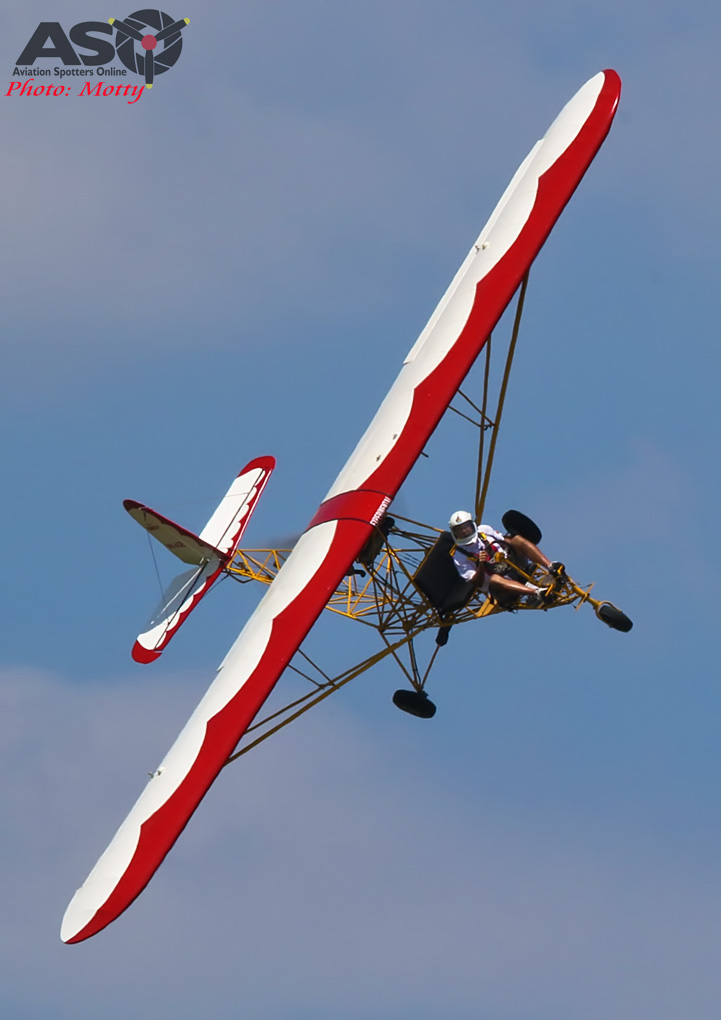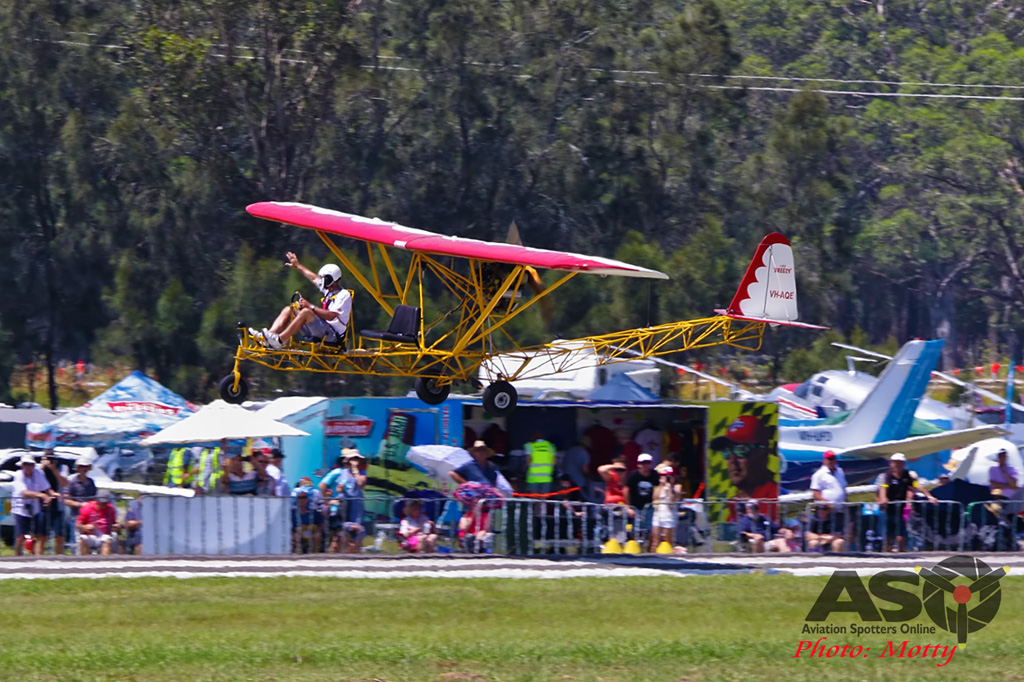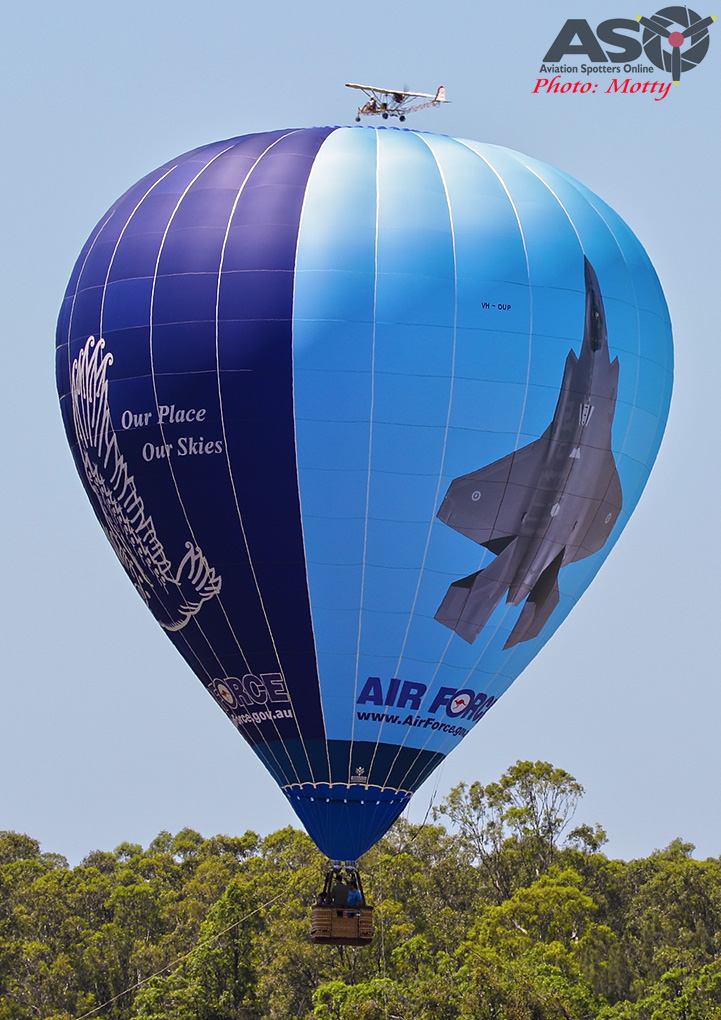 Nigel Arnot then put on a display in his Fox glider. Now, on the face of it, you would probably assume that a glider display might be one of the less impressive routines for an airshow, but neither Nigel nor his craft are what you would call "average". Rolls, loops, hammerhead stalls and low level aerobatics are definitely not what you expect when you hear the term "glider", but Nigel masterfully guided his machine through what must surely rate as an amazing example of very skilled energy management.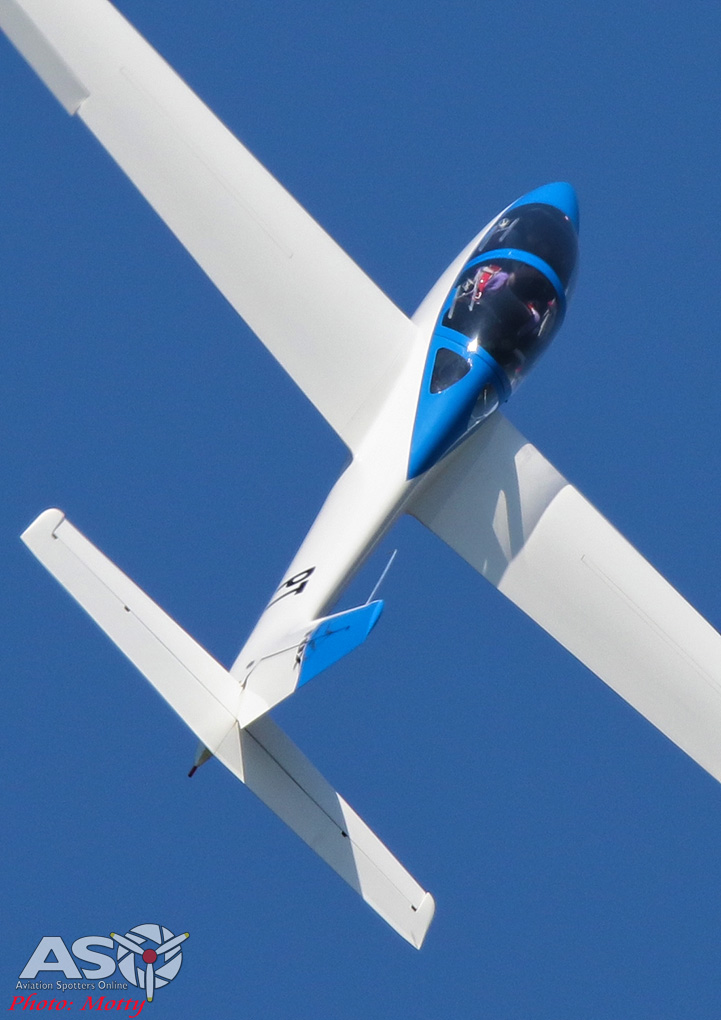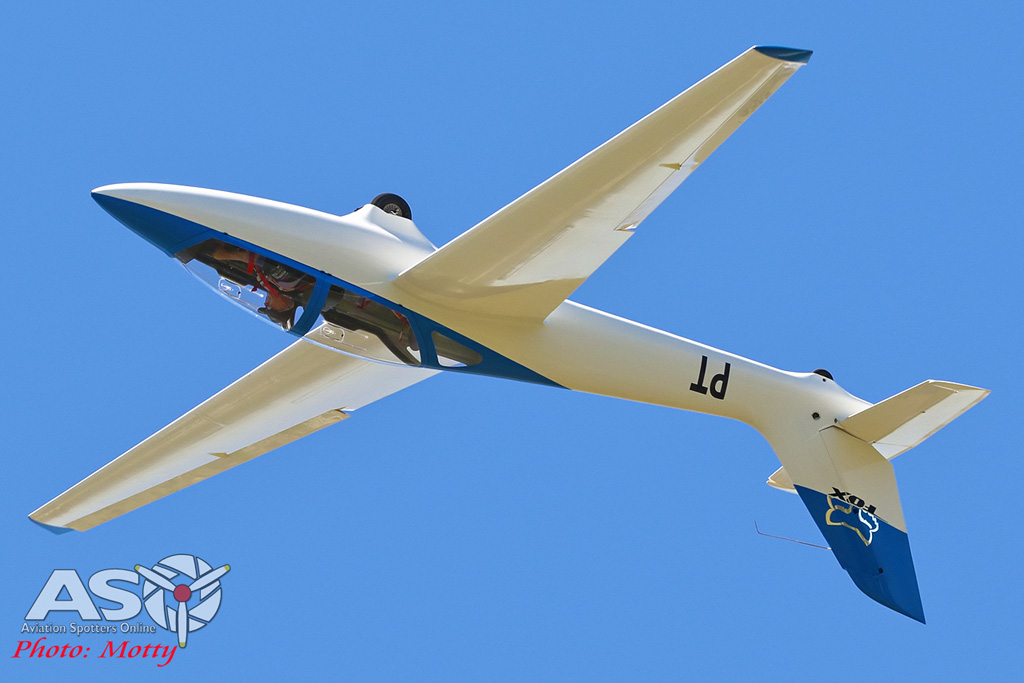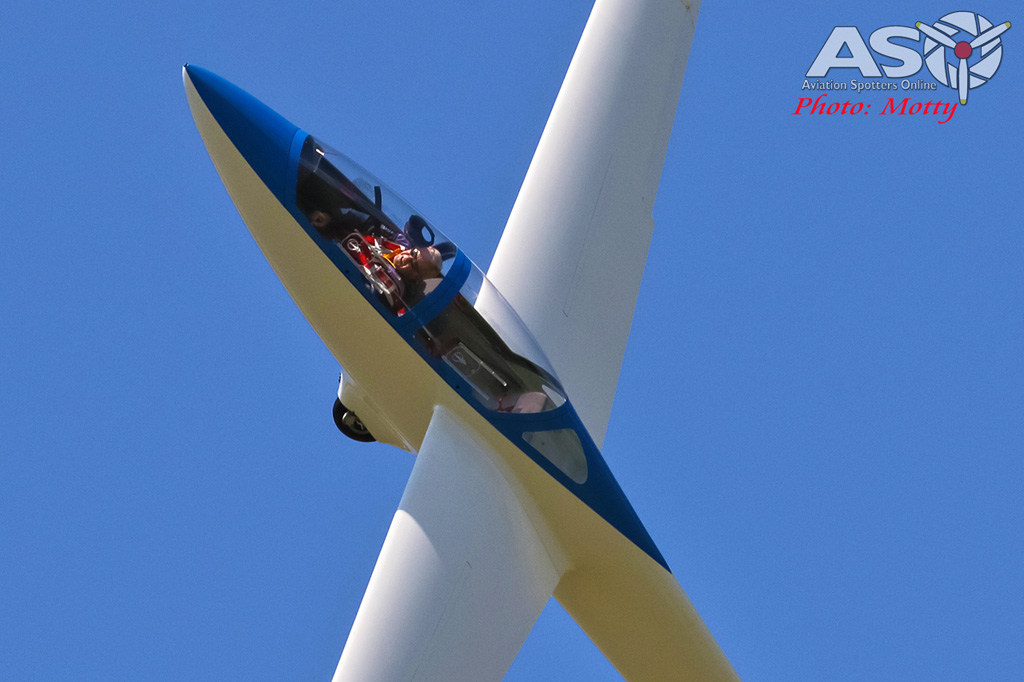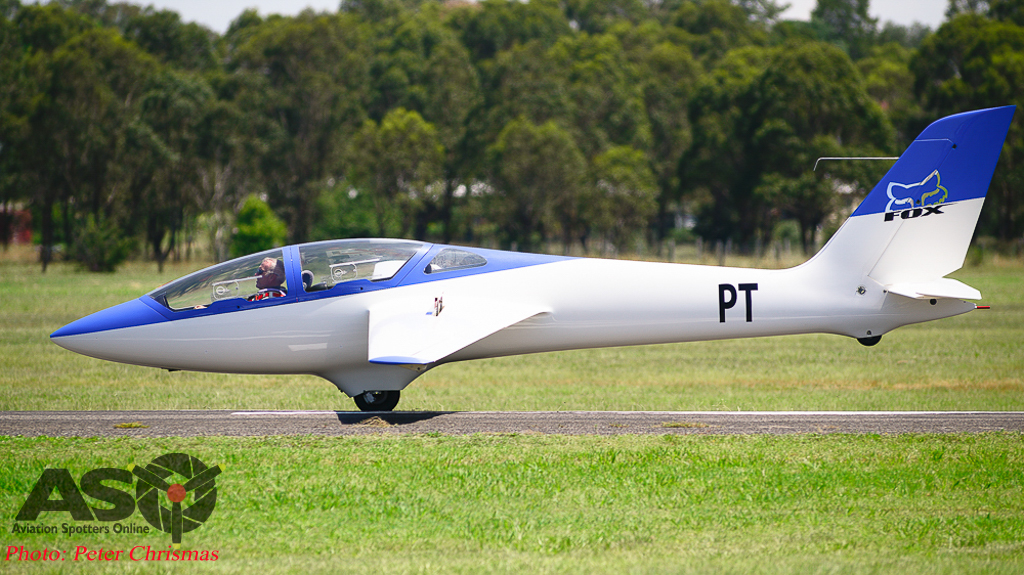 Aerohunter's Yak-52 was put through a very crisp routine at the hands of Glenn Graham, the bright yellow machine, trailing its plume of smoke, making for a striking image against the clear blue sky. At one point, Glenn even managed a wave to the crowd while inverted!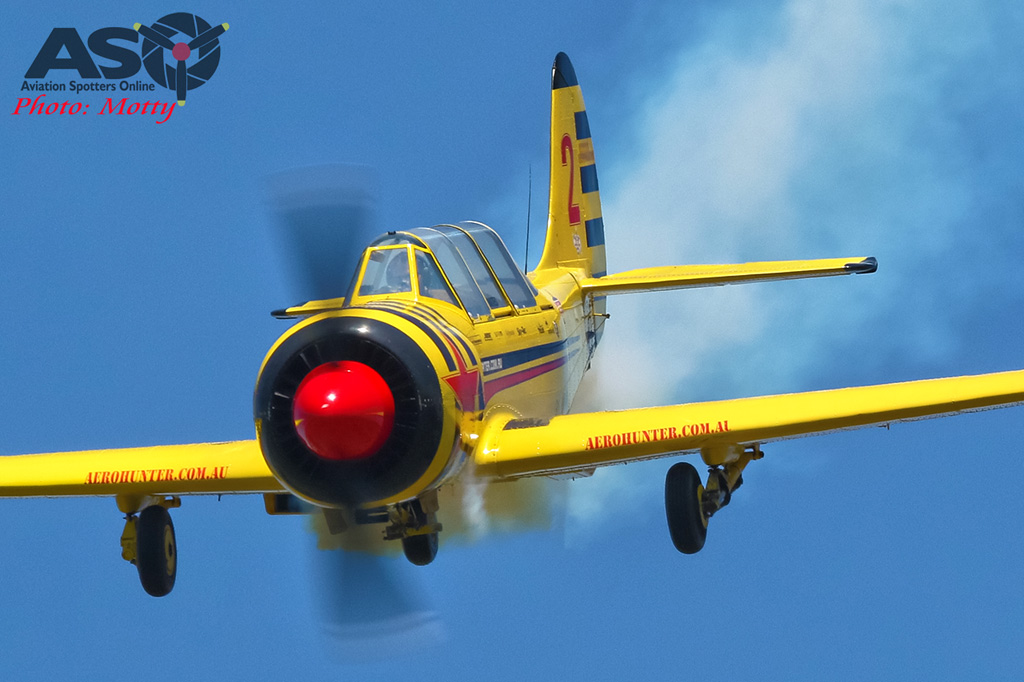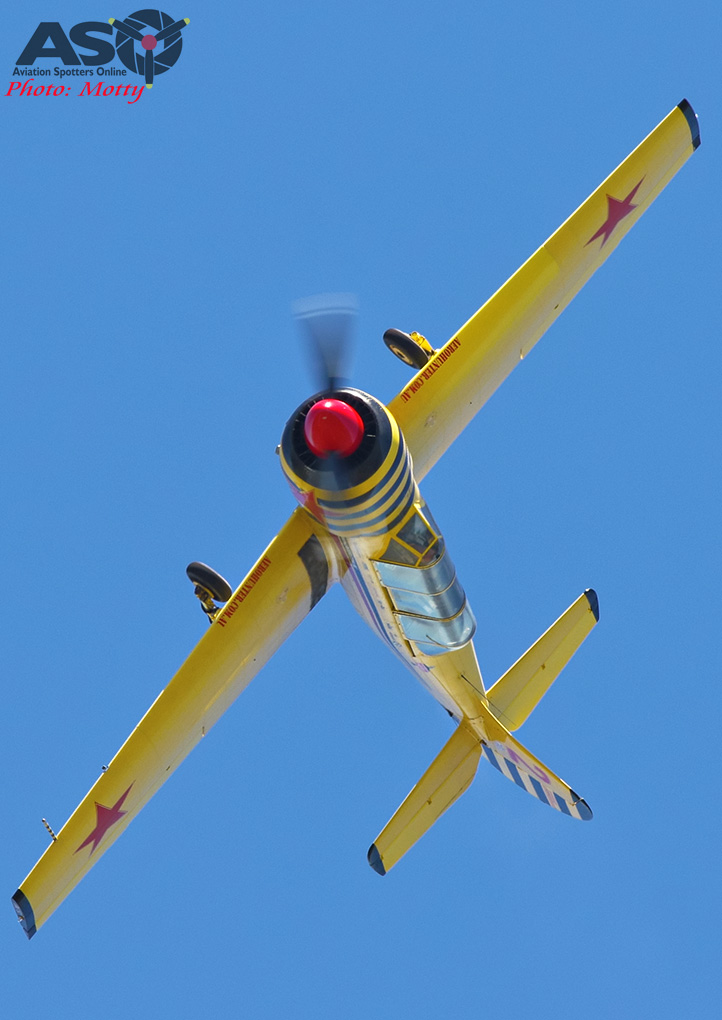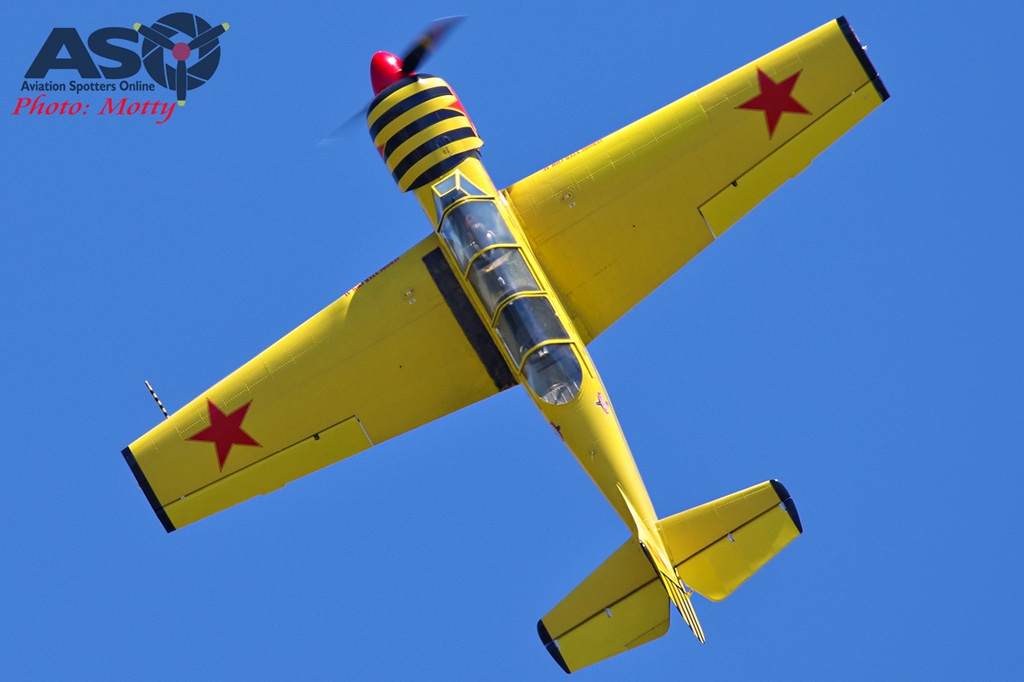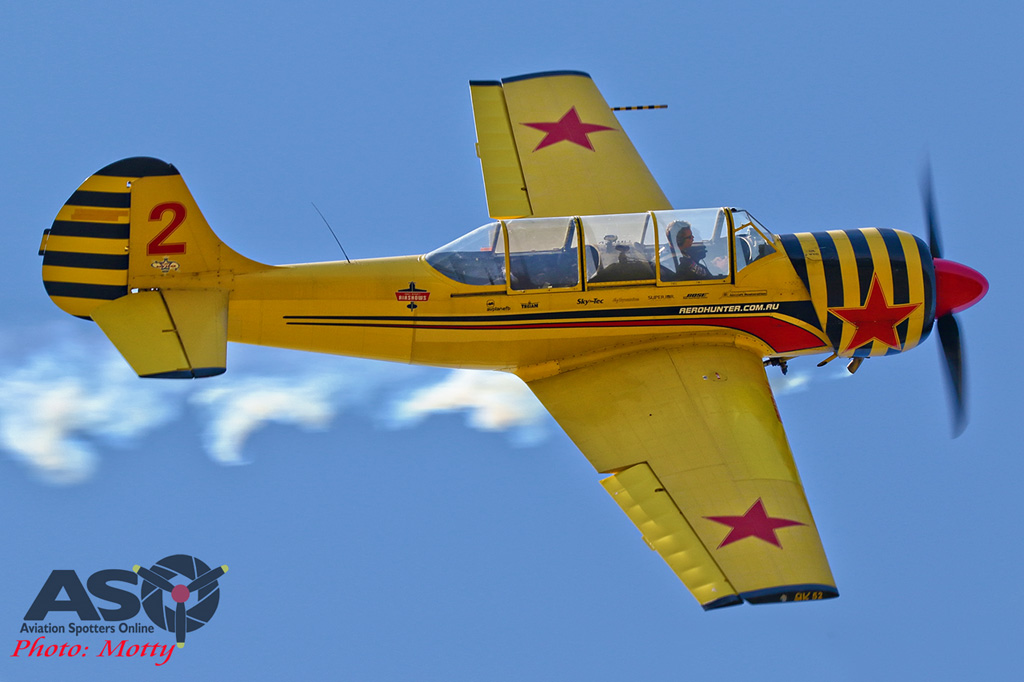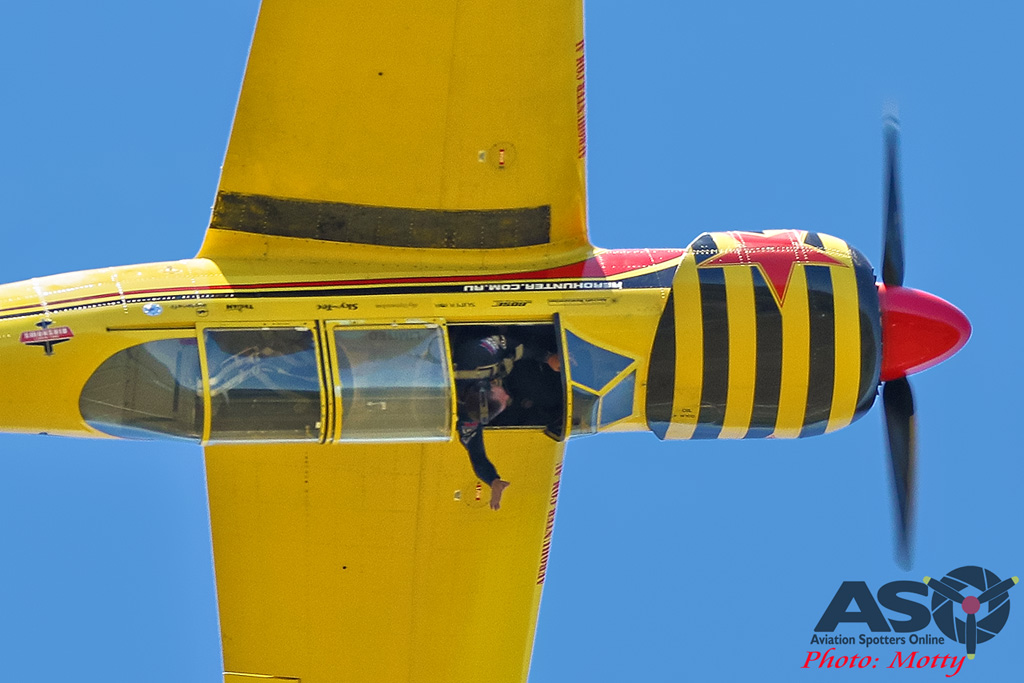 Paul Bennet took his T-28B Trojan up for an impressive display of loops, rolls and low level passes, and that sound!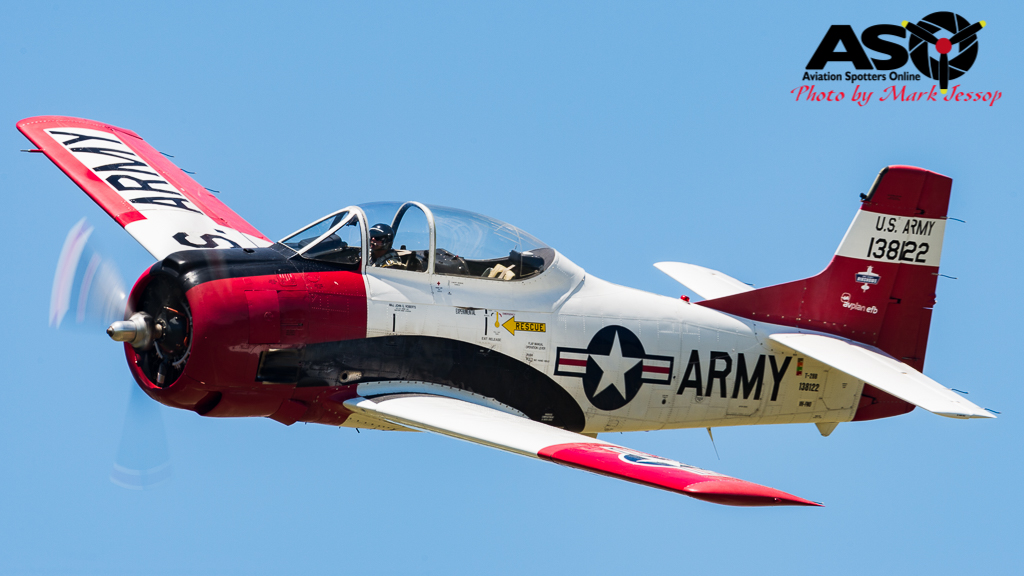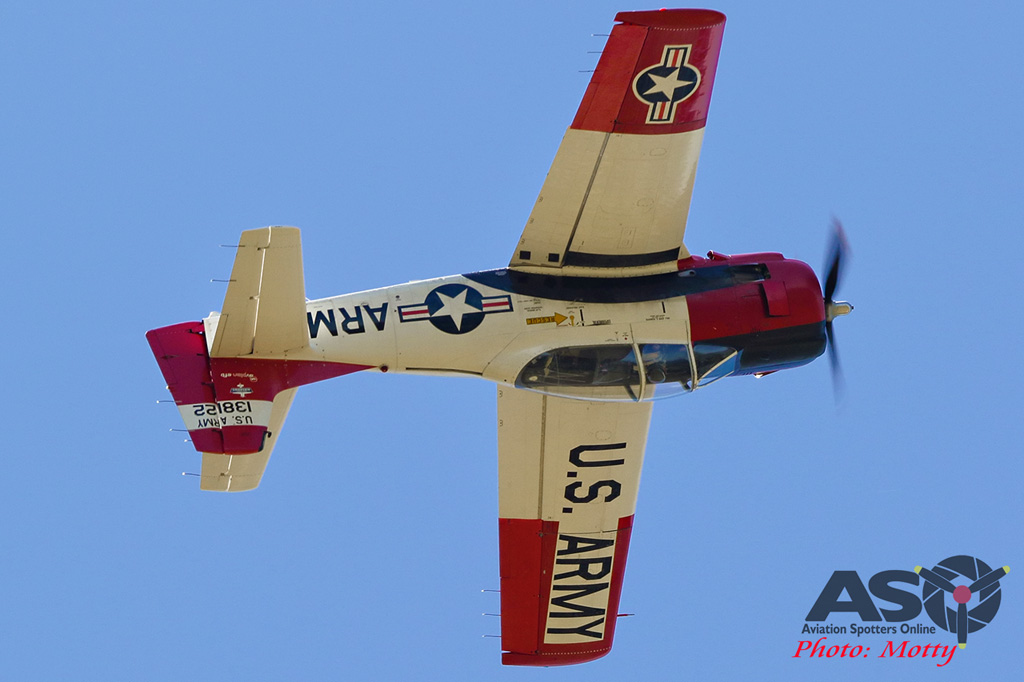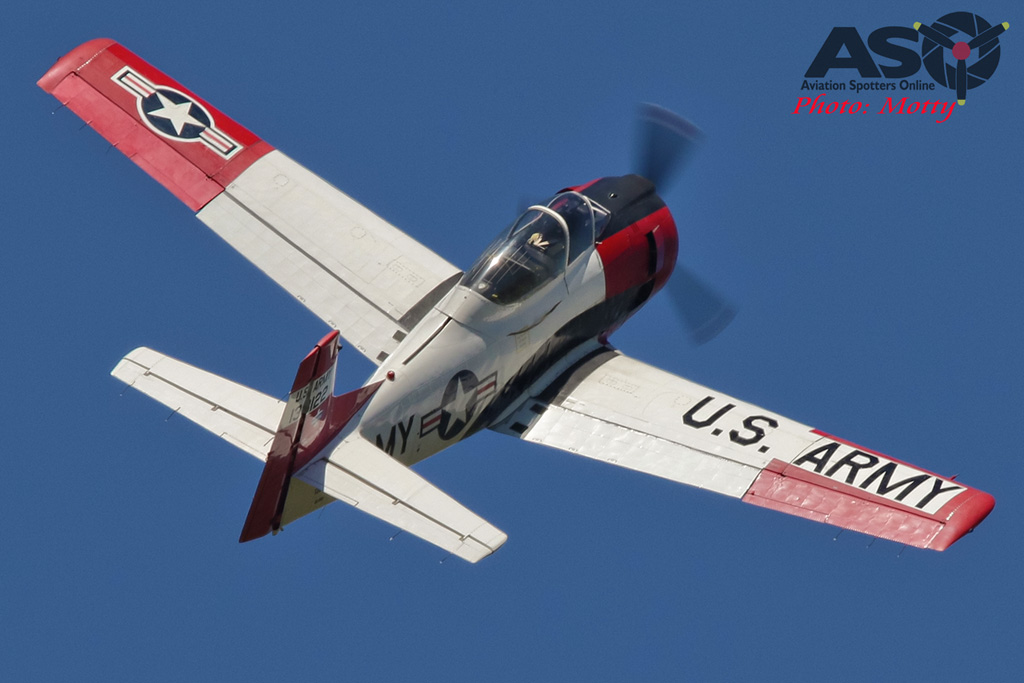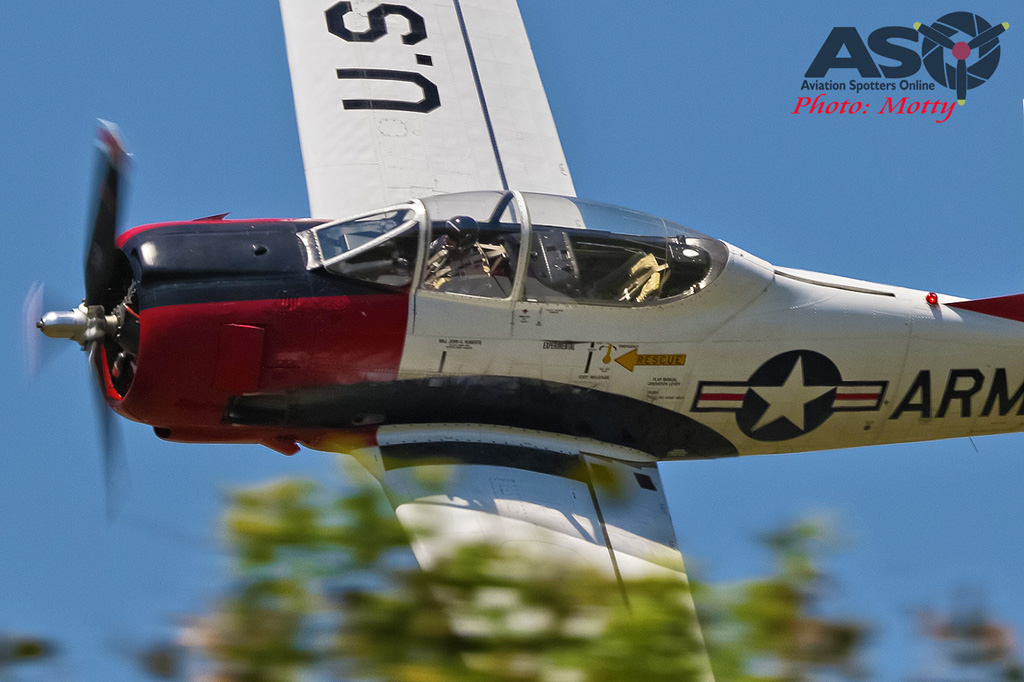 Jeff Blunt displayed the unique capabilities of his gyrocopter before Paul Bennet's CAC Wirrway was gracefully displayed by Ben Lappin.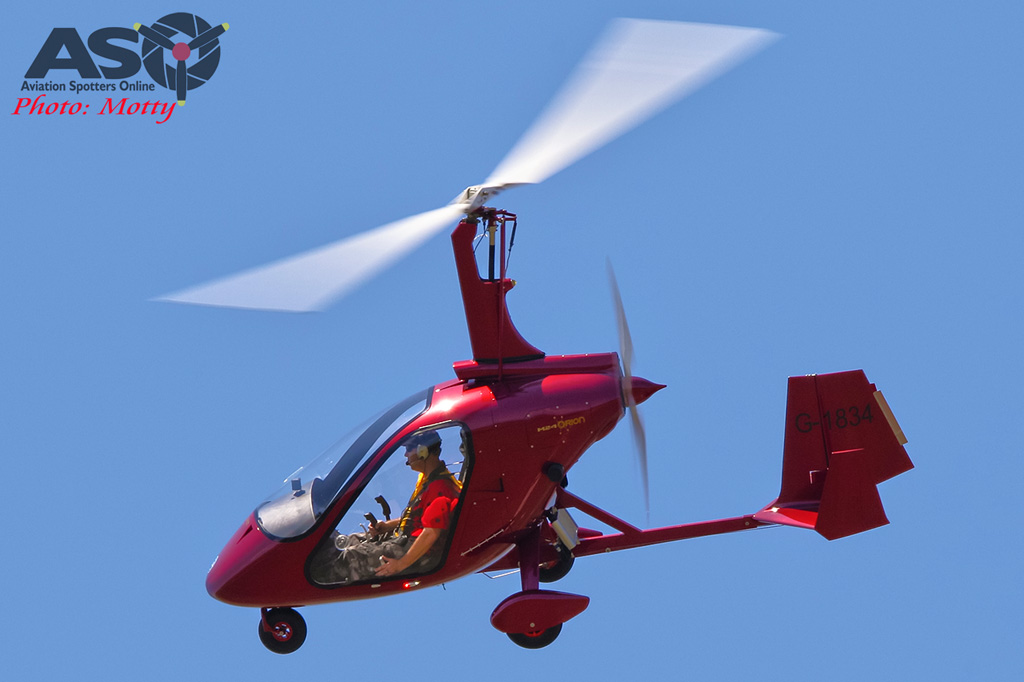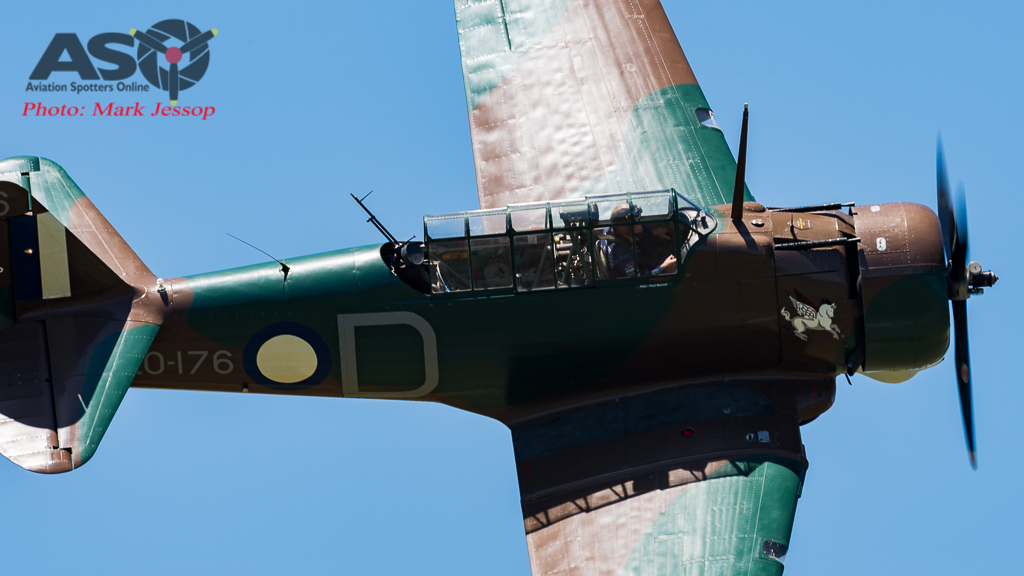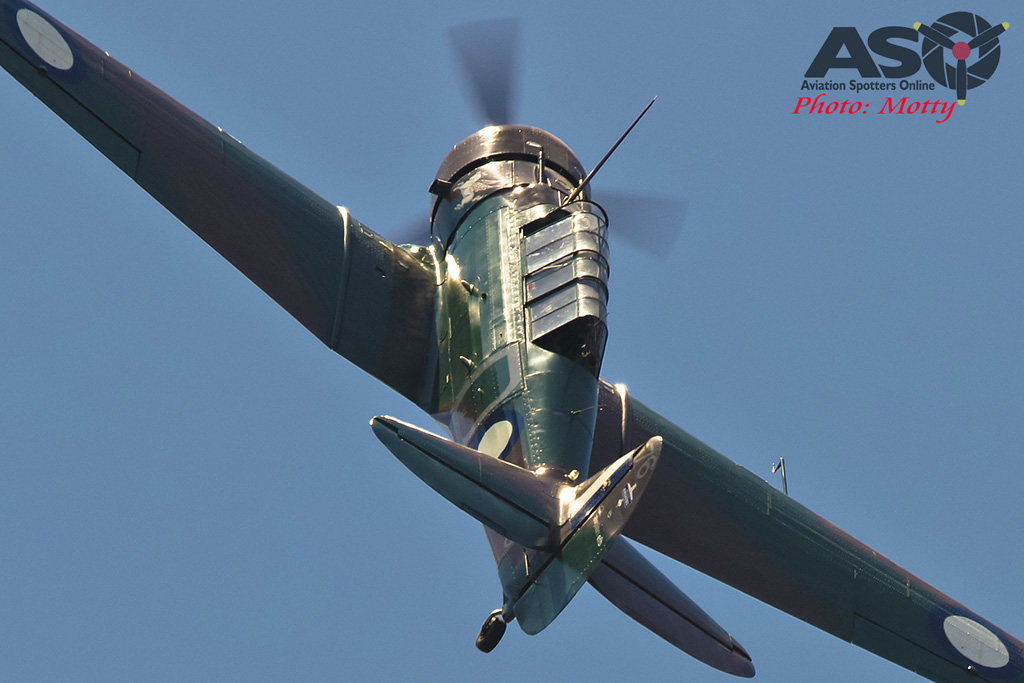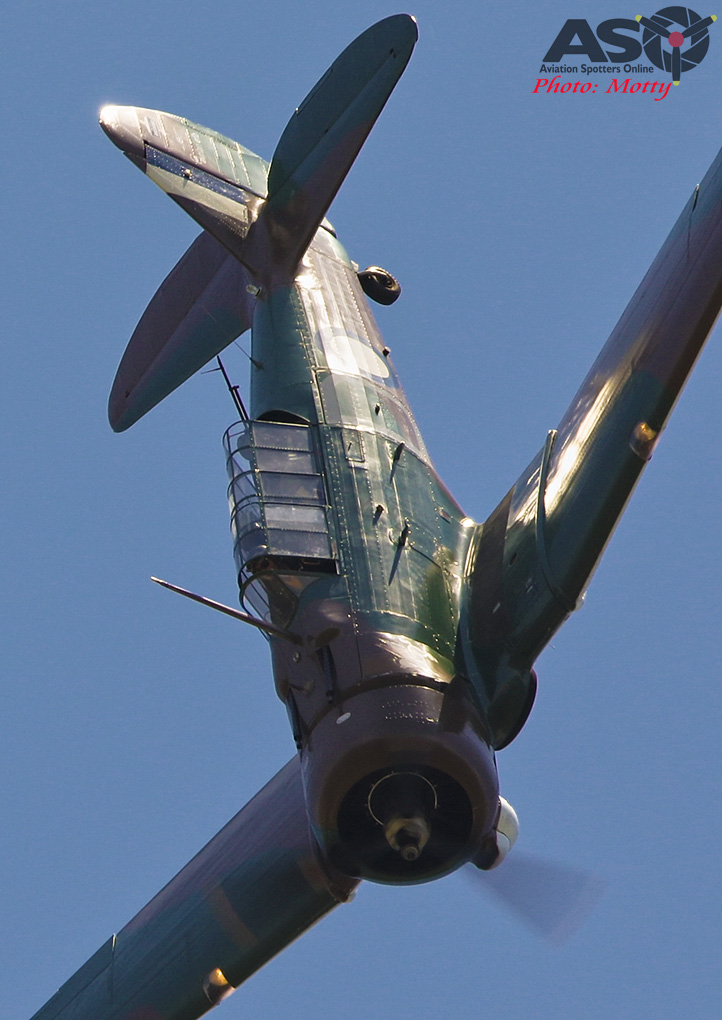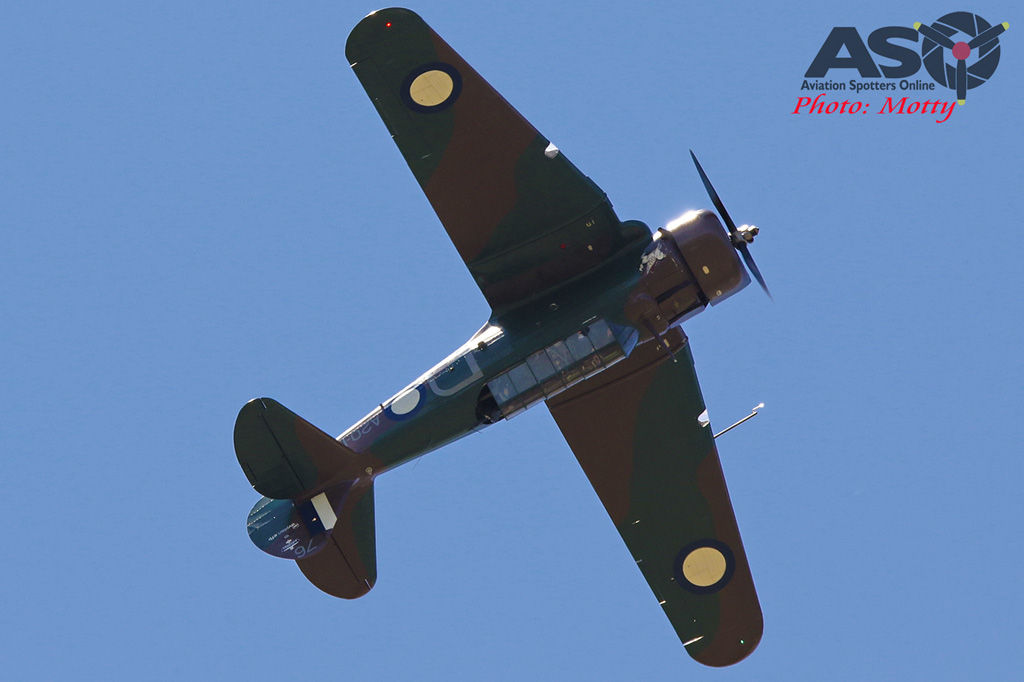 Not all the attractions were in the sky either, with plenty to see and do on the ground. The RAAF Balloon offered tethered flights all weekend and RAAF recruiting had a Super Hornet simulator available for future pilots to test their skills. There were Helicopter joy flights and several static aircraft to view including a demonstrator from Cirrus Aircraft and Luskintyre Aircraft Restorations had several of their latest classic rebuilds on show, including Tiger, Gipsy and Fox Moths, along with a pair young ladies dressed in WWII period attire to help set the scene. Beech adventures also had their new Beech 18 on display which is hoped to be back in the air soon. There was a great display of historic military vehicles and the FMX Stunt team amazed the crowds with jumps, backflips and more all weekend.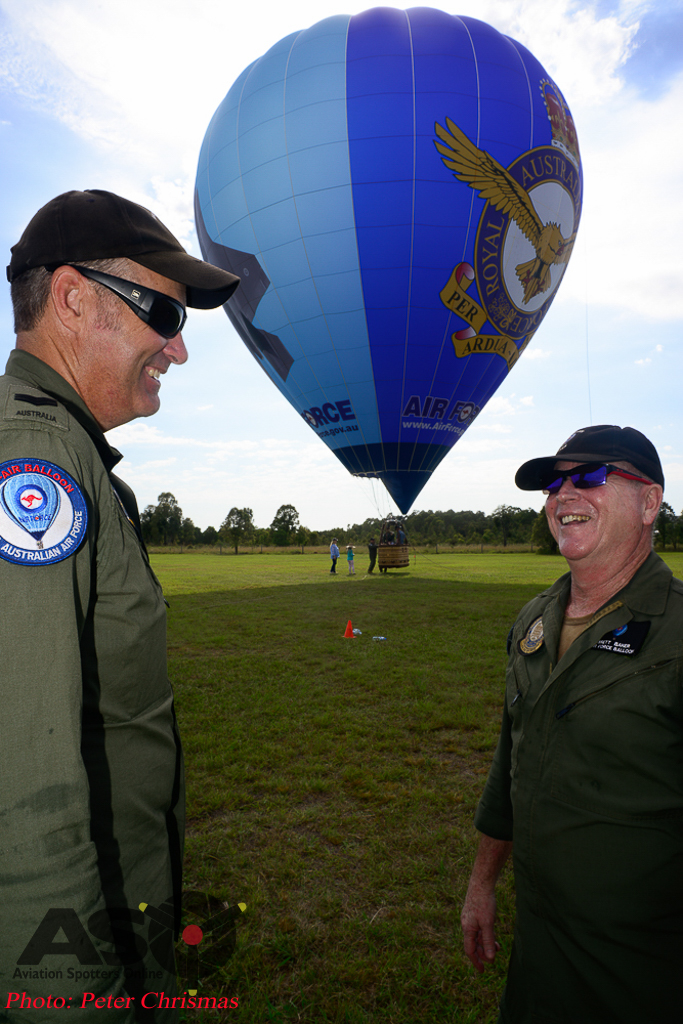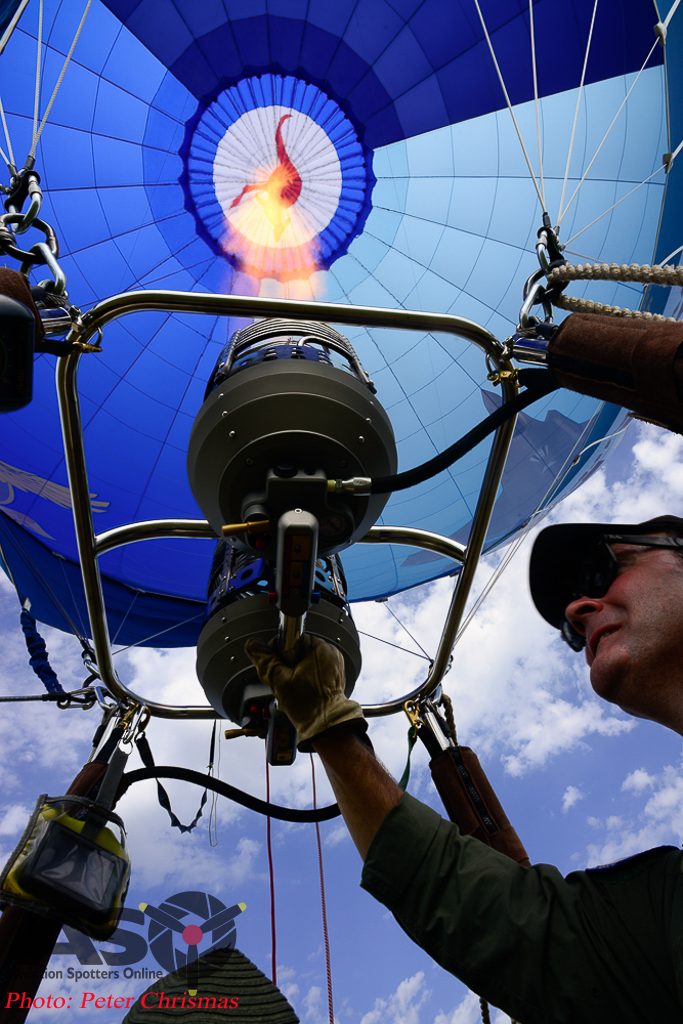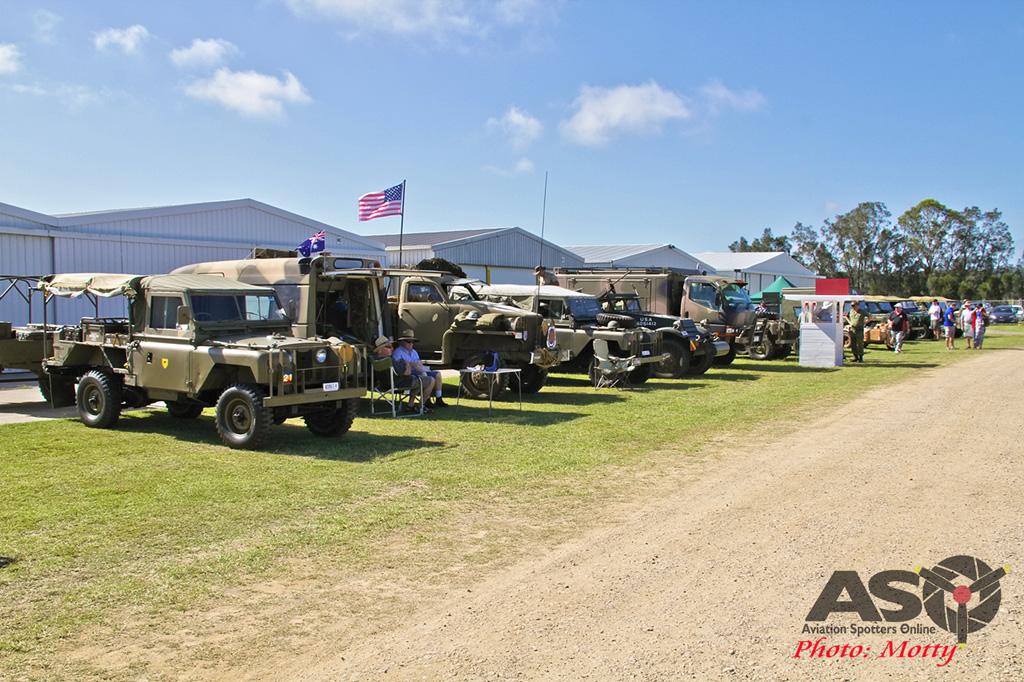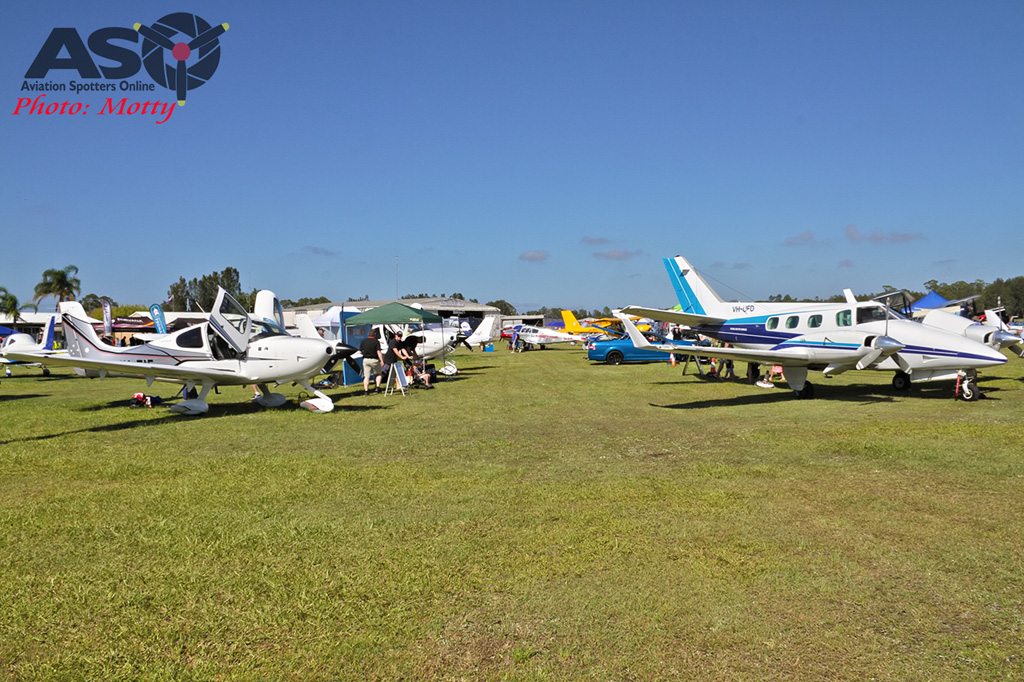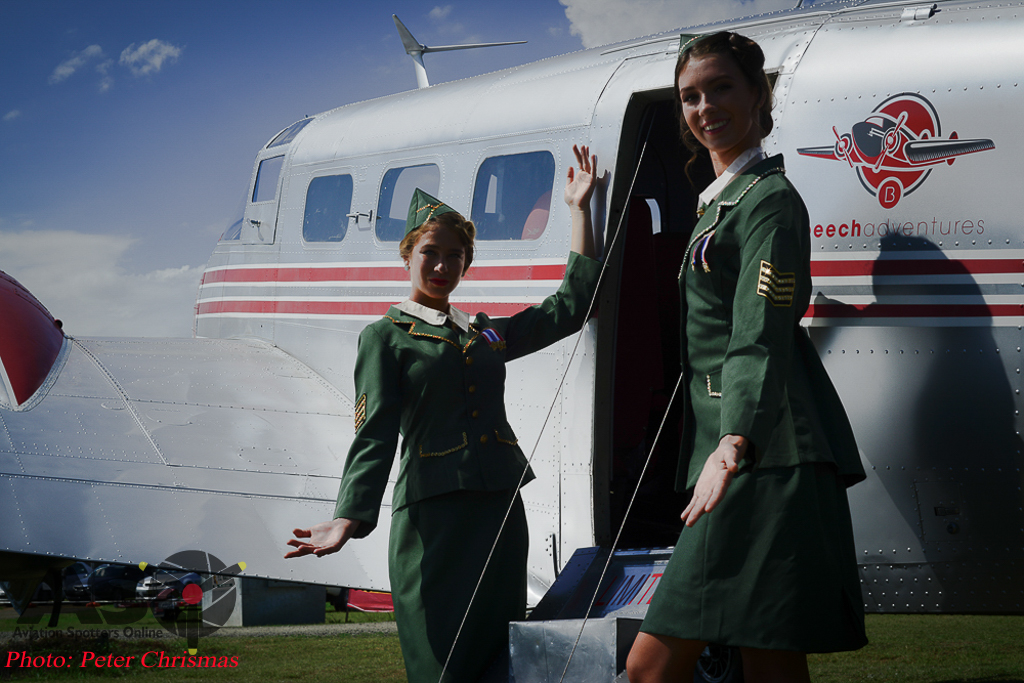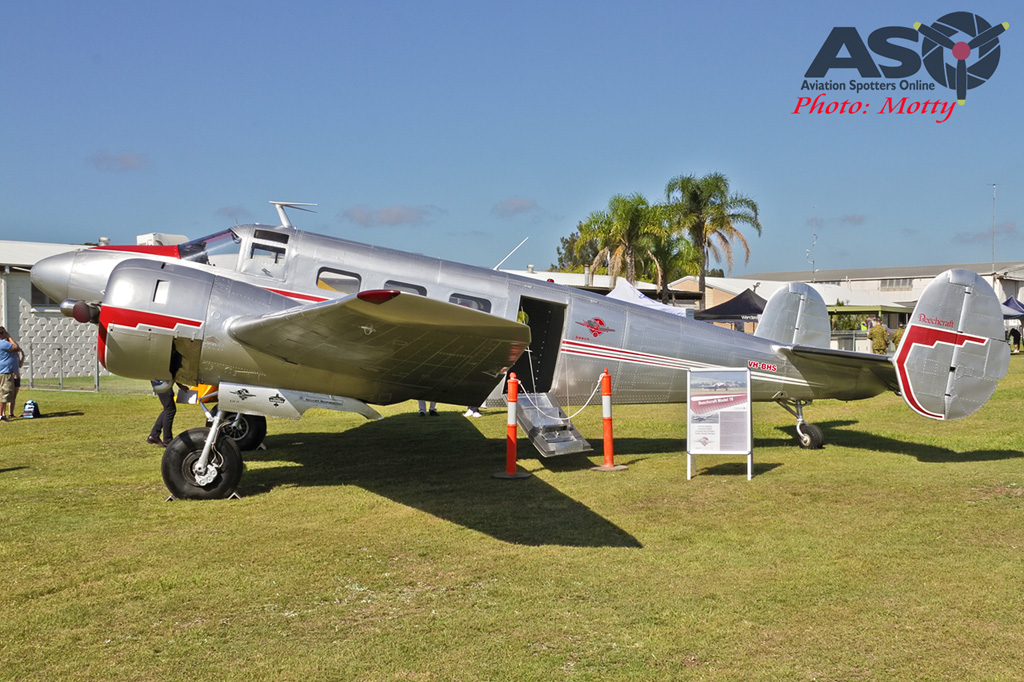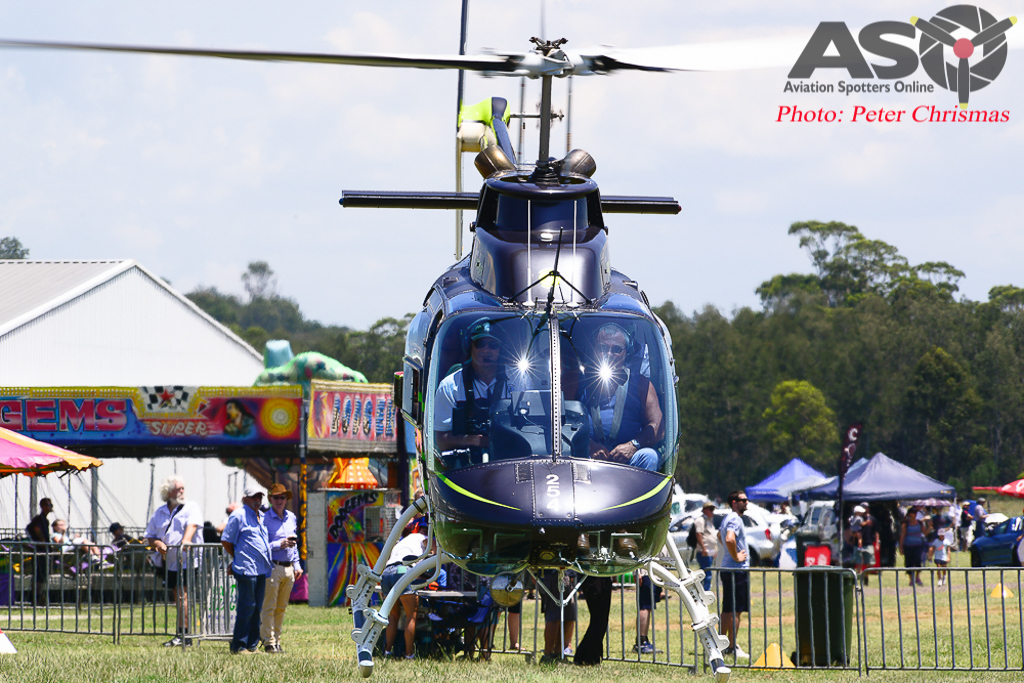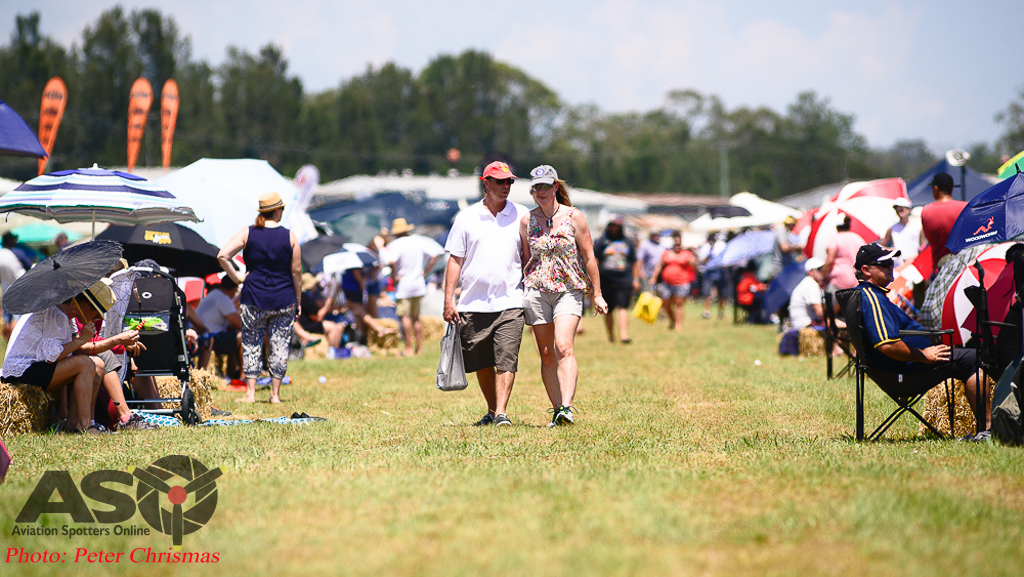 Something a little different was a combined display by Nigel Arnot in the Pitts M12, Adrian Vandersluy in the Lancair and Glenn Graham in the Rebel 300 where the three of them alternated their displays. First Nigel performed a solo routine in the Pitts before Adrian made some passes in the Lancair which was followed by Glenn doing his own routine in the Rebel, then the Lancair again, the Pitts and so-on, back and forth a few times, which made for a varied and entertaining display.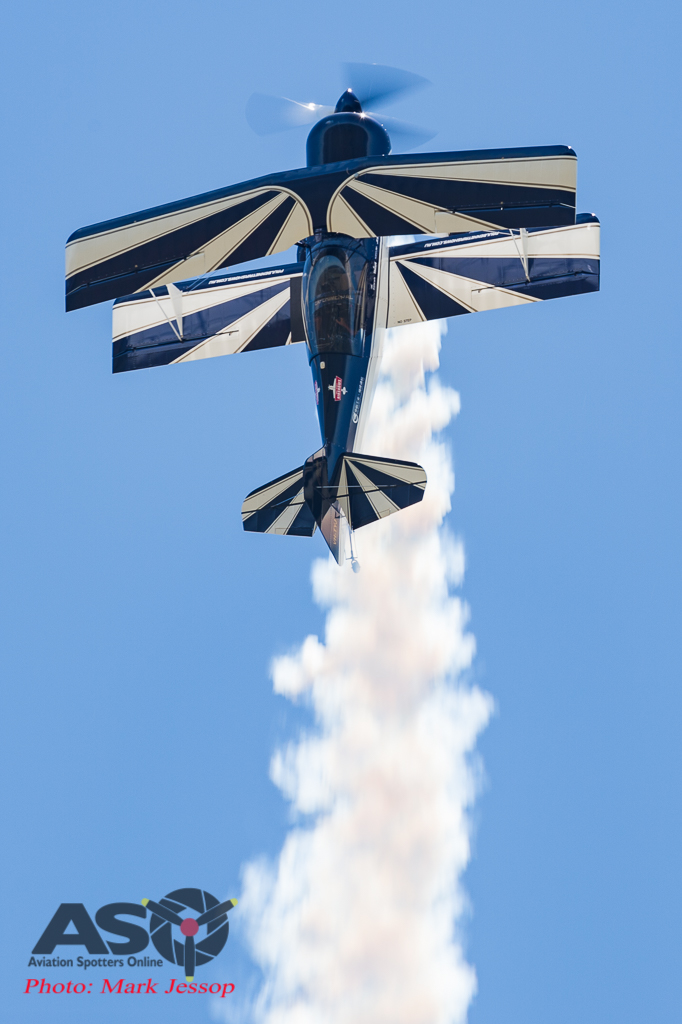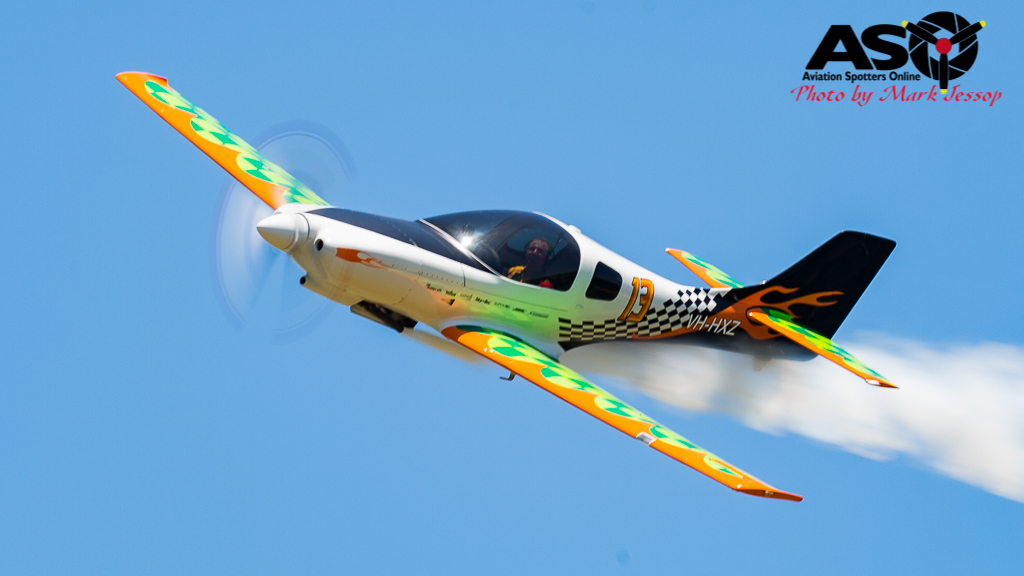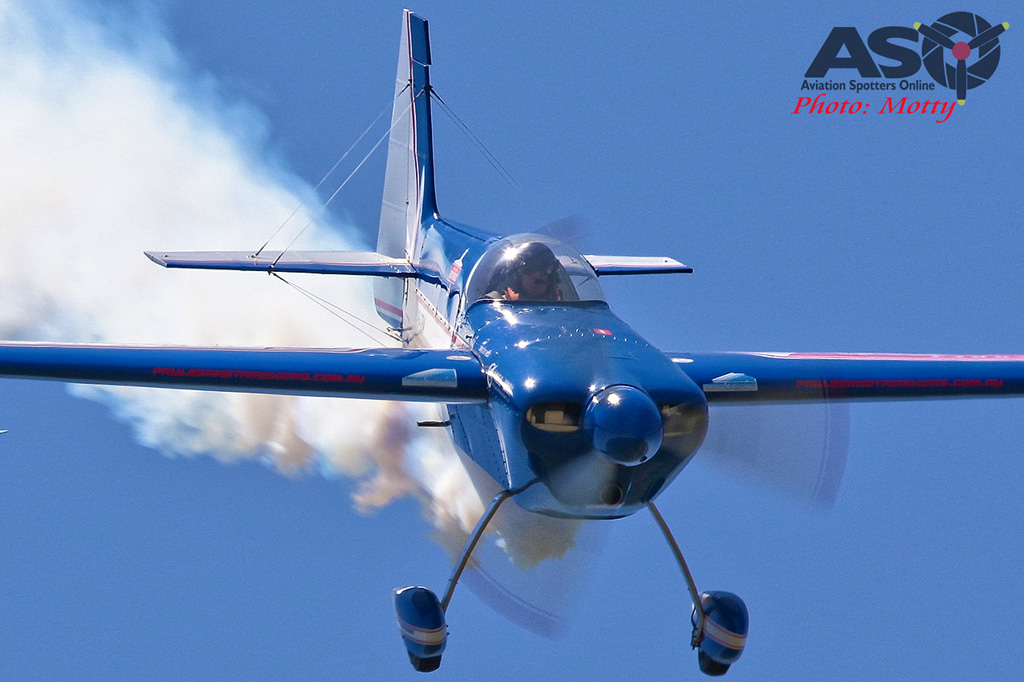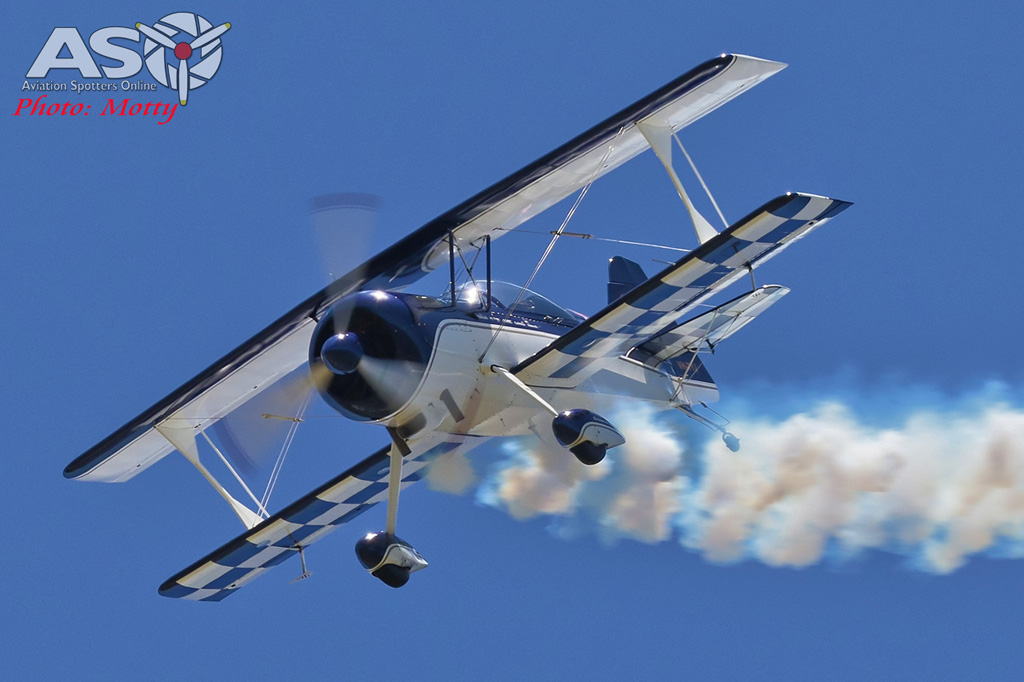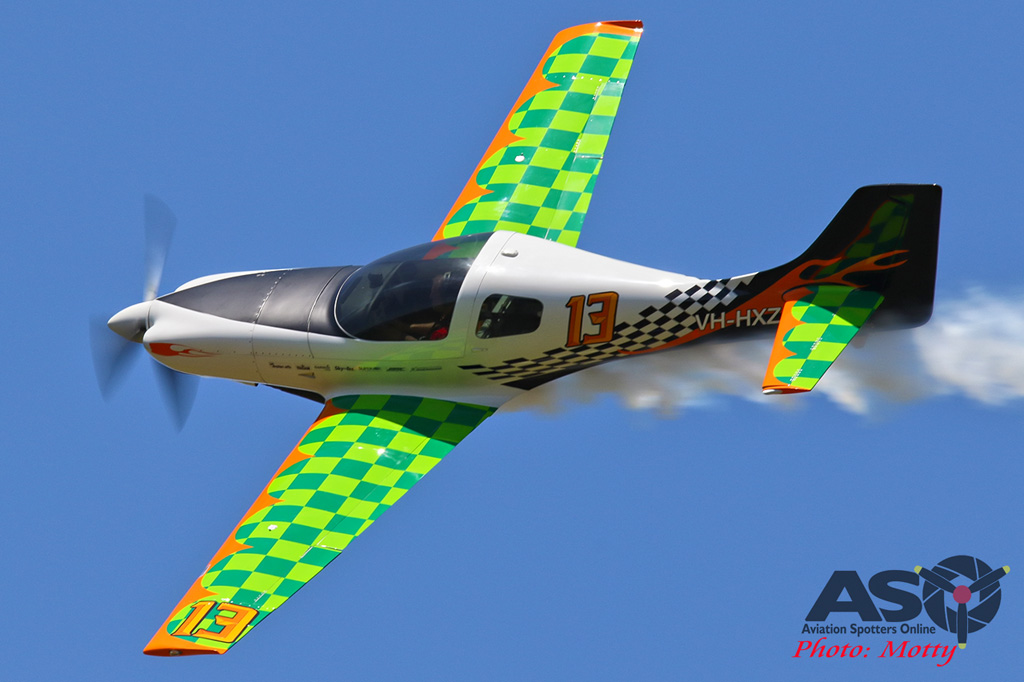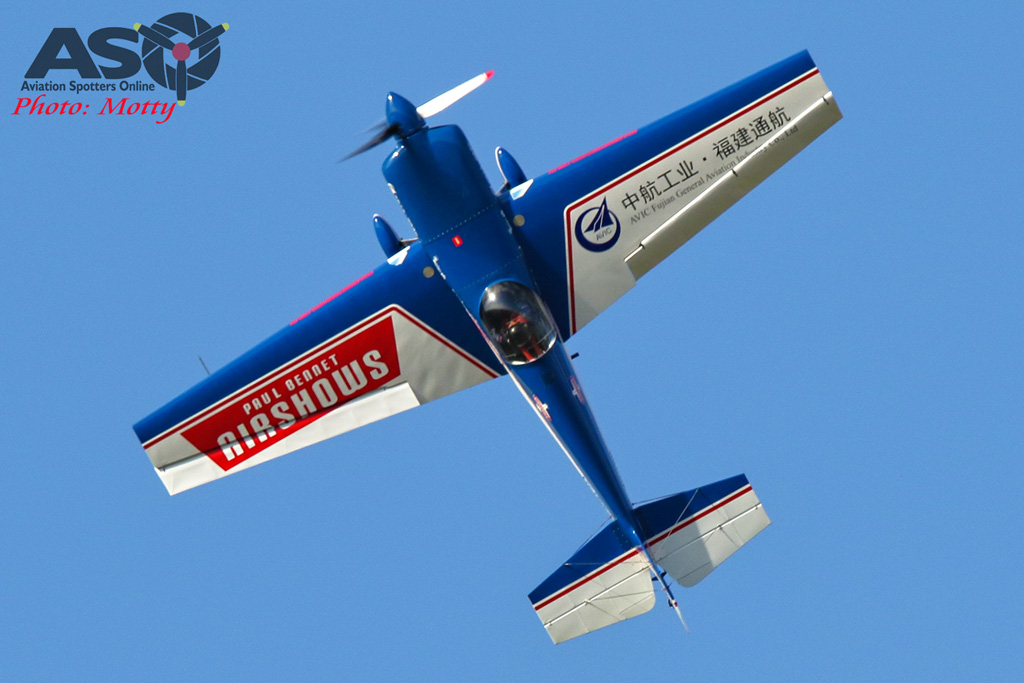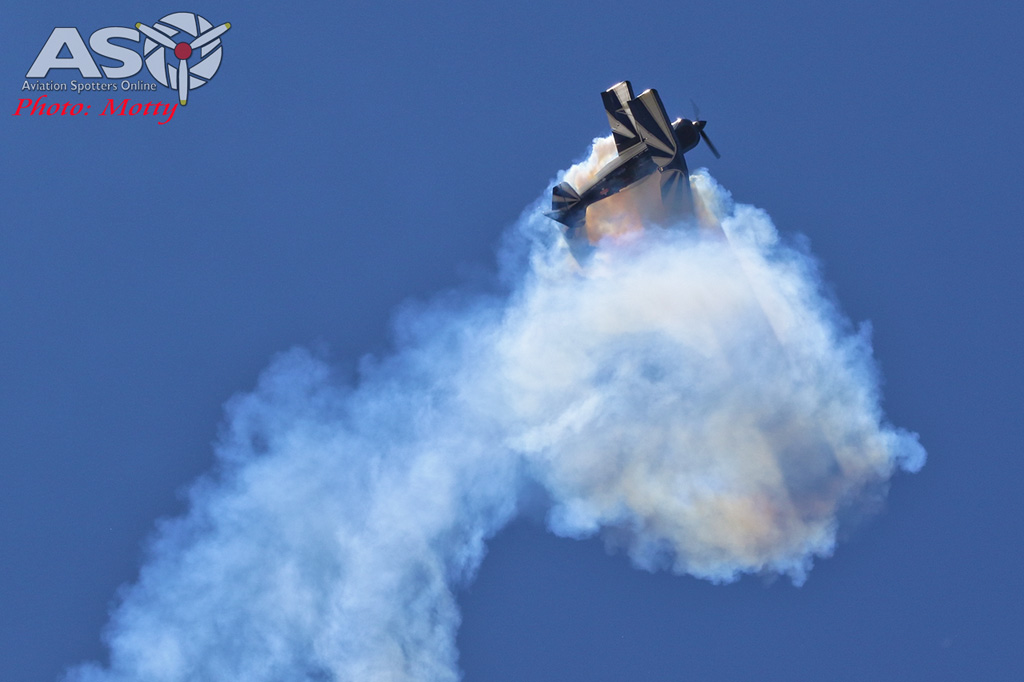 The pace picked up a notch or two as Mark Pracy appeared in Jetride Australia's L-39 to put on another smooth display of this popular jet warbird.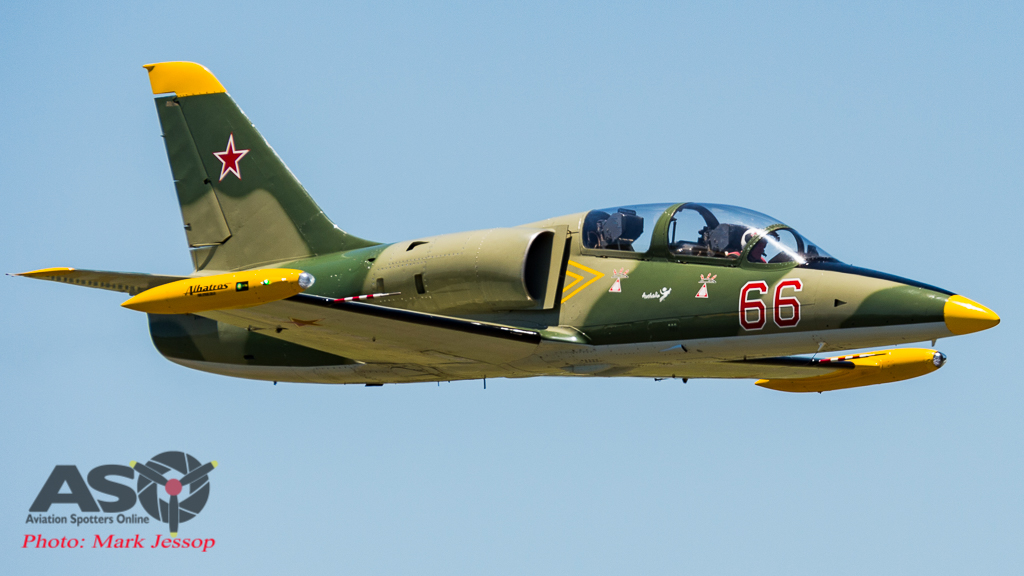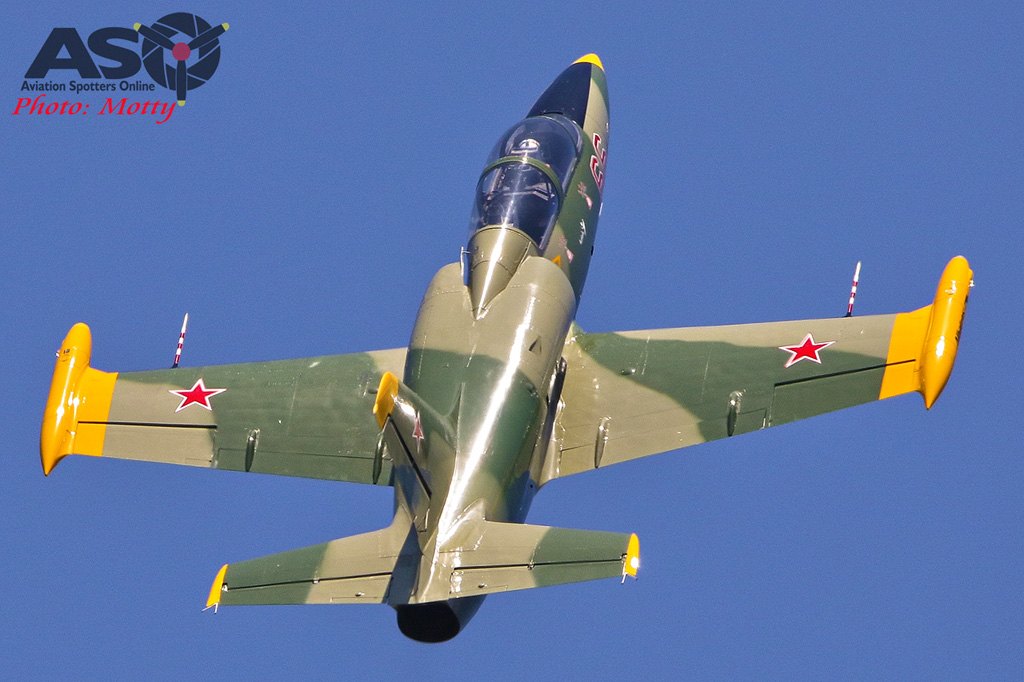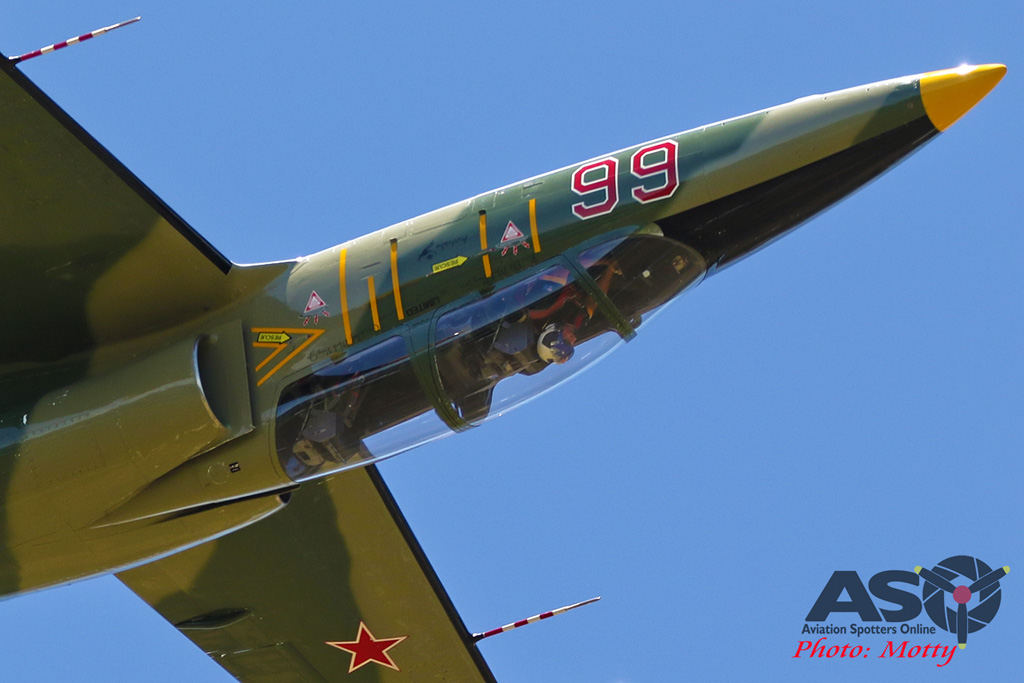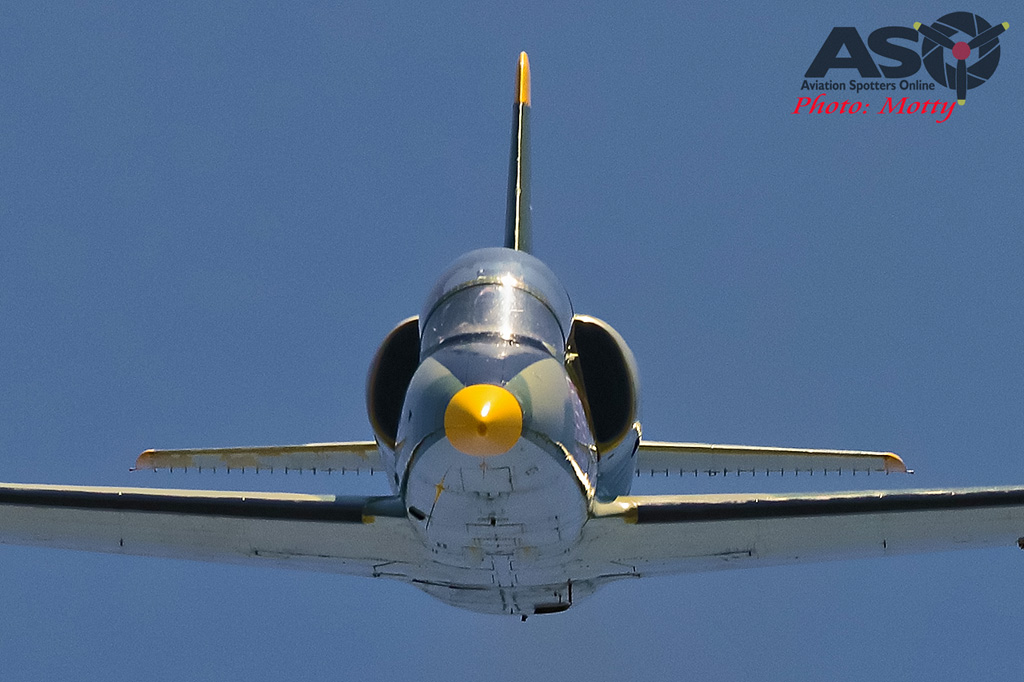 Not slowing the pace any was one of aviation's icons, Judy Pay and Dick Hourigan's beautifully restored CAC Mustang, painted in the colours of a 3 Sqn P-51 in Italy during WWII. Flown by Bernie Heuser and Peter Clements over the weekend, it's always a joy to see this classic machine perform in its element and then of course, there's also that unmistakable sound of a Rolls Royce Merlin just to top it off.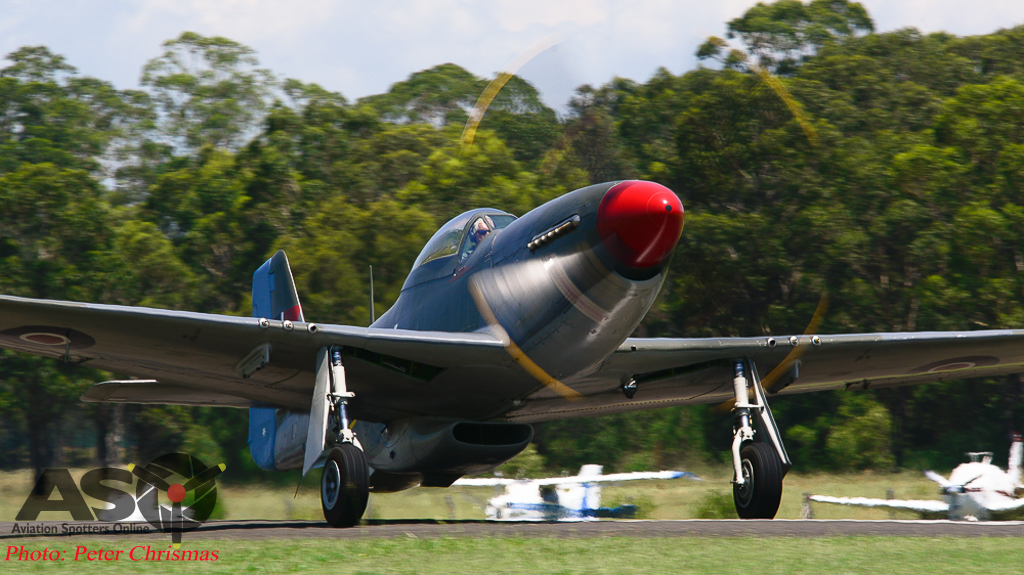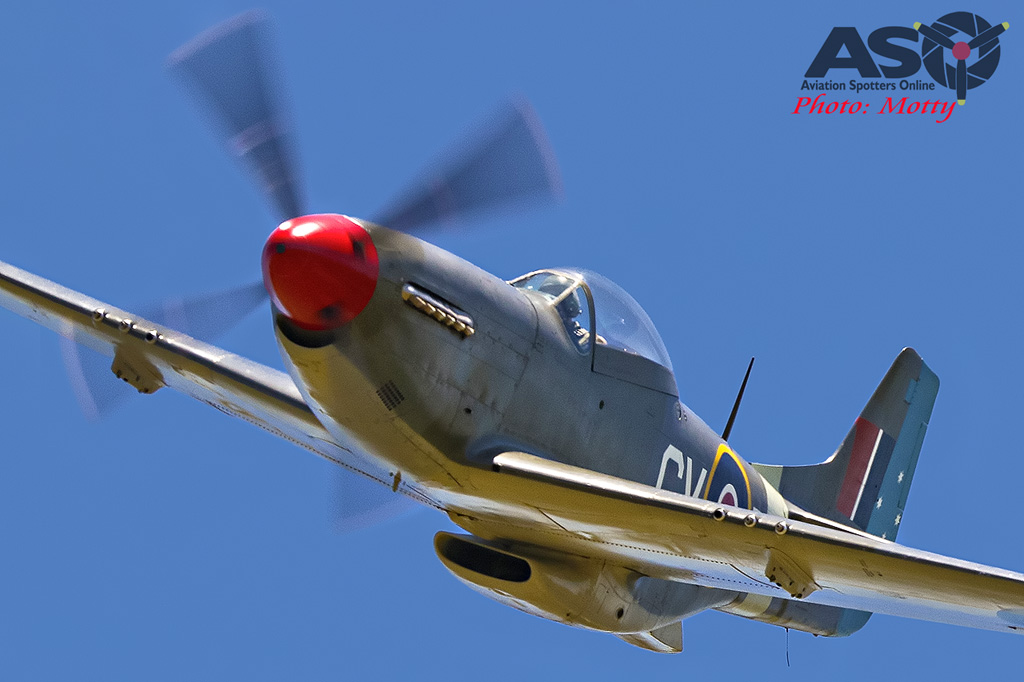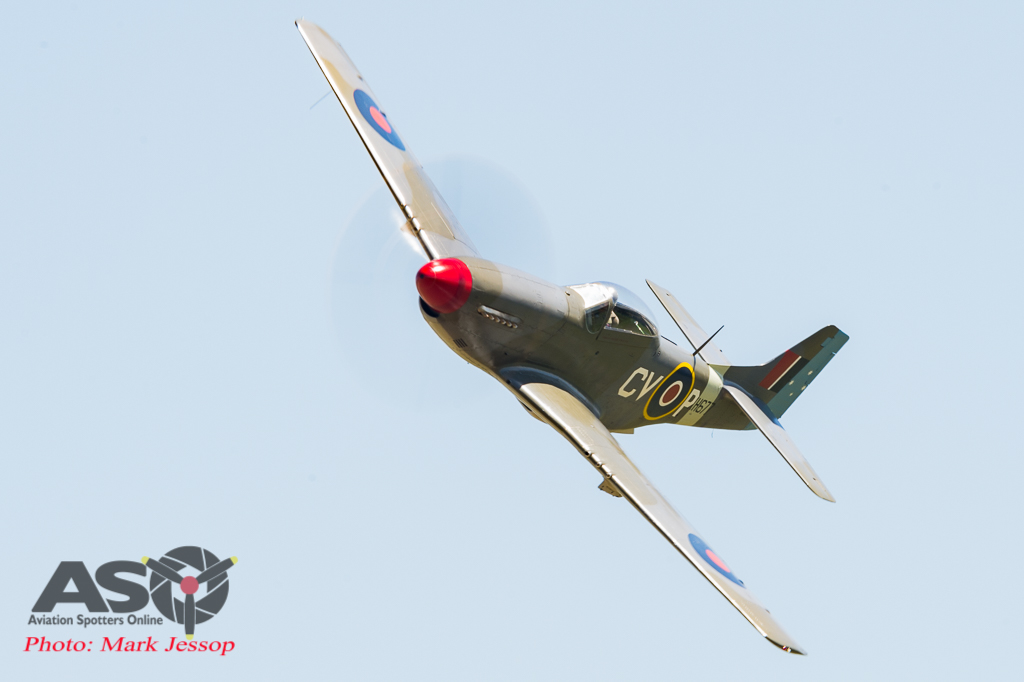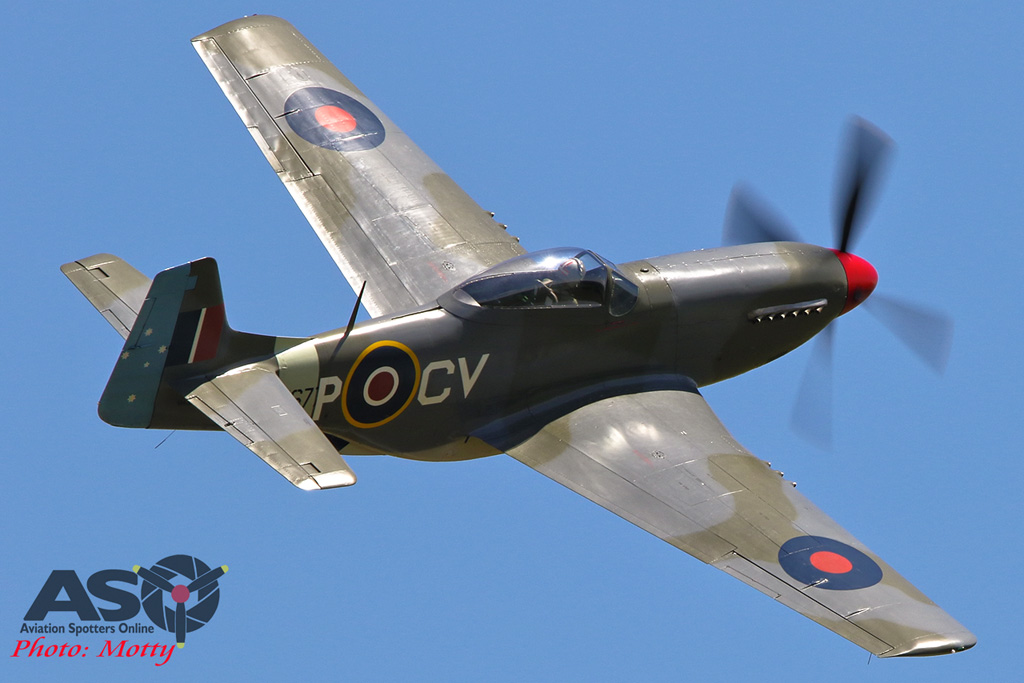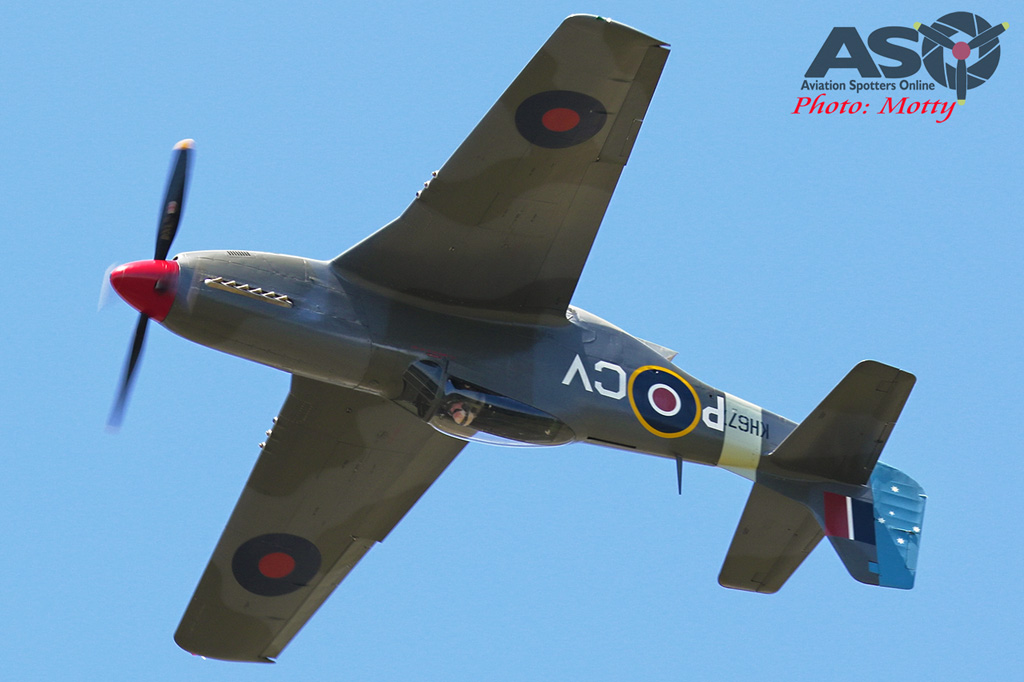 The crowds were then treated to Paul Bennet's incredible solo routine in his Wolf Pitts Pro. One of only two in the world, the Wolf is a unique and very powerful version of the diminutive Pitts Special which has been designed for speed and maneuverability, both of which Paul exploits to the fullest in his display.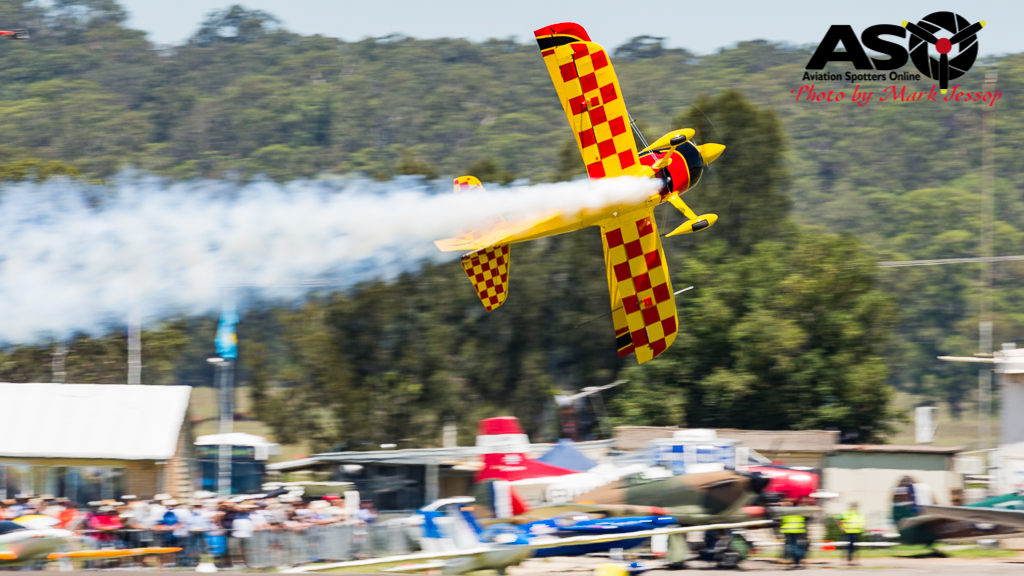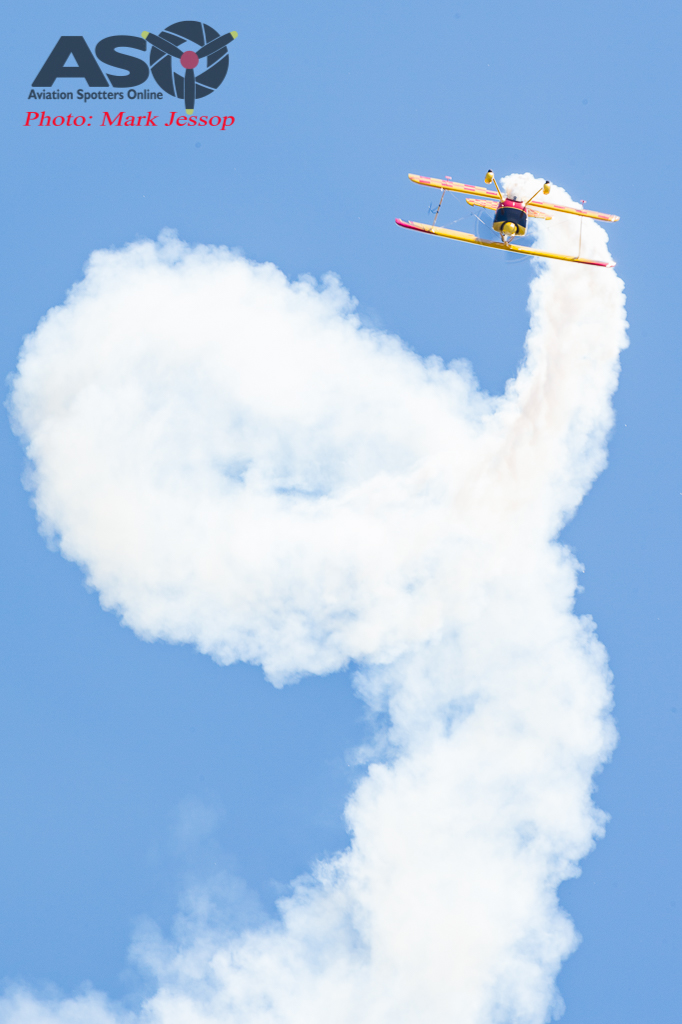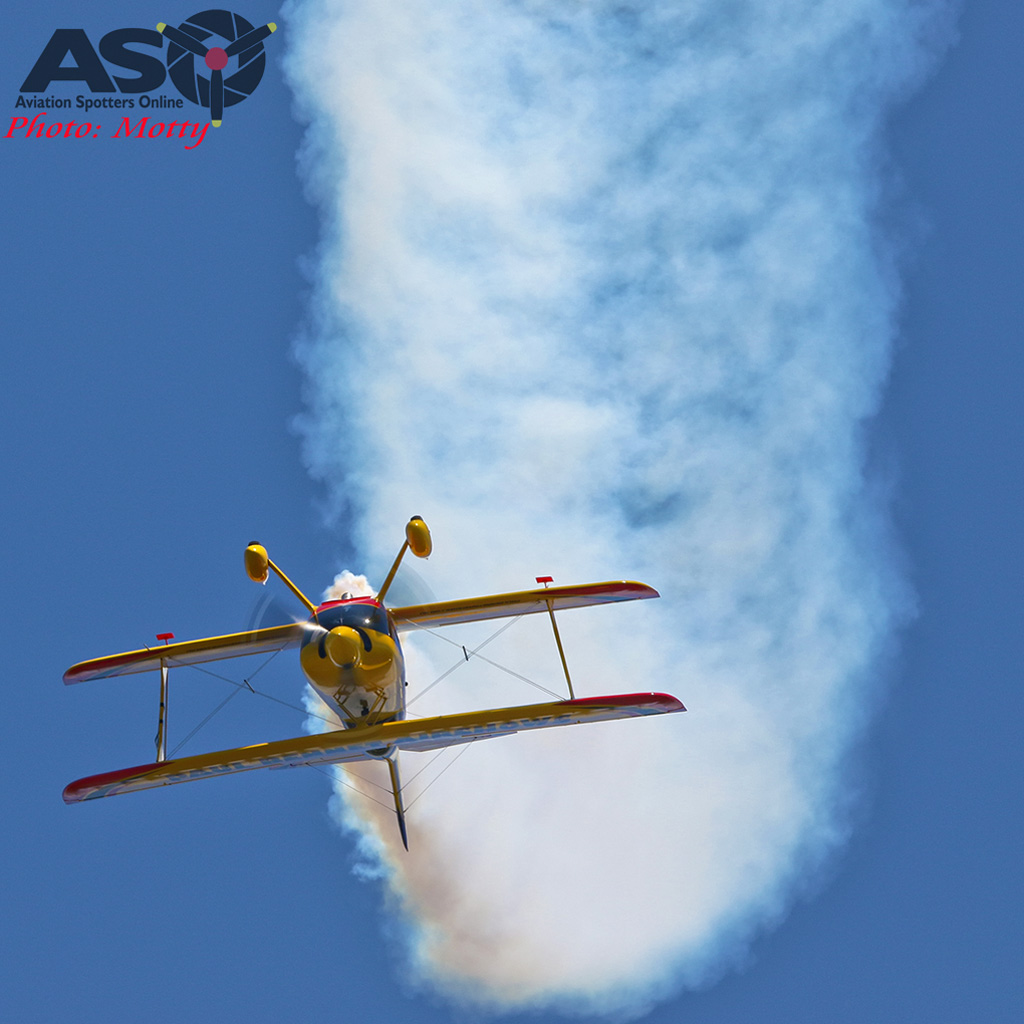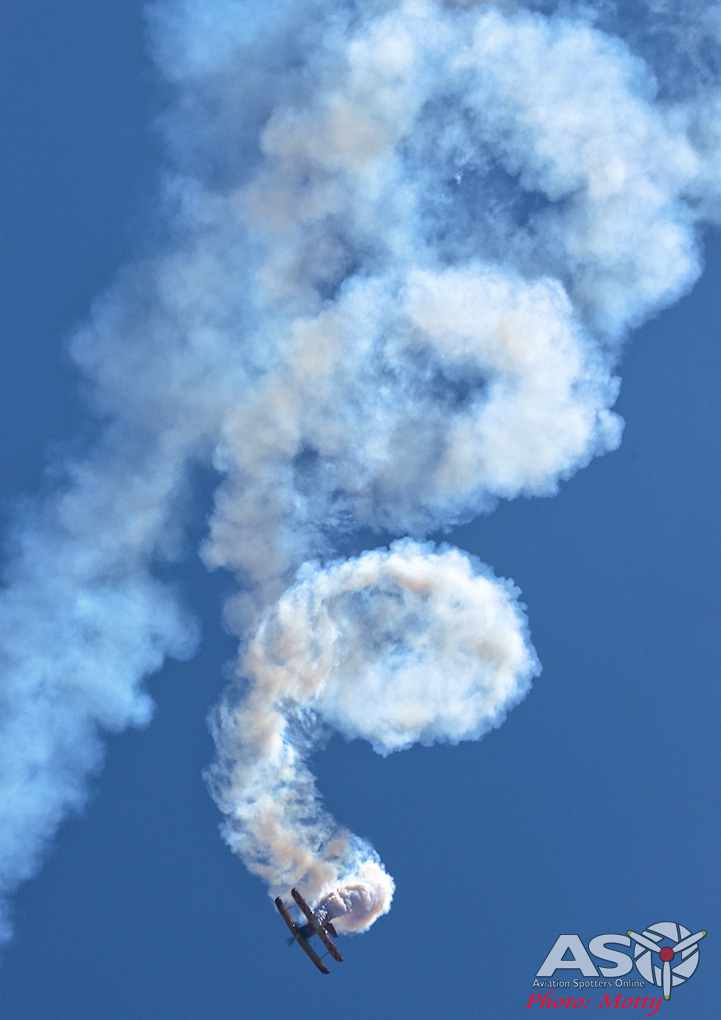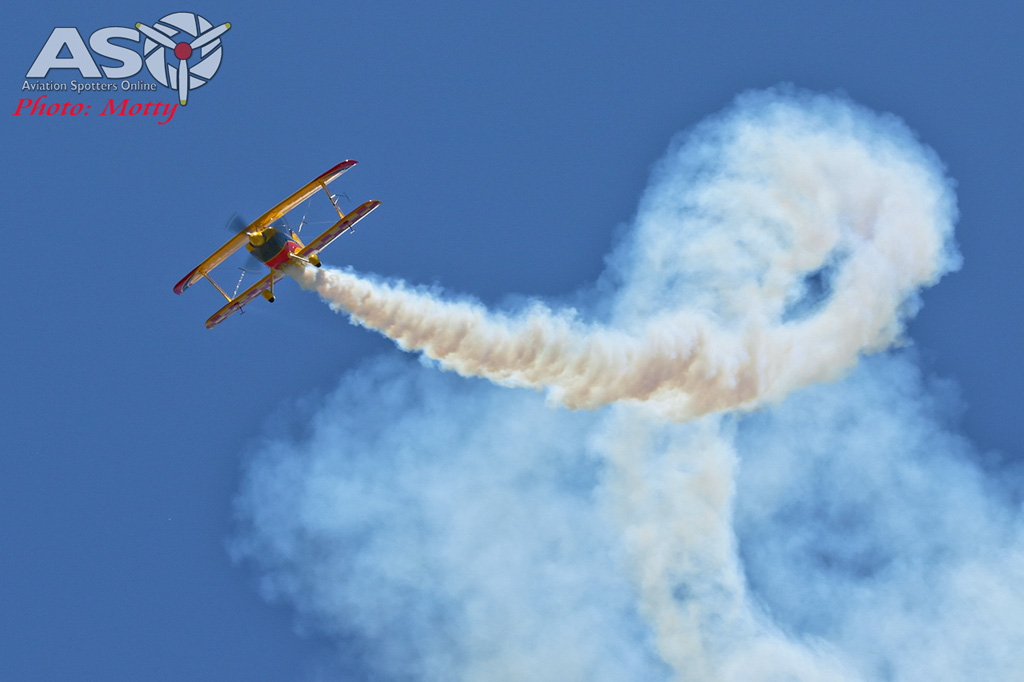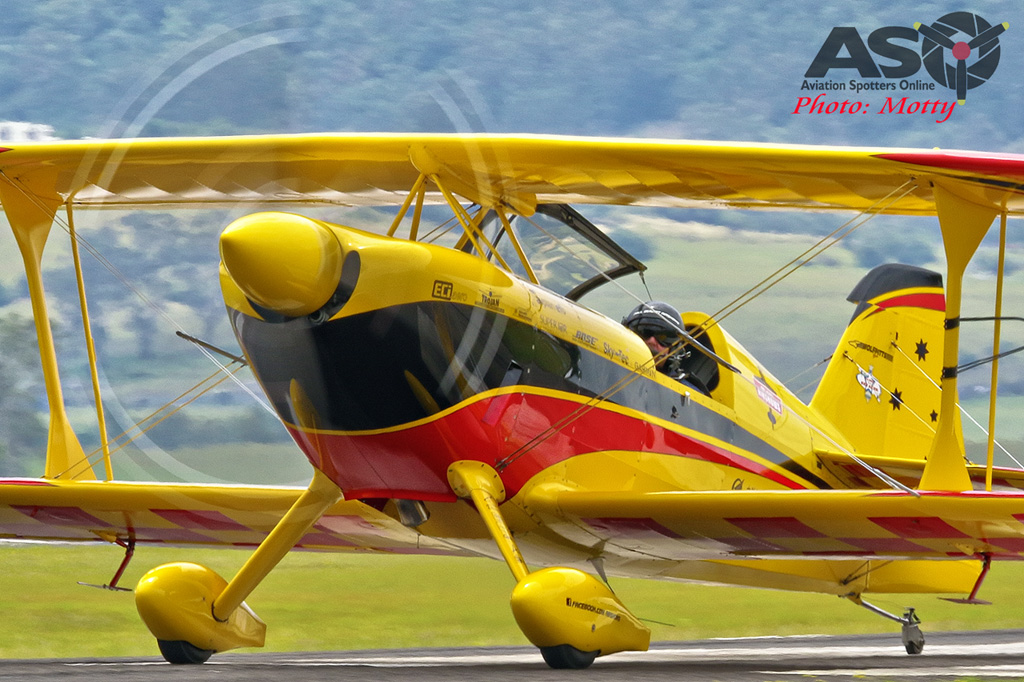 On the Sunday afternoon, visitors were treated to the added spectacle of FMX rider Joel Brown performing a back-flip jump over the top of Paul in his Wolf Pitts.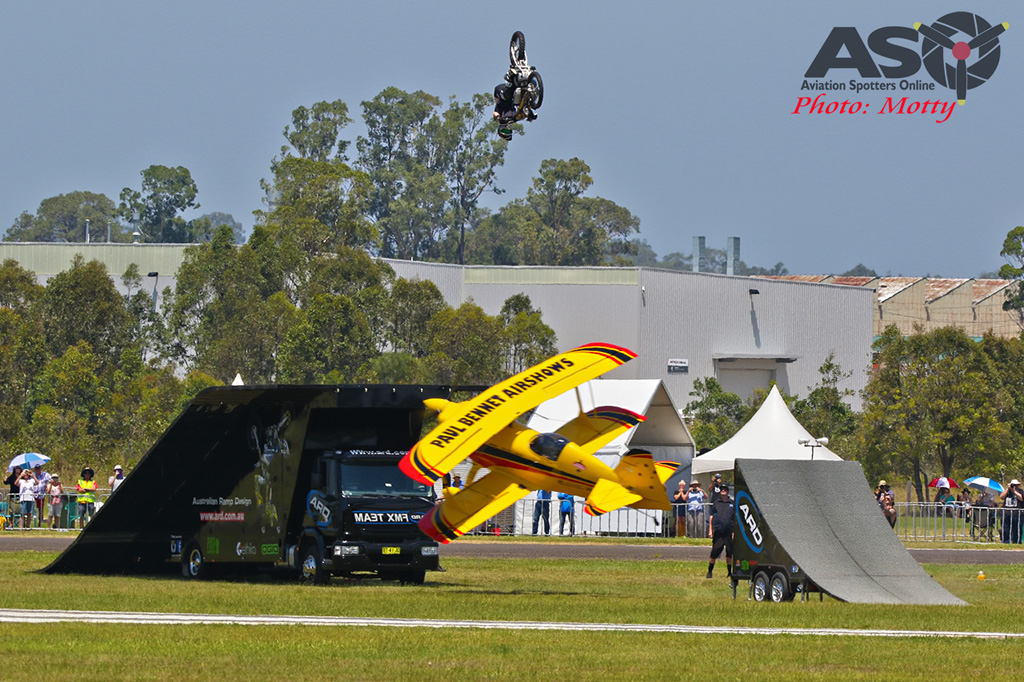 The RAAF was next on scene with several passes by a C-130J from 37 Squadron at Richmond, followed by the noise and spectacle of a solo Hawk display by Flt Lt Tim Twelvetrees from 76 Squadron at nearby Williamtown.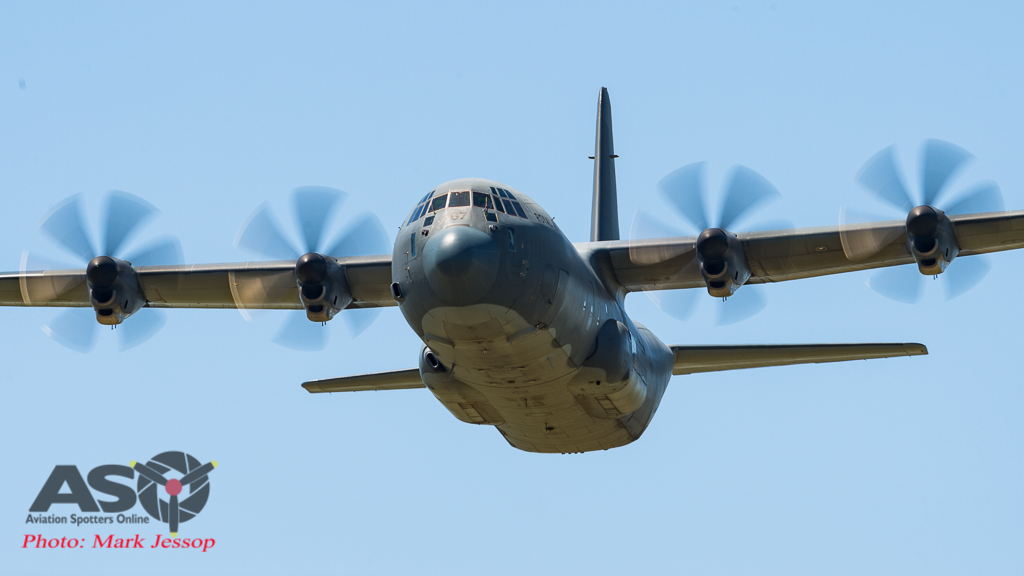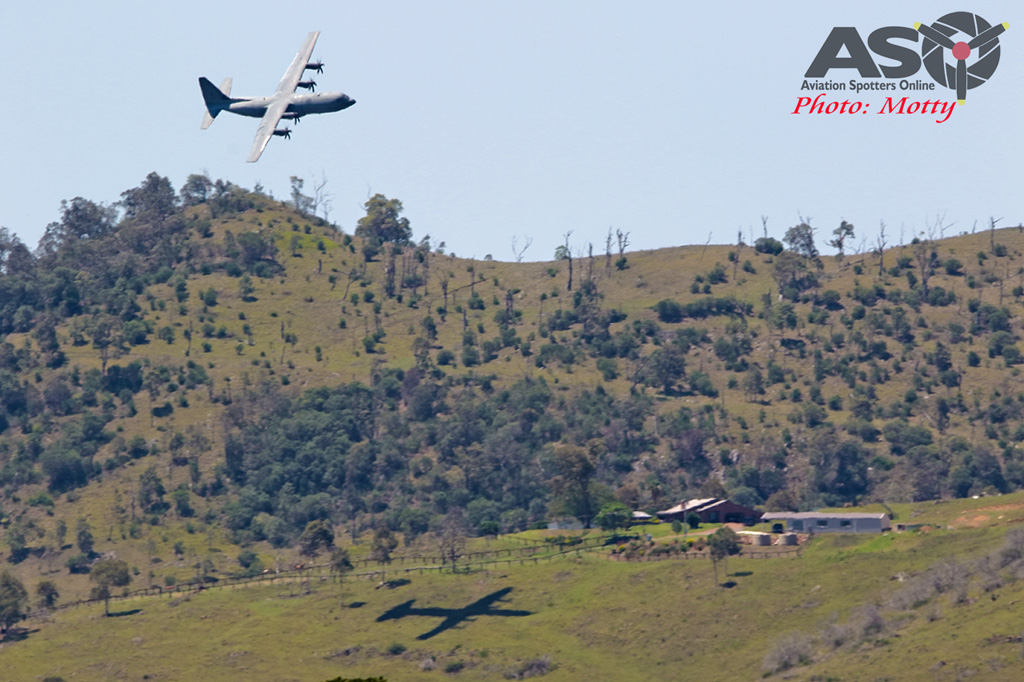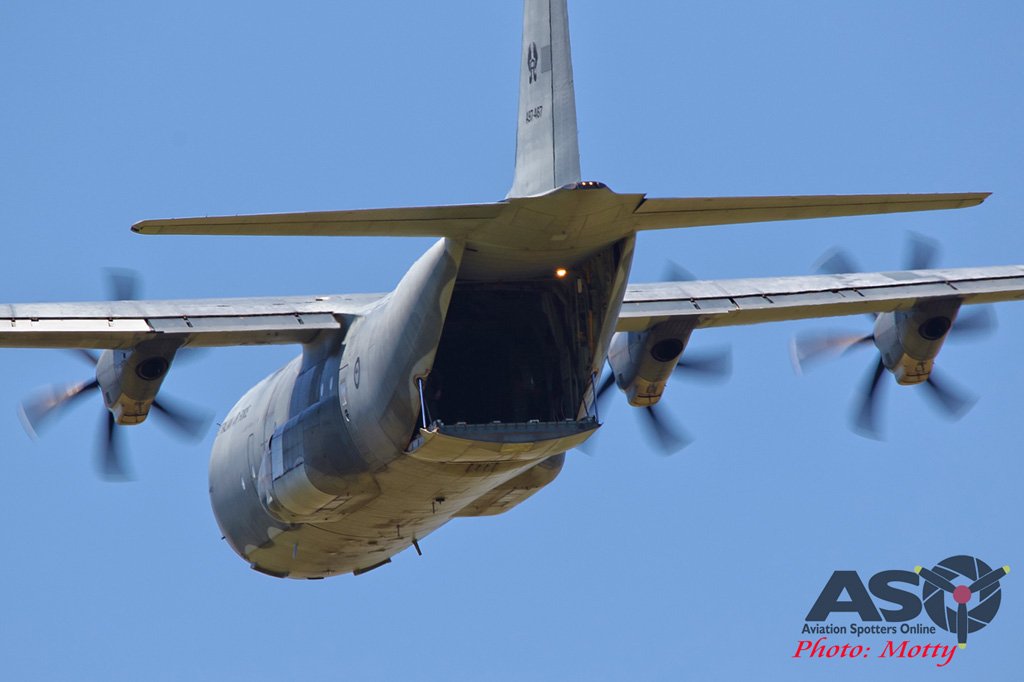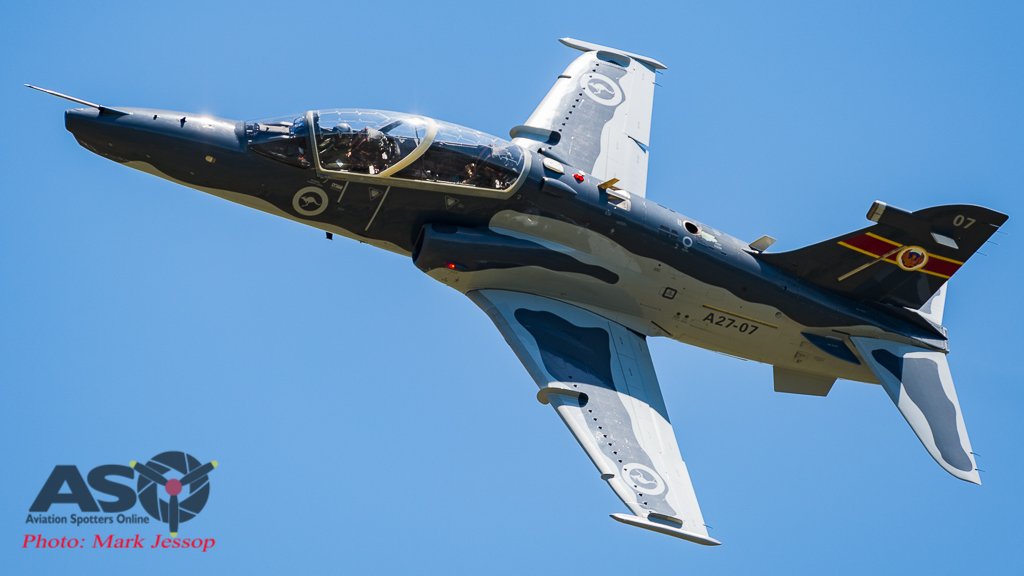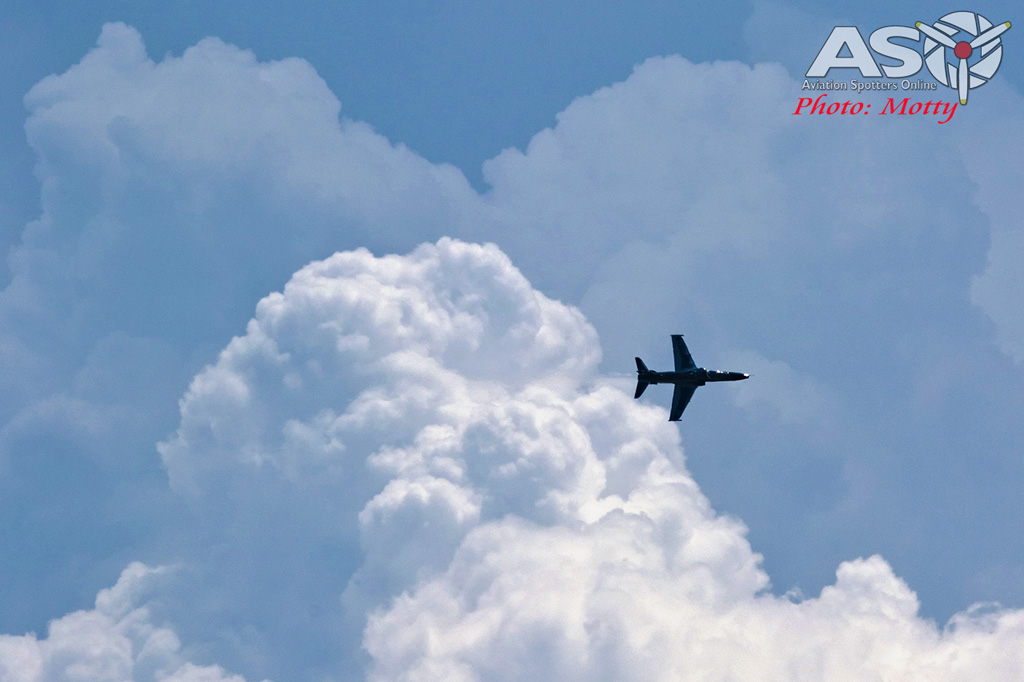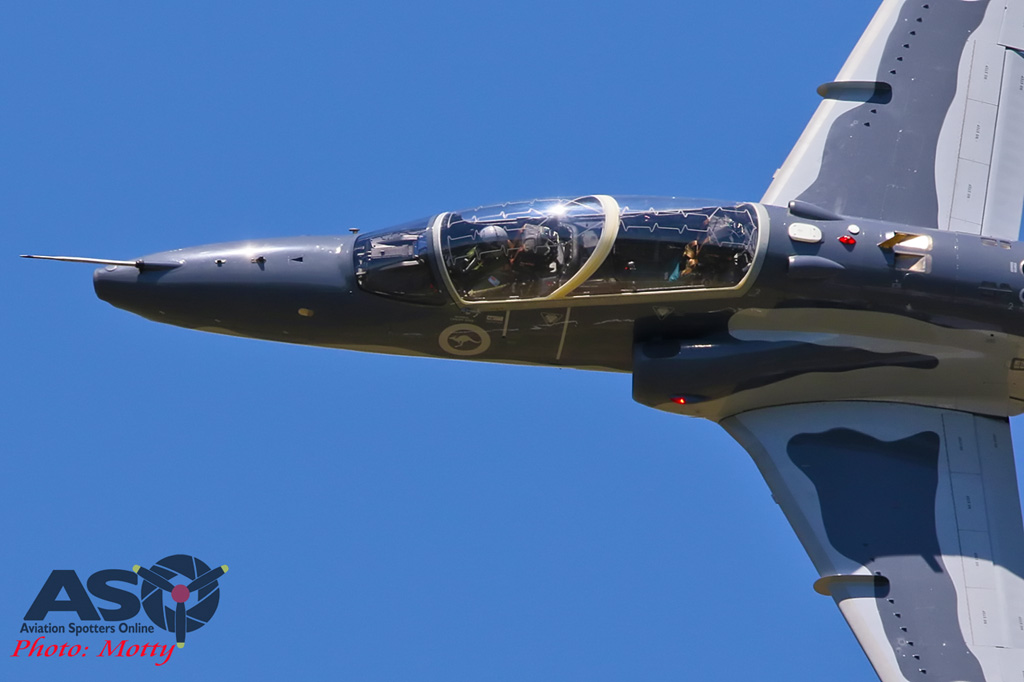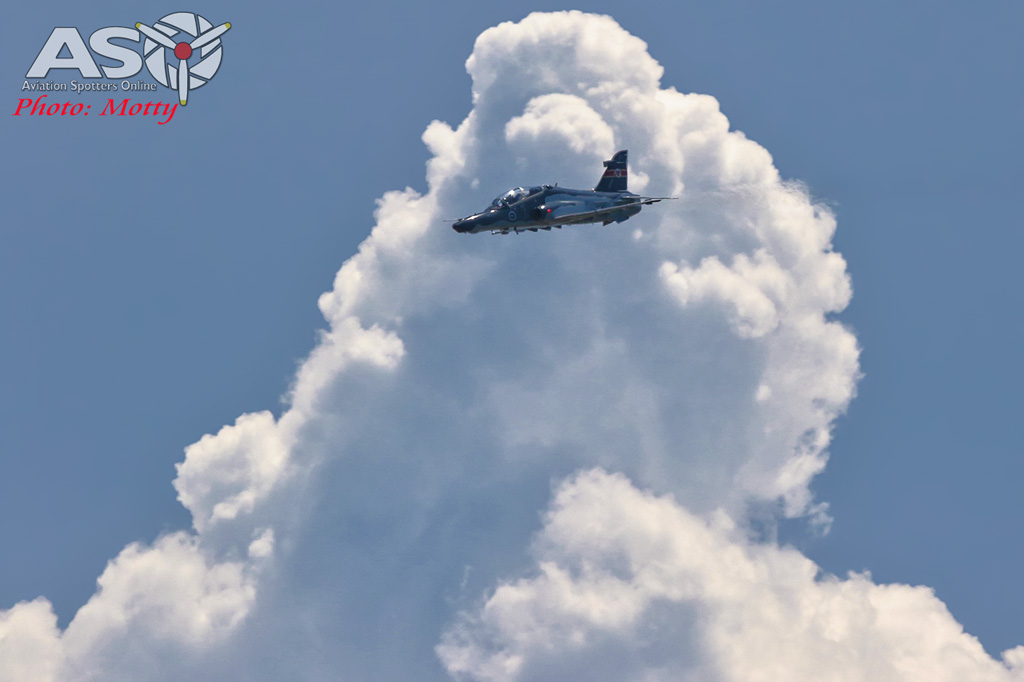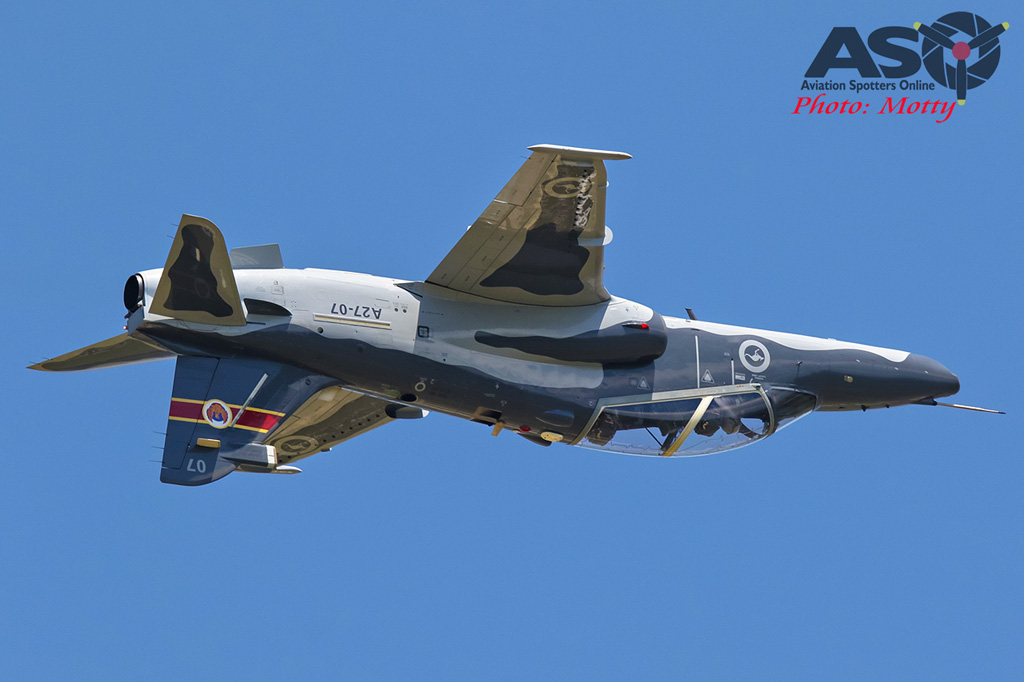 Paul Bennet was up again, displaying the surprising maneuverability and throaty rumble of the large Grumman Avenger, including a few bombing runs accompanied by some pyrotechnics, before another highlight of the show for many with Ross Pay performing only the second public display of Vintage Fighter Restoration's beautiful Hawker Hurricane at an airshow since its restoration the previous year (you can see its premier appearance at the Flight of the Hurricane show HERE).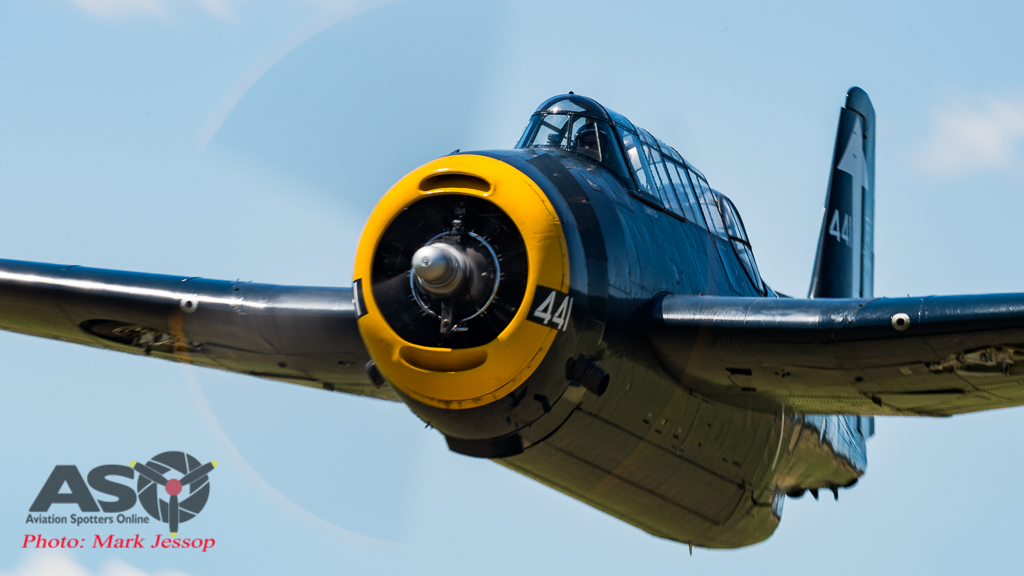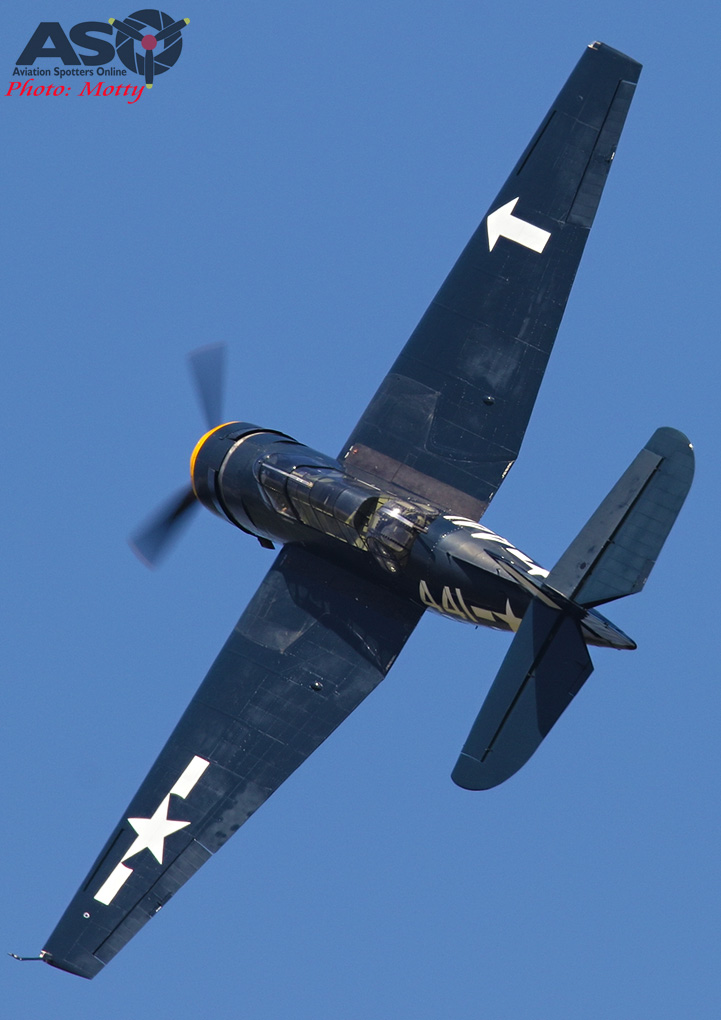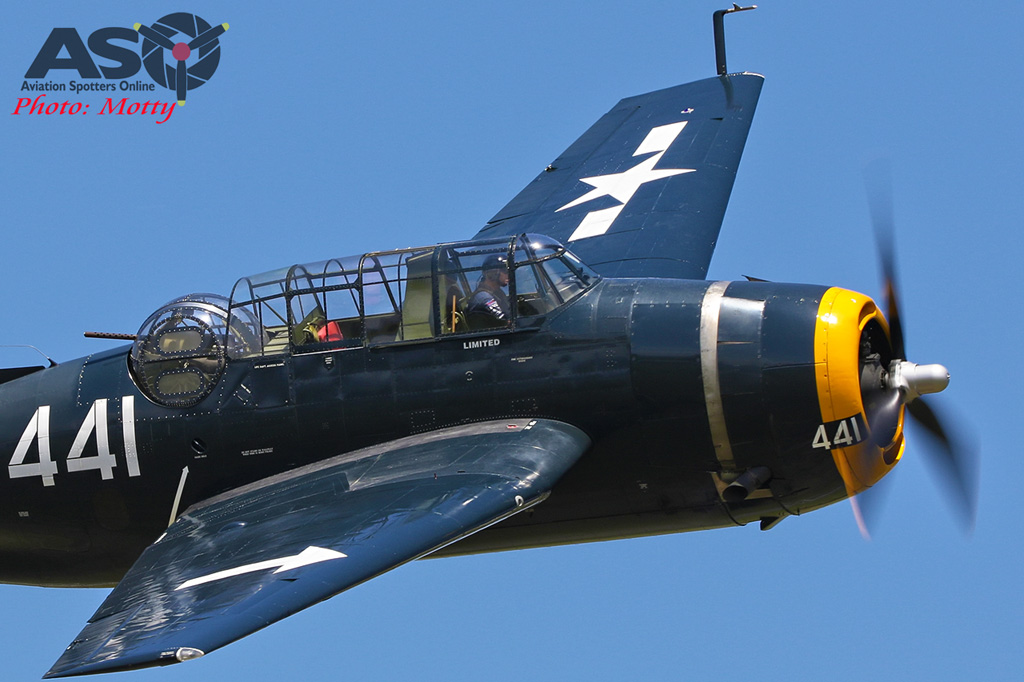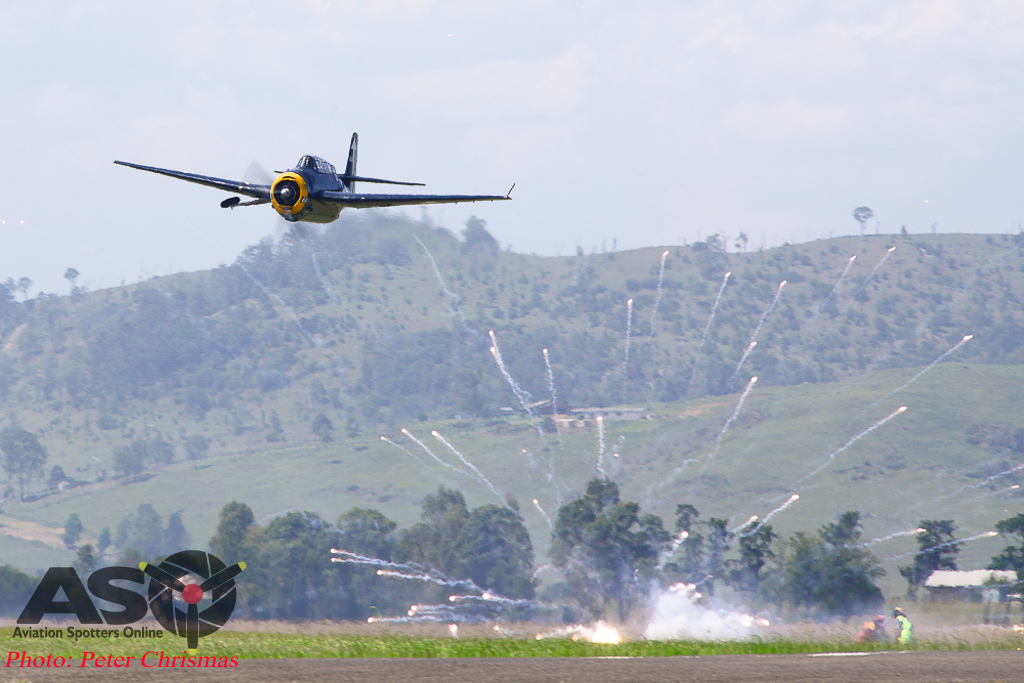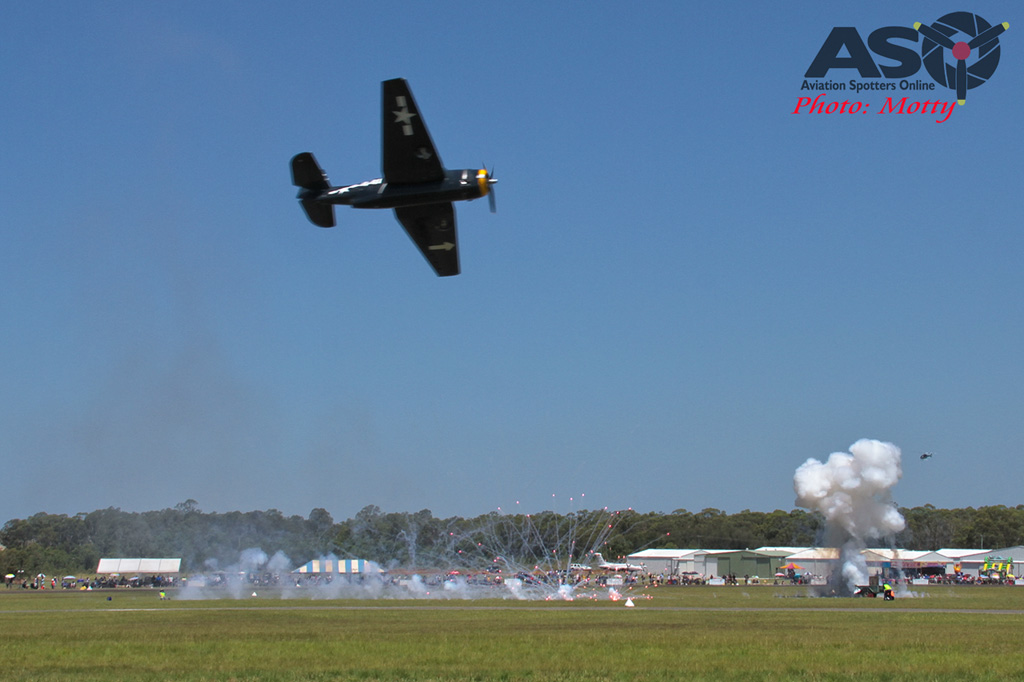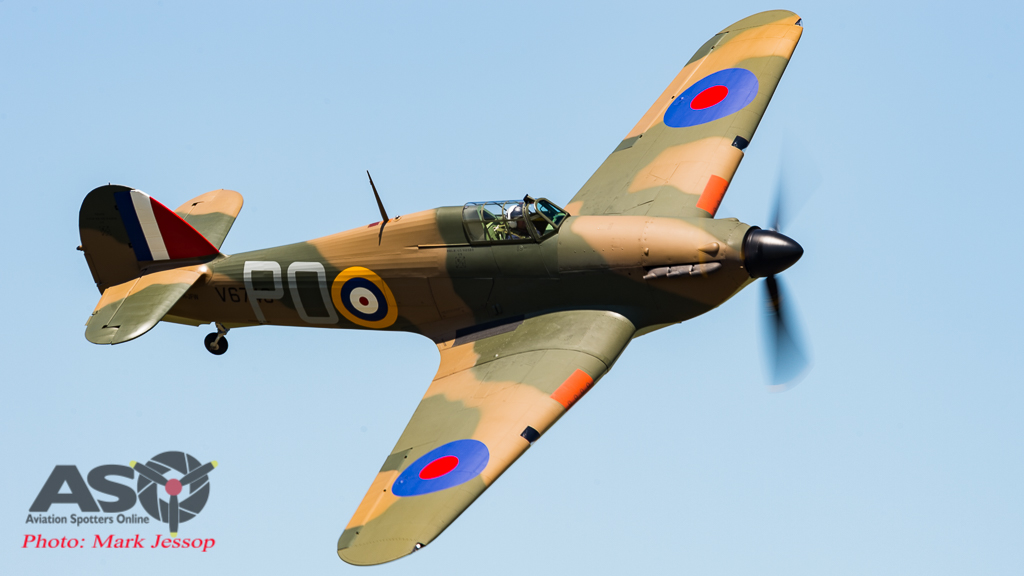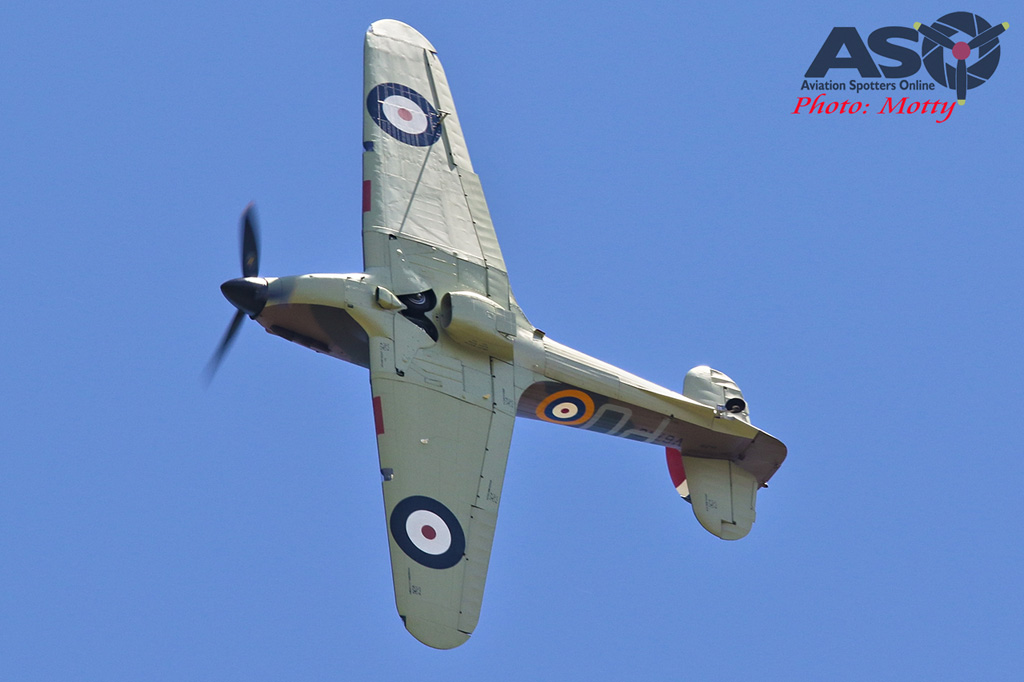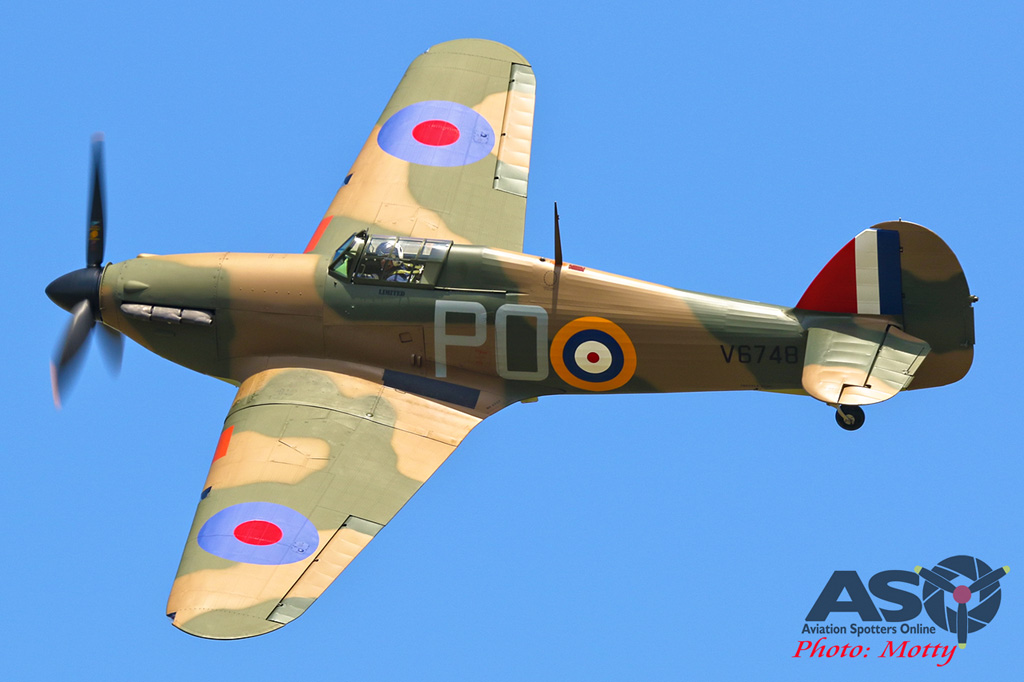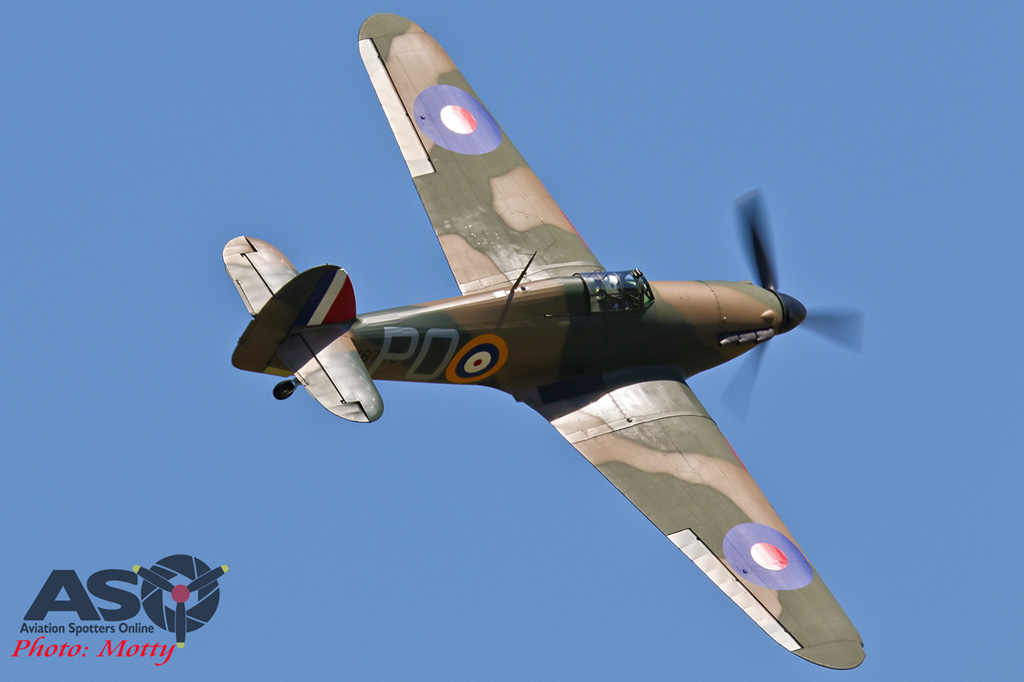 Ross' solo routine led into a formation display with the Hurricane leading the Avenger, Trojan and Mustang for several passes, and the sound of the two merlins in company with the big radials was just awesome!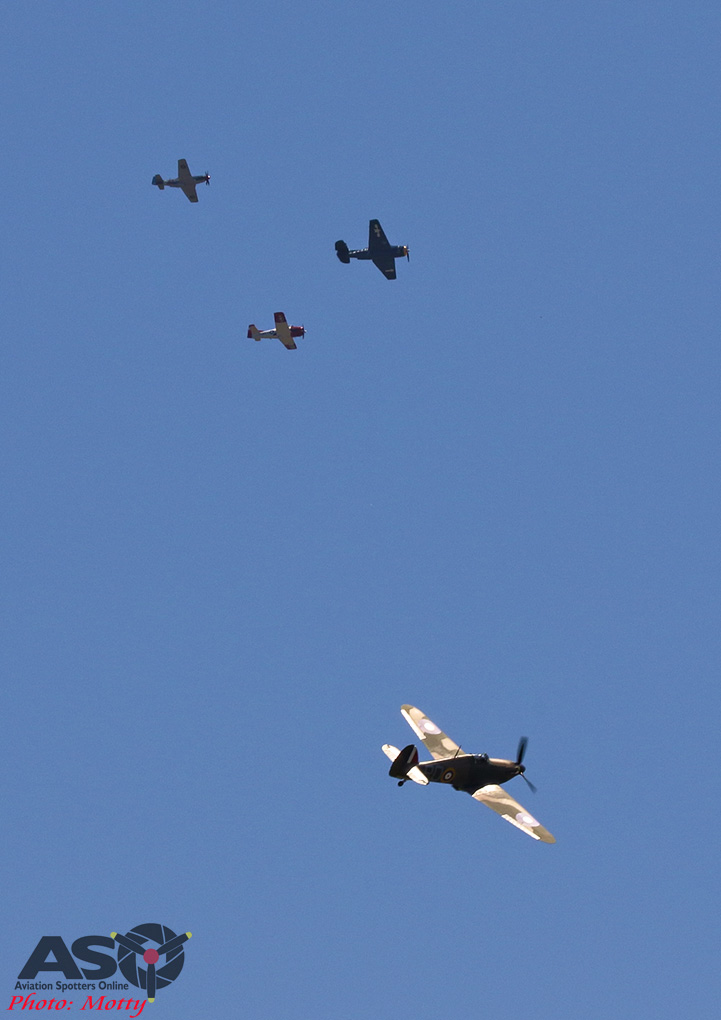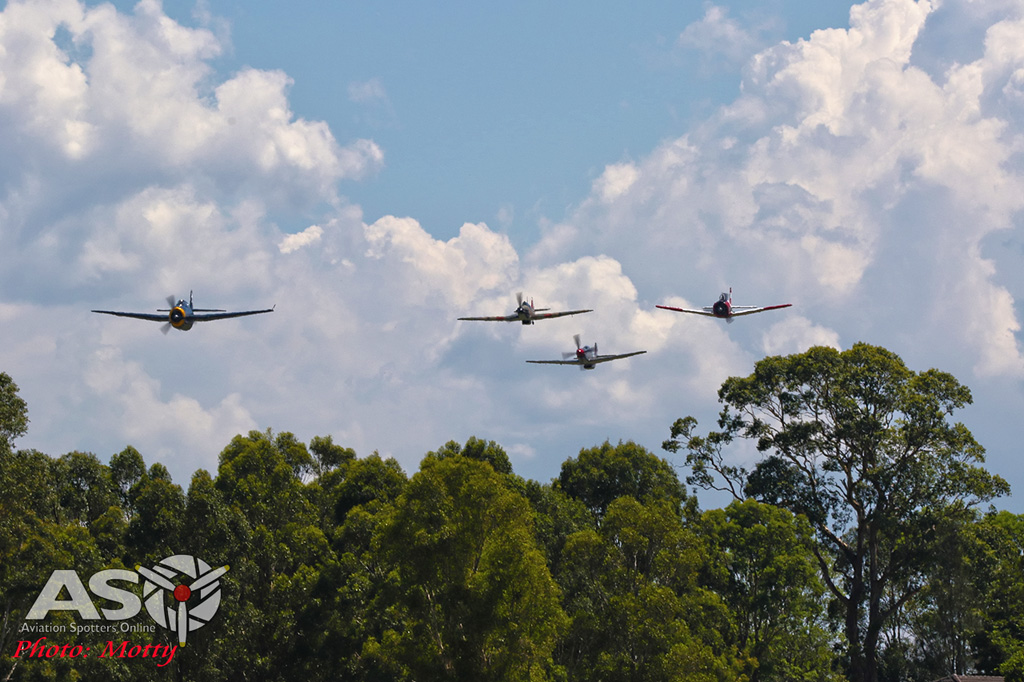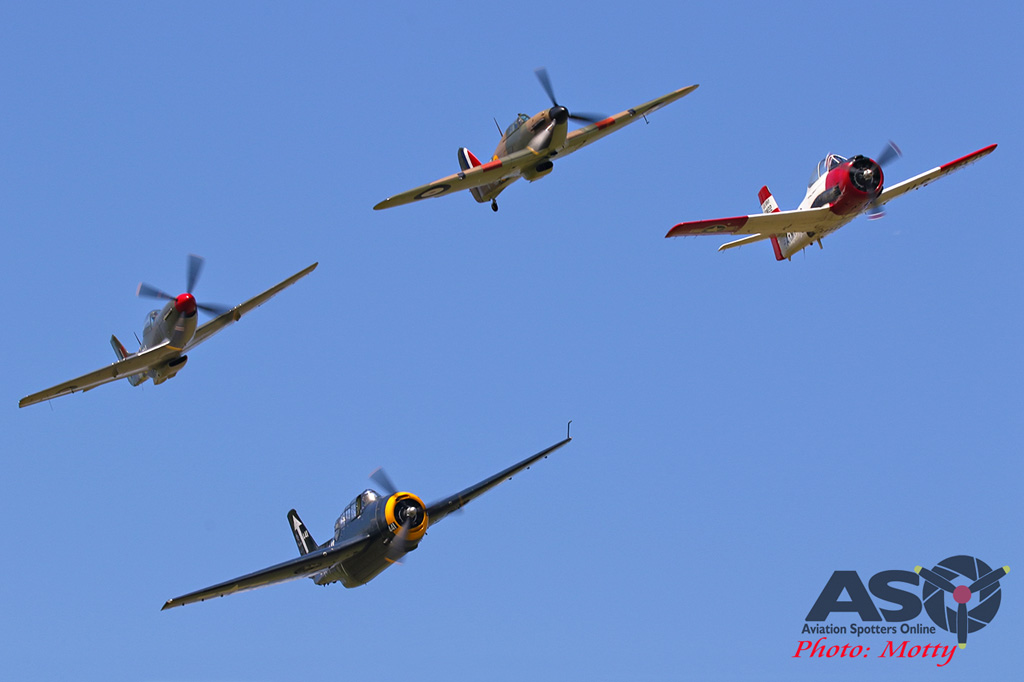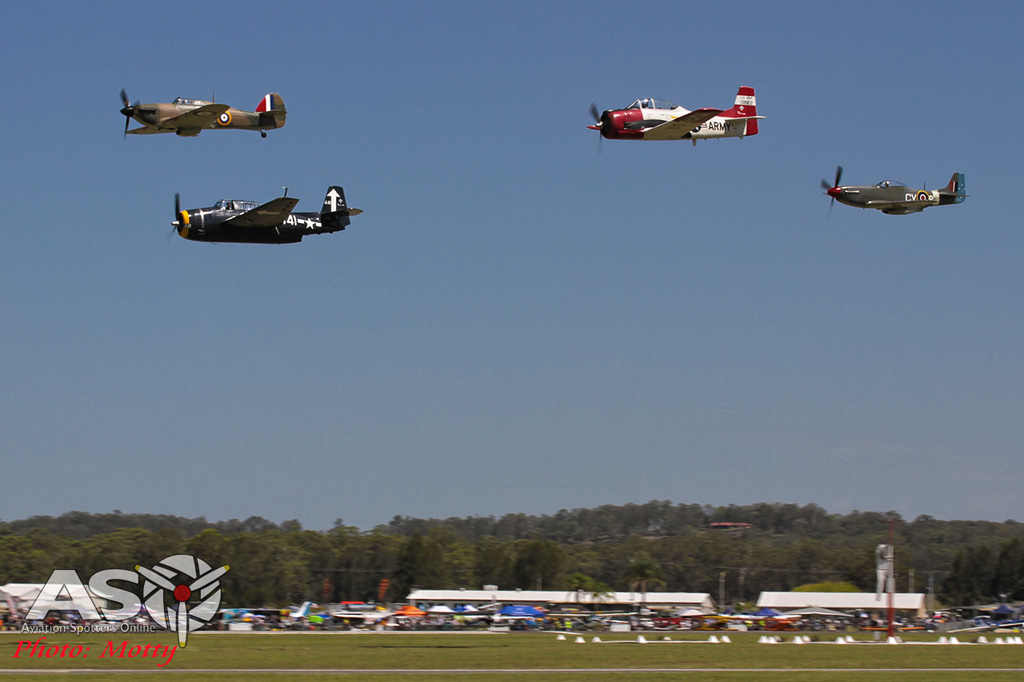 After the formation passes in Saturday's show, the Mustang broke away for another, energetic solo display with an emphasis on simulated ground attack passes.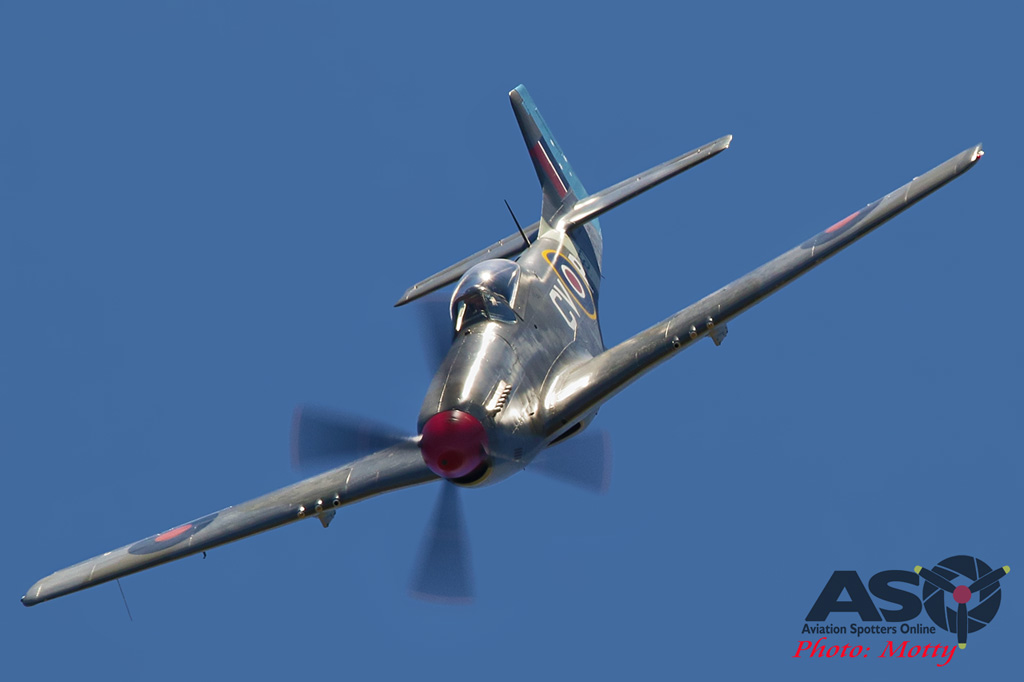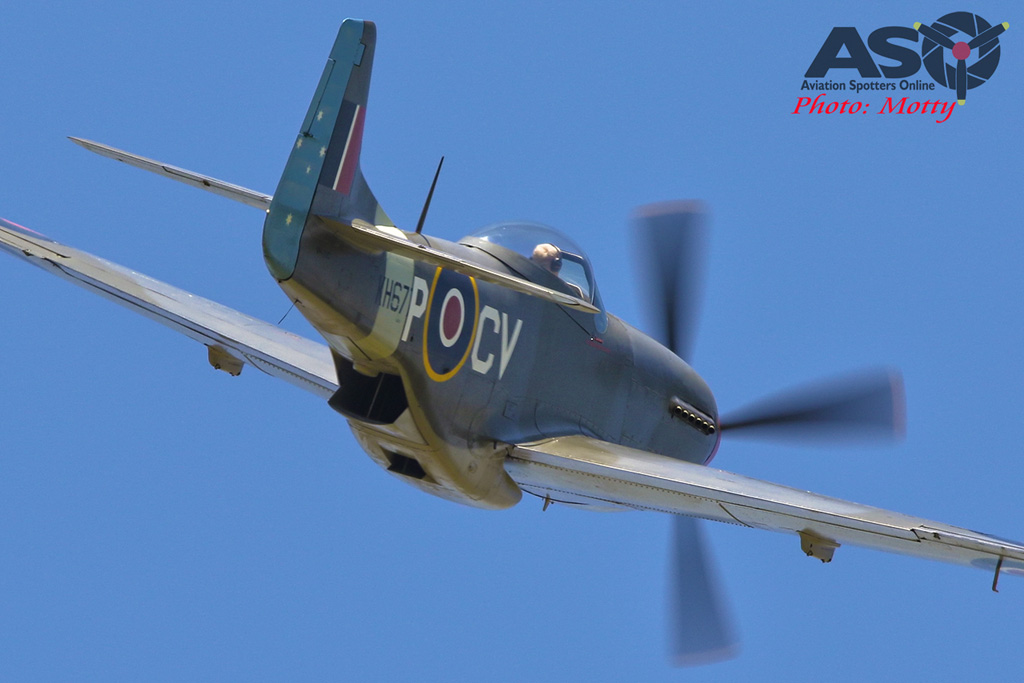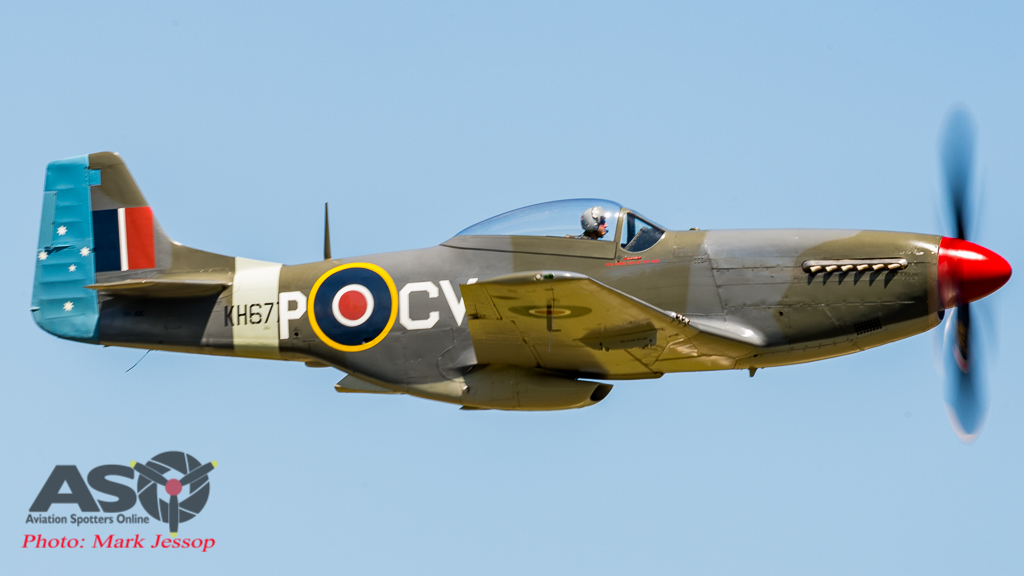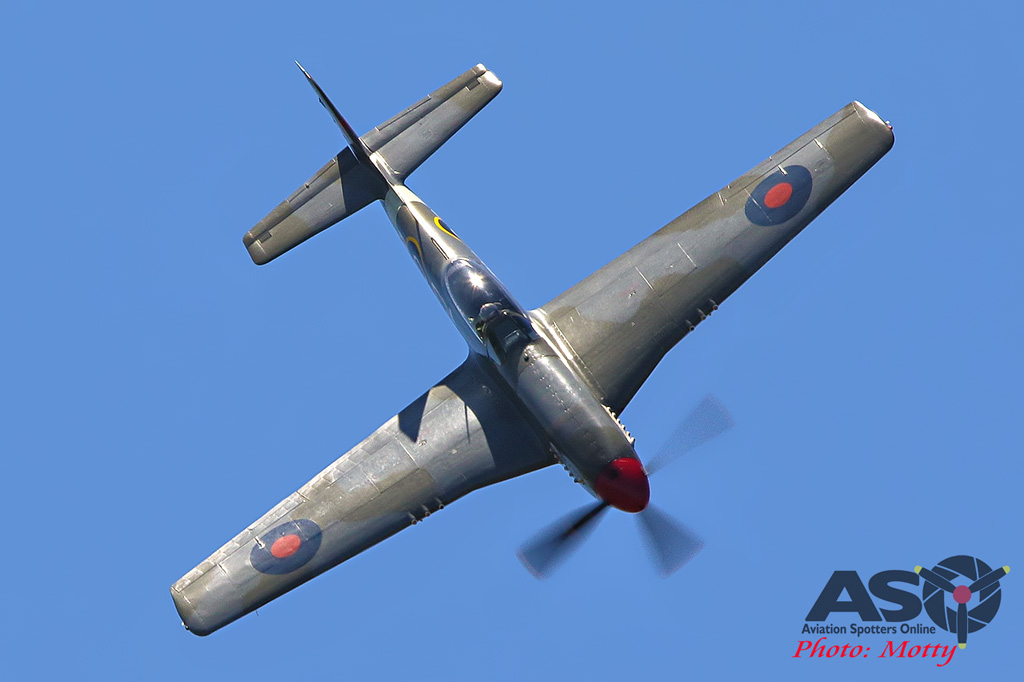 Paul Bennet, Glenn Graham and Ben Lappin displayed their low level aerobatic formation skills in three different versions of brightly coloured Pitts Specials as the Sky Aces team with loops, rolls, opposing passes and more.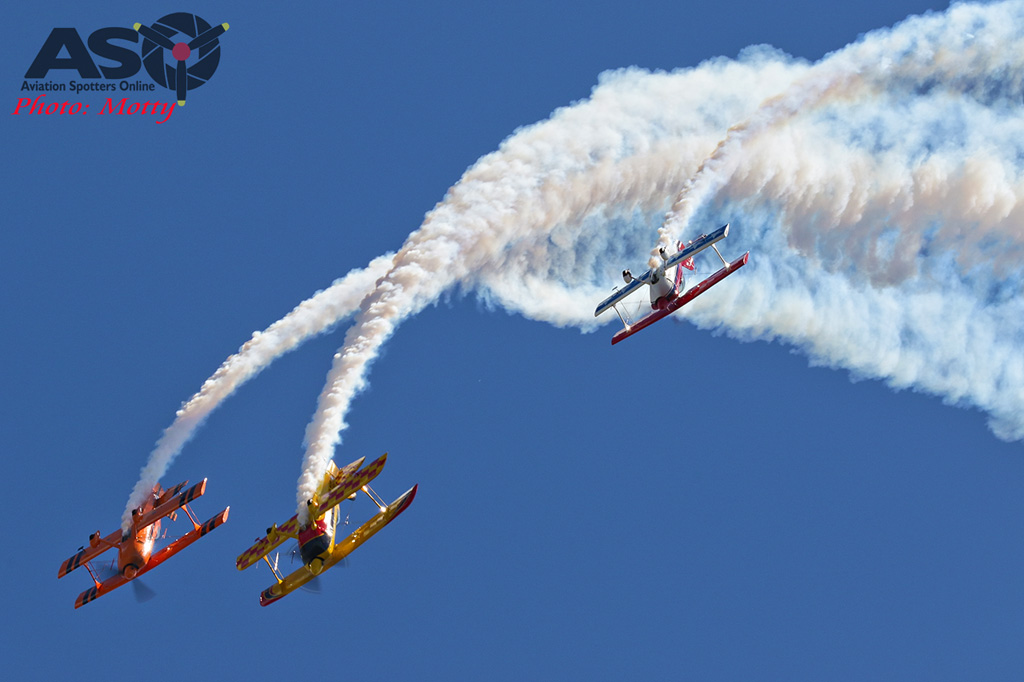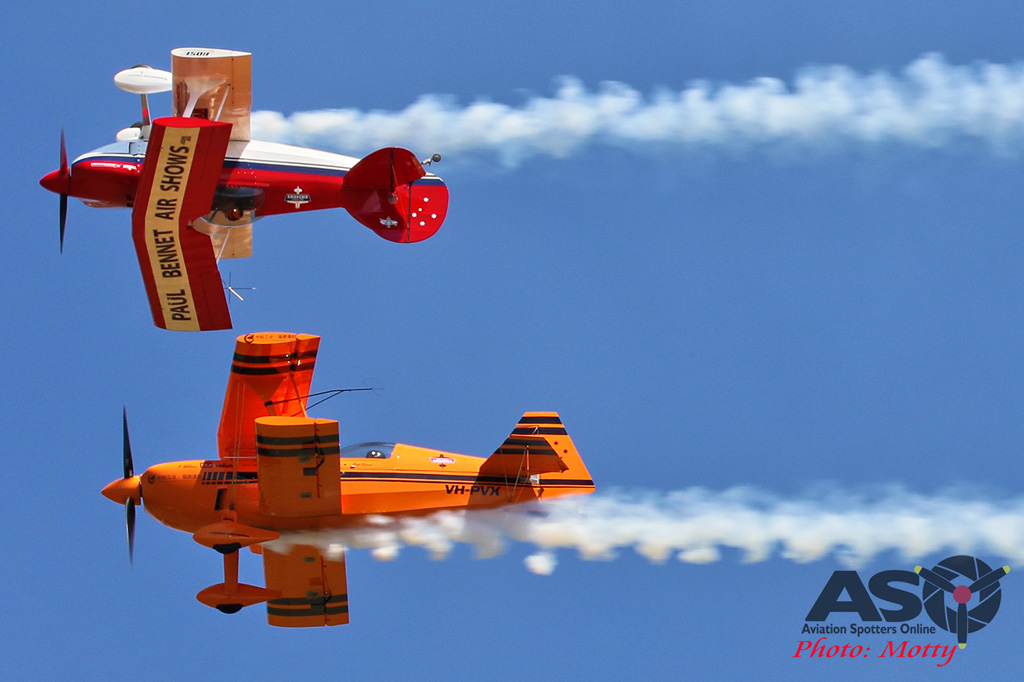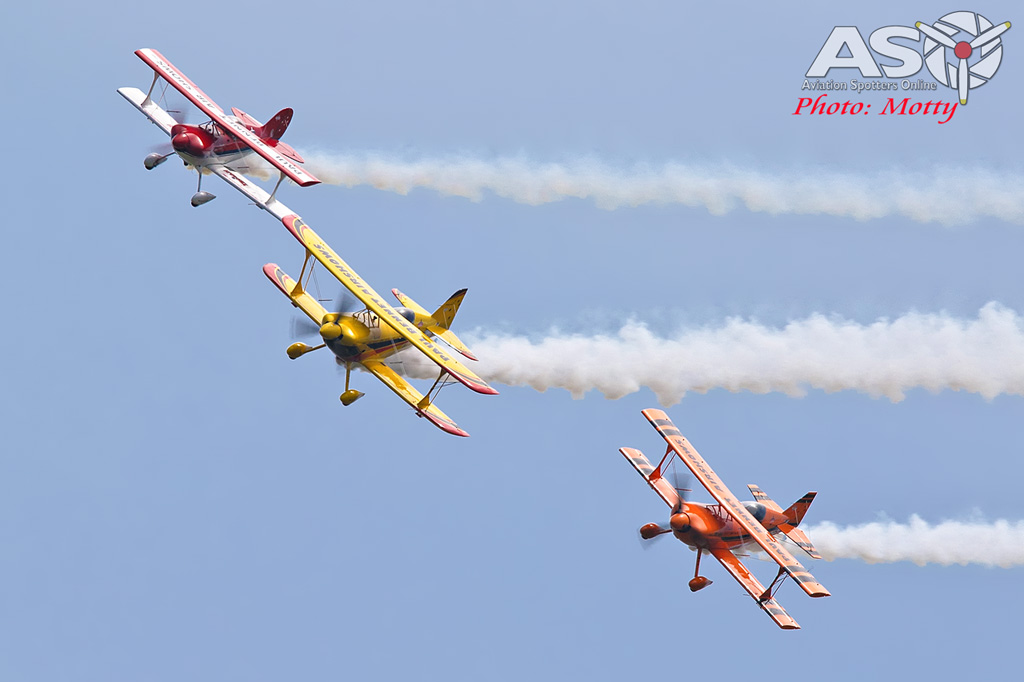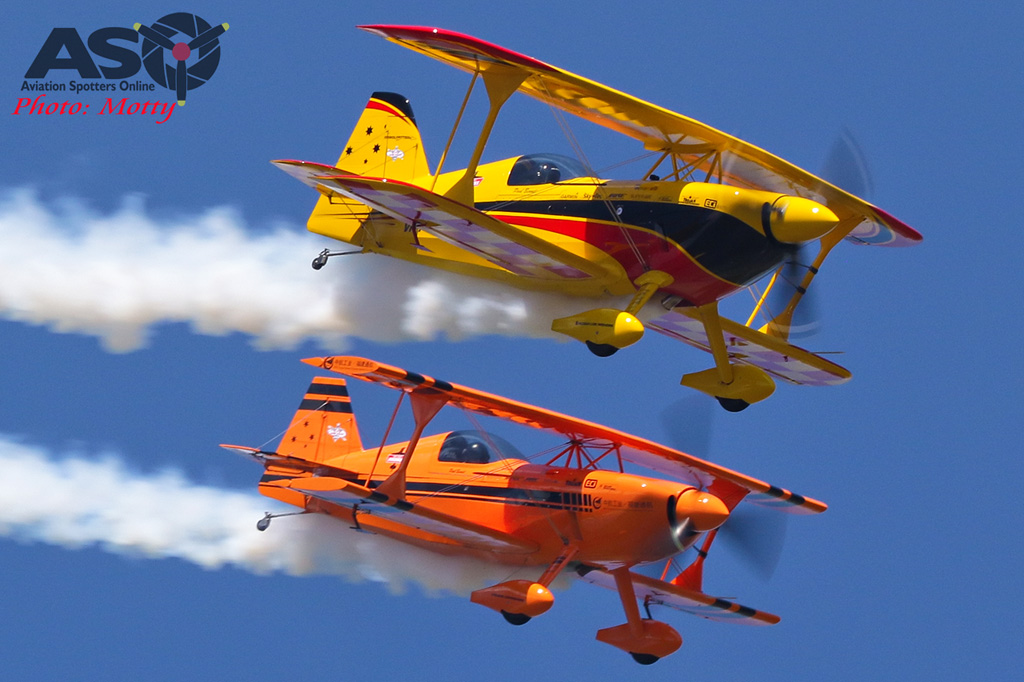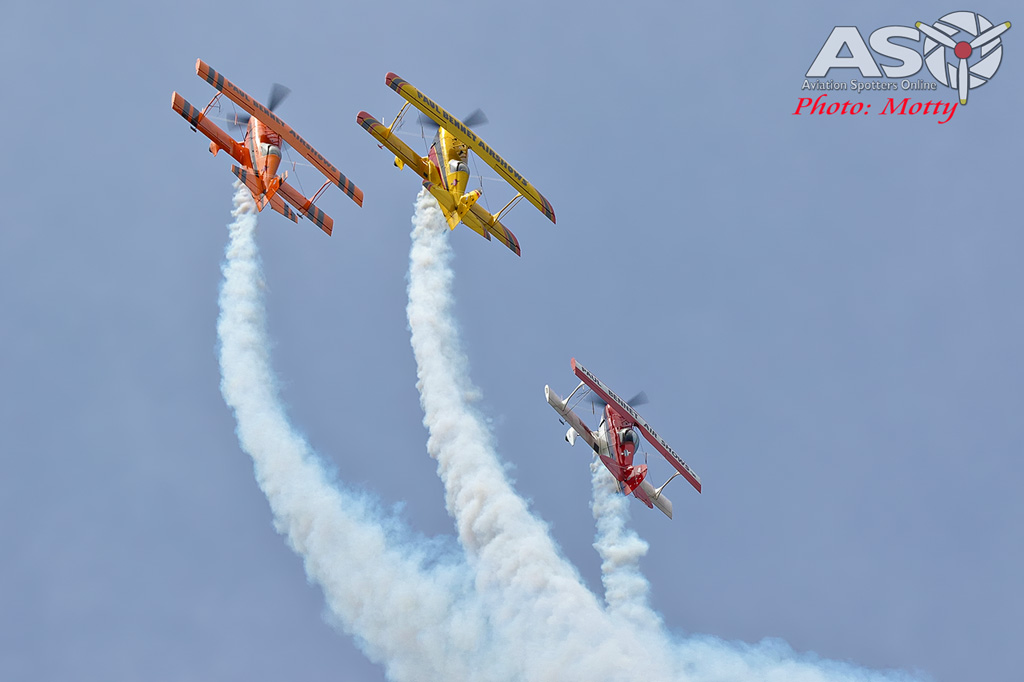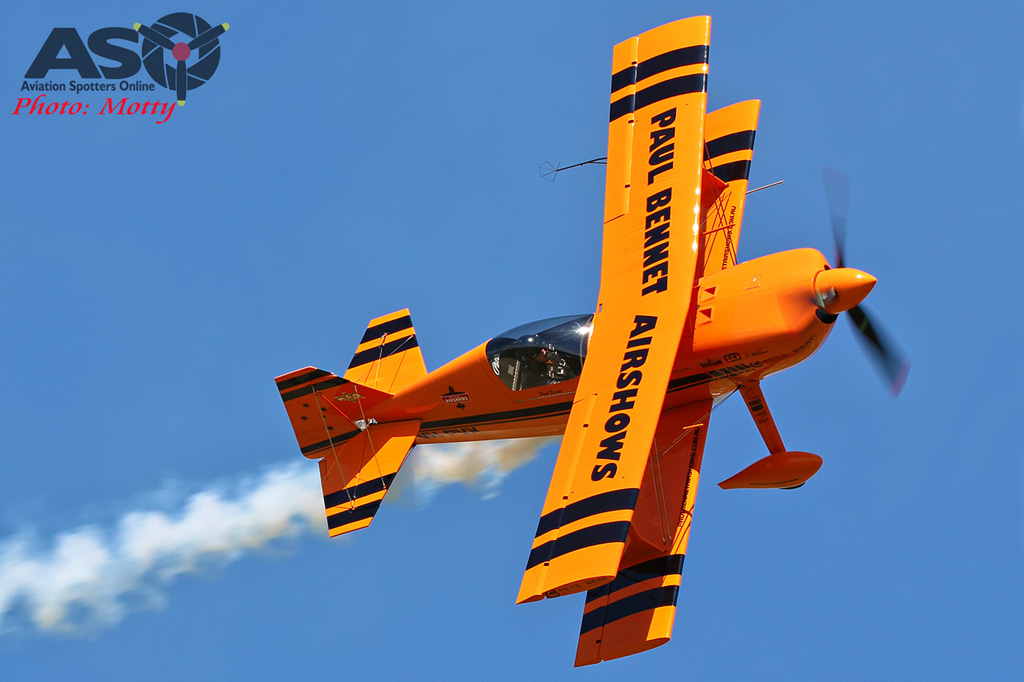 The RAAF was on hand once more with another crowd favourite, the Roulettes display team in their red, white and blue PC-9s and, on the Sunday afternoon with large storm clouds looming on the western horizon after a long, hot day, the always impressive Roulettes made for a fitting finale to what had been a great weekend of aviation.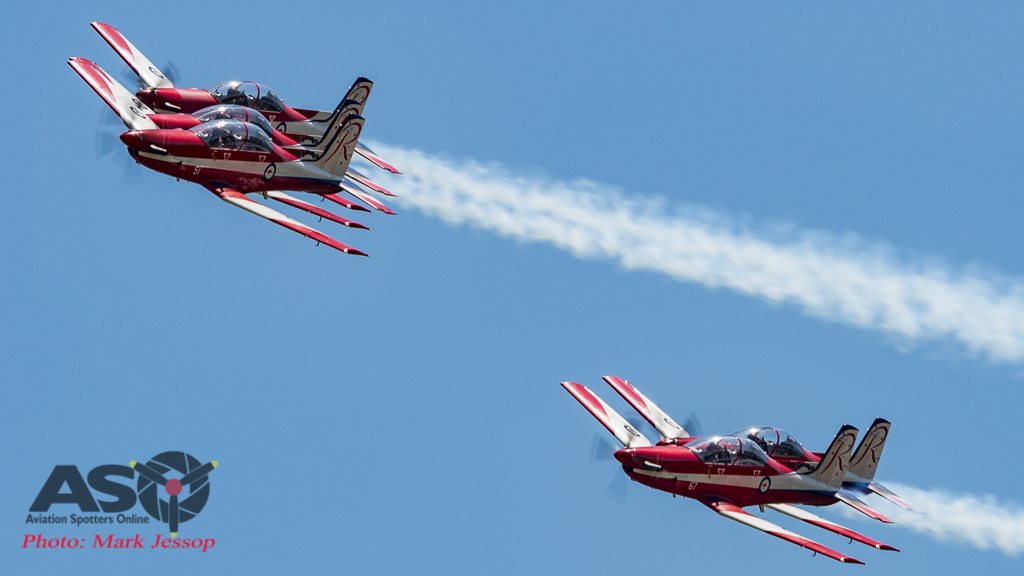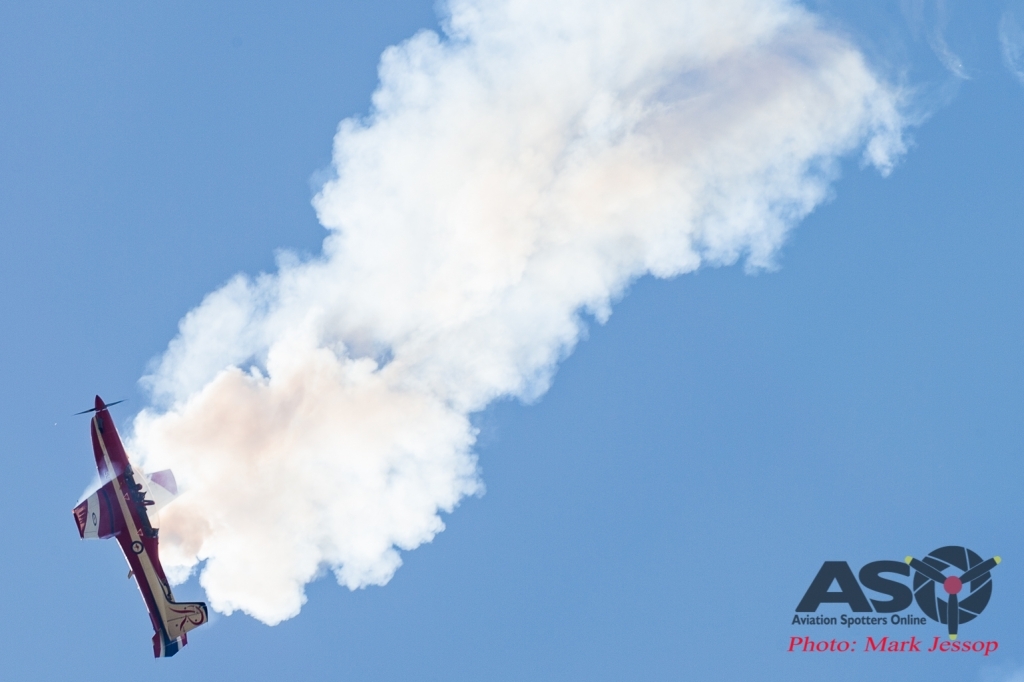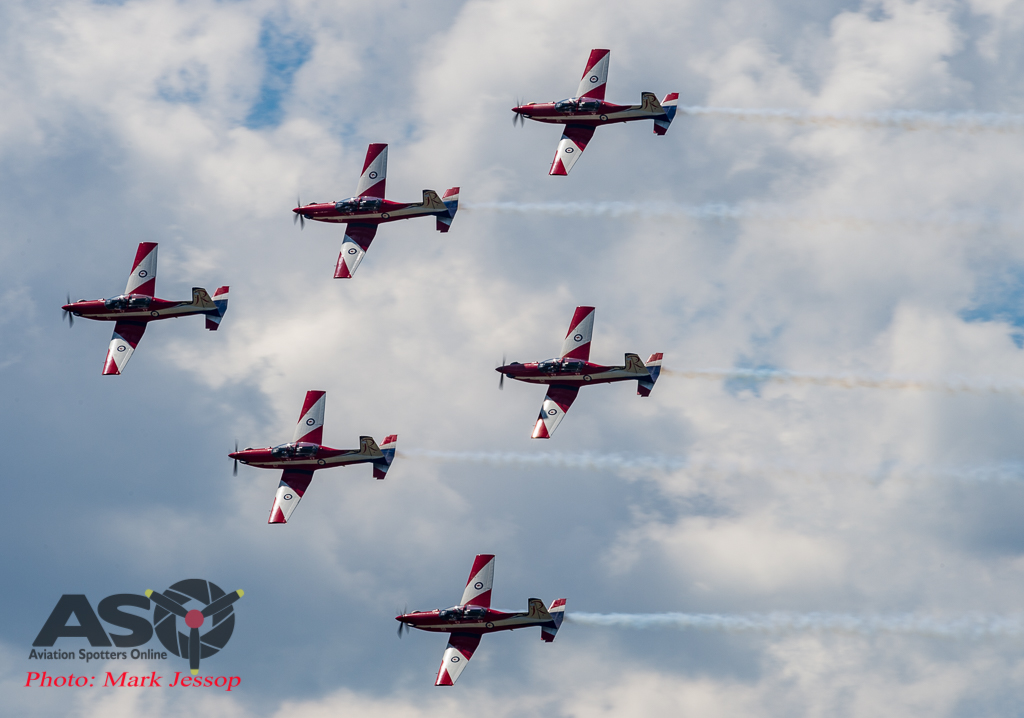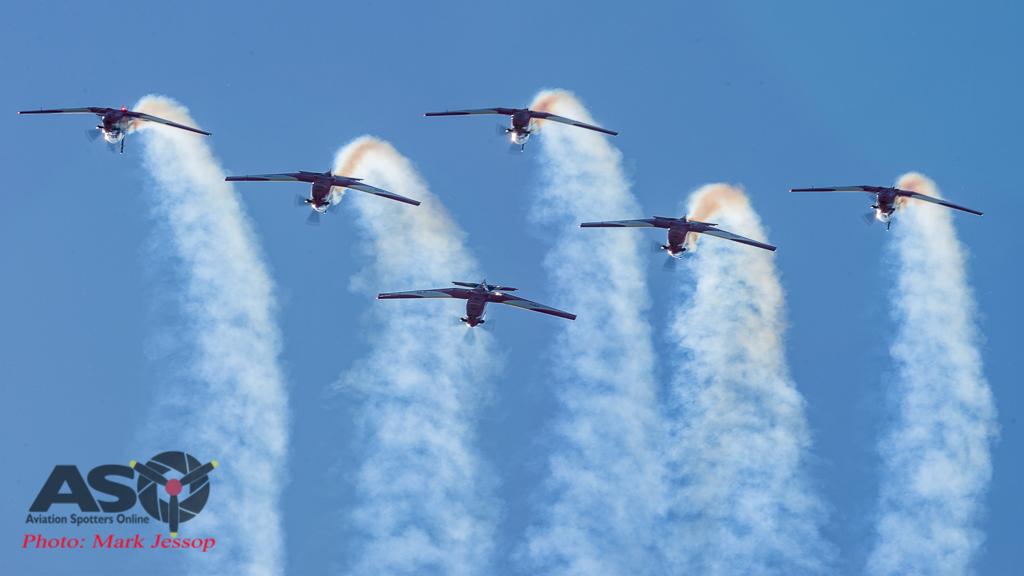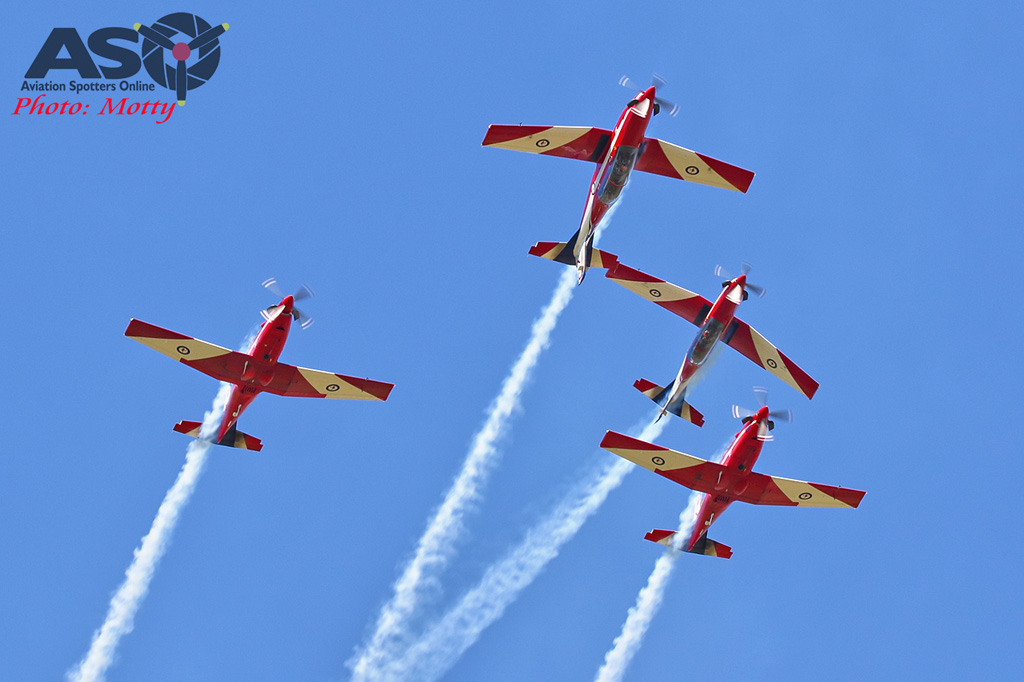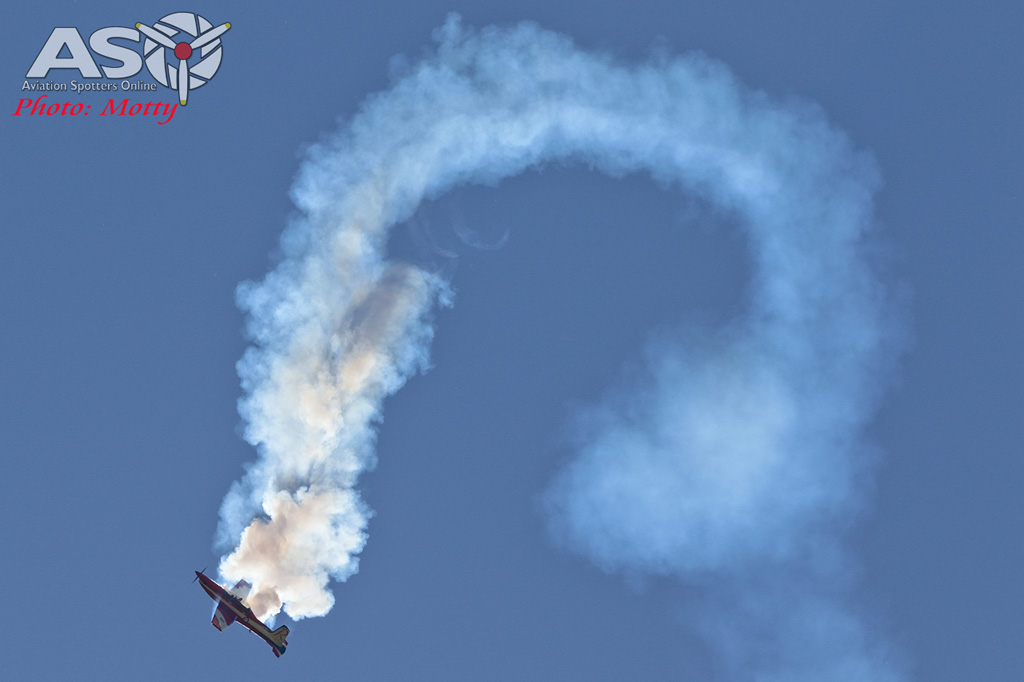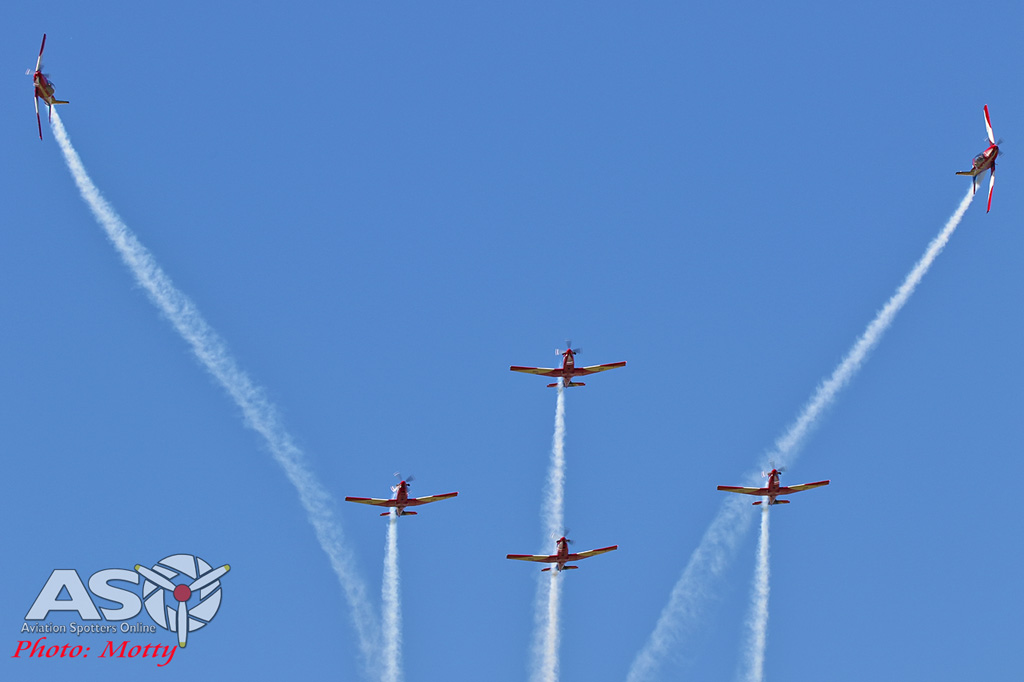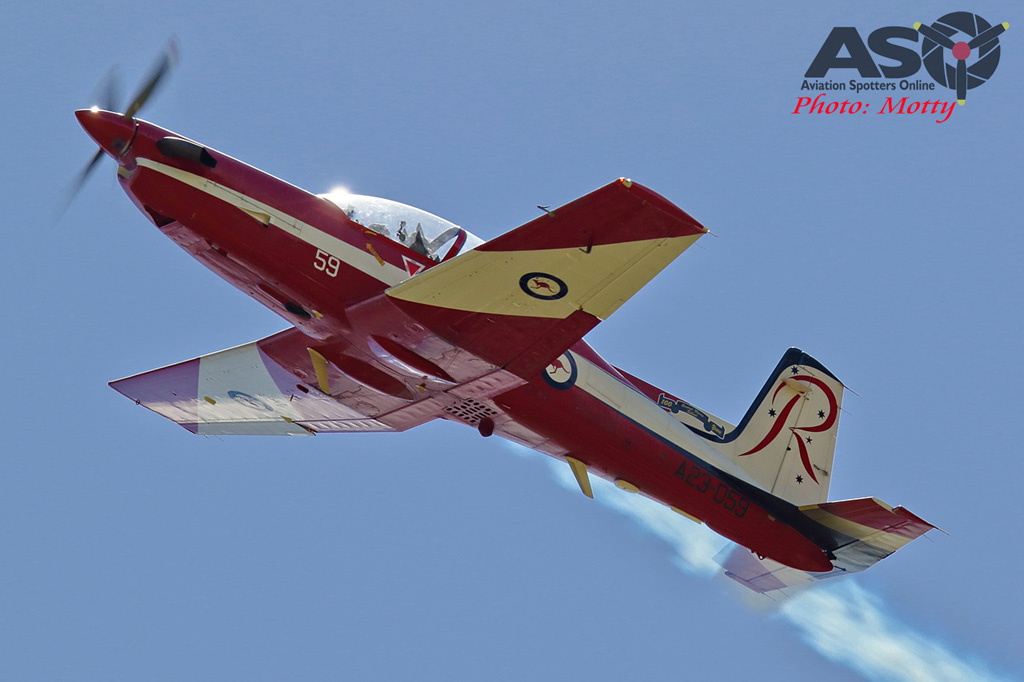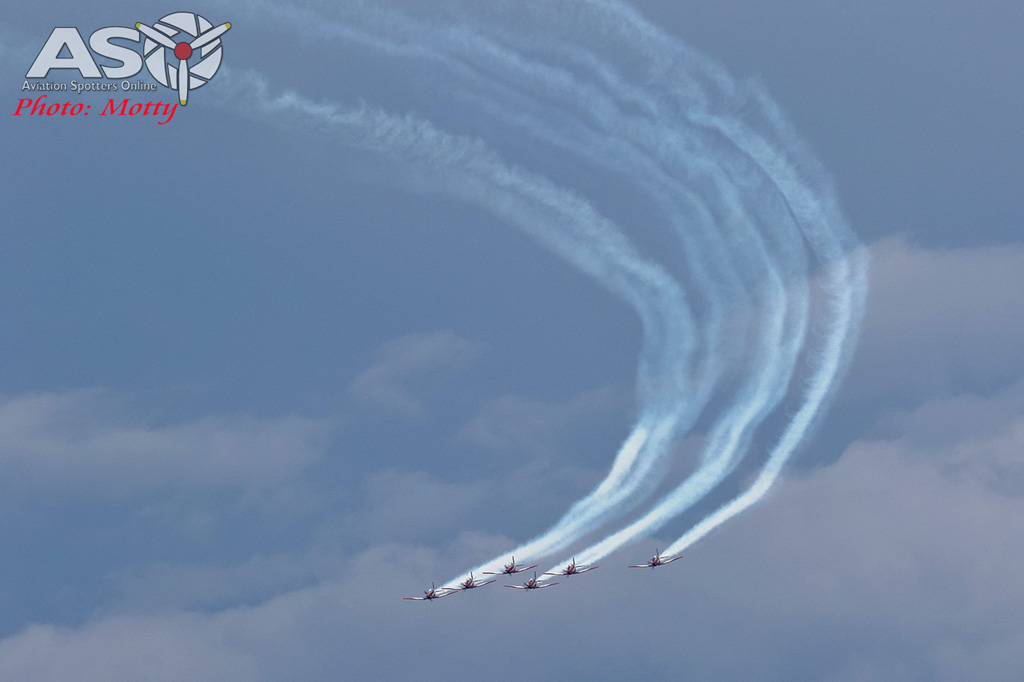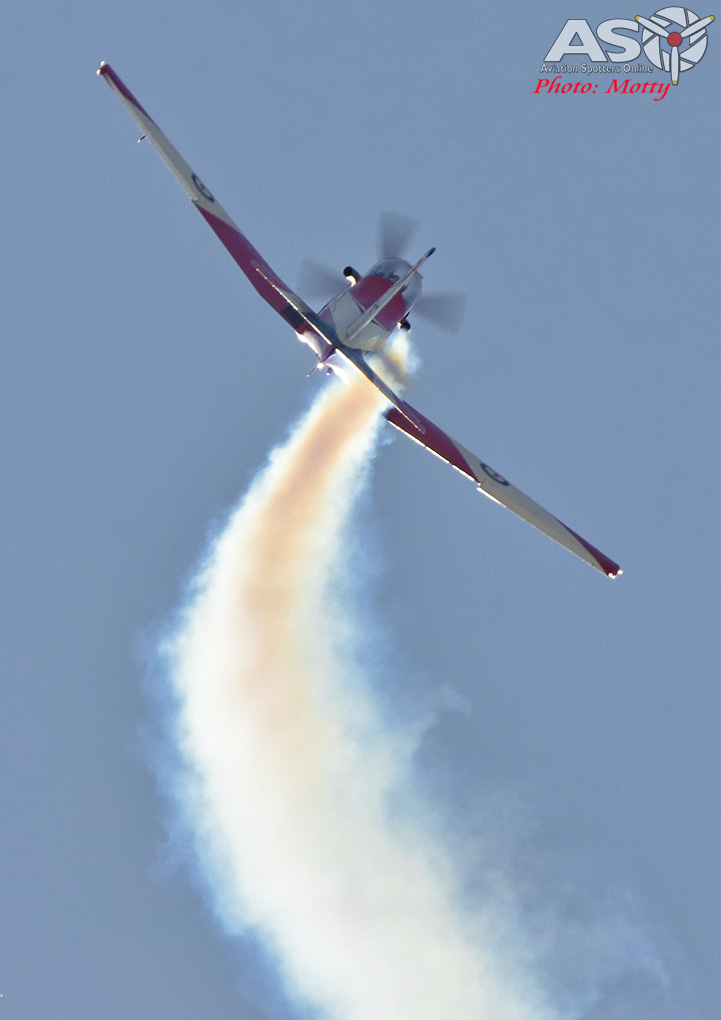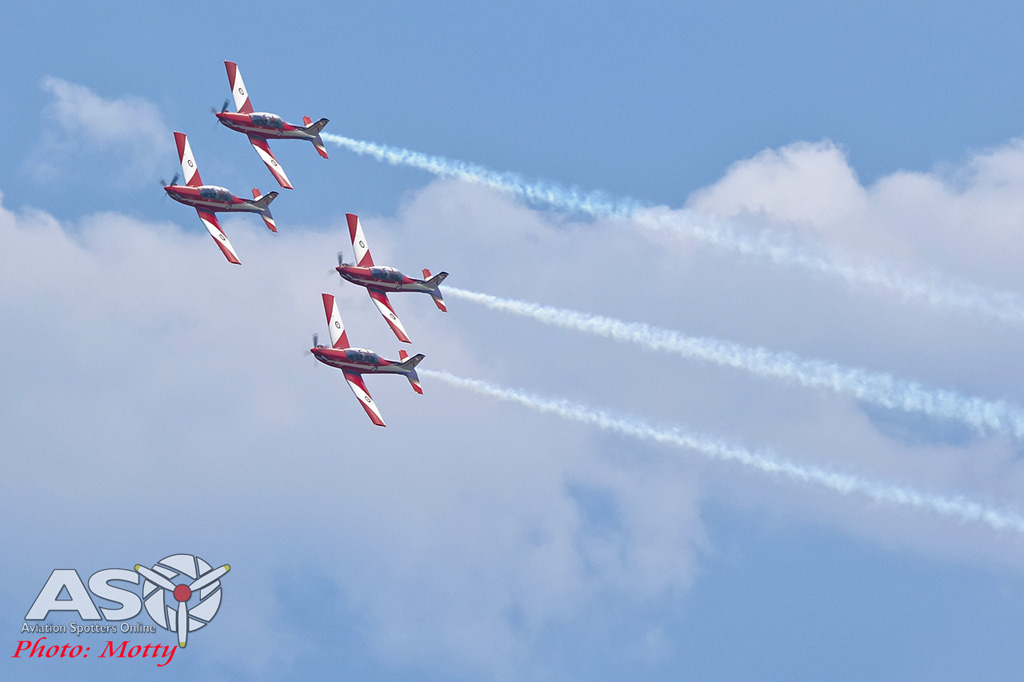 Although the Hunter Valley Airshow is only relatively new to the Australian airshow calendar, the very impressive displays which they have put on so far have us eagerly looking forward what the team might come up with next. Our sincere thanks to the team for the chance to cover this great show.