Our Kiwi cousins have had Warbirds Over Wanaka for many years, and now we've got Warbirds Over Scone (I wonder if the city council can be convinced to change their name to something beginning with "W"?)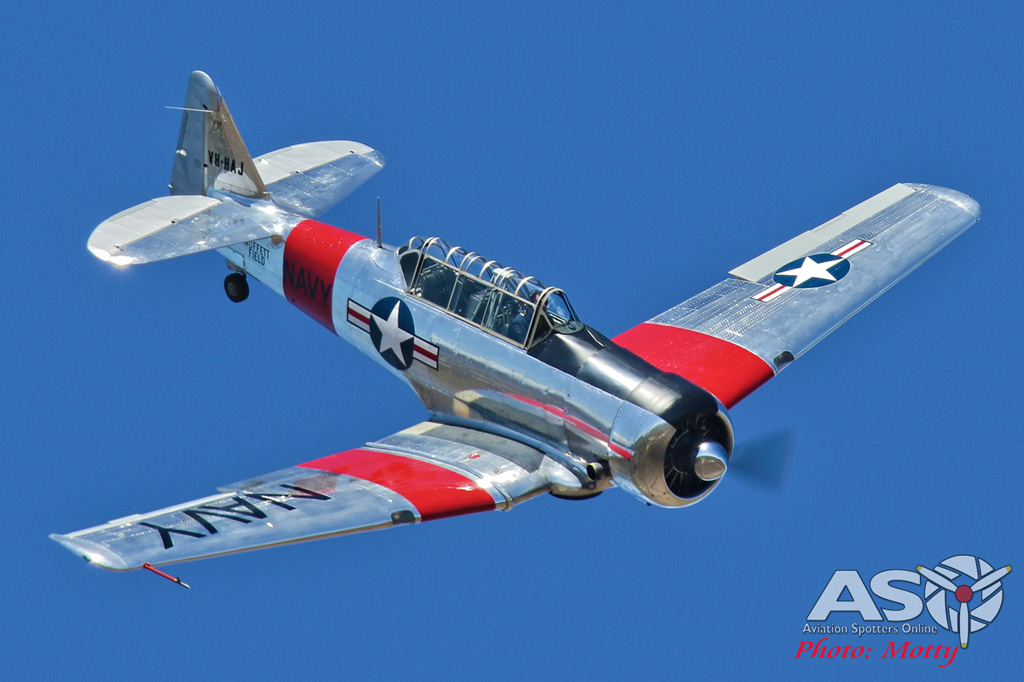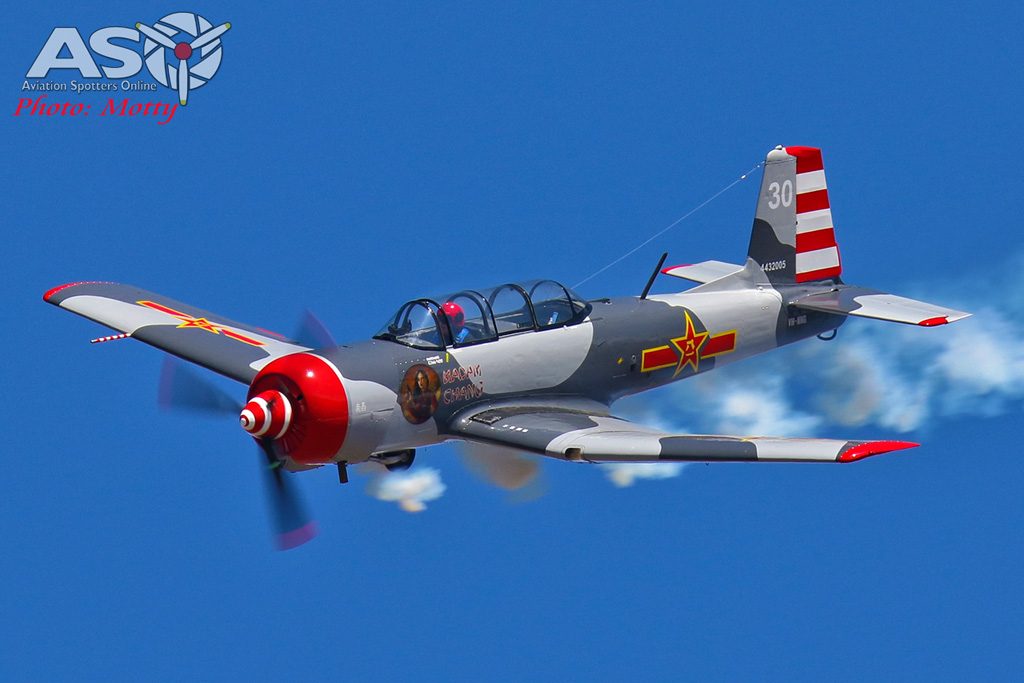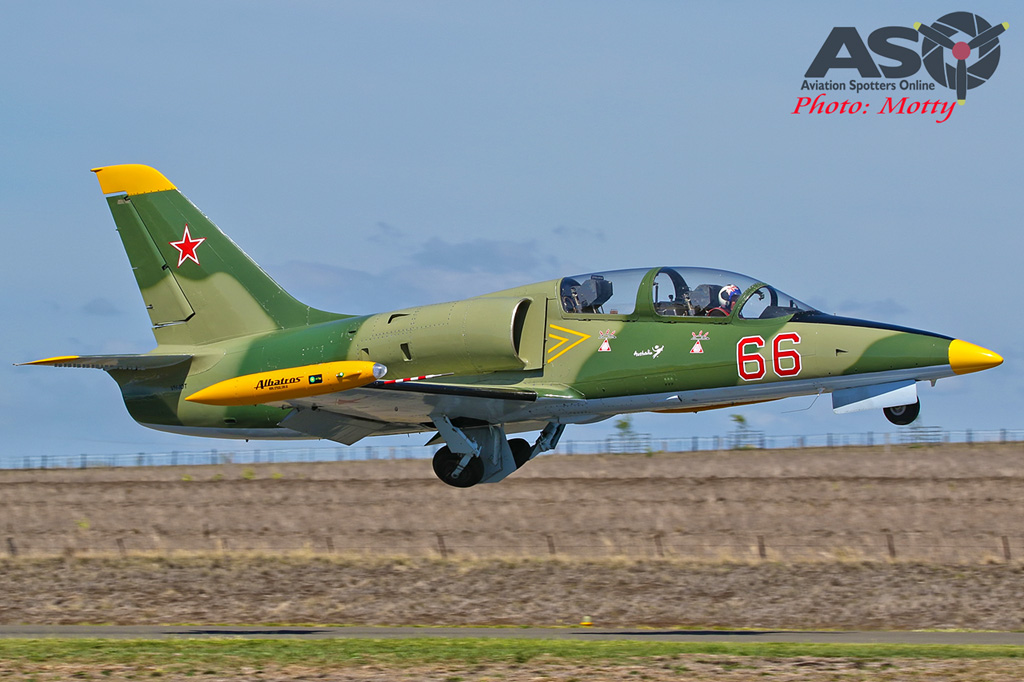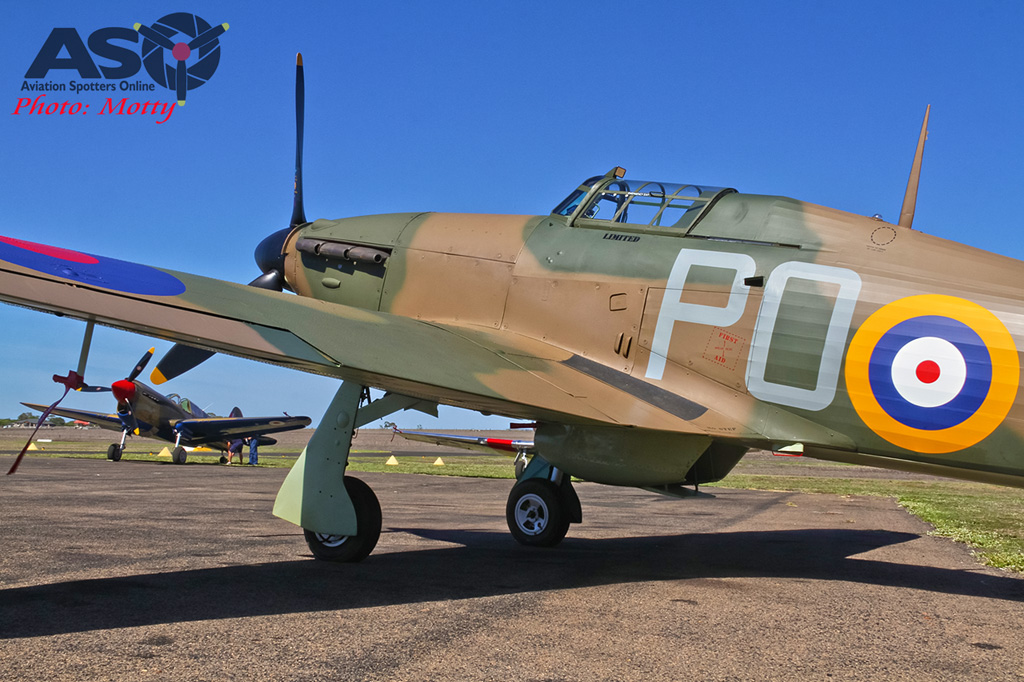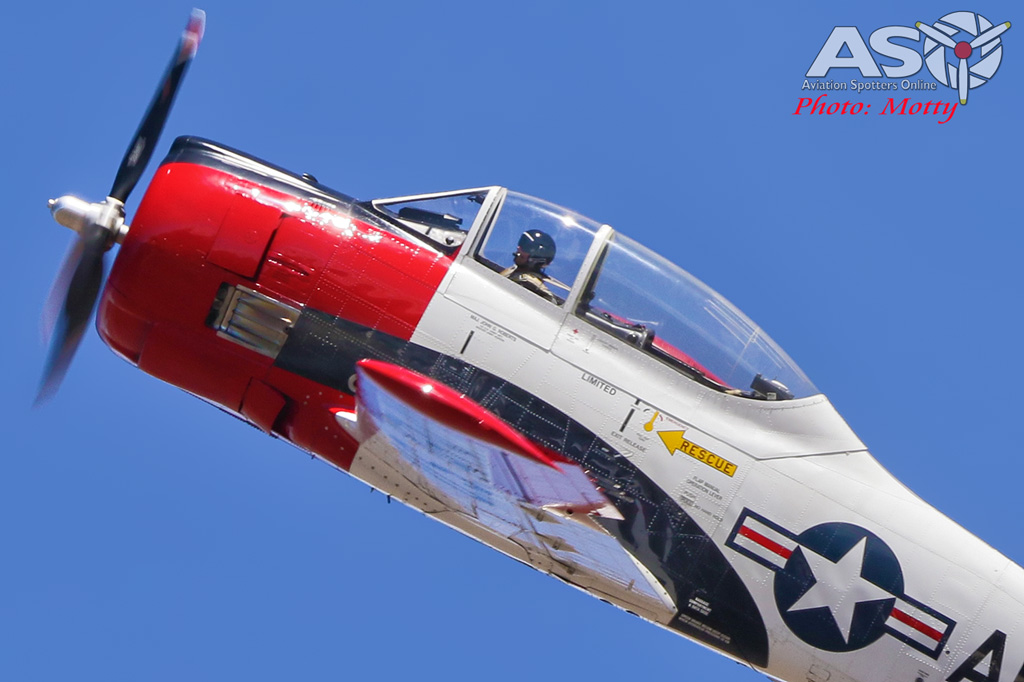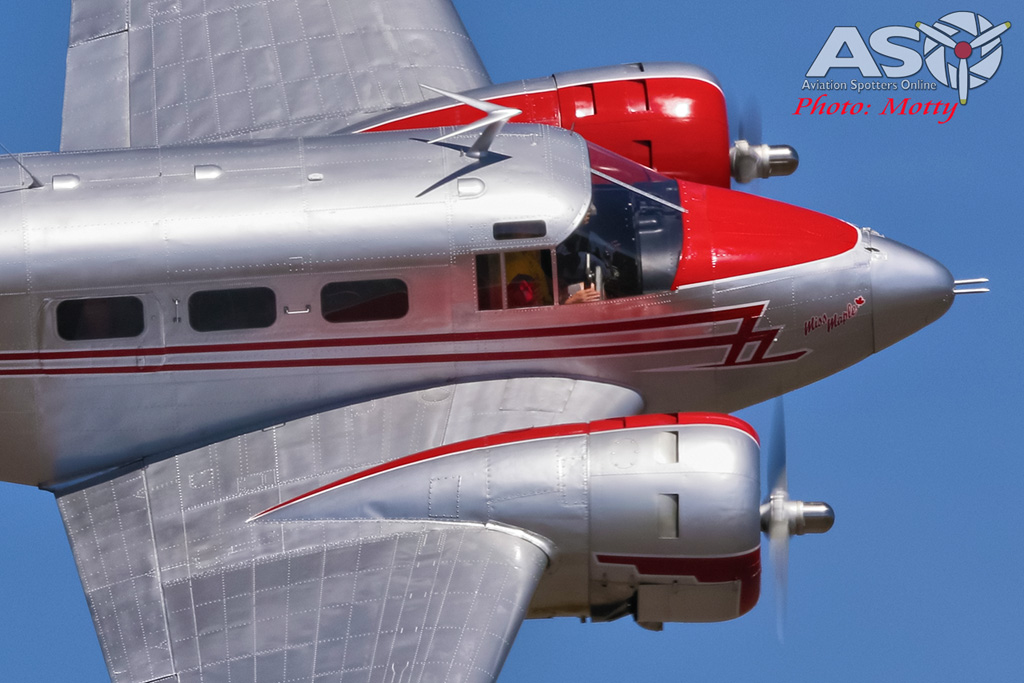 Warbirds Over Scone was originally a popular series of shows organized by the late Col Pay and his team back in the late '90s and early 2000's which, unfortunately, came to a halt due to the ever increasing costs involved. But thanks to the efforts of Col's son Ross, with the assistance of the Scone Council and Paul Bennet Airshows, the show is back!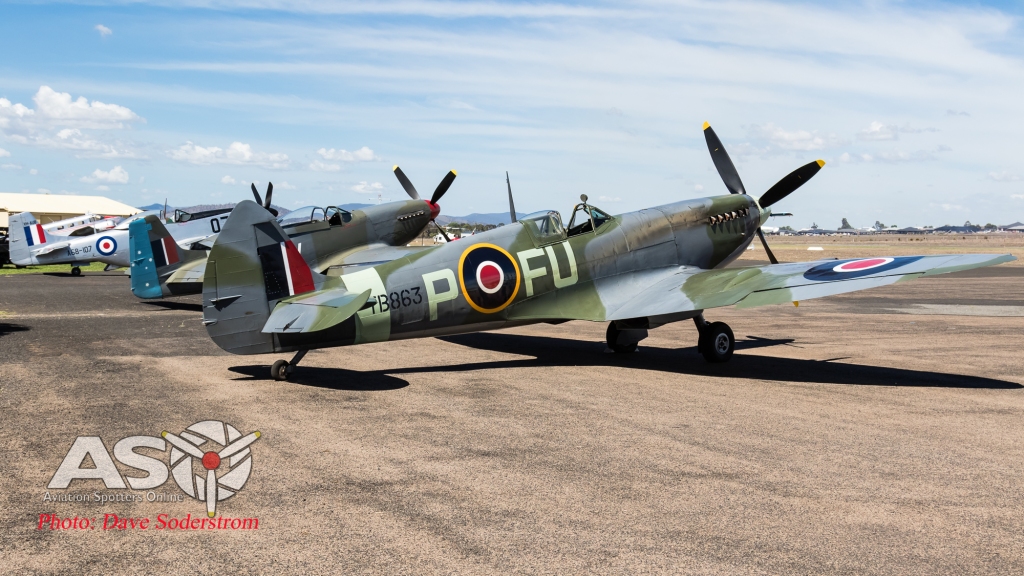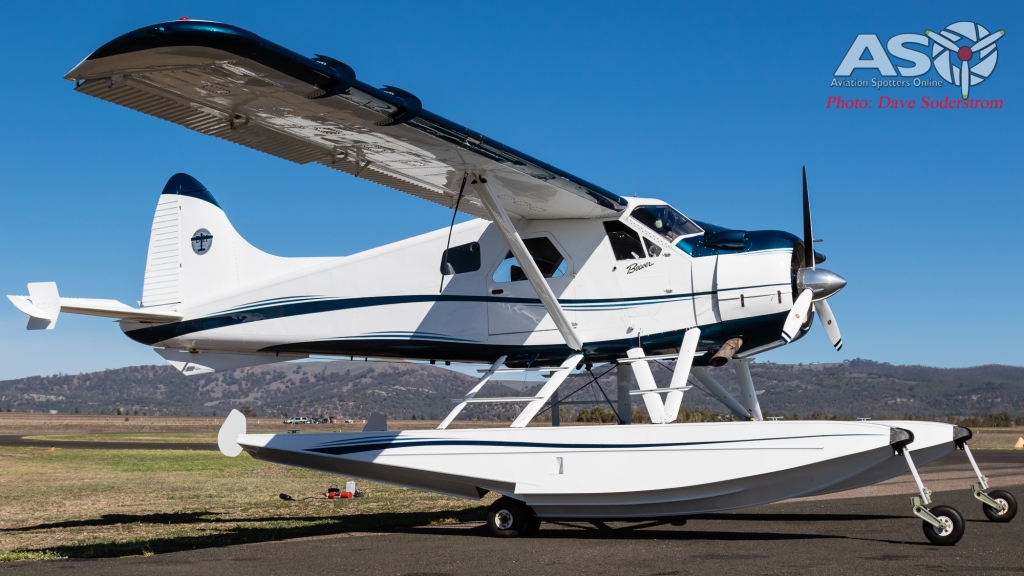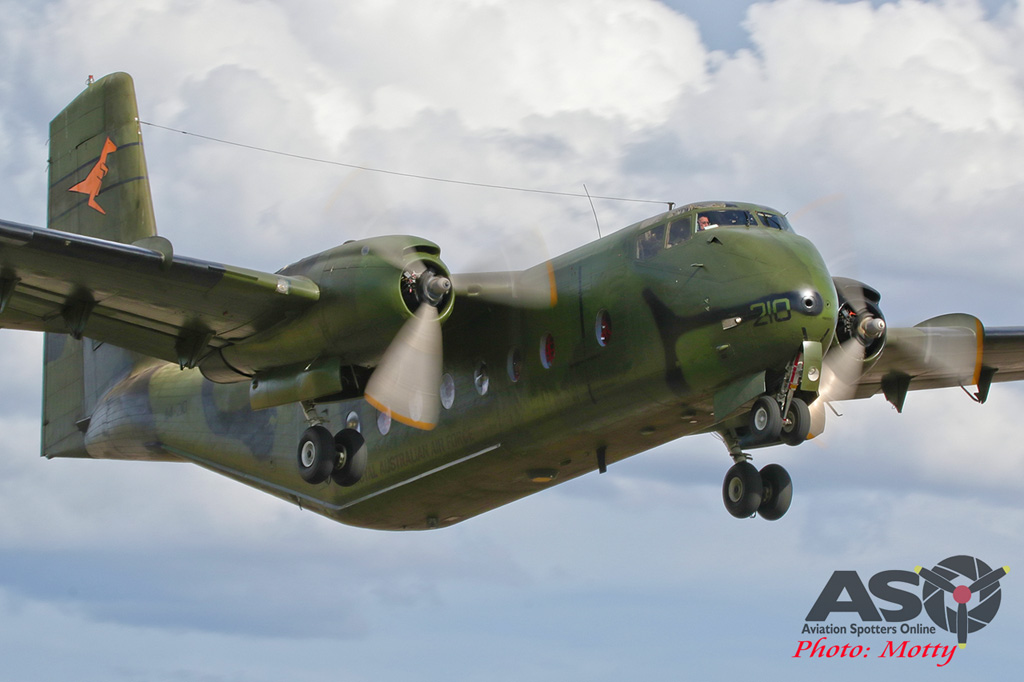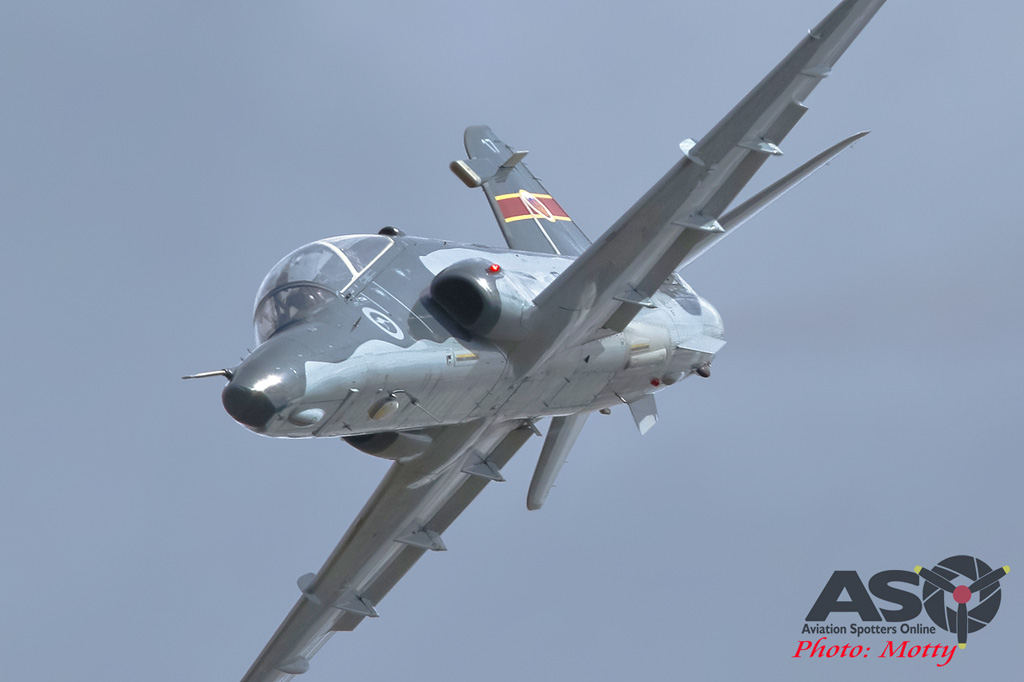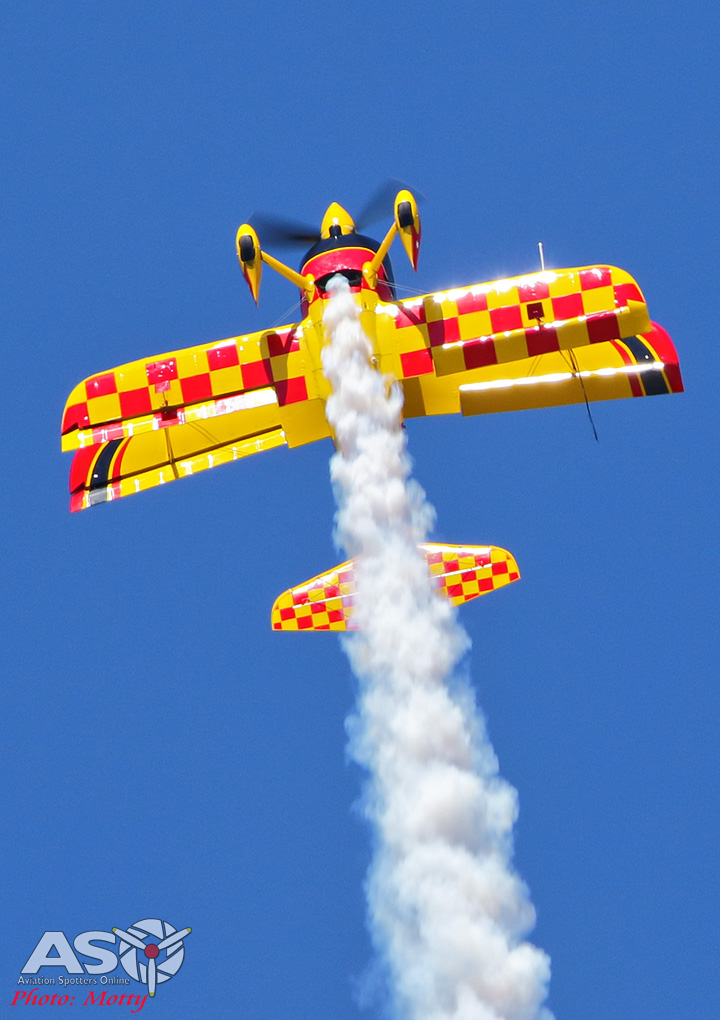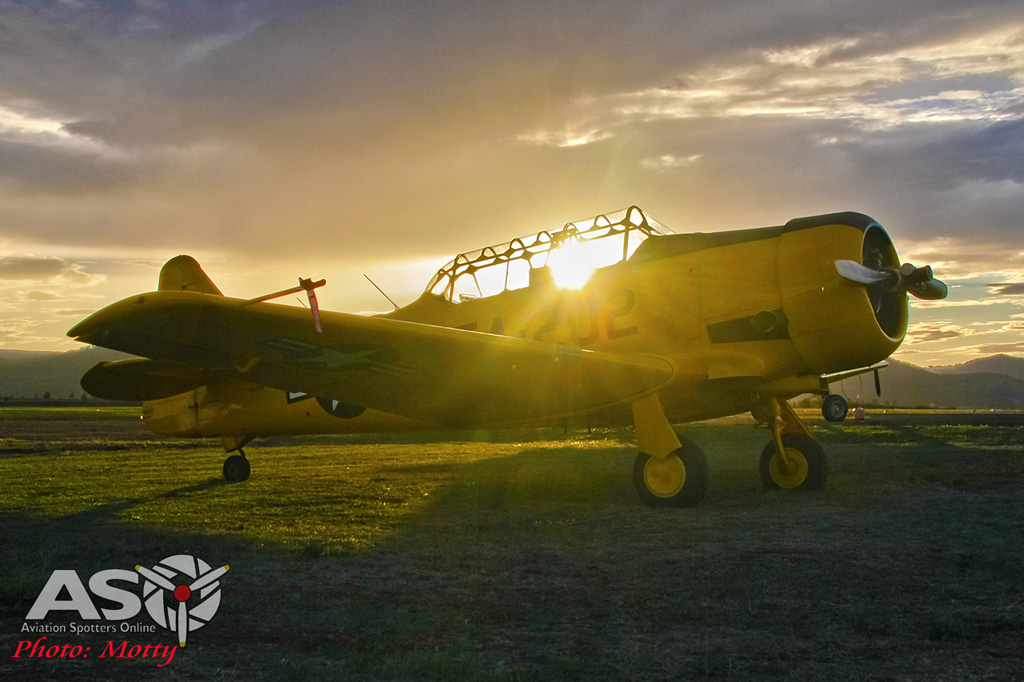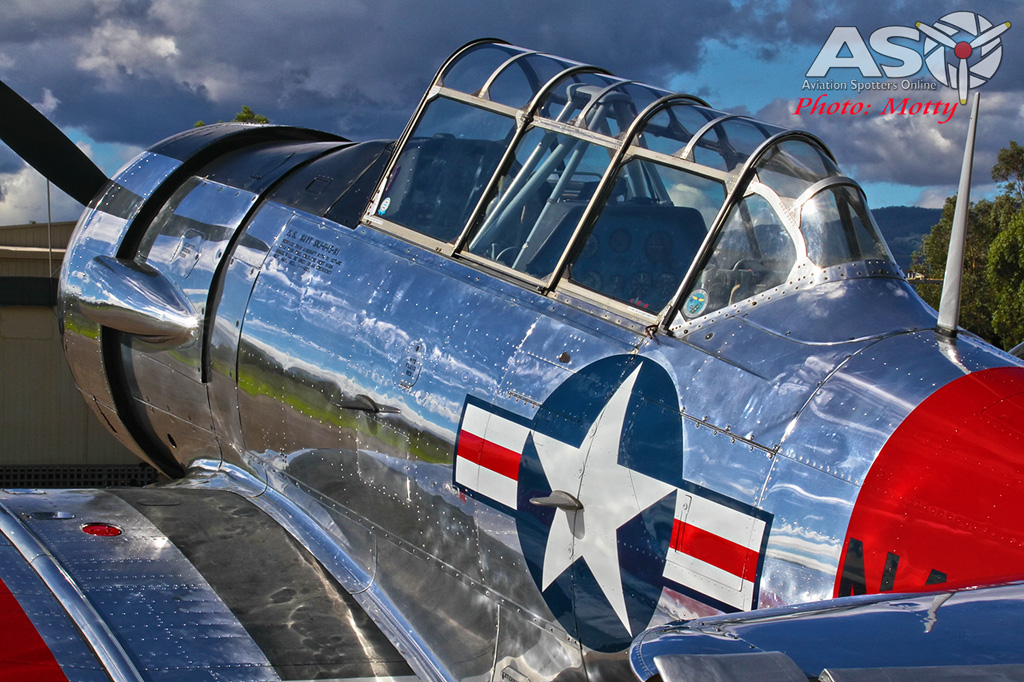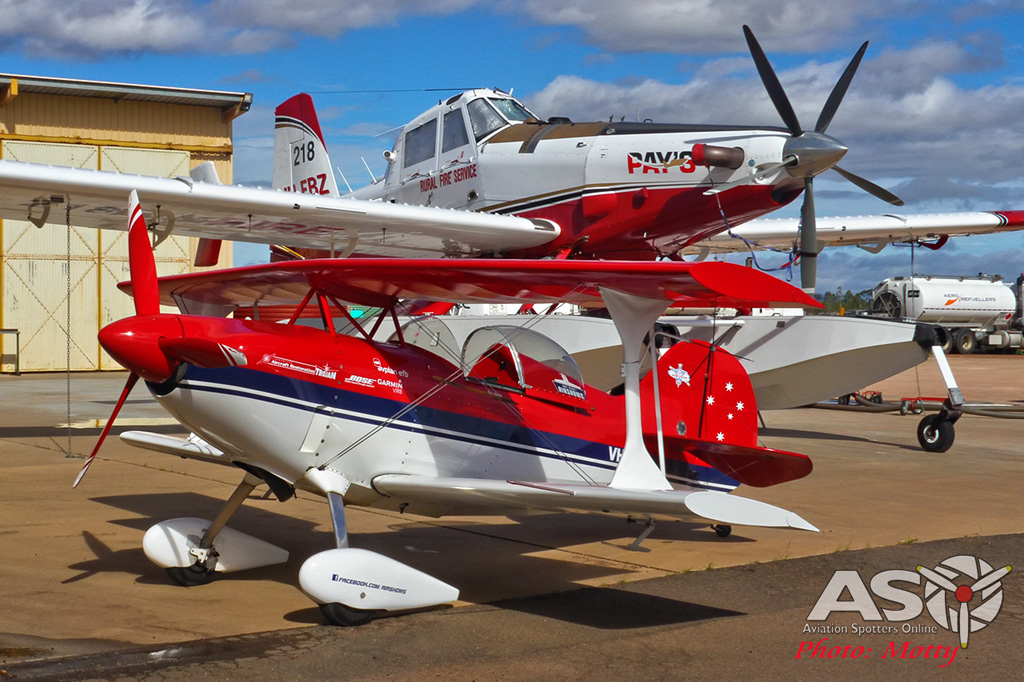 Following on from the success of the Flight of the Hurricane show back in 2016 (see our report HERE) where Australia's first (and so far, only) airworthy Hawker Hurricane restoration made its public debut, it was decided to resurrect this great show in 2018, the highlight of which was to be the chance to see the Hurricane and another unique machine in Australian skies, Chris Mayr's awesome FW-190, in the air together, for the first time ever.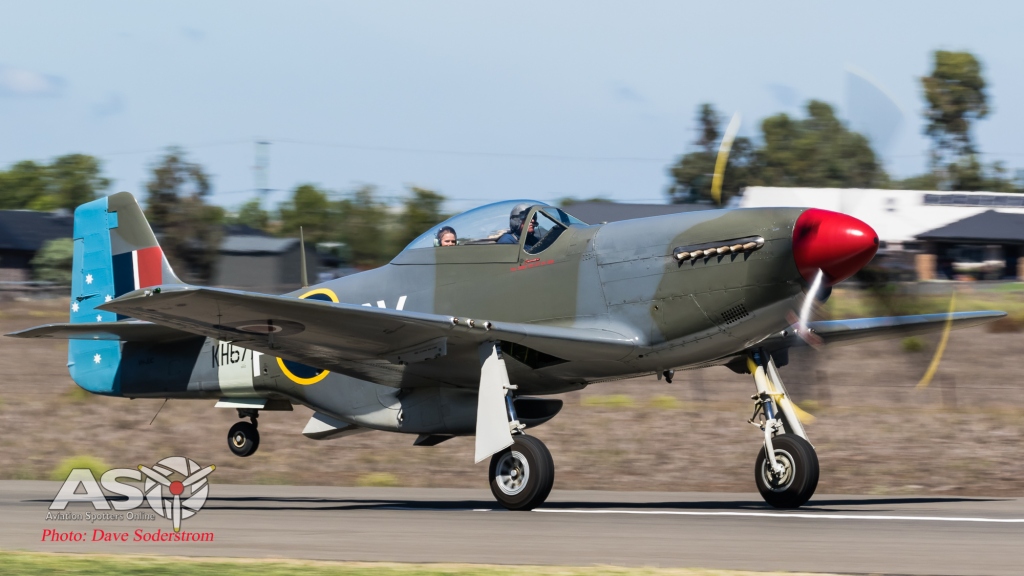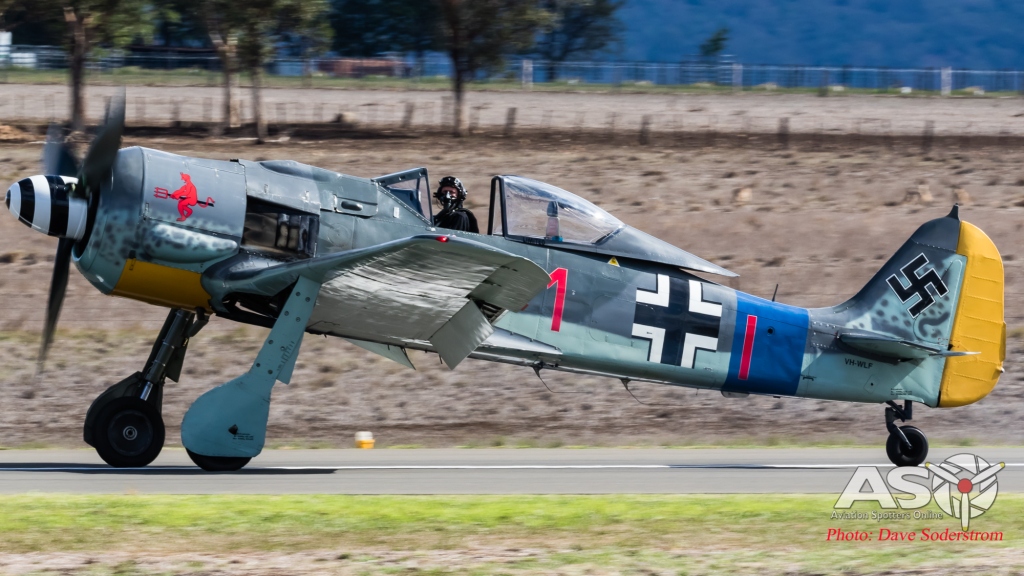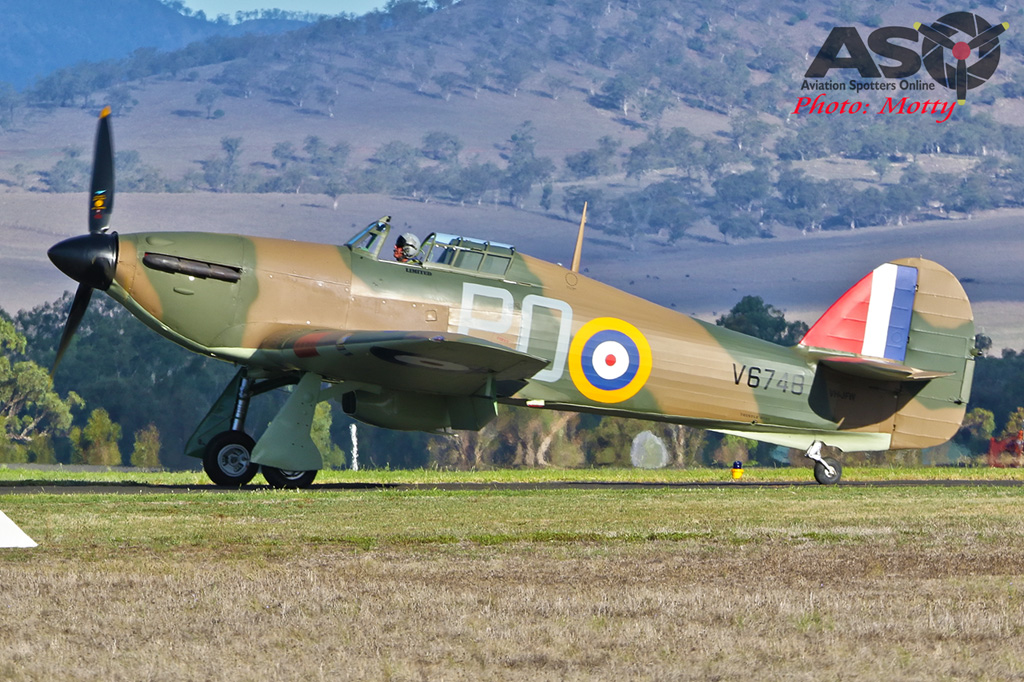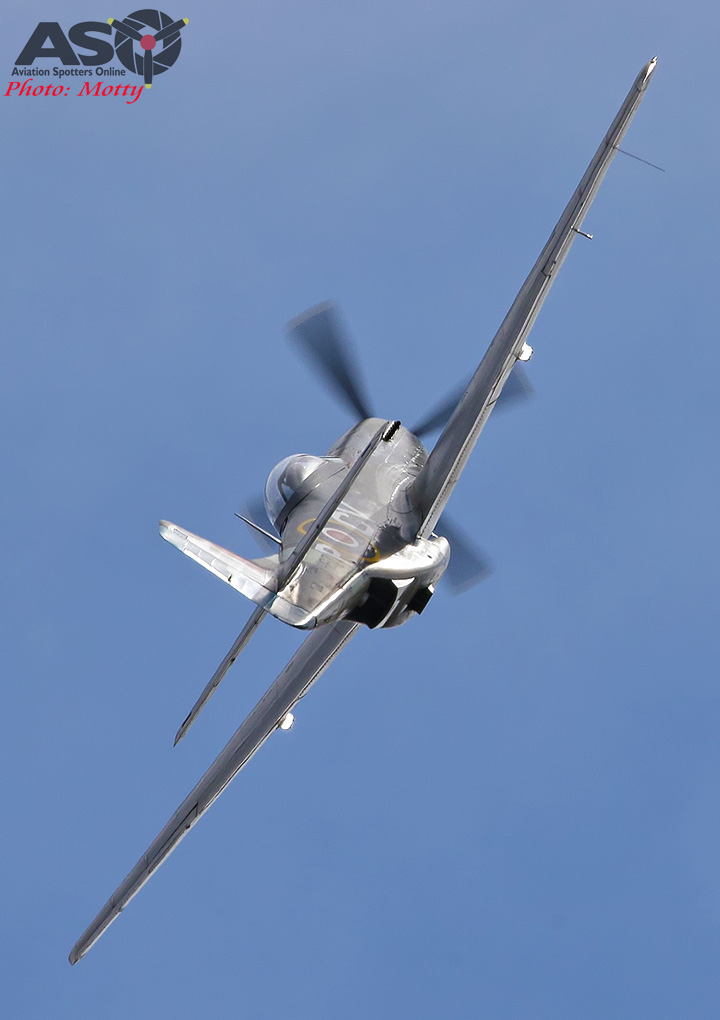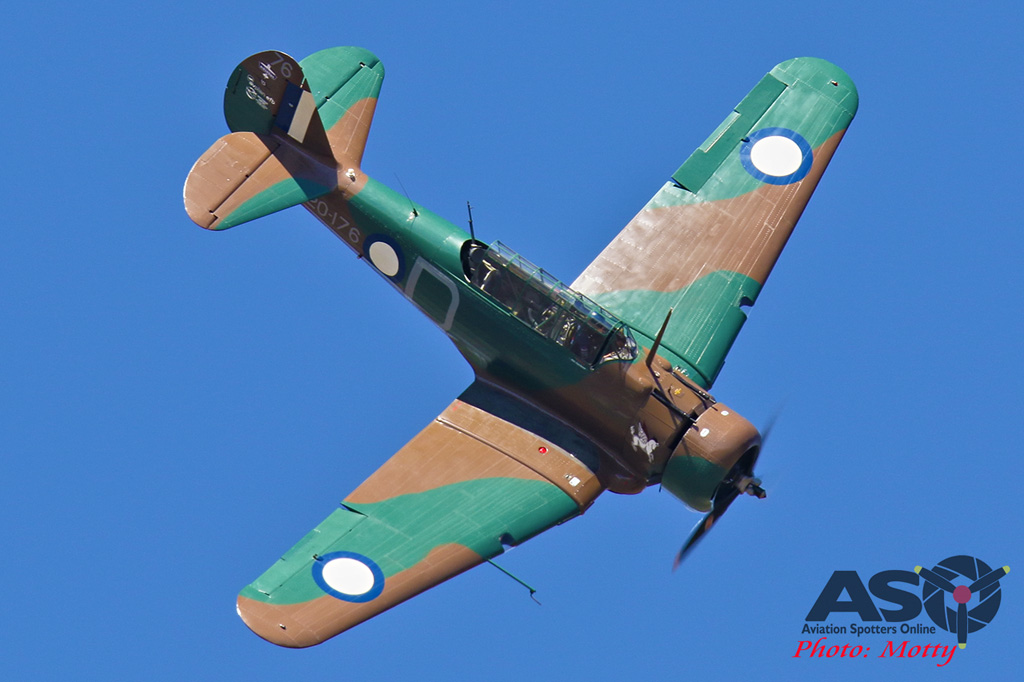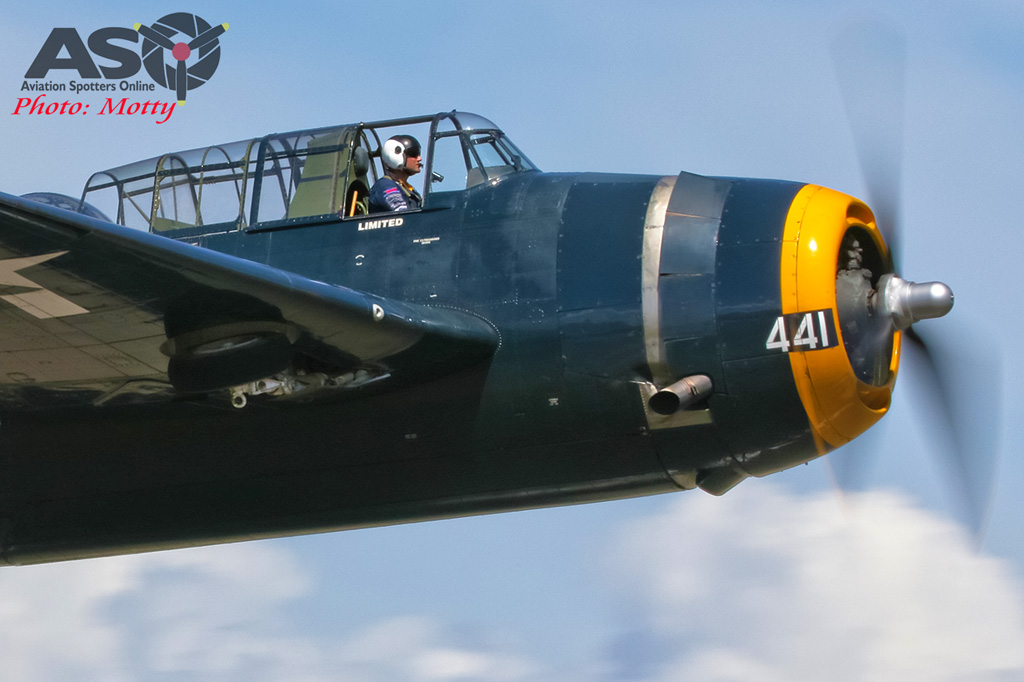 Participants began arriving early with Paul Bennet bringing Judy Pay and Dick Hourigan's beautiful Mustang and Chris in his '190 on Friday afternoon and we had the awesome opportunity to do some night shots in and around the Vintage Fighter Restorations' hangar on Friday night.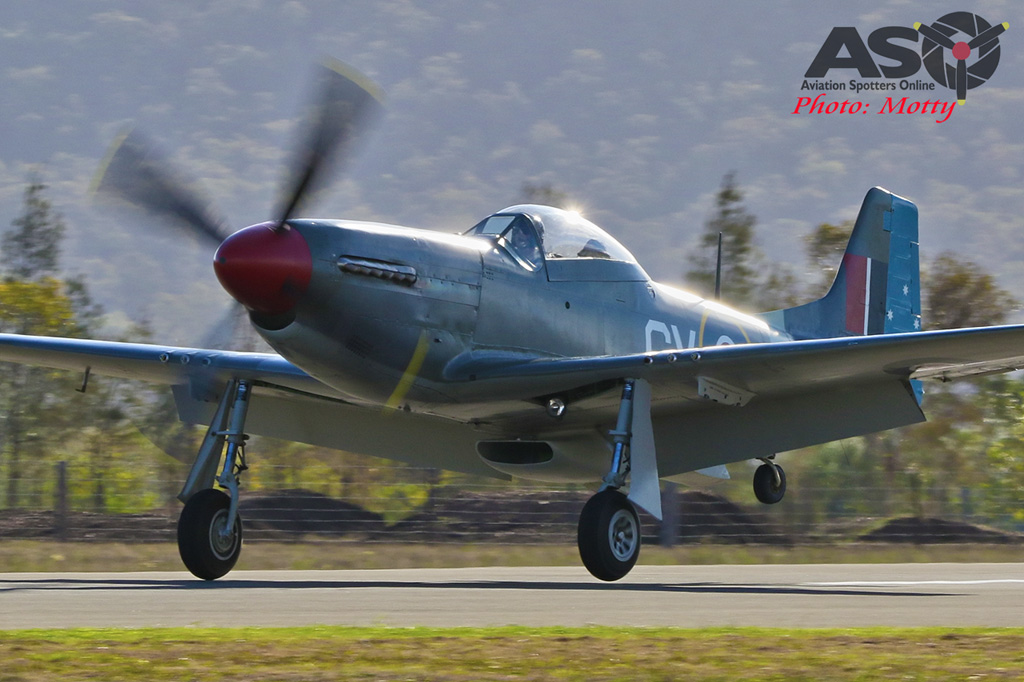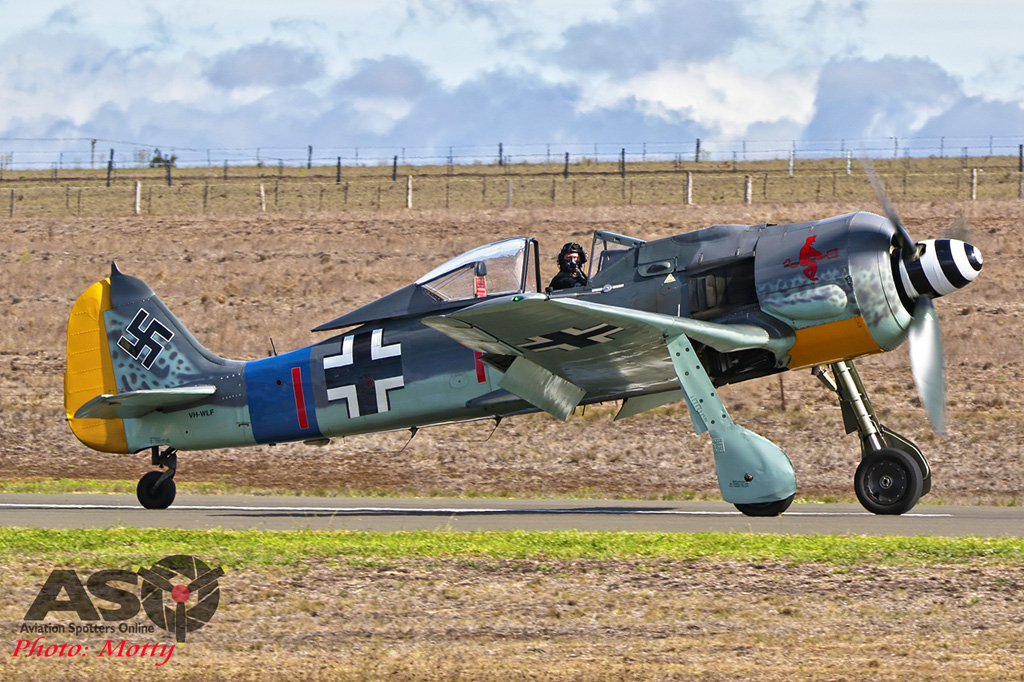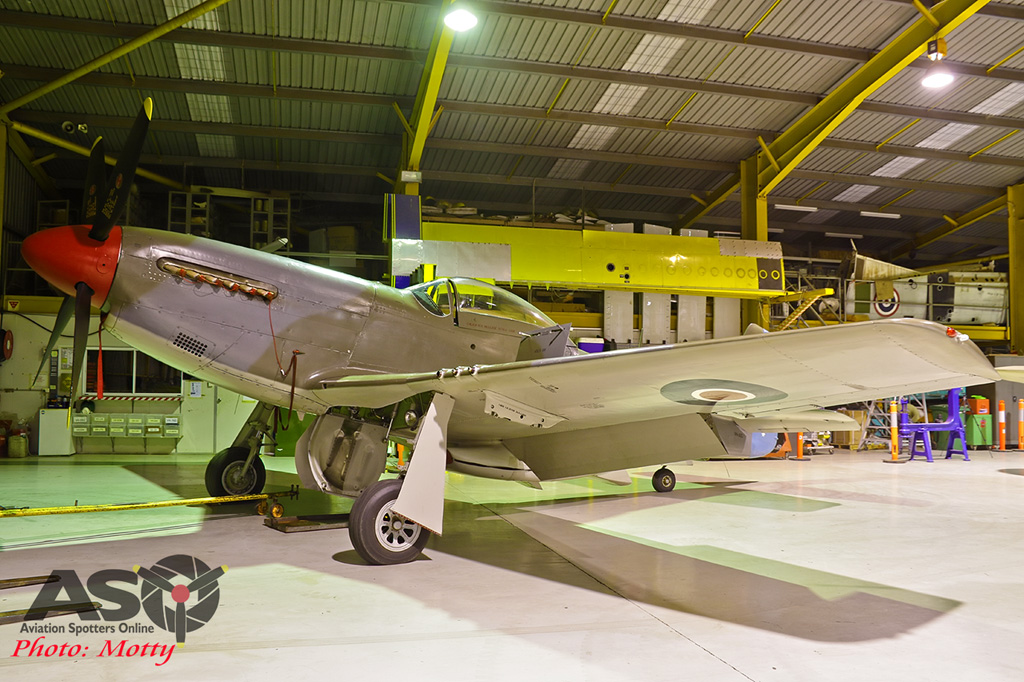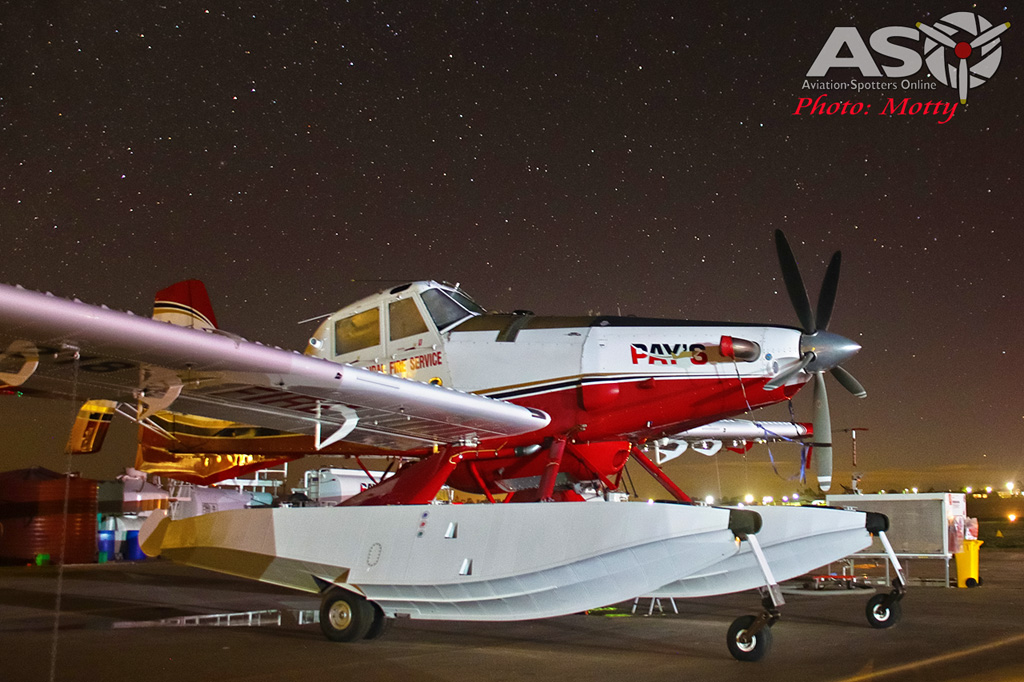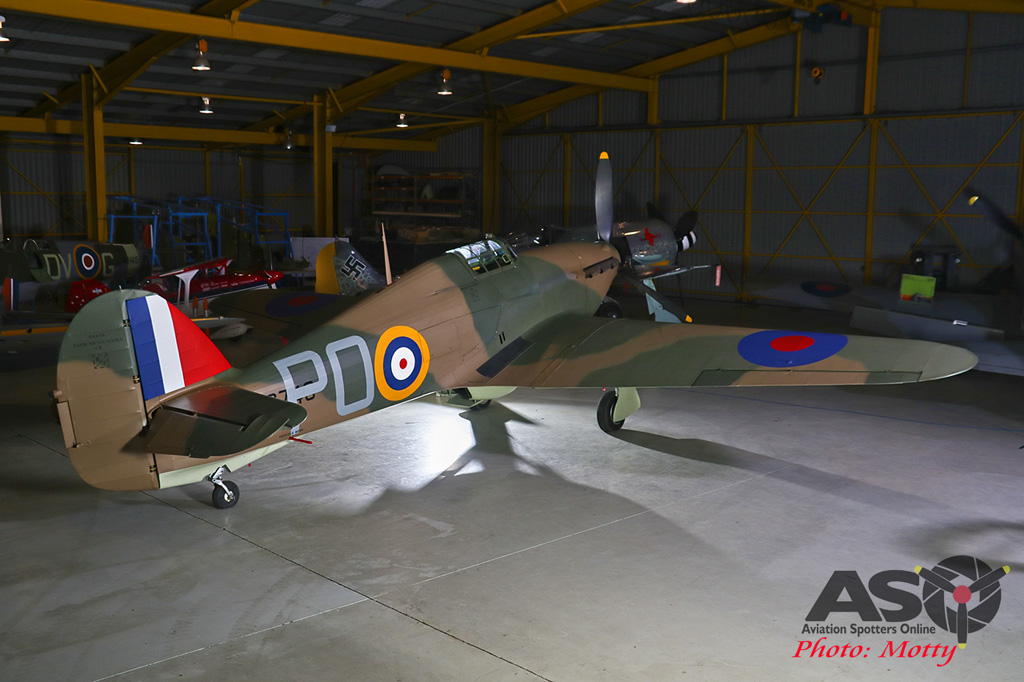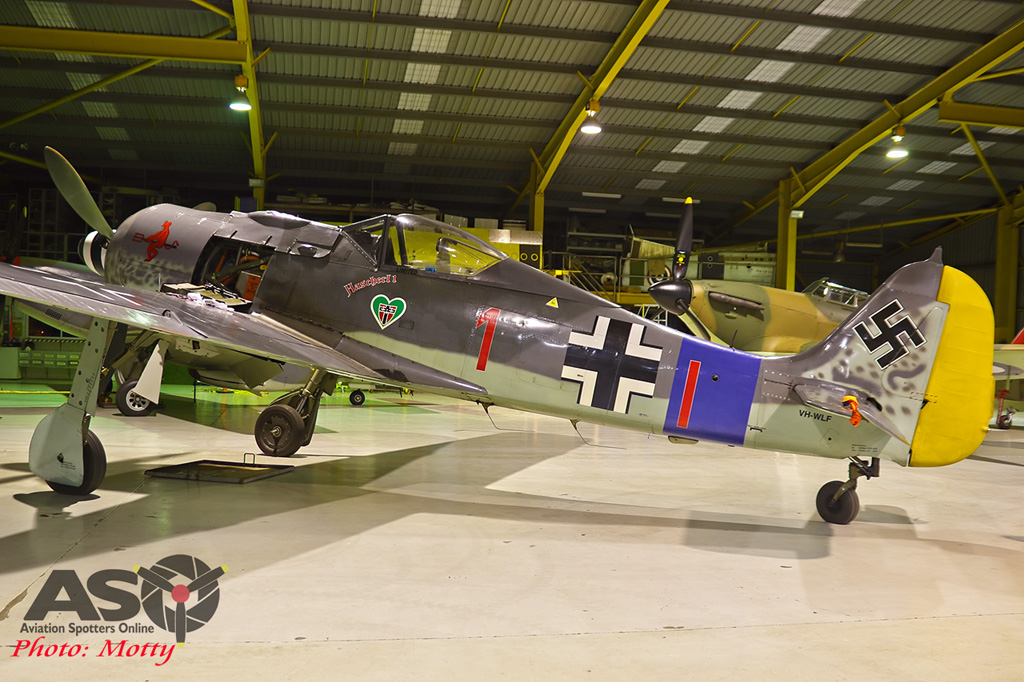 Saturday saw the arrival of the Russian Roolettes team in their Yak-52s and Nanchang CJ6s, Doug Hamilton in Temora's Mk XVI Spitfire, Beech adventures' Beech 18 and Paul Bennet's Avenger, among others.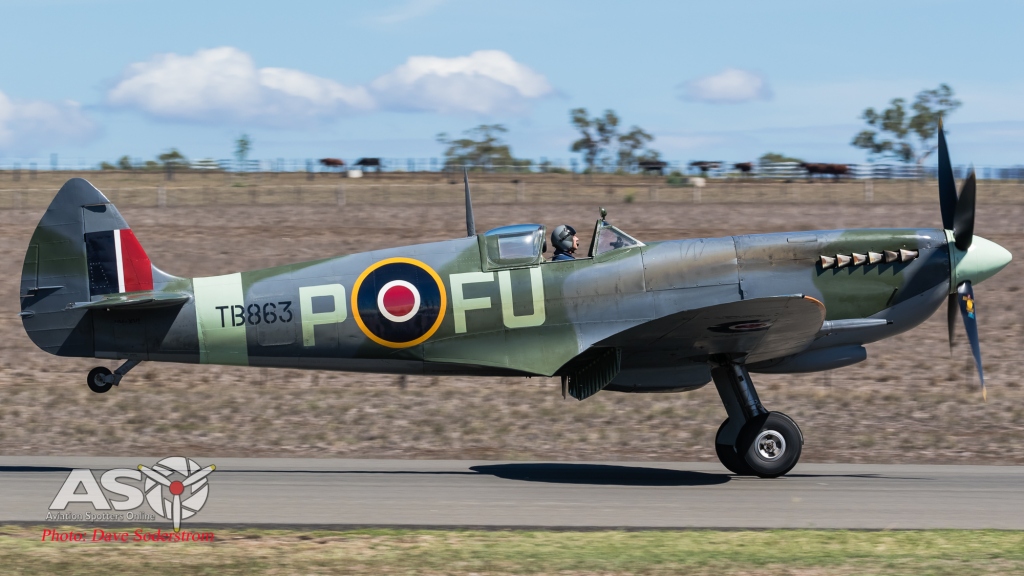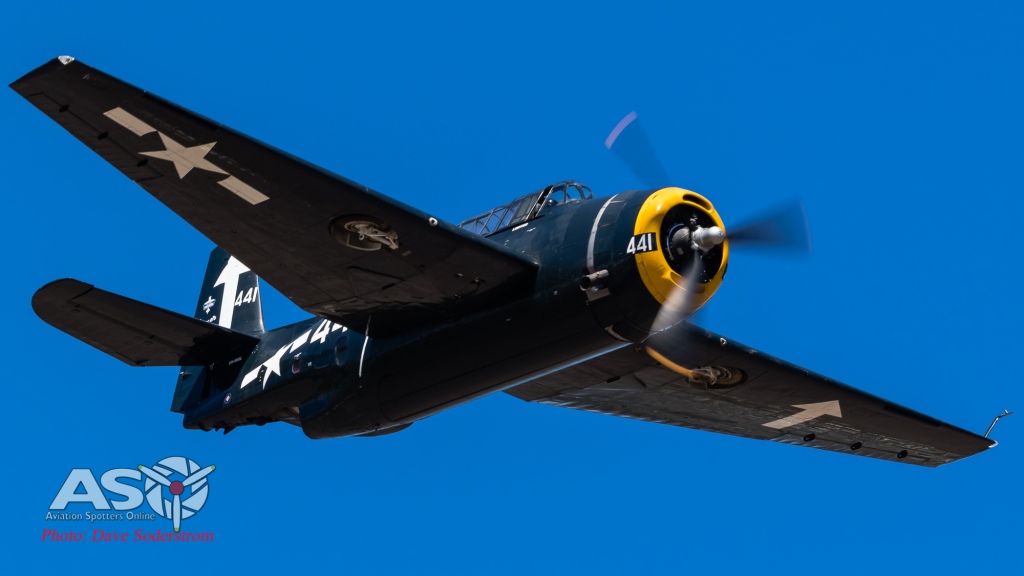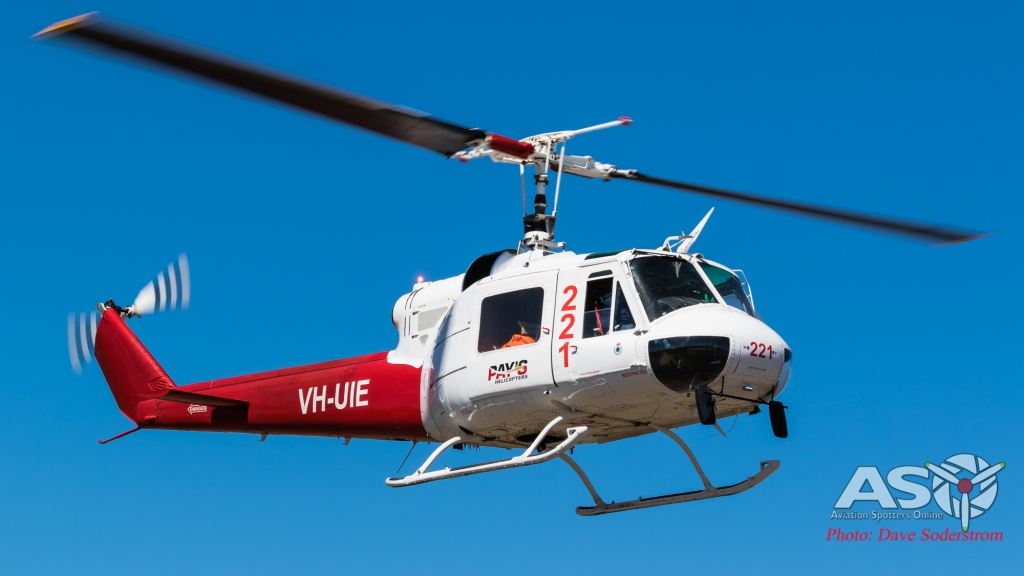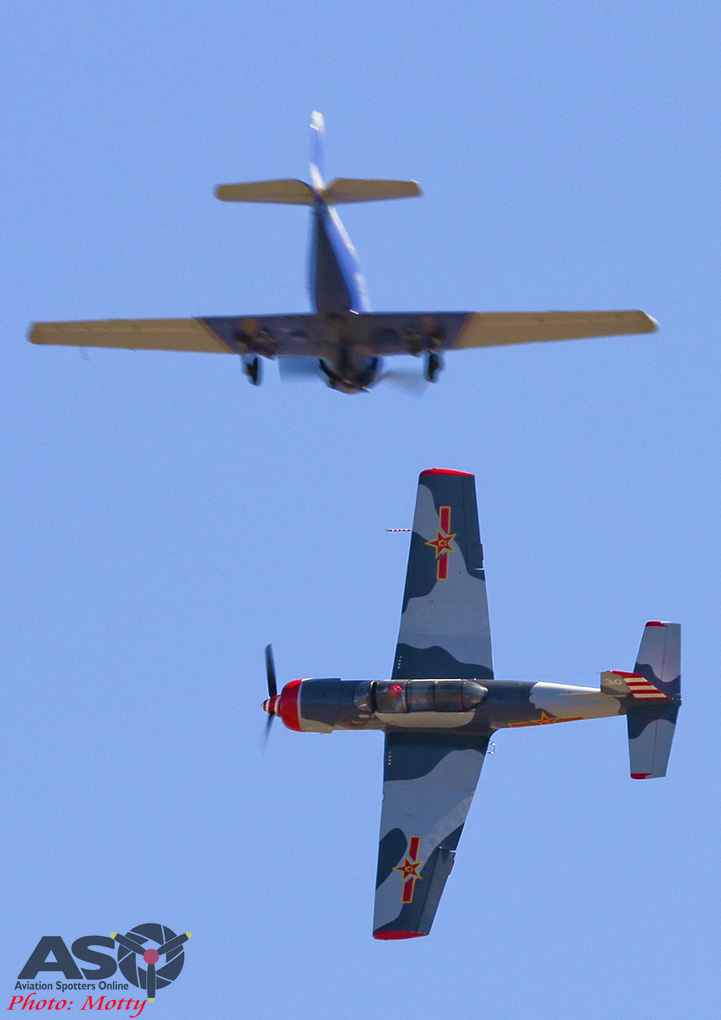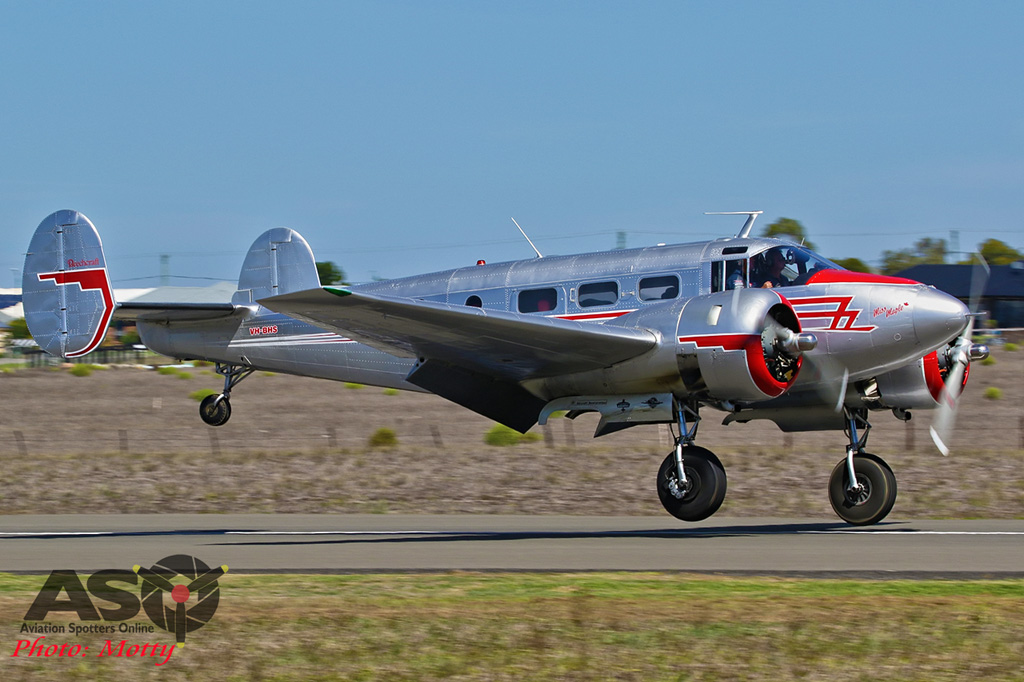 The opportunity was also taken to fly some practice routines on the Saturday which saw the Russian Roolettes, Ross Pay's SNJ, both Ross & Judy Pay's Mustangs, Ross' Kittyhawk and the FW190 and Hurricane all put through their paces throughout the day. Vintage Fighter Restorations also opened their hangar doors for visitors to get a look at the quality restoration work they are carrying out on a pair of Spitfires at the moment.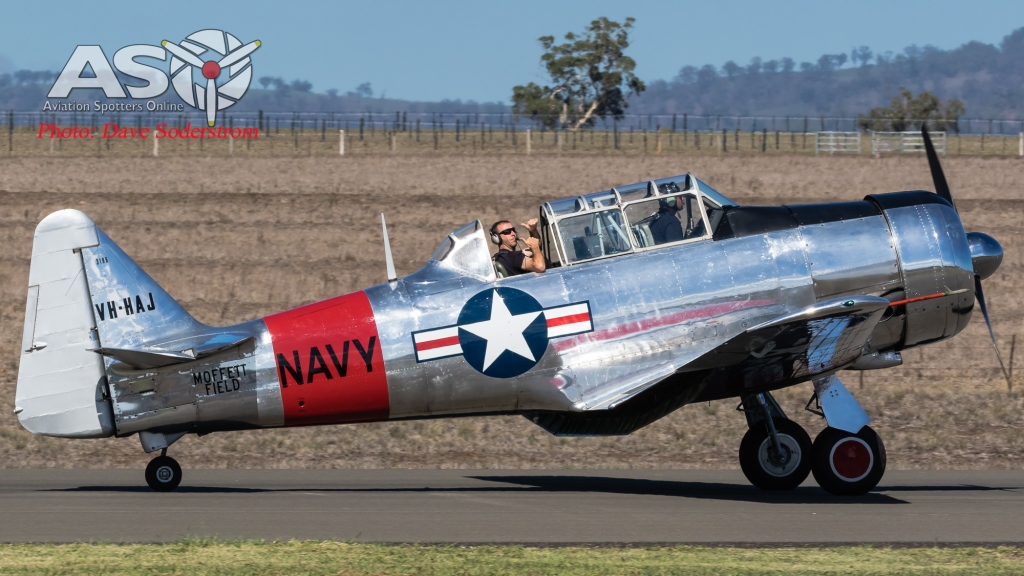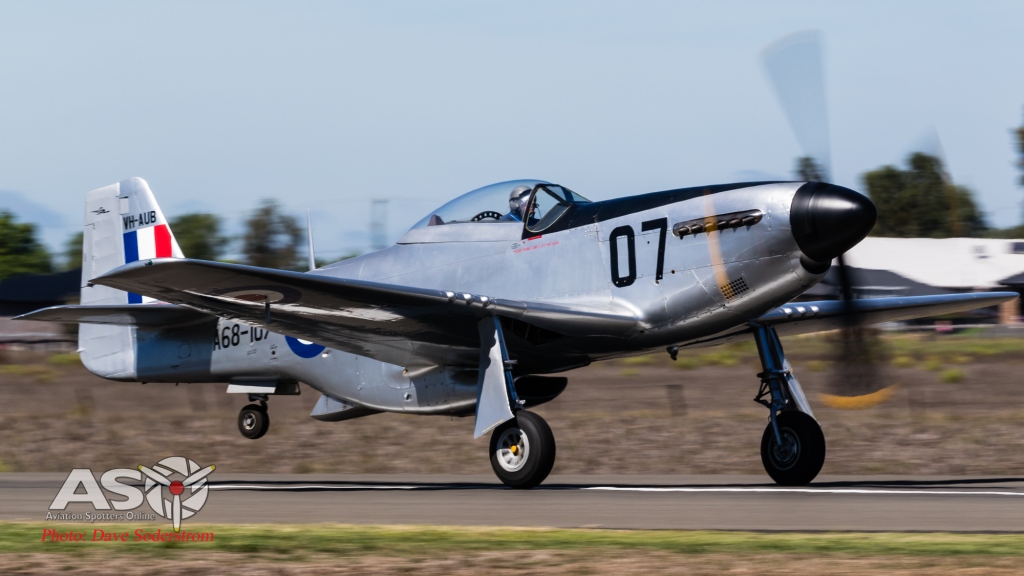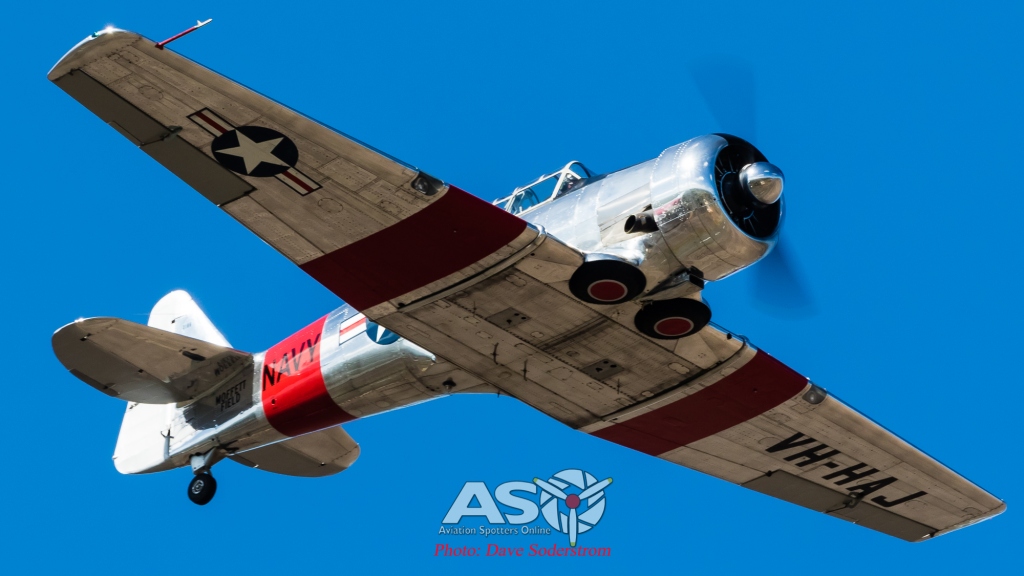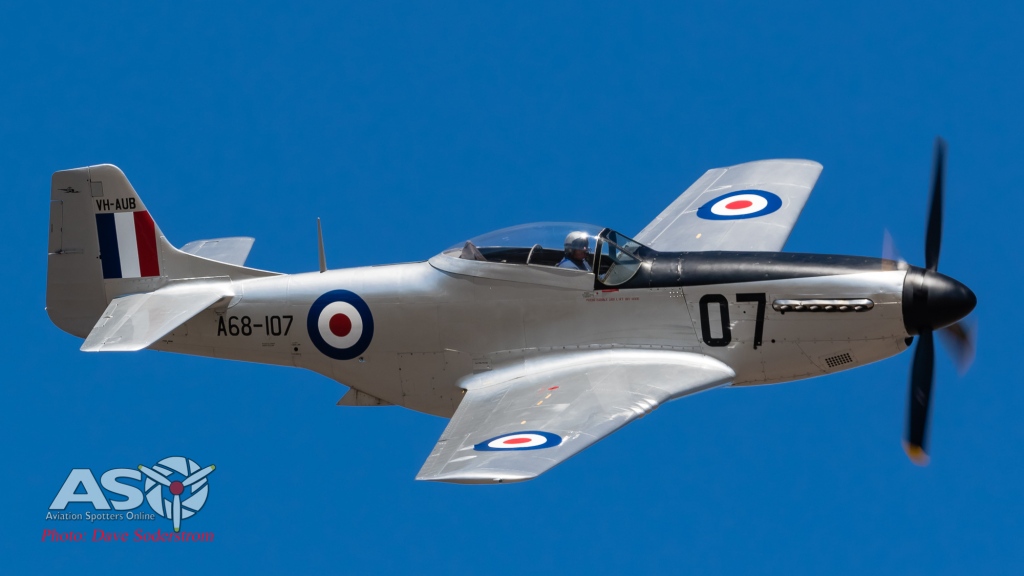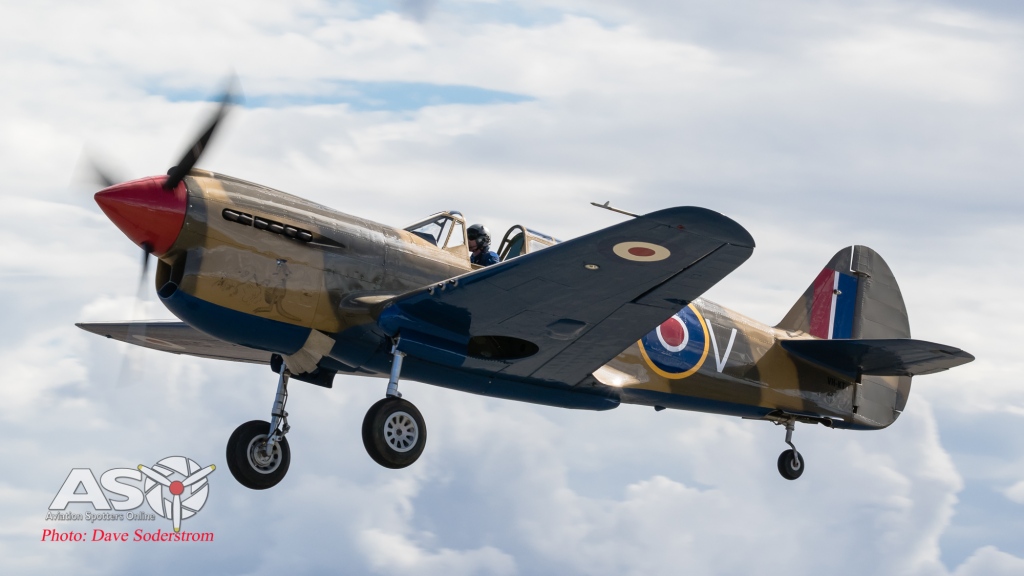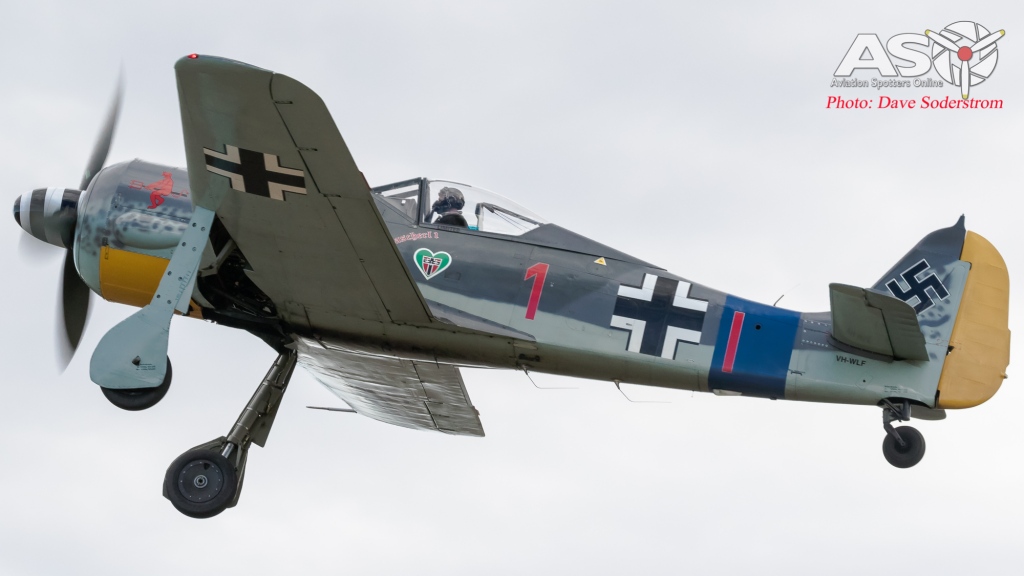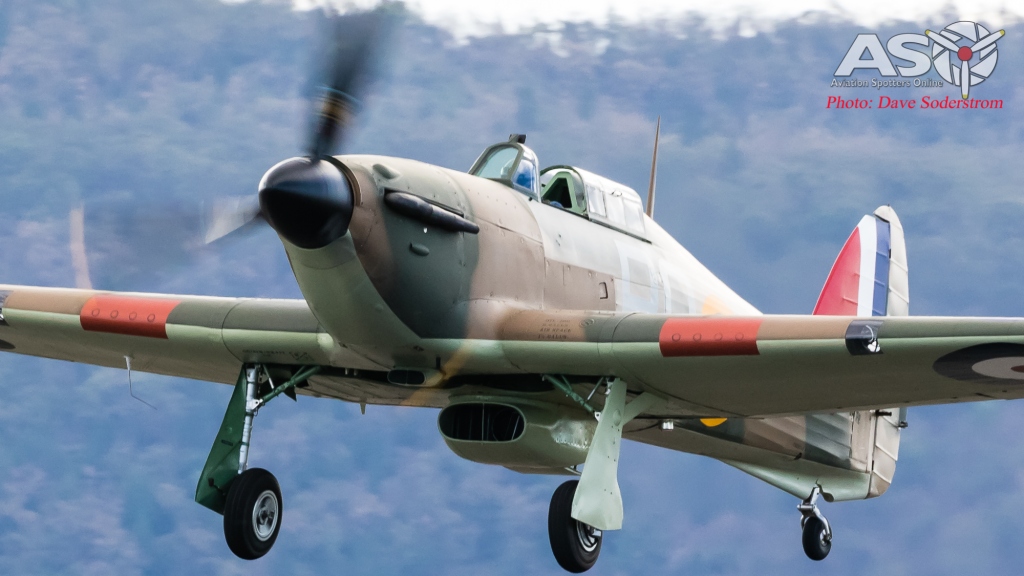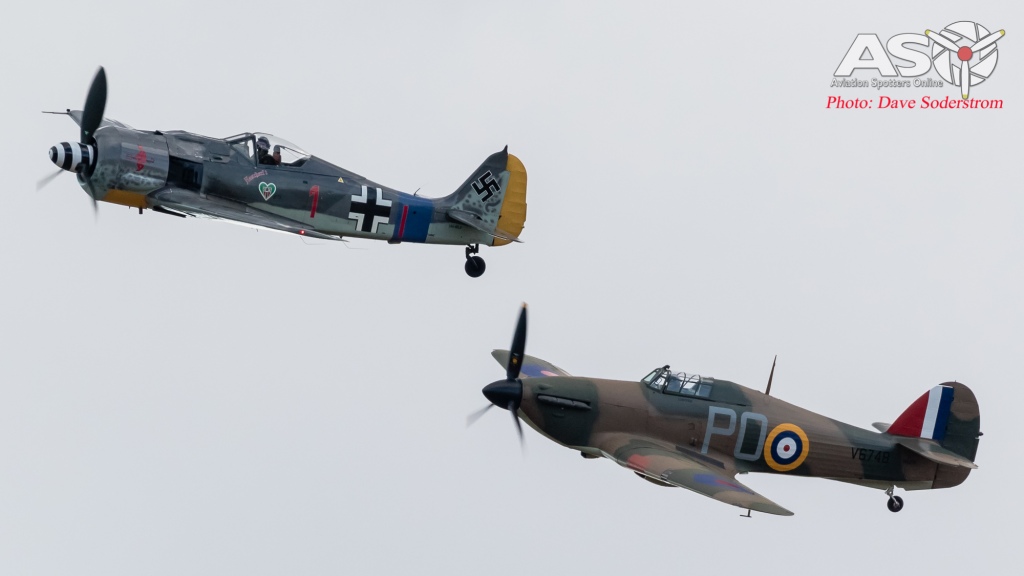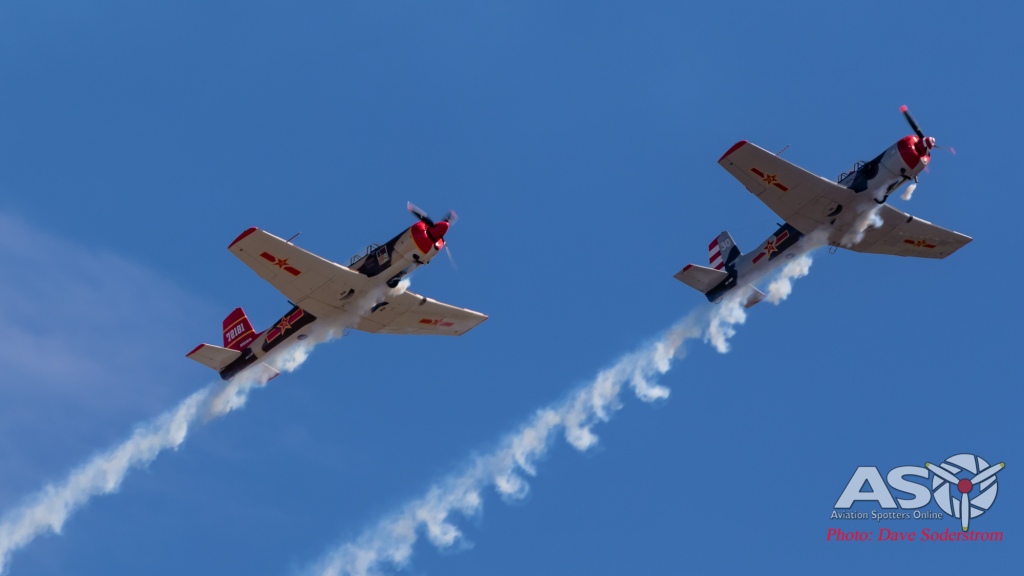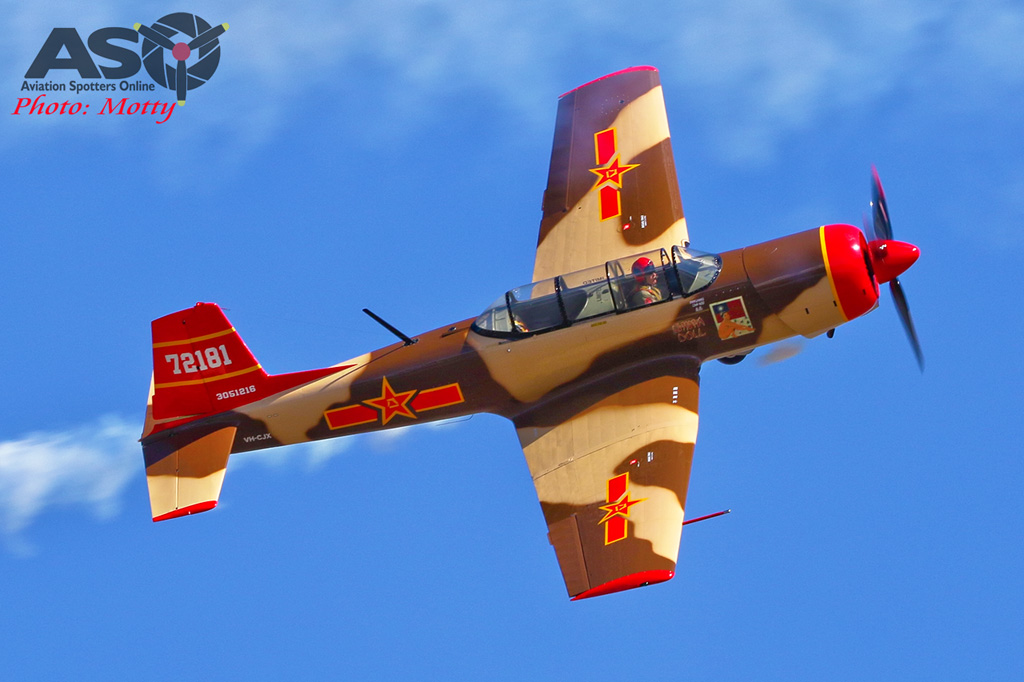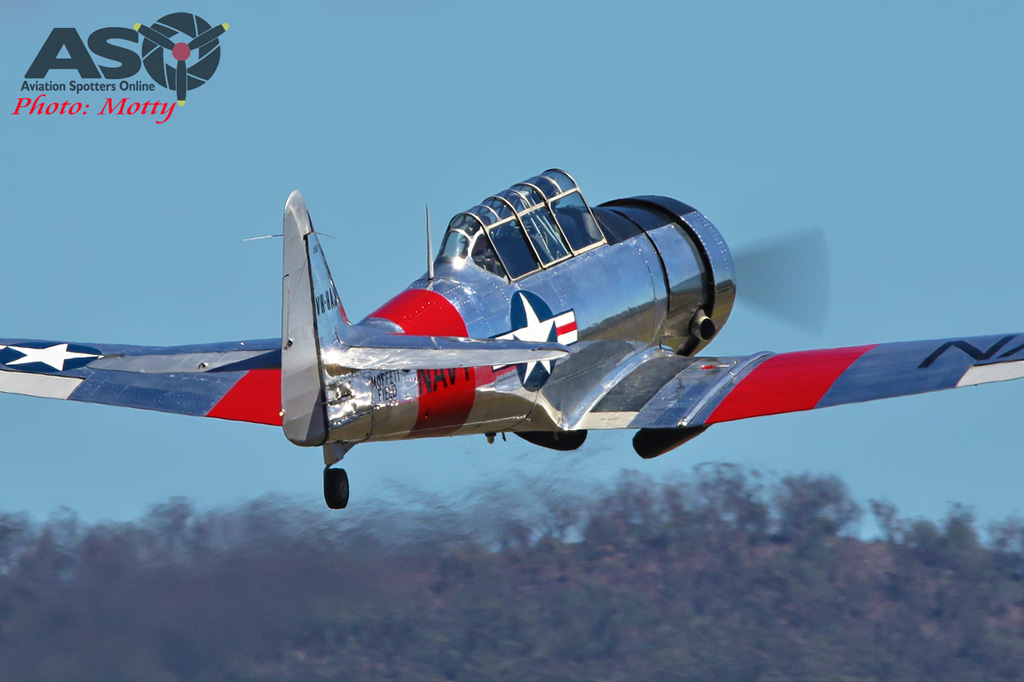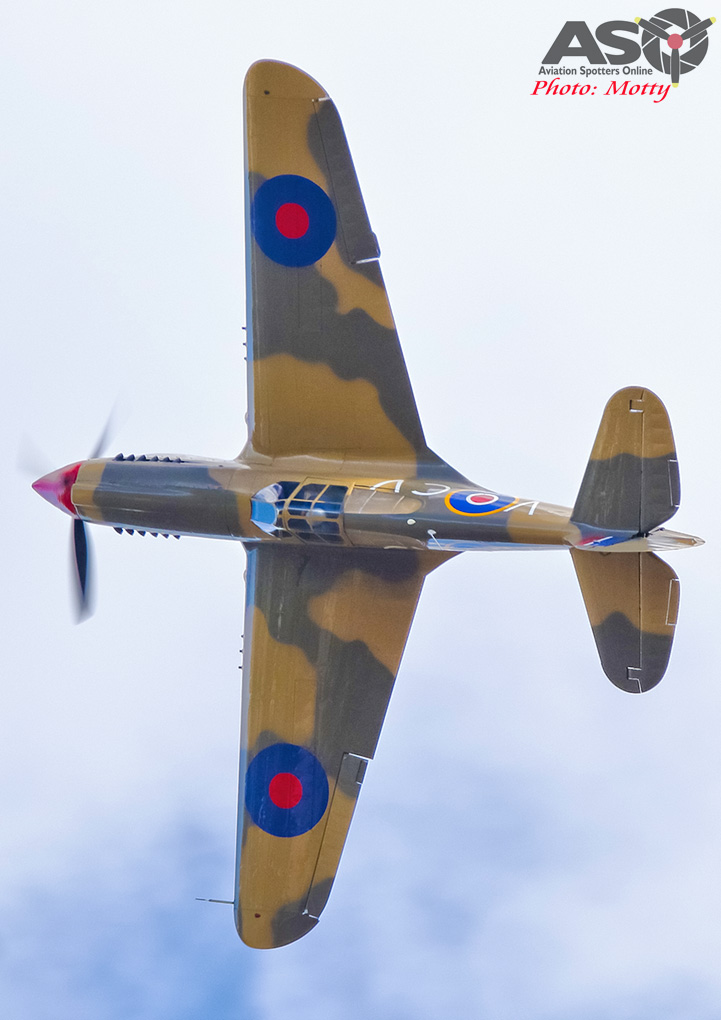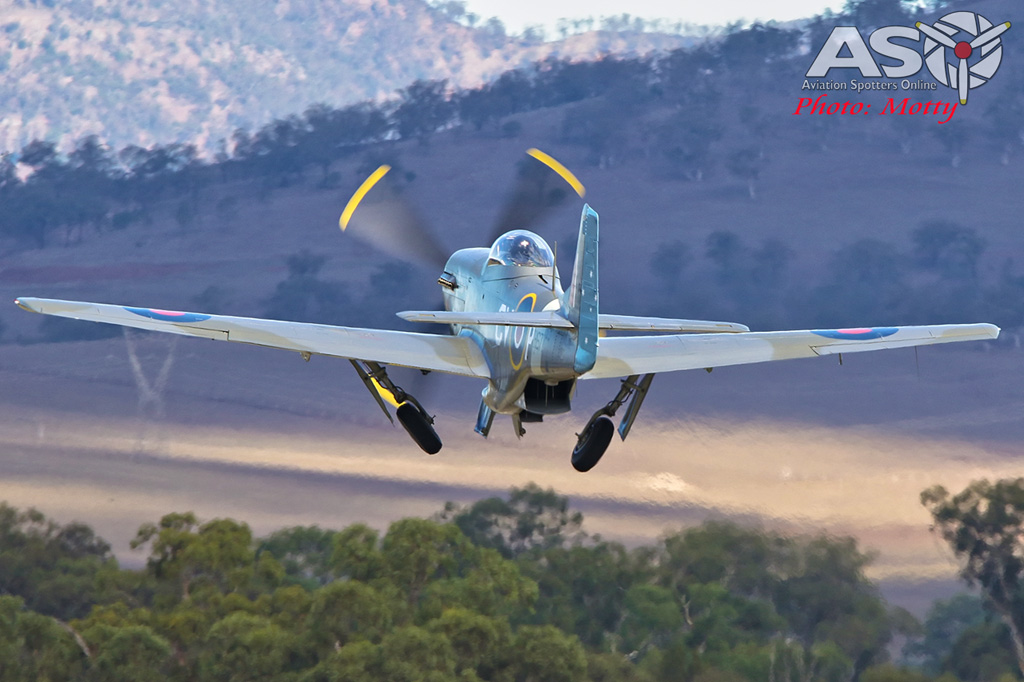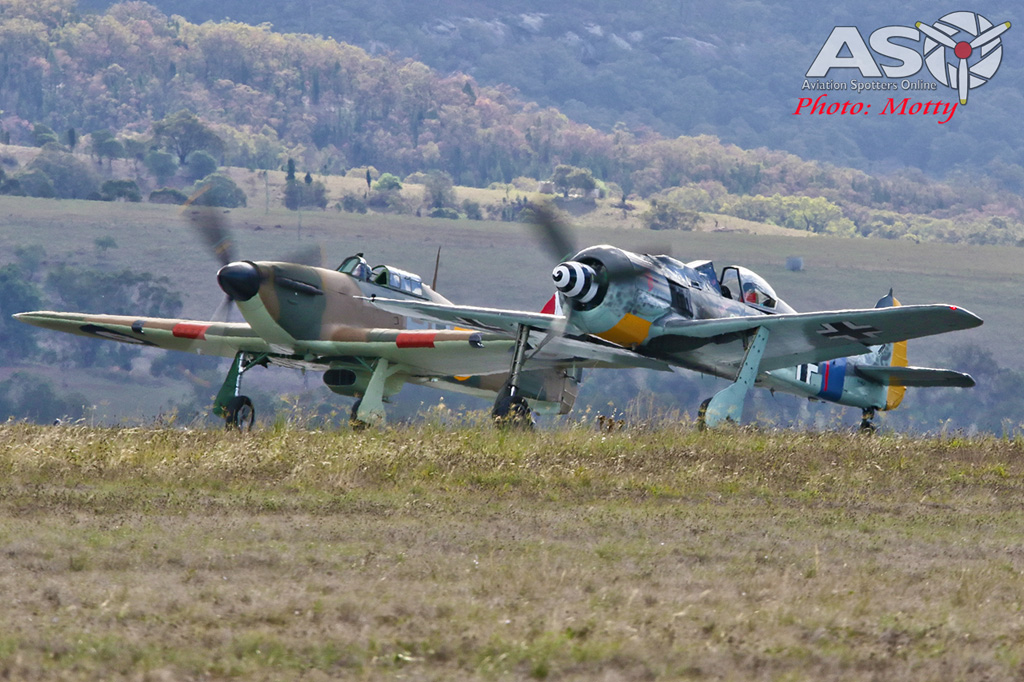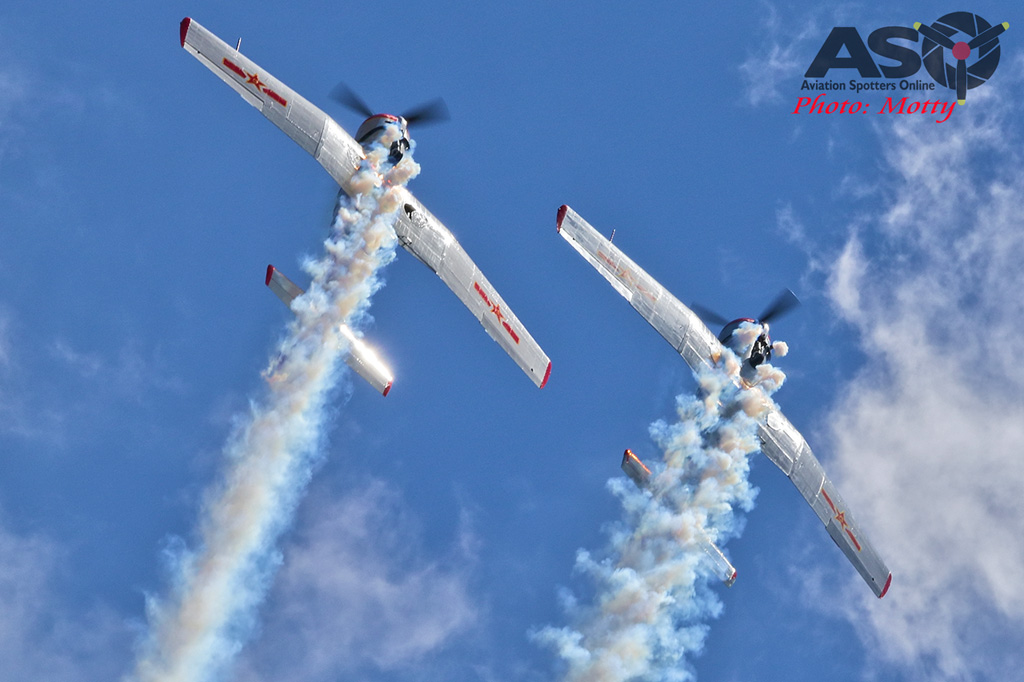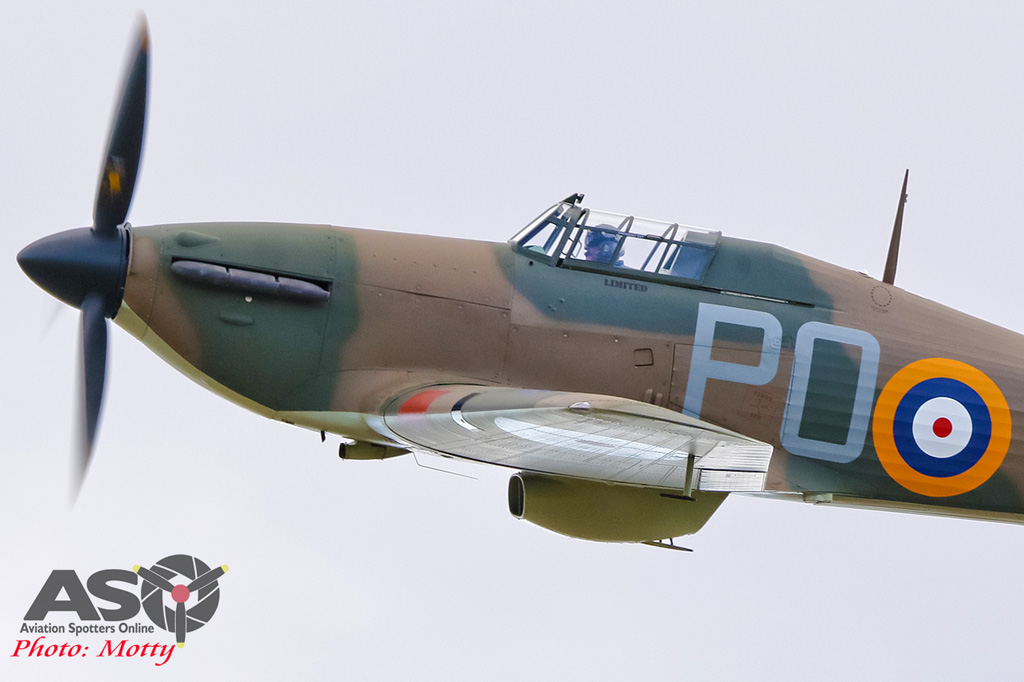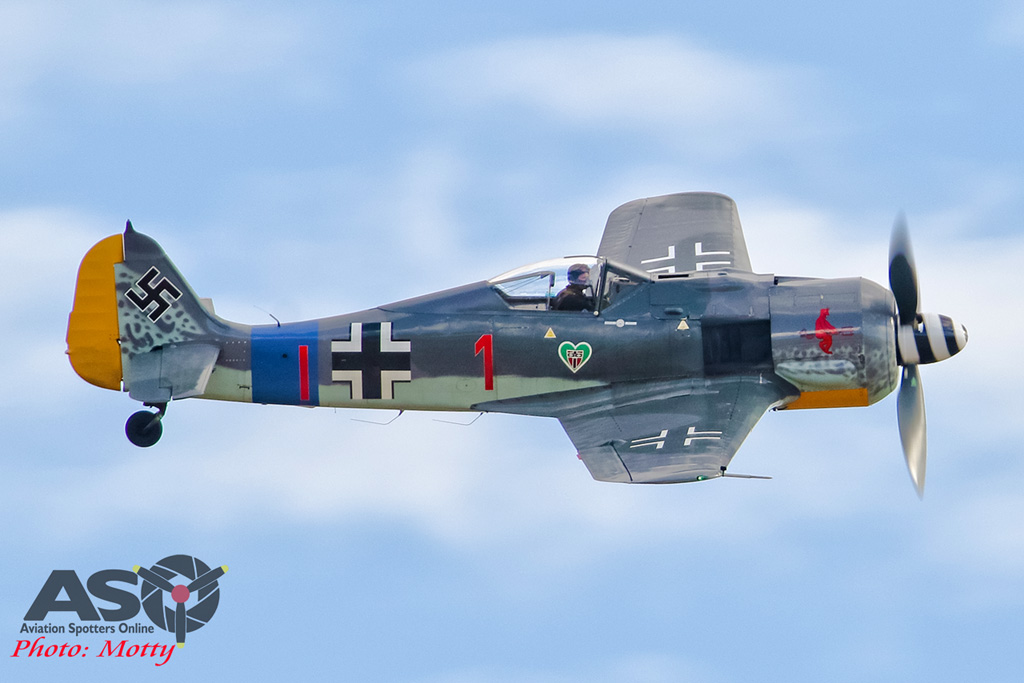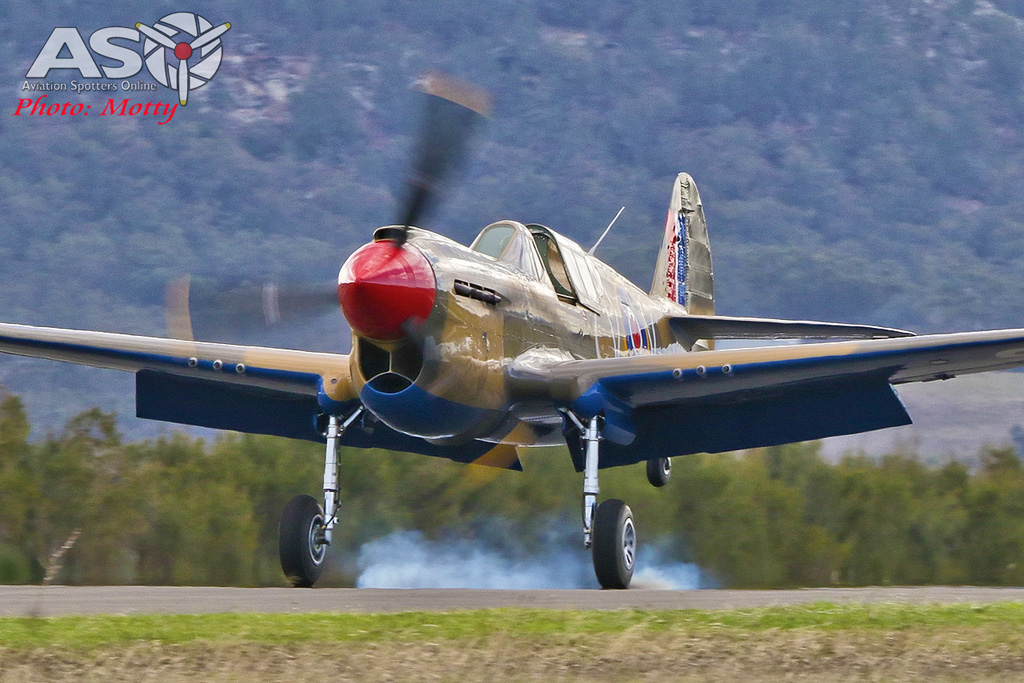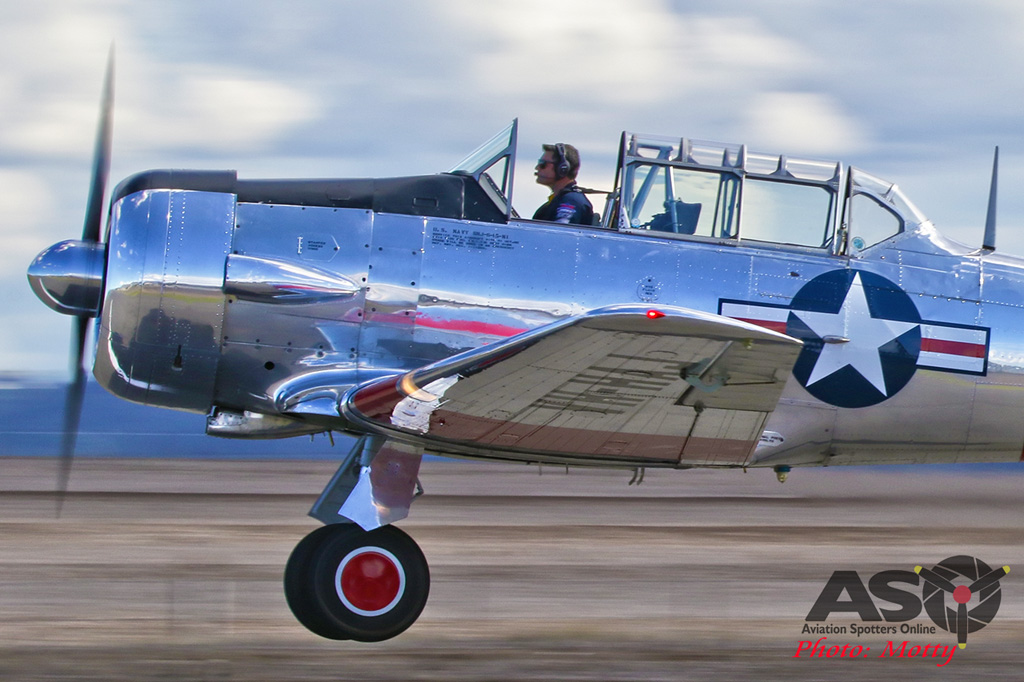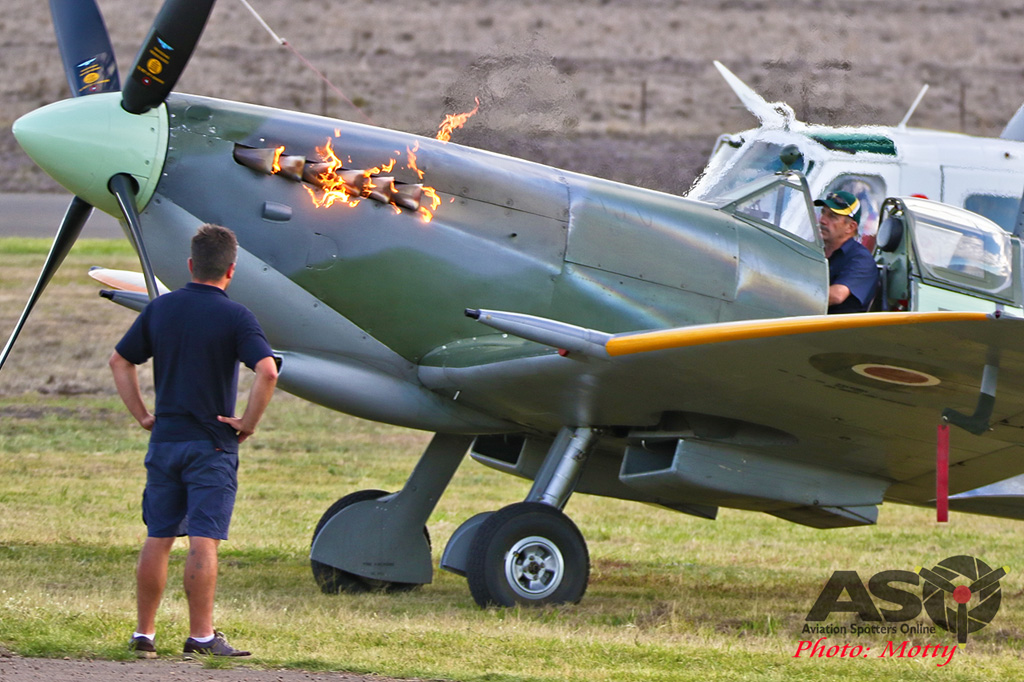 Sunday dawned beautifully clear and there was the usual hustle and bustle of positioning of aircraft for display and operation, setting up the many displays and vendors and a constant flow of arrivals as visitors flew in, as well as more machines for display. A particularly impressive arrival was the team from the Historical Aircraft Restoration Society (HARS), Albion Park, in one of their ex-RAAF Caribou. Always a crowd favorite, the crew used one the Caribou's "party tricks" to reverse the large machine into its corner parking position before opening it up for the public to get a great view of this unusual warbird.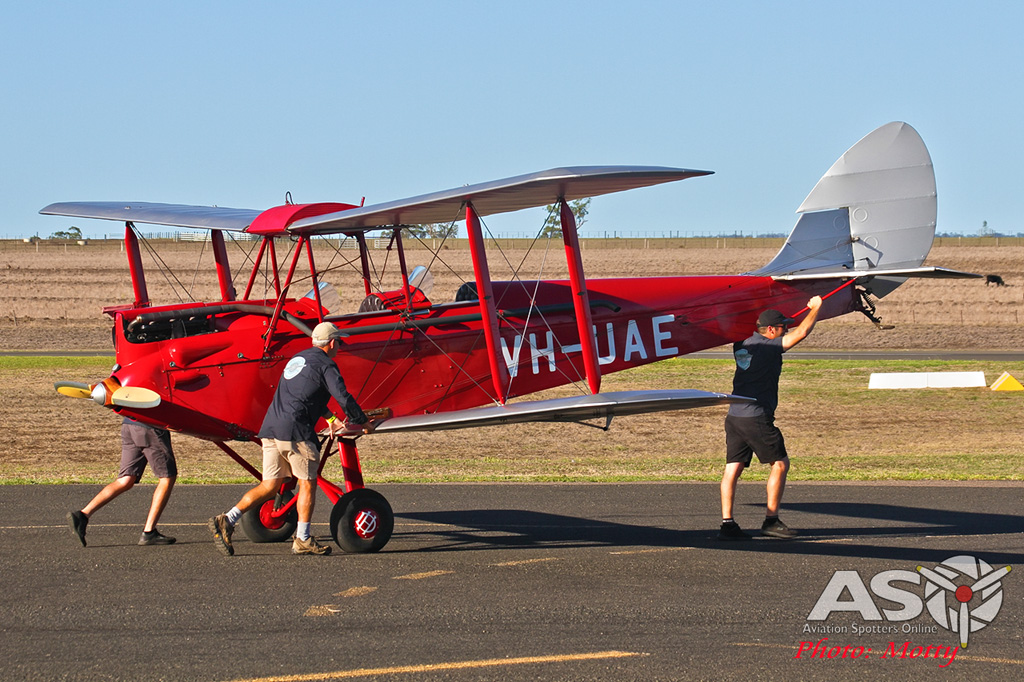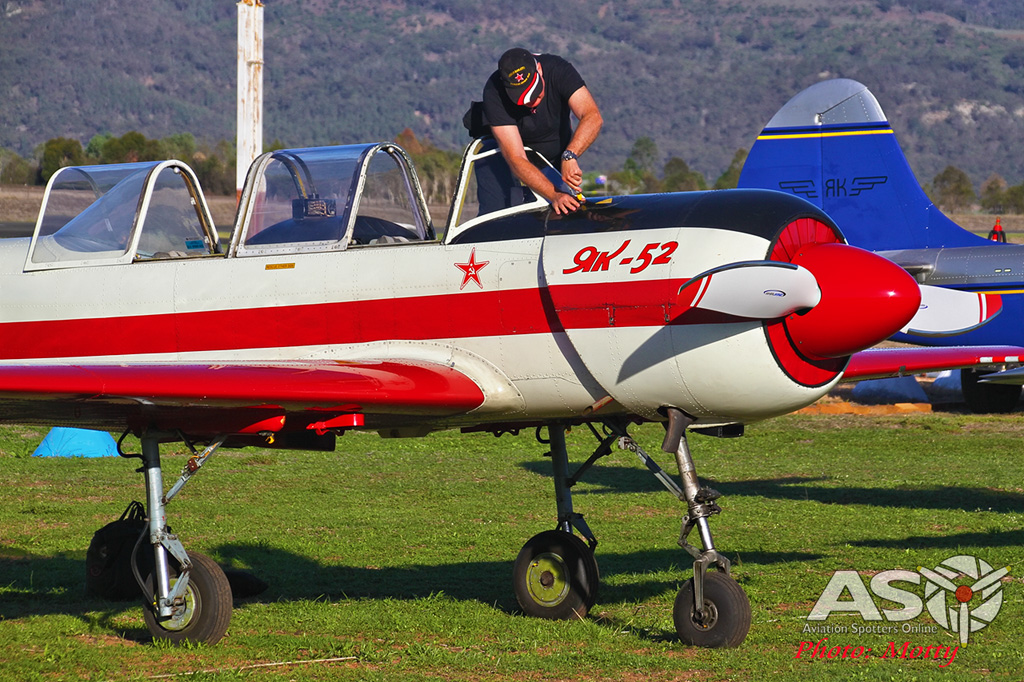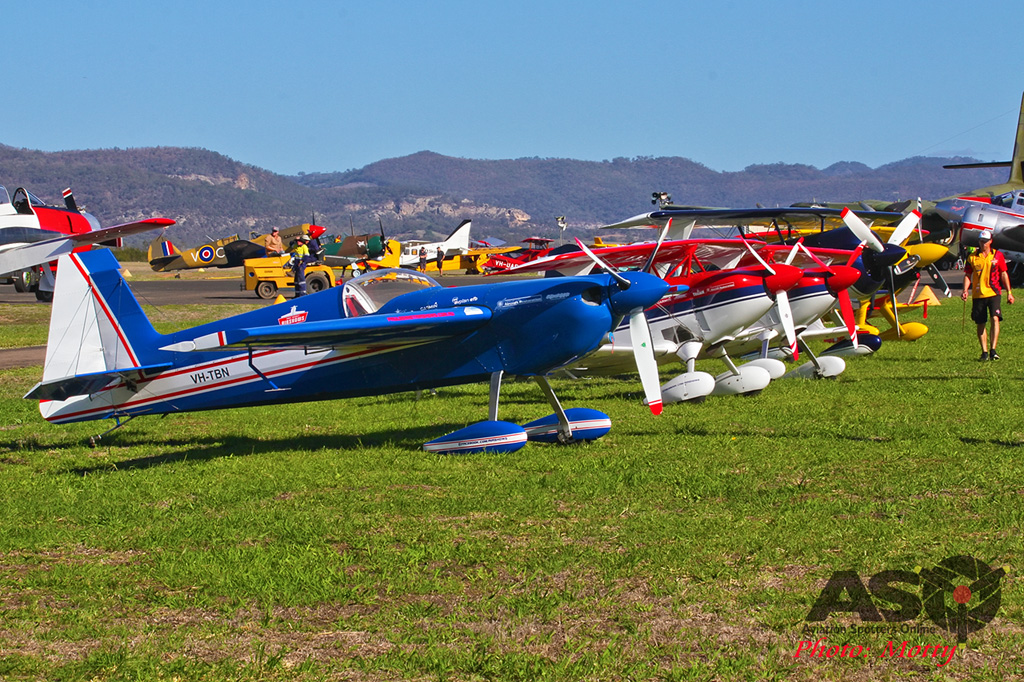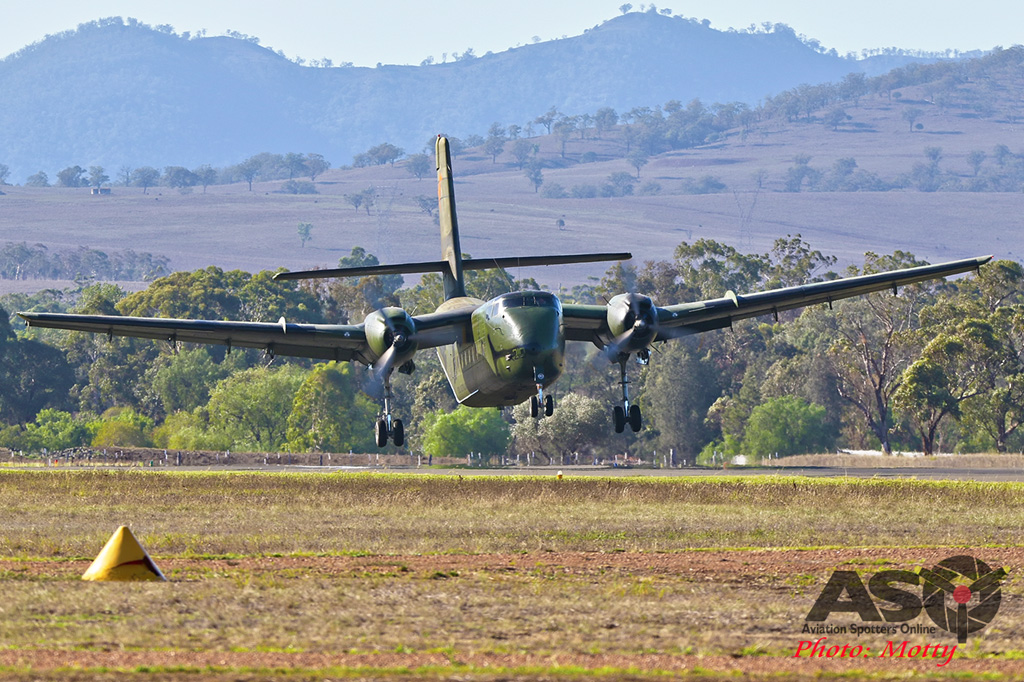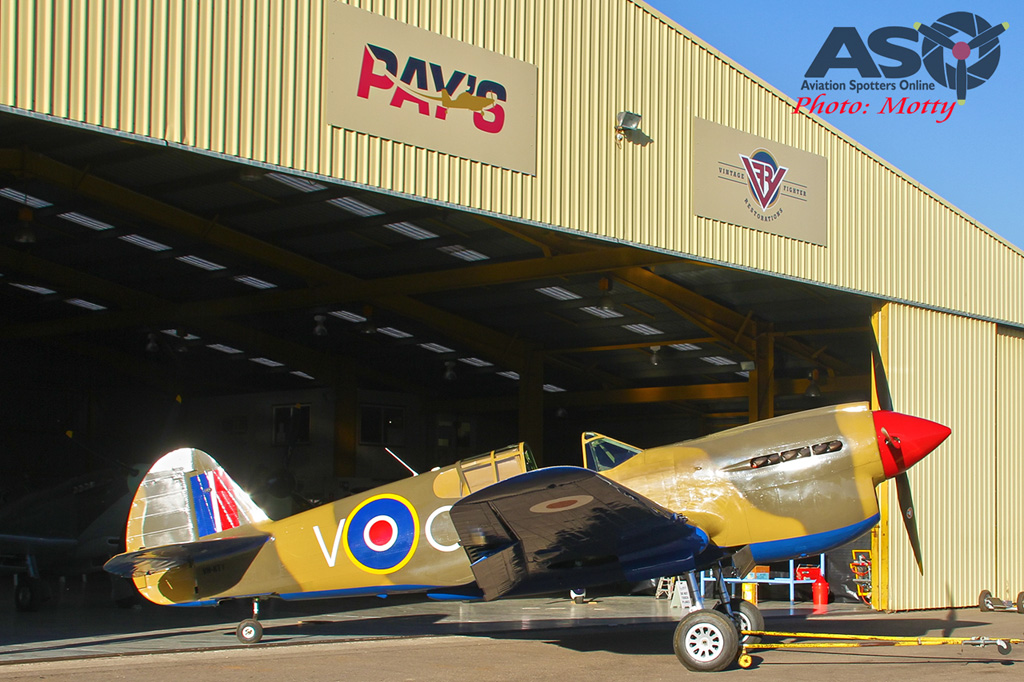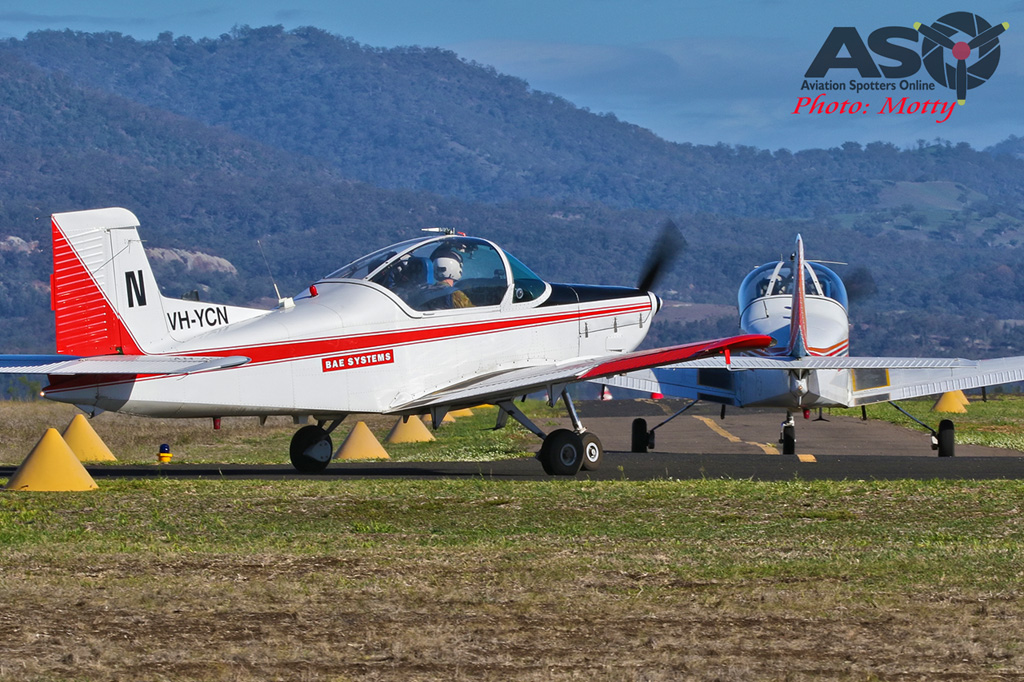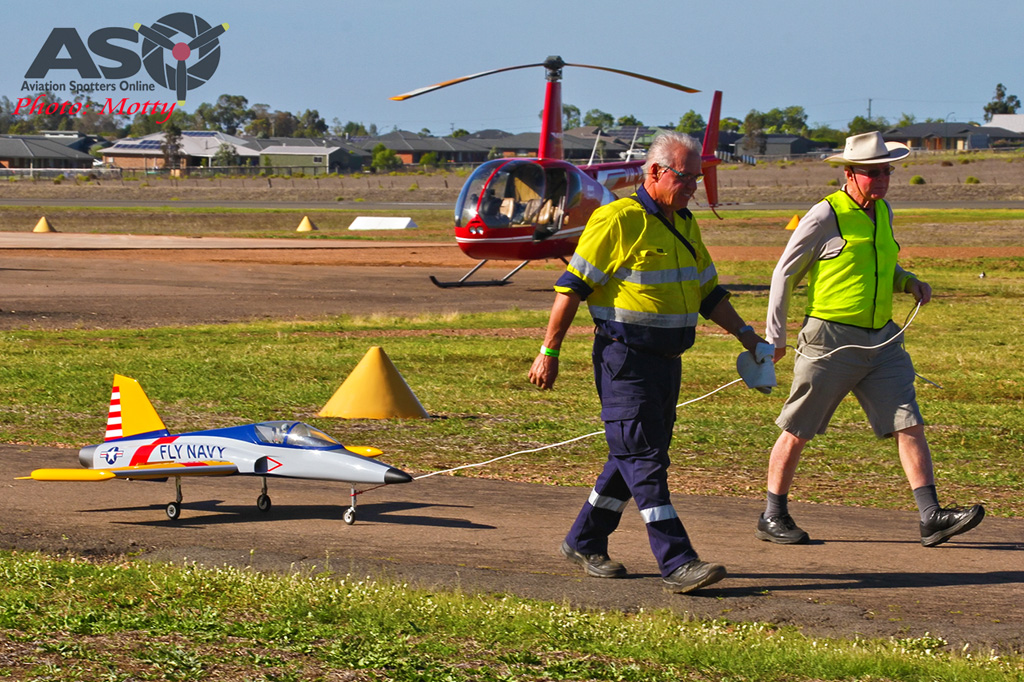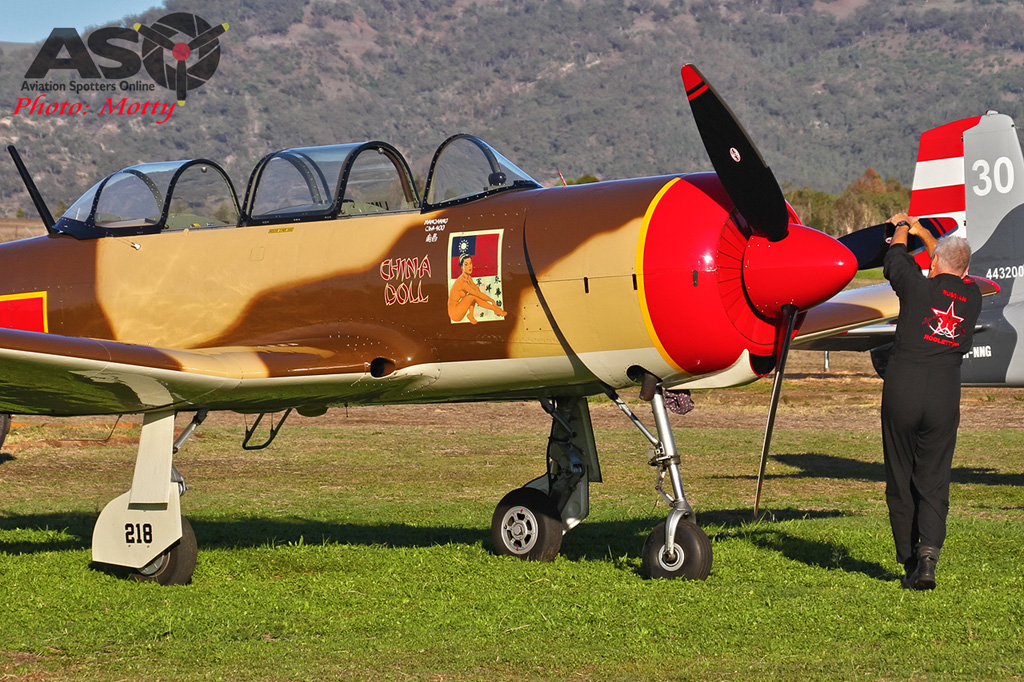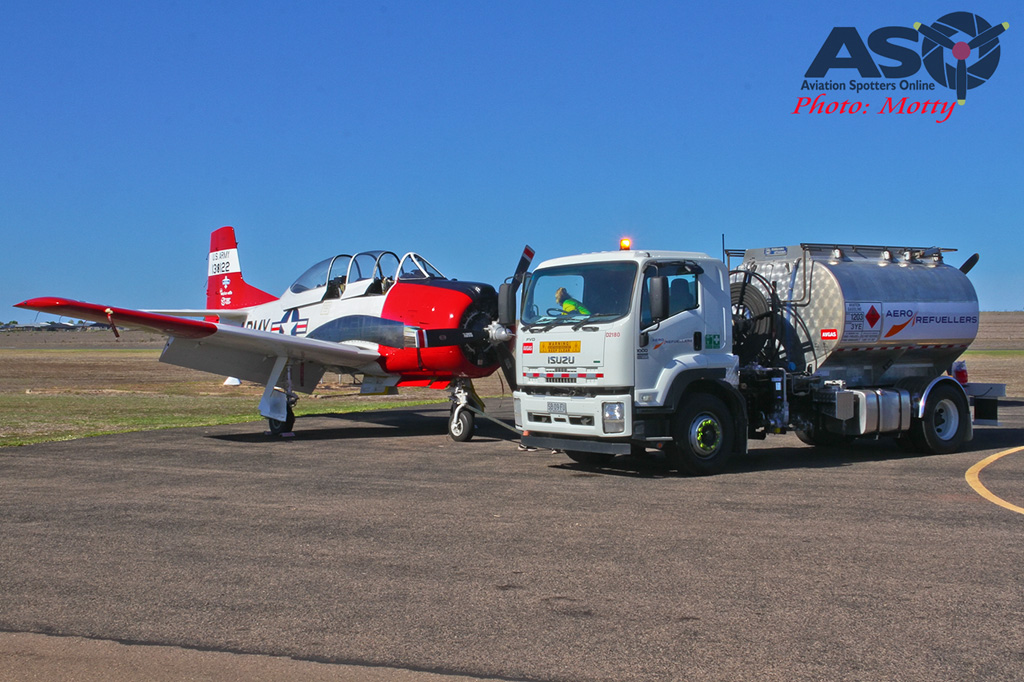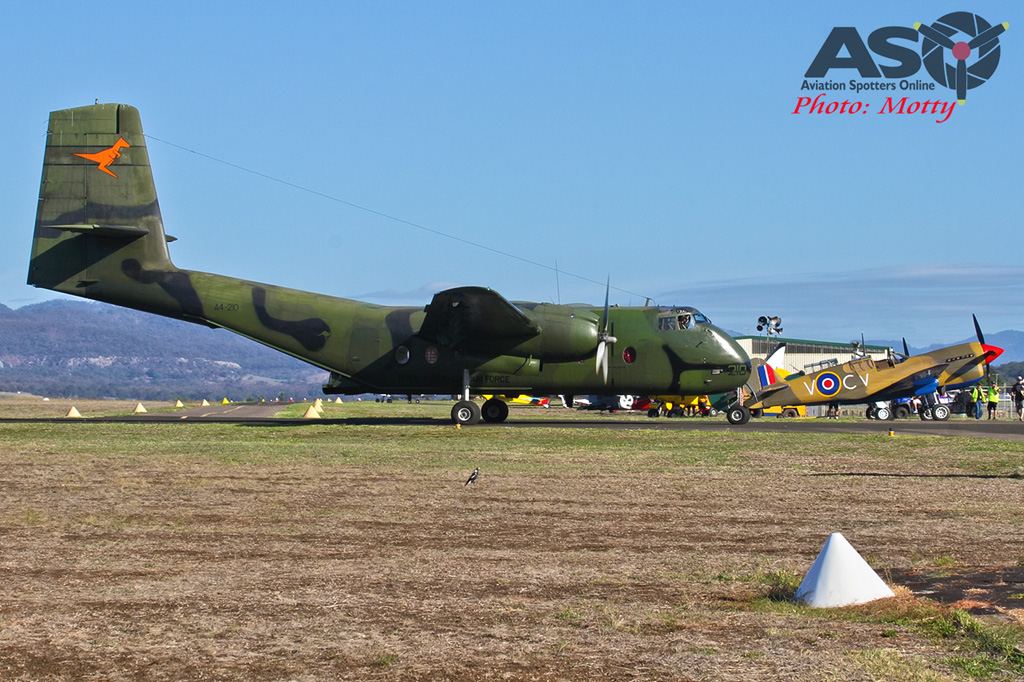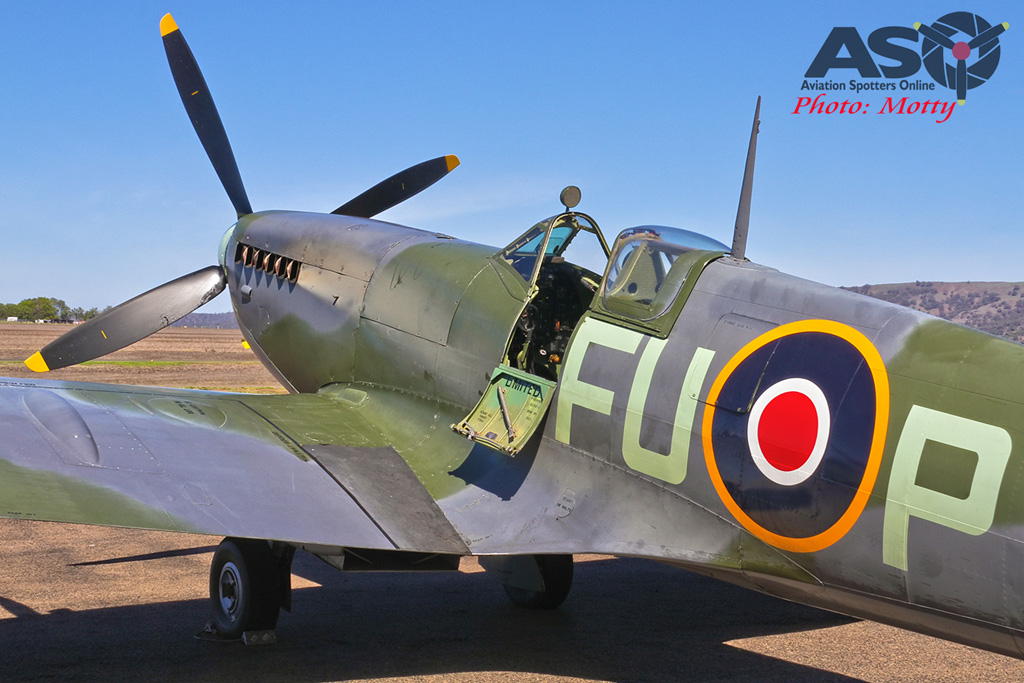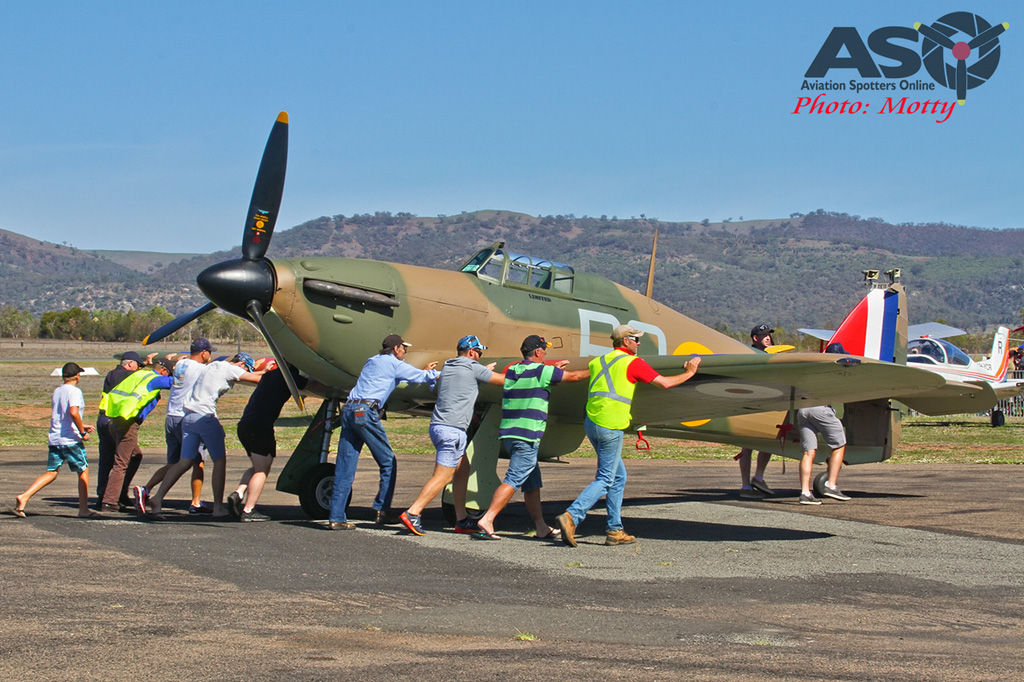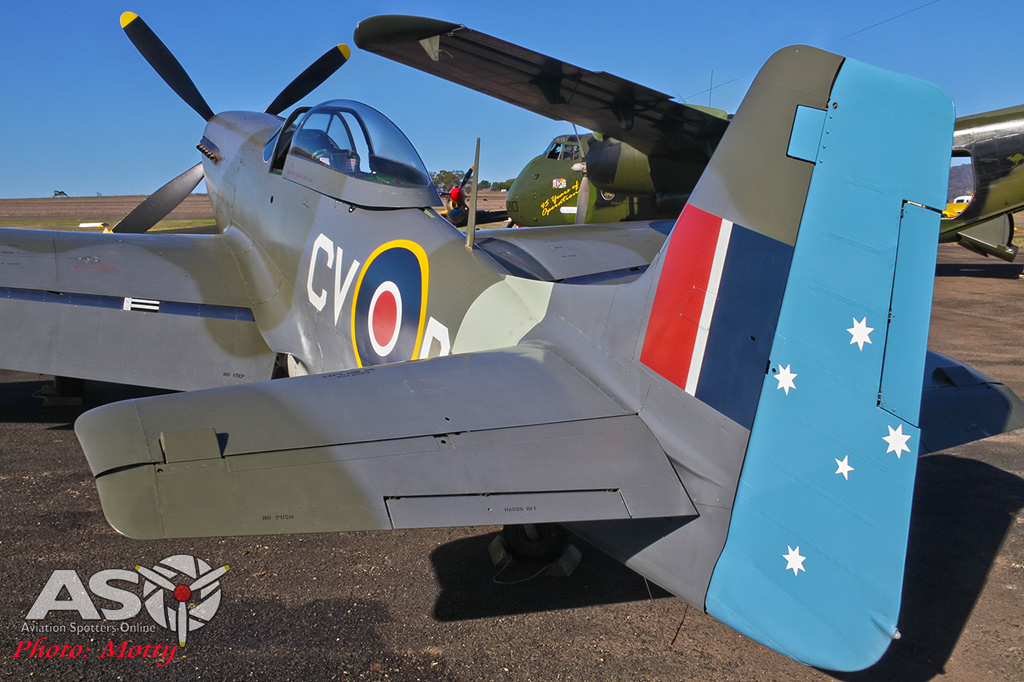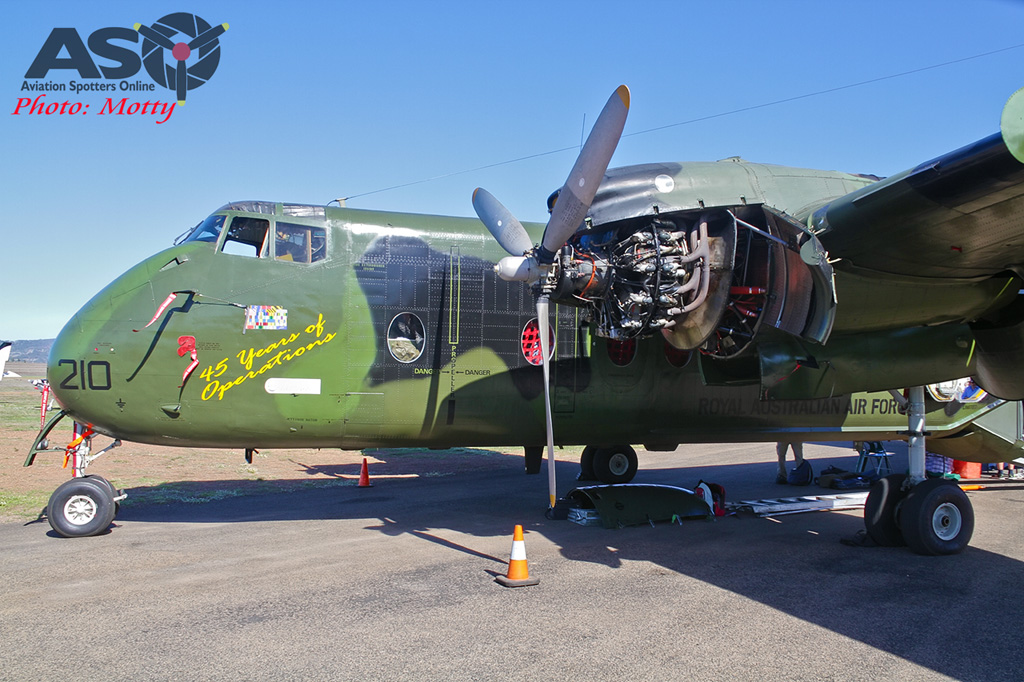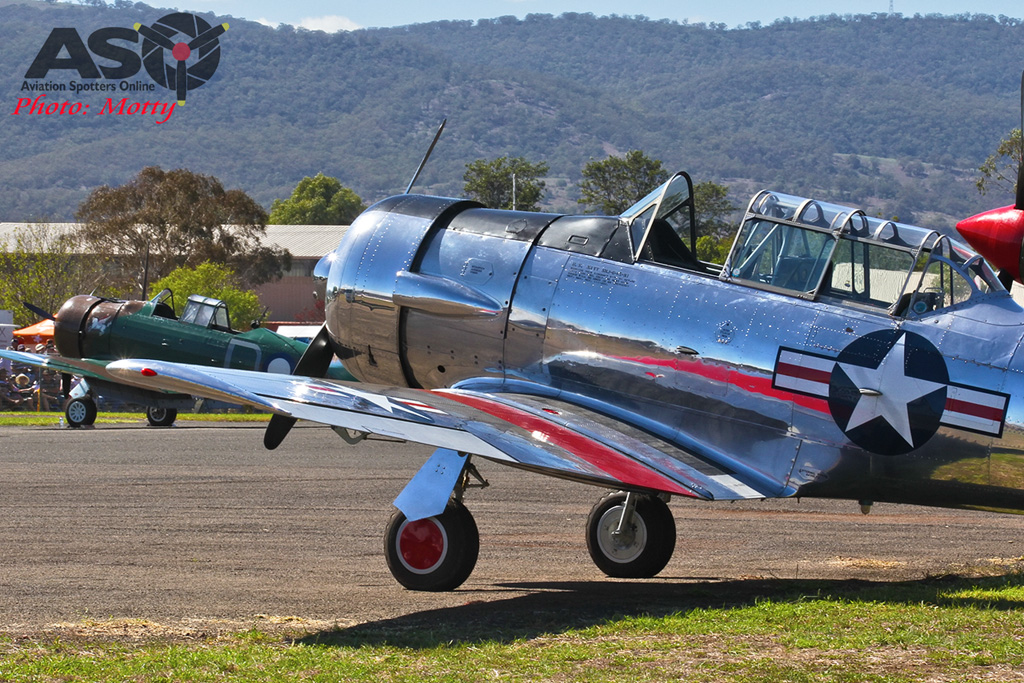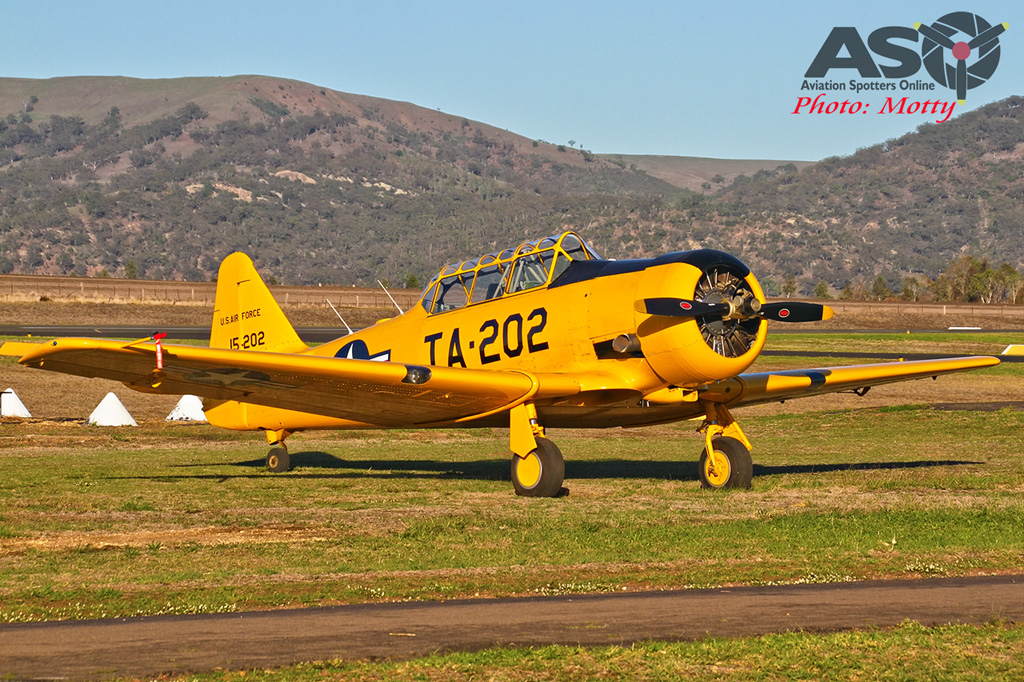 Vintage Fighter Restorations once again opened their hangar to allow visitors to get a close look at the Spitfire, Hurricane and FW-190.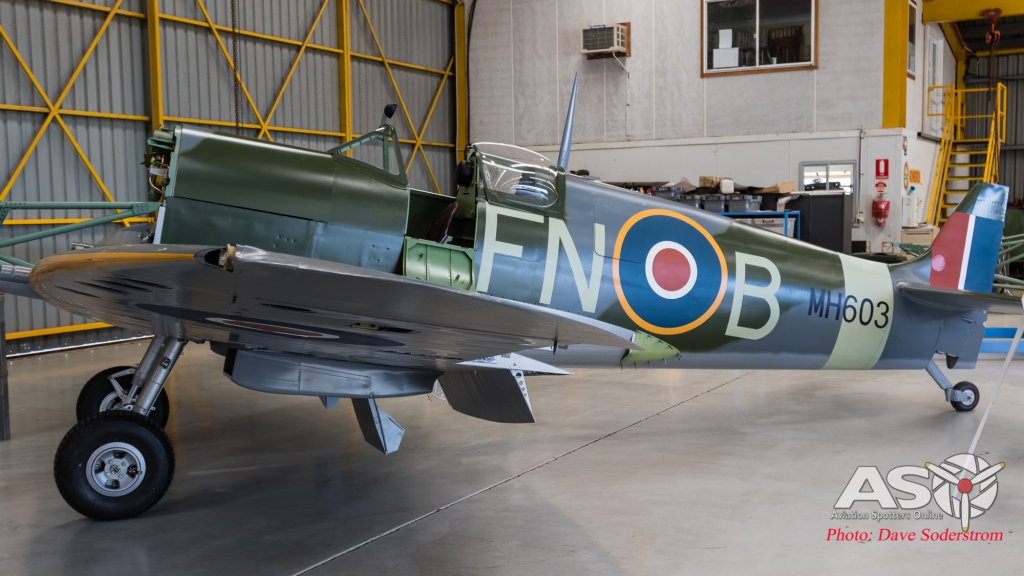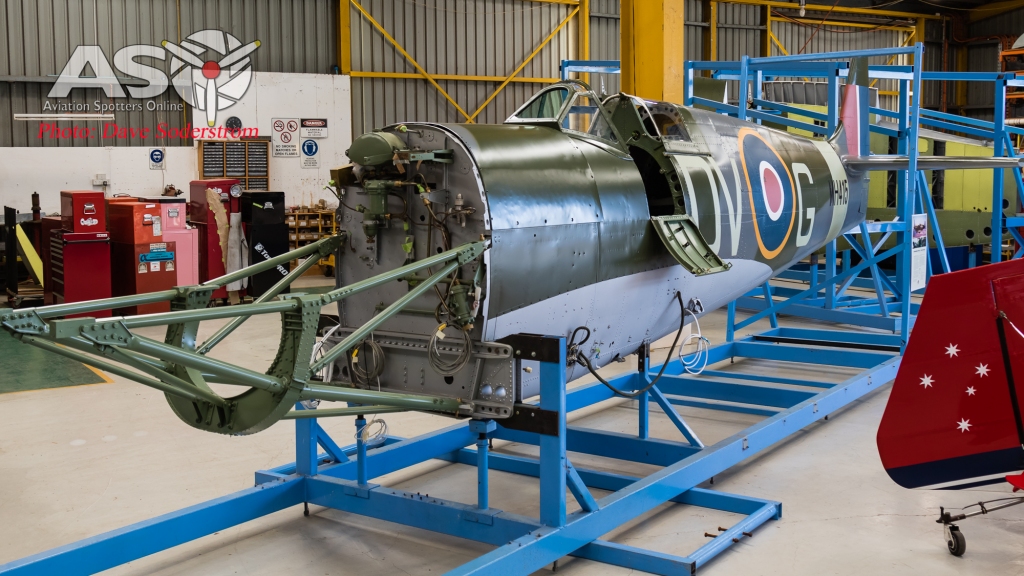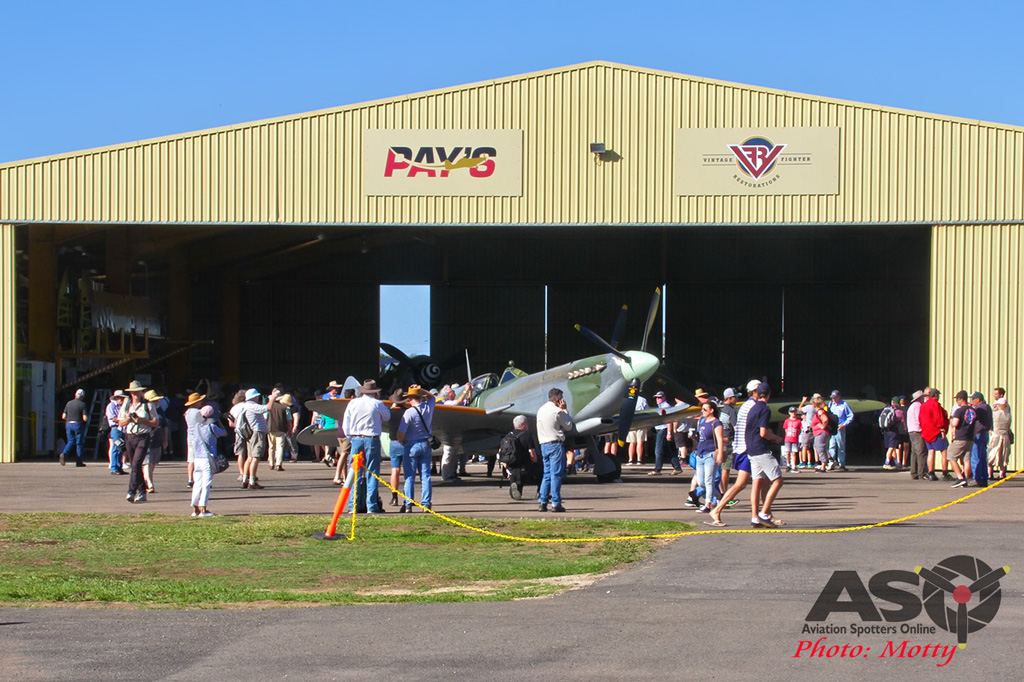 The day's aerial activities kicked off with a parachute flag drop by Paul Smith from SkydiveOz while being circled by Paul Bennet in his Wolf Pitts Pro, during which the National Anthem was played on the ground. This was followed by Jeff Sparkes displaying his very impressive and realistic radio controlled Hornet model.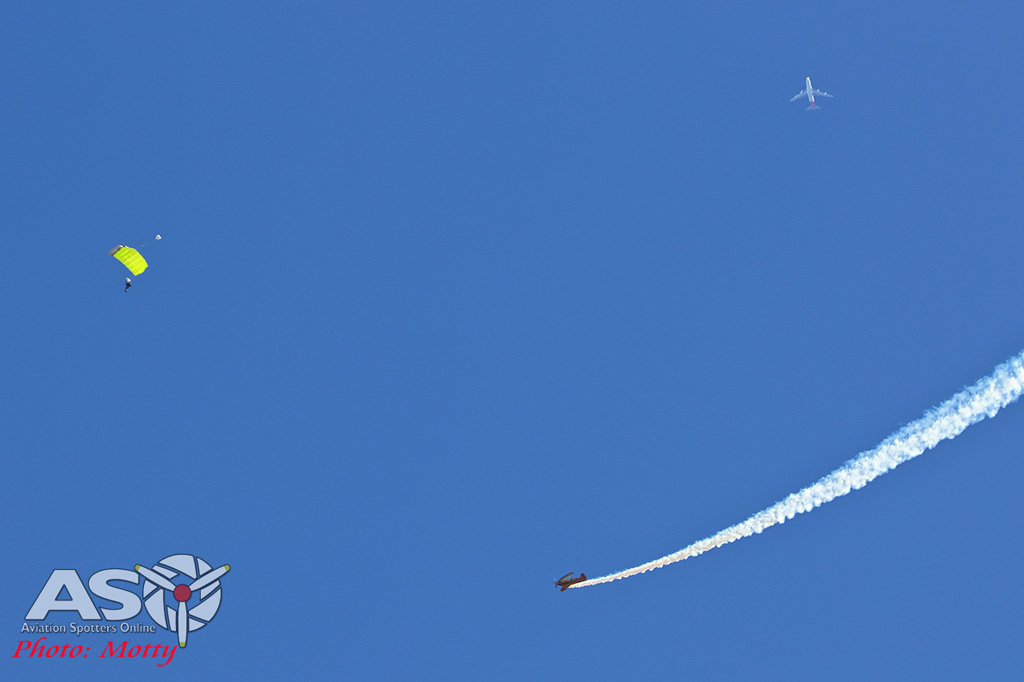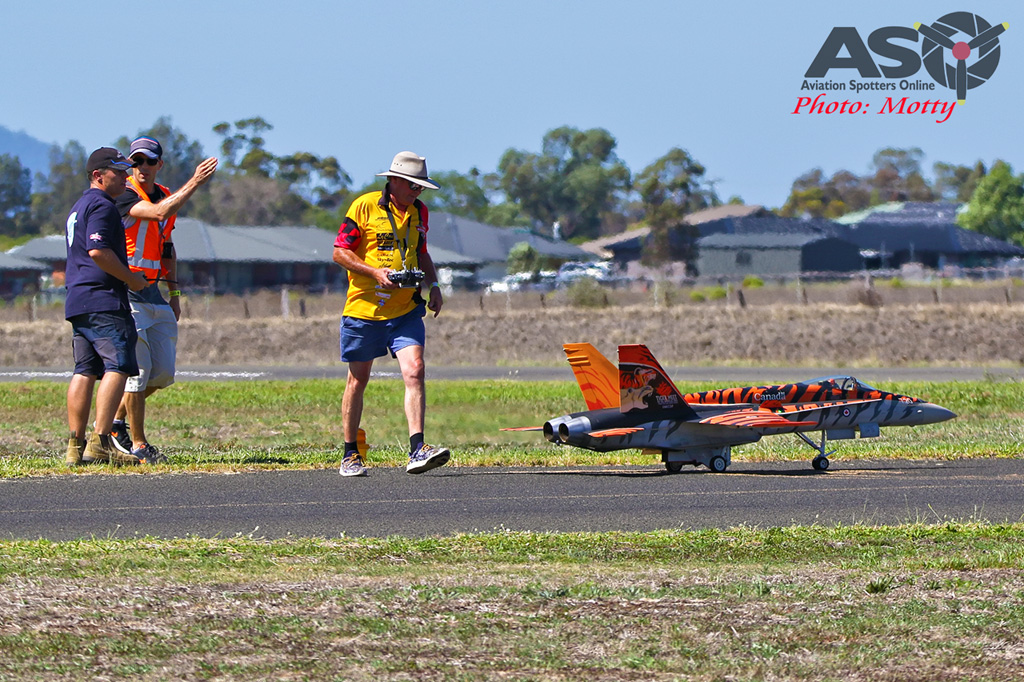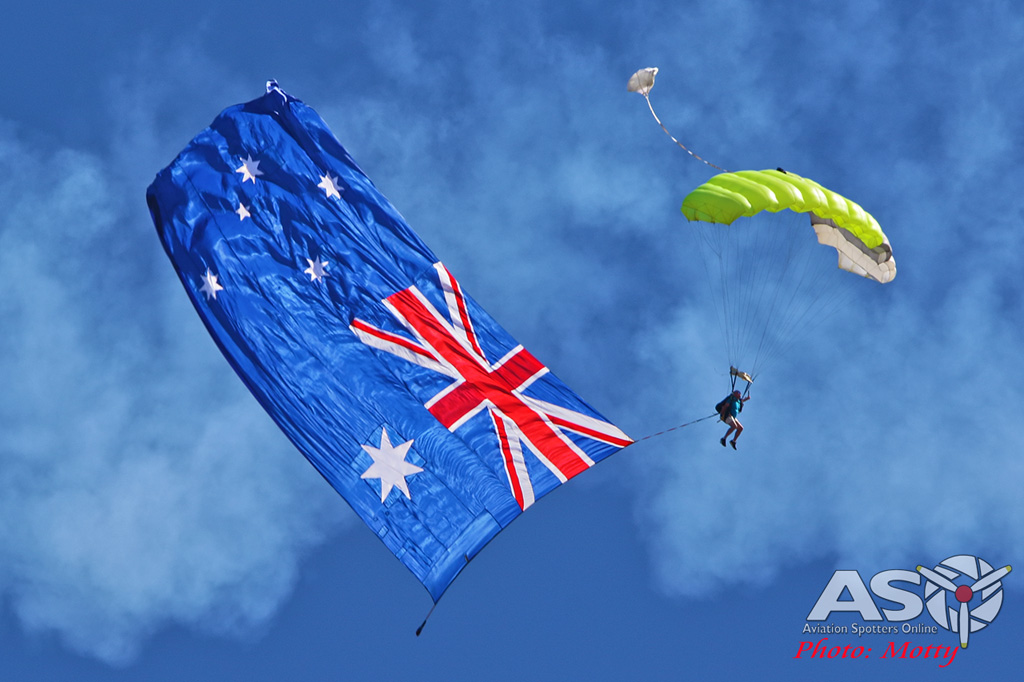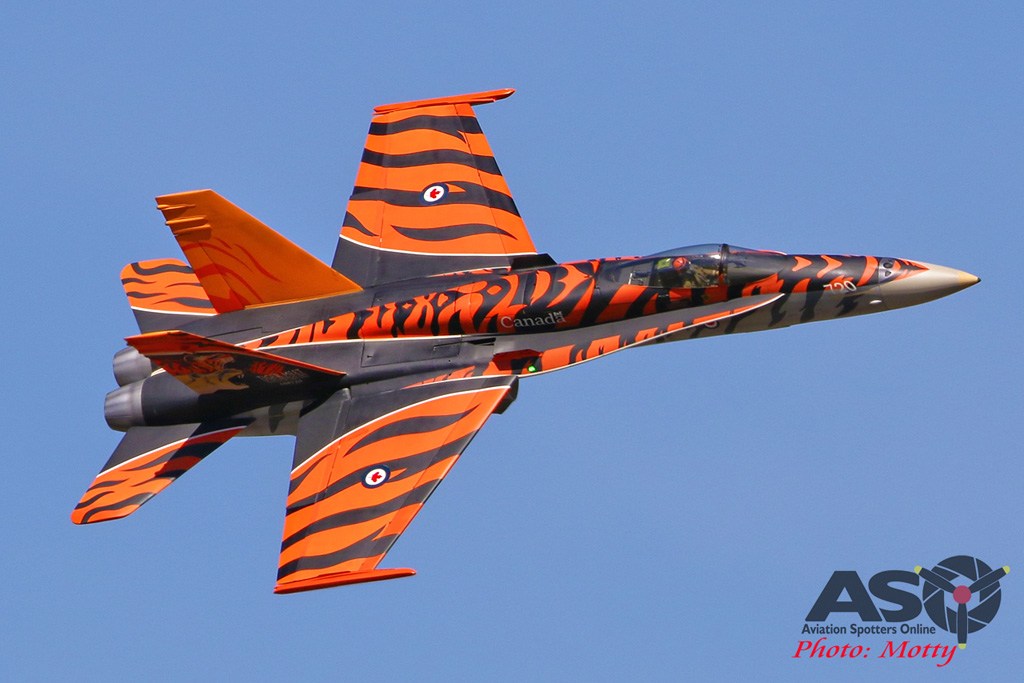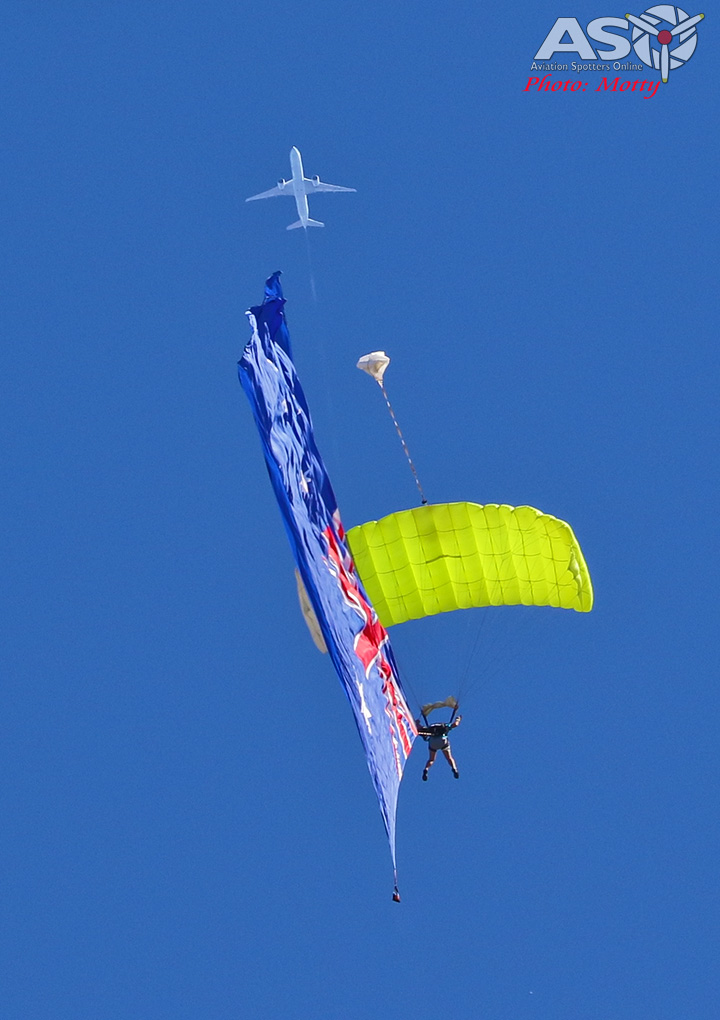 Displays then began in earnest with the Russian Roolettes' skilled and well-coordinated formation routine in their Yak-52s and Nanchang CJ6s followed by Ben Lappin and Tim Dugan providing a great comparison of the CAC Wirraway and SNJ/Texan and their shared lineage, before splitting off and performing solo routines in each.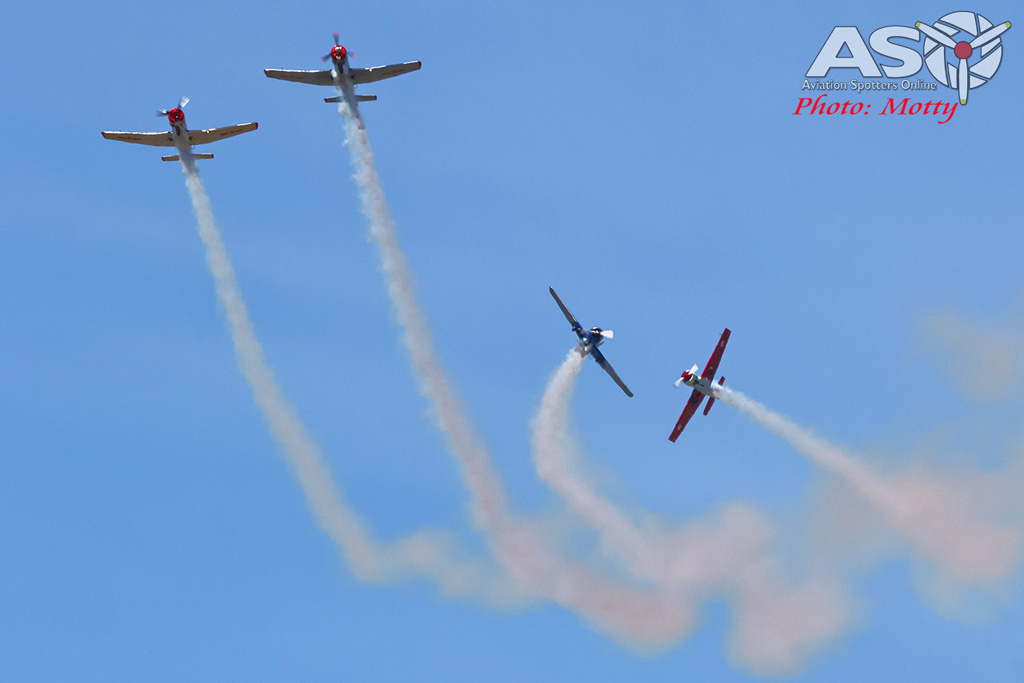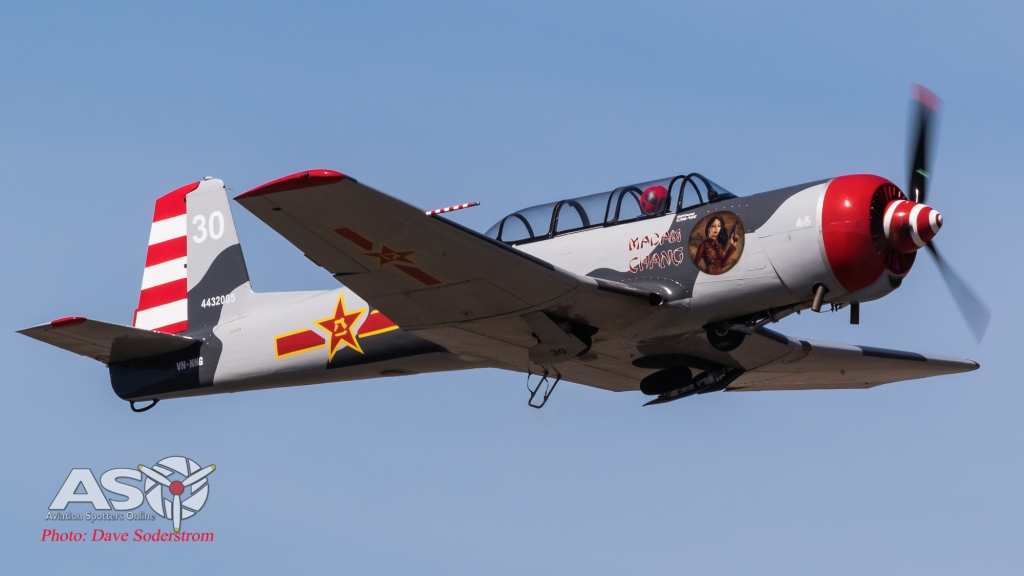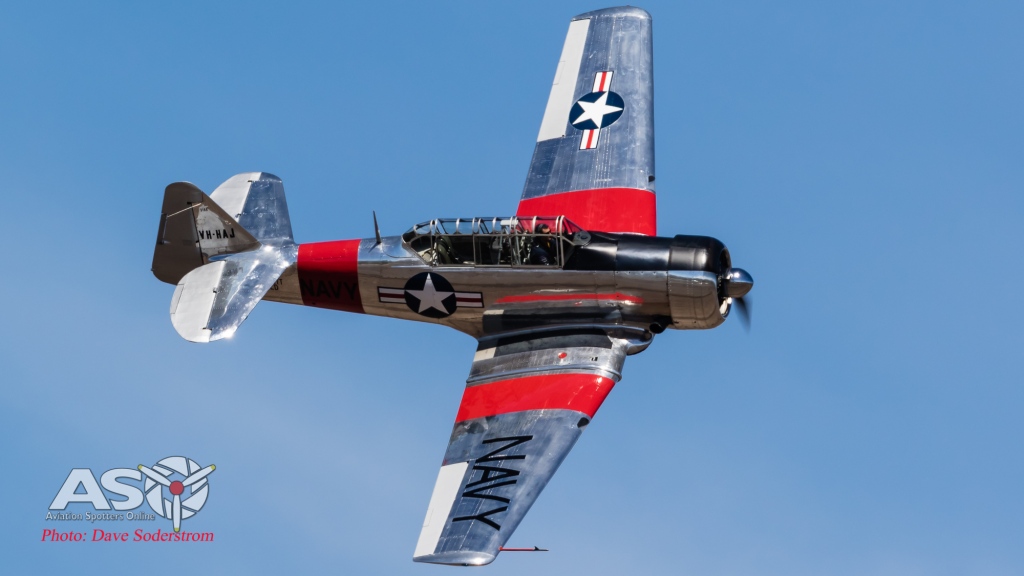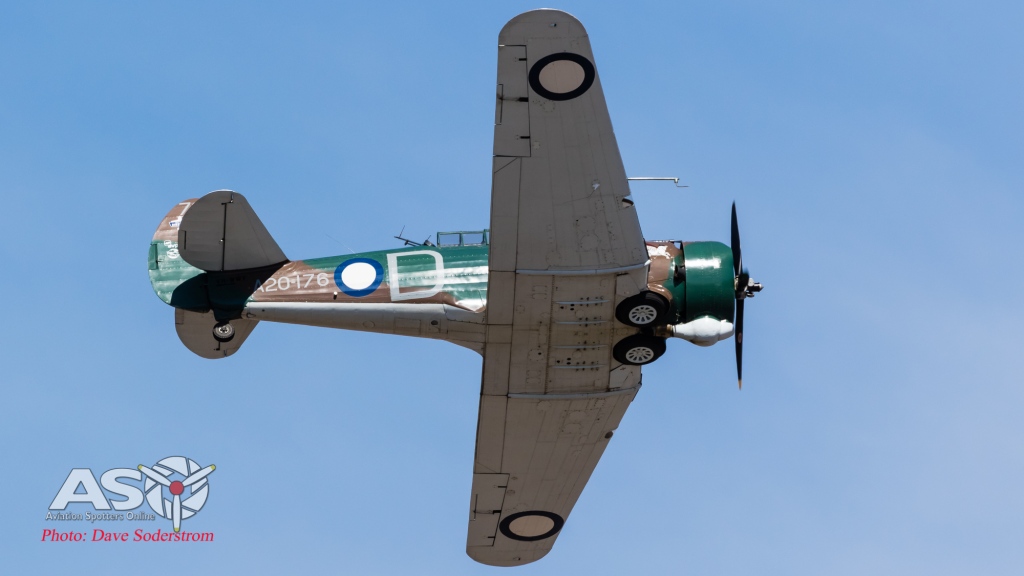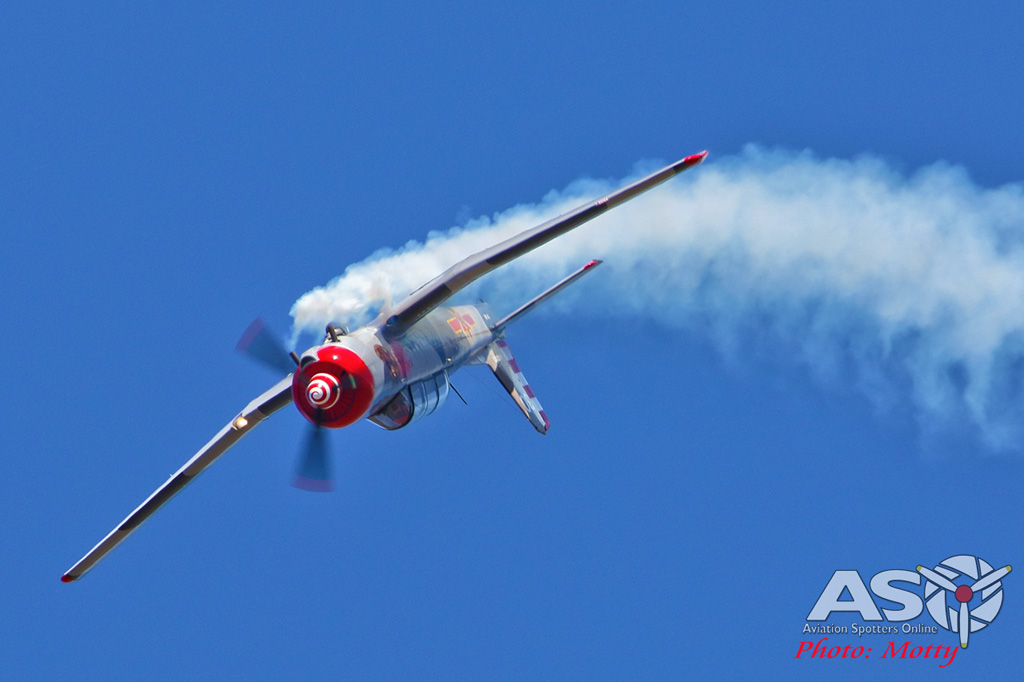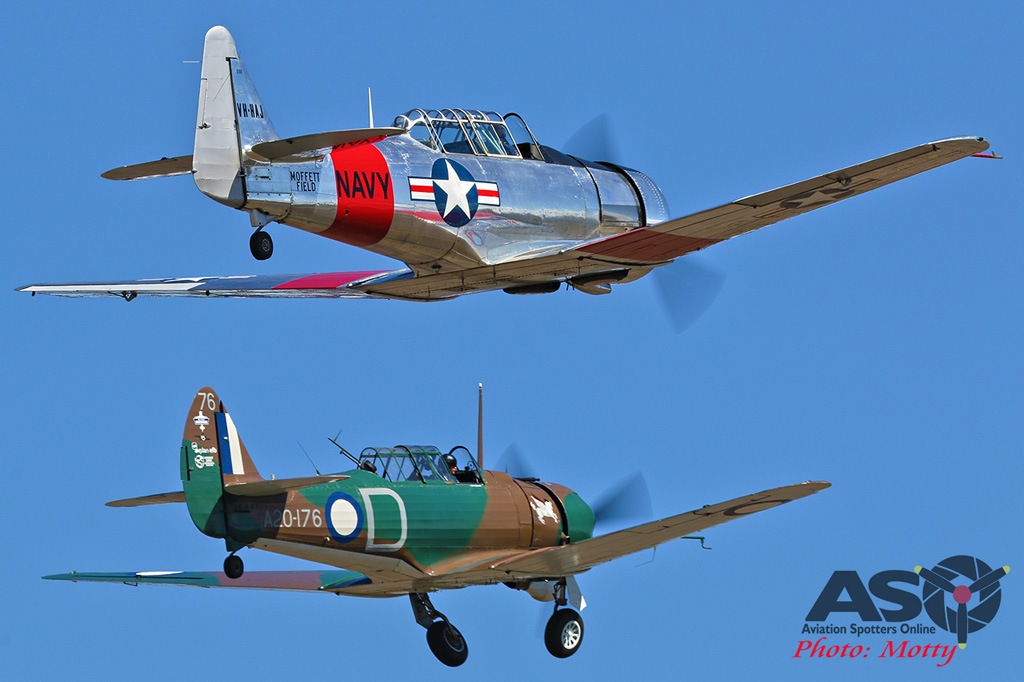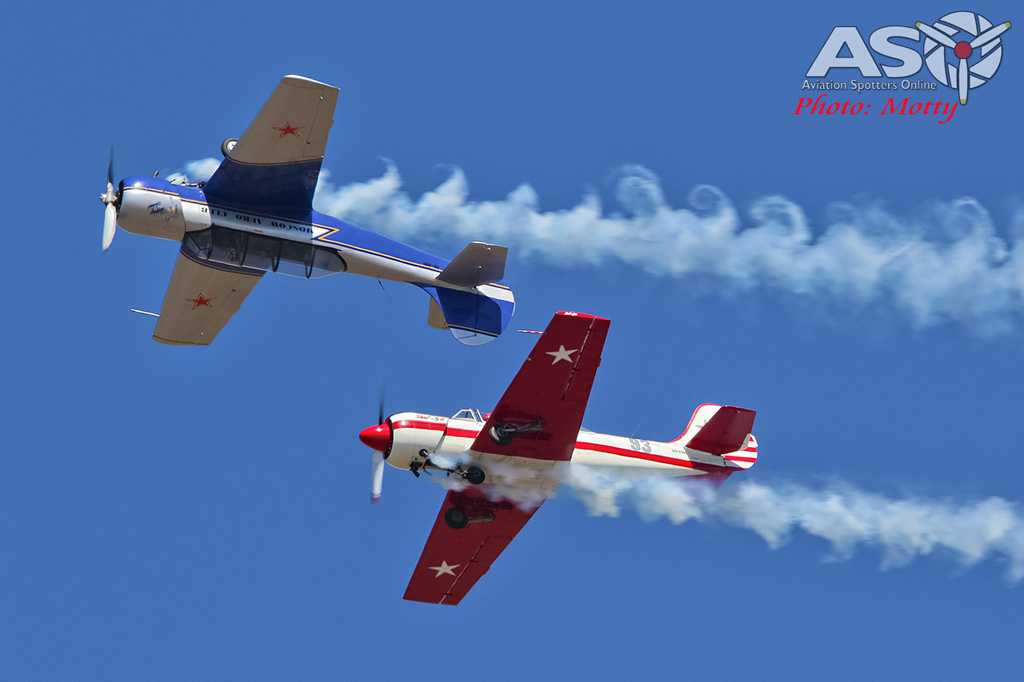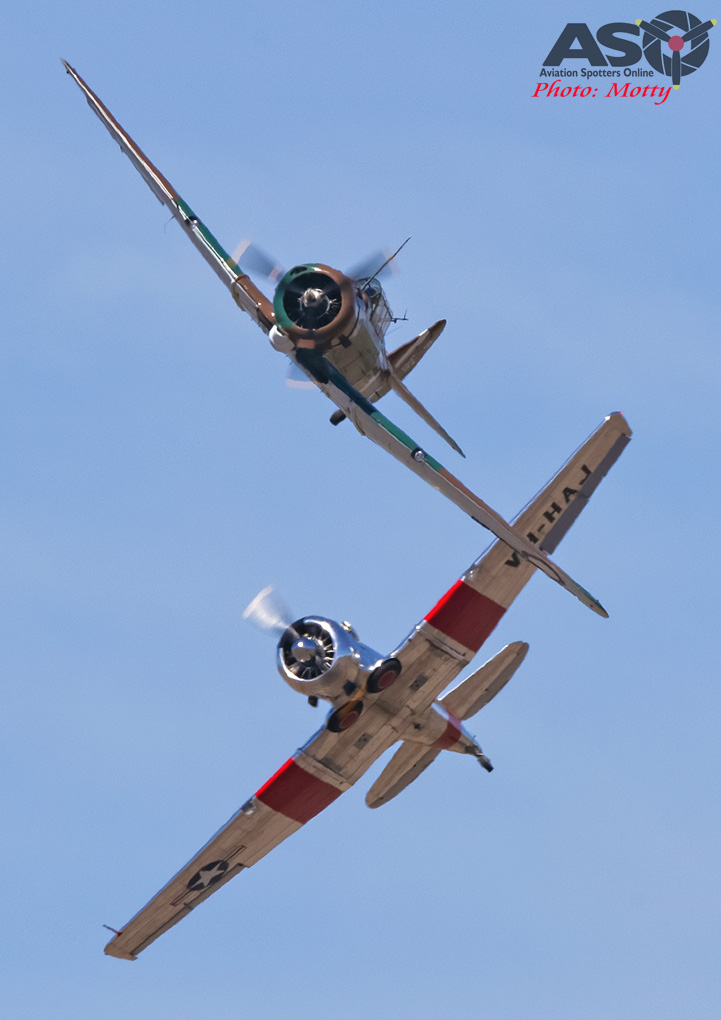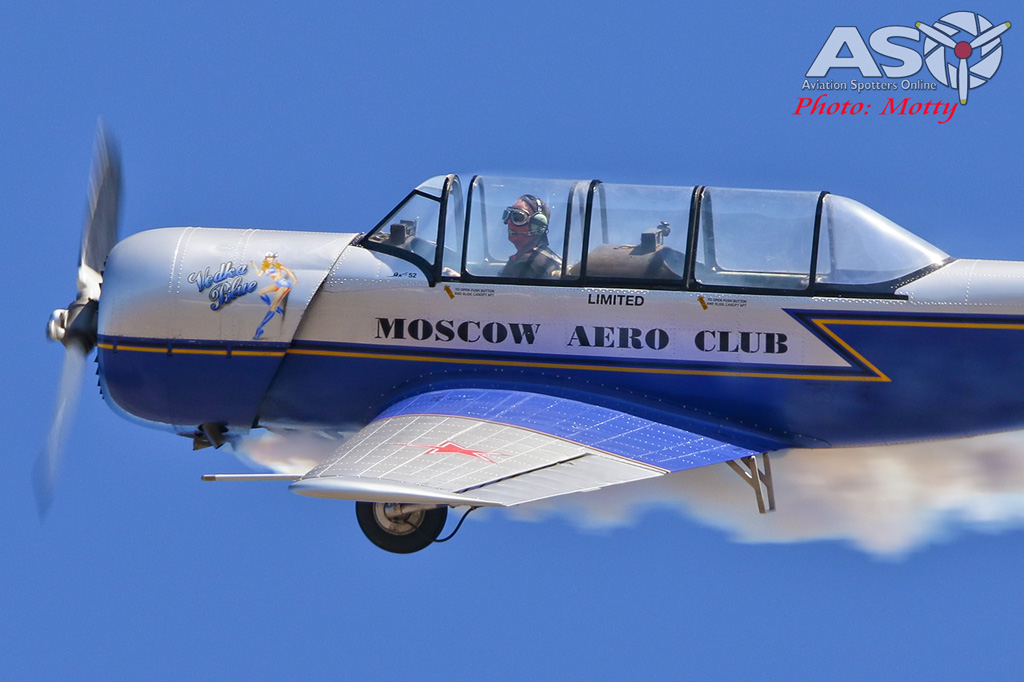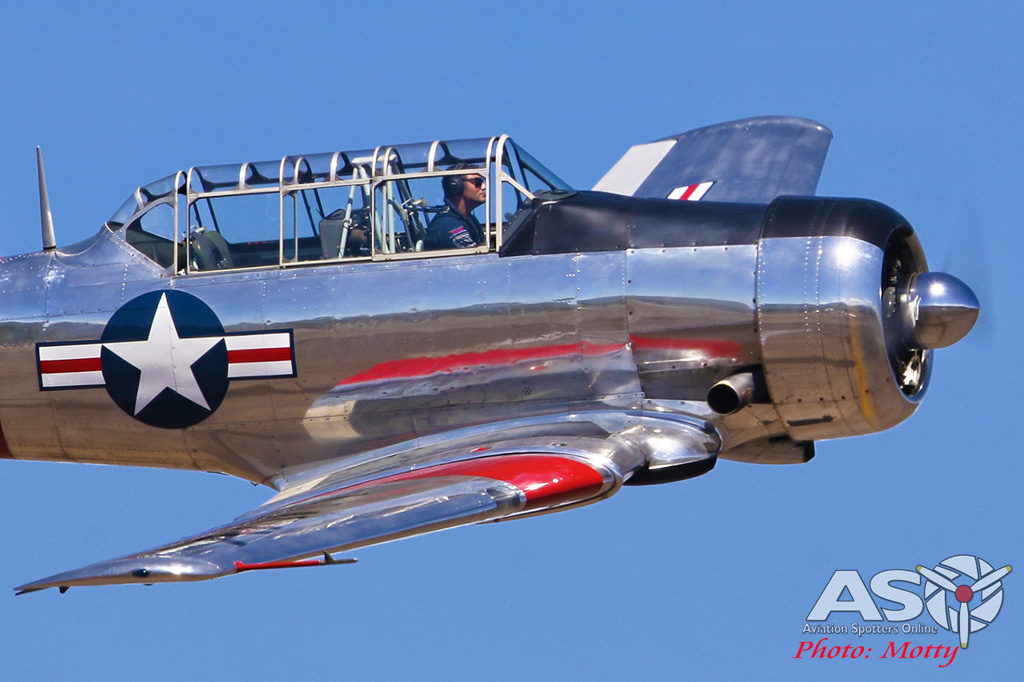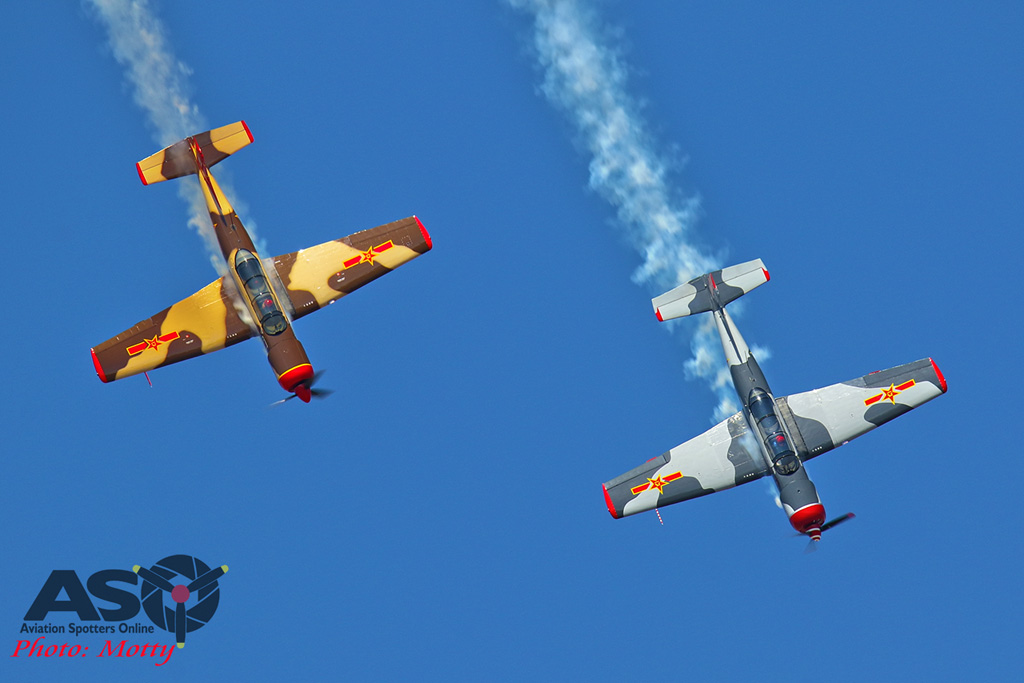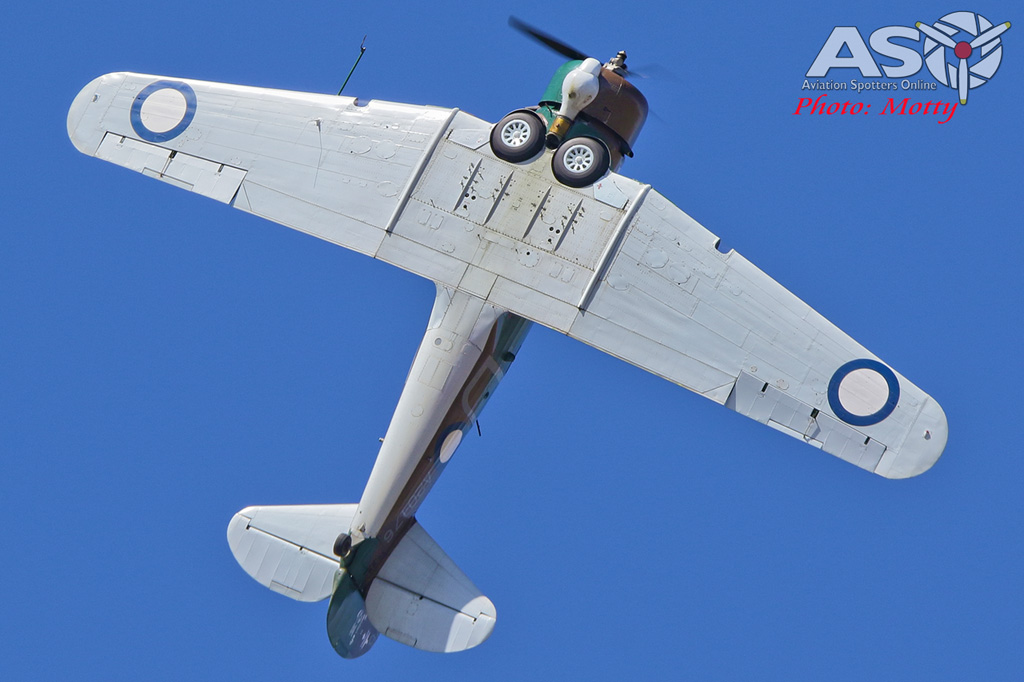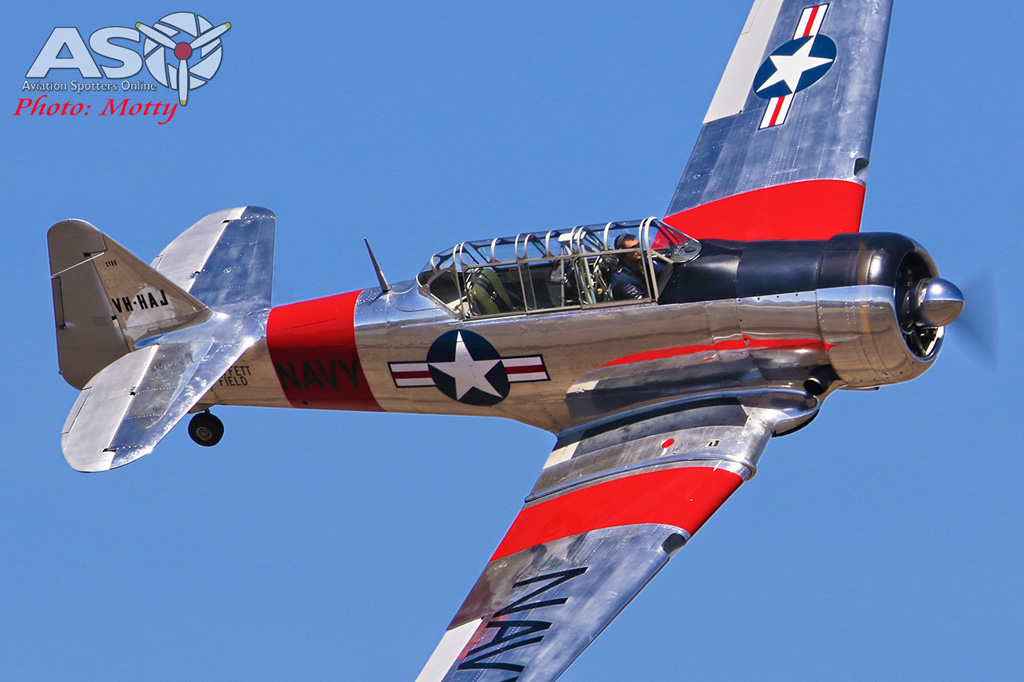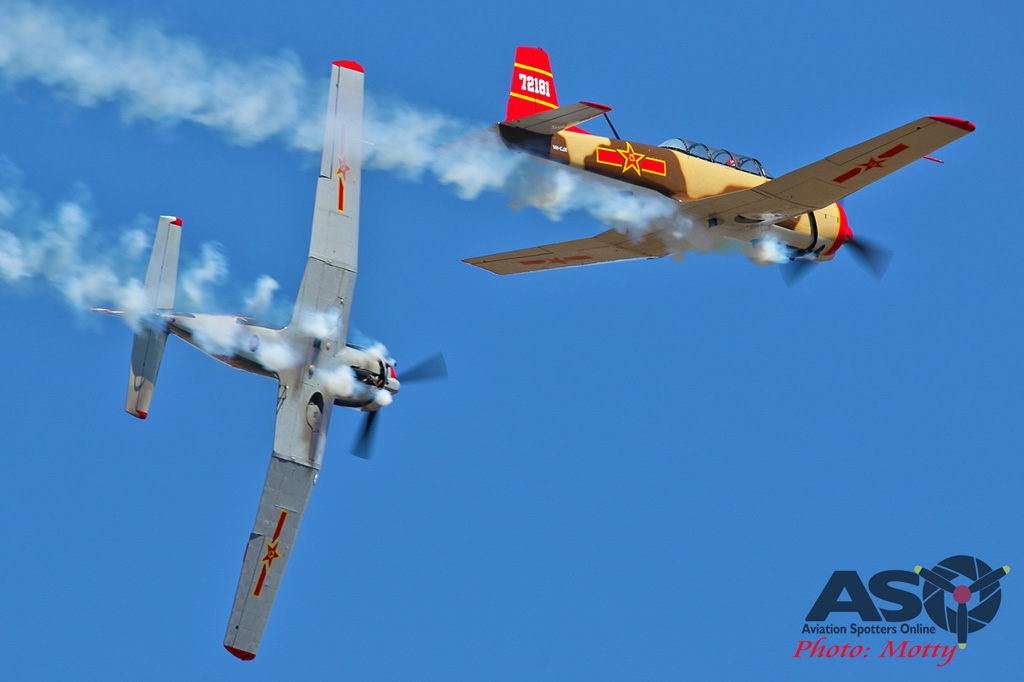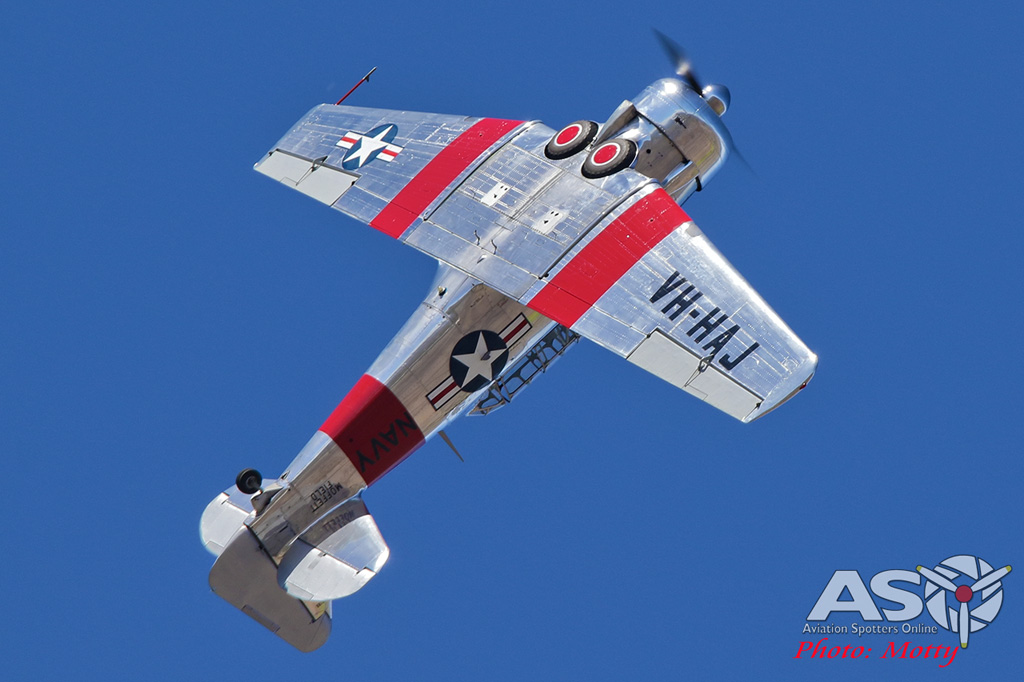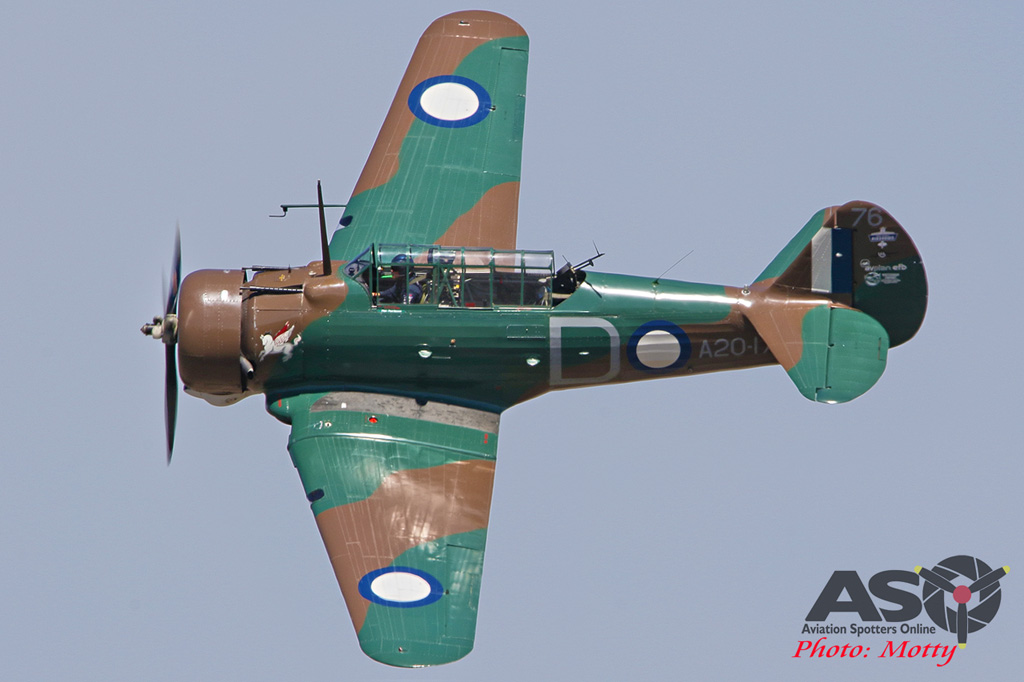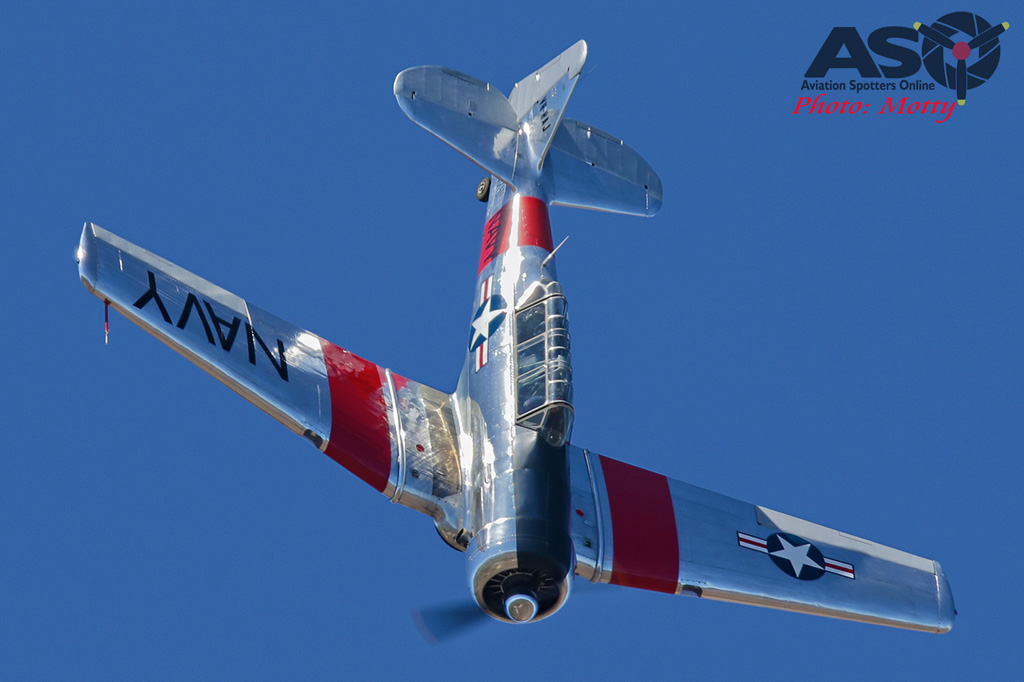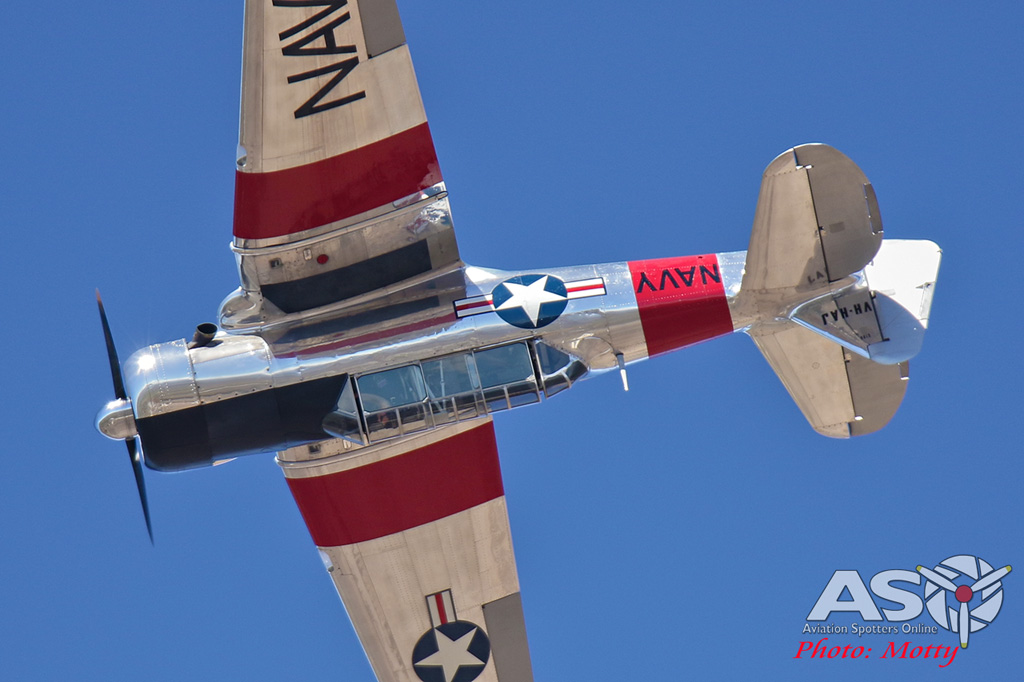 Paul Bennet and Chris Tibbets then put Chris' Beech 18 through its paces, showing the medium twin's surprising agility before Glenn Graham gave a very crisp aerobatic performance in a Yak-52.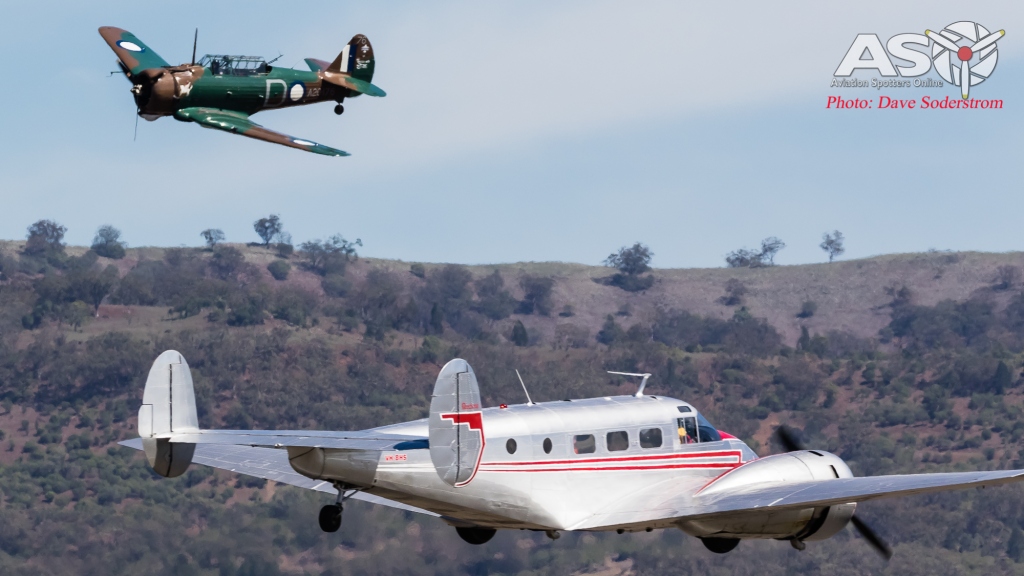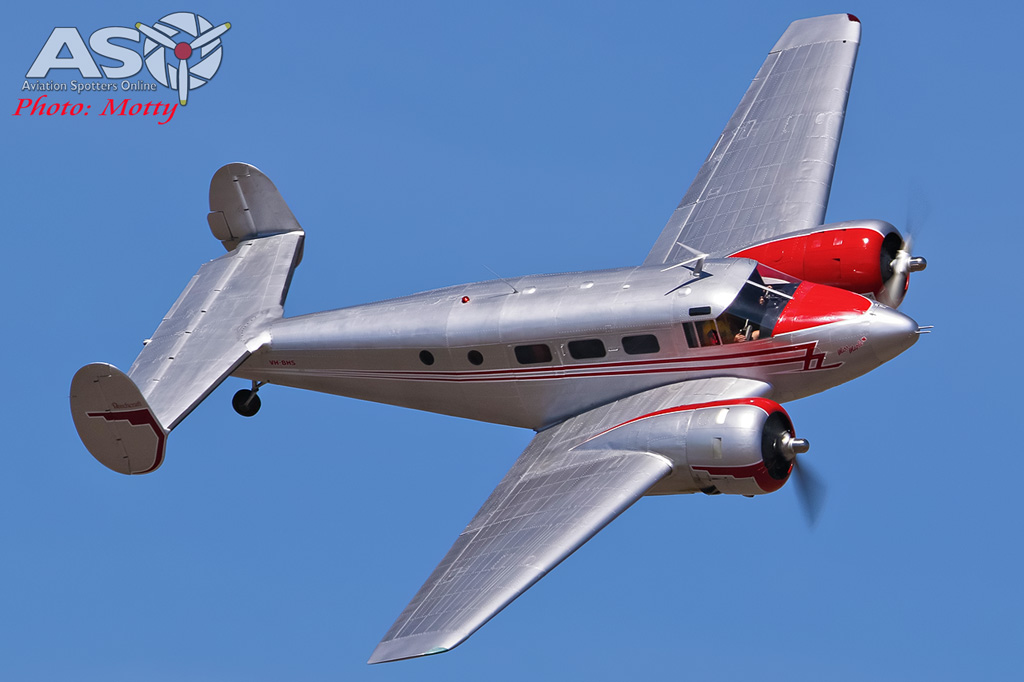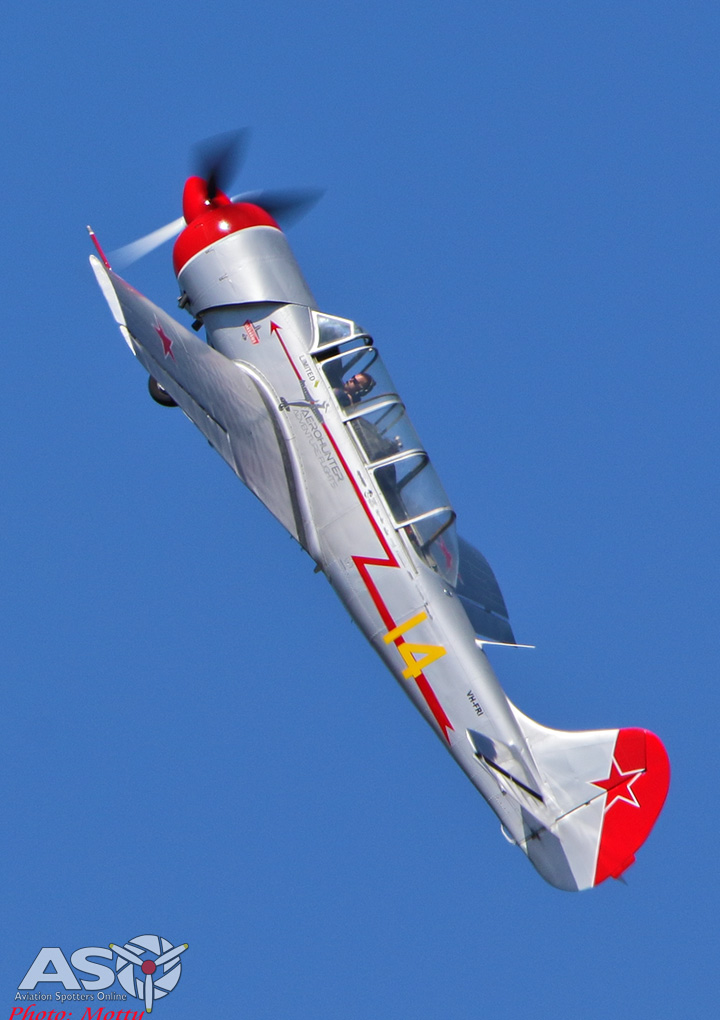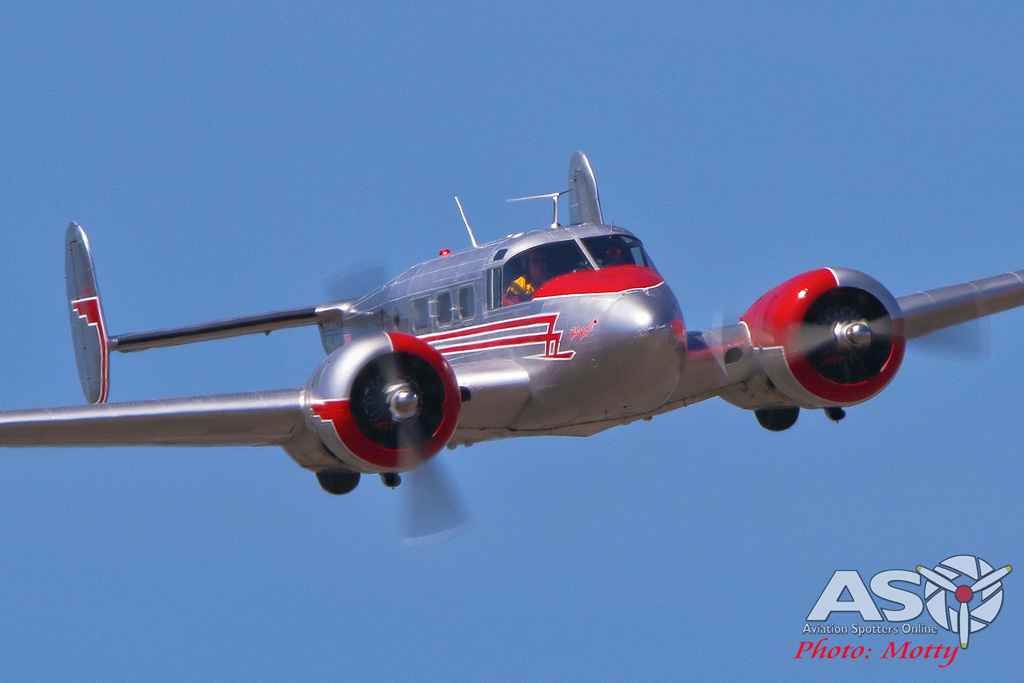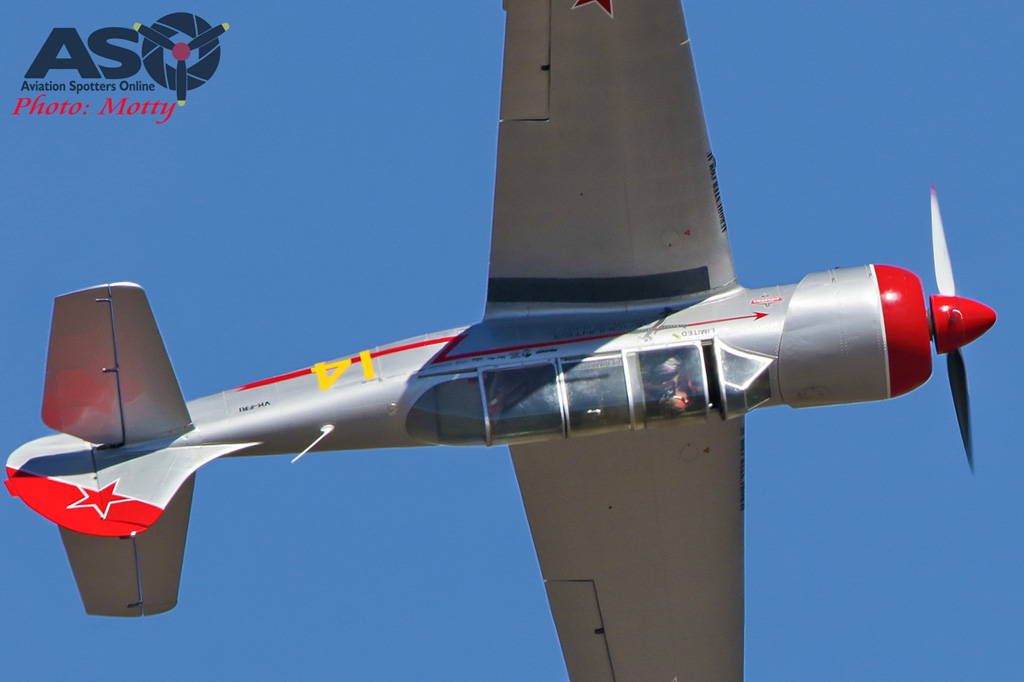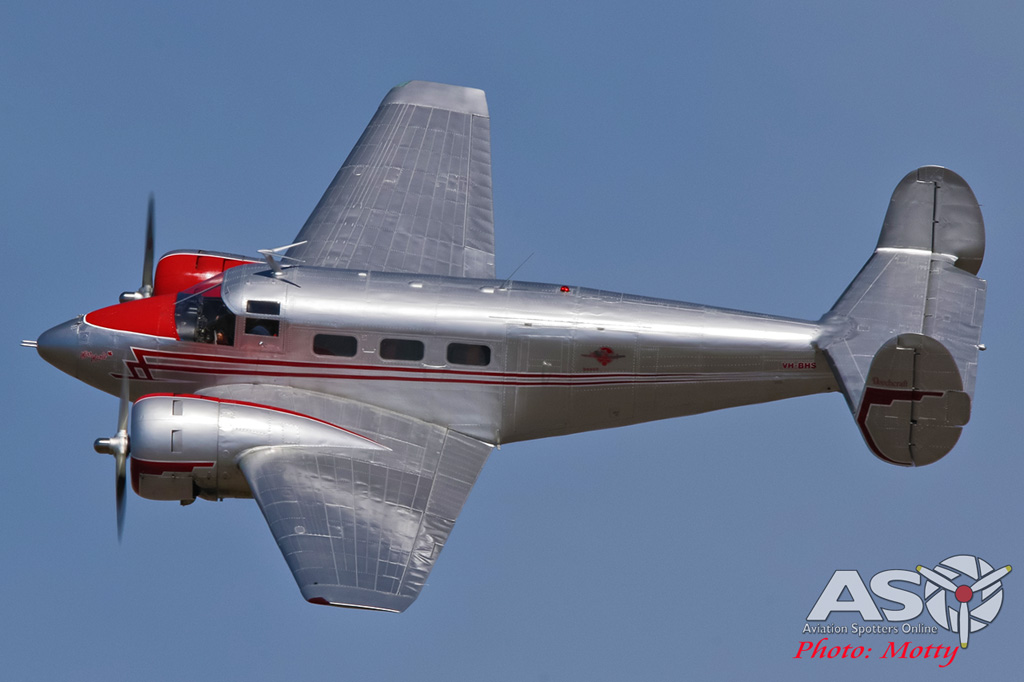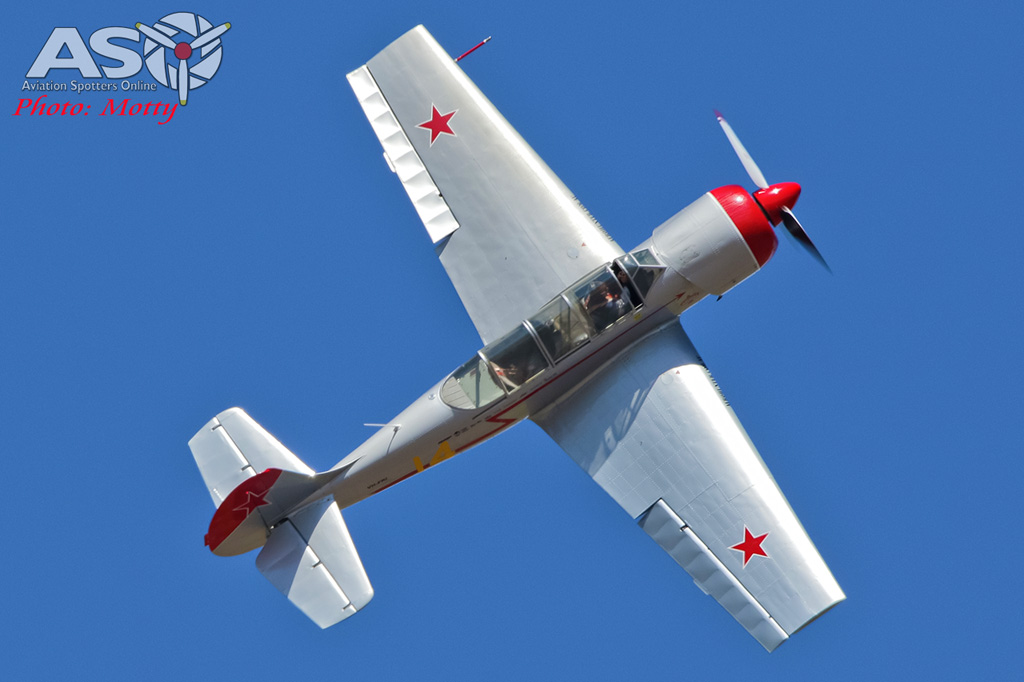 Things then kicked up a notch in terms of speed and performance as Mark Pracy displayed his L-39 Albatros jet trainer, a very graceful aircraft and routine, followed by Paul Bennet in his T-28 Trojan; a powerful, prop-driven machine which was designed to have similar performance and handling to early jets.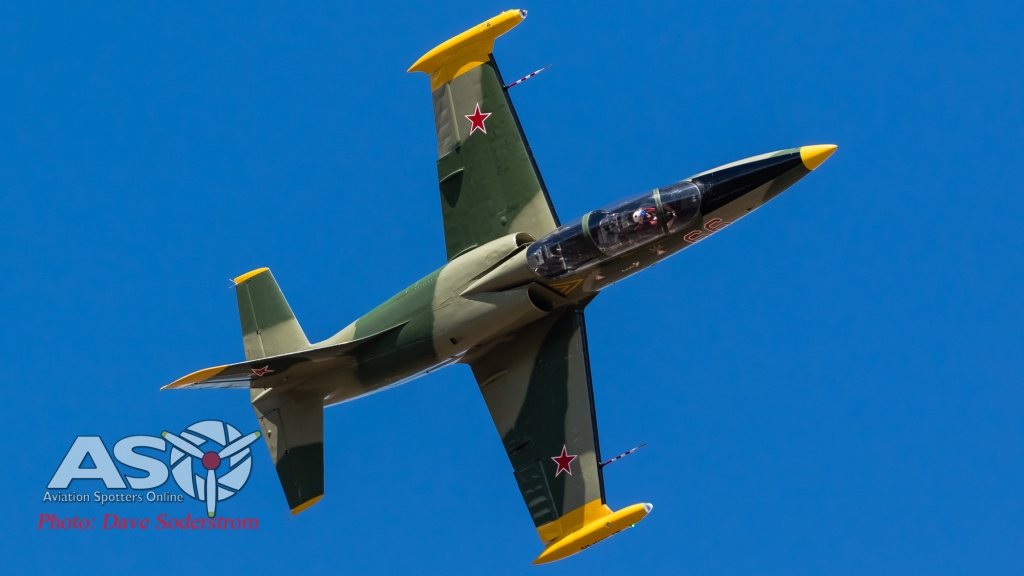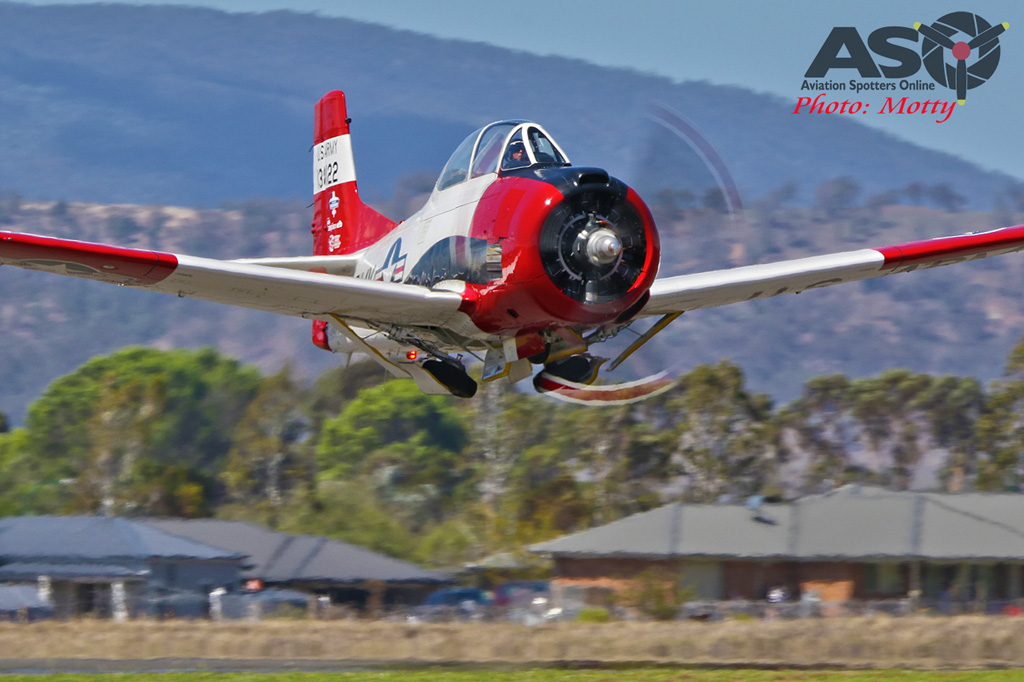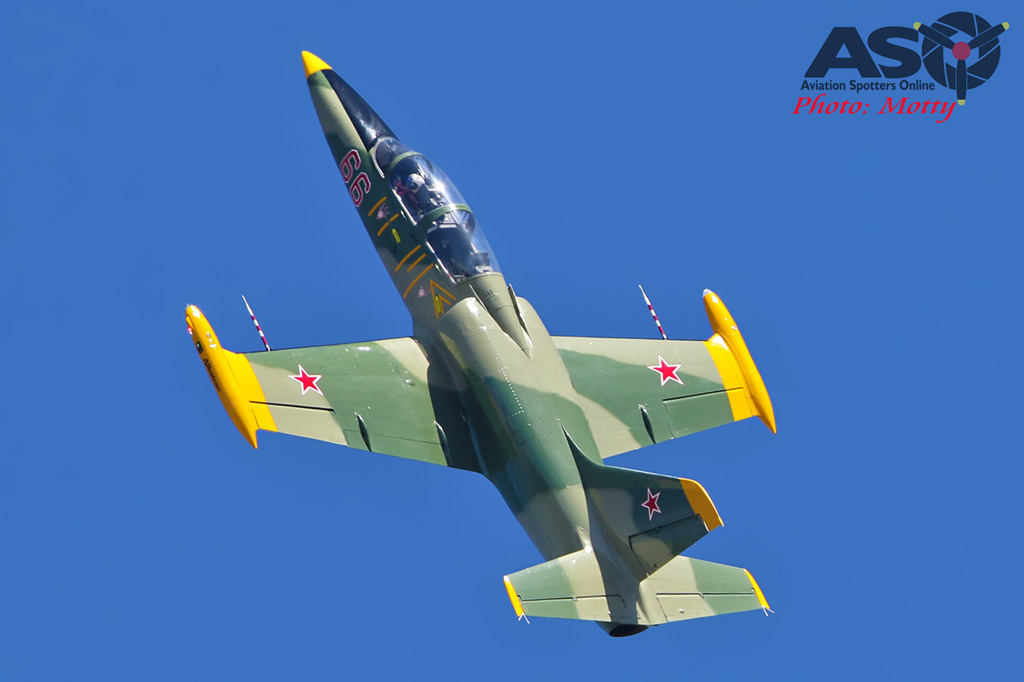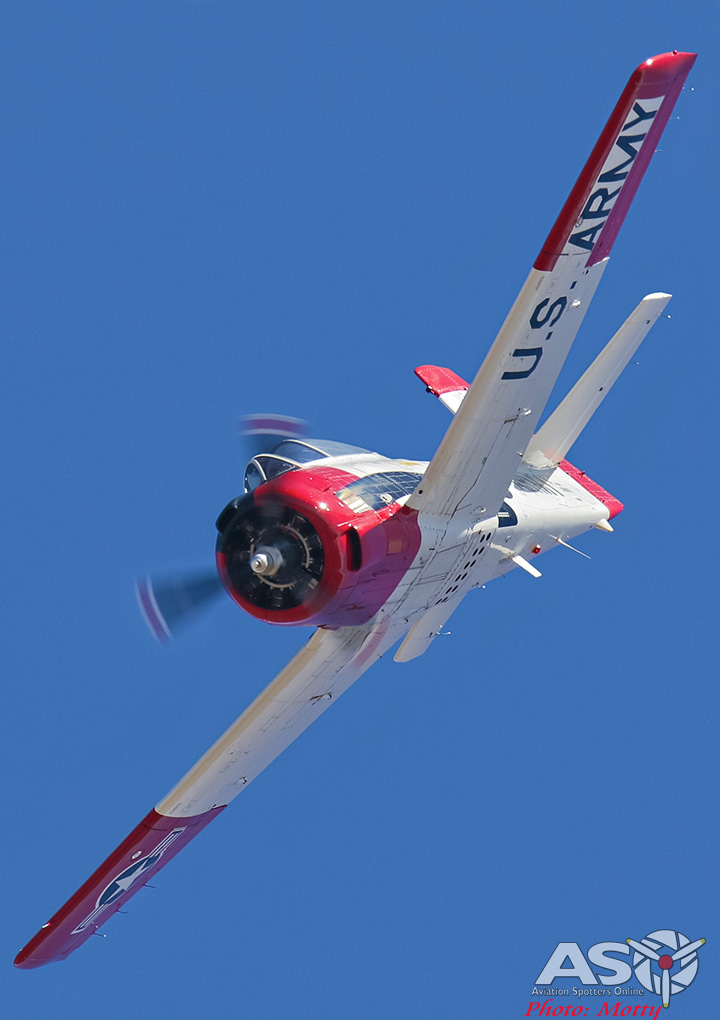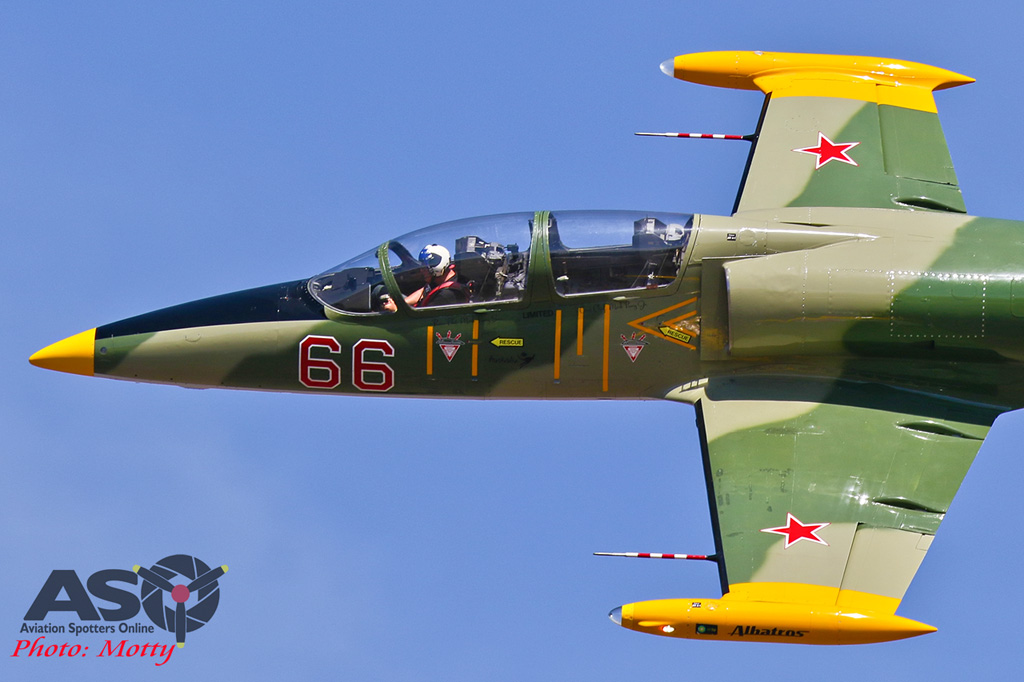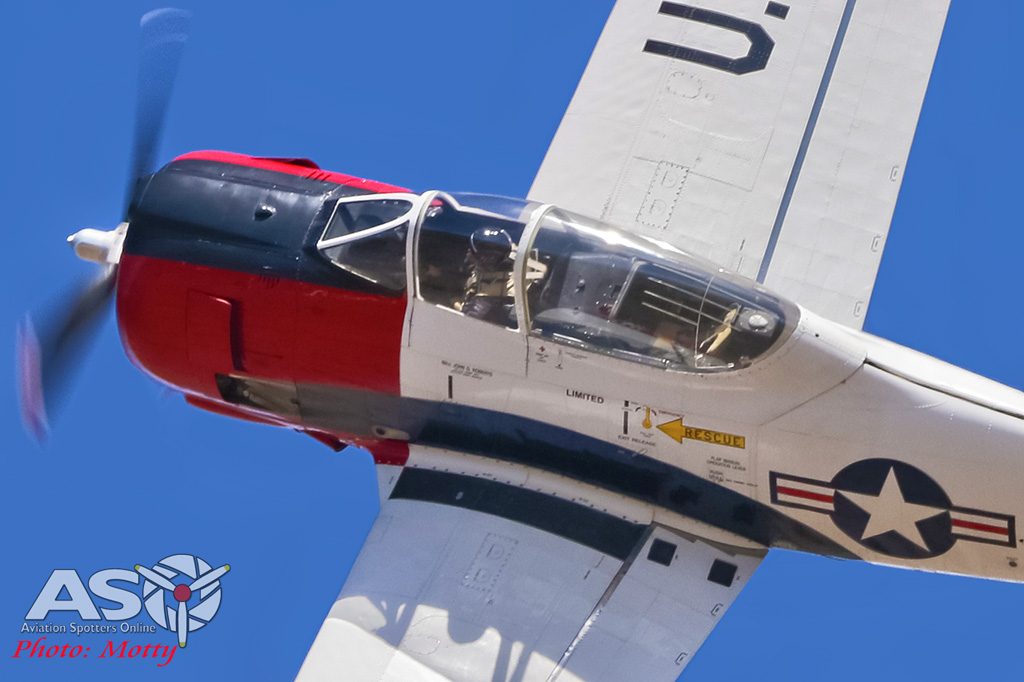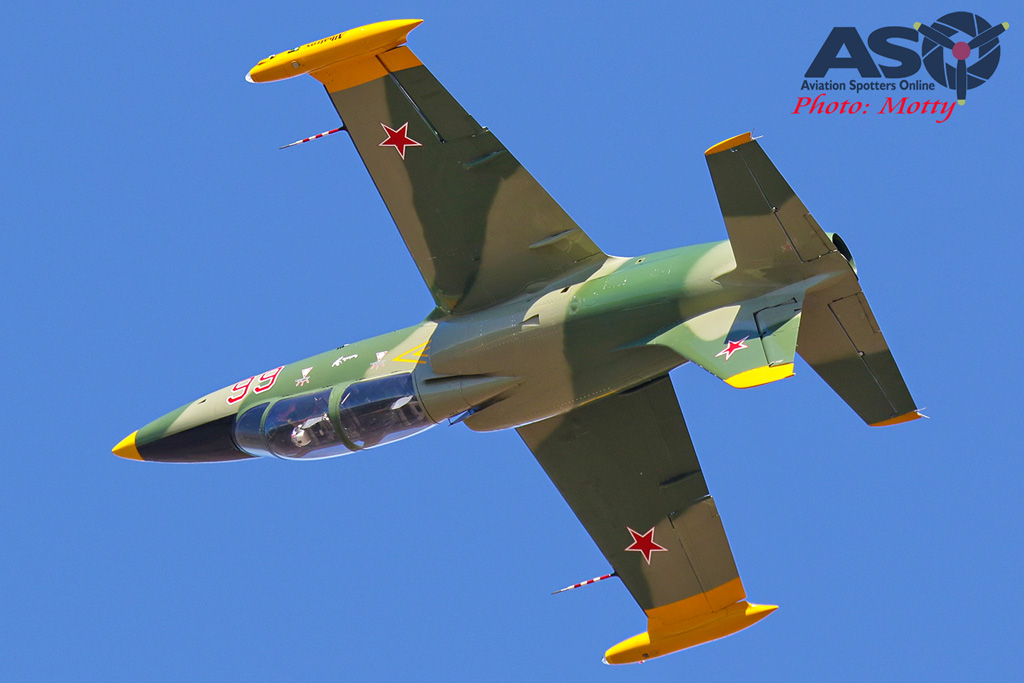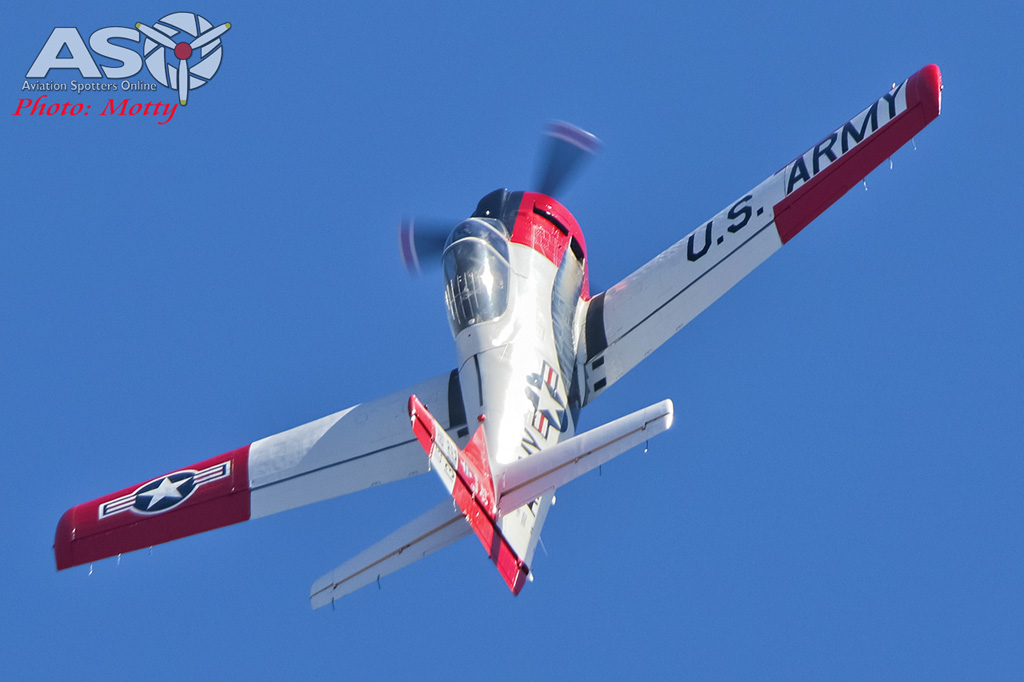 While the sky was nice and mostly clear, as the day progressed it was observed that the wind speed was picking up and that there was a noticeable element of cross-wind to it as well. Unfortunately this posed a problem for many of the most eagerly awaited aircraft such as the Spitfire, Hurricane, Kittyhawk and FW-190 as well as other machines such as the Triplane replica and DH.60, as they have fairly restricted safety limits for take-off and landing in such conditions and, as the time approached for their scheduled displays, the decision was made to postpone their flights in the hope that conditions may ease later in the afternoon. The effort was made, in the mean-time, to start the Hurricane and FW-190 up and taxi them around a little so that visitors could at least listen to the magnificent sounds of their engines and get to see them in some sort of motion.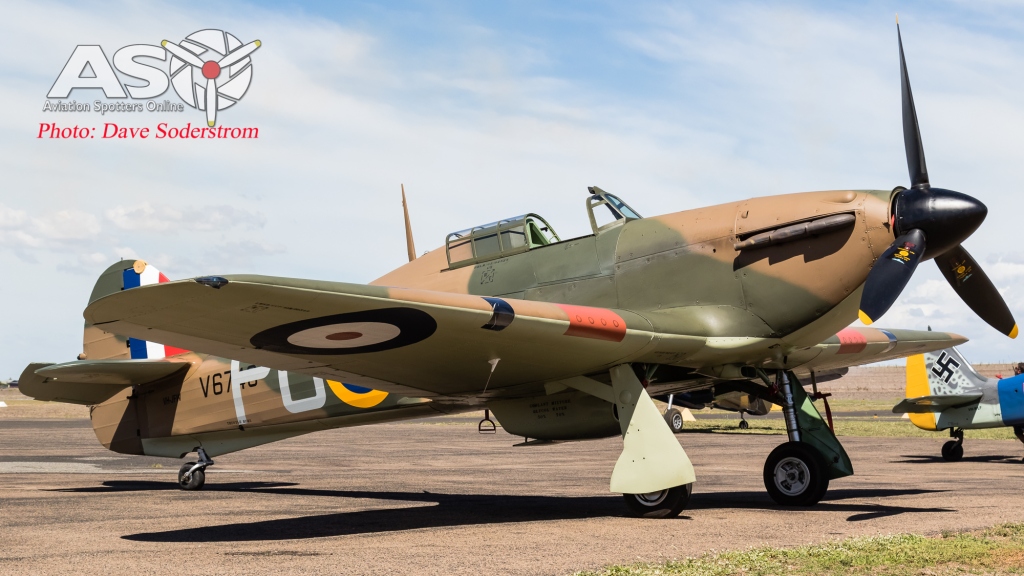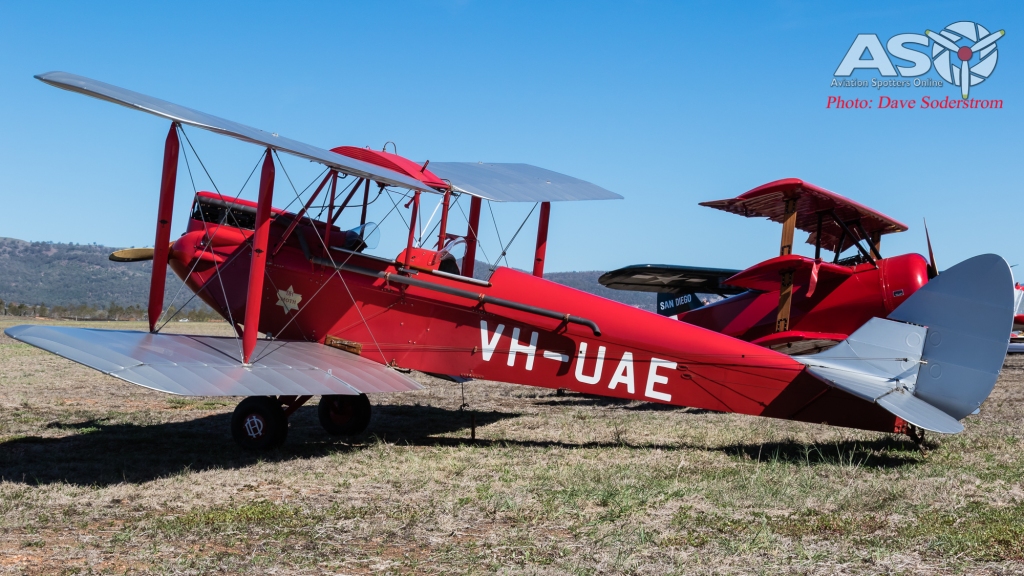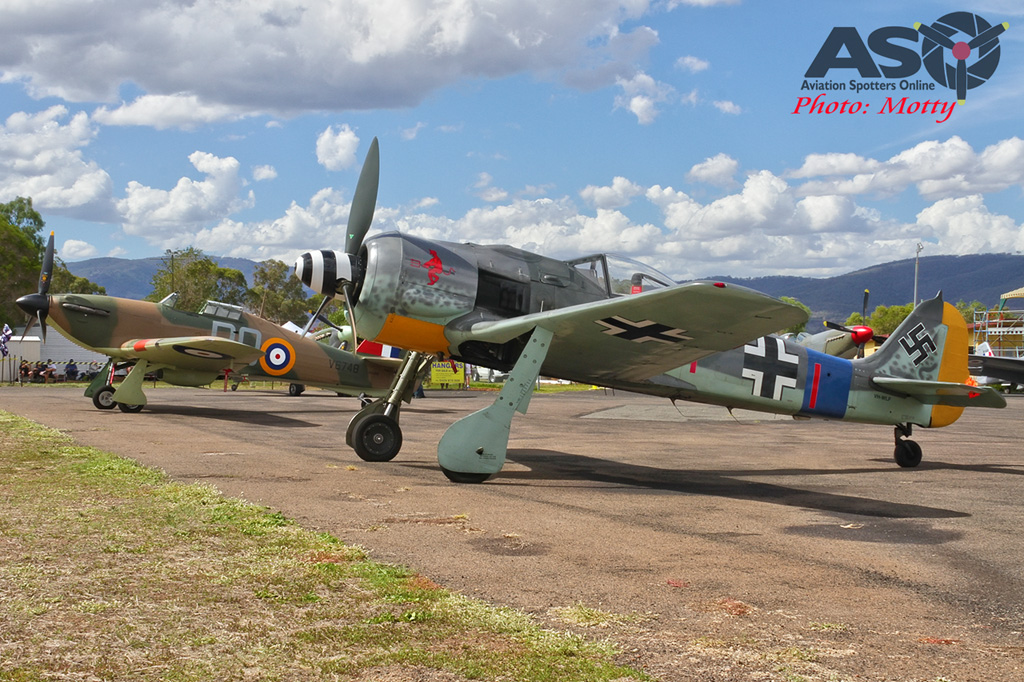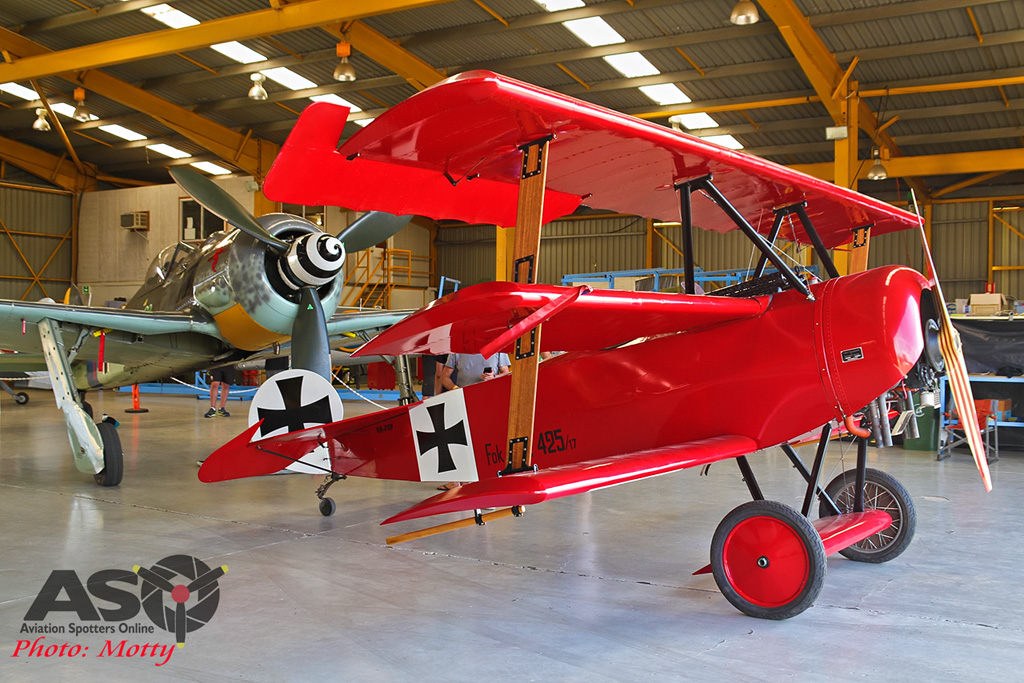 After a short break, Paul swapped the large Trojan for his tiny, but incredibly powerful and agile Wolf Pitts Pro for an amazing display of high performance aerobatics.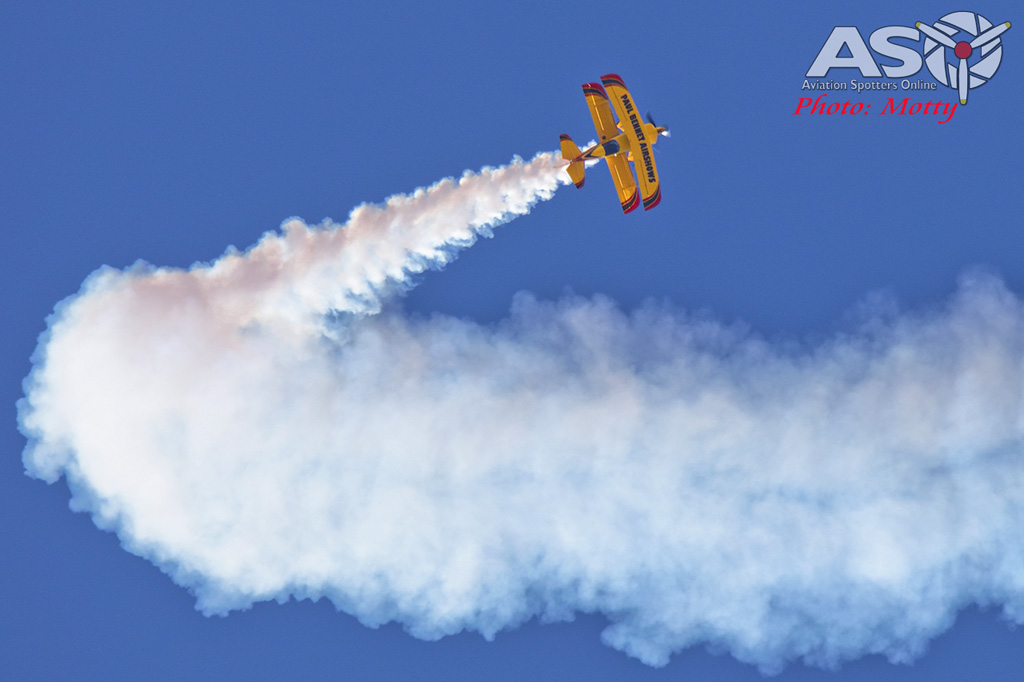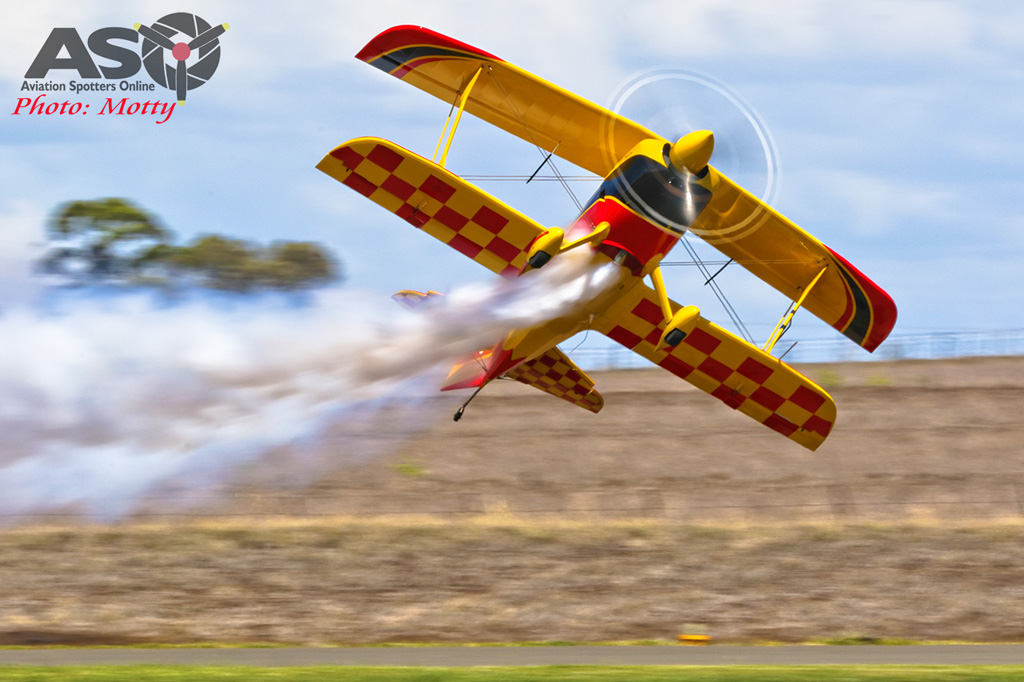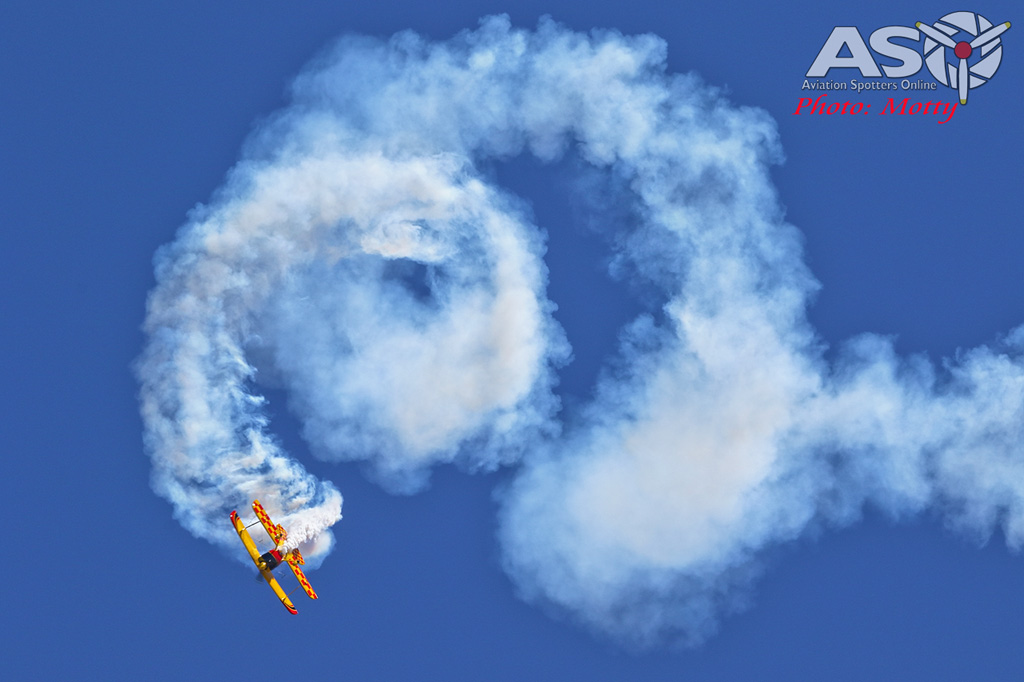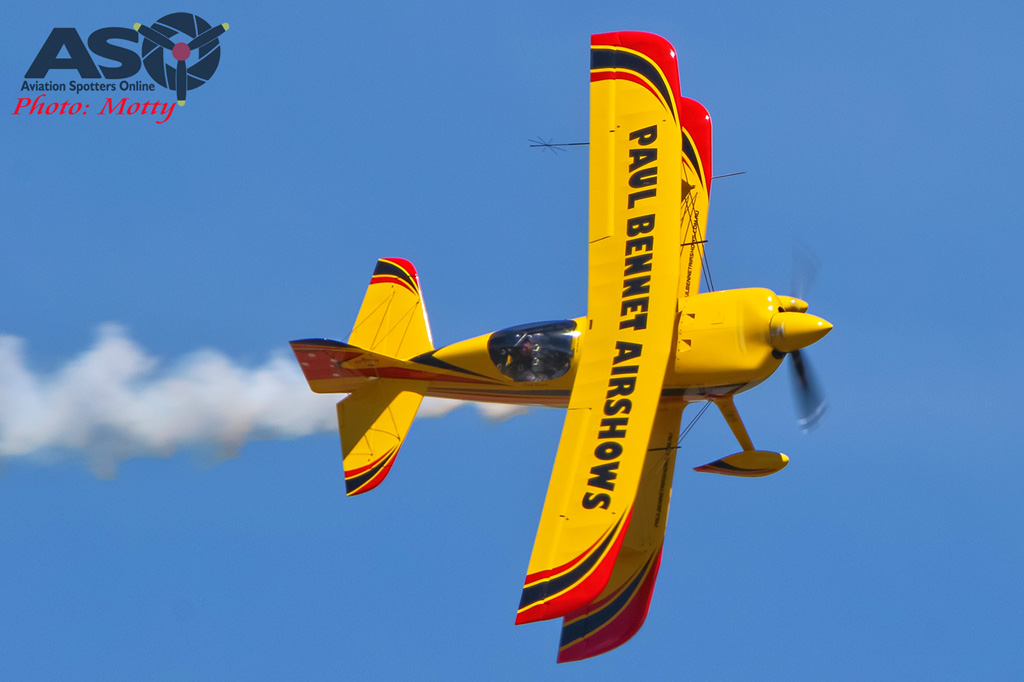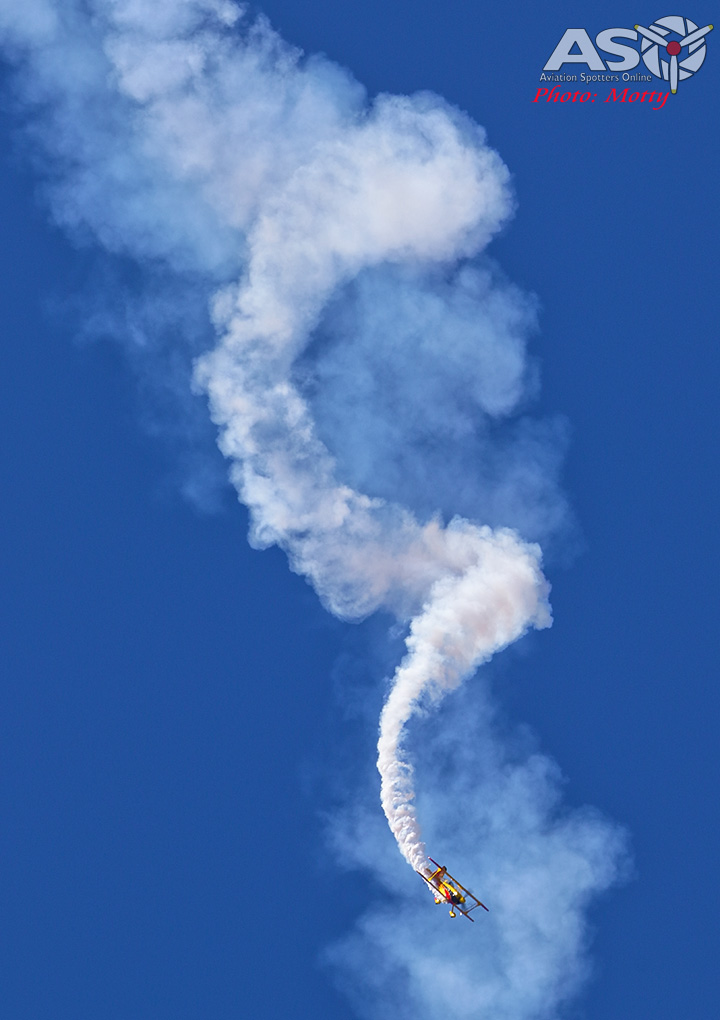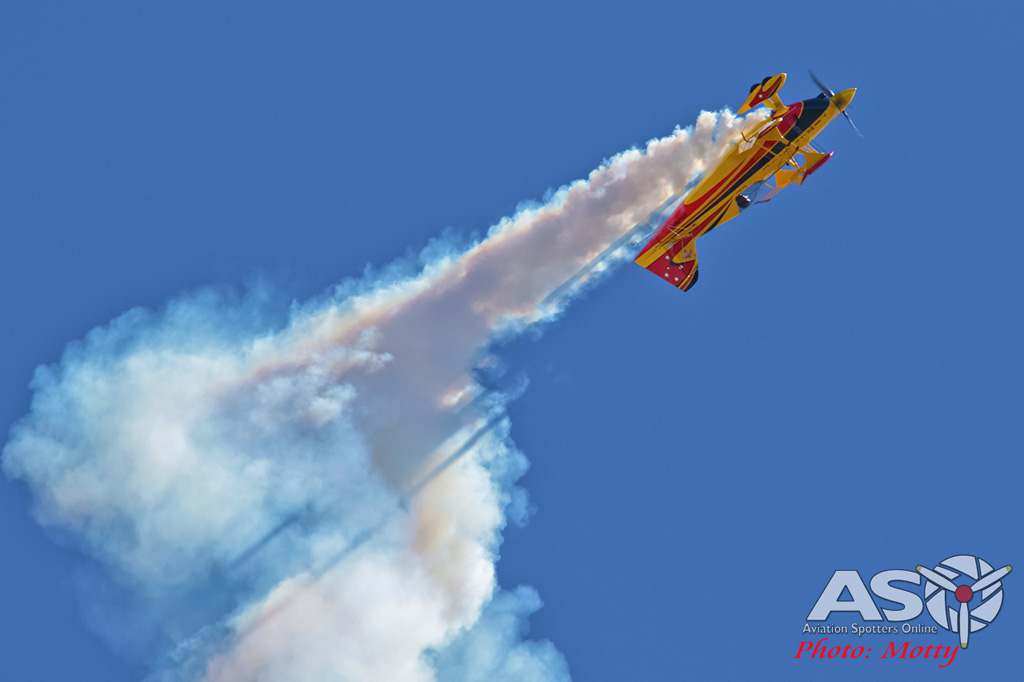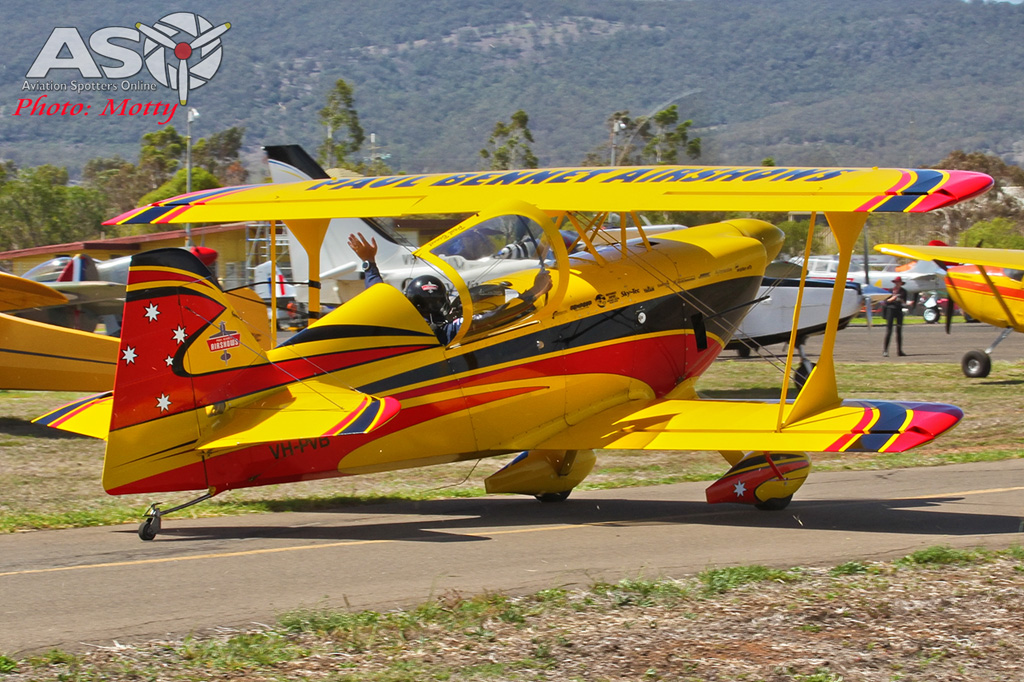 Throughout the day's flying, commentary was provided by well-known aviation personality Peter Anderson, in his usual entertaining and informative style, with plenty of pauses to allow the crowds the chance to enjoy the sounds of the aircraft engines too.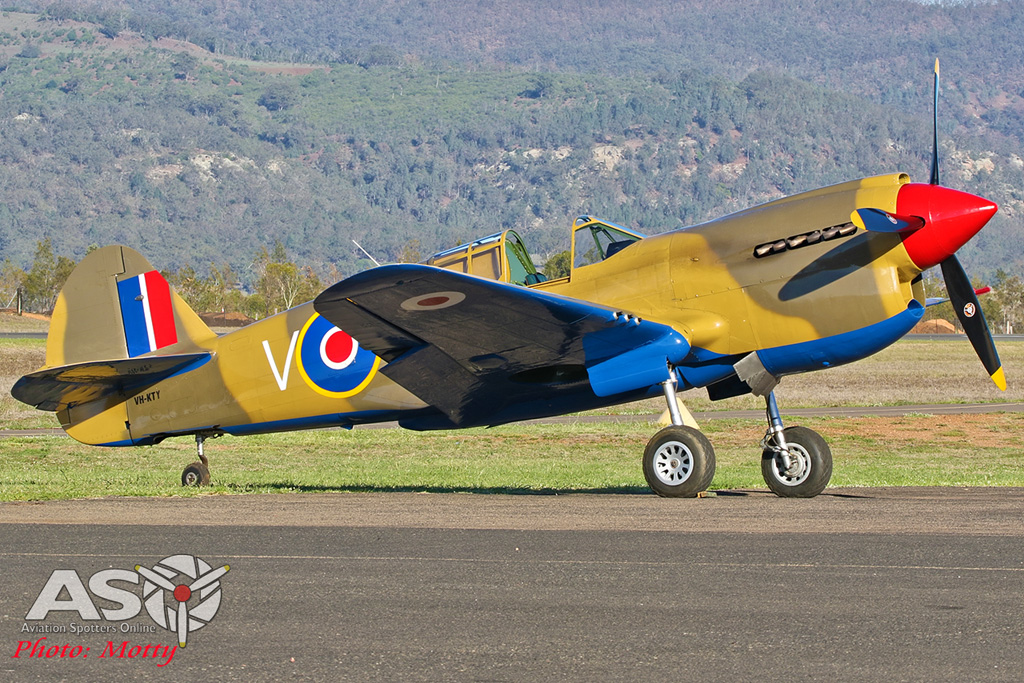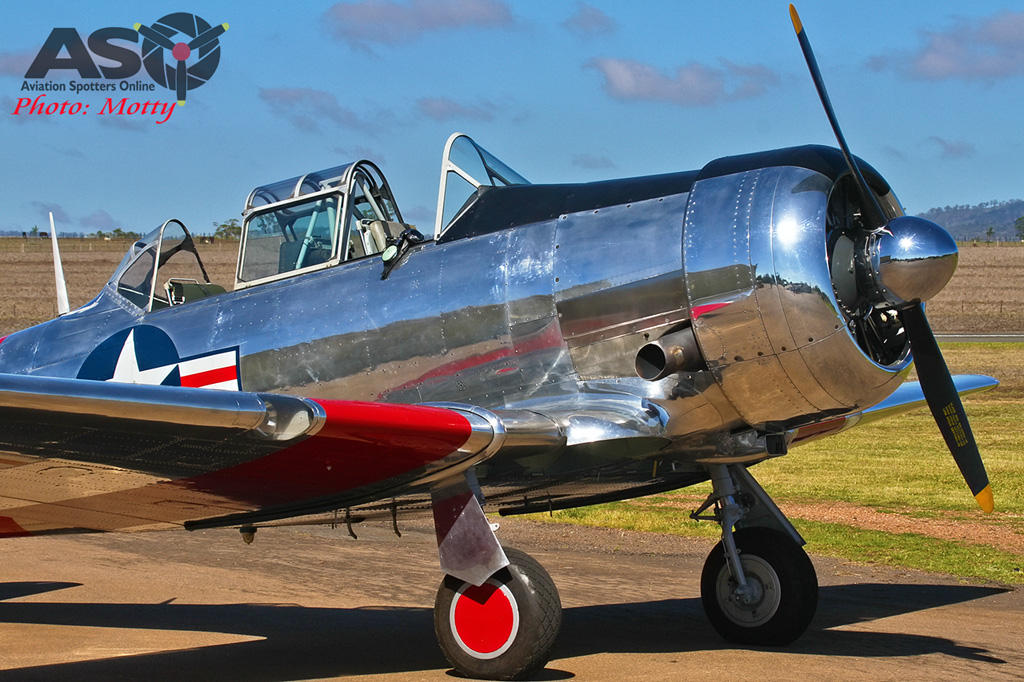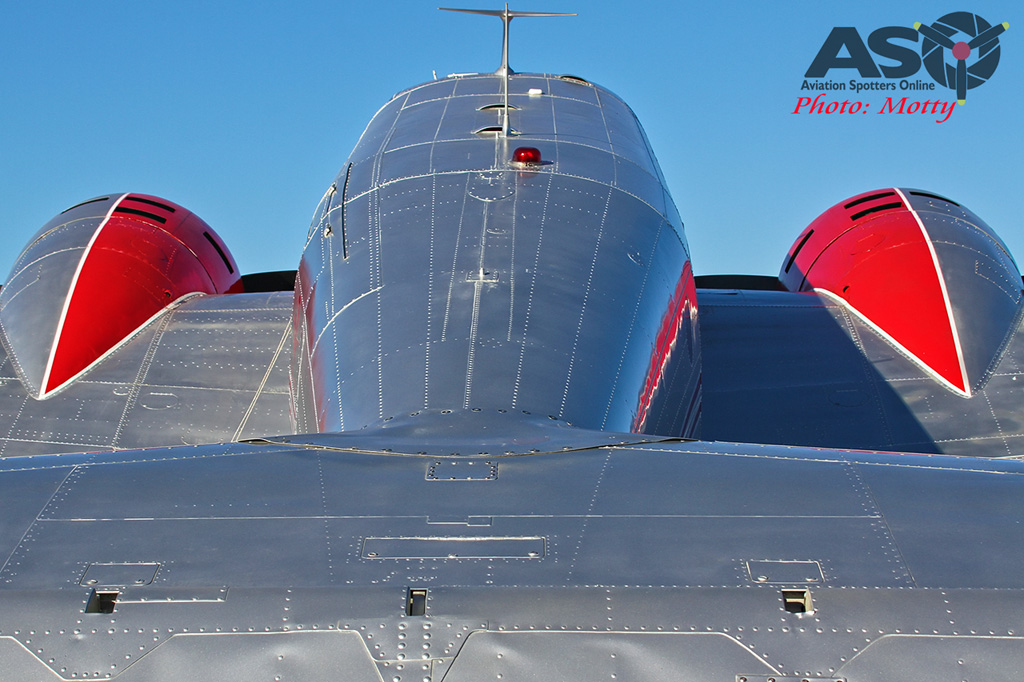 Tim Dugan displayed Paul Bennets' mighty Grumman Avenger; a very impressive machine which was also the largest single-engined aircraft of WWII, after which Glenn Graham once again displayed his aerobatic skills, this time in the Rebel 300.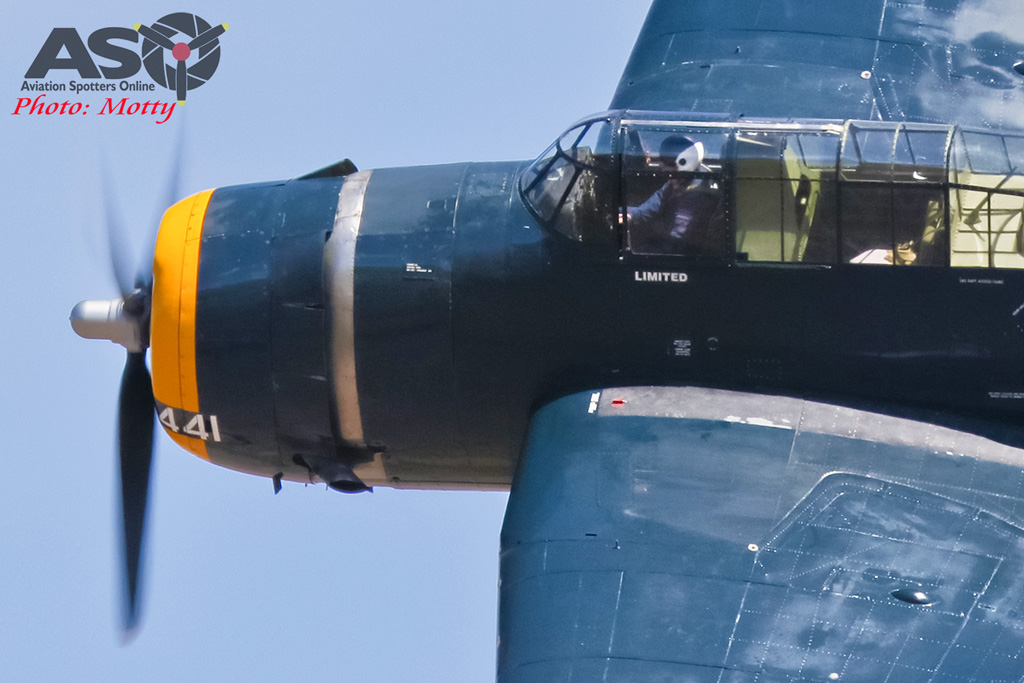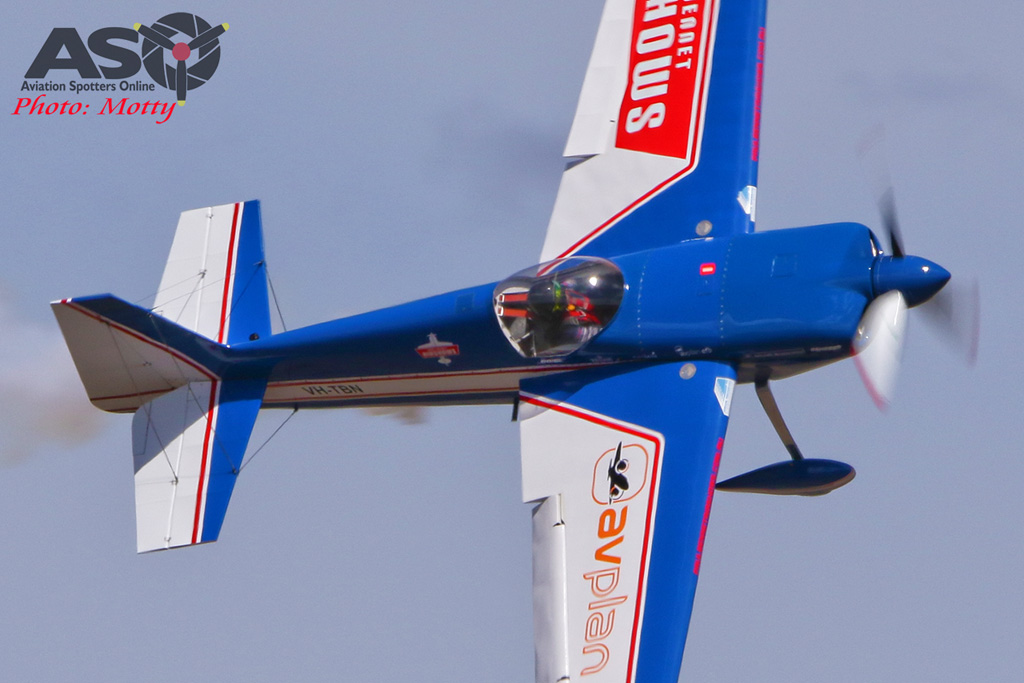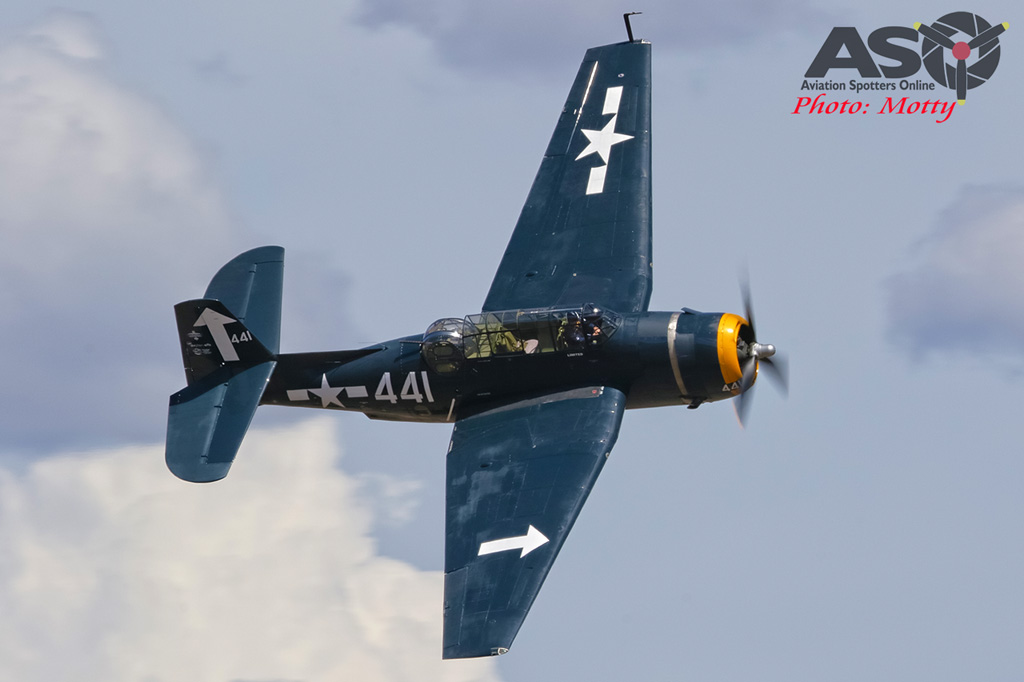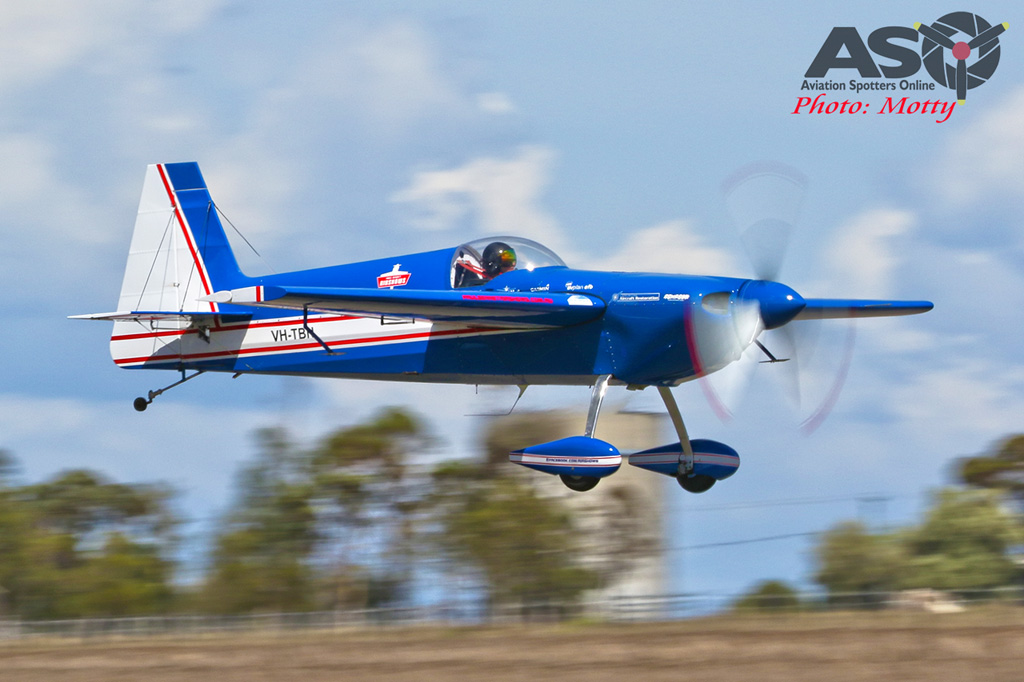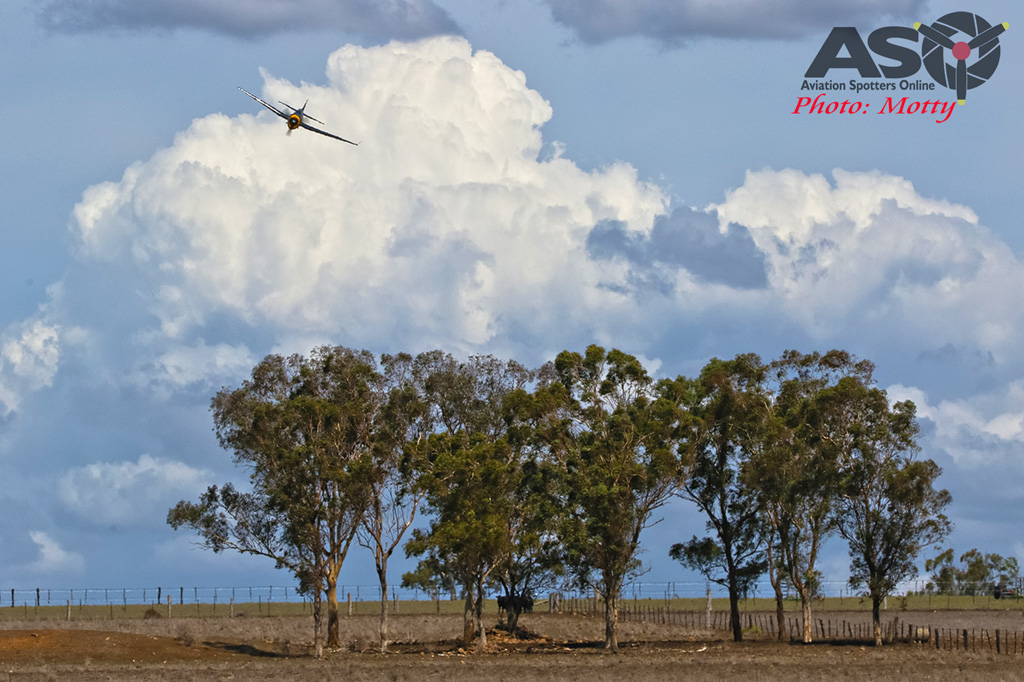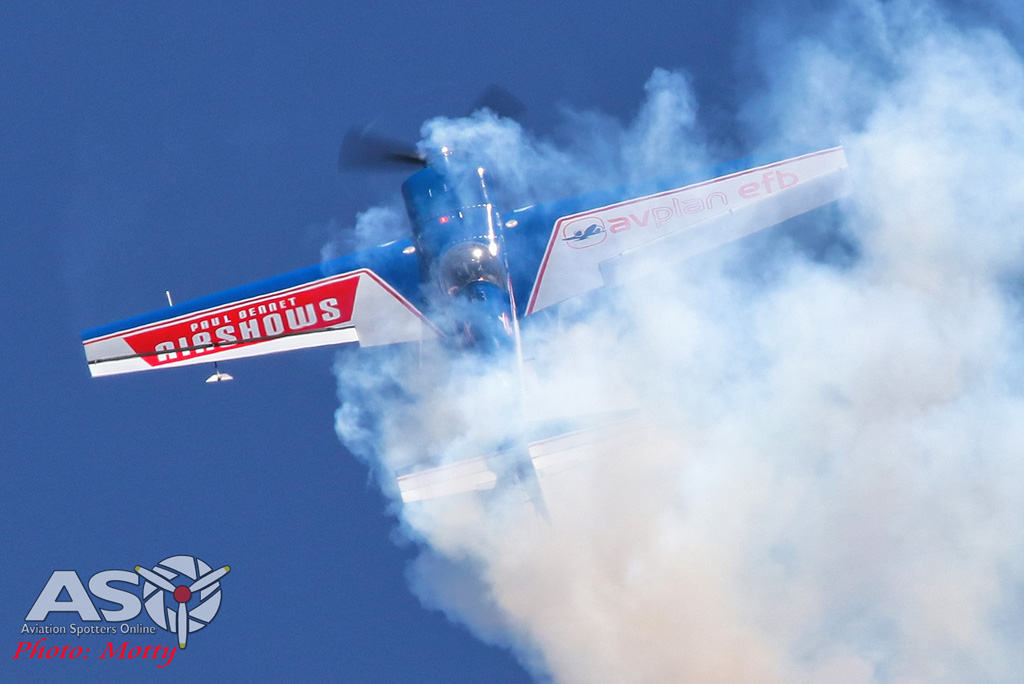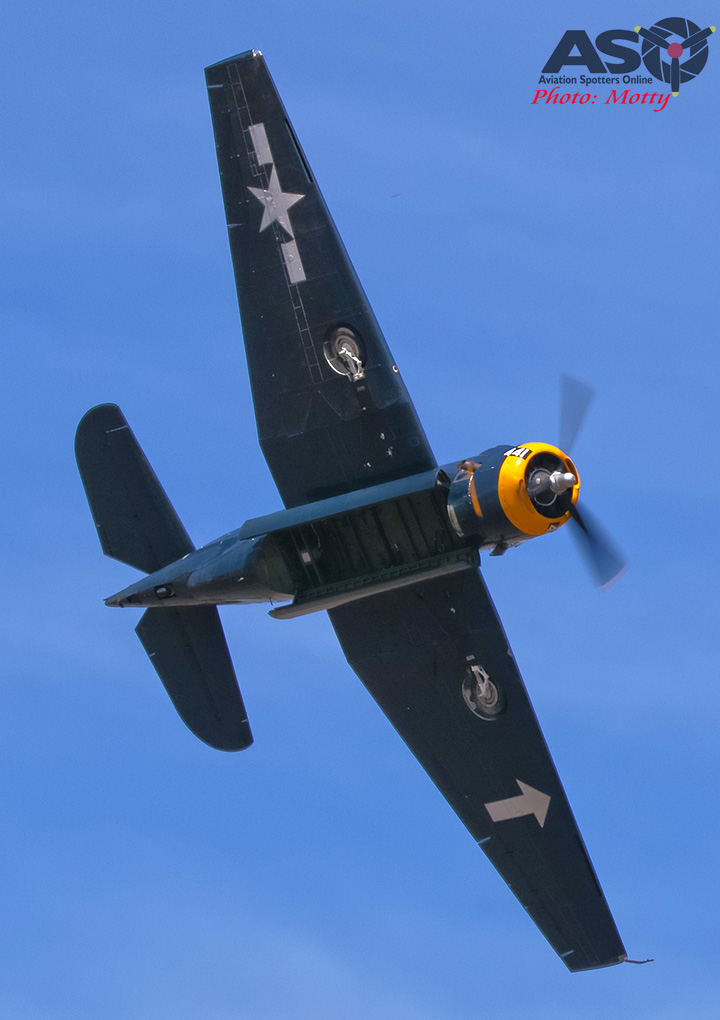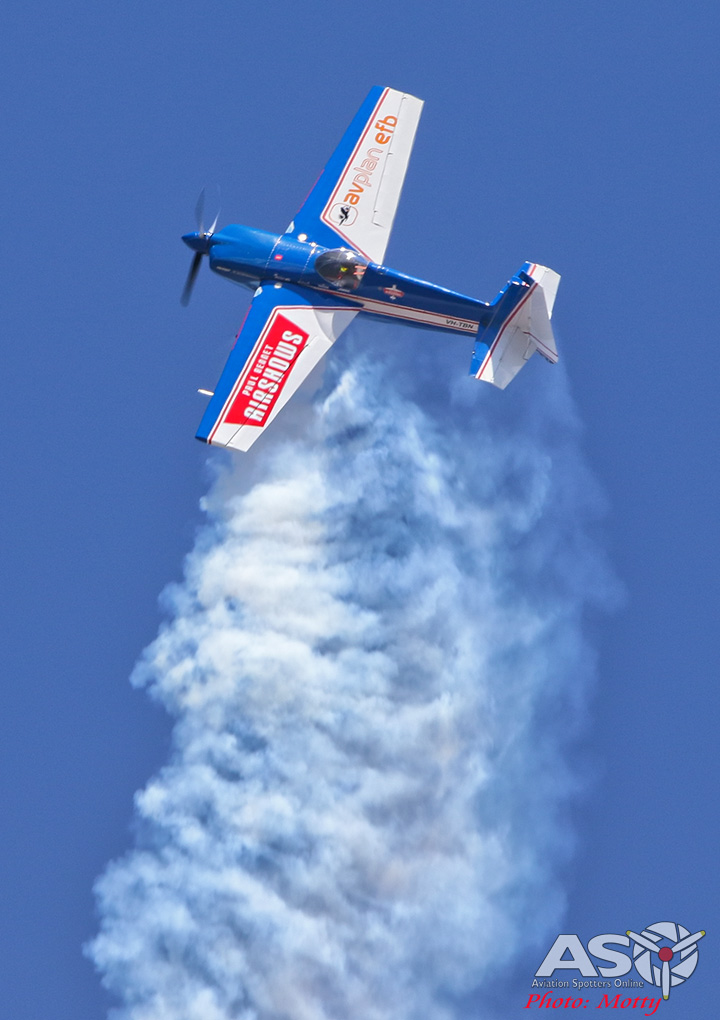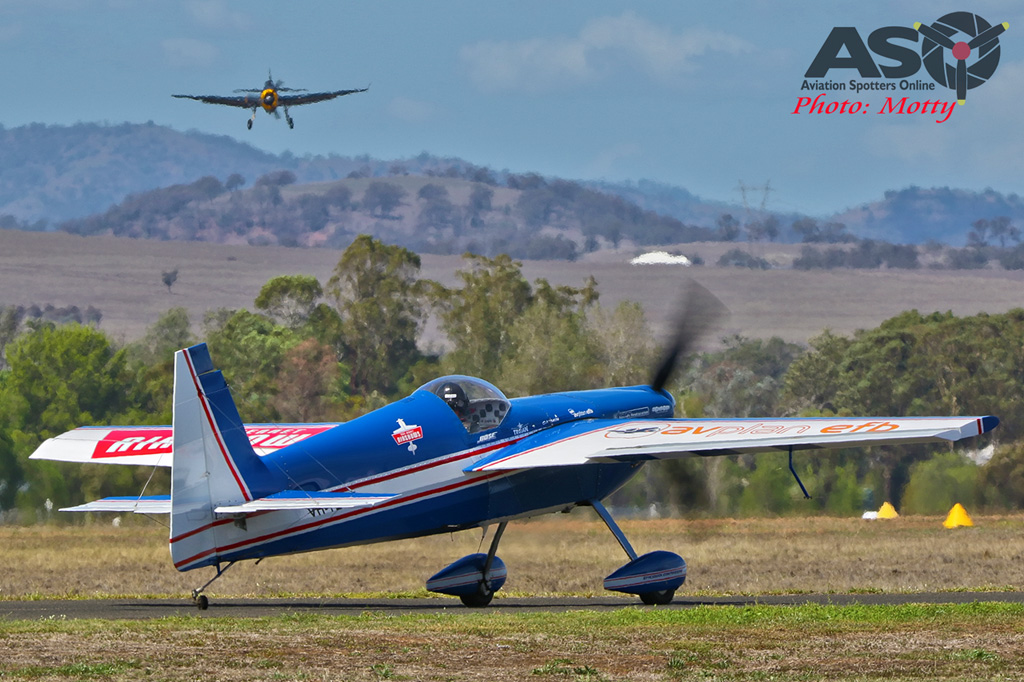 Paul Bennet and Steve Death made some formation passes in Judy Pay's and Ross Pay's (no relation) Mustangs respectively before separating and giving individual handling displays of each.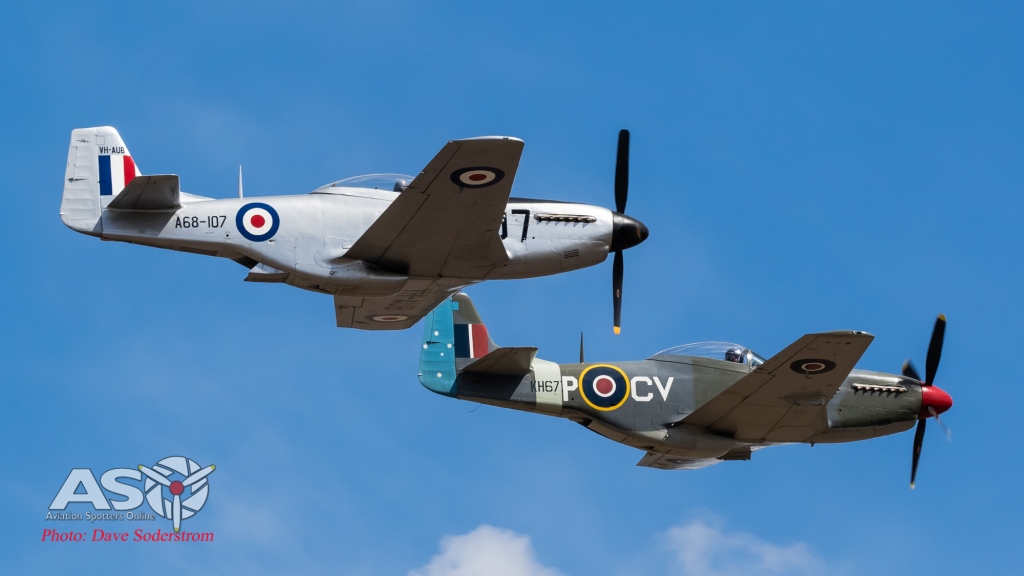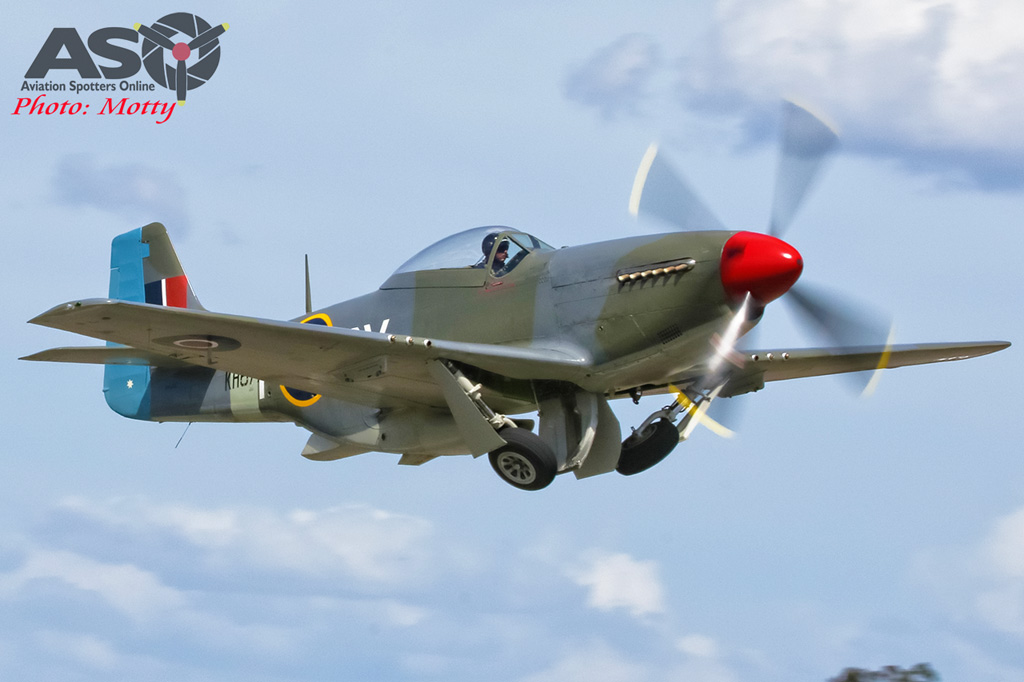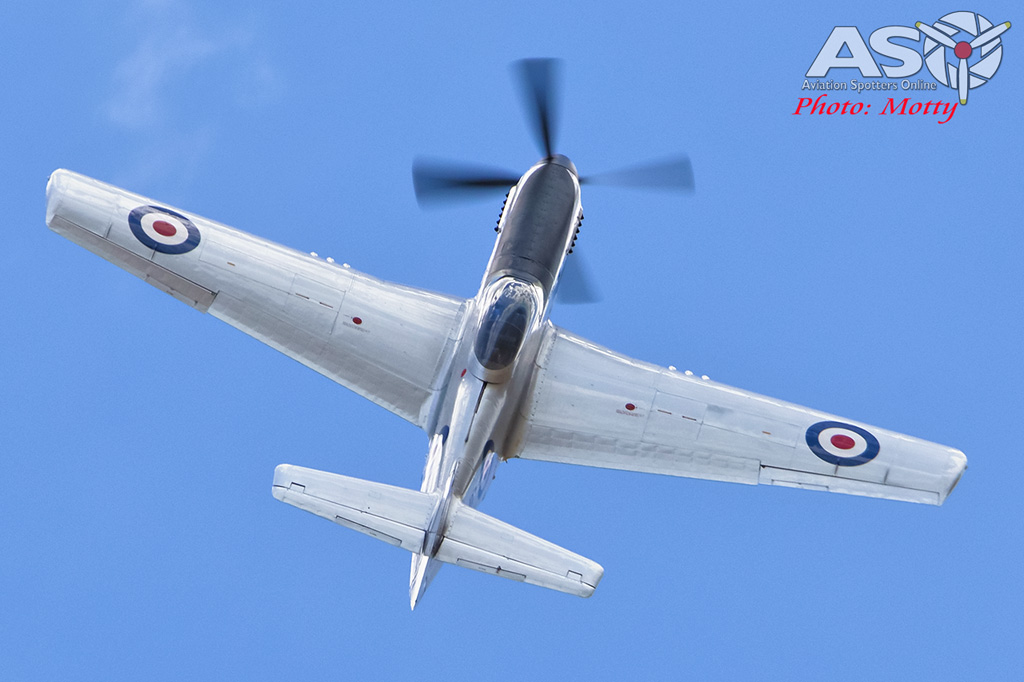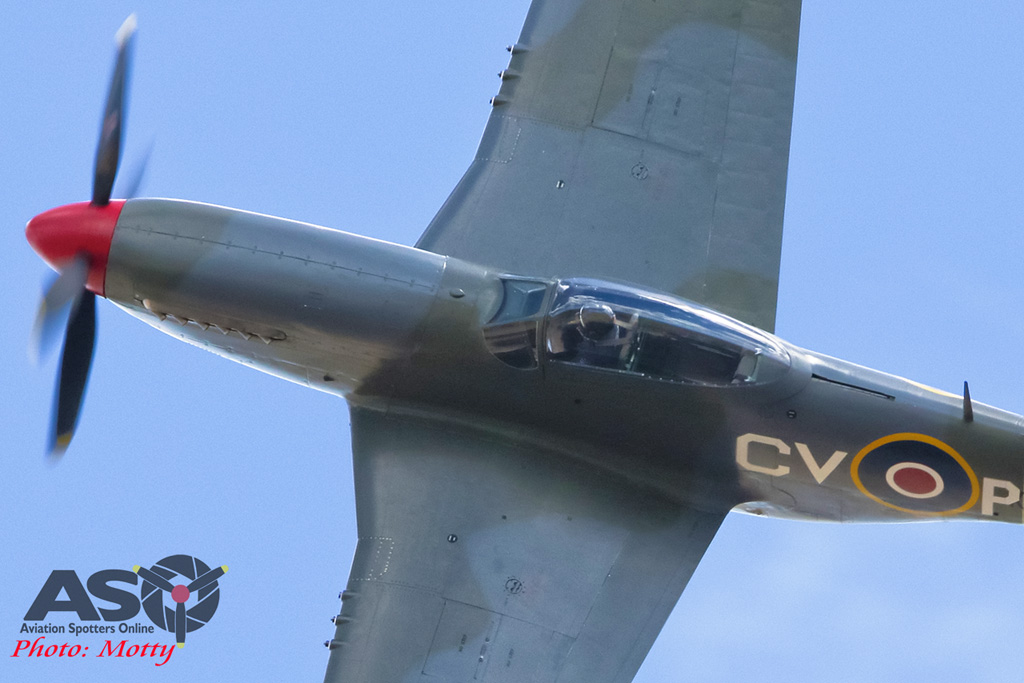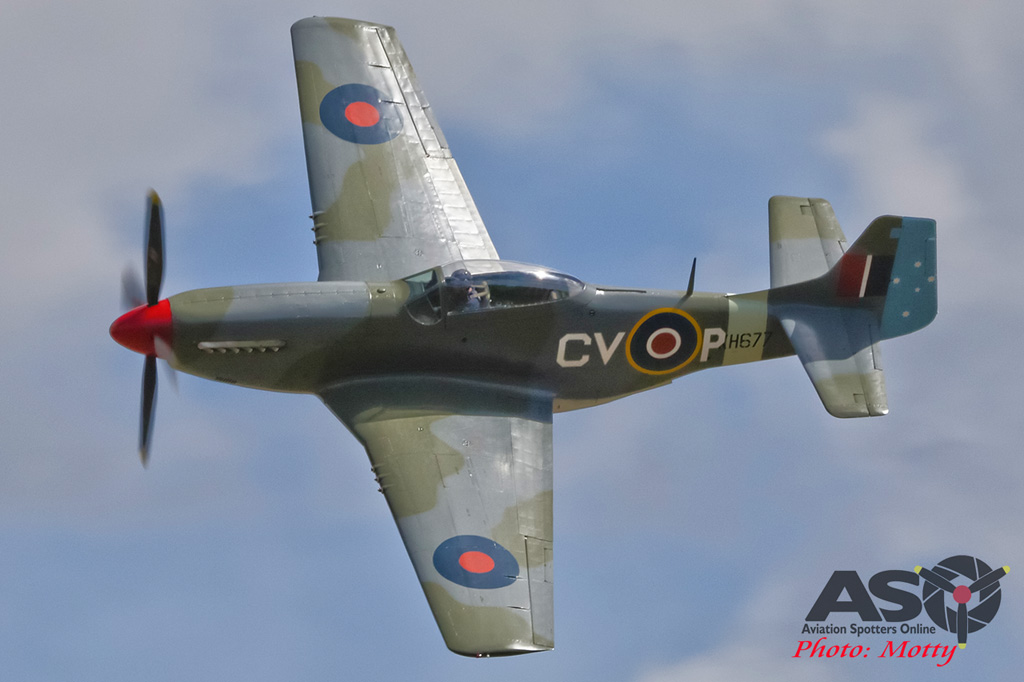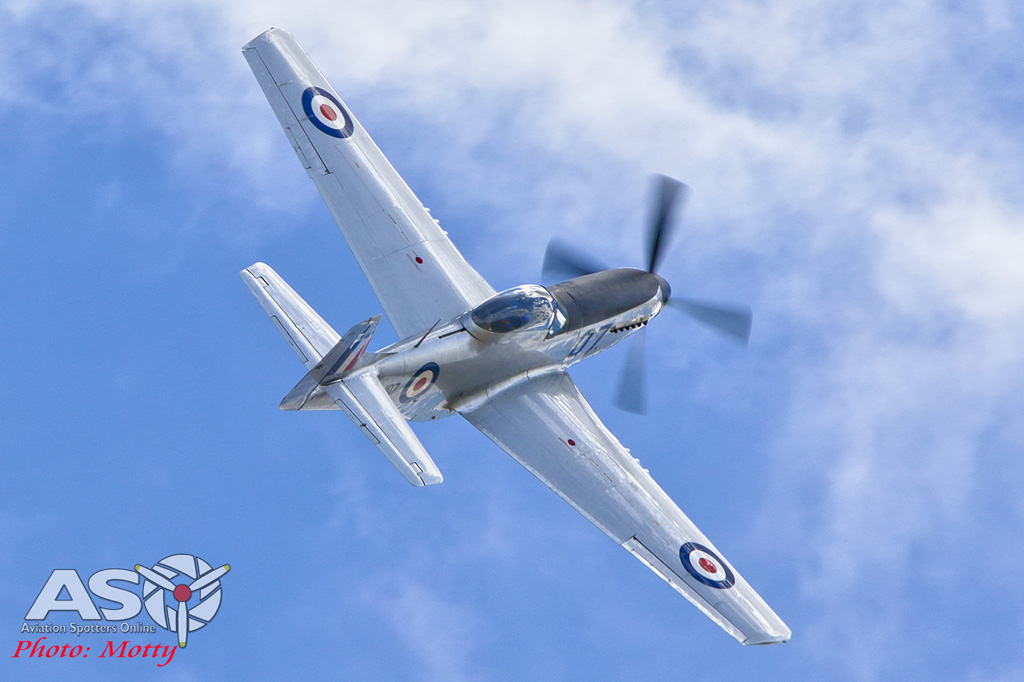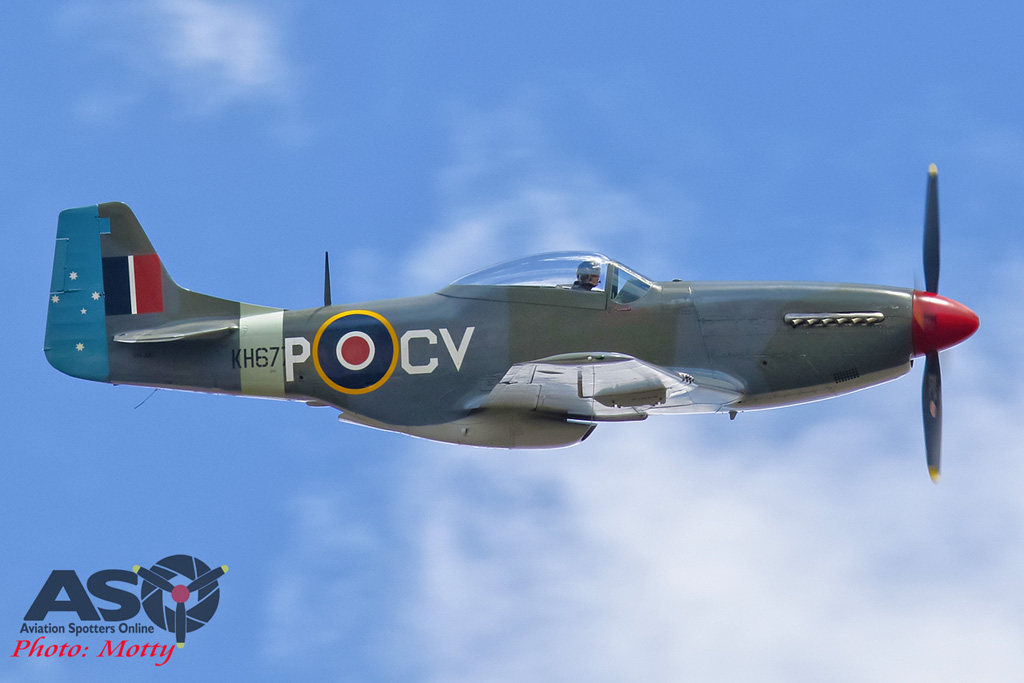 Tim Dugan then gave another aerobatic display in the radial engined Pitts Model 12 followed by Harley McKillop in the impressive AT-802 Fire Boss water bomber. A machine which is a contender for the current, largest single-engined prop-powered aircraft and a key element of the Pay's Air Services fleet of aircraft which provide such a vital service during Australia's fire seasons each year.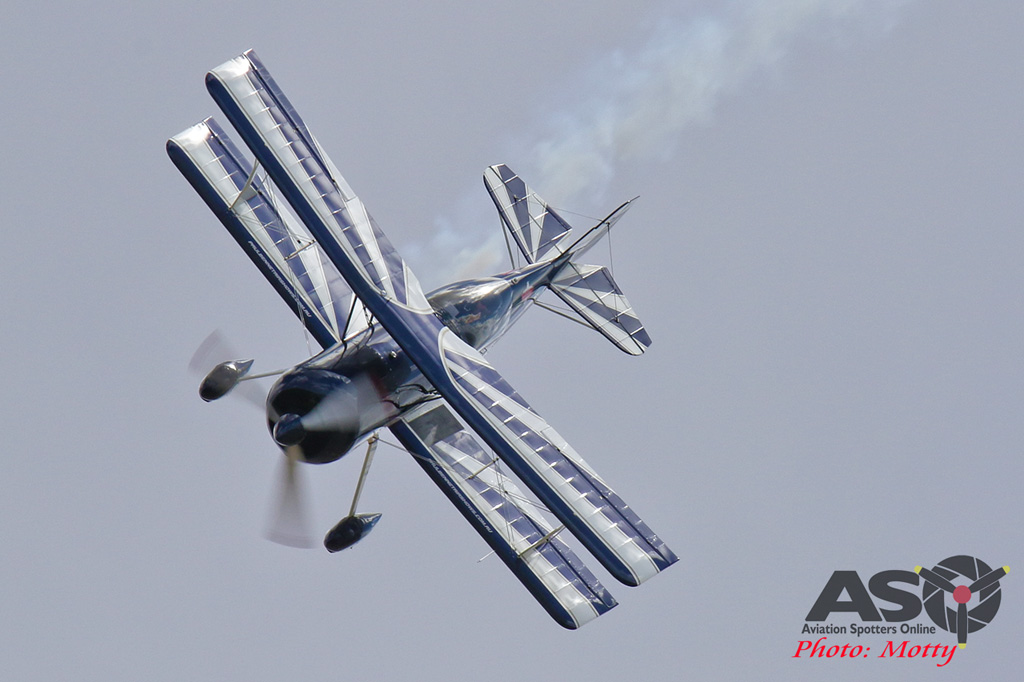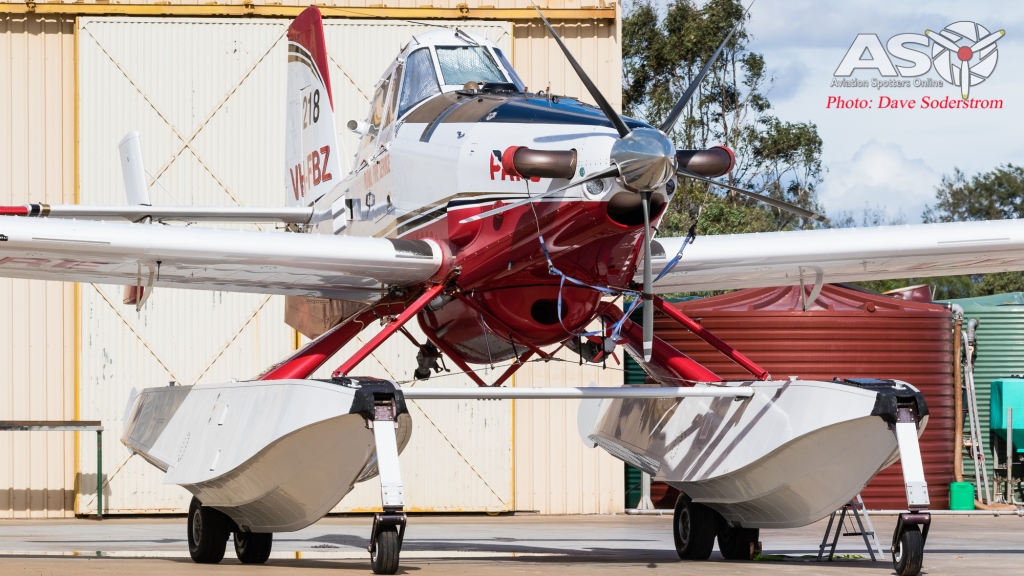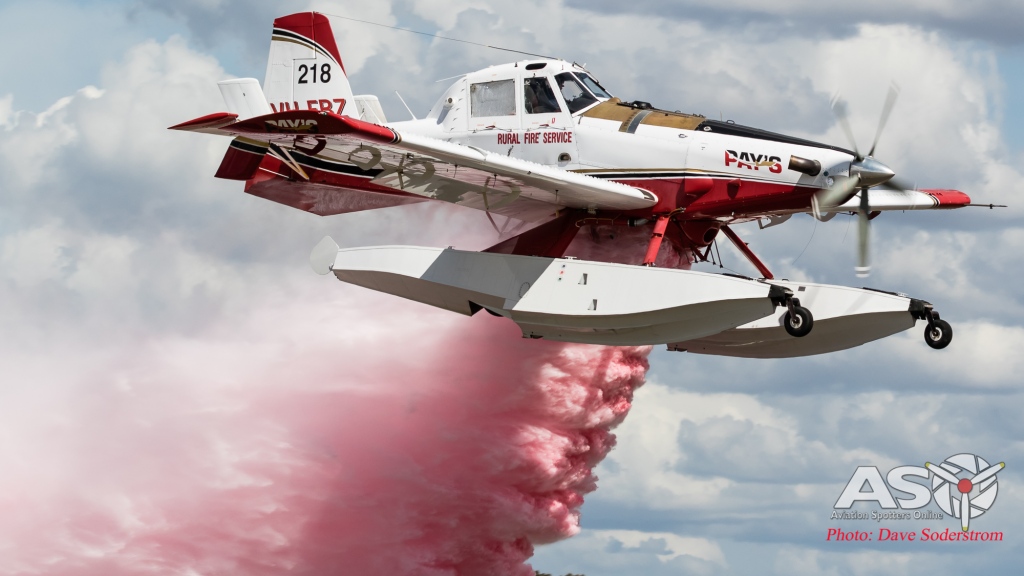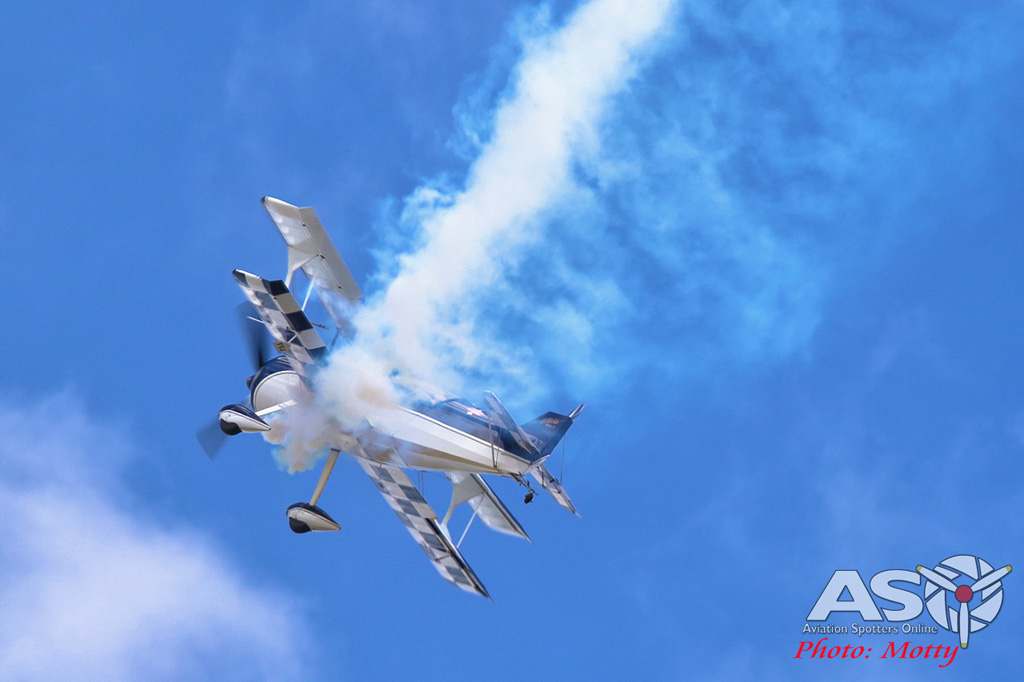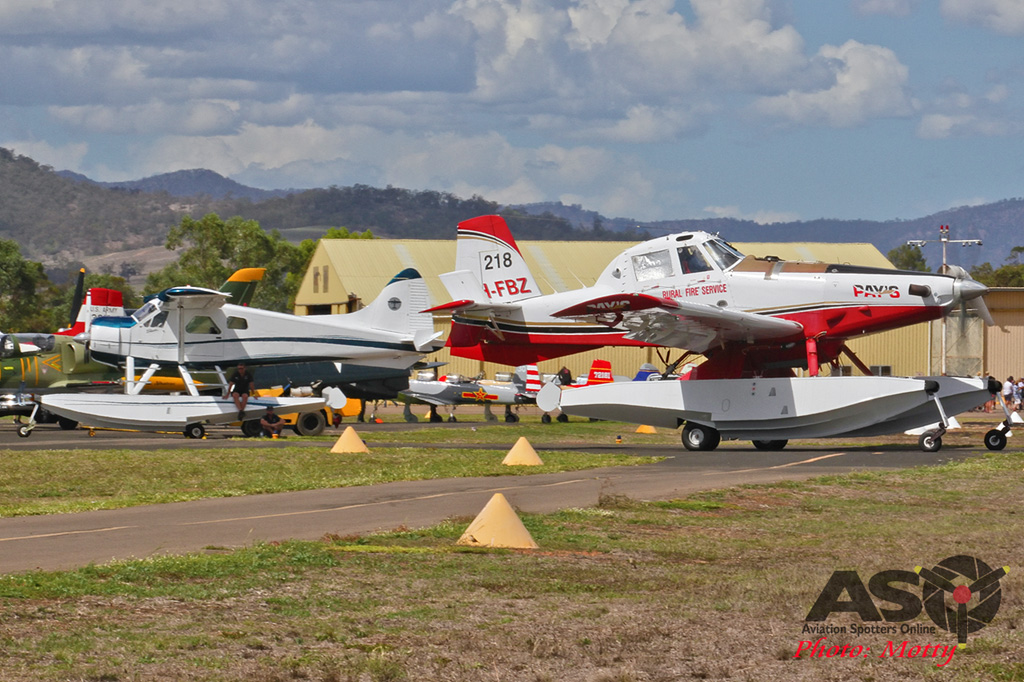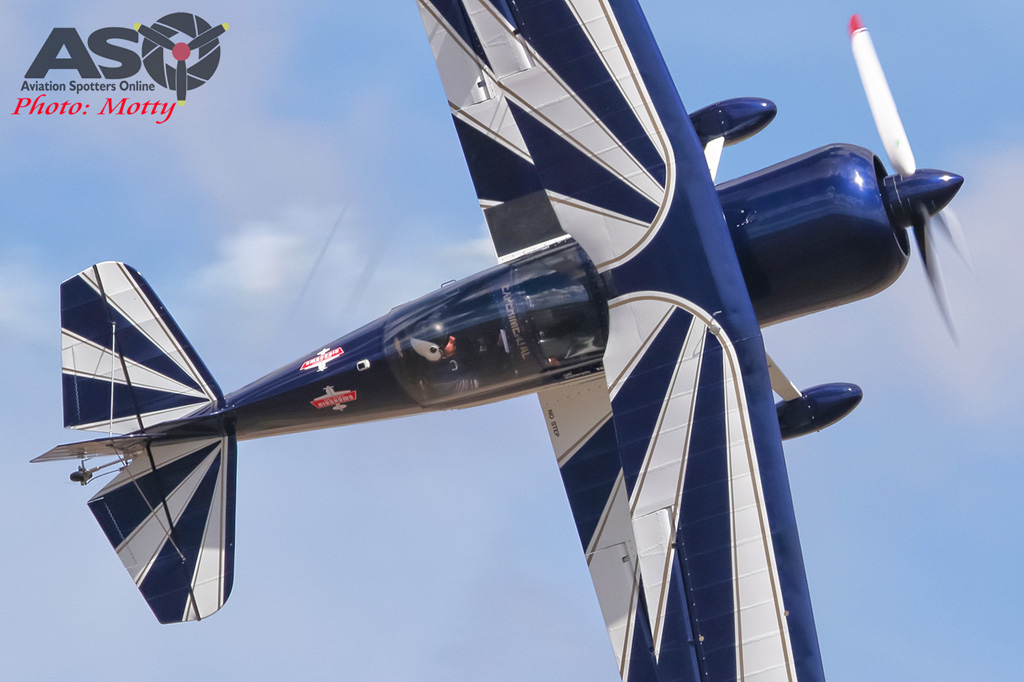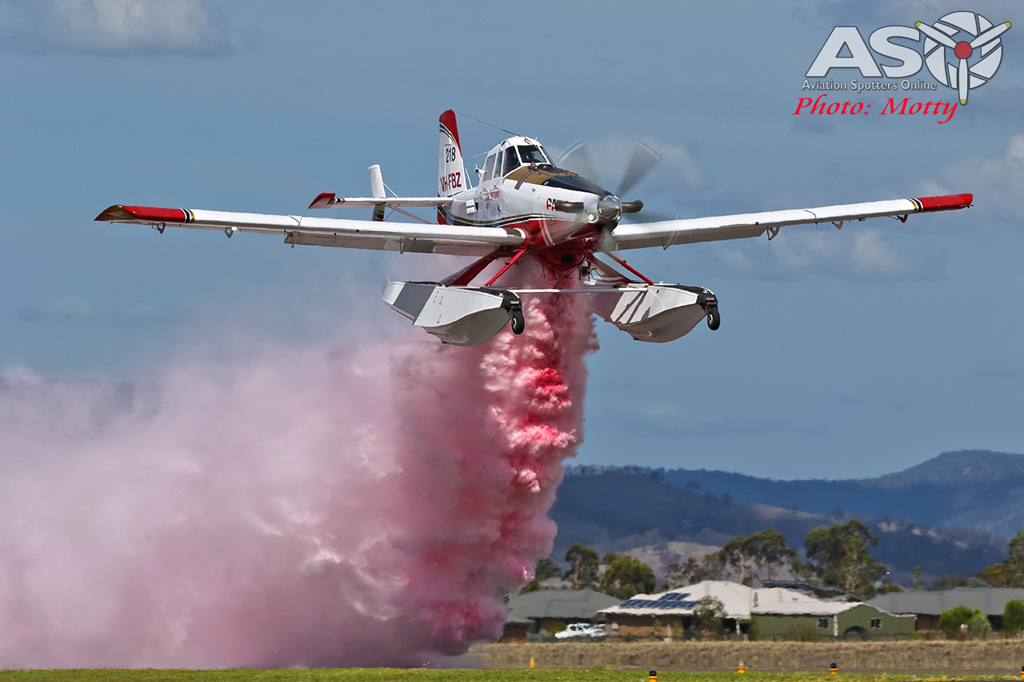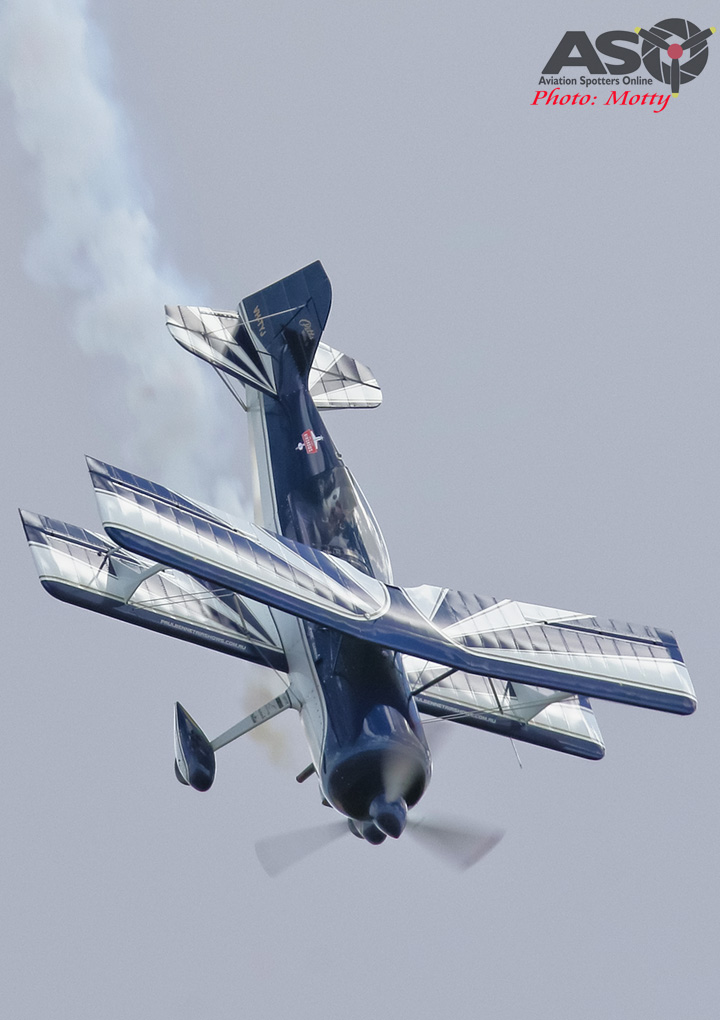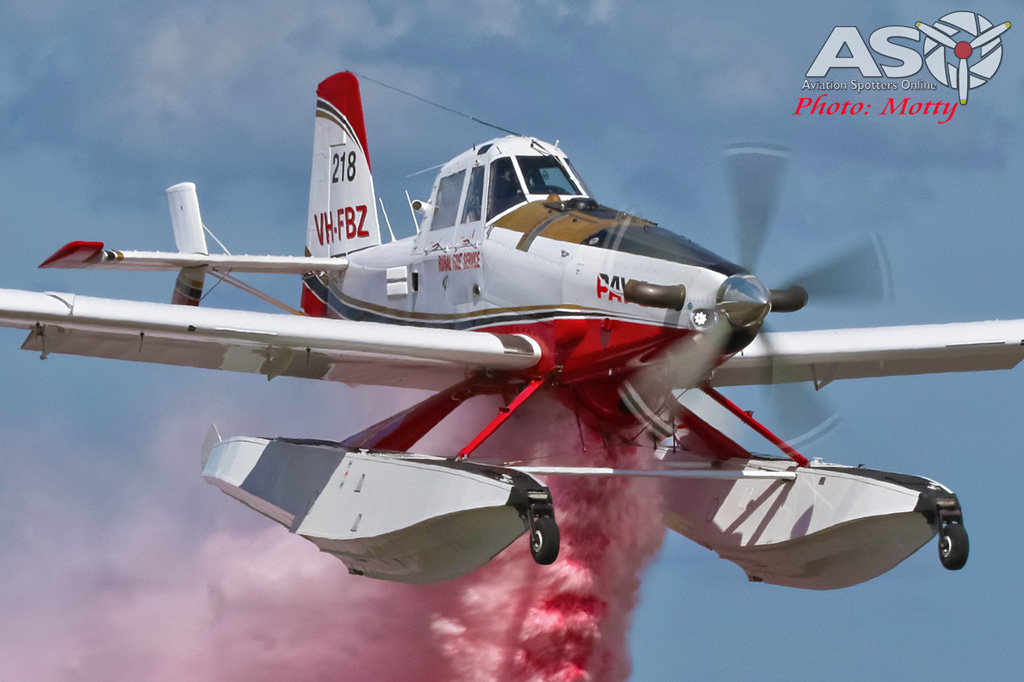 Paul Bennet, Glenn Graham and Ben Lapin performed a great display of formation aerobatics as the Sky Aces team in their trio of Pits Specials, in quite difficult conditions as the wind had only increased by this stage.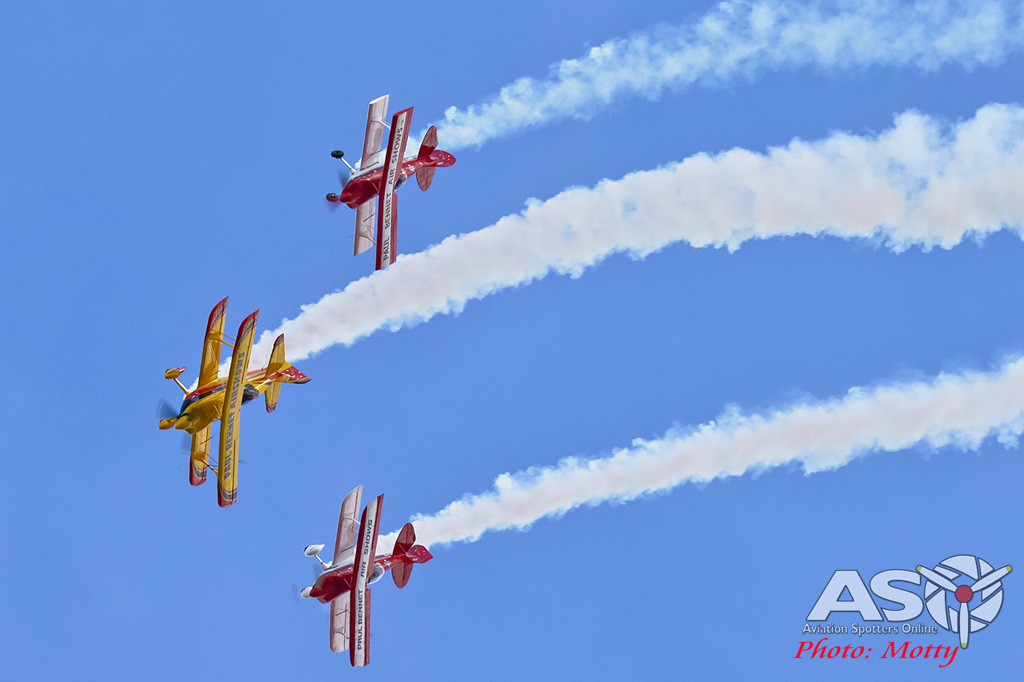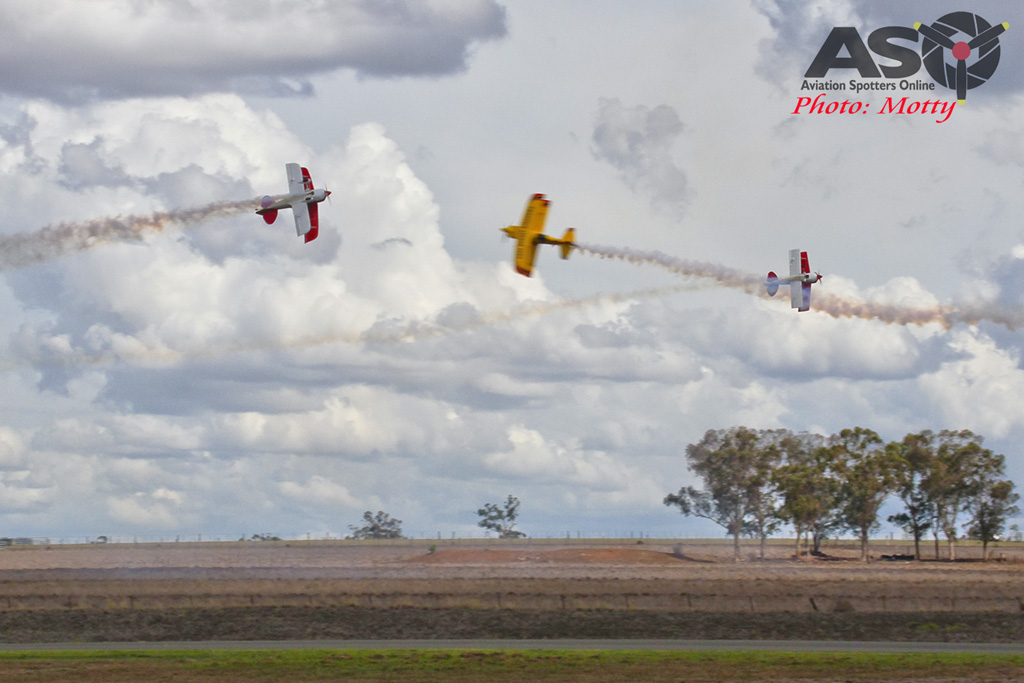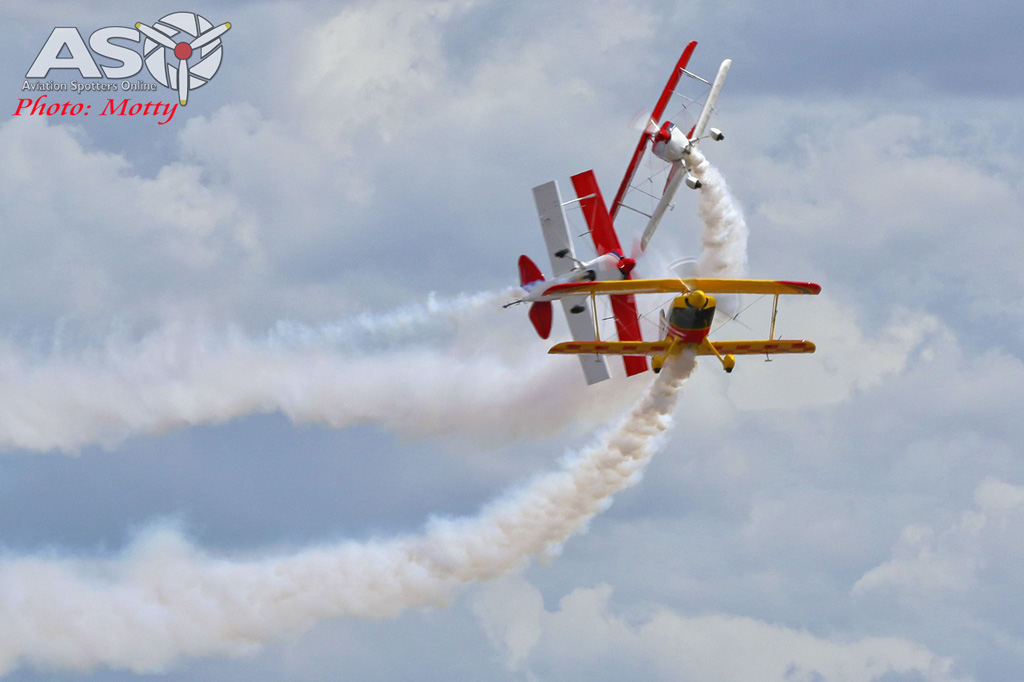 The Royal Australian Air Force was next on scene with a very impressive display by a Hawk 127(LIFCAP) from 76Sqn at Williamtown (not that I'm biased at all).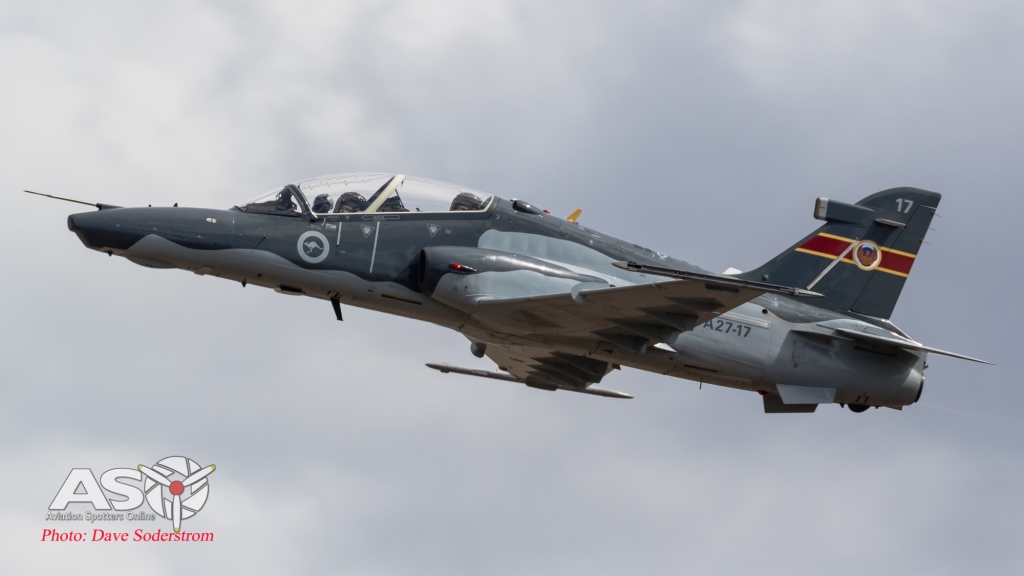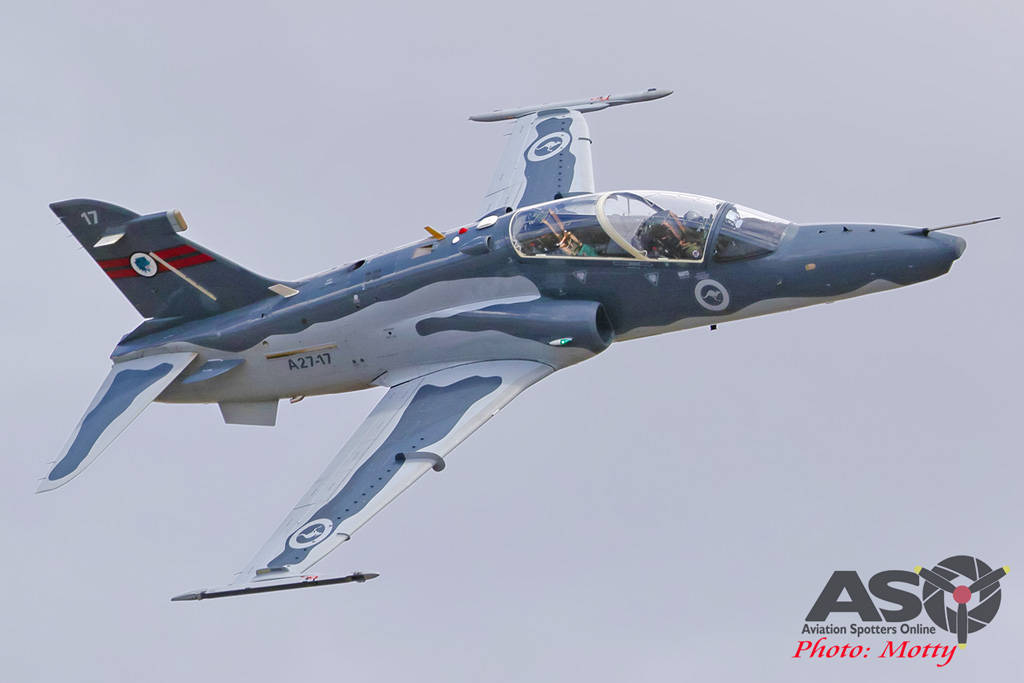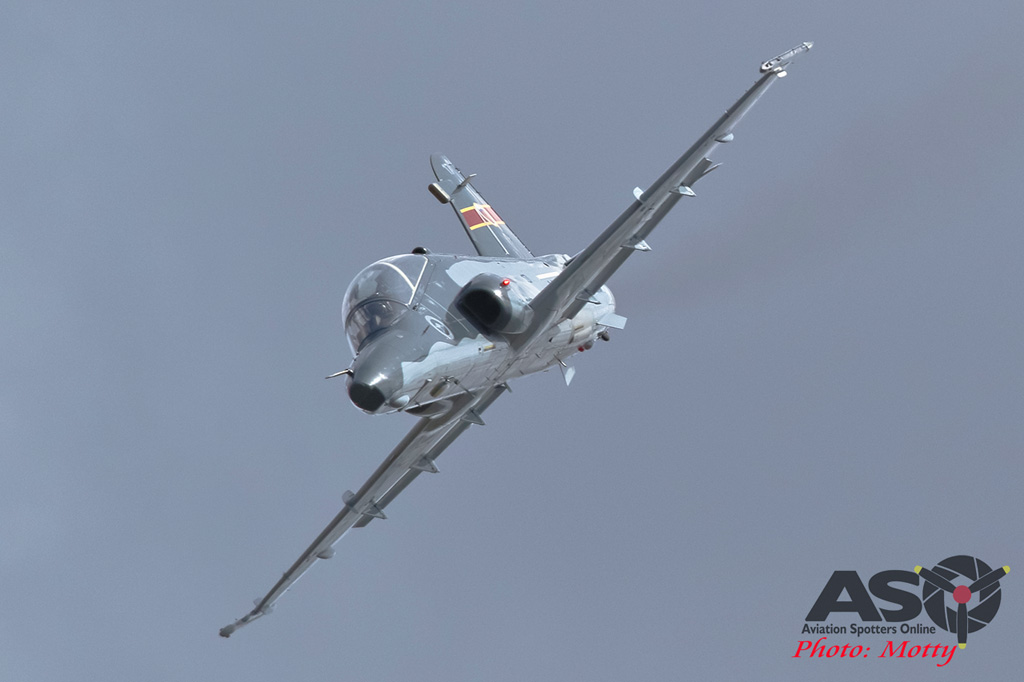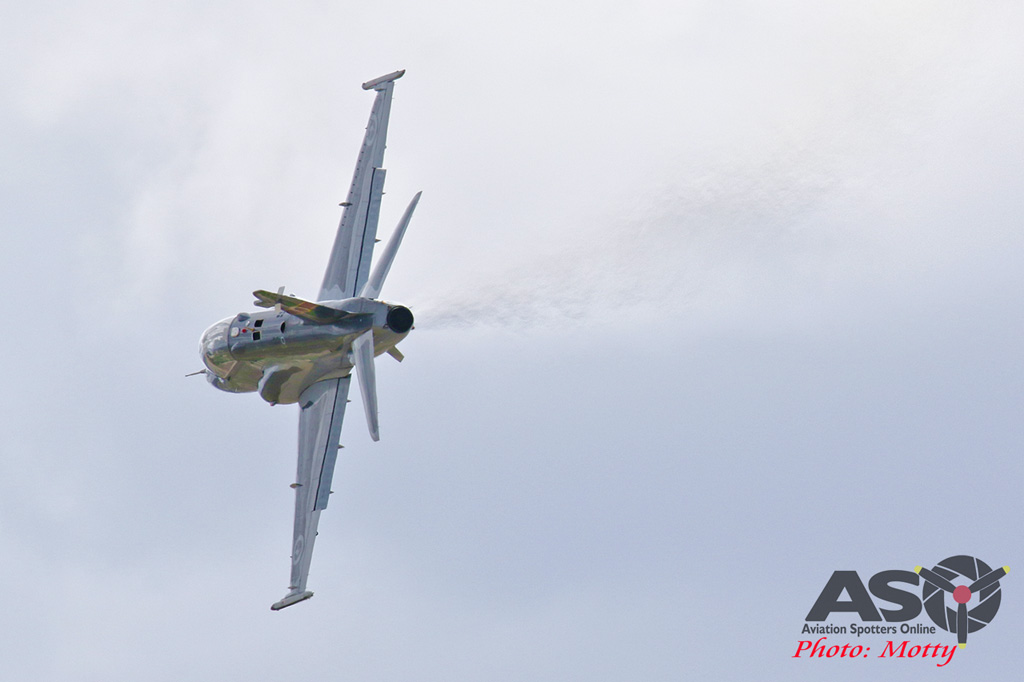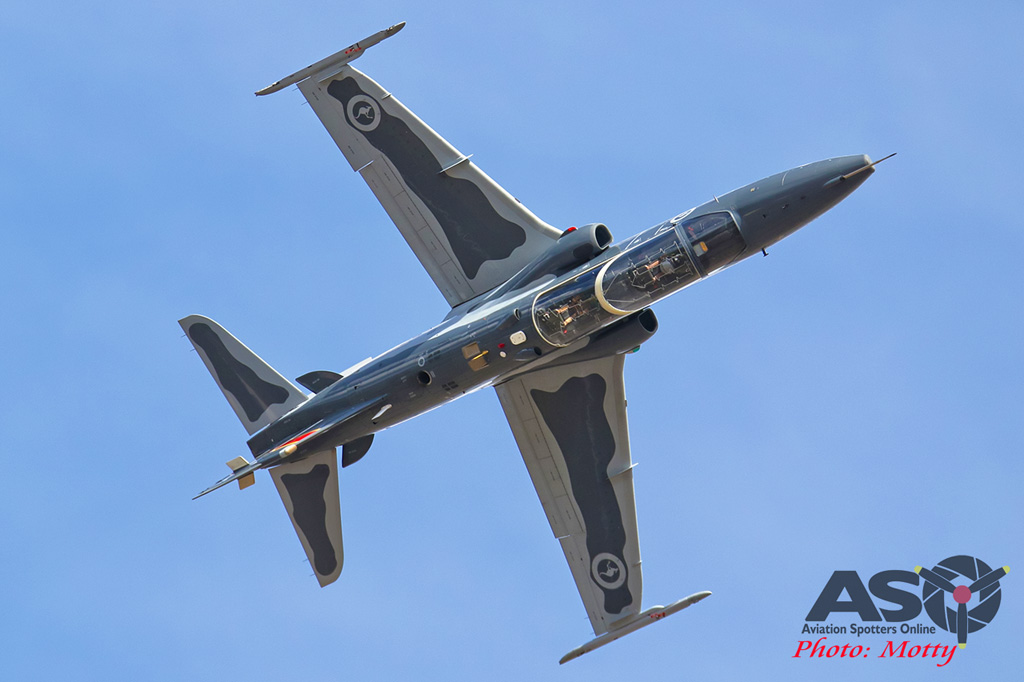 Regrettably, as the day's flying drew to a close, the wind had still not subsided enough to safely fly the main attractions of the Hurricane and FW-190. As Peter Anderson explained to the disappointed crowds, when these aircraft were designed and flown operationally, they usually flew from grass fields where they could simply take-off into whichever direction the wind was blowing from and weren't as restricted to the fixed directions of paved runways as they are today. And, of course, the most important consideration above all must always be the safe operation of such rare and valuable machines as these. Both for the personal safety of their pilots and to ensure that they remain available for future generations to experience in years to come.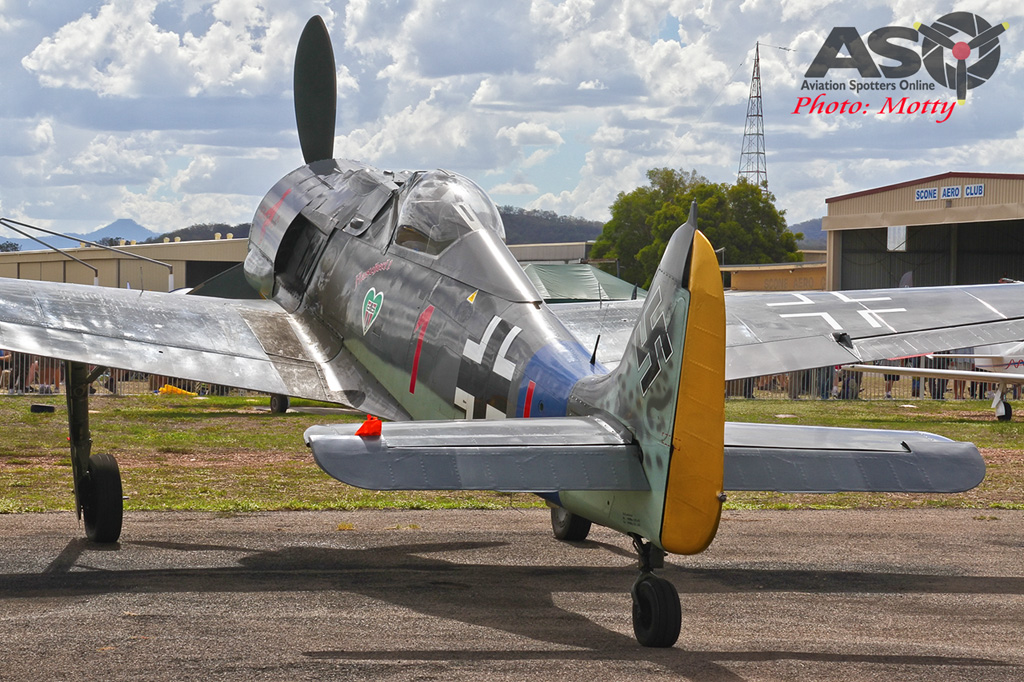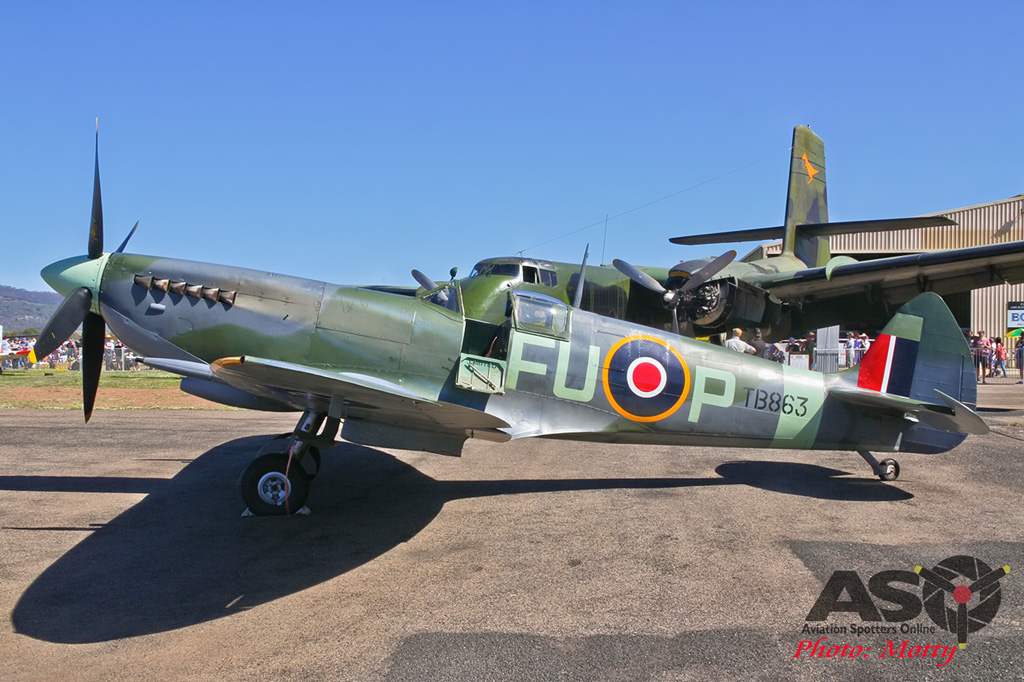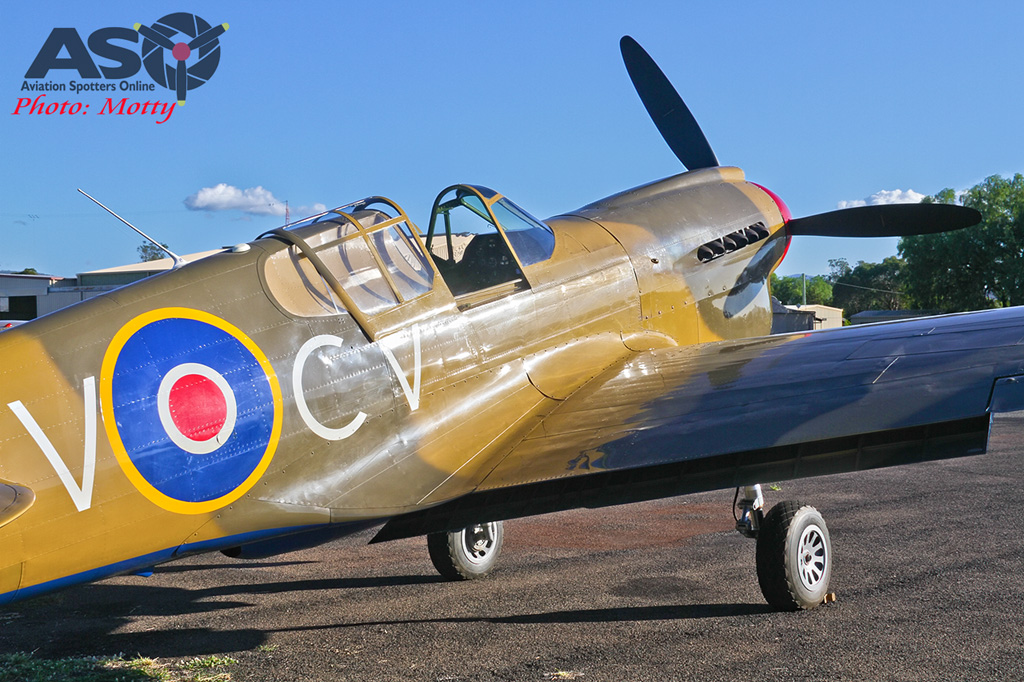 So, while the original intention had been to put up a great balbo of Warbirds as is often seen at shows in the UK and New Zealand, Tim Dugan, Paul Bennet and Steve Death were at least able to close the show with some formation and individual passes in the Avenger and the two Mustangs (types which have a higher tolerance of cross-wind). They also made a particularly moving "Missing Man" pass as a salute to Ross' late father, Col Pay, who had originated the idea of this show back in the '90s and who was such a pivotal part in the creation of the Australian Warbird scene as it is today.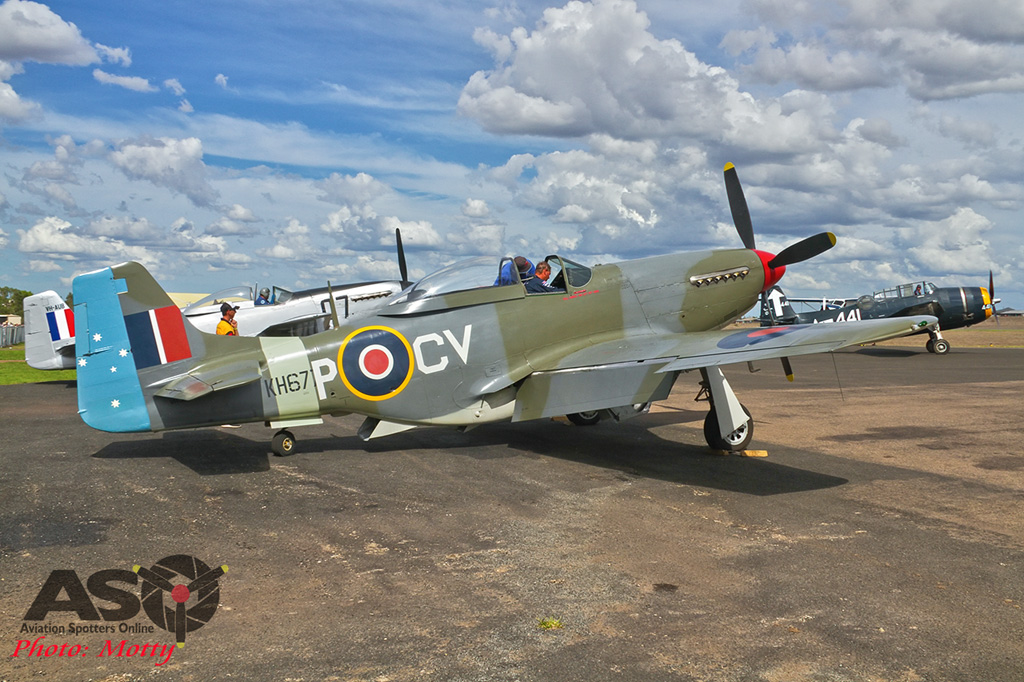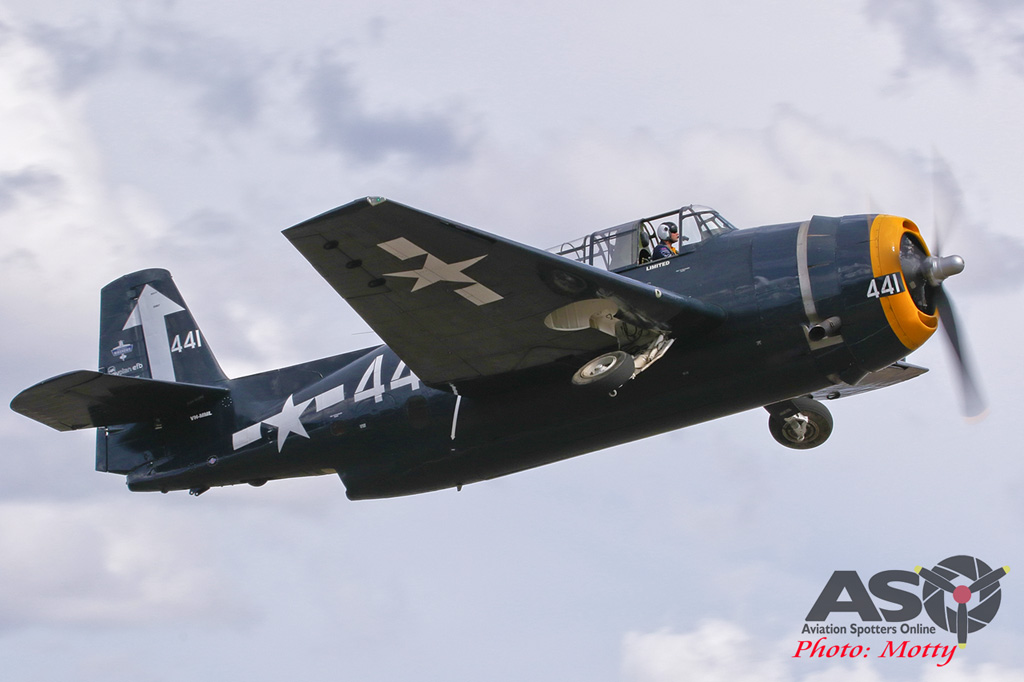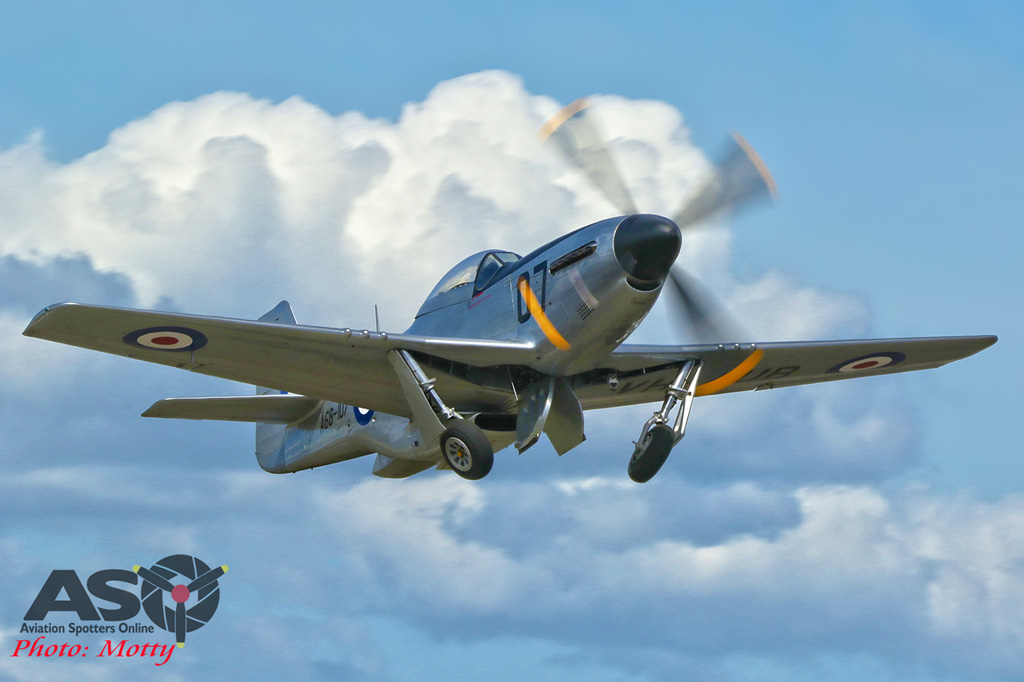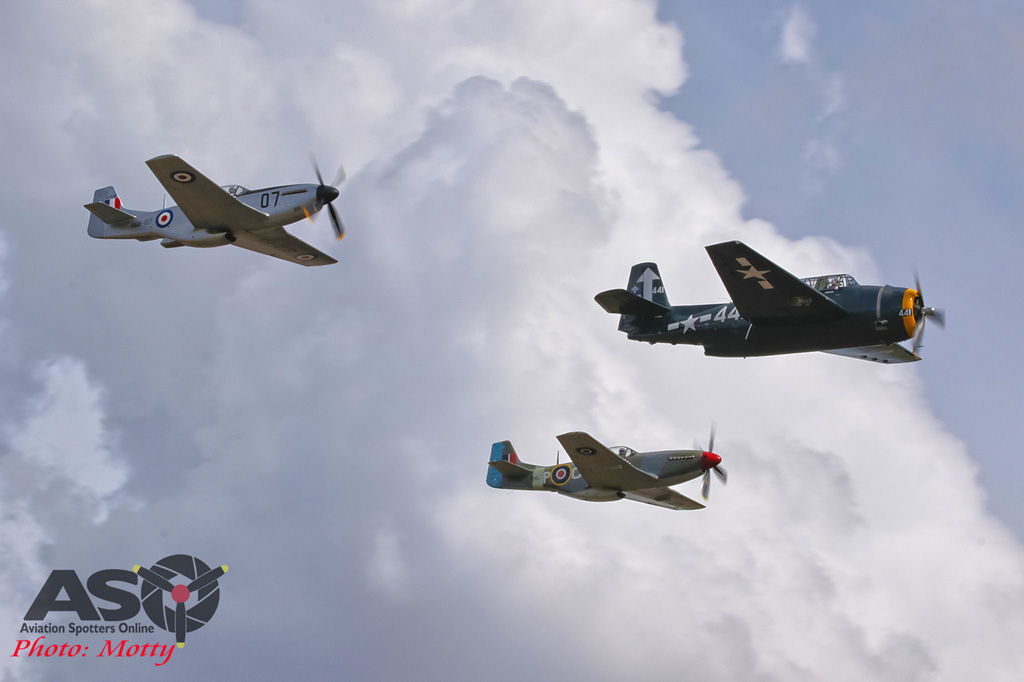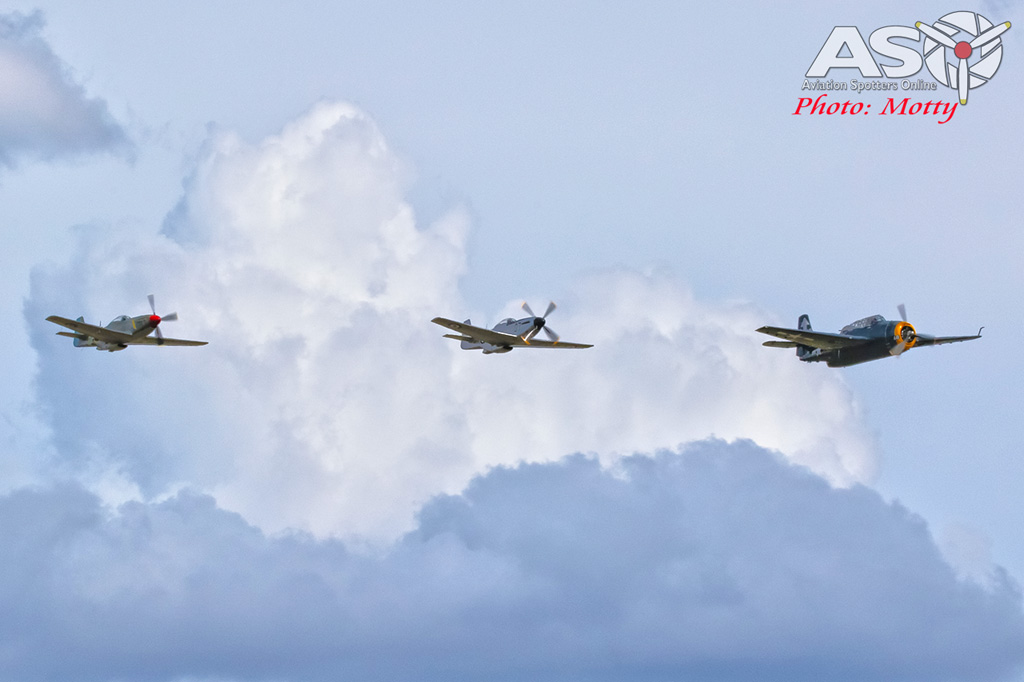 After the formal flying had wrapped up, there was usual flow of visiting aircraft all making their way home, including the impressive Caribou from HARS; a stark contrast to the string of smaller, light-aircraft around it.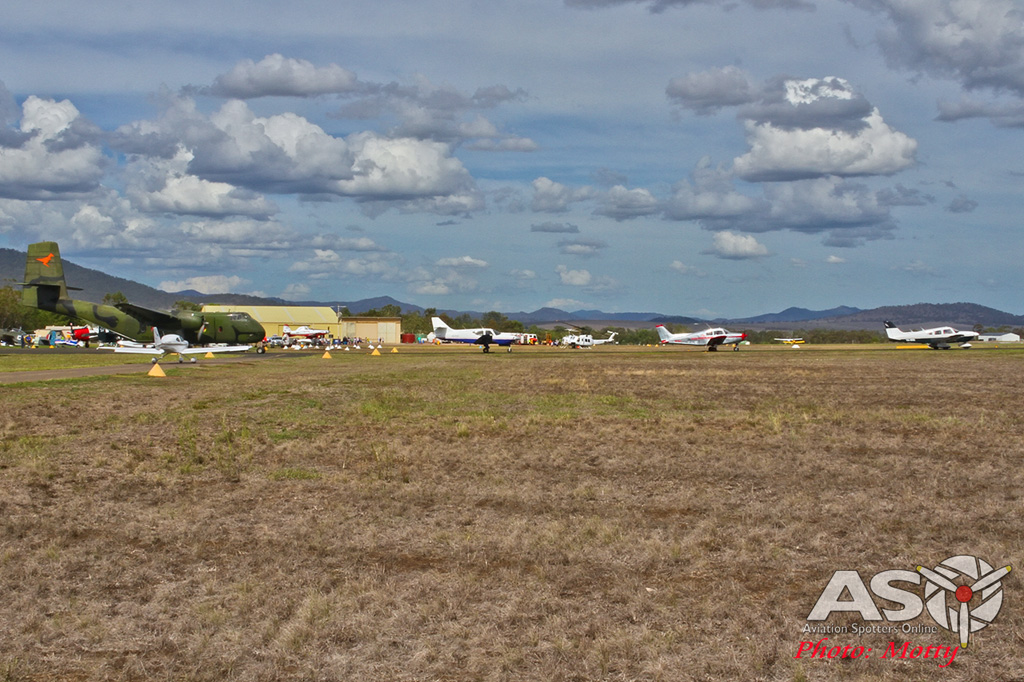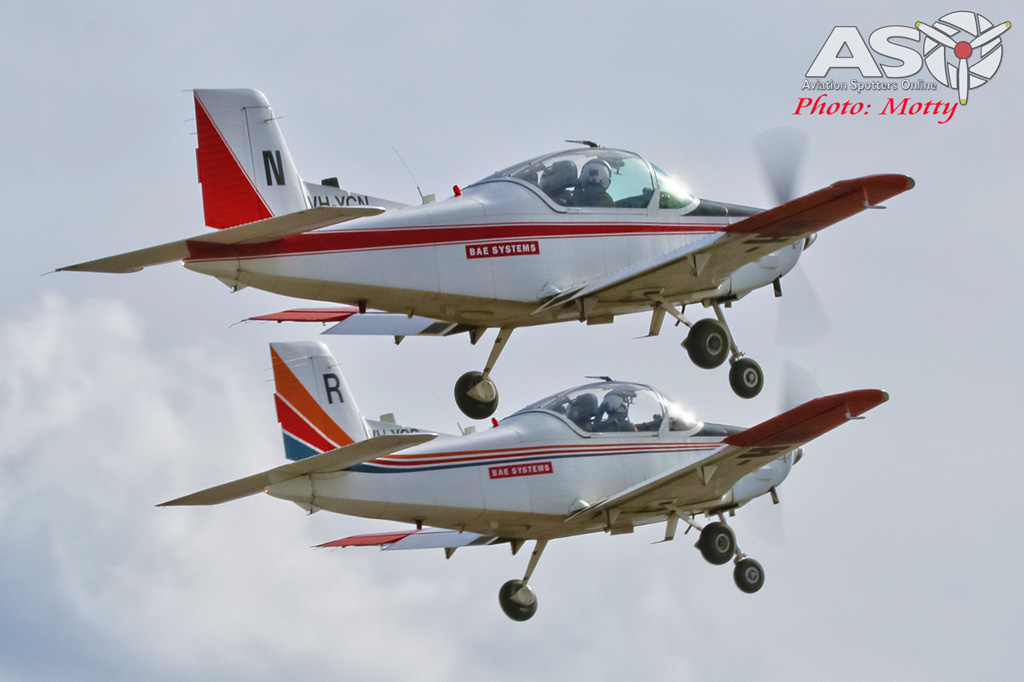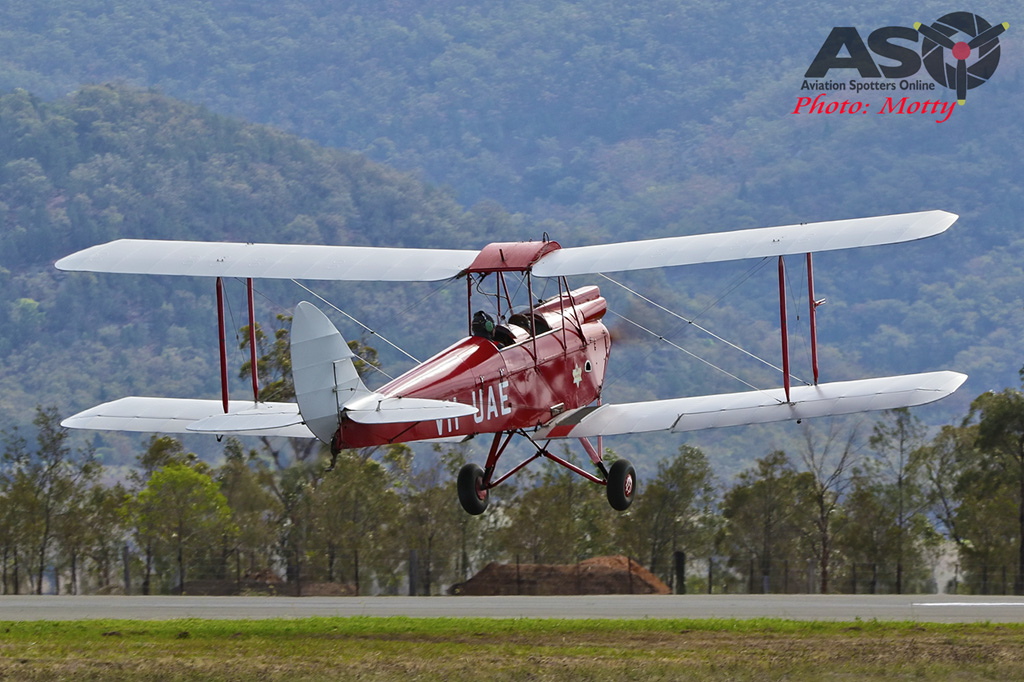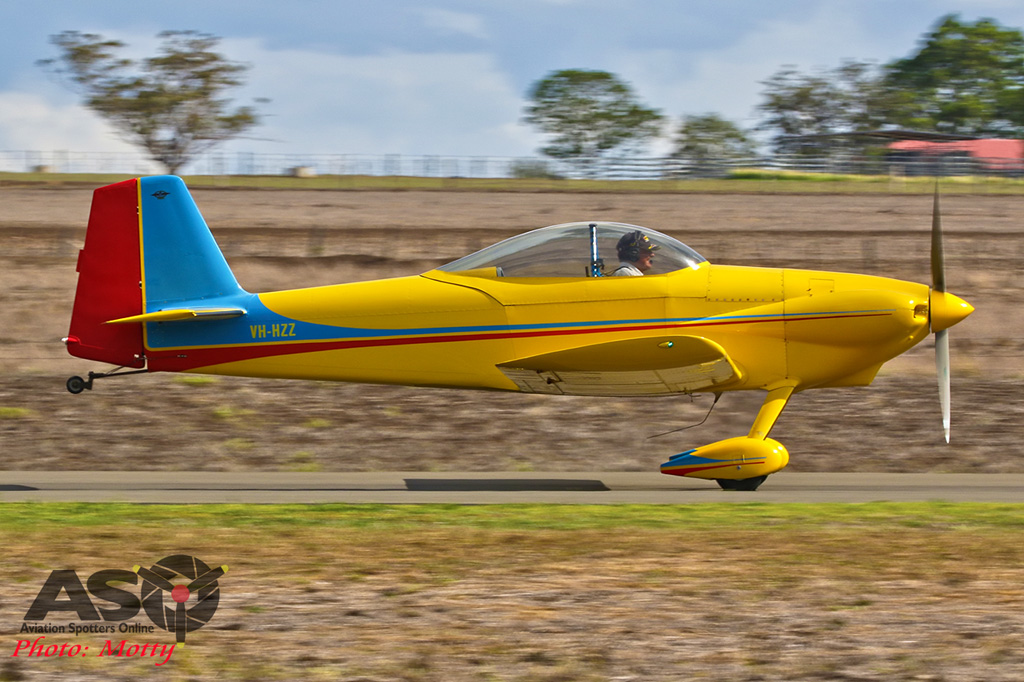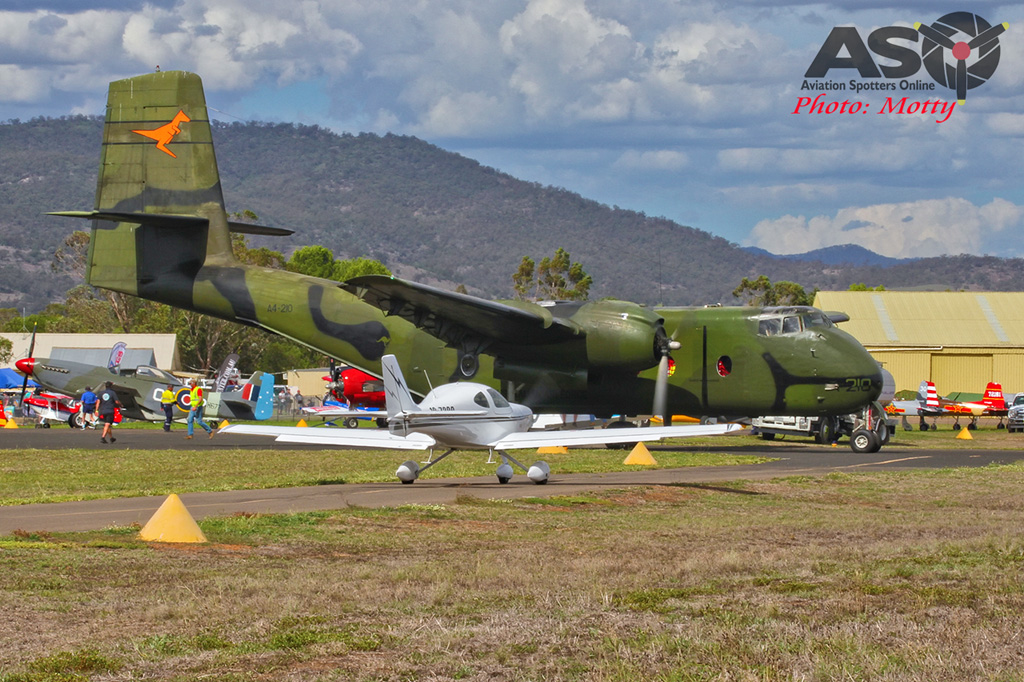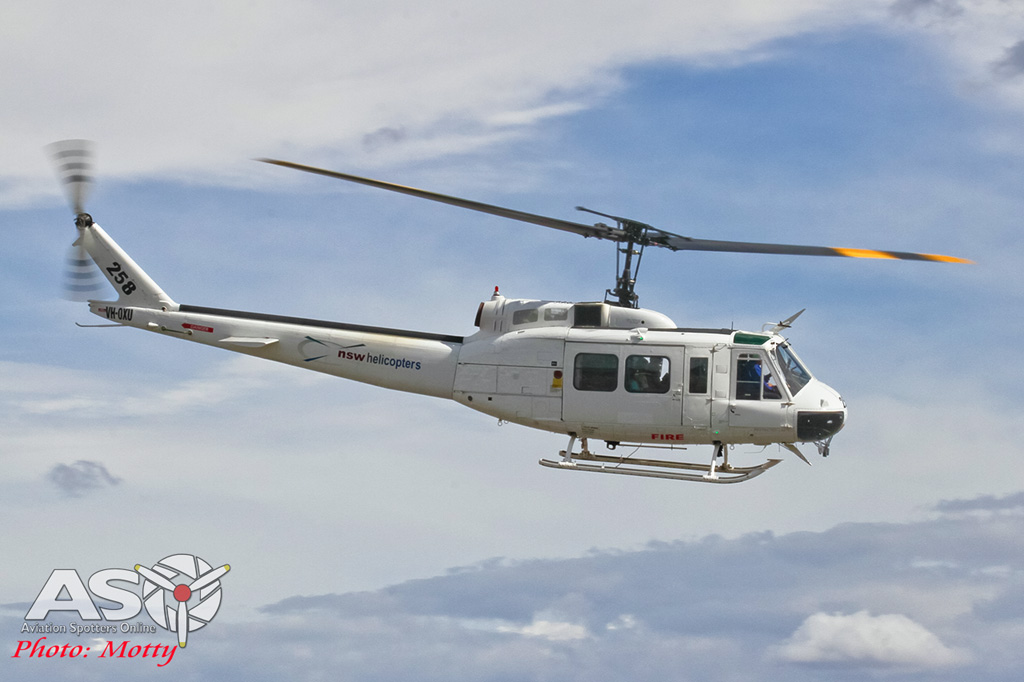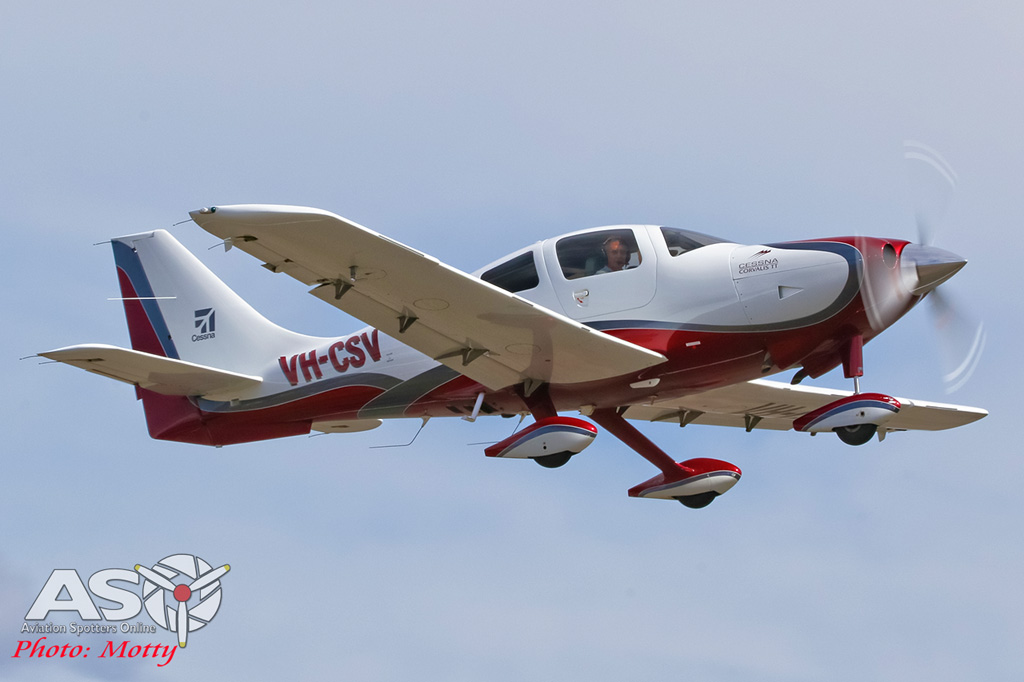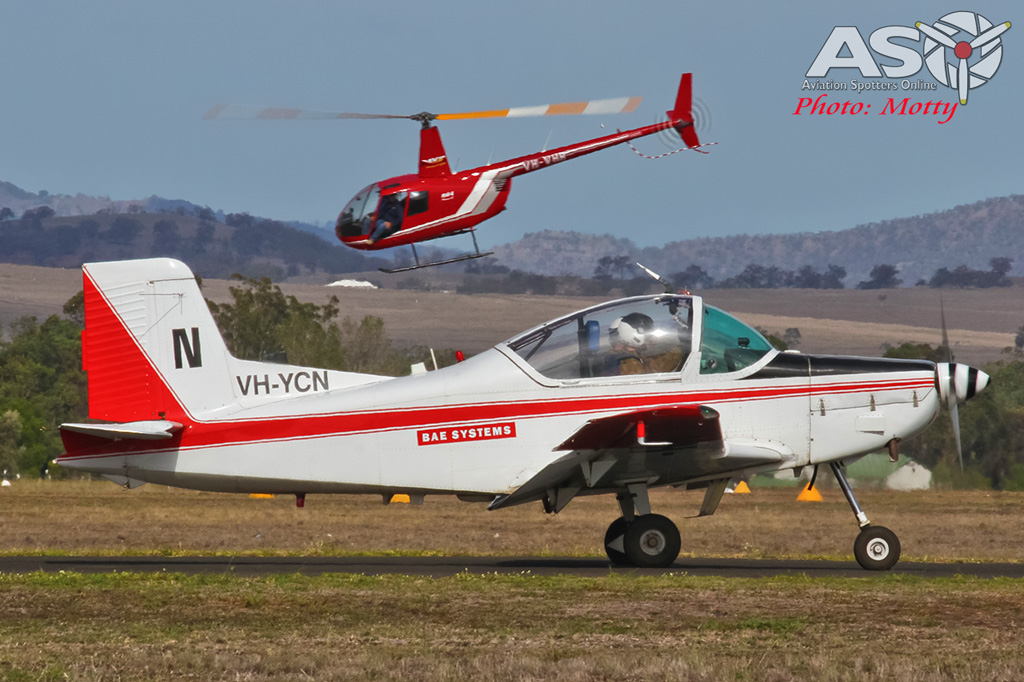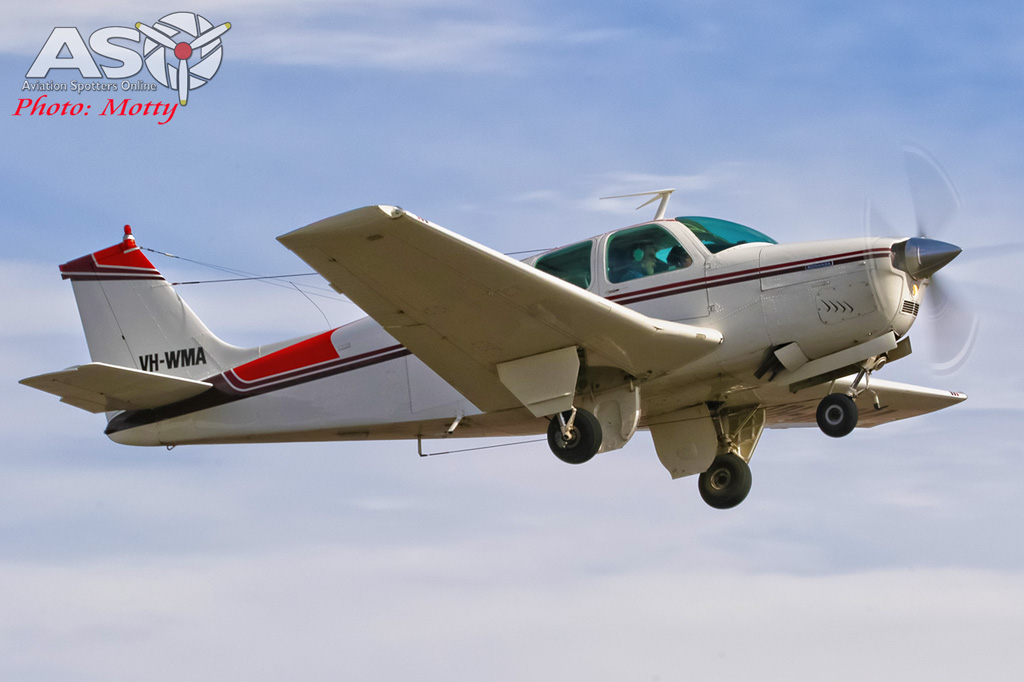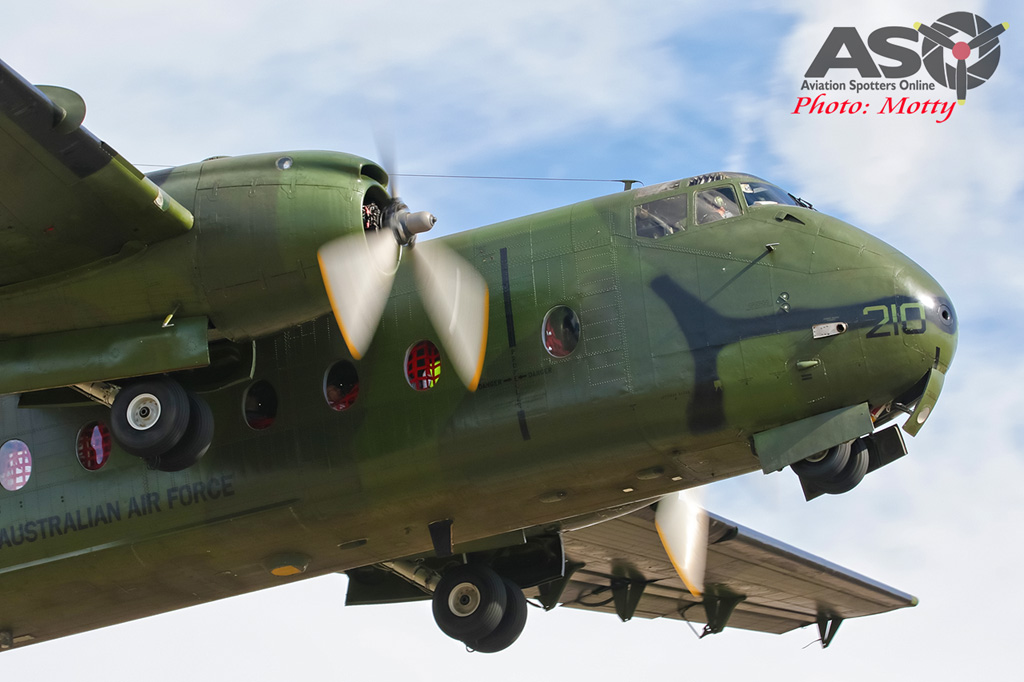 While the inability to safely fly the day's main attractions was obviously a great disappointment to many (some visitors had even travelled from overseas to witness the event), it is hoped that, with continued local support, this show will become a regular feature on the Australian airshow calendar in years to come. Our thanks to all involved for a great show and fantastic effort.