The focus during the daytime sessions at the Australian International Airshow was fast moving and loud. When the sun went down for the Friday night session, it was time for the ASO team to turn their cameras to a slower shutter speed and take on some low light photography.
Instead of shooting at 2000th/sec as we might for a fast jet, we slowed our shutter speeds down. Most of these shots would not be considered long exposure, but given that almost all of them were shot hand held at speeds down to a 10th/sec they were long enough to capture a previously unexplored part of Avalon.
Fellow Editor, Mark Jessop and I had another big day at Avalon on the Friday and stopped for a quick refreshment while the sun was starting to set. Wandering past the Royal Australian Air Force C-27J Spartan the illumination of the head up display caught our eyes.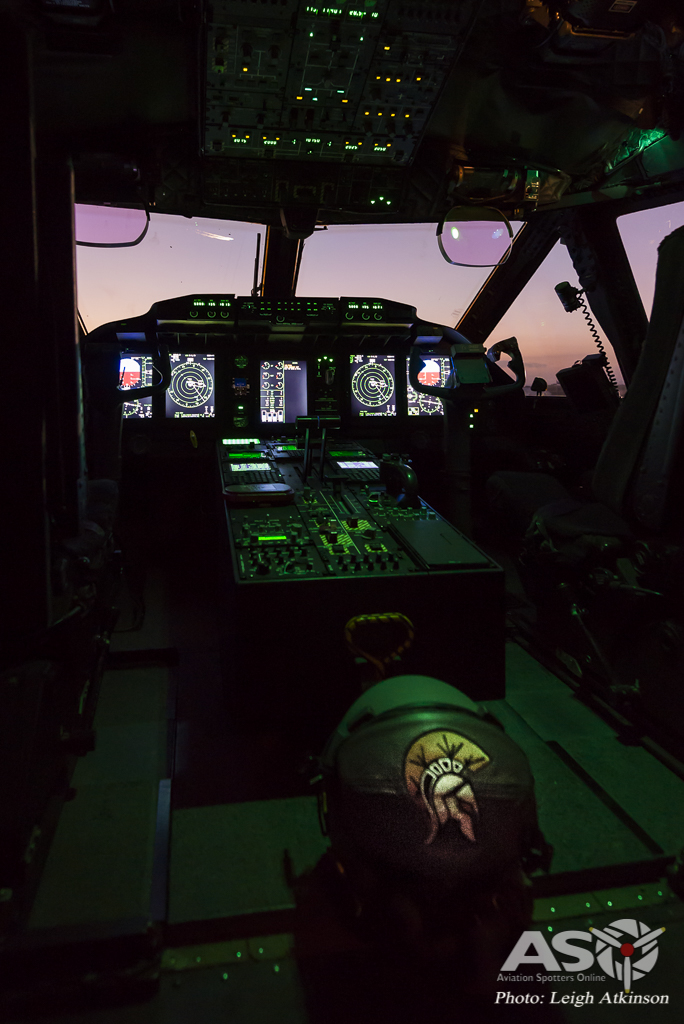 The next moment we were inside the aircraft chatting to the crew who were keen to help us with the cockpit lighting … the combination of the cockpit lighting and the colour in the sky through the windshield of the westerly facing aircraft just added a great glow to the cockpit.
We moved quickly from the Spartan to the row of RAAF fighters alongside it as the last of the daylight faded. The RAAF's fast jet line up included everything from the F/A-18 Classic, the 1SQN Super Hornet and the new 6SQN F/A-18G Growler and the latest arrivals, the Lockheed Martin F-35A Lightning. It was an impressive collection and Mark and I were shooting them in the failing light with renewed enthusiasm.
… and then the fireworks began.
We were busy making the most of the low light conditions and hadn't been even vaguely aware that the fireworks display that is part of the Friday night show was about to change the ambience in a sudden and loud way. We both looked up with the first burst and instantly chased different angles.
When the fireworks died down we met each other with a wry smile and a casual "How'd ya go??" … the response "… yeah OK I think."
Mark takes up the story from here …
'We had thought by now that this would be it for the night, but then after a short walk back to our car it was very clear no one was going anywhere for a while. One of the good things about getting to a show early is you get to park very close to the gates and as luck would have we made the choice to keep going and grabbed the tripods and get some more low light shots. This whole Friday at Avalon will be one I remember for many years, the show from start to finish and even after it ended was more than I expected. We hope these photos from just the Friday evening and night really showcase just how good it can be.- Mark Jessop