Fast jets, warbirds, aerobatics, stunt cars and bikes and lots of explosions! The Central Coast Airshow was held at Warnervale airport on the 22 & 23 of May this year and brought a welcome return of great flying and entertainment to the area, both in terms of reduced outdoor events associated with COVID restrictions over the previous twelve months or so, and that it has been around 30 years since an airshow was last held at Warnervale. It was also the public debut of the RAAF's (Royal Australian Air Force's) F-35 full handling display, giving visitors and enthusiasts the first real taste of Australia's newest front-line combat aircraft going "all out". And what a sight (and sound) it was too!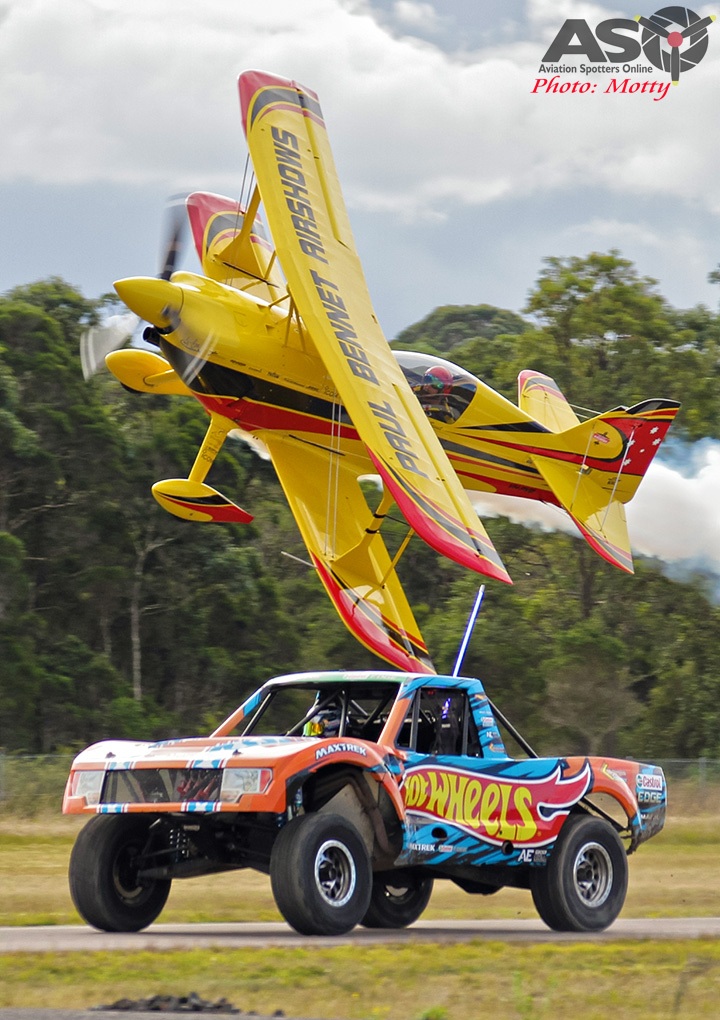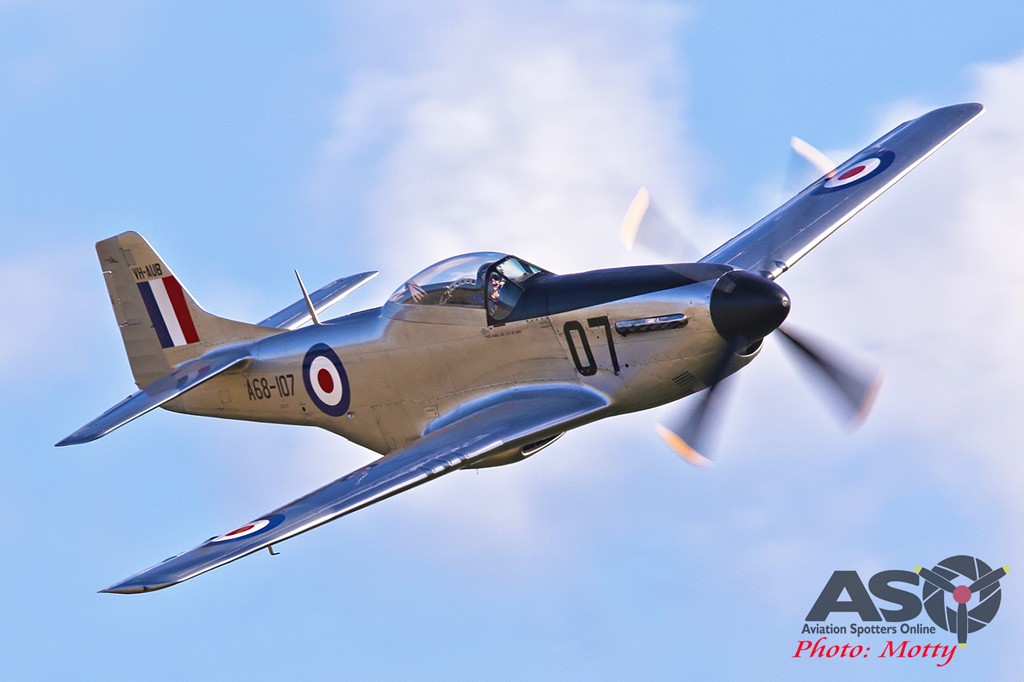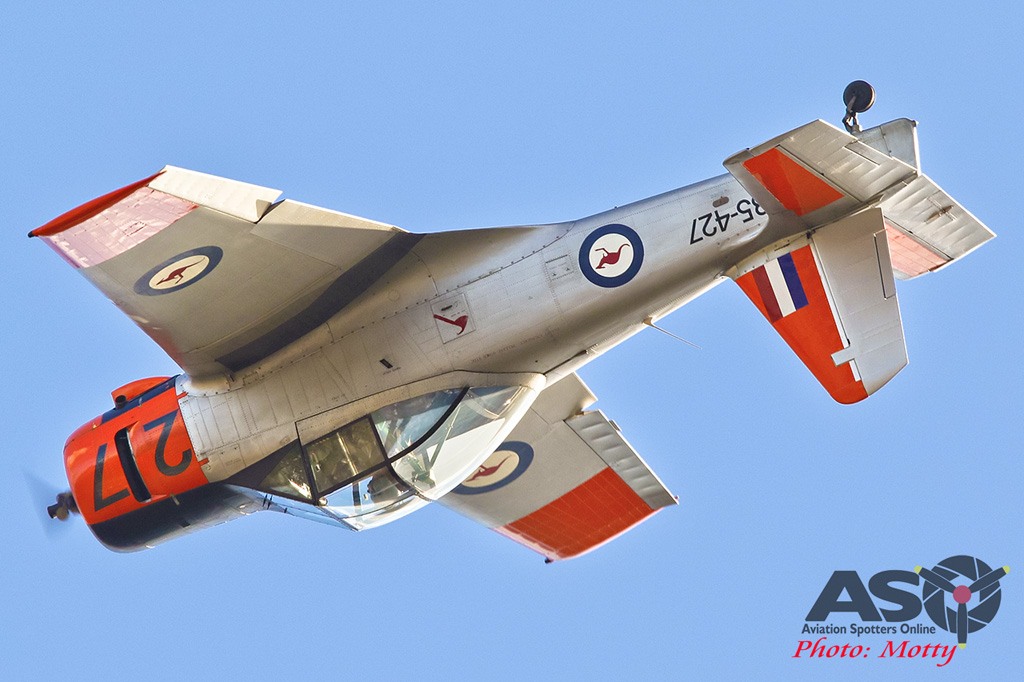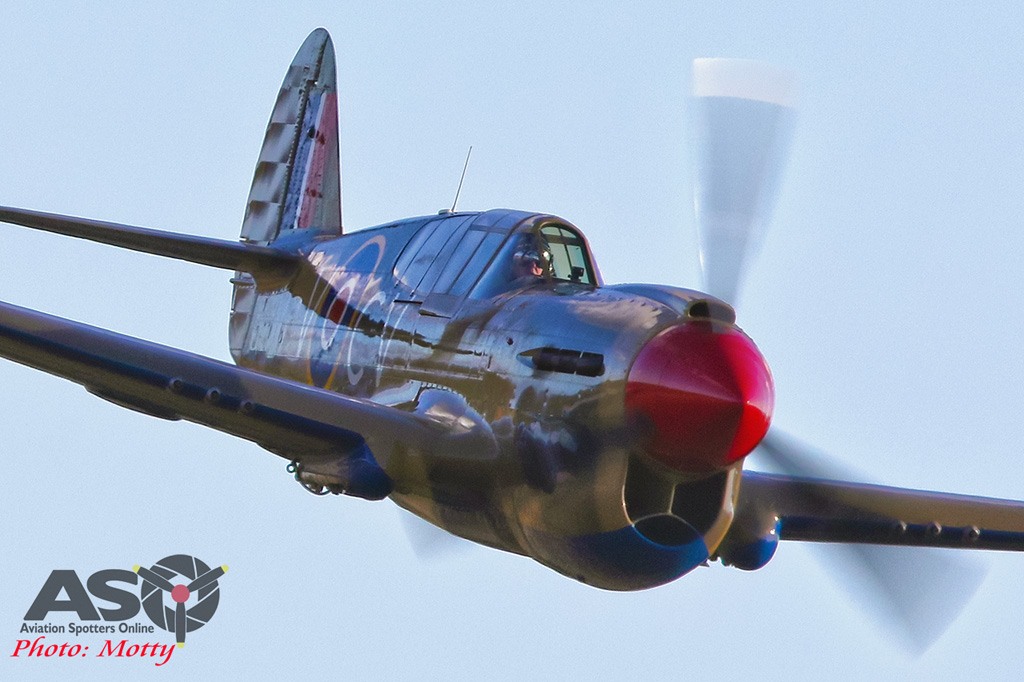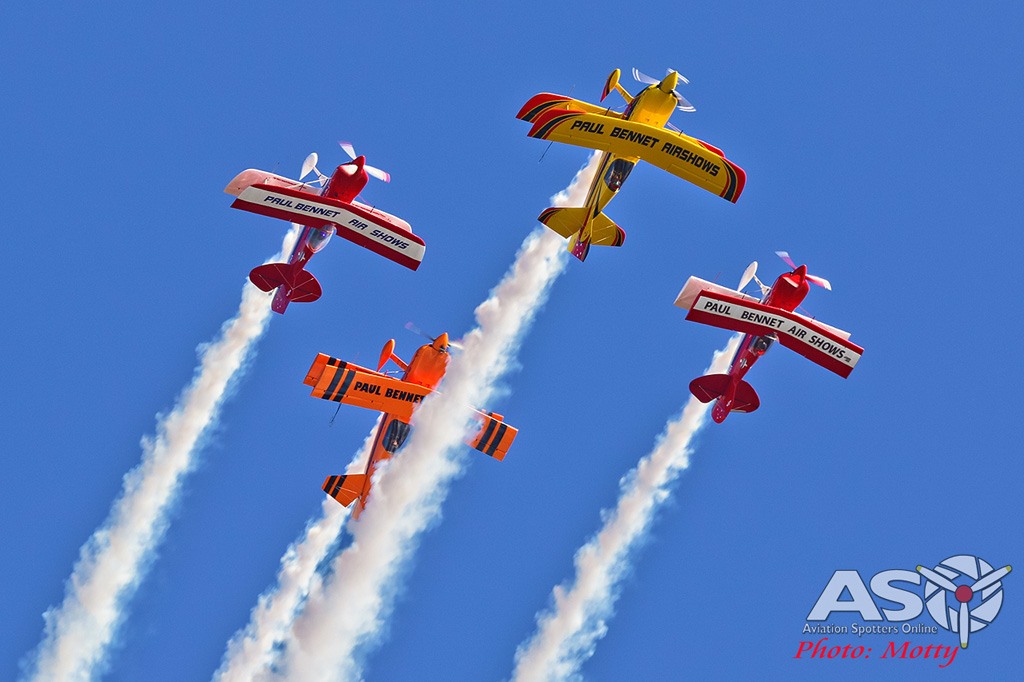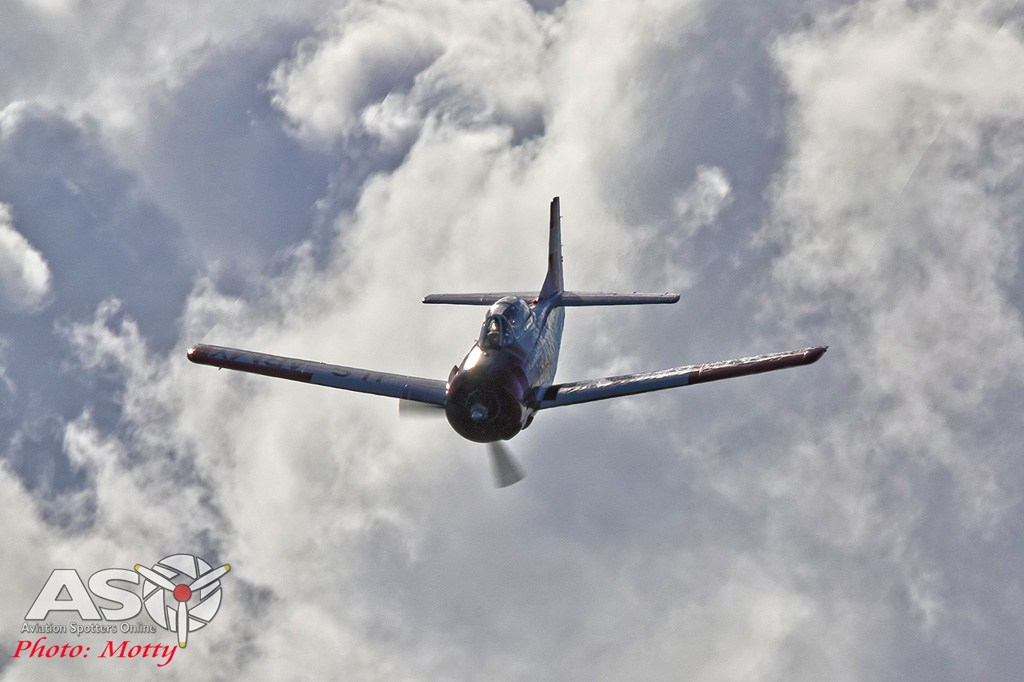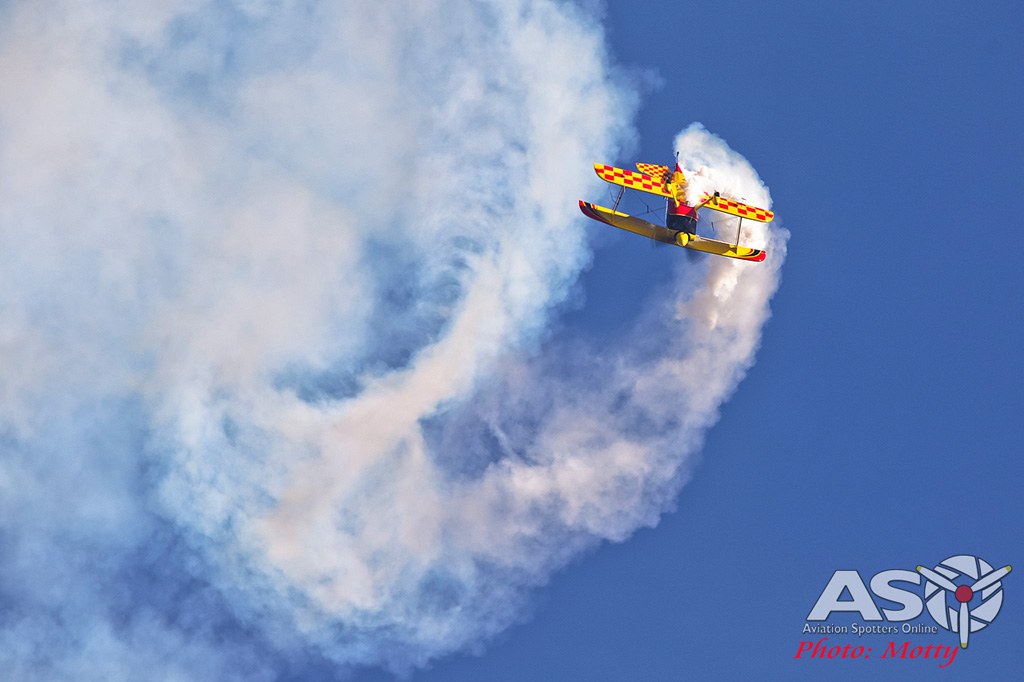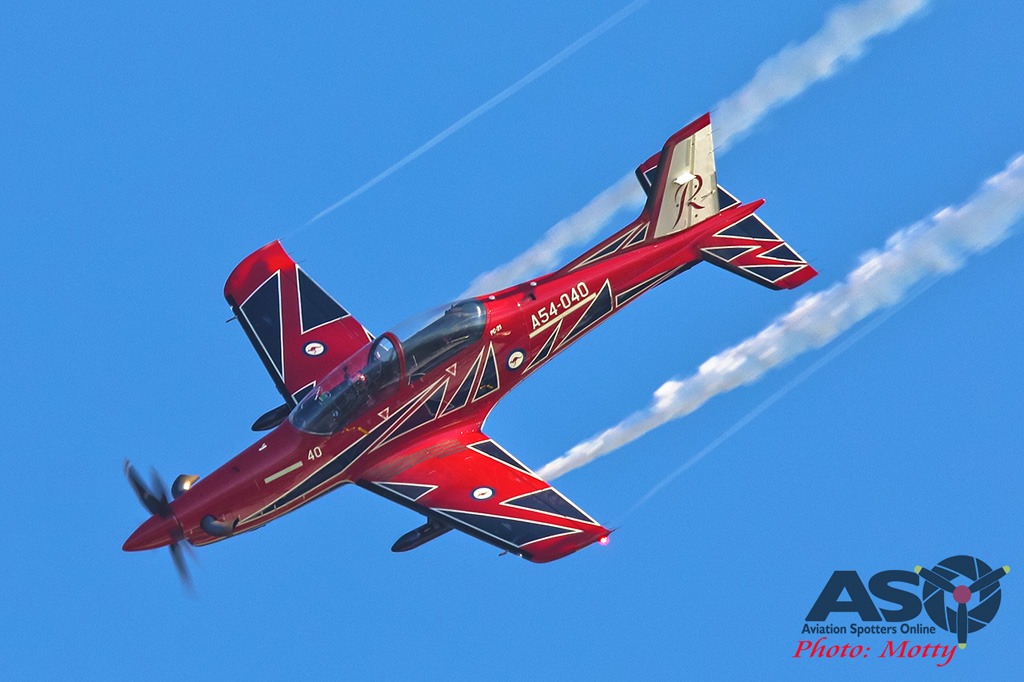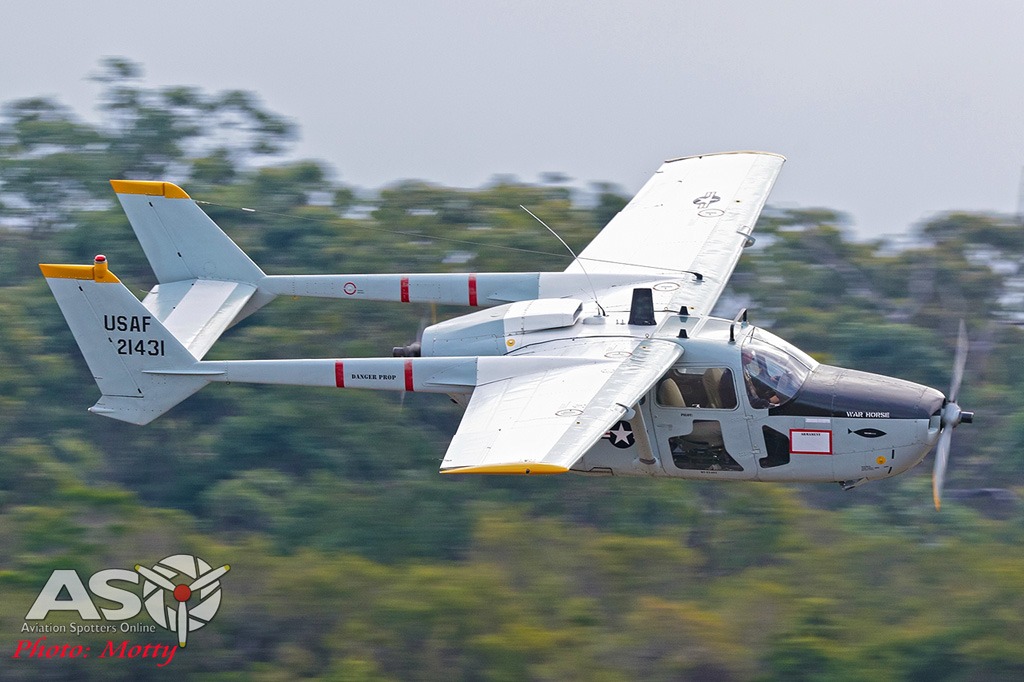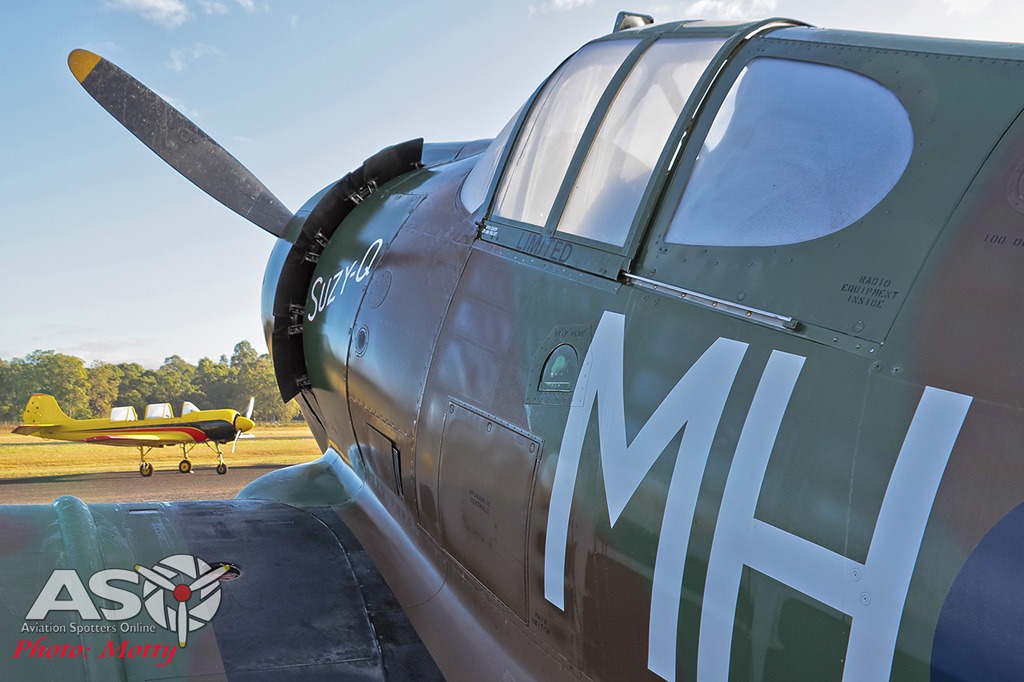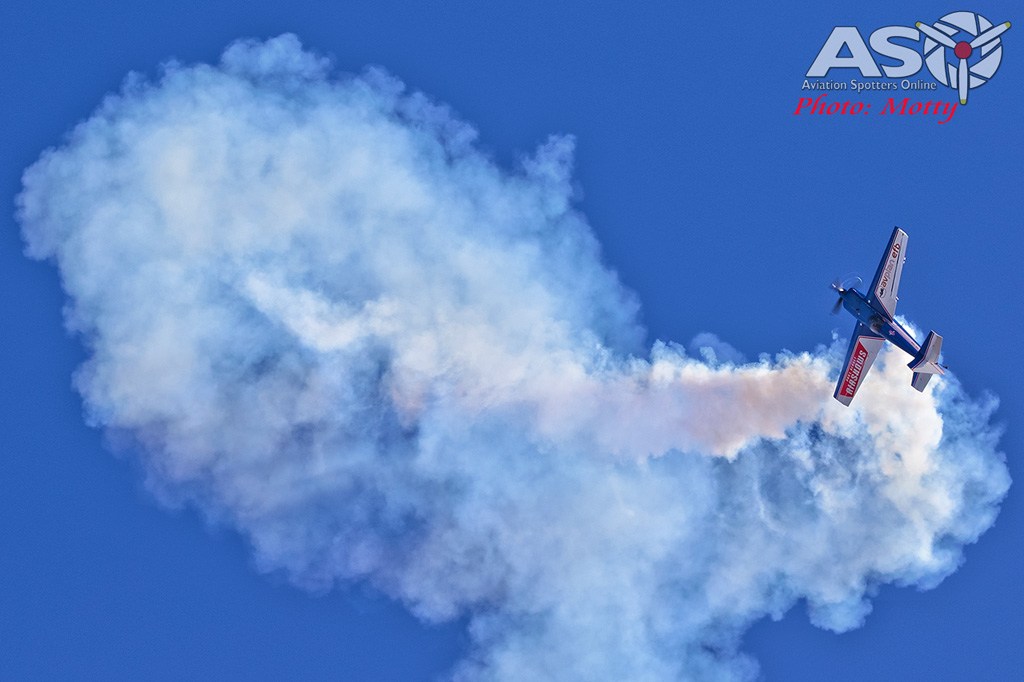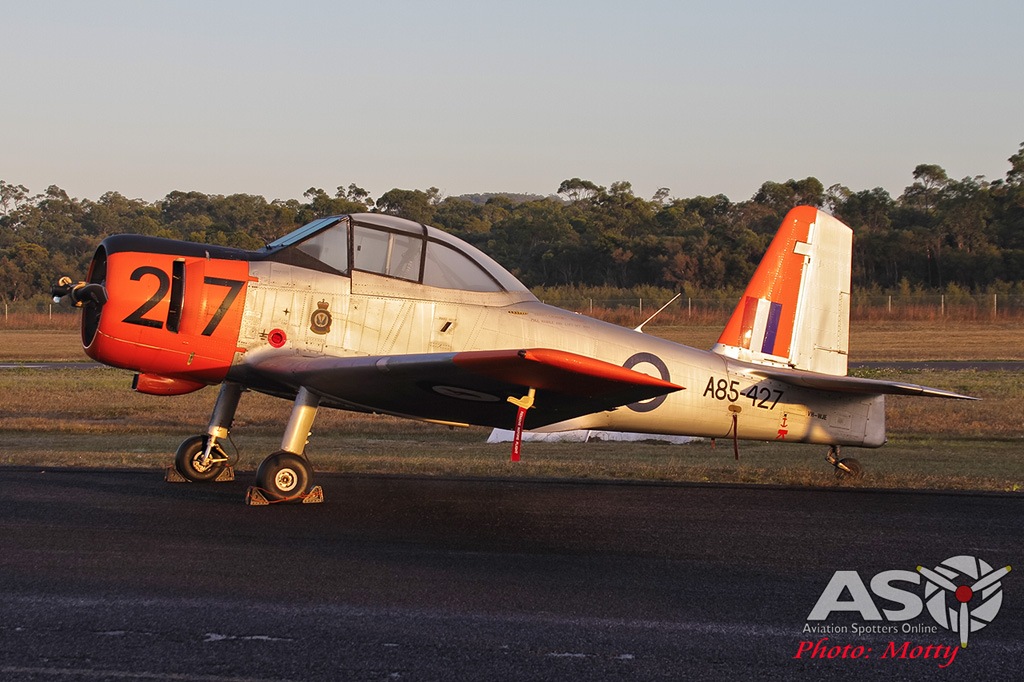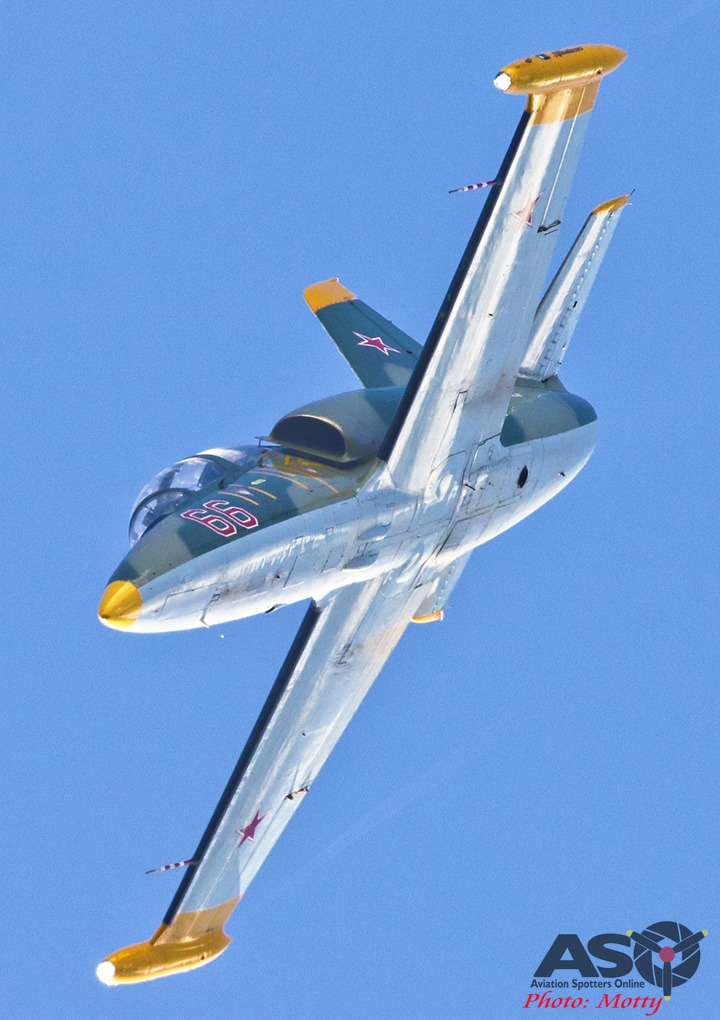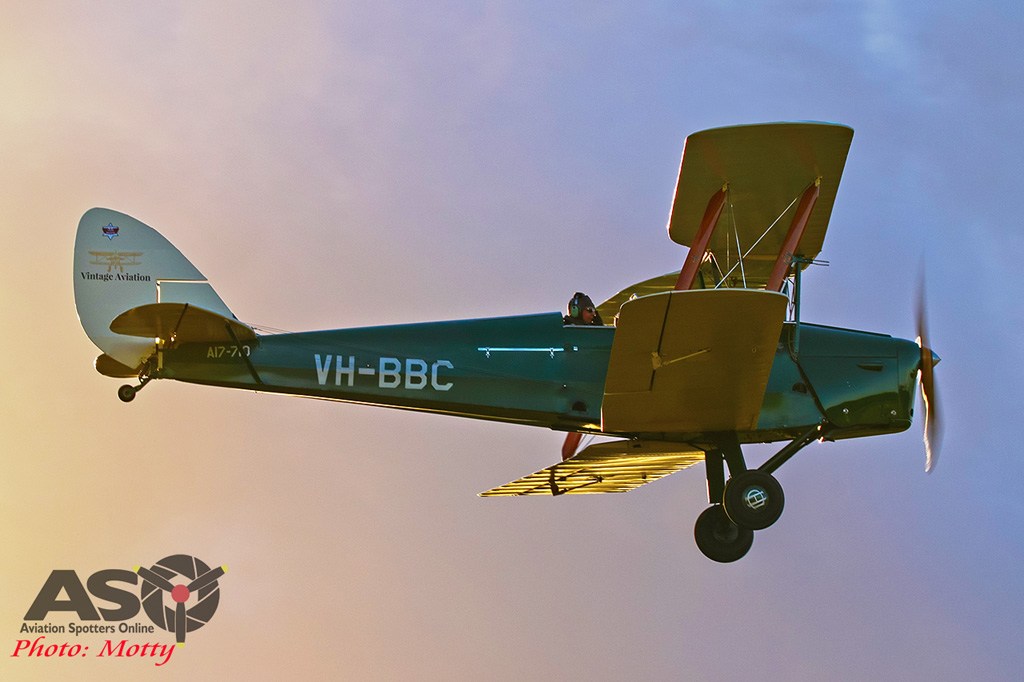 Built in the early 1970s, Warnervale is a small airport with a 1200m runway about 70Km (or about an hour's drive) north of Sydney, just off the freeway near Wyong on the NSW Central Coast. The small size of the airfield meant that aircraft take-offs, landings and ground movements were a lot closer to the crowd than may be usual at many other, larger airfields which helped to give a much more involved and intimate feel to the weekend's entertainment.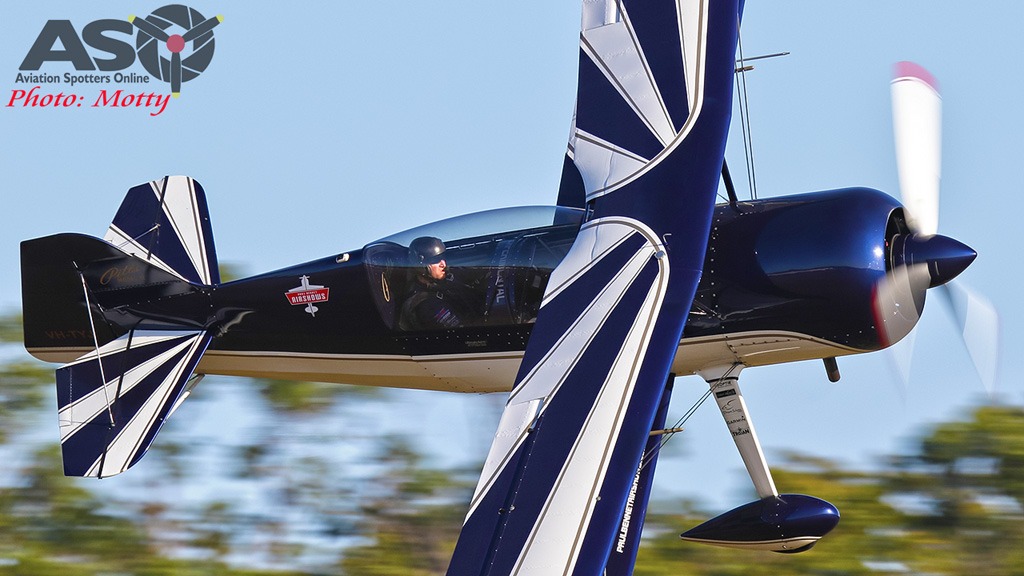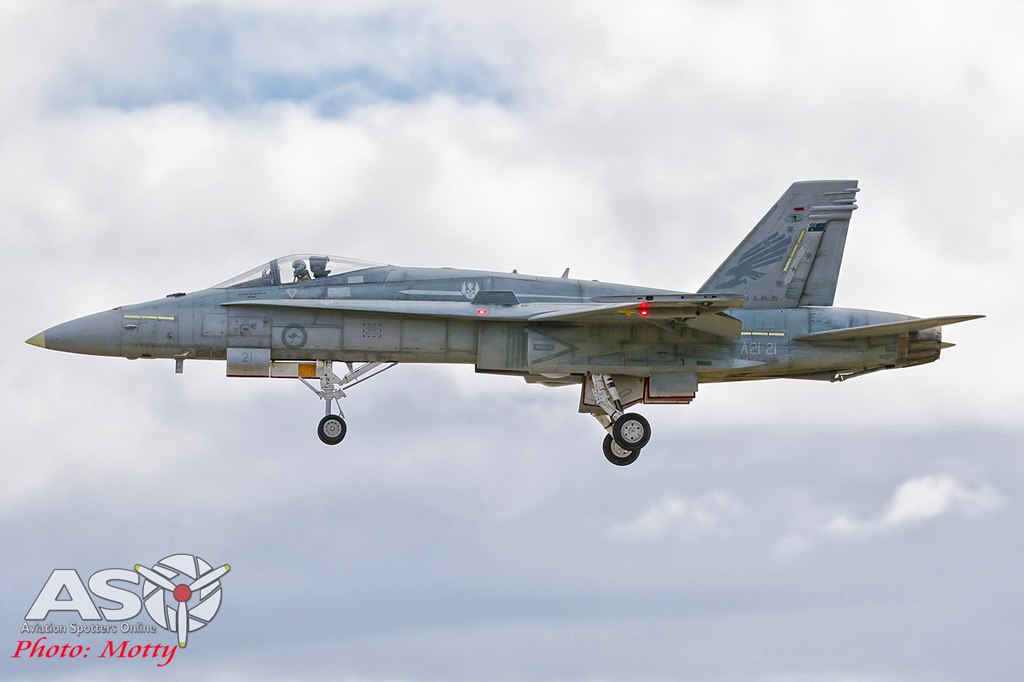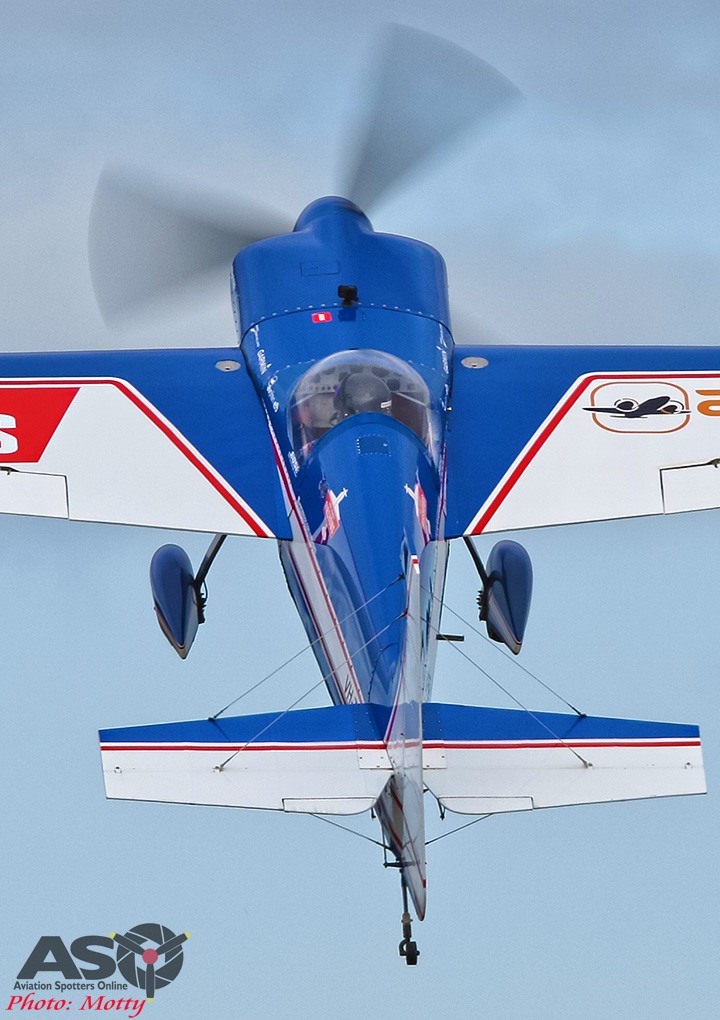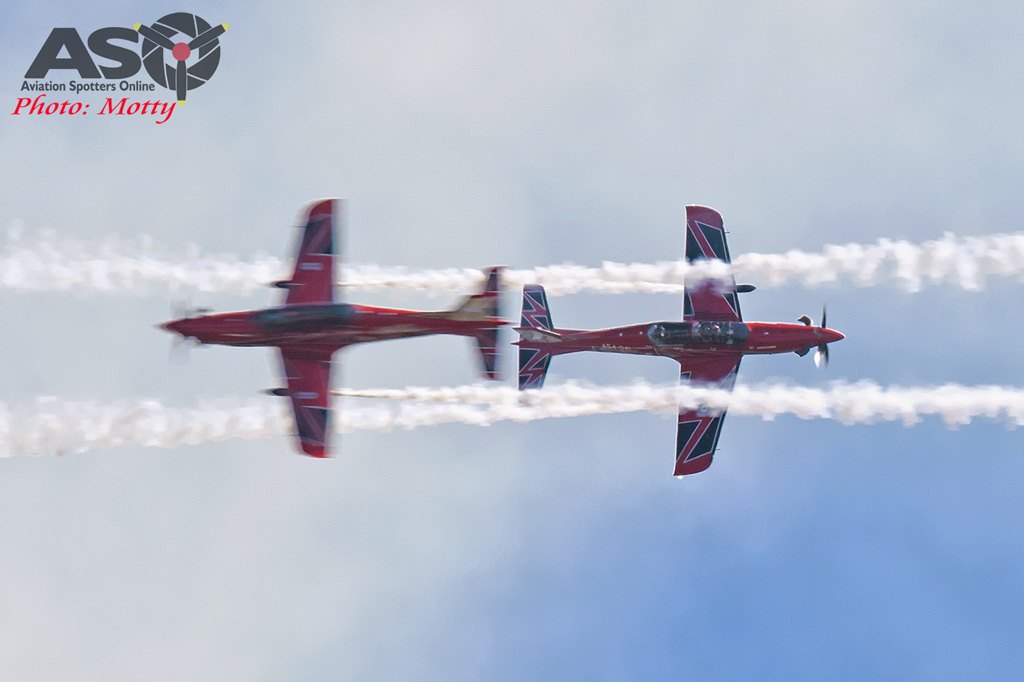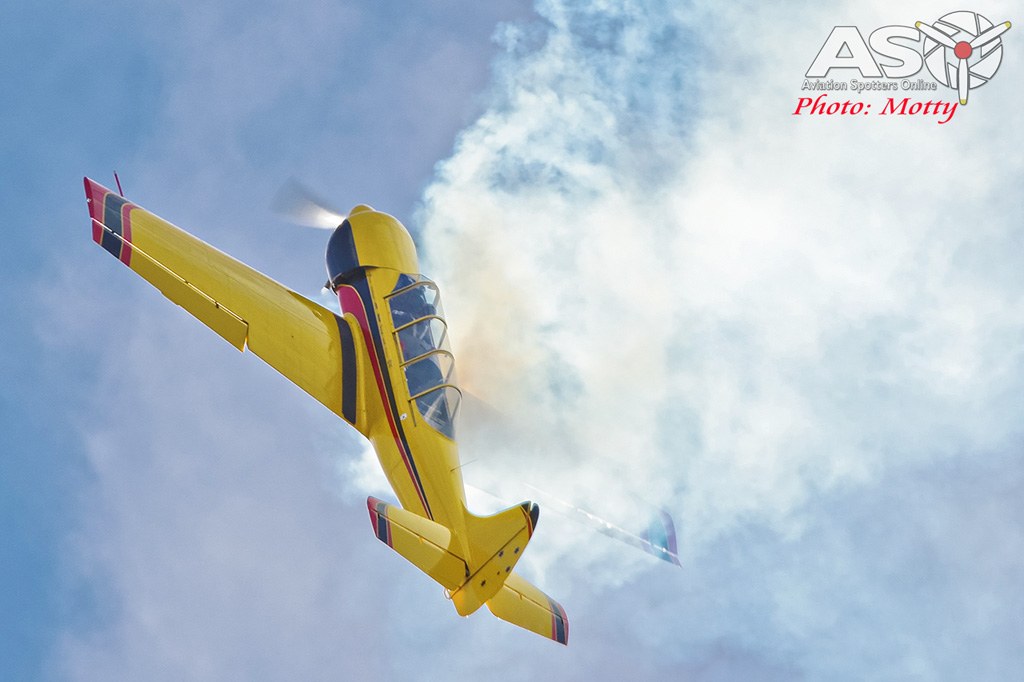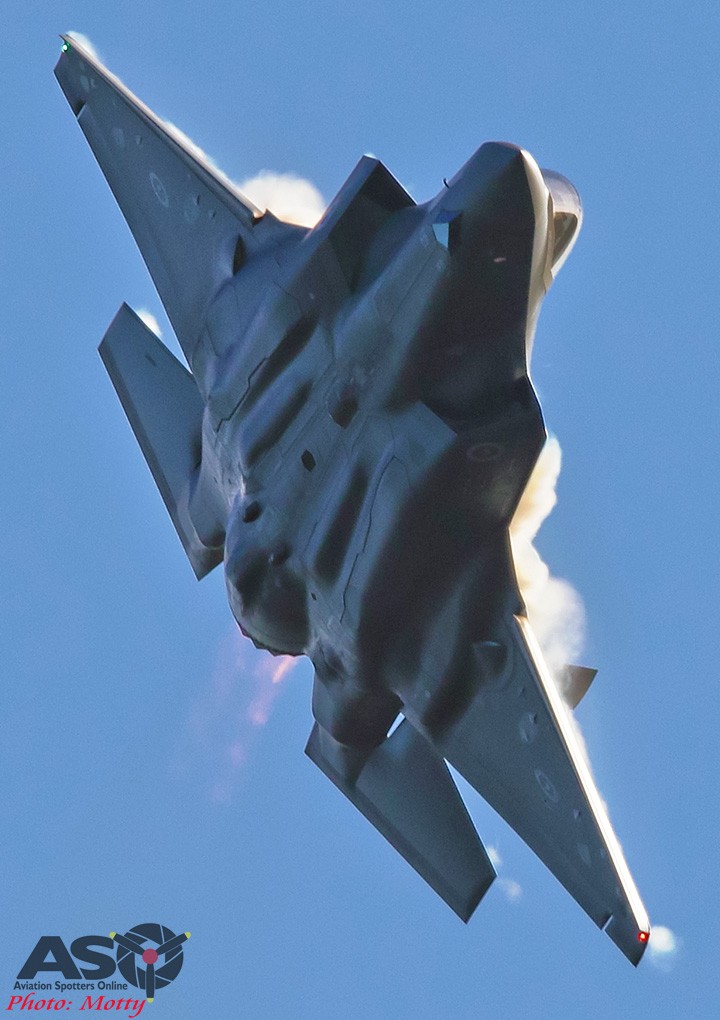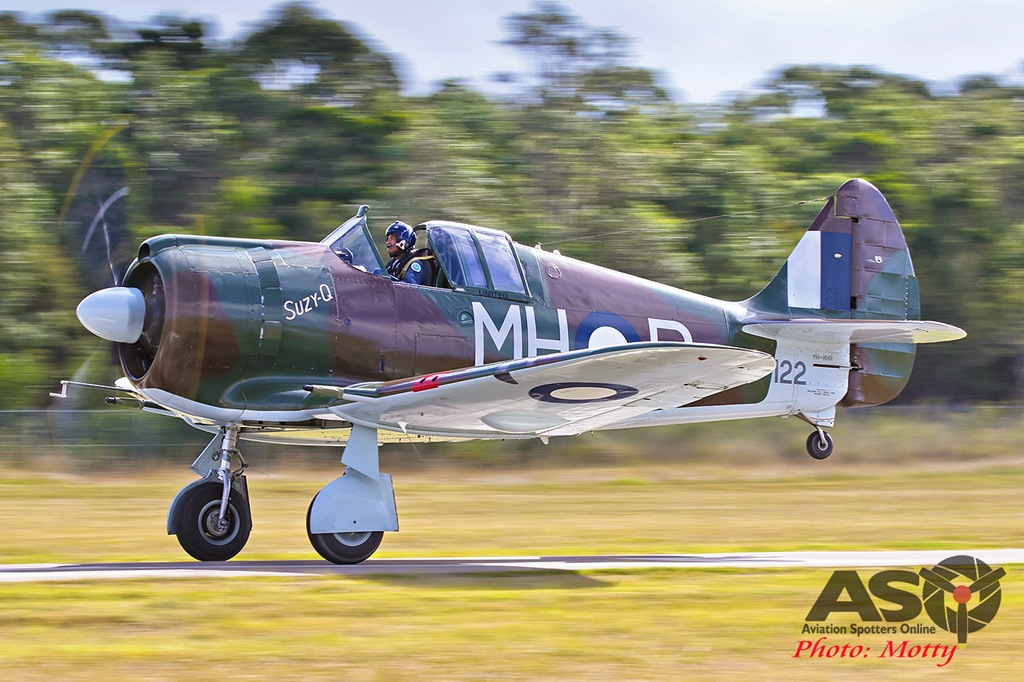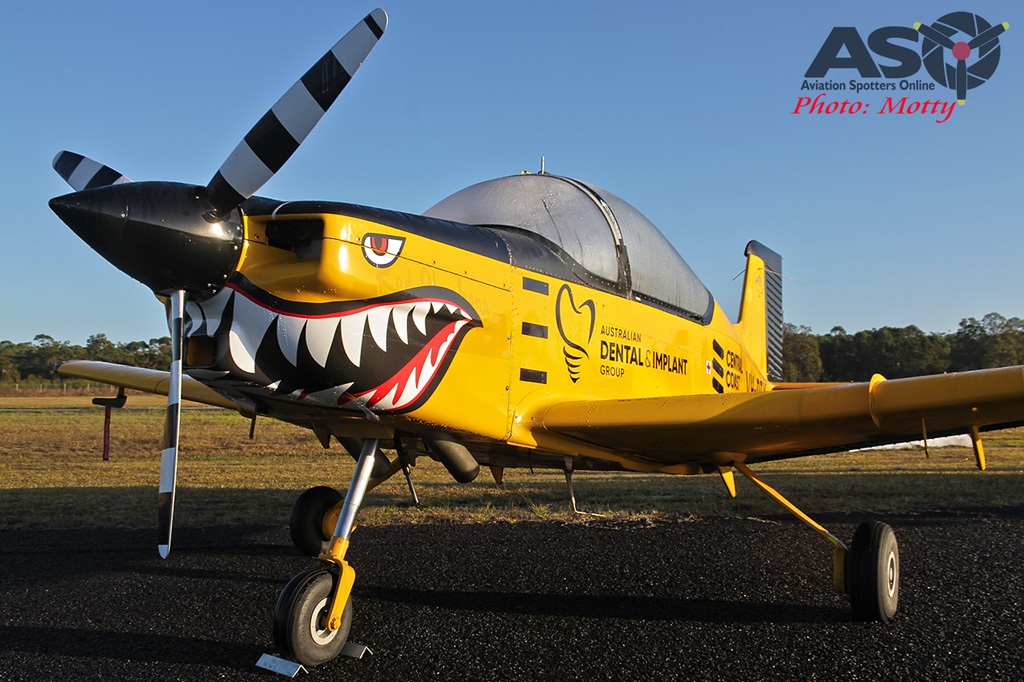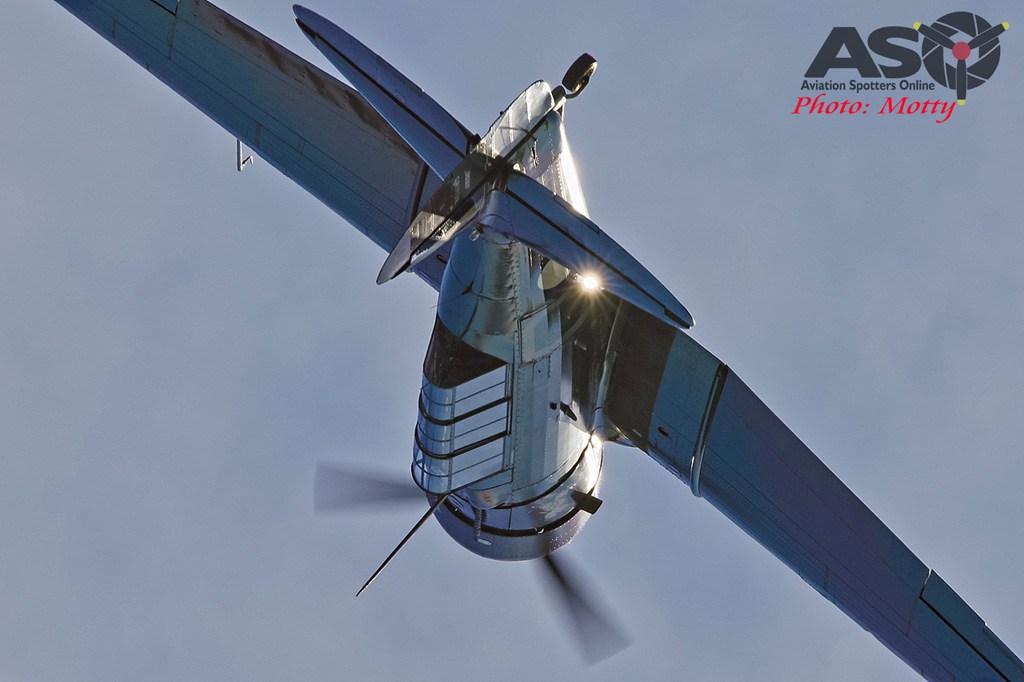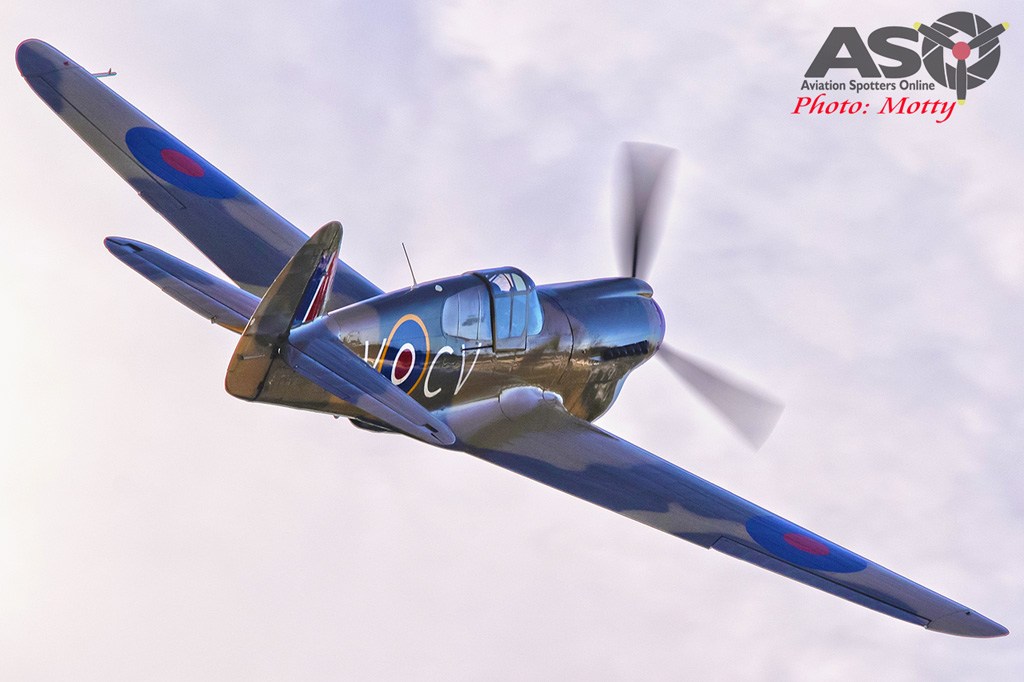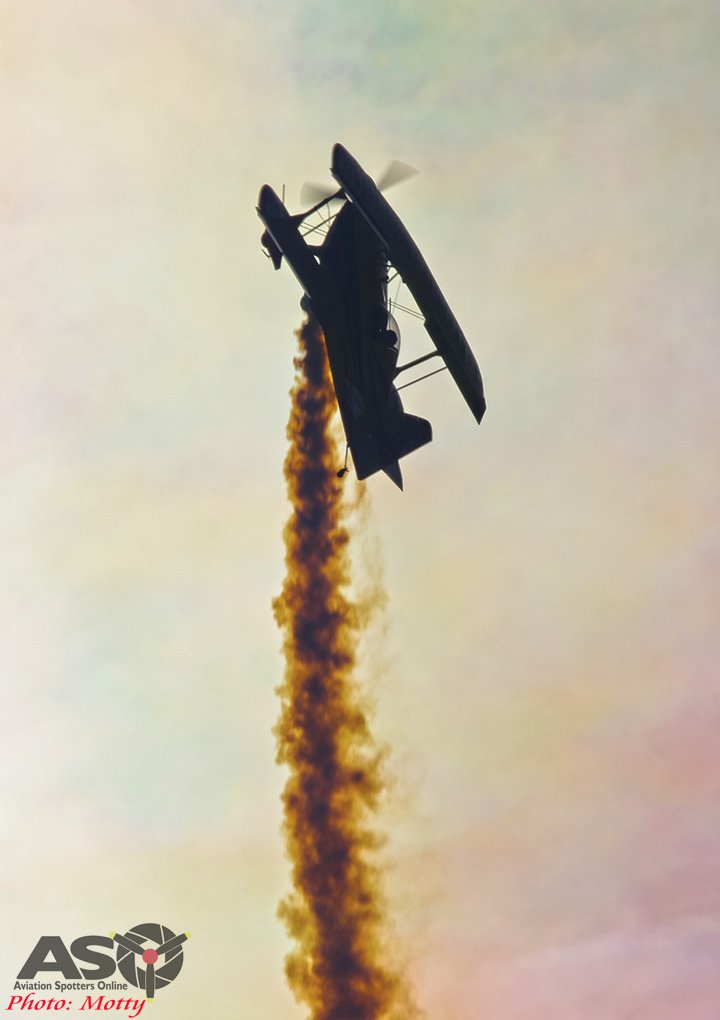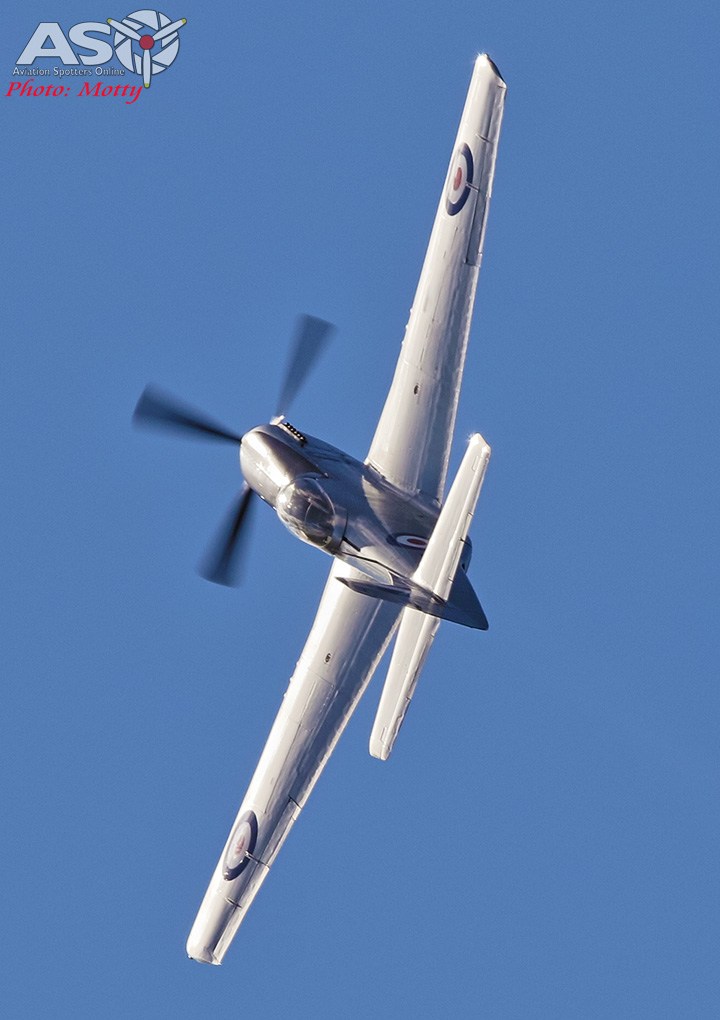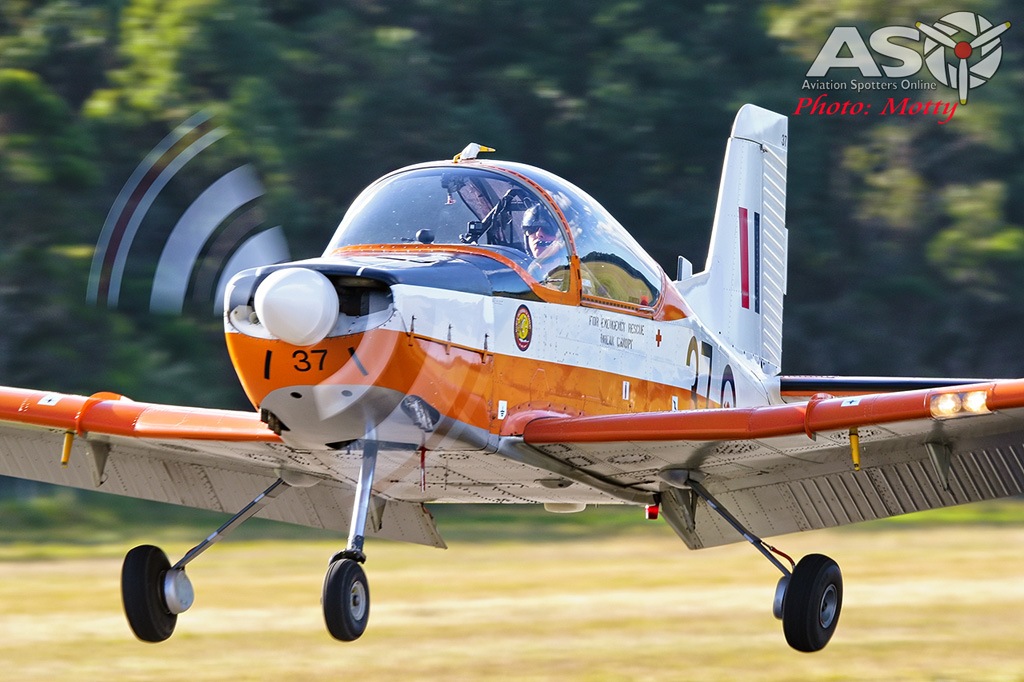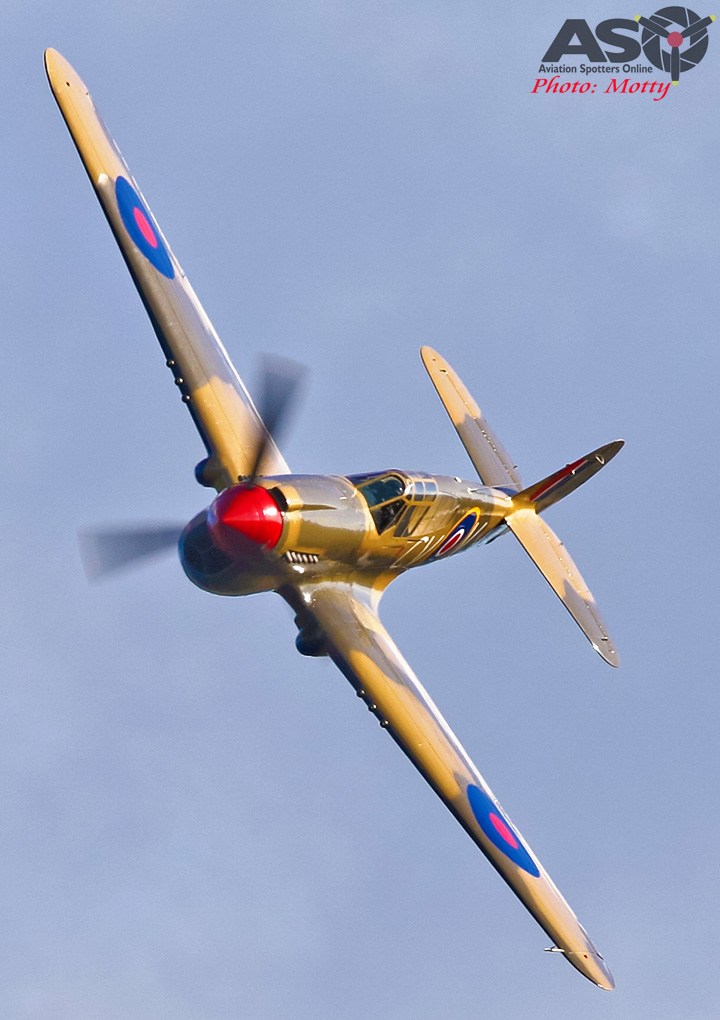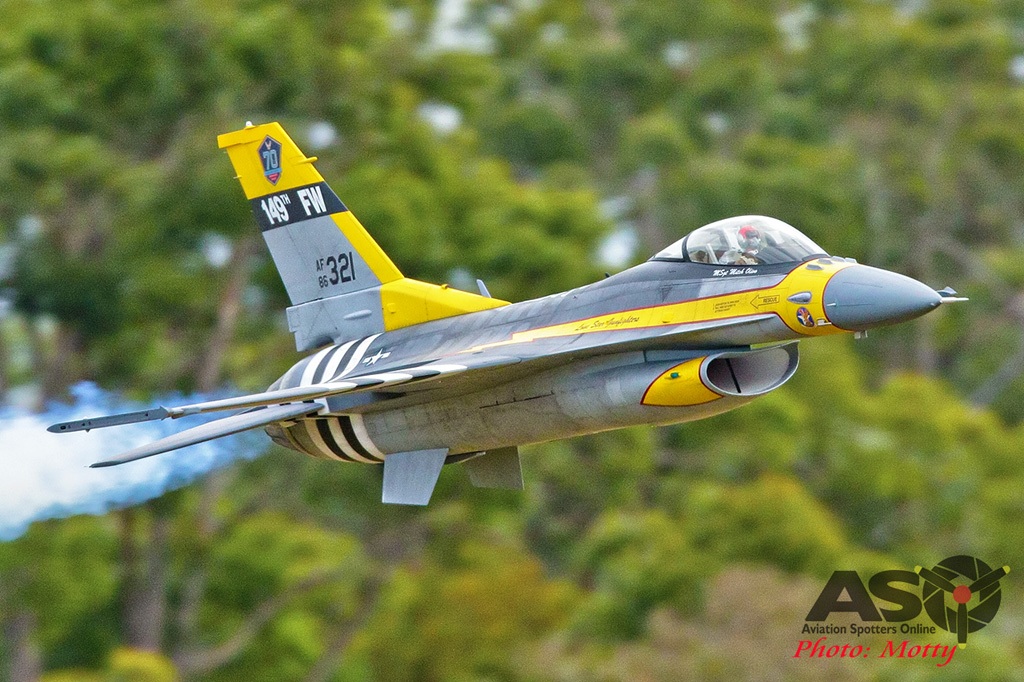 With last-minute preparations complete, final arrivals in and practices done, Saturday's show kicked off with the National Anthem while Paul Bennet circled Paul Smith from Skydive Oz as he descended trailing a large Australian flag, followed by a mini-solo display by Paul in his bright yellow Wolf Pitts, topped off with a big bang and wall of fire as Paul did a slow pass in front.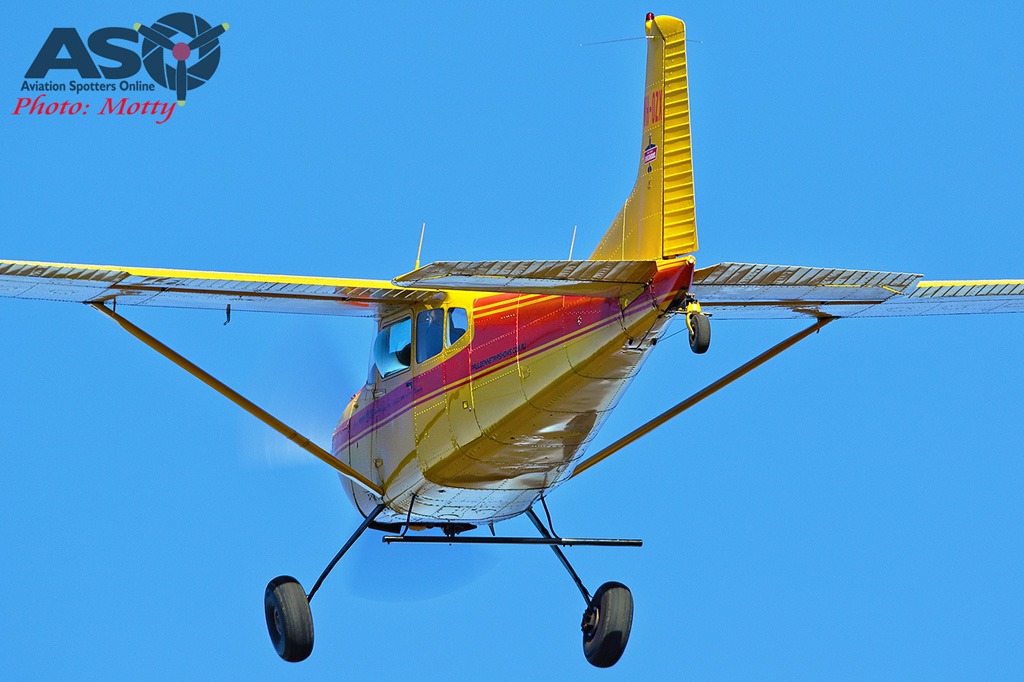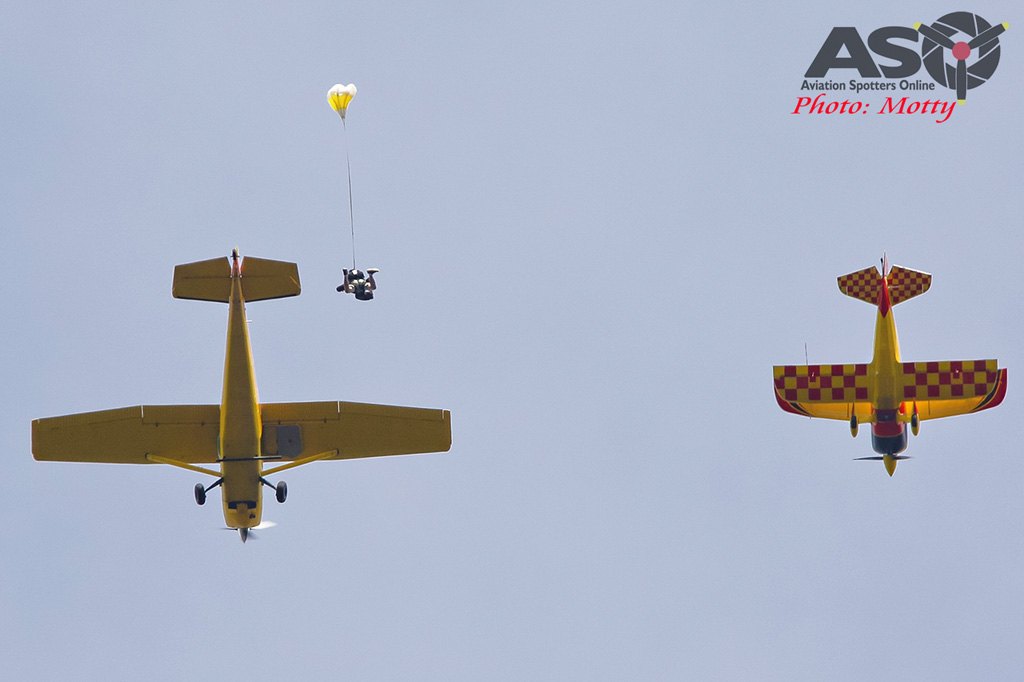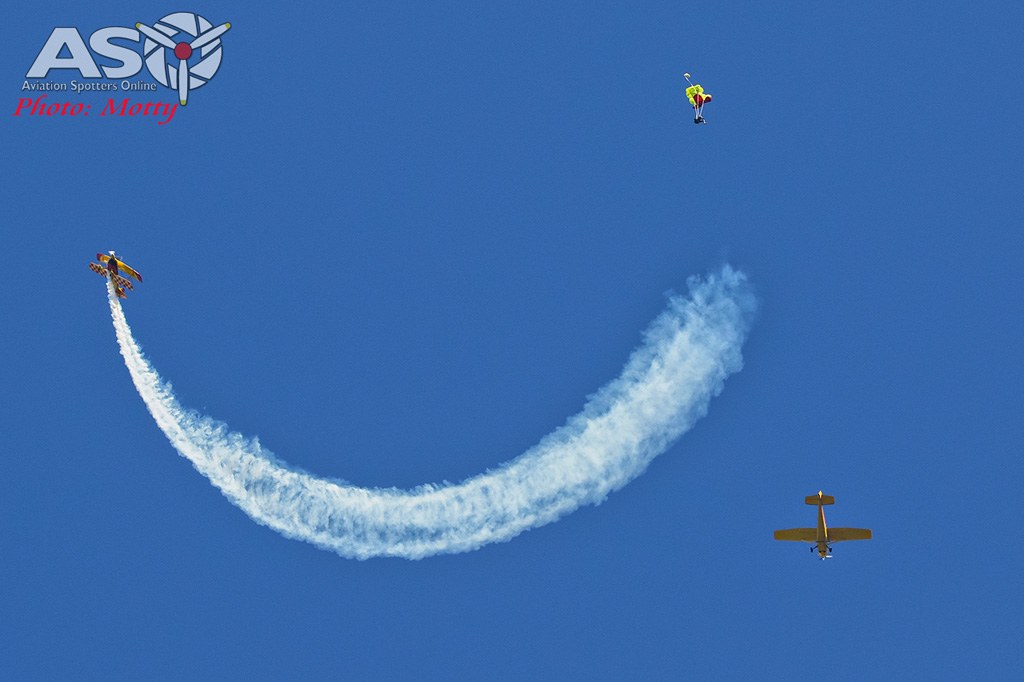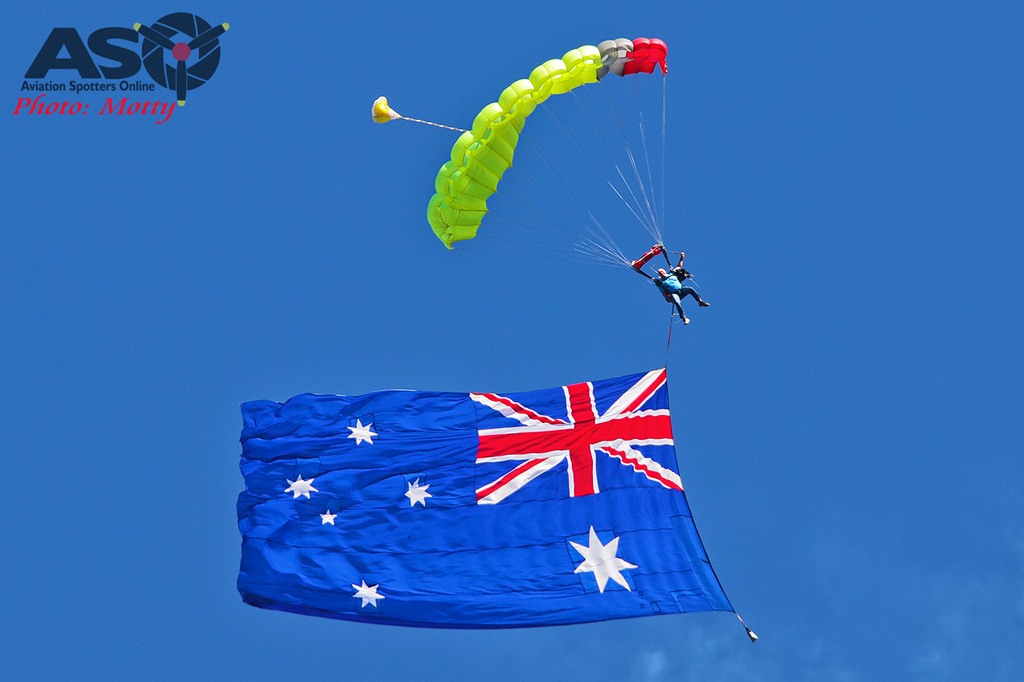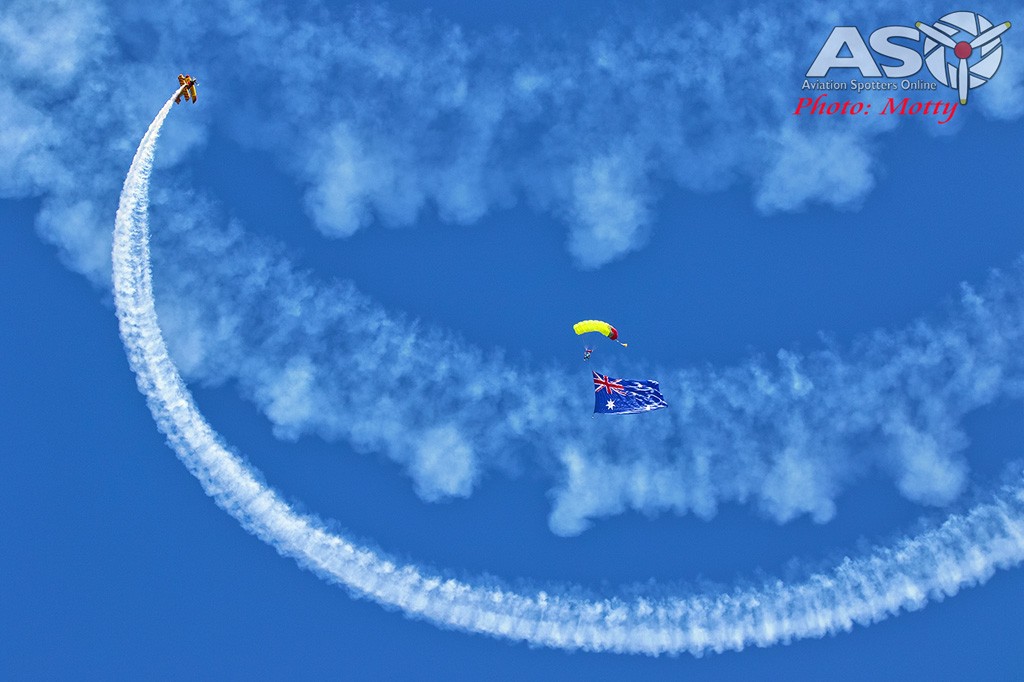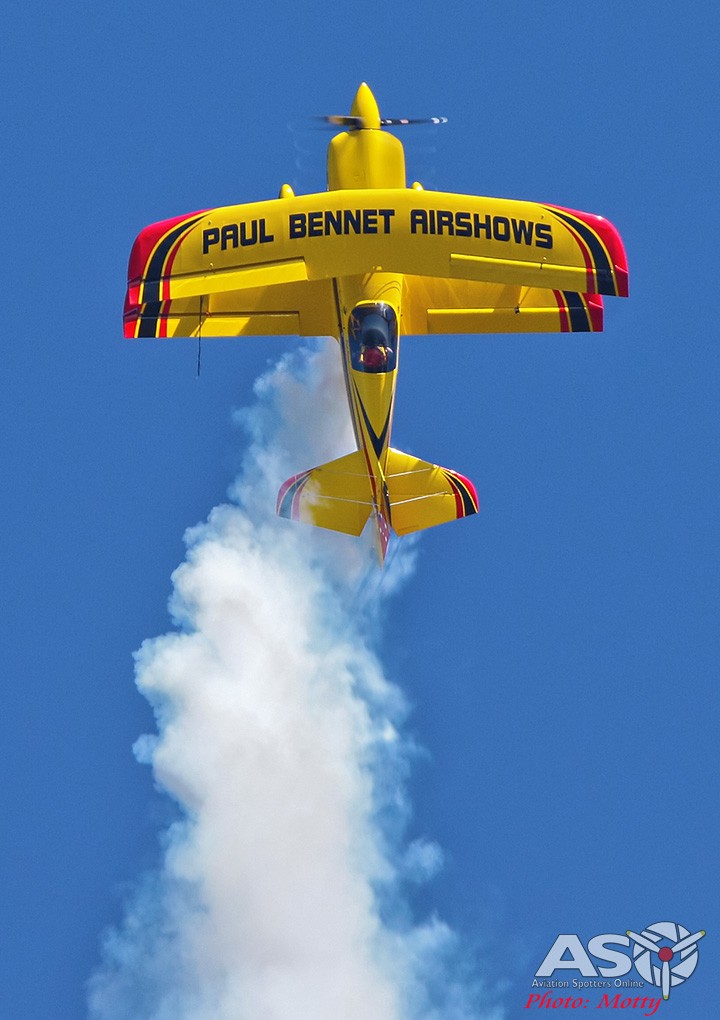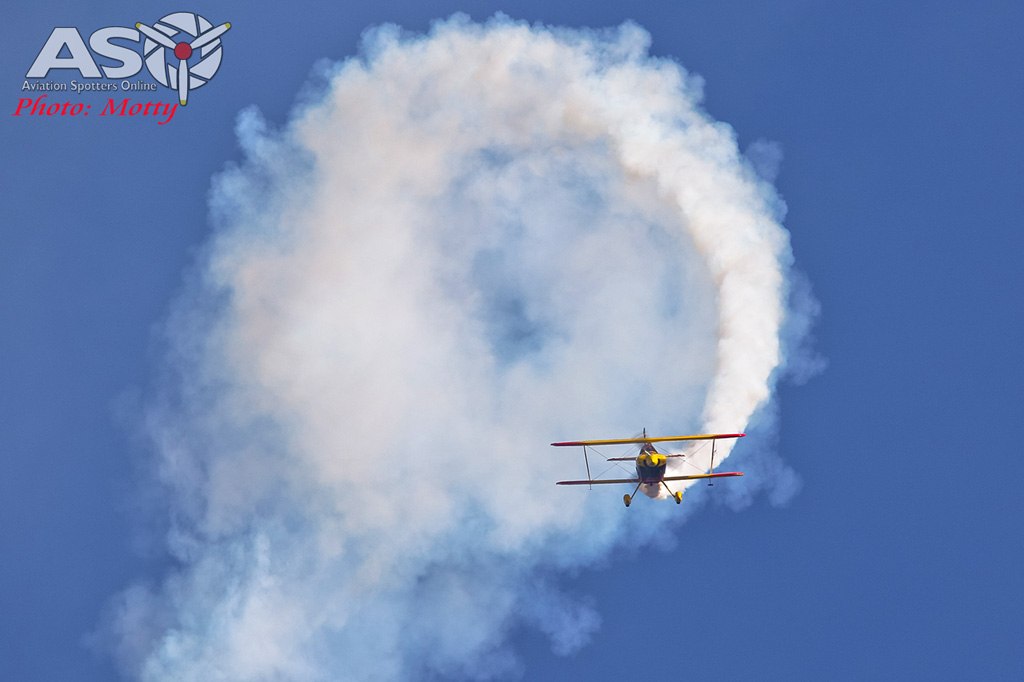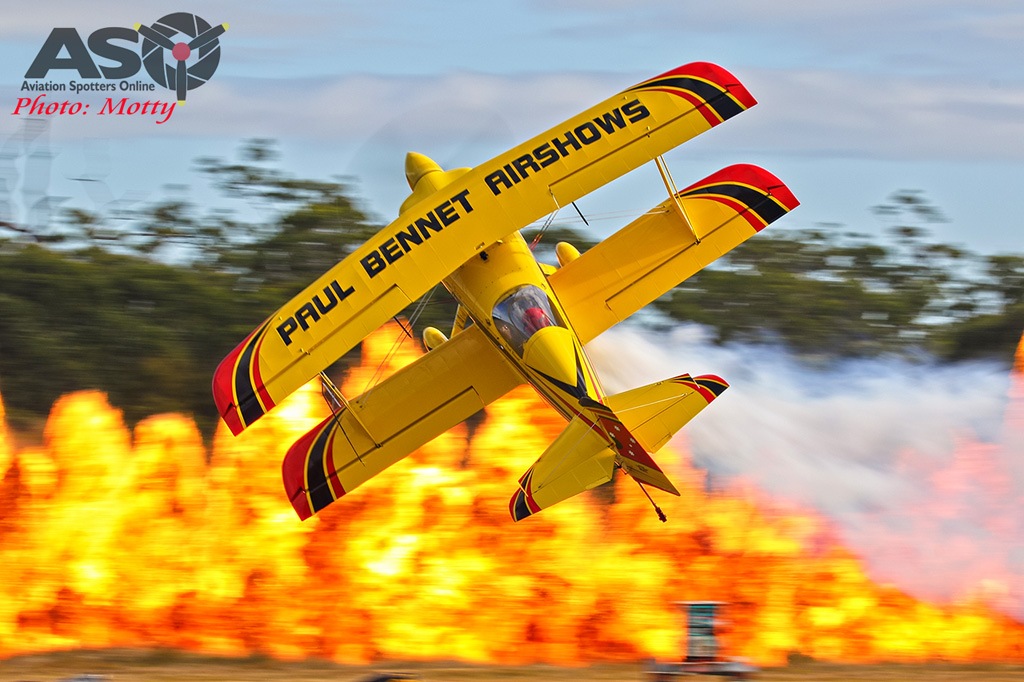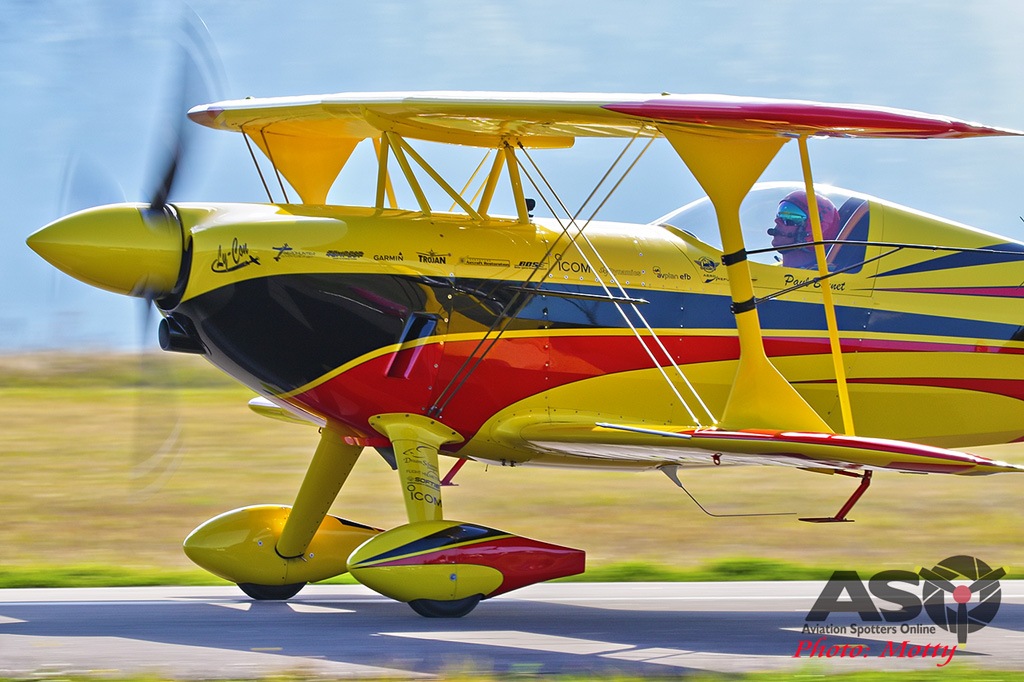 The RAAF Roulettes came from behind the crowd to commence their display in their new PC-21s with the usual polished routines of large formation maneuvers intermixed with high energy displays from the solo pair. A particularly touching gesture was when the Roulettes dedicated the Heart maneuver to Kerry Bright who passed away in March this year, as her husband Mark was also at the show. Aviation enthusiasts here in Australia will know Kerry and Mark for their amazing efforts in organising the Wings Over Illawarra (WOI) Air Shows in recent years and they have both been big supporters of the local airshow scene. A reminder that plans are well underway for the next WOI in November, so mark your calendars for that one too.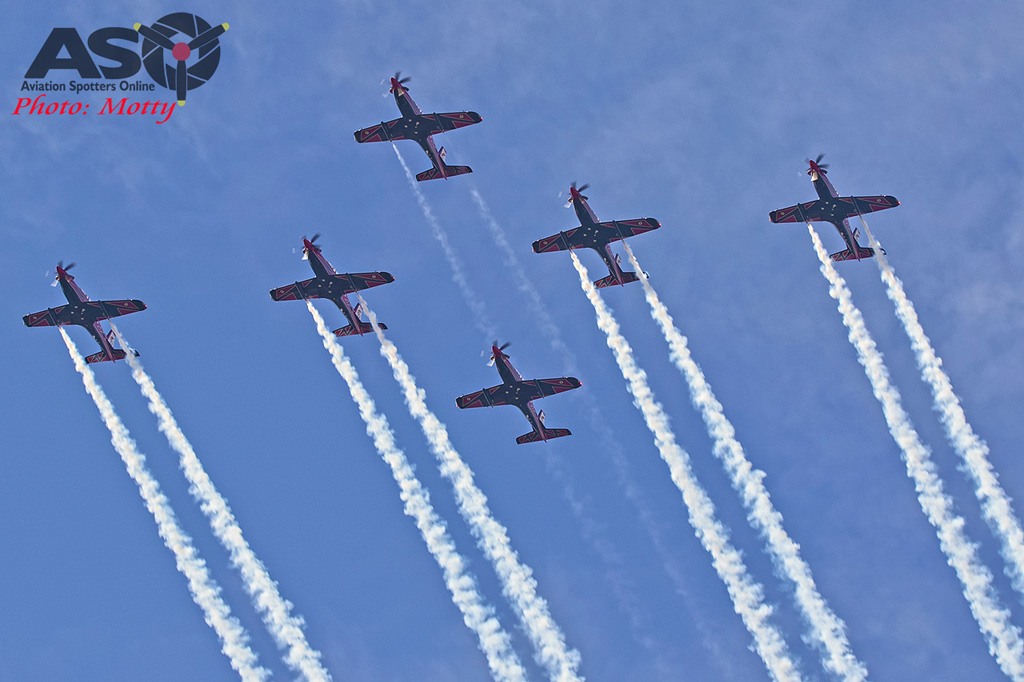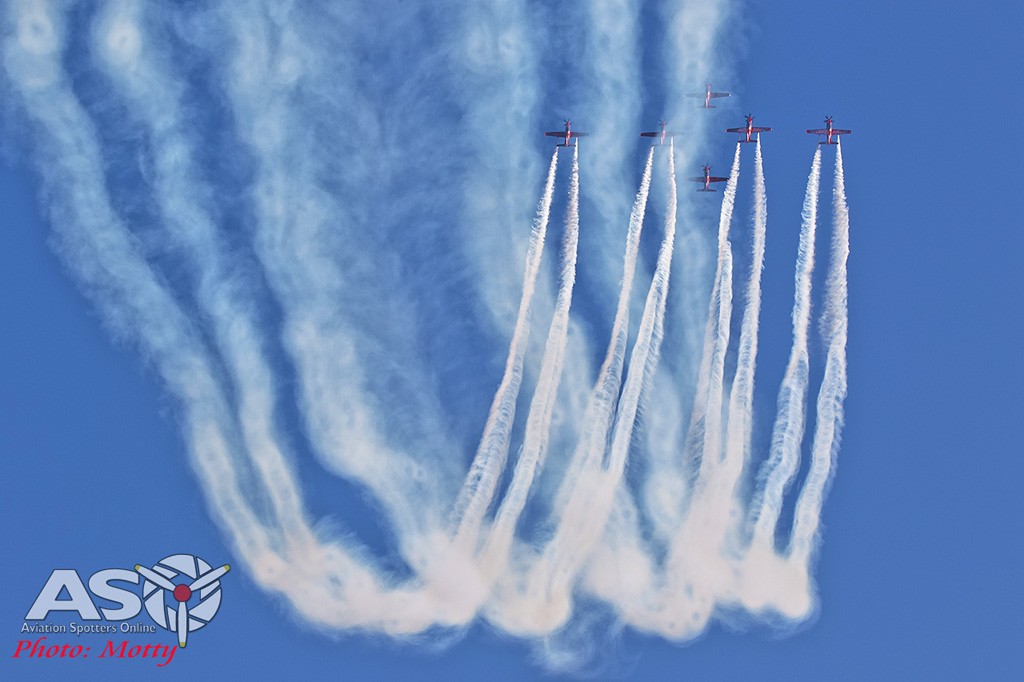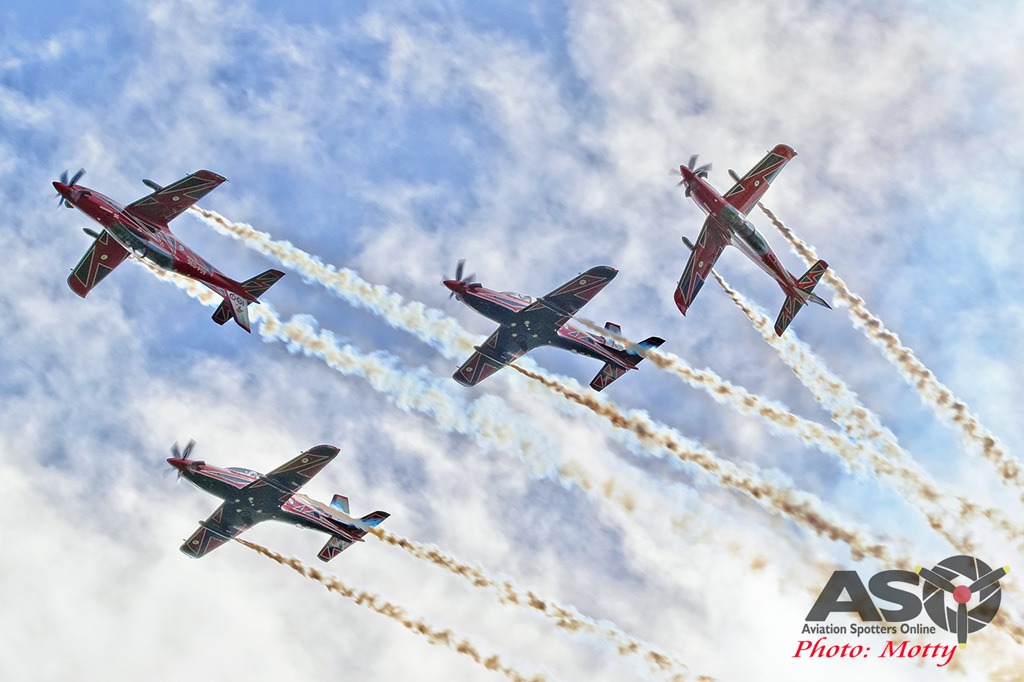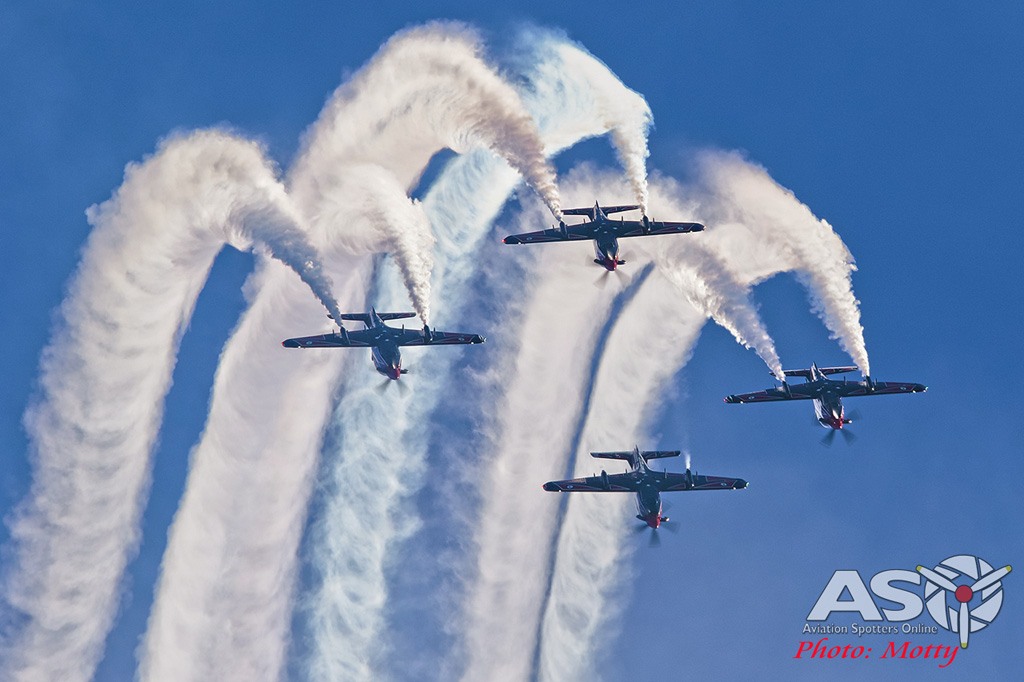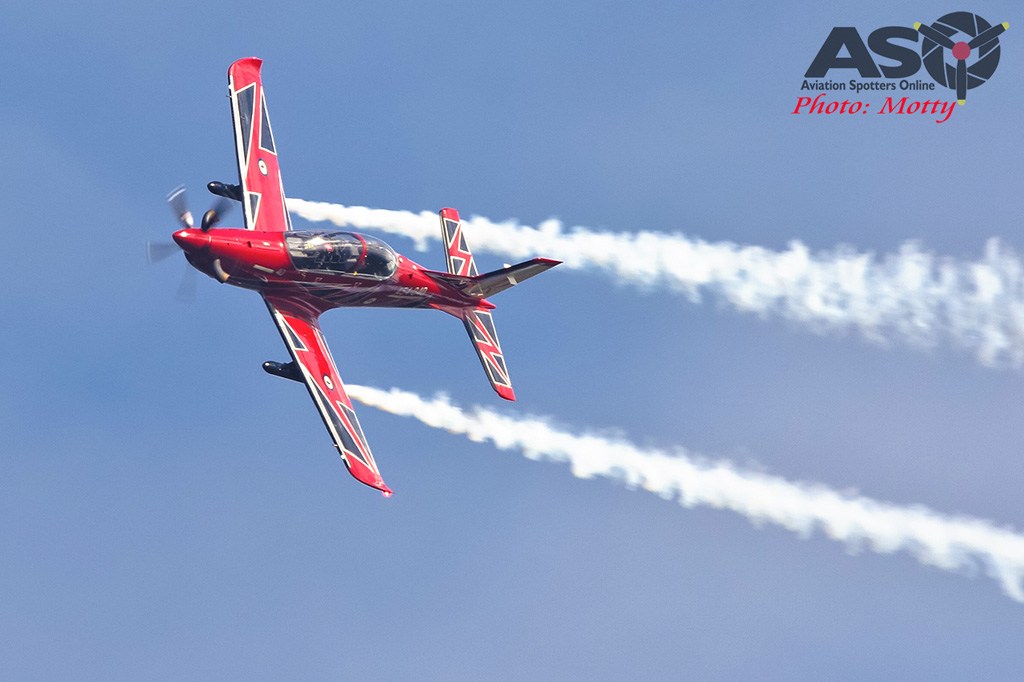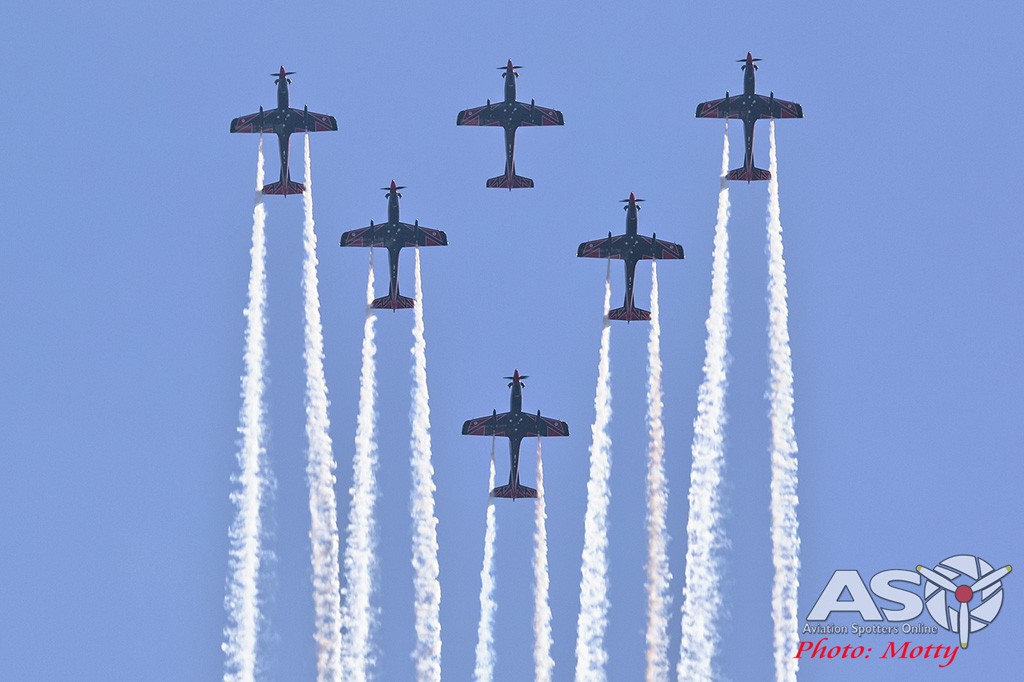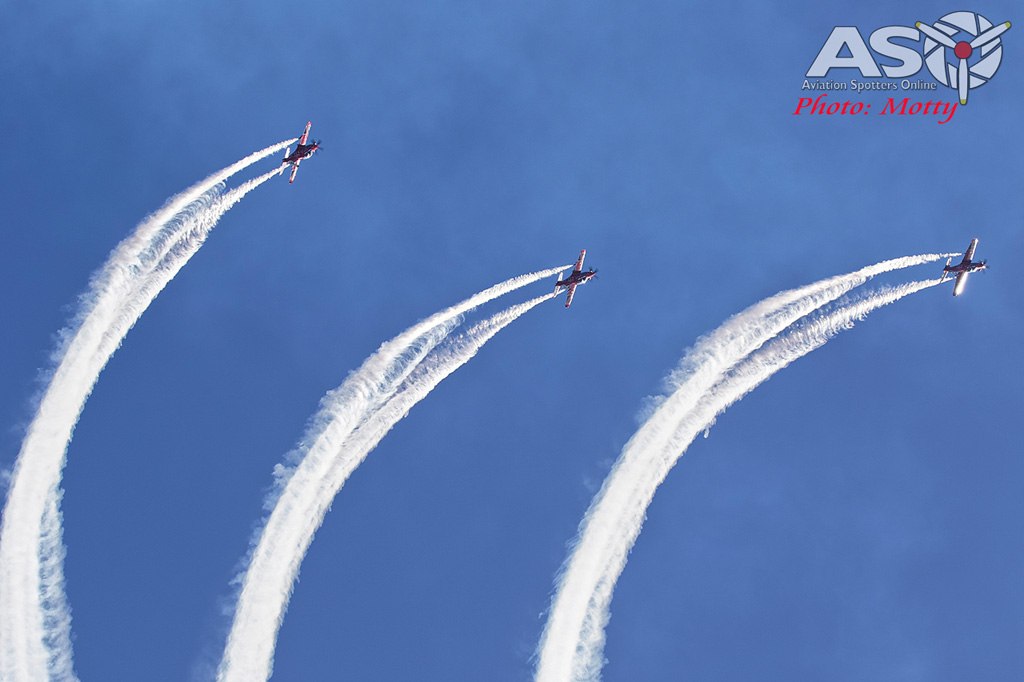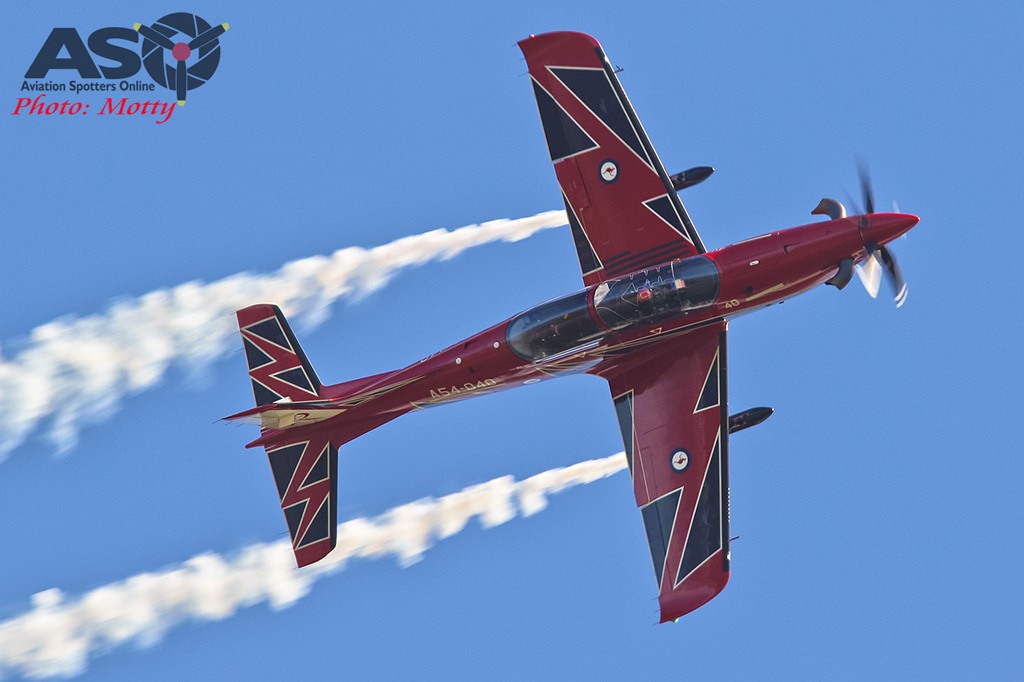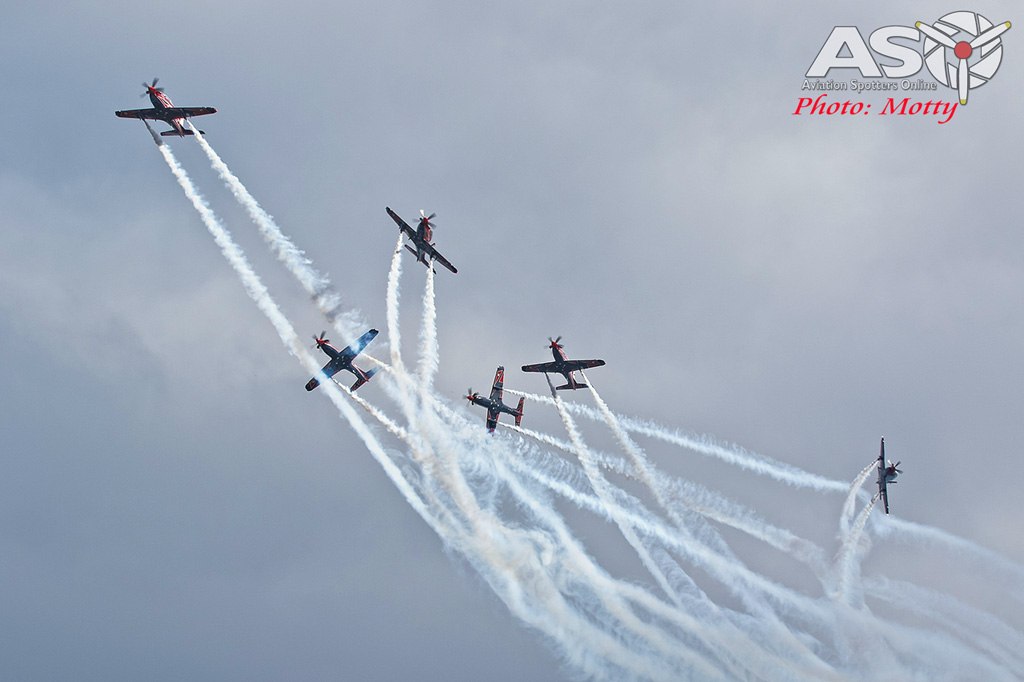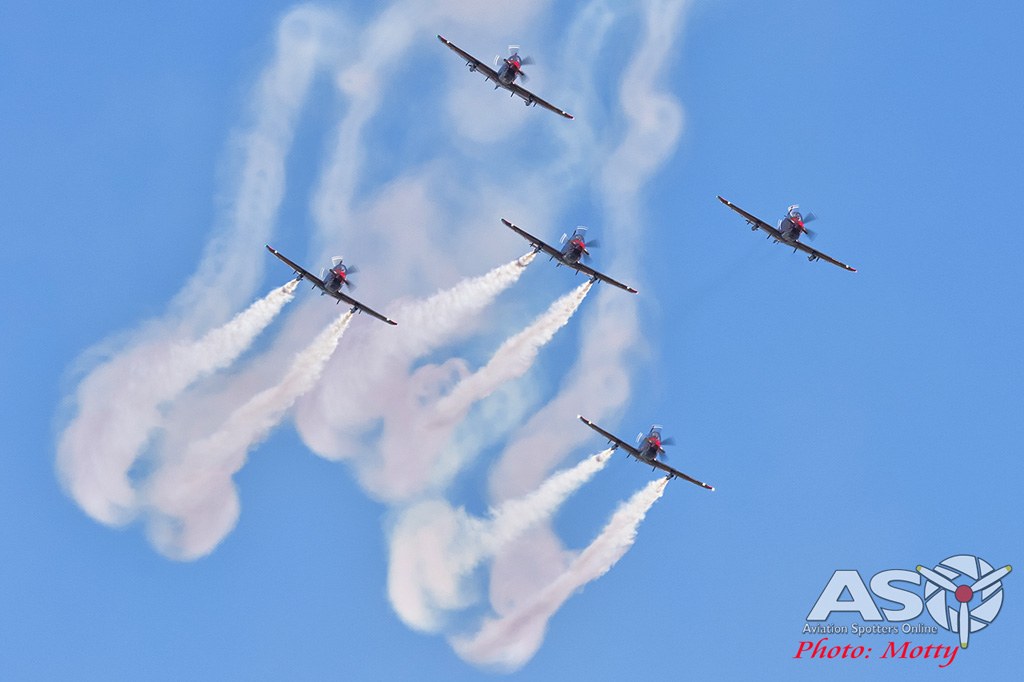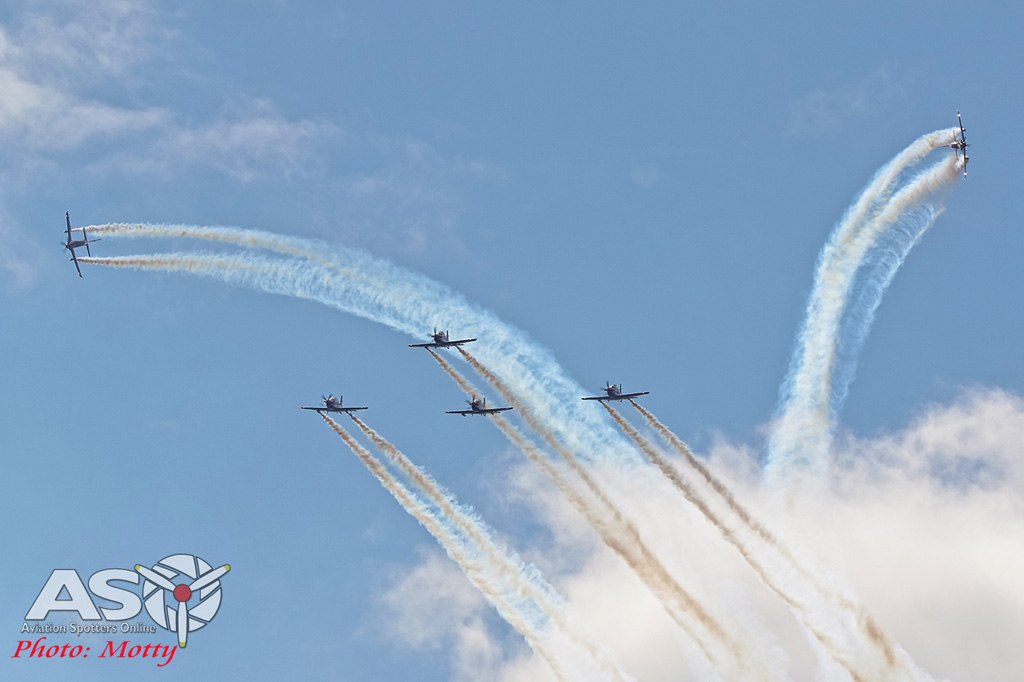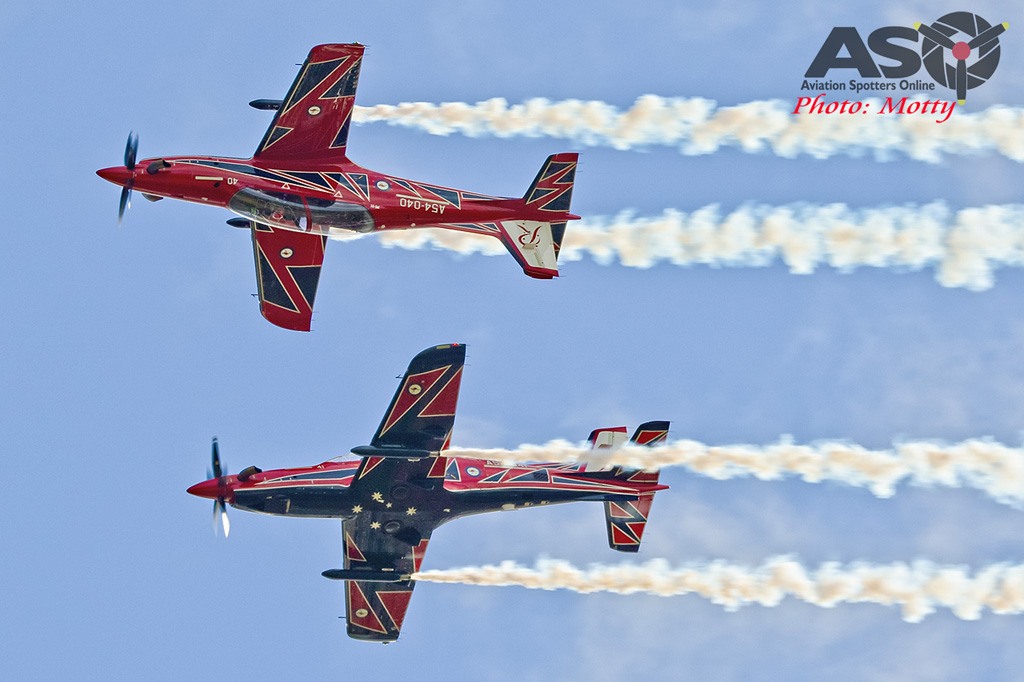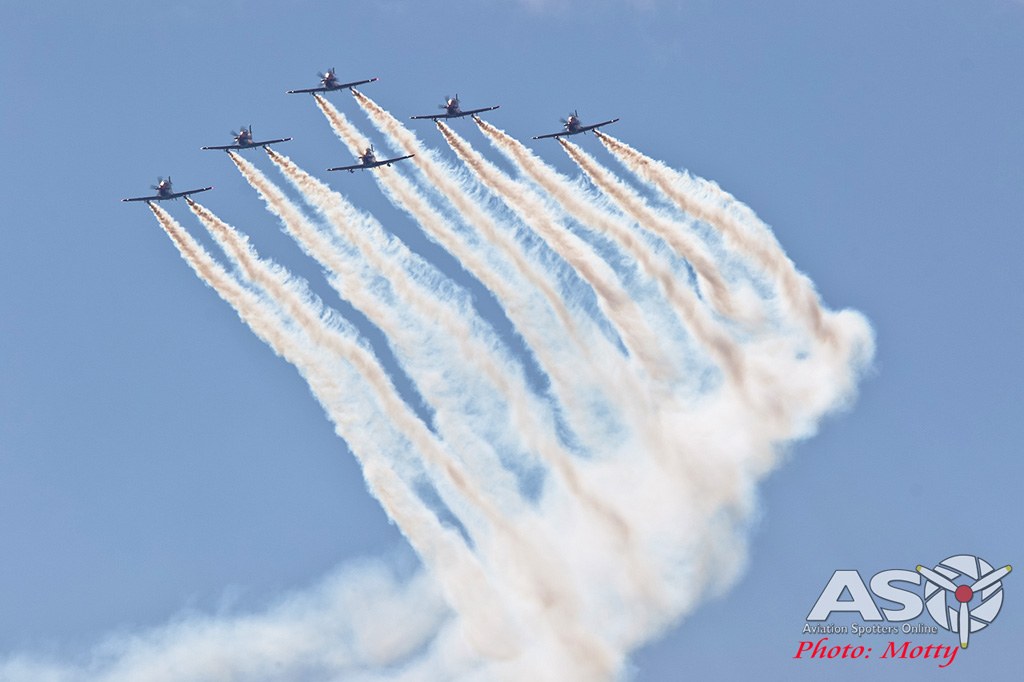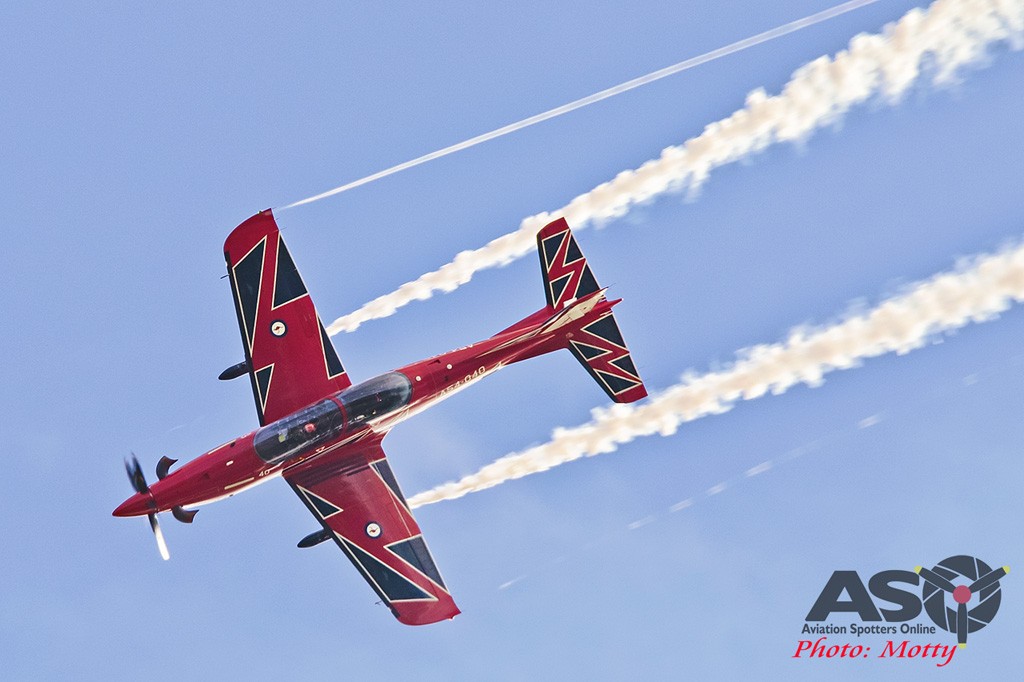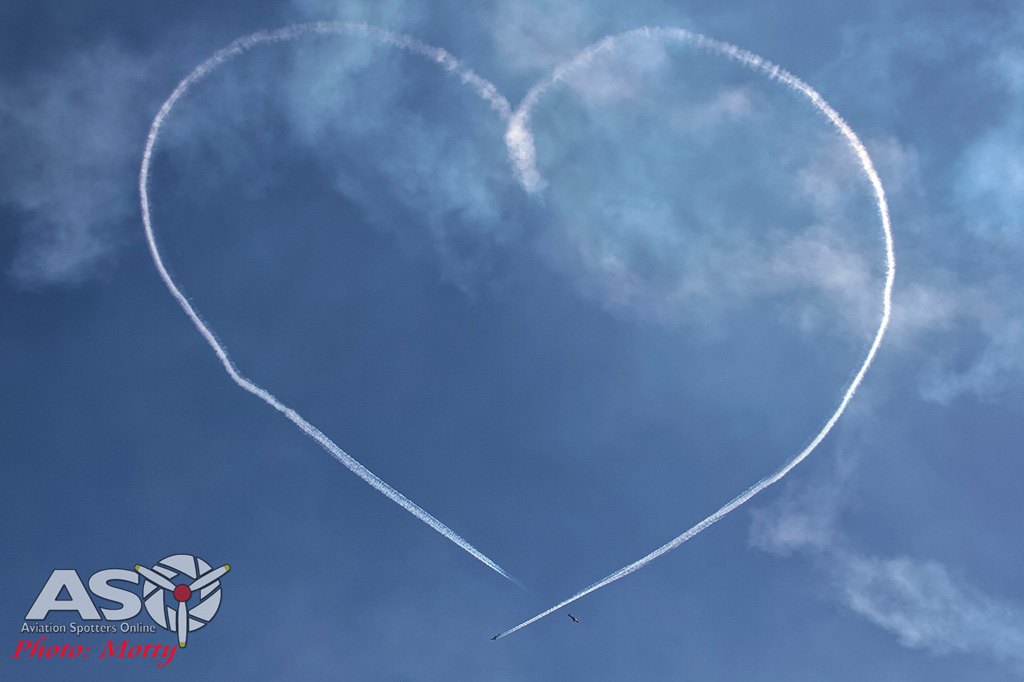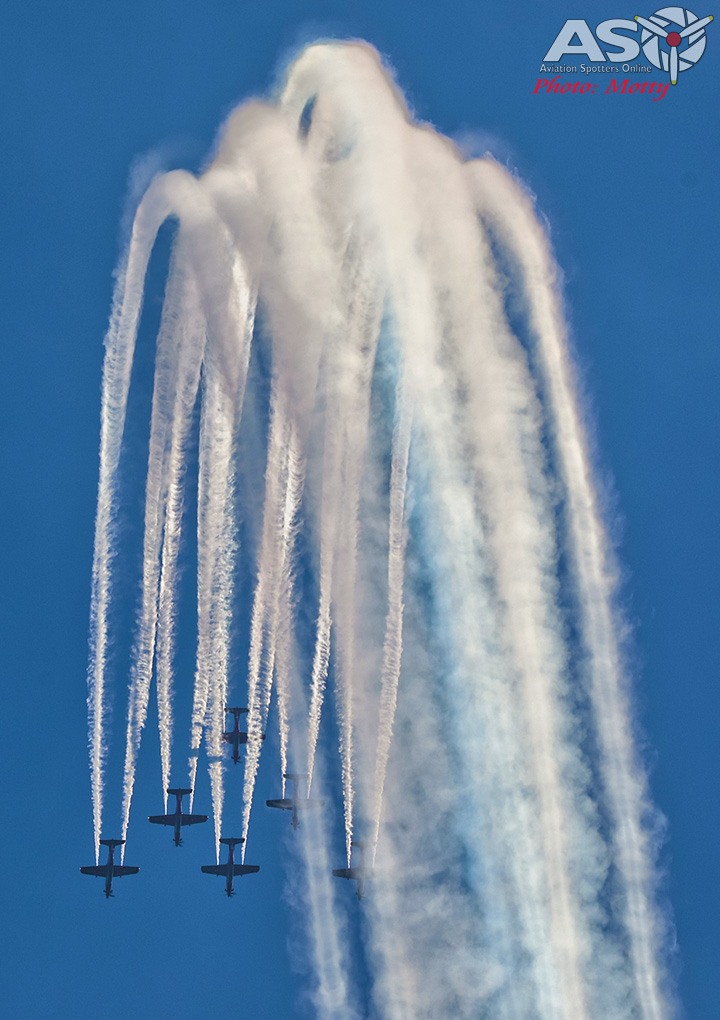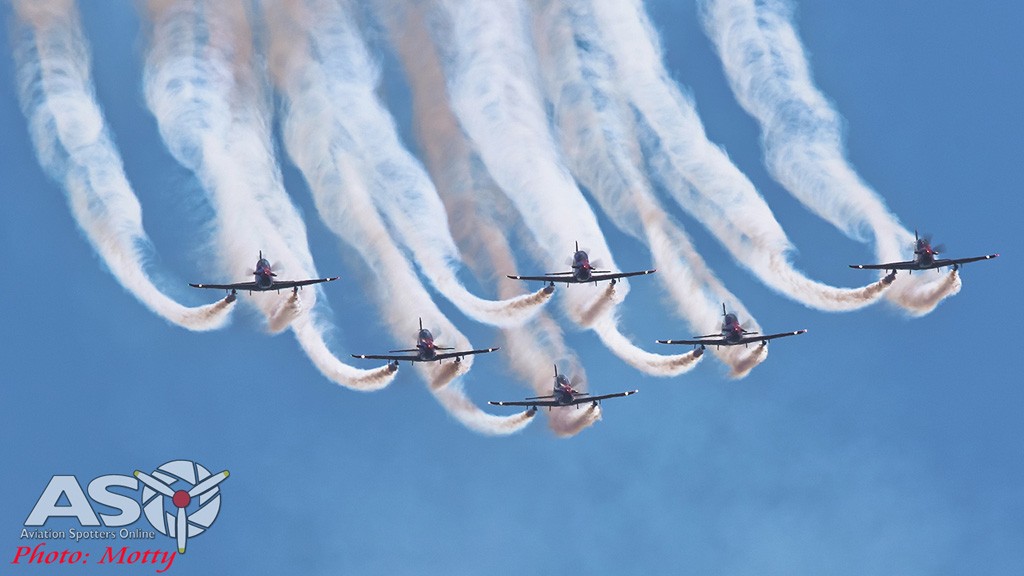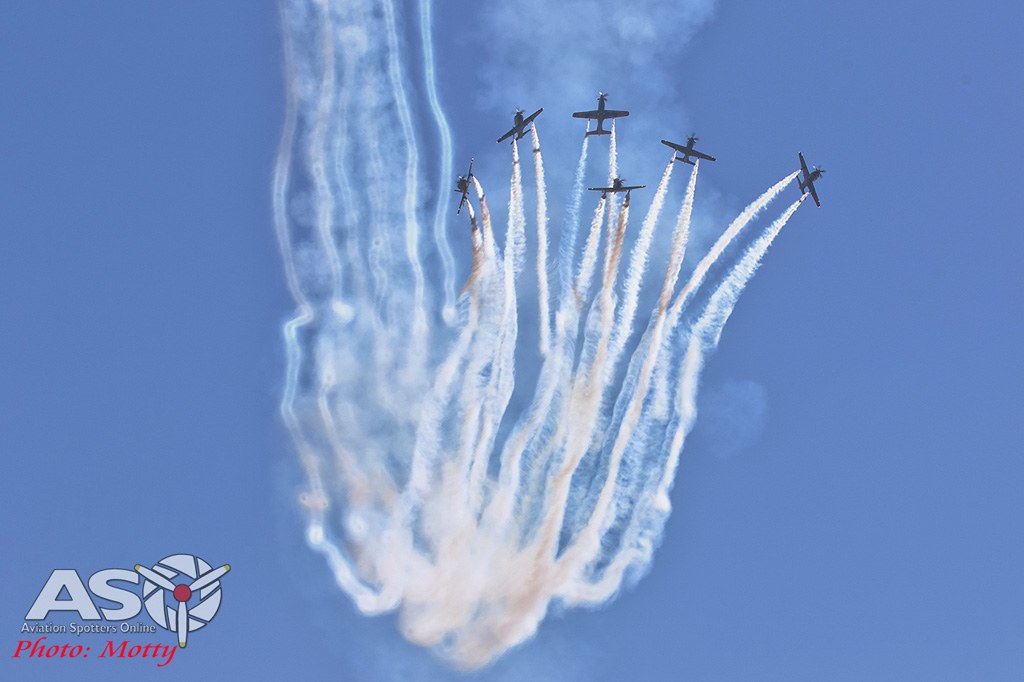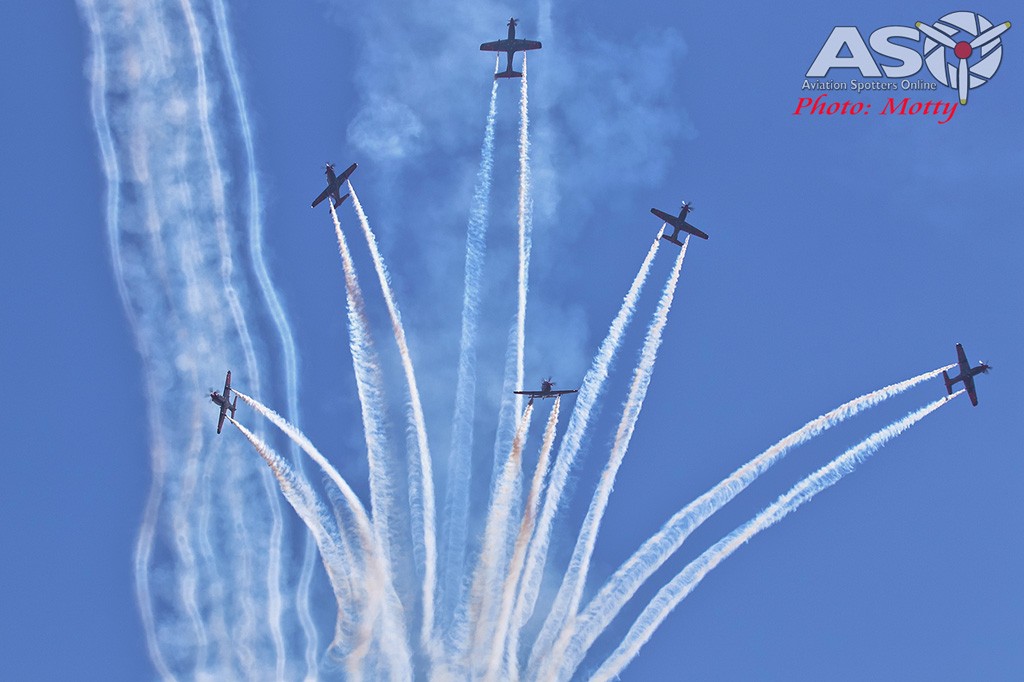 The Roulettes were followed by Glenn Collins and Matt Denning in the CAC Wirraway and Boomerang. After a few passes in formation, which provided a good look at the similarities between the two; the Boomerang being a development of the Wirraway design to satisfy Australia's urgent need for a home-grown fighter design during WWII, Glenn and Matt then separated to perform individual aerobatic displays.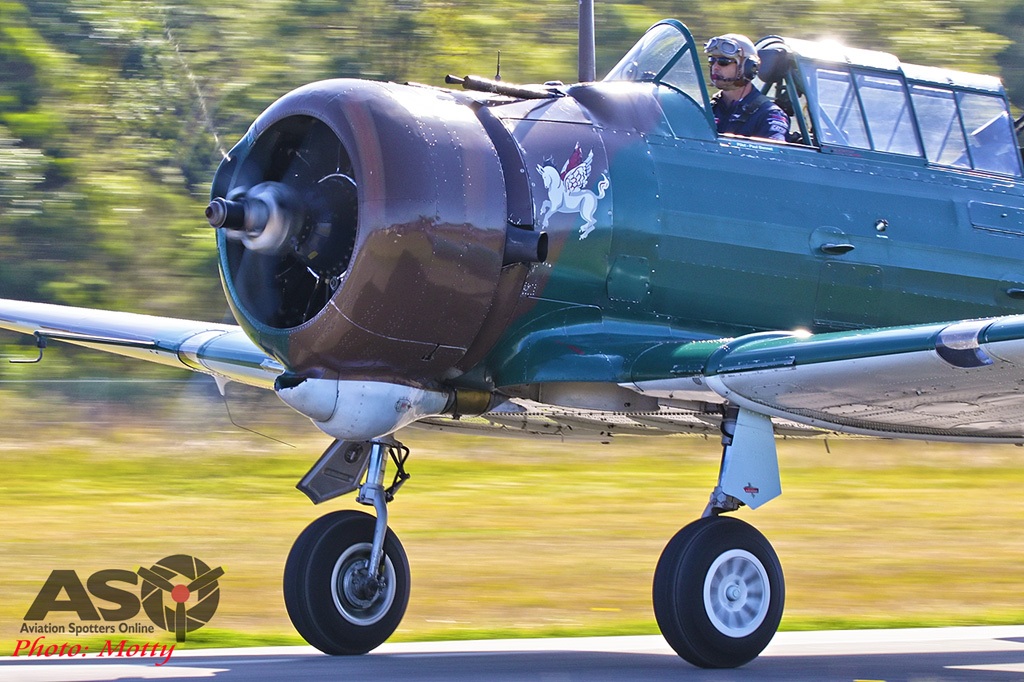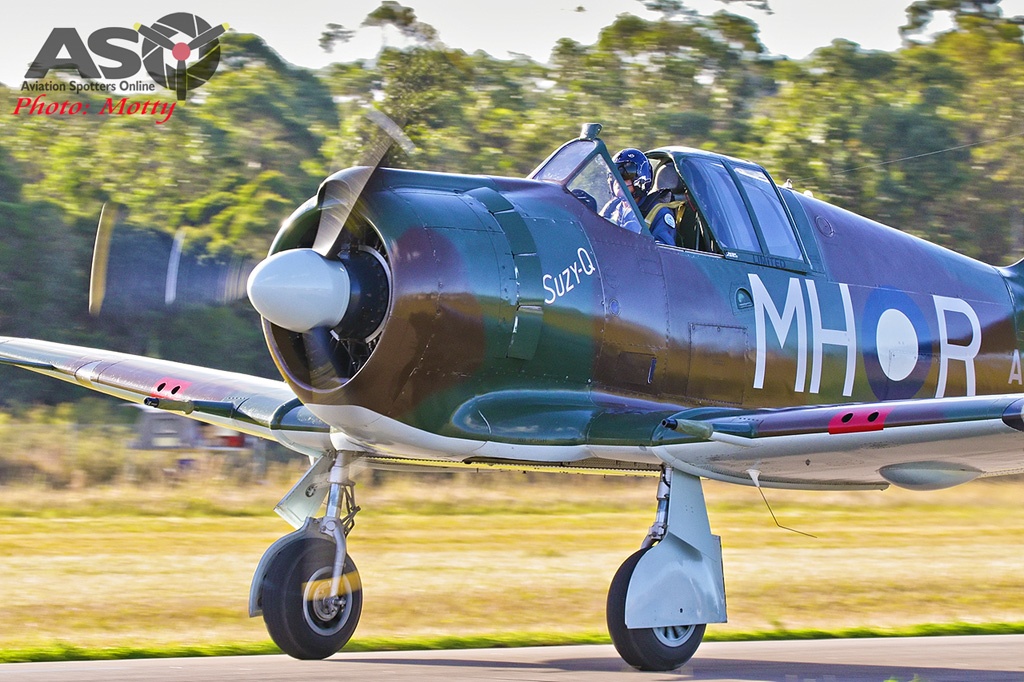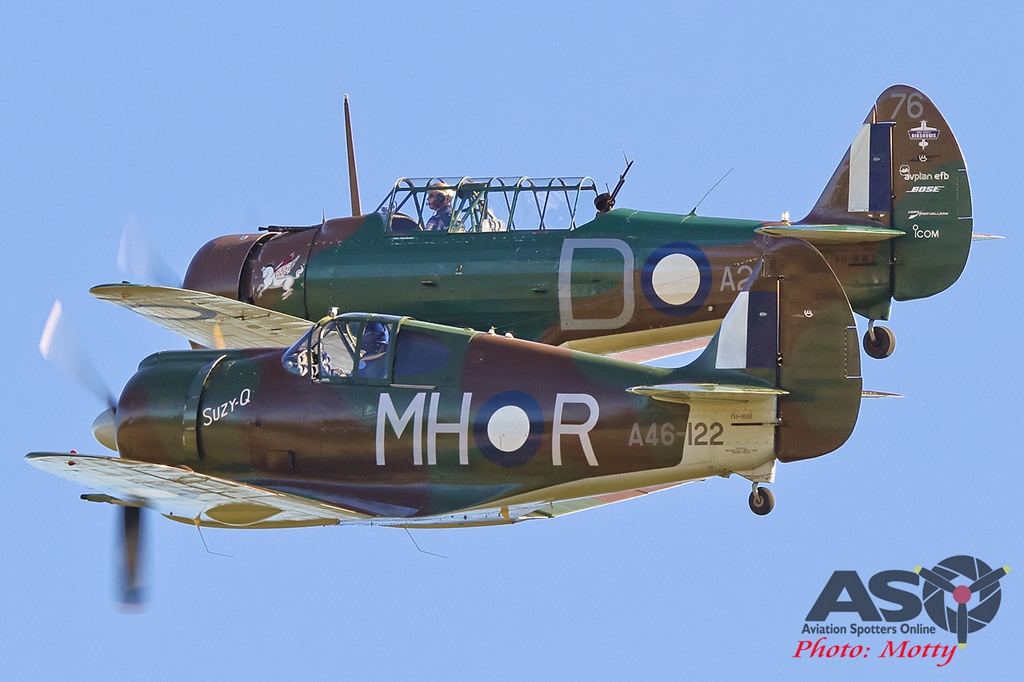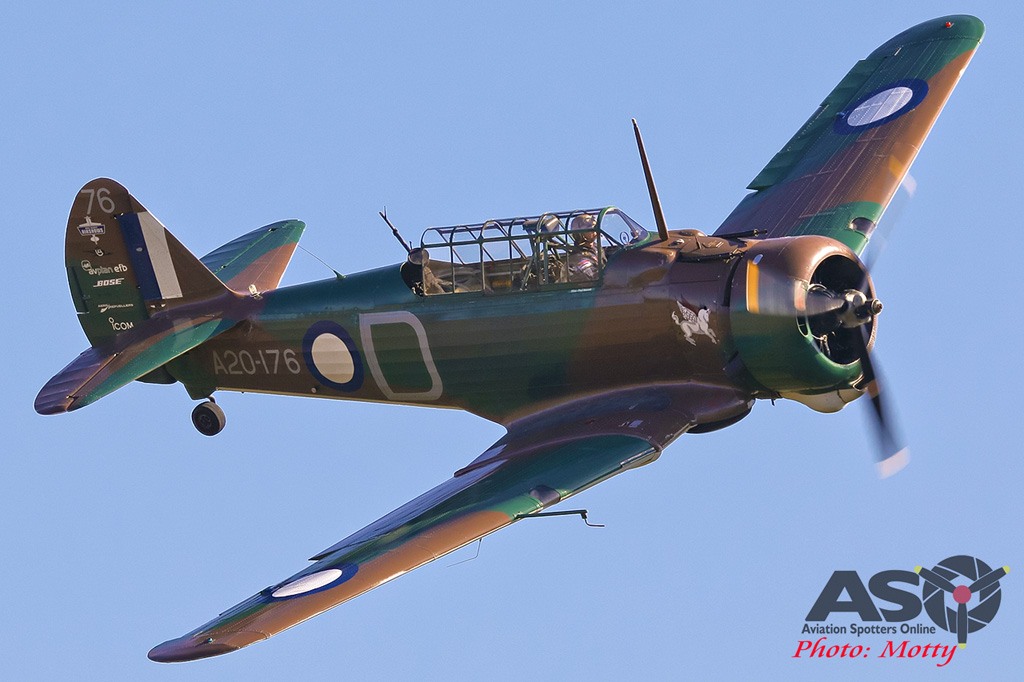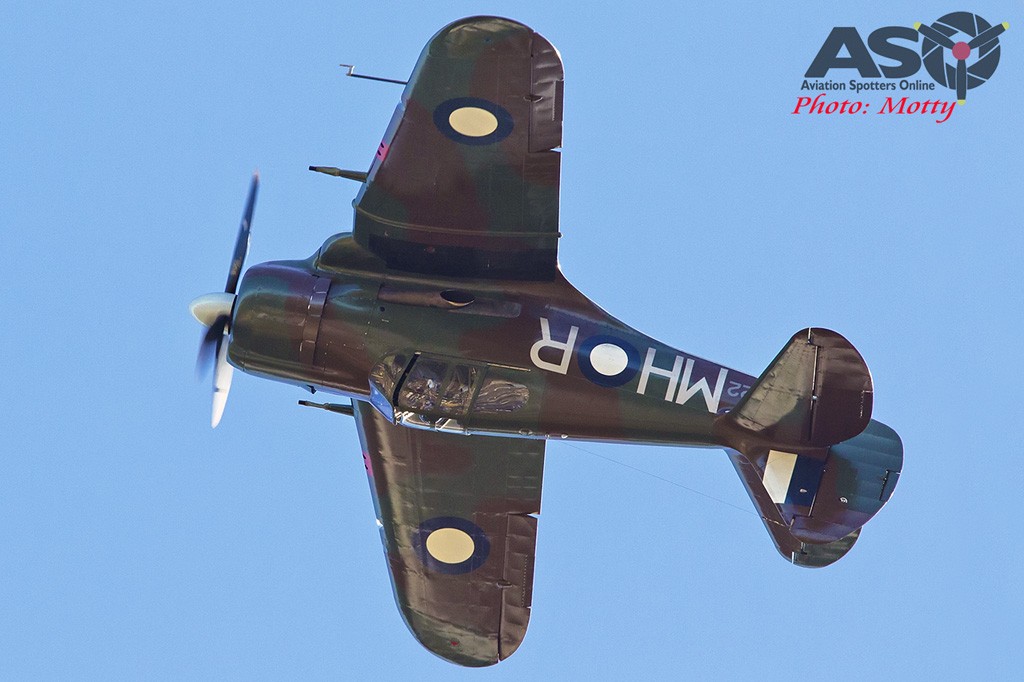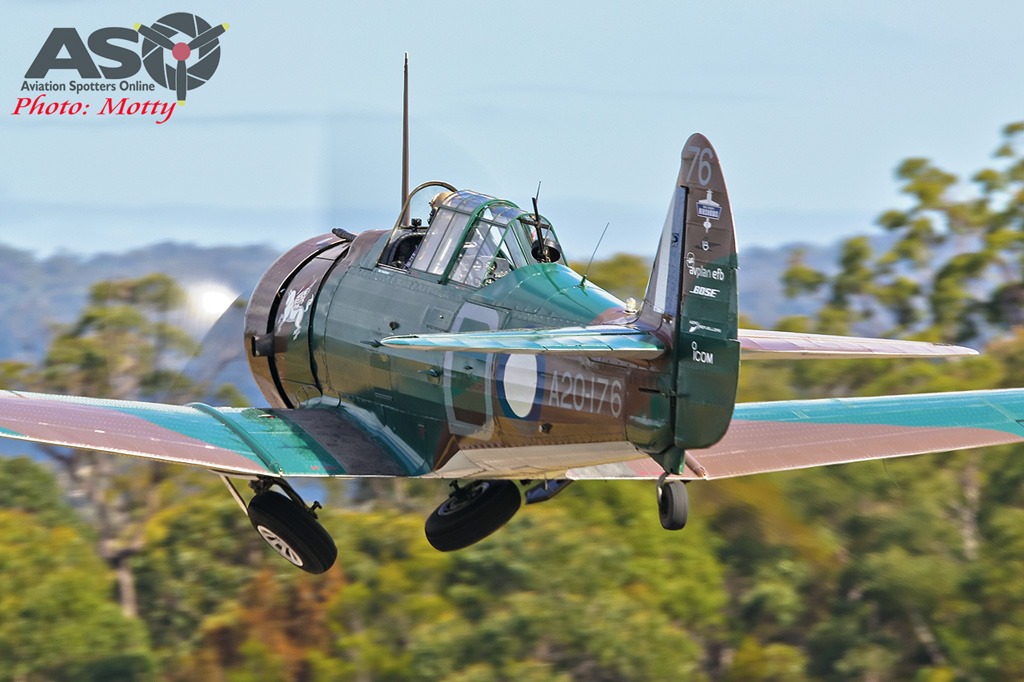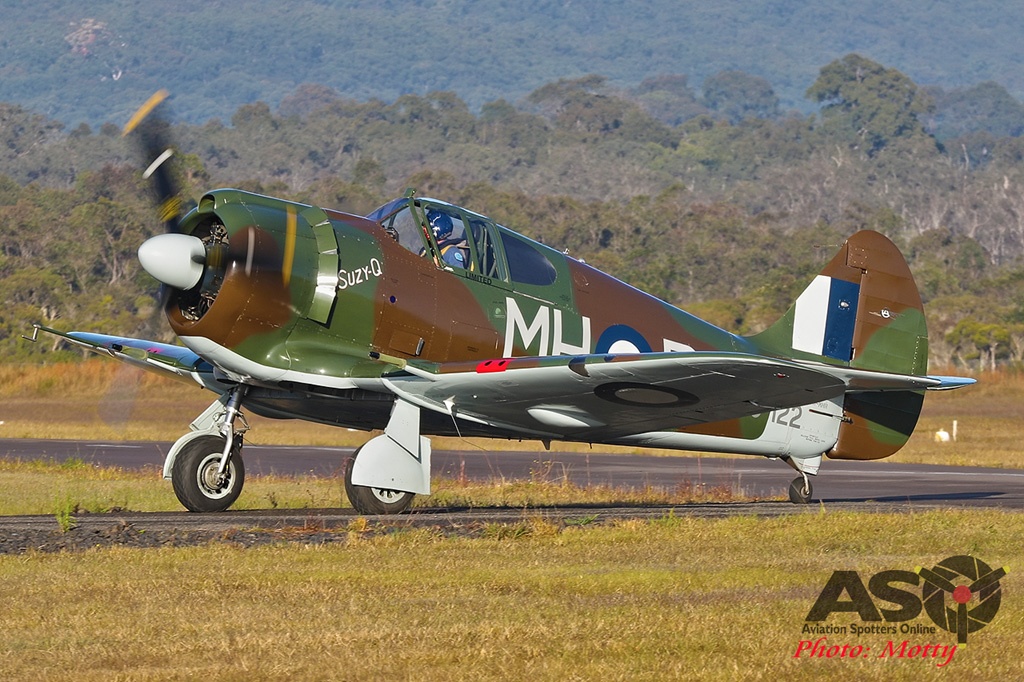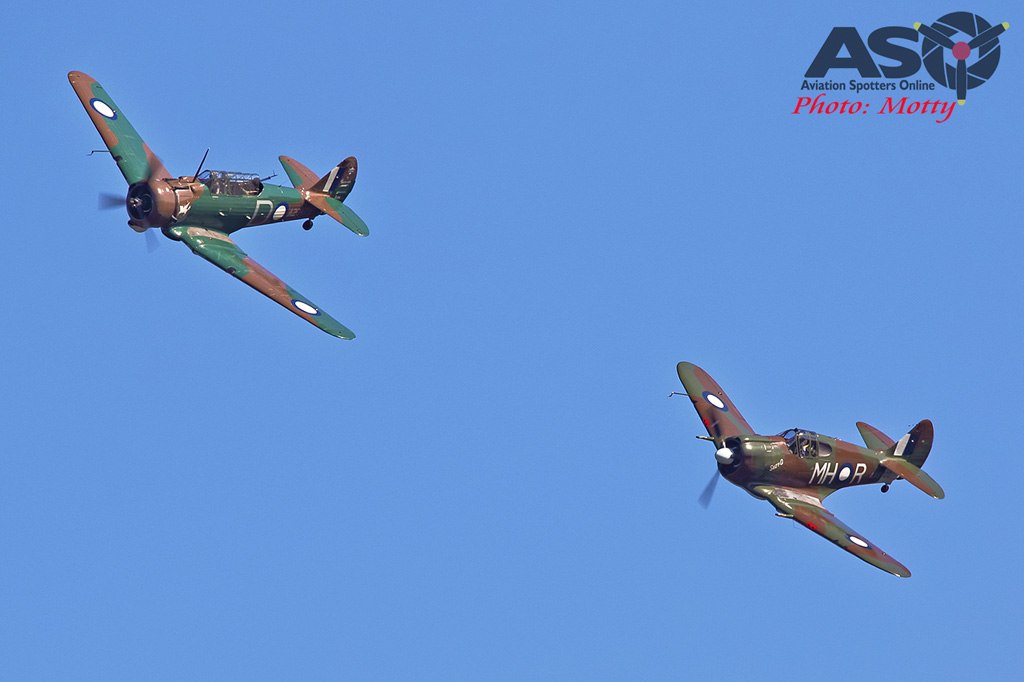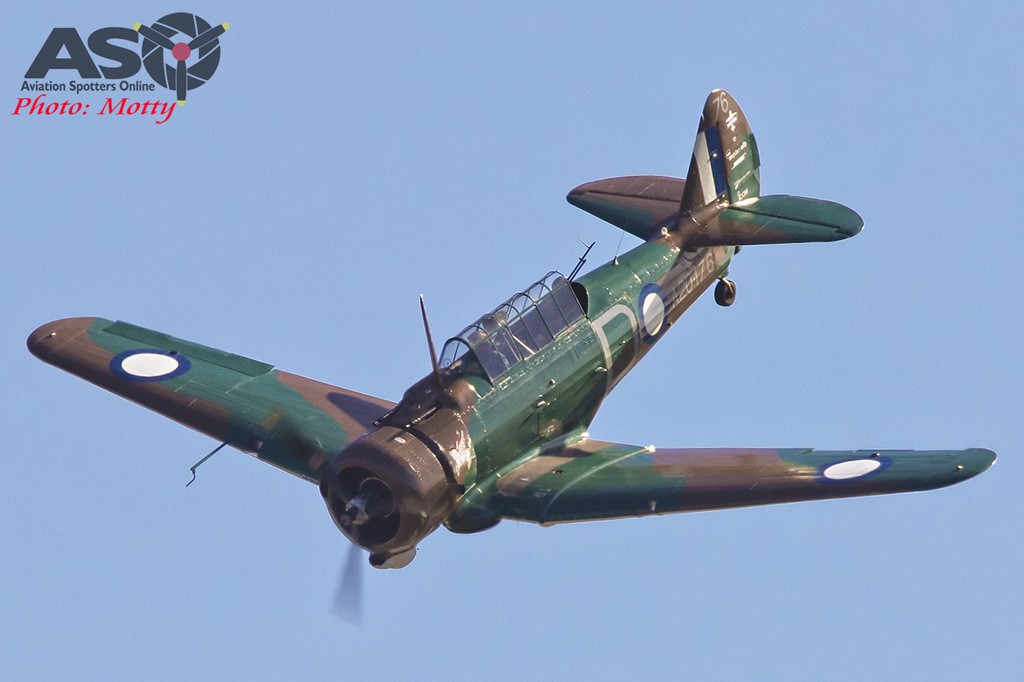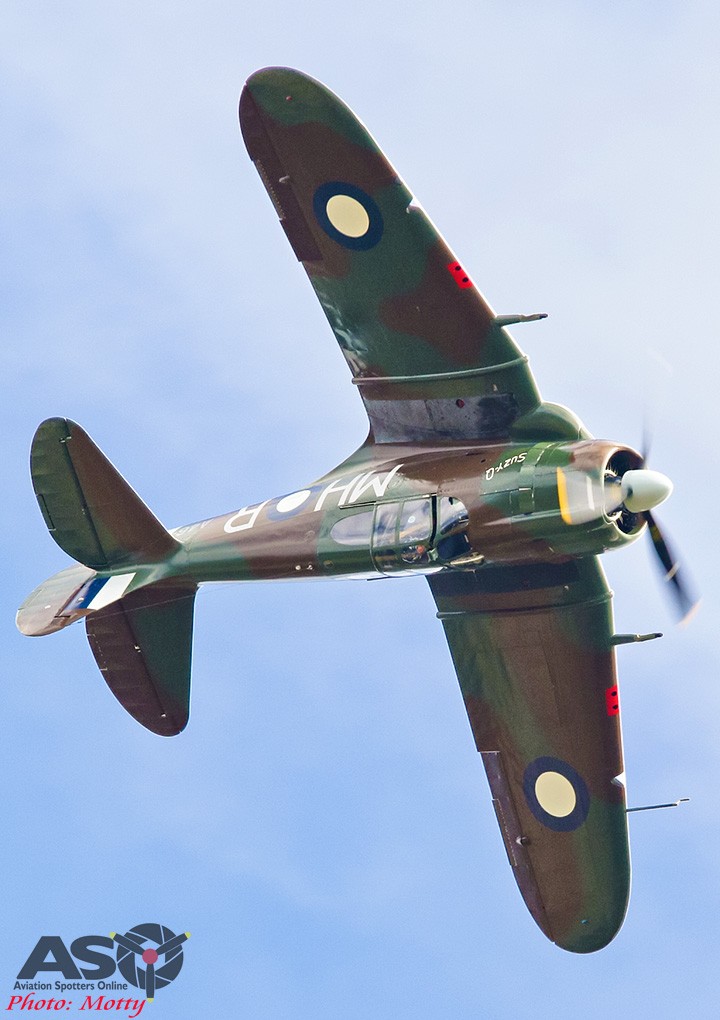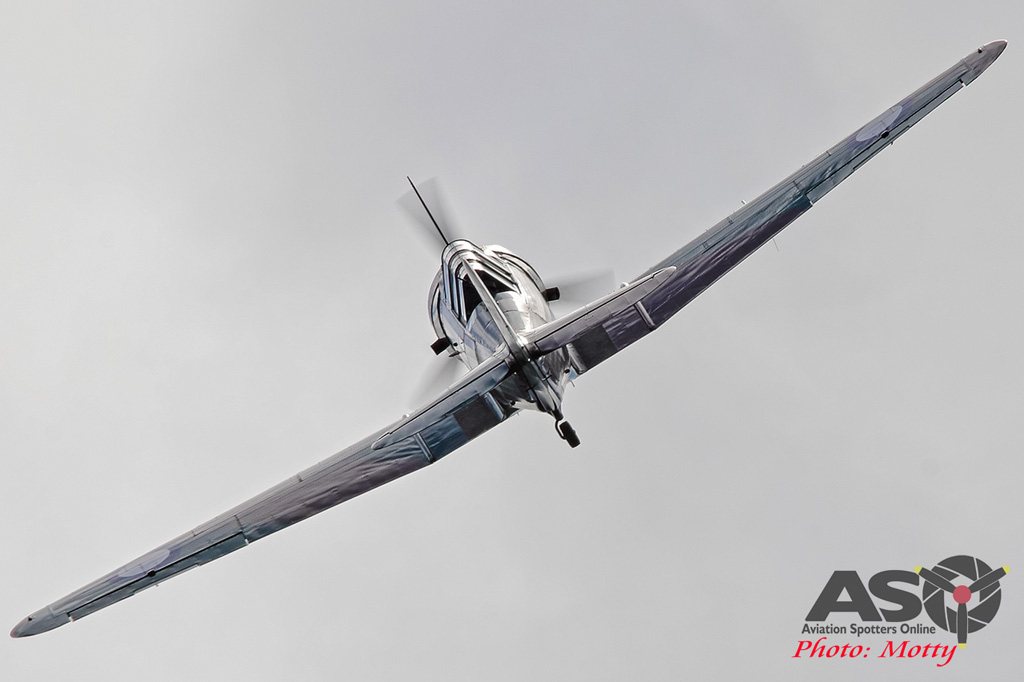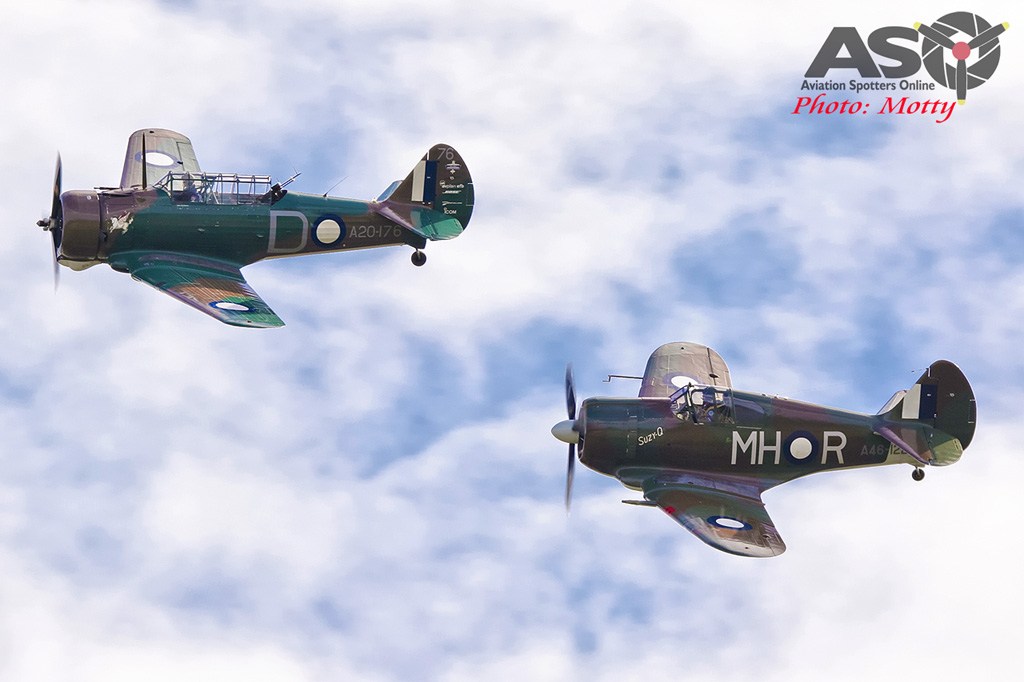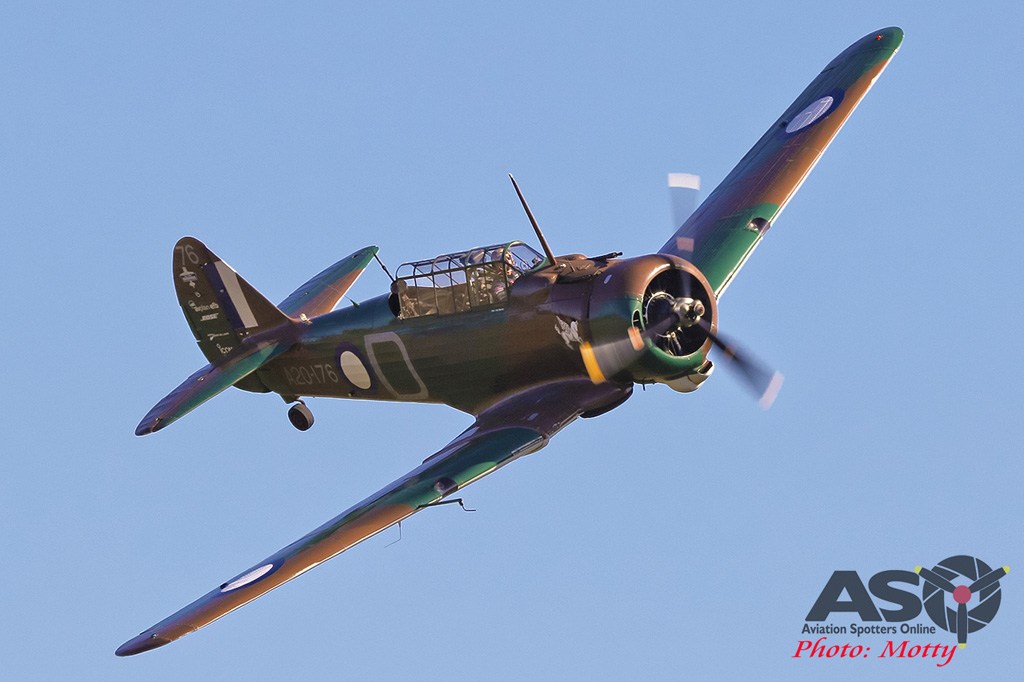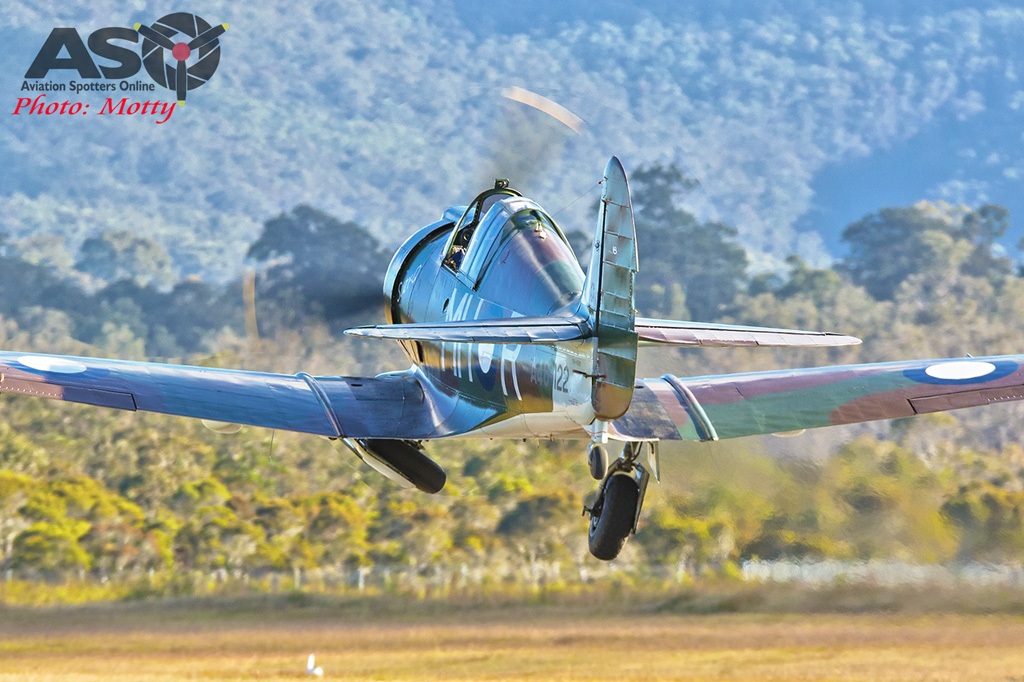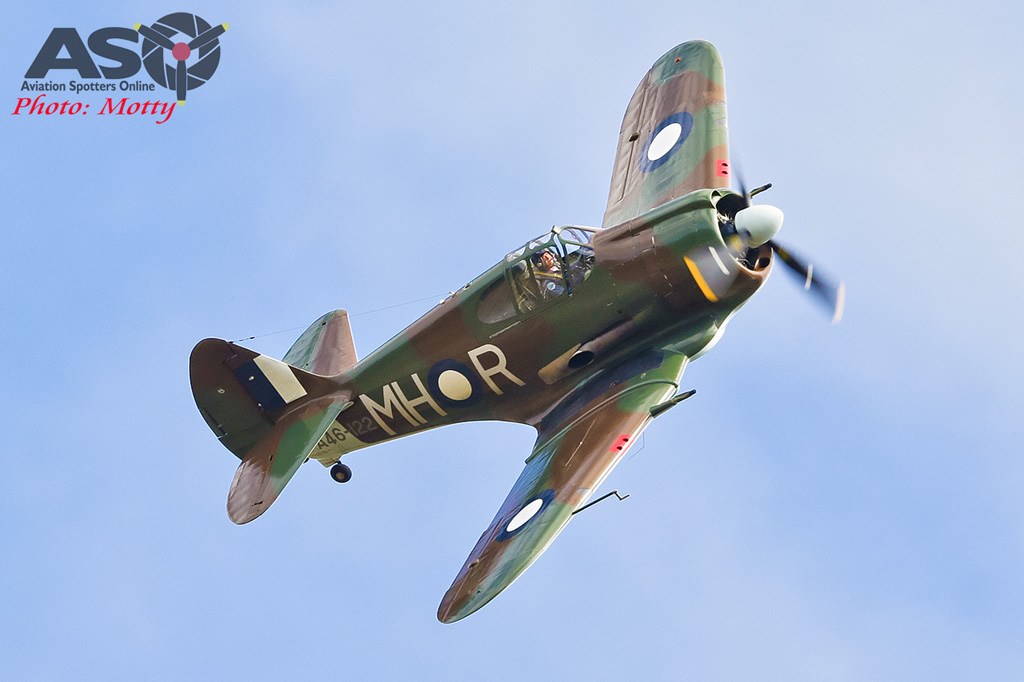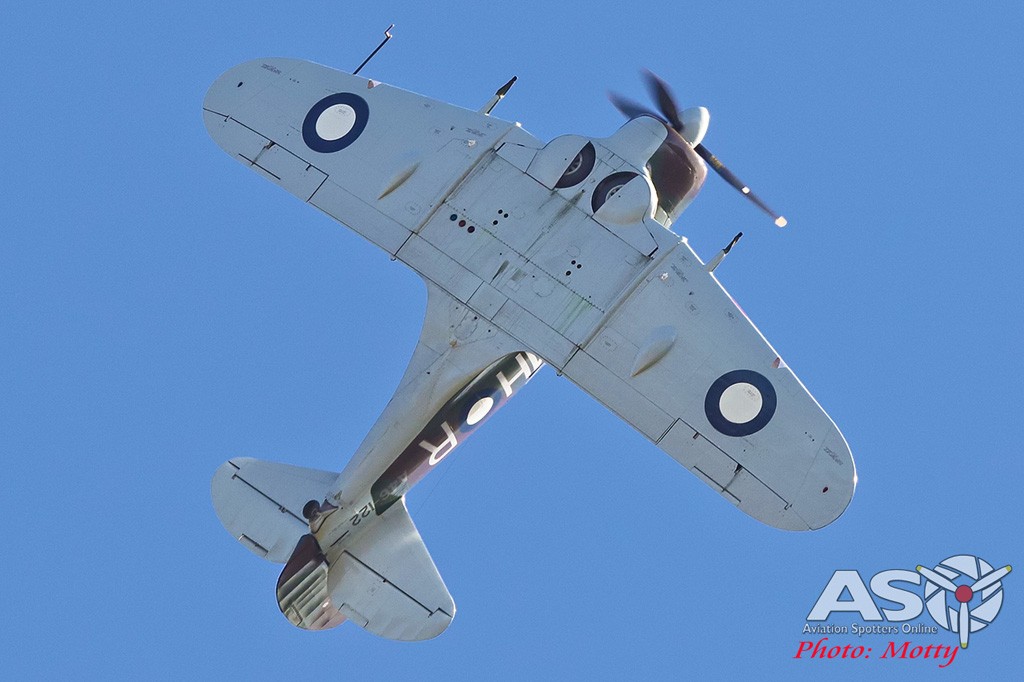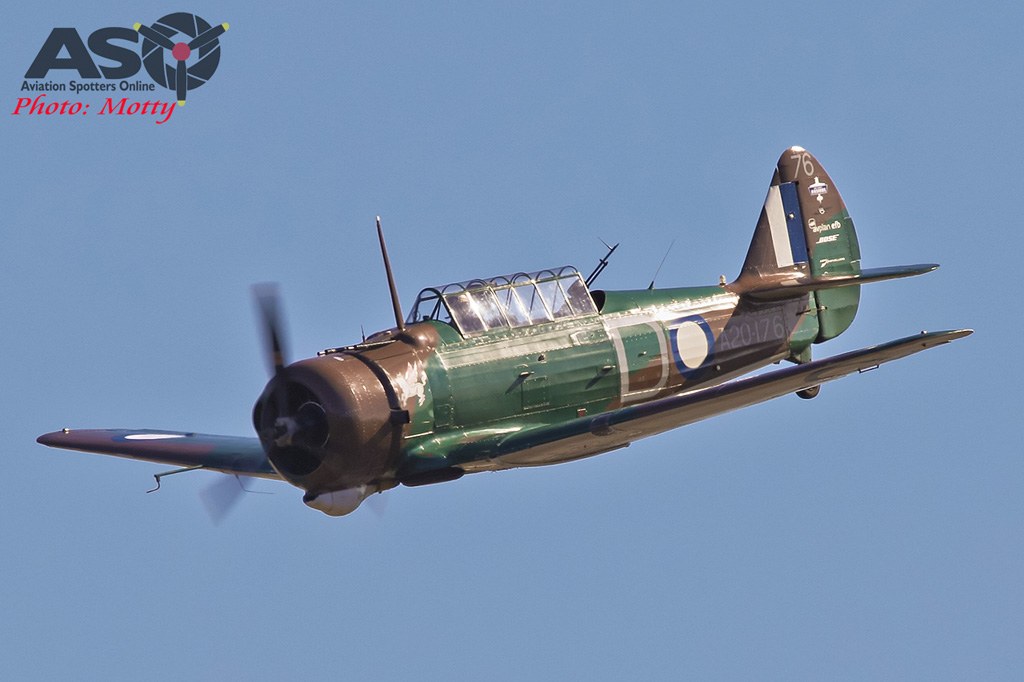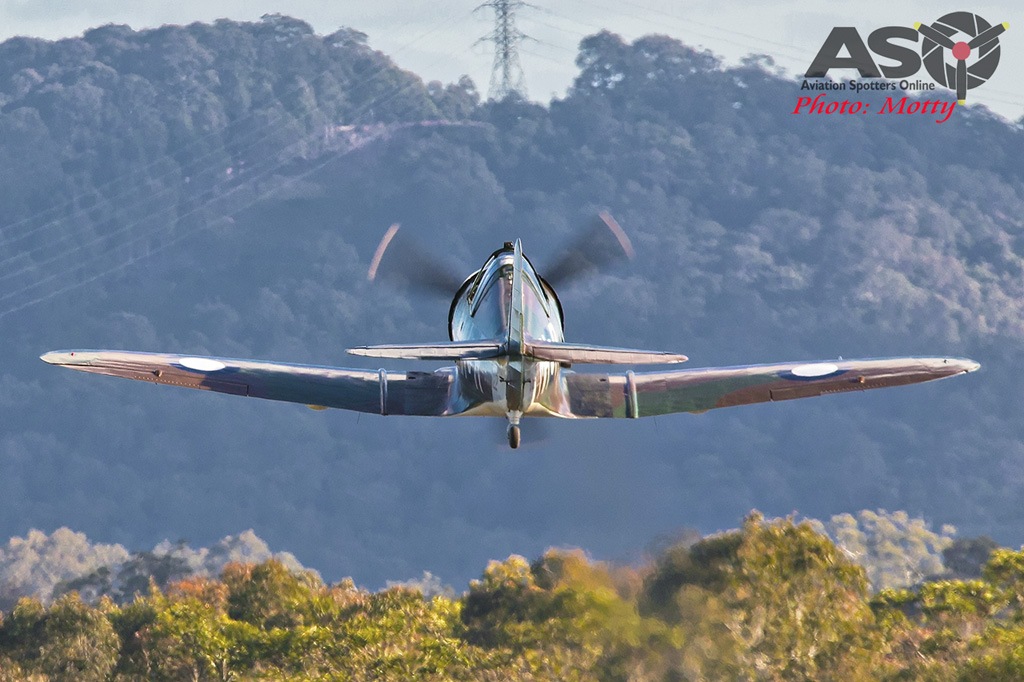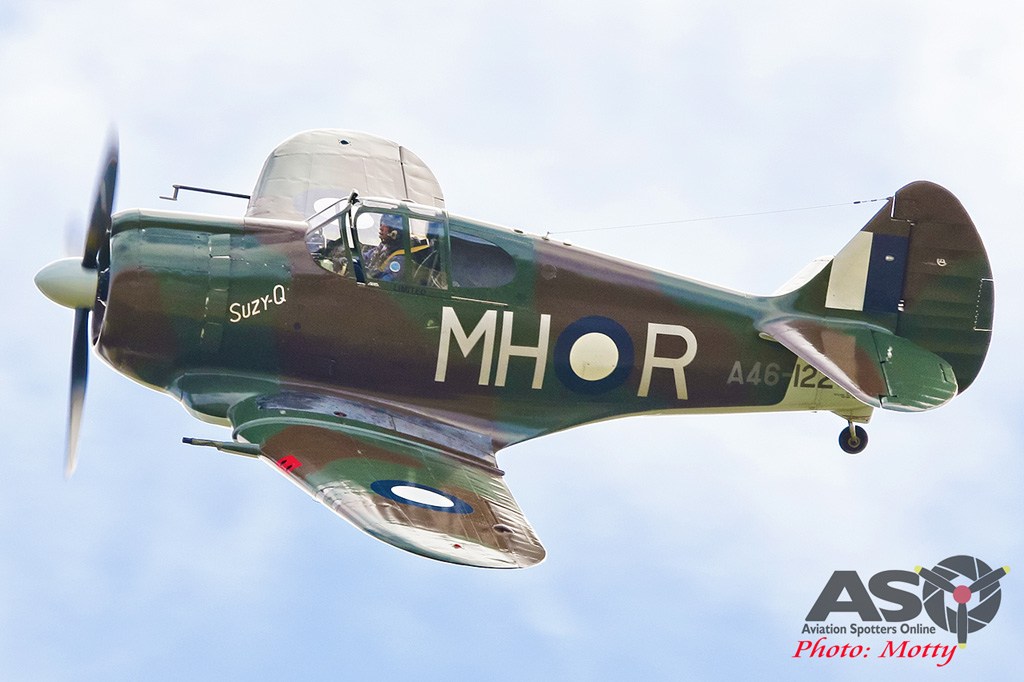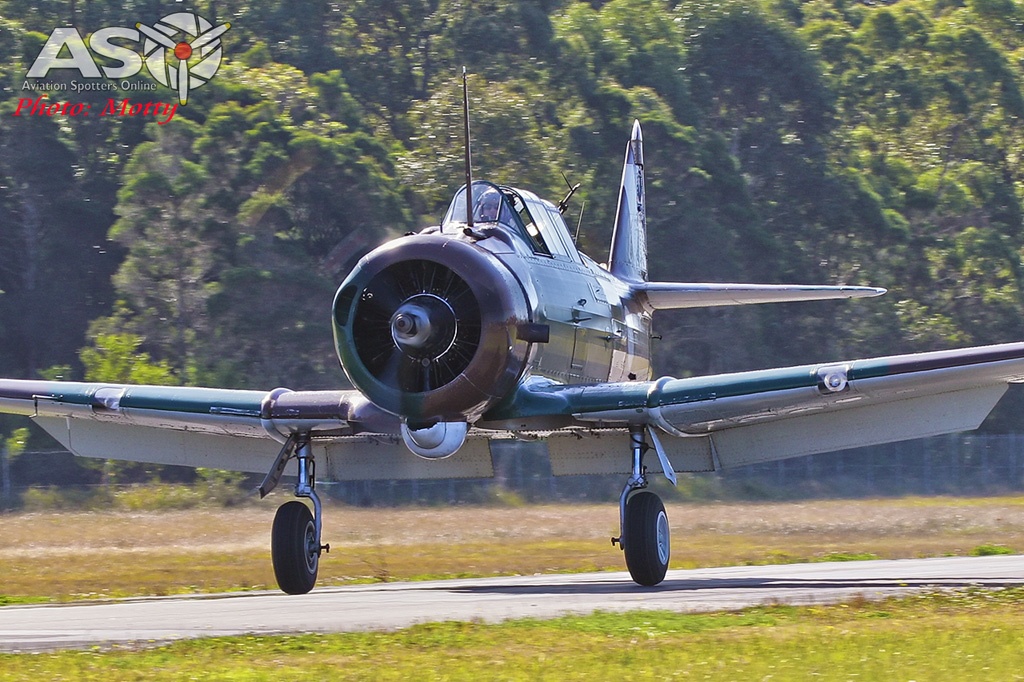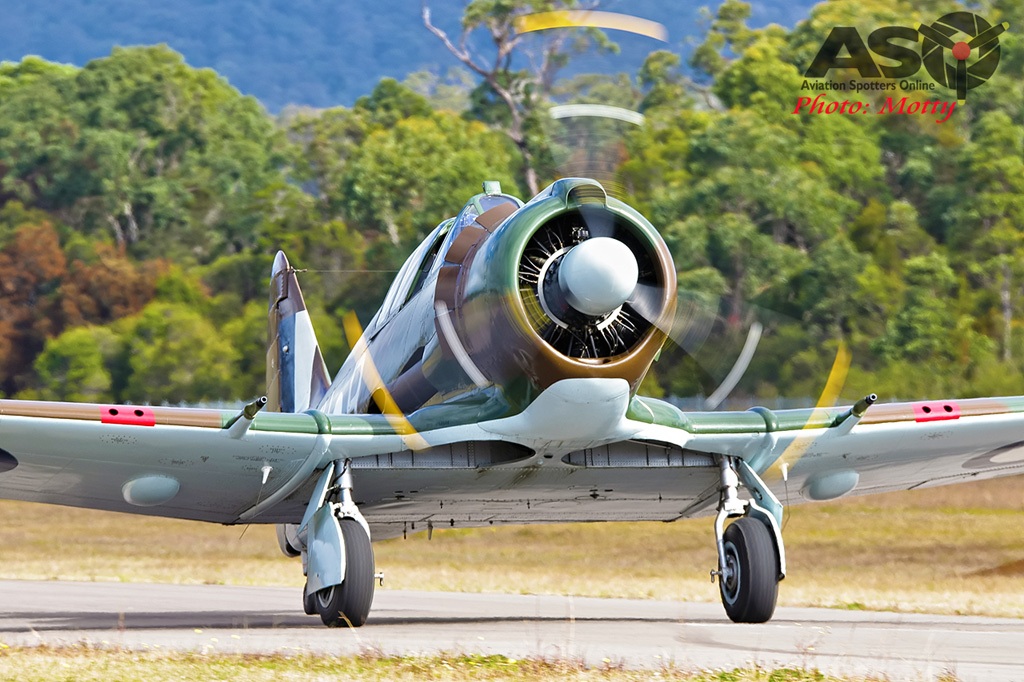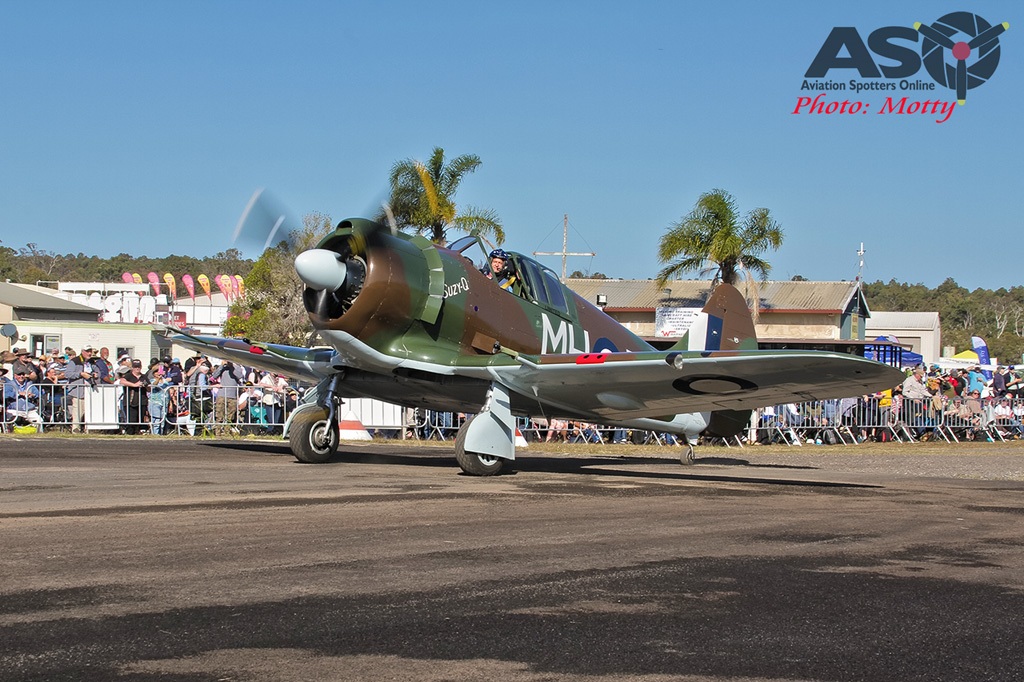 Bryan Greenfield then displayed CT-4 VH-PTX, with its attractive shark mouth paint scheme, to great effect. This machine is actually an ex RNZAF (Royal New Zealand Air Force) CT-4E variant with a more powerful engine than the more common, ex-RAAF CT-4As (300hp Vs 200hp).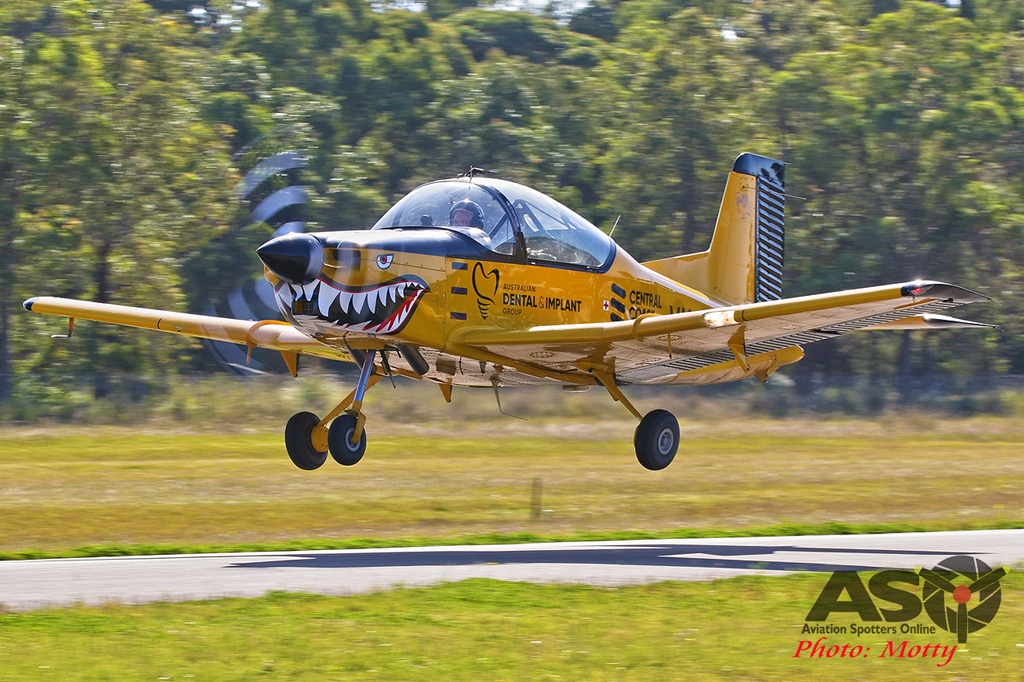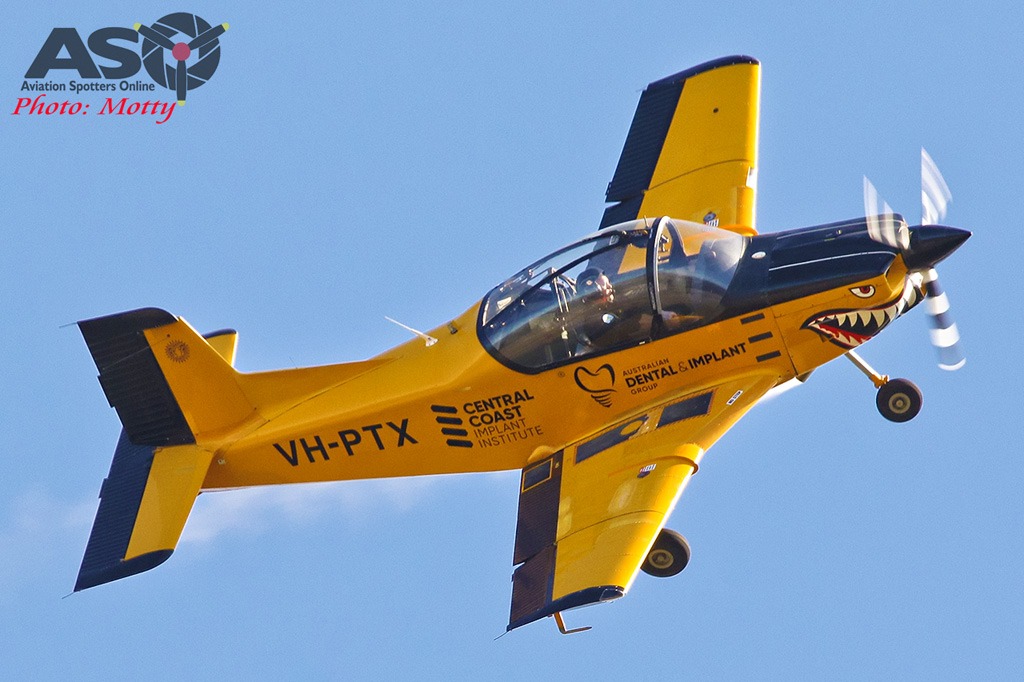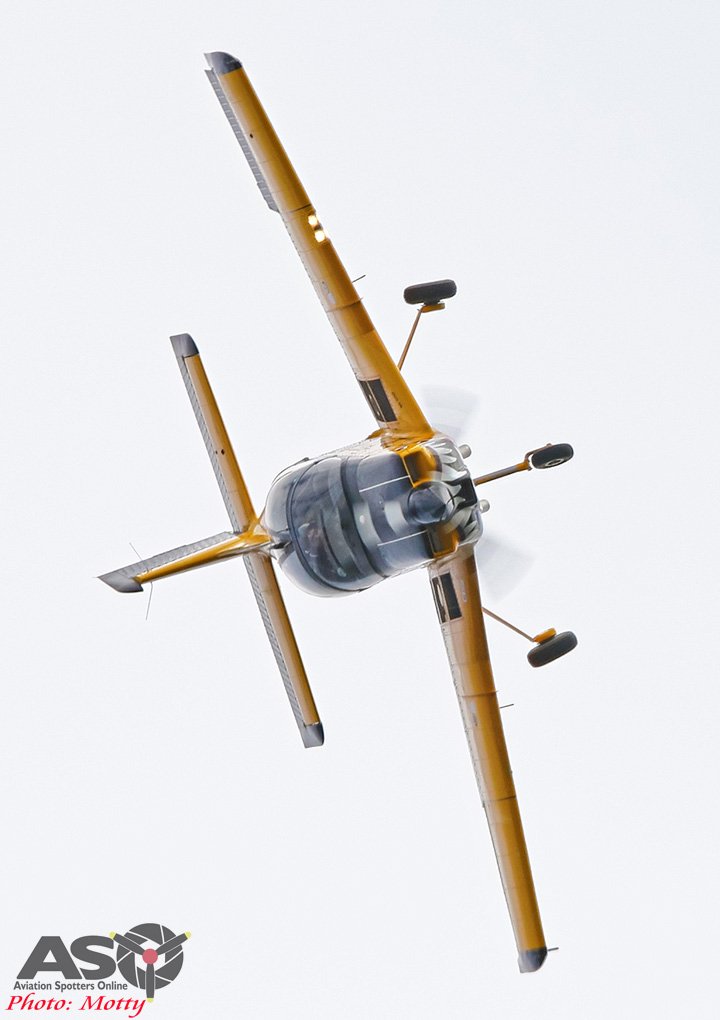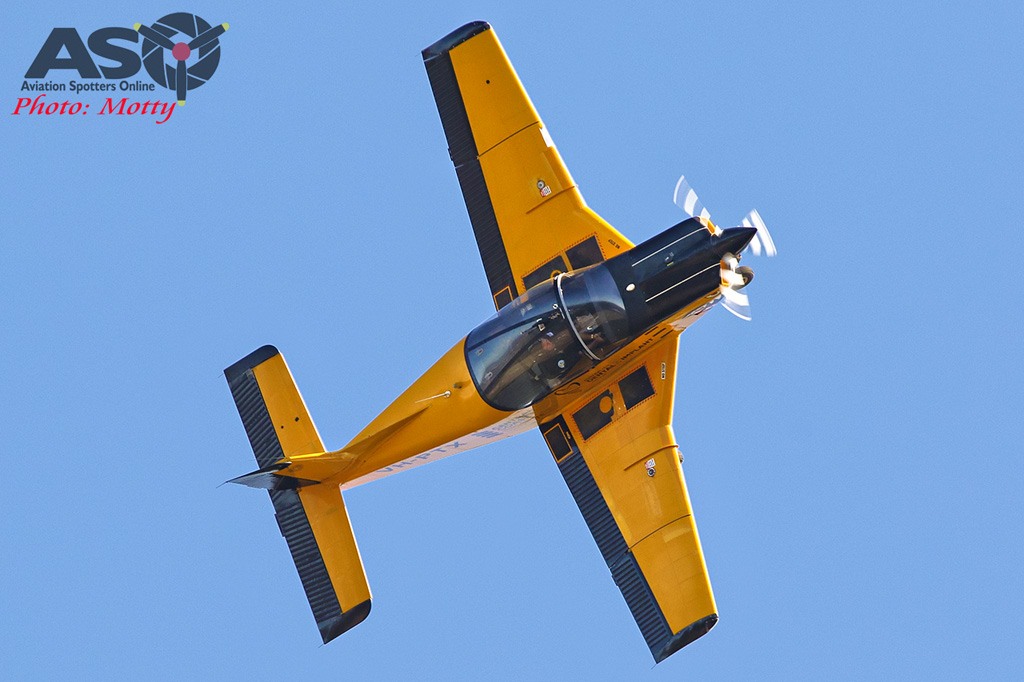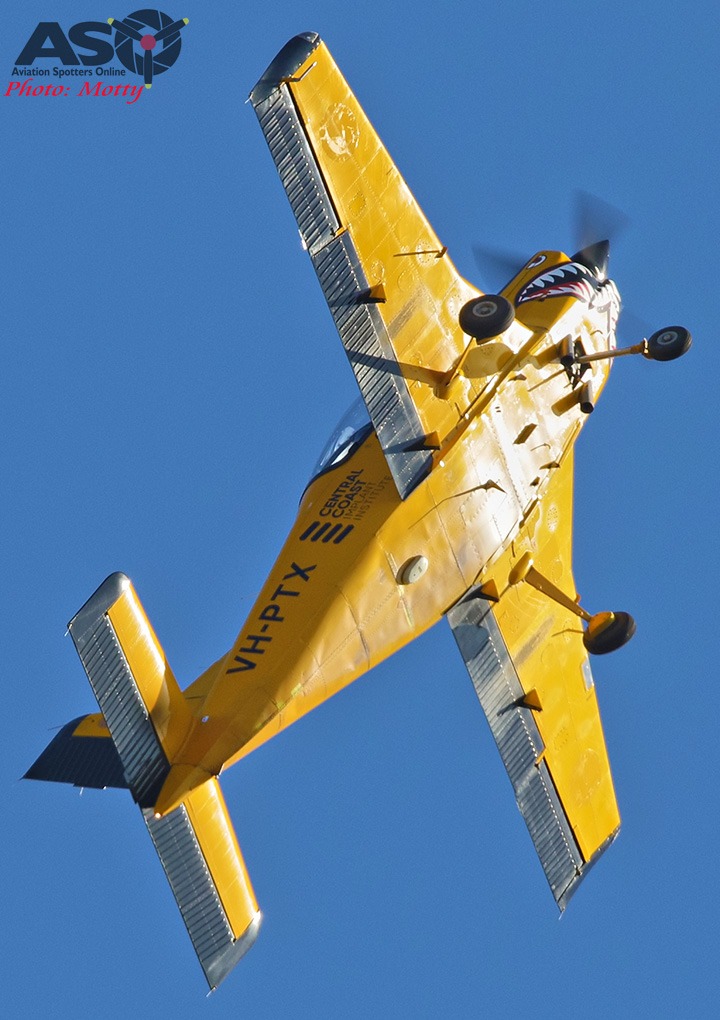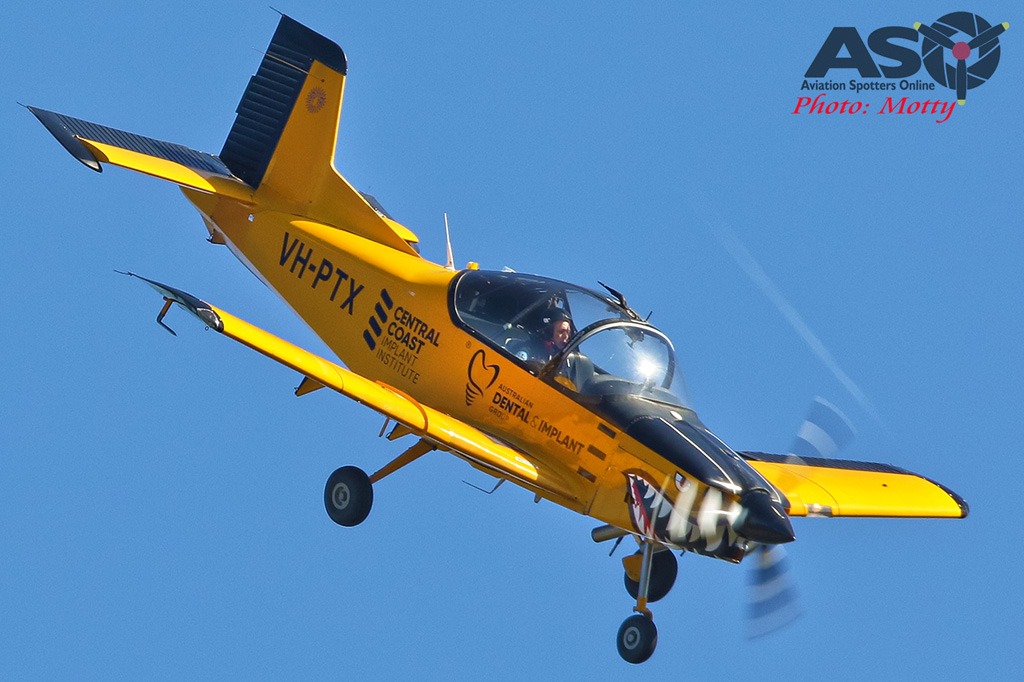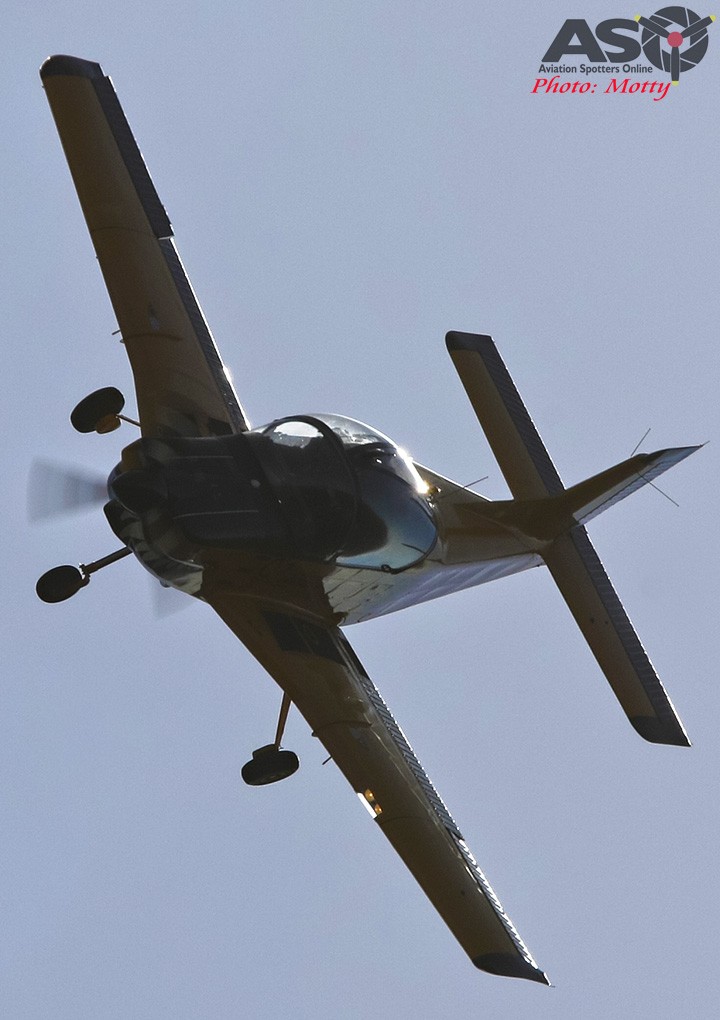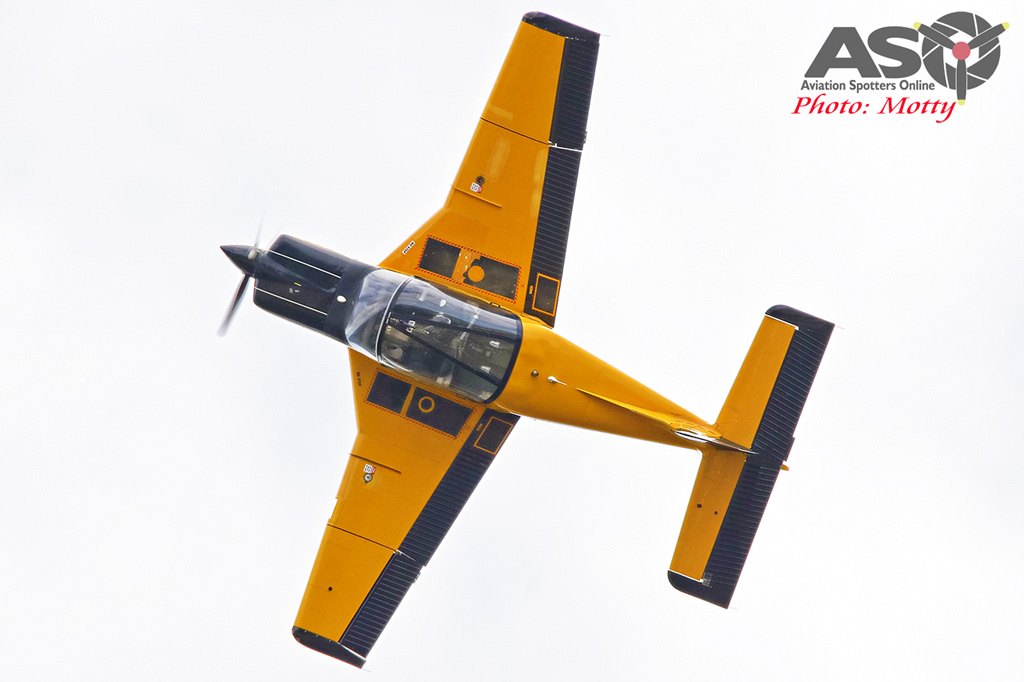 Jeff Sparkes showed some amazing skill with his remote controlled, large-scale CF-18 Hornet model before Paul Benet, Glenn Collins, Glenn Graham and Jesse Jury took to the air as the Sky Aces formation aerobatic team. Flying three different versions of Pitts Specials, the team put on a great show of formation aerobatics combined with coordinated individual maneuvers.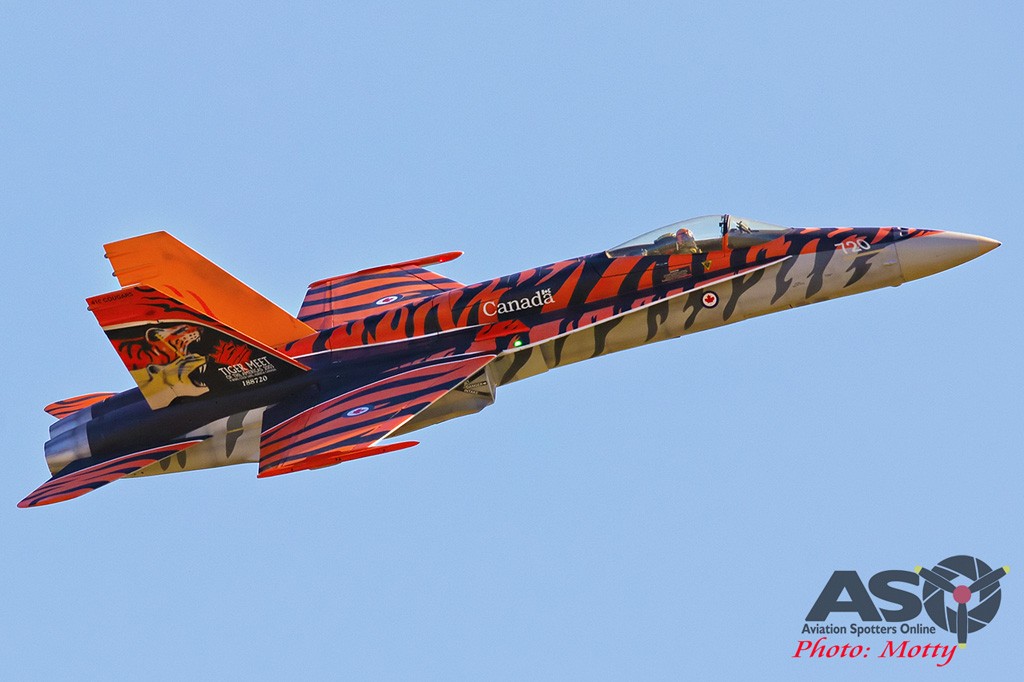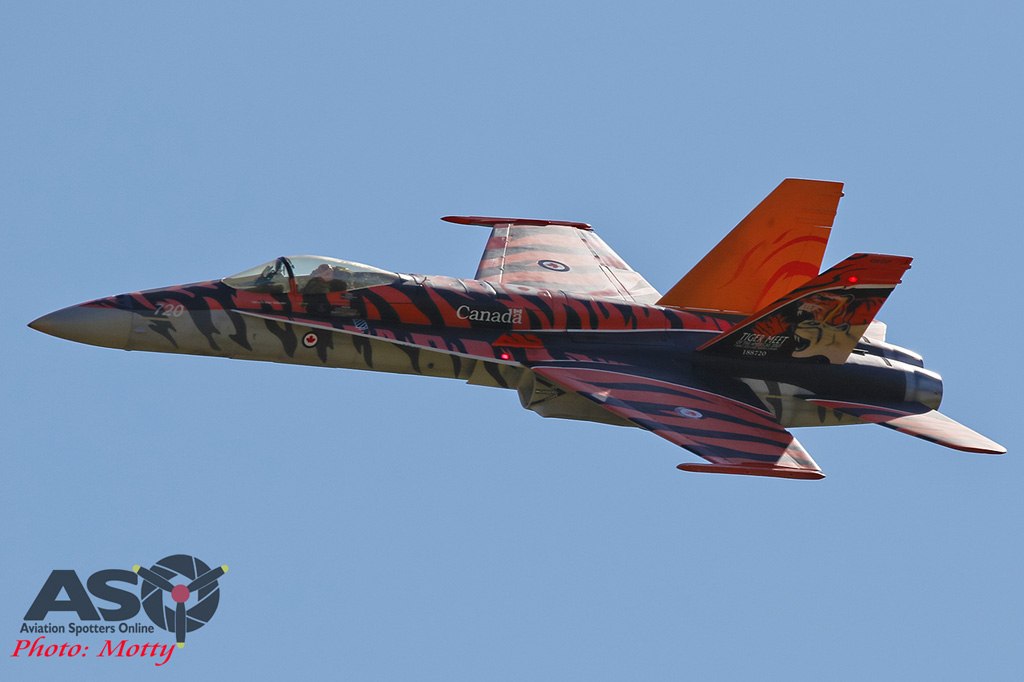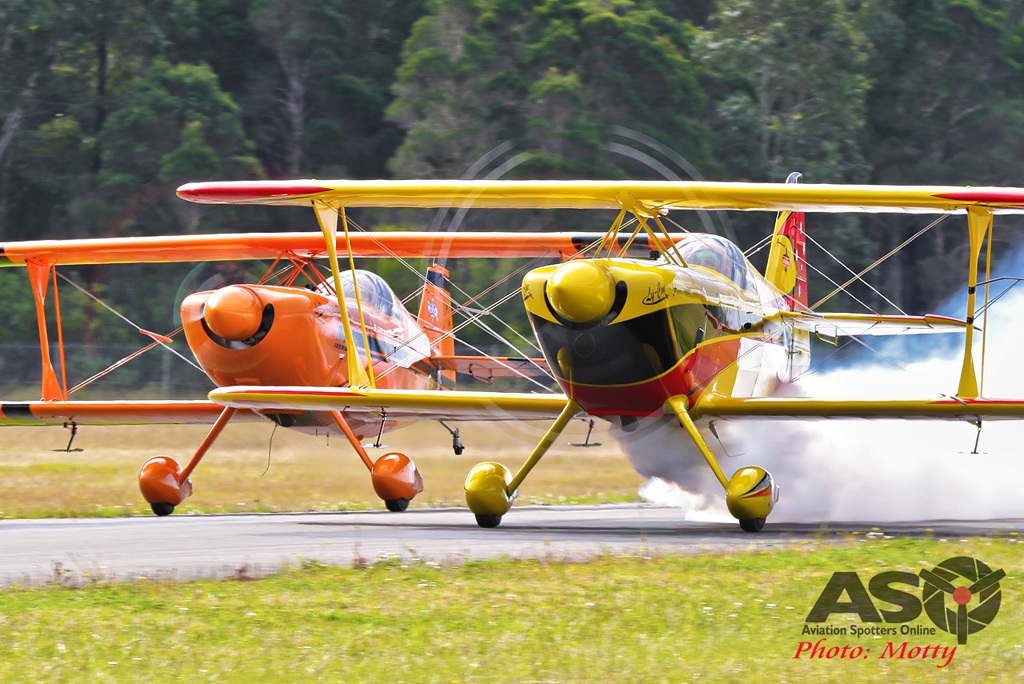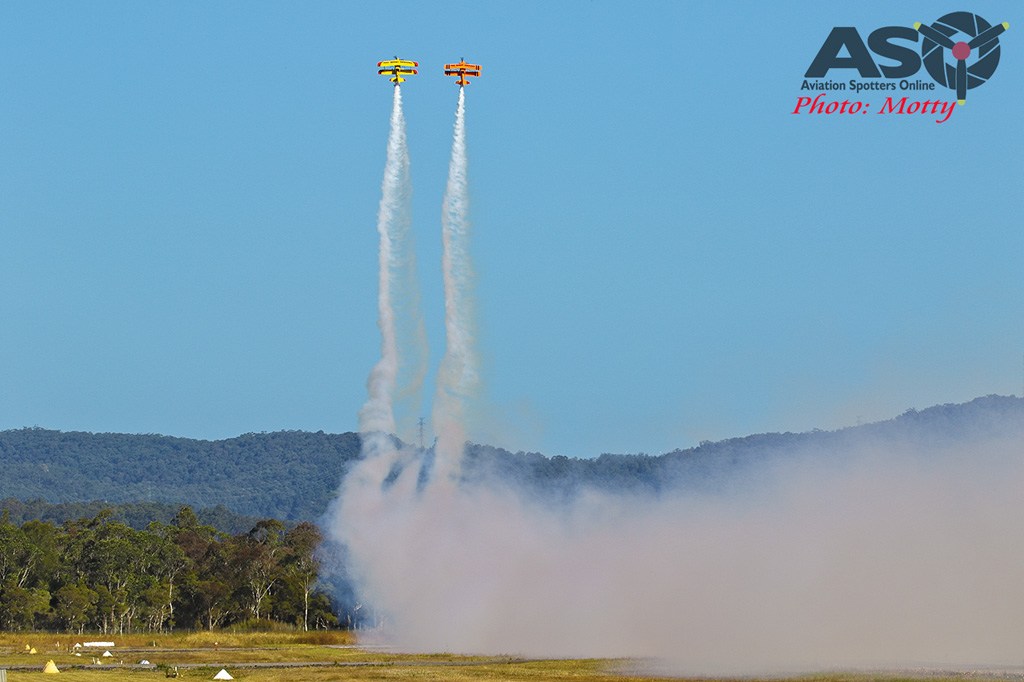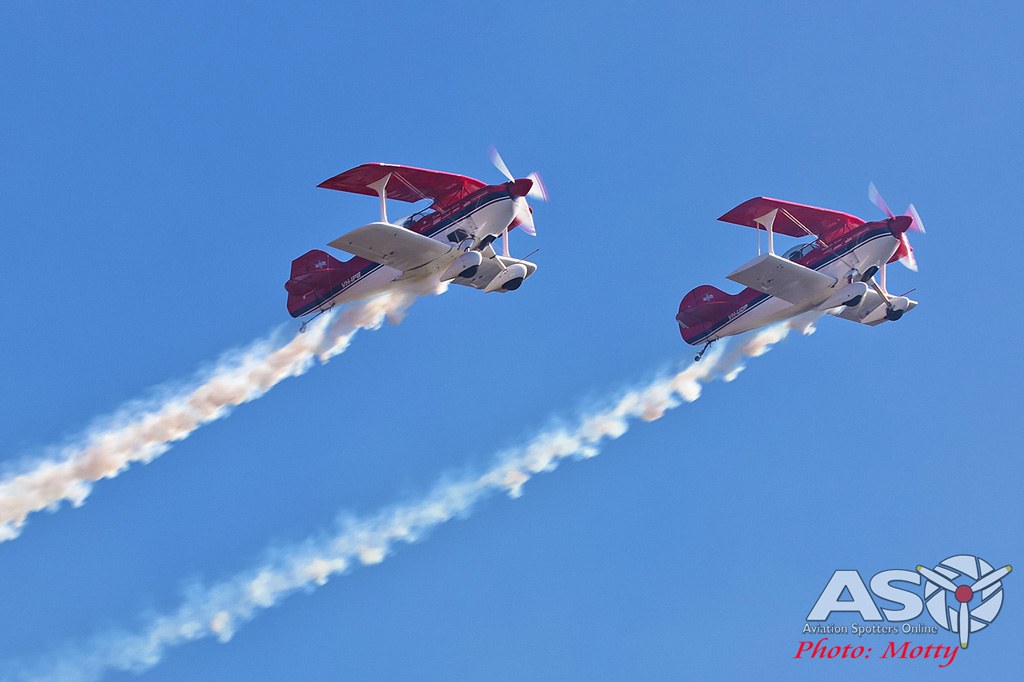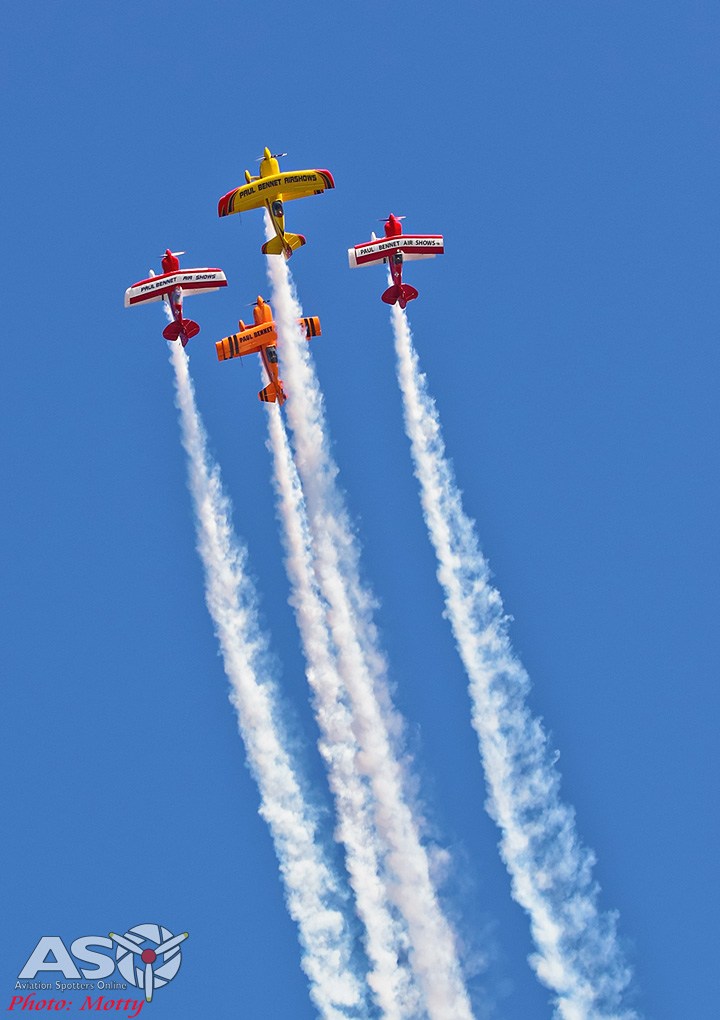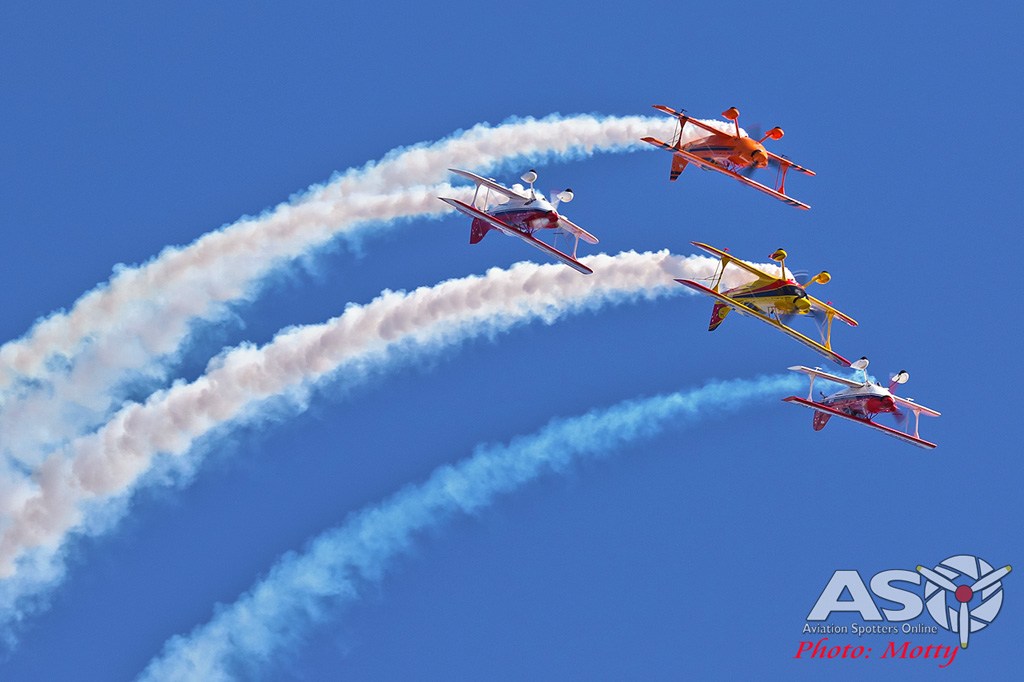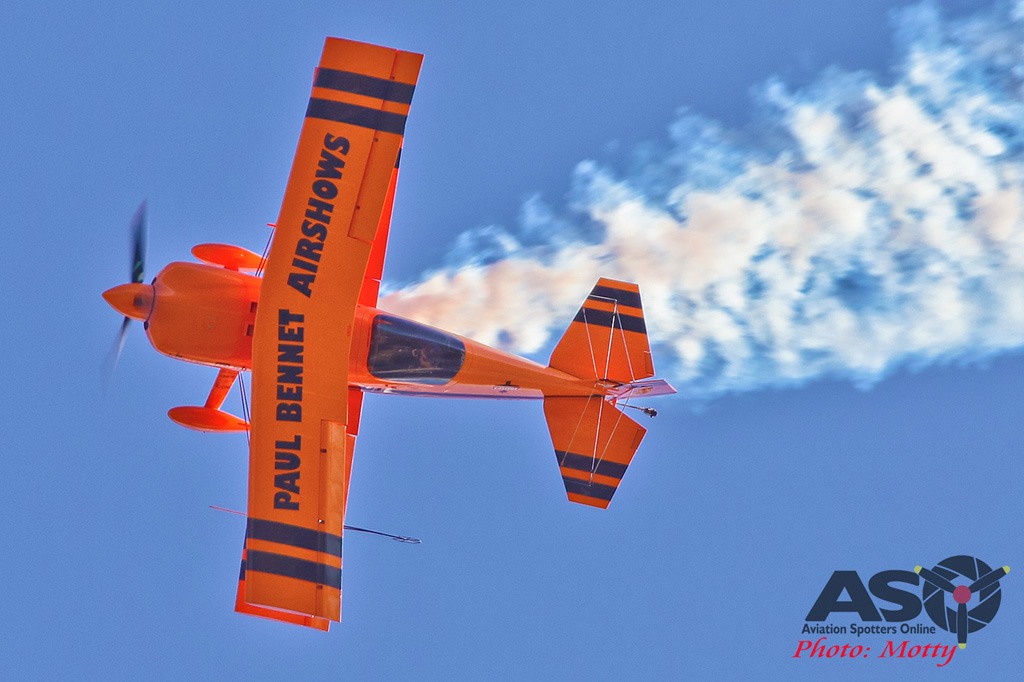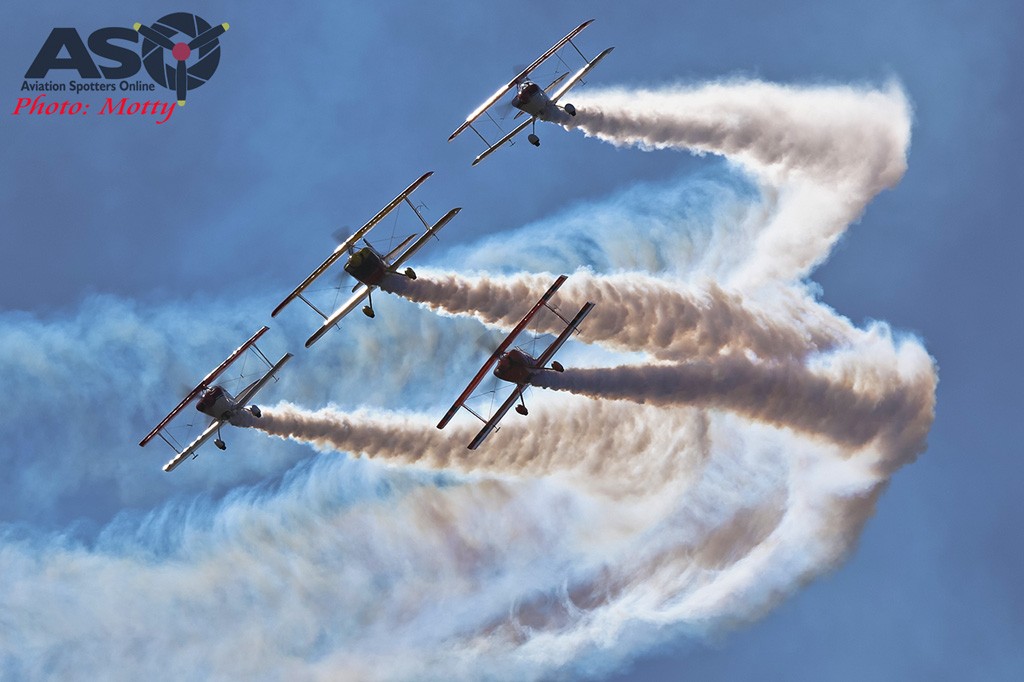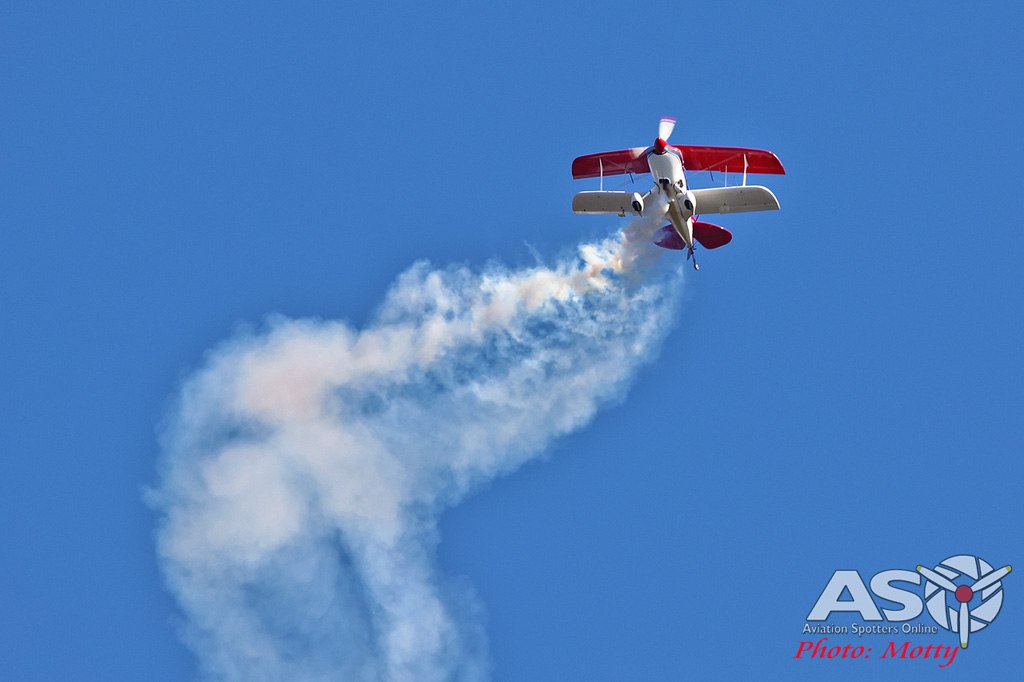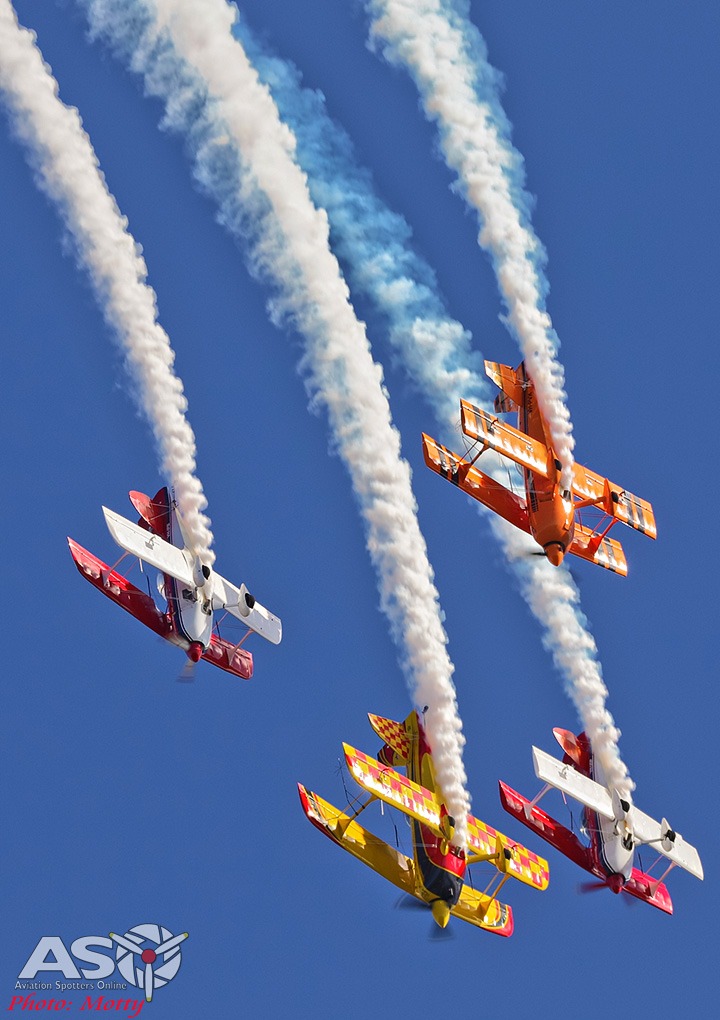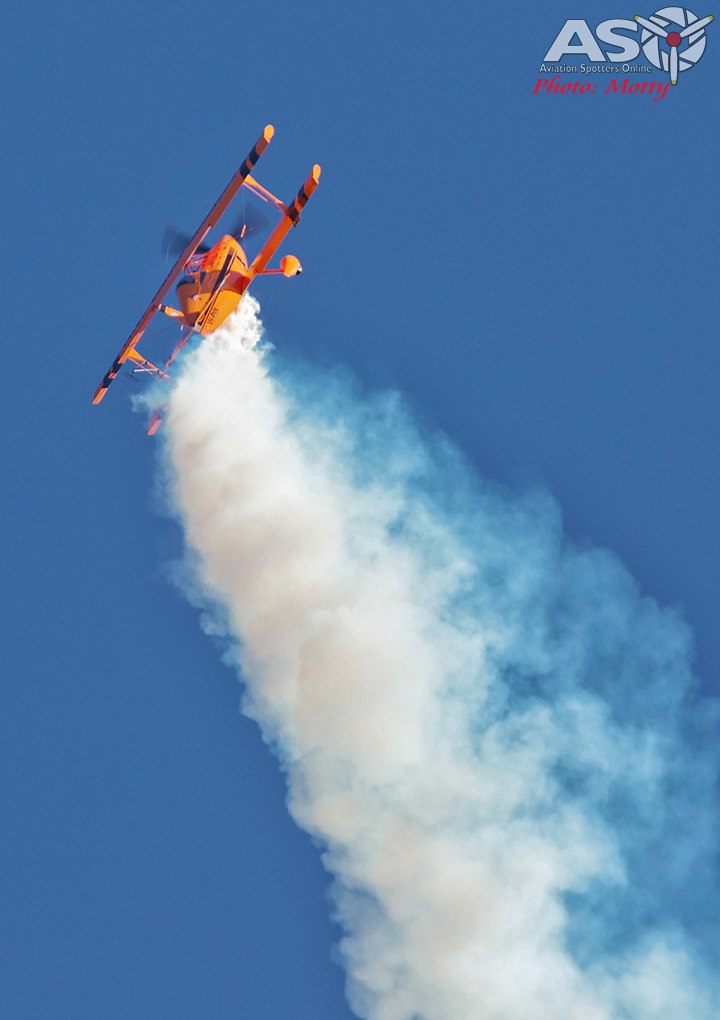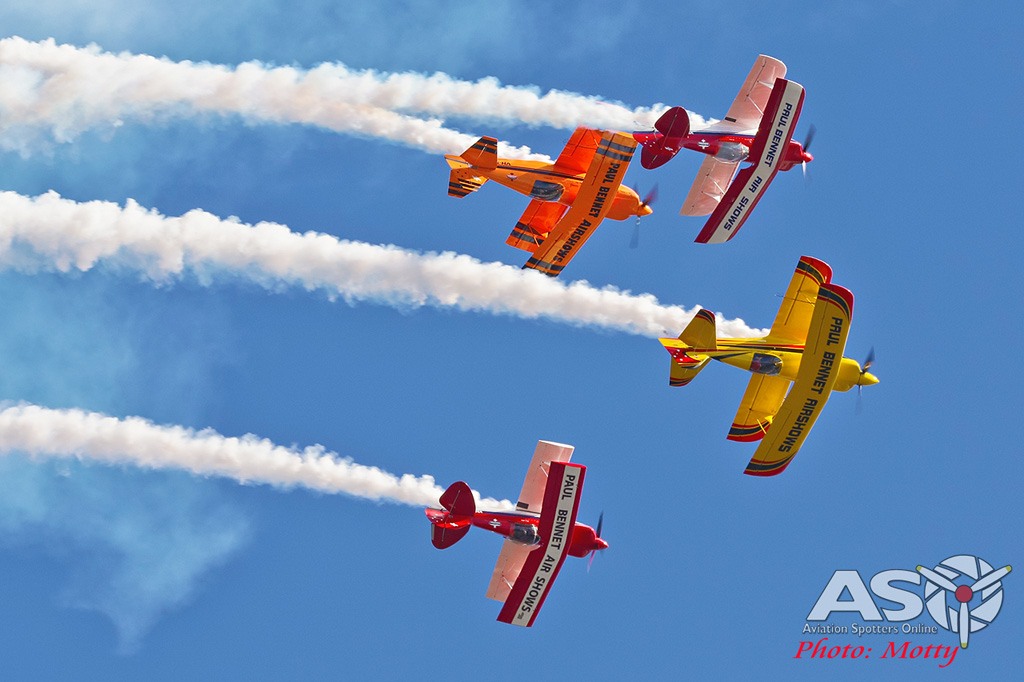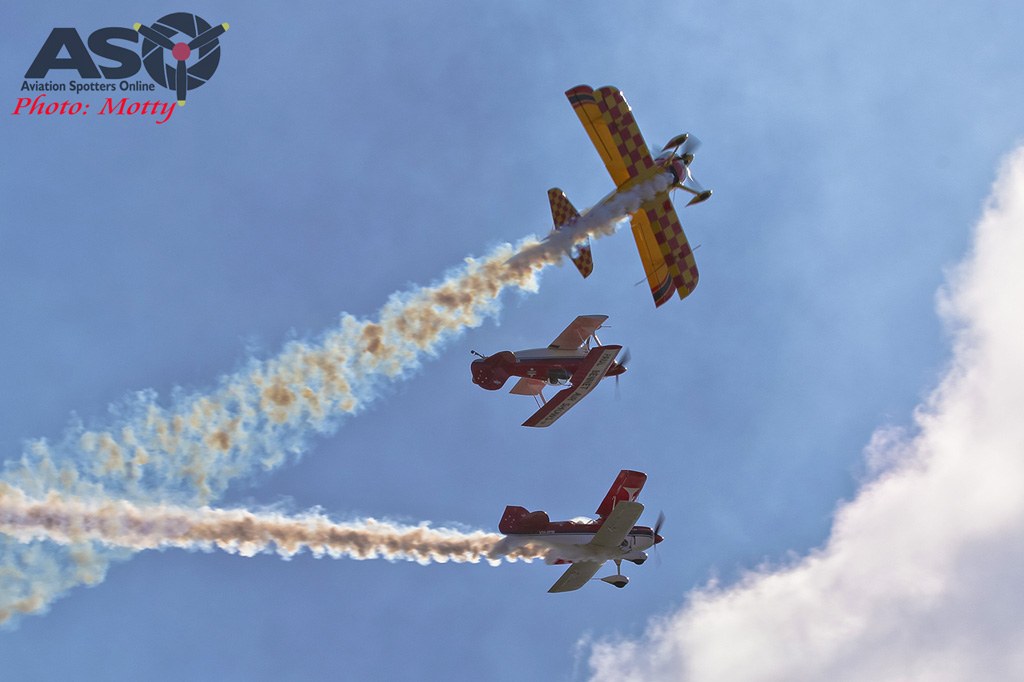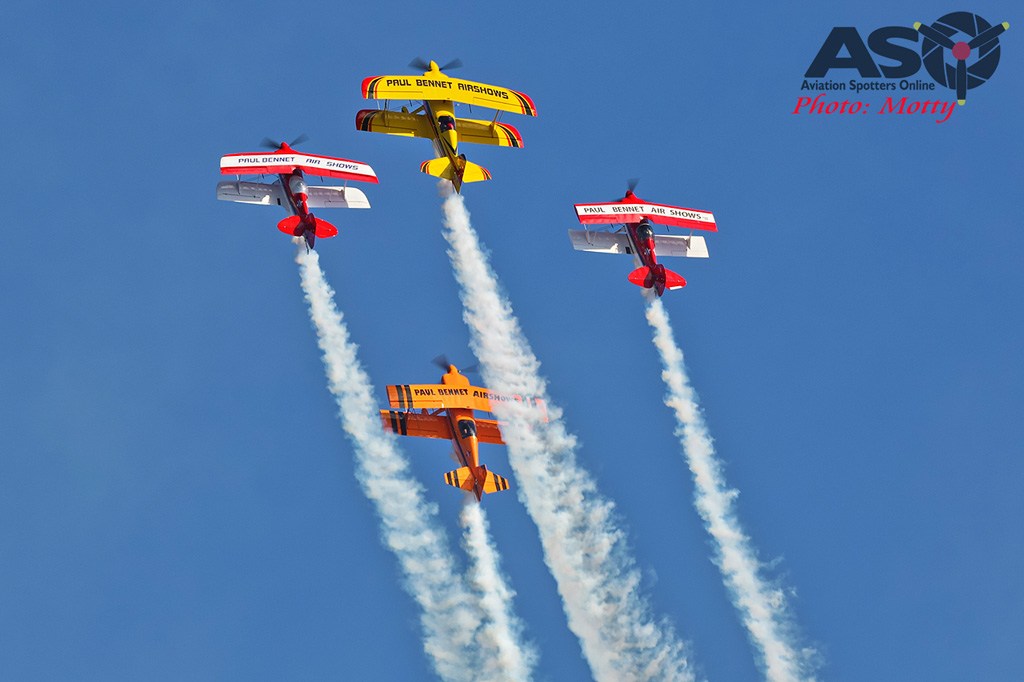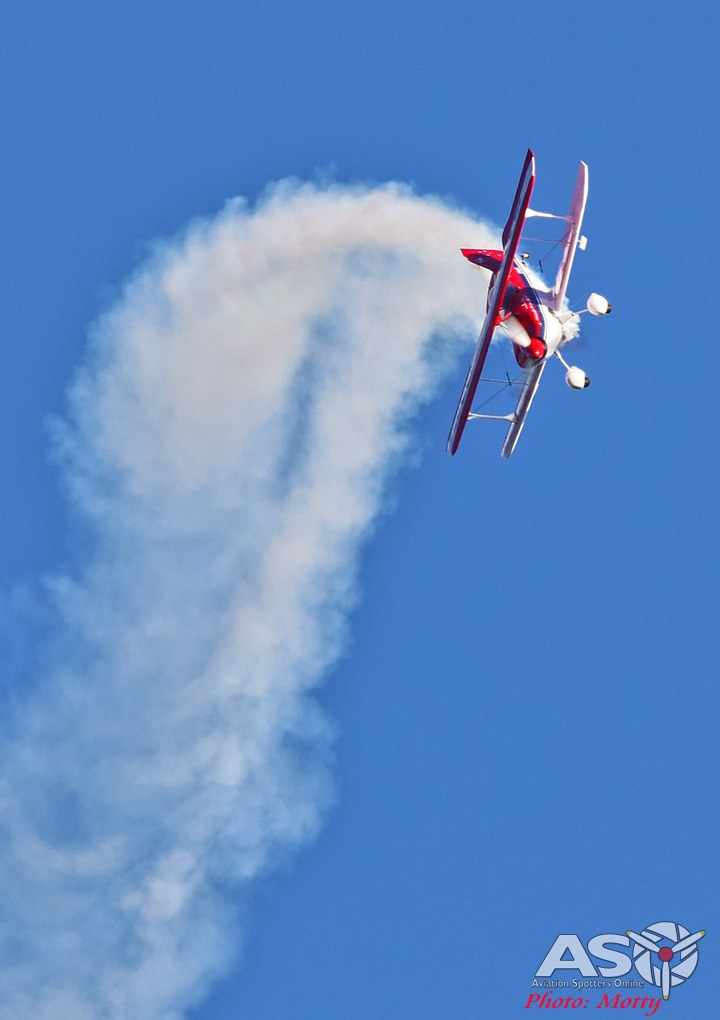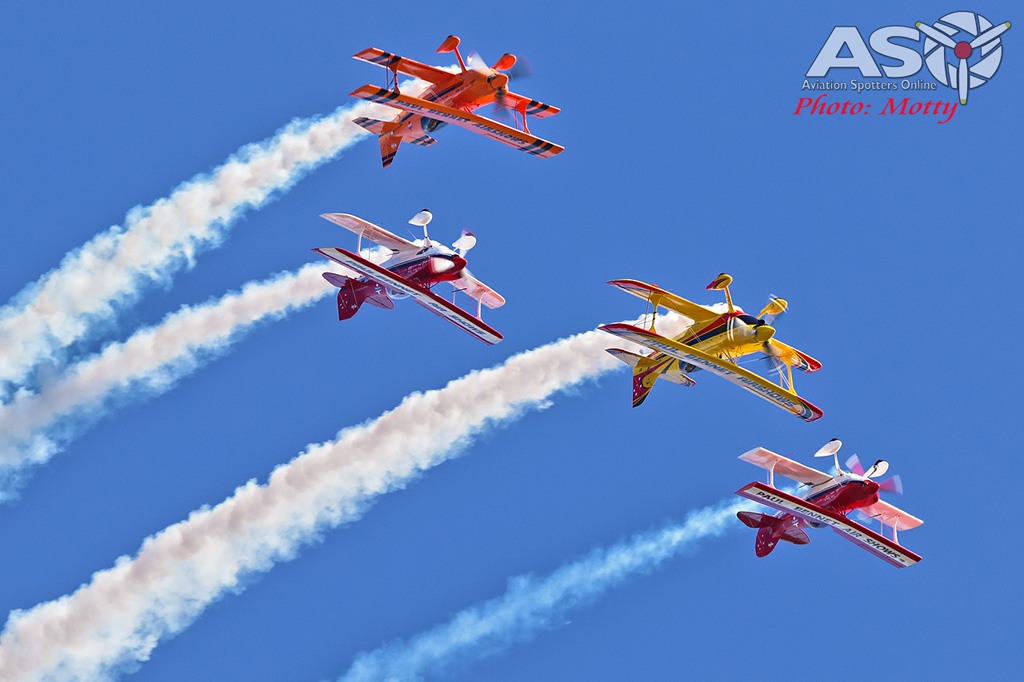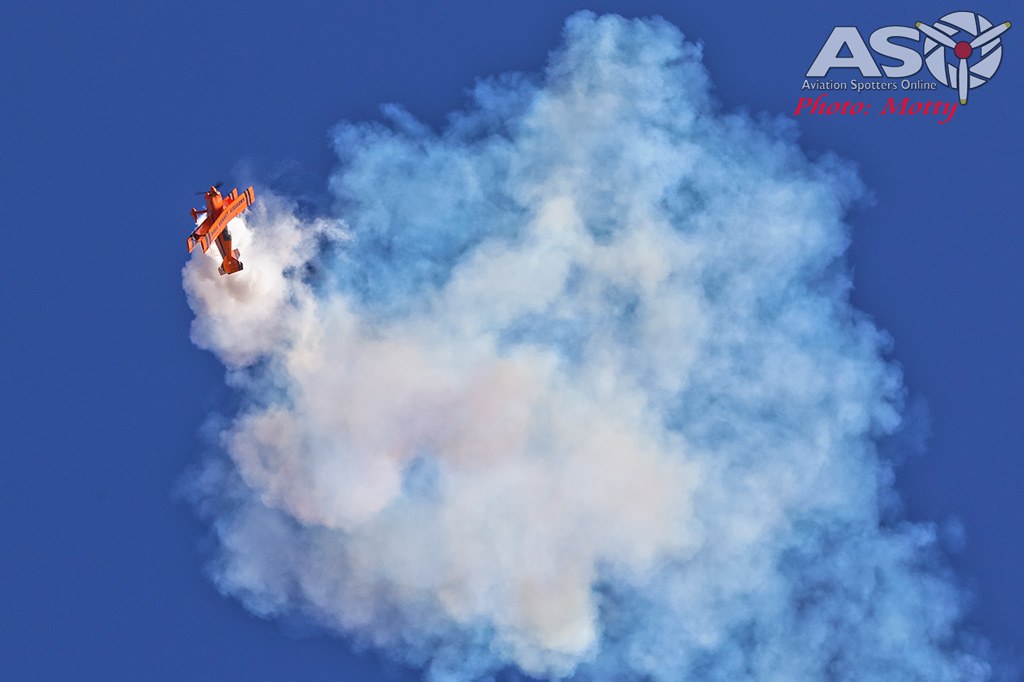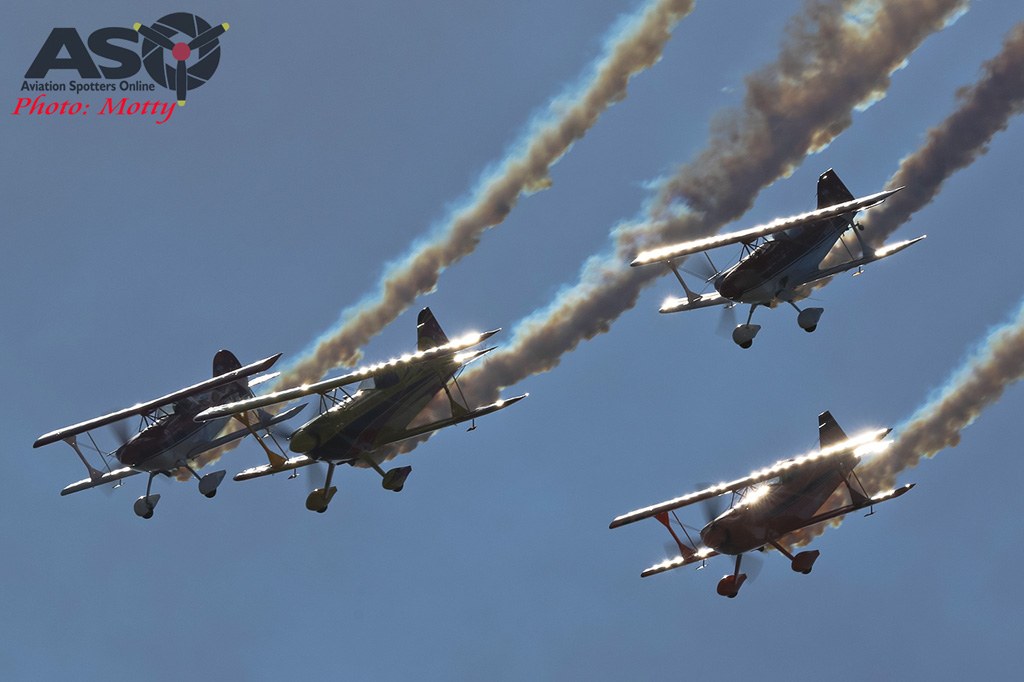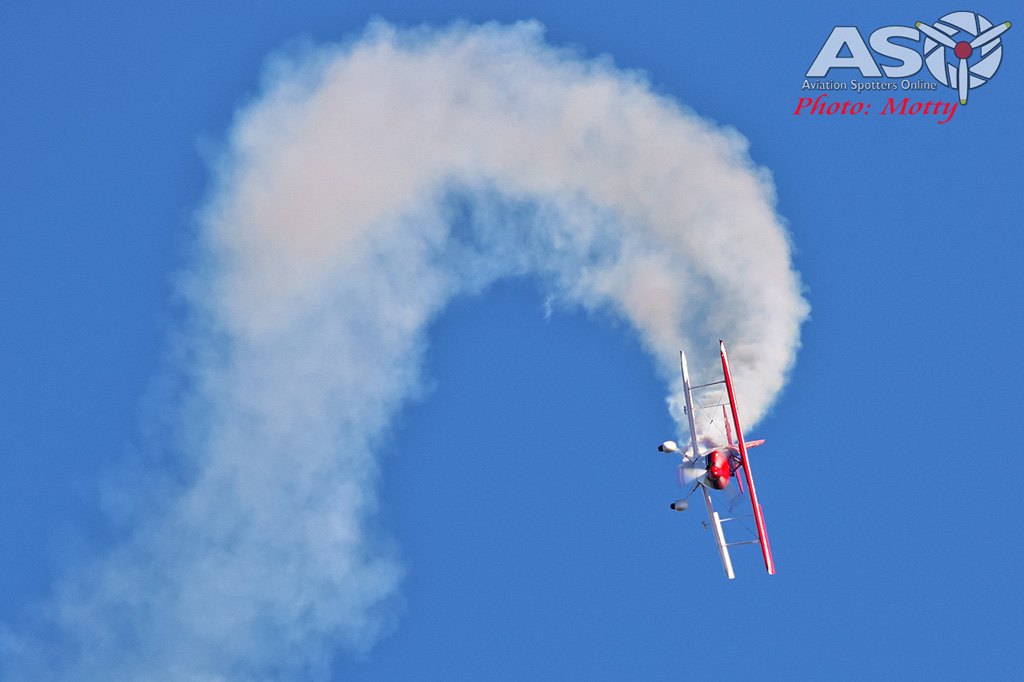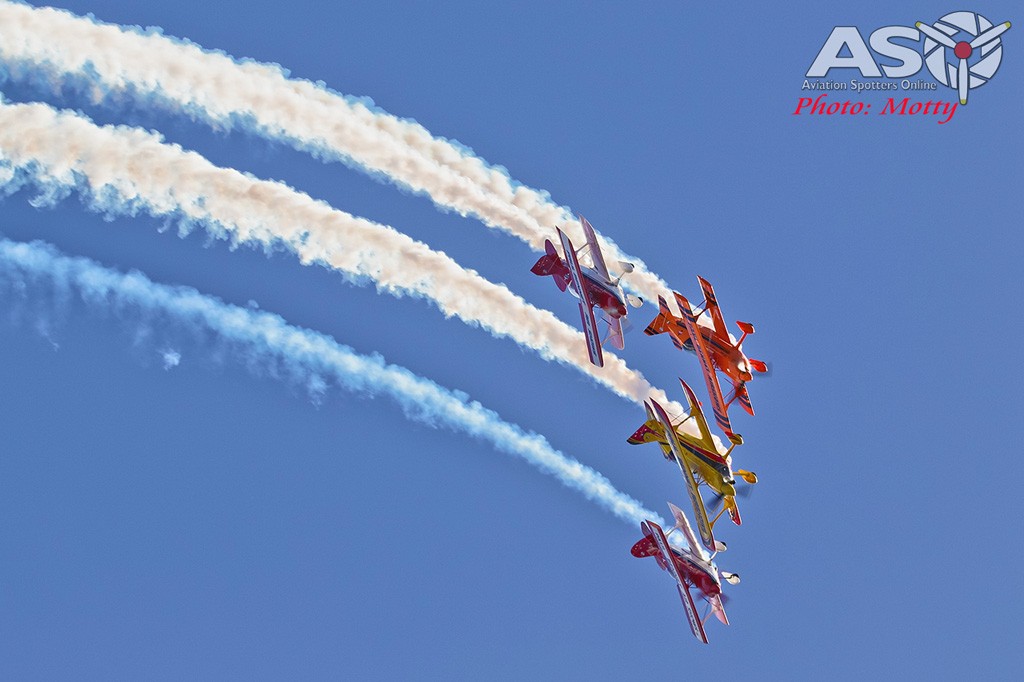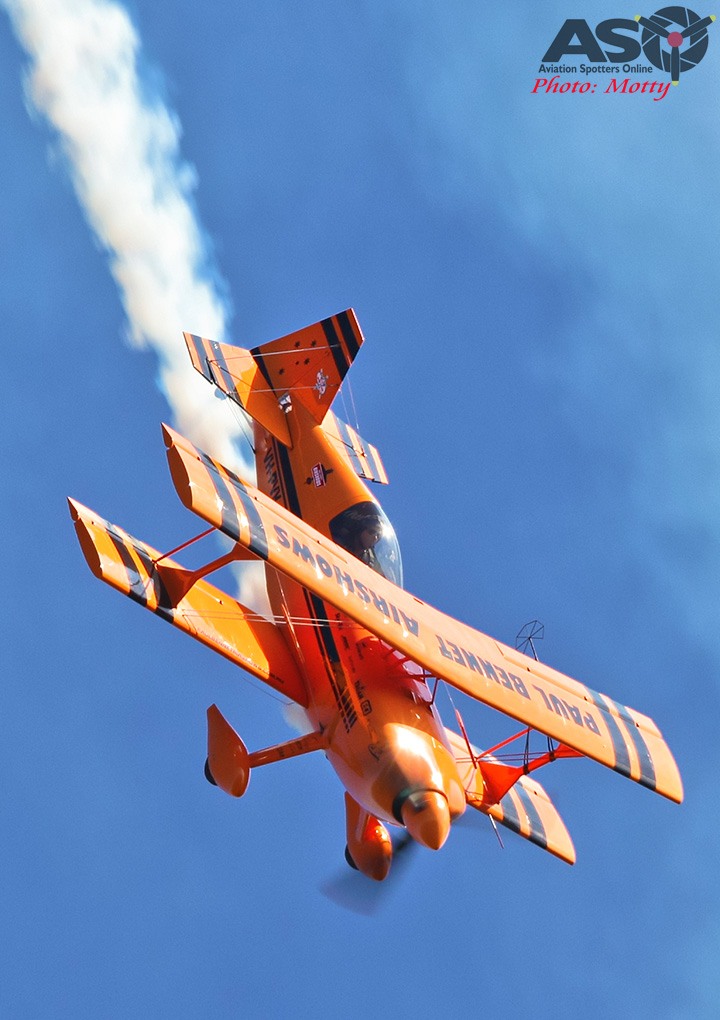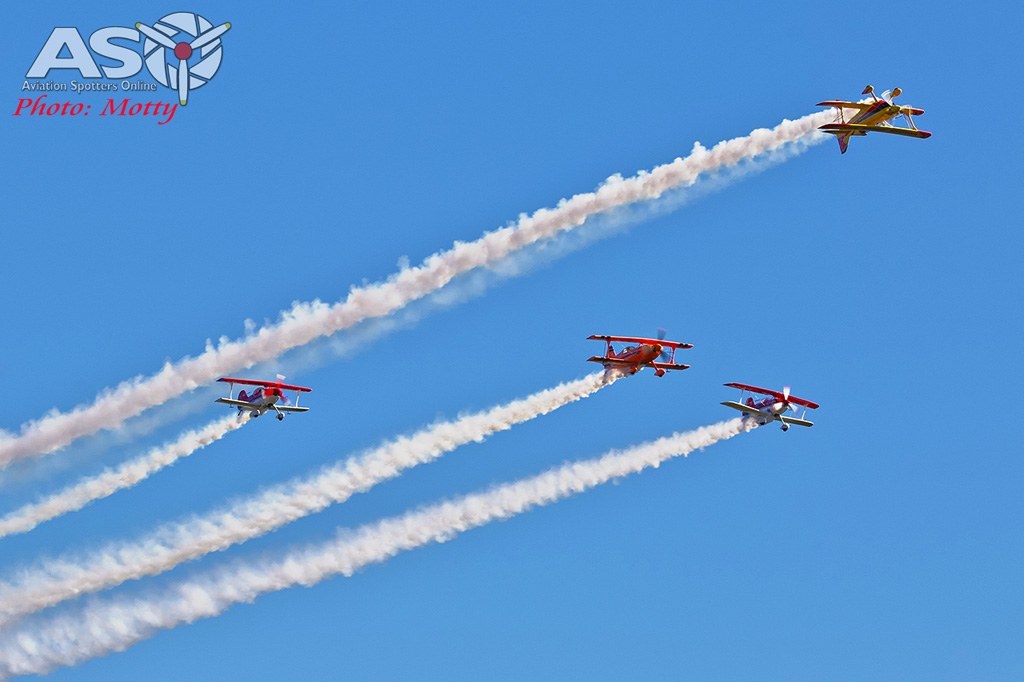 The action in the air was intermixed with more on the ground (and, technically, in the air as well) as FMX riders Jacko Strong and Zac Dickson performed gravity defying leaps, flips and stunts on their motorbikes using a set of large ramps on the far side of the runway (more of which later).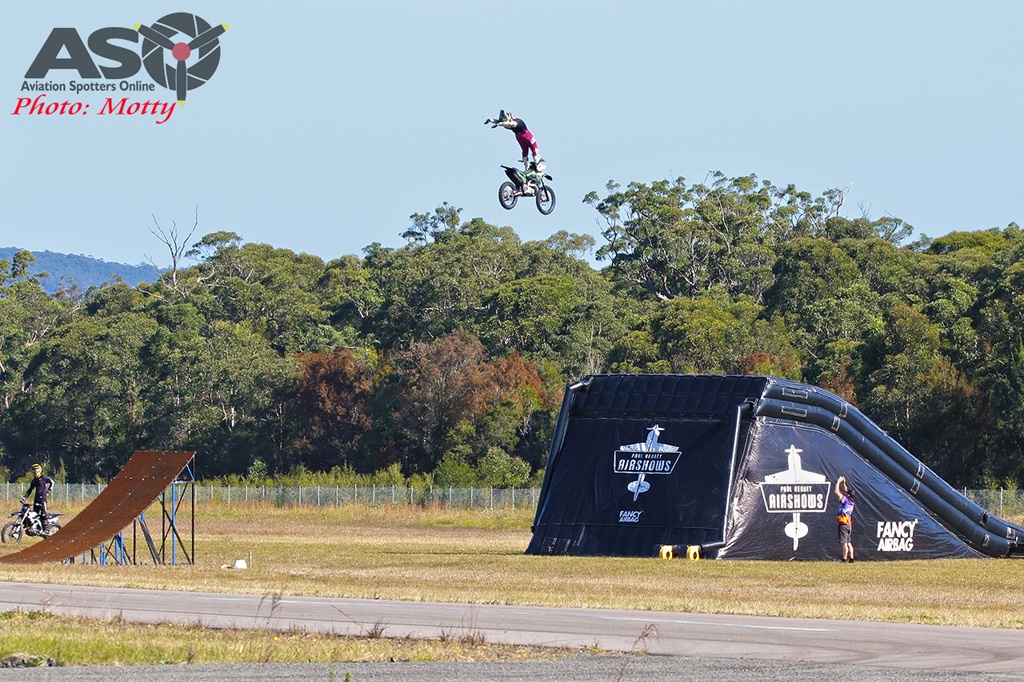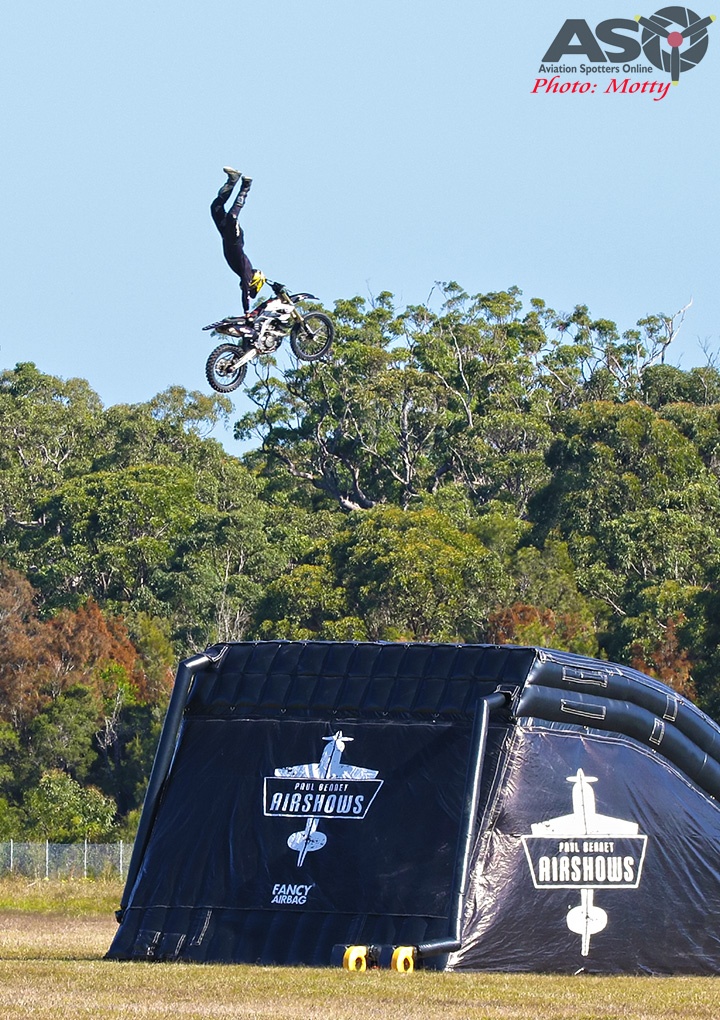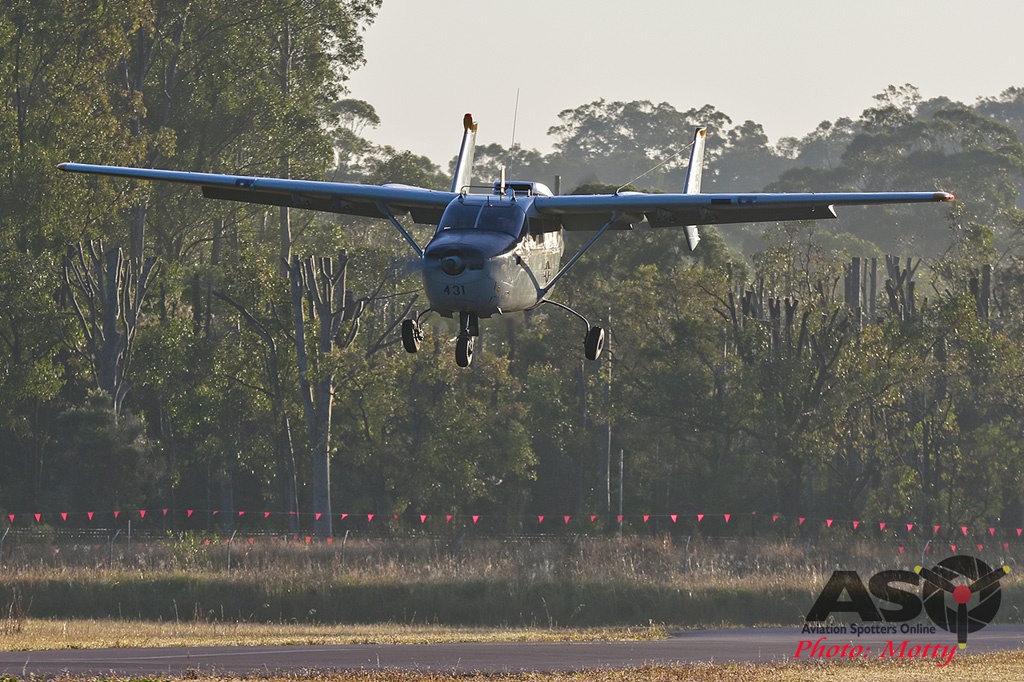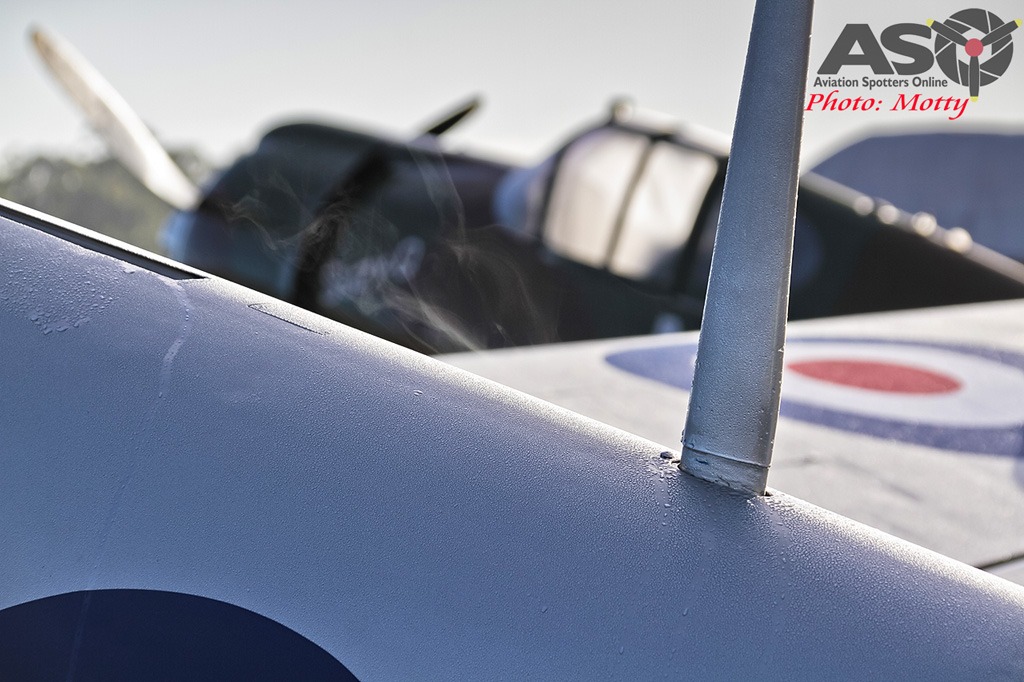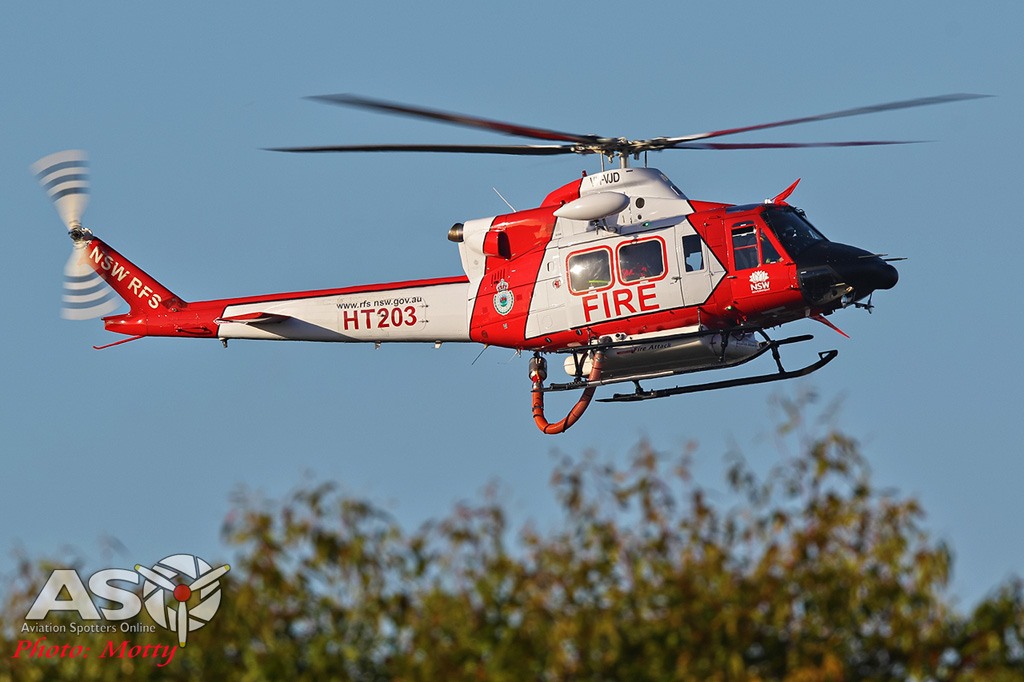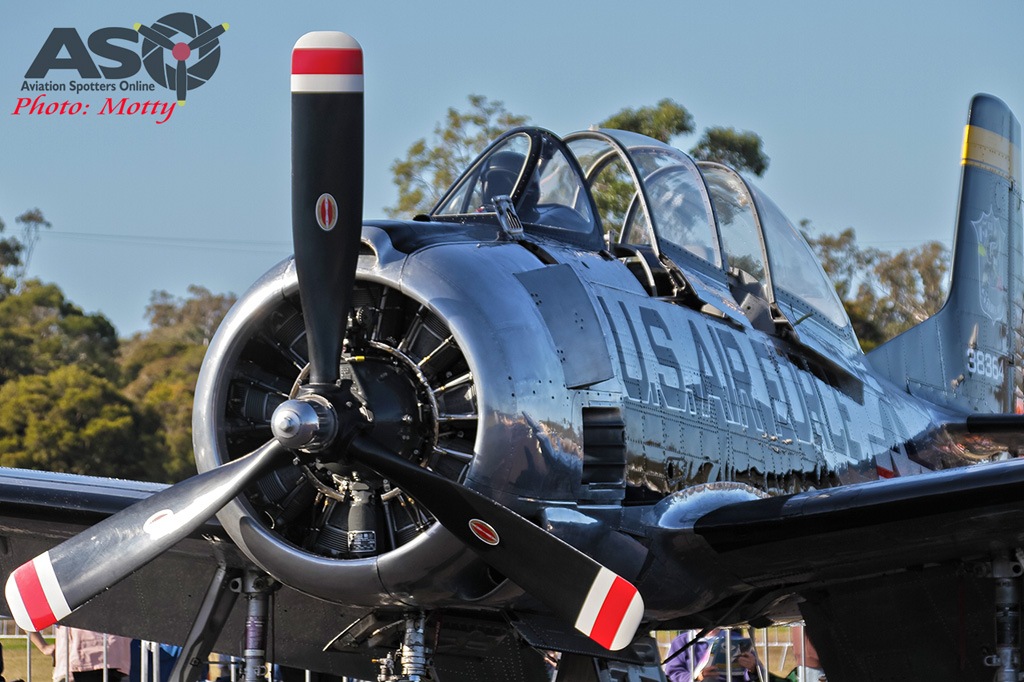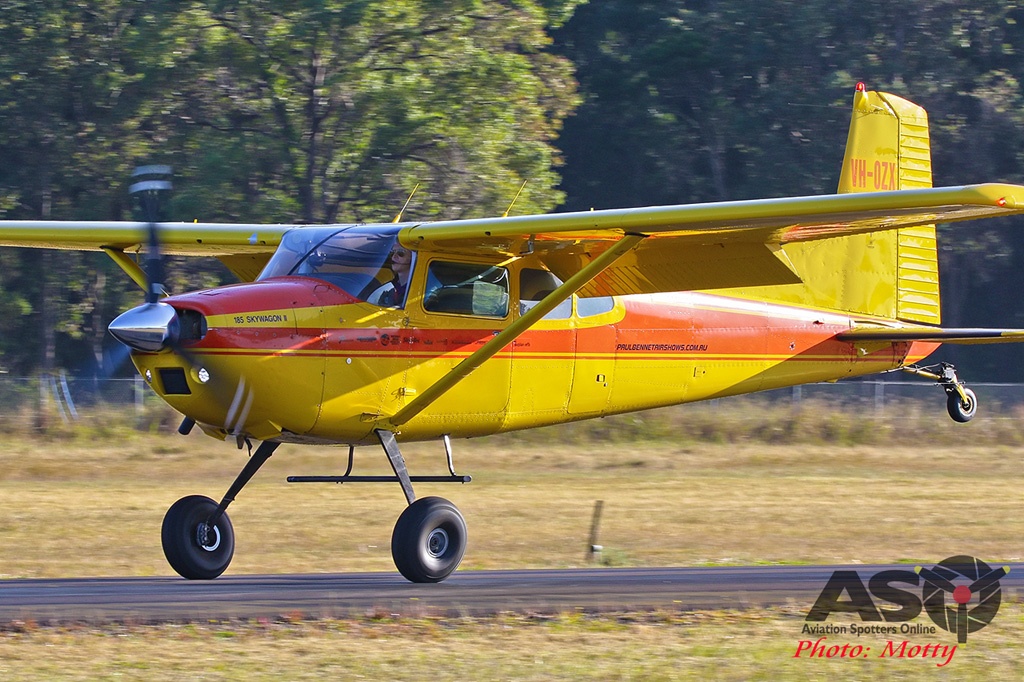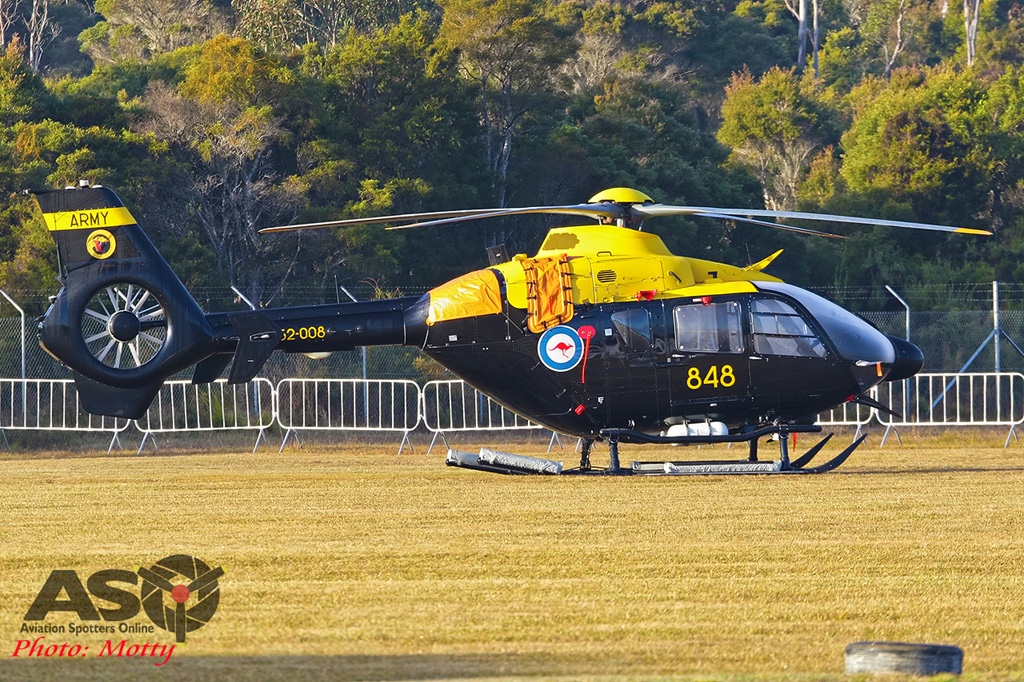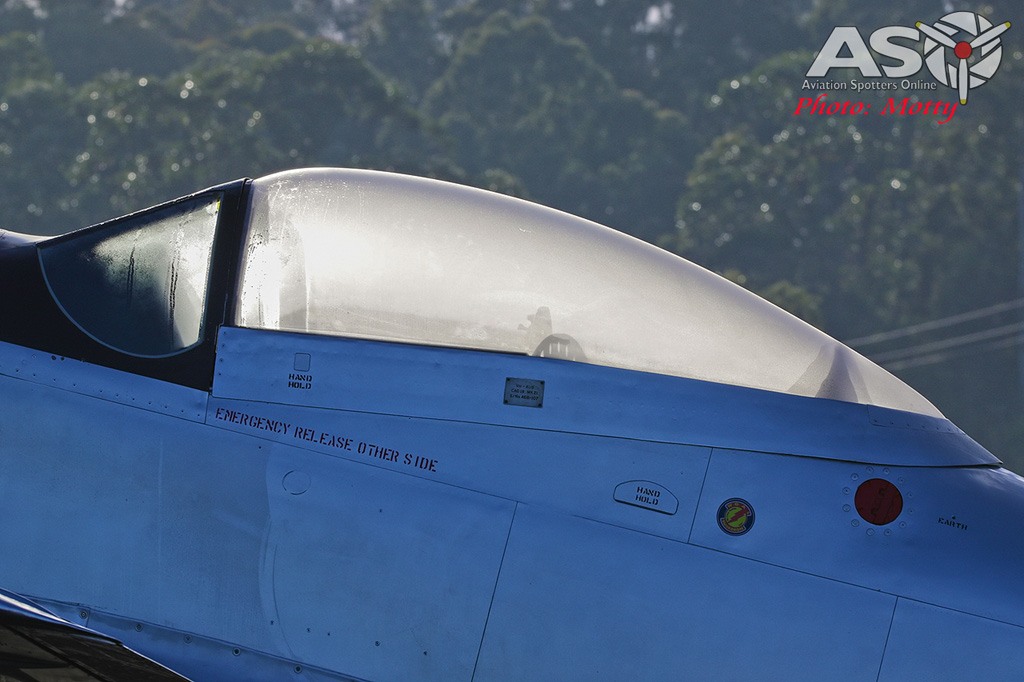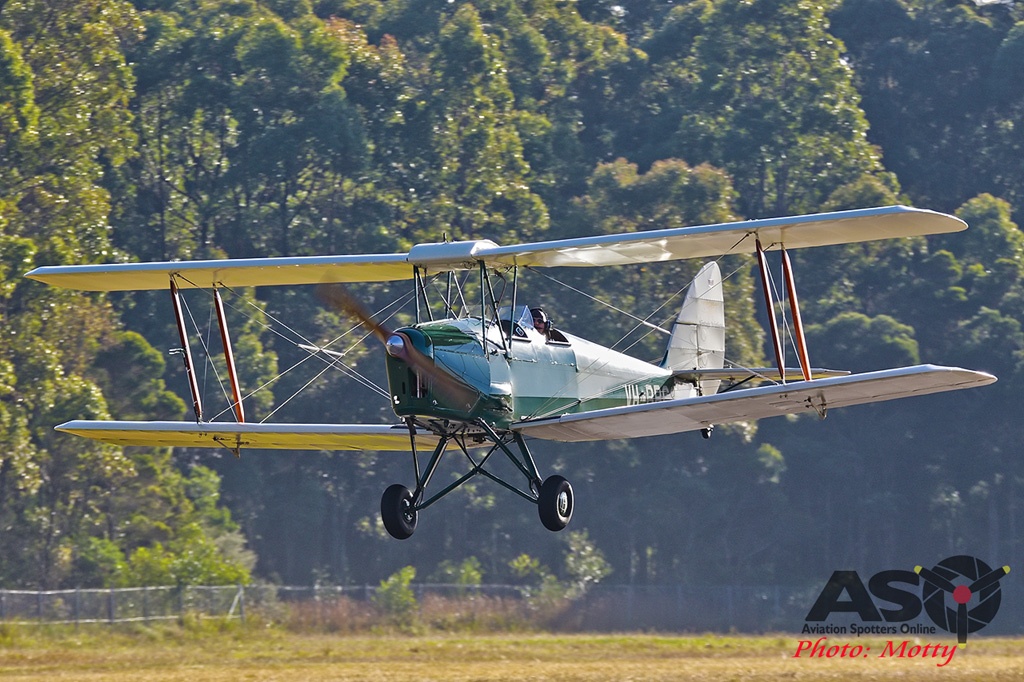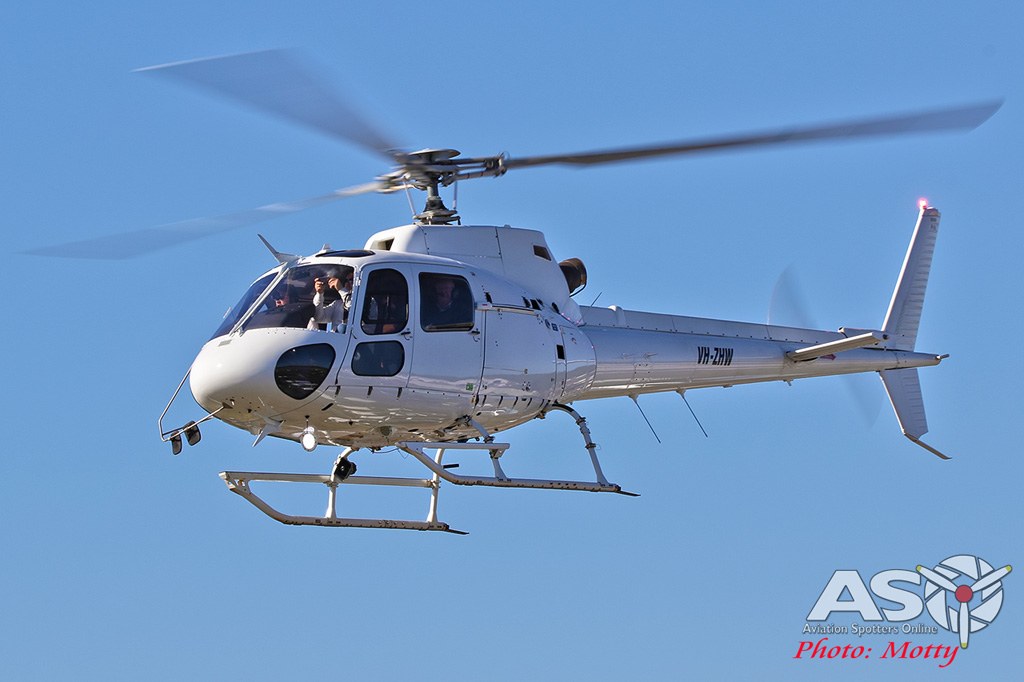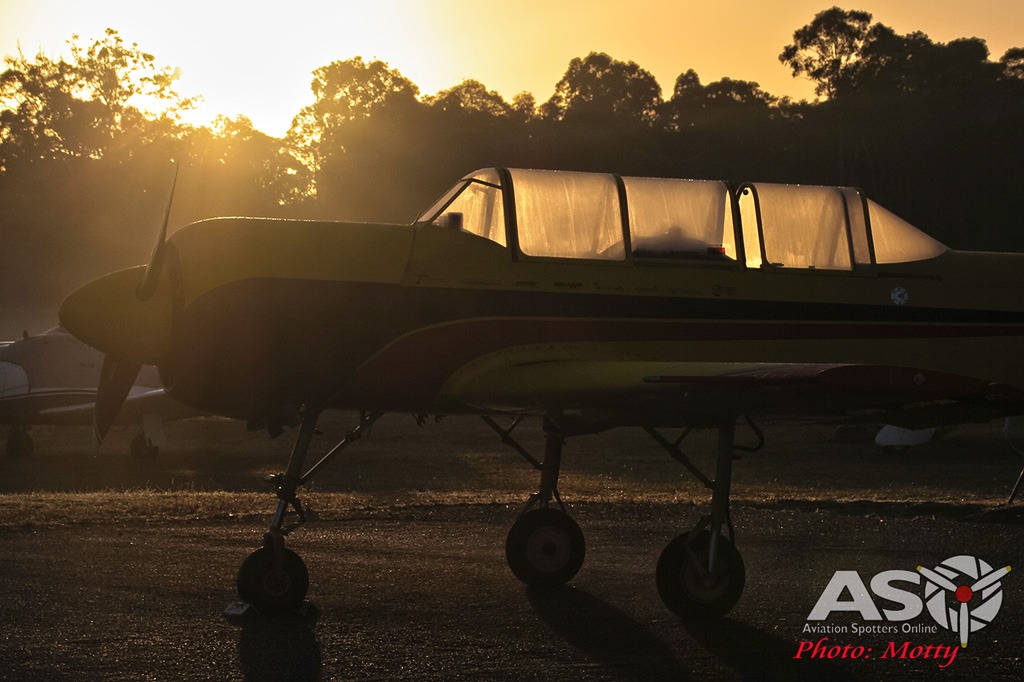 Paul Bennet's T-28 Trojan was displayed by Tim Dugan. The T-28 is a deceptively large aircraft considering it was designed as a trainer at the dawn of the jet-age in Aviation, but don't let its size fool you, it is still a very maneuverable machine, as Tim ably demonstrated. Then of course there is that wonderful, "chunky" sound from the Wright R-1820 radial engine which has earned it the nick-name of "the Harley Davidson of the skies".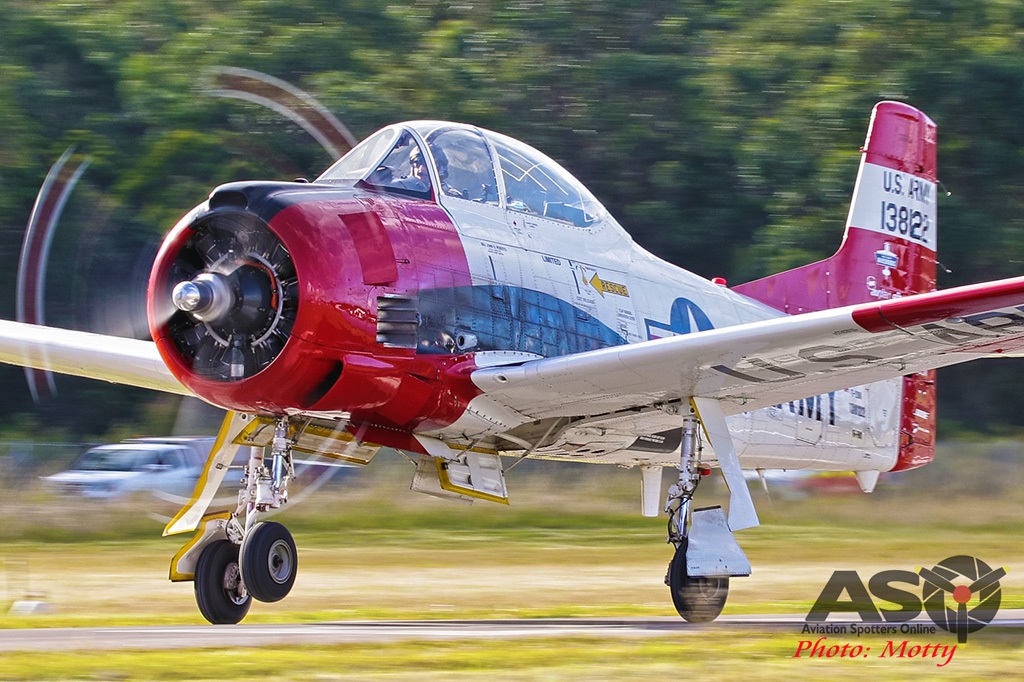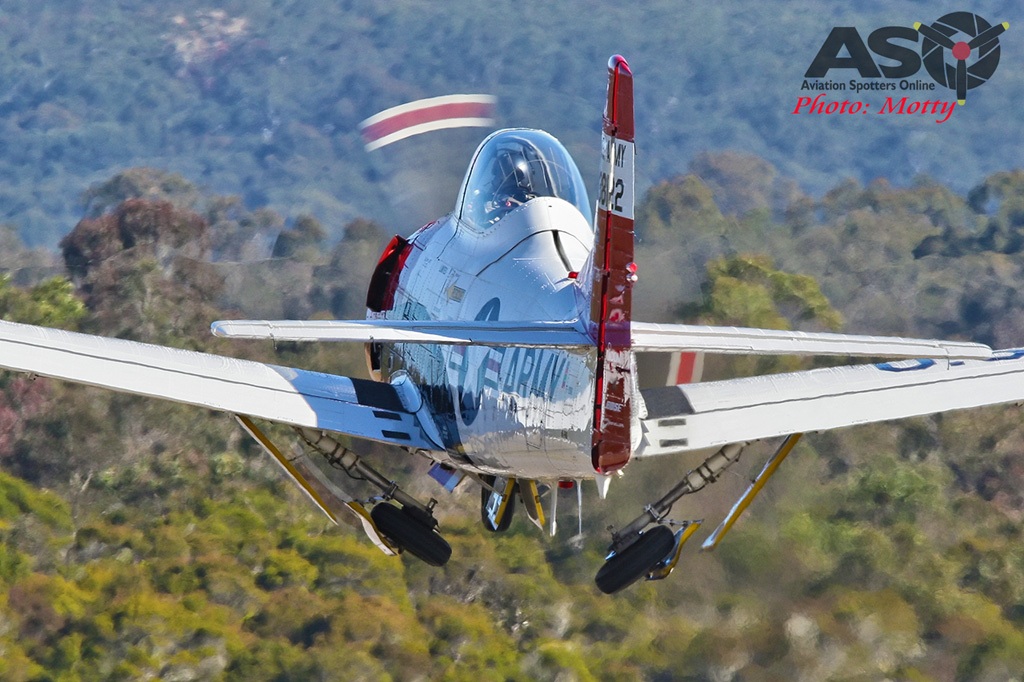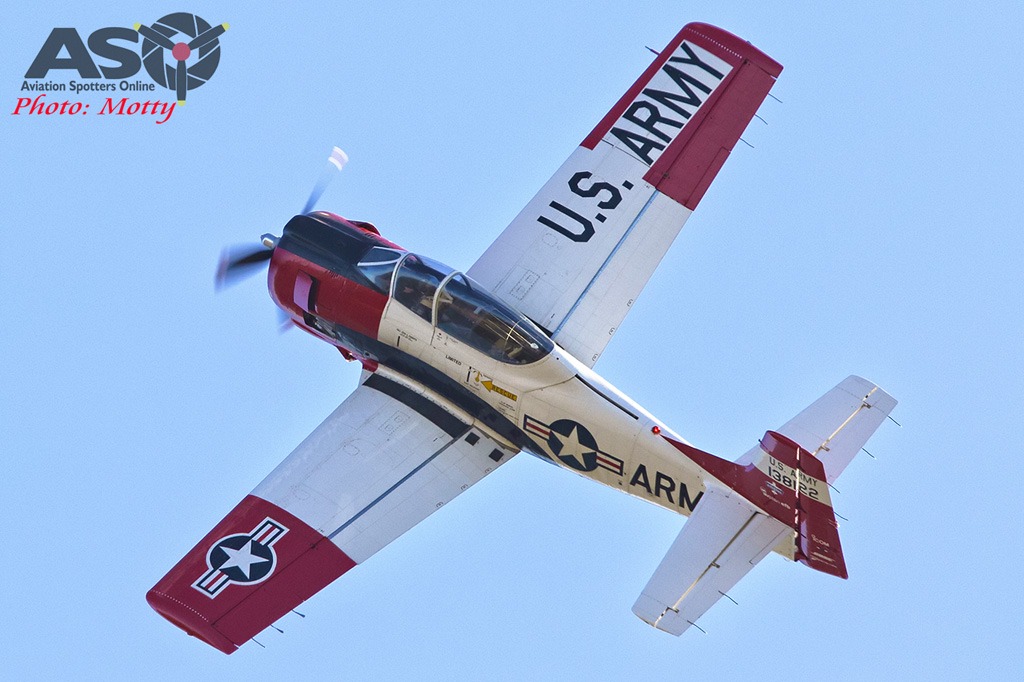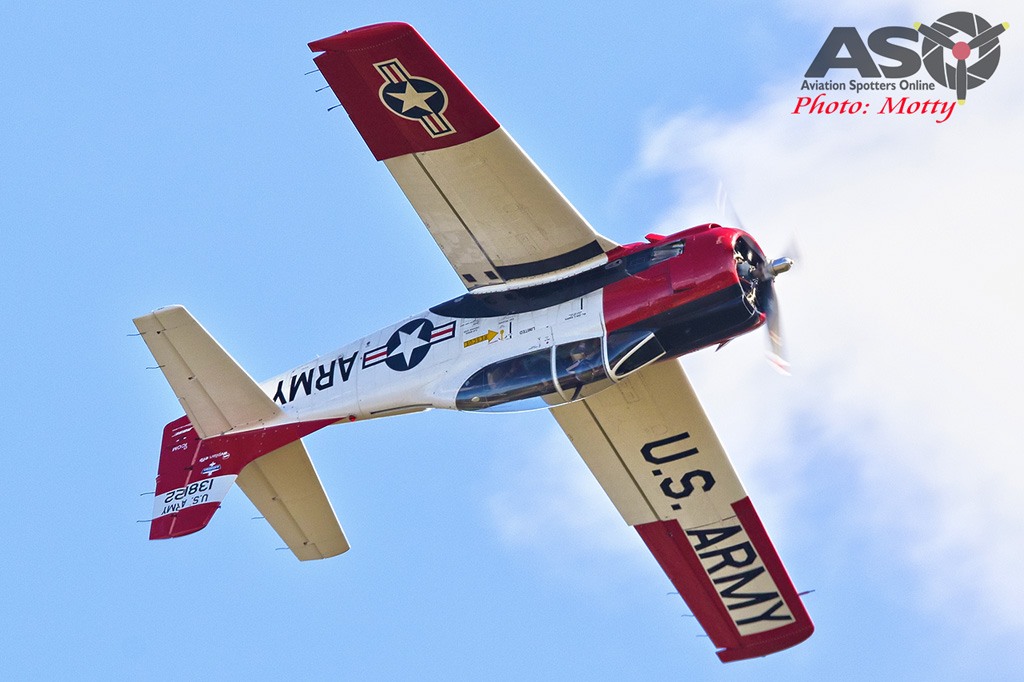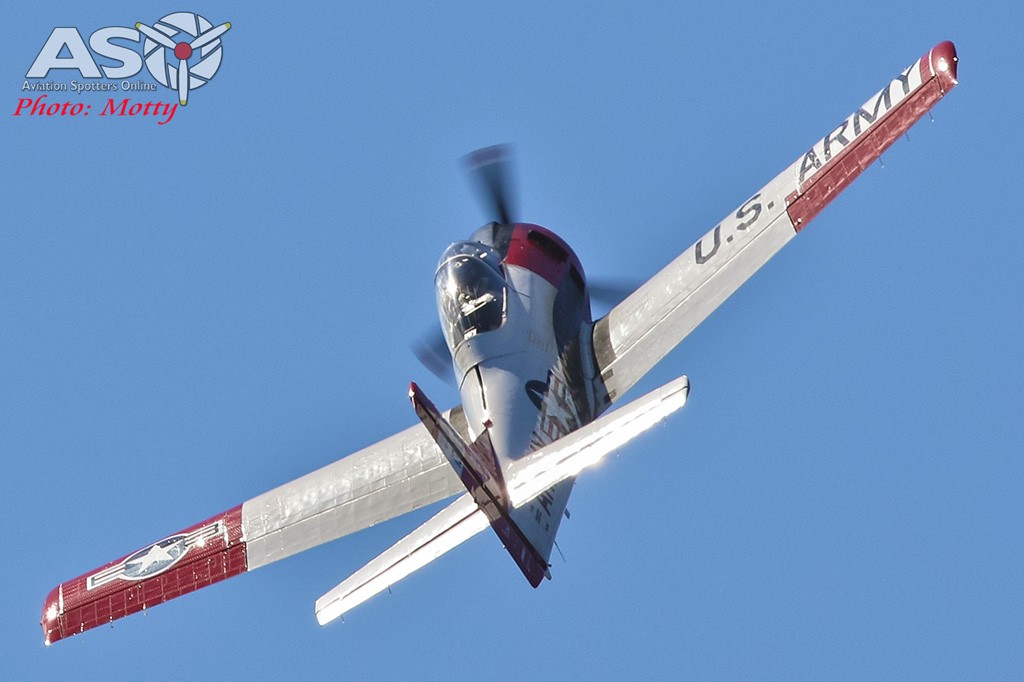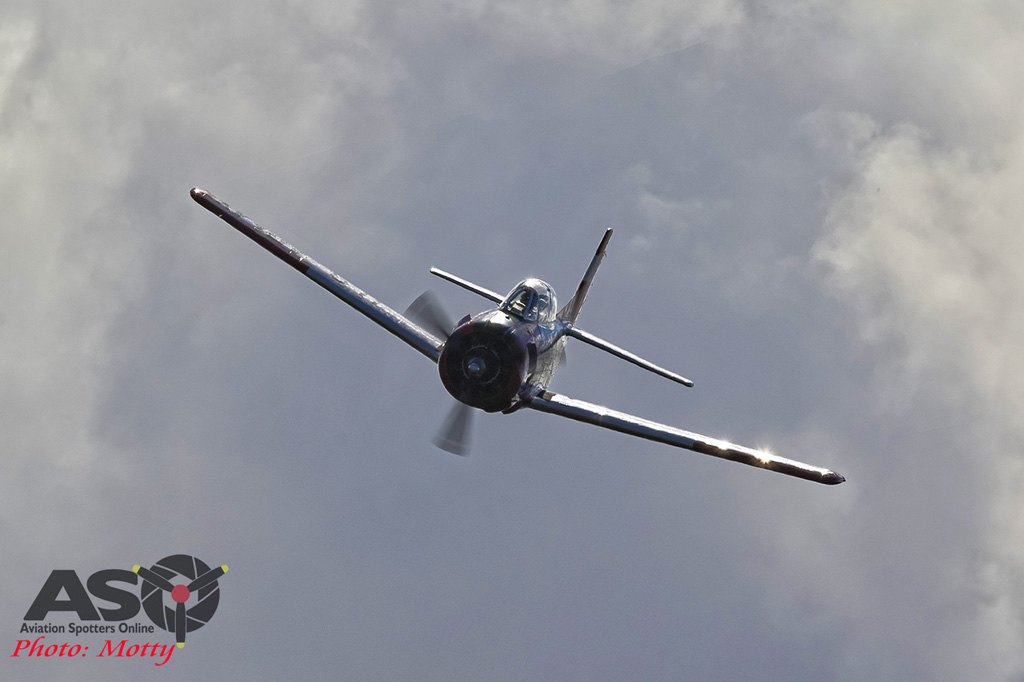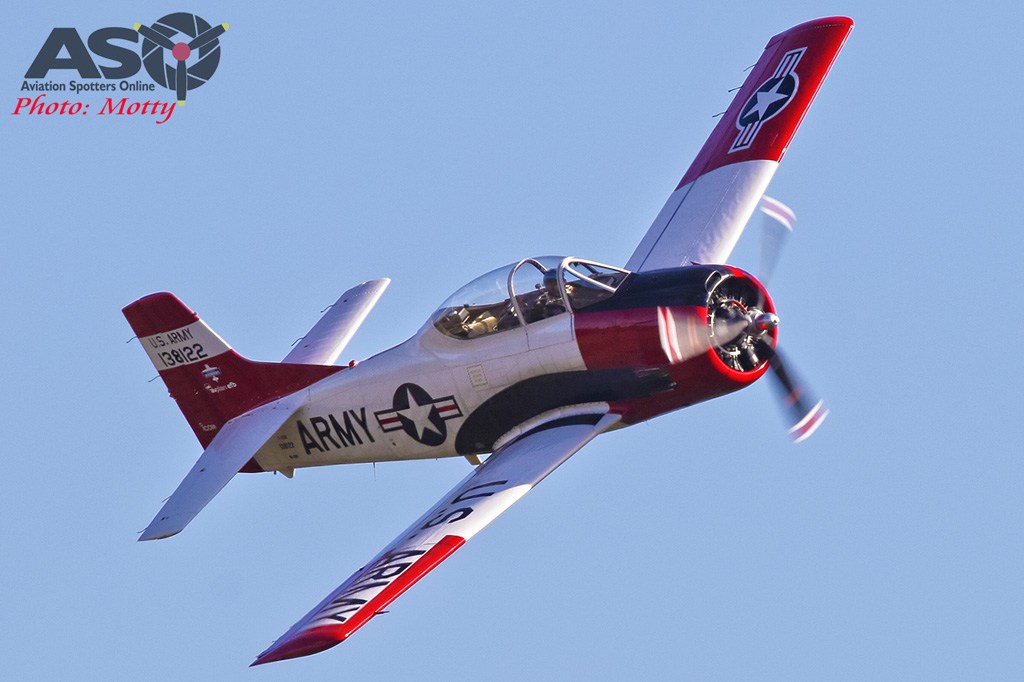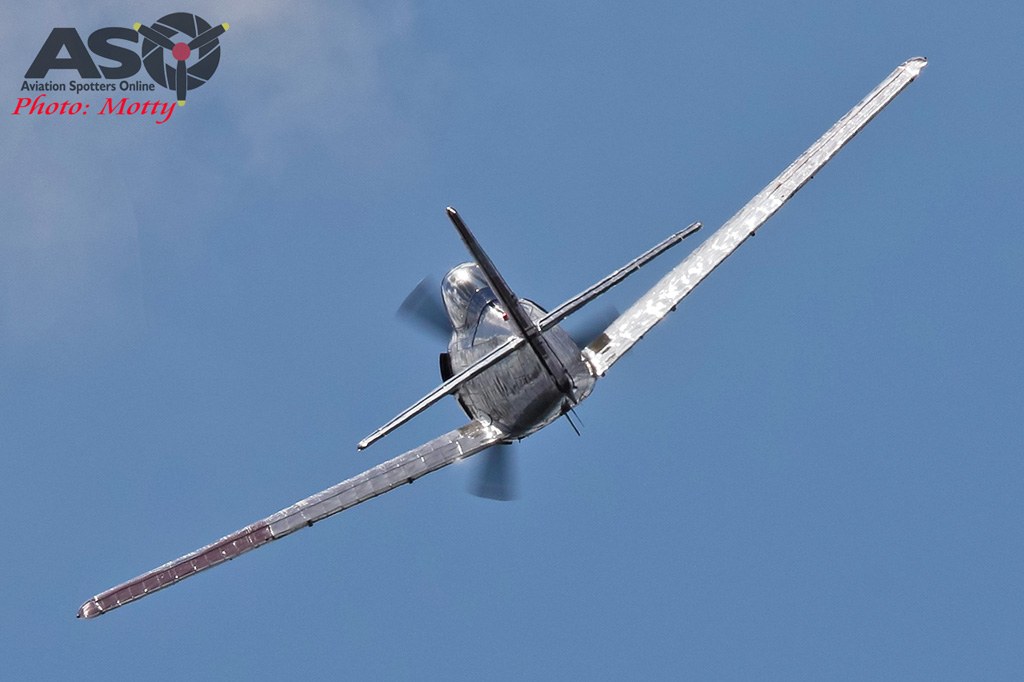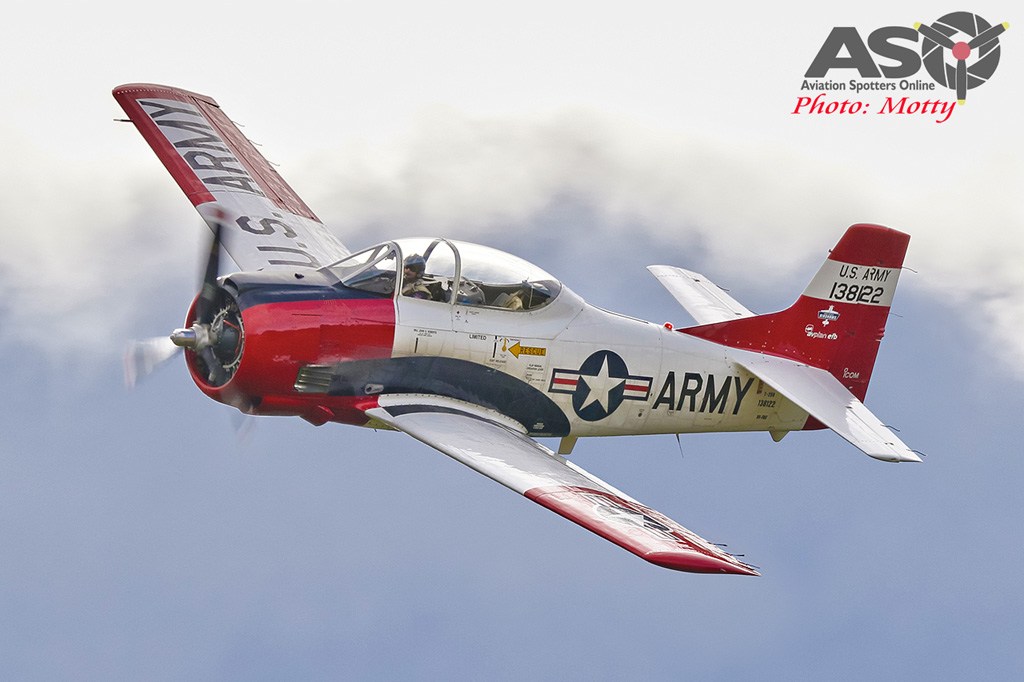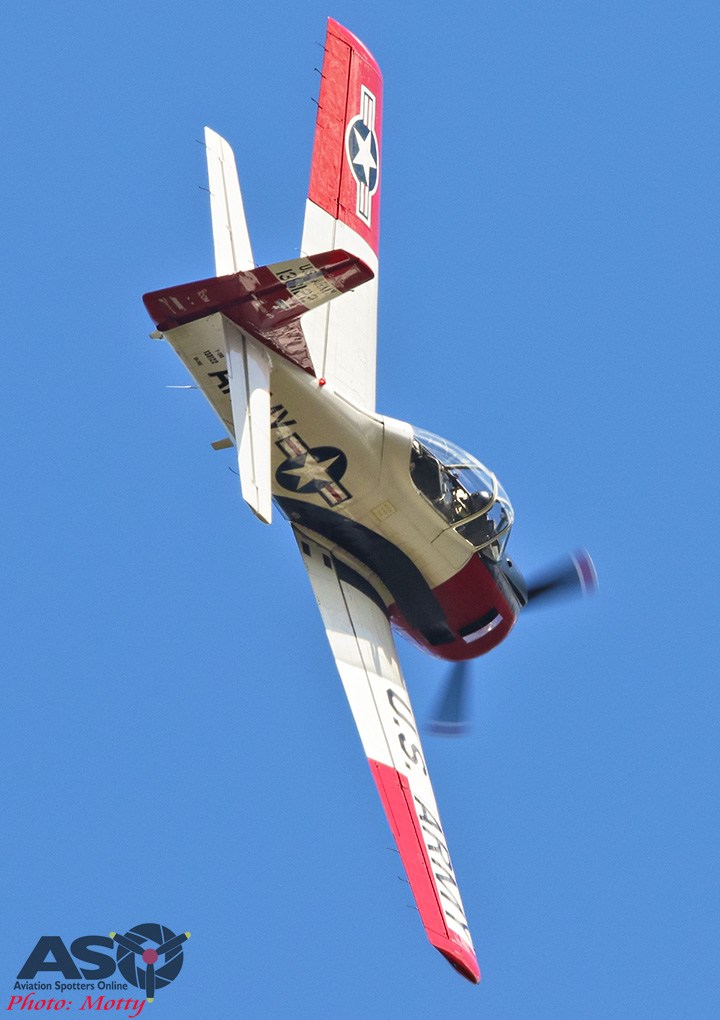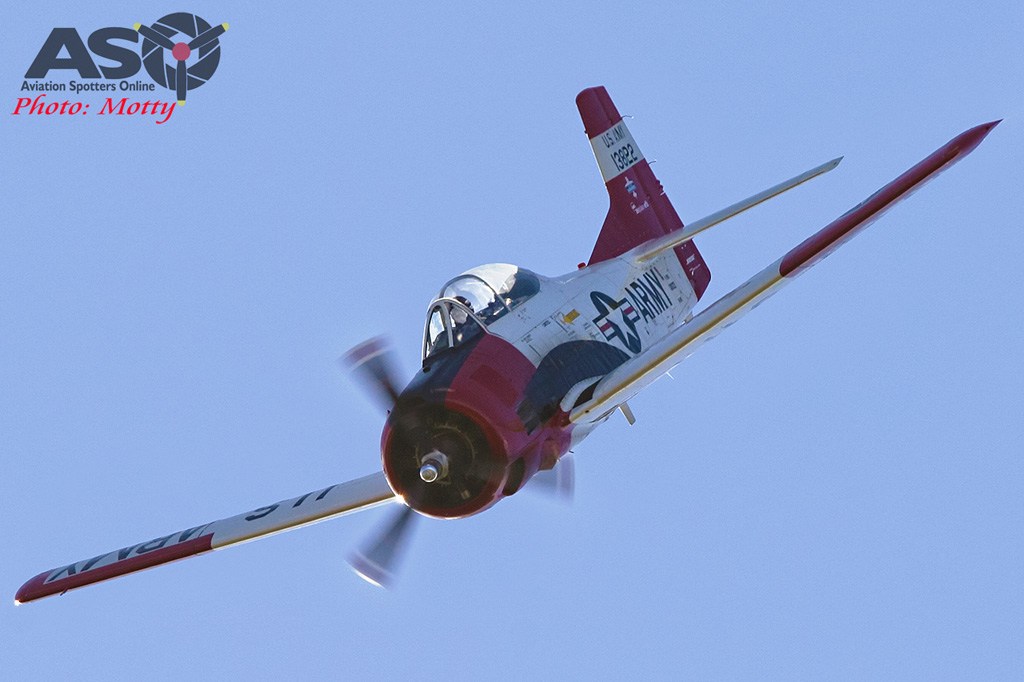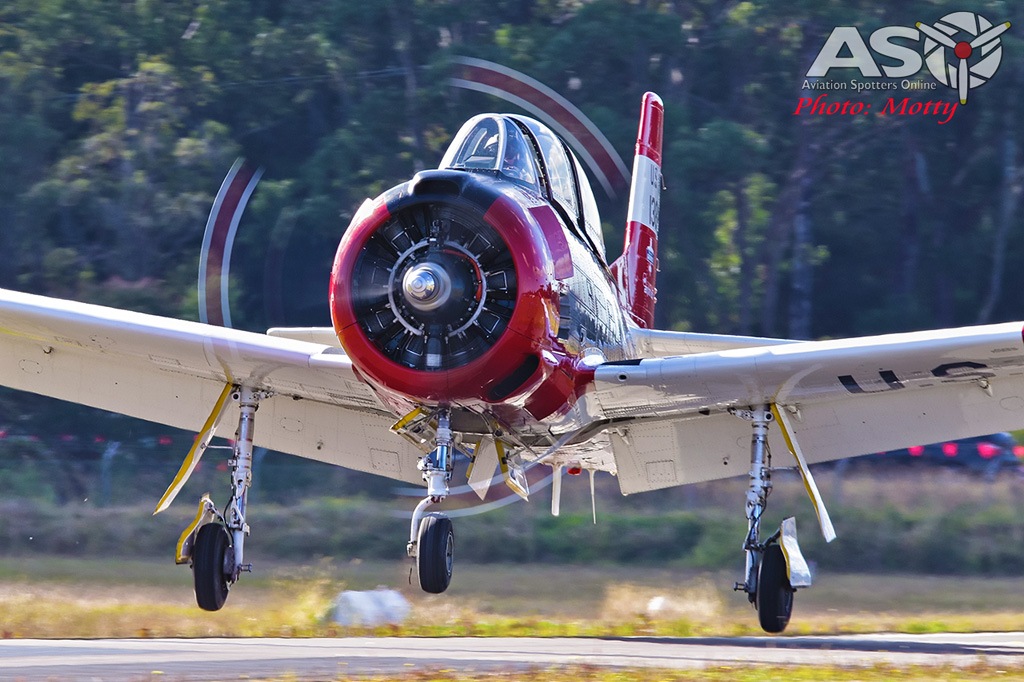 From the "sound of round" to the inline purr of a V12 Merlin, Paul Bennet flew Ross Pay's beautiful CAC Mustang, combining graceful aerobatic moves and a simulated strafing run with pyrotechnic effects. Seeing (and hearing) Paul begin the routine from "stage right" with the Mustang roaring in at high speed was particularly impressive.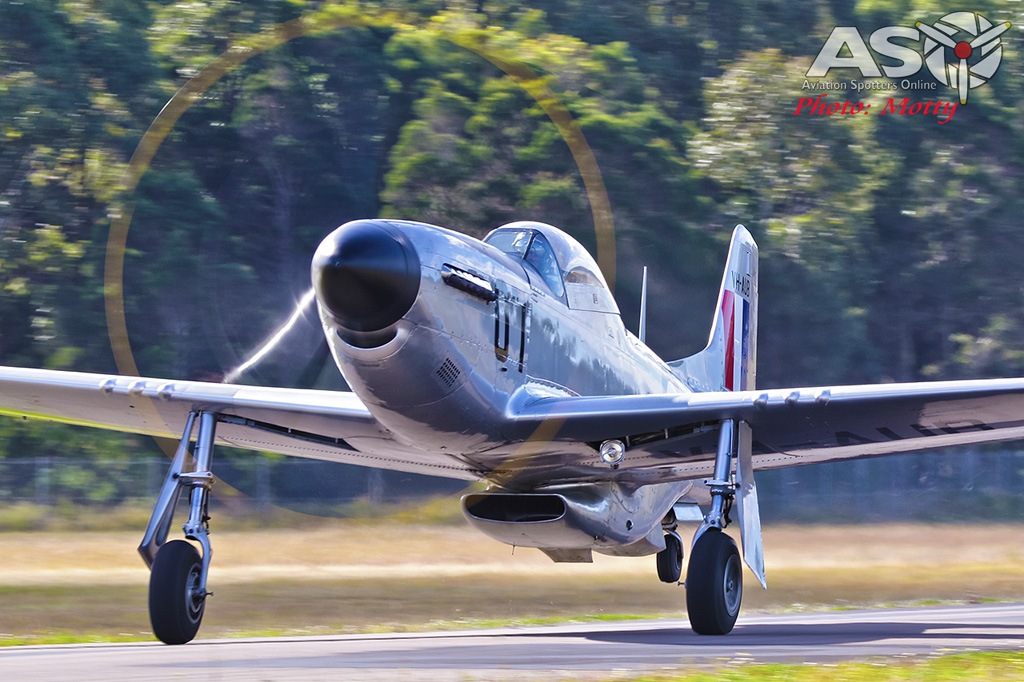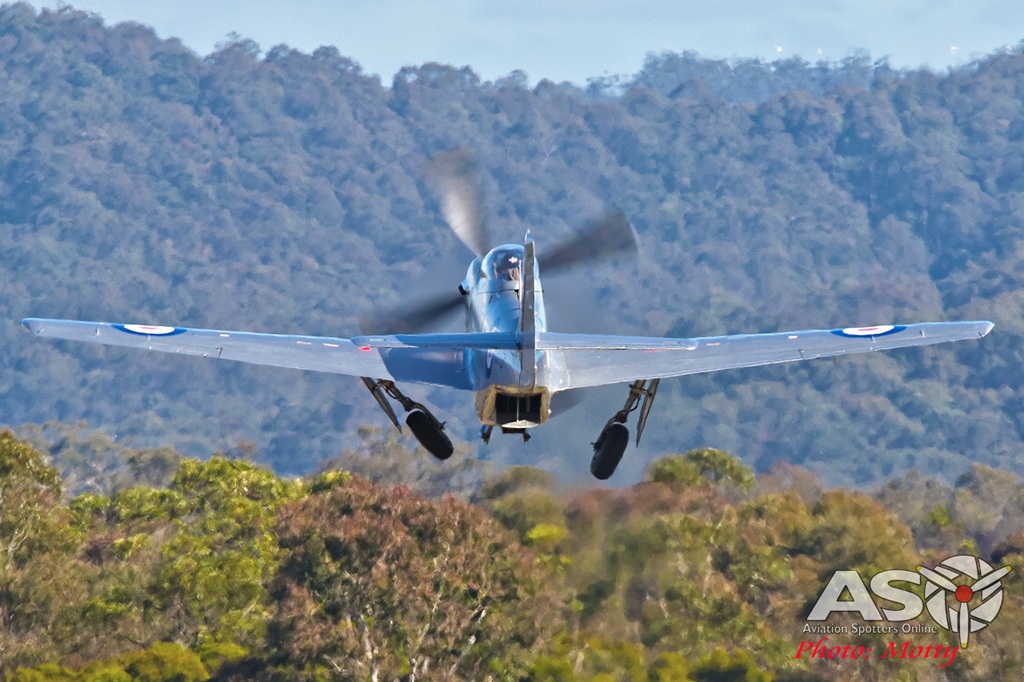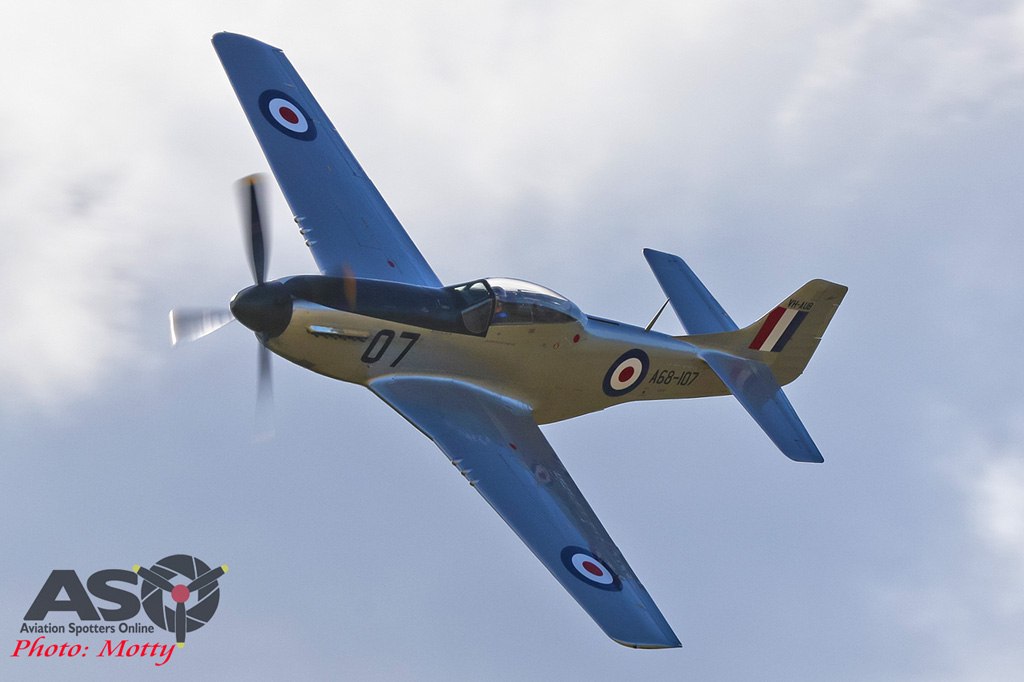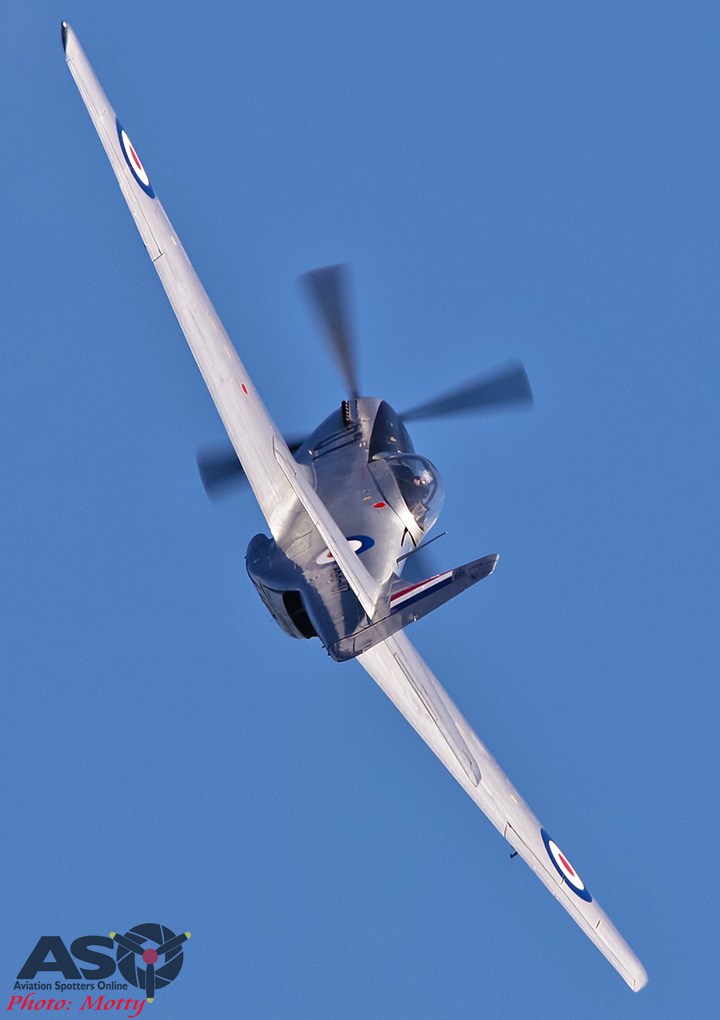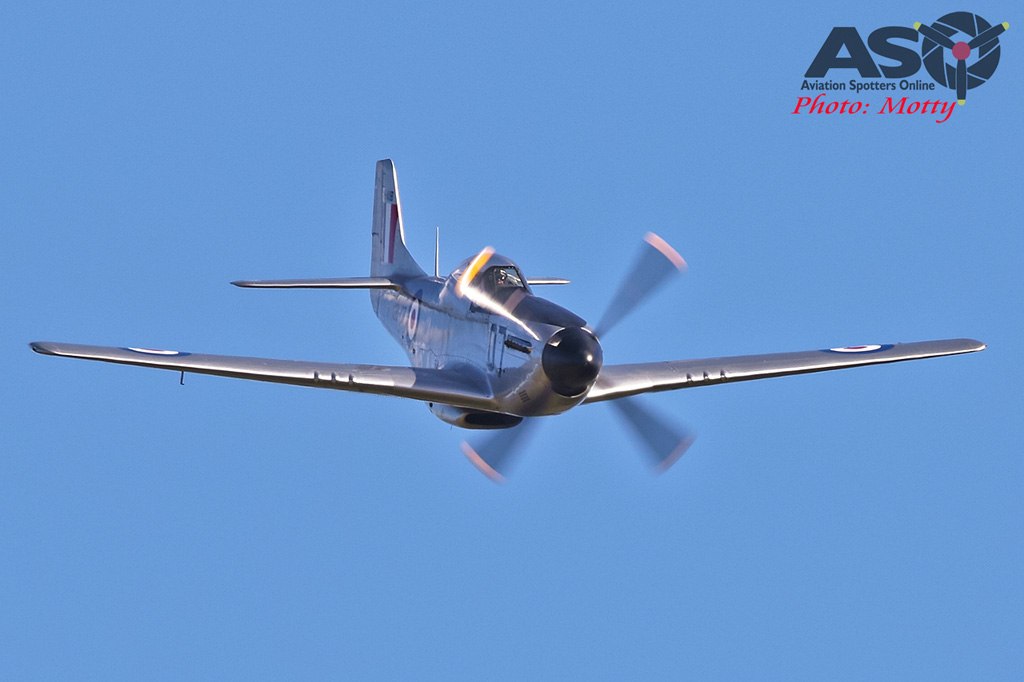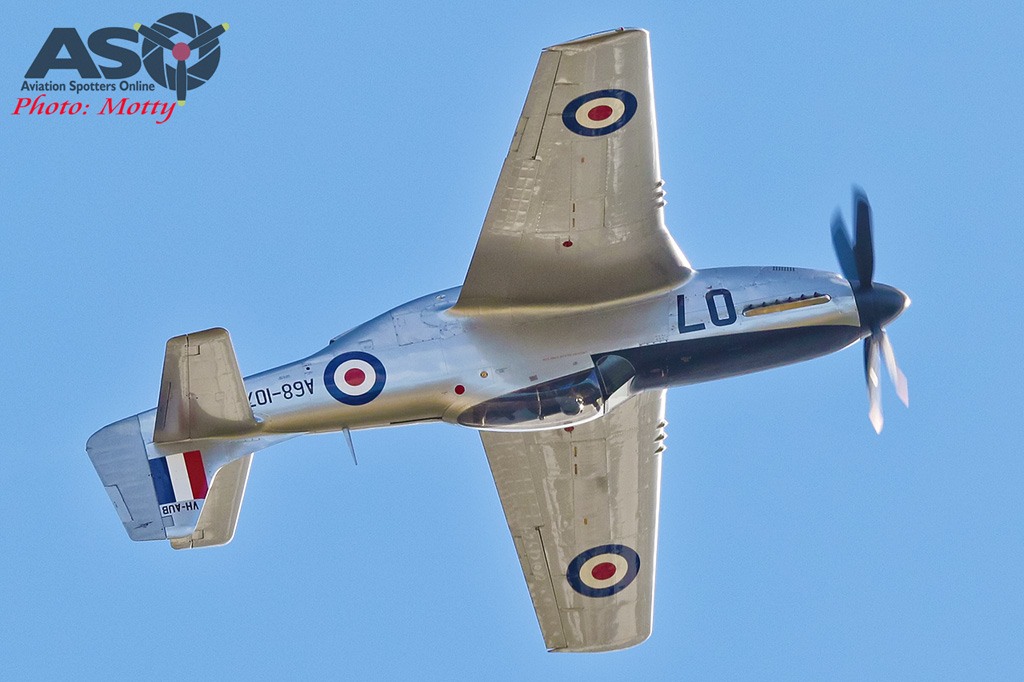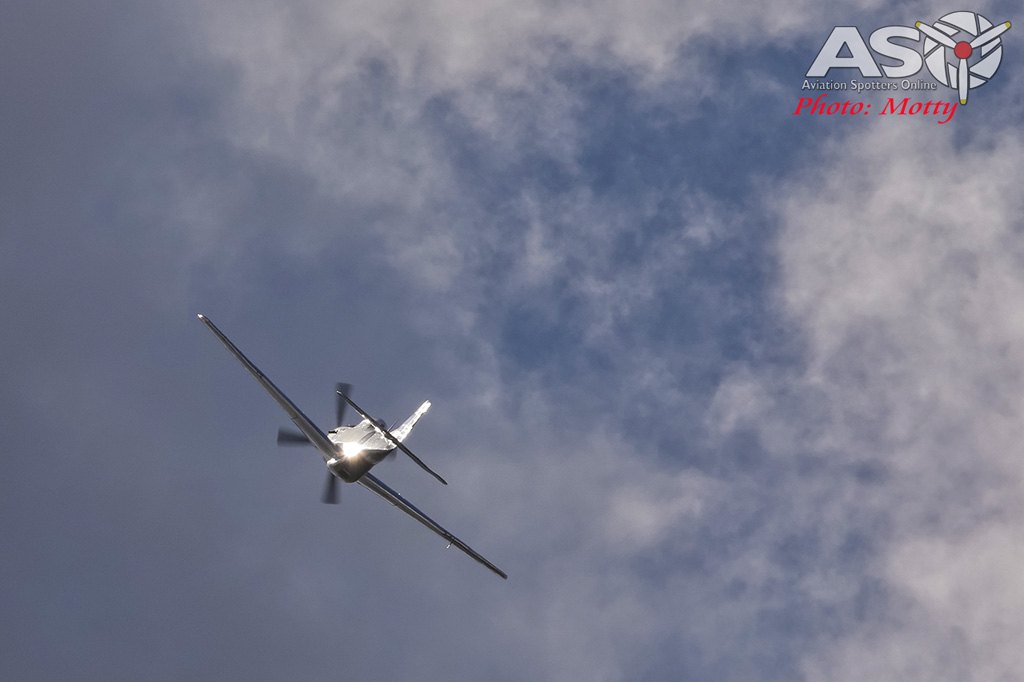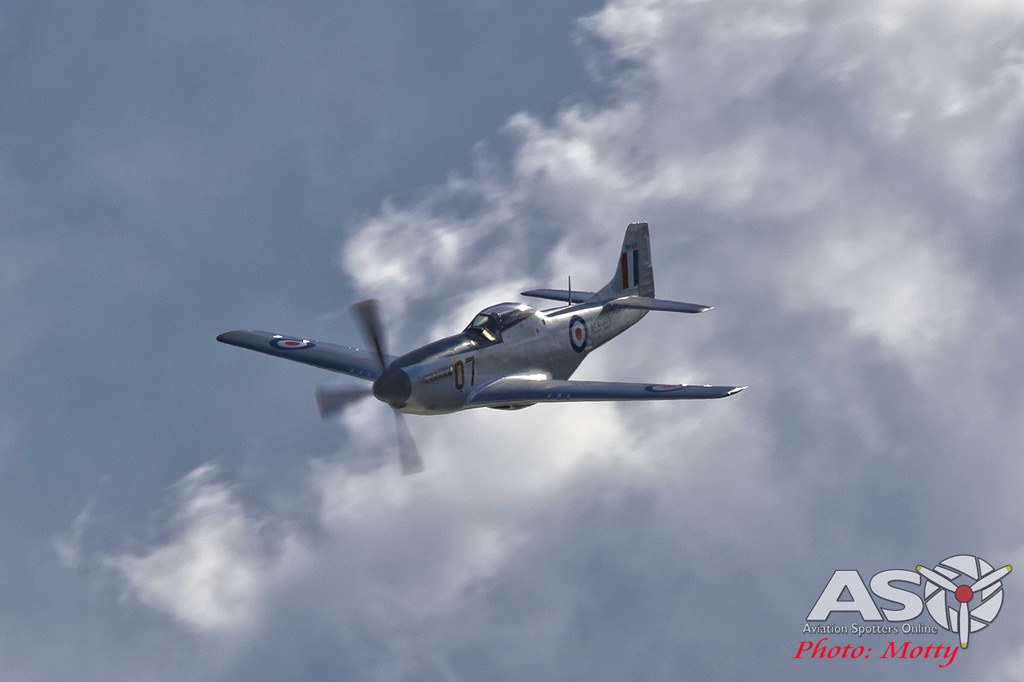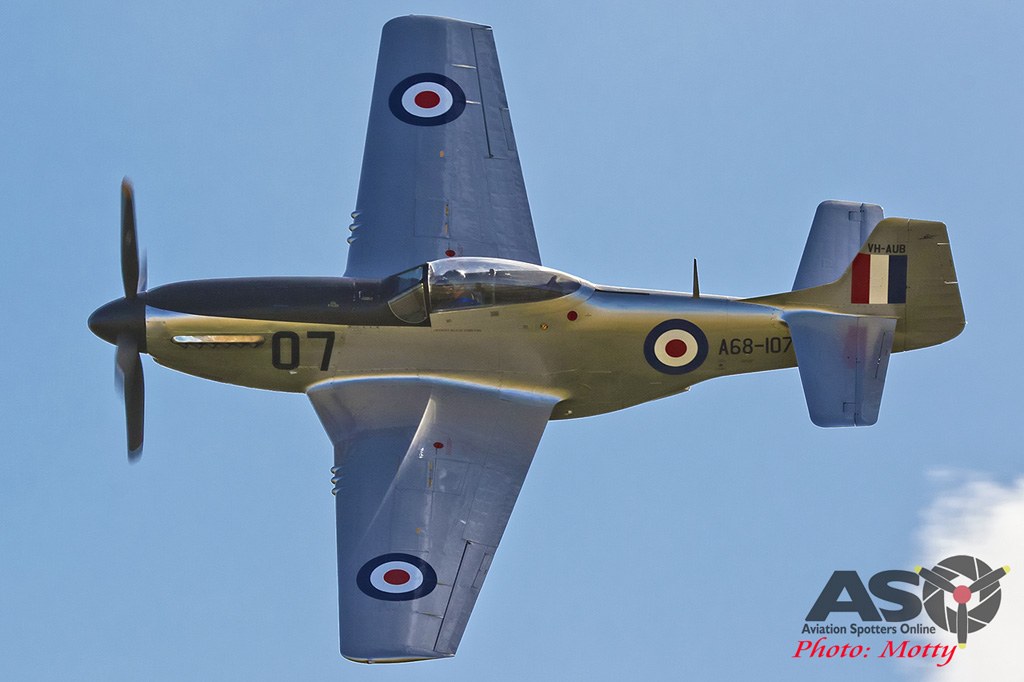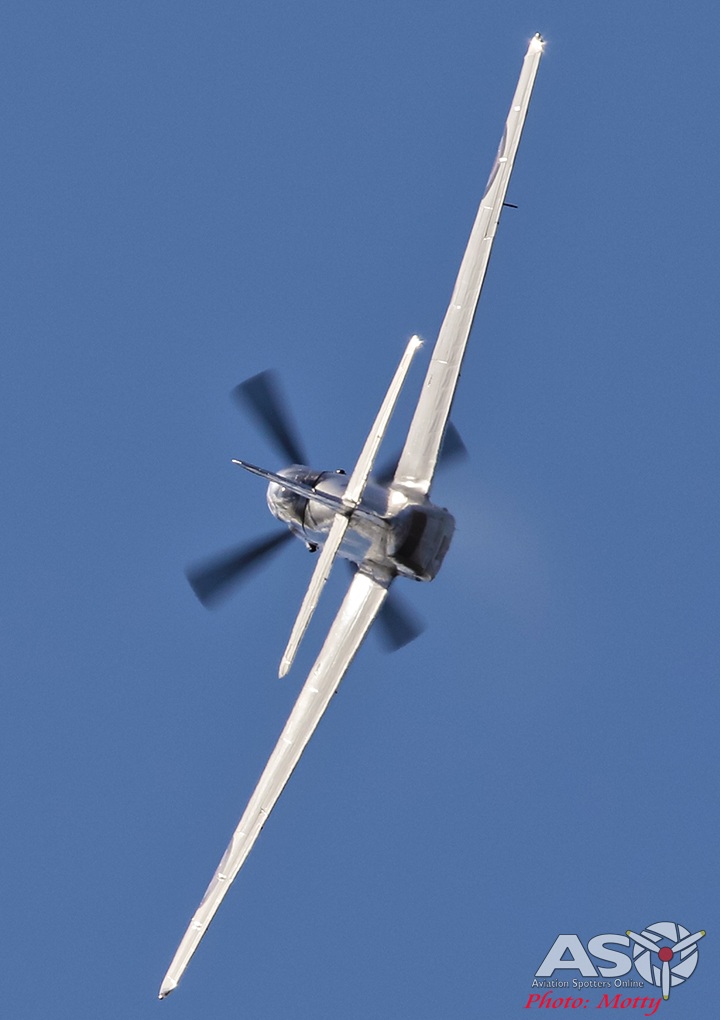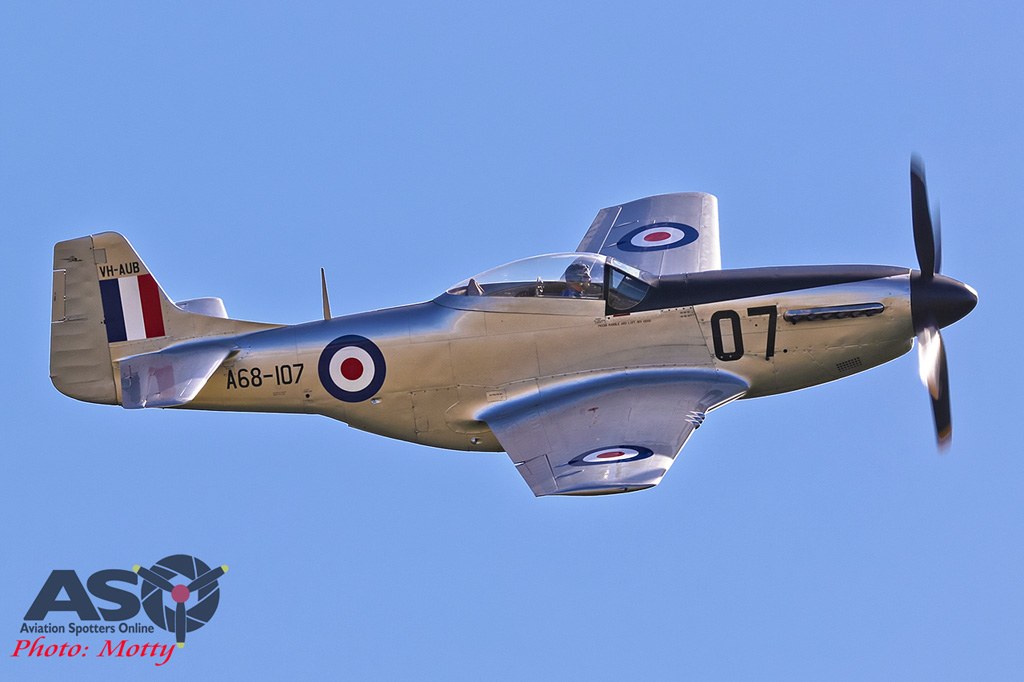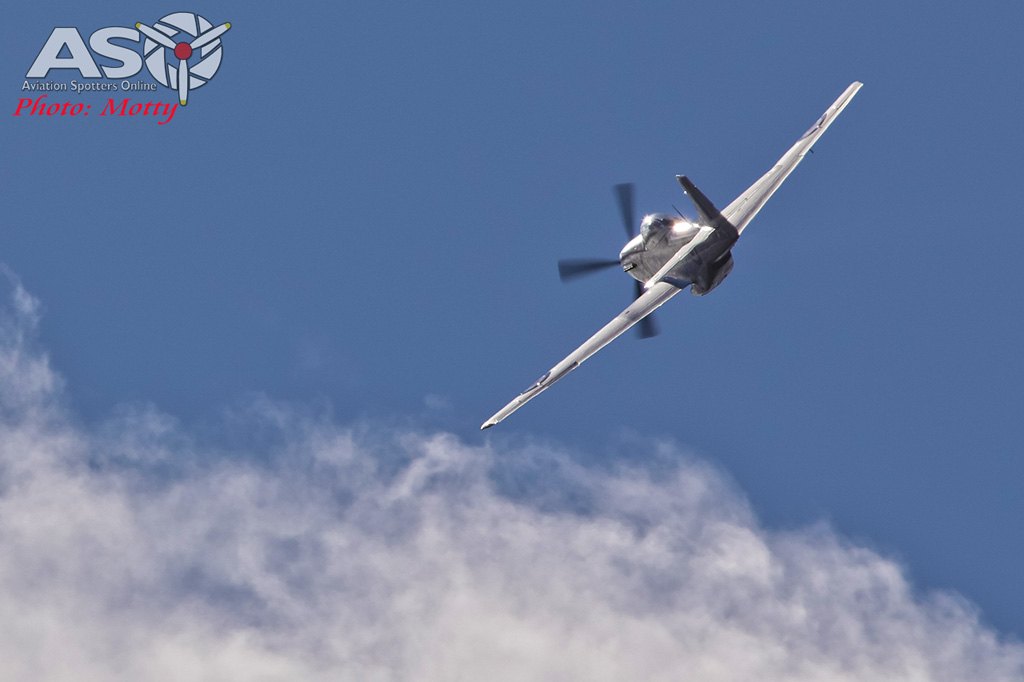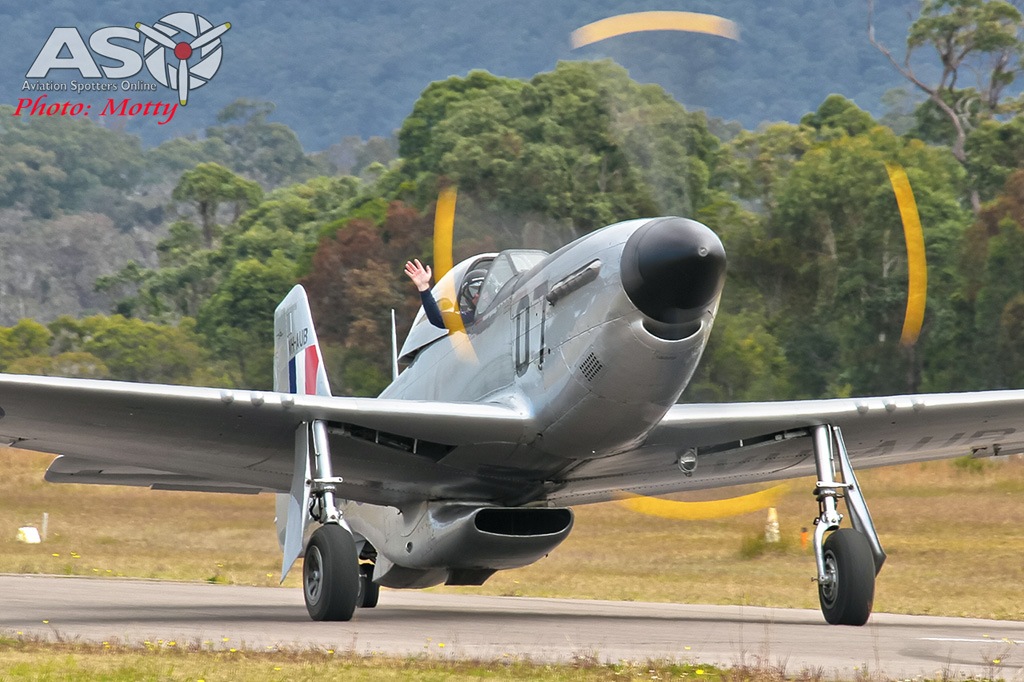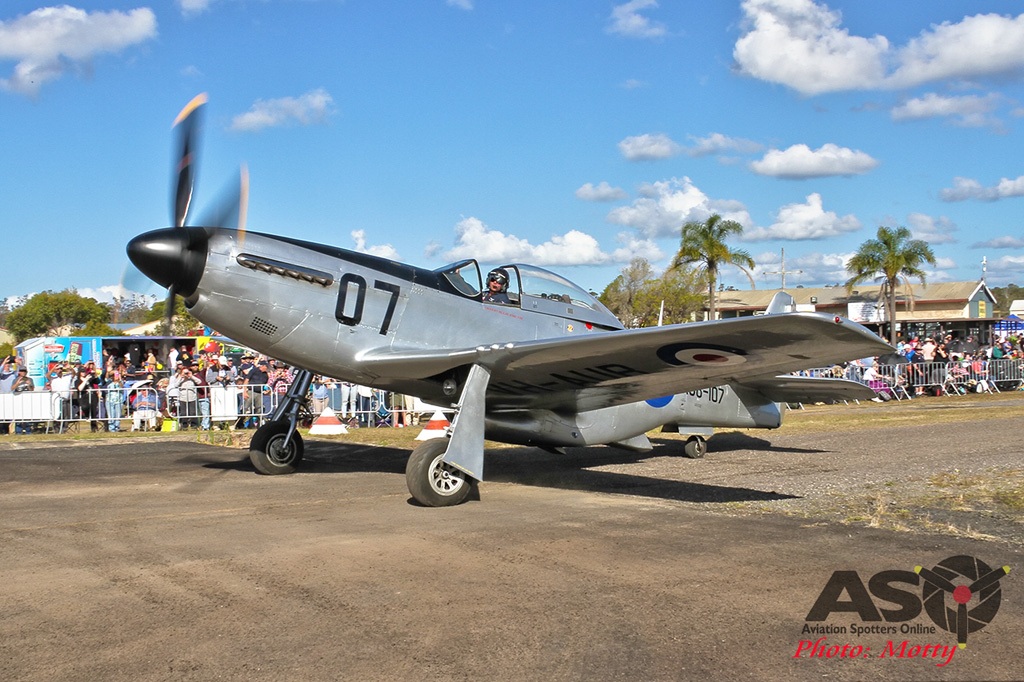 Glenn Graham was up next with a very dynamic routine in the Rebel 300; a machine which is rather unique in the PBA (Paul Bennet Airshows) aerobatic fleet as the only monoplane amongst the flock of Pitts Special biplanes.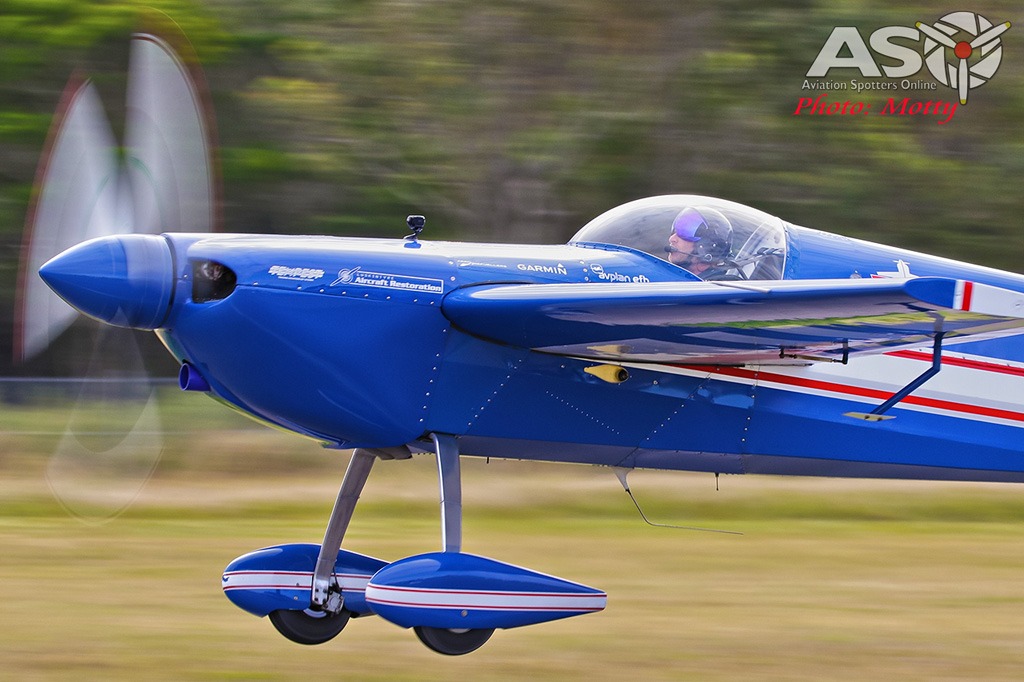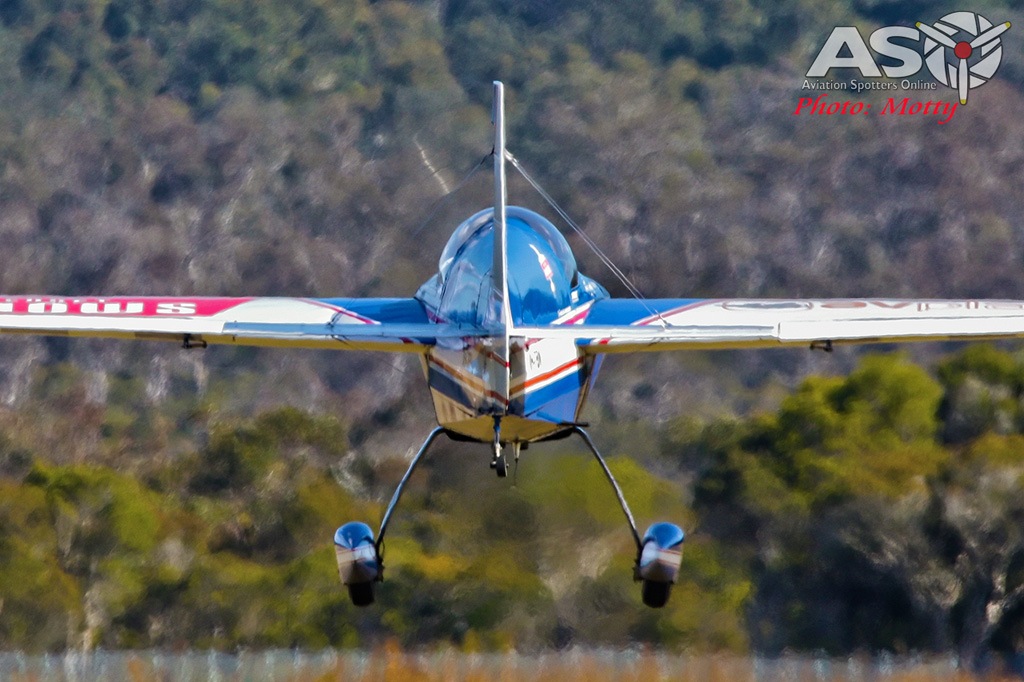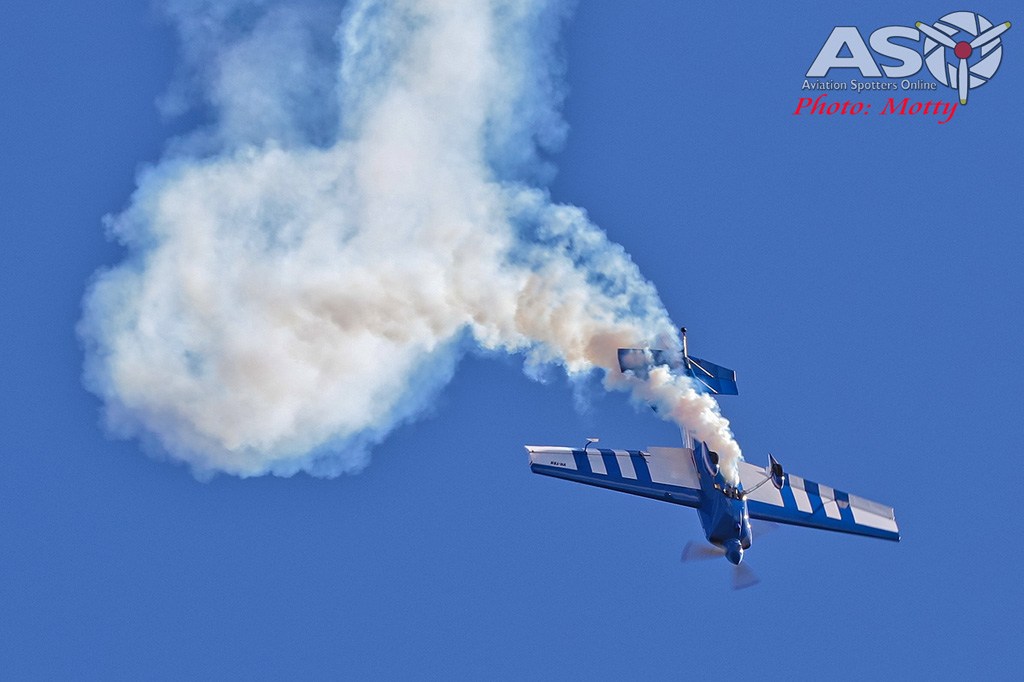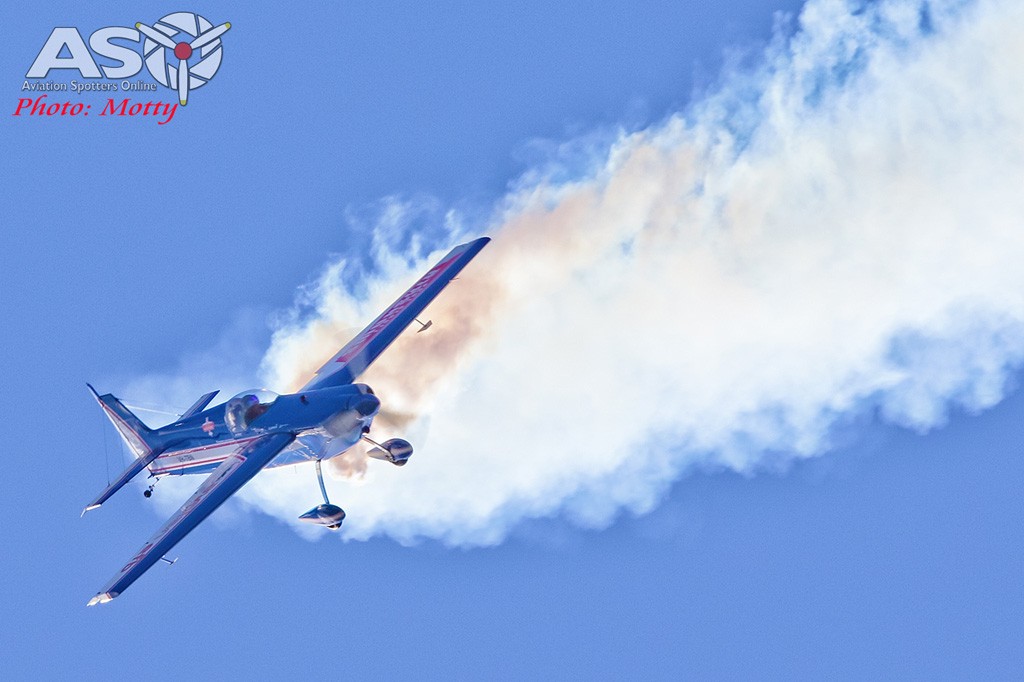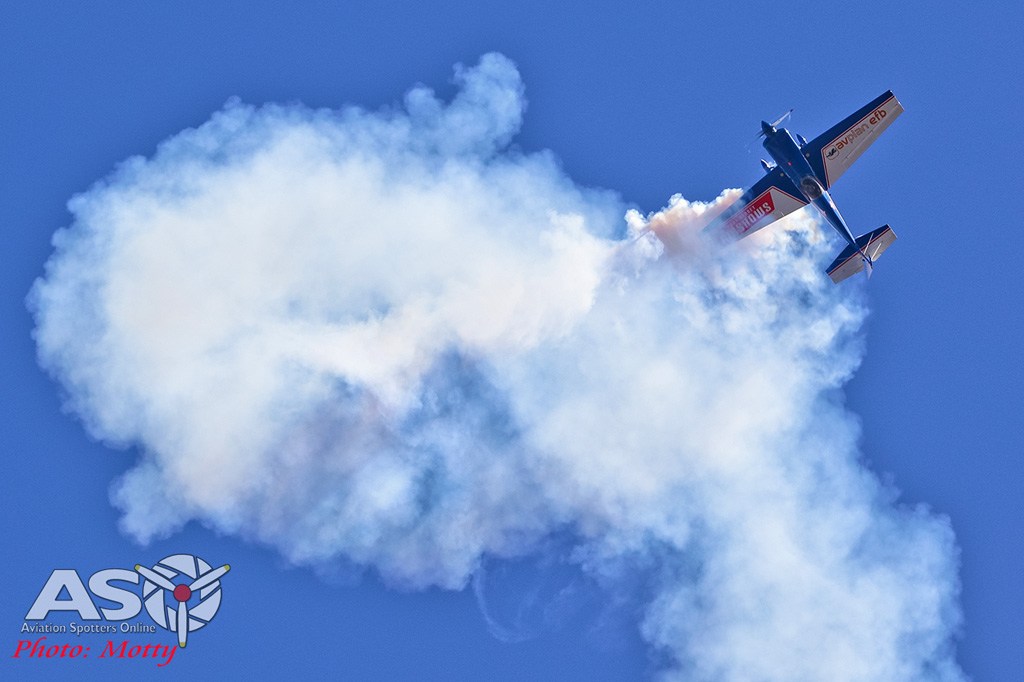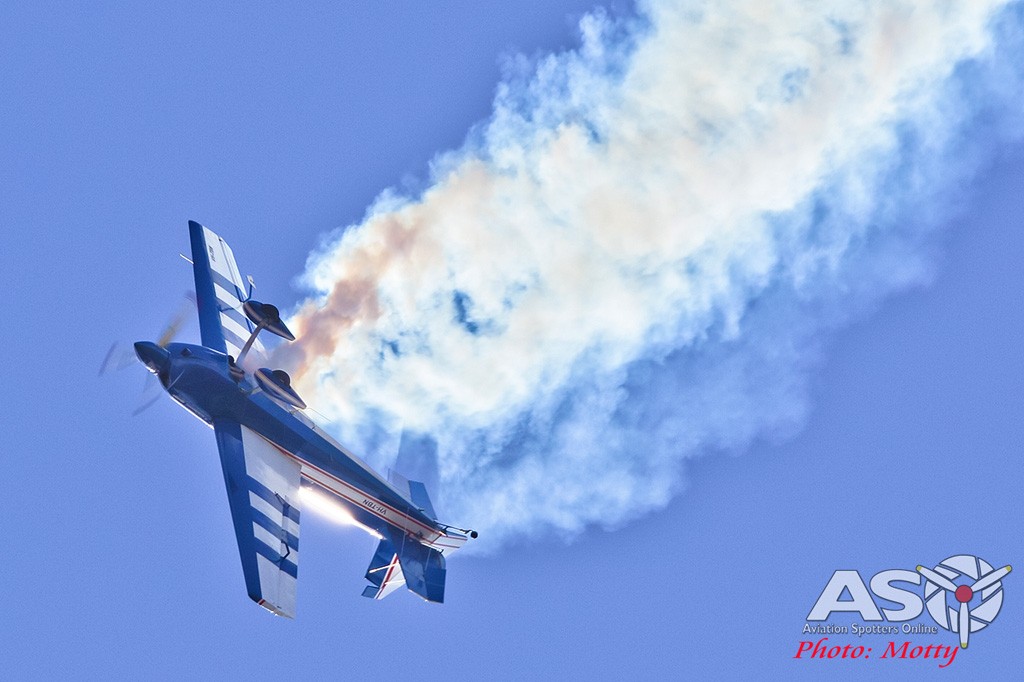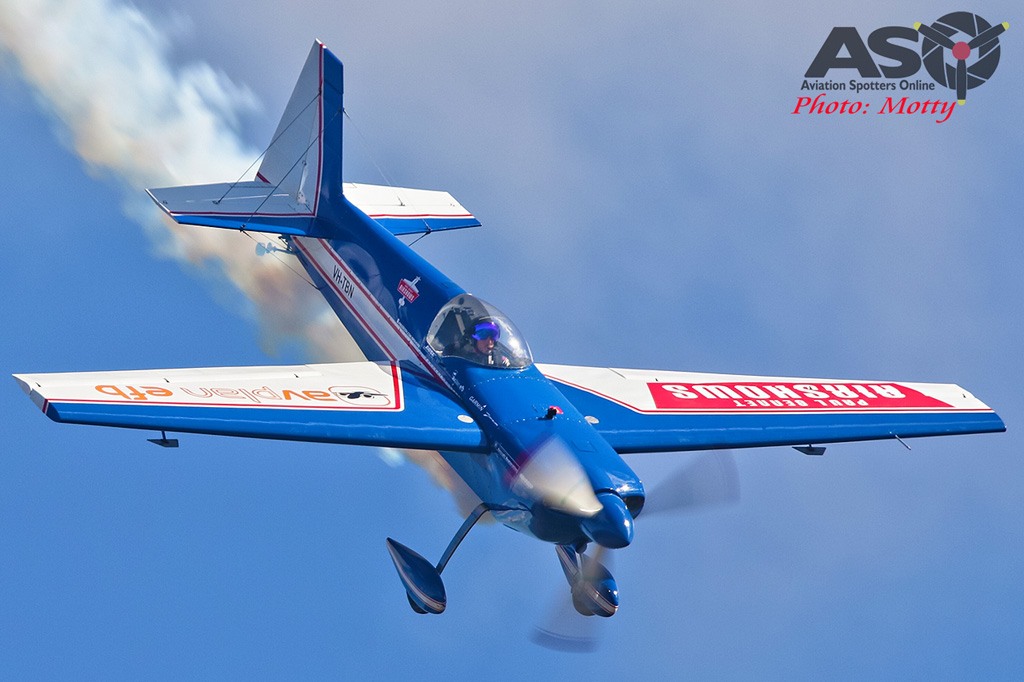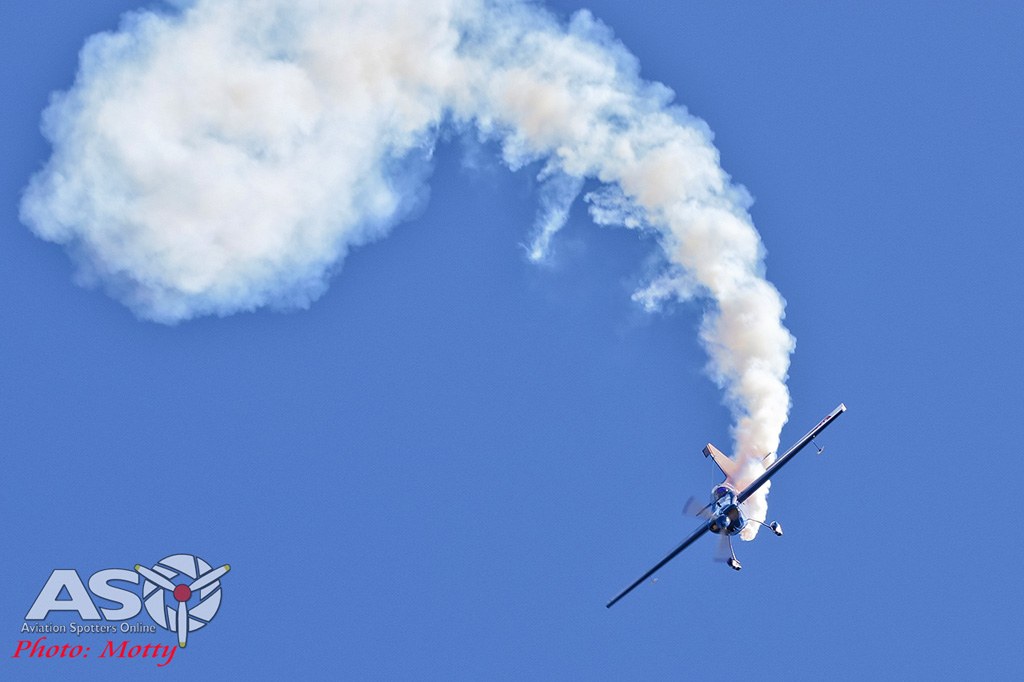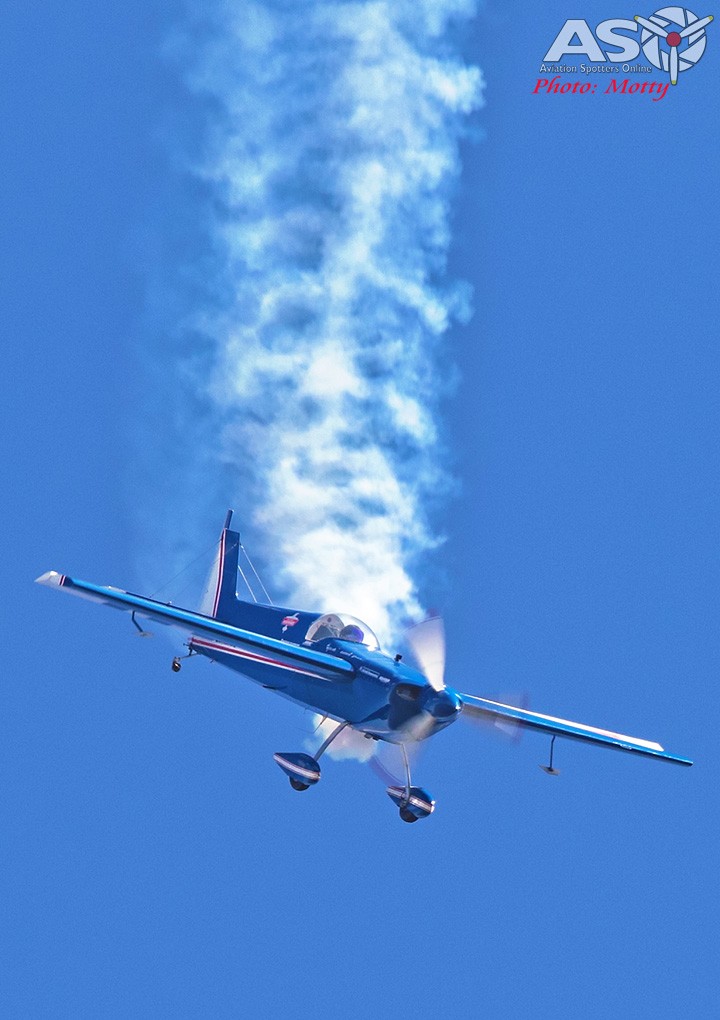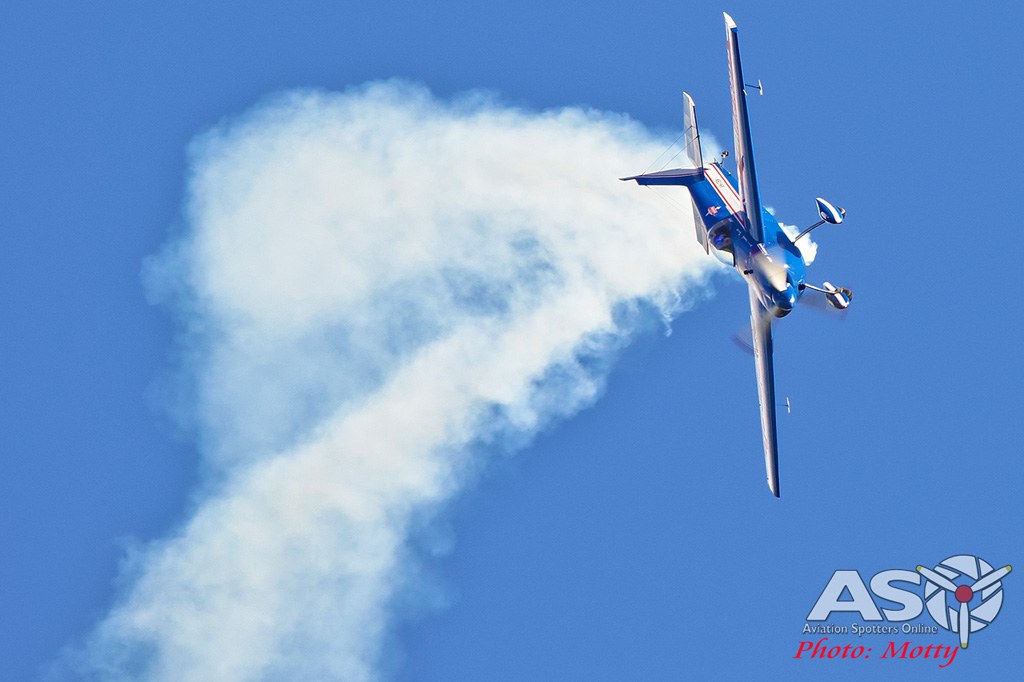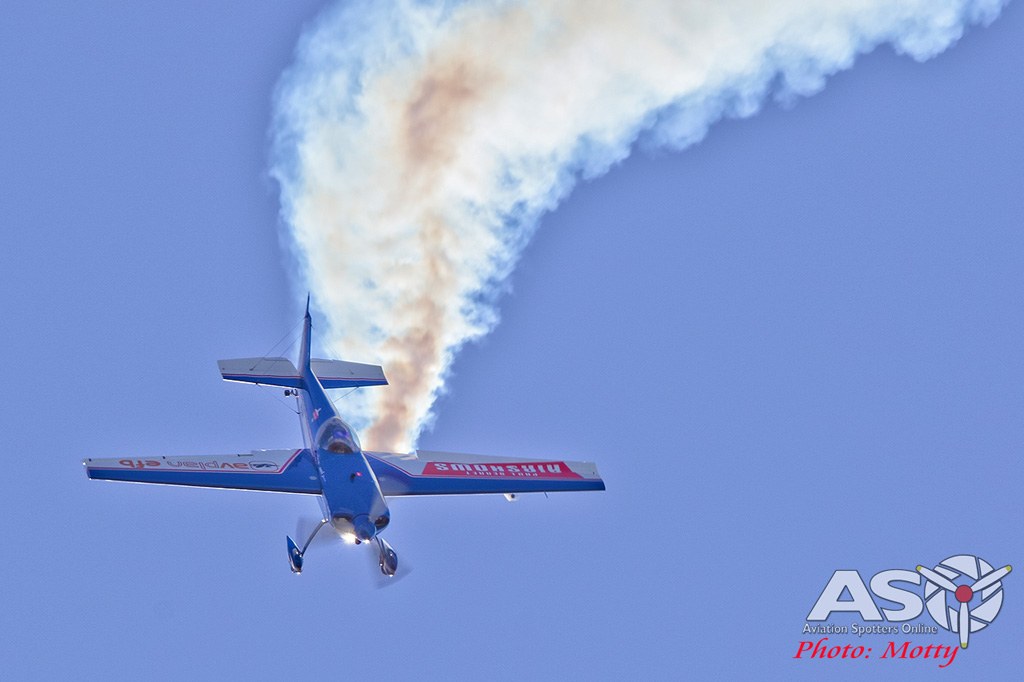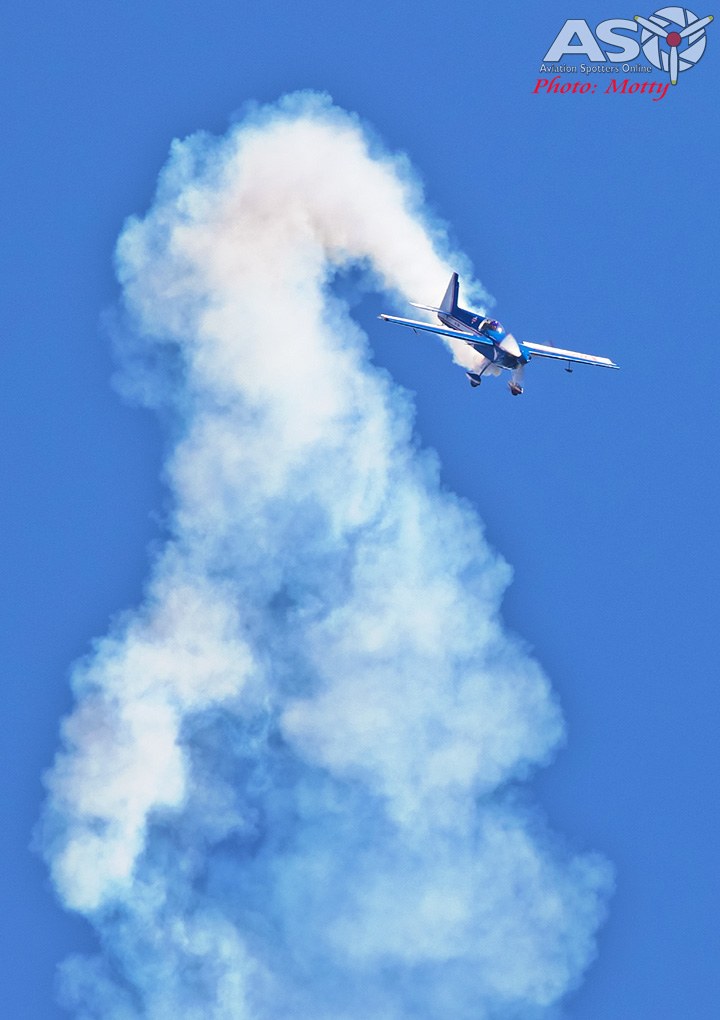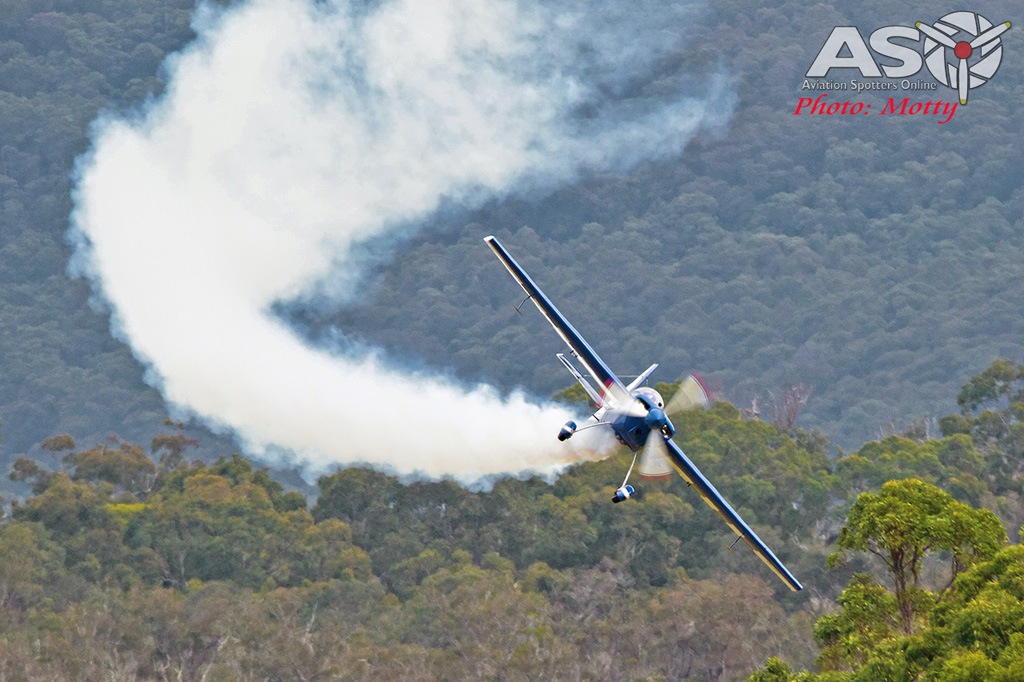 The entertainment continued on the ground as the HotWheels driving team displayed their skills in front of the crowd. Kids in particular enjoyed the competition of jumps, races and stunts between Matt Mingay and his young son while "Rusty" kept the crowd revved up with his exciting commentary.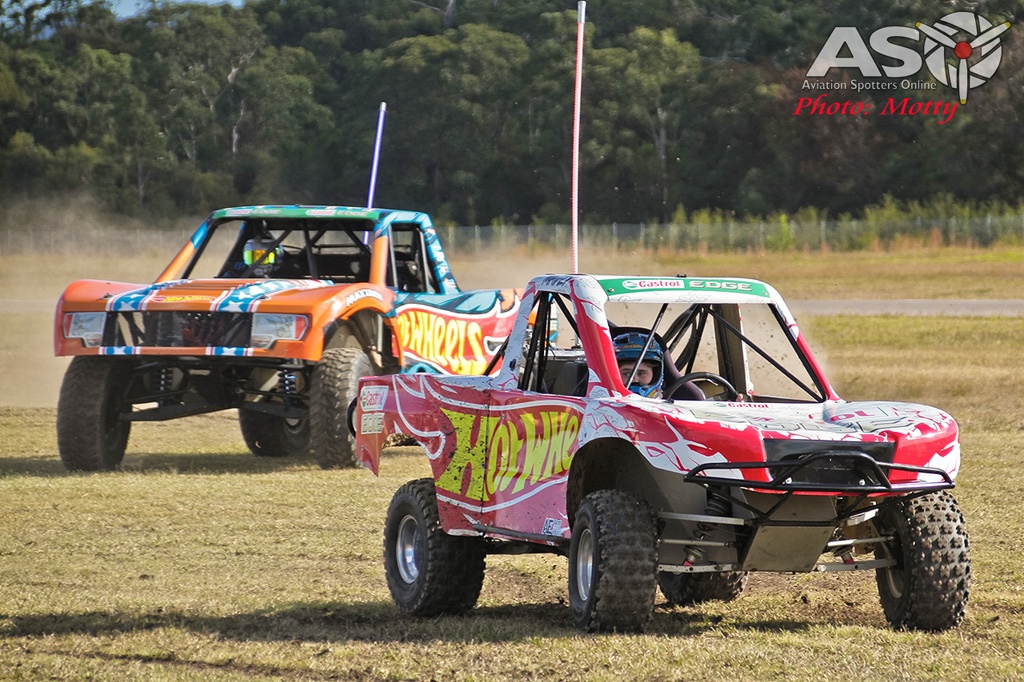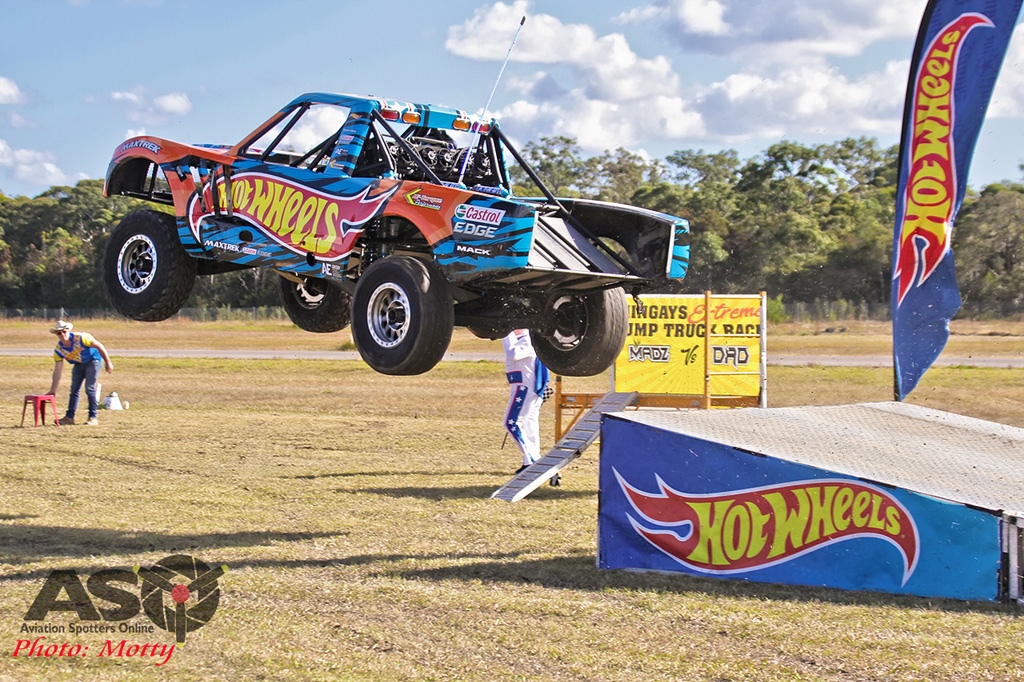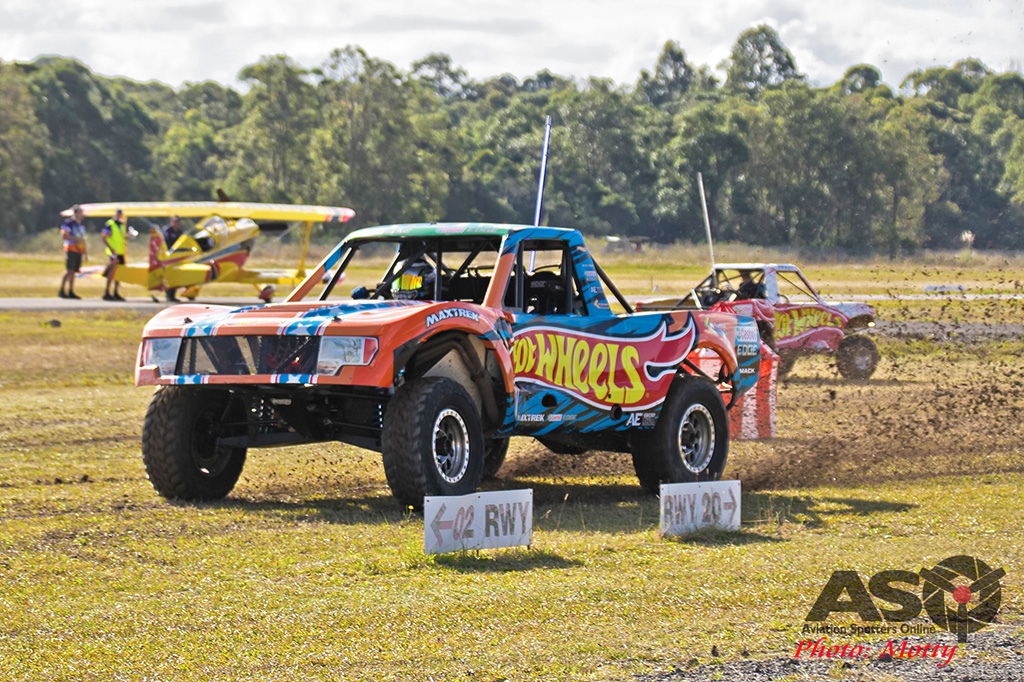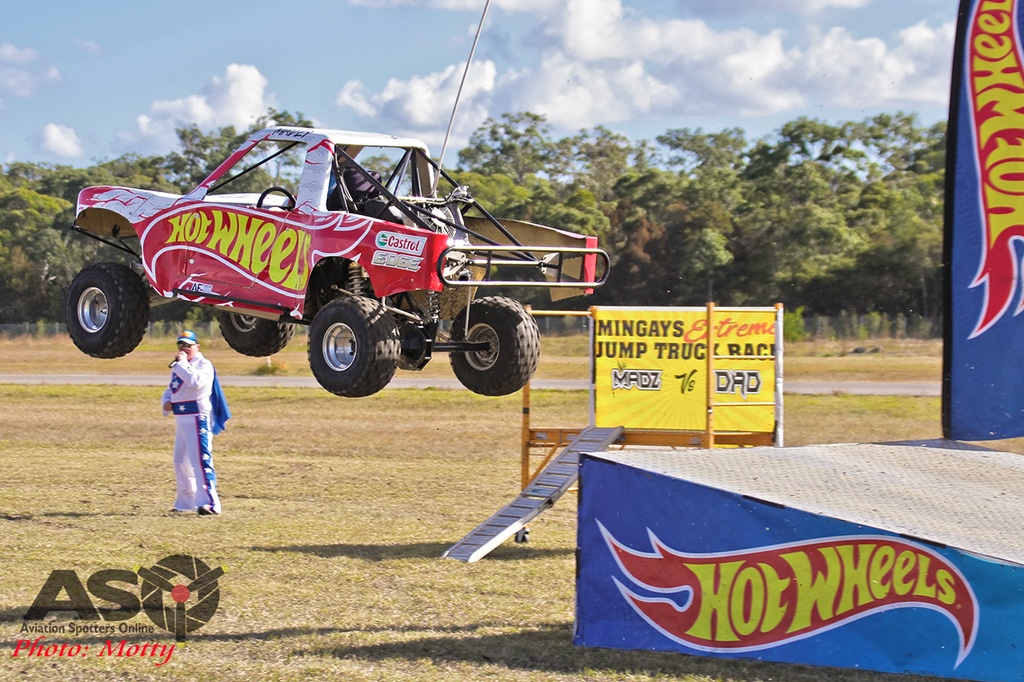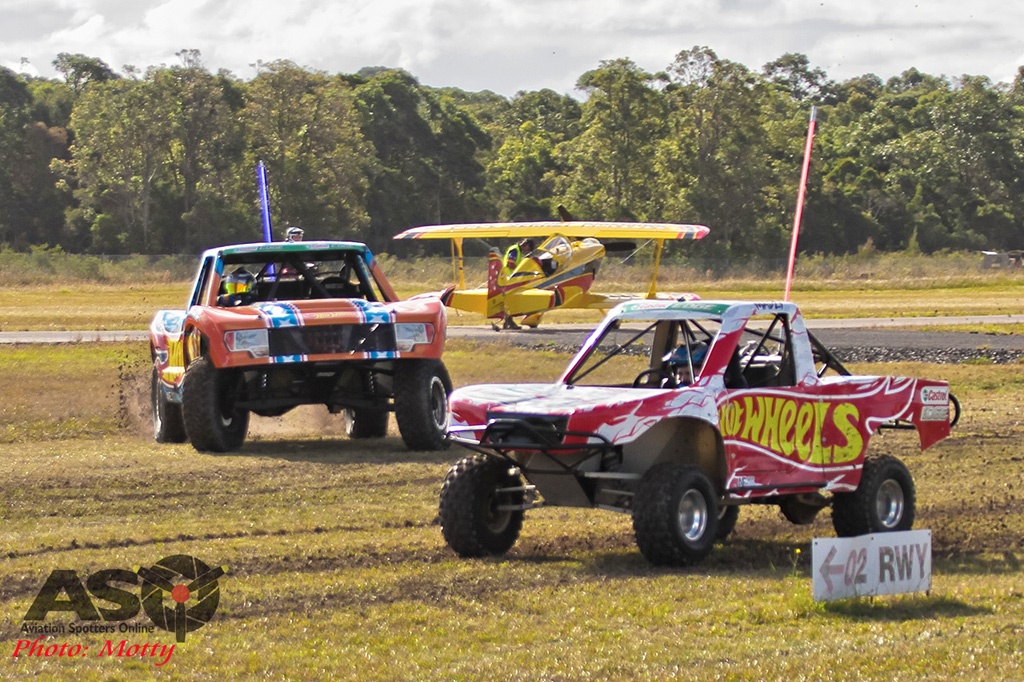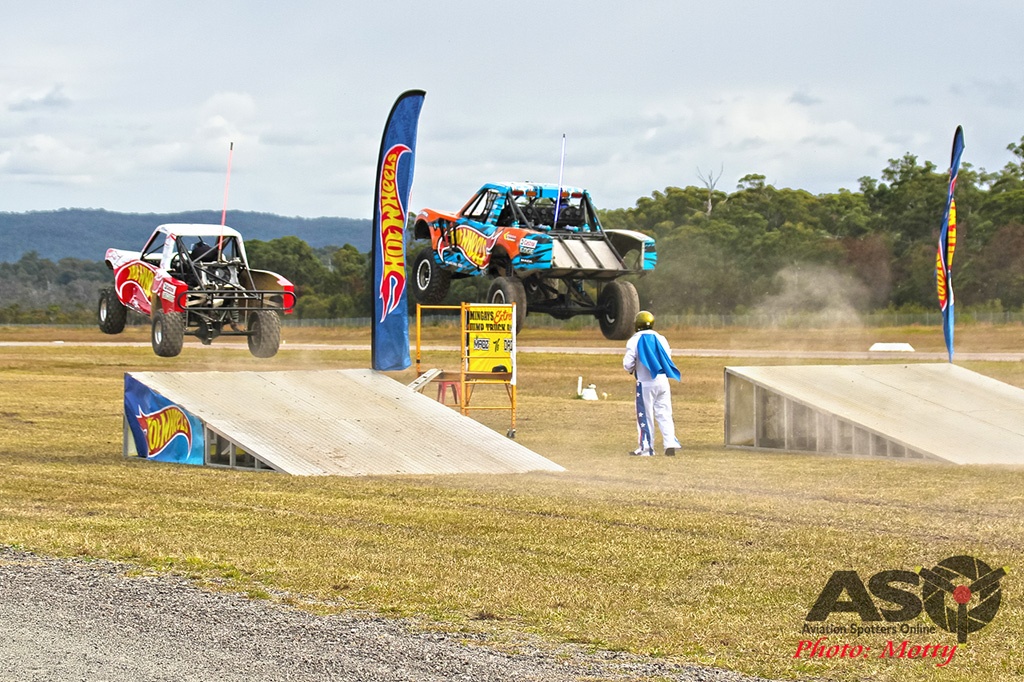 The HotWheels show segued into the airborne action as Paul Bennet opened his solo routine by racing Matt Mingay up and down the runway (Jack Strong joined in on Sunday too) before launching into his incredible, almost physics defying display of aerobatics in his bright yellow Wolf Pitts (which is one of only two in the world).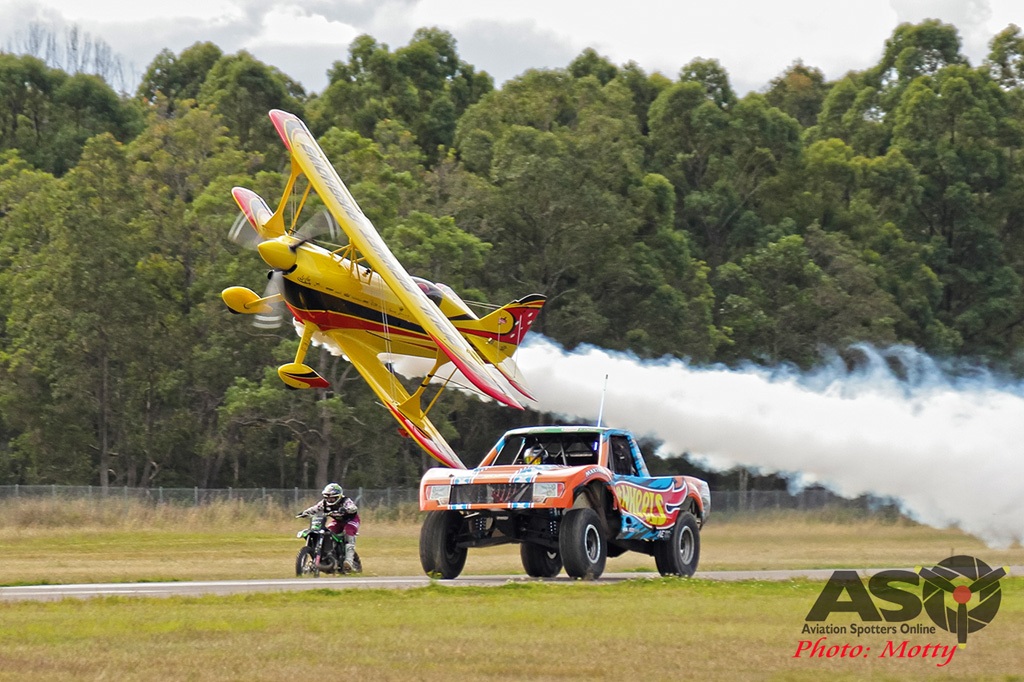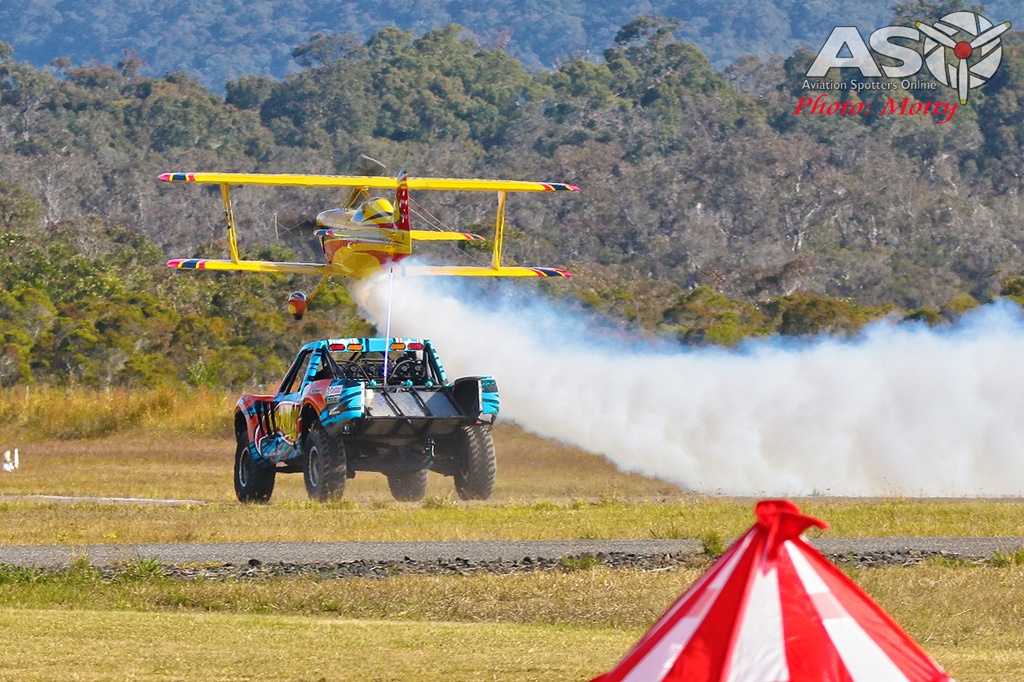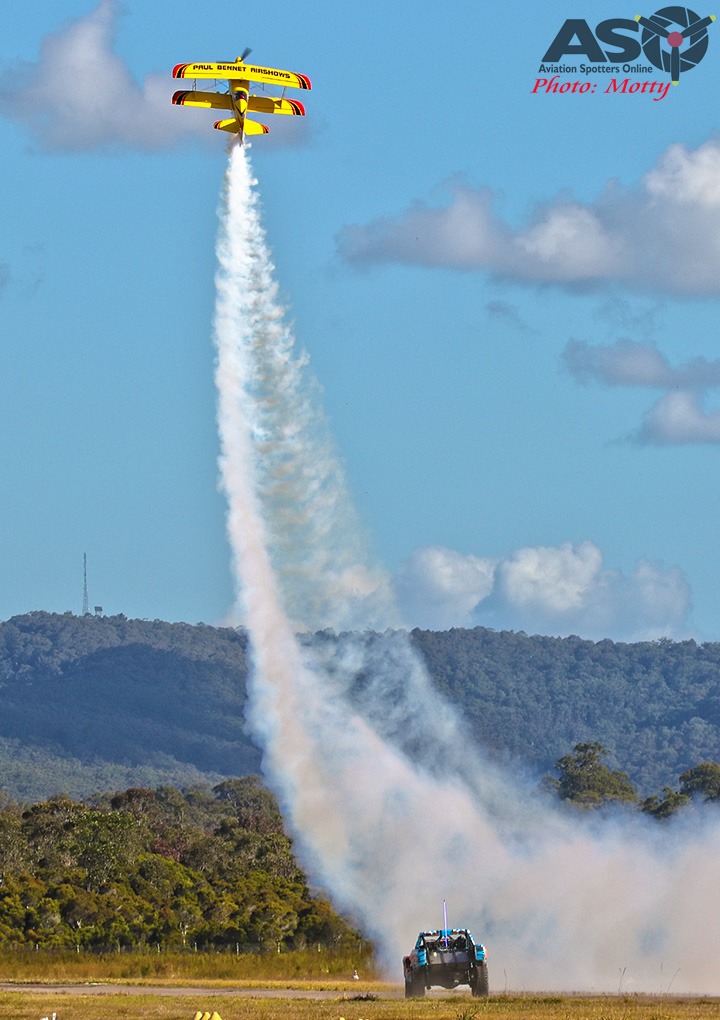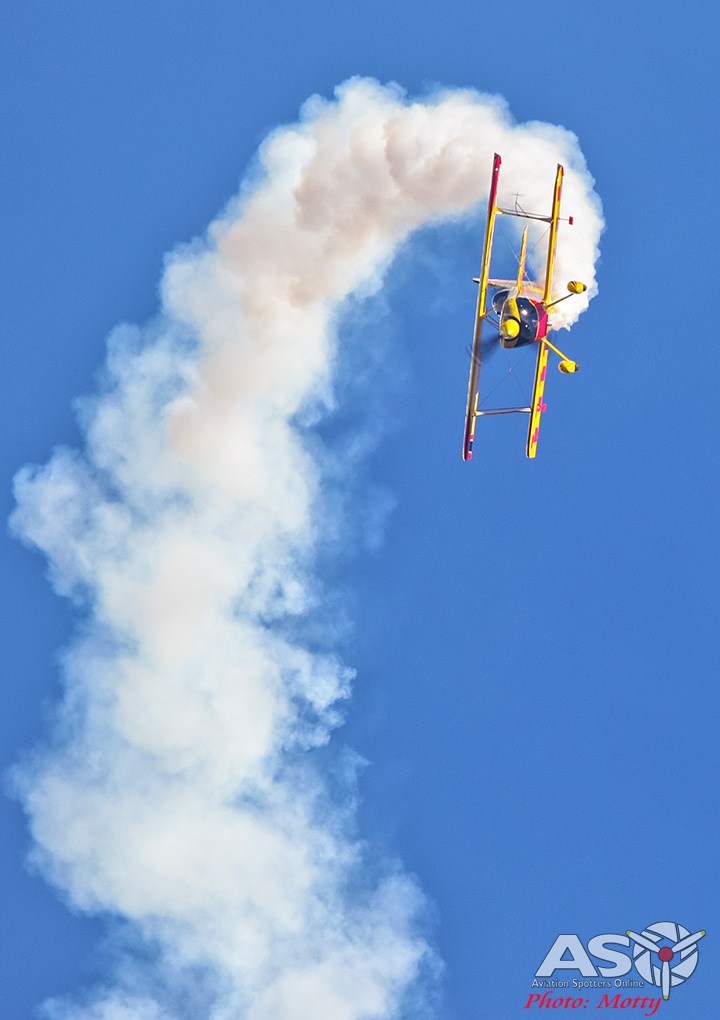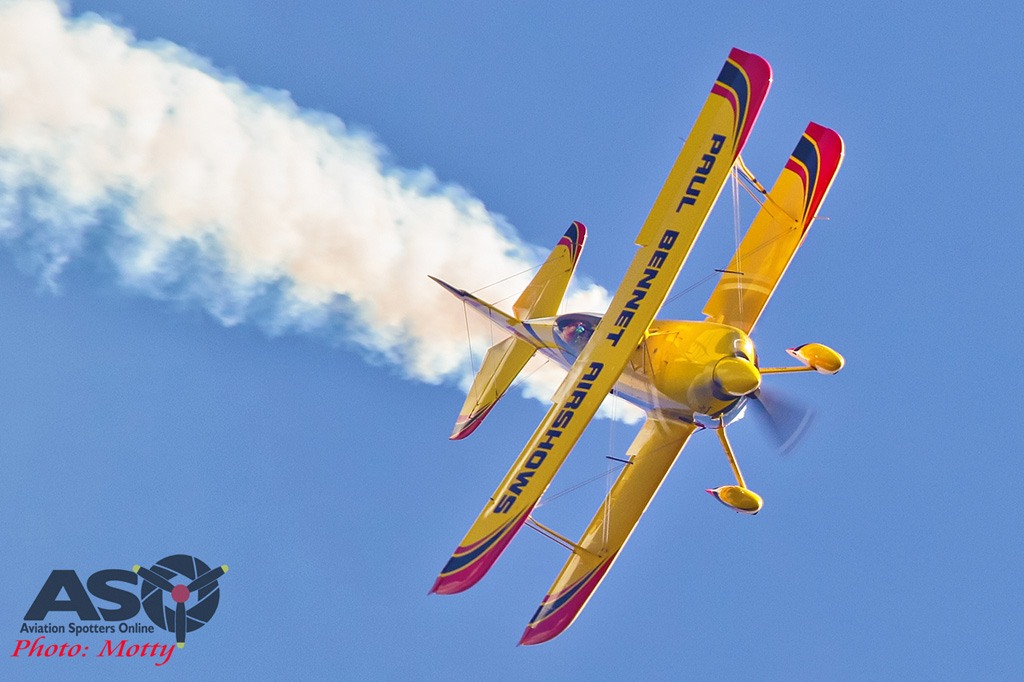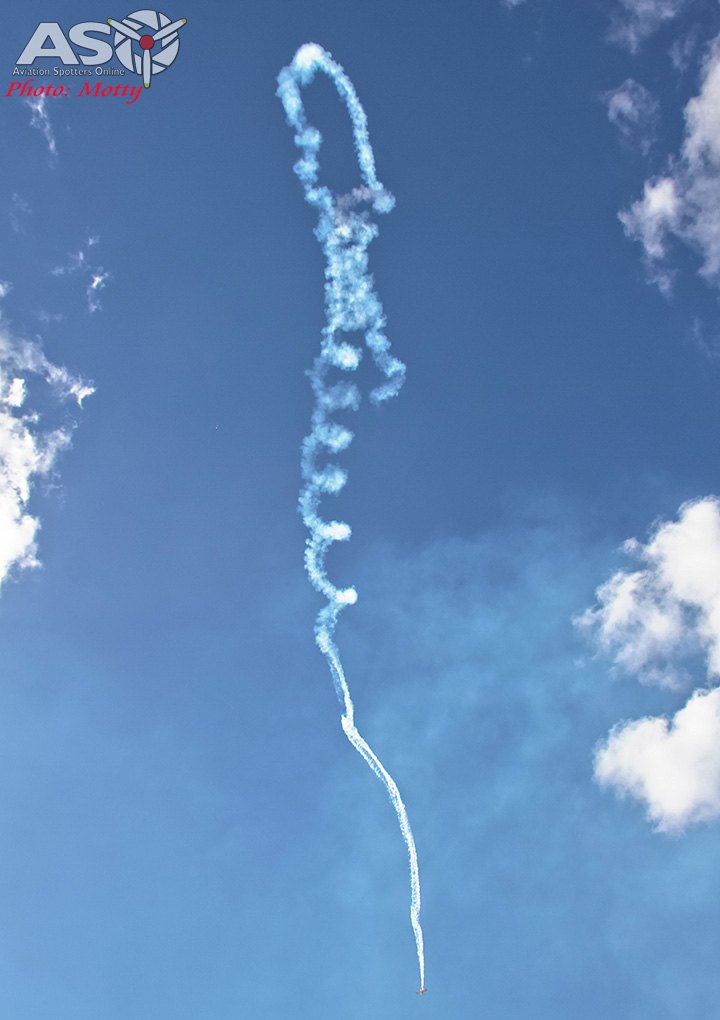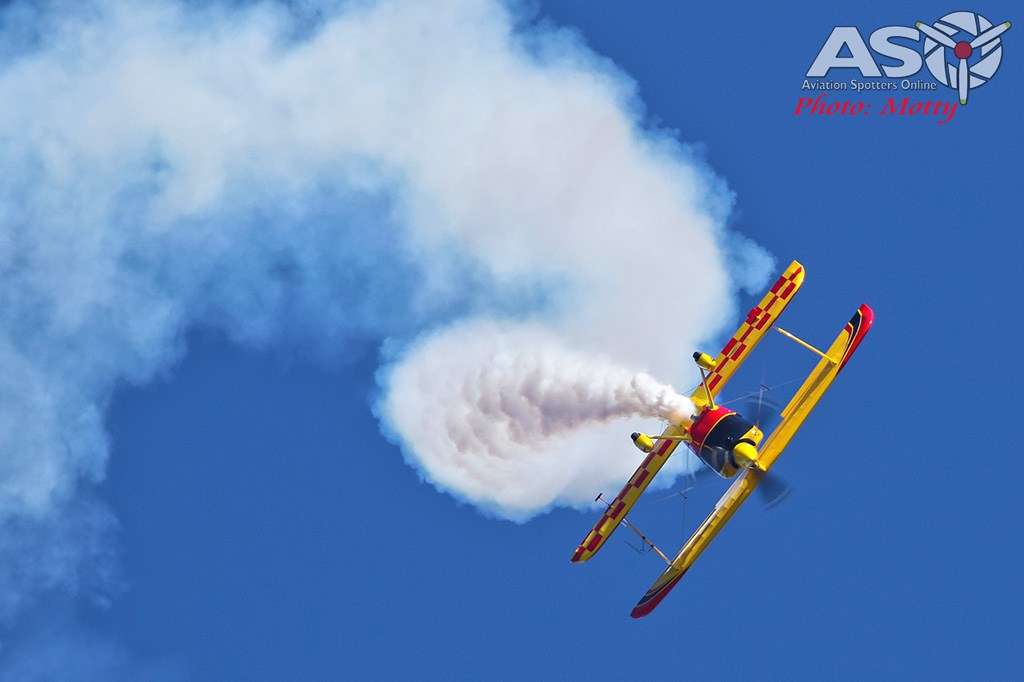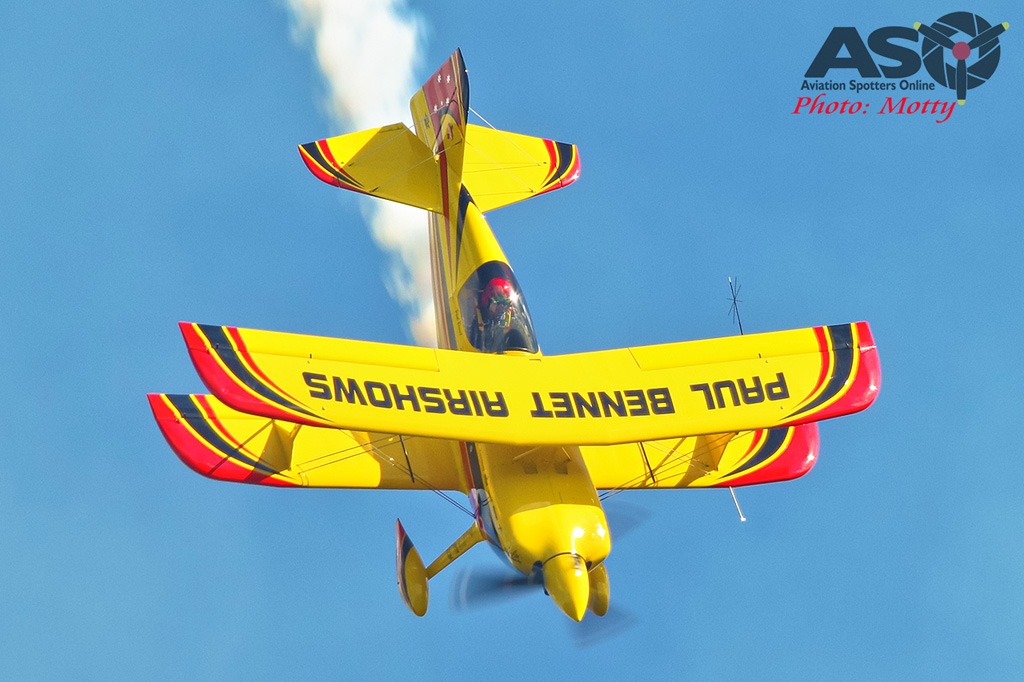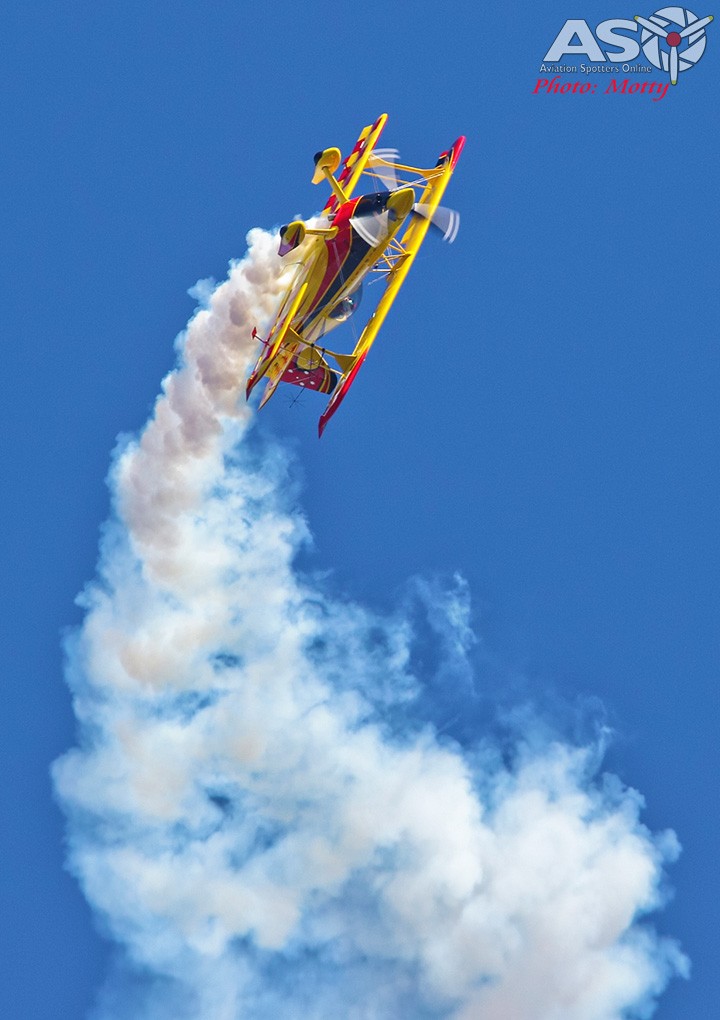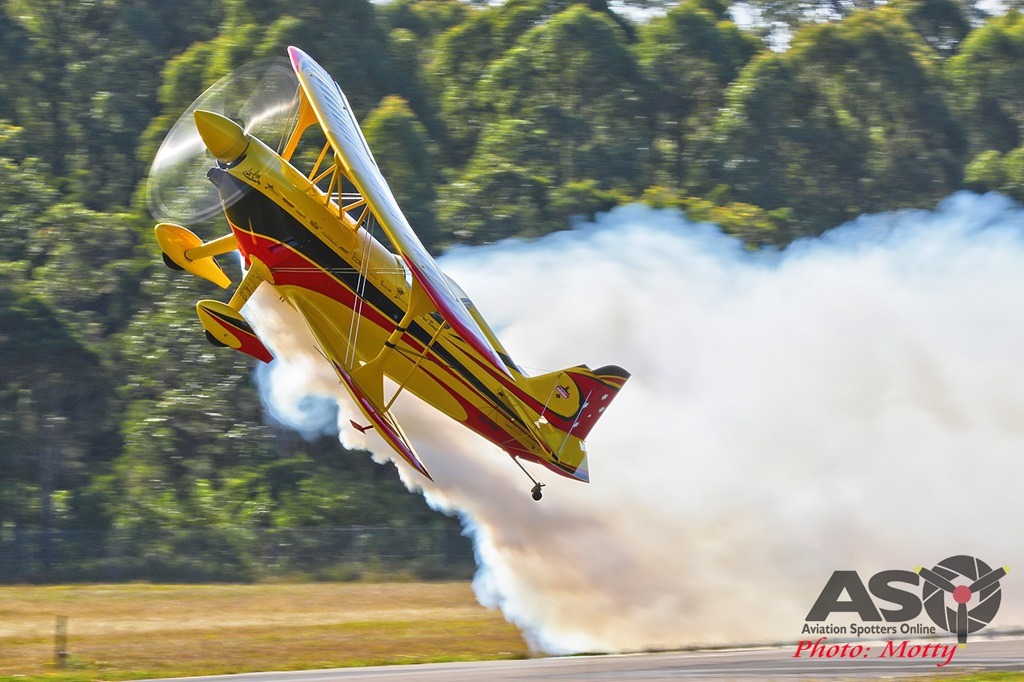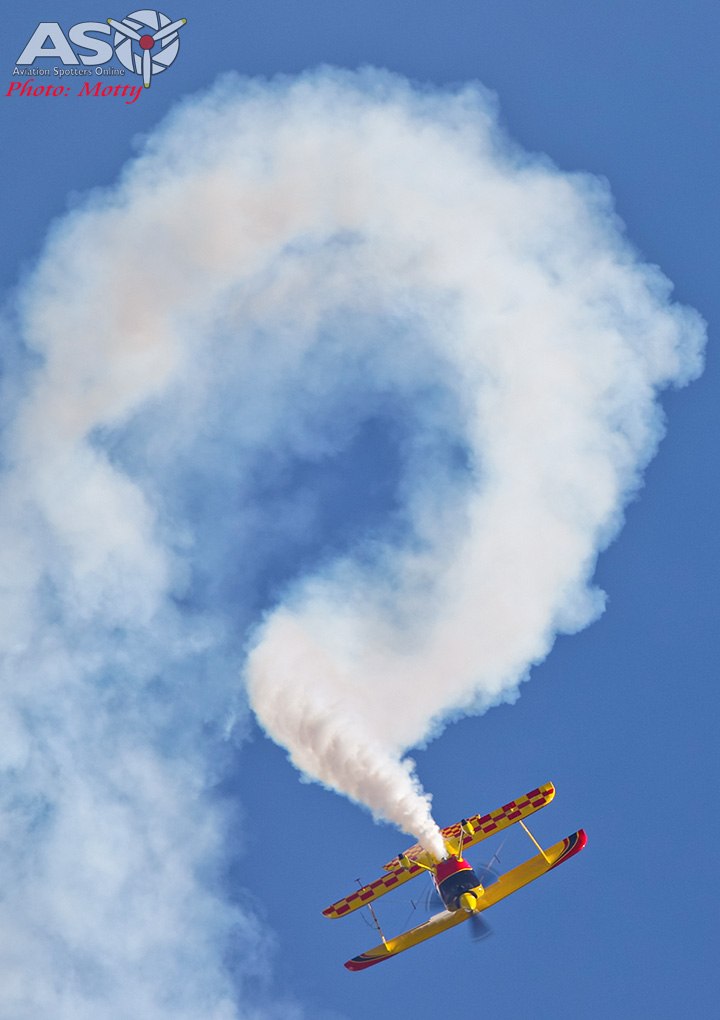 After throwing the Pitts around and making it do things that you'd really think a plane couldn't do, and with some more fire and explosions for good measure, the climax of the display was FMX rider Jacko Strong flipping his bike mid-air as Paul side-slipped underneath him!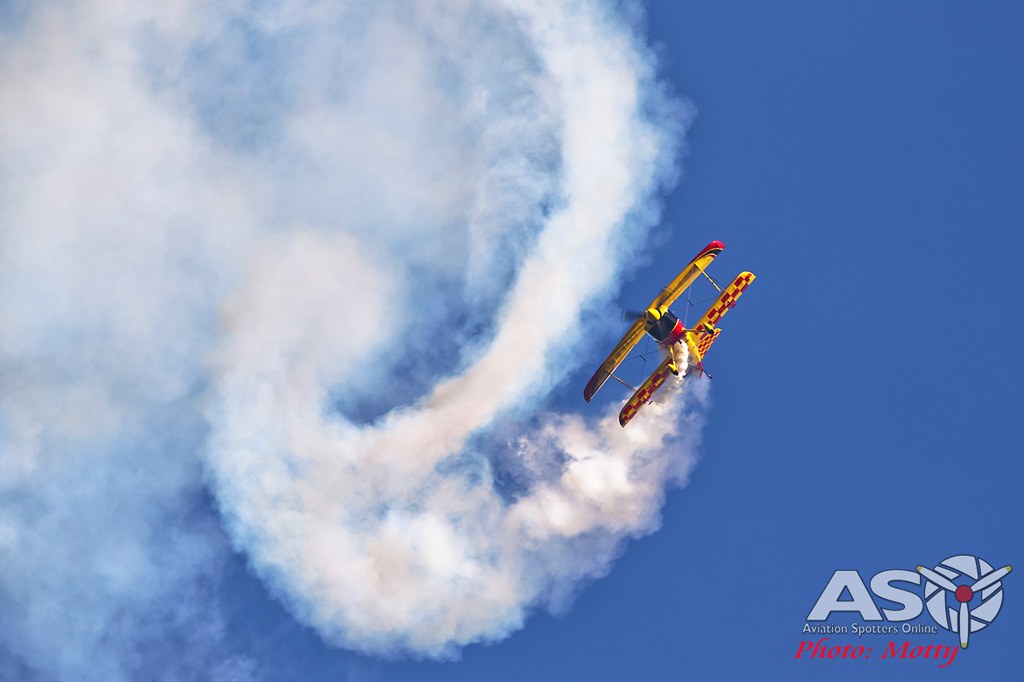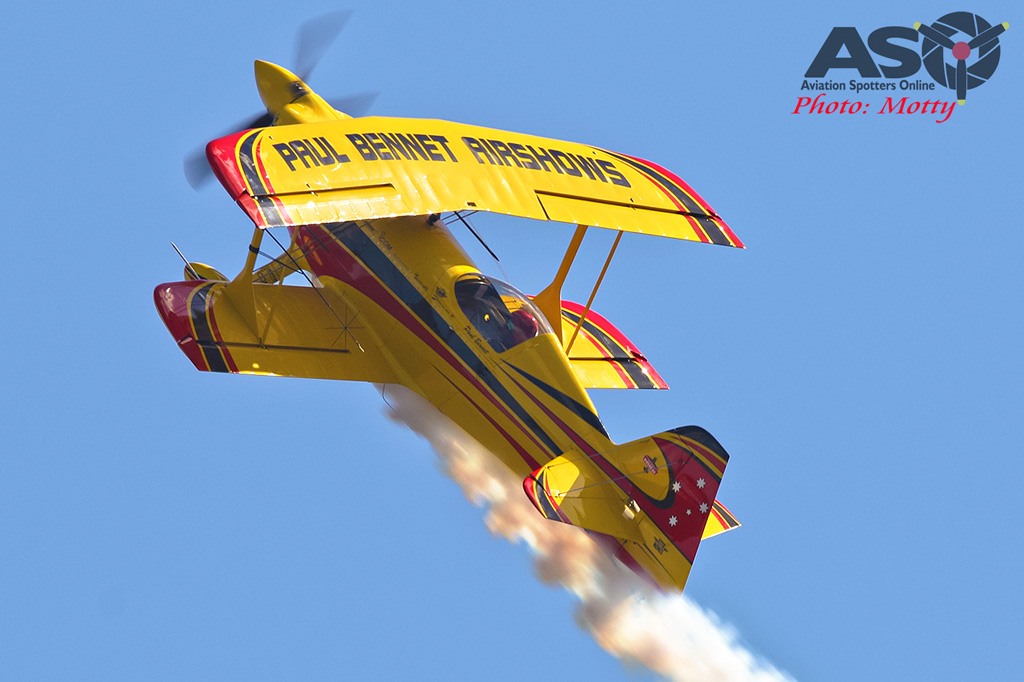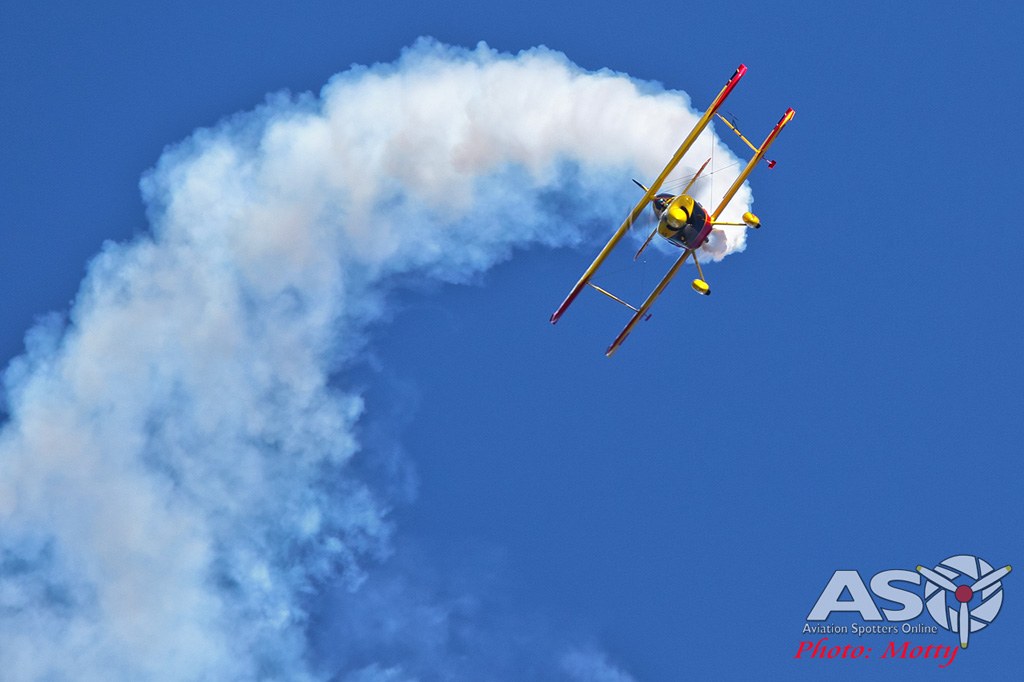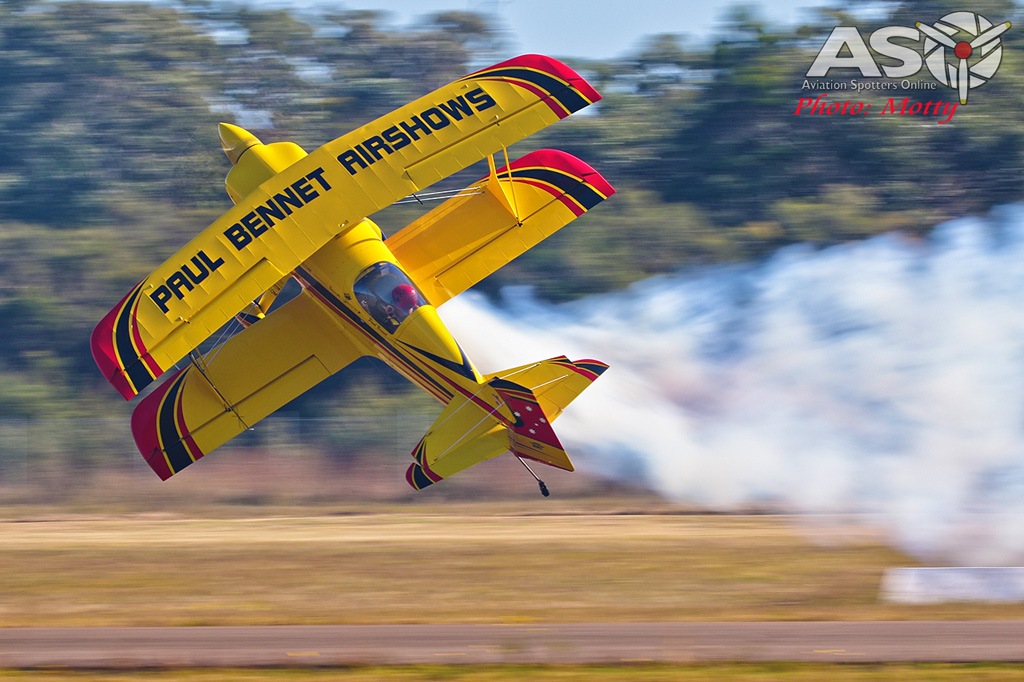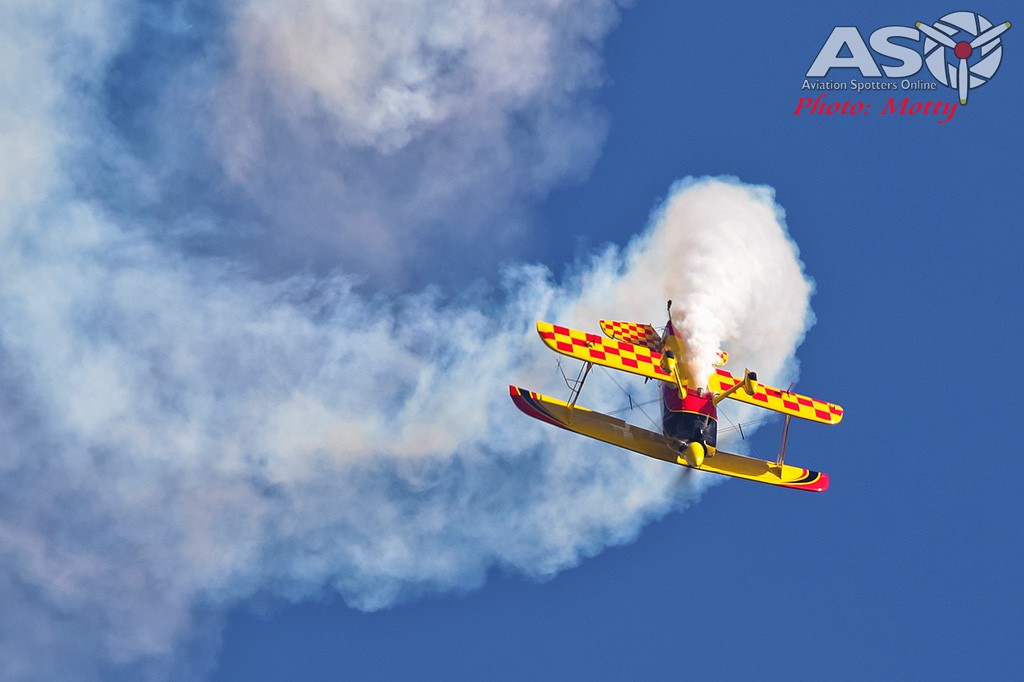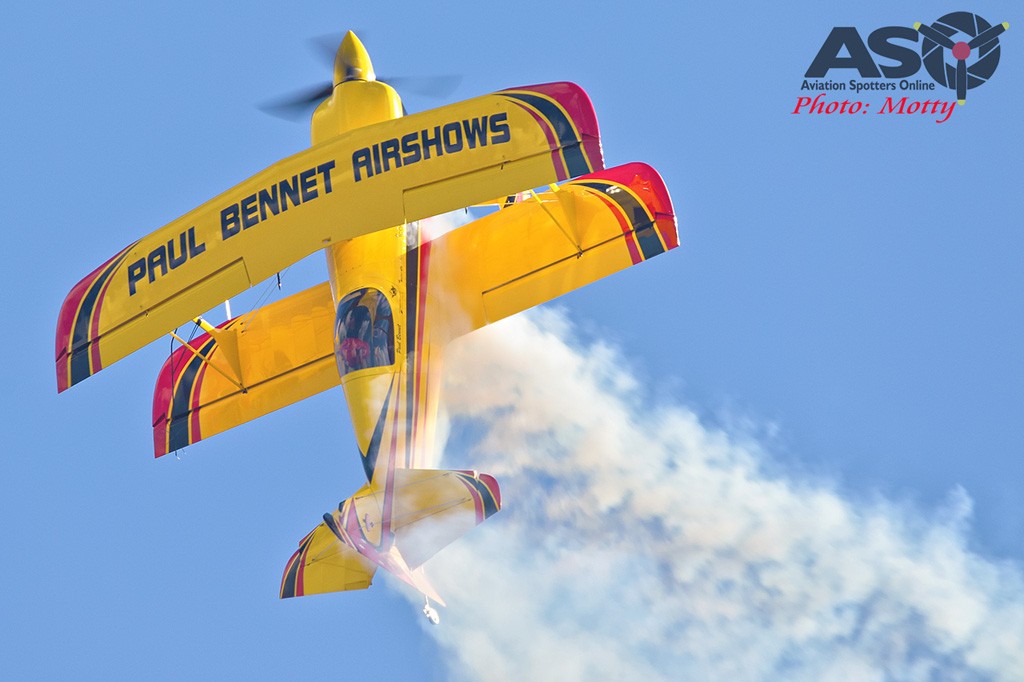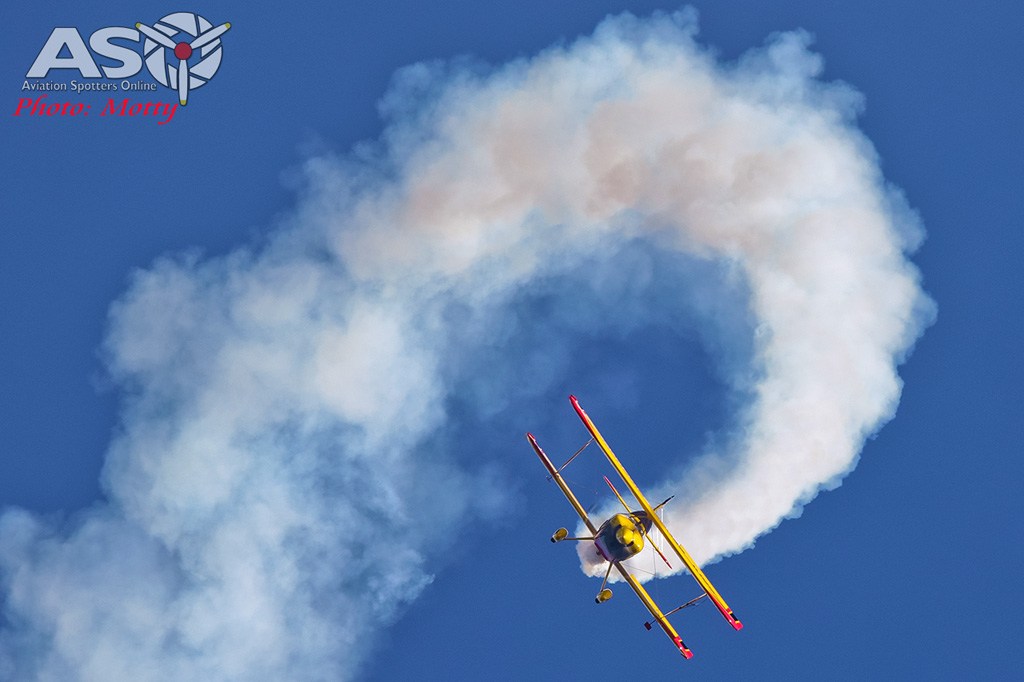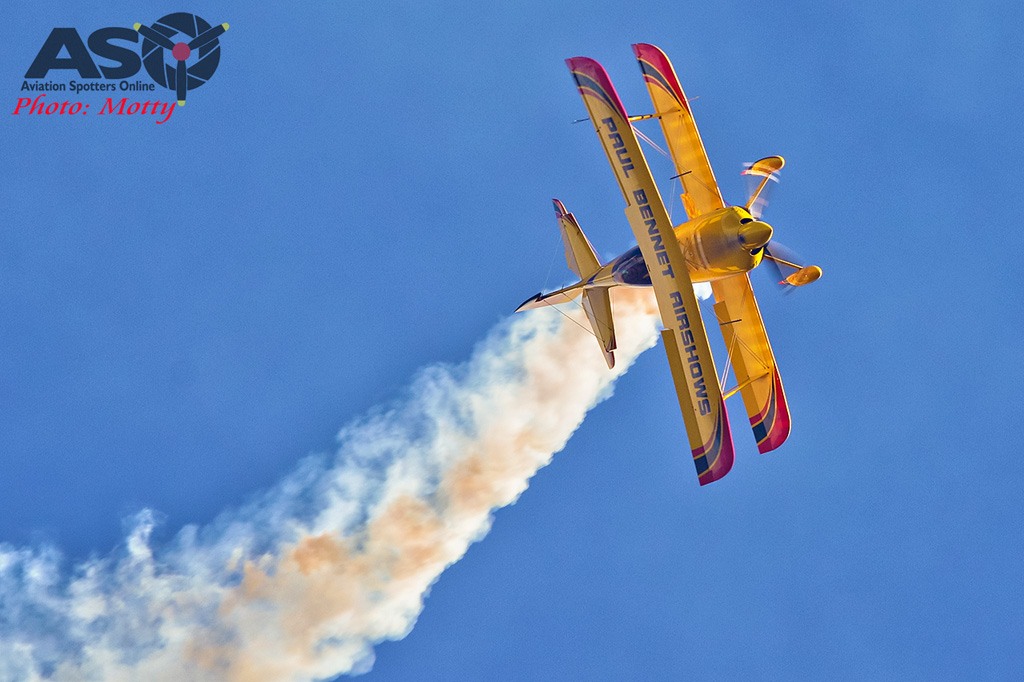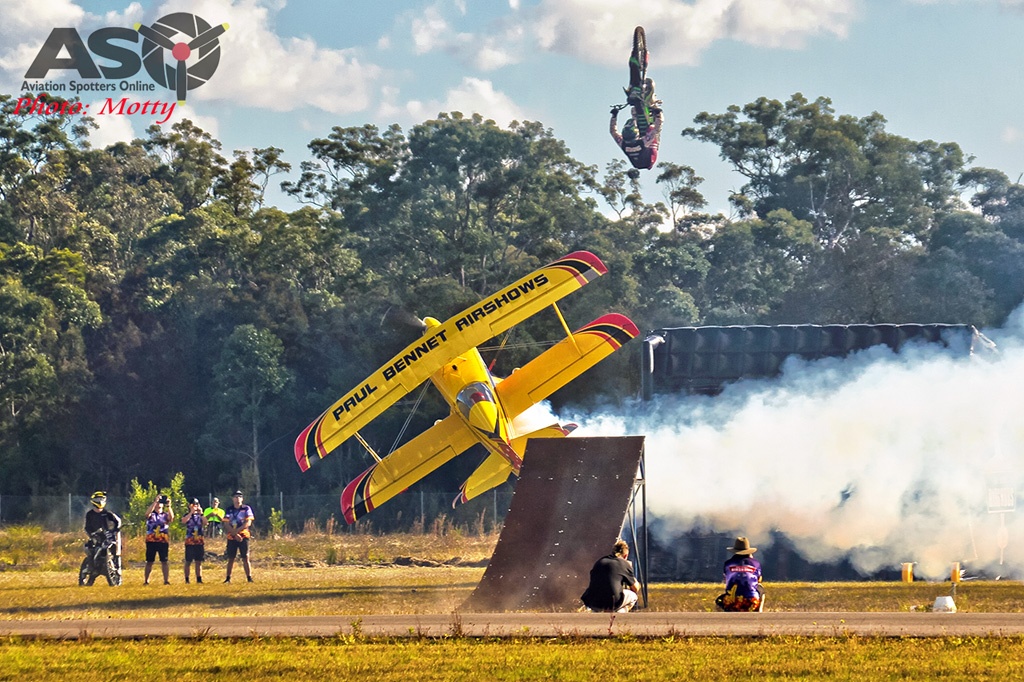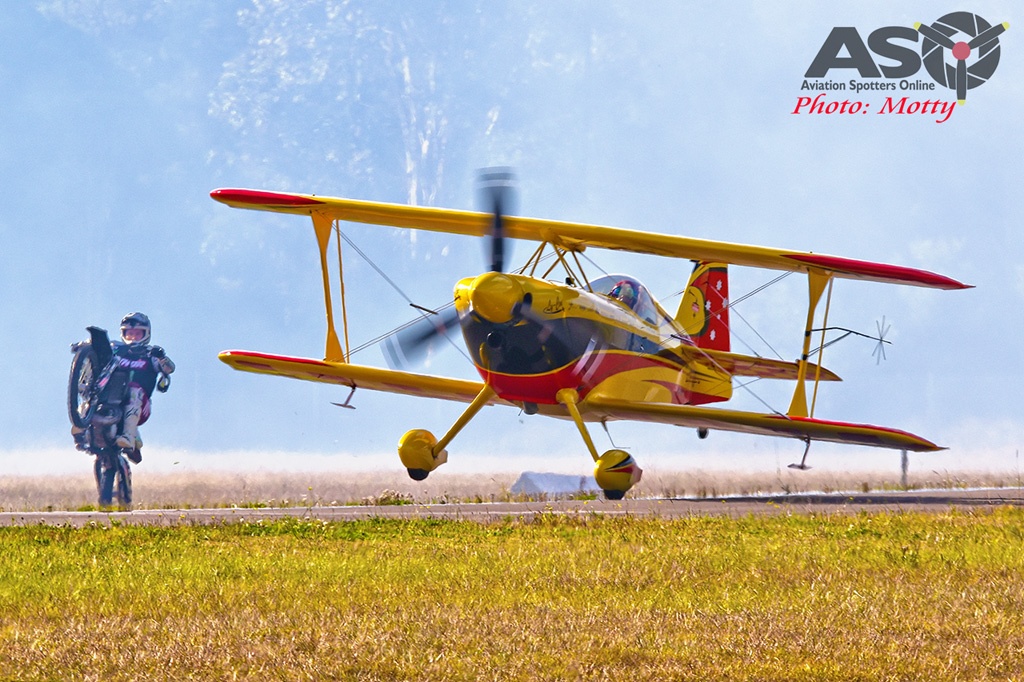 Spectators barely had enough time to catch their breath after that spectacle before Mark Pracy roared over to begin his display in his Aero L-39 Albatros, a Soviet era jet trainer developed in Czechoslovakia in the late 1960s.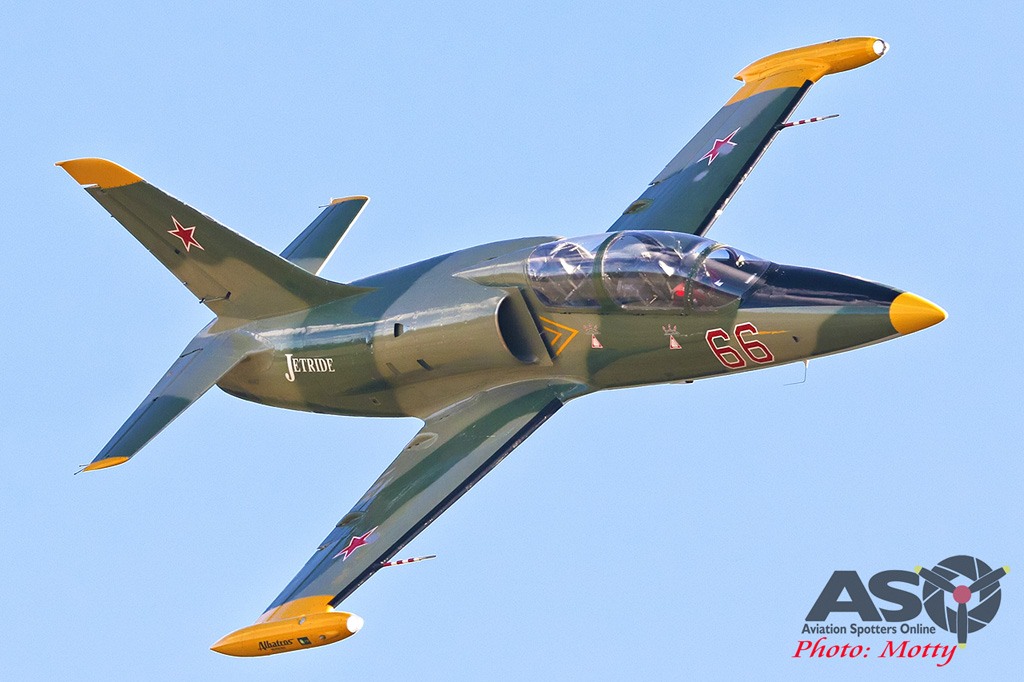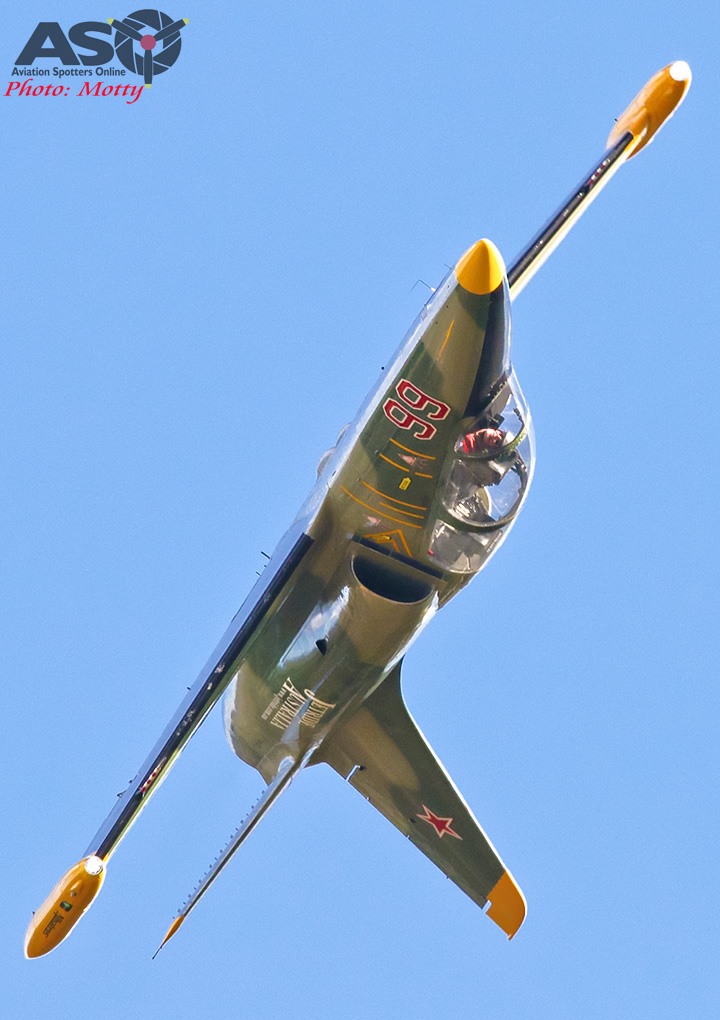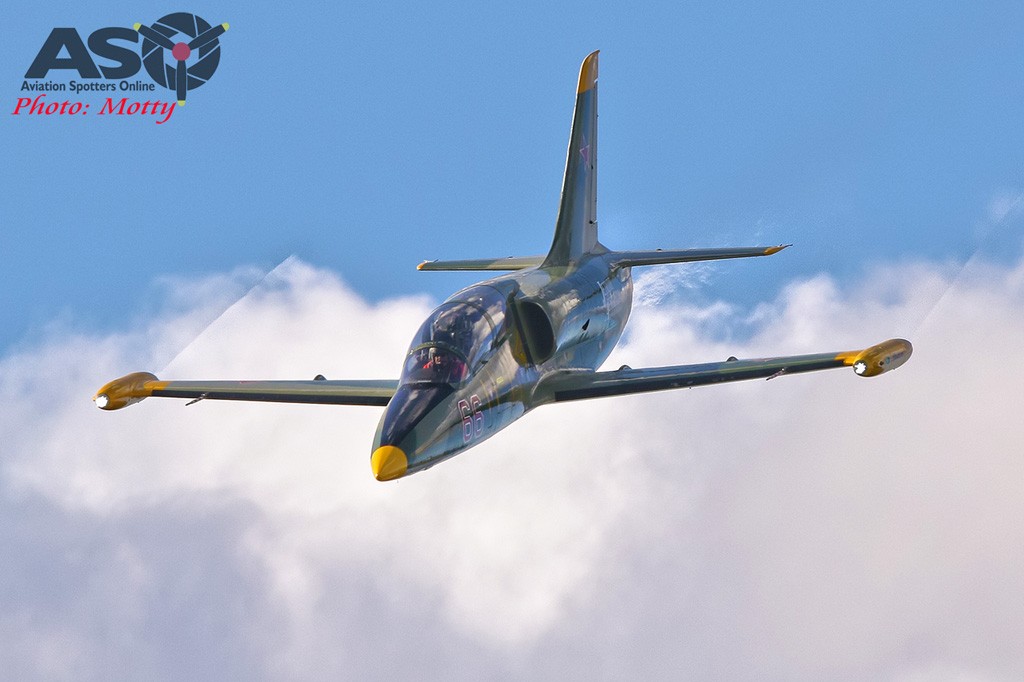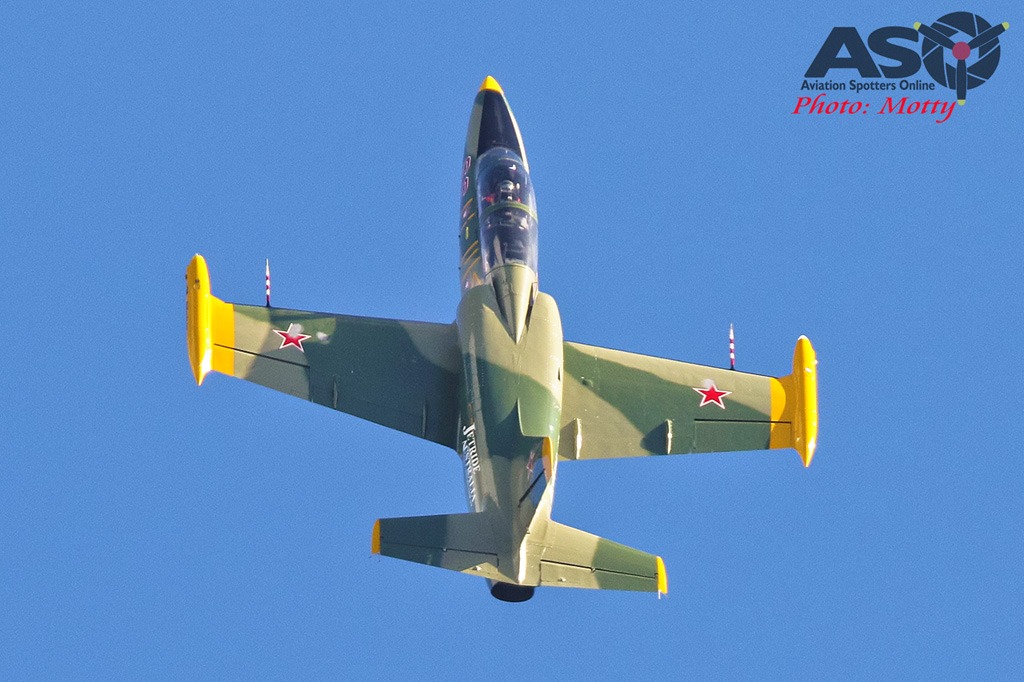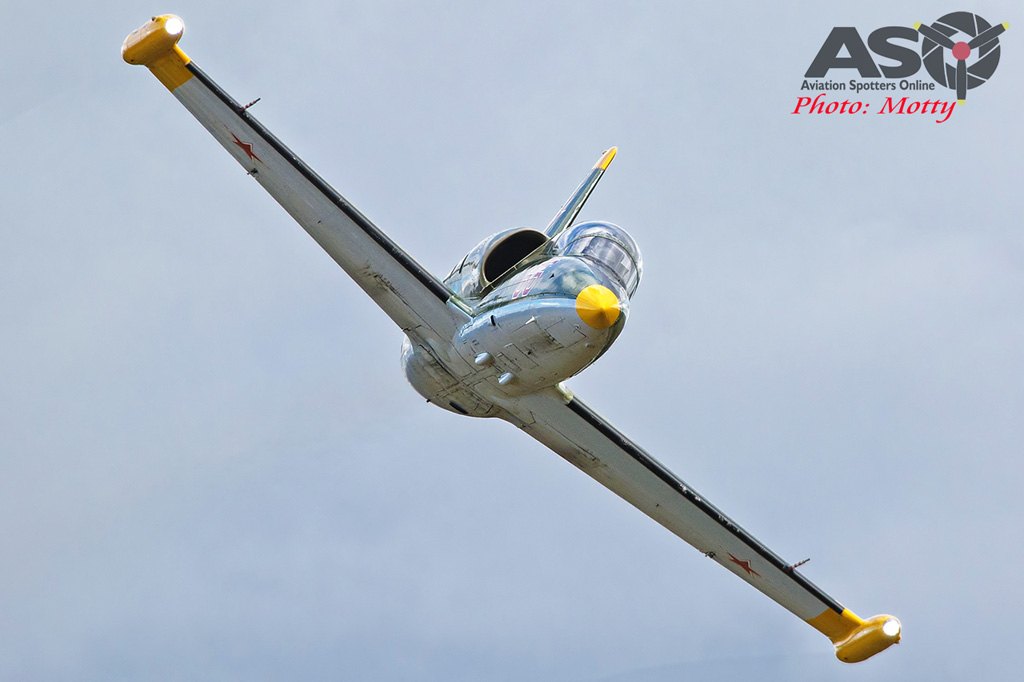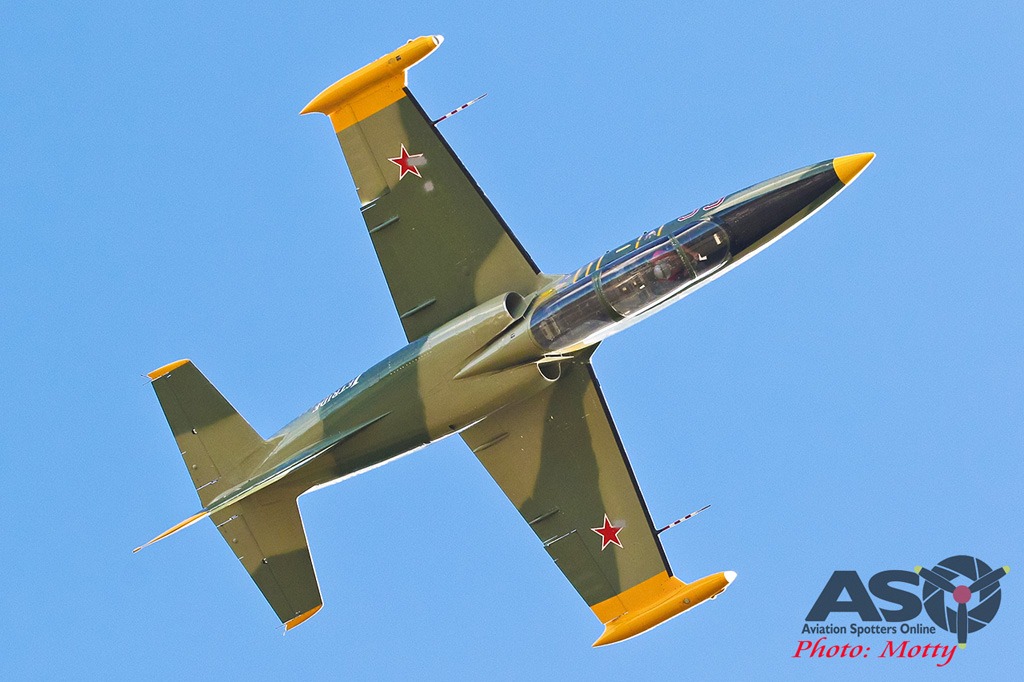 Next up, with a distinct change of pace, was the Heritage Trainers formation team with Matt Henderson in his CAC Winjeel and Ben Thompson, Garry Herne and Phil Munro in their CT-4 Airtrainers. The team made a few formation passes before Garry separated to perform a few solo maneuvers in his CT-4 then Matt returned to do the same in his Winjeel. The CT-4 was the replacement for the Winjeel in RAAF service and the difference in size between the two is quite surprising, with the Winjeel being significantly larger than the later CT-4.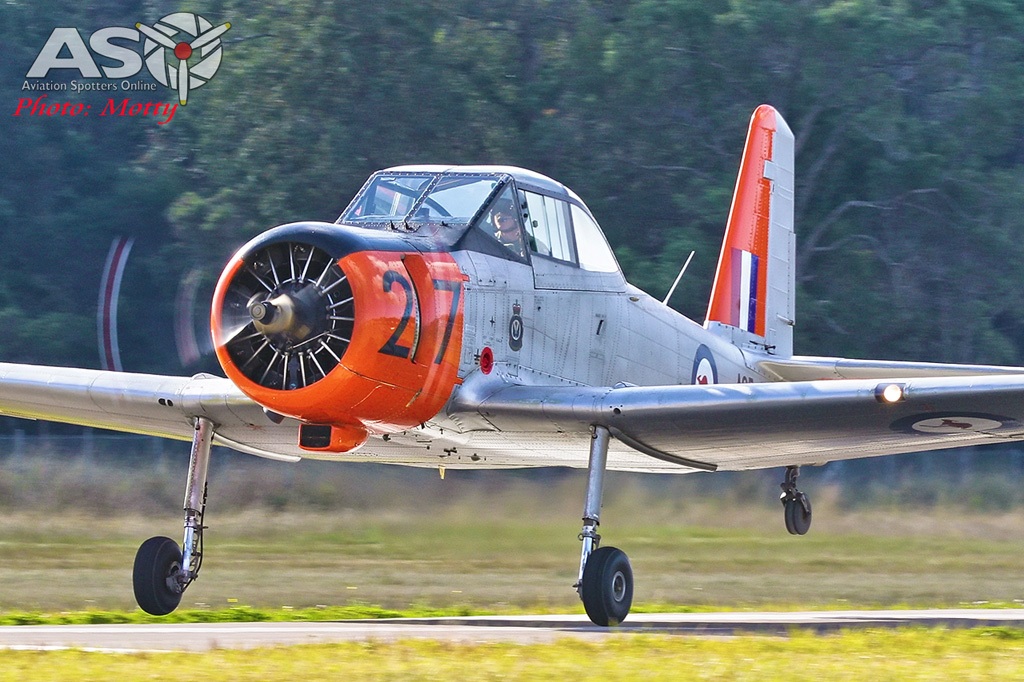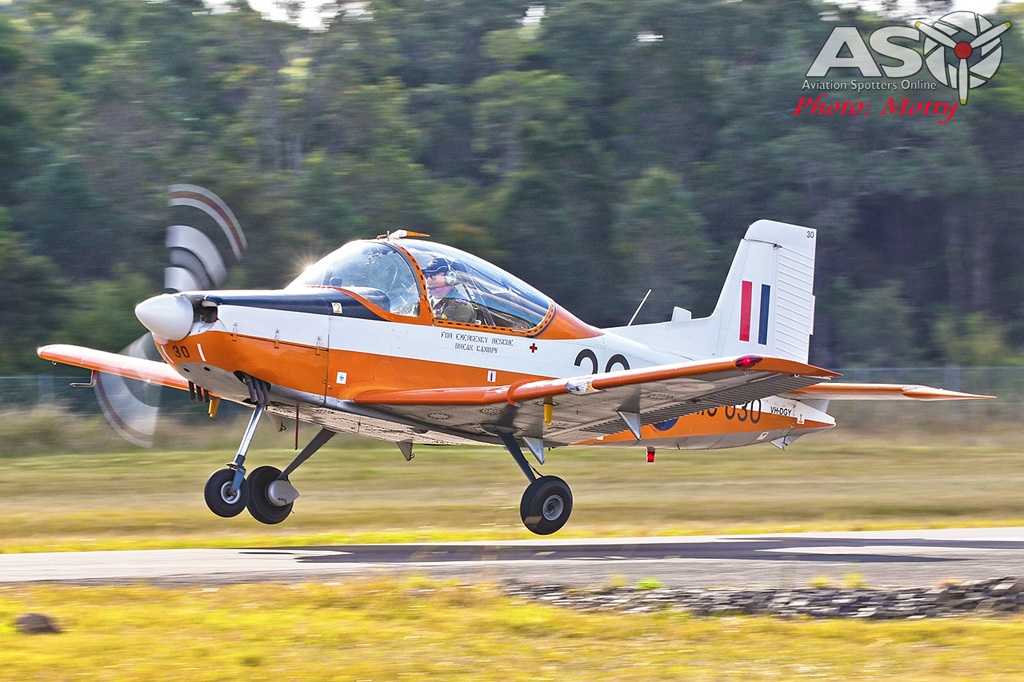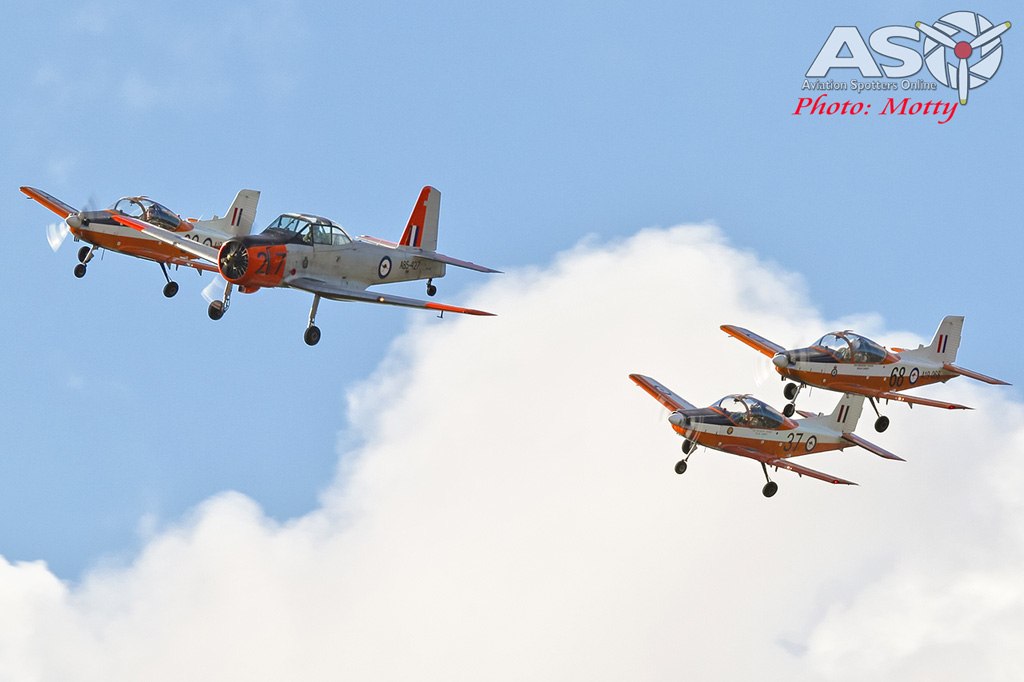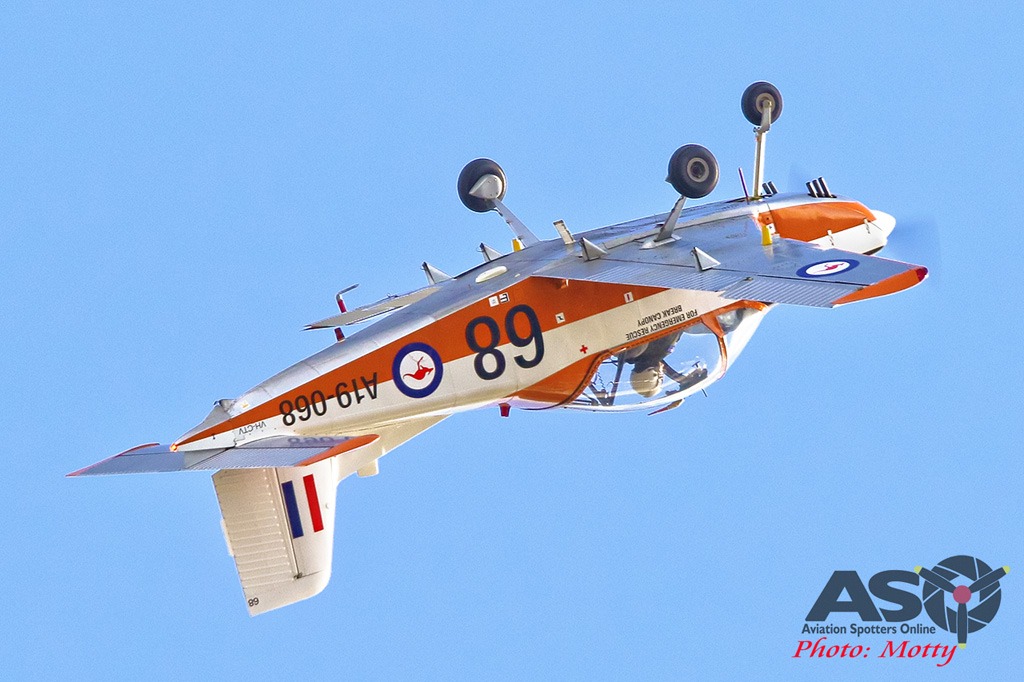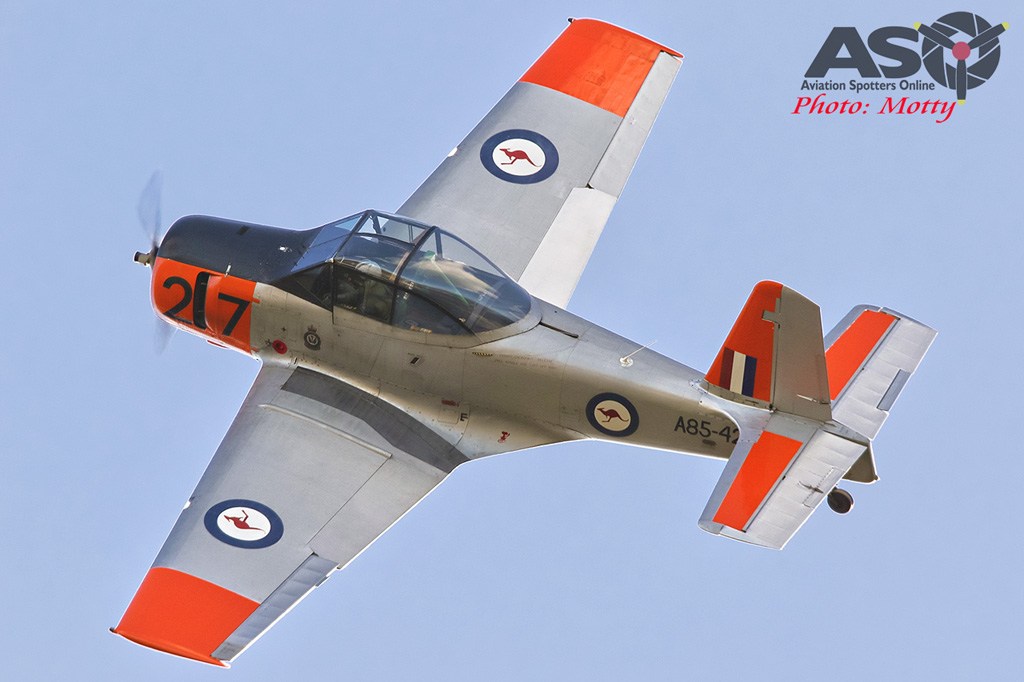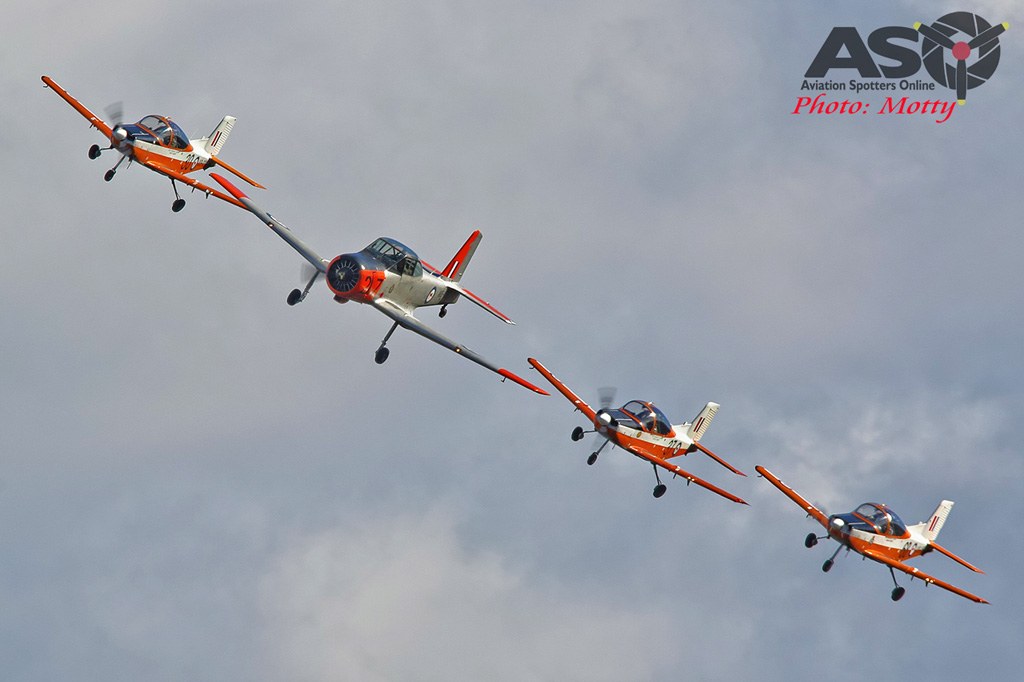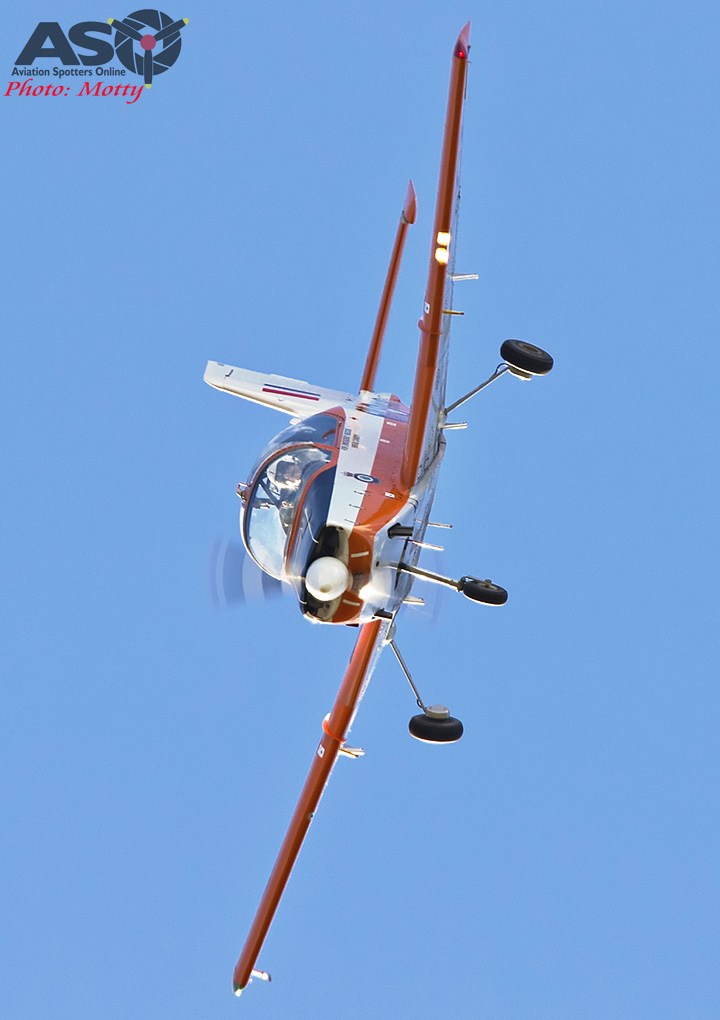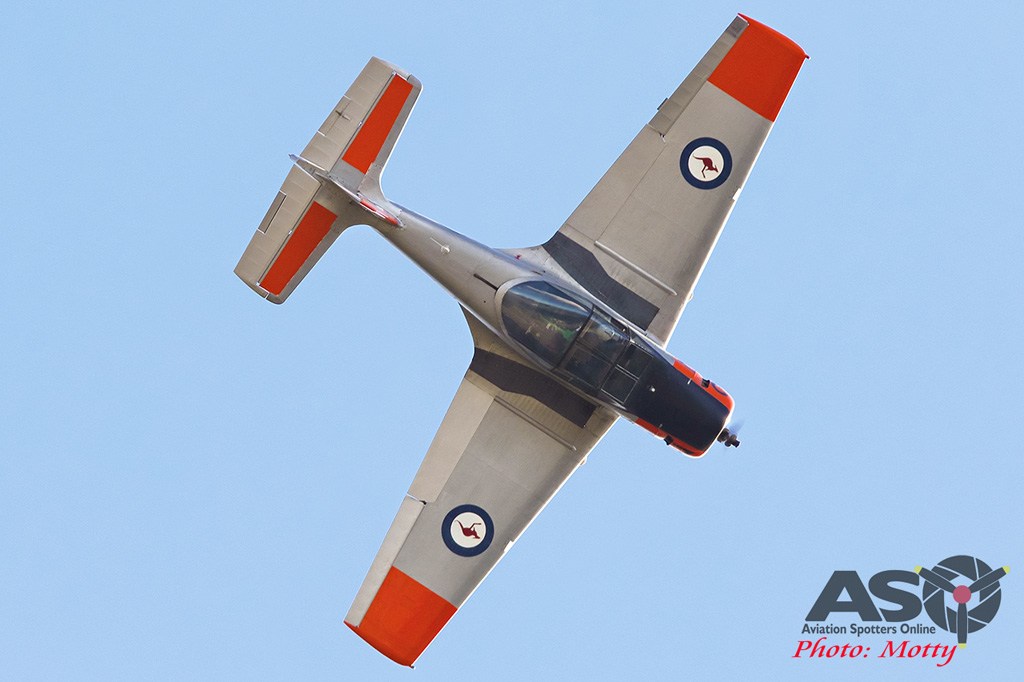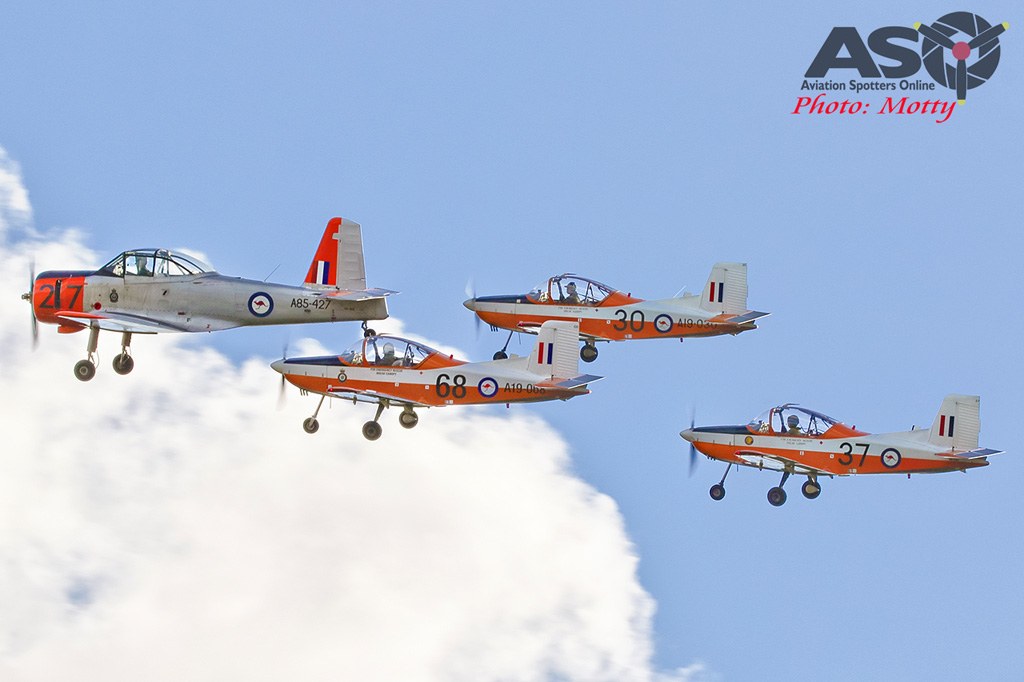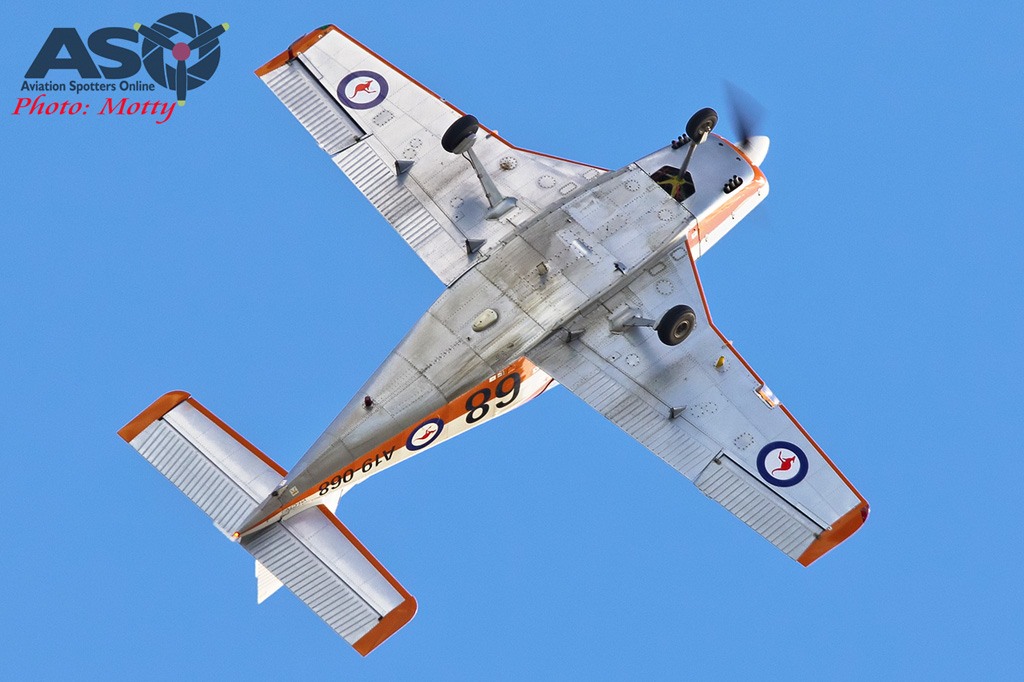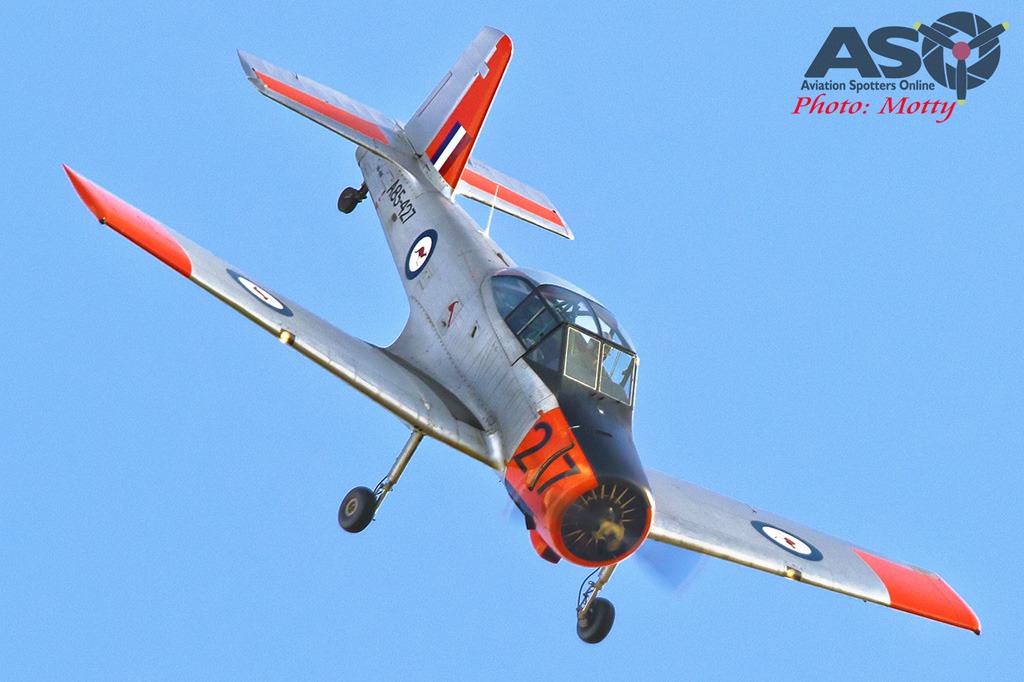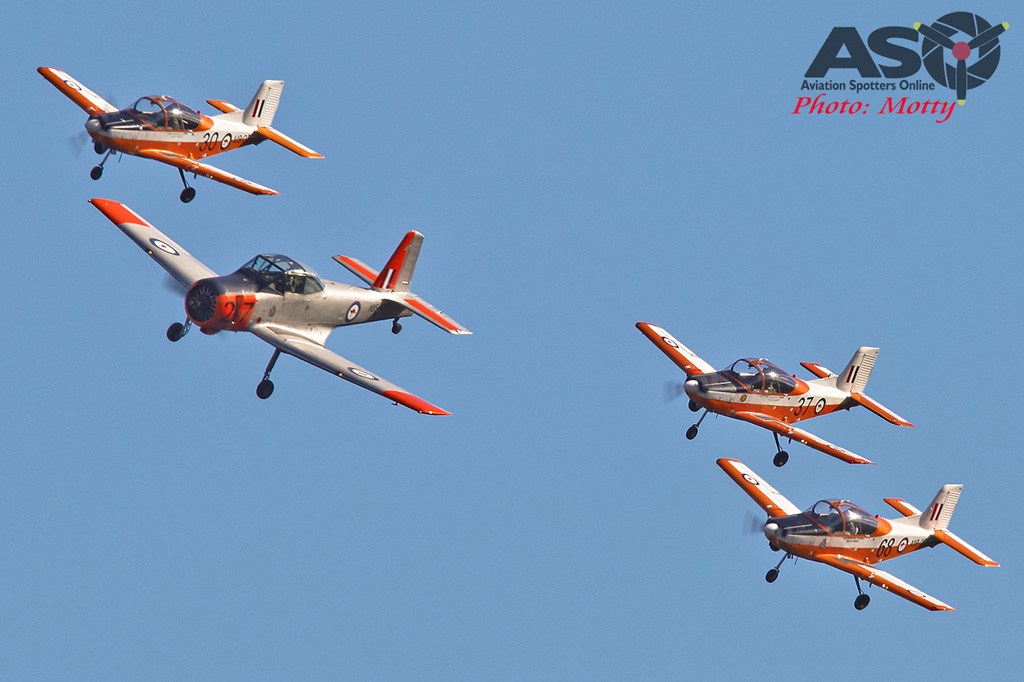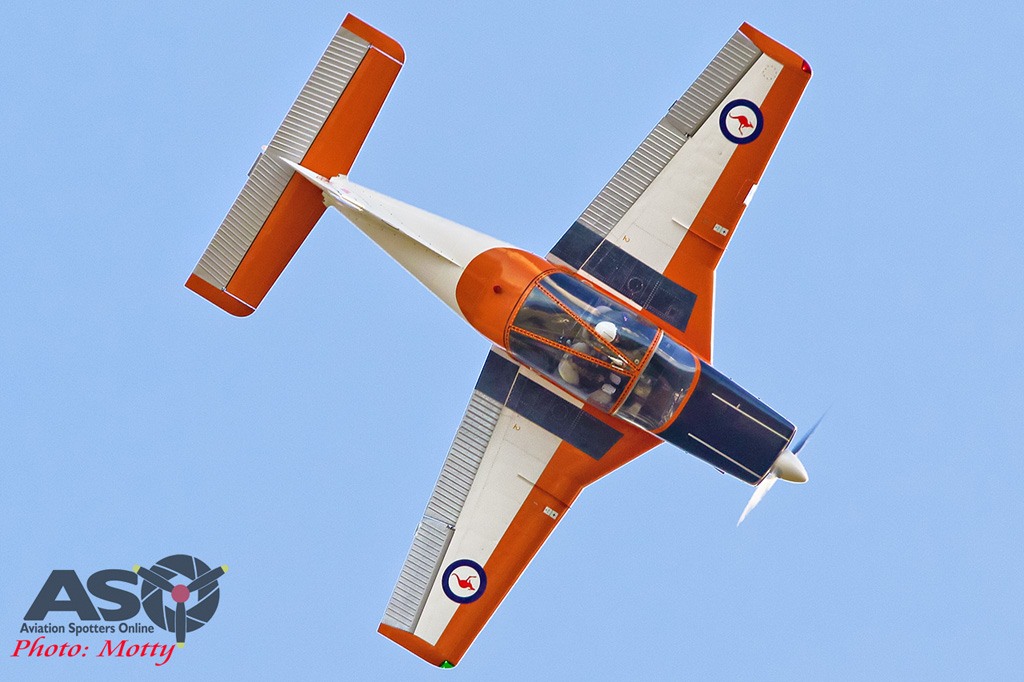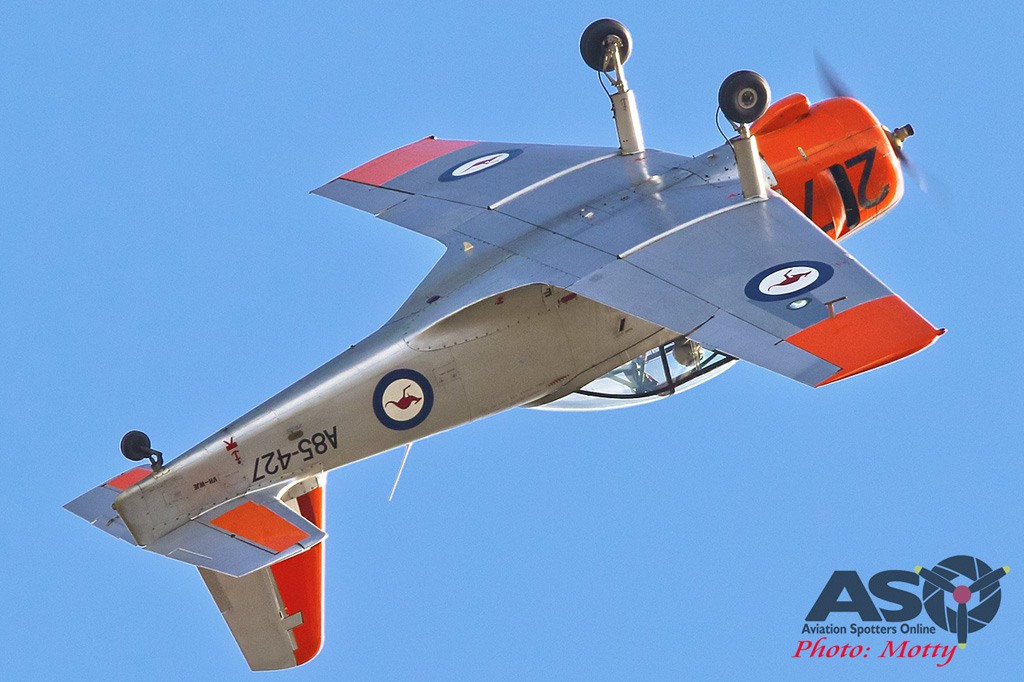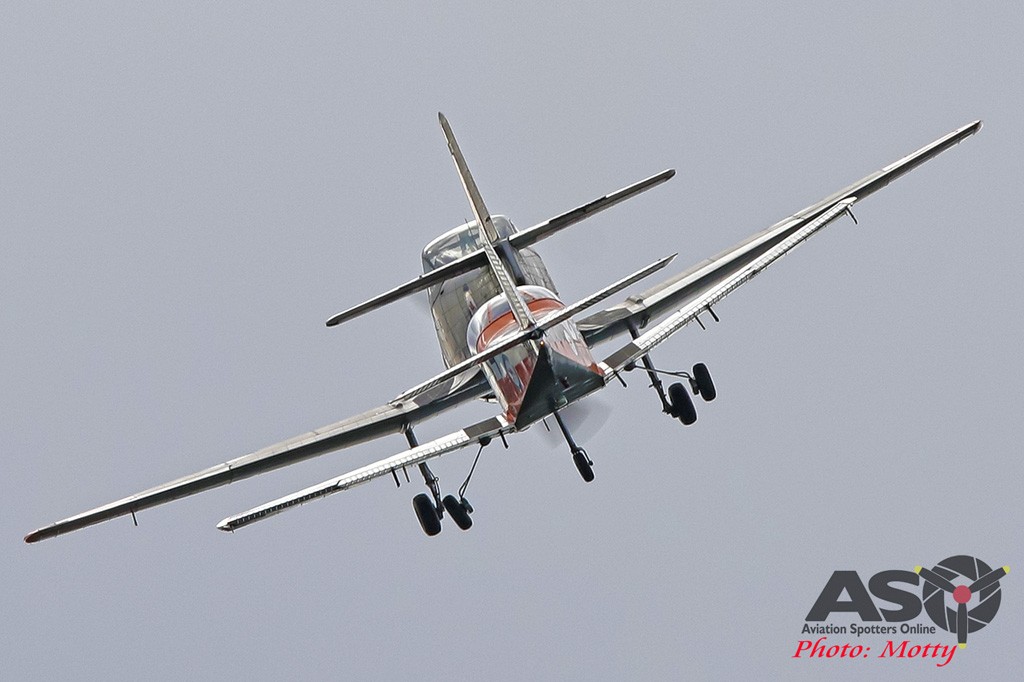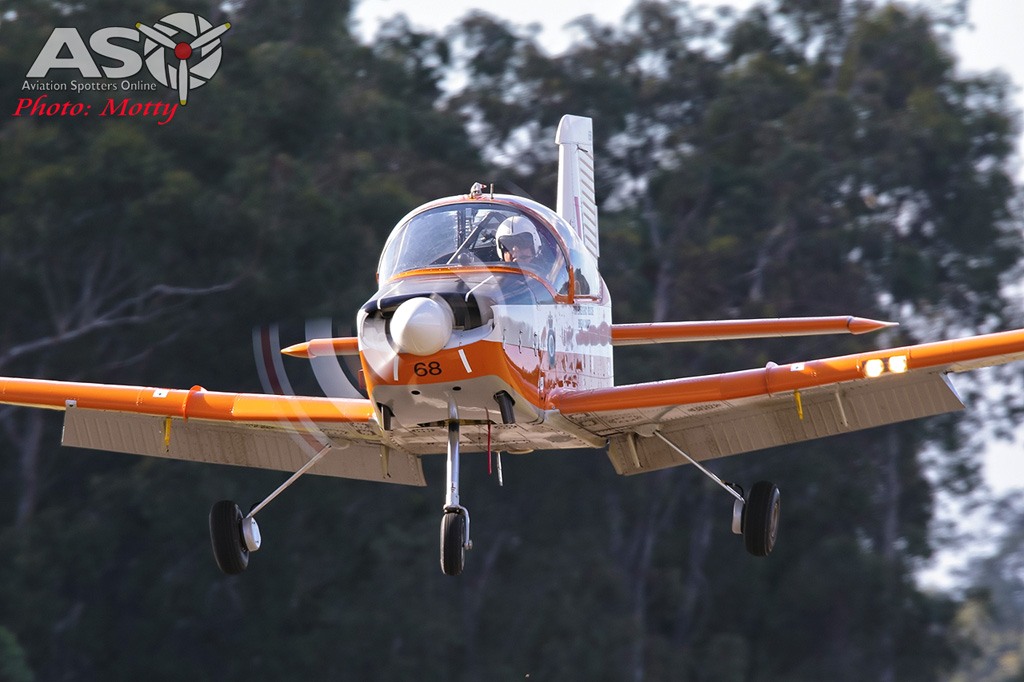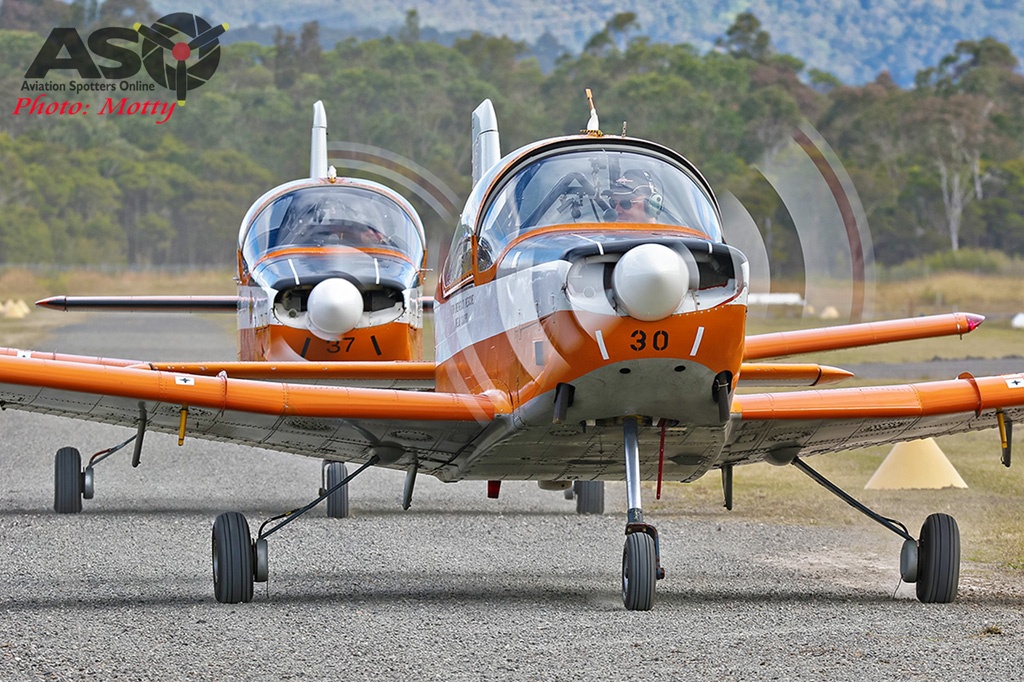 Jesse Jury displayed the PBA Pitts model 12. This pugnacious, radial engined version of the Pitts family has a distinctly different look to its more common and diminutive, in-line engined versions, which is a curious cross between a classic 1930s biplane and a modern, high performance aerobatic machine. Plus, being a radial, it sounds cool too.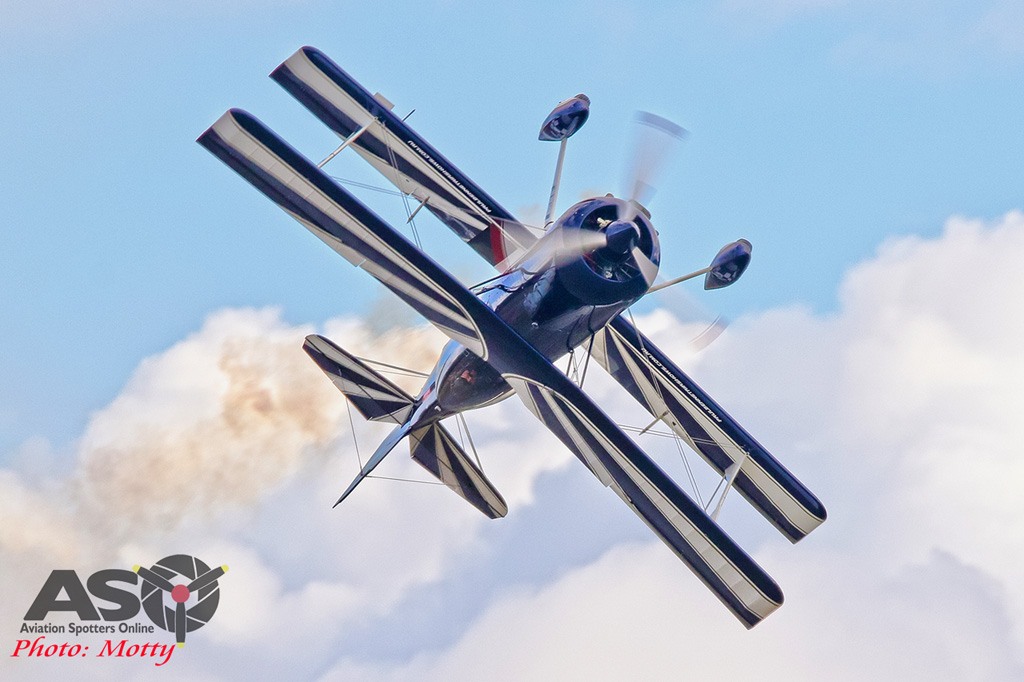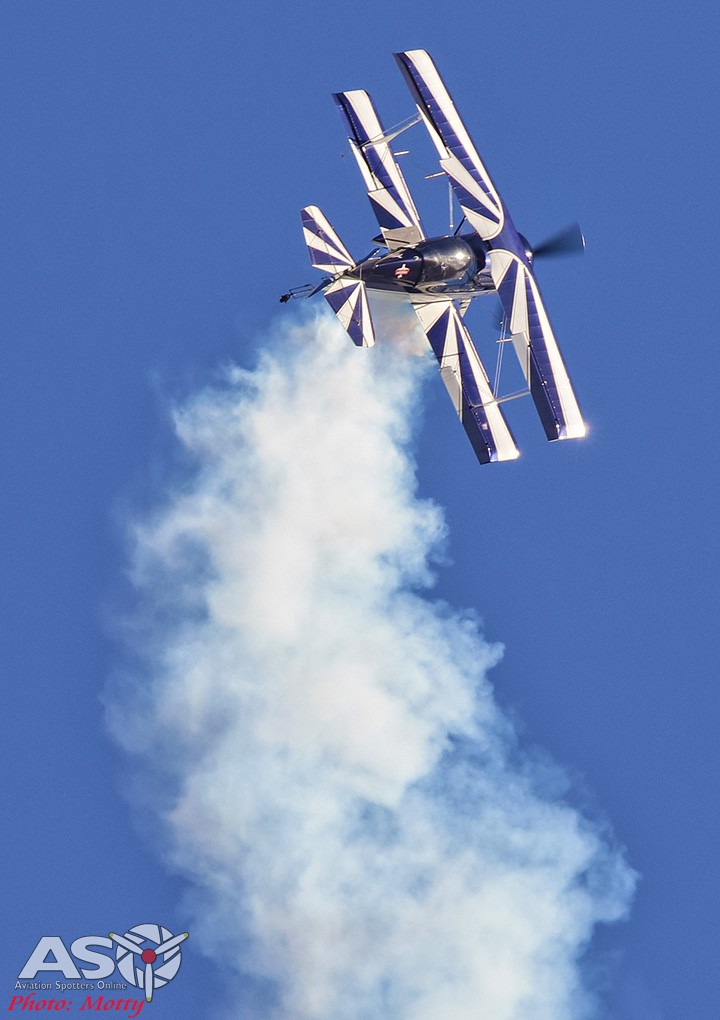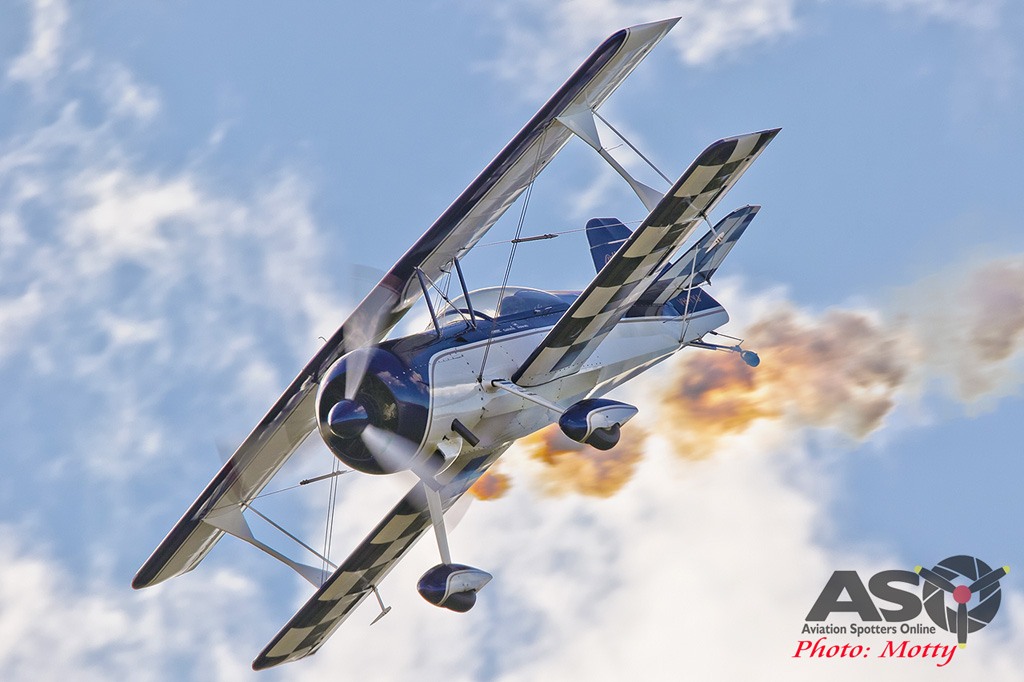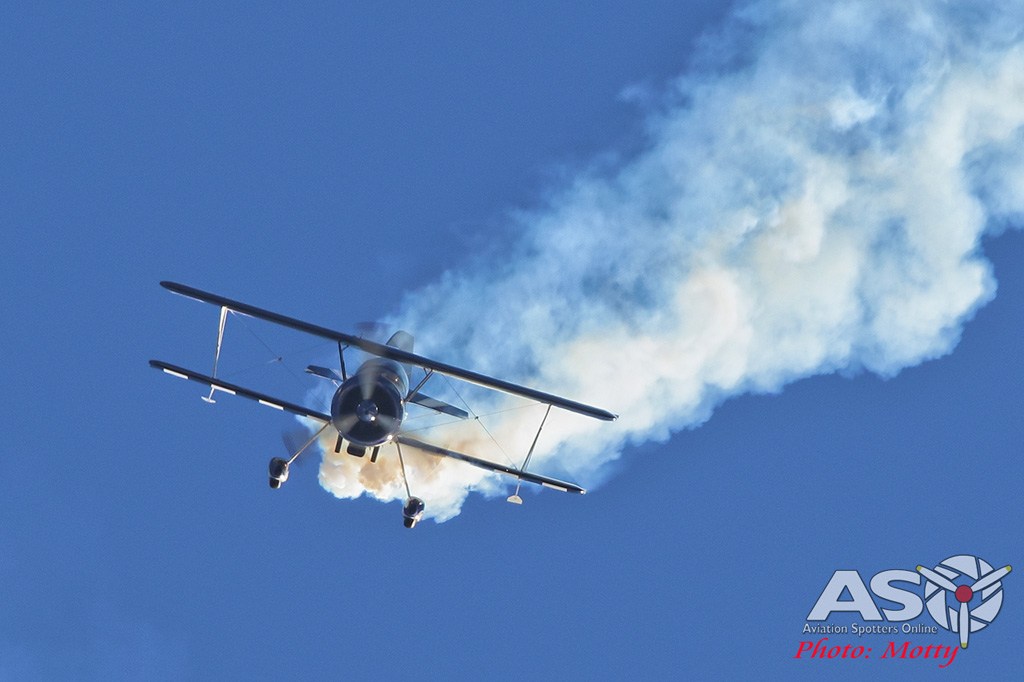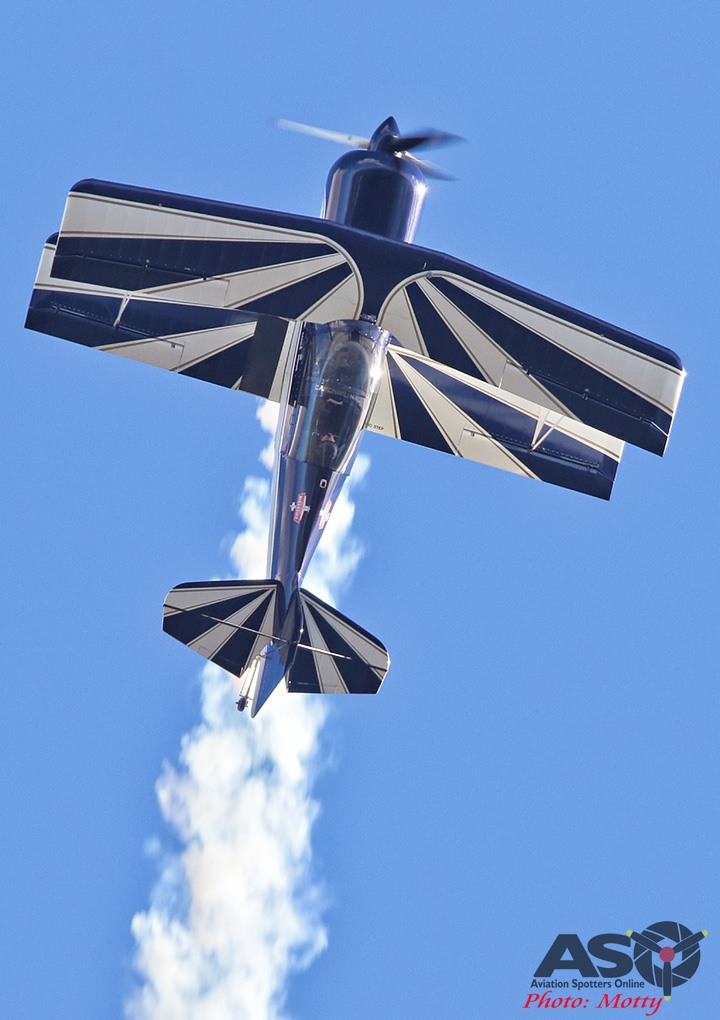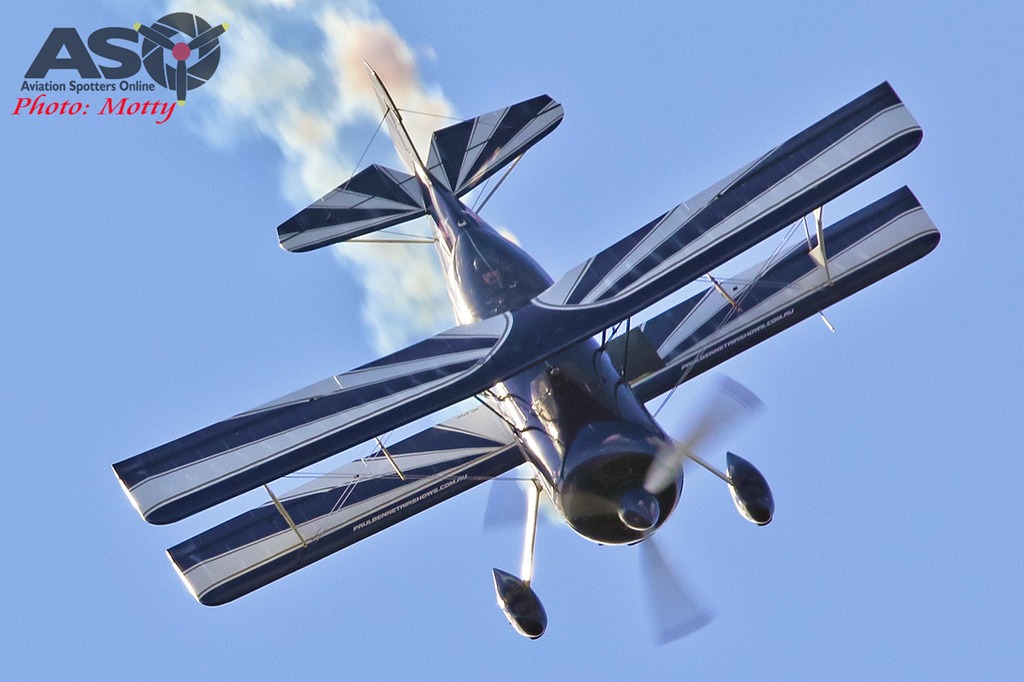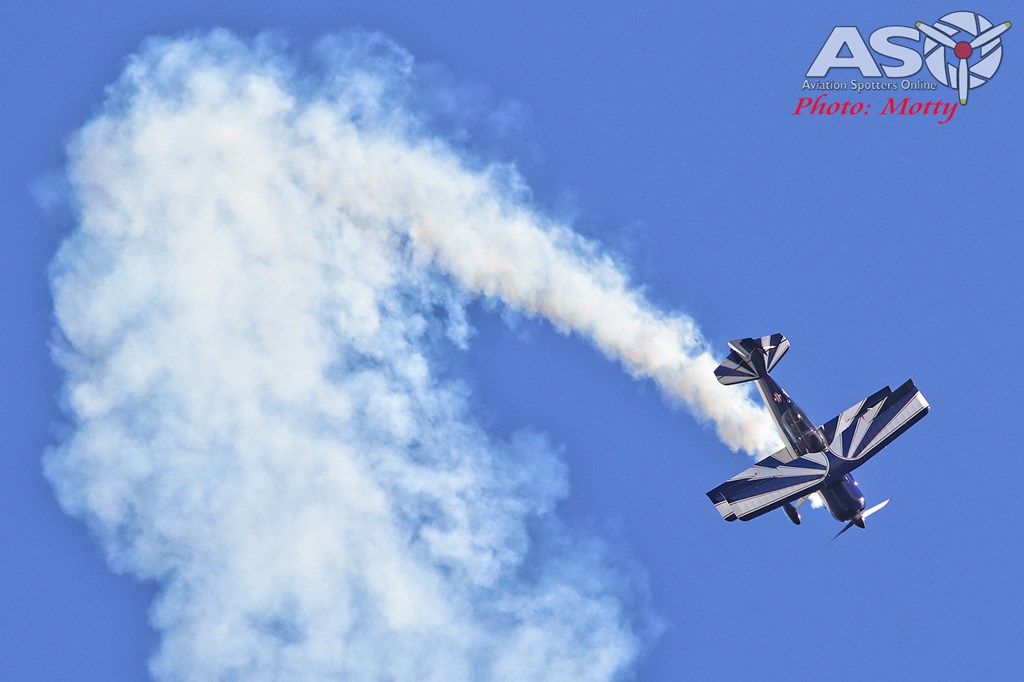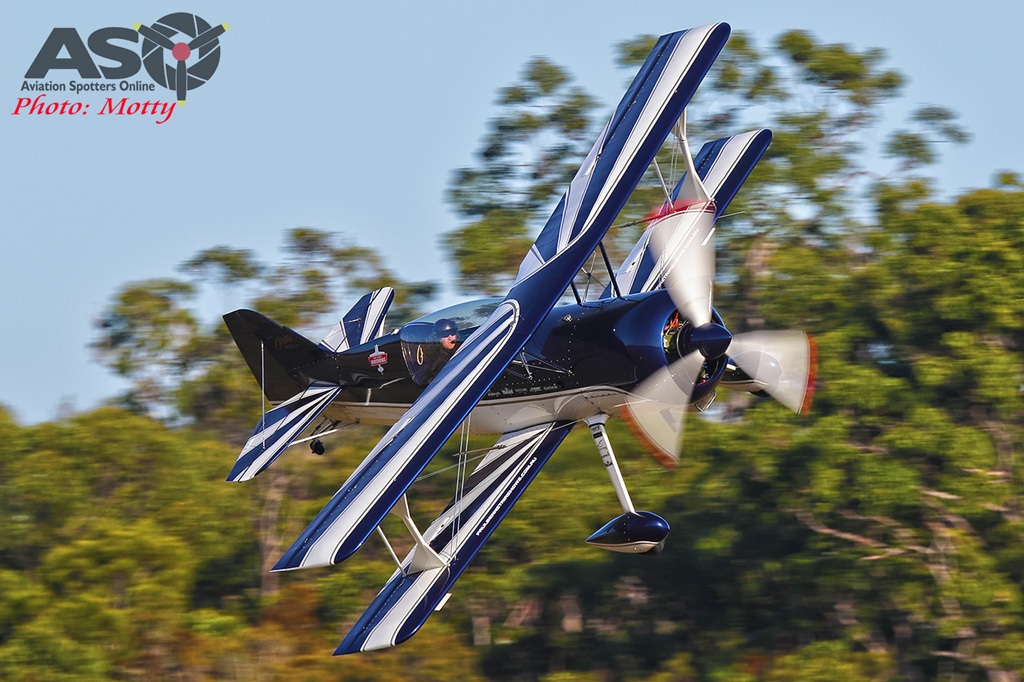 Commentary and announcements were provided throughout the day by well-known airshow commentator Peter Anderson, who can always be relied upon to provide interesting, informative and funny stories about the aircraft, pilots or Australian aviation history to entertain the casual visitor and enthusiast alike.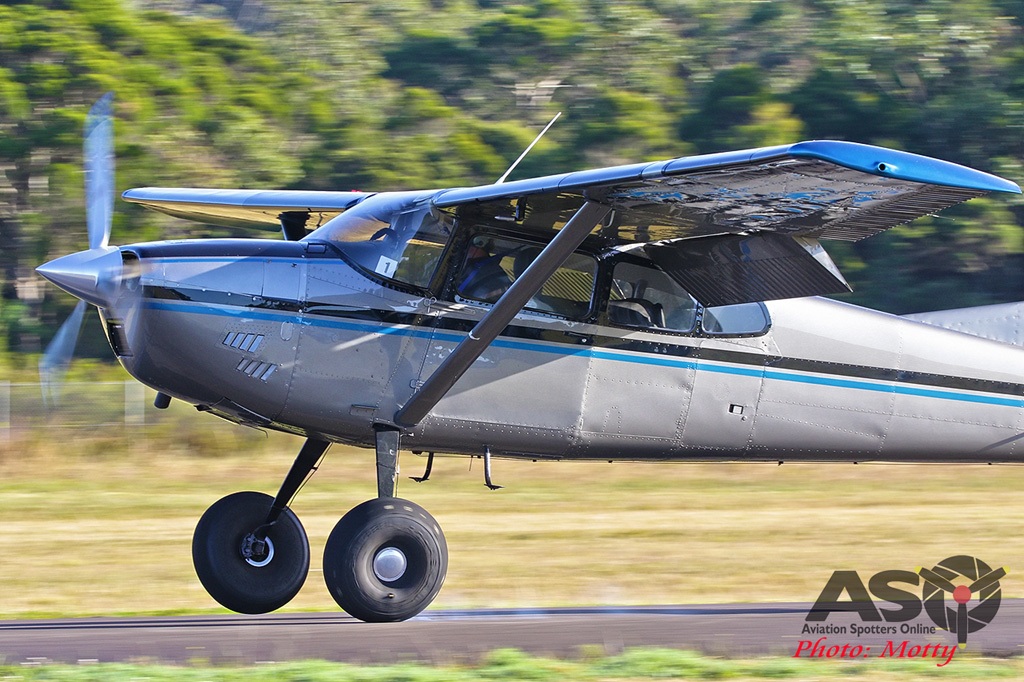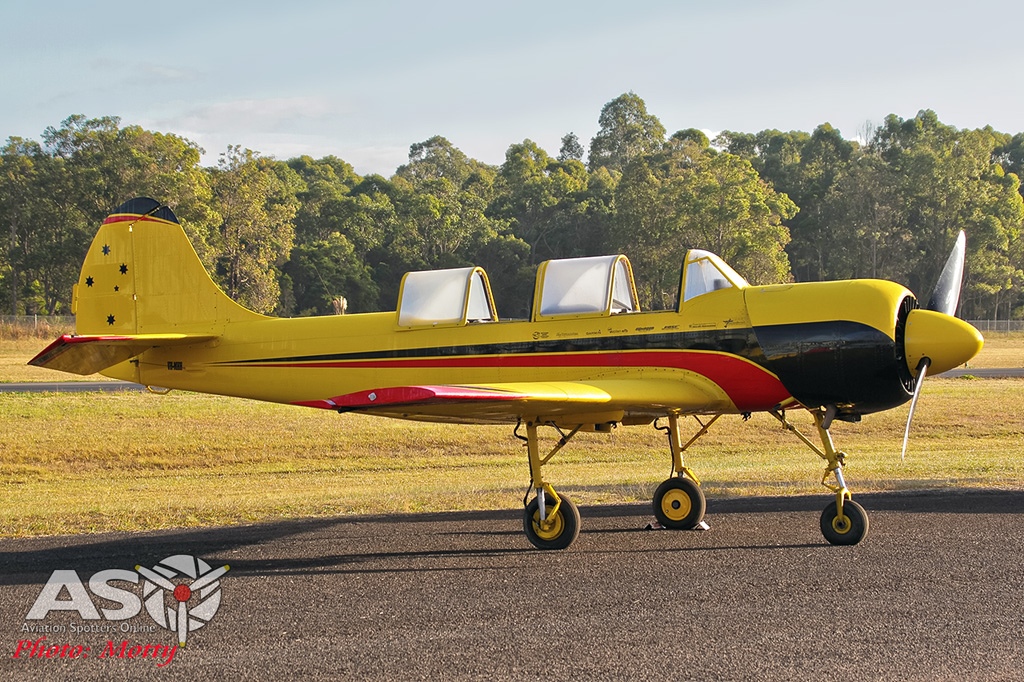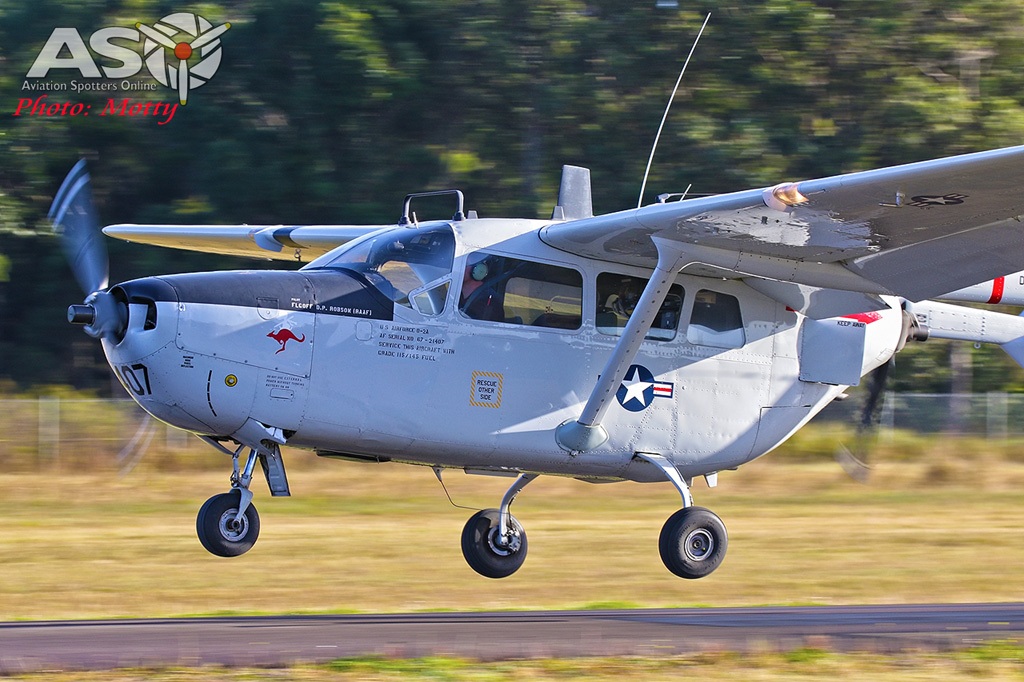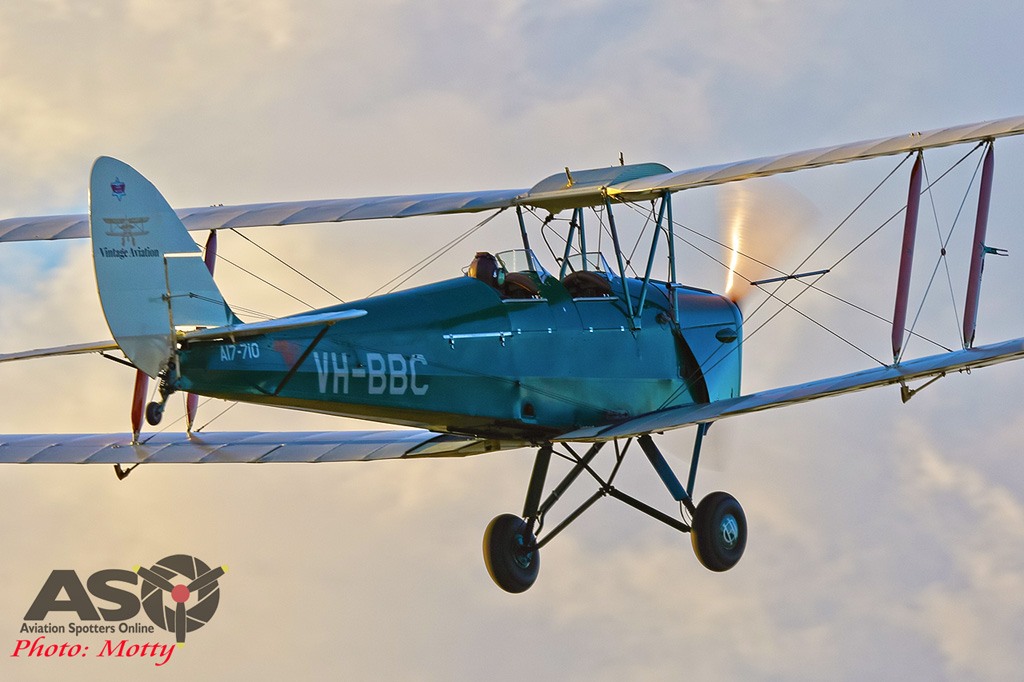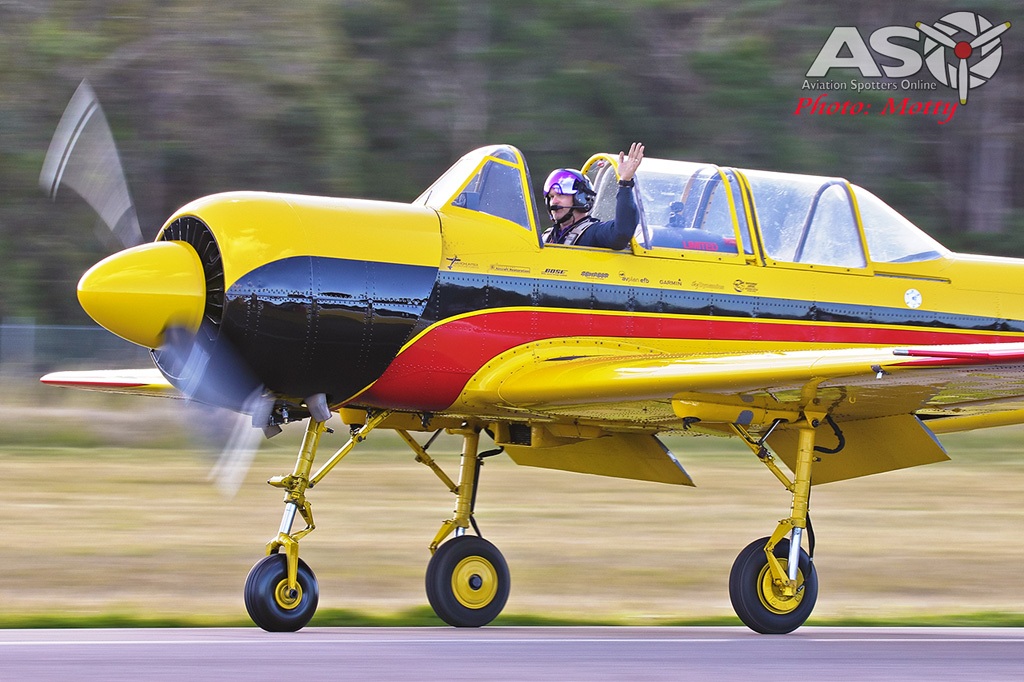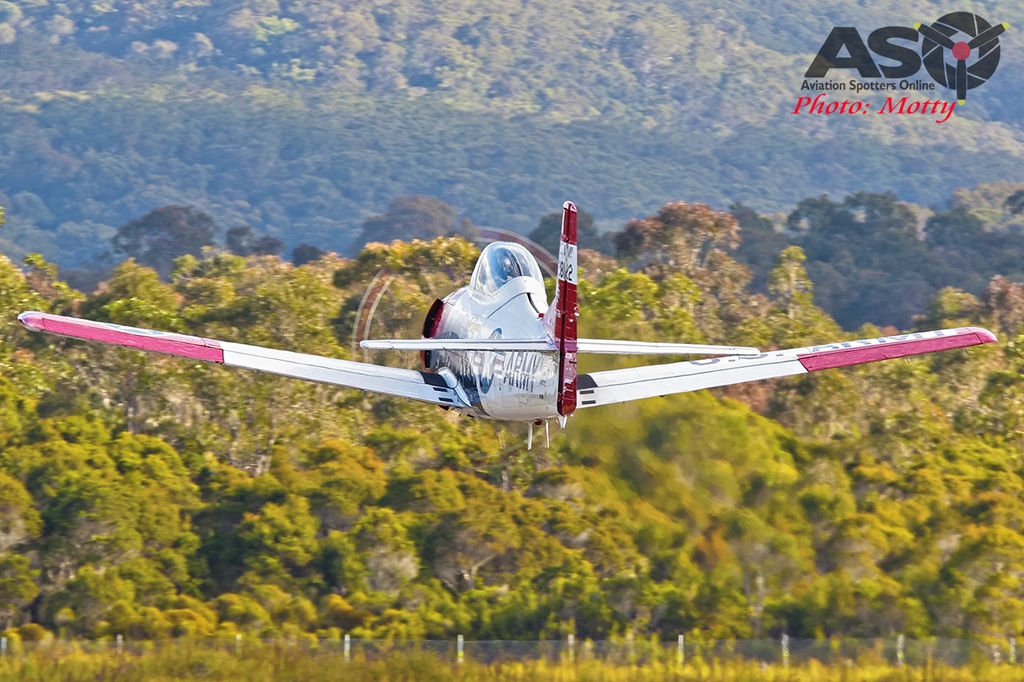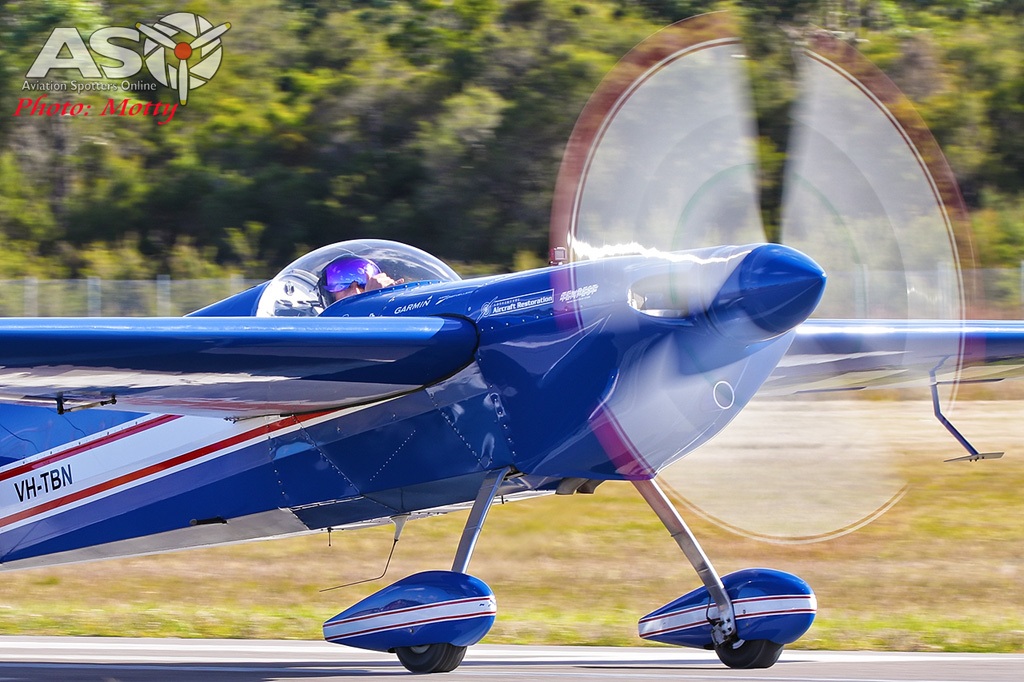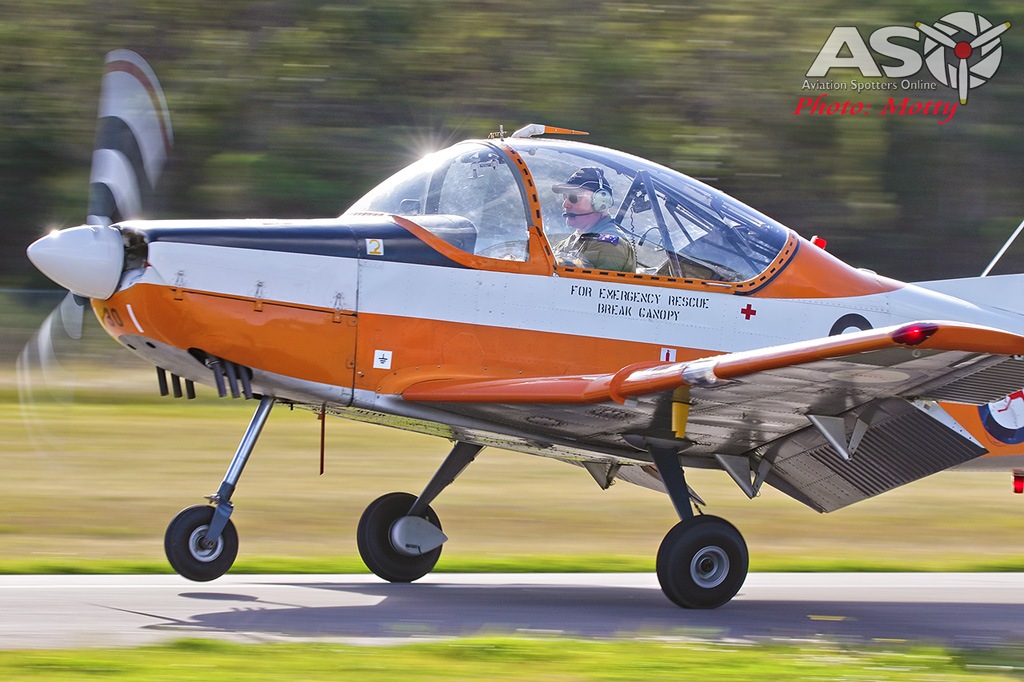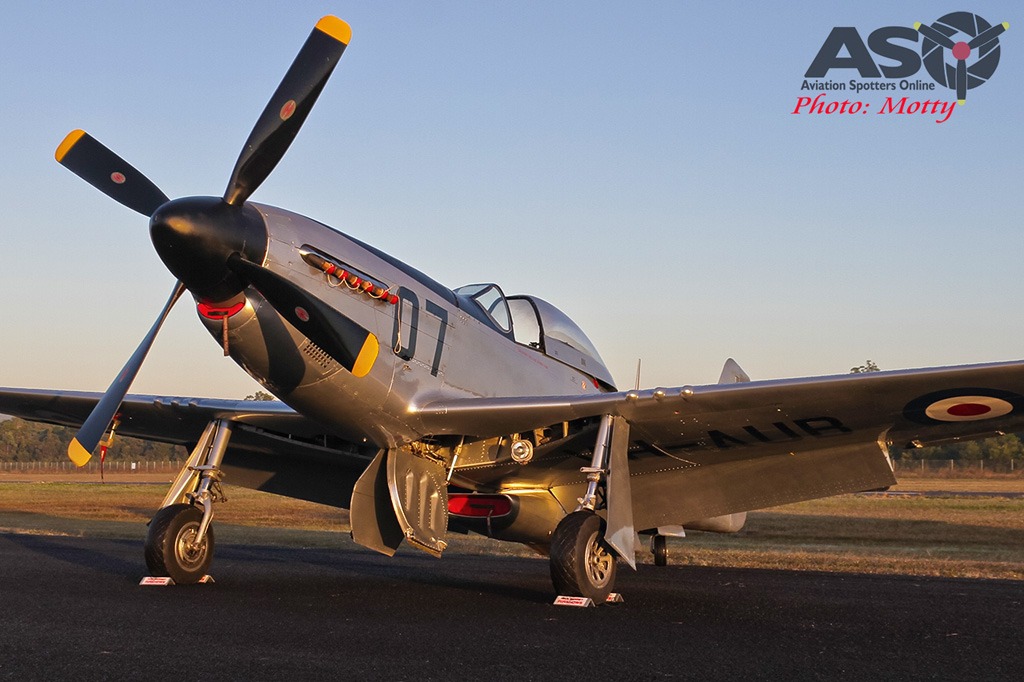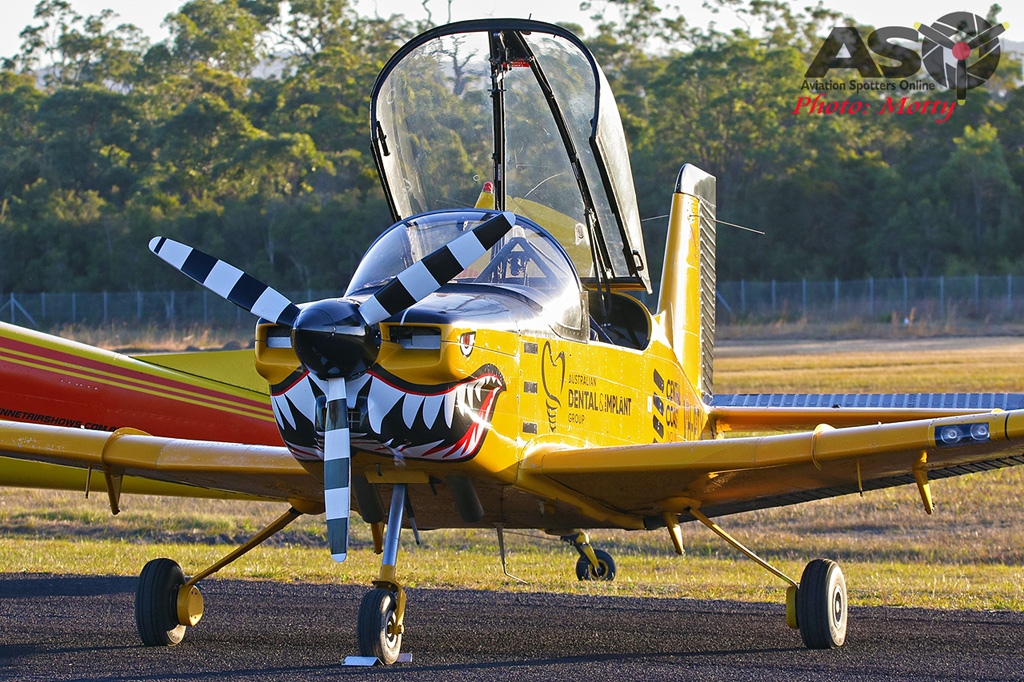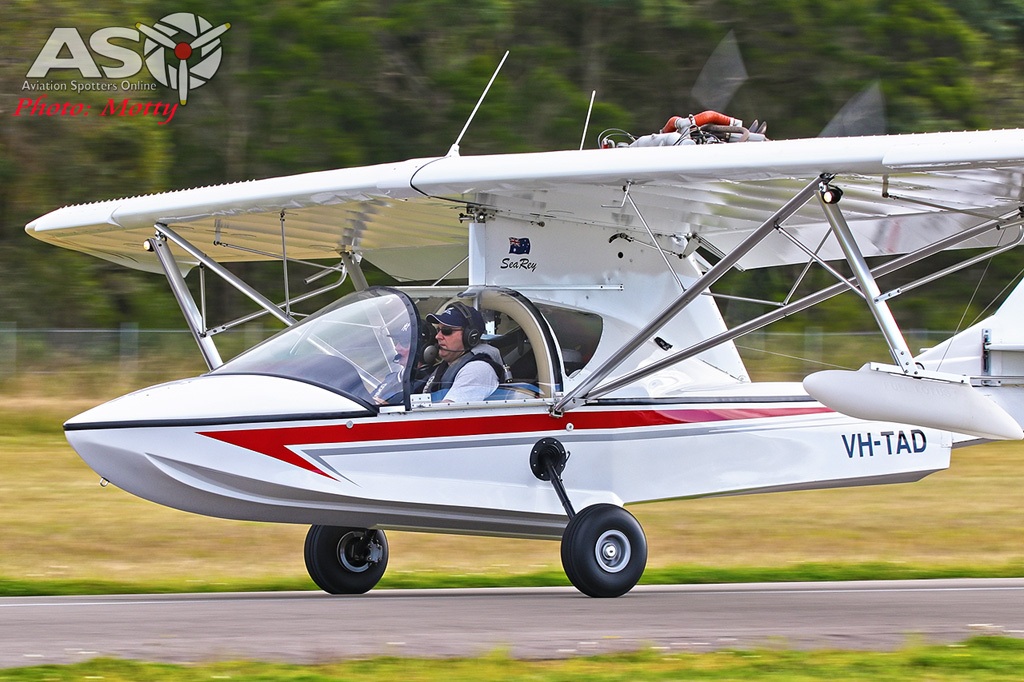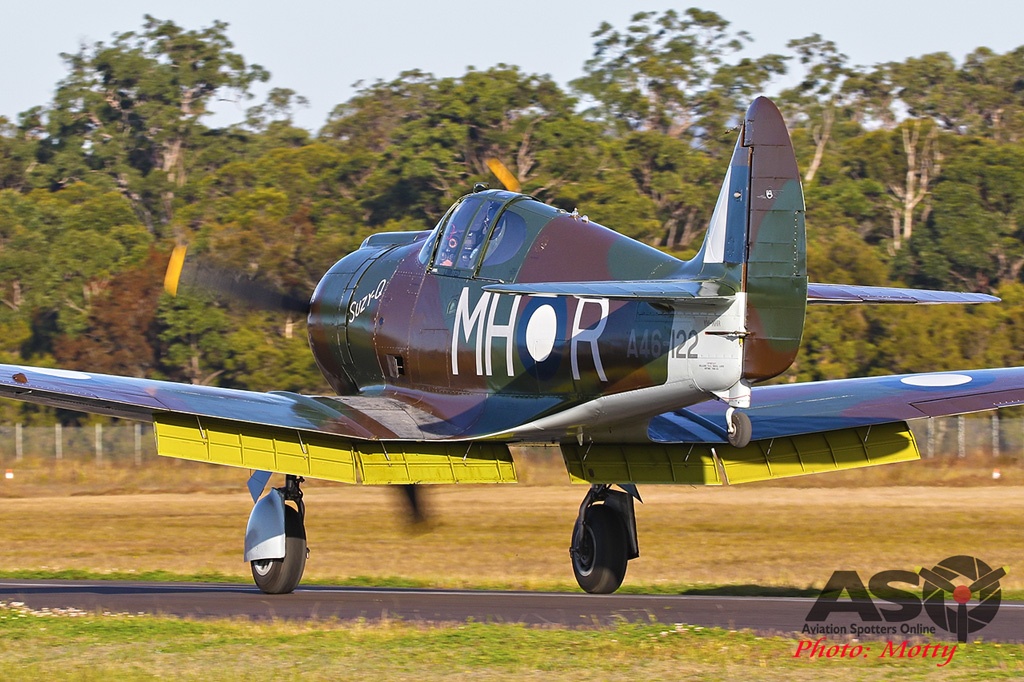 Glenn Graham flew PBA's Cessna O-2 with its distinctive twin boom tail and "push-me-pull-you" twin engine configuration. Originally based on a civilian design, the militarised O-2 was used for FAC (Forward Air Control) during the Vietnam War and Glenn displayed the speed and agility of this machine which made it so useful in that role.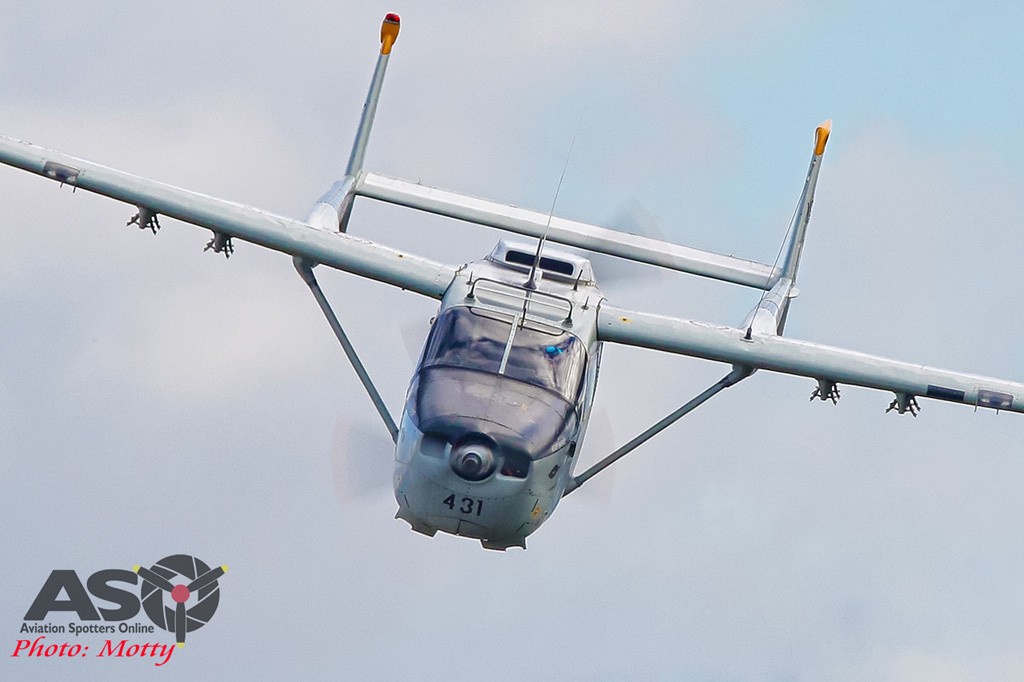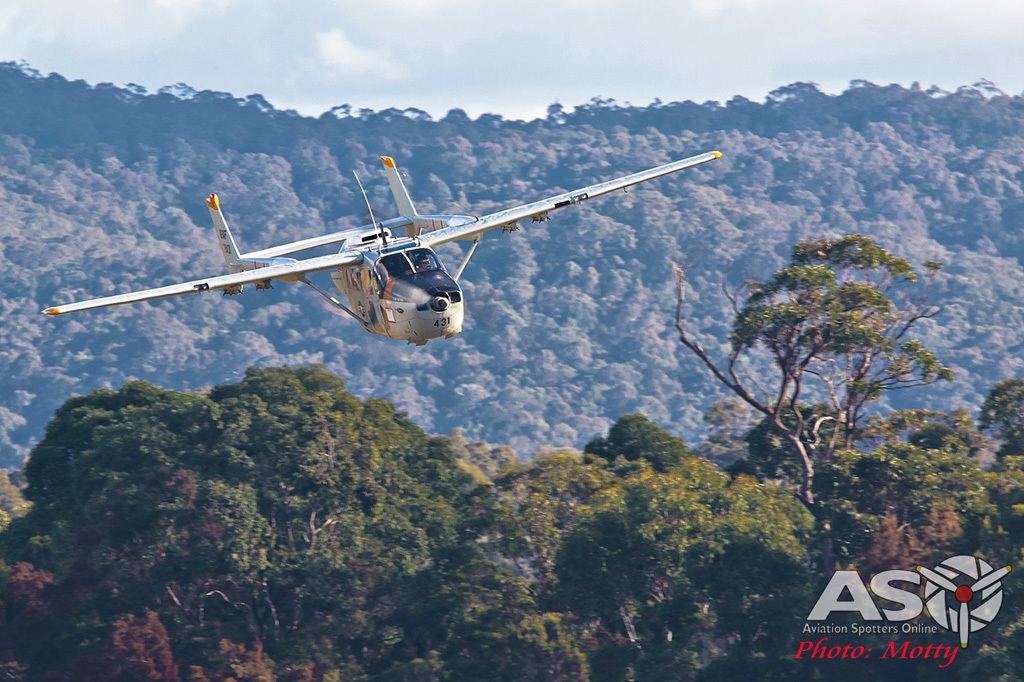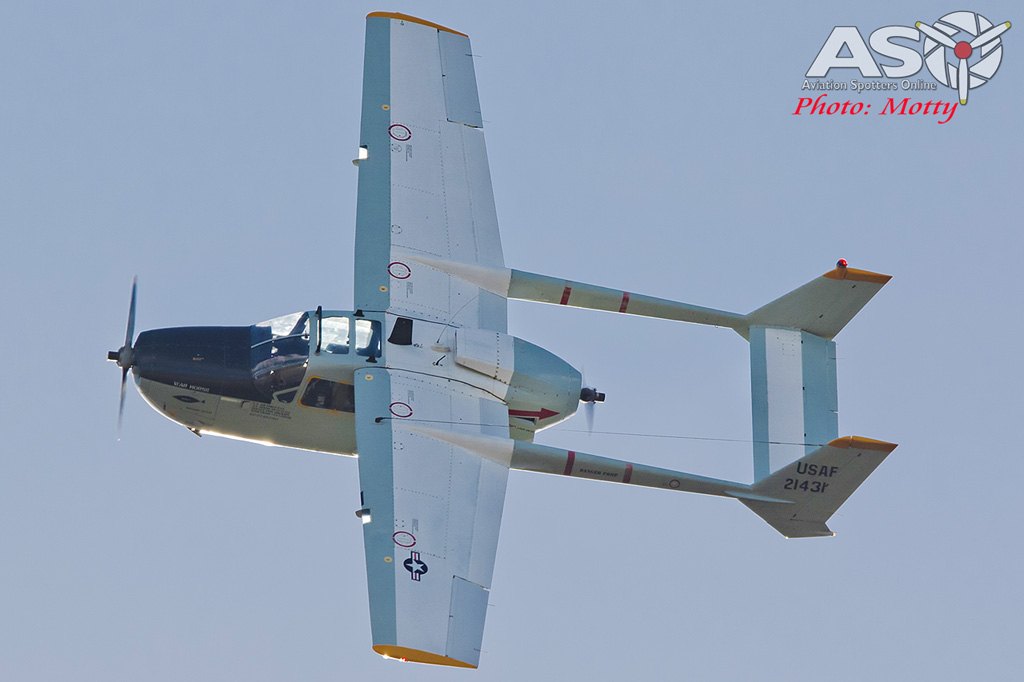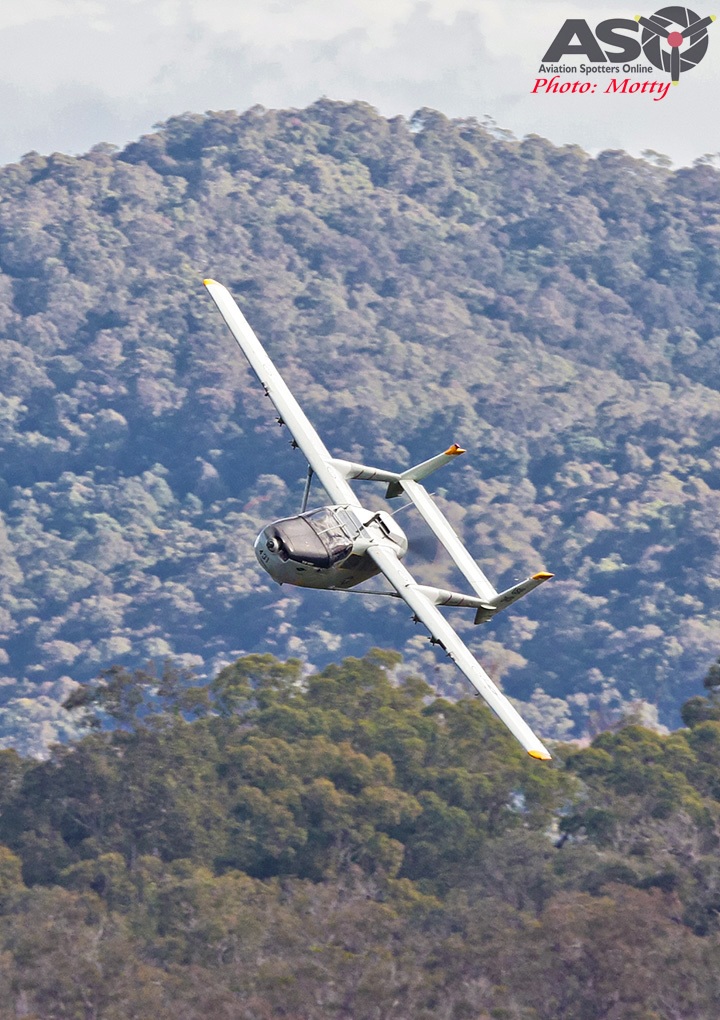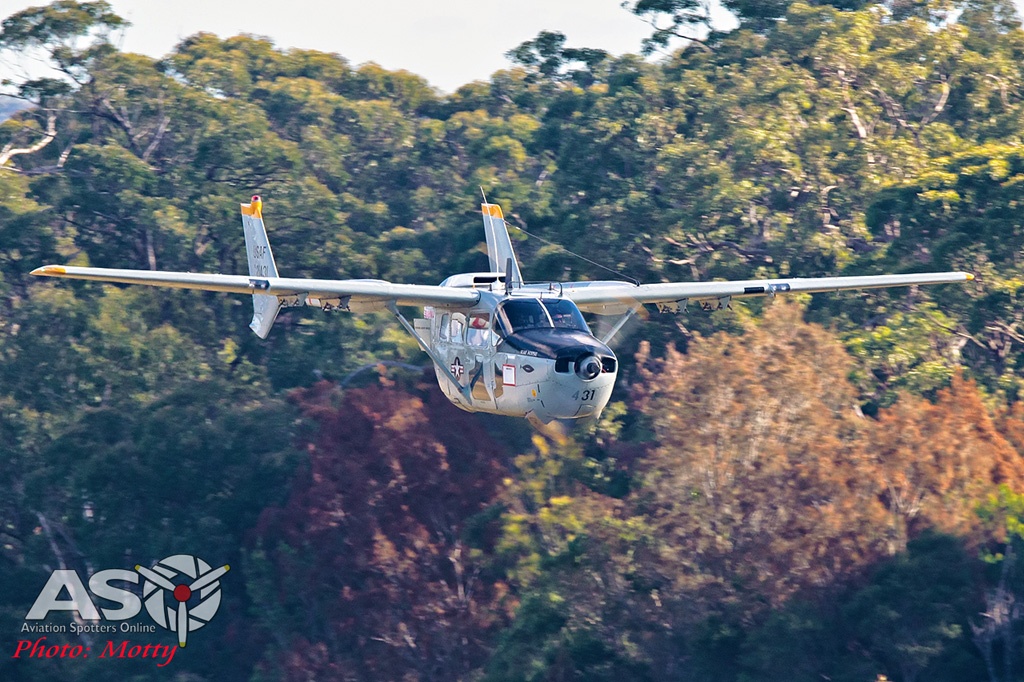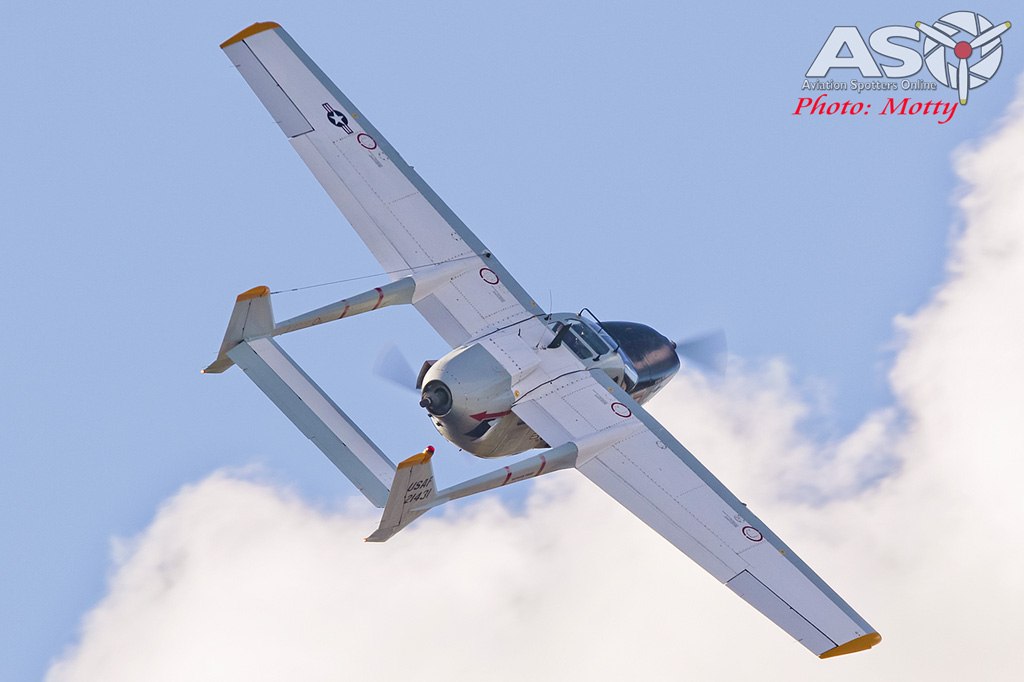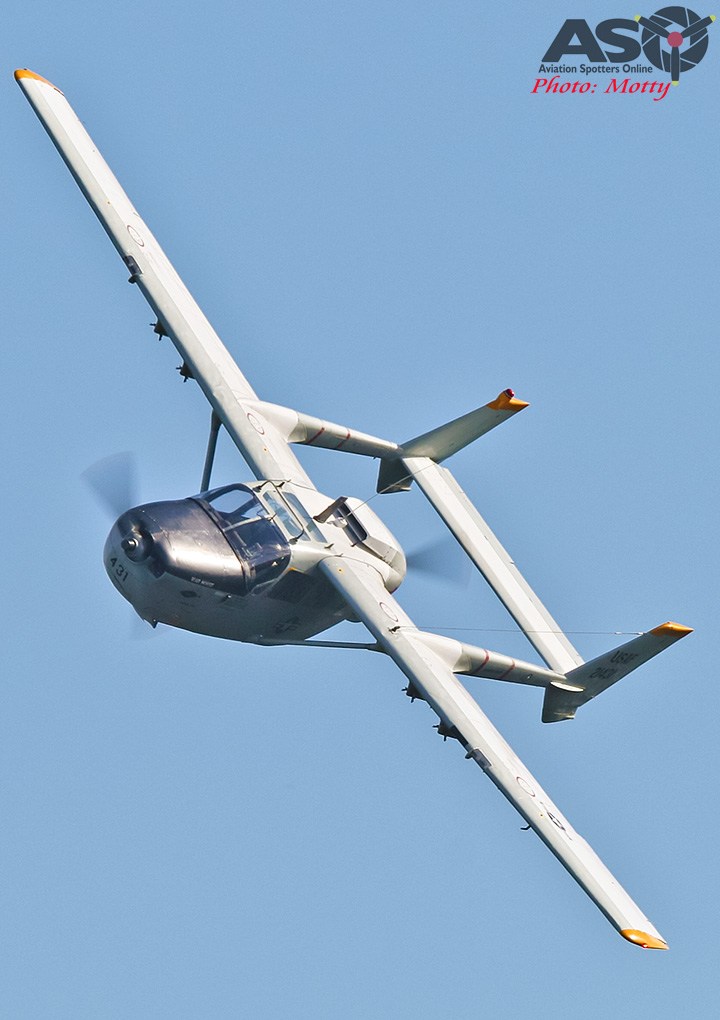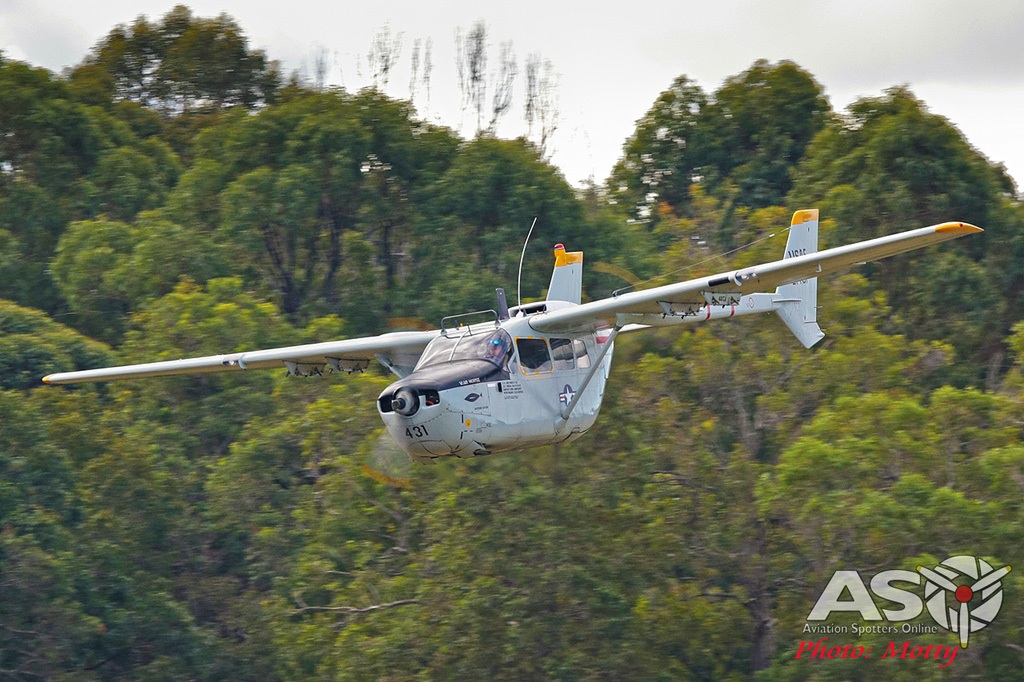 From a small twin to a large single, Glenn Collins was next up in PBA's huge Grumman Avenger, the largest single-engined aircraft of WWII. Designed as a torpedo bomber at the start of the war, the Avenger saw service throughout the conflict and well into post-war years including (somewhat ironically) with Japan's post-war Self Defense Force. Glenn's routine showed off the surprising speed and maneuverability of such a large machine and included a mock attack run with bomb doors open, explosions and smoke (on the ground of course 😉 ).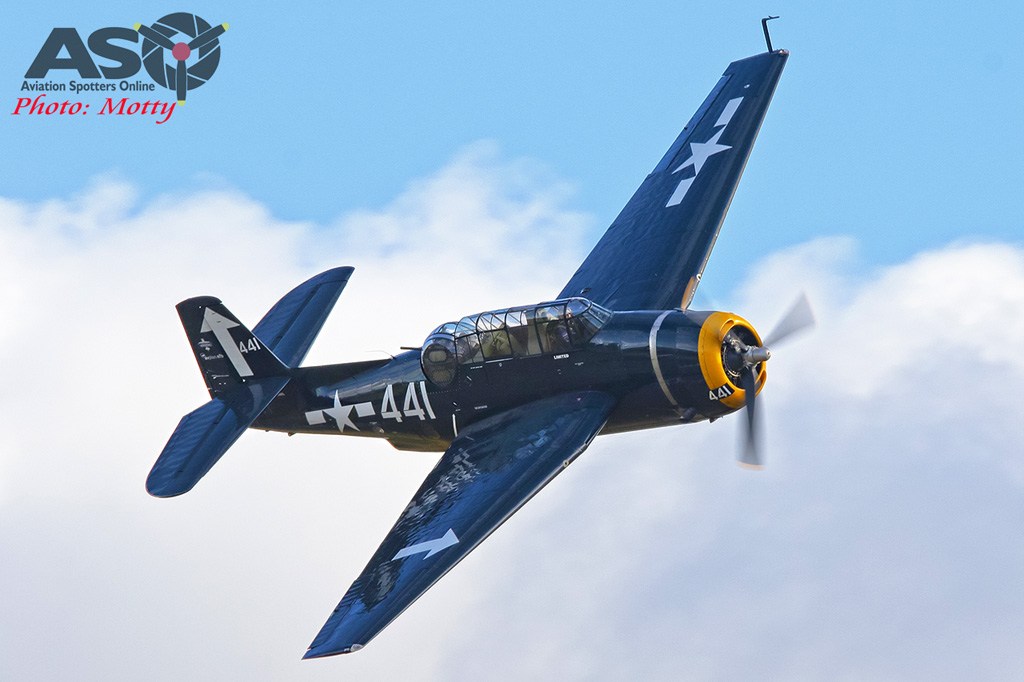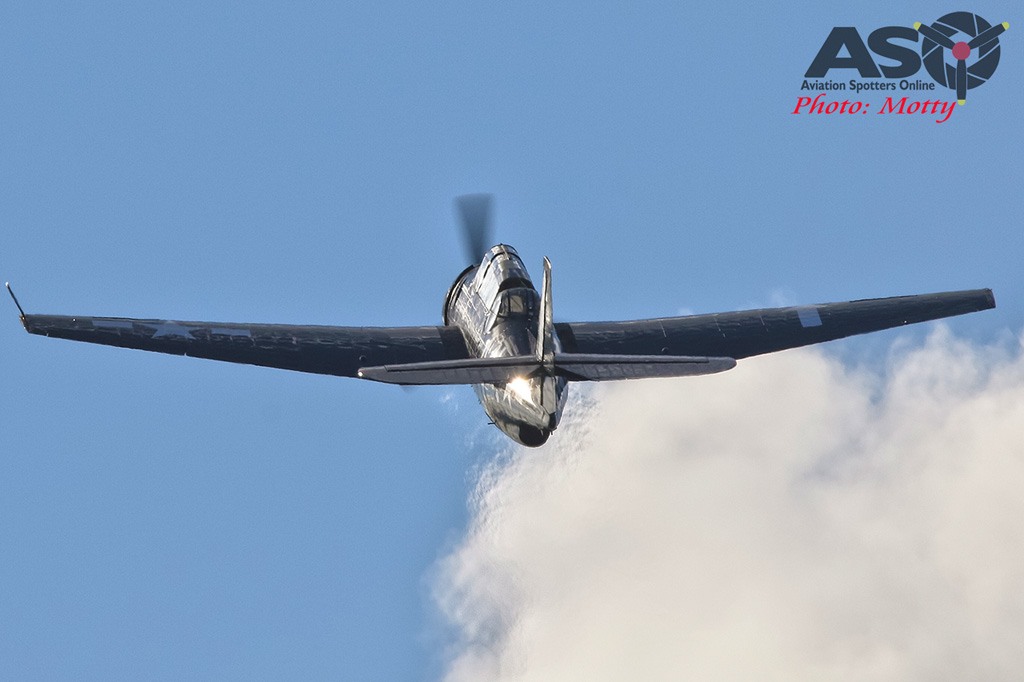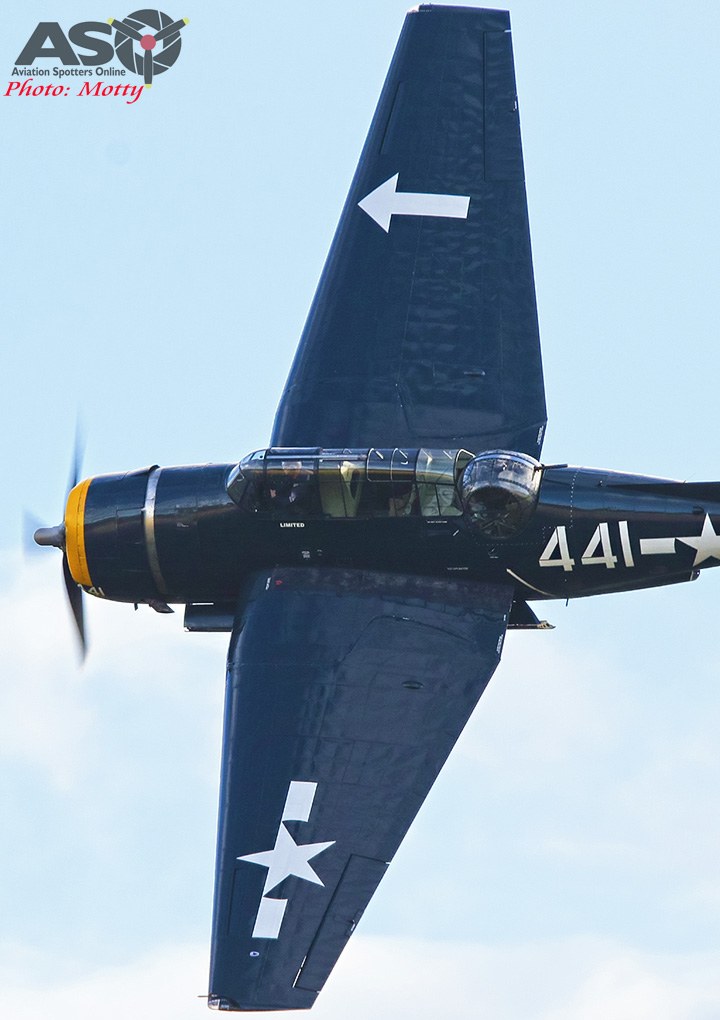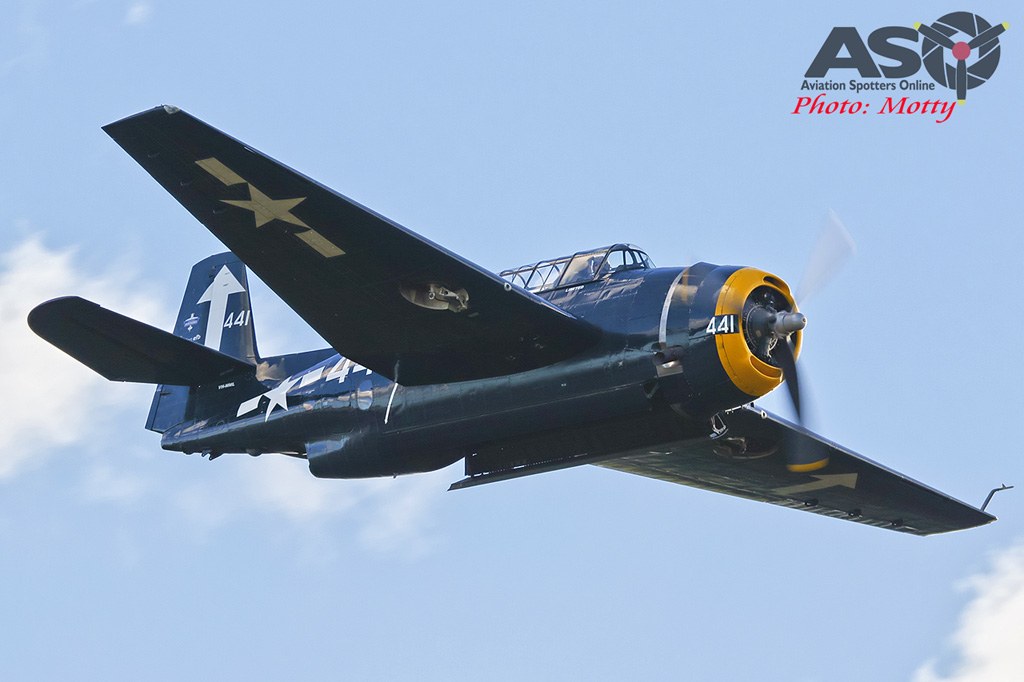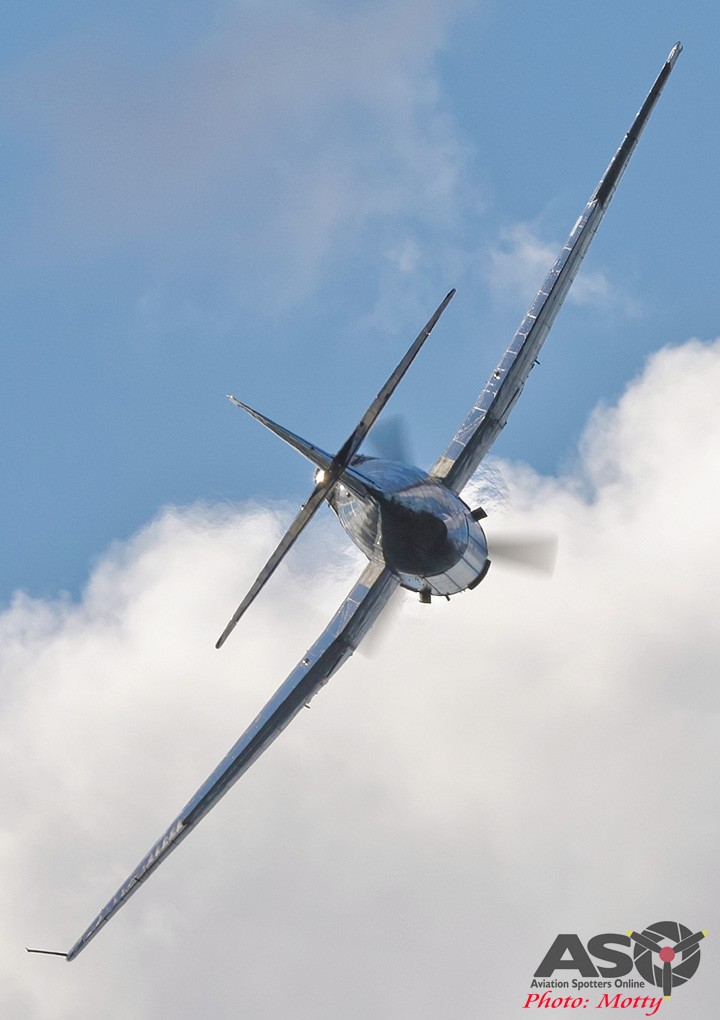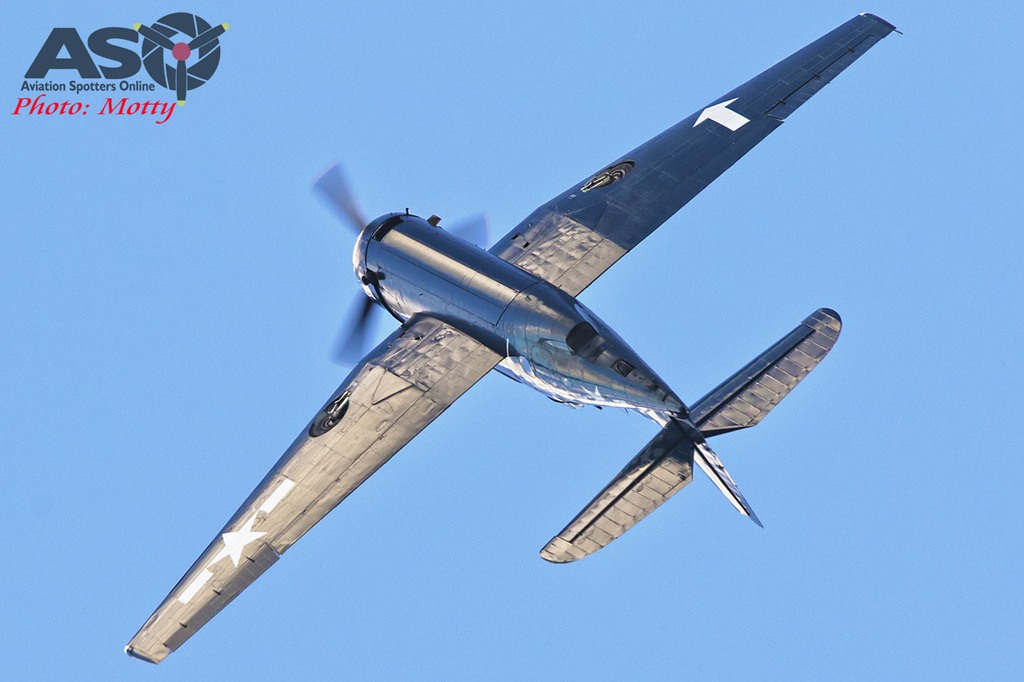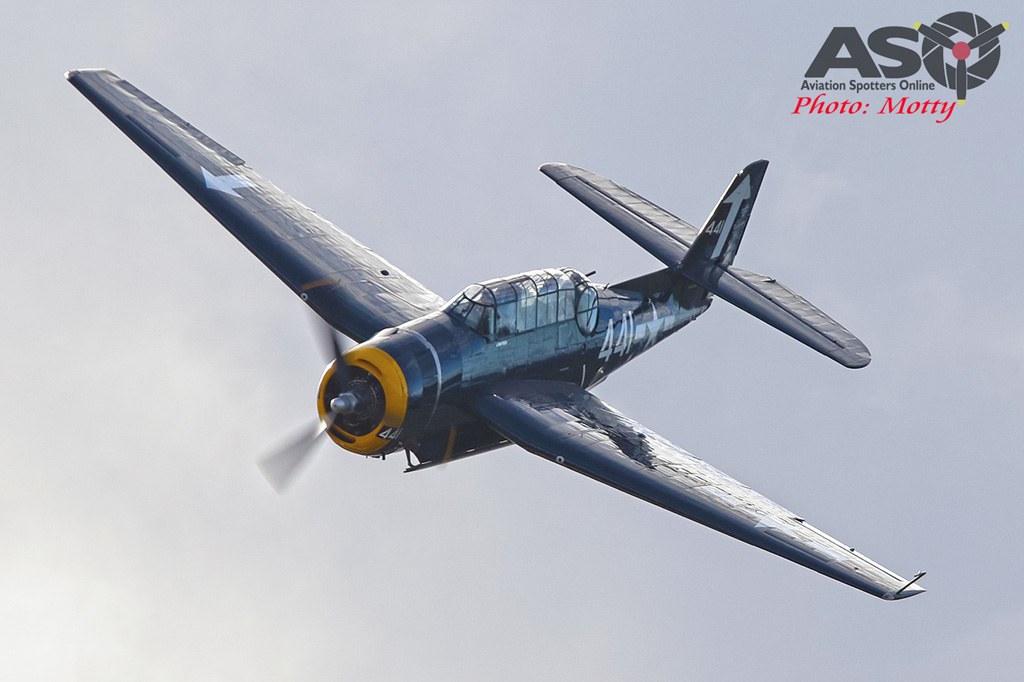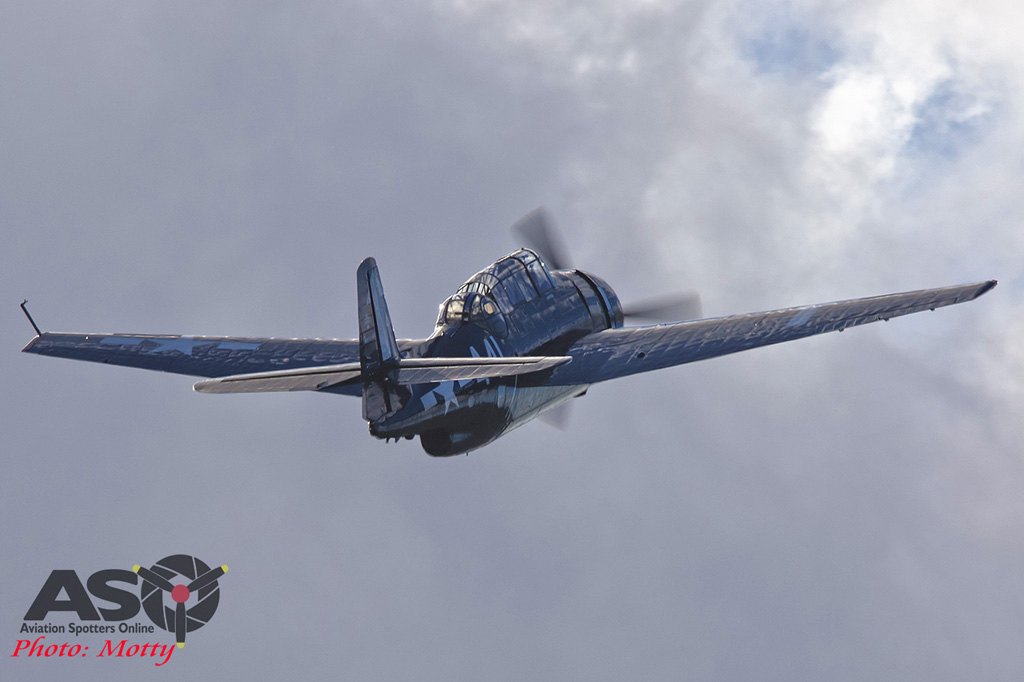 While everyone's attention had been focused on the Avenger, Glenn Graham swapped the O-2 for AeroHunter's Yak-52 and followed up with yet another enthralling display of precision aerobatics. A basic trainer designed in Russia in the mid-1970s, the Yak-52 has since become one of the most popular warbirds (civilian owned, ex-military aircraft) in Australia and, indeed, around the world.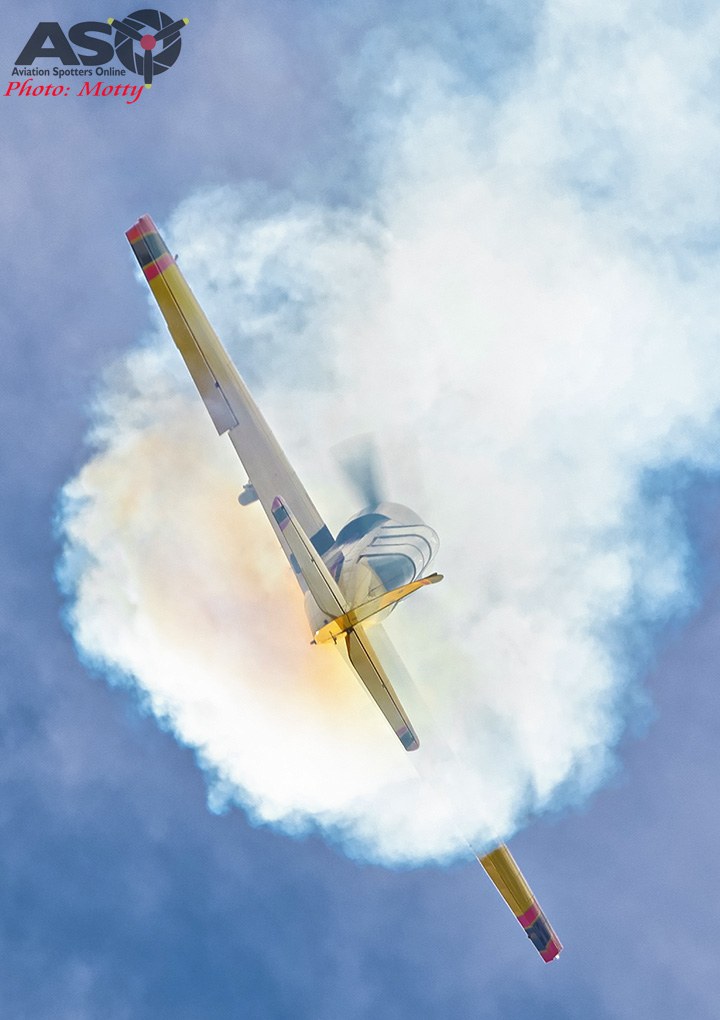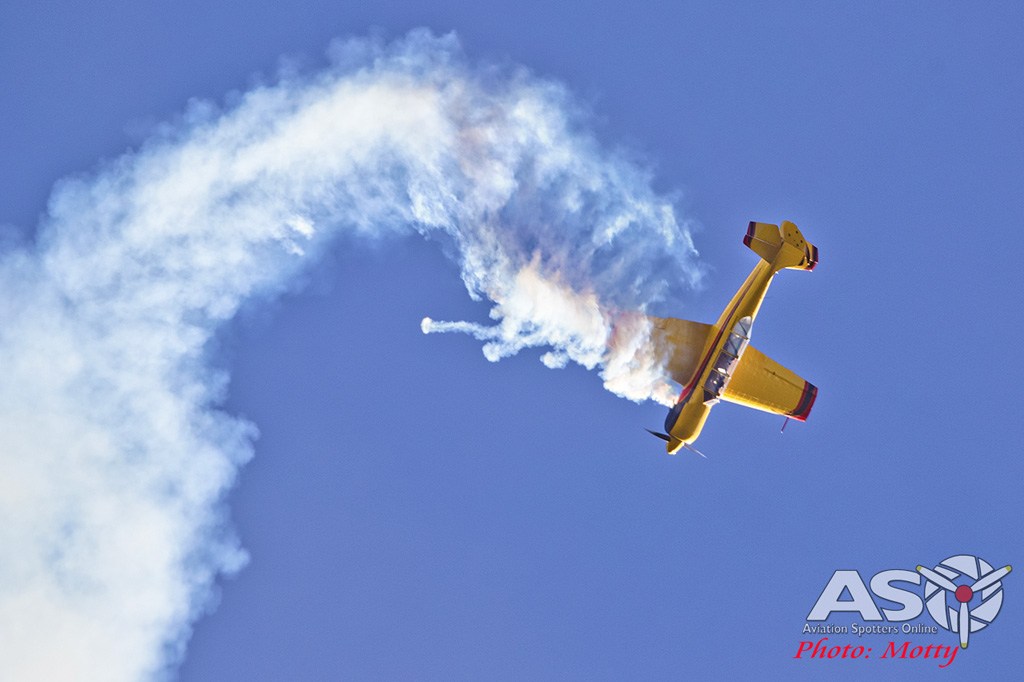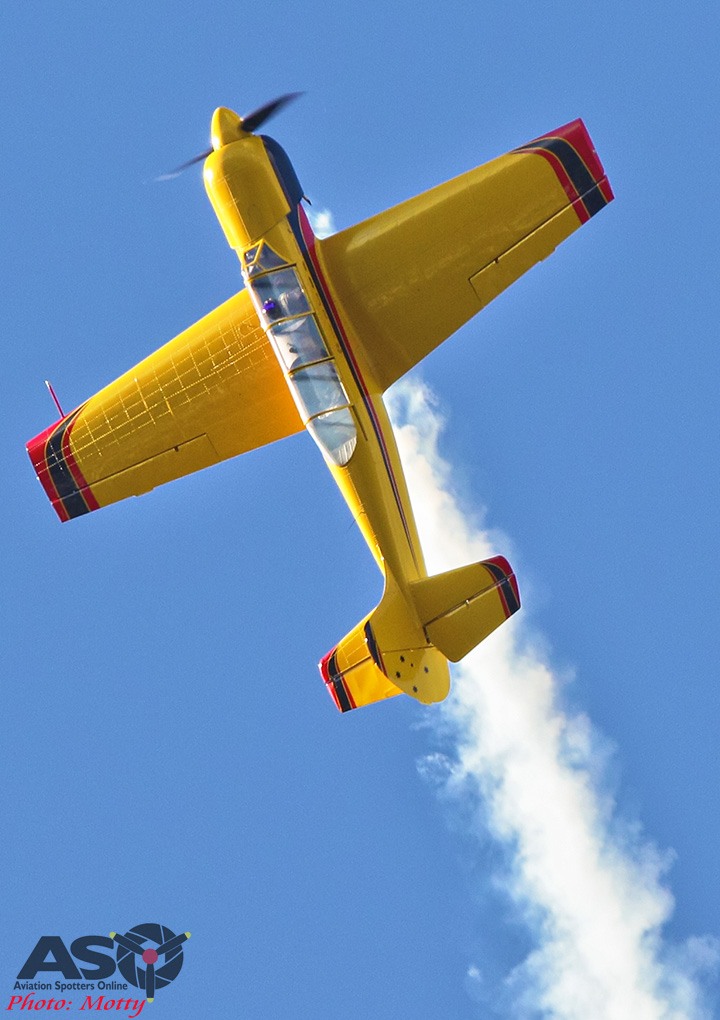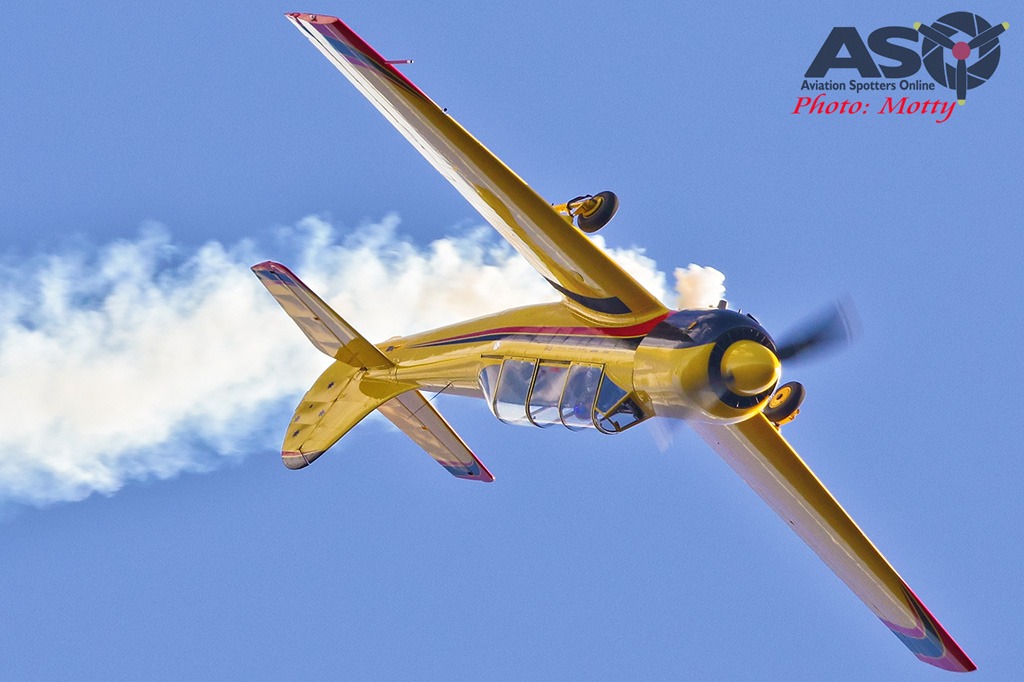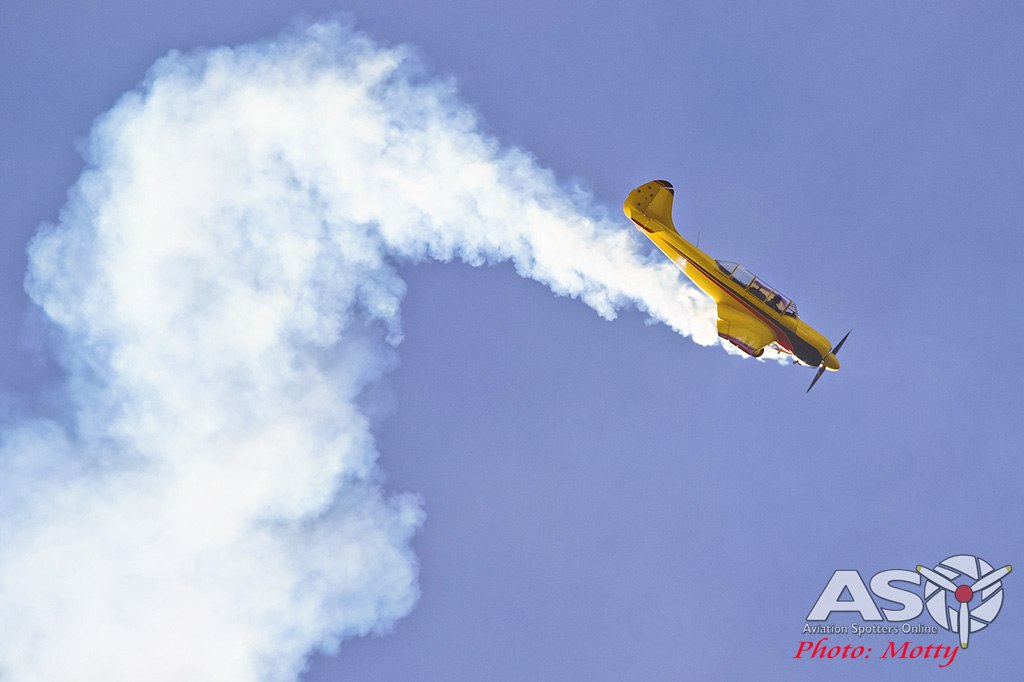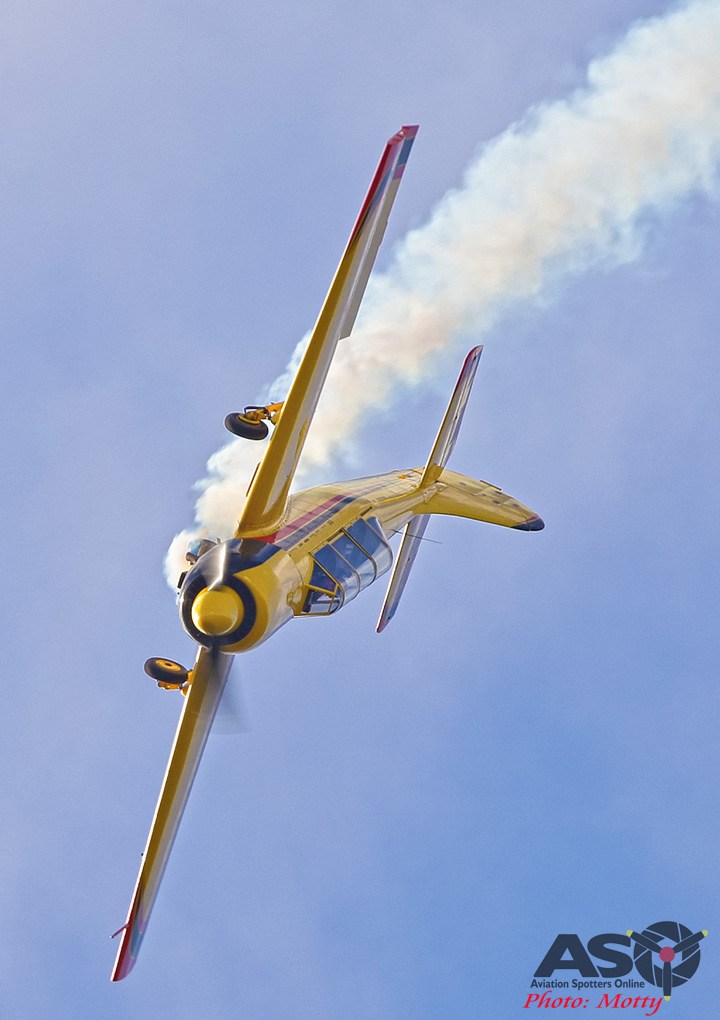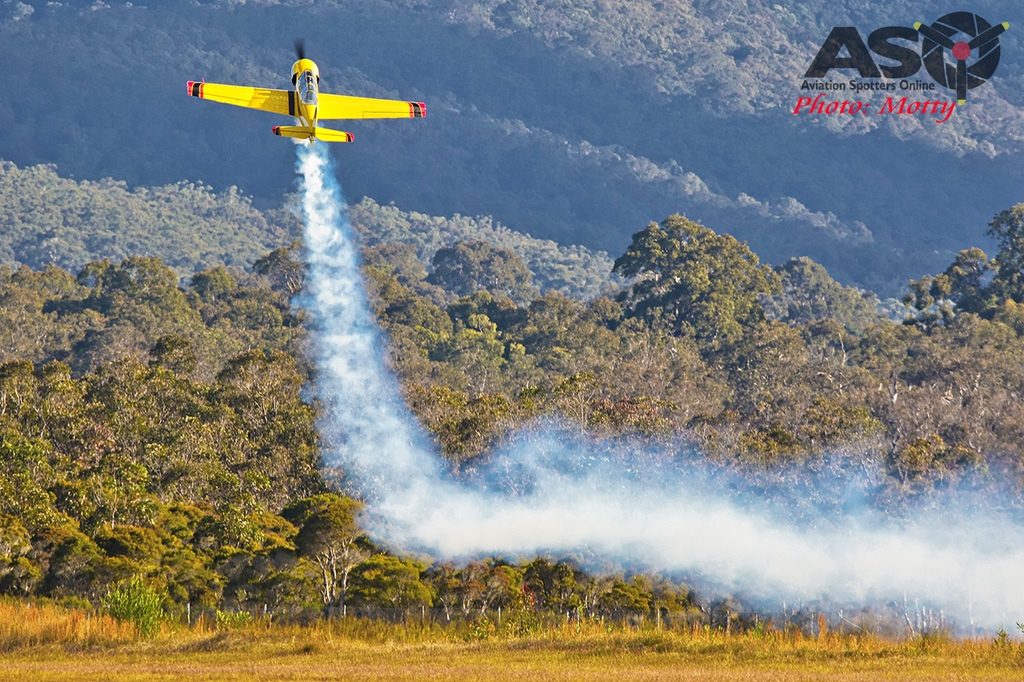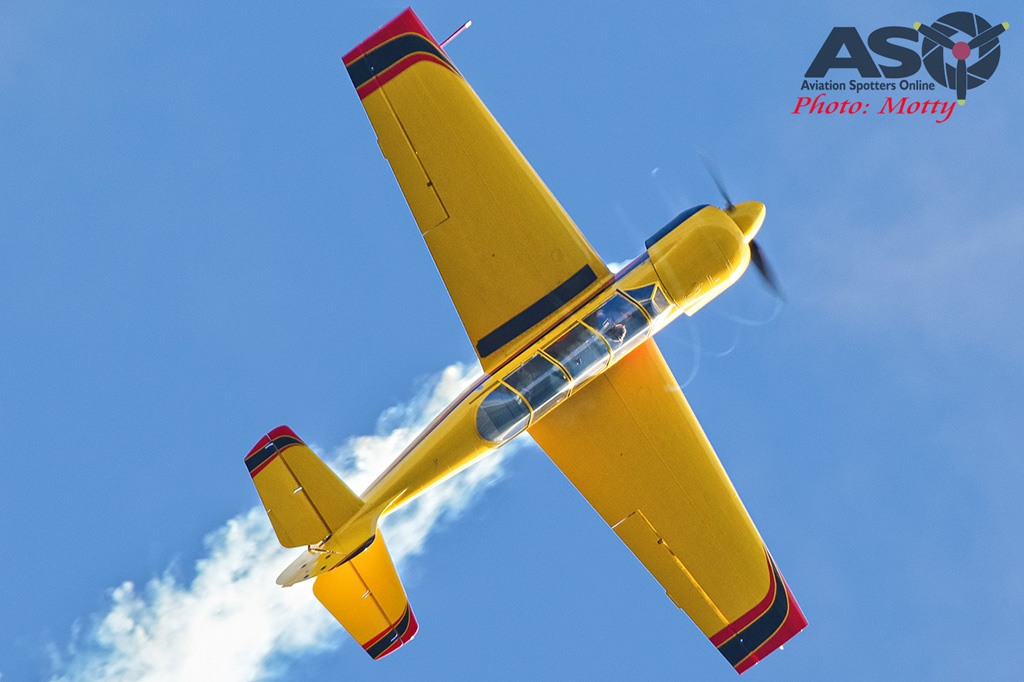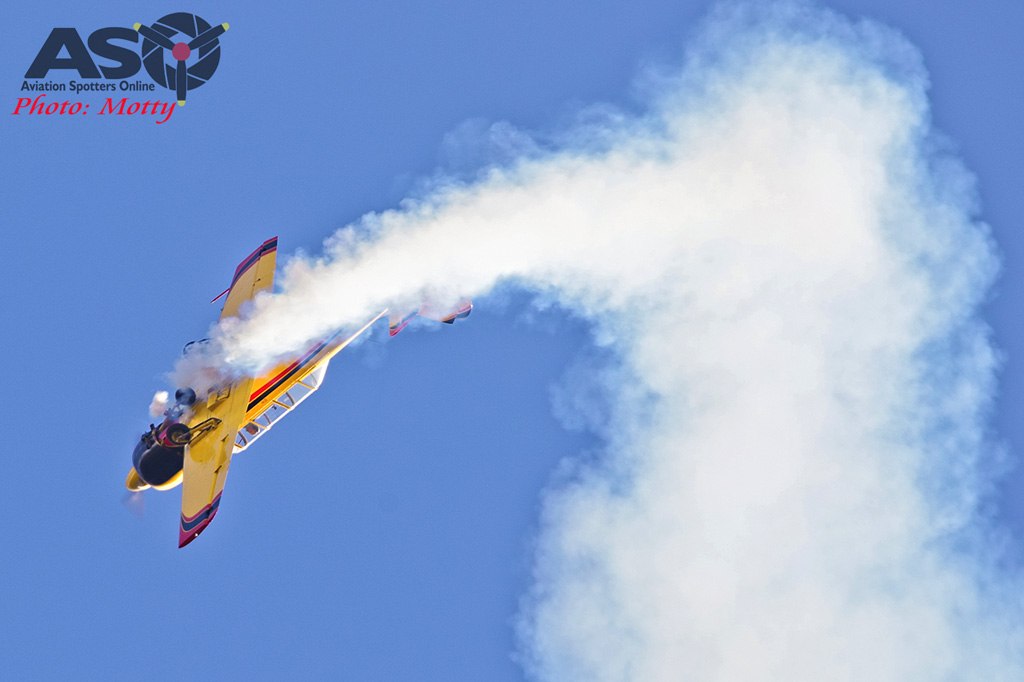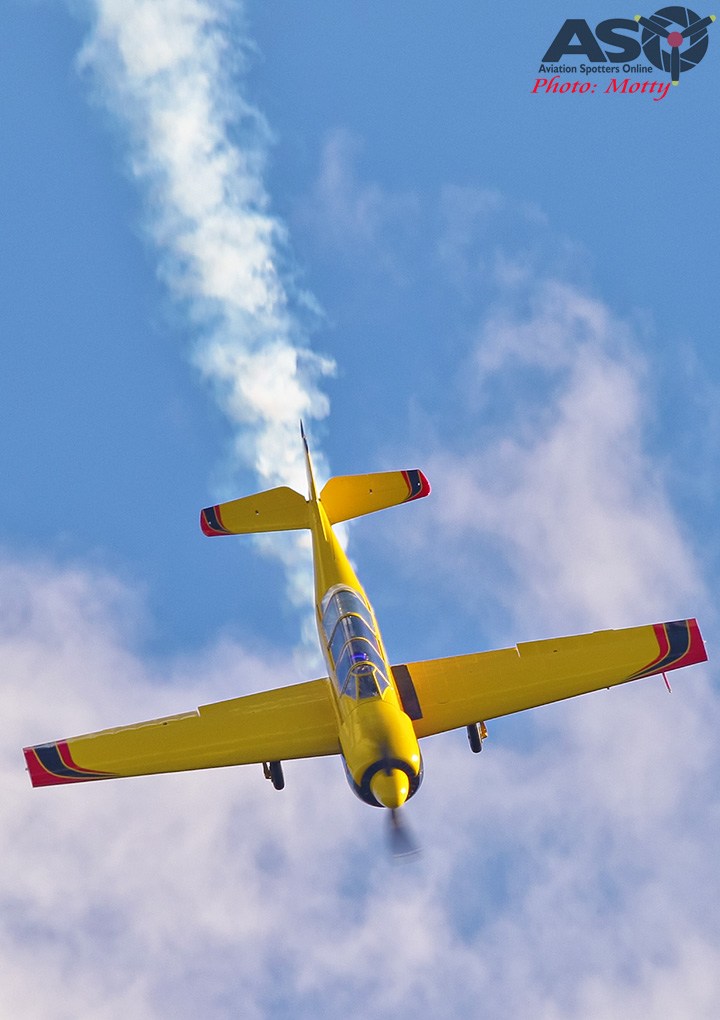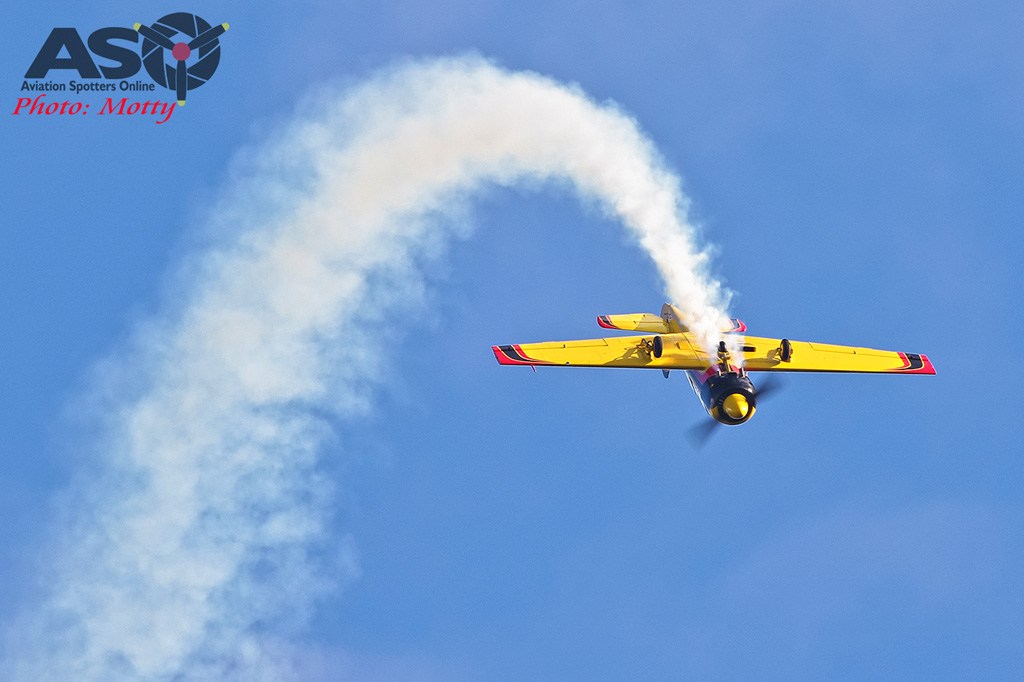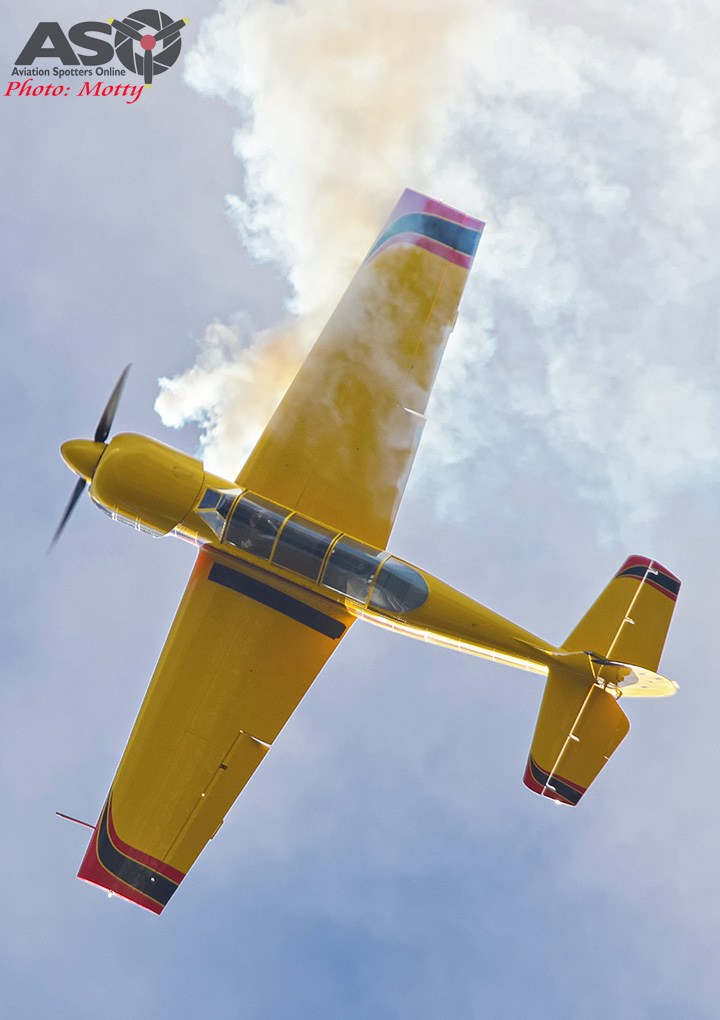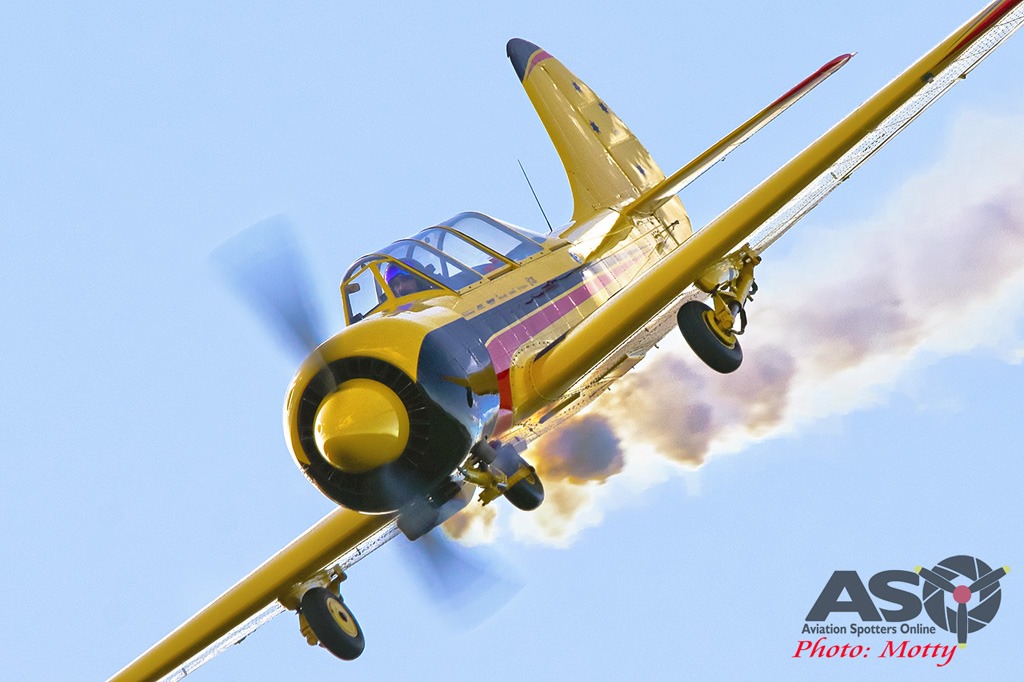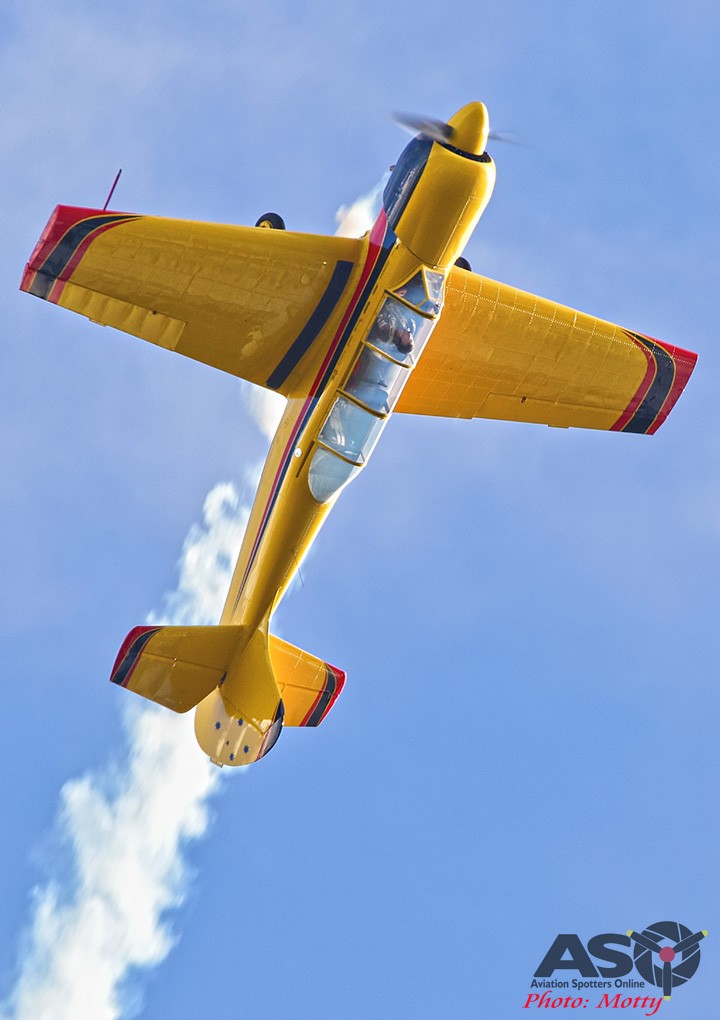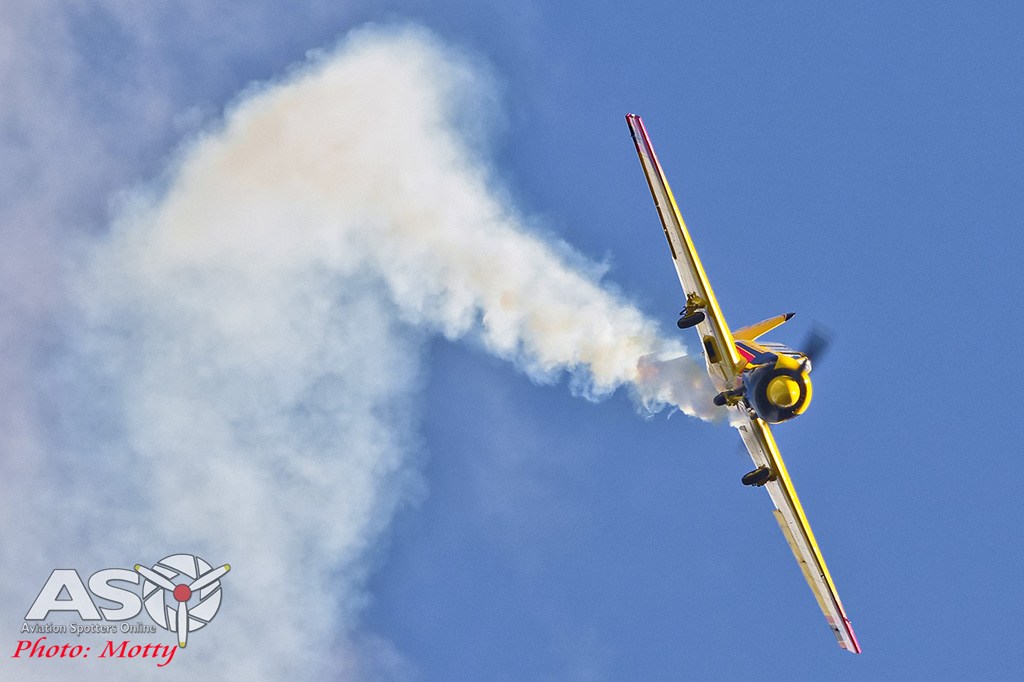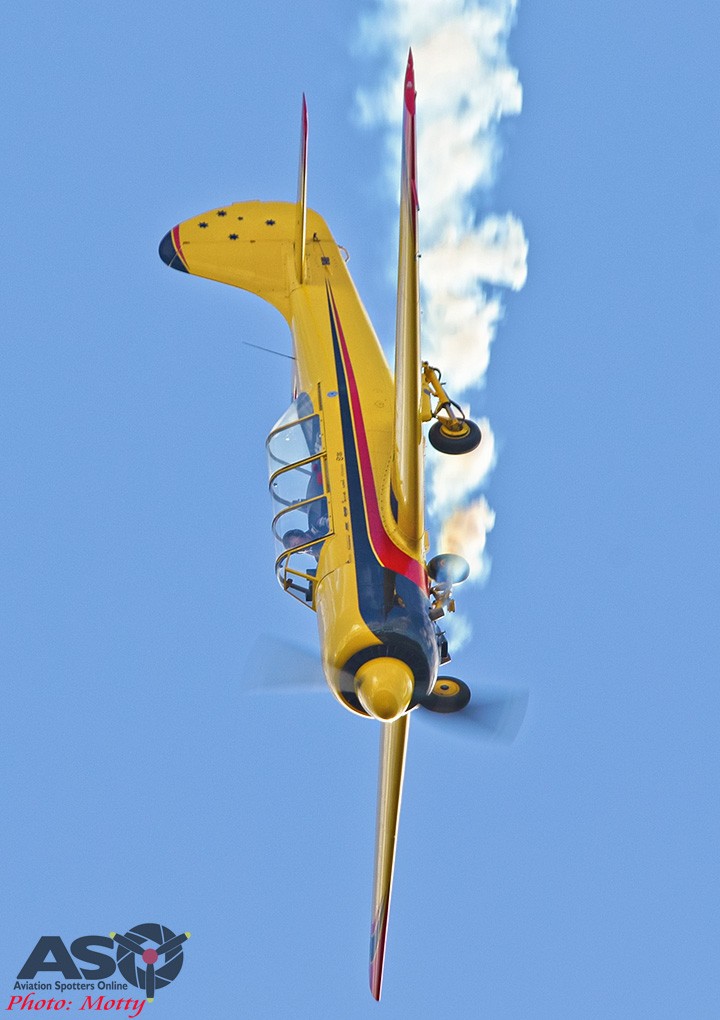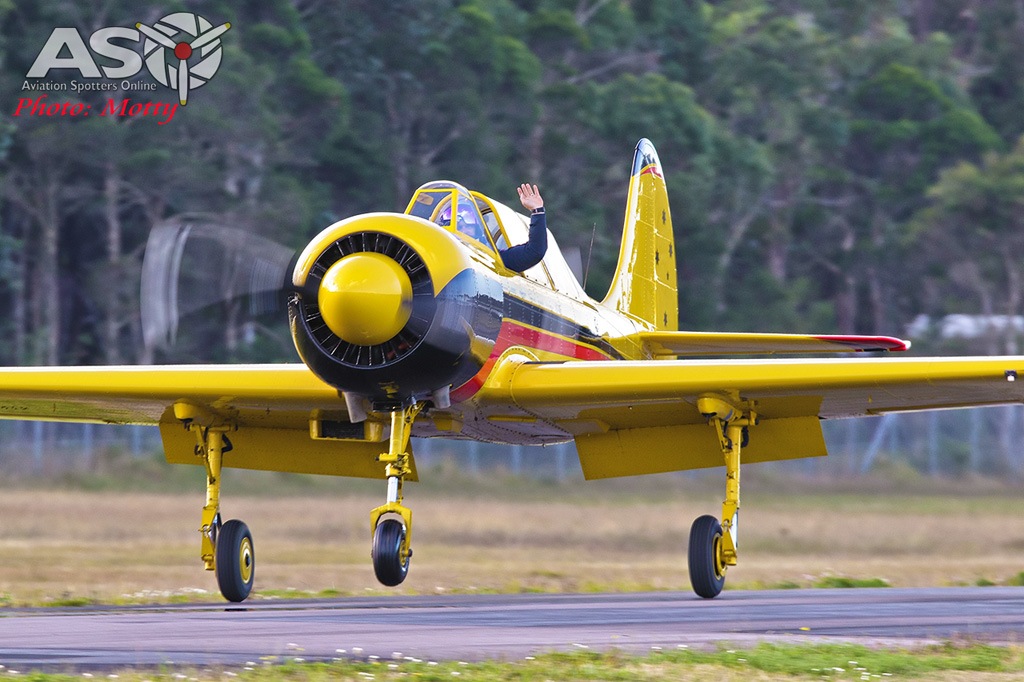 Paul Bennet's final display of the day was in Ross Pay's magnificent P-40E Kittyhawk, painted in the colours and markings of the late, Wing Commander "Bobby" Gibbes, DSO, DFC and Bar, OAM, during his time with 3 Squadron in North Africa during WWII. It was interesting to compare the sound of the Kittyhawk's Allison V12 engine with the earlier Mustang's Merlin.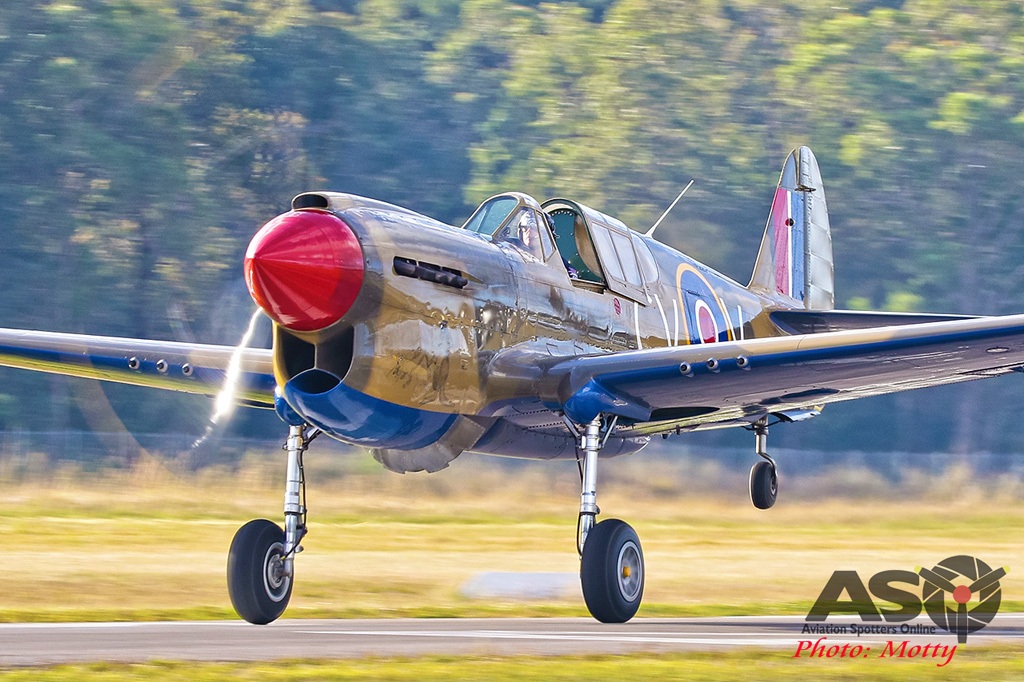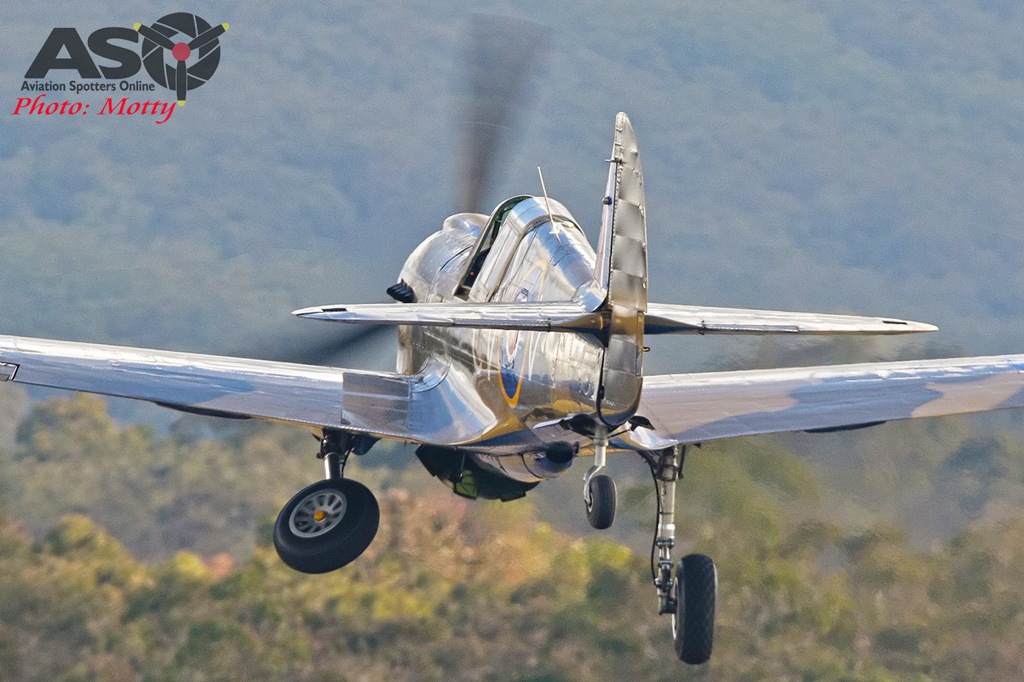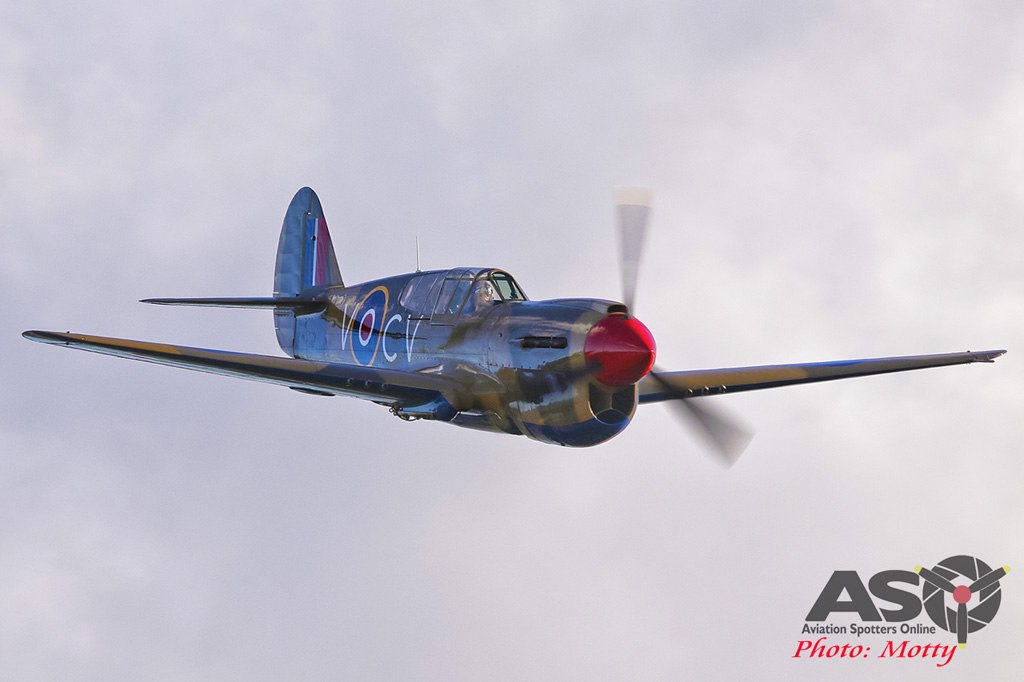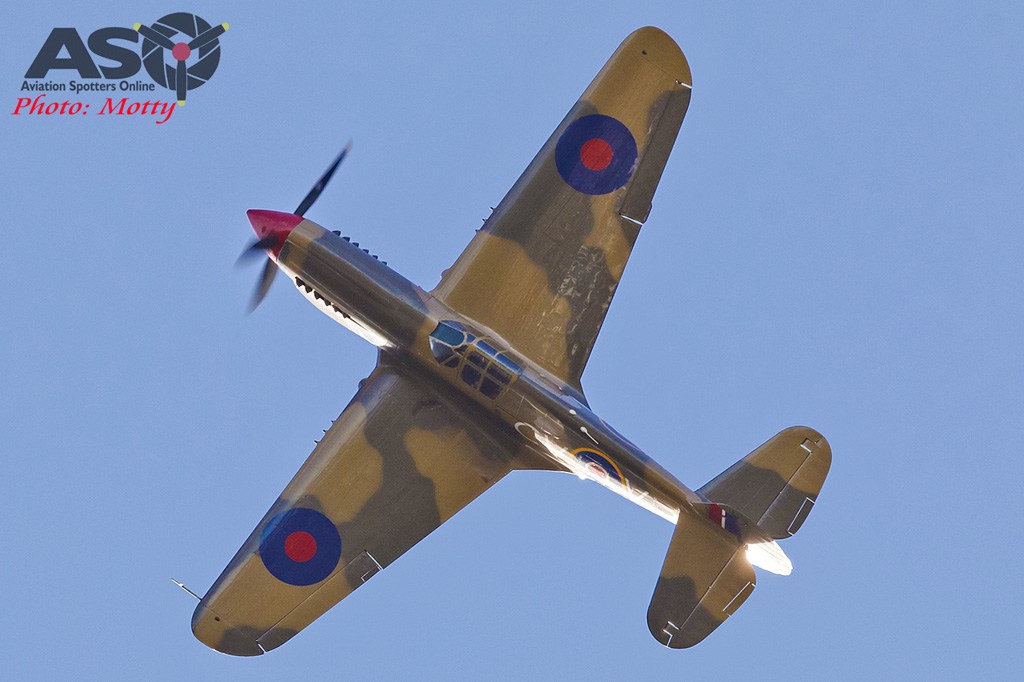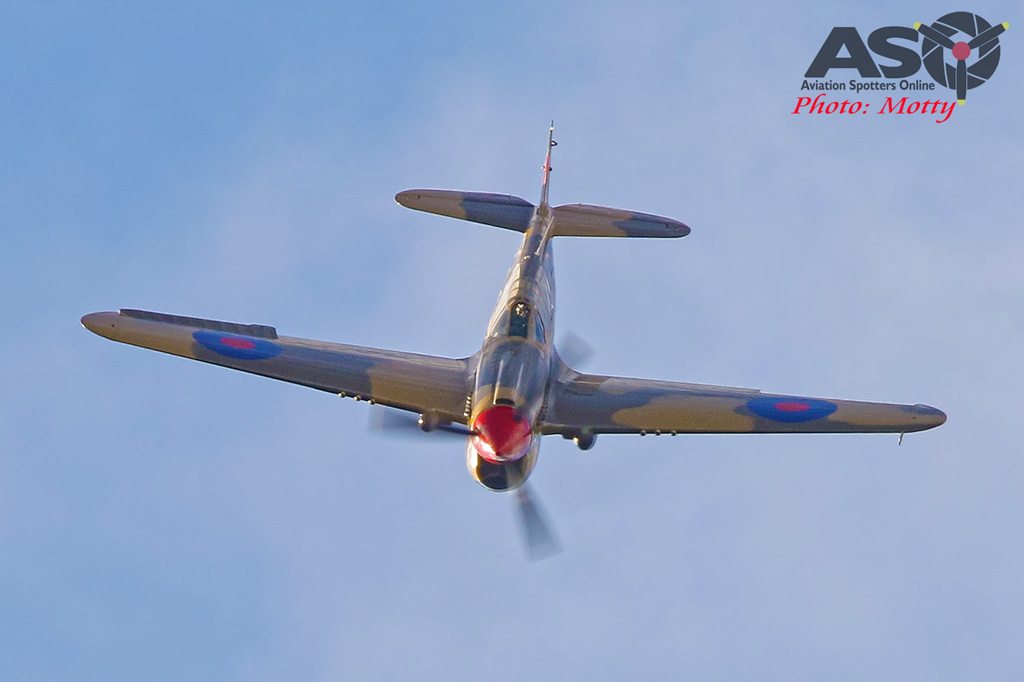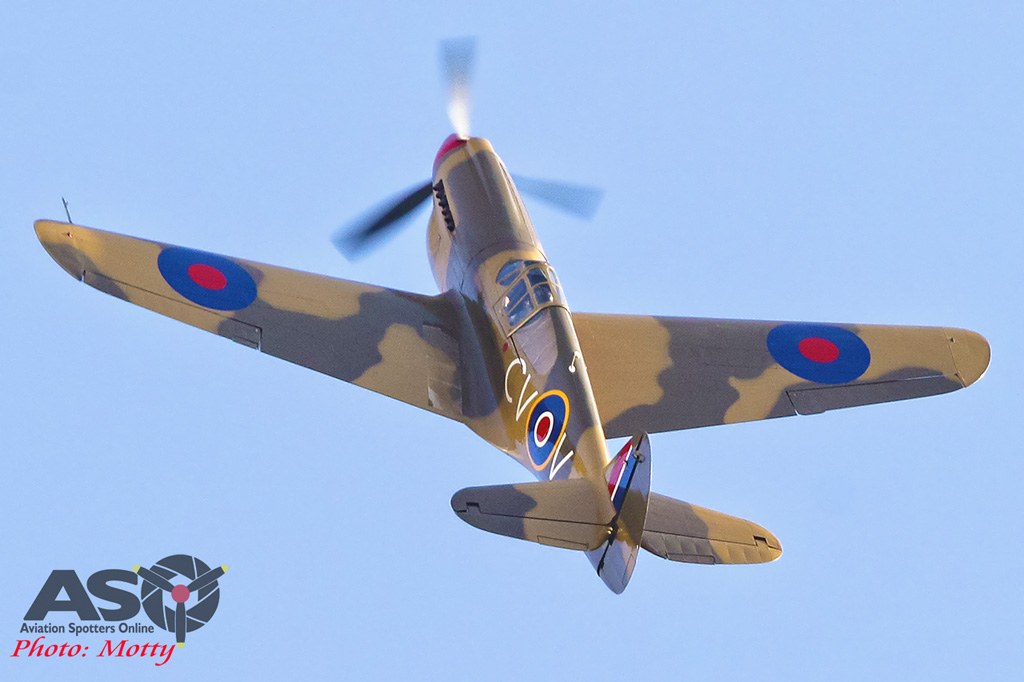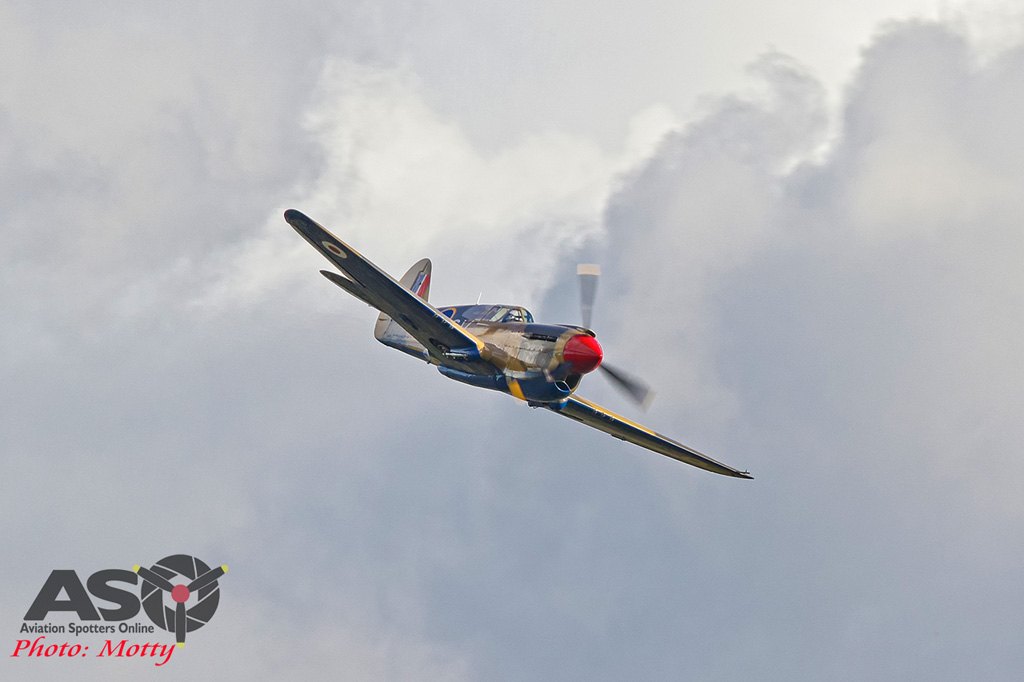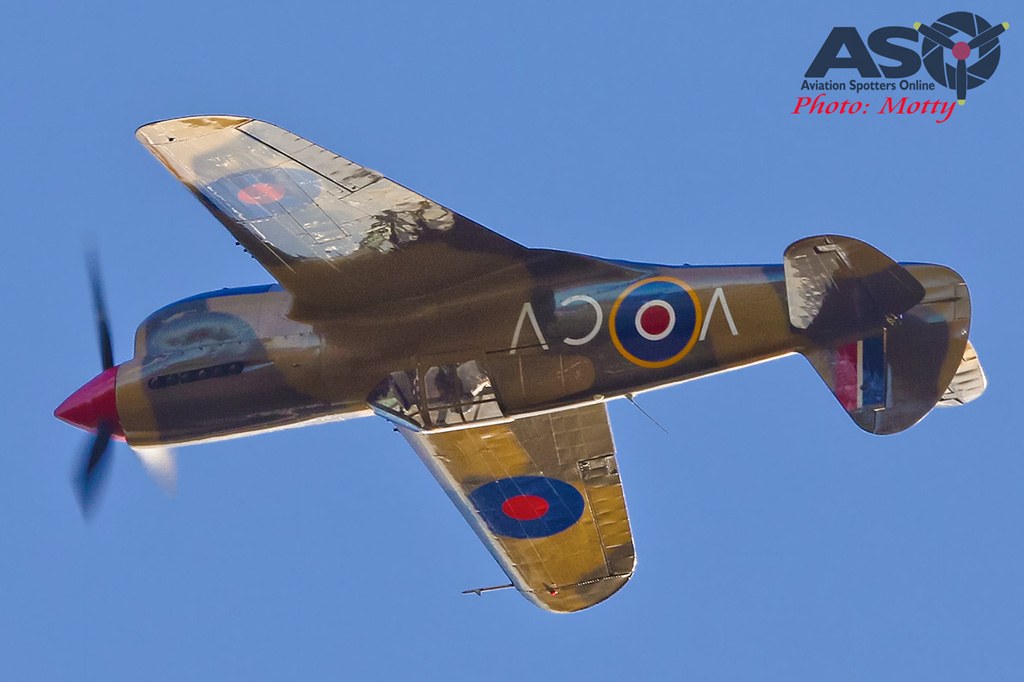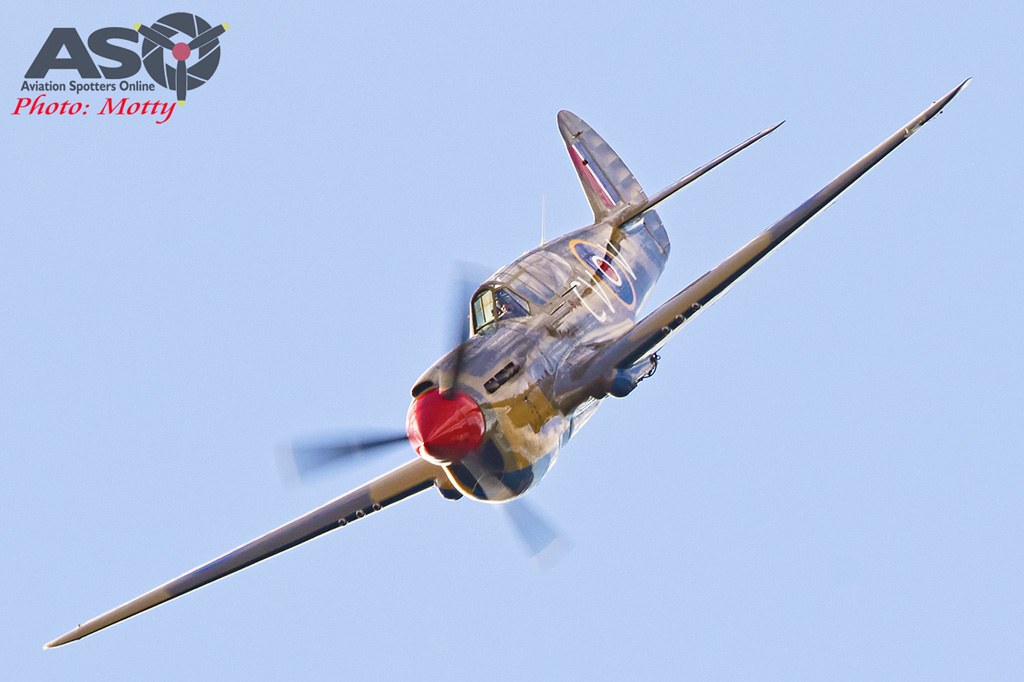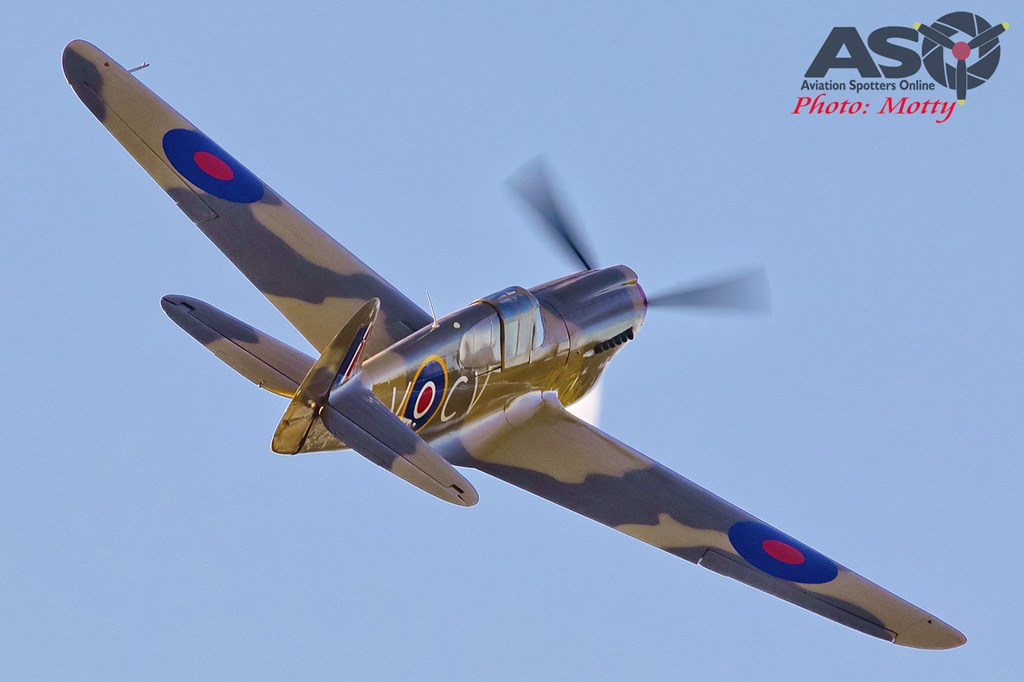 At the end of his display, Paul headed east to meet up with Glenn Collins, Matt Denning and Tim Dugan in the Avenger, Boomerang and Trojan respectively, before they all returned to make a series of passes in formation, also known as a "Balbo". The term Balbo first came into use during the years leading up to WWII to describe any large formation of aircraft. It was a reference to the head of the Italian Air Force, Italo Balbo, who was known for conducting a series of long-range flights with large formations during the 1930's in an effort to promote and develop aviation in Italy. The term has resurfaced in more recent years to describe a mass flypast (usually of warbirds) at the end of an airshow.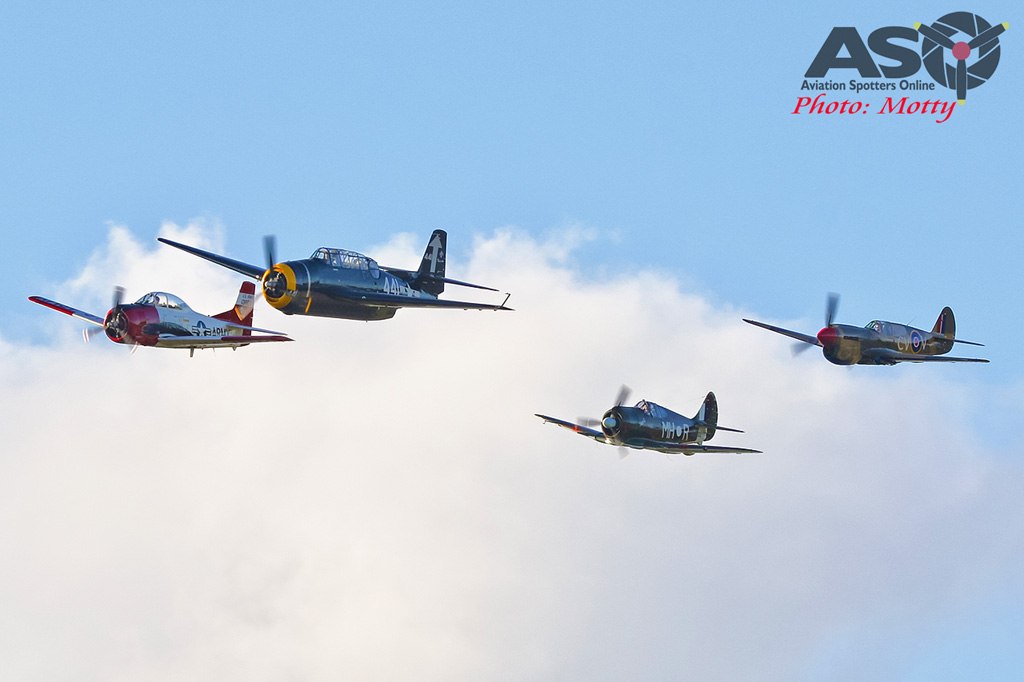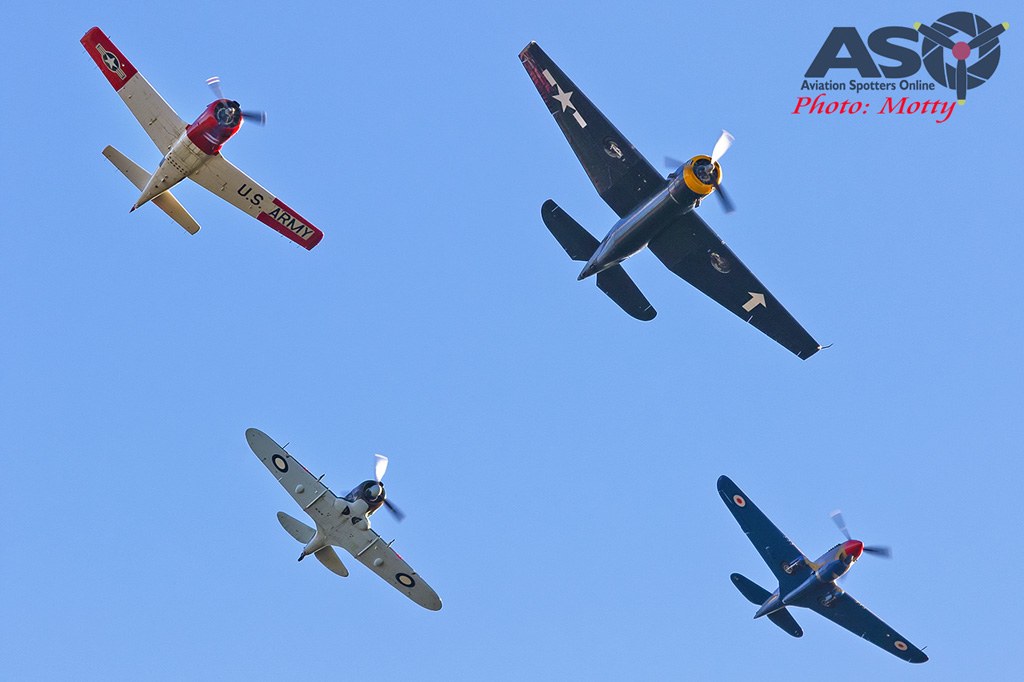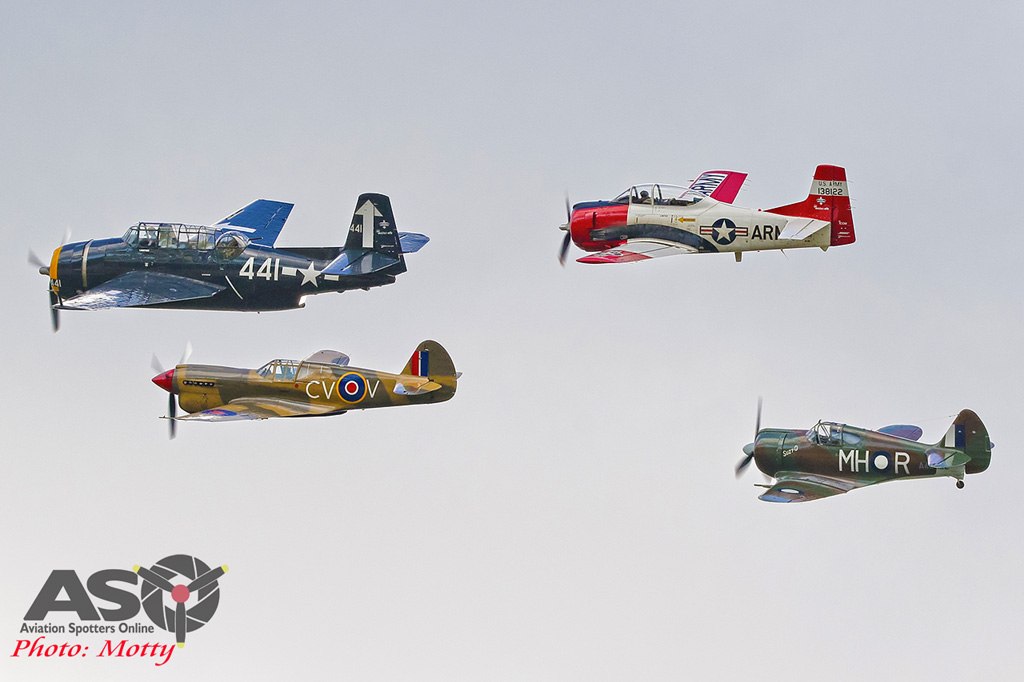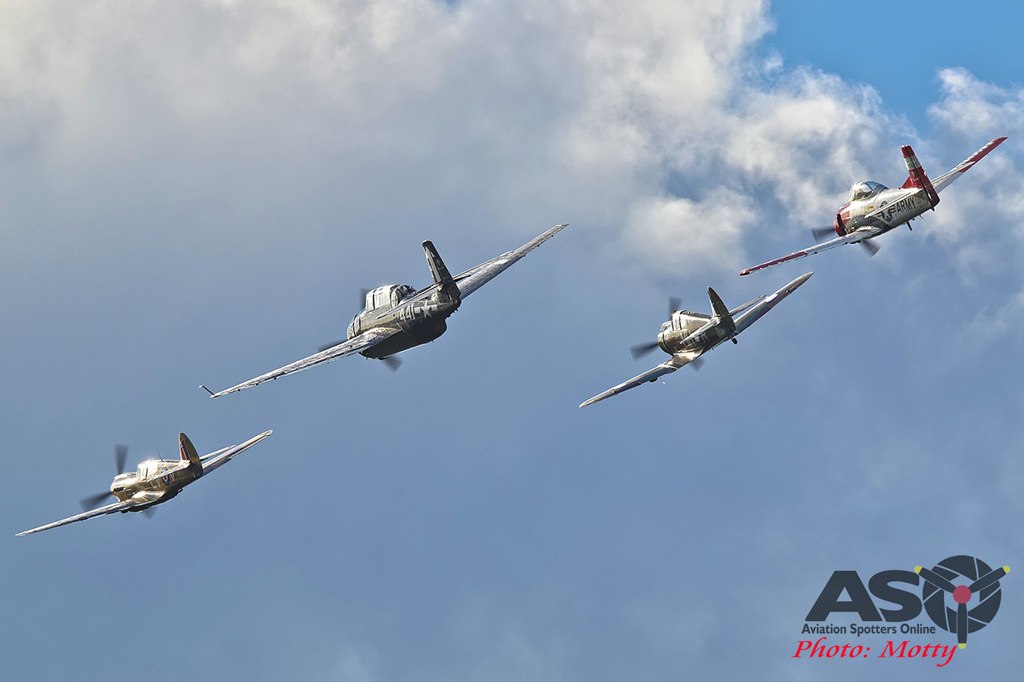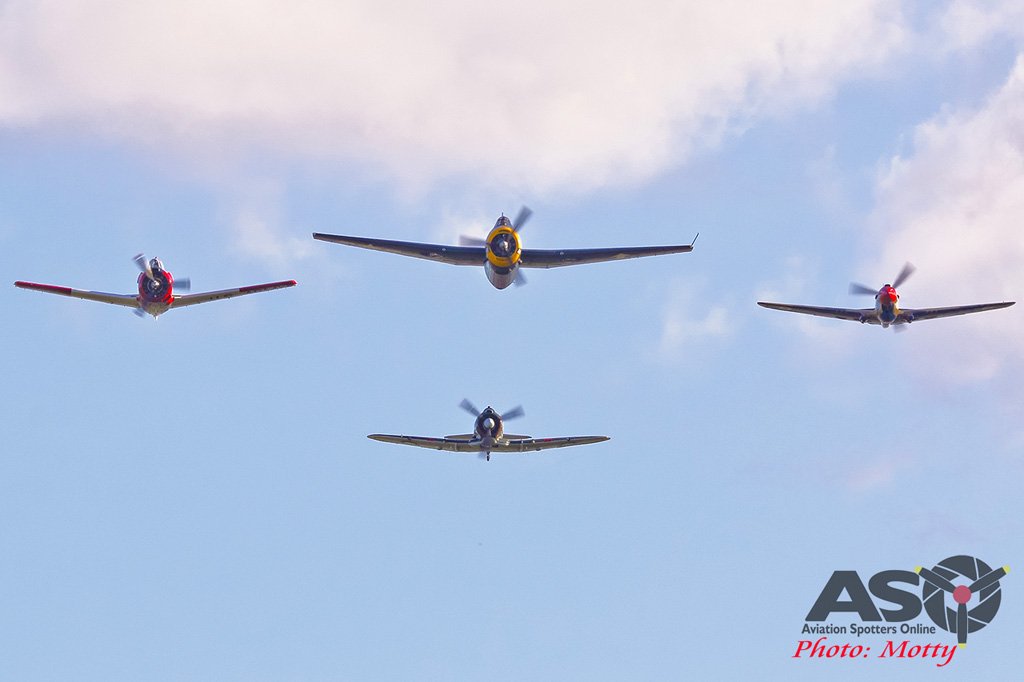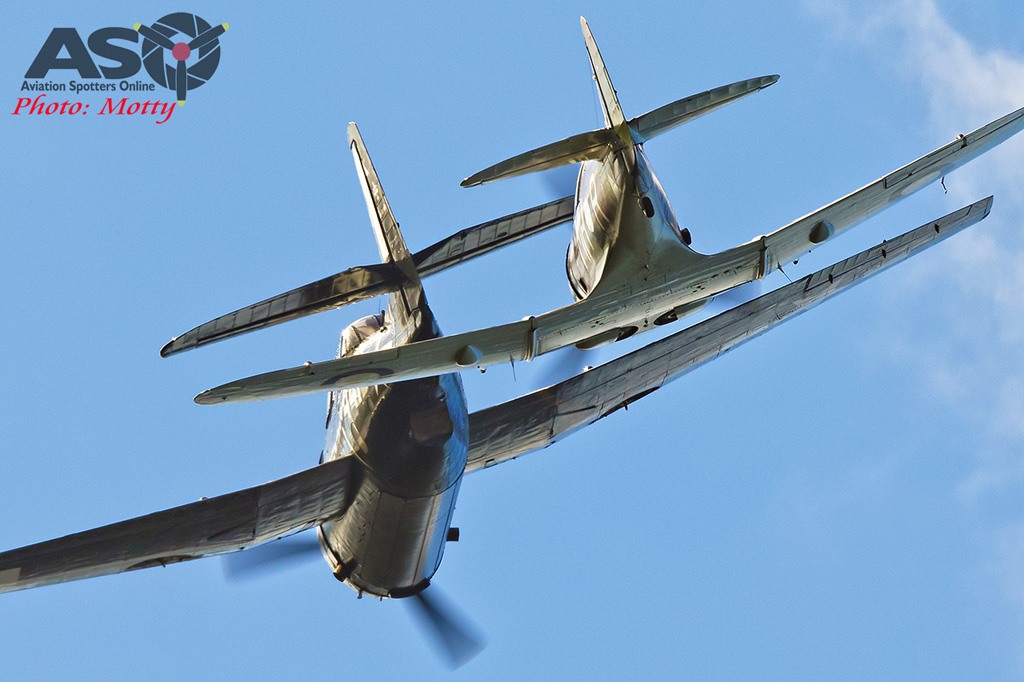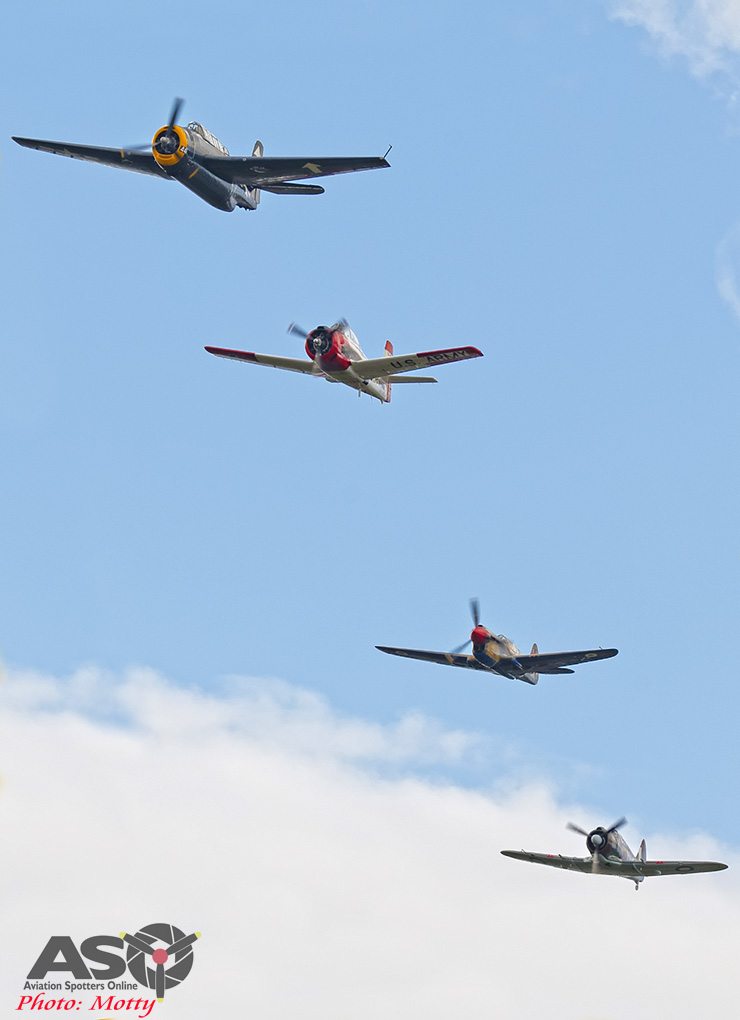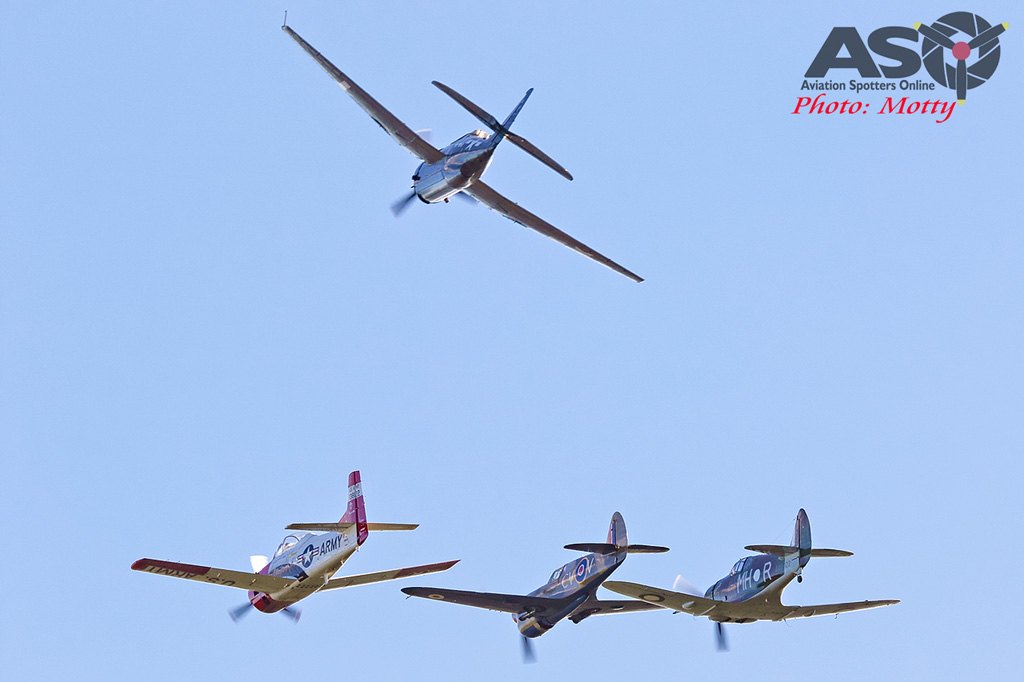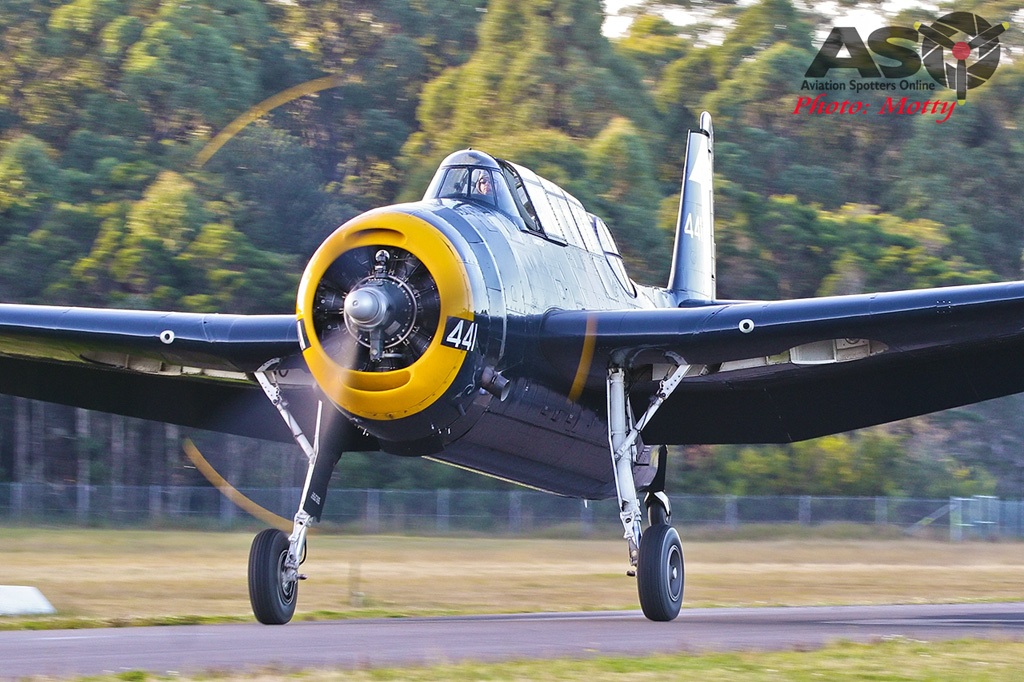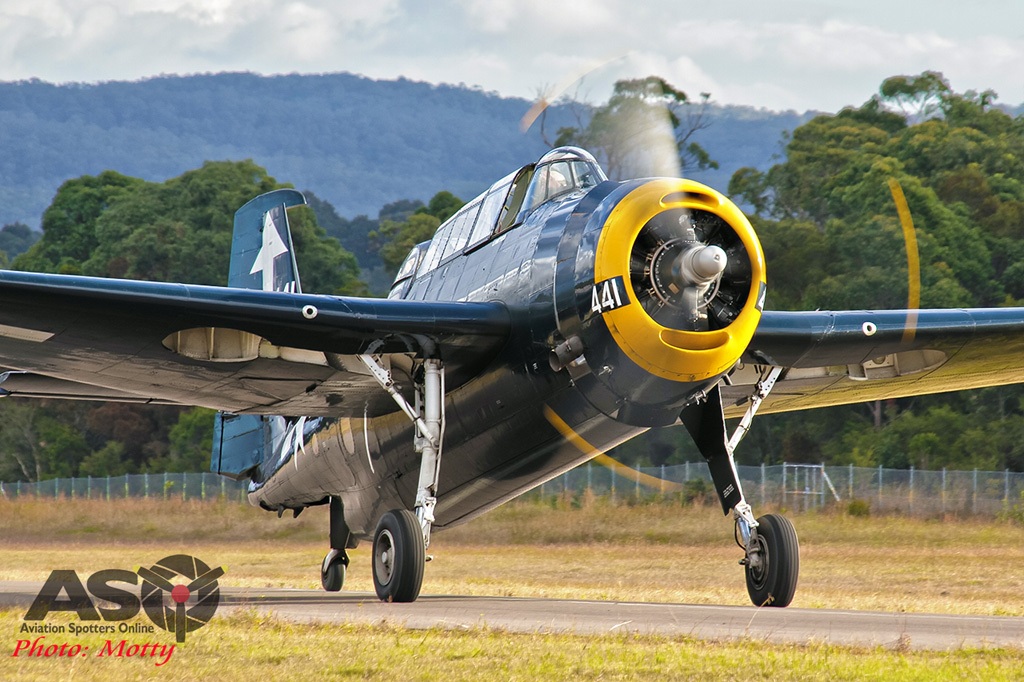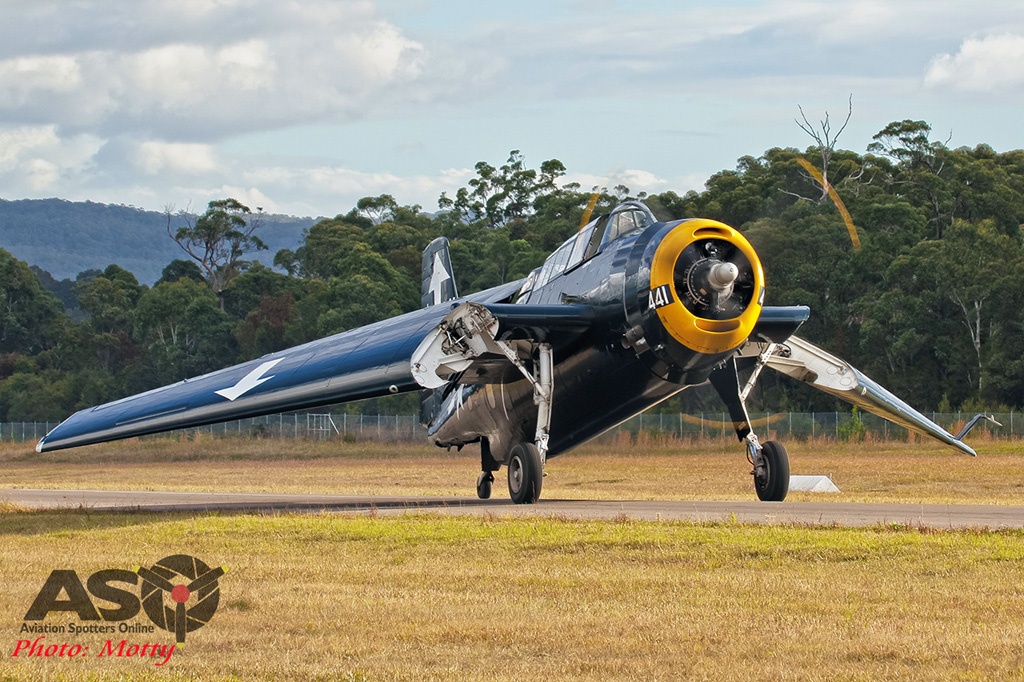 Once all the aircraft were back on the ground, it was finally time for the headline act.
While the F-35 has been in service with the RAAF here in Australia since late 2018 and have made several appearances at airshows and various flypasts; higher priorities around the aircraft's entry to service have meant that the public have, so far, not had an opportunity to see a full-on airshow display by one. The RAAF had, however, generously decided that the Warnervale Airshow was the chance to finally remedy that situation.
The almost sedate entry from the north-east (which was a great photo pass though) may have lulled some into a false sense of security before FLTLT Ross Bowman from 2 OCU (Operational Conversion Unit) quickly reversed his turn, lit the burner and leapt into an awesome display of power and noise.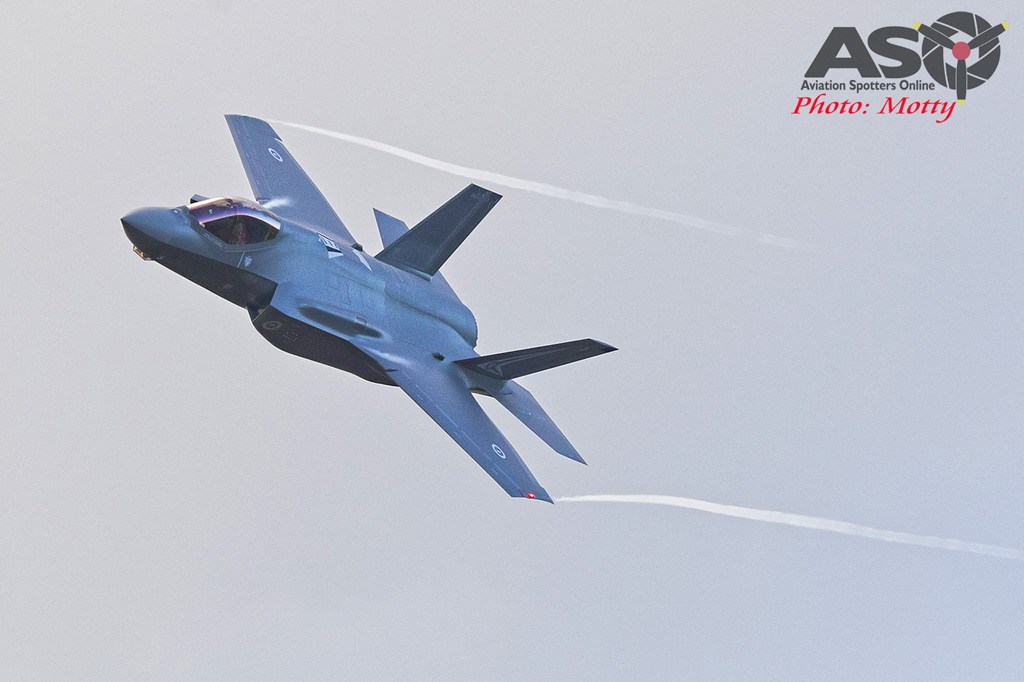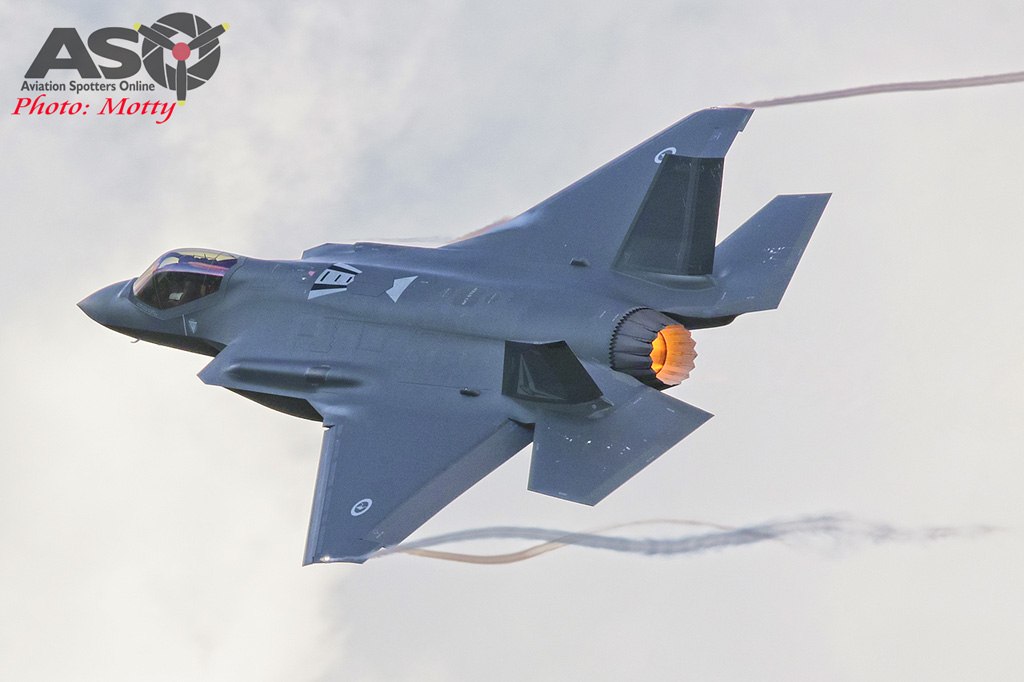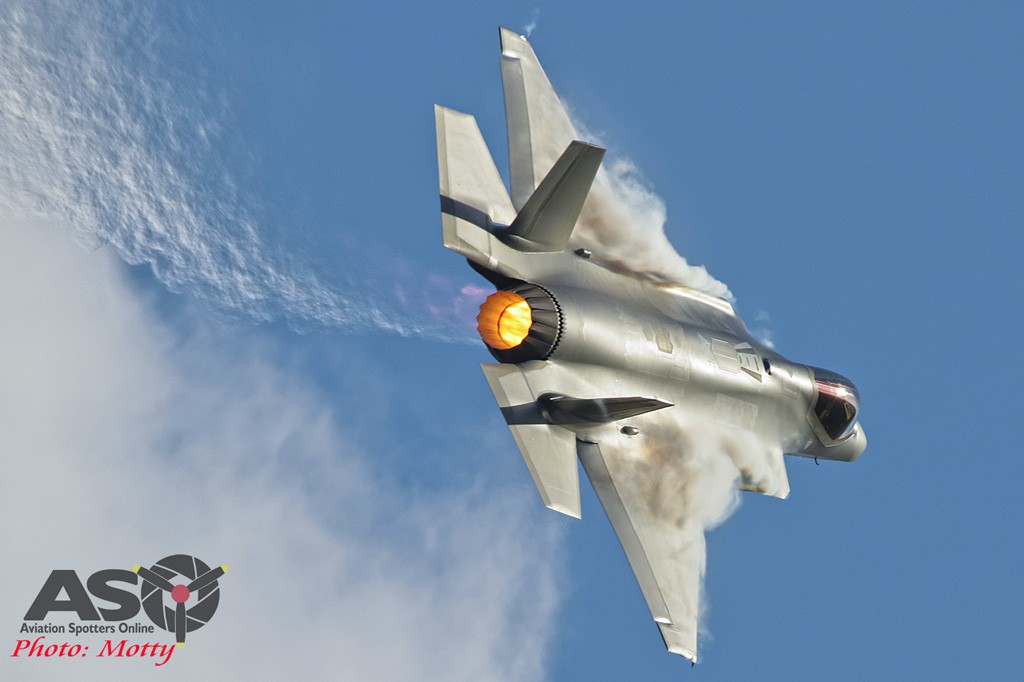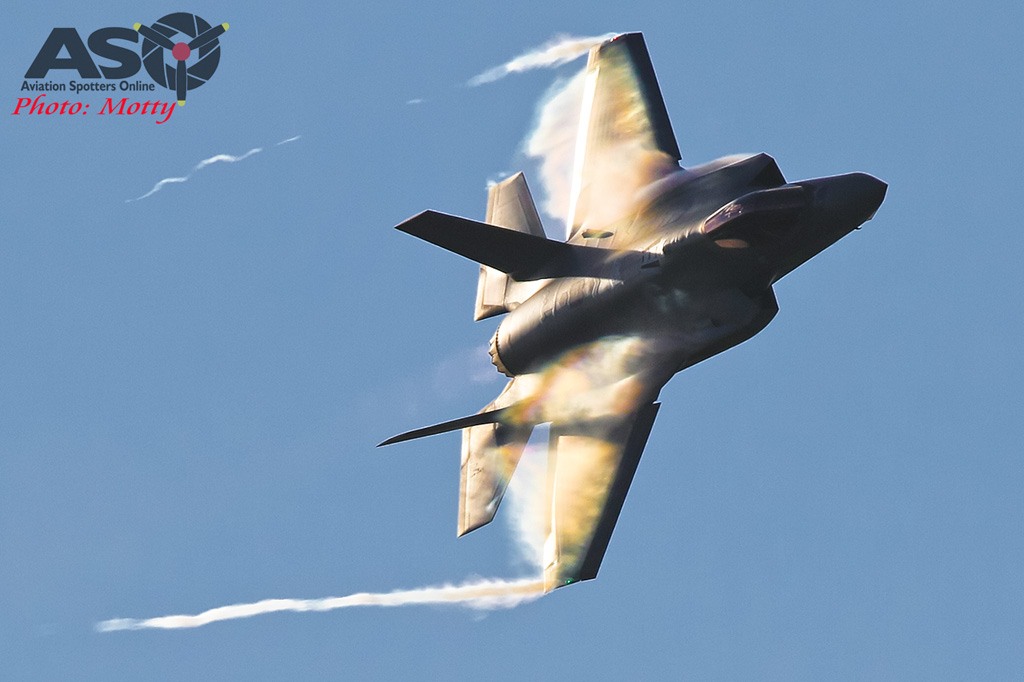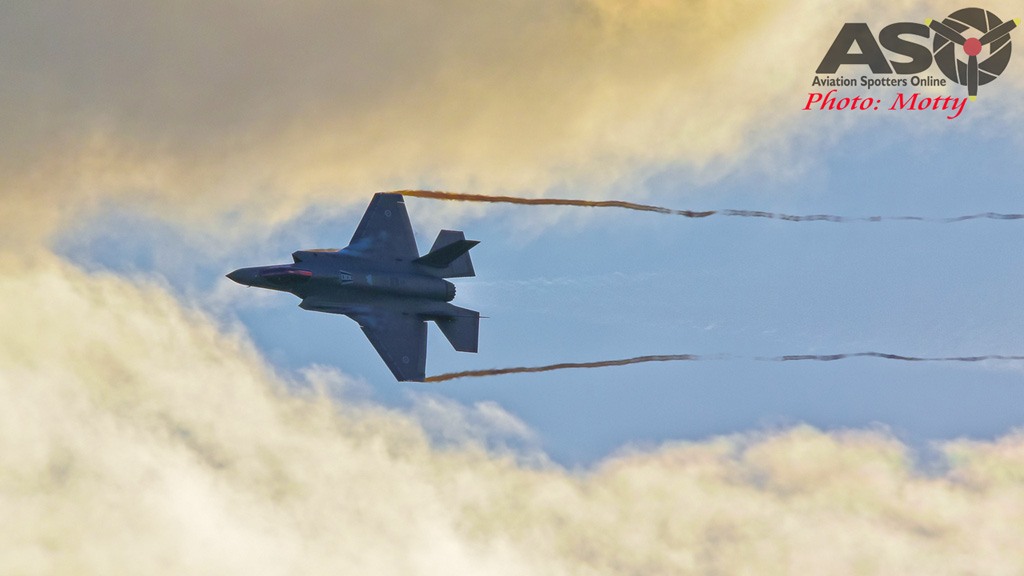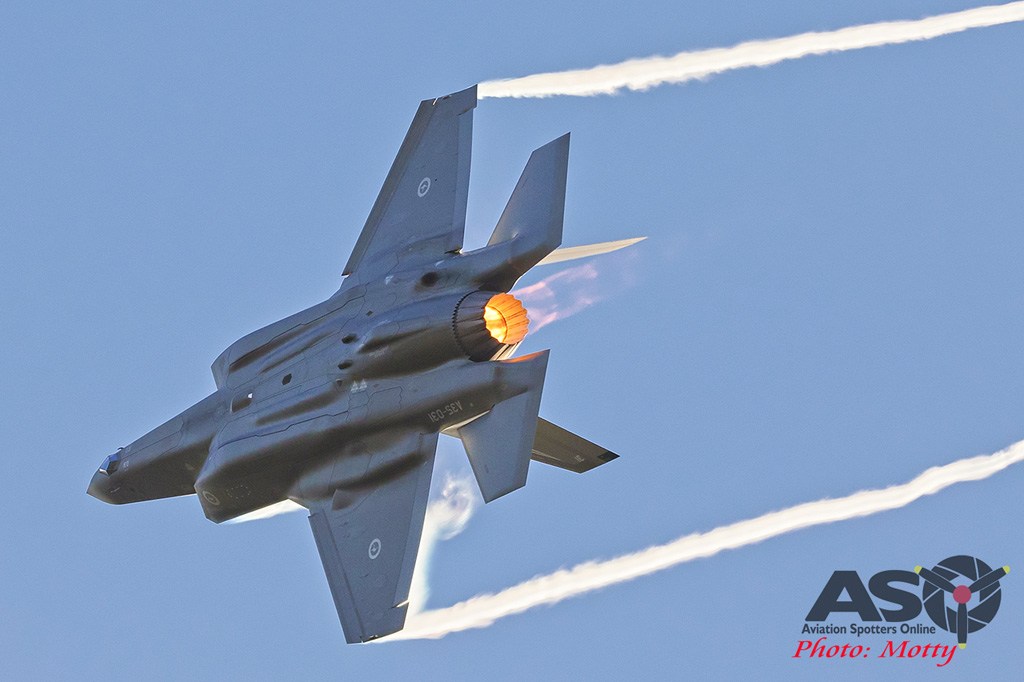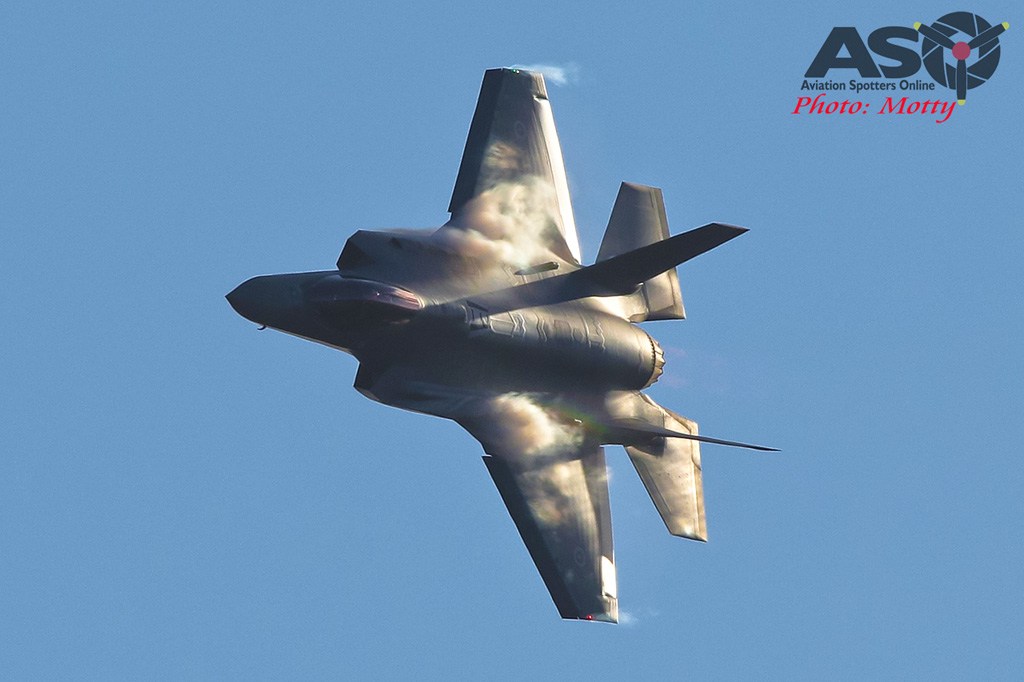 One pass gave a great view of the F-35's cavernous internal weapons bay and it seemed like the pilot only had to think about turning and the jet would sprout a cloud of ecto (water vapor) over various parts of the airframe (is one of the stealth tricks to just look like a very fast cloud? 😉 ).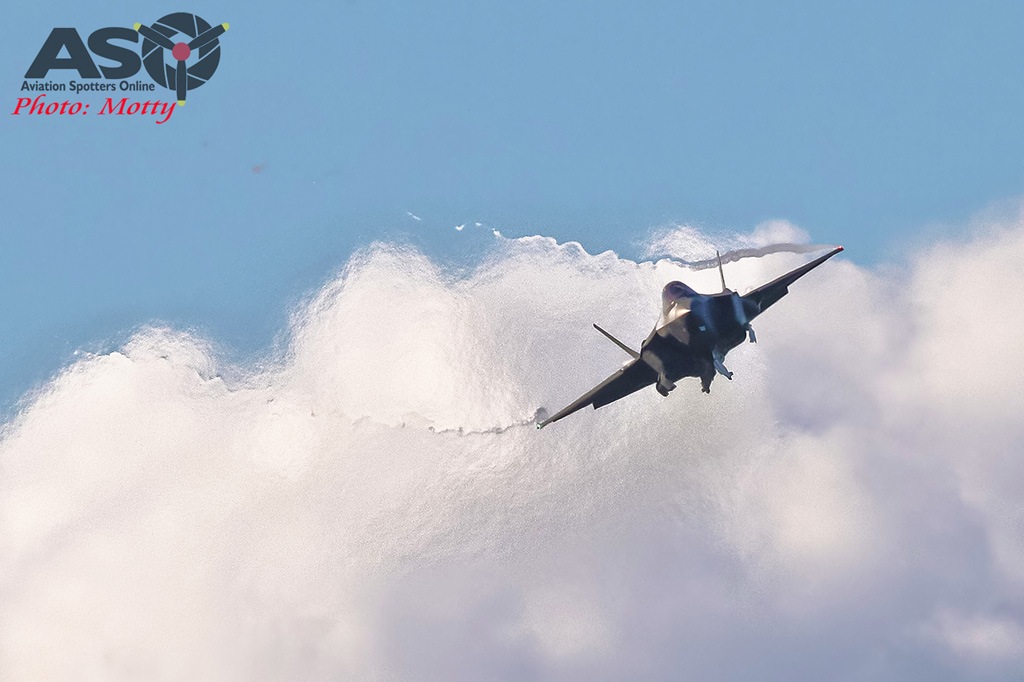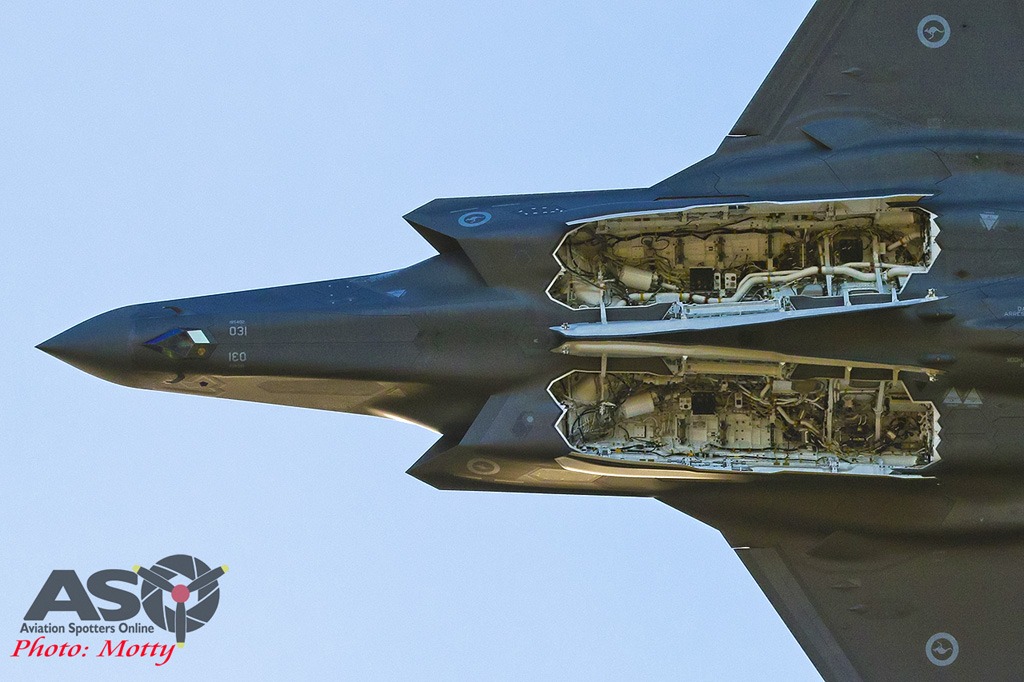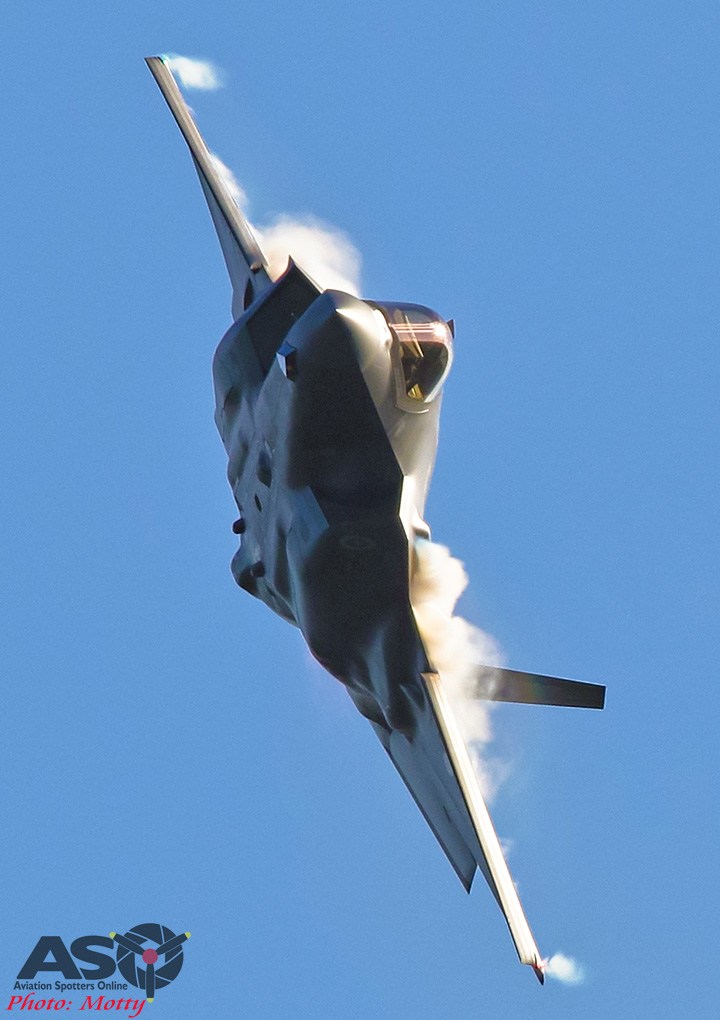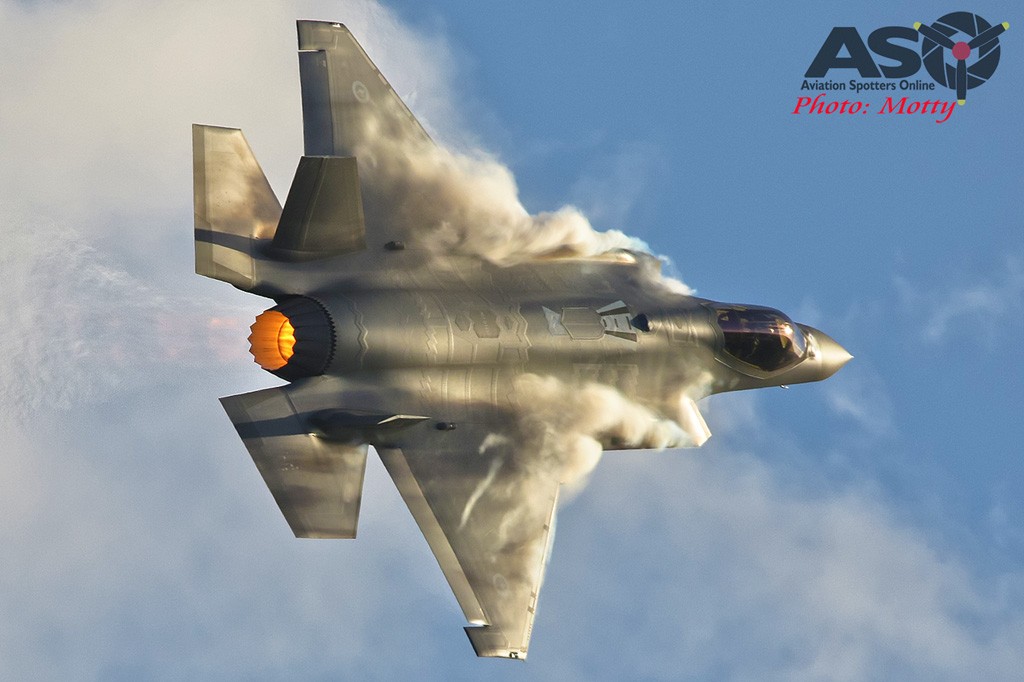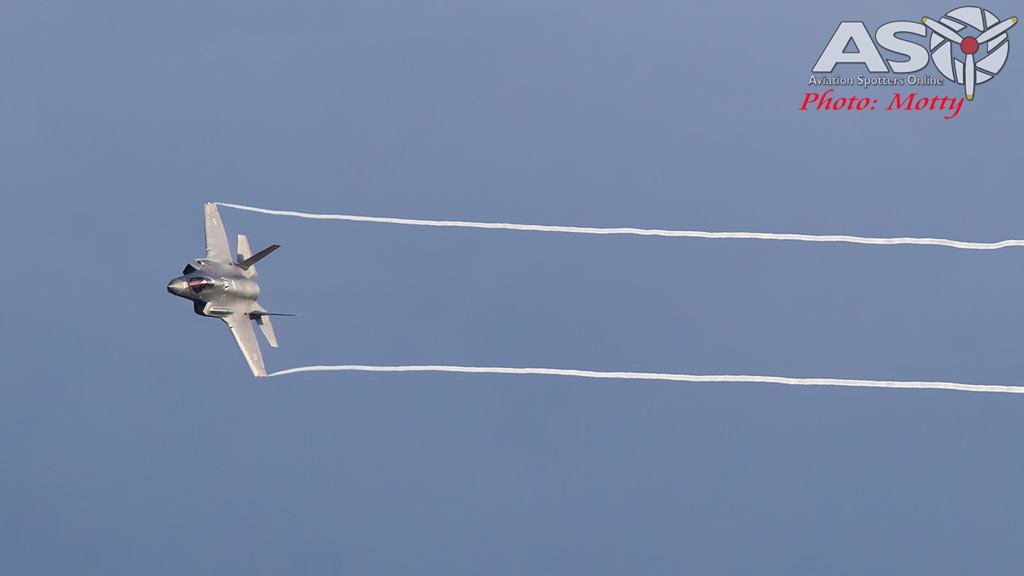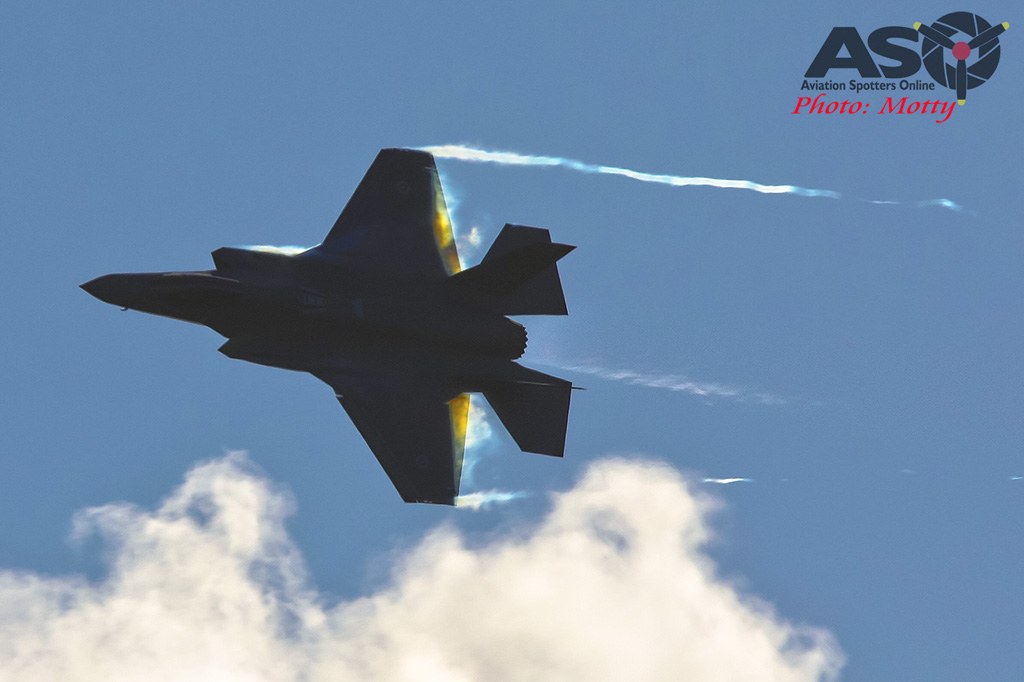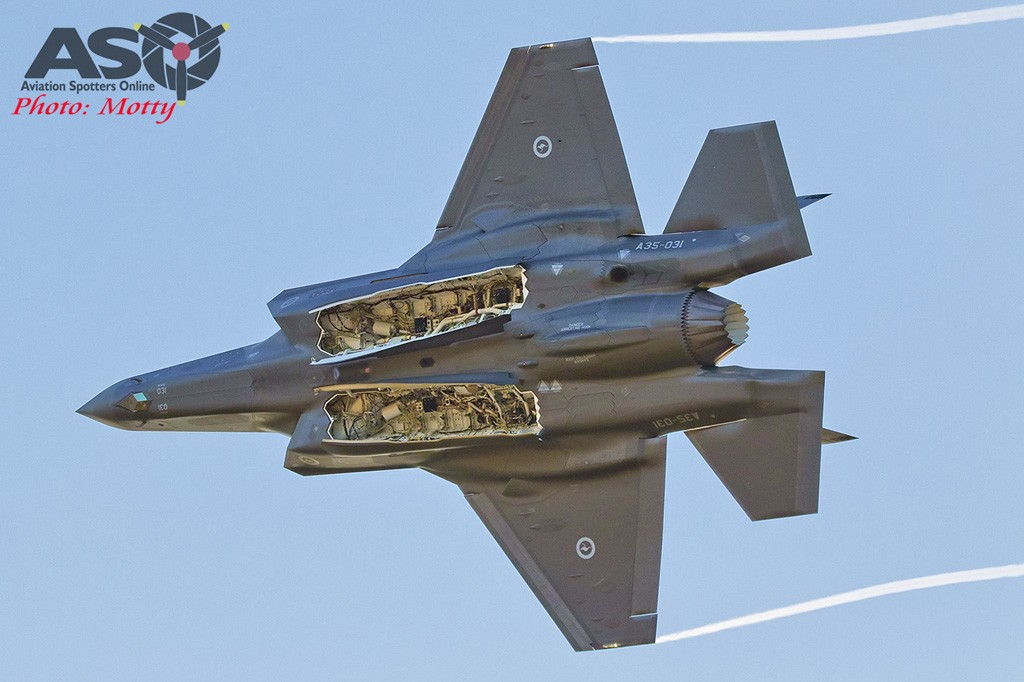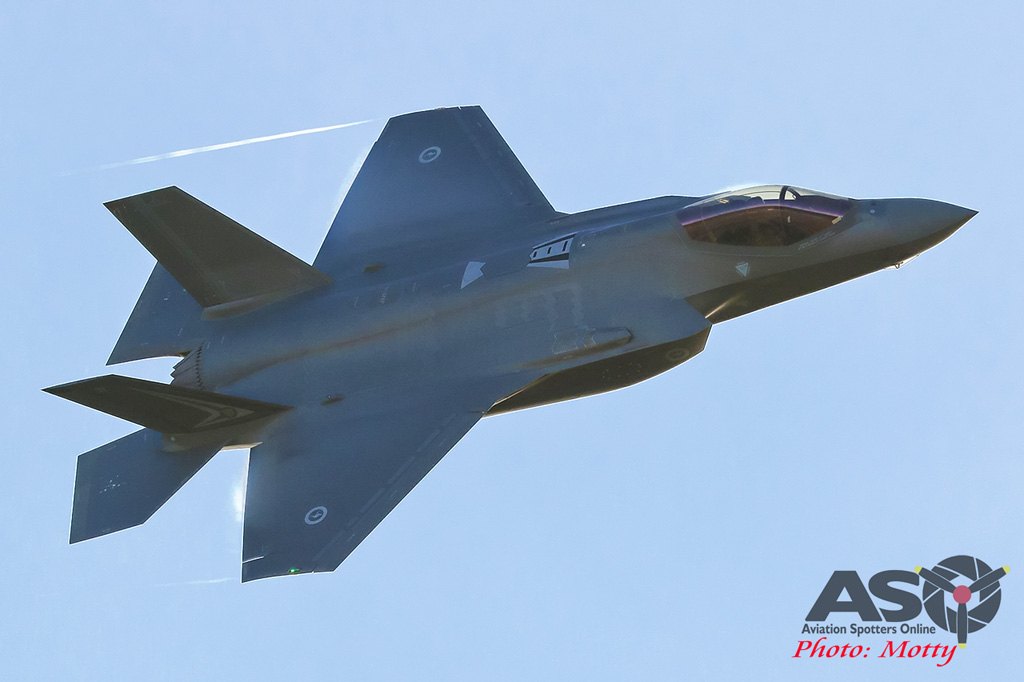 A bit of a surprise in the routine was the high alpha pass, were the jet comes by with the nose held high in order to achieve a very slow airspeed. This is something which for many years was touted as a "speciality" of the F/A-18 Hornet, but the F-35 seems just as comfortable at the slow end of the envelope as well.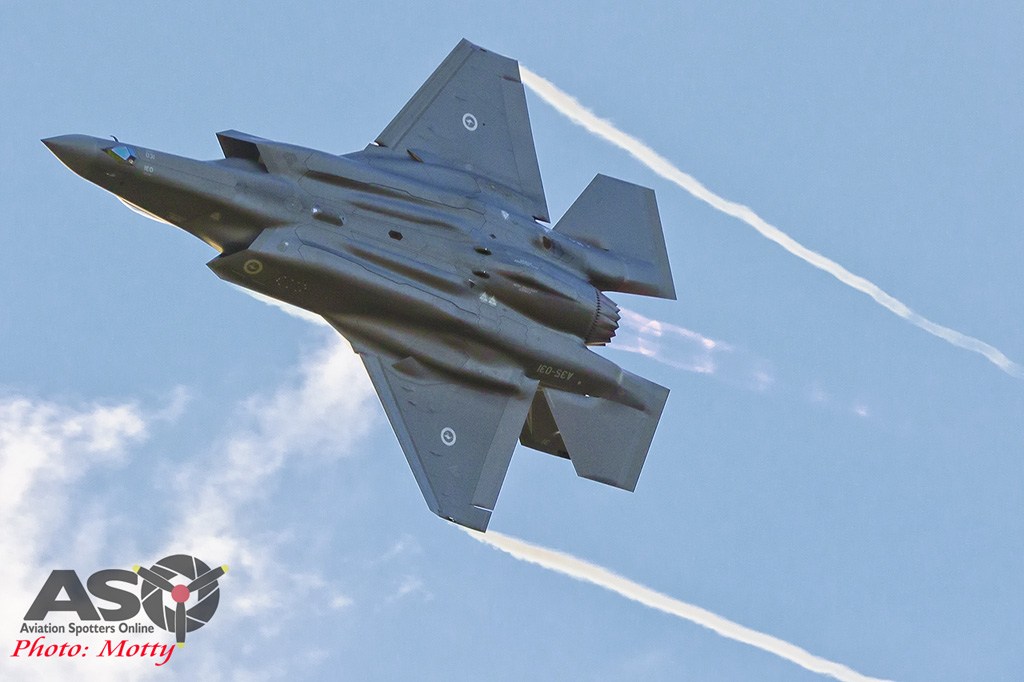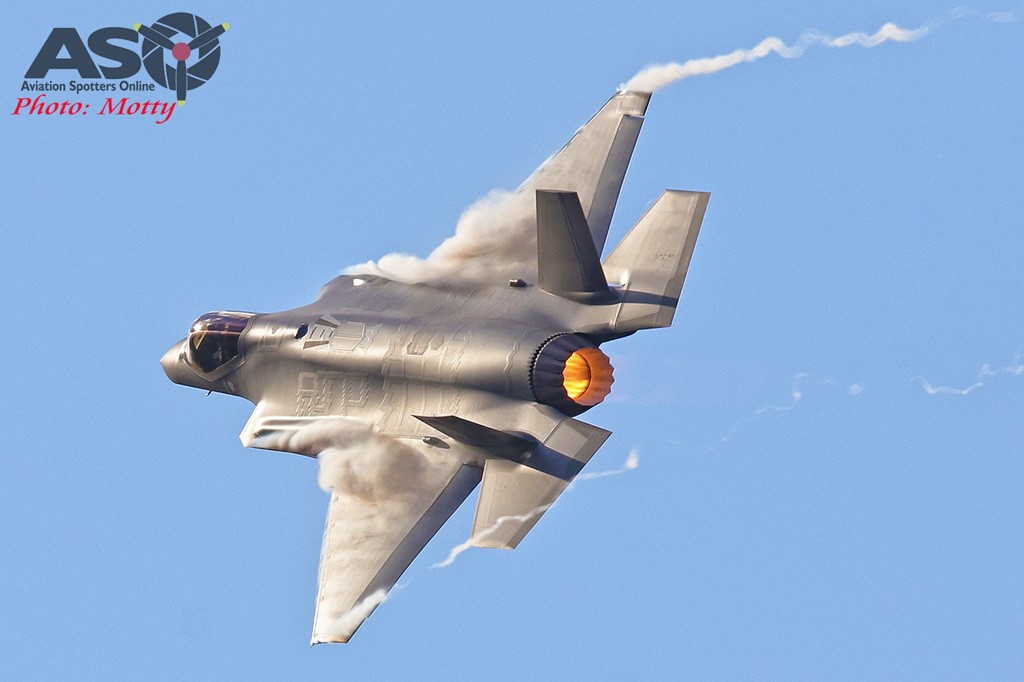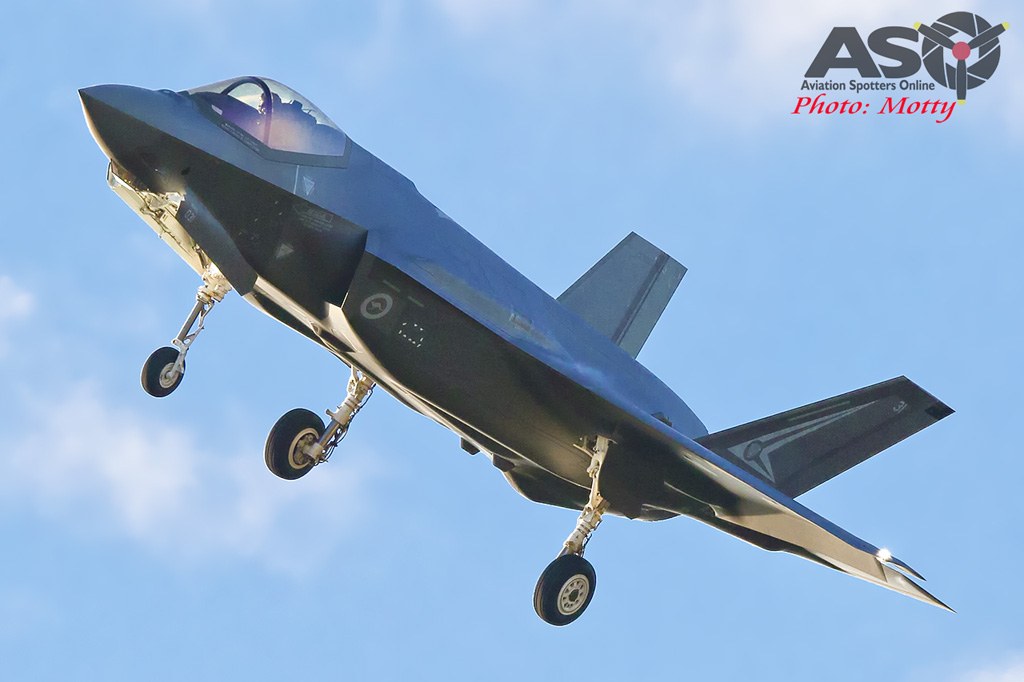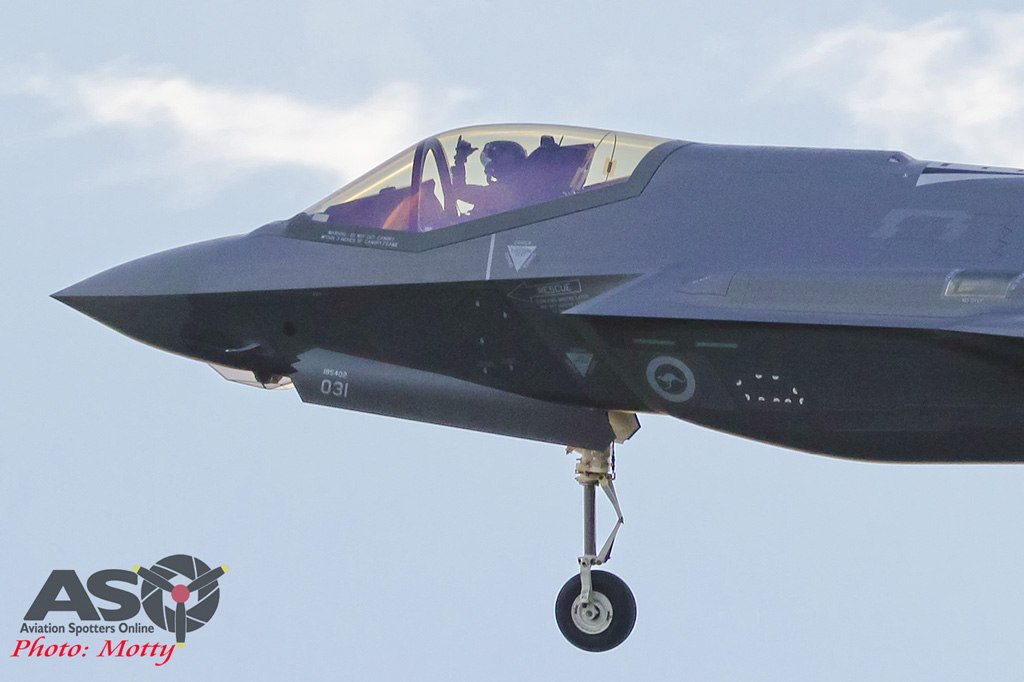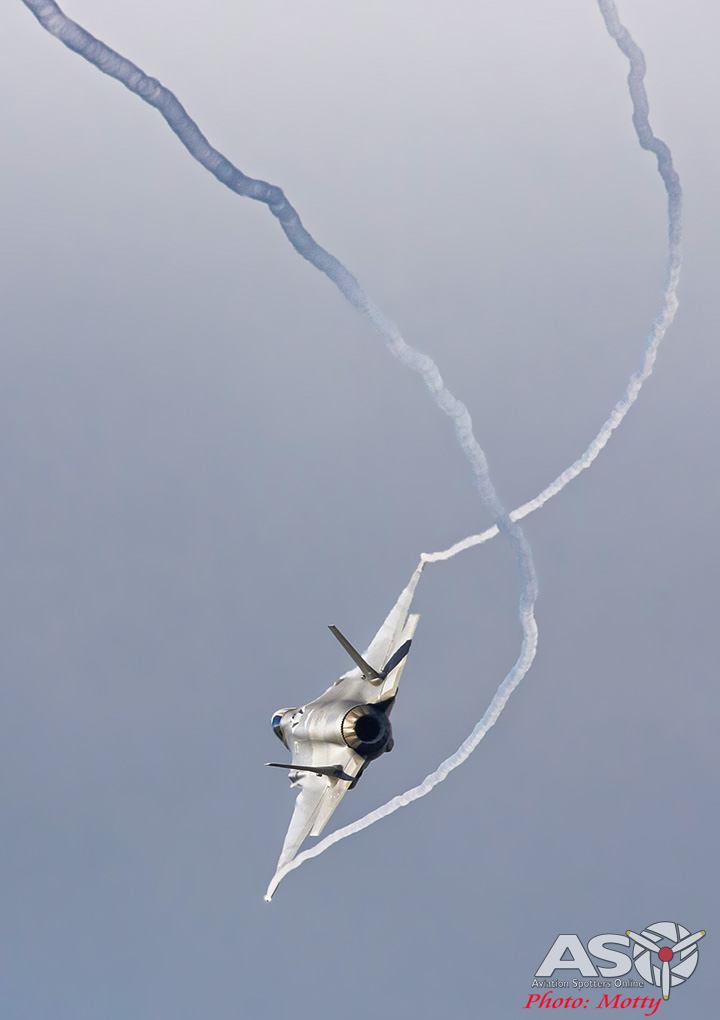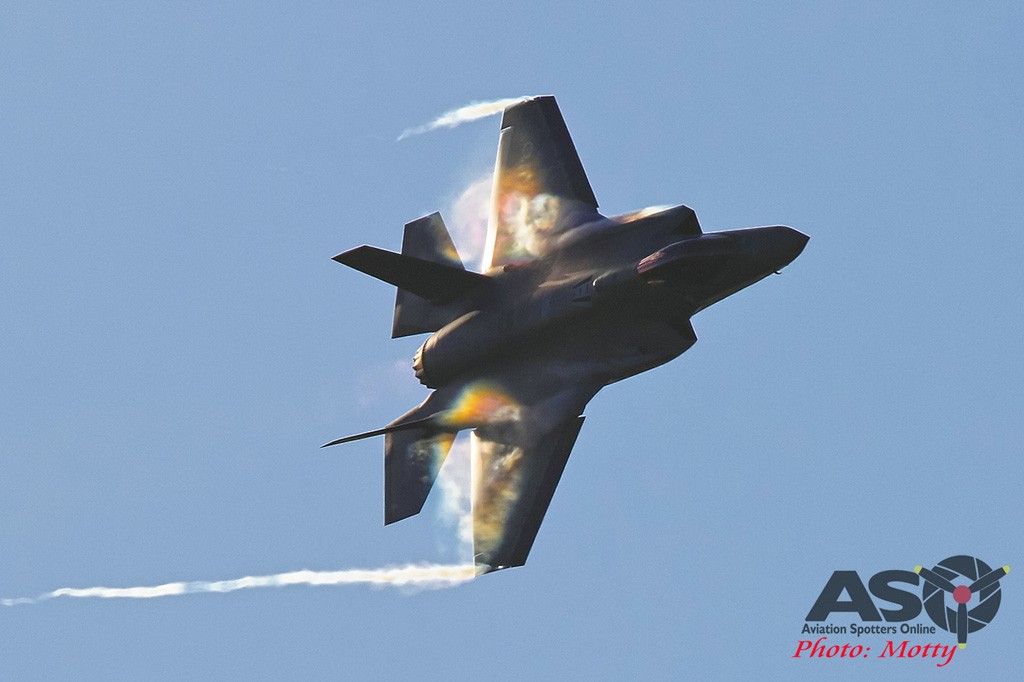 The routine culminated with a head-on approach and pull into the vertical, behind a huge wall of fire (which came as a bit of a surprise on the Saturday). A spectacular finish to an eagerly anticipated display.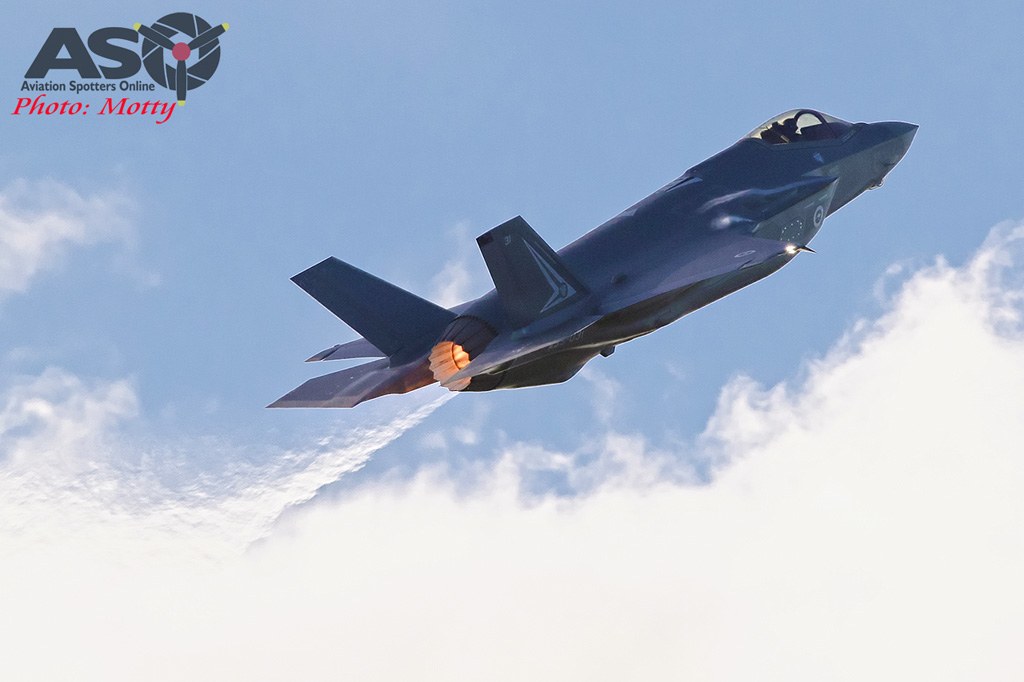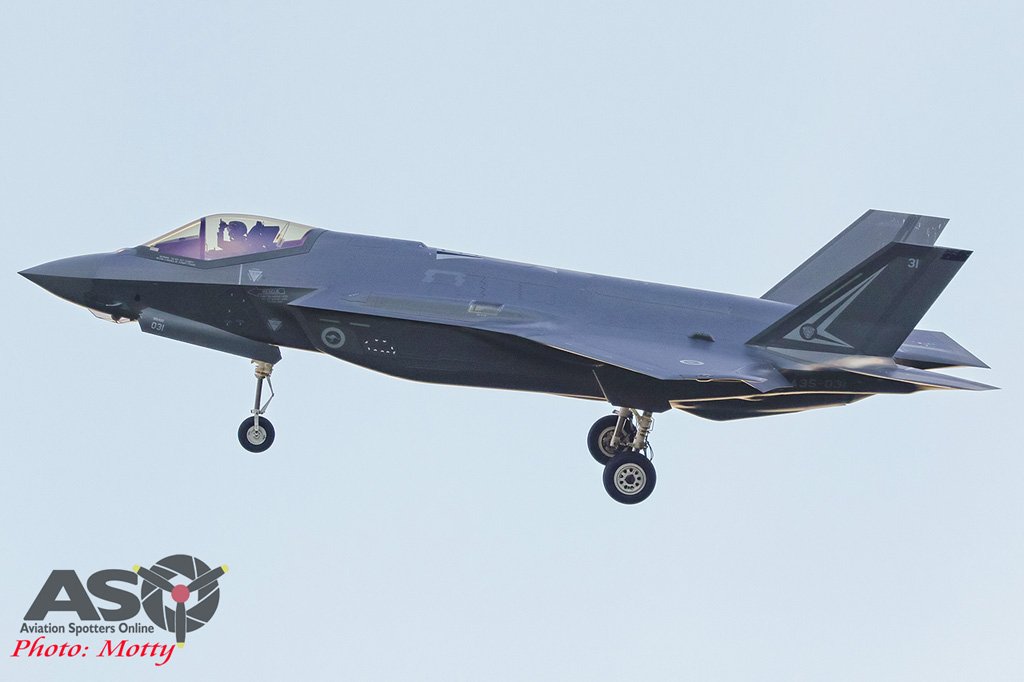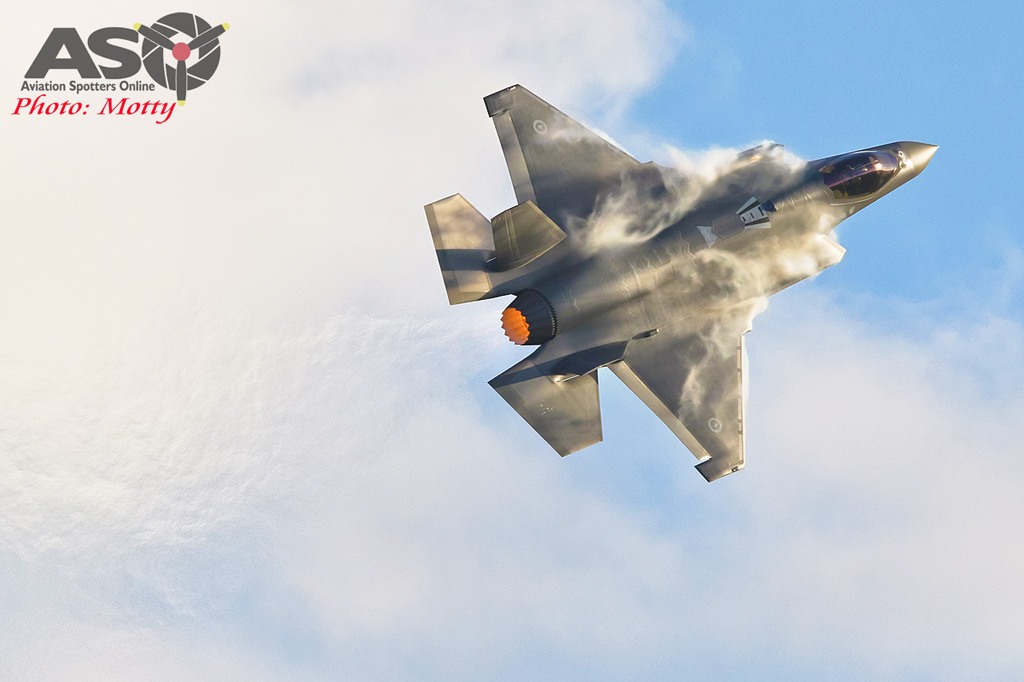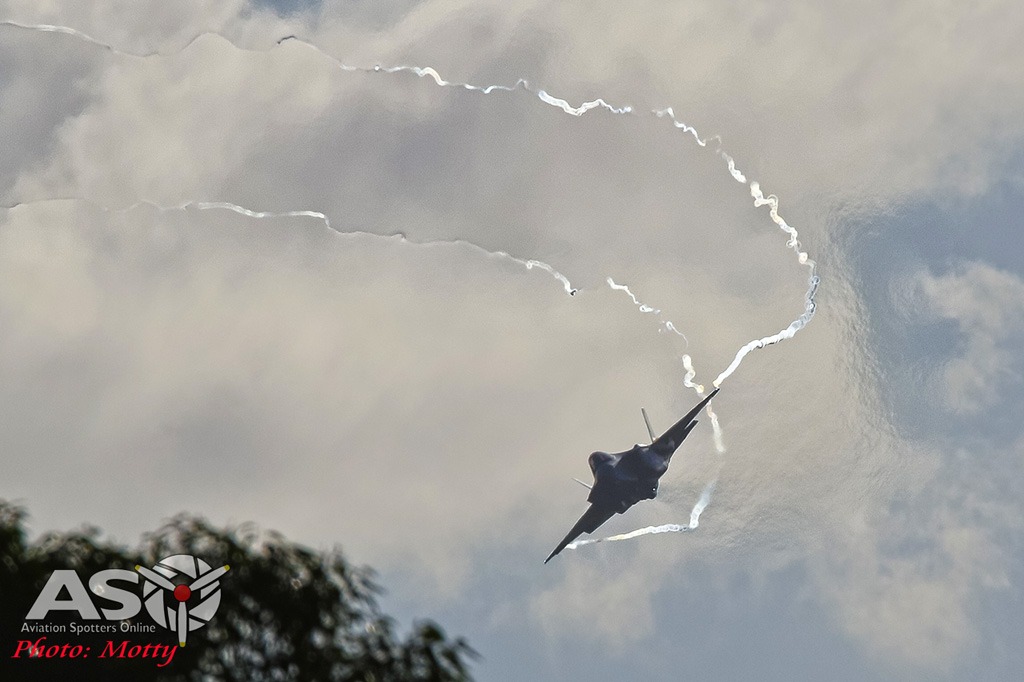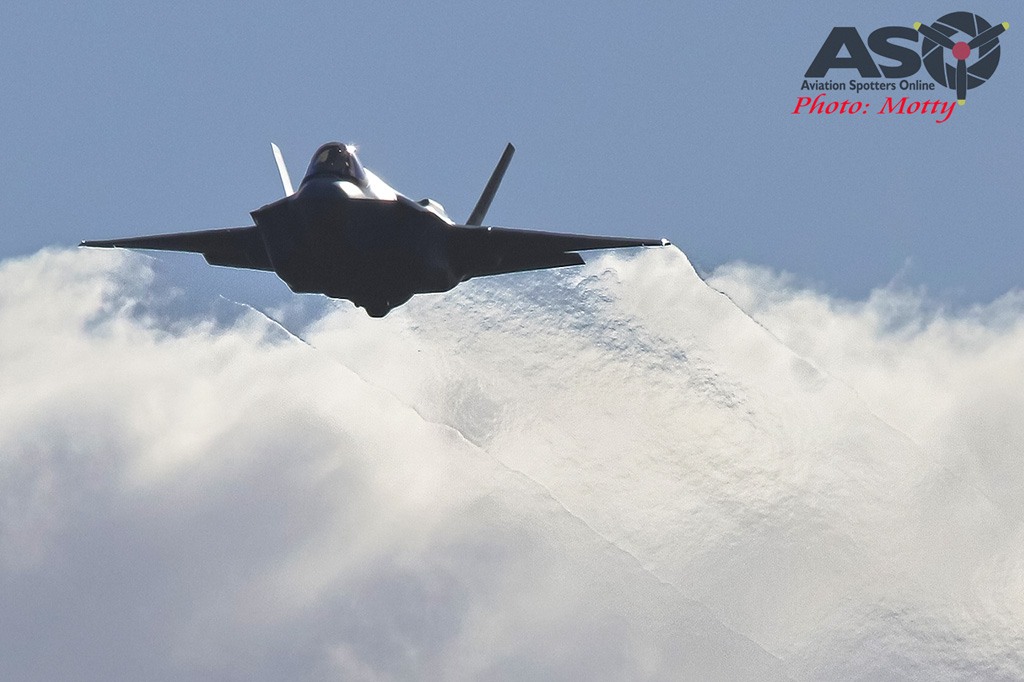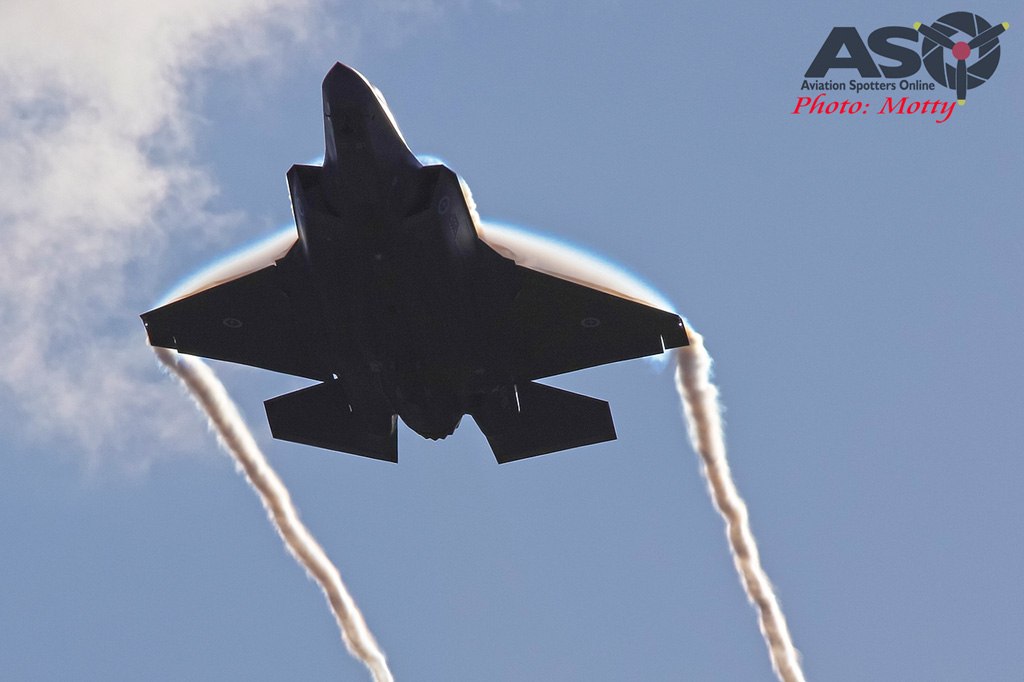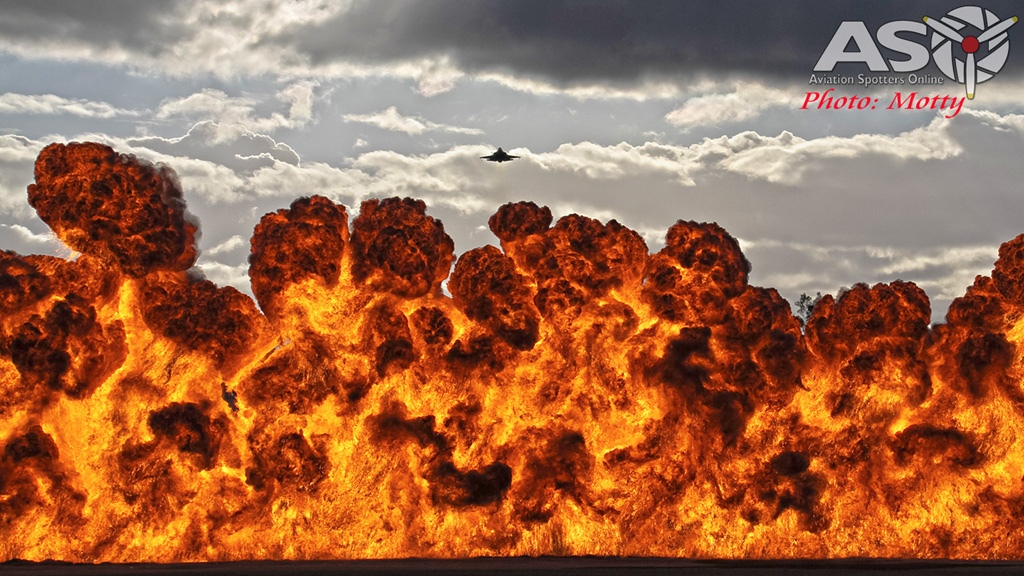 Sunday's show followed a similar pattern while the weather was a little cloudier but, thankfully, without rain. Levi Wagner also flew his large-scale F/A-18 and F-16 models which looked absolutely awesome and I was a bit better prepared for some of the big explosions too. There were also a few additional flights as the PBA team did some extra displays at the nearby Rathmines show too (as if they weren't busy enough already 😉 ).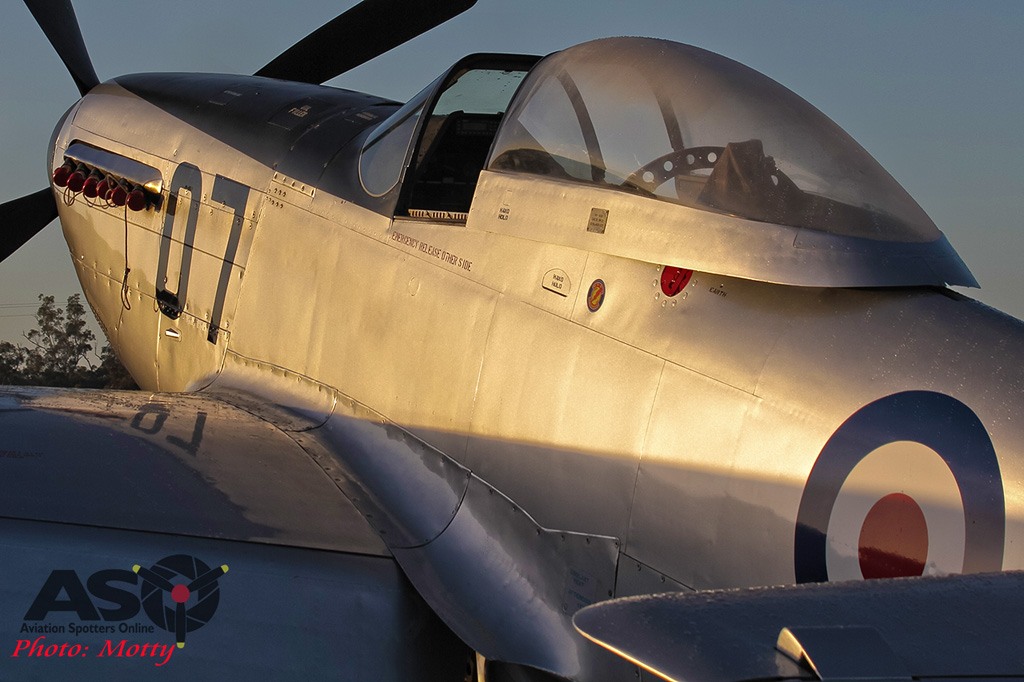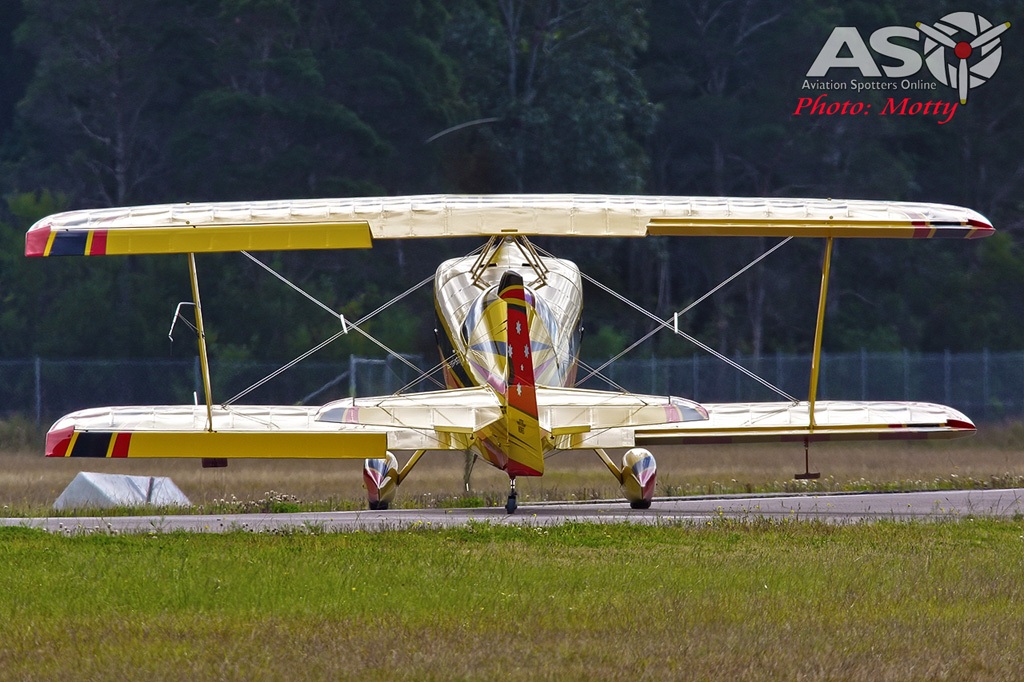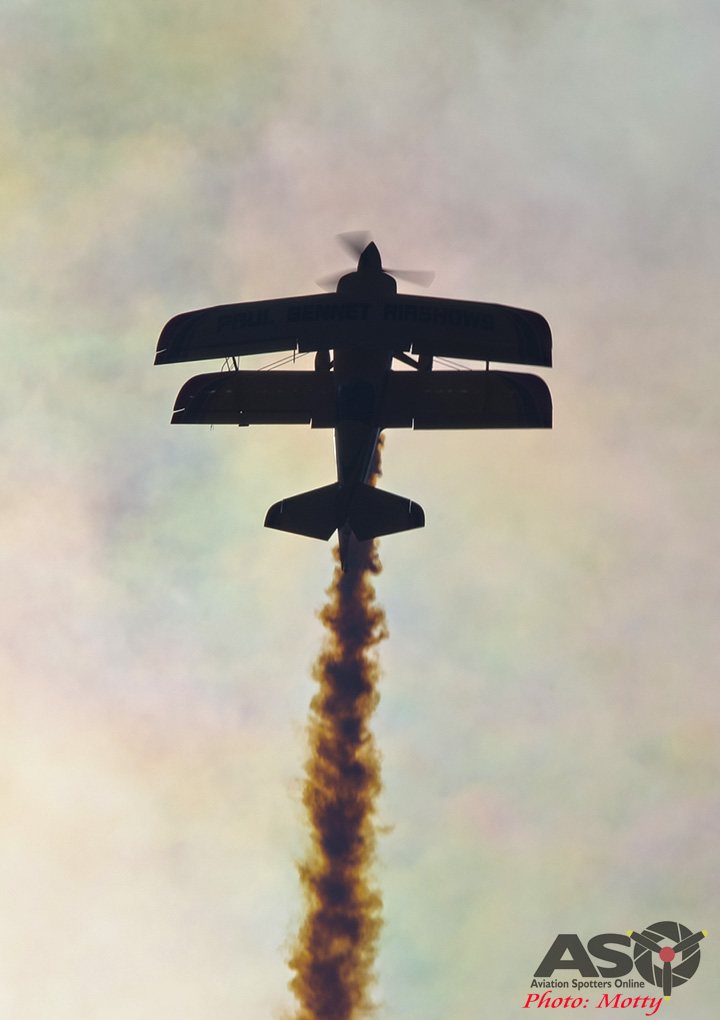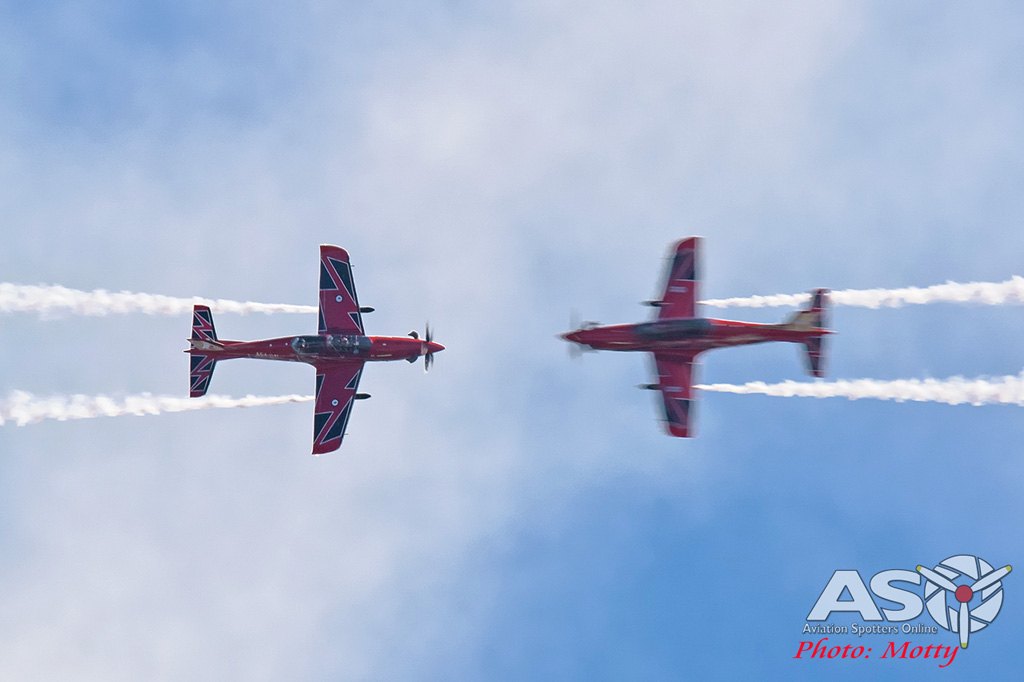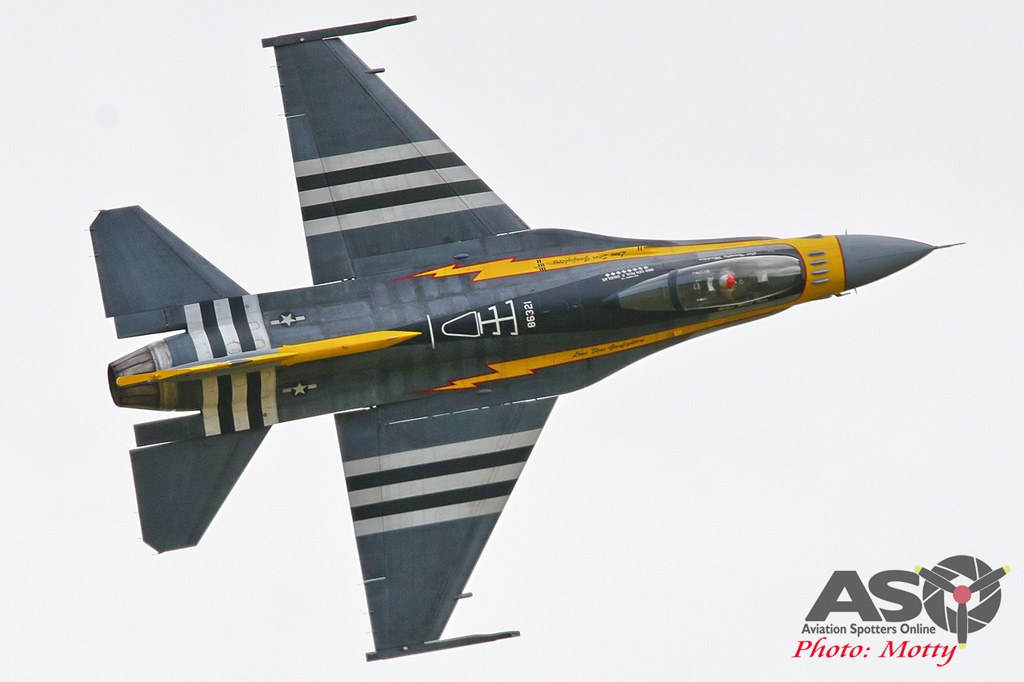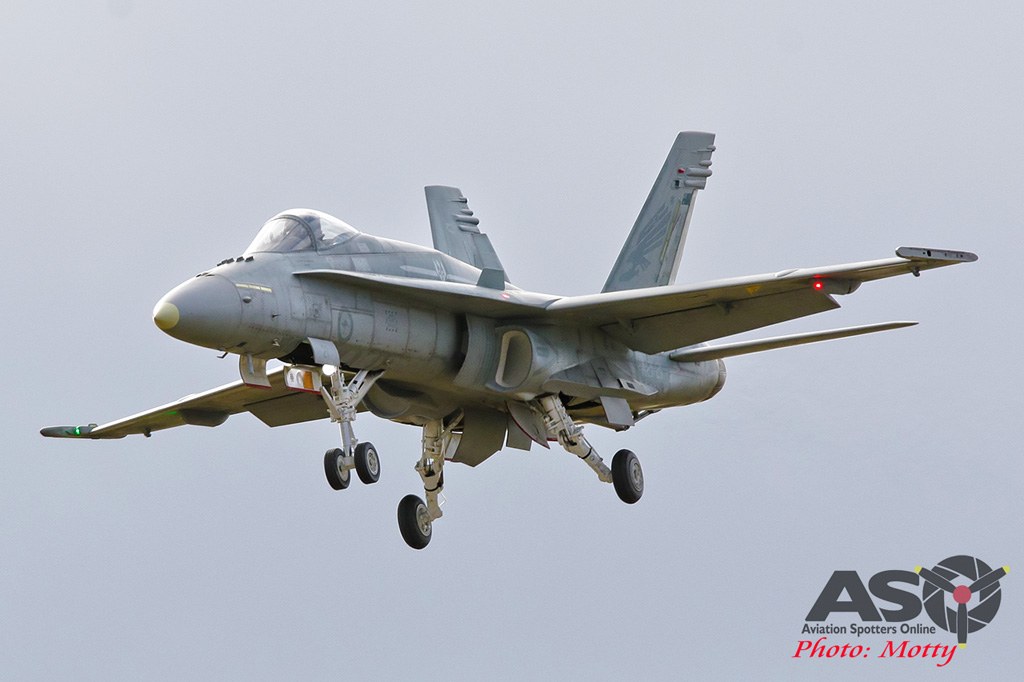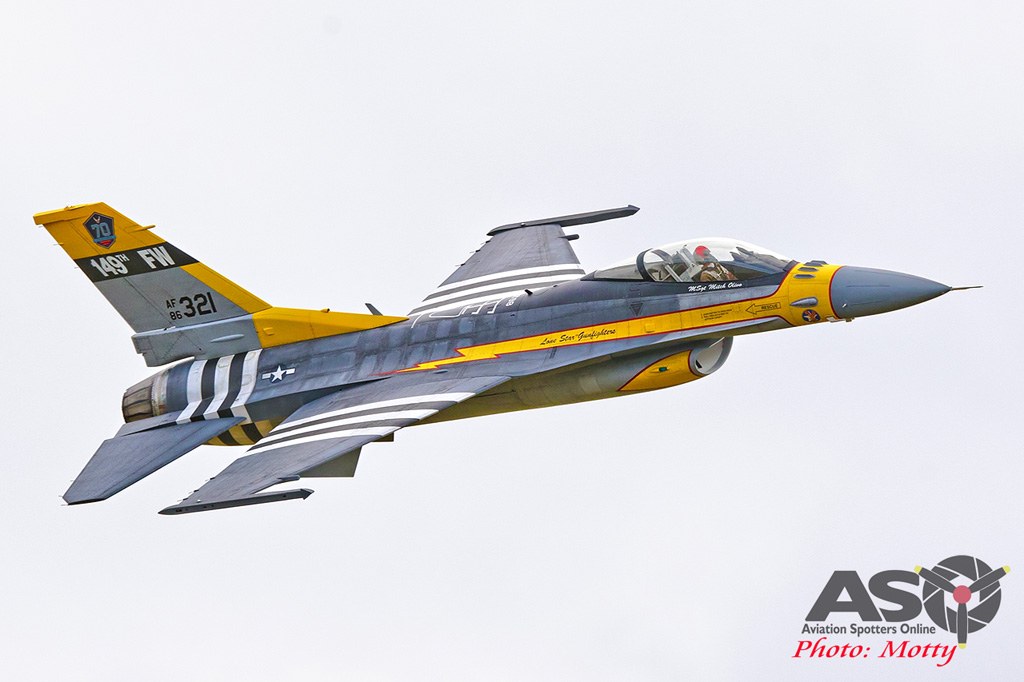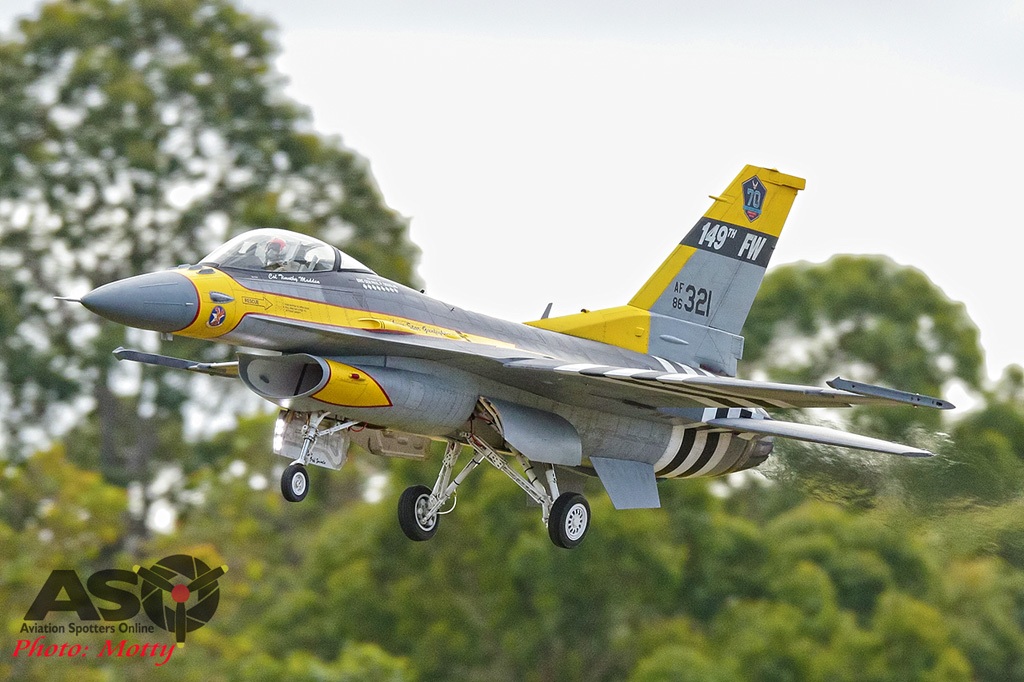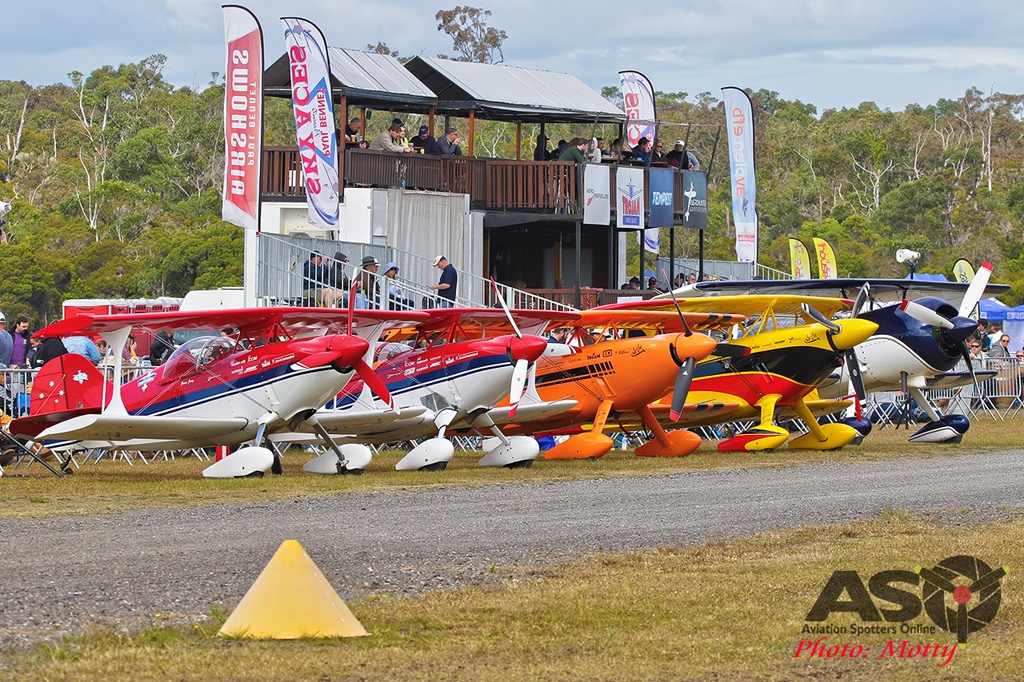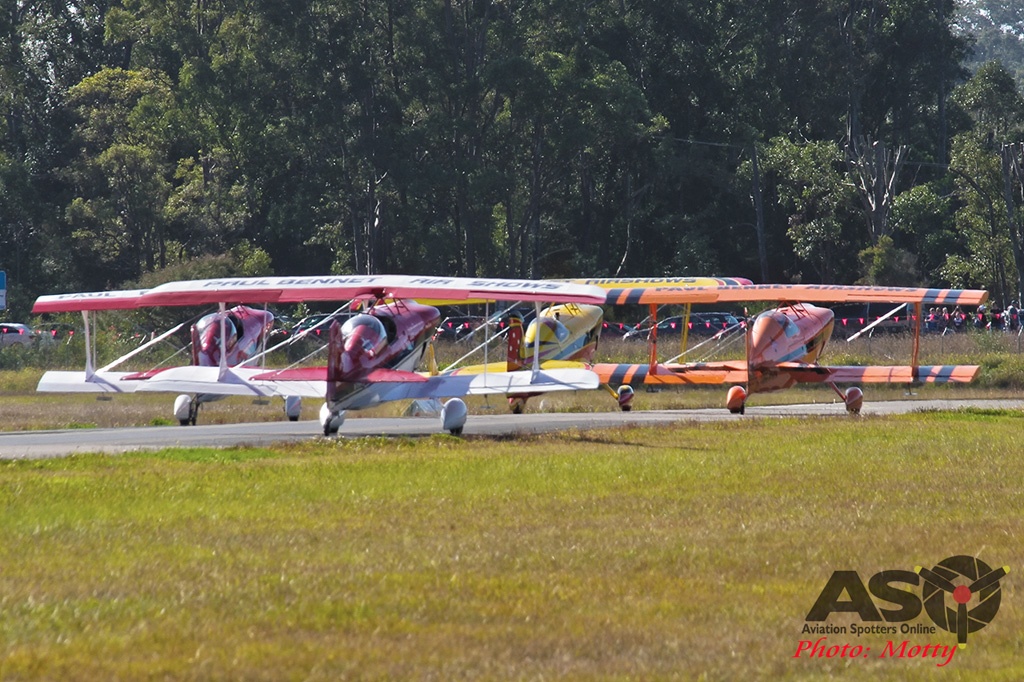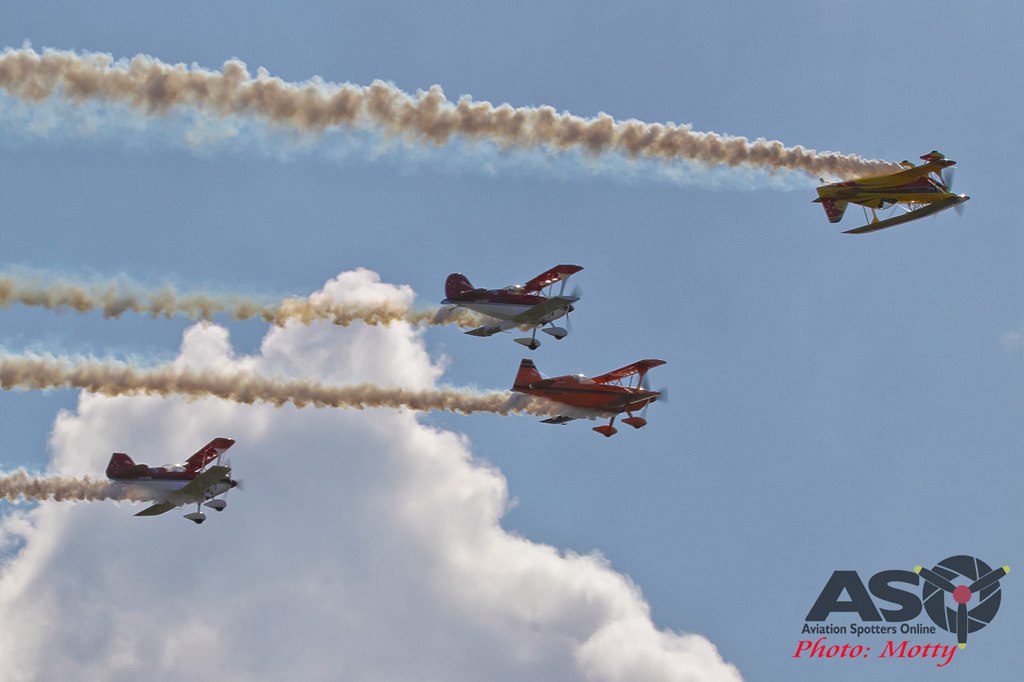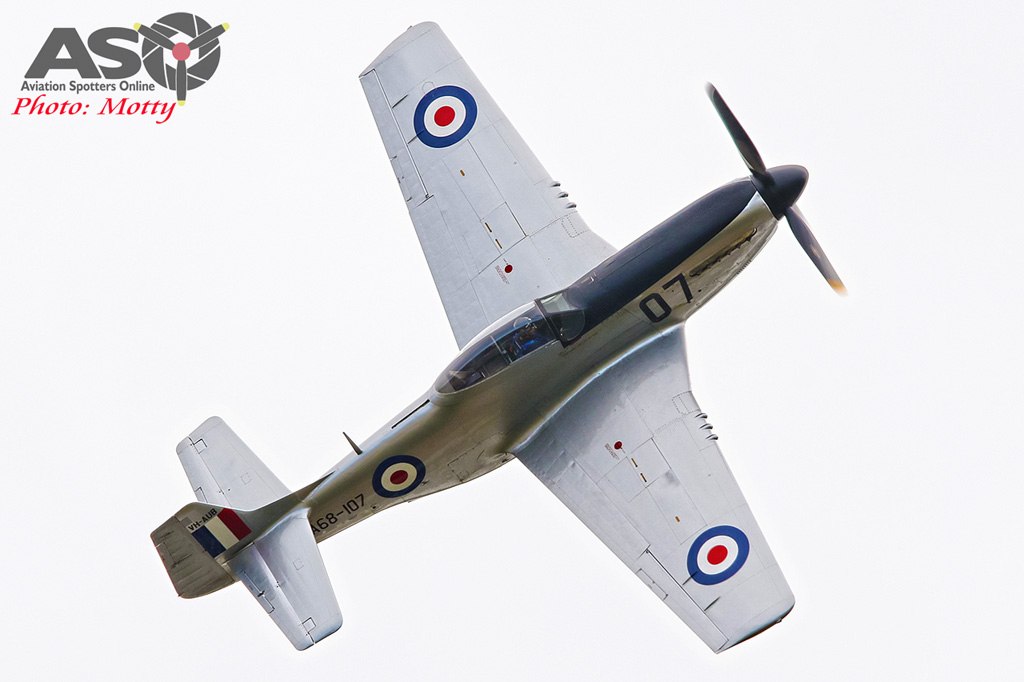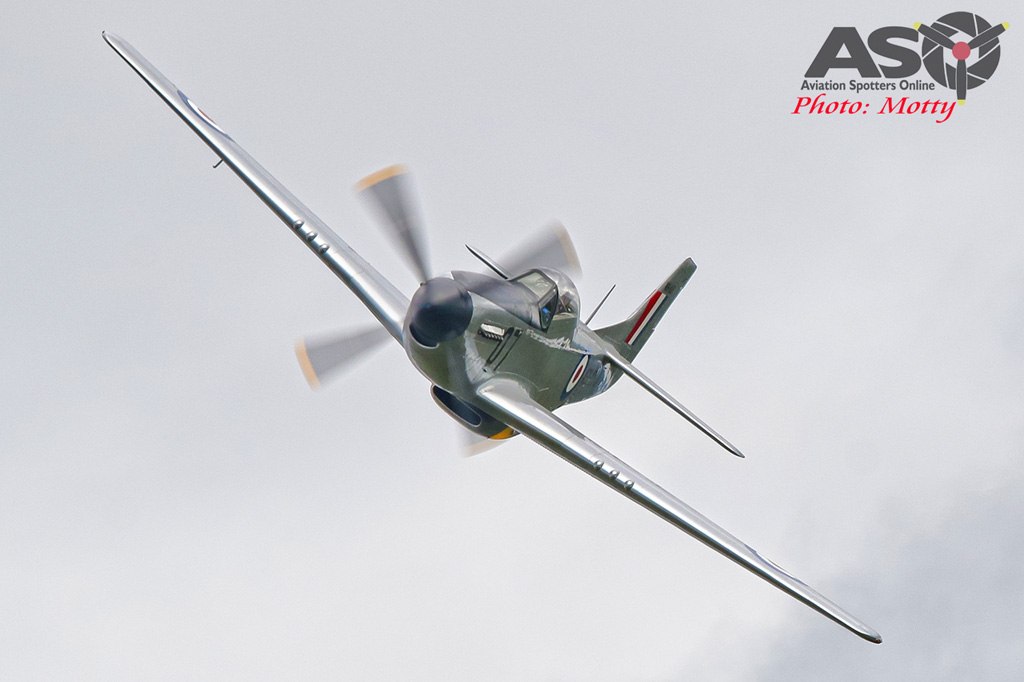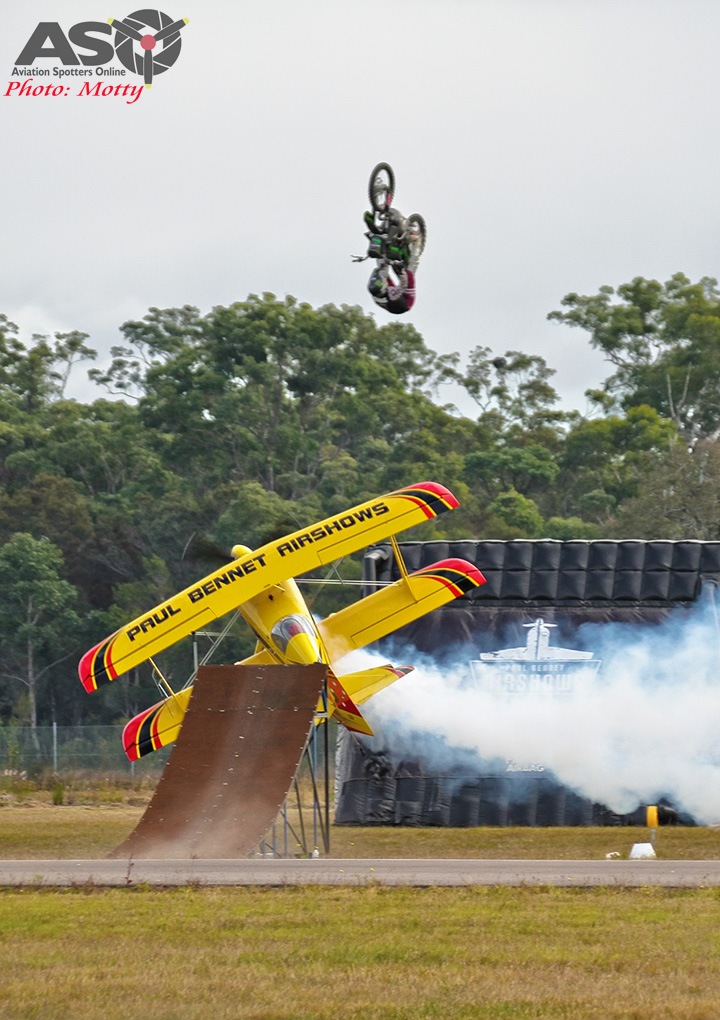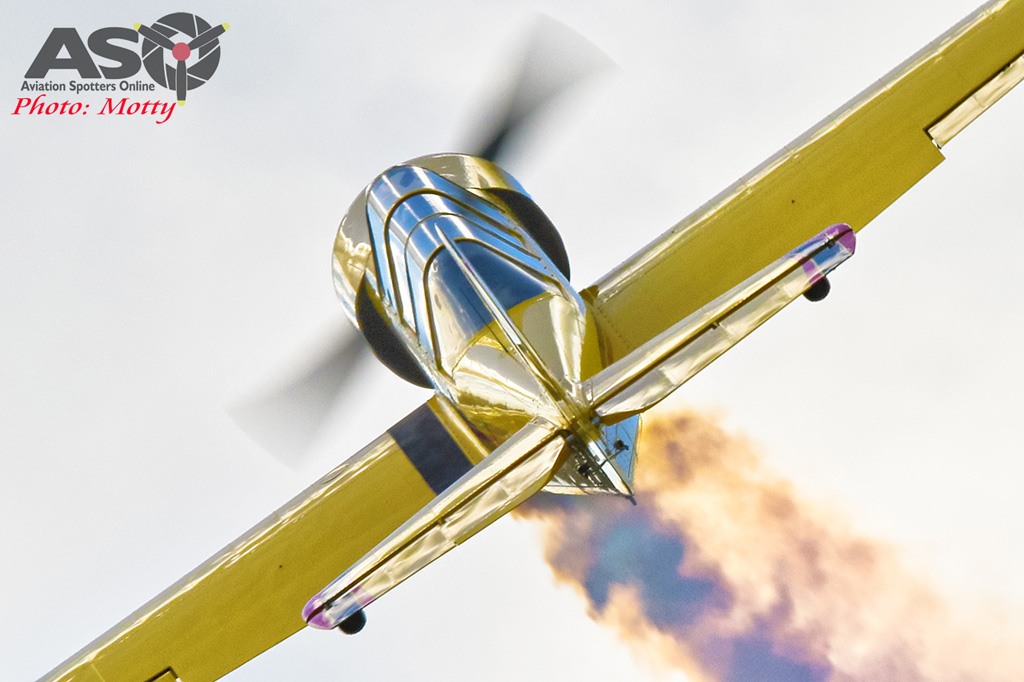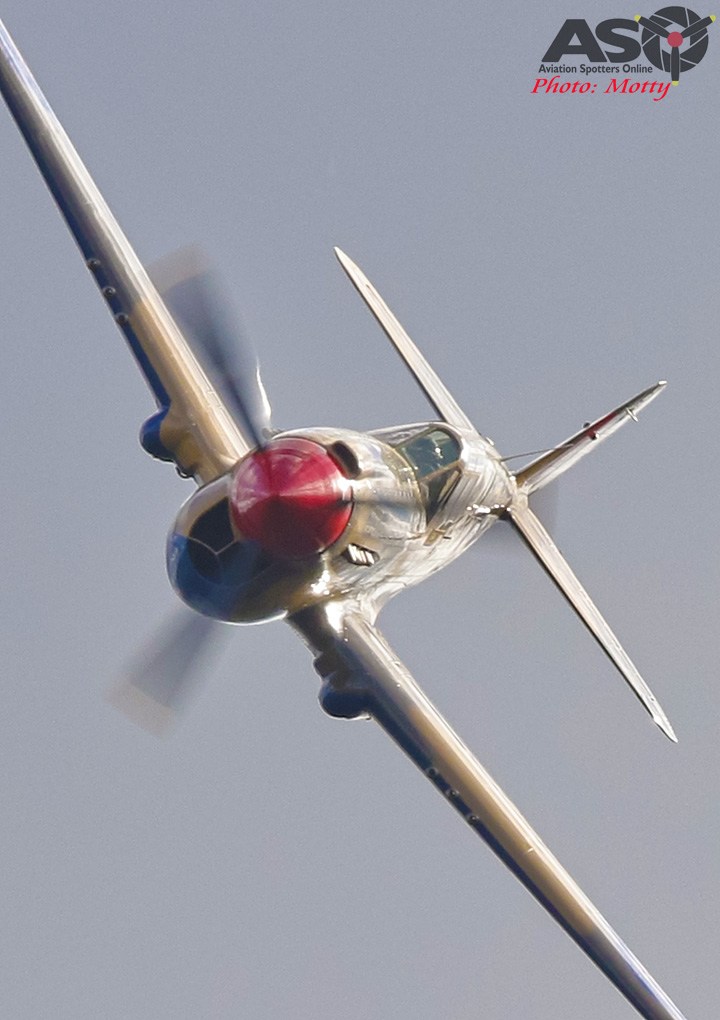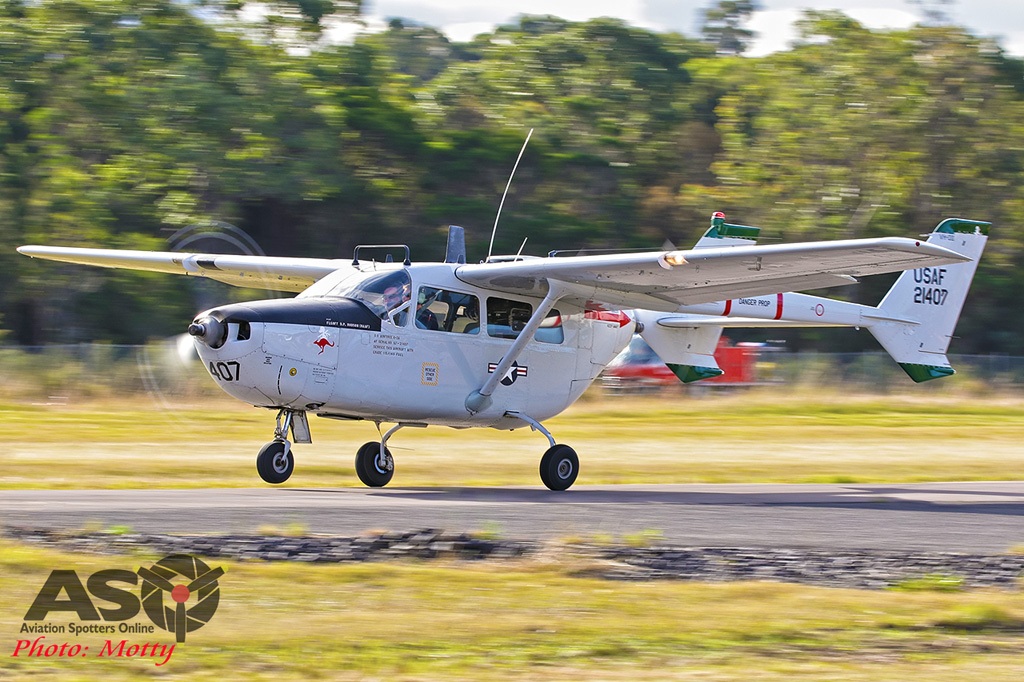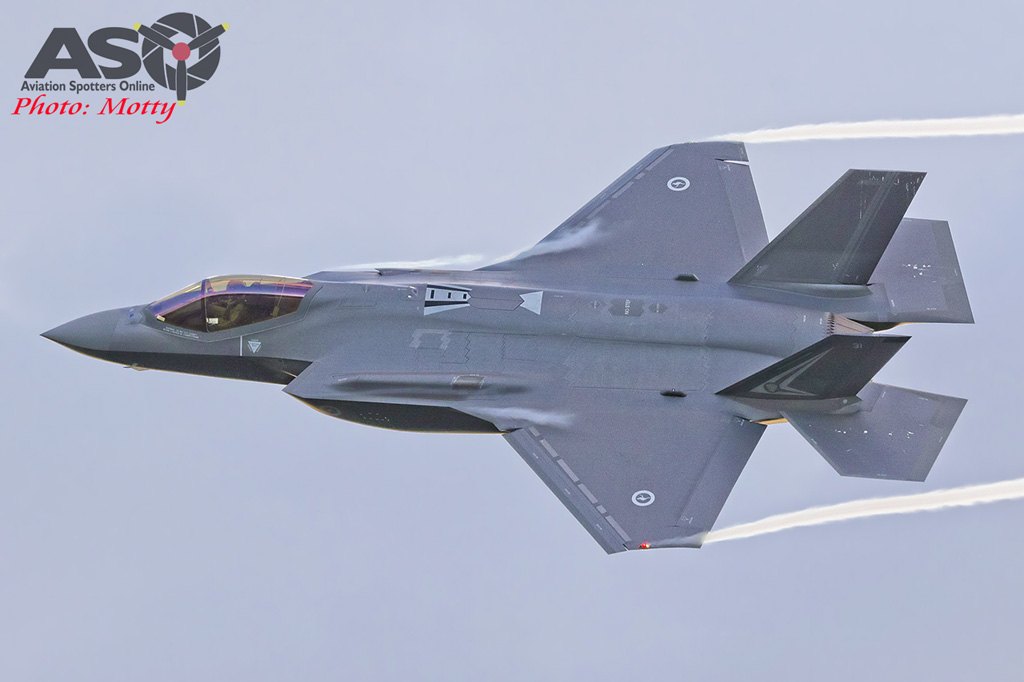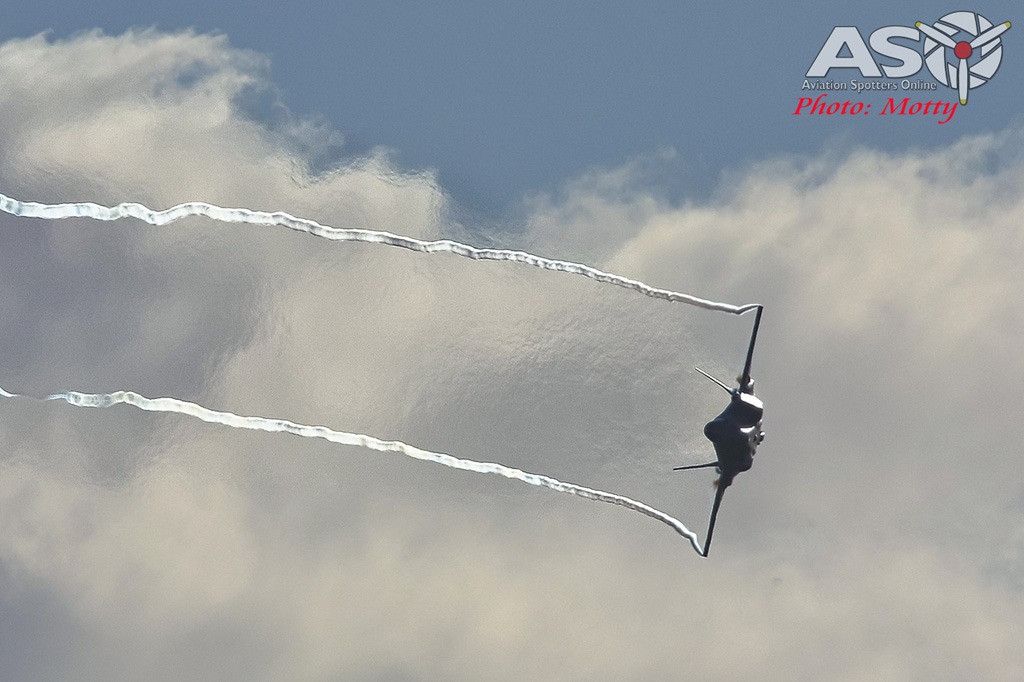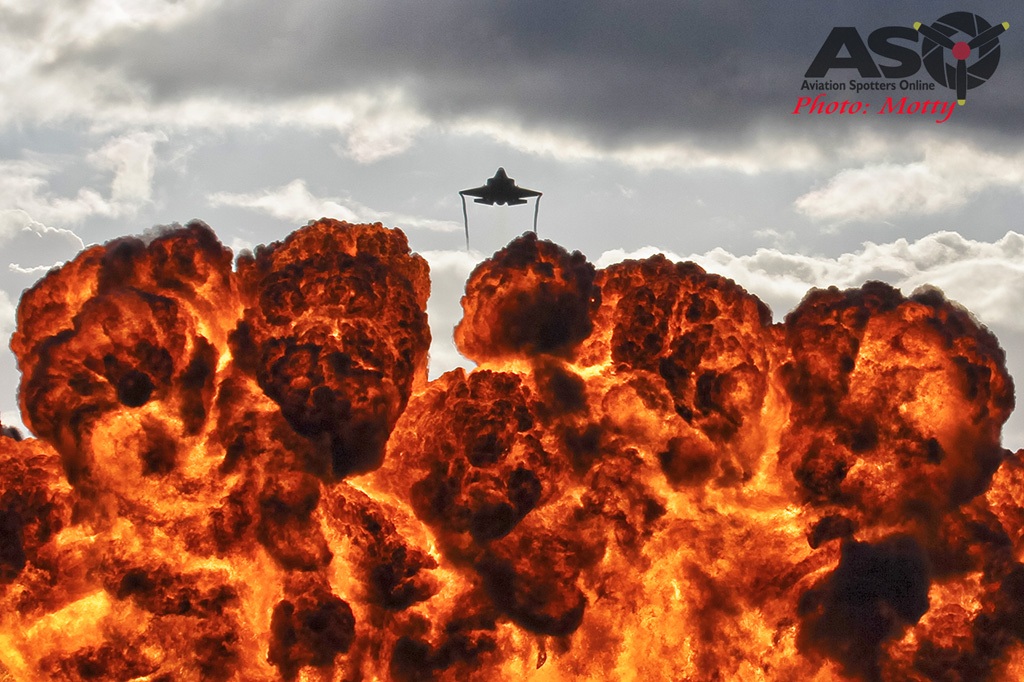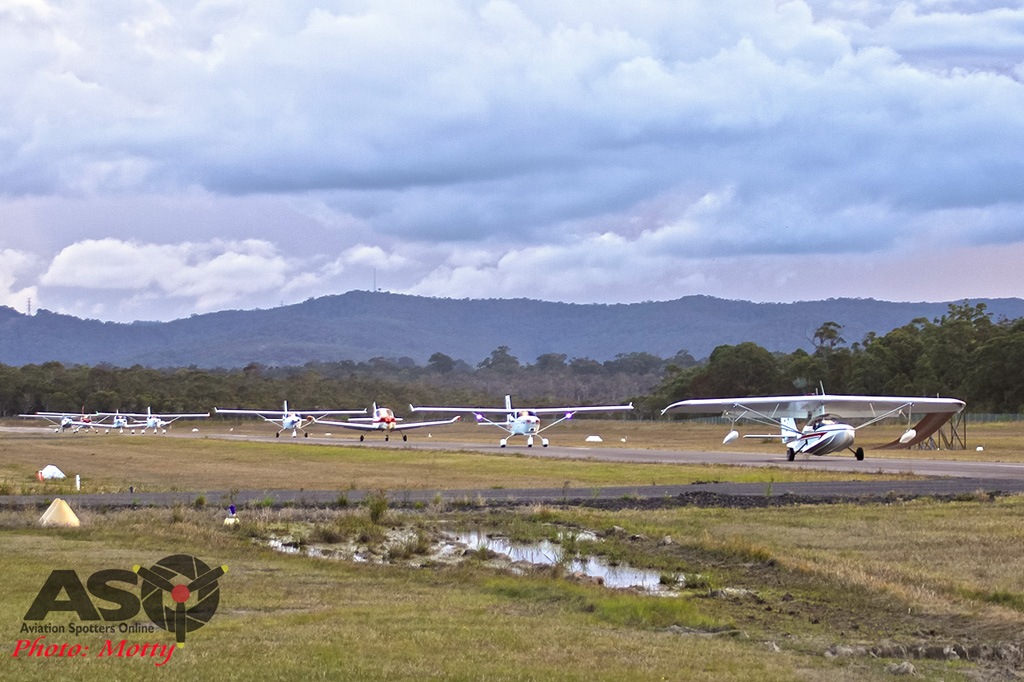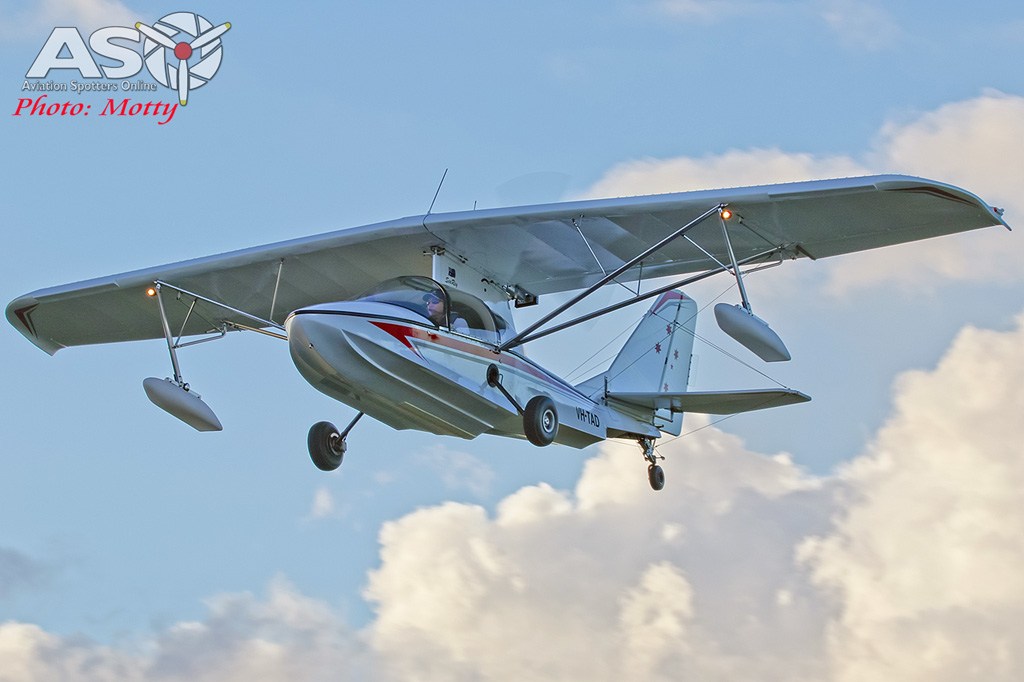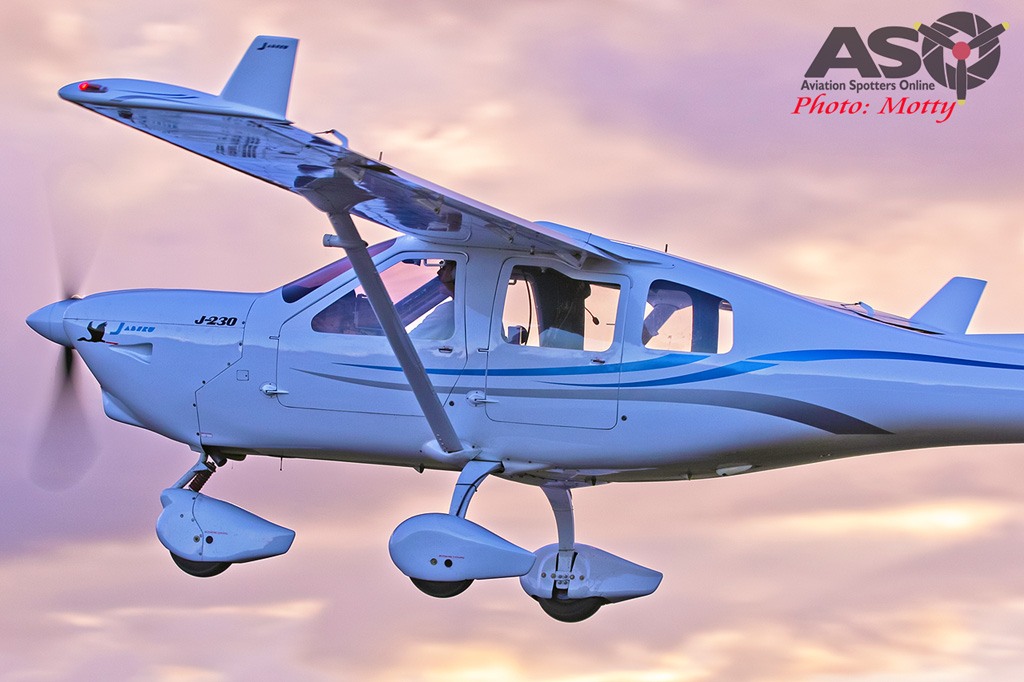 While Warnervale may have seemed seem like a fairly small airfield, the team at Paul Bennet Airshows certainly put on a full-sized show with plenty of action and variety in the air and on the ground for a great weekend of entertainment for visitors and enthusiasts alike. The feedback from the crowd certainly seemed very positive and left many asking; "when's the next one?" A big thanks to the PBA team and all their supporters, sponsors and volunteers who made such a great show possible.