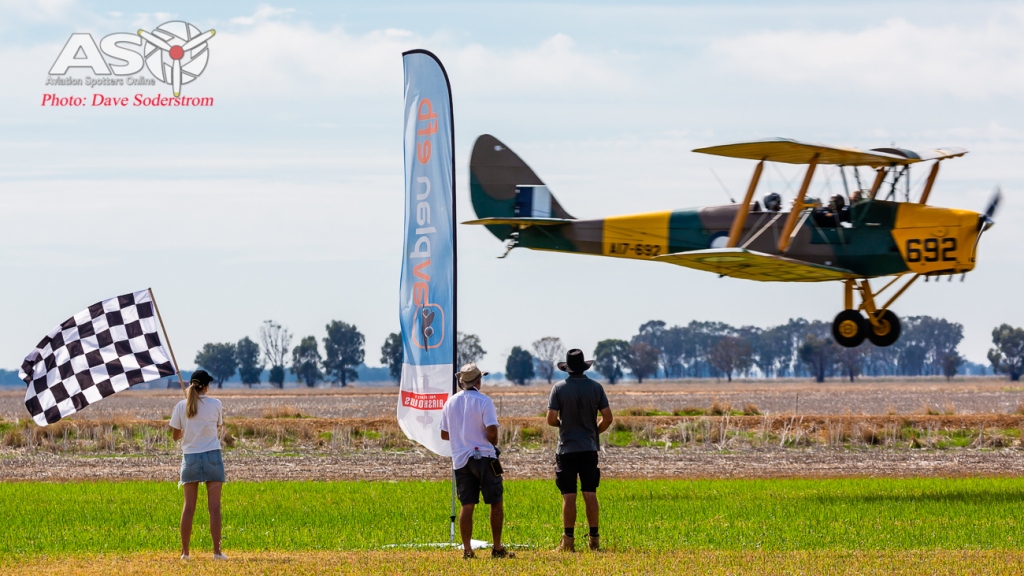 Significant Aviation events are being held across Australia with many celebrating their centenary years. Recently another of these events, held at a new airfield built for the event just North of Bendigo in Victoria's central region was a celebration labelled the 'Serpentine Air Race 2022'.
The reason for the event and airshow is to look back and celebrate an event back in 1920 when Serpentine was chosen as the starting point of Australia's first official air race. Four airmen all of whom had served in the Australian Flying Corps in the First World War competed to promote the 'Second Peace Loan'.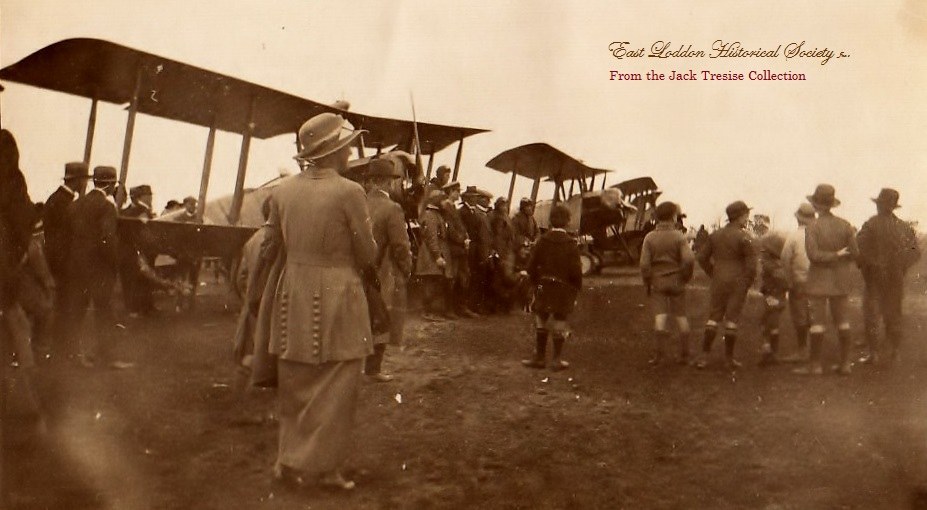 After the Great European War of 1914 to 1918 an amount of £25,000,000 (pounds) was being sought by the Australian Commonwealth Government through a bond subscription from the people of Australia – 'The Second Peace Loan'. The then Acting Treasurer, Sir Joseph Cook announced this on 7th July 1920 with the funds to be expended on the repatriation of the uniformed soldier to industrial and civilian pursuits in the community. Each State was given a target.
Victoria was expected to contribute £8,200,000 (pounds). The introduction of Australian Flying Corp aeroplanes utilising World War I aviators was a novel way to generate interest in the Peace Loan and help the one-month intense promotion of the bonds. To promote the 1920 event pilots travelled by train on the Tandarra, Dingee, Prairie, and Mitiamo rail lines addressing local residents on the importance of supporting the Second Peace Loan. Bank officials and ex-servicemen accompanied these trains or followed in a car to promote the Peace Loan and sign new subscribers. East Loddon Shire residents and businesses had a target of £19,000 (pounds) to raise which they achieved in August 1920.
Flying in their post World War 1 Avro 504 aircraft the race on 27th August 1920 was won by pilot, Lieut. William Harold Treloar. He later flew back to Serpentine on the 2nd October 1920 to be presented with a silver trophy by Cr. Nicholas Tonkin, President of the East Loddon Shire. The Serpentine district community residents subscribed for £40 (pounds) to purchase the trophy.
The Serpentine Air Race was another victim of the Covid-19 Pandemic. So having to be postponed for two years saw the event reinvigorated and well attended by locals and aviation enthusiasts.
Paul Bennet Airshow's provided the 'Airshow' element to coincide with the air race itself. With a host of ground displays, alongside the aviation, it was a great show and one the Loddon Shire, Paul Bennet Airshows, and the volunteers should all be proud of. Jim and Dave attended the event and below are their photo's from the event.
The historic trophy has been housed at Point Cook Air Museum which was flown in for the day by the Royal Australian Air Force (RAAF), No. 100 Squadron.
Air Race Participants
Let's look at the Tigermoth participants and the details on each one.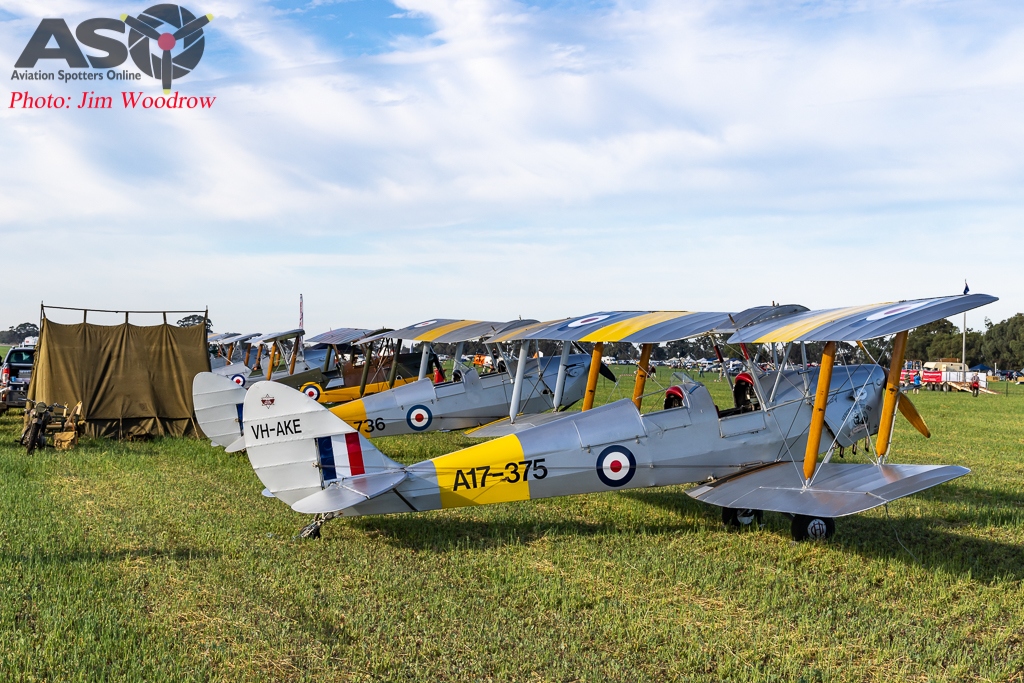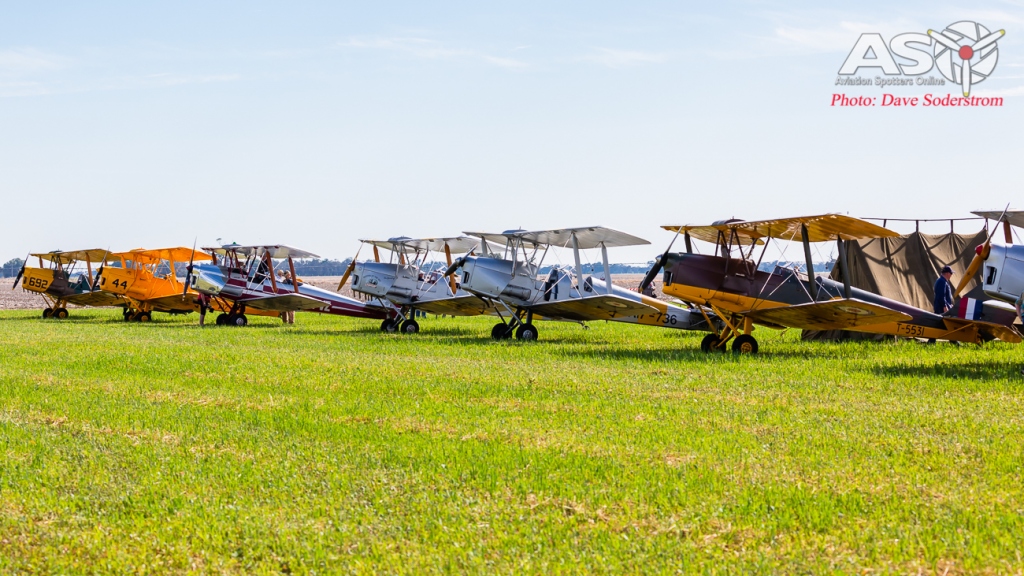 To fly in the air race the rules were simple you had to be in a Tigermoth and the second was you had to be in a Tigermoth. (There were some other details, however, I think you get the idea) Departing from the Serpentine Airfield the aircraft then headed for their first waypoint, Boort Airport – YBBT then onwards to the Mitiamo Township – MITI and then return back to the Serpentine airfield.
Tigermoth A17-962 VH-AWA
Operated as part of the Royal Australian Air Force's 100 Squadron based at RAAF Point Cook and Temora. This particular aircraft was built in Bankstown NSW for an order from the Rhodesian Air Force and was to be serialled as DX781. The aircraft was taken on strength by the RAAF in 1943 and flown by 5 EFTS at Narromine NSW. After the war, it continued to be flown by the RAAF. Later transferred to the Royal Australian Navy it retired from its service in 1958. Purchased by the Tamworth Aero Club becoming VH-AIF. By 1961 it had become VH-AWA and was finally repurchased by the RAAF in 2005. The aircraft was flown by FLT LT Brett Alderton and Co-piloted by FLT LT Chris Tulk.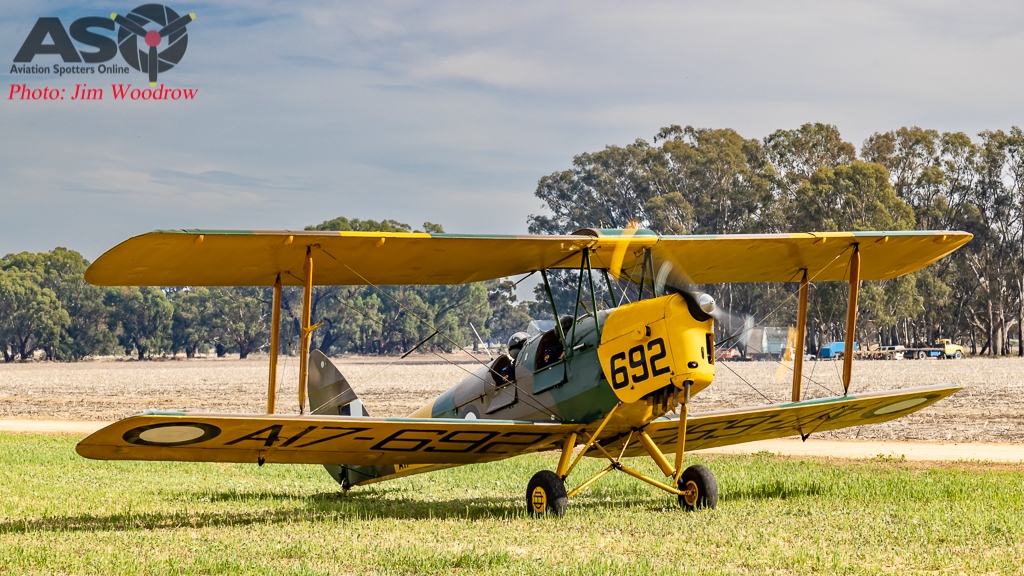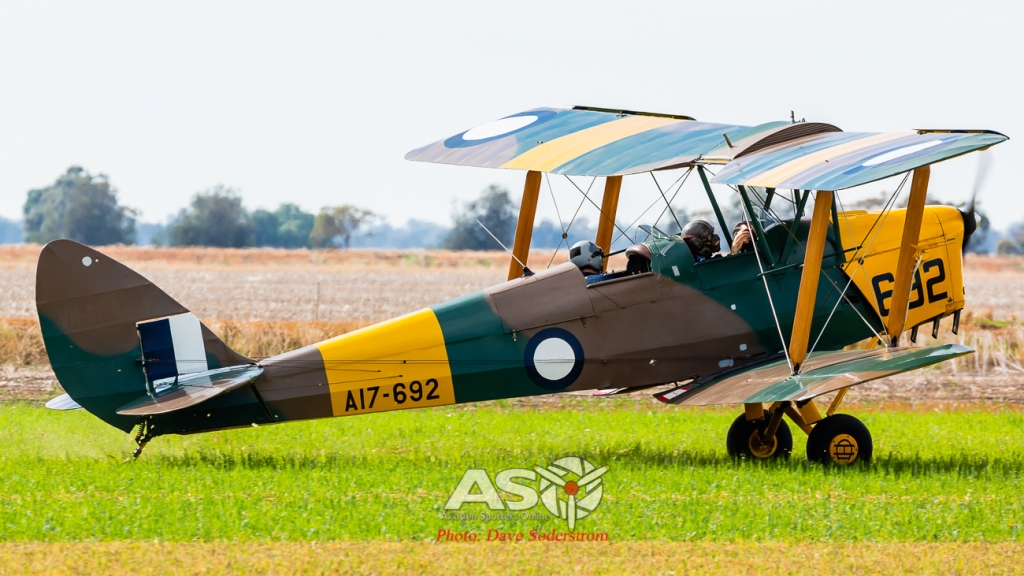 Tigermoth A17-395 VH-PHZ
This aircraft was built in 1941 for the RAAF as A17-395. After the war, it was civilianised and registered on 18 December 1947 as VH-BKD. Withdrawn from use in 1951 it was then rebuilt later that year as a crop-duster, and became VH-WFX. Re-registered again in 1960 as VH-PVA, then in 1968 restored back to a two-seat standard configuration as VH-PVZ. Today it is owned by Grant Fletcher from NSW. The aircraft was flown by Graham Bunn and Co-piloted by Murray Gerraty.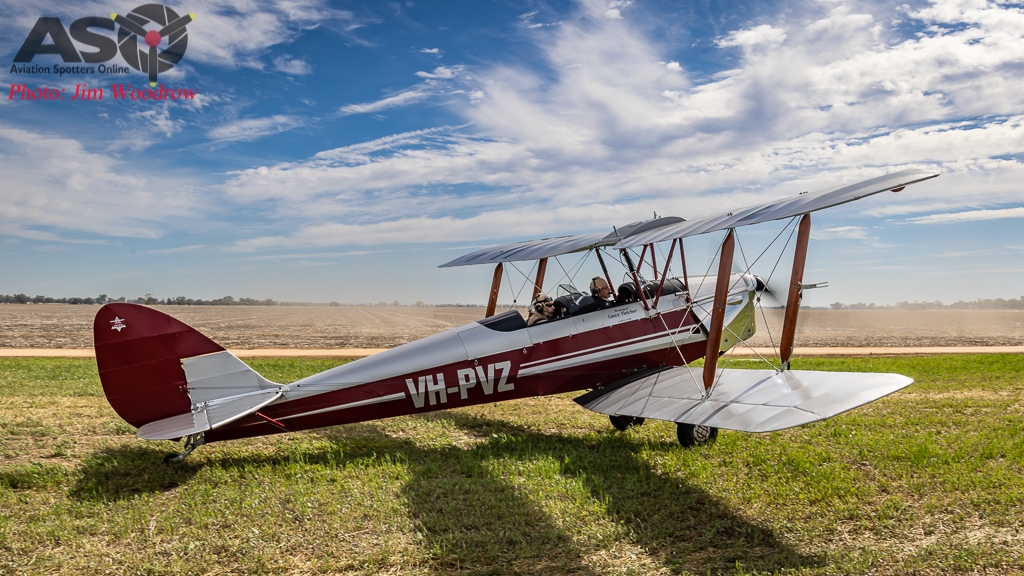 Tigermoth A17-375 VH-AKE
Built in 1941 this Tigermoth saw service with the RAAF. When released from military service it became VH-AKE on Christmas Eve, 1946. Later it was part of the fleet of the Canberra Aero Club. Today it is owned by Warren Manuel. For the event, it was piloted by Warren Manuel and Co-Piloted by Chris Ellis.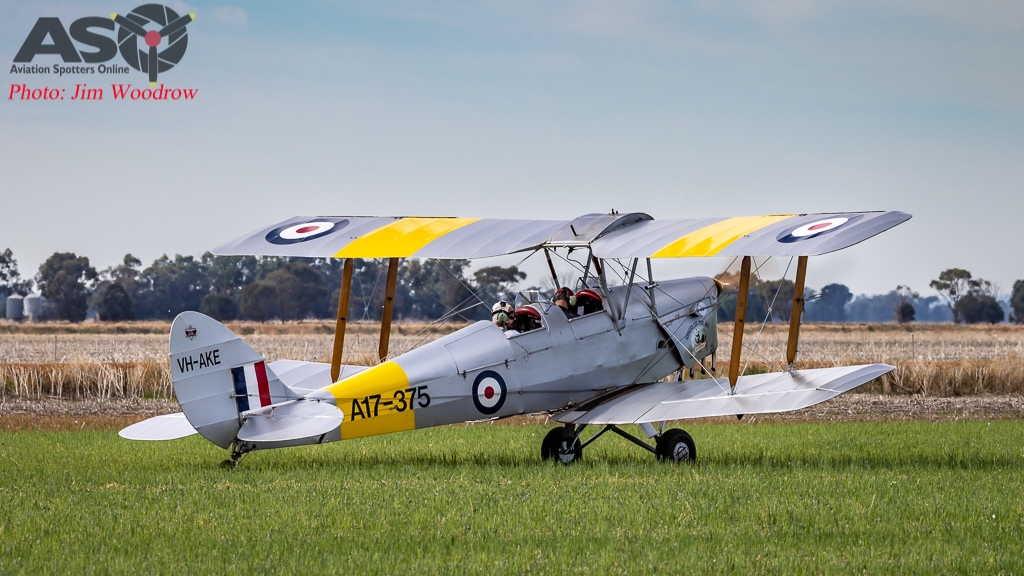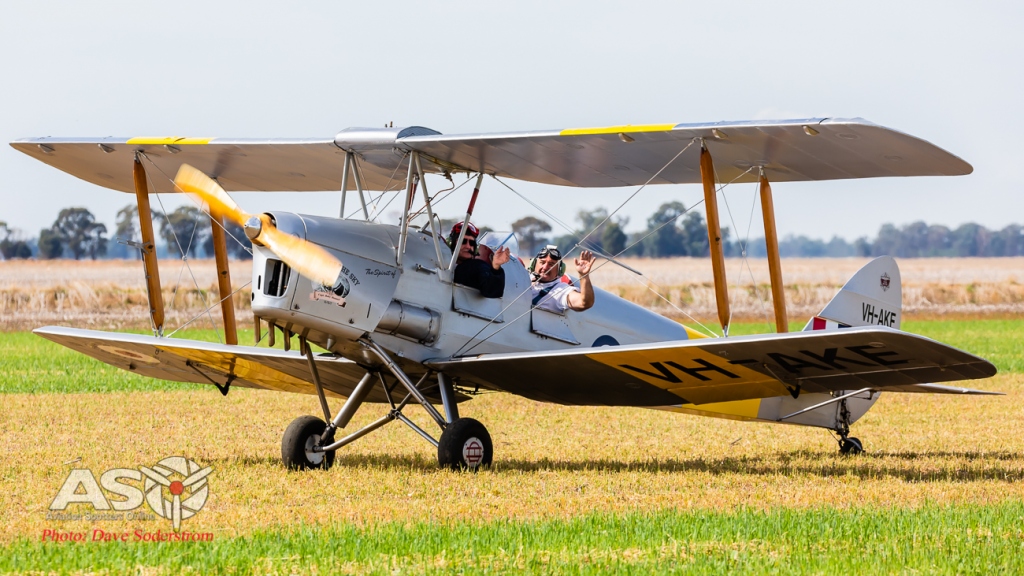 Tigermoth T-5531 VH-CXV
Built in 1938 in England, it was flown by the RAAF but retained its British serial. Civilianized in June 1946 as VH-ATD. In April 1955 it was acquired by the Royal Newcastle Aero Club and became VH-RNL. It was later sold by the club in September 1961 it was issued, for then, the period sequence rego VH-CXV. Today it is flown out of Cressy Aerodrome where you can also go for a flight in the aircraft. For the Air Race, it was flown by Jason Cheney and co-piloted by Dave who went on to come second.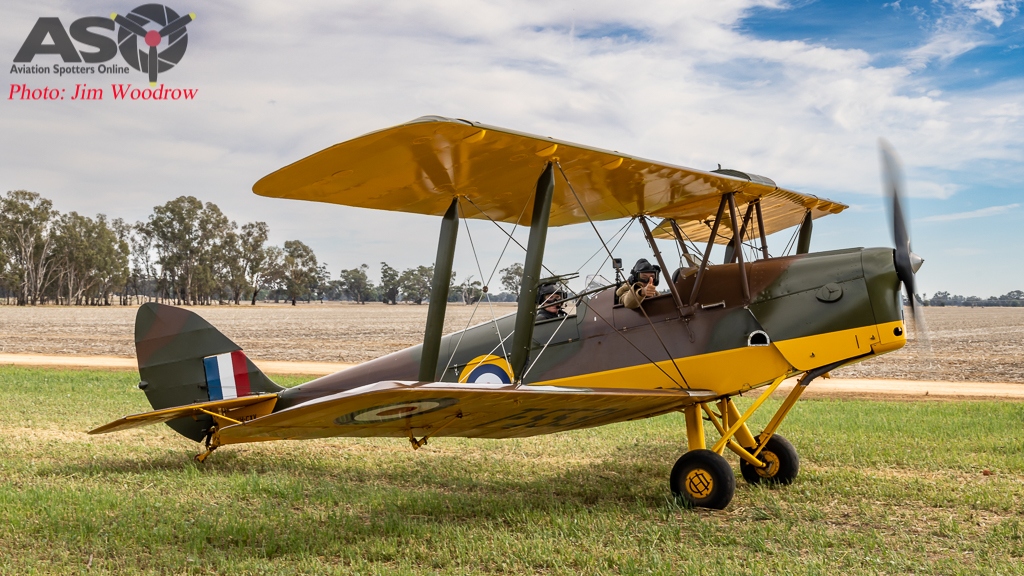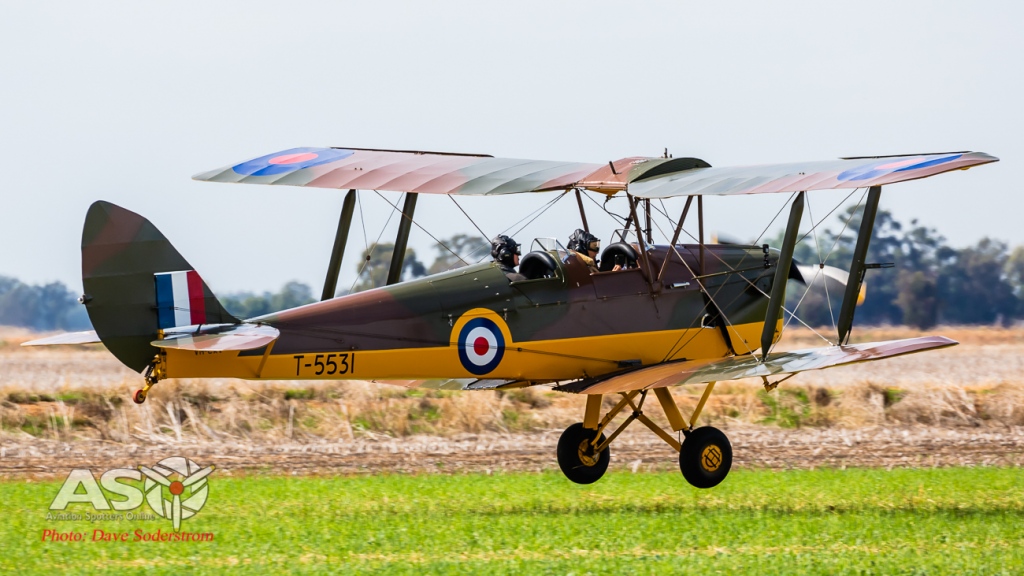 Tigermoth A17-423 VH-GAV
Delivered to the RAAF as A17-423, this Tigermoth was built by DHA at Mascot for an RAF order as DX537 it was diverted to the RAAF as A17-423. Civilianised as VH-AZH with the Royal Queensland Aero Club but crashed at Archerfield 20 Sep 58. Remains stored and later rebuilt as VH-UIE. This aircraft was flown to first place by Graham Bunn and Murray Gerraty.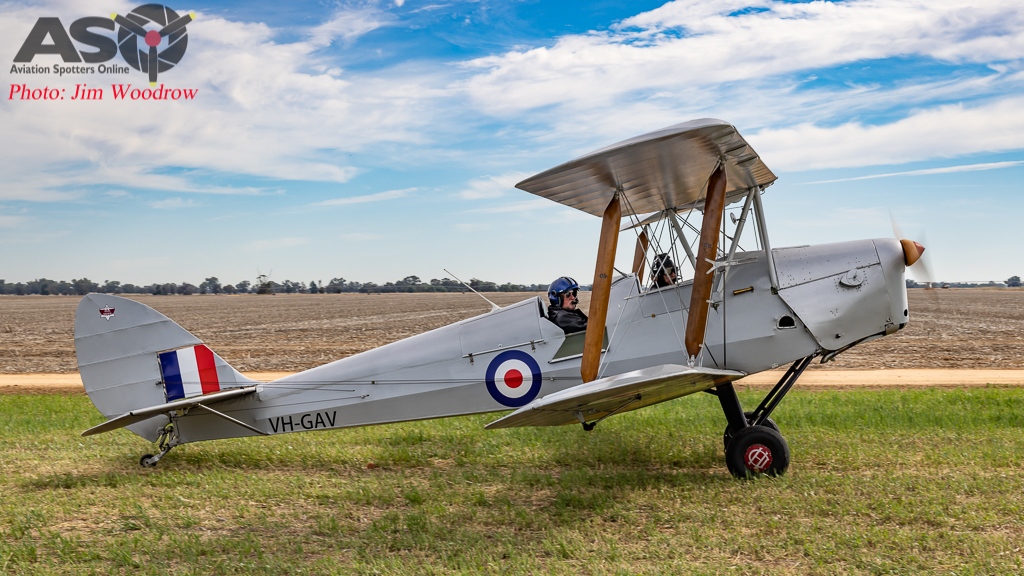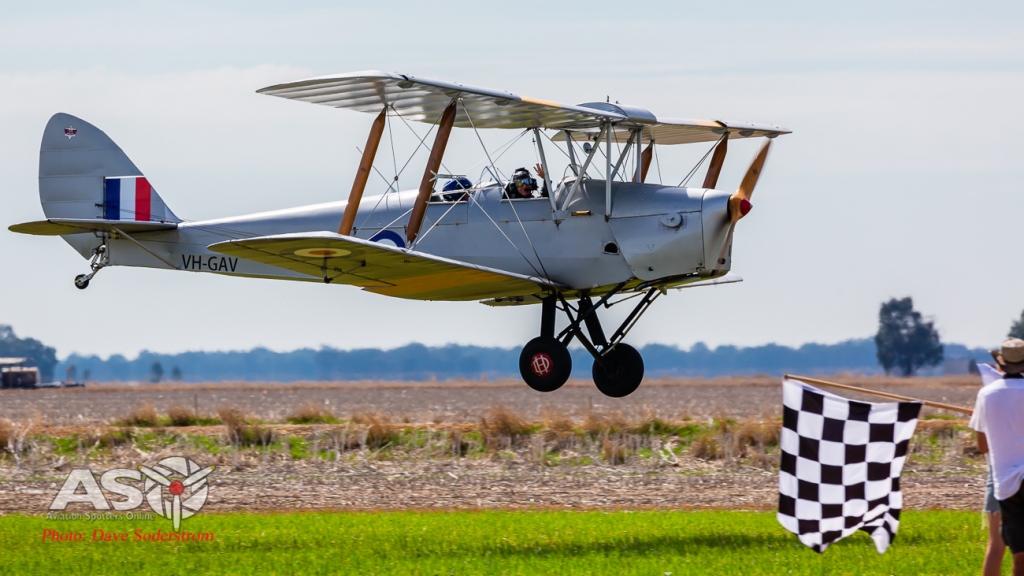 Tigermoth A17-15 VH-DHR
This particular Tigermoth, was assembled in Australia using a UK fuselage and Australian wings. Allocated the Australian serial A17-15. For the event, the Tigermoth was flown to achieve third place which went to Don Gordon and Tony Self.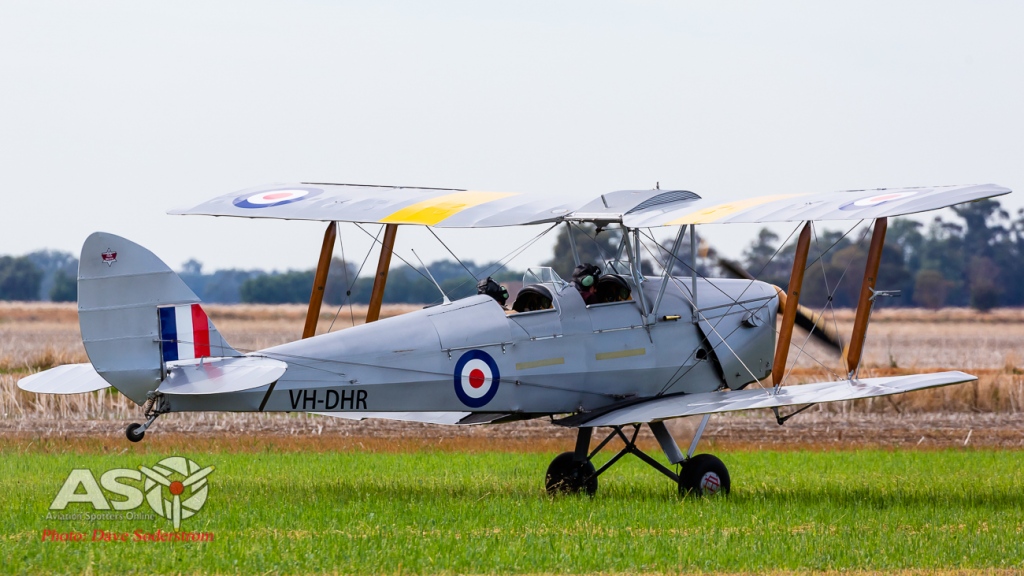 Tigermoth A17-710 VH-BBC
This aircraft was ordered by the British Government for supply to EATS in South Africa however it was not delivered and was retained for the RAAF as A17-710. After its wartime use, it was sold to the Royal Aero Club of NSW located at Bankstown and was registered as VH-RSC. Re-registered VH-BBC by Narrabri Aero Club in August 1959. Today it is owned by Frank Williams in New South Wales.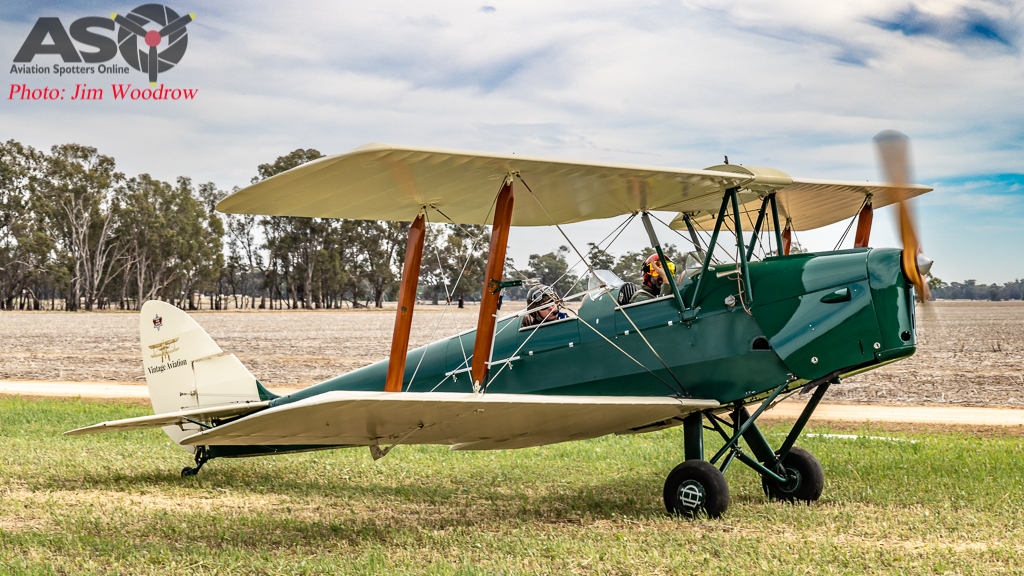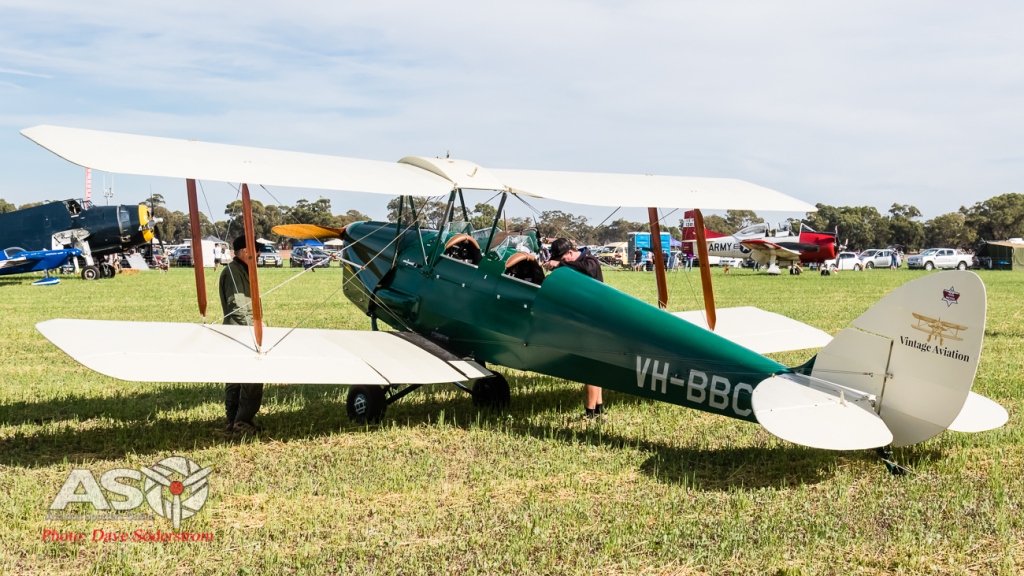 Tigermoth A17-736 VH-BEN
Delivered to the RAAF as A17-736 it was built by DeHavilland Australia at Bankstown, Sydney, NSW. Taken on charge by the RAAF as A17-736 at 2 Aircraft Park, Bankstown, Sydney, NSW 28.10.44. To RAAF Tamworth 30.10.44 for storage after its wartime service, the aircraft was civilianised as VH-RQA to the Royal Queensland Aero Club at Archerfield, Brisbane Queensland. Re-registered VH-BQN on 19.4.66 to K Williams, Surfers Paradise, Queensland.
Destroyed in bush fires near Streatham, Victoria in 1977. The registration VH-BQN was cancelled on 1-3-1977. Rebuilt and registration restored to its original owner. In 1987 it was registered as VH-BEN and was flown during the event by Garry Hearn.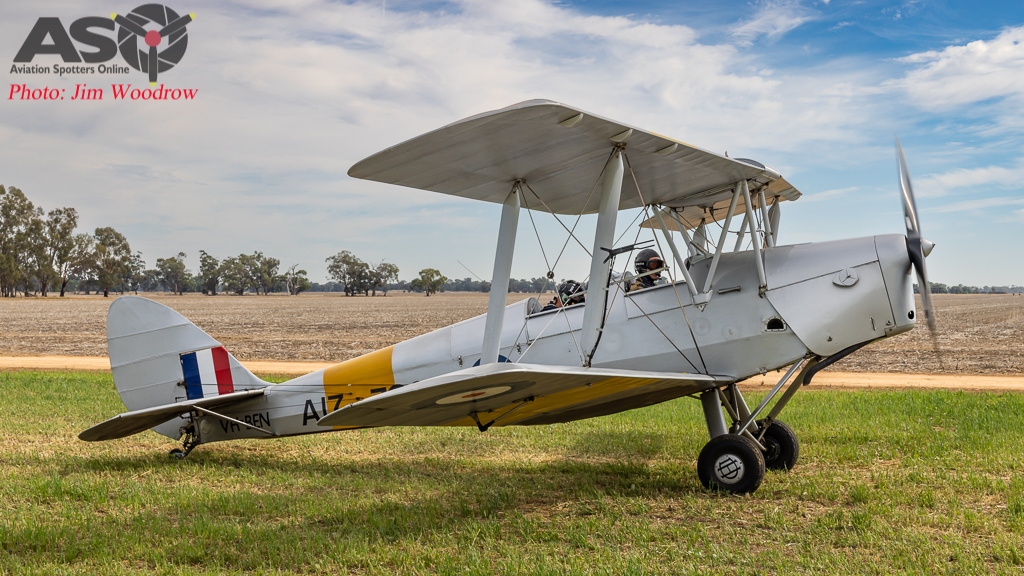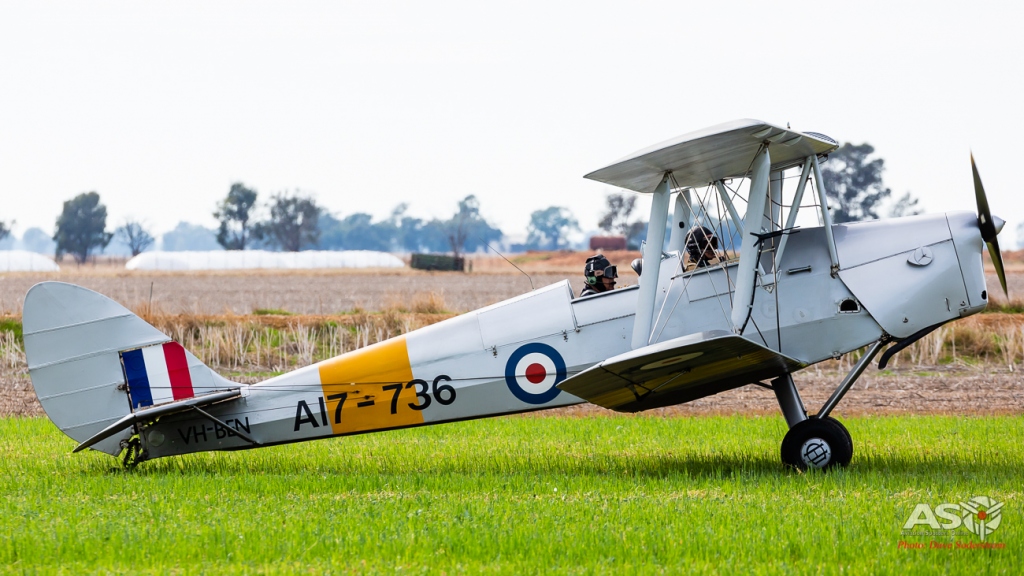 Tigermoth A17-744 VH-BTP
Built under licence in Australia by De Havilland Aircraft at Bankstown, New South Wales in 1944. It was allocated to the Royal Australian Air Force with serial number A17-744. Sold onto the civilian market in 1955 and registered VH-BTP the aircraft was then based in Western Australia. After a variety of owners, it was acquired by Clark Rees in 1995. During the event, the aircraft was flown by Pilot Adam Wright and Co-pilot Gerald Waddington.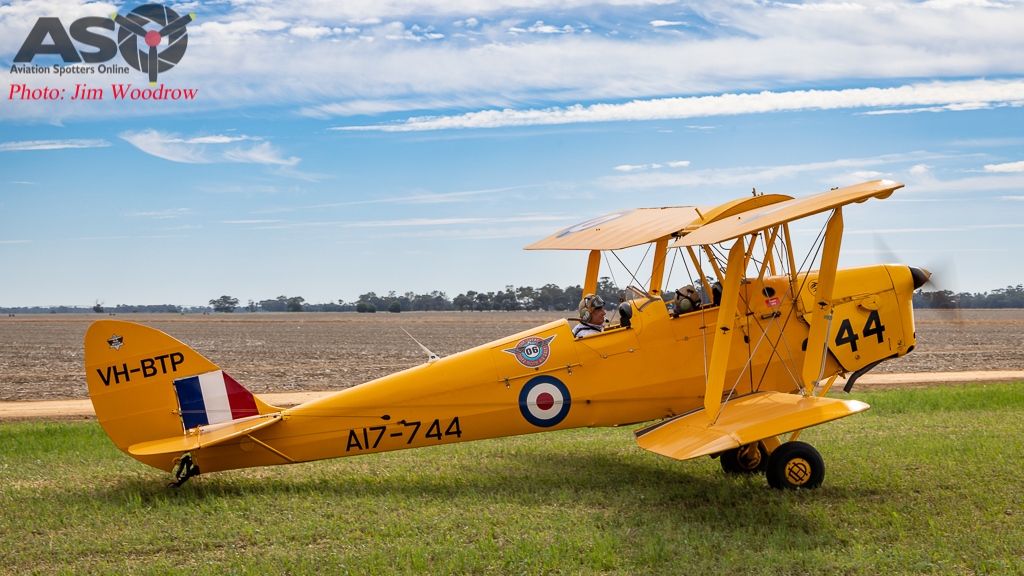 The airshow started once the race got underway. Paul Bennet opened the airshow with his signature knife-edge pass. A skydiver deployed a large Australian flag which Paul then encircled till the flag bearer had landed back on the airfield.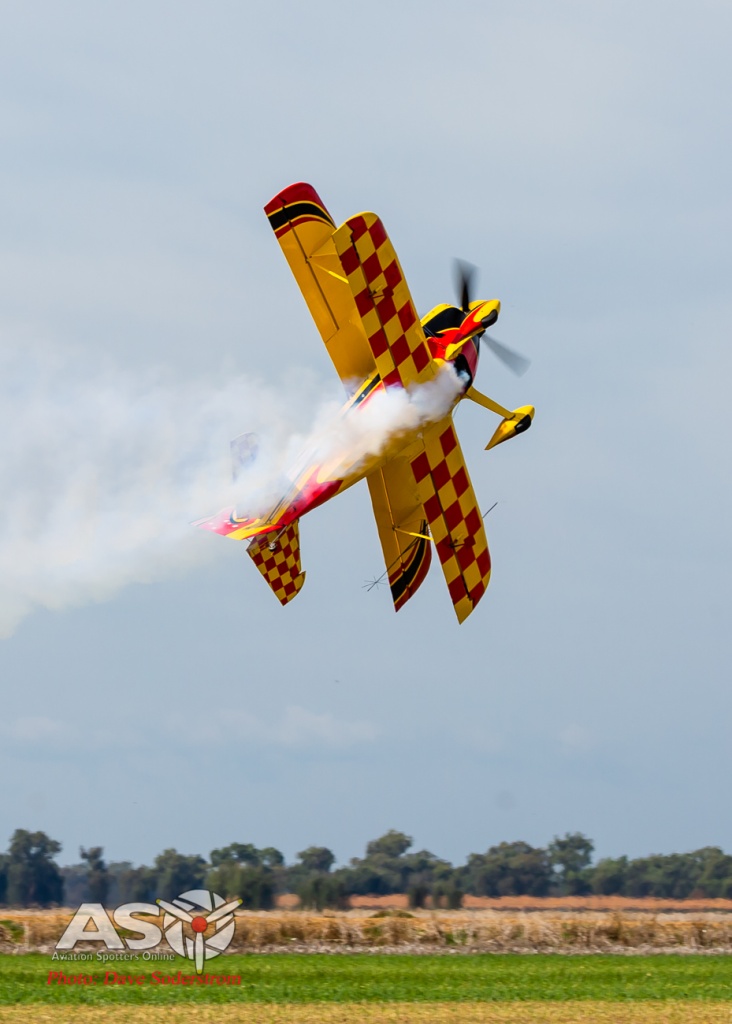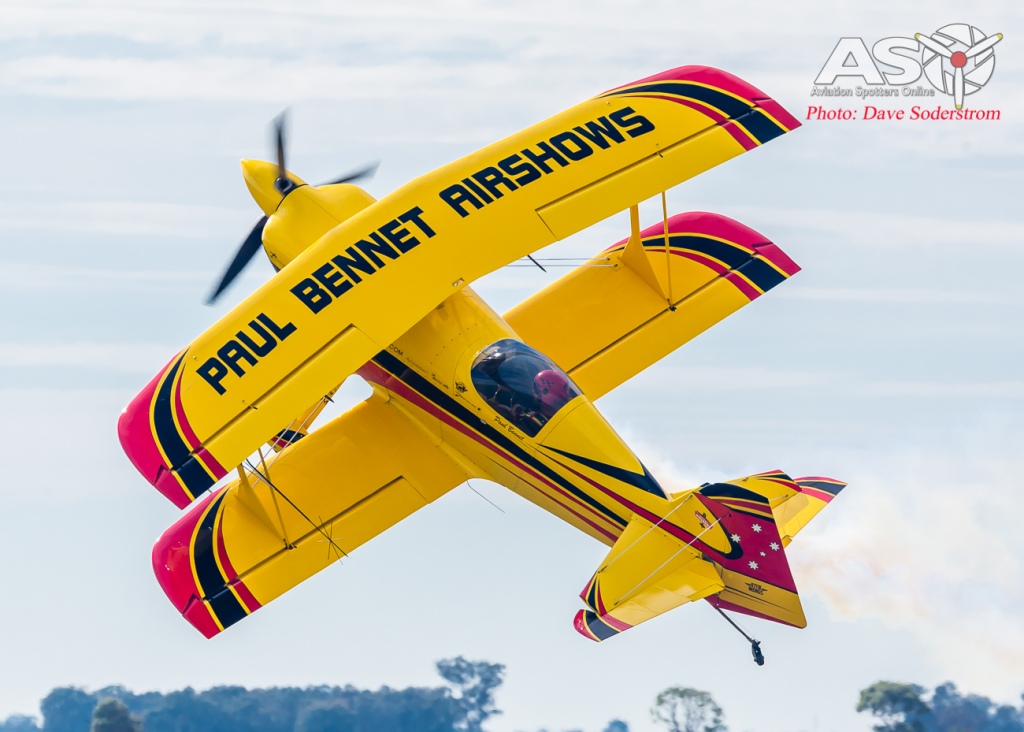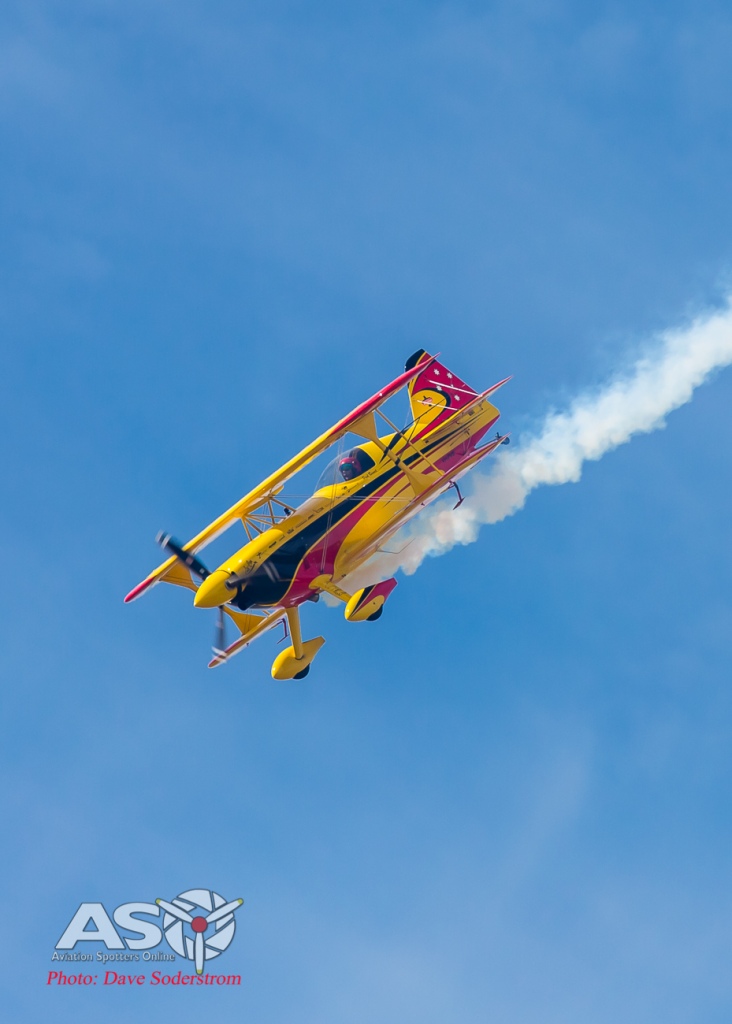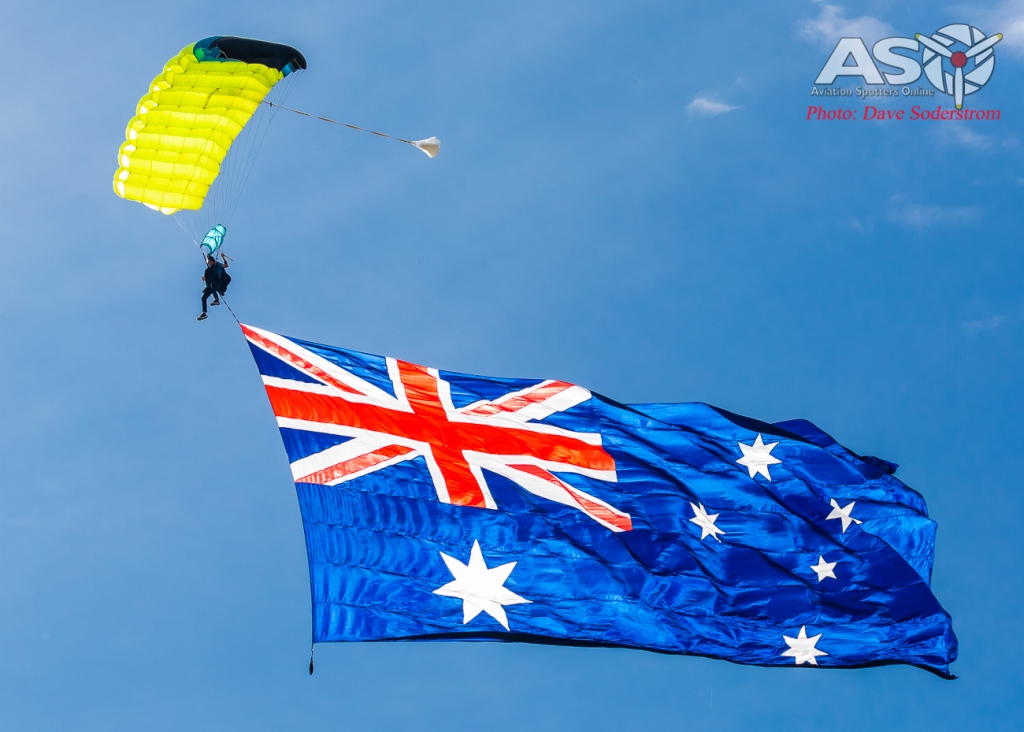 Rebel 300 display
Glenn Graham showed off his aerobatic skills once again, in the Rebel 300. The high energy display with lots of twists and turns is always a joy to watch. Glen is part of the Paul Bennet Airshow team and regularly displays the aircraft to its full aerobatic potential.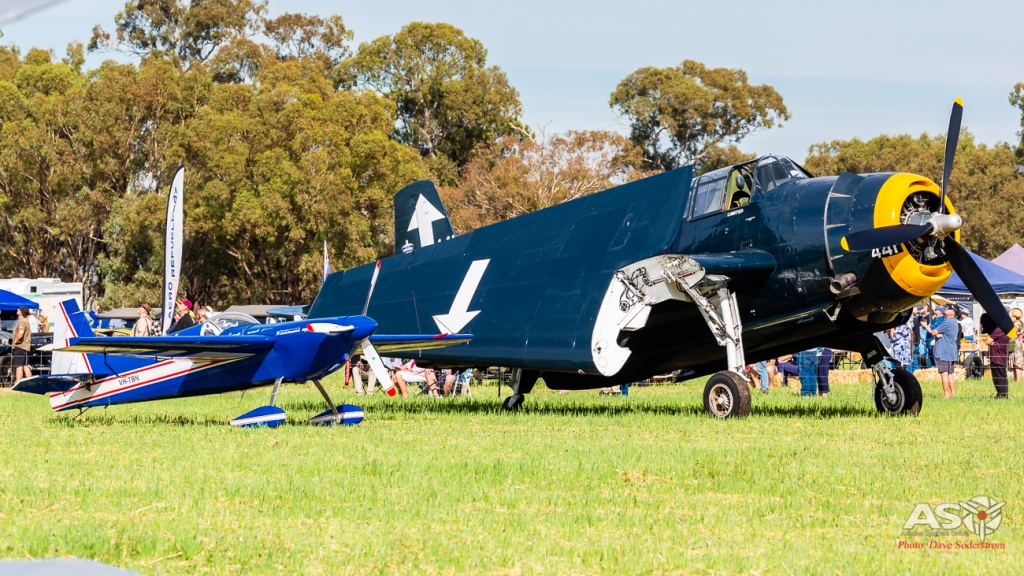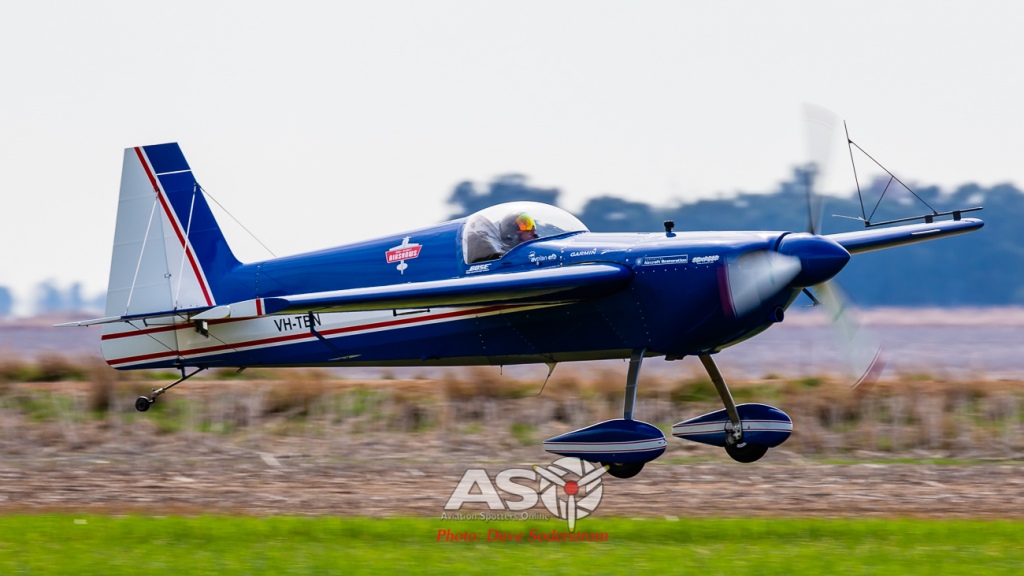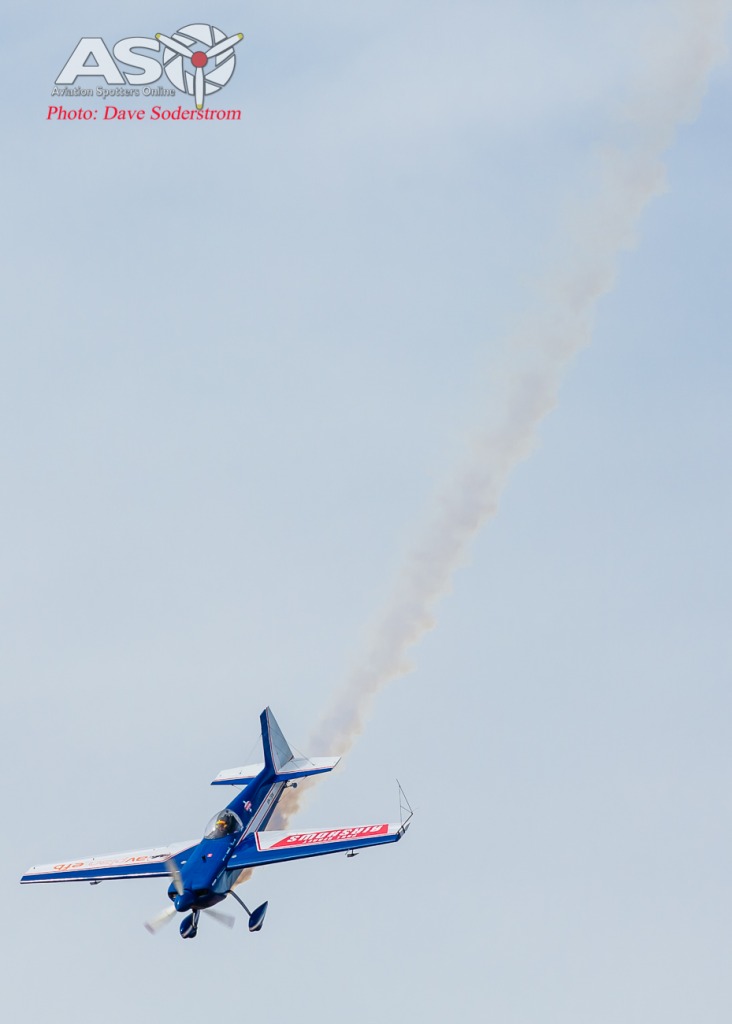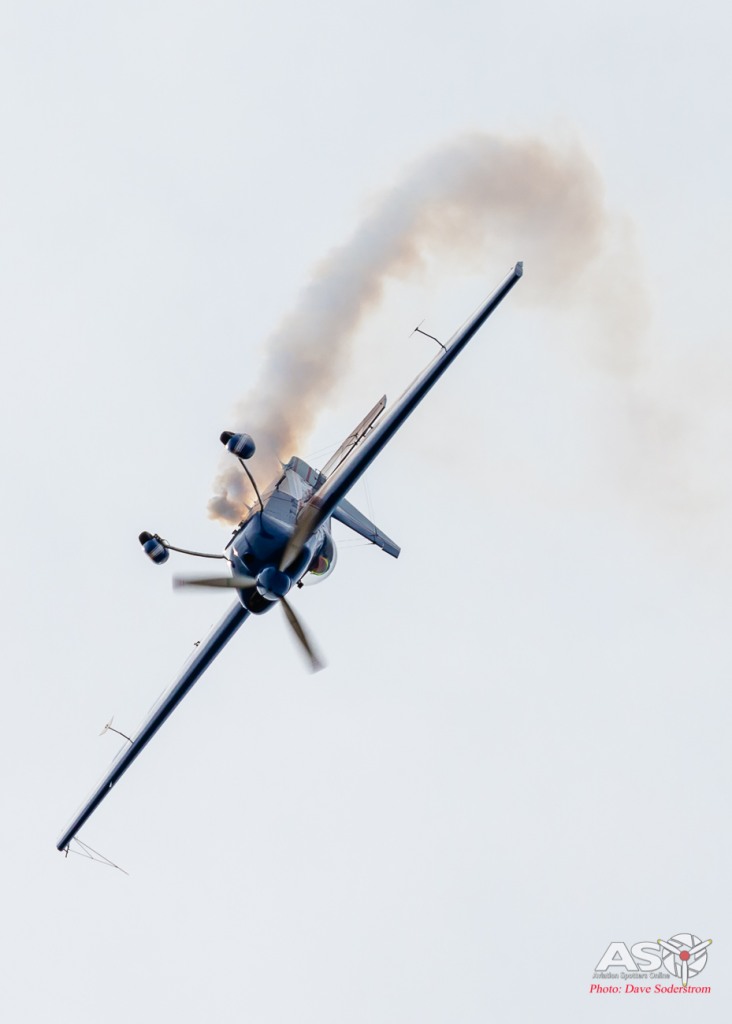 Commonwealth Aircraft Corporation CA-3 Wirraway Display
Again part of the Paul Bennet Airshow display team, the CA-3Wirraway VH-WWY has been displayed by the team for a number of years now. Originally built and delivered as A20-81 the aircraft is operated as A20-176.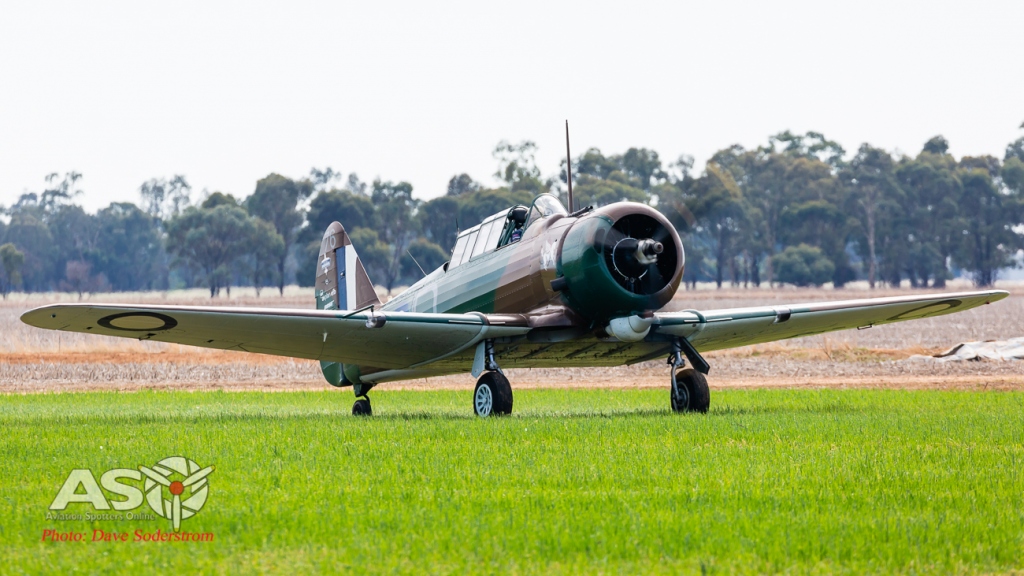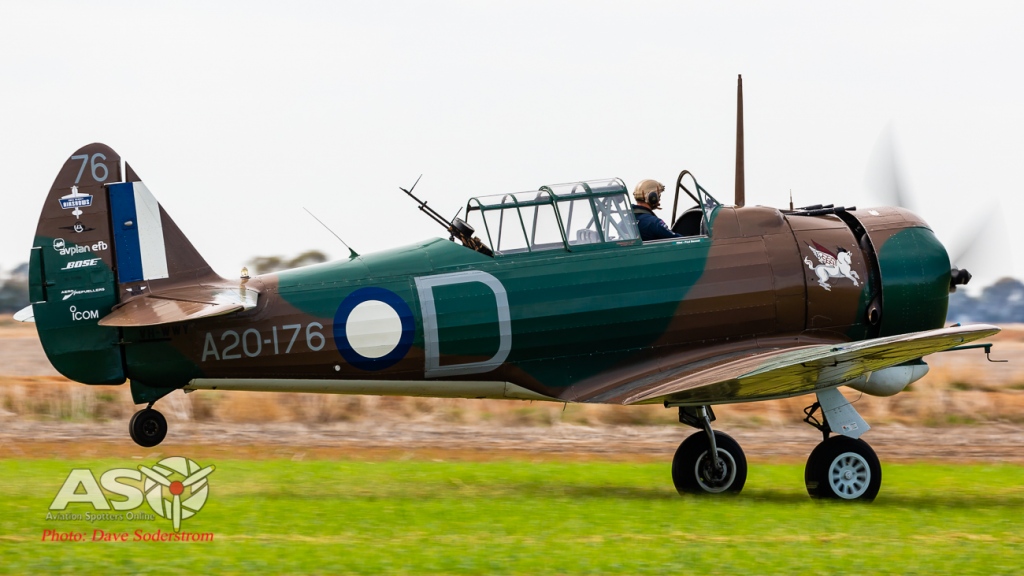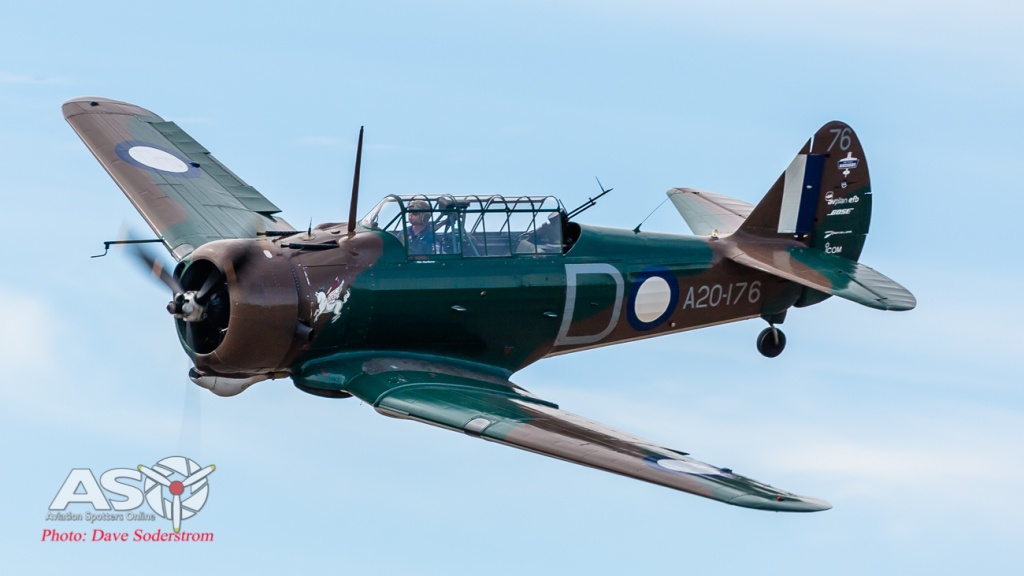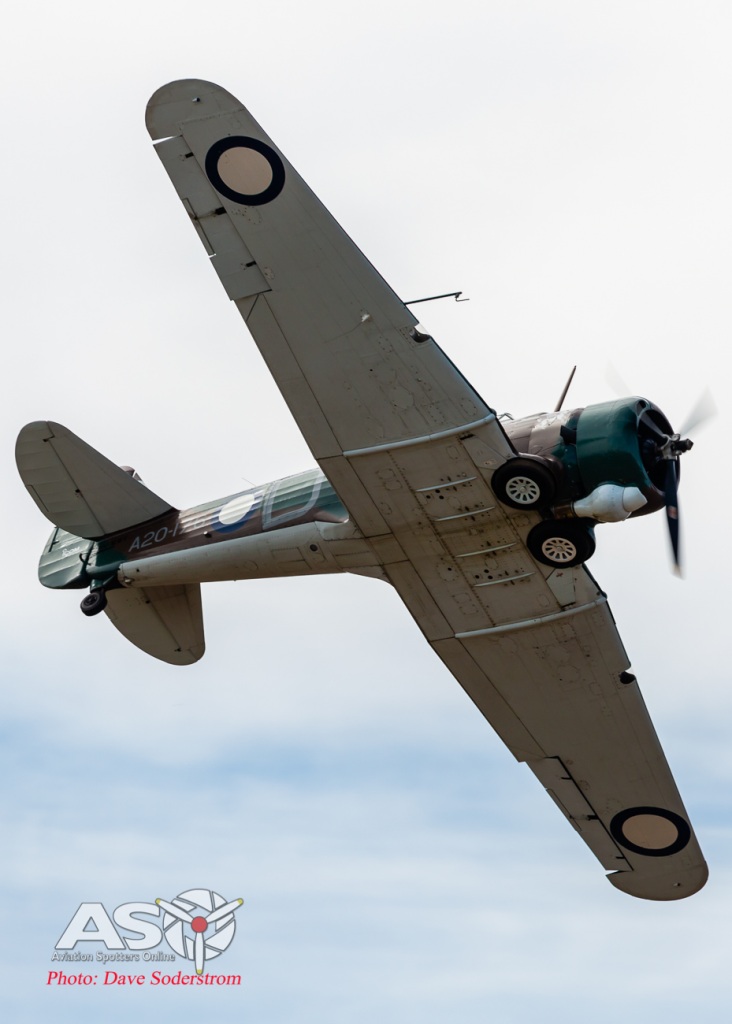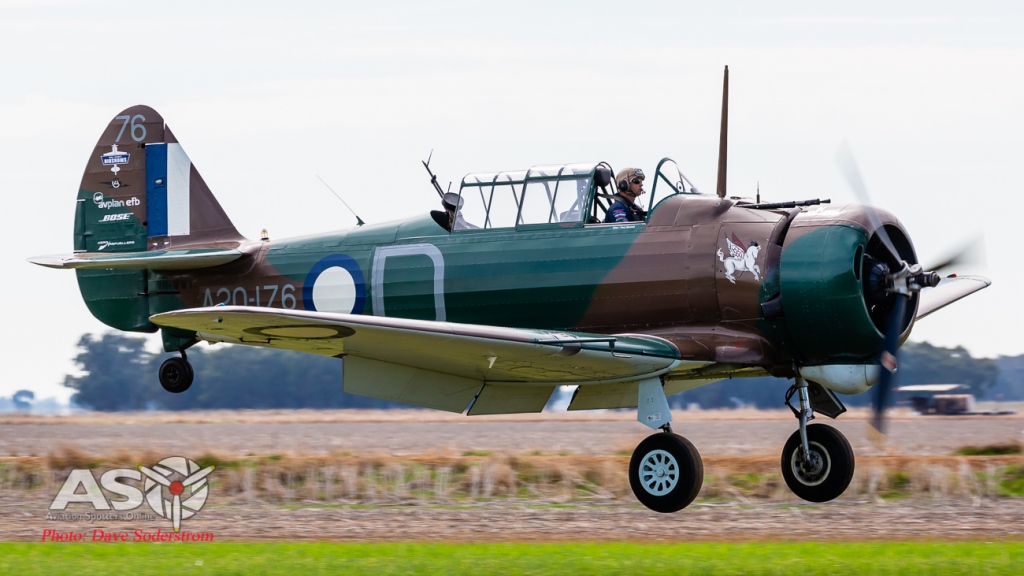 RAAF Roulette's Pilatus PC-21 Display
The Royal Australia Air Force's aerobatic display team the Roulette's, form part of the RAAF Central Flying School (CFS) at RAAF Base East Sale, Victoria. The team performed a well-executed display, which has seen new manoeuvres introduced since the team transitioned from the older Pilatus PC-9A which was retired back in 2019. The new PC-21s have a sound and power that makes the new routines something to watch.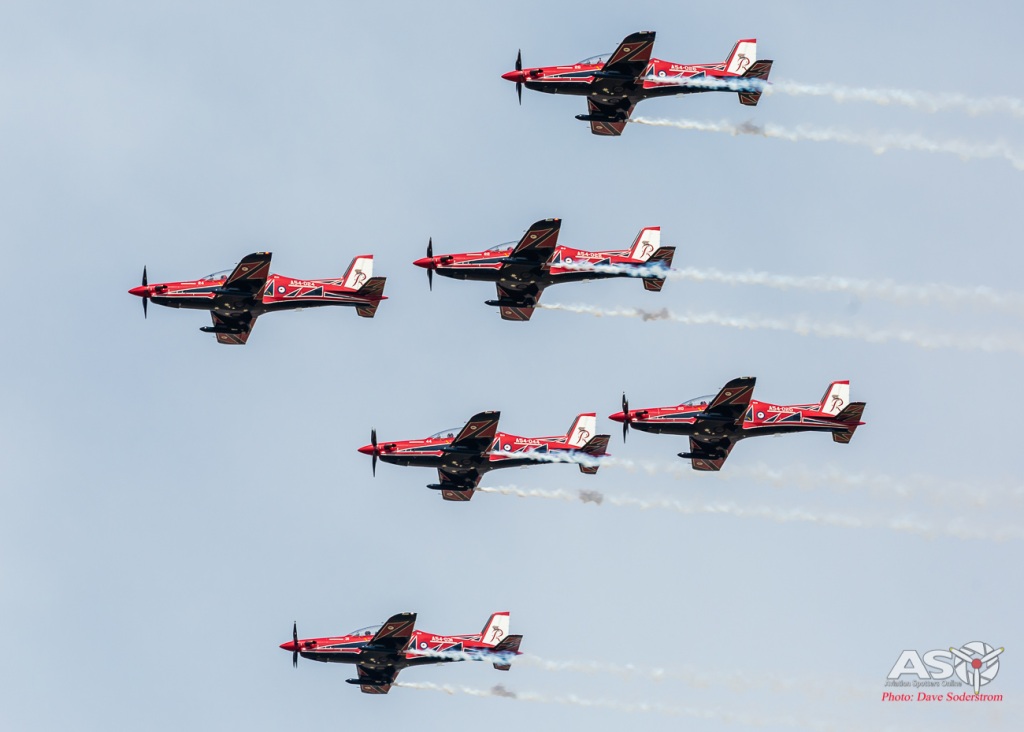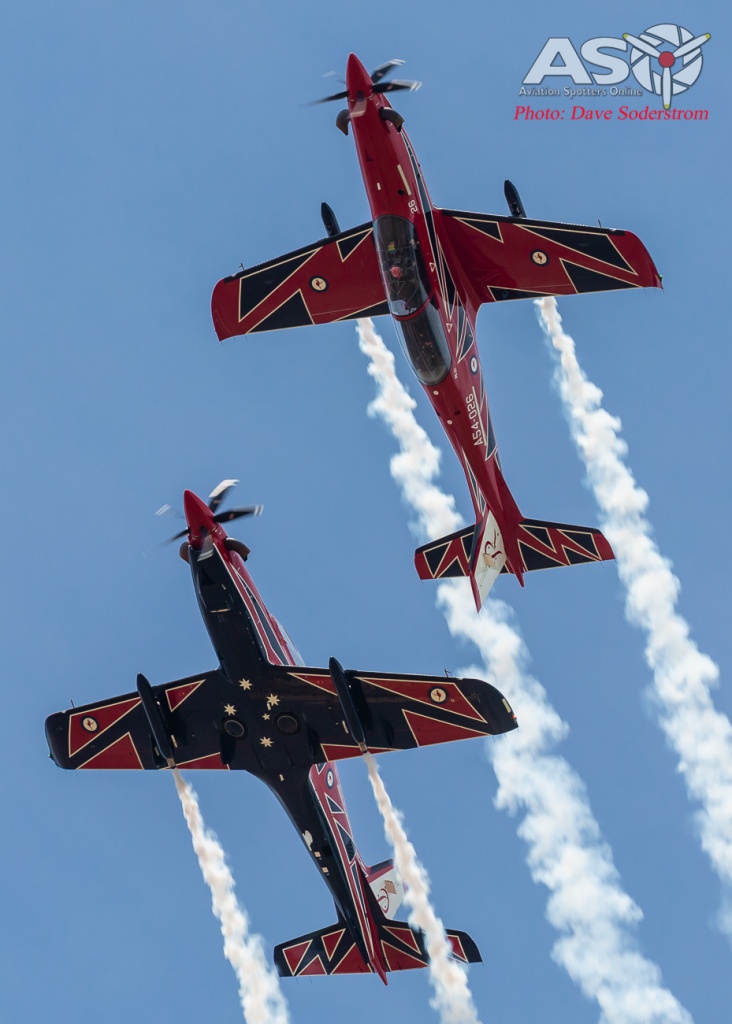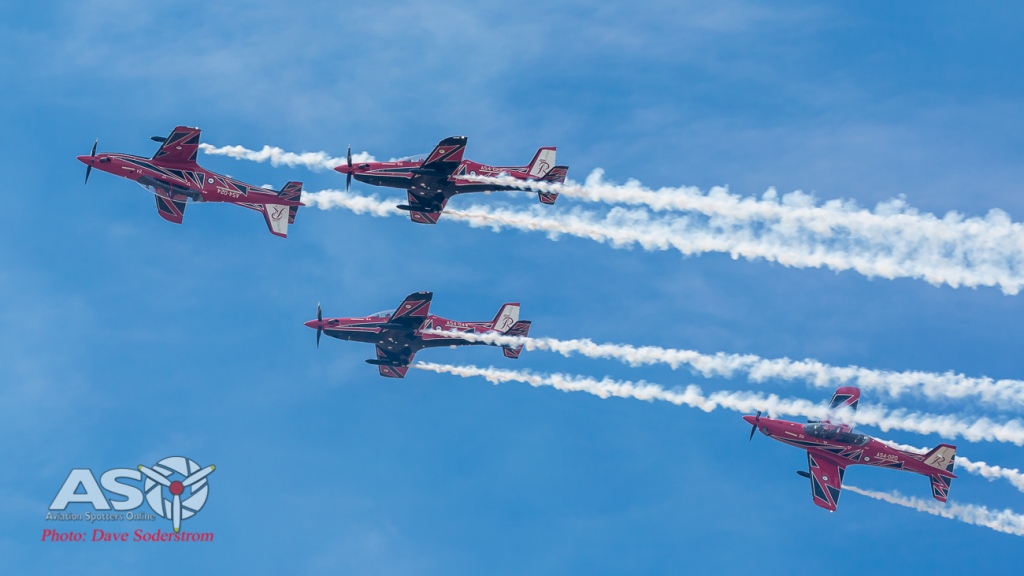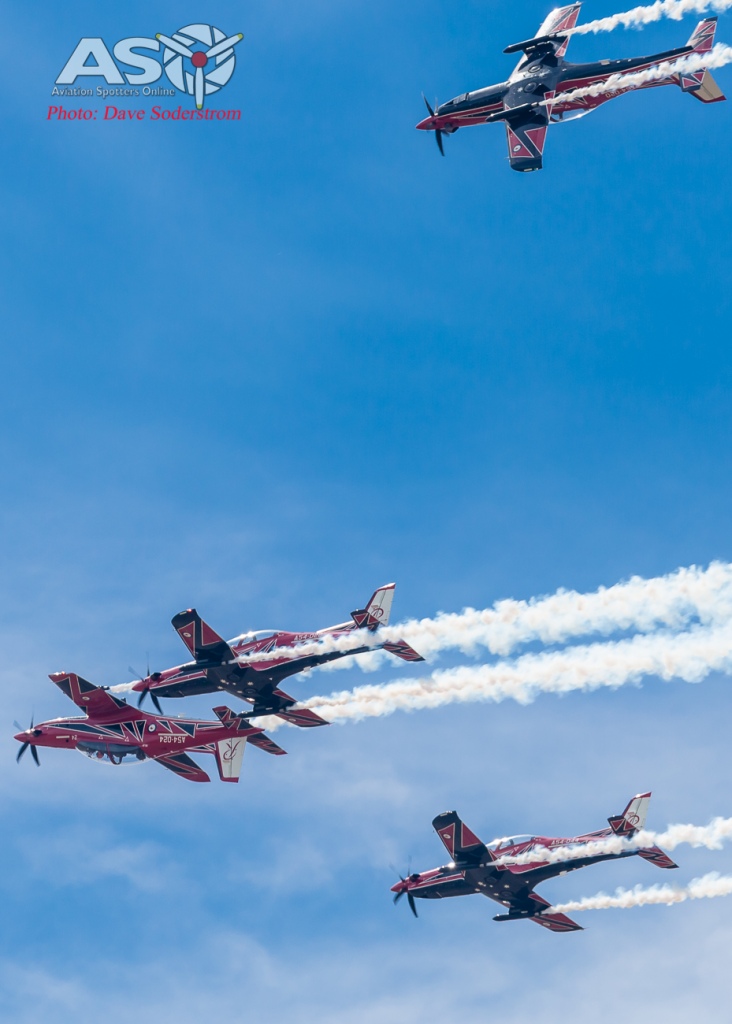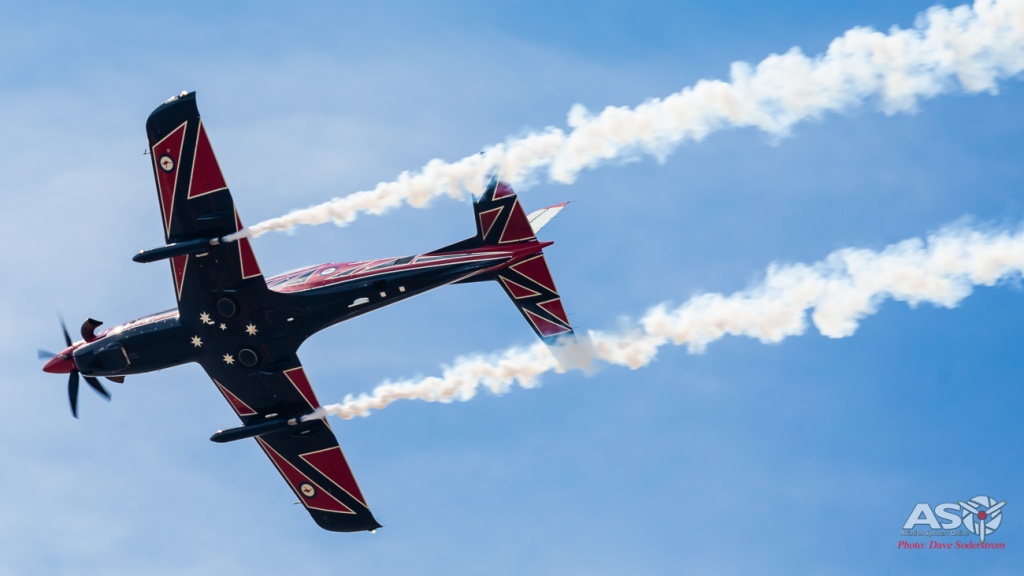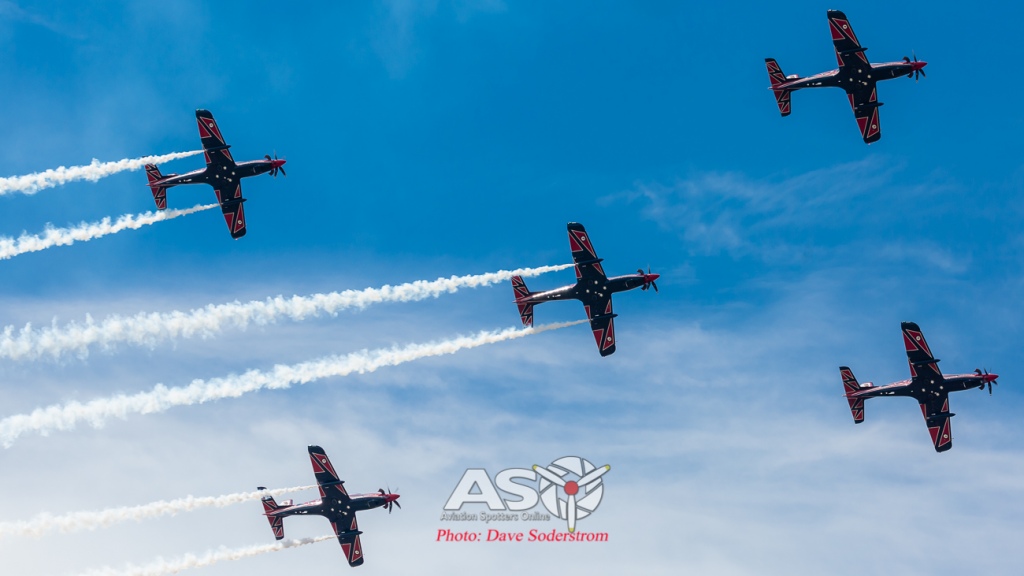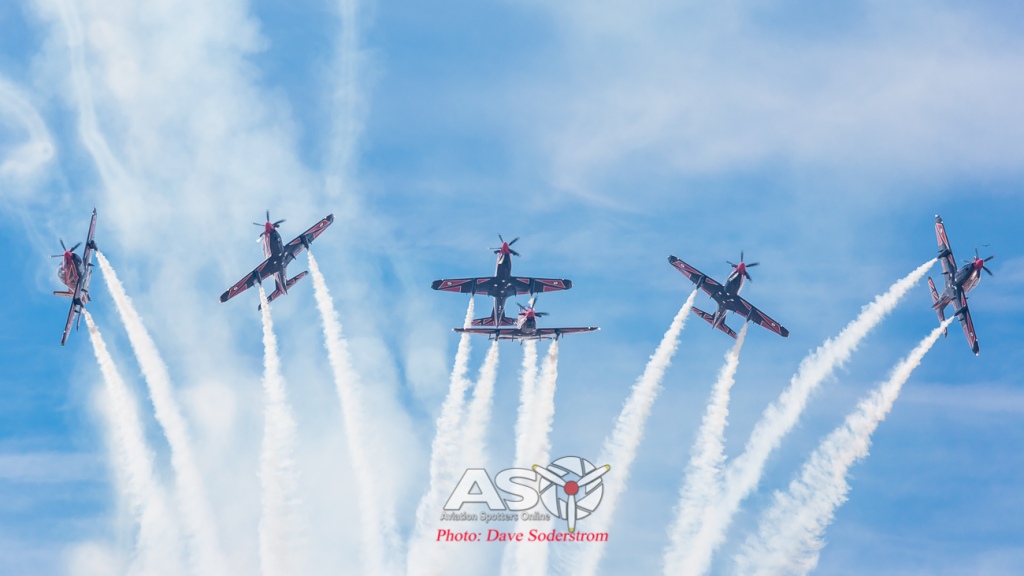 RAAF Trainer Formation
Another regular display in Victoria is the RAAF Heritage trainer formation. The Serpentine show saw CAC-25 Winjeel A84-427 VH-WJE, joined with NZAI CT-4s VH-SZK and VH-CTV.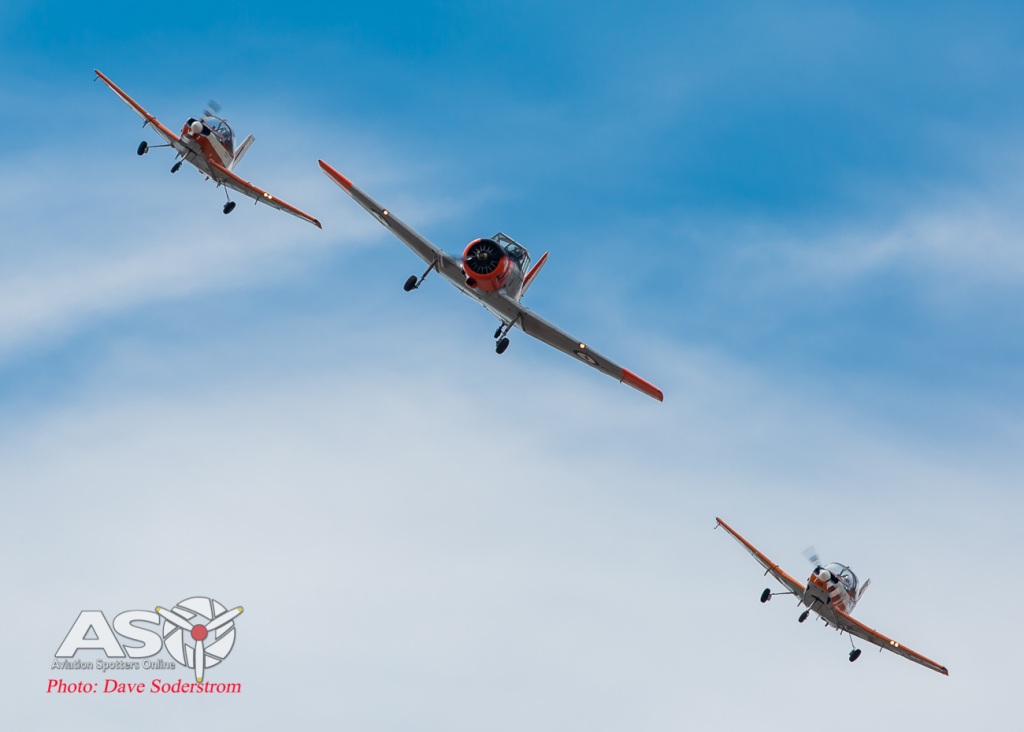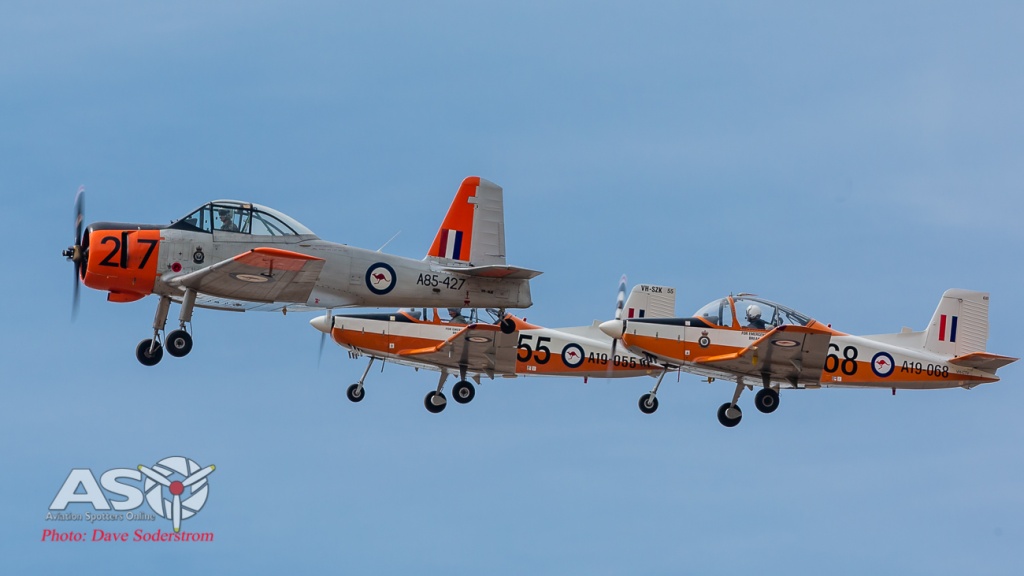 North American T-28 Trojan Display
Owned and displayed at the event by Paul Bennet is the ex-US NAVY T-28D VH-FNO. It was built for the US Navy in 1954 as Bu 138122. One of a few Trojans transferred in the late '60s to the US Army as a flight-test chase plane retaining its previous Navy serial. Allotted to the National Museum of Naval Aviation in 1984 but sold to the civil market and registered N28RF on 6 November 1985. Shipped to Australia in March 2008 and registered VH-FNO. Paul has displayed this aircraft across Australia since taking ownership of it. With its big R-1820 radial up from converting avgas into glorious radial noise.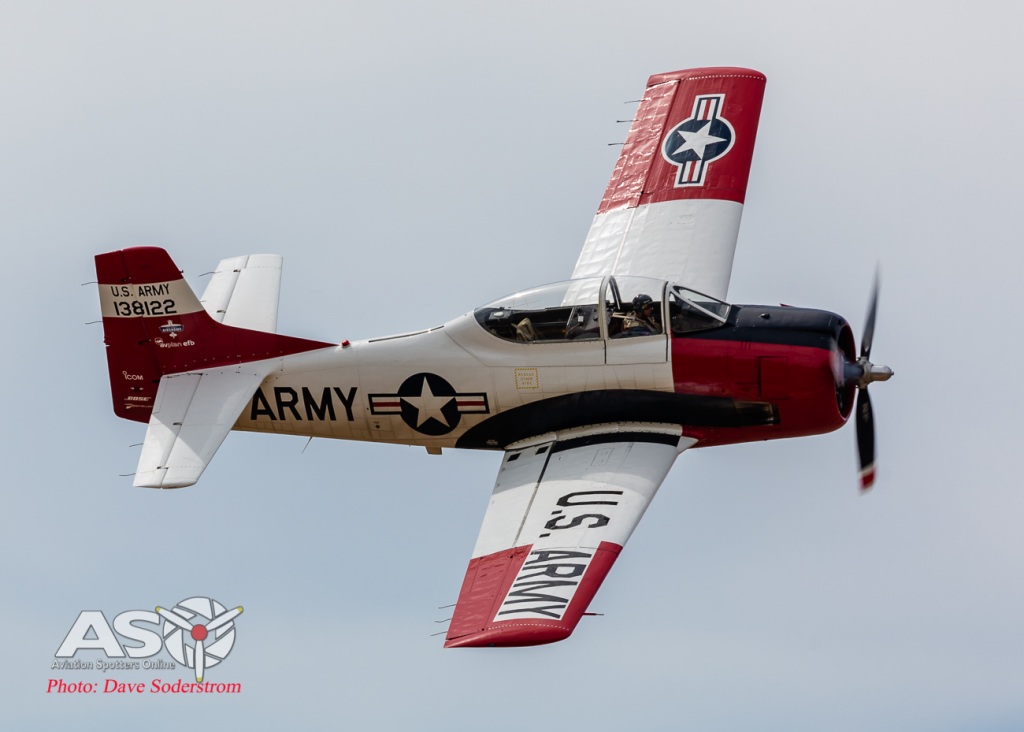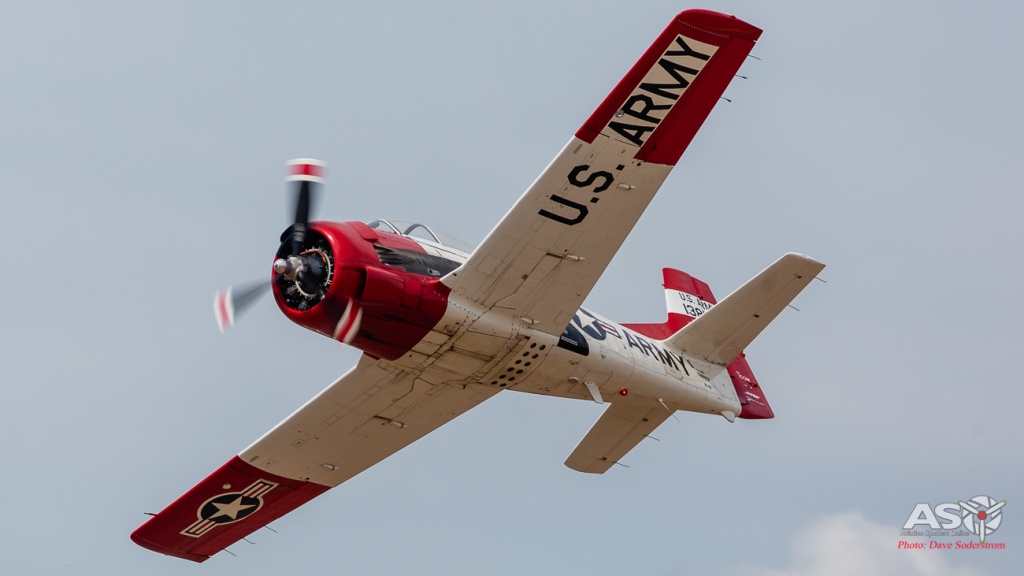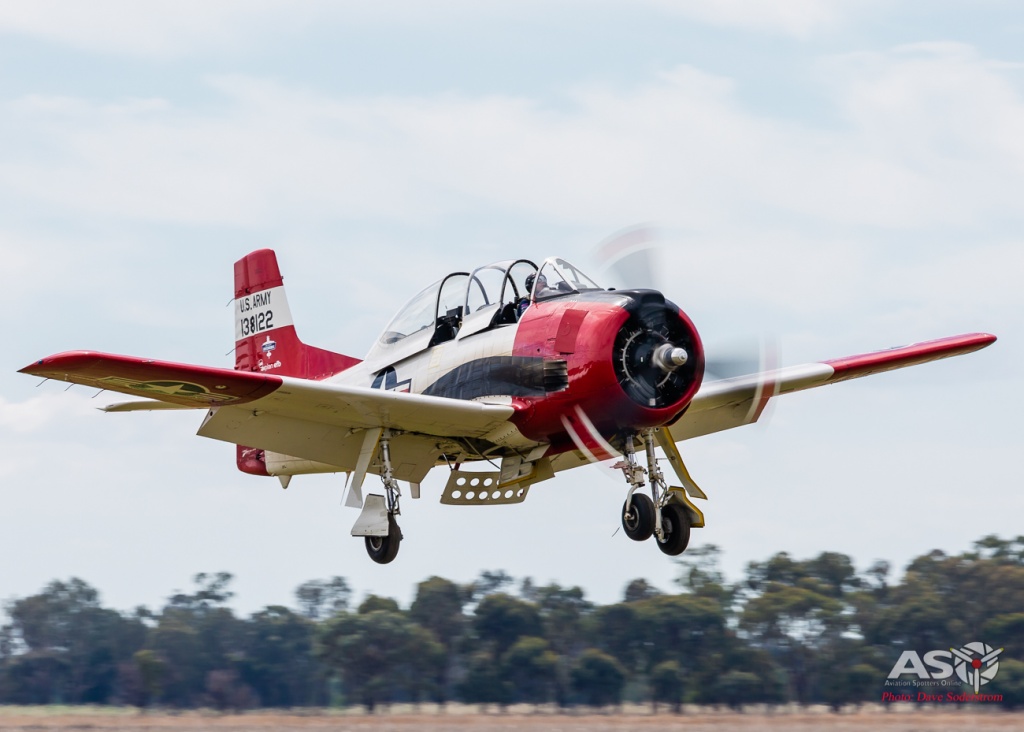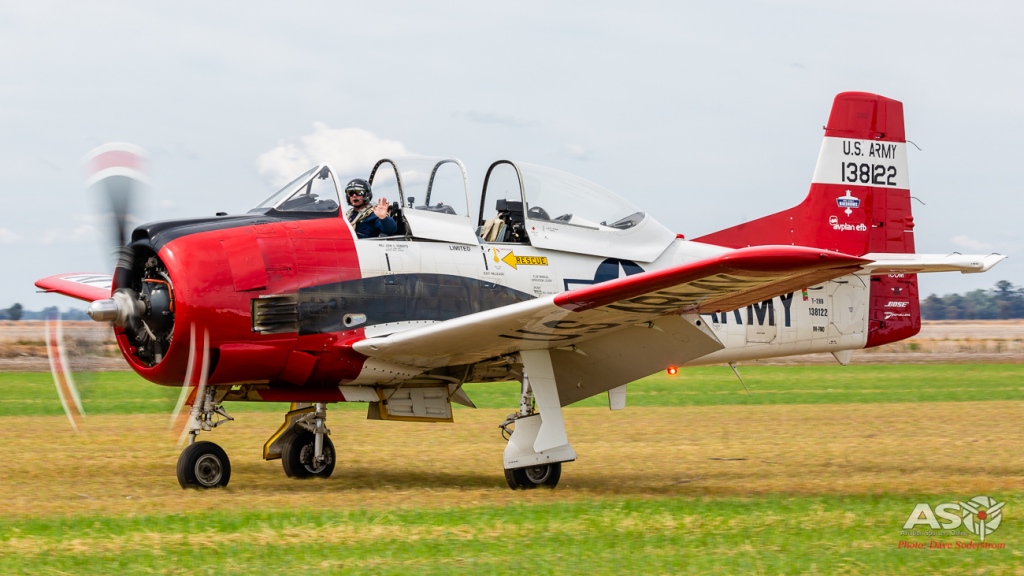 Field Air AT-802A Airtractor
Field Air brought an example of one of the company's Airtractors to the event. The AT-802A is a duel role aircraft, being able to operate as an aerial applicator in the agricultural sector. And then converting to an aerial fire bombing role. VH-FFM (Fire Fighting Machine) or Bomber 352 is a 2011 built airframe. It is a regular feature across Victoria during the fire season and spraying and fertilising crops. Fitted with a 1700 horsepower PT-6 engine the machine performed a demonstration showing its power and water-dropping capability.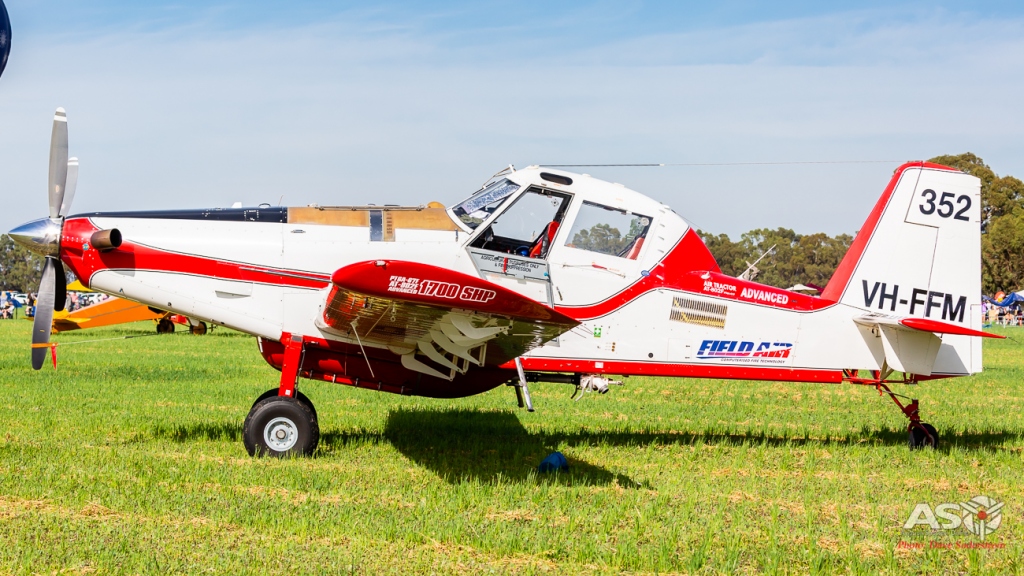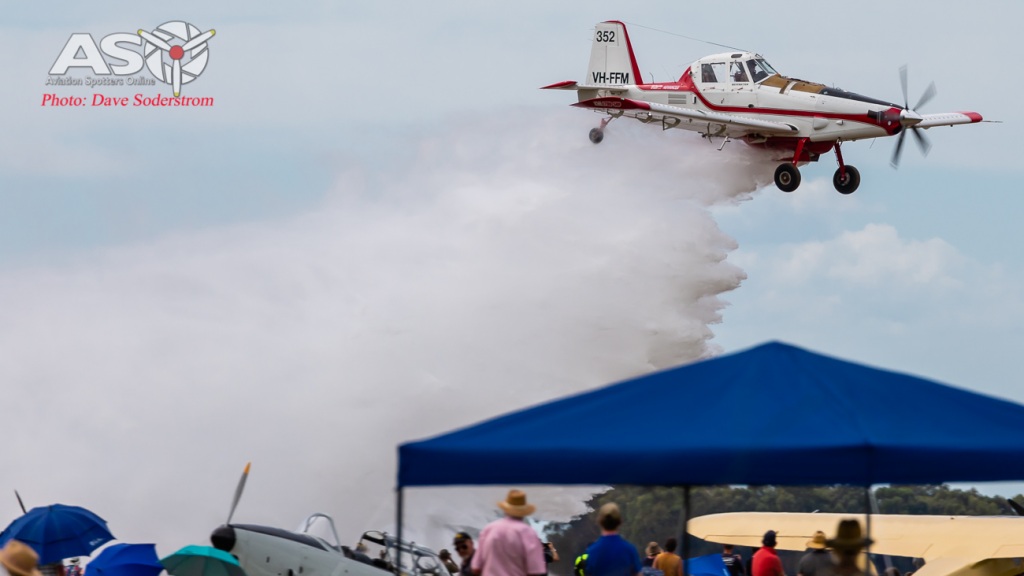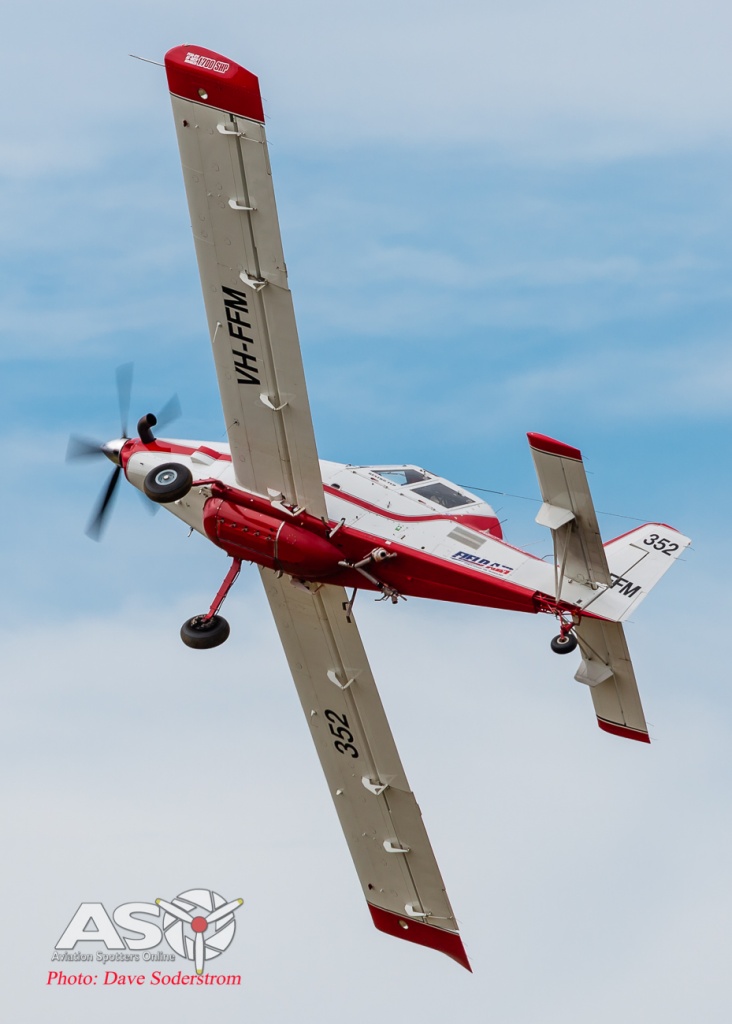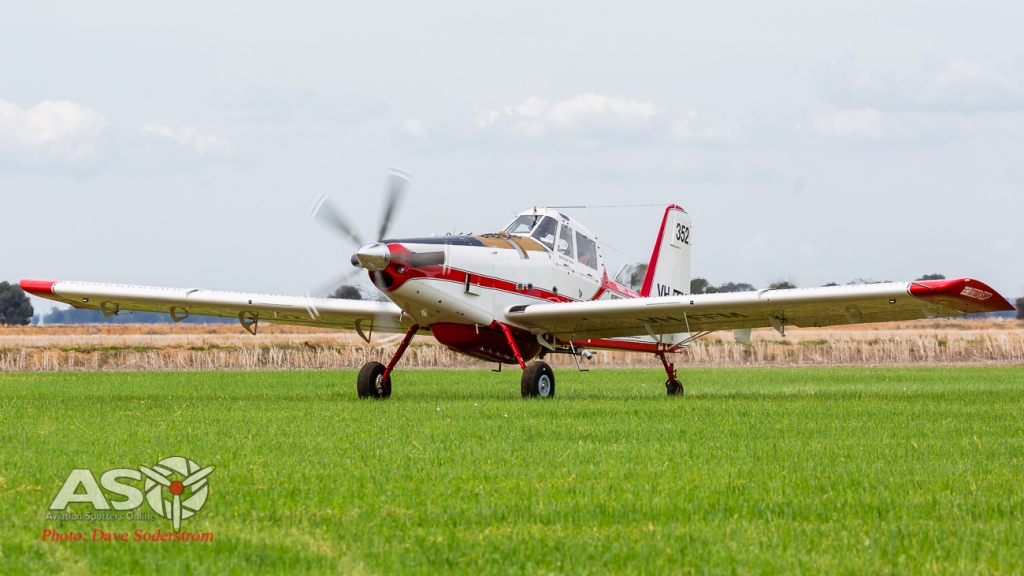 Grumman TBM Avenger Display
Another aircraft in the Paul Bennet Airshow fleet is the Grumman Avenger. Painted in the markings of VT.8 that flew from USS Bunker Hill part of CVG-8 (Carrier Air Group 8). VH-MML was built in The USA in 1943 and delivered to the US Navy. Post-service it was converted as a Firebomber with Central Air Service at Lewiston Montana from 1963 until 1972 and carried the civil registration N7017C. Retired from this role in 2002 the aircraft was restored to its wartime configuration in Australia. Fitted with a 1900hp Wright R2600 14 cylinder radial engine the aircraft sounds fantastic as it passes the crowd display line.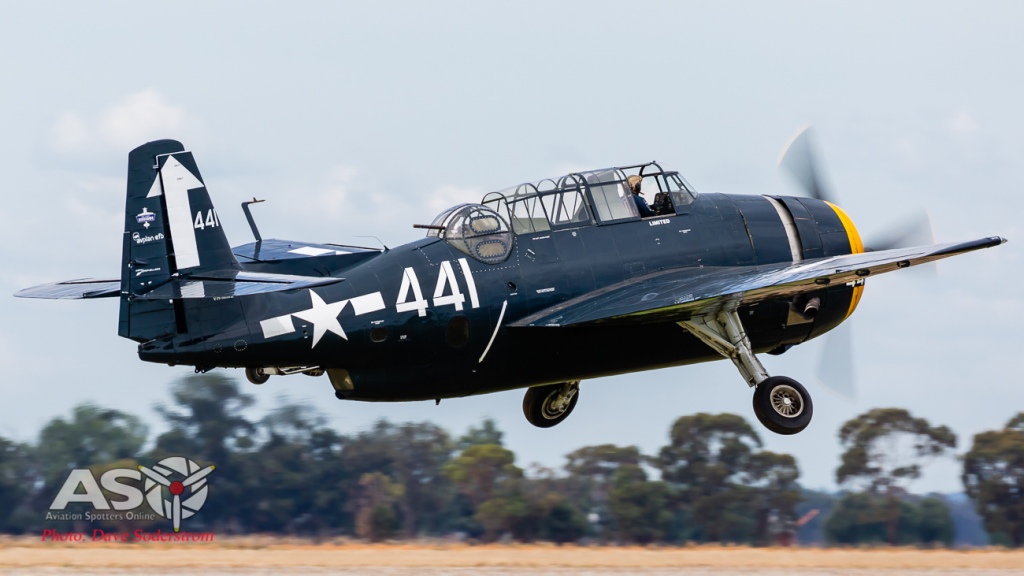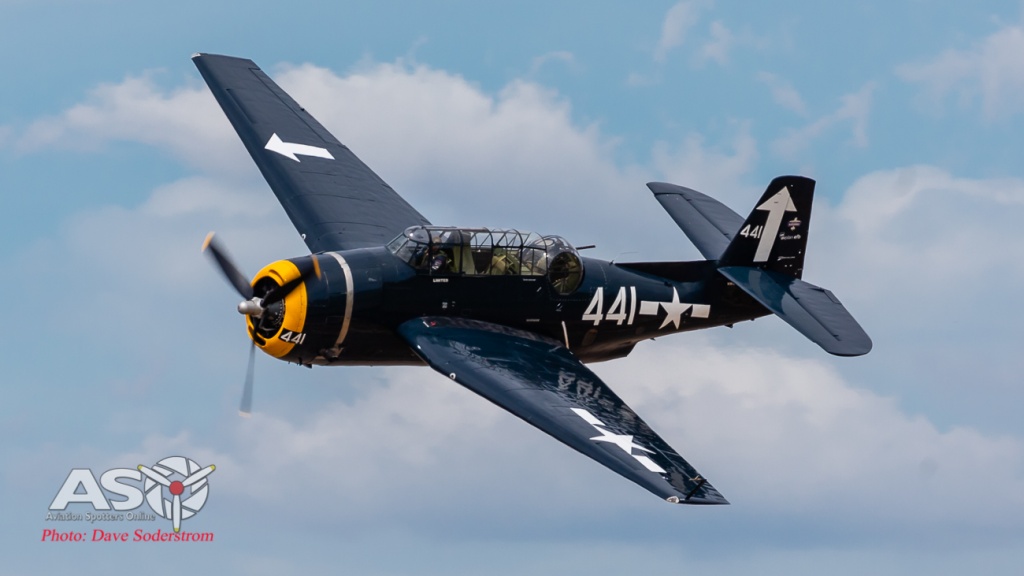 Aircraft Ground displays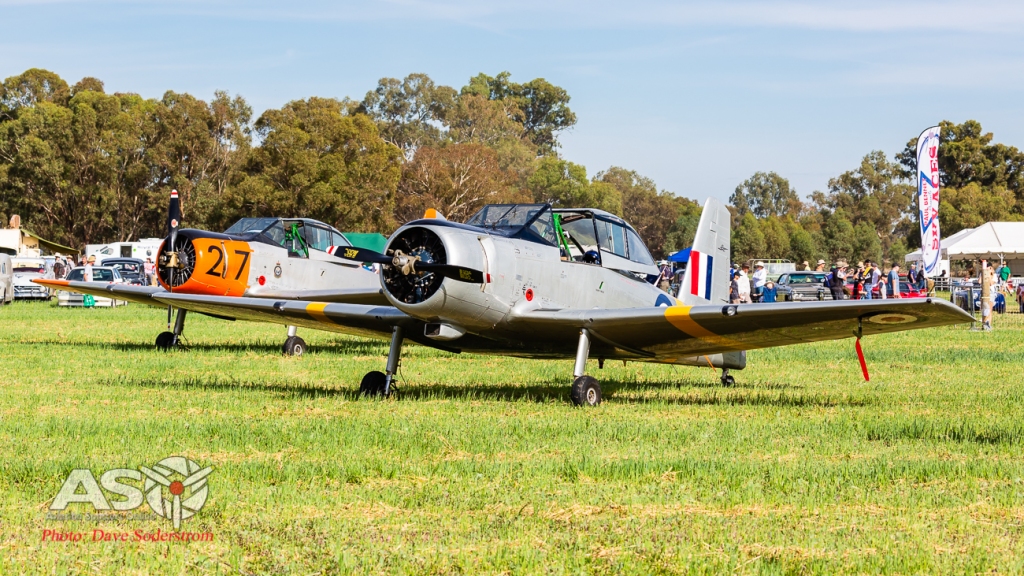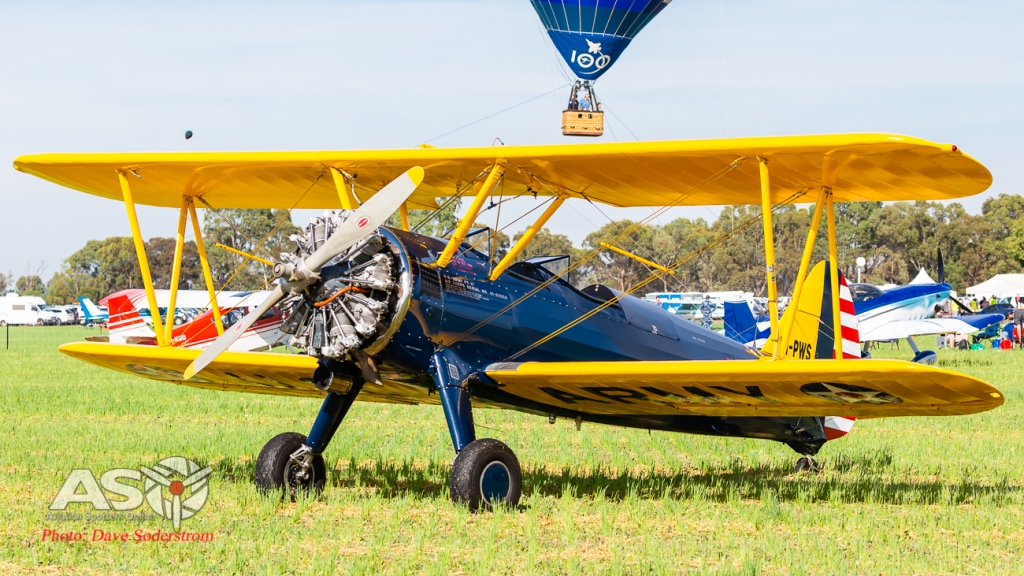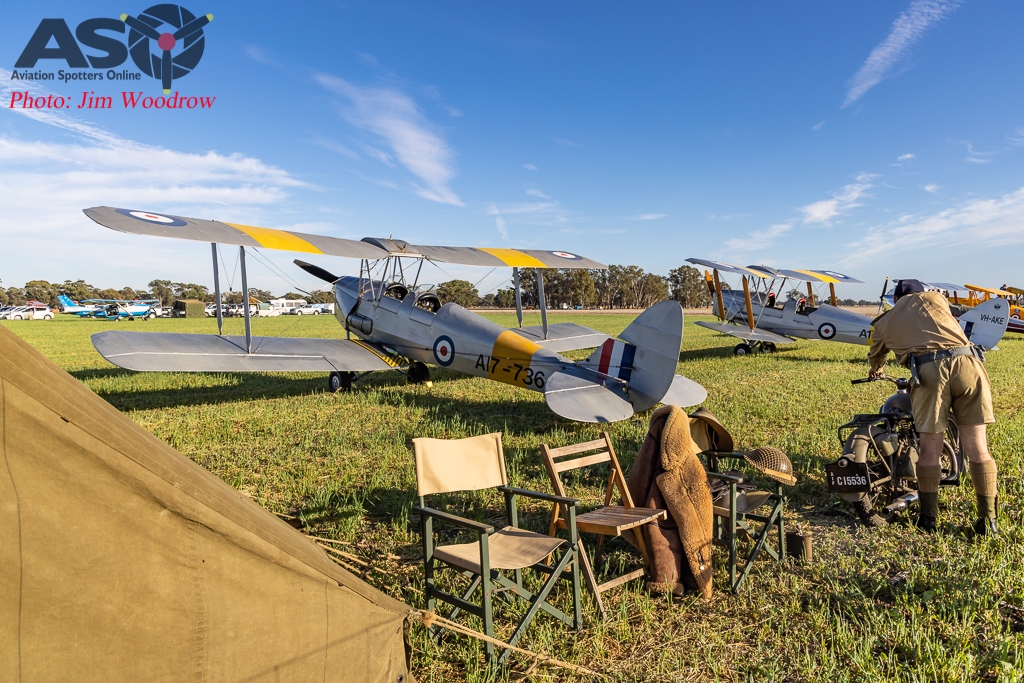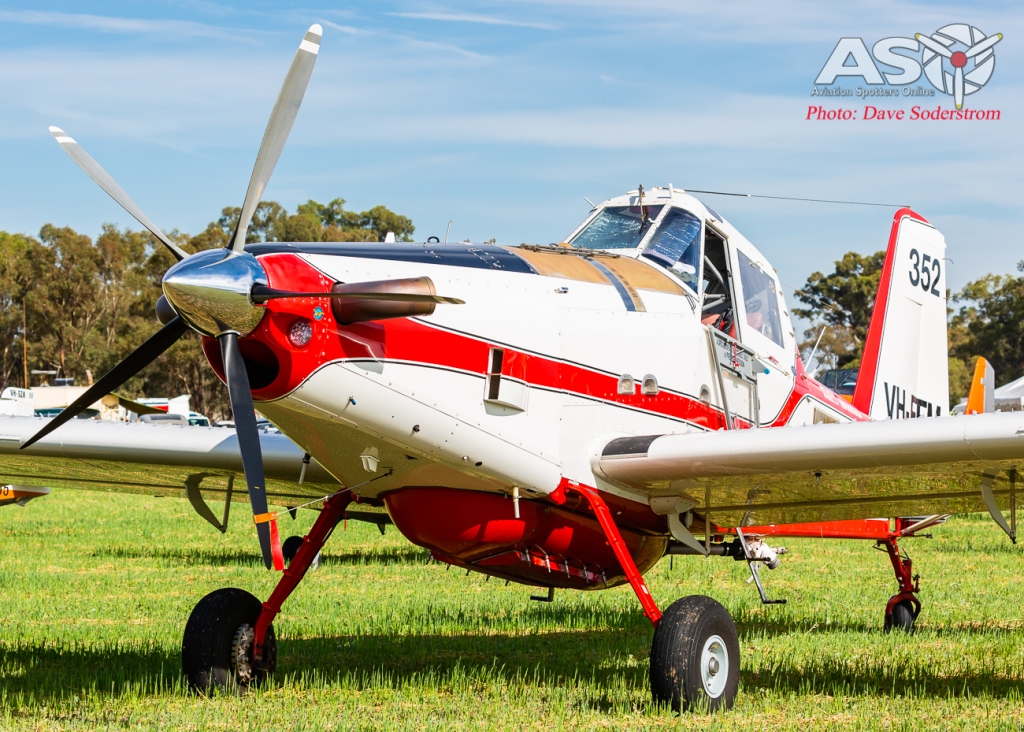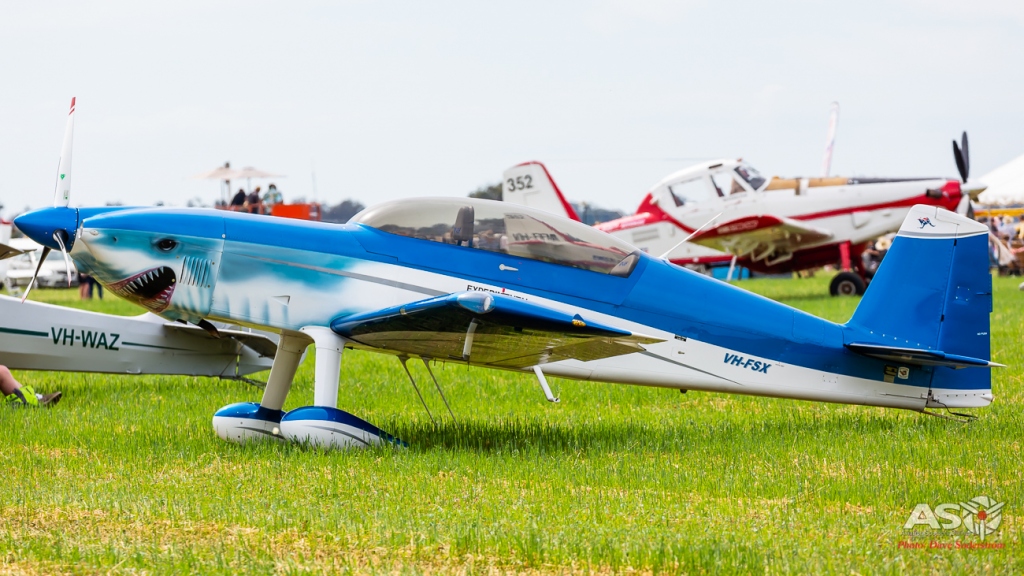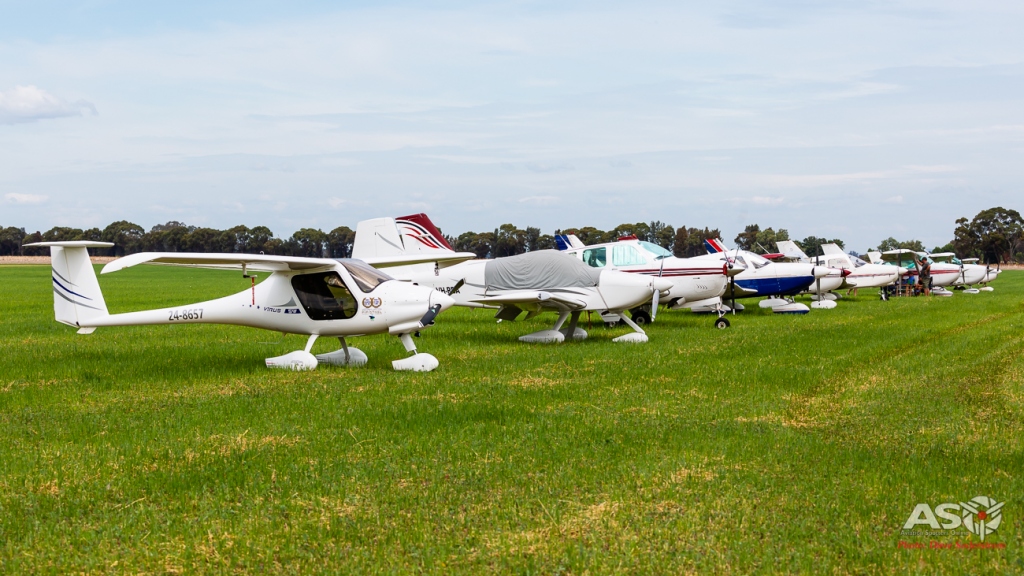 A great event that many enjoyed, well done to all who were involved in putting it together. A fine celebration of an event held over 100 years ago.
Dave & Jim