It's been high on my list of aviation museums for years to visit, and by chance, my dream became reality! So here I am in New Zealand at MOTAT.
The Museum of Transport and Technology (MOTAT) opened in 1964, and has grown to encompass a site which is spread over two sites covering a combined area of 40 acres.
As the name suggests, there is more to this museum then just the aviation side. Upon first arriving, you can hop on an old W class Melbourne tram, and tour on it as you visit the huge site. Being from Melbourne, it was quite novel seeing something which is common place being used as a tourist attraction.
My visit was primarily focused on visiting the aviation hall so that's where I was headed.
The first thing that hits you upon entering the Aviation Hall is a symbol of the Royal Air Force and Bomber Command during World War Two, and nothing stops you in your tracks like the mighty Avro Lancaster!
On Loan from the New Zealand Bomber Command Association, Lancaster NX665, an Mk VII was completed in 1945. Too late to see war service, it was quickly passed on to the French Navy, who pressed the aircraft into service as a maritime patrol aircraft in east Africa, and the South Pacific.
After retirement MOTAT acquired this airframe in 1964 for preservation.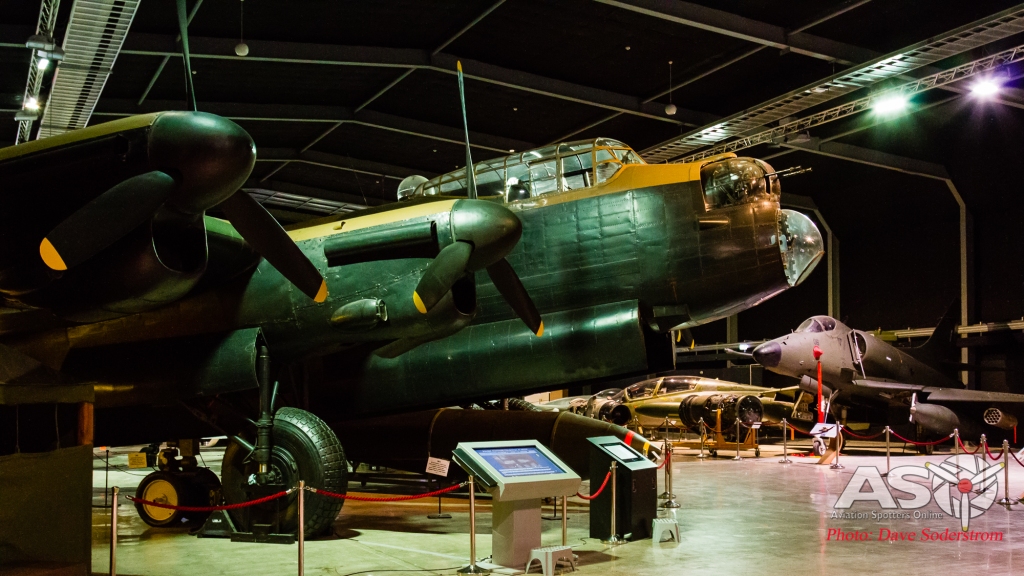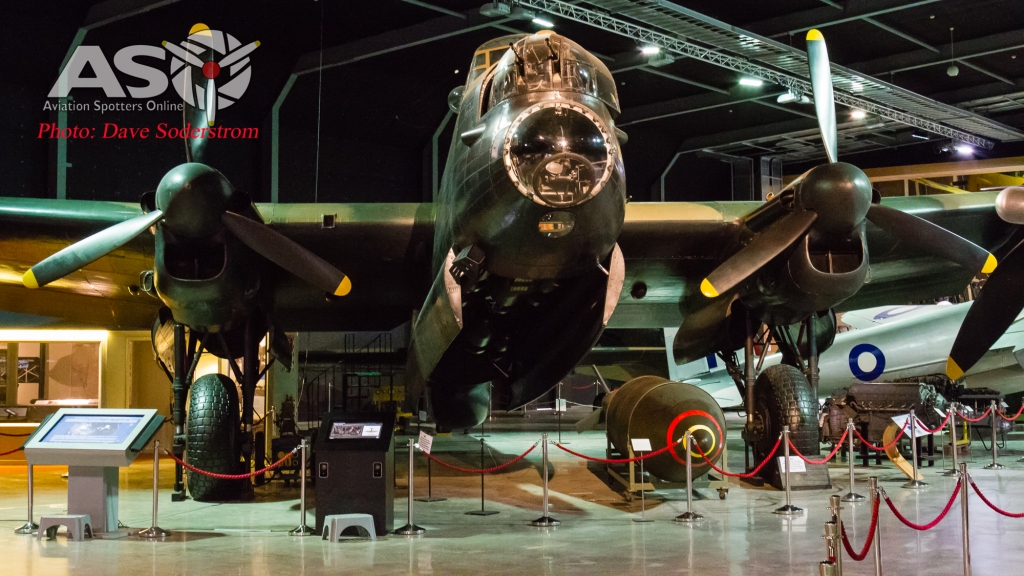 ' The Captain's Fancy' of the 75 (NZ) Squadron of the Royal Air Force completed more than 100 missions from May 1944 to May 1945. The original 'The Captain's Fancy' survived the war, however it was cut up for scrap in 1947.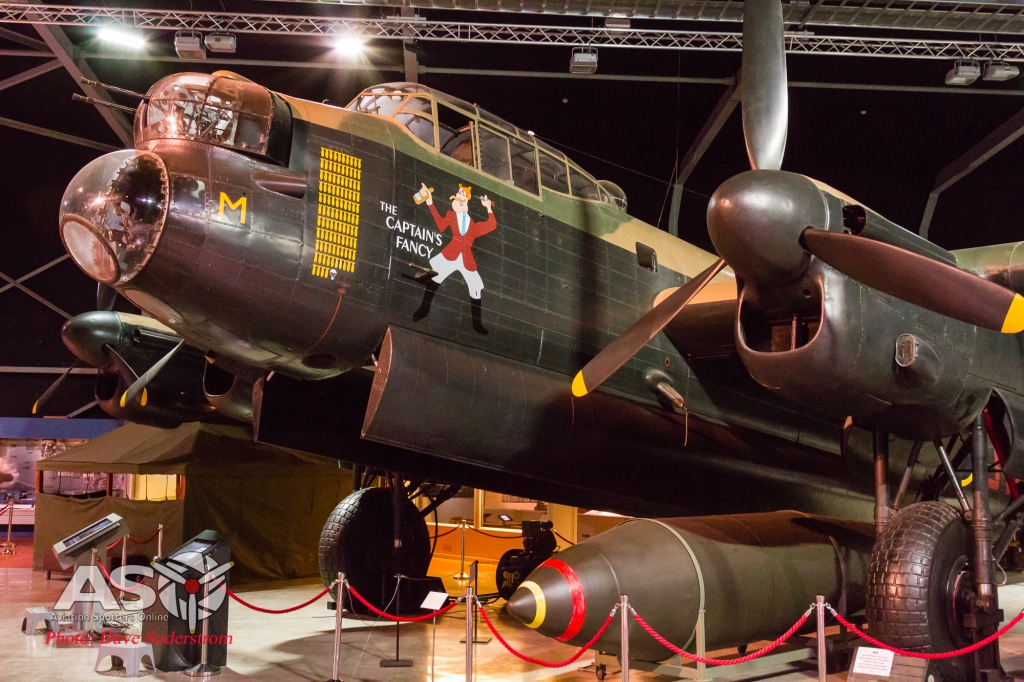 The RNZAF operated the Grumman Avenger during World War Two, both in their own service and also in FAA Service. 48 TBF-1 aircraft were to serve with the serials, NZ2501-2548 between 1943-1959.
NZ2527 (c/n 5625, BuNo47859) is the aircraft on display at the museum. After its time with the Air Force it was sold to Bennett Aviation and then to the Barr Brothers. The company had purchased the aircraft for top-dressing work, it was registered as ZK-CBO, however, it never flew with this registration. It was the only ex-RNZAF Avenger to appear on the New Zealand civil register.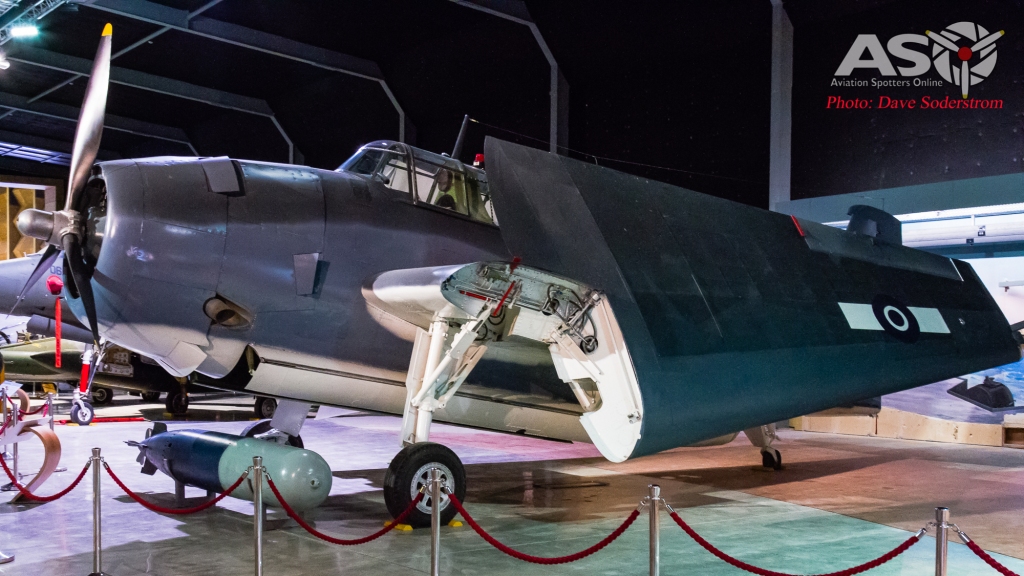 The aircraft later became a playground toy. It was removed from Kuirau Park, Rotorua in the 1970's where it had become derelict. Now fully restored by the MOTAT team the aircraft is a great tribute to No's 30 and 31 Squardons which flew them during wartime. As a post script No's 41 and 42 Squadron's operated them as drogue-towers.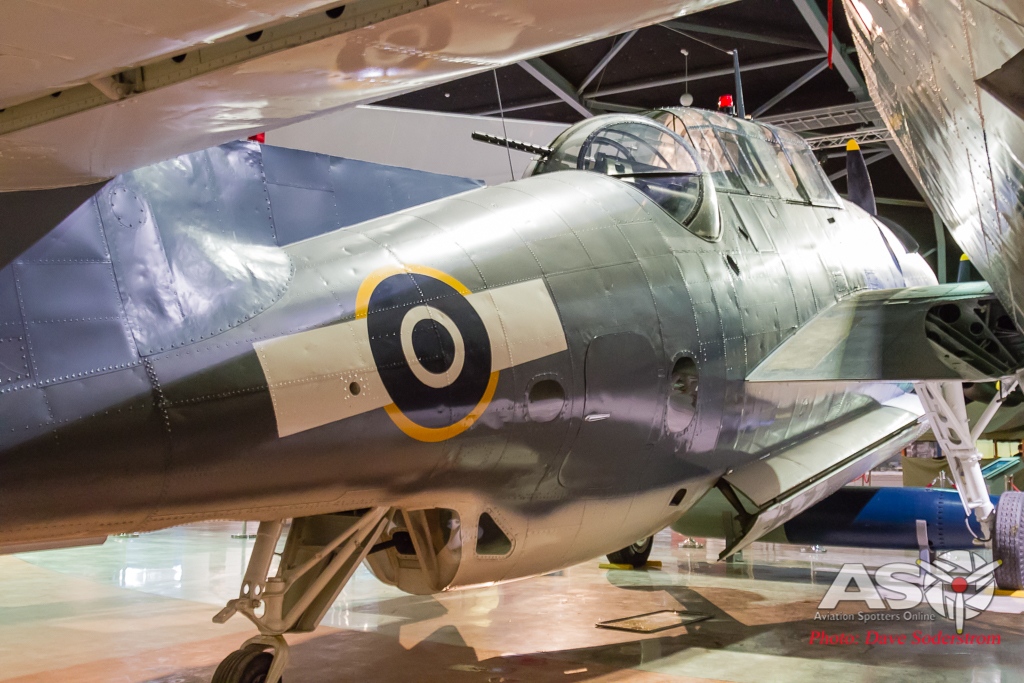 One of my favorite jet aircraft of all time, the Scooter. Otherwise known as the McDonnell Douglas A-4 Skyhawk. The Skyhawk formed part of New Zealand's front line force until the Clarke Government disbanded the fast jet element in 2001. The aircraft on display is NZ6206. This was one of the fourteen original jets ordered to replace the English Electric Canberra then in service.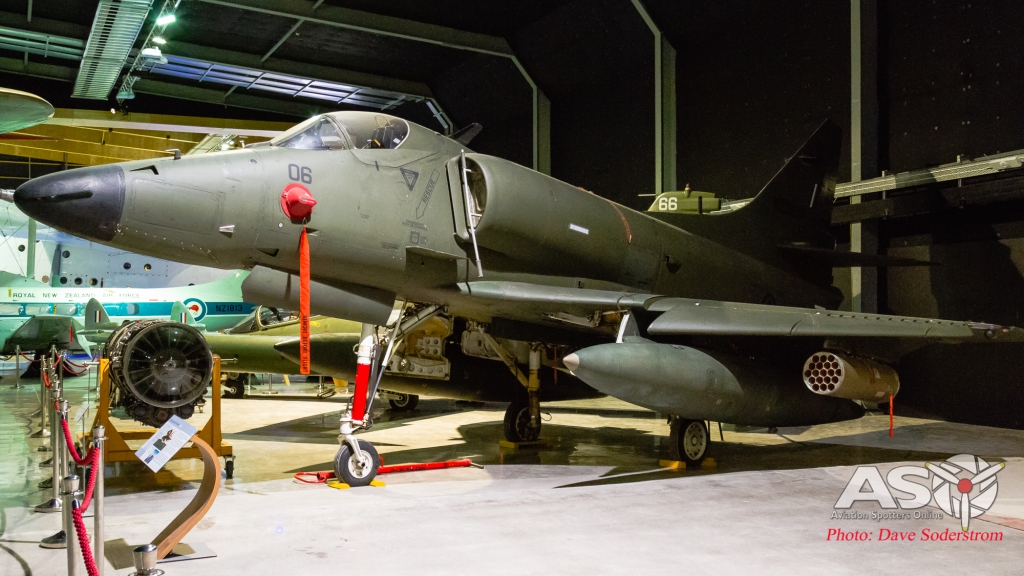 An interesting note for this particular airframe is it has the distinction of being the only Skyhawk in the RNZAF to fire a shot in anger. In 1976 the aircraft over flew and fired on a Taiwanese fishing vessel caught illegally in New Zealand waters. The aircraft like most Skyhawks on display in the country is on long term loan from the New Zealand Air Force.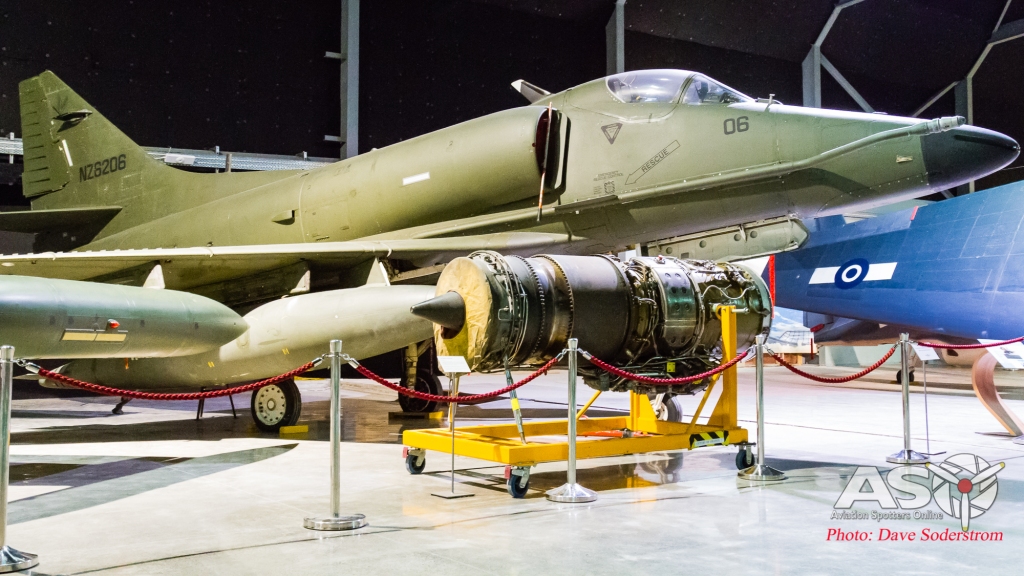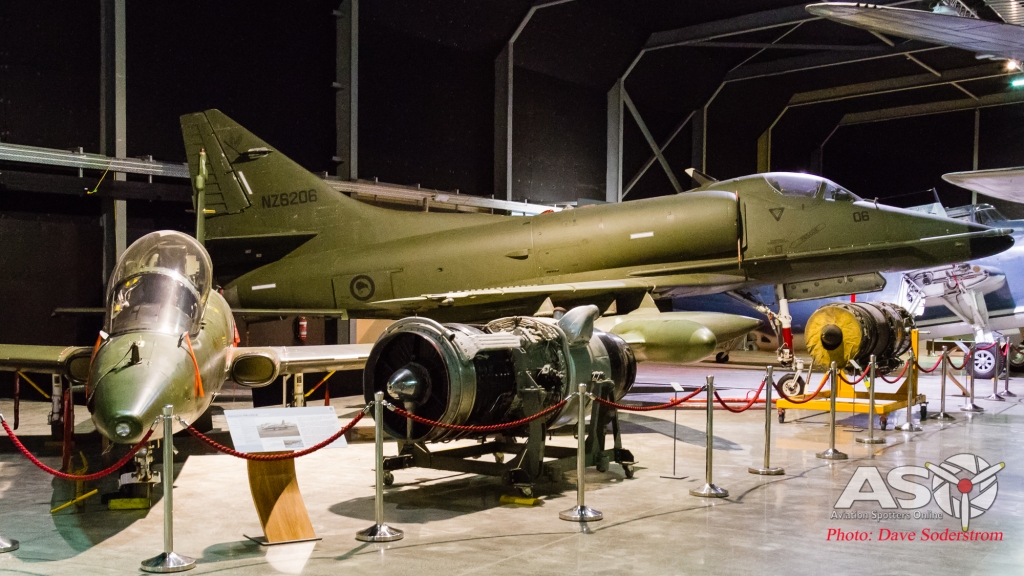 Along with the Skyhawk the Aermacchi MB-339 formed part of the front line RNZAF. This aircraft NZ6466 was one of eighteen delivered to the Air Force in 1993. These aircraft also had a complete weapons system for the air to ground role. Most were sold to US firm Draken International where they continue to fly on in the aggressor role along side the A-4 Skyhawks also from the RNZAF.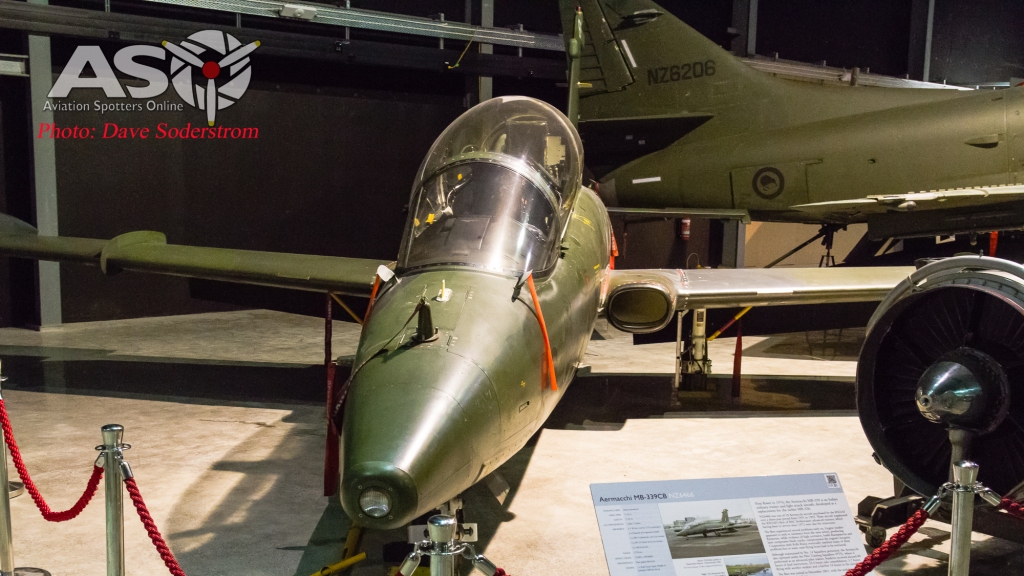 The Dehavilland Devon is the military version of the civilian Dove Airliner. 30 Devons with the serials NZ1801-1830 operated with the RNZAF between 1948 and 1981.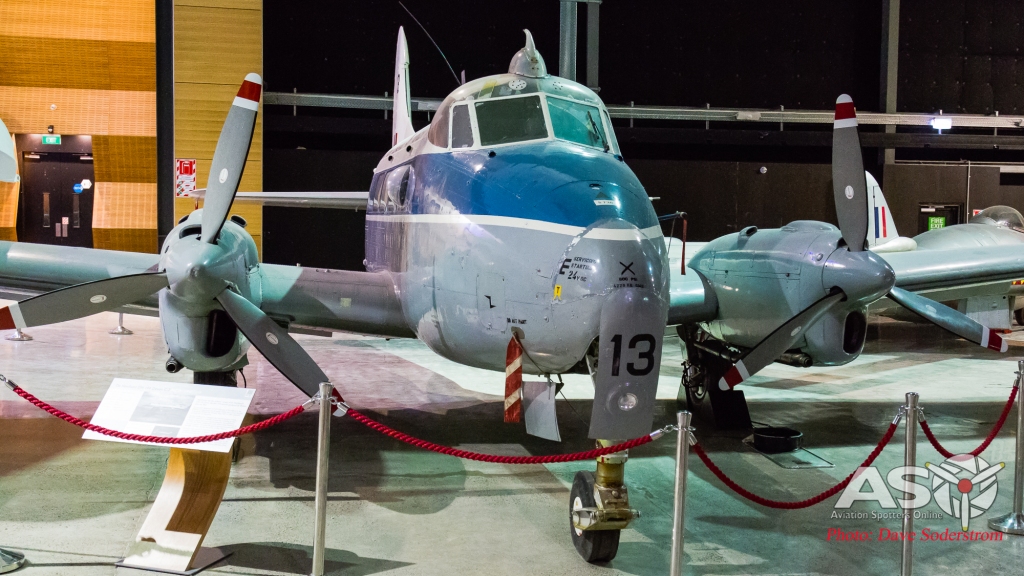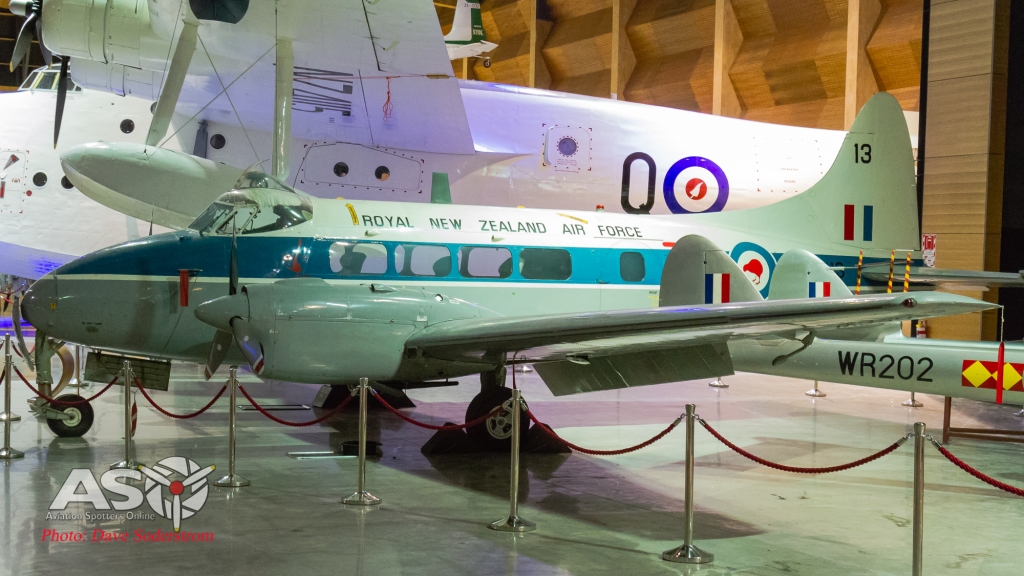 Another post war type operated by the RNZAF was the DeHavilland Vampire. MOTAT has an example of the single seat ex-RAF FB.9, serialed WR202. This aircraft was used by 14 Squadron in Singapore and was imported by the RNZAF and used as an instructional airframe.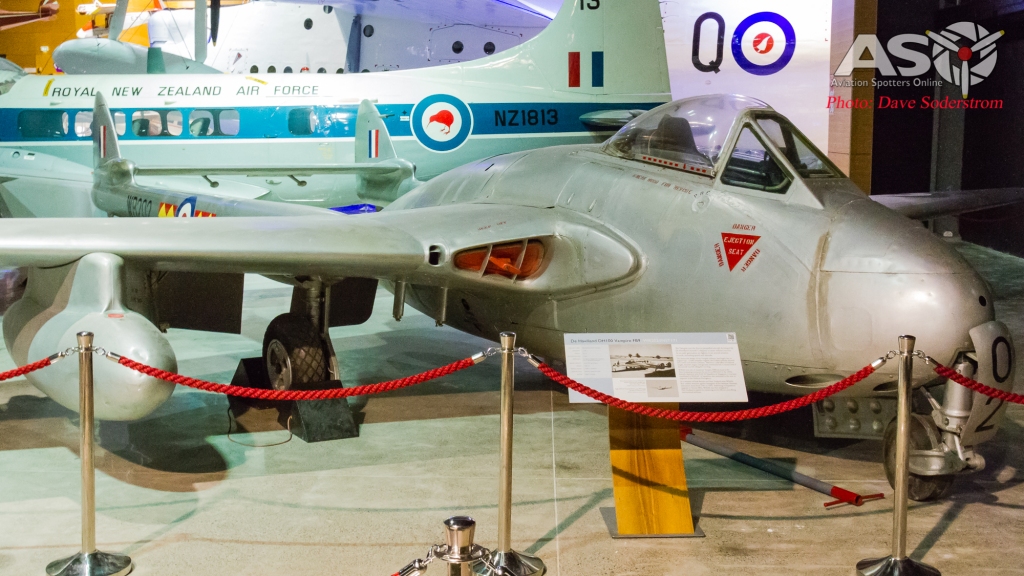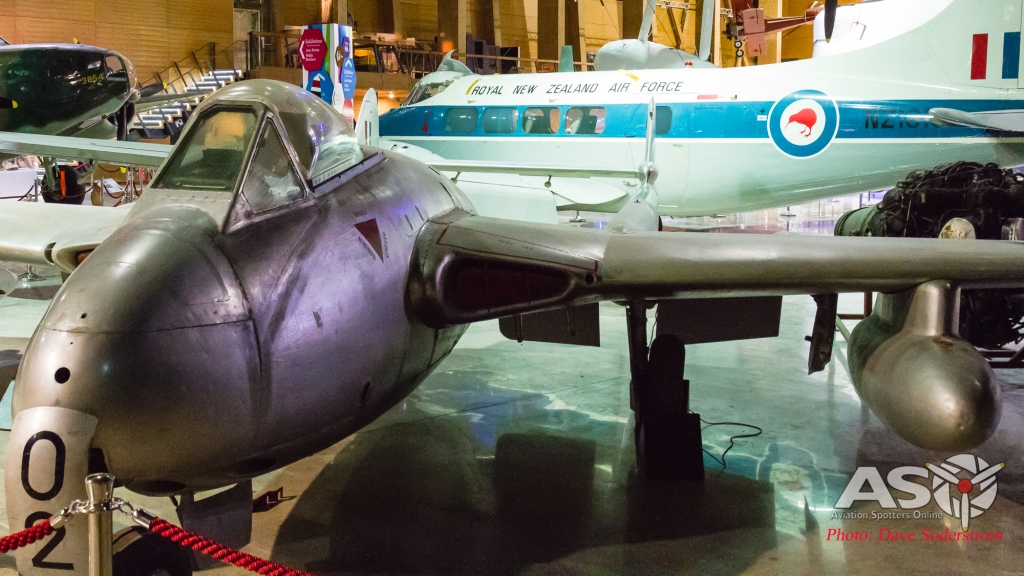 The RNZAF operated 300 P-40's of various models (E, K, L, M, N) between 1942 and 1946. They were assigned to No's 14, 15, 16, 17, 18, 19 and 20 Fighter Squadrons and No's 2 and 4 F OTU. Only 14 thru 19 SQNs flew P40's in the Pacific War, carrying out offensive and defensive fighter operations, bomber escort, and dive-bombing duties. A total of 99 Japanese aircraft were destroyed in the air, with 14 probables recorded.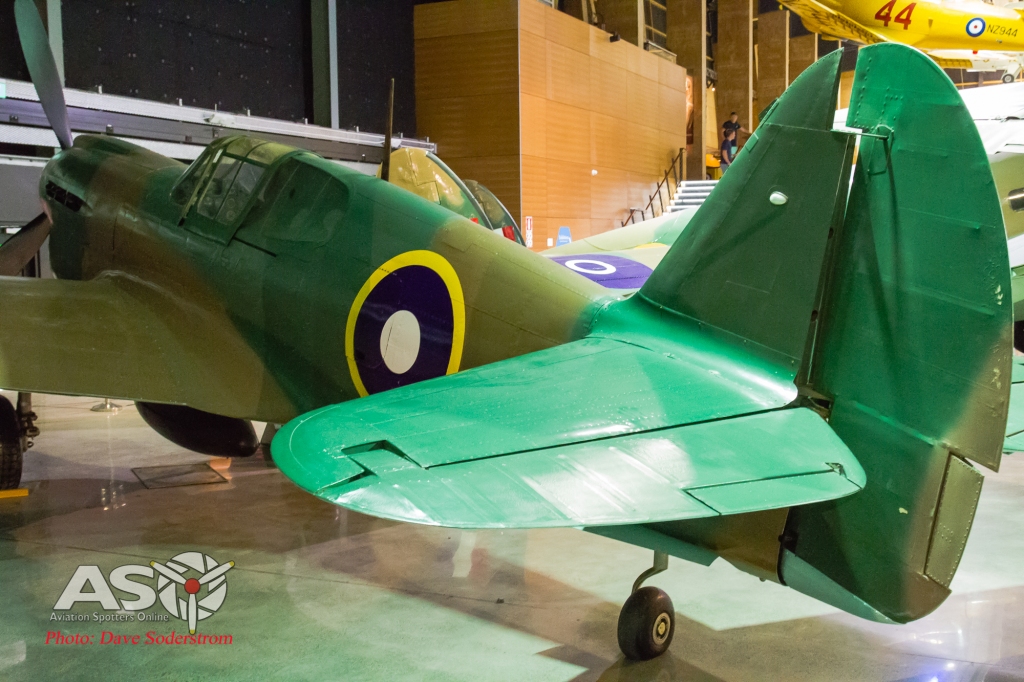 NZ3039 is a composite rebuild, and is on display after restoration at Pacific Aircraft Ltd. It is a P-40E model in generic Pacific War colours.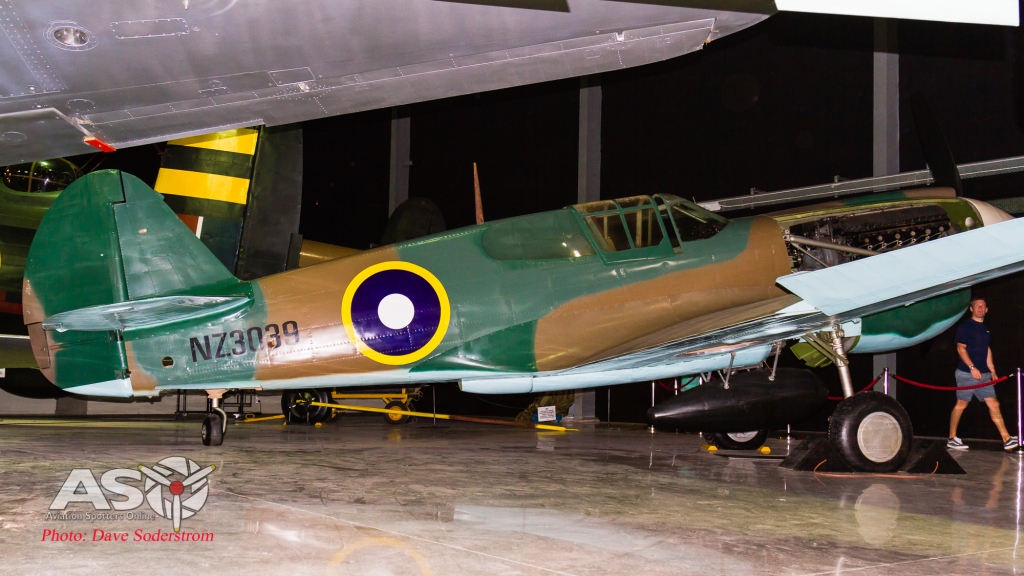 Another Wartime great is the Lockheed Hudson. 94 of the aircraft with serials NZ2001-2094 flew from 1941 to 1948. The type was used by 1-4SQNs, 9SQN, and No1 OTU. They were used in patrol and bombing roles, serving in the Pacific based at New Caledonia and in the Solomons Islands.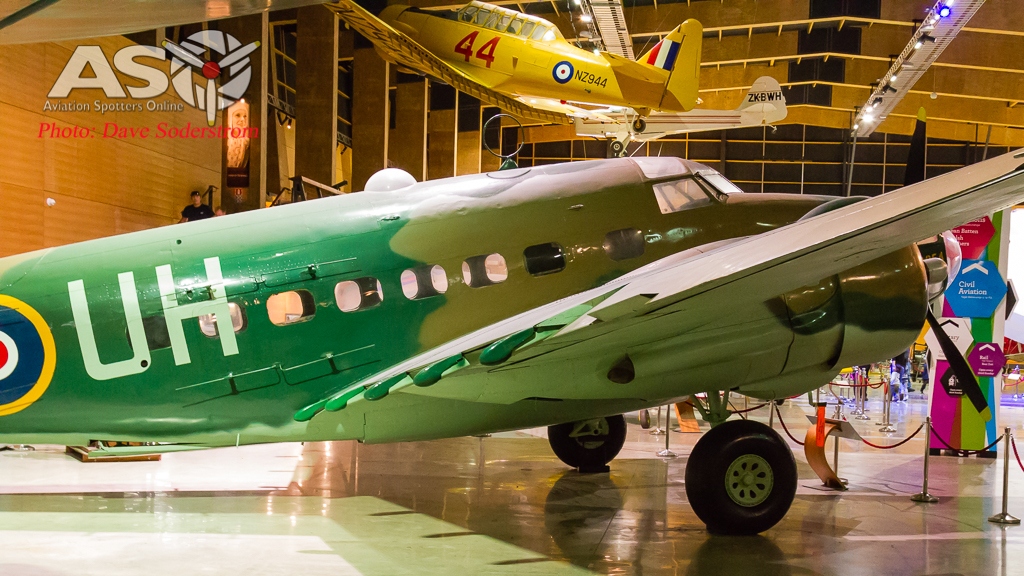 NZ2031 is a Hudson III and was restored by the MOTAT staff where it sits proudly among its fellow Pacific War combatants.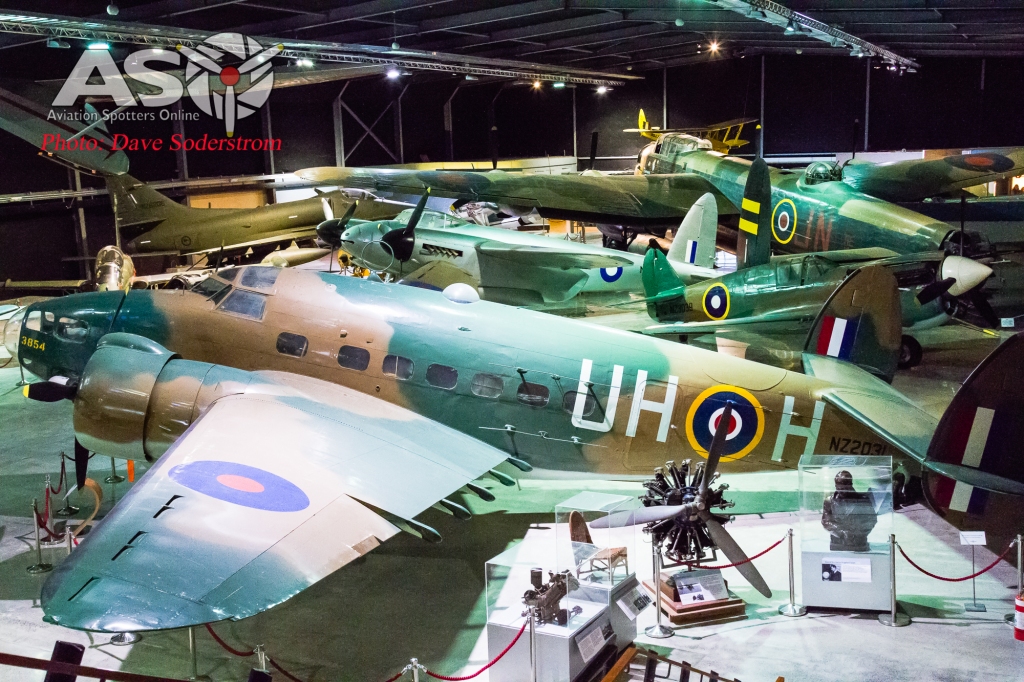 The next large twin engine in the Pacific line up is a fantastically restored example of the De Havilland Mosquito. This example is a T43 Version. NZ2305 was produced to late to see wartime service, it was one of 80 ordered for the RNZAF. 30 new and 50 reconditioned aircraft, some coming from RAAF stocks equipped three squadrons. ZN2305, began life as an RAAF FB.40 serialled A52-19, but was converted while still on the construction line at De Havilland Bankstown to a T.Mk.43 and re-serialled as A52-1053.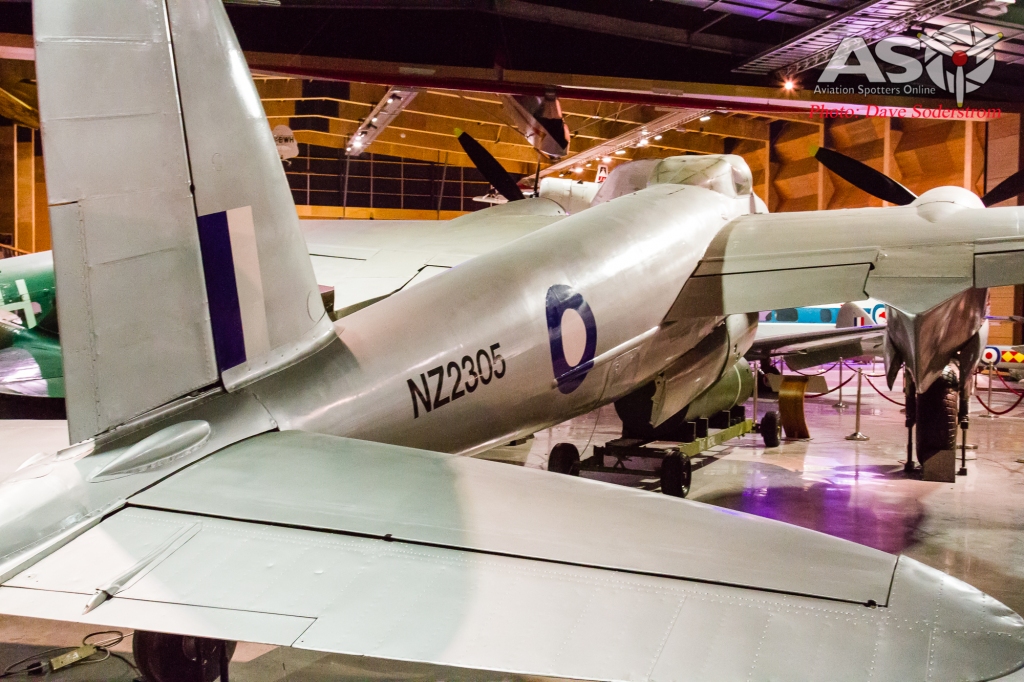 It was soon sold to the RNZAF and arrived in 1947. Disposed of in 1953, the aircraft was sold to a farmer who used it for various fittings etc. eventually MOTAT rescued the airframe and have painstakingly rebuilt it to the beautiful condition you see here.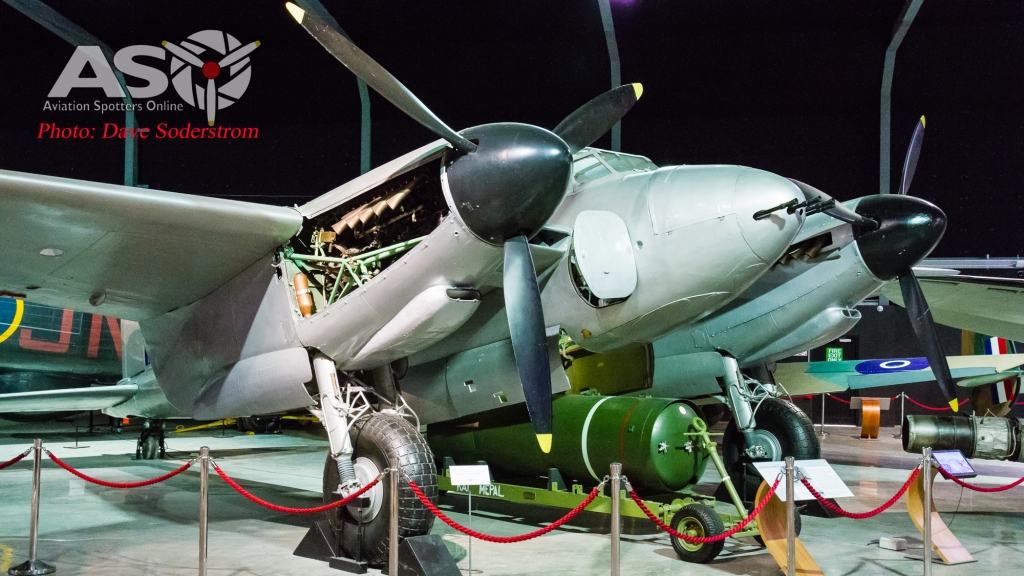 Next in line was an aircraft I've wanted to see and explore, and boy was I like a kid in a candy store when I was invited into the mighty Short Sunderland flying boat, NZ4115.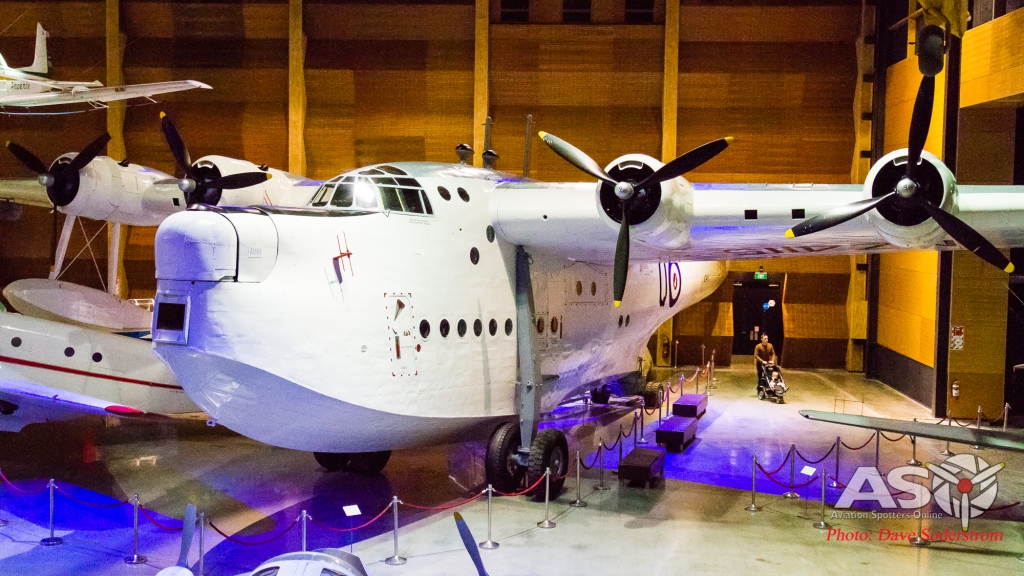 The RNZAF initially operated Four Mk III Sunderland Transport aircraft serialed NZ4101-4104. These were joined by 16 refurbished RAF MR.5 aircraft serialed NZ4105-4120 in 1953. The aircraft were allocated to No's 5 and 6 Squadrons which operated them in long range maritime patrol and reconnaissance.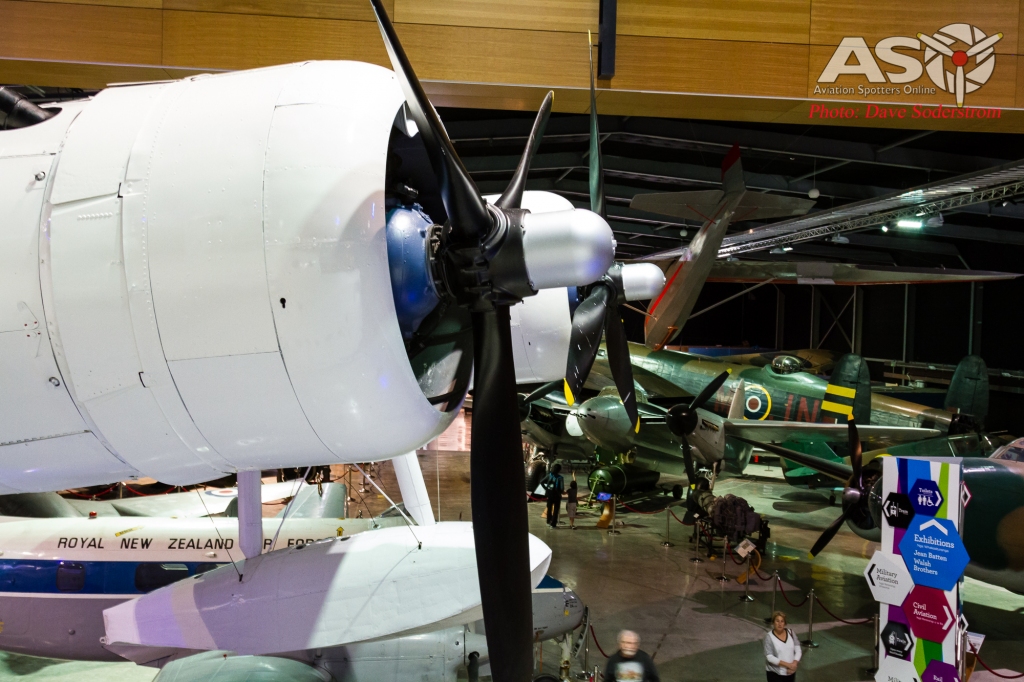 Originally built for the RAF as SZ584 in 1945, serial number NZ4115 was completely repainted by the museum's volunteers and was only installed in the hangar a couple of months ago.
The exploration of the inside of the aircraft really gives you some insights into what the crews endured on the long range maritime missions they did. It was cramped, dark and in the air it would have been cold! The cockpit gave a great forward visibility and look at the engines.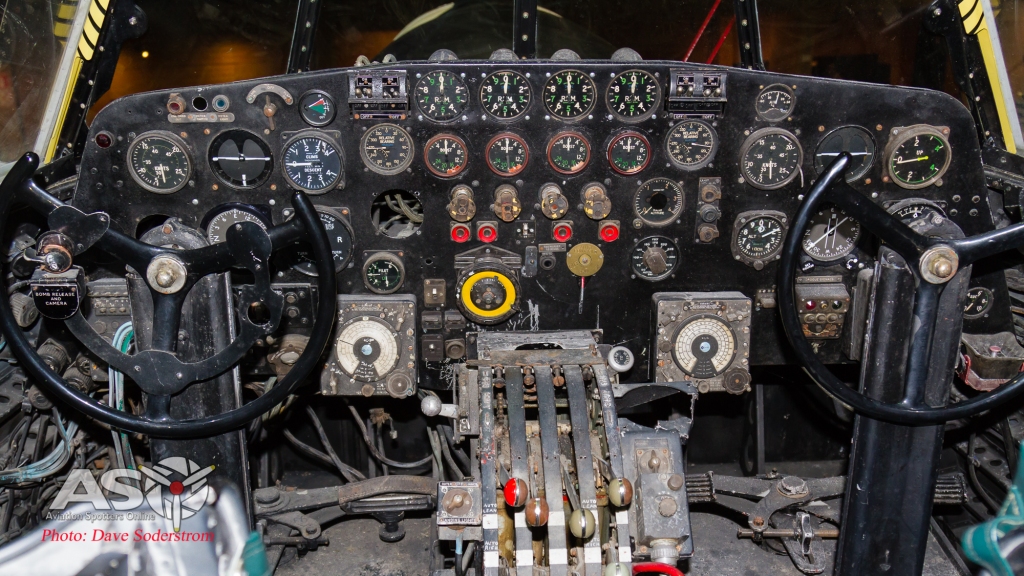 Looking up above, what museum wouldn't be complete with out a Harvard in its collection? The RNZAF operated 202 Harvards serialed NZ901-1102 of various marks. MOTAT has a unique set up with their aircraft NZ944. The aircraft is rigged to hydraulically lower the undercarriage. NZ944, was received at No.1 Aircraft Depot on 9 June 1941, flying until retirement in 1945.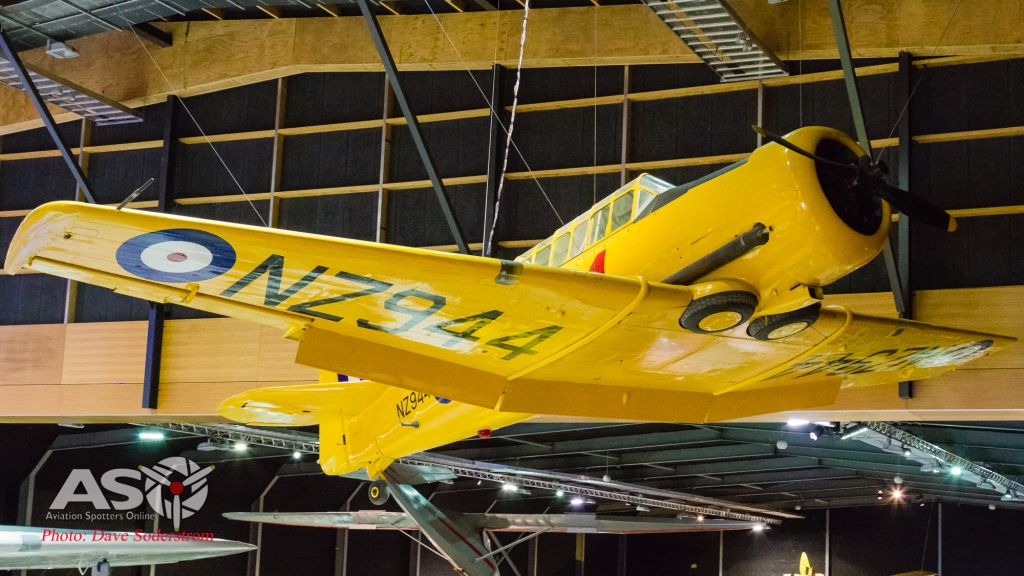 Moving along the hangar we move to the civilian part of the collection and boy are there some beauties in this line up.
First up was a type I hadn't seen before, ex Royal Air Force Miles Magister serial L8353. It became G-AMMC before being shipped to New Zealand in 1953. Rebuilt by MOTAT using parts from another which wore the registration ZK-ALO.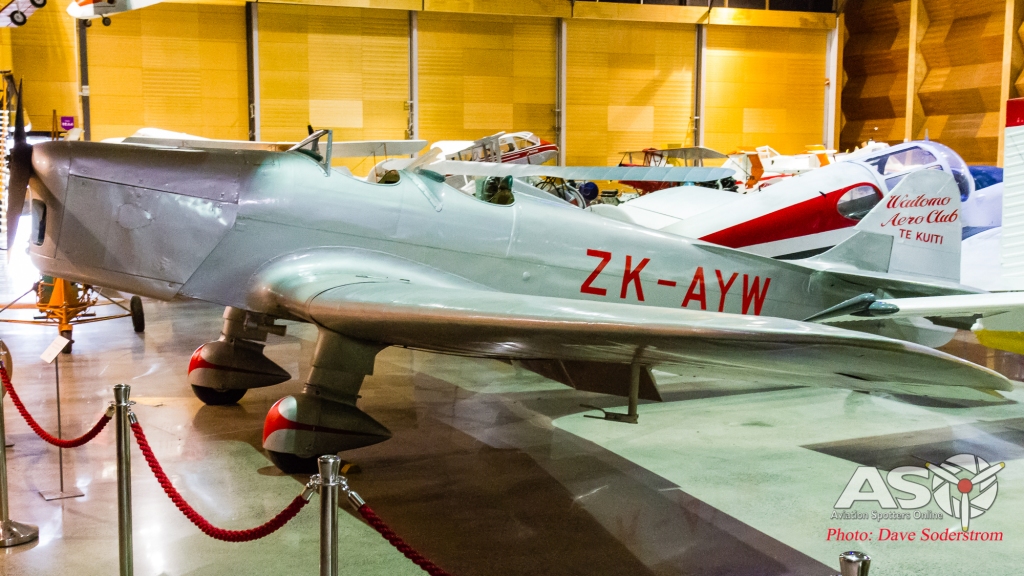 It was designed in Australia but the Kiwi's were the ones which made it the sales success globally. The original design by Henry Millicer, the aircraft was produced in Australia until 1966. The design rights were then sold to Aero Engine Services Ltd in New Zealand. The type continued to be produced and even new more powerful models were to come including the CT-4 Airtrainer which was to be sold to the RAAF for basic training.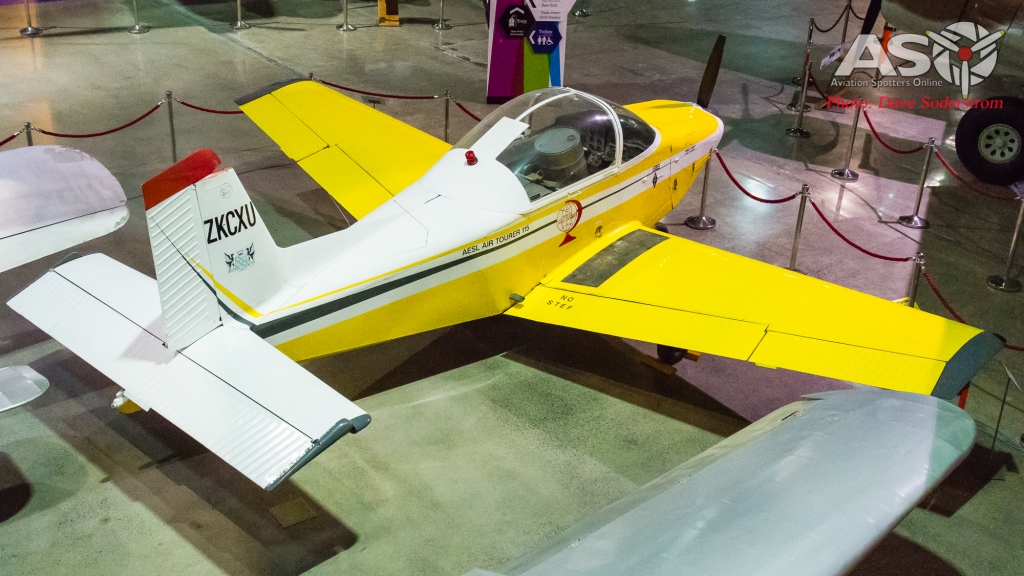 ZK-CXU is a 115 Horsepower Air Tourer, it's claim to fame being done by then owner Cliff Tait, whom set out on his round the world flight in 1969. It was an epic flight of 40 legs over 79 days, with a total flying time of 284 hours. The total distance flown was 30,500 nautical miles. It's now proudly restored and sporting the colors and markings it wore during that event.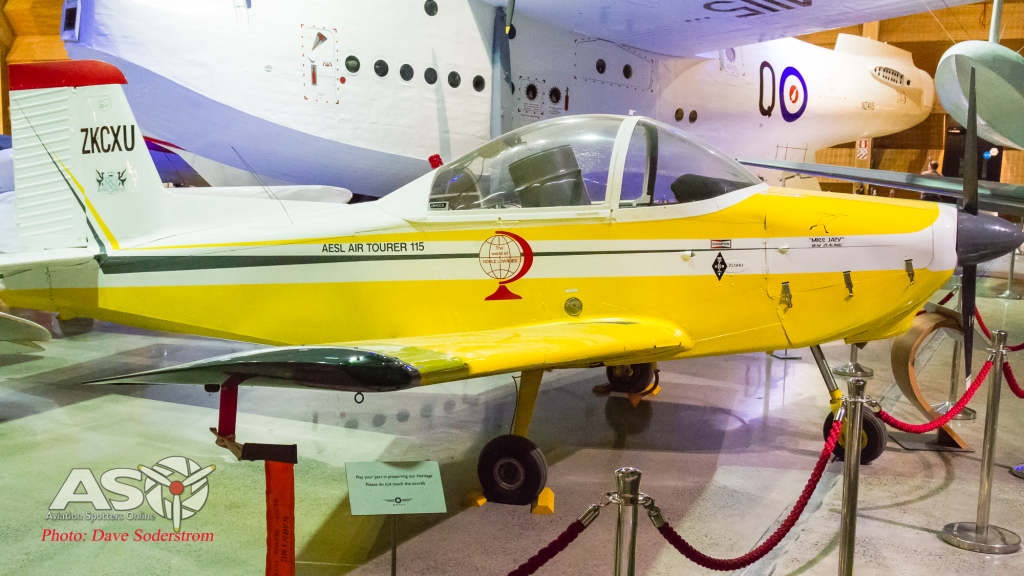 This beautiful and colorful DeHavilland DH.83 Fox Moth ZK-AEK is one of three early airliners on display. ZK-AEK isn't the real one though. The real registration for this aircraft is ZK-APT. It was painted to reflect the airline Air Travel (NZ) Ltd which was the first airline in New Zealand to fly scheduled air services. Founded by Bert Mercer in 1934 the airline operated three Fox Moths.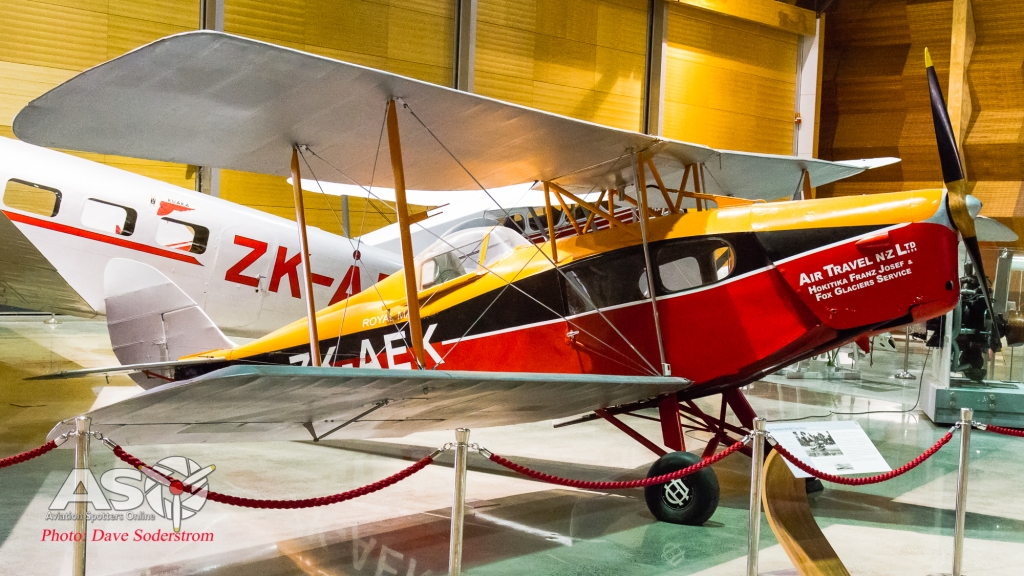 Lockheed 10A Electra ZK-AFD is actually ZK-BUT. Painted to commemorate ZK-AFD "Kuaka" which crashed at Flagstaff Hill in 1943. ZK-BUT was delivered to Trans Island Airways in 1957 and was named "Spirit of Tasman Bay". Operating services from Christchurch to parts of the South Island.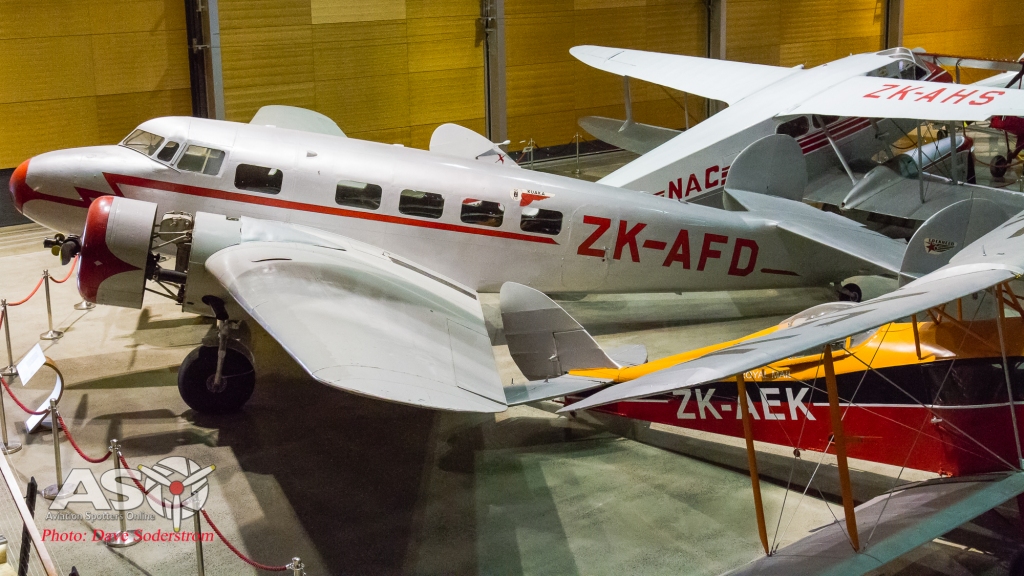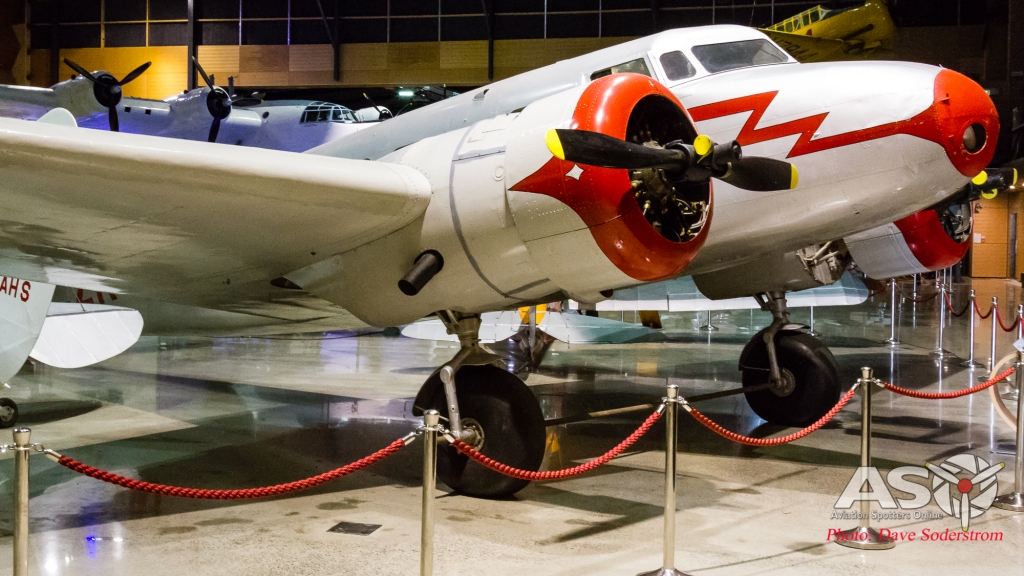 A real classic and one which is just a real sight to see in the flesh is De Havilland D.H.89A Dragon Rapide ZK-AHS. This aircraft was impressed into wartime service with the RNZAF as NZ558. It was also flown by Air Travel and NAC as it is depicted here.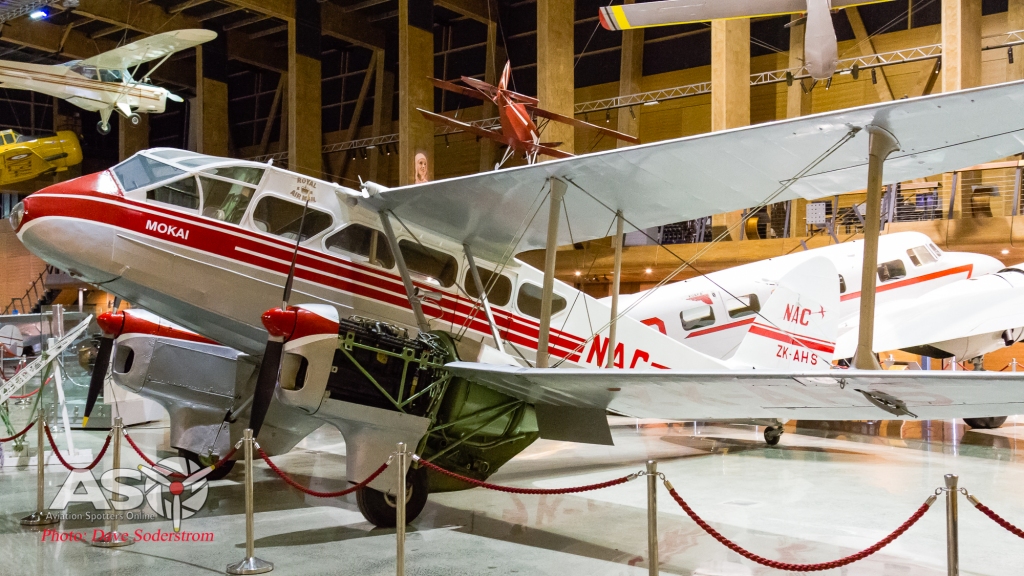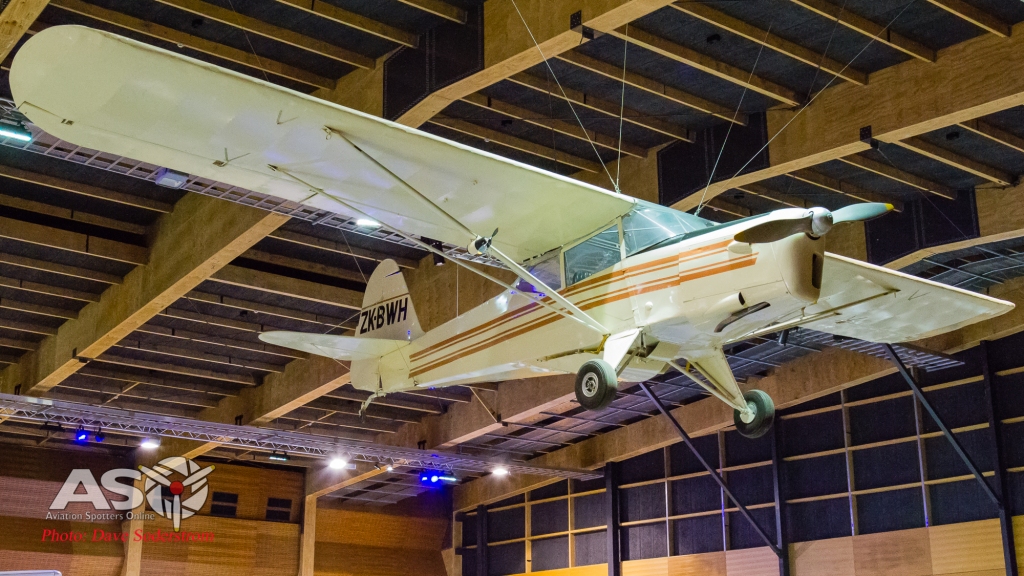 The classic and now vintage Auster J-1B Aiglet ZK-BWH arrived in New Zealand in 1953 with the original registration of ZK-BBY. It was for many years displayed in a RNZAF scheme.
New Zealand has had a huge Aerial Agricultural business over the years, and MOTAT has amassed a large collection of aircraft which have flown in this role.
First up is an Australian design, the Commonwealth Aircraft Corporation CA-28 Ceres. Using the proven wartime Wirraway design, CAC took the basis of this aircraft and adapted it for the aerial agriculture business.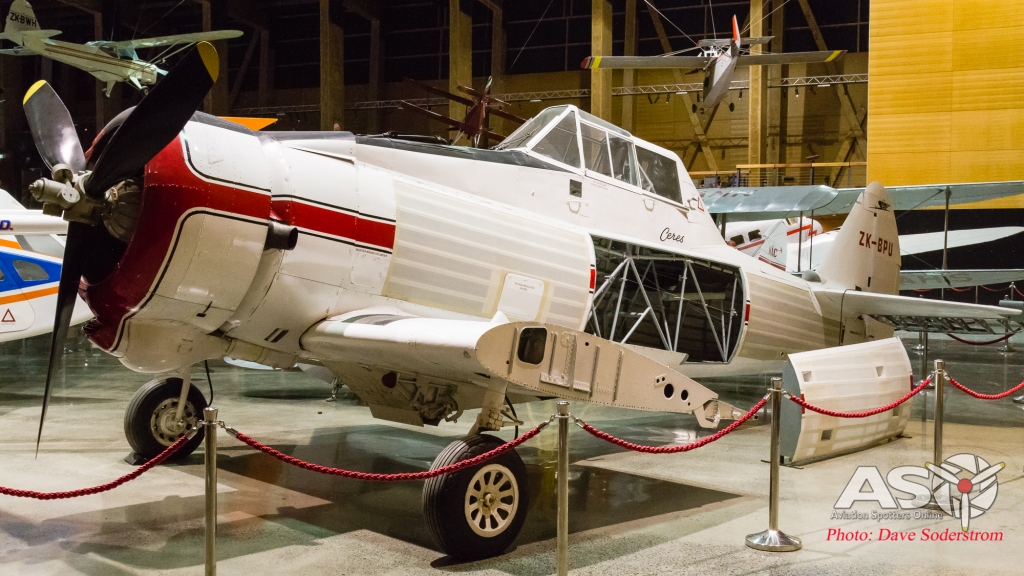 ZK-BPU was delivered to Aerial Farming in Palmerston in 1959 and suffered a succession of incidents in it's flying life. This ended in 1970 and was donated to MOTAT in 1977. A full restoration was preformed bringing it to the display condition with James Aviation logo. An interesting side story is the museum accidentally sold off components deemed surplus this included the wings. Oops!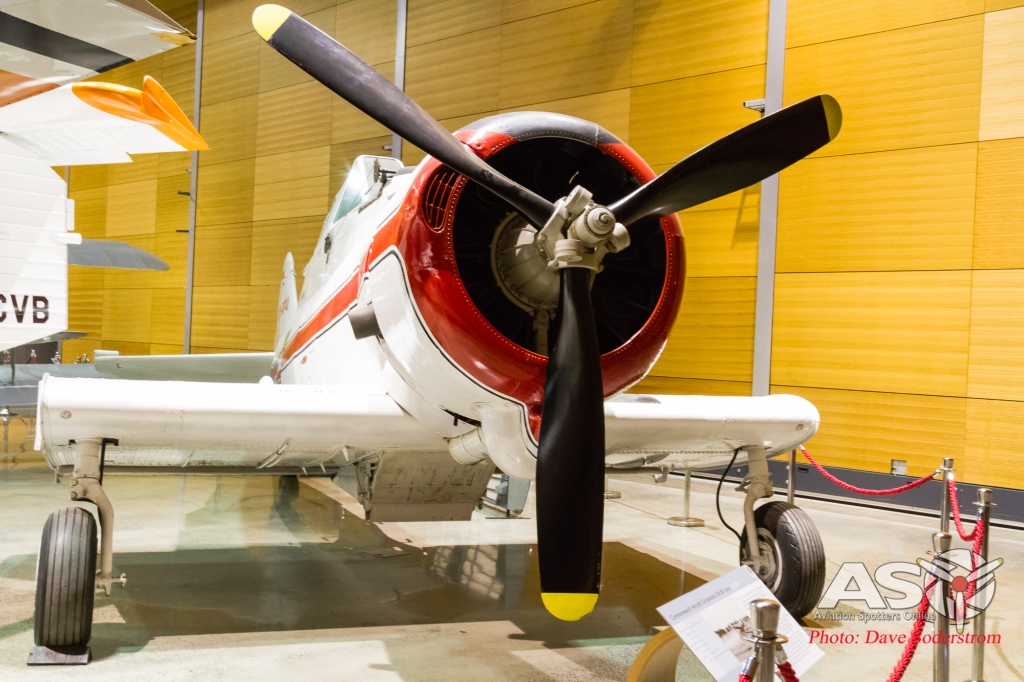 A locally produced type which hasn't been modified or redesigned from original and is still in production today. The Fletcher FU24 ZK-CTZ, was the first Fletcher aircraft fitted with a turbine engine. Fletcher has now become Pacific Aerospace and continue to build a similar design for passenger, freight and parachuting roles among others.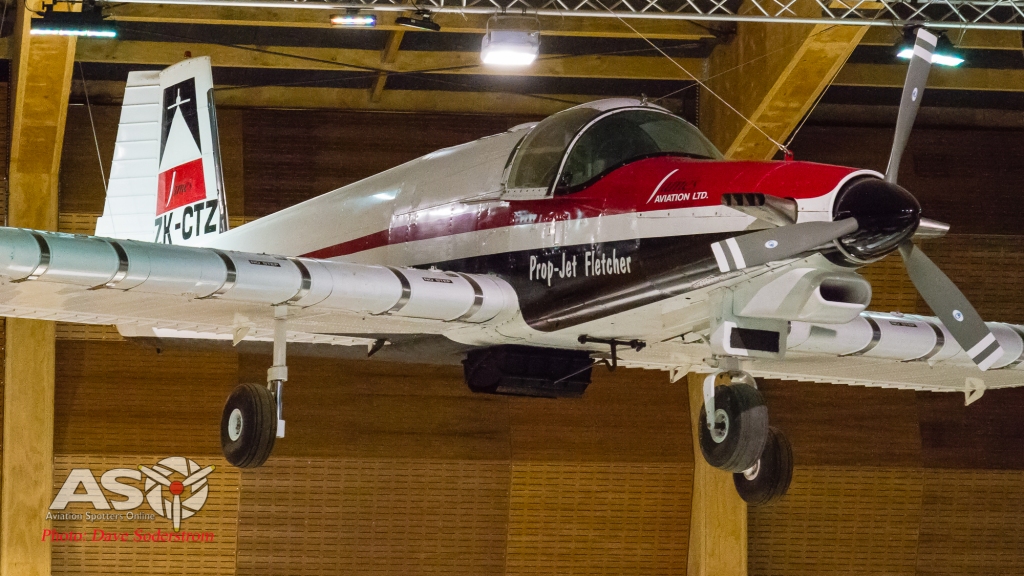 Also suspended from the roof is Cessna C188 Ag Wagon ZK-COO. It is displayed in the colours of Phoenix Aviation of Gore. It was the second Agwagon to be registered in New Zealand.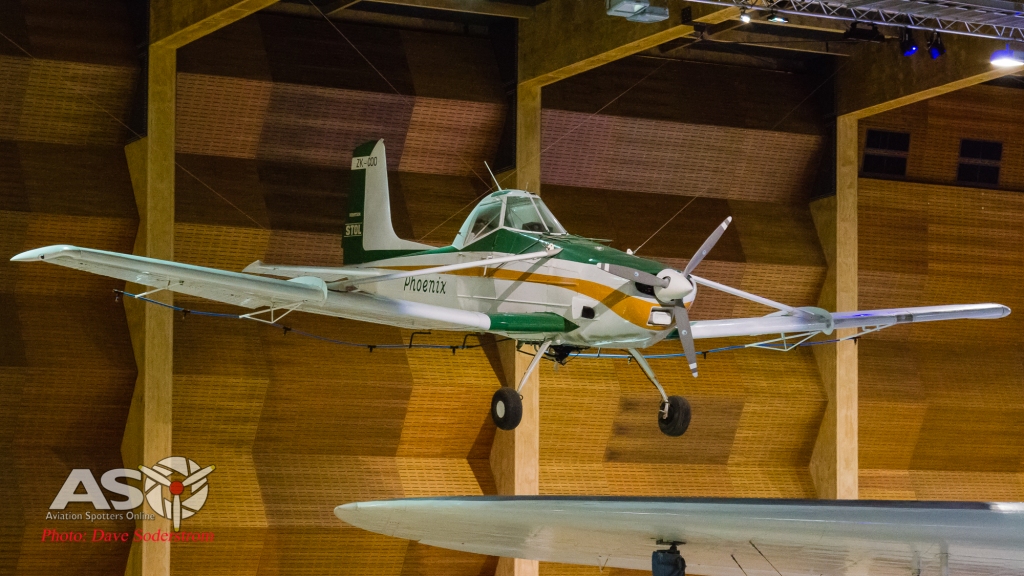 Next in the great display is a design which, to this day proves that if its practical, it doesn't have to be pretty. The Transavia Airtruck ZK-CVB is just such a plane. It was delivered to Transavia Leasing who hired it to Barr Bros from August 1967. When the lease expired in 1969, Barr bought the aircraft. It survived longer than most, with its last flight occurring in 1982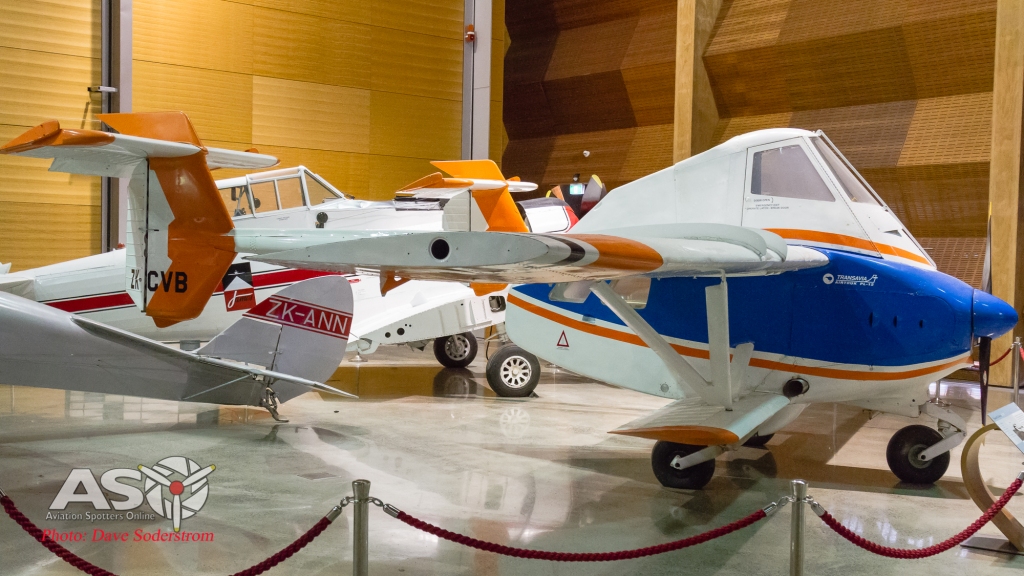 The next type on display and one which has proven its worth not only in wartime but also peace time the DeHavilland Tigermoth
MOTAT actually have two of the type on display, one is in its Cropduster configuration the other in Military basic trainer markings. The Ag version is ZK-ANN, and is painter to represent an Aircraft Services topdresser, complete with an early stye loading machine. This aircraft was built up from parts of ZK-AIN with some parts also from ZK-BJH.
A type that is fairly common in North America and was used by some smaller operators in both New Zealand and Australia is the Beech 18. Now a prized vintage aeroplane the one on display at MOTAT has Beech AT.11 Kansan ZK-AHO. This aircraft was built for the United States Army Air Force and allocated the serial 42-37208. Its USAAF service was very short when on a test flight the aircraft landed wheels up. It was soon repaired and was on its way to New Zealand for aerial survey work. Operated by N Z Aerial Mapping Ltd based out of Bridge Pa at Hastings until being withdrawn from use in 1980.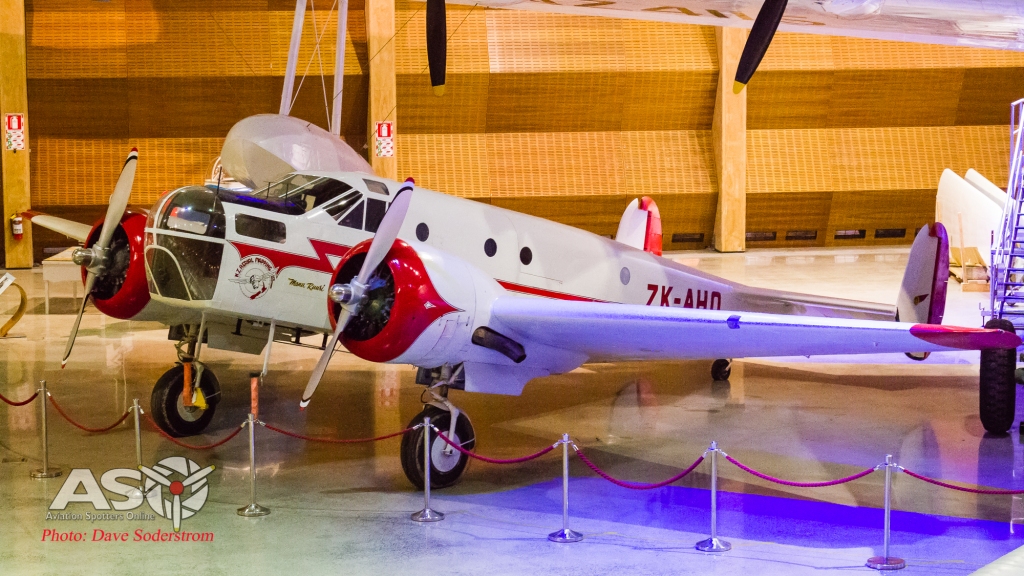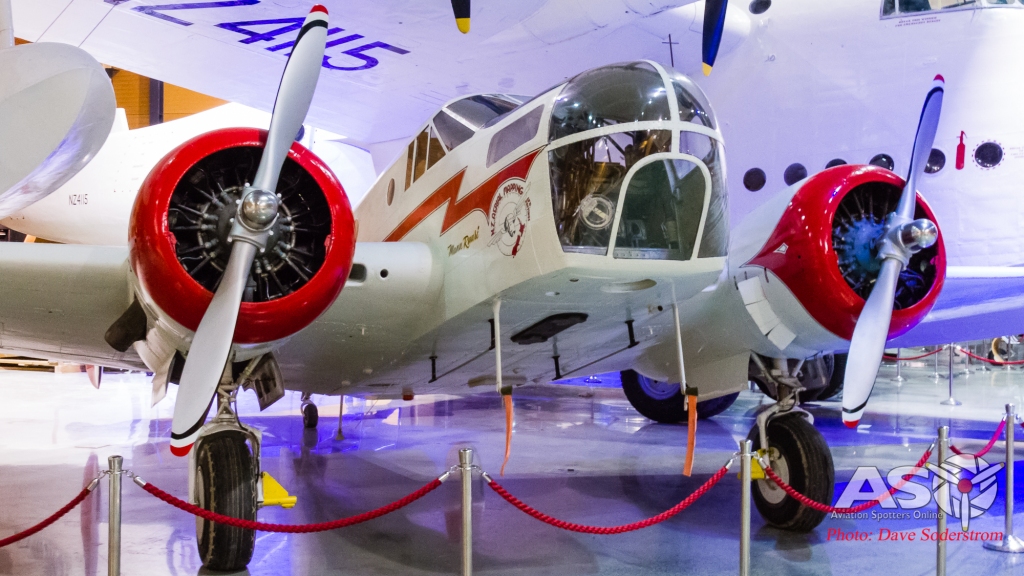 Of course every great museum has a restoration shop and MOTAT is no different. When I visited there was a lot of activity around this part with work on the DC-3, Hastings Cockpit and the Solent repainting all going on.
The Dc-3 in the shop is ZK-BQK. This particular C-47B was taken on charge by the RNZAF as NZ3844 on June 14, 1945 and struck off on July 17, 1952. Sold to NAC as is after a landing incident the aircraft was robbed for parts and put into storage. It was rebuilt to fling condition some years later and was flown by NAC until being leased to Polynesian Airlines in the early 1970s. Subsequently it was donated to MOTAT and has been repainted in its NAC scheme.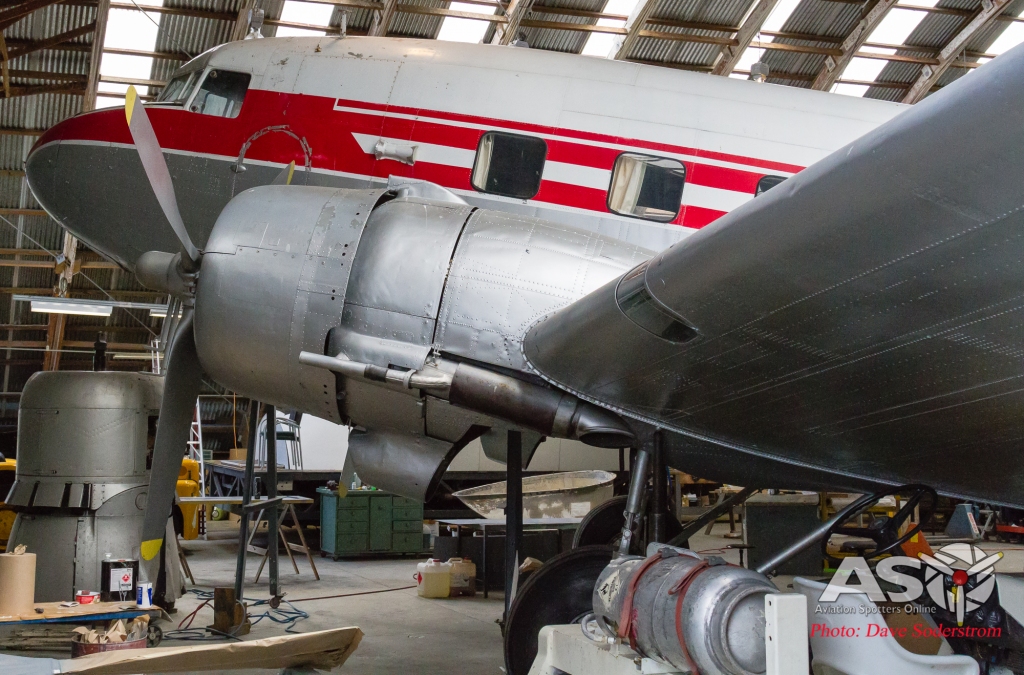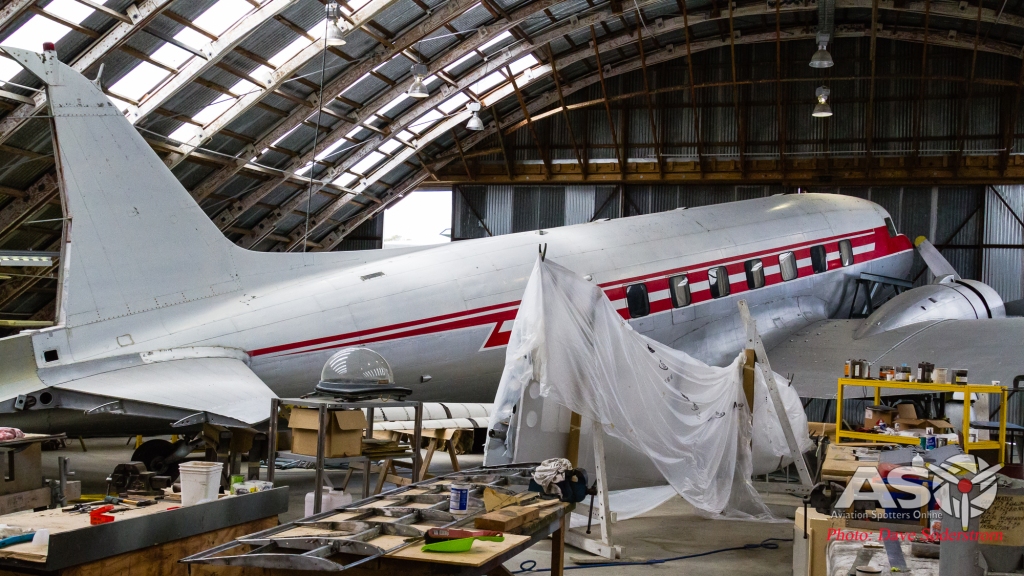 The only remaining bits of the once four strong Handly Page Hastings fleet within the RNZAF is undergoing a overhaul presently. ez RNZAF ZN5801 was flown by 41 Squadron until retirement in 1966.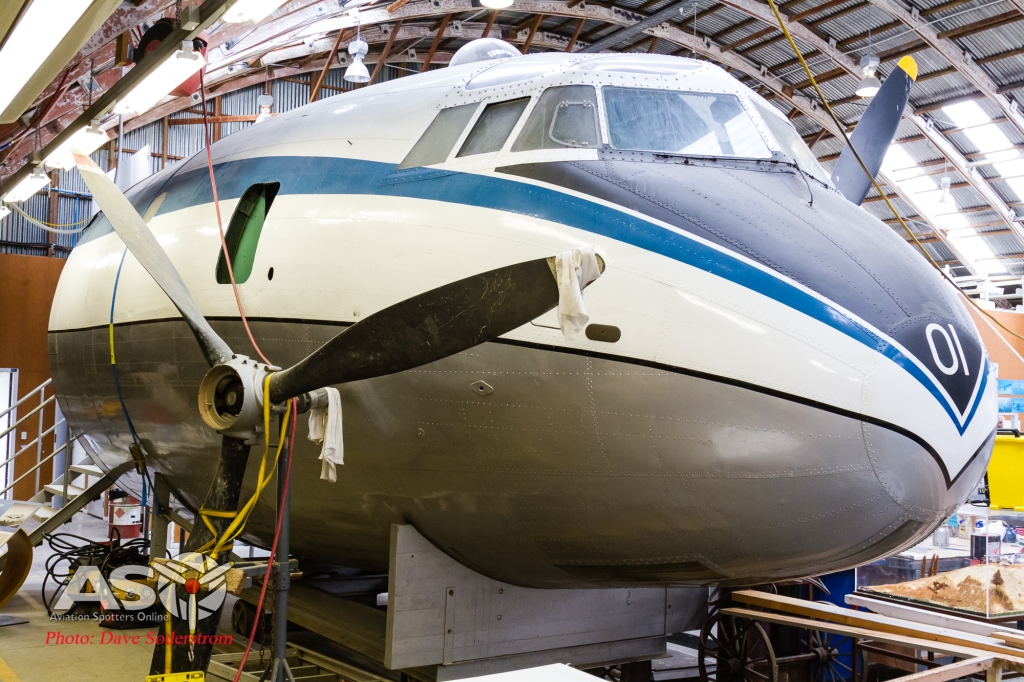 The MOTAT team have progressively restored the flight deck and engineers stations now. A neat display is the restored main undercarriage and tail wheels which are hydraulically plumbed to retract and extend.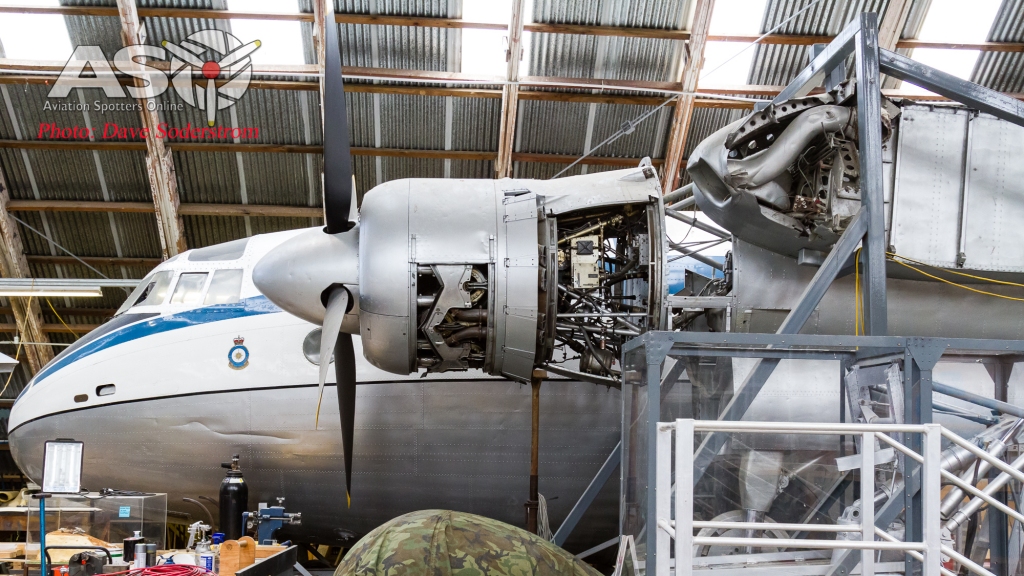 Finally the second of the flying boats with in the collection is Short Solent ZK-AMO 'Aranui'. This is the sole surviving Solent IV. Delivered to TEAL in 1949 the aircraft operated service within the Tasman and South Pacific. Its flying carrer ended in 1960, where it was donated to MOTAT. The Aircraft is receiving a complete repaint and will go back on display within the hall once this large project is completed.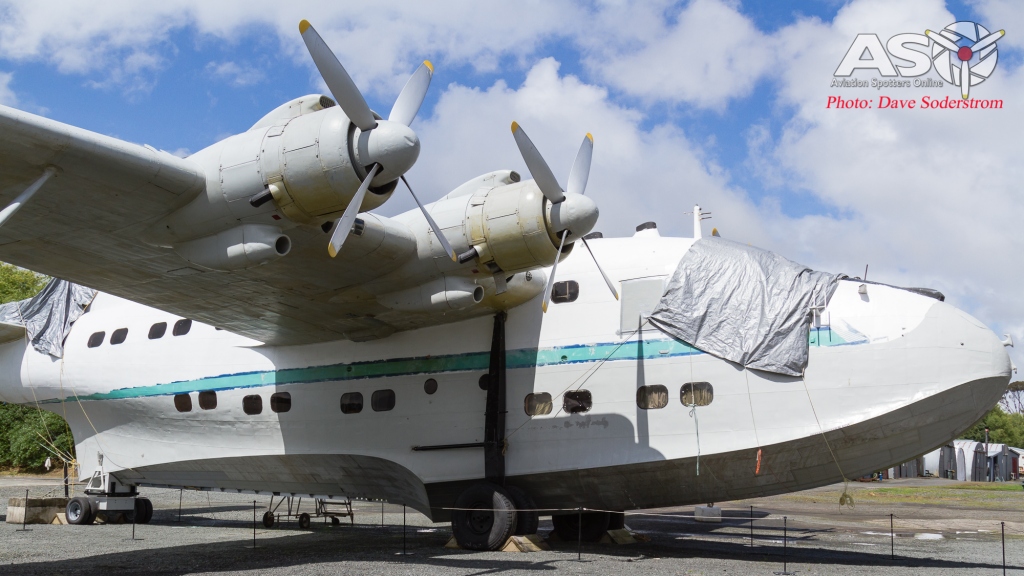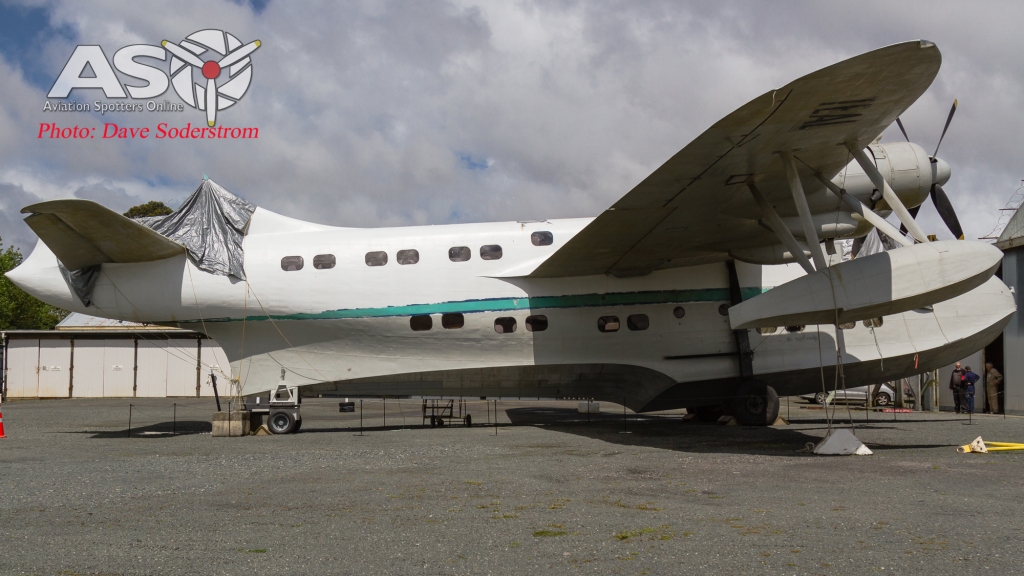 I'm extremely privileged to have been given the access and the private tour of this world class facility. As someone who has been to many many aviation museum's over the years this one ranks in the top 10 for its quality and quantity of displays. MOTAT is located at 805 Great North Rd, Western Springs, Auckland. And if you're ever in town its worth the drive out to indulge in some quality museum time.
Again a huge thanks to my guide Phillip for his knowledge, time and the fantastic banter we had during my visit!
Many thanks
Dave Soderstrom