Our annual Australian Fire Season 2020/21 review is a little more condensed this season, thankfully. However, this hasn't stopped the ASO team and our contributors from putting together another comprehensive review of the fixed-wing and rotary fleet for season 2020-2021. It should be noted that all COVID safe practices and regulations were practiced at all times during this and other visits this season. At no time was COVID rules or regulations compromised by any of the ASO team.
Season 2020/21 prelude
Fire season 19/20, was still very fresh in the minds of all Australians after the huge scale of the fires right across Australia. With the winding down at the end of the season and contracted aircraft and helicopters finishing their commitments.
The world was soon facing the next big challenge, with COVID-19. The ferocity of the infected people and casualties spread across the globe, not unlike the intensity of a bush fire. This presented pilots, crew members from overseas companies rightly so wanted to be home with their families. With International borders closing, and airlines reducing their flight schedules due to governments wanting to limit the spread, there were some serious high-level discussions and plans drawn up on how best to handle things. Of course, the situation was a fluid one with developments almost hourly.
The Australian Government announced a ban on Australian's traveling overseas in late March 2020. This couldn't have come at a worse time for the international companies. Most had only just either ended their contracts with the NAFC. Some aerial firefighting companies elected crews to pack their machines and depart home leaving them in local hangars with local operators.
Others got their crews packed up and flew aircraft and helicopters north taking up contracts in other countries. Examples of this included Coulson and HeliCarrier who in May 2020, flew their S-61s across the ditch to assist Indonesia. Taking up contracted work with the National Agency for Disaster Countermeasure or the Badan Nasional Penanggulangan Bencana which is abbreviated as BNPB. The trip was reversed when they were required for their firework back in Australia T THE END OF 2020. The 150-day contract saw Sikorsky S-61 C-FXEC take up the companies first aerial firefighting contract in the Asia Pacific.
The estimated statistics that were observed once the fires were all extinguished were numbers and facts that are very hard to comprehend. The trauma and devastation to communities, families, firefighting units, animals, and the country itself, will be ongoing, with a slow healing process.
It is estimated the 2020 fires burnt an estimated 18.6 million hectares, had destroyed over 5,900 buildings and killed at least 34 people. The devastation estimates on the animals were that over one billion had been killed with some endangered species driven to extinction. Air quality in some metropolitan cities including Sydney and Melbourne dropped to hazardous levels.
Then of course came the financial costs of dealing with the bushfires that are expected to exceed the A$4.4 billion of the 2009 Black Saturday fires. It was noted in January 2020, that the smoke had moved approximately 11,000 kilometers (6,800 mi) across the South Pacific Ocean to Chile and Argentina.
The single biggest issue this season has been the inconsistencies between state governments and even at federal levels. The mandatory quarantine for people arriving in Australia saw DFAT employees and even a music artist and actors skip hotel quarantine in favor of private residence for the 14-day lockdowns. This showed a lack of understanding and priority to aircrews some of which had to not only endure a 14-day quarantine once arriving in Australia then do another 14 days in hotel isolation when posted or arriving at another state.
Surely common sense would prevail however, no. Many of the great crews who have been to Australia previously have had to endure up to three months away (a three-week rotation is normal) from family and friends and their own lives to not endure these issues as they come and go over the season. A huge amount of gratitude to these teams shouldn't and won't go unnoticed. So on a personal note, I'd like to acknowledge their sacrifices and say thanks to all of them. The support that is given to me and being able to tell the aerial firefighting story each year is one I'm eternally grateful for. This is for you all.
Royal Commission
On the 12th of January 2020, Prime Minister Scott Morrison outlined a proposal to establish a royal commission into the bushfires. Requiring the approval of the state and territory governments, the Commonwealth Government drafted the terms of reference. Support for the royal commission from Labor premiers was "lukewarm" at best. The Federal Government set the commission up to inquire into and report upon natural disaster management coordination as it related to the 2019–20 Australian bushfire season.
Three Commissioners were tasked with heading up the Royal Commission. This included Mark Binskin as Chair, who is a former senior officer in the Royal Australian Air Force. Mr. Binskin was the former Chief of the Defence Force from June 2014 until his retirement in July 2018. Joining him were Annabelle Bennett a former Judge of the Federal Court of Australia and Professor Andrew Macintosh, a professor of law at the Australian National University and a member of the university's Climate Change Institute.
A couple of days later on the 14th of January 2020, the Victorian Premier, Daniel Andrews, announced an independent investigation into the 2019-2020 bushfire season in Victoria. This was quickly followed on the 31st January 2020 when the NSW Premier, Gladys Berejiklian announced an independent investigation to review the causes, preparation, and response to the bushfires in New South Wales.
The final report contained 80 recommendations. Notably, for aviation, the report produced the following recommendations.
Recommendation 8.1 A sovereign aerial firefighting capability
Australian, state, and territory governments should develop an Australian-based and registered national aerial firefighting capability, to be tasked according to the greatest national need. This capability should include:
a modest, very large air tanker/large air tanker, and Type-1 helicopter capability, including supporting infrastructure, aircrew and aviation support personnel, and
any other aerial firefighting capabilities (eg Light Detection and Ranging (LiDAR), line-scanning, transport, and logistics) that would benefit from a nationally coordinated approach.
Recommendation 8.2 Research and evaluation into aerial firefighting
Australian, state and territory governments should support ongoing research and evaluation into aerial firefighting. This research and evaluation should include:
assessing the specific capability needs of states and territories, and
exploring the most effective aerial firefighting strategies.
Recommendation 8.3 Developing the aerial firefighting industry's capability
Australian, state and territory governments should adopt procurement and contracting strategies that support and develop a broader Australian-based sovereign aerial firefighting industry.
Supporting Aerial Firefighting
Considerable money and upgrading of equipment are also being undertaken for support on the fire ground. With new fuel trucks, and large quantities of retardant and other associated equipment being established in several states.
States and Territories Stepping up
The Commonwealth Government offered support or in-principle support for the majority of the recommendations, although notably did not outwardly support the recommendation to establish a national aerial firefighting fleet.
The federal government has indicated that aircraft requirements are a matter for the states and territories and they would be guided by those.
Currently, New South Wales and Western Australia (American Champion Scouts Aerial Reconnaissance and Supervision Fleet which are owned by the Department of Biodiversity, Conservation and Attractions (DBCA)) are the only states within Australia to have their own state-owned air assets. NSW has invested $26.3 million to provide the 737 Large Air Tanker 'Marie Bashir' and two Citation 'Birddog' aircraft that will undertake line scanning operations. The 737 was purchased from Coulson Aviation and received a new paint job over the Australian winter. Today it is now flying as Bomber 210.
NSW RFS also purchased two Bell 412 Helicopters, an investment of $6.3 million. A Royal Australian Air Force C-17A Globemaster delivered one of the helicopters via Vancouver International Airport, Canada. A third Bell 412 will also join the fleet courtesy of the Gooddman Foundation. These helicopters join the single AS.350 and the two BK-117s already in service.
As noted in the individual helicopter companies below the ACT Government took the step of contracting its owned state-based helicopters this season. United Aero in conjunction with Wildcat Helicopters stationed two Bell 412s, Helitak 274 and 275 alongside a Firebird AS350 provided by Microflite Helicopters.
Western Australia elected to continue with their Large Air Tanker program for the 2020-21 season by engaging the C-130H from Coulson to operate out of Busselton this season.
The question does have to be asked now, as which state or territory will be the next to purchase its own aerial assets. There is no time like the present to be better prepared and supplement the international and domestic fleets. With the price of fixed-wing airframes at their lowest due to a heavy surplus with the global aviation downturn. Who is going to stretch their necks out to stand alongside NSW?
Aerial Fire Fighting for season 2020/21 what is new?
There were however some positive elements in the lead-up to the 20/21 season. With the state, federal, and even local councils, looking at risk mitigation strategies to protect their residents. All and any support to aerial firefighting was keen to be seen, heard, and understood more.
Helitak Fire Fighting Equipment (Helitak), based in Noosaville Queensland landed a contract into the North American market. The Helitak customer successfully received an Exclusive Use contract from the U.S. Forest Service. Following purchase by High-Performance Helicopters in Redlands, California, the company would be fitting the Australian designed and built tanks to their UH60A helicopters. The company has gained local success as well. McDermott Aviation, Nautilus Aviation, and Aerotech all buying tanks for their Bell 214ST's, BK-117 and Blackhawk fleet respectively. This company continues to develop its tanks for a host of helicopters for both the domestic and international markets with the Bell 412 and the Super Puma tanks to the market before the coming fire season.
Erickson Inc returned with a six-ship fleet operated across Australia in conjunction with Kestrel Aviation, with two Air-Cranes in both Victoria and New South Wales and single examples in both South Australia and Western Australia. The East Coast-based machines had their lowest utilisation in many years, thanks in part to the La Nina weather events this season. To ensure timely arrivals for the start of the NSW contract, the company elected to fly one of the aircraft, Gypsy Lady to Australia from Greece in an AN-124 transporter. The rest of the fleet arrived via ship direct from Greece where they were unloaded and reassembled for their upcoming state contracts.
Skyline Aviation Group based at Lake Macquarie Airport in NSW, also elected to purchase the same tank from Helitak and fit it to their ex-Royal Australian Navy S-70 Seahawk fleet. The first of the S-70Bs, VH-XHJ, joined the Australian register in October 2019, the former N24-002, is the first of the Seahawks modified for its new role in aerial fire suppression.
Kestrel Aviation based in Mangalore Victoria continued the company's further expansion. The first of two UH-60 Blackhawks painted and flown by company pilots arrived. Named Firehawk 1 or Helitak 125, the Hawk is the first of its type flown in Australia with an internal tank. It was one of two Blackhawks in operation this season with Kestrel.
The company also announced that their first firefighting equipped Airbus AS332L1 Super Puma as an addition to their fleet to augment the company's already growing fleet. This will be the first of type in the Australian aerial firefighting line-up.
Coulson Aviation and Kestrel Aviation have again been working with the Victorian Government on its Night Aerial Firefighting program.
The work of the trial this year focused on allowing crews to safely conduct the first attack at night without the requirement of having to complete a reconnaissance flight of the area during the day or having first worked on fires in the daylight.
This is the same approach Coulson has successfully conducted in the US. The certification through the Victorian trial now enables Coulson teams to undertake night fire suppression missions in the Sikorsky Helitacks anywhere in Australia.
This season several CFA brigades were shown the capability. ASO was invited as a guest of Kestrel to witness one such event showing how the Kestrel team has continued to develop this emerging capability.
The video above was produced during a visit to a CFA and Night firebombing demonstration that ASO was a guest at.
Coulson Aviation continues its expansion within Australia through local subsidiary Coulson Aviation Australia. Signing a contract for the operation and maintenance of the NSW RFS fleet including the 737 FIRELINER, two Citations, and two Bell 412 helicopters. The ten-year contract also saw the company move its Australian headquarters to Bankstown, securing a 1,114 sq. m hangar facility with additional bases at RAAF Richmond and Avalon Airport.
Coulson also picked up its first Large Air Tanker (LAT) contract with the Department of Fire and Emergency Services (DFES) division of the Western Australian Government. Aircraft N132CG aka TY, and was employed extensively on the large-scale fires within the state this season.
Helicarrier in partnership with local operator Paton Air returned for another season. The company is now firmly entrenching its self in Australia. Plans are now to base C-FIZA in the country permanently. It is hoped to have the aircraft on the Australian civil VH register. Local training of pilots and crew will see the operation expand as time and resources allow.

Aerotech Australasia also joined the ranks of local UH-60 Blackhawk operators. The company's latest addition a UH-60A Blackhawk. This particular aircraft saw service with the US Army at Marietta Dobbins Air Reserve Base (KMGE), Georgia. The machine is being prepared for its Australian operations and will be completed before season 2021-22. The aircraft became the first Australian registered Blackhawk when it became VH-UHS. The company has recently taken delivery of a Helitak tank with the machine becoming the first Australian operator with the Helitak FT4500 tank on an Australian registered Blackhawk.

McDermott Aviation continues to expand its local operations and invest in new systems to further improve the delivery of water/retardant on the fire ground. Apart from the newly launched Bell 214ST's outfitted with the Helitak tank McDermott's also collaborated with Fireball International and Helitak Fire Fighting Equipment to display the new Fireball International camera/satellite technology which detects smoke and reports on the movement of the fire. Two Bell 214s returned from their operations in Greece with one machine each being unloaded at Freemantle and Geelong respectively. The company is also investing in its fleet with a new Bell 214 under construction.
Wildcat Helicopters in partnership with United Aero Helicopters again brought Canadian registered Bell 412 airframes to work on NSW contracts. A new posting for two of the machines (Hlitack 274 and 275) with a permanent basing at the ACT Rural Fire Service Hume helicopter base. Helitack 273 was noted at Camden in NSW.
Valhalla Helicopters also returned to Australia. This season three machines were assembled at Albion Park airport after arrival by boat. C-FPSZ a Bell 205 or Helitack 252 and was joined by fellow Bell 205 C-GRUV or Helitack 253 and finally a Bell 212 C-GLFT or Helitack 254.
Field Air based in Ballarat also brought a new type to Australia this season on contract. One of Conair's Q400AT aircraft which is a converted Bombardier Q-400 passenger airliner took up a contract with the Queensland Rural Fire Service. Queensland Premier Annastacia Palaszczuk authorized the spending of $15 million on a long-term contract for a LAT. C-FFQ was located in the city of Bundaberg in Northern Queensland. Departing from its Abbotsford base in Canada via stops in Oakland, Honolulu, Majuro, Honiara, and finally Brisbane where it cleared customs. Then onto its new operating base in Bundaberg.
Fitted with a 10,000 litre tank this was the first time a LAT had been contracted by Queensland. It saw use on fires including being deployed after an illegal campfire started in mid-October began spreading across Fraser Island. The fires destroyed more than 80,000ha of the island. The UNESCO World Heritage-listed Fraser Island saw extensive damage due to the fires.
The company also undertook the conversion of one of their Air Tractors to a Fireboss conversion. The AT802A-0848 is powered by a PWC -67F and features the new Trotter Gen III fire door. It also has onboard independent gel and foam systems.
As with the past couple of seasons in conjunction with Conair two RJ85s were again based in NSW and Victoria this season. Both aircraft have been to Australia previously. Bomber 166, C-GVFT was positioned, at Dubbo, New South Wales starting its contract on October 1, 2020. Bomber 391, C-GVFK started its contract on December 2 at Avalon Airport.
Microflitebased in Moorabbin Victoria expanded its contract work this season further afield. A single example of the companies AS350 fleet known as Firebird 100 or VH-XXU is fitted with Specialist Intelligence Gathering (SIG) capabilities. Employing six mobile data connections plus other sophisticated systems such as cameras and lasers that can identify the exact position of the fire, down to a single tree on the fire ground. This machine was contracted by the ACT Government this fire season. Microflite again provided Airbus Helicopters EC130s as Firebird machines working alongside the Victorian-based Air Cranes® helicopters. Microflite also utilises the Helitak fire tank system on both their AS350 and Bell 212 aircraft.
Timberline Helicopters also returned to Australia with an example of its UH-60 Blackhawk fleet. The company also took the option to fly a machine up to Indonesia and take up firefighting operations with the Disaster Countermeasure or the Badan Nasional Penanggulangan Bencana which is abbreviated as BNPB. At the end of the contracted work, the aircraft was flown to Australia.
NSW RFS has again increased its operational fleet with several aircraft joining the fleet this season. In February the NSW RFS 737 FIRELINER was deployed to assist with operations in Western Australia. The Marie Bashir (Large Air Tanker) and Citation lead plane assisted firefighters battling blazes near Perth and across the state over the next week. The 737 and Citation are owned by the New South Wales Rural Fire Service and operated on its behalf by Coulson Aviation Australia.
The Royal Australian Air Force has made multiple trips transporting firefighters and retardant from the eastern part of the country to Western Australia where the bushfire activity had been occurring. The 36 Squadron C-17As were again tasked with this vital mission. 50 Tonnes of firefighting retardant was flown into Busselton from Richmond on 9 January 2021. A97-447 a Lockheed-Martin C-130J-30 Hercules operated by 37 Squadron, based at RAAF Richmond, delivered fire retardant chemicals to Busselton on 4 February 2021.
This Season 163 aircraft and helicopters were on direct contract through the National Aerial Firefighting Centre. In addition to the contracted aircraft, the state governments across Australia have called as required agreements in place which brings the total fleet number to over 520. A significant number and one which is going to grow as the change in fighting fires is also changing.
The types of aircraft and their callsigns remain the same.
| | | |
| --- | --- | --- |
| Type | Engines | Water carrying capacity |
| 1 | Multi-engine | Greater than 11,356 litres |
| 2 | Multi-engine | Between 11,356 and 6,813 litres inclusive |
| 3 | Multi-engine | Less than 6,813 litres |
| 4 | Single engine | Greater than 2,270 litres |
| 5 | Single engine | Less than or equal to 2,270 litres |
CESSNA 182
One of the smallest aircraft in the national fleet, but one that has significant importance is the Cessna 182 fleet. Operated in the Fire Spotting role, this vitally important role allows crews to monitor and patrol fire-prone areas, and observe for any fires that might have started.
American Champion Scout
A large fleet of Champion Scouts are owned by the Department of Biodiversity, Conservation and Attractions (DBC ) and are based in Western Australia. Used in the fire spotting role for the early detection of fires, the Scouts are a vital asset to the Western Australian Parks and Wildlife teams.
Piper Meridian PA-46-500TP
A single example of the Piper Meridian was on contract this season. Operating from the Claremont Air Base in South Australia, the aircraft owned and operated by Aerotech is used in the reconnaissance role. With its fast transit speed and excellent visibility, the aircraft is a perfect platform for monitoring a fire. The aircraft VH-ORU flies as Firespotter 555.
ROCKWELL TURBO COMMANDER
This season there were four Commanders on contract across Victoria, New South Wales, Queensland, and Western Australia. These were operated from Avalon Dubbo, Bundaberg, and Busselton respectively. The types role on a fire is an important one. Predominantly it is used to supervise air tanker operations. An air attack supervisor onboard will direct air tankers where and how to drop their load on the fire. On most drops, the Commanders will fly the drop profile to show the airtanker where to fly and to identify hazards and landmarks.
VH-CLT or Birddog 125 arrived in Busselton on 17 December 2020. It departed Busselton direct to Stawell on the 15th January 2021. It was replaced by VH-RMB Birddog123, a Cessna 525 CitationJet CJ1.
CESSNA CARAVAN
The Cessna Caravan, already known around the world for its carrying capacity and endurance as part of the National fleet again this season. With operators like Pay's, Aerotech, and Wrightsair all providing examples. The aircraft is tasked under the Birddog callsign.
Some are equipped with communication and tracking equipment that keeps the aircraft in constant contact with other aircraft and the fire agency crews managing fires on the ground.
AIR TRACTOR AT-802
The most numerous type on contract across Australia is the Air Tractor 802. Some eighty-eight (including Fireboss) aircraft were contracted by the NAFC this season. Flying with operators such as Pay's, Skycroppers, Kennedy Air, Fred Fahey, Aircair, XO Aviation, Precision Meandarra, Aerotech, FieldAir, Agair, and Dunn Aviation. With most operators flying the Air Tractor in both the Fire Bombing and aerial application roles.
As mentioned previously in our annual round up the Air Tractor the type's versatility and quick turnaround make it a favored machine on the fire ground. From Albany WA to Cambridge in Tasmania, there is an Air Tractor on contract in every state and territory in Australia. The AT-802 version is fitted with a computer-controlled firebombing system that assists the pilot to accurately drop the 3200 litre load.
AIRTRACTOR AT-802 FIREBOSS
Australia's Fireboss fleet continues to expand with the type's capabilities being proven with operators and with the NAFC as well. The Fireboss is an amphibious version of the Air Tractor fitted with floats. In addition to the standard fuselage-mounted suppressant reservoir tank, the aircraft has two additional supplementary tanks mounted in each of the floats. This extra volume allows it to operate with a higher number of turnaround flights for a one-hour period over the duration of an operational cycle.
The first Fireboss was brought into Australia in 2008. In 2021 that number is now twelve aircraft flying across Australia. With operators like Pay's, Kennedy Air, R & M Aviation, Dunn Aviation, and now Field Air all have examples in their fleet based in Queensland, New South Wales, Victoria, and Western Australia.
Its capabilities are up there as its versatility, it can scoop up to 3104 litres5 of water in less than fourteen (14) seconds, ram loading water at the rate of 400 litres per second at over 100 kilometers per hour and return within minutes to the fire from either lakes or rivers.
Its trump card is its ability to work as a land-based aircraft or as a scooper. If there is any shortcoming it is it's limited by access to suitable water sources. The aircraft needs a 1.60-kilometre waterway with water depths of less than 3.0 meters. The type continues to grow in its popularity and win over skeptics of the capabilities of the Fireboss.
Cessna 560 Citation Encore
This season Coulson flew two Cessna Citation aircraft to Australia, to be operated in the Birddog/Firescan role as part of the NSW RFS-owned fleet.
N561CG/FIRESCAN 201 (also used BIRDDOG 201) and N550CG transited to Australia where the crews were cleared of COVID and quarantined until repositioning to RAAF Richmond, where the two are based as part of the NSW-owned fleet. Of the two, N550CG currently wears the Coulson corporate scheme, while N561CG is painted in NSW RFS markings.
With their dual role of both Birddog and Firescan the two aircraft were in demand during the season. The Citation aircraft were the first of type in the Coulson fleet. Coulson Aviation purchased four from the U.S. Customs and Border Protection.
N561CG spent some time in support of the Western Australian firebombing operations this season tasked through the NSW RFS.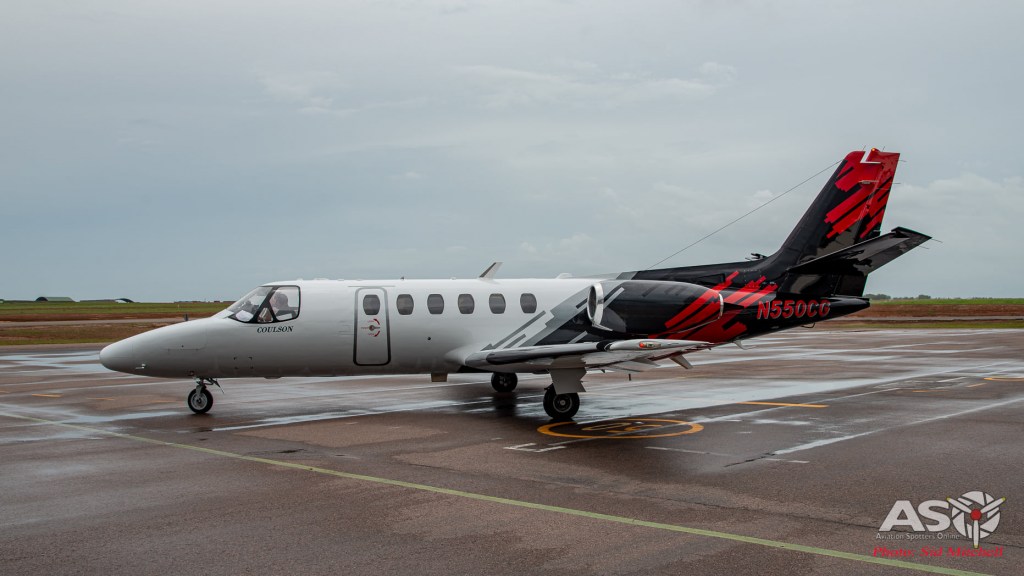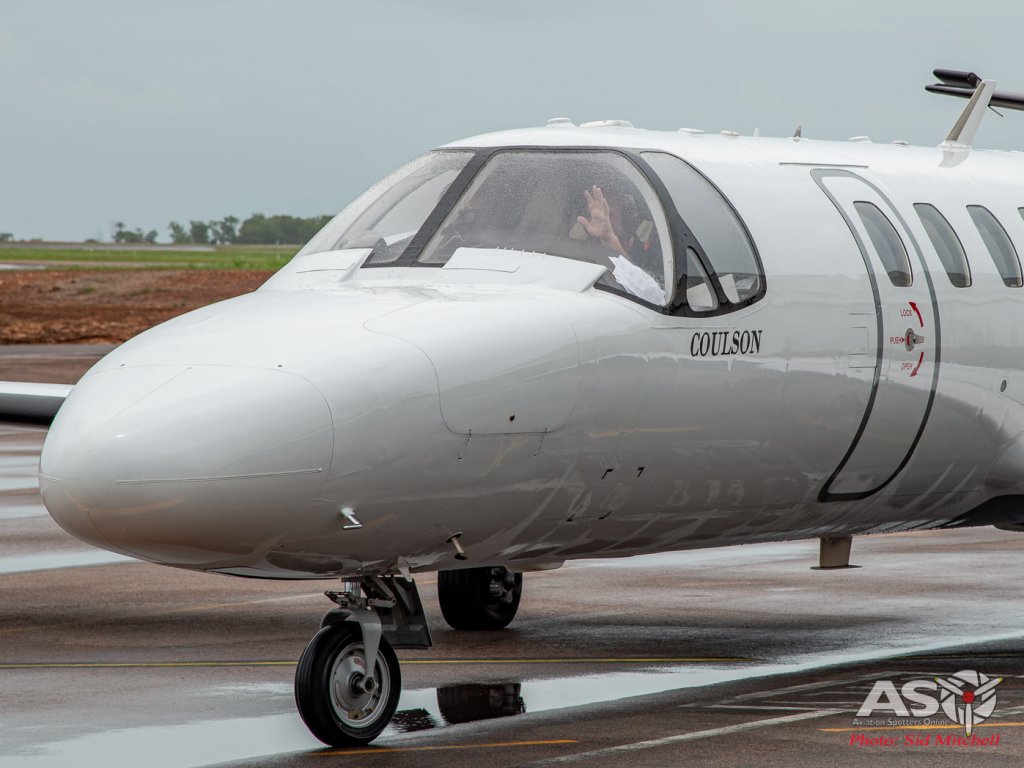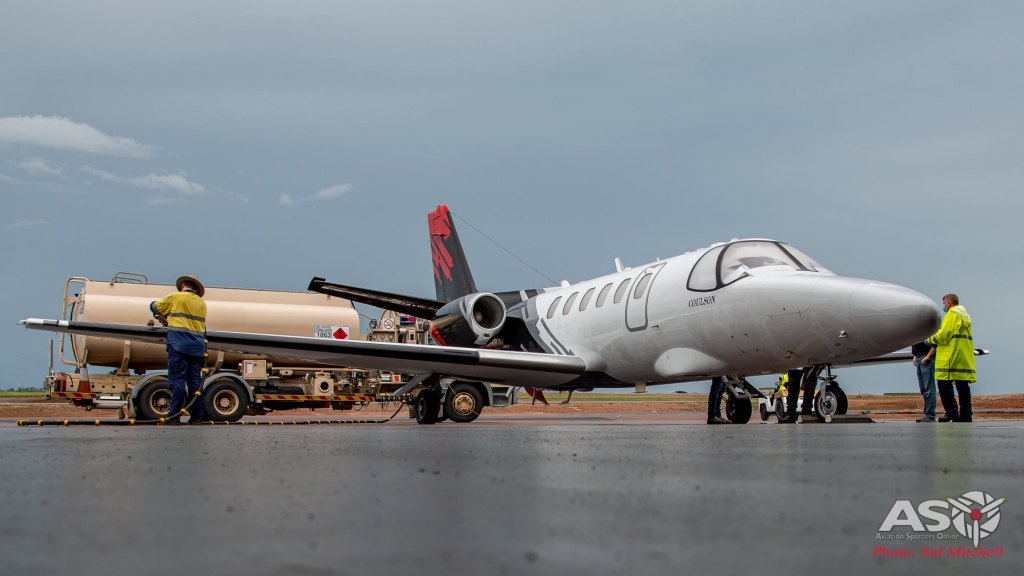 De Havilland Canada Q400AT
This season saw the appearance of a De Havilland Q400 in modified Conair Q400AT version arrive for its first deployment in Australia. Operated in partnership with Ballarat-based Field Air the Q400AT was contracted through the Queensland Fire and Emergency Services and the NAFC. This marks the first season of a $15 million, five-year leasing deal.
The Q400AT can carry 10,000 litres of water or retardant in its tank. The tank is a unique design which is an integrated design that sits externally on the airframe in a similar fashion to the RJ85 also in-service with Conair. The tank enables the interior of the fuselage to remain pressurized and climate-controlled, creating a safer environment for pilots
Notable features about the type include a multi-role capacity, capable of quick reconfiguration for use in airtanker, cargo, passenger, combi-transport, or medical evacuation missions.
To date, Conair has sold six Q400 Multi-Role aircraft to France, which will bring the fleet to eight when those aircraft are delivered. With the COVID-19 shut down of the global aviation sector and demand for aircraft lessened the company took the opportunity capitalise on this. Eleven surplus Q400 aircraft was purchased by Conair formerly operated by Flybe Airlines based in Exeter, England. The plan is to convert one airframe a year.
C-FFQE or Bomber 141 saw use in Queensland this season and from accounts, its drops were accurate and precise.
LOCKHEED C-130 HERCULES
Two Lockheed C-130s were in operation this season, one each in Victoria and Western Australia. Aircraft N130FF, flying as Bomber 390, was tasked for operations from Avalon airbase, while N123CG or Bomber 132 was operated from Busselton airbase in Western Australia.
This was the second time a LAT had been contracted by DFES for operations in the state. Western Australia was the first in the world to benefit from C-130 Ty in fire operations, as the former Norwegian military aircraft underwent extensive avionic upgrades and a RADS tanking system prior to its arrival in Australia.
Coulson purchased five former Norwegian Air Force C-130H airframes with N123CG being the first of them converted for firefighting. N130FF was the first C-130 converted by the company back in 2011, fitted with a Retardant Aerial Delivery System (RADS) tank system with a capacity of 15,000 litres.
Coulson continues to work on the modification of the other Hercules purchased, with the intention to modify them all as fire bombers.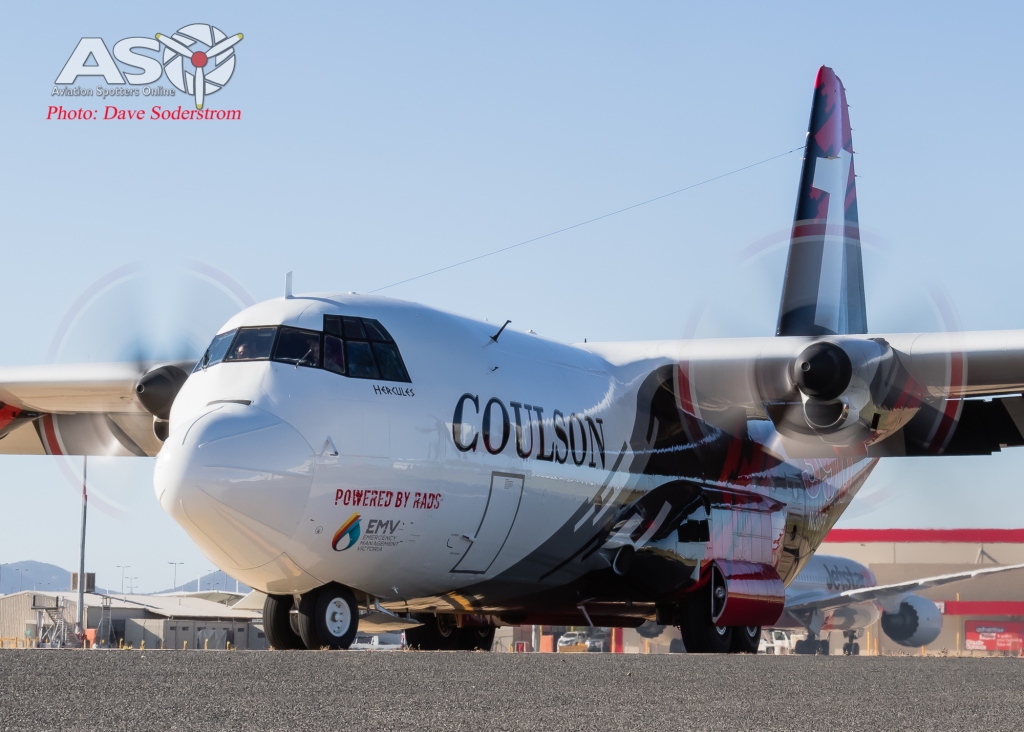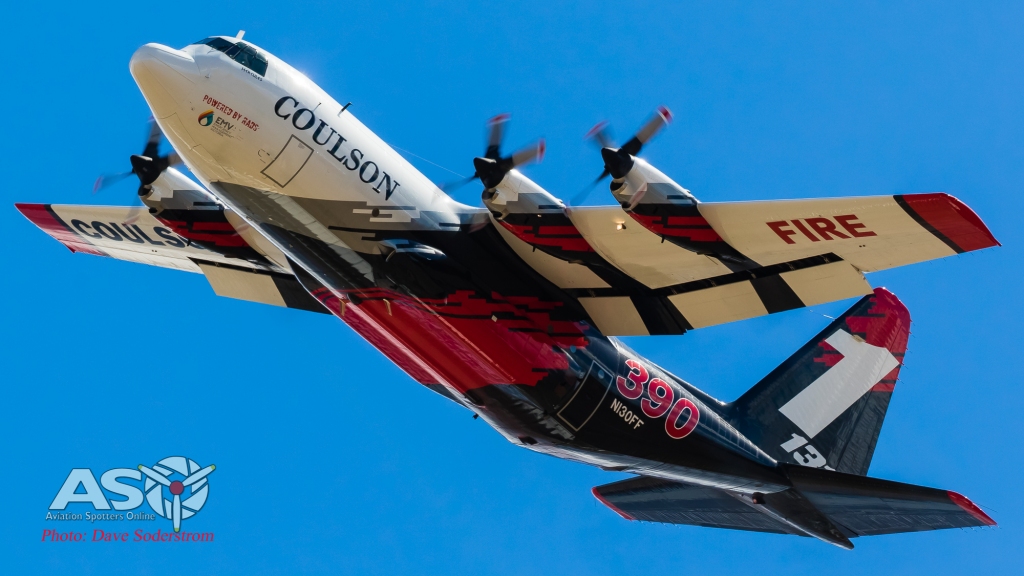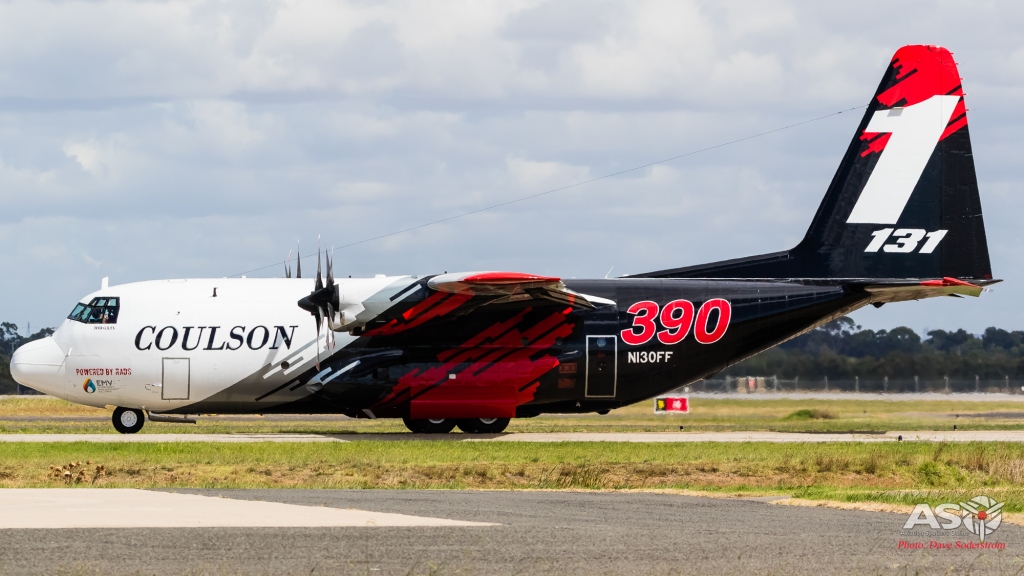 BAE RJ85
Making their annual migration to Australia where two RJ85 aircraft C-GVFT, Bomber 166 arriving first and taking up a contract with the NSW RFS at Dubbo Airport. The second to arrive was C-GVFK or Bomber 391 for its contract in Victoria based at Avalon Airport.
The Conair aircraft are brought into Australia in partnership with local operator FieldAir. This season marks the seventh consecutive season that the two companies have operated them in Australia. Fitted with an external tank that allows no compromise to the integrity of the airframe. Once loaded with retardant it can depart, climb to altitude with pressurisation. Thus allowing a quick flight (at a more efficient for the plane) and rapid descent onto a fire ground.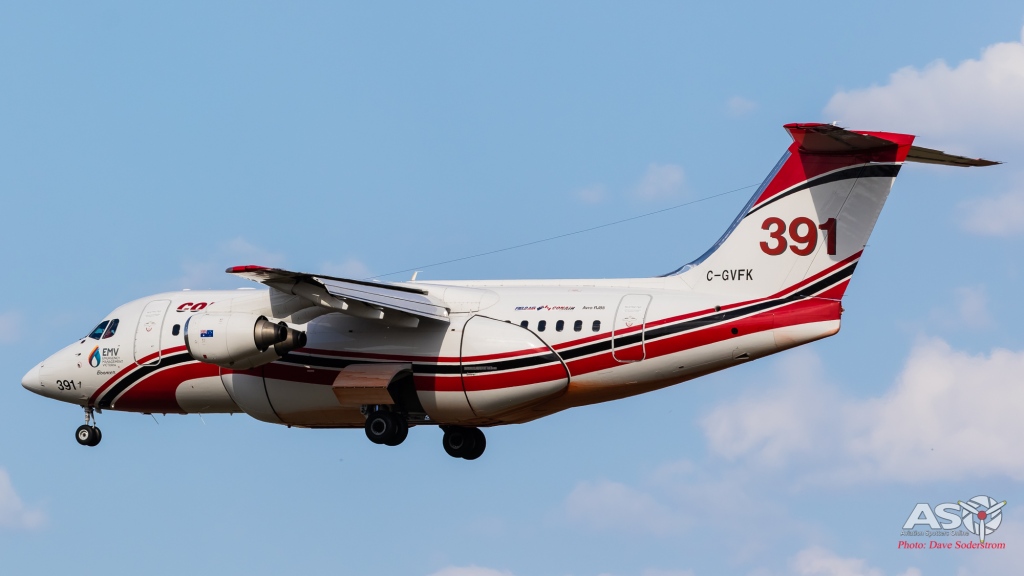 BOEING 737 FIRELINER
The Boeing 737 FIRELINER is now in its third year of firebombing operations, with two completed and flying aircraft and a third under build currently.
Developed by Coulson Aviation, the FIRELINER retains its capability as multi-use aircraft with the ability to carry passengers.
The gravity-based tanks for the retardant system are the RADS XXL tanking system adapted from the Hercules. The Boeing 737-300 airliners were formerly operated by Southwest Airlines and when retired, Coulson purchased six of them.
For season 2020/21, two 737s operated in NSW, the NSW Government-owned Bomber 210, and the contracted Coulson Tanker 137. The two were deployed operationally together in support of firefighting activities this season in Western Australia. Operating from Busselton Airport in conjunction with the contracted C-130 Bomber 132 and later Bomber 390 from Victoria.
Beech 200 King Air
One of the very sophisticated types in the firefighting fleet is the Linescan aircraft. It is fitted with infra red line scanning equipment. The Kingair is used to scan fires and provide live intelligence, including fire mapping, to ground incident control crews. The scanning is conducted high above the fire area where the aircraft flies fixed patterns well above air attack traffic. The line scanner is able to see through the smoke. VH-LAB is part of the Air Affairs fleet based at Nowra NSW. The aircraft was extensively used at Nighttime to map the Wooroloo, and Yanchep incidents
Rotary Fleet
Rotary wing aircraft are also broken down into four distinct types, based on their varying capacities.
| | | |
| --- | --- | --- |
| Type | Internal payload | Water Carrying capacity |
| 1 | 2,268 kg or greater | 2,650 litres or greater |
| 2 | Between 1,134 kg and 2,267 kg inclusive | Between 1,135 litres and 2,649 litres inclusive |
| 3 | Between 544 kg and 1,133 kg inclusive | Between 380 litres and 1,134 litres inclusive |
| 4 | Less than 544 kg | Less than 380 litres |
Significant changes and additions this season were the notable features coming out of this year's operations. Type 1 style machines are growing in numbers and the popularity of newer types like the Blackhawk is being added to Australian operators fleets. Kestrel and Aerotech both added the type to their firefighting fleet this season. A new type for season 2021/22 will be the Super Puma. Kestrel has announced their purchase of a single example, while another operator is also likely to have another machine in Australia as well. The Puma is a sought-after machine not only due to its payload and lifting capacity, Airbus Helicopters actively builds and supports the type currently.
The types and numbers of helicopter types continue to expand in Australia. With night-time aerial fire fighting now a regular feature performed by both Kestrel Aviation and Coulson, with the support of Professional Helicopters. There is no doubt that with the increase of the number of new Type 1 type helicopters being purchased by local operators that the industry is on a positive road and one which will further enhance the protection of Australians.
With contracts up for renewal at the end of 2021, there are bound to be newer types added and requested through the NAFC.
Airbus Helicopters EC120B Colibri
A type that is well suited for the role it operates in is the EC-120. With several examples being operated for the role of Firebird. Firebirds are designed to support firefighting crews on the ground. When in operation they can coordinate firebombing operations in conjunction with Helitak bombers. An air attack supervisor is present in the cockpit to conduct operations and overwatch the fire and its working operations. This season three helicopters were on contract through NAFC and were based at Bendigo, Moorabbin, and Essendon. The Bendigo-based machine was a Jayrow machine with the two others supplied by Microflight.
Bell 206L-3 LongRanger
The Bell 206 helicopter has been on the fire ground for a number of years now. As larger types have come online the type is less contracted. However, this doesn't mean the sun has set on the LongRanger as yet.
Being able to carry out utility missions including ferrying passengers and cargo or firebombing with a 550 litre underslung bucket, and if so equipped aerial incendiary operations. Many operators across Australia still employ the type in Firebird operations. Forest Air and United Aero were to operators who had contracts this season employed in Jindera and Camden respectively.
Airbus Helicopters AS355F1 Twin Squirrel
The AS355F1 is the twin-engined version of the Squirrel. Due to its two-engine power, it is particularly well suited to the supervision of fire fighting operations with its speed and endurance.
The helicopter can also be equipped for firebombing with an under slung bucket. It can also be used to transport fire fighters into remote areas.
For season 2020-21 three machines were contracted to the Queensland, Tasmanian, and the Western Australian governments. Provided by McDermott, Rotorlift, and another McDermott machine for Western Australia. Several others were on call when needed contracts.
Airbus Helicopters AS350B3 Squirrel
The Squirrel can be used in a variety of roles. Including Firebombing, fire observation role, transport, and winching of fire crews into remote areas. Other roles include fire detection, reconnaissance, and utility missions carrying the pilot and up to five passengers or crew depending on the mission. The type is regularly seen in fire operations with some twenty-two on contract across Australia. Being operated by companies like Microflight, United Aero, Aerotech, Helifarm, Professional Helicopters, Forest Air, and Aeropower to name just a few.
Airbus Helicopters EC130 B4
Another helicopter type is the EC130 is particularly well suited to supervising fire fighting operations with its performance allowing it to quickly reach the fire area and then operate there for long periods. Aerotech had Firebird 502 VH-HQL on contract at Claremont.
MBB/Kawasaki BK 117
Well utilised in New South Wales is the MBB/Kawasaki BK-117. The type is able to perform water bombing, reconnaissance, mapping, and aerial incendiary work. When used for water bombing operations a tank with up to 1,000 litres of water and retardant is fitted. It can also be used to winch Remote Area Firefighting Teams and Rapid Aerial Response Teams into difficult-to-reach areas.
The NSW RFS operates two examples and is regularly seen training with local brigades. Local operators include United Aero, South East Helicopters, and Sydney Helicopters to name a few.
Eurocopter AS365N2 Dauphin
The Dauphin a unique type operated by McDermott Aviation. With three machines based in Western Australia, two were on contract with a third on a call when needed capacity.
Carried onboard the aircraft are sophisticated communication and tracking equipment that keeps the aircraft in constant contact with other aircraft and the fire agency crews managing fires on the ground. Firebird 662 carries an L3 WesCam MX10 HD Day and low light camera Infra-Red camera and features a laser eliminator and laser range finder. N365JL, Firebird 663 is kitted out with a 1000 litre Longline bucket and is capable of a secondary role in search and rescue, air attack, and transport.
Bell UH-1 Huey
Plying its trade and trademark sound across NSW was a small fleet of Bell UH-1 Iroquois. The machines operate with long line buckets. Touchdown Helicopters, Fleet Helicopters, Calibre Aviation, and Sydney Helicopters are just some of the Australian operators who use the type.
Bell 204B
The Bell 204 is certainly one of the oldest types in the aerial firefighting fleet. However, this doesn't make it any slouch in its role. Fitted out with a 1290 litre long-line firebombing bucket the type is a very versatile machine in a hot environment.
Skyhook Helicopters, and Forest Air Helicopters both operated the type again during the season.
Bell 212
This season six Bell 212 were on contracts across Victoria. Used for a variety of roles including but not limited to firebombing, insertion of fire crews into remote areas. Other roles include transport and utility missions carrying the pilot and up to fourteen passengers or crew depending on the mission. The biggest user of the type on Australia is Kestrel Aviation. Other machines are on a call when needed contracts.
Bell 412
A type that is numerically the largest in operation within Australia is the Bell 412. Seven were contracted this season. Operated by contracted companies including, United Aero and Kestrel Aviation.
Wildcat Helicopters in conjunction with United Aero again brought three machines to Australia. Two were contracted to the ACT this season, a first for Australia's capital.
The three new NSW RFS owned machines are now ready for their duties Coulson Aviation Australia operates two of the three on behalf of NSW RFS. As soon as the fire season was over were put to use in the major flooding event in and around Sydney.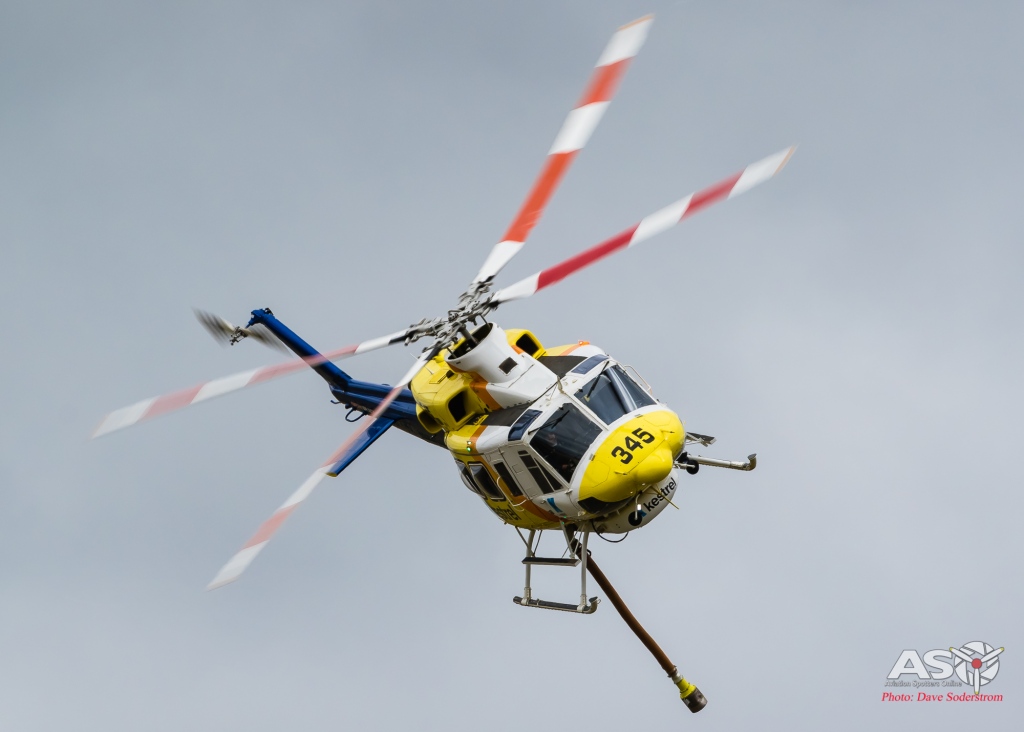 Bell 427
The Bell 427 is a twin-engine, multirole, light utility helicopter. This was developed in partnership with Samsung Aerospace Industries (later KAI) of South Korea. It was Bell's first aircraft designed entirely on a computer. Currently, only NSW Helicopters operate the type in the Firebird role.
Bell 214B Big Lifter
McDermott Aviation based in Cooroy on the Sunshine Coast of Queensland operates a large number of the type. With some thirteen in service and another example under manufacturer as present this making them by far the world's largest Bell 214B operator. When in fire operations McDermotts have chosen the 'Tsunami" Belly Tank holding 2650 litres. Or should operations require it a 3000litre Under-slung Bucket.
Currently, McDermott is the sole Bell 214B operator in Australia. Reaffirming this commitment to the type the company has commissioned the build of another example for the next season. With sixteen airframes in service and operated in Western Australia, Tasmania, Queensland, Victoria, and New South Wales the Bell 214 will be seen on fire grounds for years to come.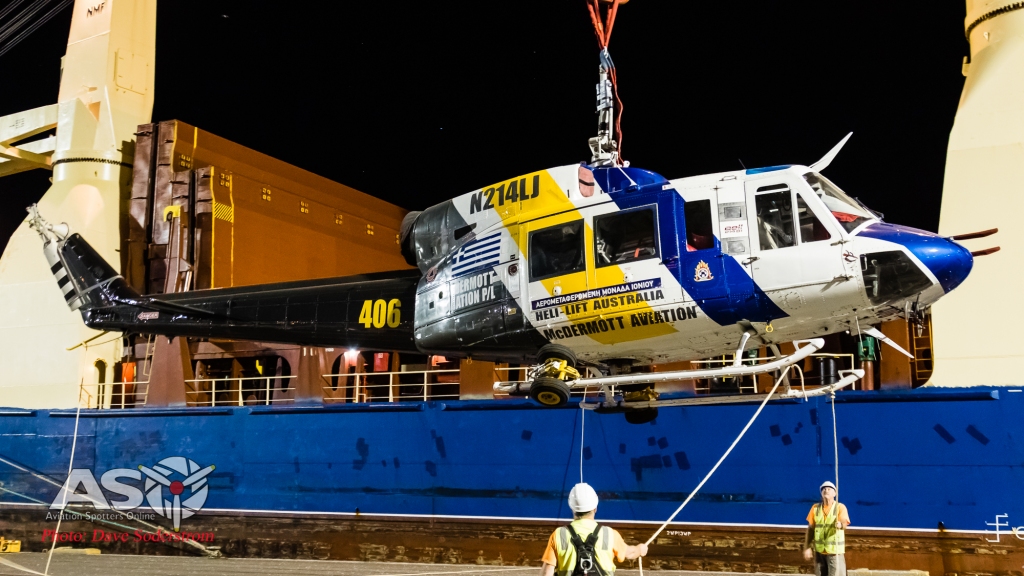 Bell 214ST Super Transporter
Currently, there is only a single example of the Bell214ST configured for fire fighting in Australia. Part of the McDermott Avaiton fleet, N391AL named Guardian 1 operates as Helitak 401. It is a Type 1 helicopter due to its water-carrying payload.
The Bell 214ST is a medium-lift, twin-engine helicopter descended from the UH-1 Huey series. Though it shares a type number with the Bell 214, the 214ST is larger and looks nothing like it. The aircraft operates in the firefighting role fitted with a Helitak FT3500 belly tank, designed specifically for the Bell 214ST.
With a water capacity of 3500 litres, the 214ST is a non-restricted aircraft that has the added capability of being able to carry up to 15 passengers. Giving it the versatility of transporting firefighters and being available for both emergency evacuation and Medivac if required.
After working in Queensland throughout the season the machine began its long journey to Western Australia culminating in its arrival at McDermott's Jandakot base.
Sikorsky UH-60 Blackhawk
The Blackhawk is a type that no only is growing in numbers converted for firefighting, it is also becoming a sort after type by operators across the globe. This popularity is particularly strong in the United States with many examples being added to local fire county fleets and many operators. CAL Fire has taken delivery of more examples recently
The Type 1 helicopter is able to operate with a long line and bucket and can fill it with 3400 litres of water. Kestrel brought on line the first Blackhawk, Firehawk 1 with an internal tank this season in conjunction with its US based partners Firehawk Helicopters. Making it the first internal tank operated Blackhawk in Australia. The tank allows for hover filling with its drop-down suction hose. The tank has a carrying capacity of 3500 Litres and is FAA and STC-issued.
In Australia civilian operated UH-60 Blackhawks are USA FAA registered and operated in 'restricted category' or 'experimental' category. This prevents them from carrying any passengers and restricts them to carry essential crew only.
A second example of the Blackhawk was also available this season from Kestrel. This machine N2FH will return to the US for the North American season. Coming this way will be another machine in time for the next season.
Timberline Helicopters brought one of their fire configured Blackhawks again this season. N563DJ arrived in Darwin after working on a contract with the National Agency for Disaster Countermeasure or the Badan Nasional Penanggulangan Bencana which is abbreviated as BNPB in Indonesia.
Aeotech based at Parafield in South Australia took delivery of its first example. The machine didn't fight any fires this season as it was still being worked on. VH-UHS will operate with a Helitak FT4500 belly tank and bucket option when operational.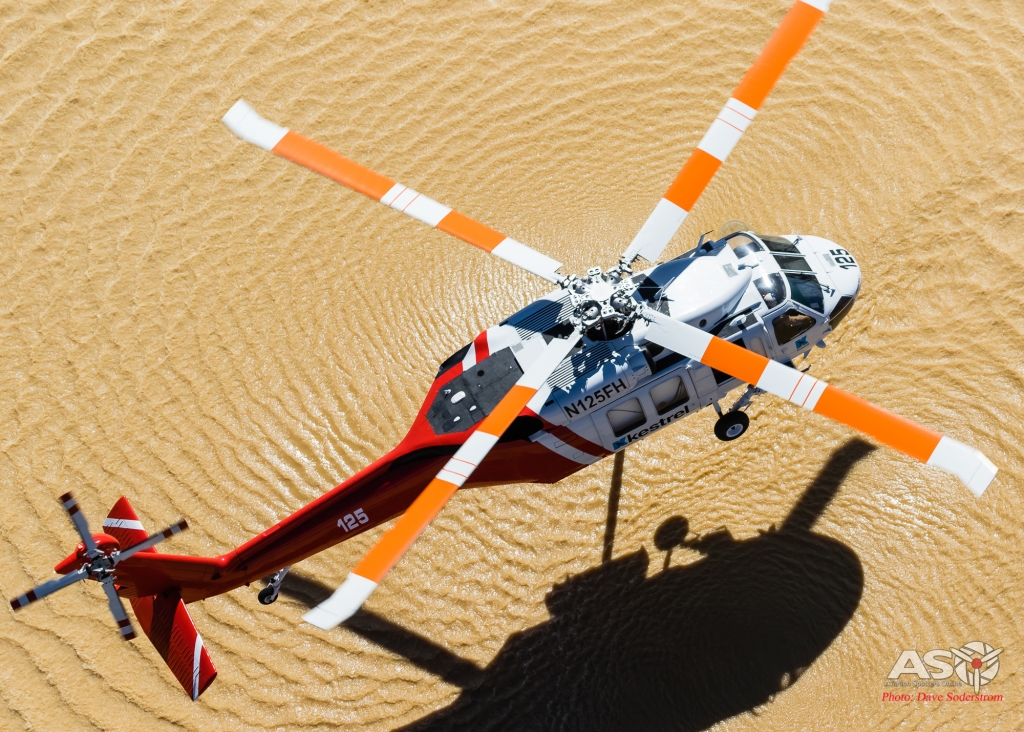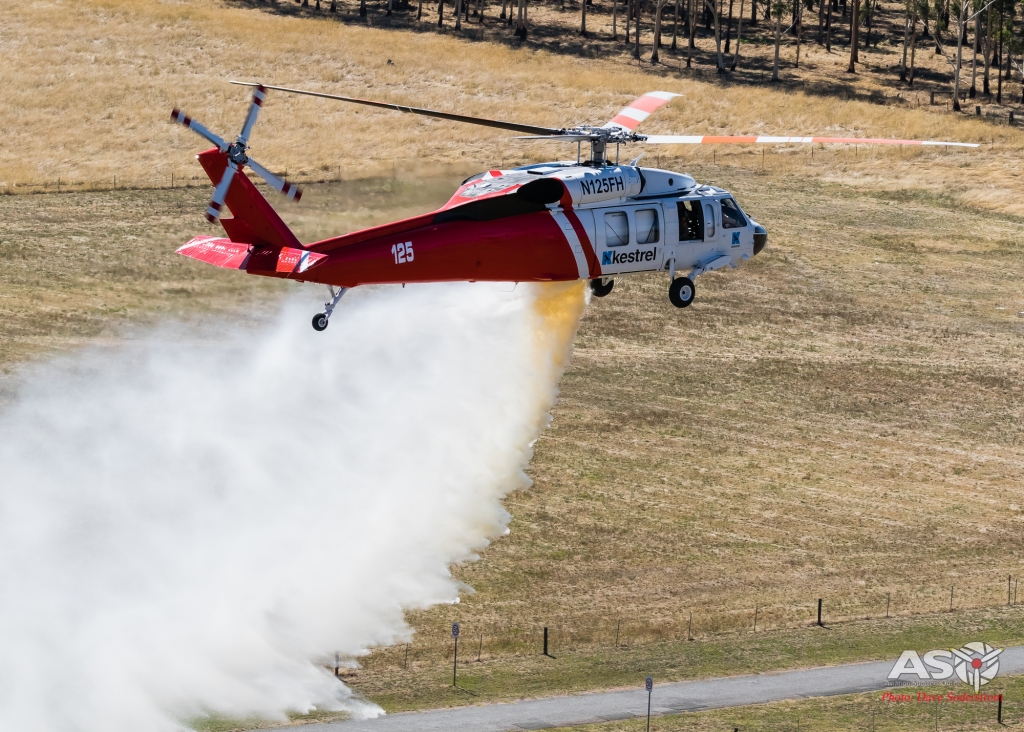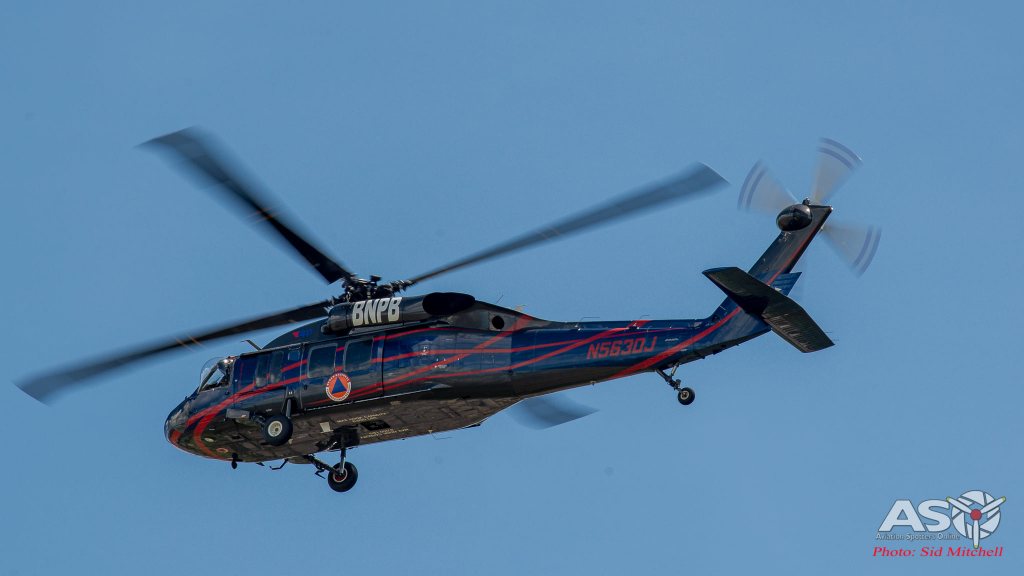 Sikorsky S-76
Coulson brought the Sikorsky S-76 over to assist in the Night Fire Bombing role. Operating as Firebird 322, the machine was operated from Ballarat Airport during the season. Firebird 322 is an intelligence platform that works all over the world. The S-76 acts as the Supervision aircraft and has an air attack officer on board. The machine returned to Australia this year with an American registration.
In firefighting on the ground and in the air, real-time information is king and N76CG is an important asset for the night fire fighting role. The aircraft provides intelligence, evaluates effectiveness, and identifies targets with its laser designator.
The information that comes from Firebird 322 is transmitted in real-time to Incident Controllers, allowing for timely decision making by all involved, with the capacity to also be viewed by ground crews in the area.
As the night firebombing roles are worked up and become more understood by fire agencies, the machine will be more prominent.
At the conclusion of the contract, the helicopter was flown to Avalon Airport where it was disassembled, loaded on a low loader, and craned into the same boat as some of the S-61s.
Sikorsky S-61N
Four Sikorsky S-61Ns were in Australia this season. One from Helicarriers/Paton Air and three from Coulson Aviation. As noted above two were flown in from Indonesia with two more arriving by boat. The S-61 is a Type 1 helicopter and all four machines in Australia were able to be operated with a long line and bucket or external tank depending on the requirement for the fire ground.
Helicarrier as noted above will be working with CASA to get their S-61 registered on the Australian VH register. This in addition to training local pilots will see the machine become a permanent fixture within the country. The aircraft was based at Ballarat for the duration of the season.
Coulson brought three S-61s for operation in Australia again this season. N261CG or Helitak 349, N161CG or Helitak 348, and C-FXEC or Helitak 347, were positioned at Ballarat, Mansfield, and Colac firebases respectively. At the end of the contracts, all the Coulson machines were positioned back to Avalon Airport for their flights to Melbourne docks and onward shipping back to the United States.
Hellicarrier concluded their season and flew the S-61 to the Paton Airbase at Maindample in Victoria.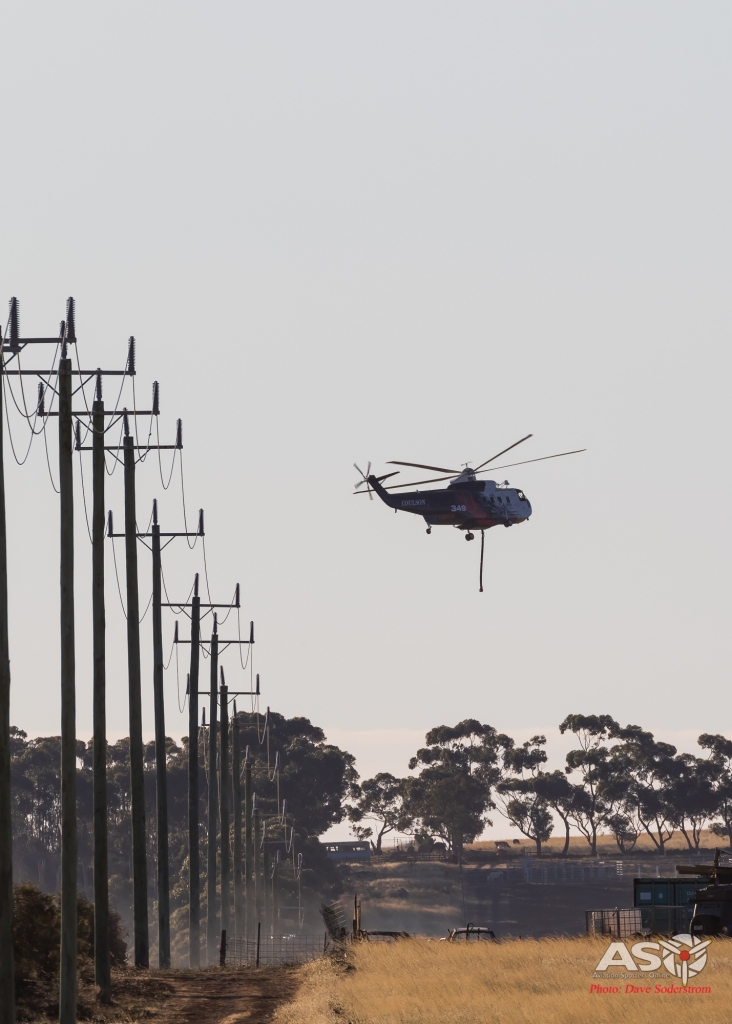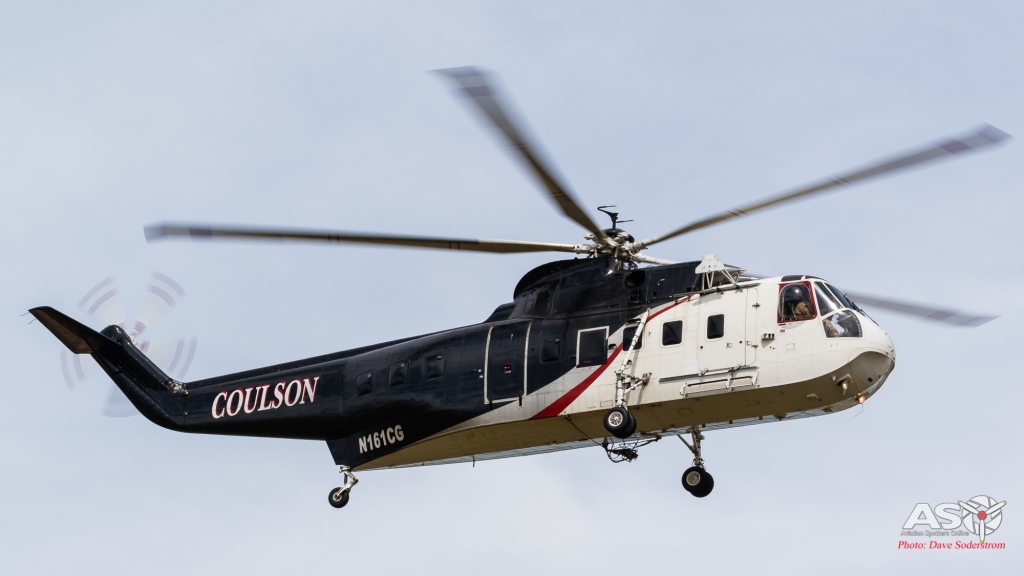 Erickson S64E – Aircrane®
Working with their Australian partner Kestrel Aviation, Erickson again brought six of their S-64E Air Cranes® helicopters to Australia again this season, as noted above. This season as noted above of the six Air-Cranes brought to Australia. One was delivered from Greece in an Antonov An-124. while the other five were delivered via ship. This Season ASO was given access to this and documented them being unloaded at the Geelong Warf. Utilisation of the Air Cranes® in the eastern states was much lower this season as a result of lower fire activity. This is in stark contrast to the WA-based N154AC 'Georgia Peach'. This machine saw extensive use in the fires which ravaged the state.
At the end of the season, five machines were positioned at Essendon and Mangalore at the completion of their respective contracts. The machines were flown to Geelong docks, disassembled, and loaded for transport to Greece again. This season up to nine Erickson machines will work the Northern Fire season in Greece,
Erickson and Kestrel will return next season. The exact numbers of machines are yet to be confirmed.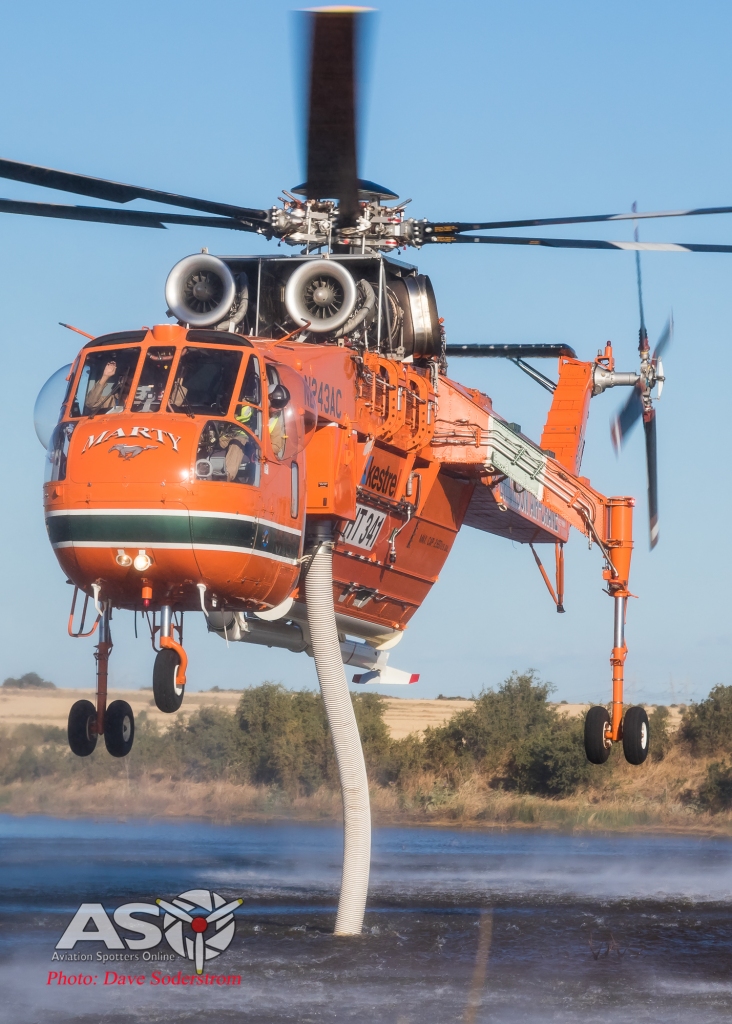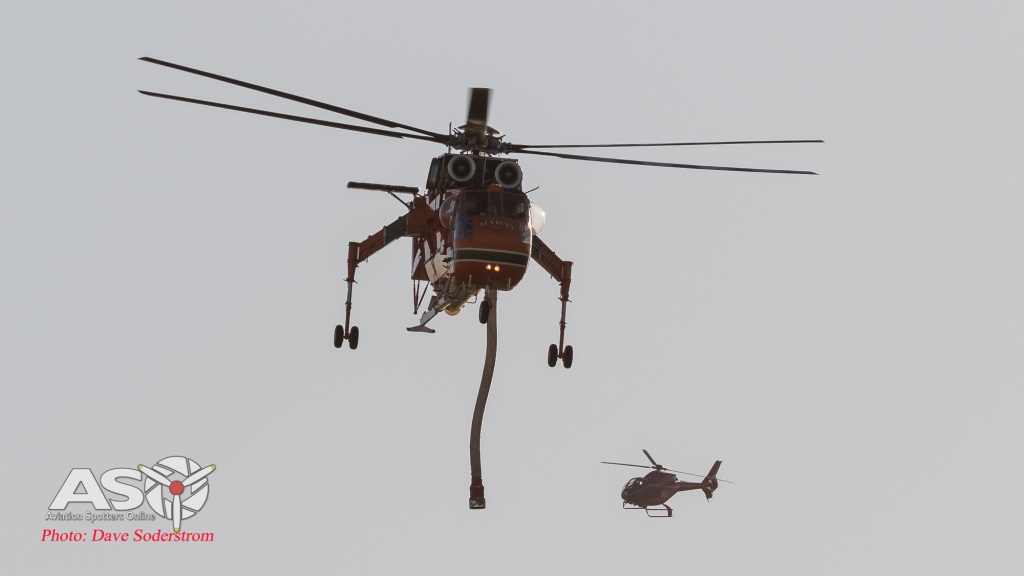 Conclusion
So what will season 2021/22 bring? There is no doubt with the new contracts being awarded there will be changes to who has what and what will be operational on the fire ground. Newer and different equipment types will come online and different companies will be looking for partnerships and work across the country. Many companies in North America and Canada are seeking to make the airframes that sit around in the Nothern season off-season are not sitting idle.
One such company is Bridger Aerospace based in Belgrade Montana. The company operates a modern fleet of types including a host of Type 1 Air Attack platforms. This includes AT-802 Single Engine Air Tankers (SEAT), New generation CL-415EAF Water Scoopers and importantly unmanned Aerial Vehicles. The companies next generation of CL-415EAF Water Scoopers, which while earlier versions have been trialed in Australia. Bridger believes they can offer the type as a solution for the Australian fire season. With the purchase of six of the latest generation machines, there is a firm belief in the type's capabilities.
Whatever the changes, whatever the companies that wish to work and protect Australians and their property. It will only be to the benefit of all Australians. What will State Governments commit to for the protection of their state. No doubt NSW will continue to be the leader here and expand its aerial assets.
Then we have the good old weather which undoubtedly will play its part. With the end of La Niña we will likely move to a El Niño season, which will bring the drier weather and the heat back.
So bring on the next season of fire fighting veterans and their skills to protect Australia and Australians.
On a final personal note, I'd like to again thank those who have contributed to this article with their advice, chats, and lots of laughs. This is for all of you and I look forward to doing it all again.
Dave