I make no apologies for writing and photographing as many aviation museums' as I have here at Aviation Spotters Online. Nearly all are run and managed by passionate volunteers who wish to preserve and tell the story of aviation in relation to their country, area of operations, war zones or as is the case here an airforce's history.
The JASDF Museum at Hamamatsu has been on my list of places to visit for many years. The museum is set on the side of the Hamamatsu Air Force base where it was established in 1999. Getting there is relatively simple, a bus from the Hamamatsu train station or hire a car from the afore mentioned station and drive about 25 minutes to the entrance.
Greeting you at the main entrance is a Blue Implulse marked F-86E Sabre serial number 02-7966. Hamamatsu was the home of the JASDF's display team where the team formed flying the Sabre in 1960. Flying six F-86Es the team was part of the 21 Squadron, which was part of the 4th Air Wing.
Museum Details:
Nishiyama-cho
Nishi-Ku
Hamamatsu-shi
Shizuuoka Pref 432-8001
Opening Hours:
Tuesday ( 9:00 AM ~ 4:00PM )
Wednesday ( 9:00 AM ~ 4:00 PM )
business_hours.thursday ( 9:00 AM ~ 4:00 PM )
Friday ( 9:00 AM ~ 4:00 PM )
Saturday ( 9:00 AM ~ 4:00 PM )
Sunday ( 9:00 AM ~ 4:00 PM )
Open on National Holidays, but closed the next day ( 12:00 AM ~ 12:00 AM )
Getting there:
Buses on Line 51 depart from Bus Stop 14 of Hamamatsu Station bus terminal, or the museum is within walking distance from a bus stop at Izumi-yon-chome.
Outside are a couple of airframes, hopefully in time they will move inside when time and space occurs. As with all museums space is at a premium. This however doesn't detract from a great display of the post war JASDF. From early British and American designs too Japanese developed aircraft this small nation has progressed rapidly in its capabilities.
Curtiss C-46A Commando, s/n 91-1138
The JASDF was a significant operator of the Curtis C-46 Commando. The type was flown in several versions including electronic countermeasures training versions. On display is Commando 91-1138. This was ex USAF 42-101098, and it was delivered to the JASDF in December 1959. Withdrawn from use on 11 March 1978, and had been placed on display at Hamamatsu Air Base by 1984.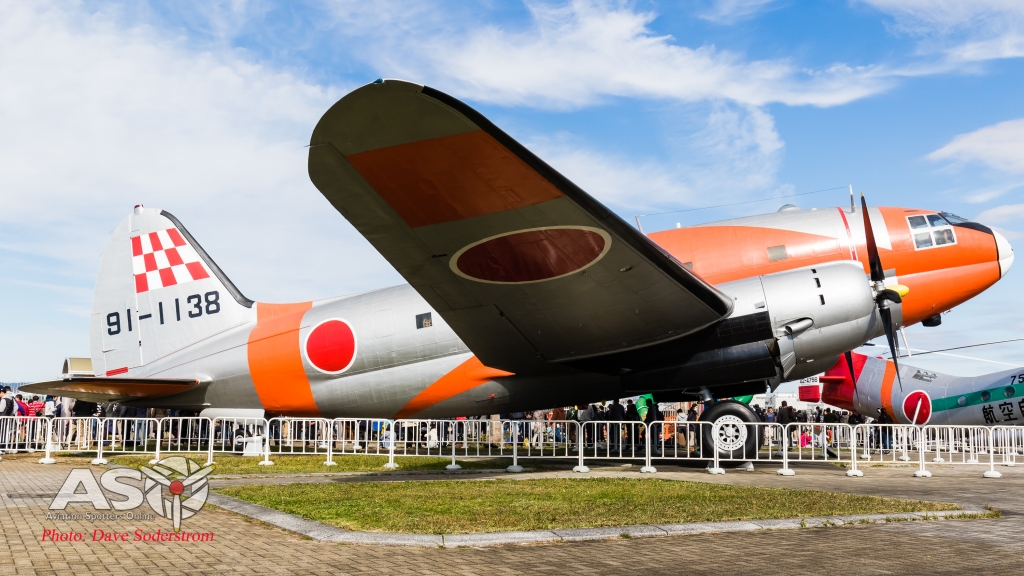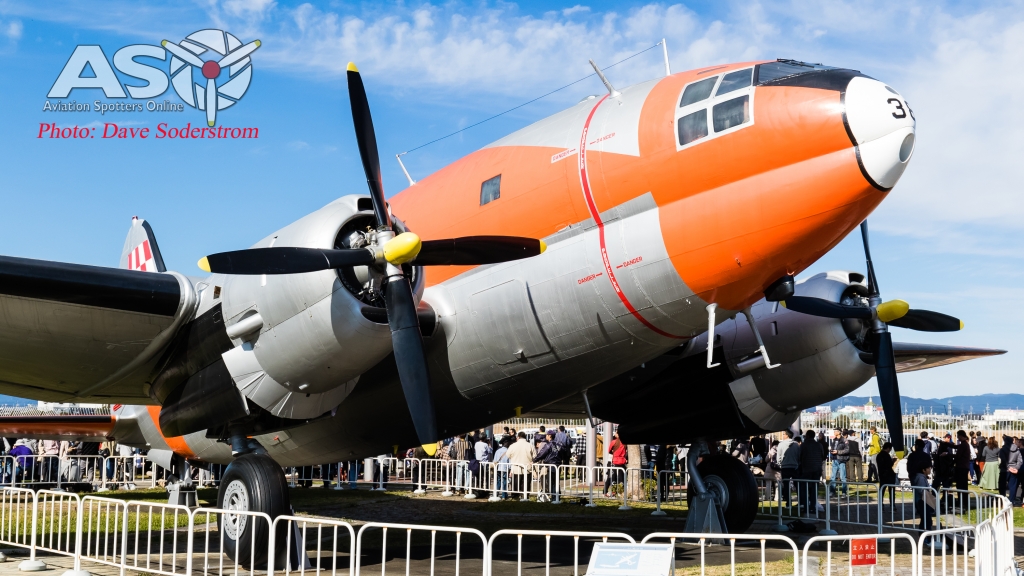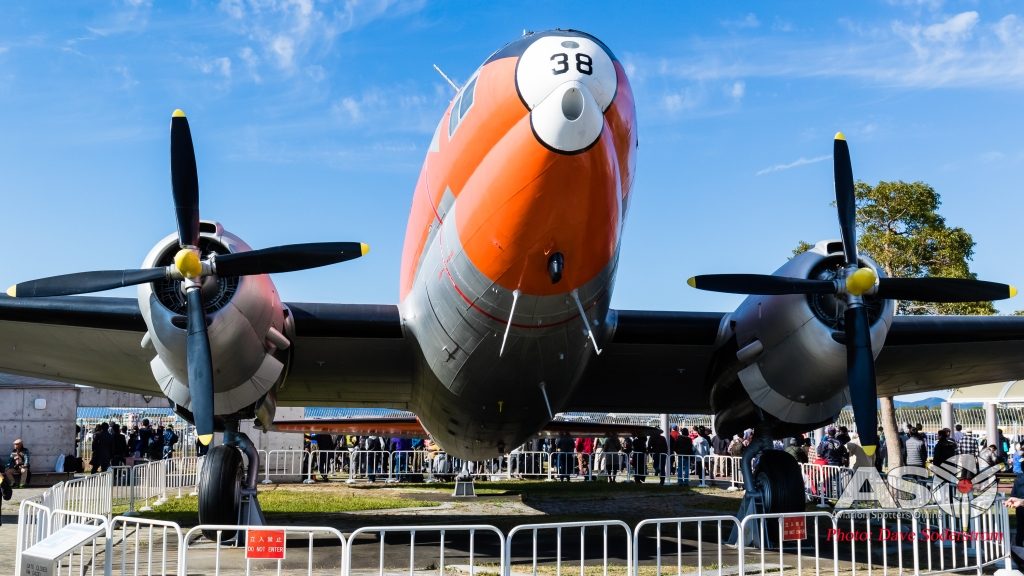 Piasecki CH-21B Workhorse s/n 02-4756
The Piasecki H-21 "Workhorse/Shawnee" is an early American designed helicopter. Fourth in a line of tandem rotor helicopters designed and built by Piasecki Helicopter (later Boeing Vertol). Commonly called the "flying banana", it was a multi-mission helicopter, utilising wheels, skis, or floats.
Japan Air Self-Defense Force operated 10 H-21B helicopters in the search and rescue role. The Japan Ground Self-Defense Force operated 2 Model 44A helicopters for testing. Four of the surviving helicopters are preserved in Japan.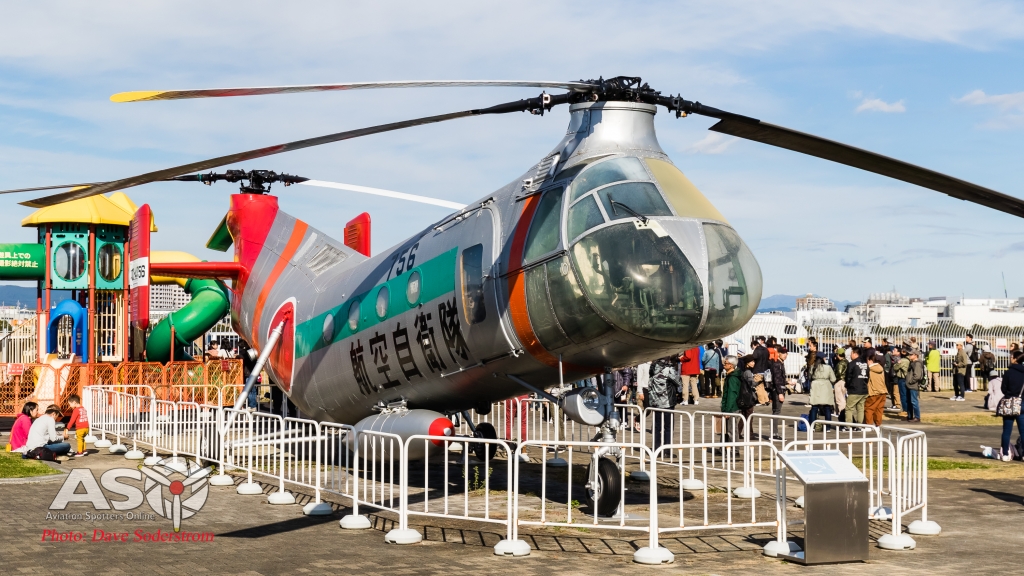 Walking inside the main hangar you can't help but notice the variety of colours and aiframes on display.
North American T-6 Texan s/n 52-0010
Known as the pilot maker across the world, the JASDF operated the North American T-6 Texan. They were among the first military aircraft which Japan was allowed to operate post-war. Some 195 eventually seeing service with the JASDF between 1955 and 1970. A further 62 were flown by the Japanese Navy.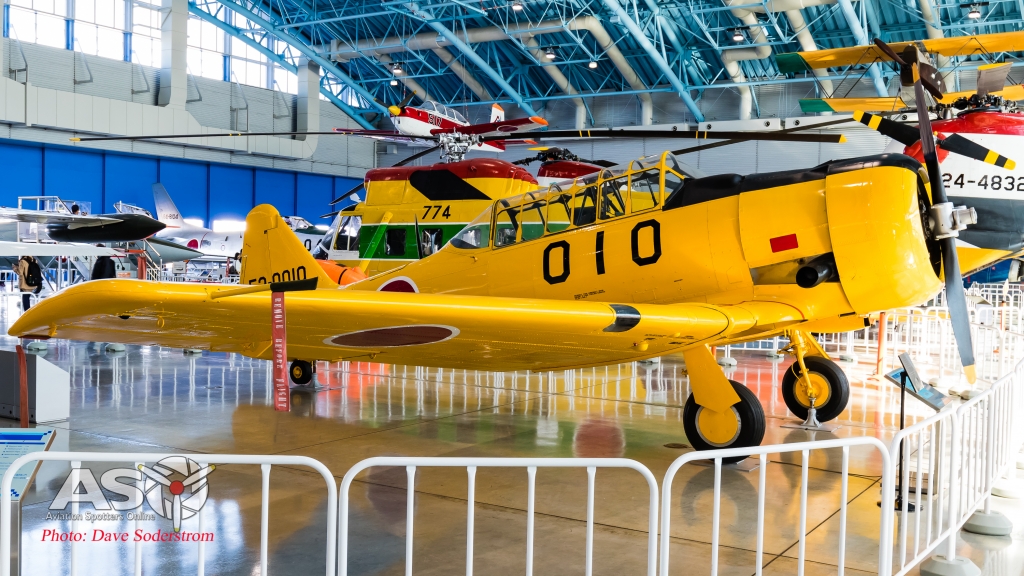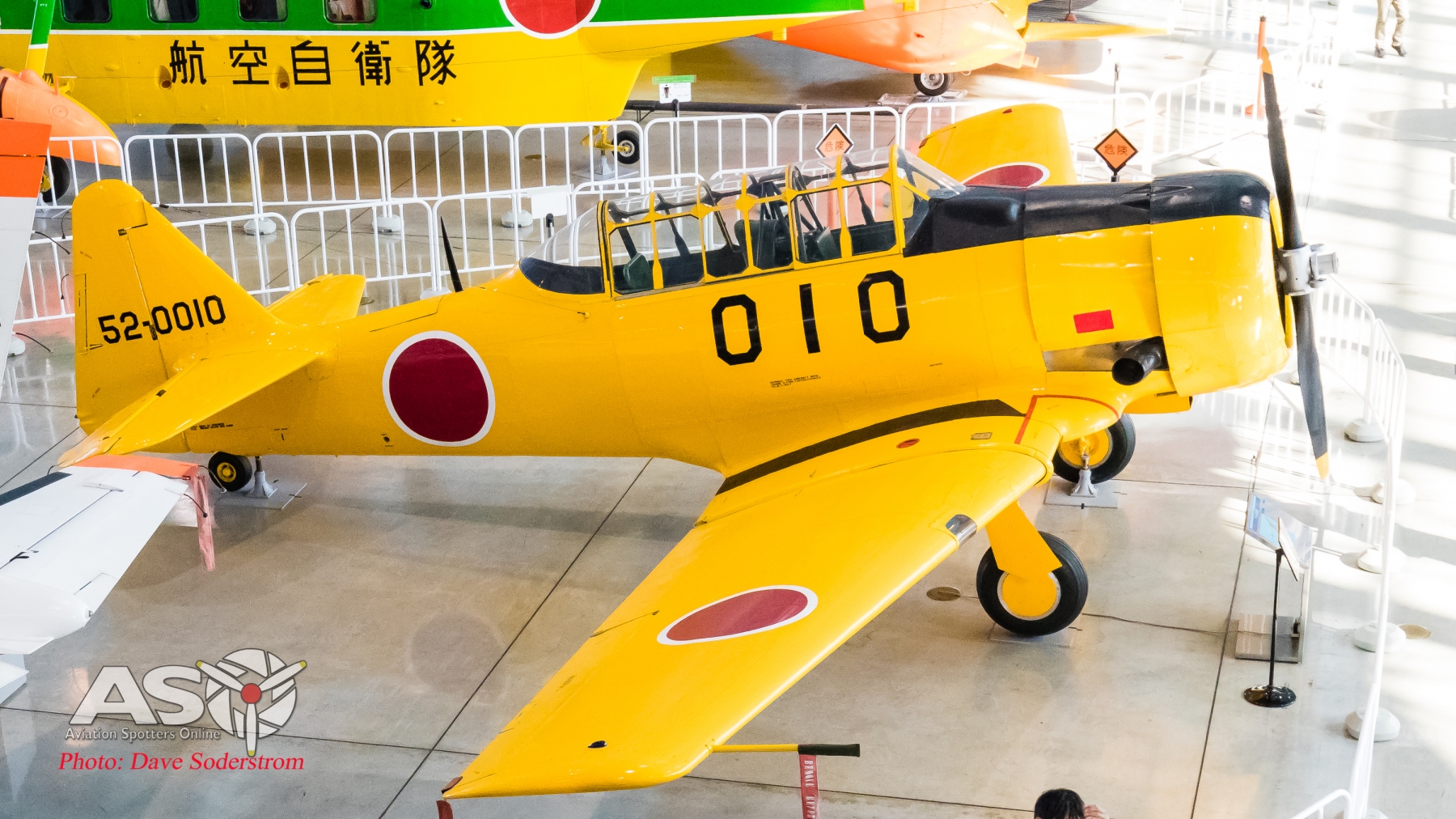 de Havilland Vampire T.55 s/n 63-5571
The JASDF acquired this aircraft in 1955 for evaluation. The Japanese decided not to purchase it after evaluation. It remains the only Vampire flown by Japan. And thus a very unique exhibit in the museum.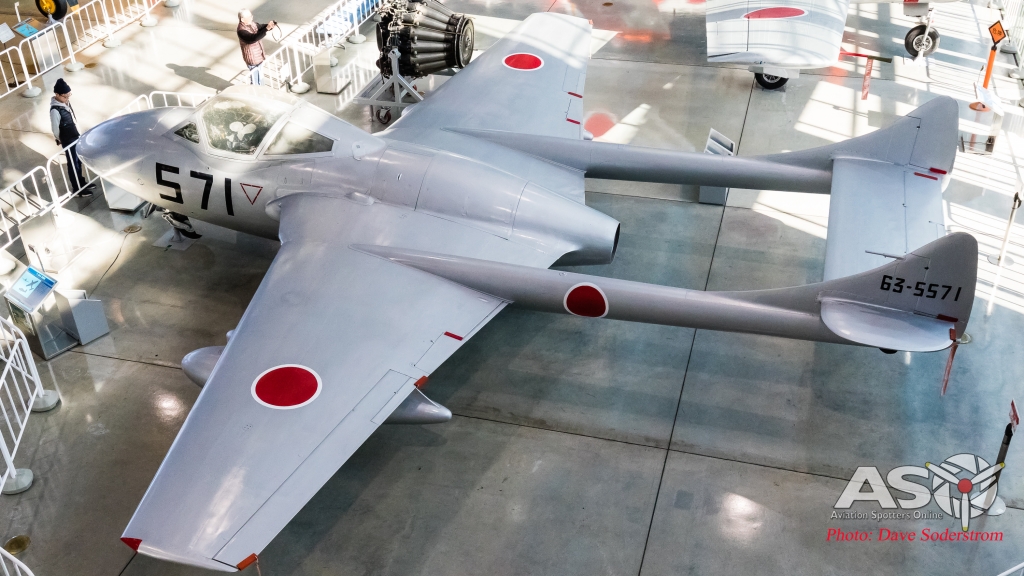 Fuji T-1A
Japan was looking for a replacement for its war weary North American T-6 Texan fleet. First flying in 1957 with the British Orephus engine as its power plant this was soon replaced with the locally built and designed JO-1 Engine. Long delays in the engines development saw the Orephus soon back in the airframe. Some sixty six examples of both the T-1A, T-1B and T-1C were produced and taken into service with the JASDF. The type had a long and successful career with the 13th Flying Training Wing stationed at both Gifu and Ashiya. Replaced by the locally designed and built Kawasaki T-4 in 2006. On display is T-1A 15-5825, delivered to the JASDF in 30/9/1961 it was withdrawn on the 29/3/1999 at Ashiya.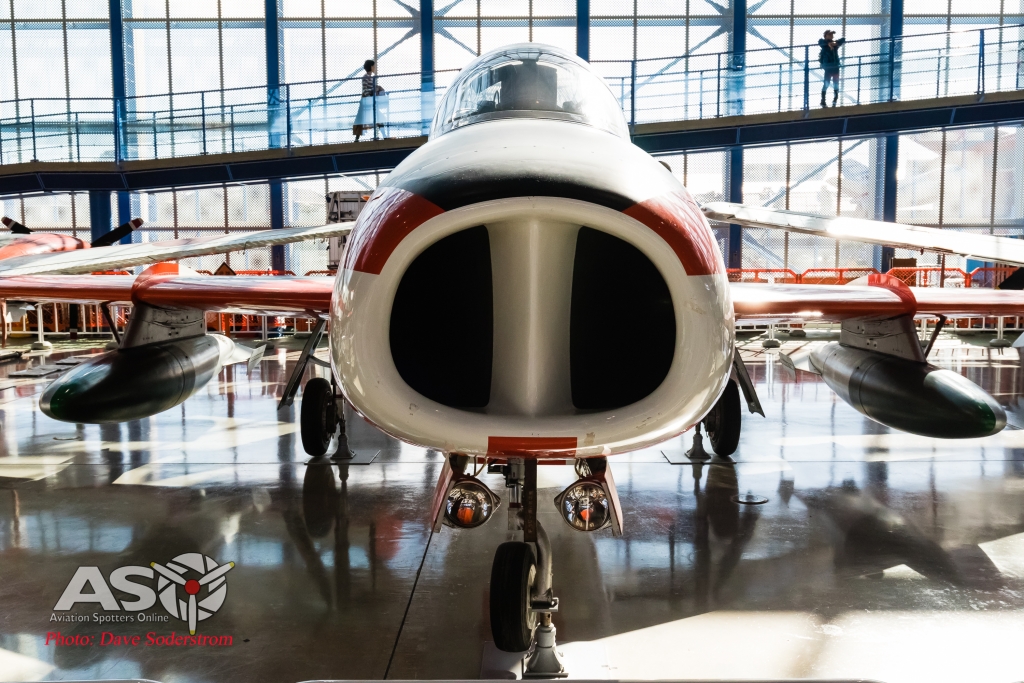 Beech 65 Queen Air
Used in the Communications and navigation trainer role the JASDF took on some 28 examples beginning in 1963. The type retired in 2000. The B-65 displayed at the JASDF Air Park bears the markings of the Southwestern Command Support Flight based at Naha, Okinawa Prefecture. It was from there that the aircraft was flown to Hamamatsu after its withdrawal from service.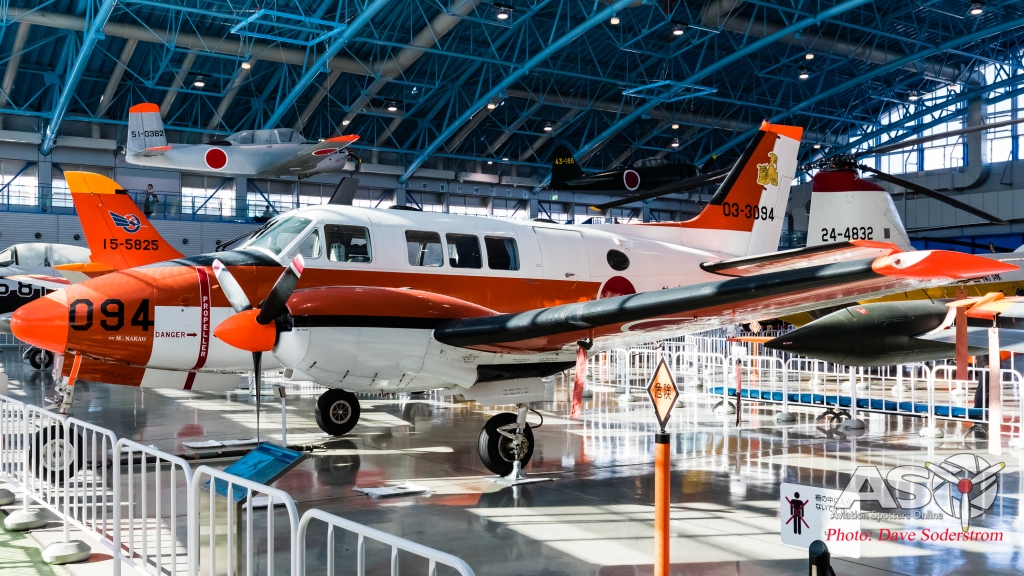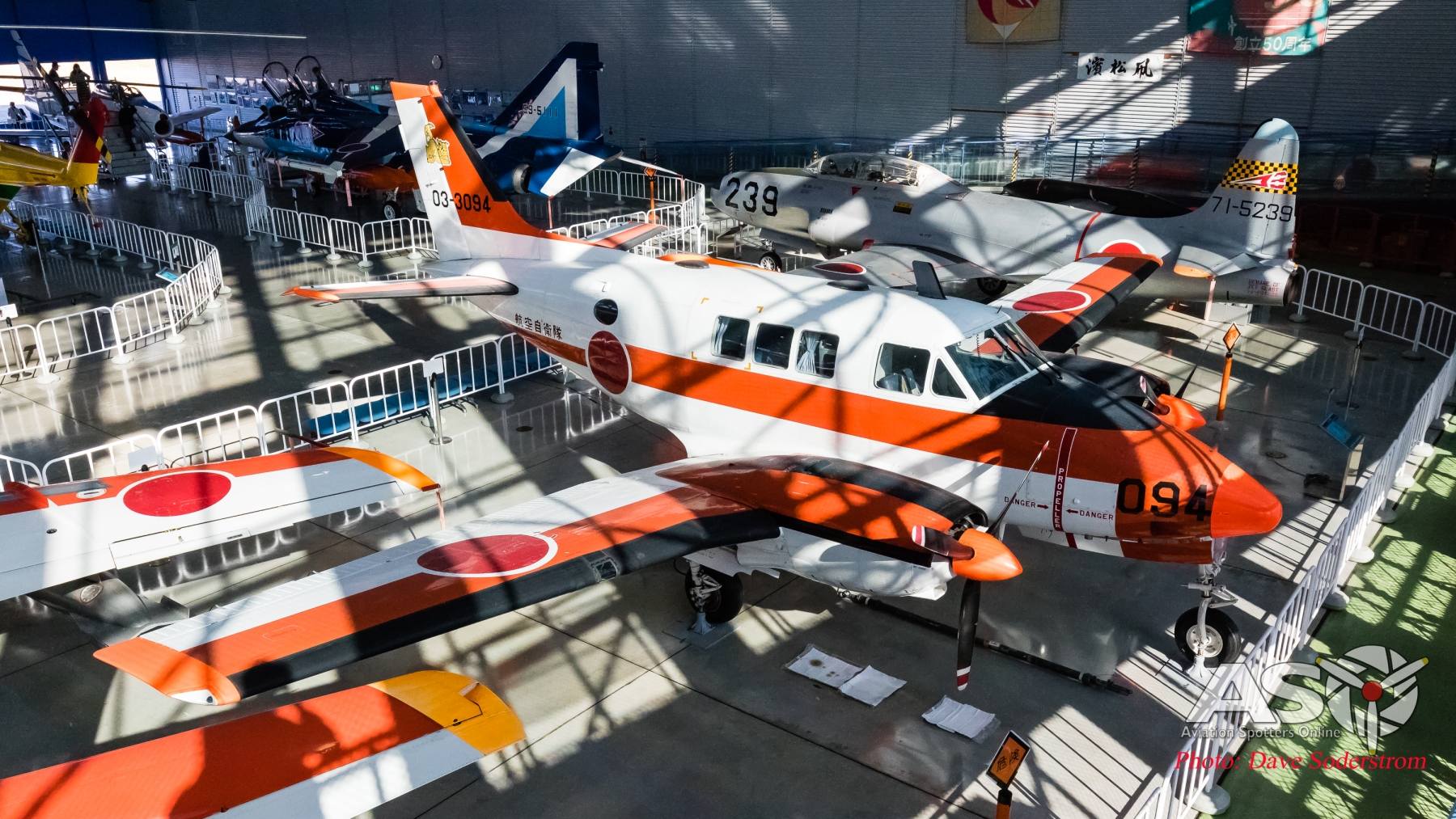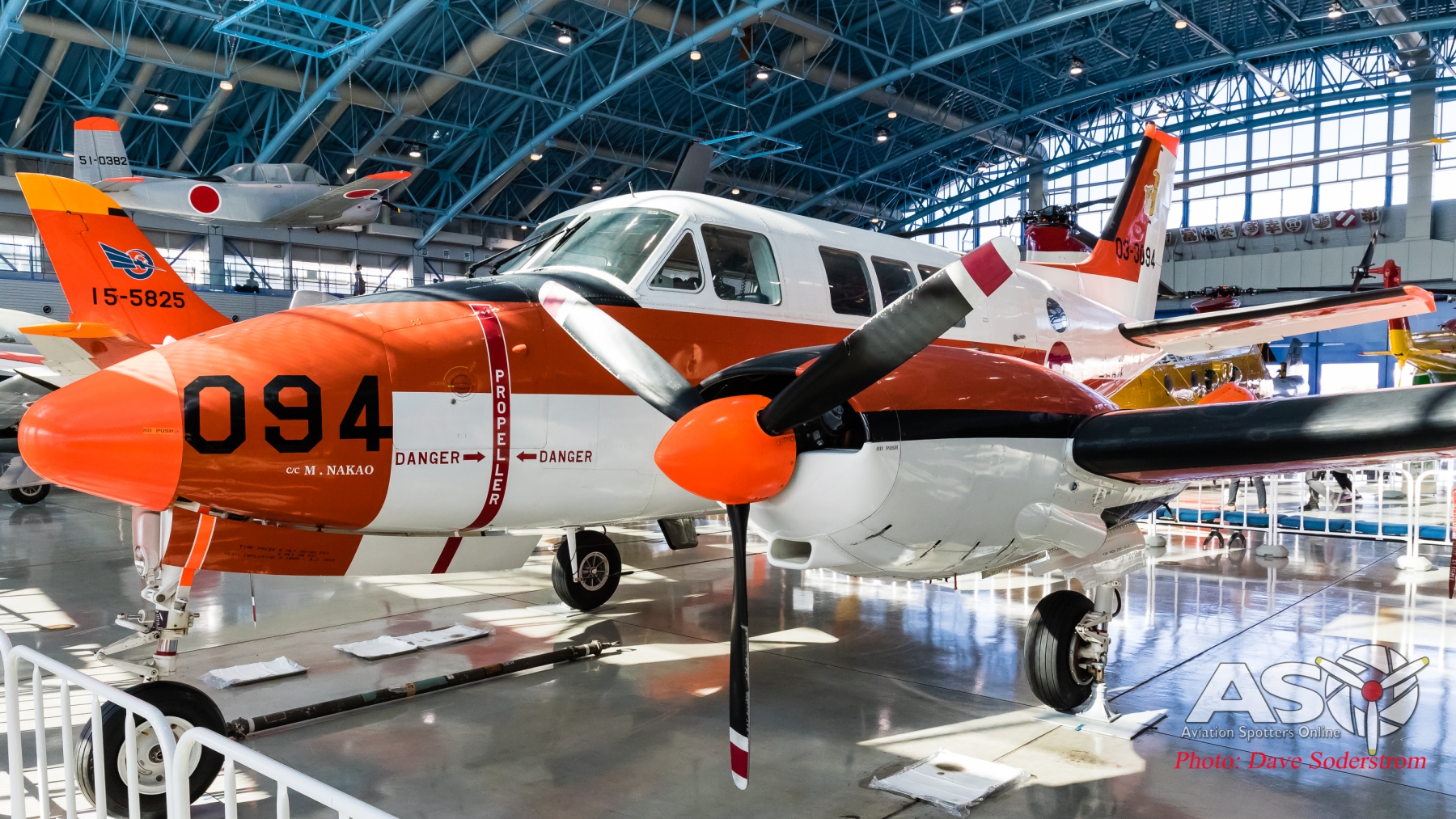 North American T-28 Trojan
Initially assigned the civil registration JA3086 when imported from the manufacturer in 1954, this North American T-28B Trojan was passed to the then Japan Defense Agency for technical research purposes in 1956. Converted for the reconnaissance training role in 1962, the aircraft suffered a heavy landing at Utsunomiya, Tochigi Prefecture, on July 3, 1963, when serving with the 501st Sqn. For a time used as an instructional airframe at Kumagaya AB in Saitama Prefecture, the aircraft was in place
when the Air Park first opened its doors in April 1999.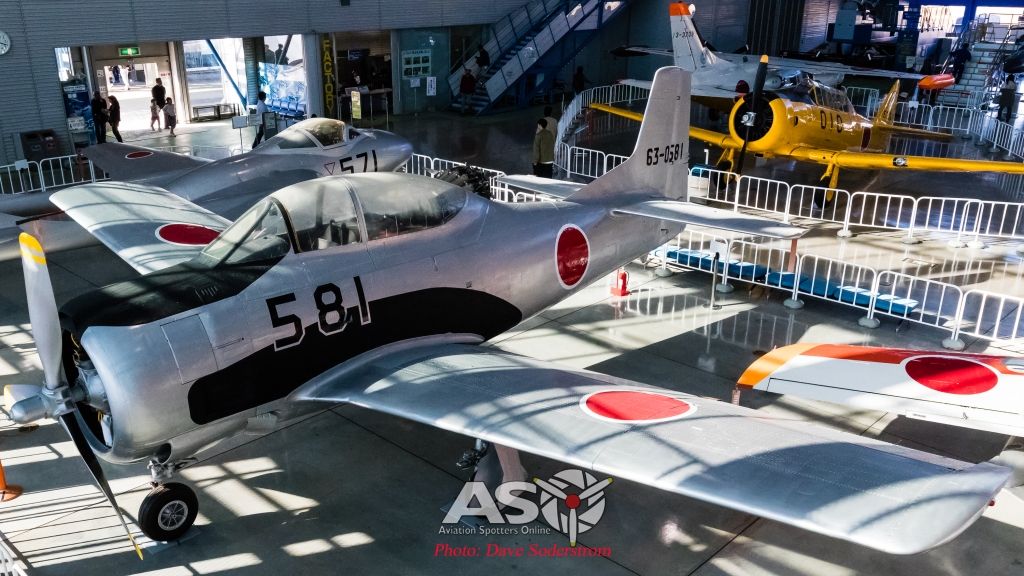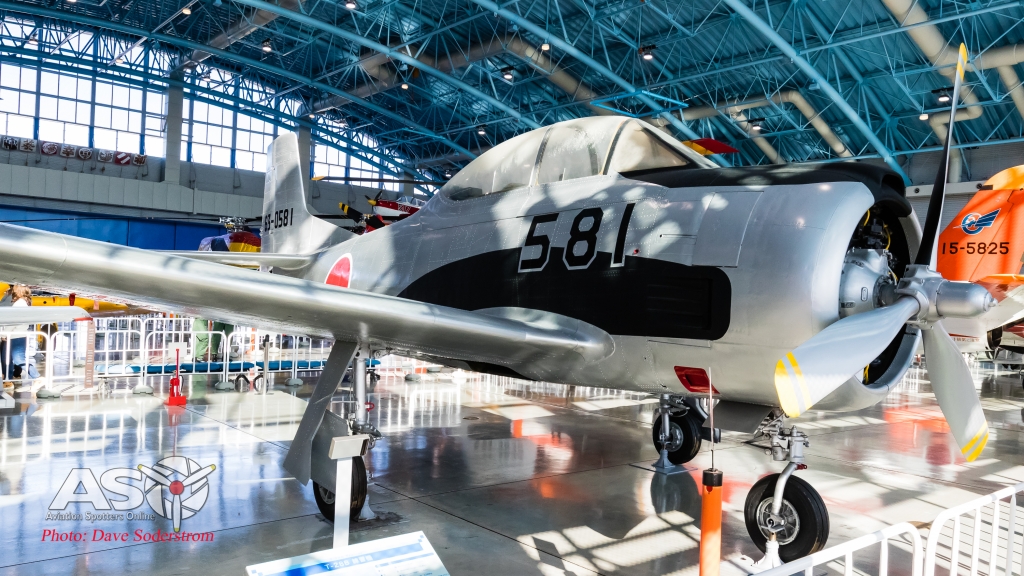 North American T-33 Shooting Star
A type flown in large lumbers by the JASDF was the Lockheed T-33 Shooting Star. Entering service in 1956 and retiring in 1994 the type was flown by fourteen different Tactical Fighter Squadrons in the JASDF. Over 210 examples were eventually to be operated with many built by Kawasaki Heavy Industries. T-33 was developed from the Lockheed P-80/F-80 by lengthening the fuselage by and adding a second seat, instrumentation, and flight controls. On display is 71-5239.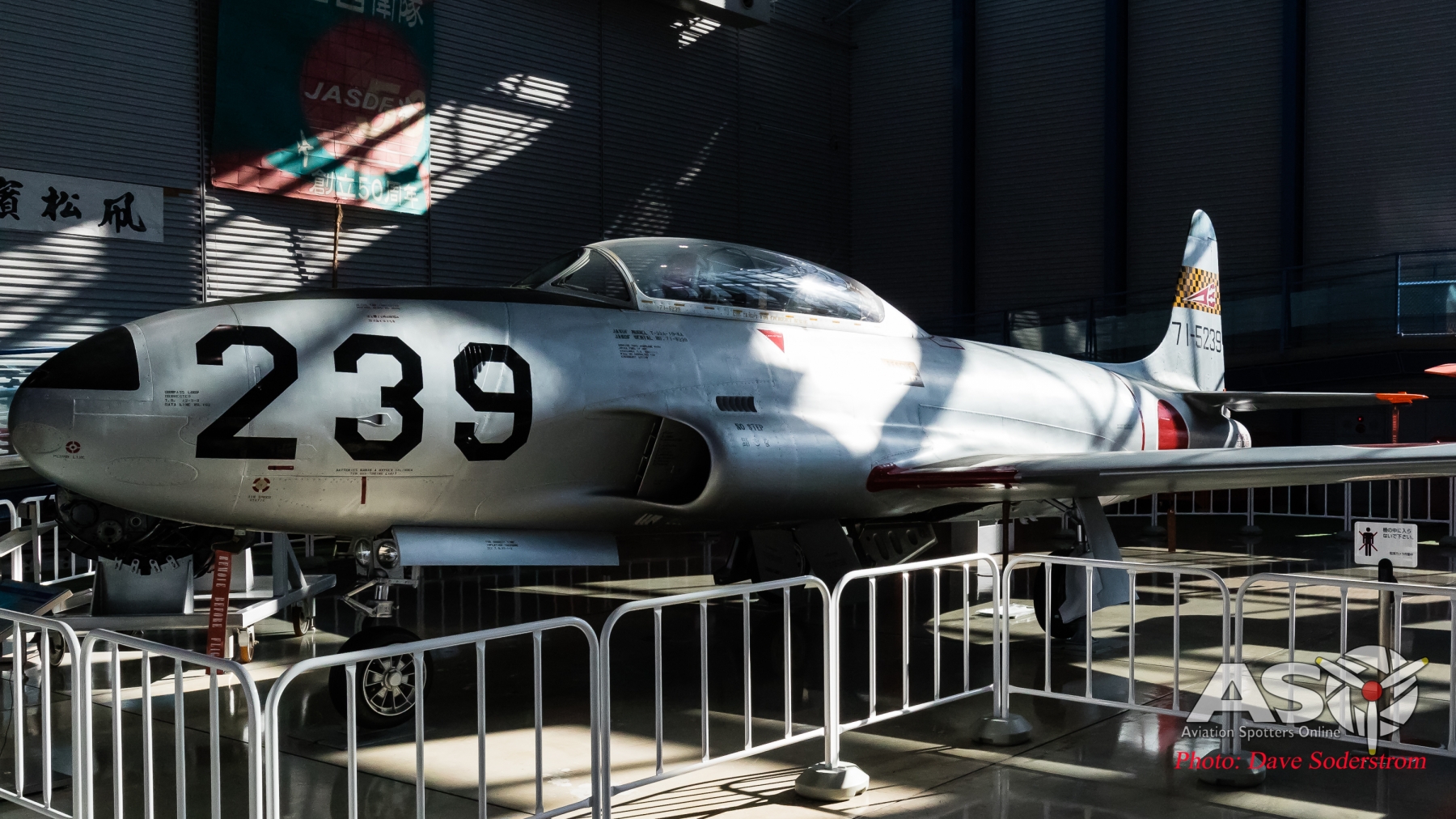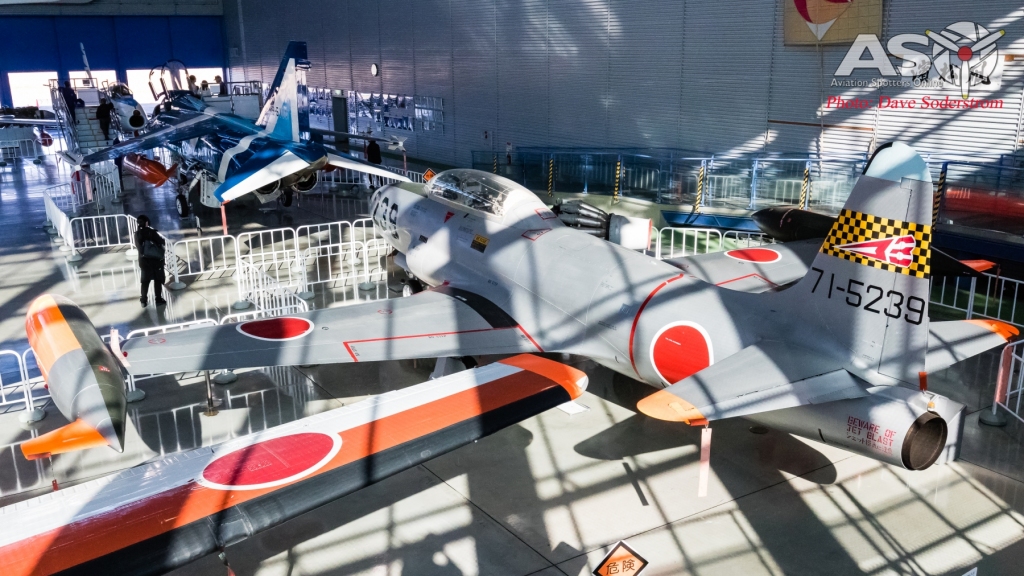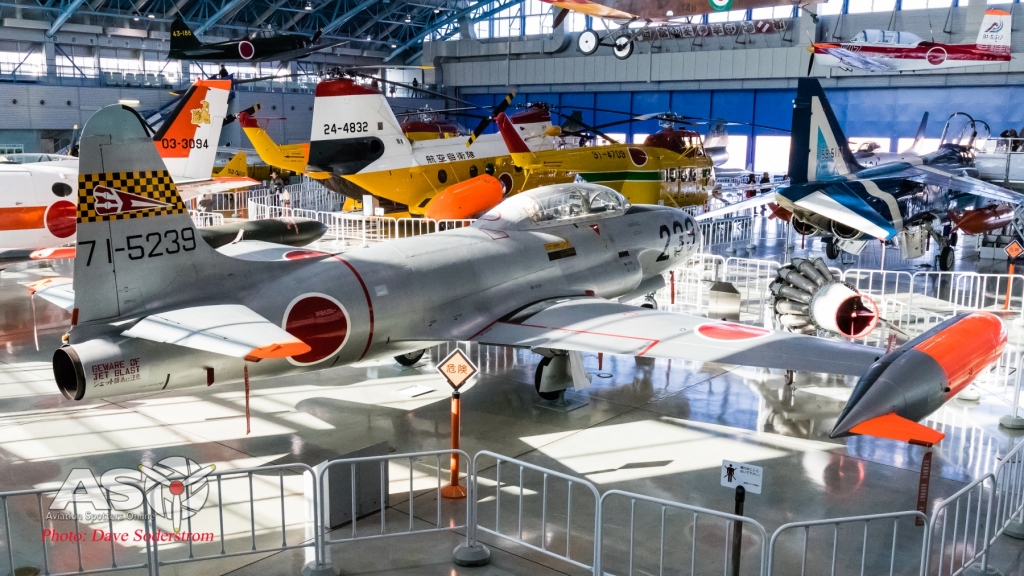 Mitsubishi A6M Zero
A type which was to be a mainstay in Japan's war in the Pacific. The Zero is a long-range fighter aircraft formerly manufactured by Mitsubishi Aircraft Company, a part of Mitsubishi Heavy Industries, and operated by the Imperial Japanese Navy from 1940 to 1945. It was one of the most capable carrier-based fighter in the world when it was introduced early in World War II, combining excellent manoeuvrability and very long range. Nearly 11,000 examples were produced.
On display is a genuine combat veteran Zero. An A6M5 version serially 43-188. It was shot down on June 19th 1944. This being the first day of the Battle of the Philippine Sea better known as the "Marianas Turkey Shoot". Pilot Shimazu Ozaki and another Zeke straffed a Navy SOC seaplane attempting a rescue of a downed American flyer. A USN F-6F of VF-10, flown by Lt. Henry C. Clem joined the battle, but was shot down by Ozaki. In turn, a F4U-2 Nightfighter on temporary day duty, flown by Lt.Cdr. R.E. Harmer of VF(N)-101 pursued Ozaki, and damaged his Zeke.
Escaping back towards Guam streaming smoke. Ozaki crash landed his Zeke just off the airstrip, and later died of his wounds. Rediscovered in 1962 the aircraft was exhumed nearly totally complete apart from the fabric covered rudder. It was retuned to Japan in 1964 and rebuilt and repainted into its wartime markings.
Restored by Mitsubishi Heavy Industries in a hangar at JASDF Hamamatsu Airbase, it is a true time capsule example of the famous Zero.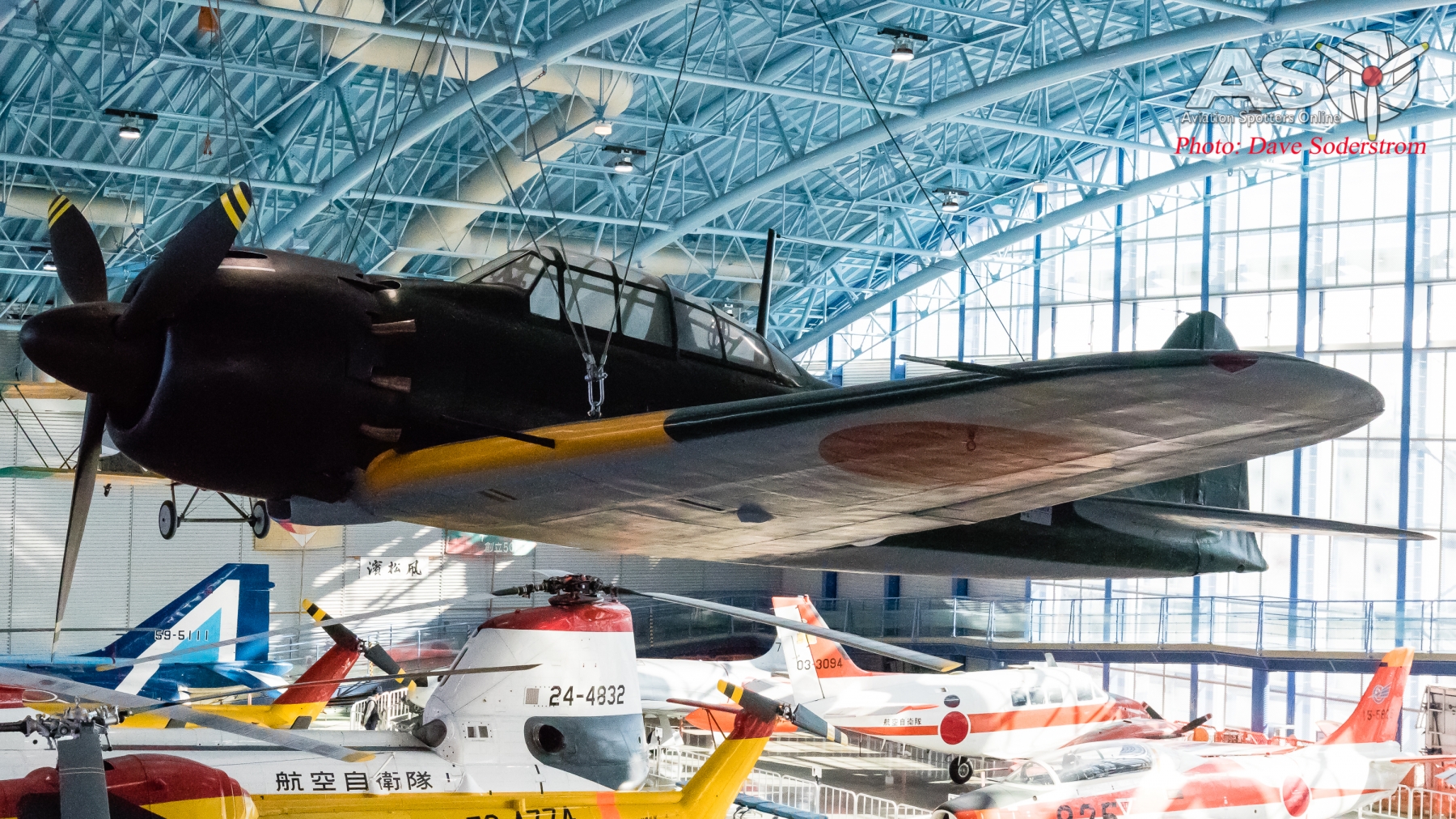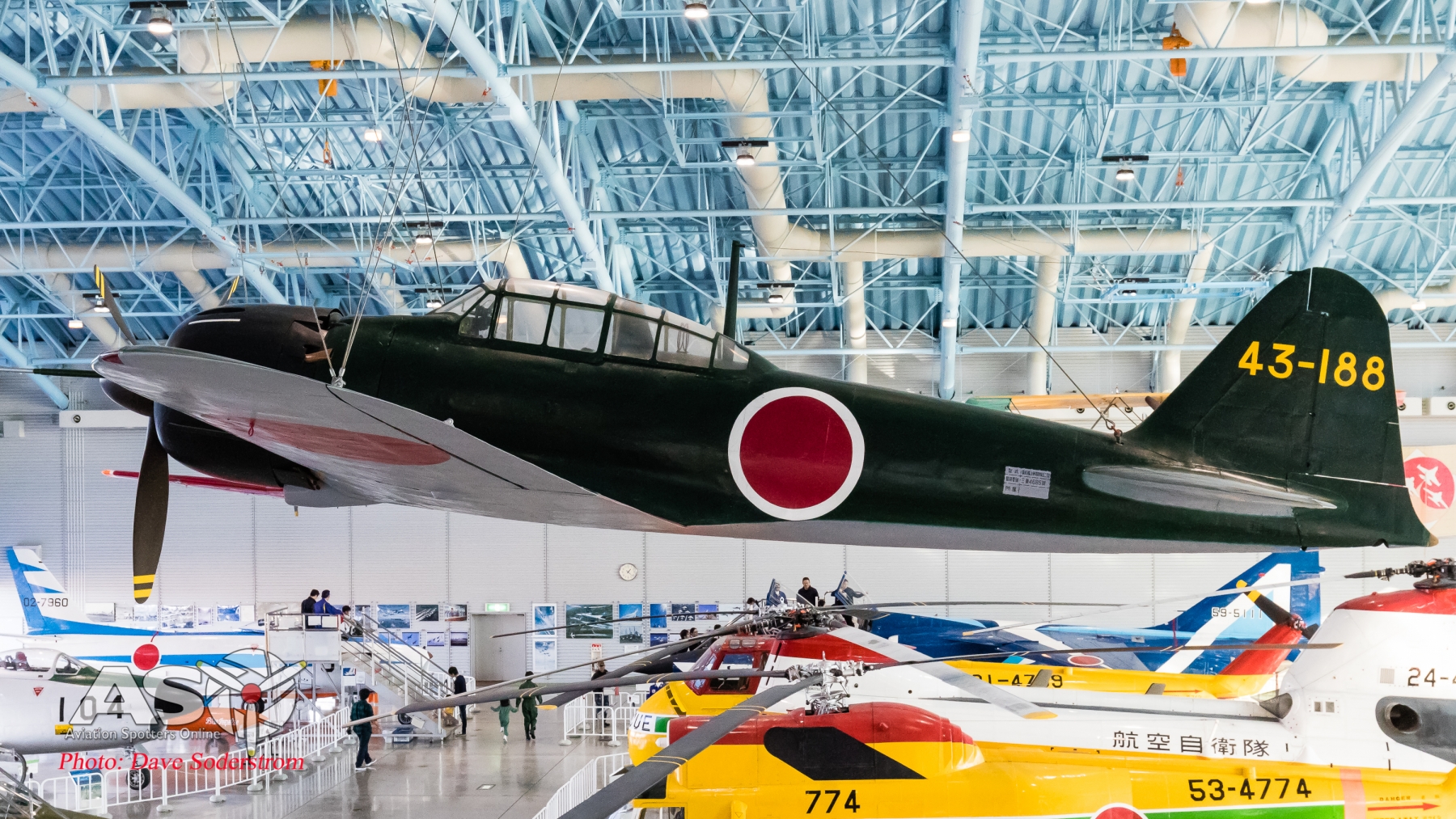 Helicopters on display
The museum has a vast three examples of helicopters on display within the main hall.
All three are painted in their Search and Rescue (SAR) markings.
Sikorsky S-62
A single turbine engine, three-blade rotor amphibious helicopter. Originally developed as a commercial venture by the Sikorsky Aircraft Corporation of Stratford, Connecticut, it was used by the JASDF in the Search and Rescue role. Produced under license in Japan by Mitsubishi. Nine Mitsubishi-built Sikorsky S-62J rescue helicopters were operated. Known by the unofficial name of Raicho (Ptarmigan), the type was in service from 1963 to 1983 before being replaced by the more capable, twin-engined Kawasaki-Vertol KV-107.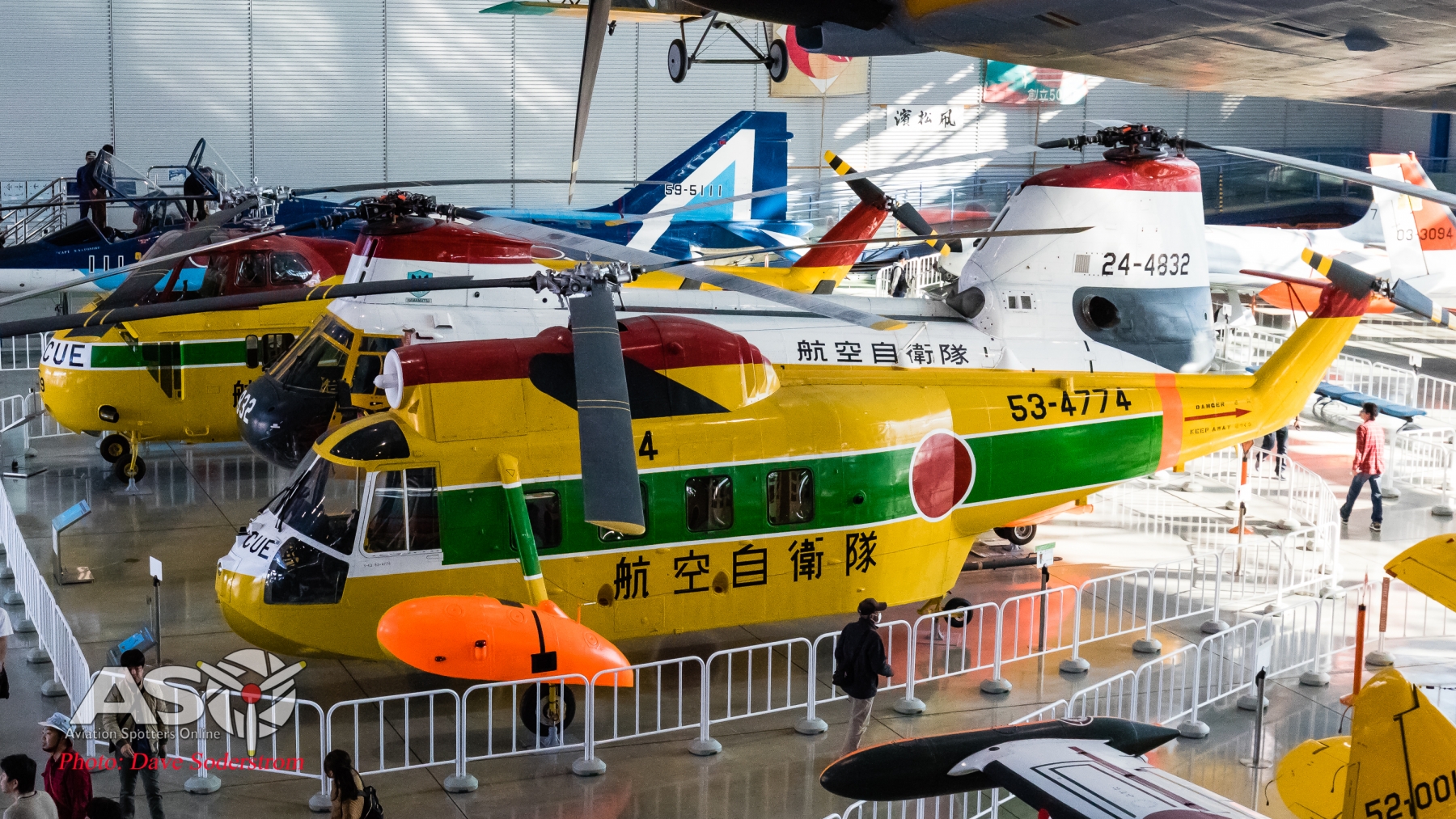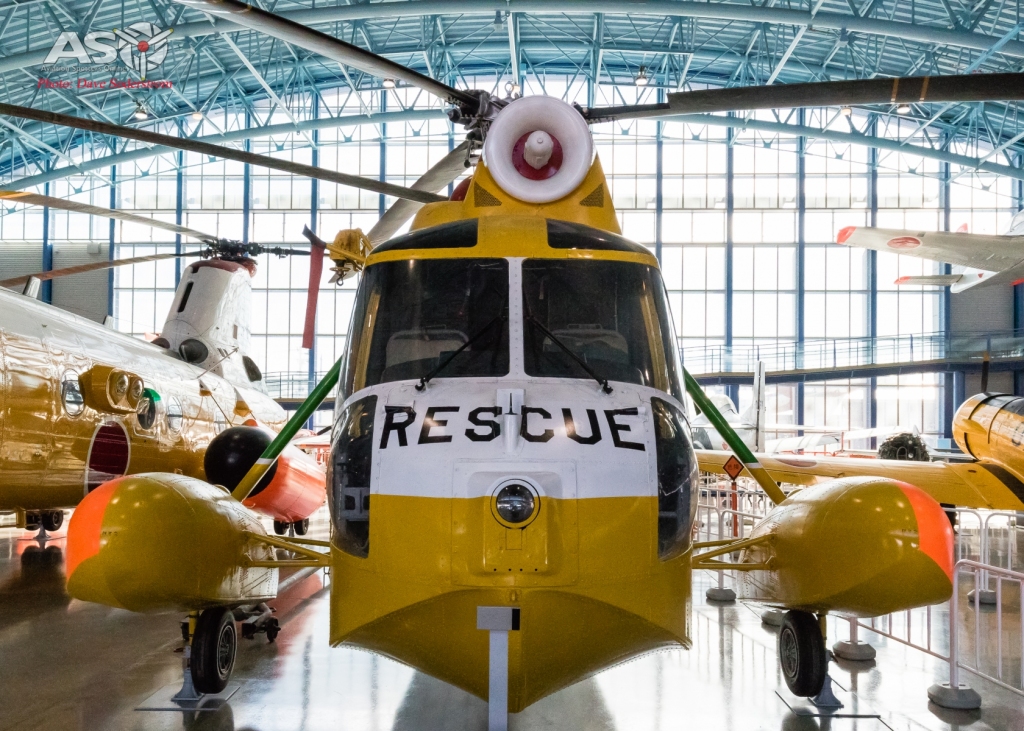 Boeing Vertol Model 107
The KV-107 started life as Boeing Vertol Model 107 which was a twin-rotor, twin-engine design that first flew in April 1958. Japan was interested in the Model 107 for service in its Self Defense Forces and Kawasaki Heavy Industries acquired a license to manufacture the aircraft in Japan.
The JMSDF acquired the KV-107-II-3 as a mine sweeper; the JGSDF selected the KV-107-II-4 as its assault and transportation helicopter; while the JASDF adopted the KV-107-II-5 as its primary rescue helicopter. In 1988, the Japan Air Self-Defense Force choose the UH-60L to replace its KV-107 and Sikorsky S-62 helicopters.
Sikorsky S-55
The KV-107 started life as Boeing Vertol Model 107 which was a twin-rotor, twin-engine design that first flew in April 1958. The KV-107 started life as Boeing Vertol Model 107 which was a twin-rotor, twin-engine design that first flew in April 1958.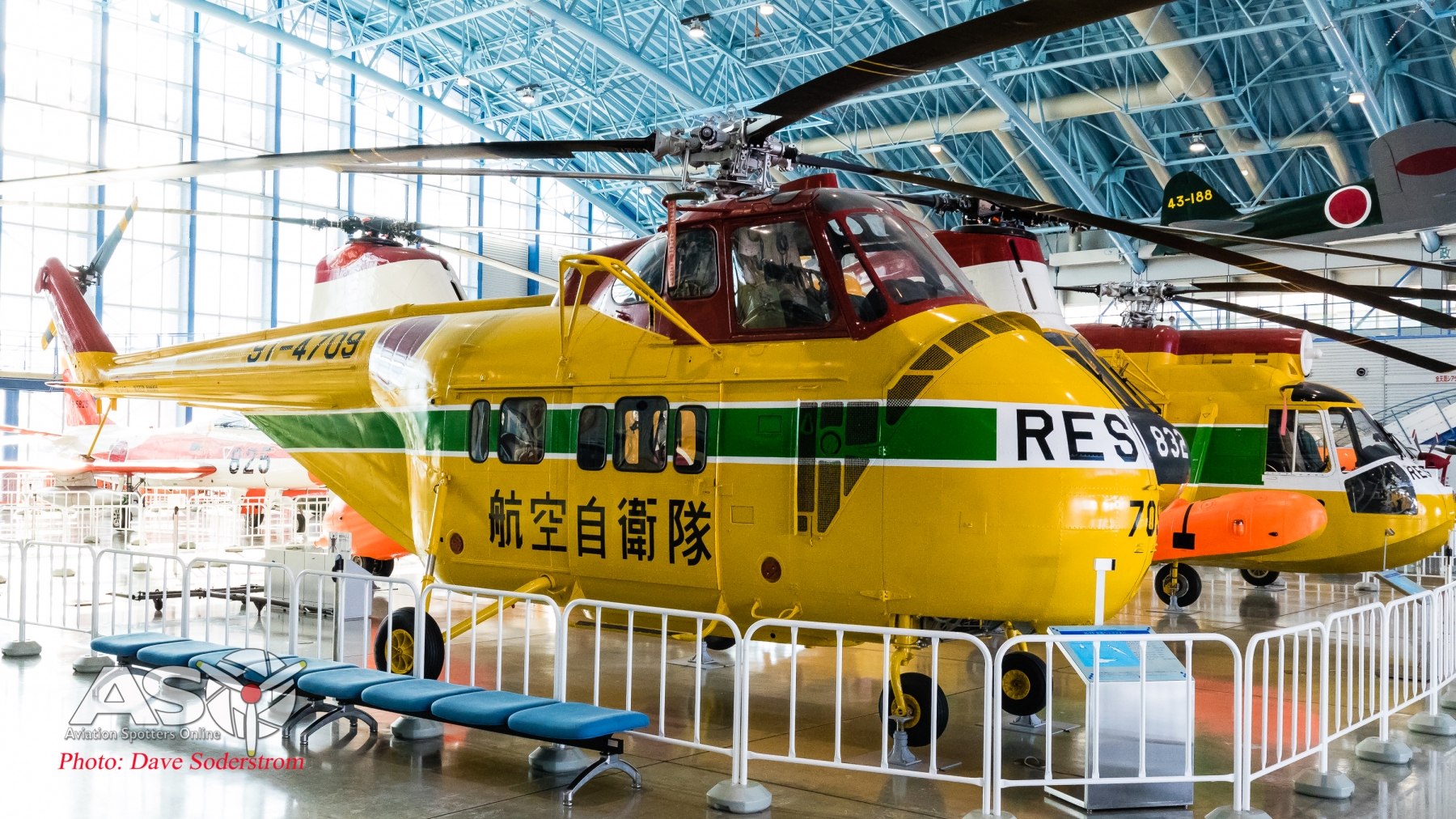 Mitsubishi Mu-2
The Mitsubishi MU-2 made its maiden flight in September 1963 and was produced until 1986. It is one of postwar Japan's most successful aircraft, with 704 manufactured in Japan and San Angelo, Texas, in the United States.
29 MU-2Es were purchased by the Japan Air Self-Defense Force as search-and-rescue aircraft and designated MU-2S. Additional equipment consisted of a "thimble" nose radome, increased fuel capacity, bulged observation windows, and a sliding door for dropping rafts. The type was replaced in 2008 by the British Aerospace U-125A.
Four C-model aircraft were built, in addition to 16 MU-2Ks, entered service with the Japan Ground Self-Defense Force (JGSDF) with the designation LR-1; they were used as liaison and photo reconnaissance aircraft.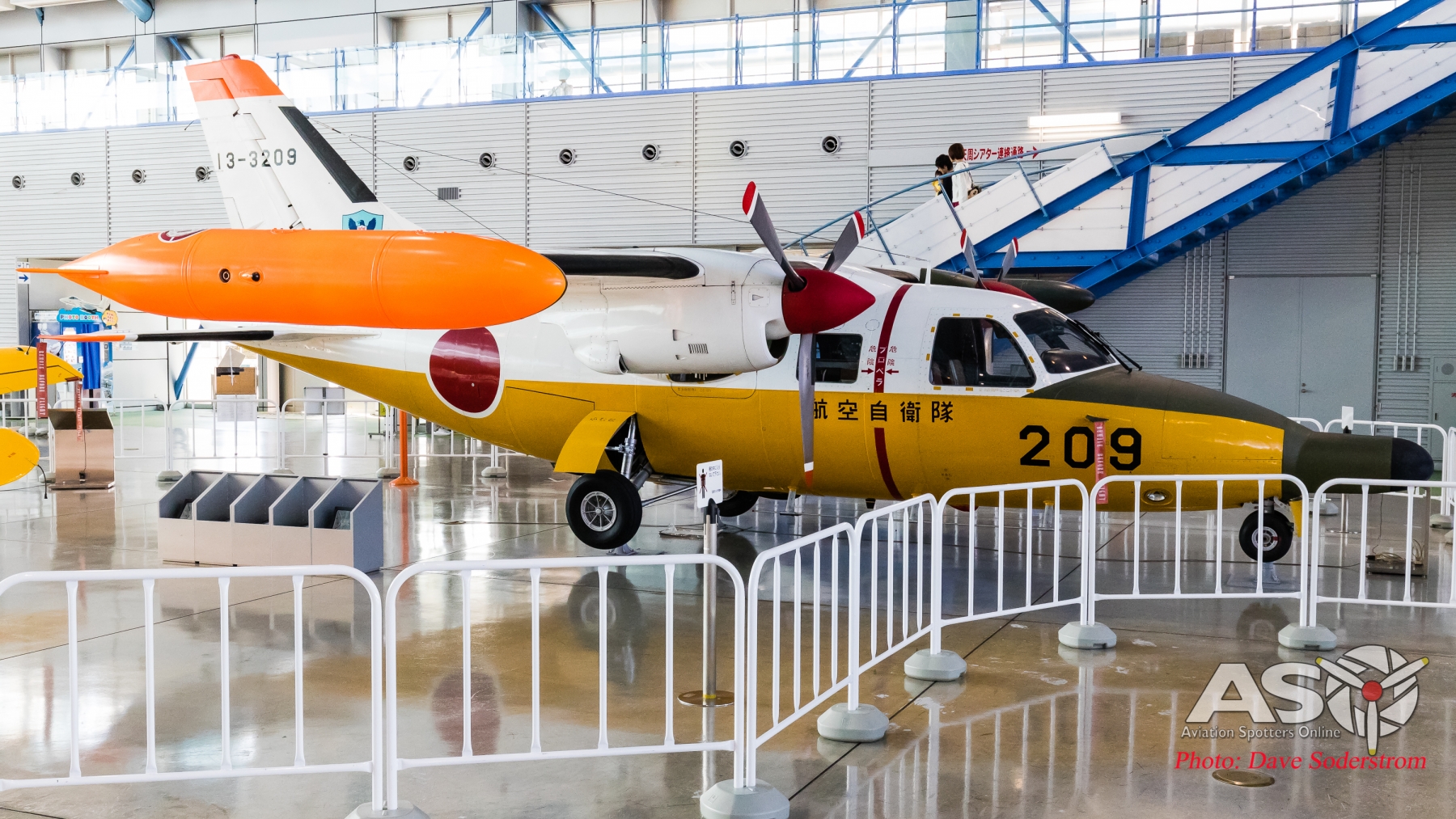 North American F-86 Sabre
The first Sabres were delivered in December 1955 when a number of F-86F models arrived in Japan. The delivery of these F-86s coincided with the establishment of the Kokudan (Air Wing) at Hamamatsu airbase, eventually forming the 1st and 2nd Hikotai (Squadron) within it, both equipped with F-86F Sabres. The Sabre numbers were expanded to a sizeable air force with the backbone being formed by 180 US built and 300 Mitsubishi built F-86Fs.
A tactical reconnaissance unit was established December 1961 when the 501st Hikotai was activated at Matsushima, flying converted Sabres designated RF-86F.
F-86D all weather interceptors also flew with the JASDF. Eventually some 122 US F-86Ds, which operated between 1958–1961 They were assigned to four all-weather interceptor Hikōtai, and the Air Proving Ground at Gifu.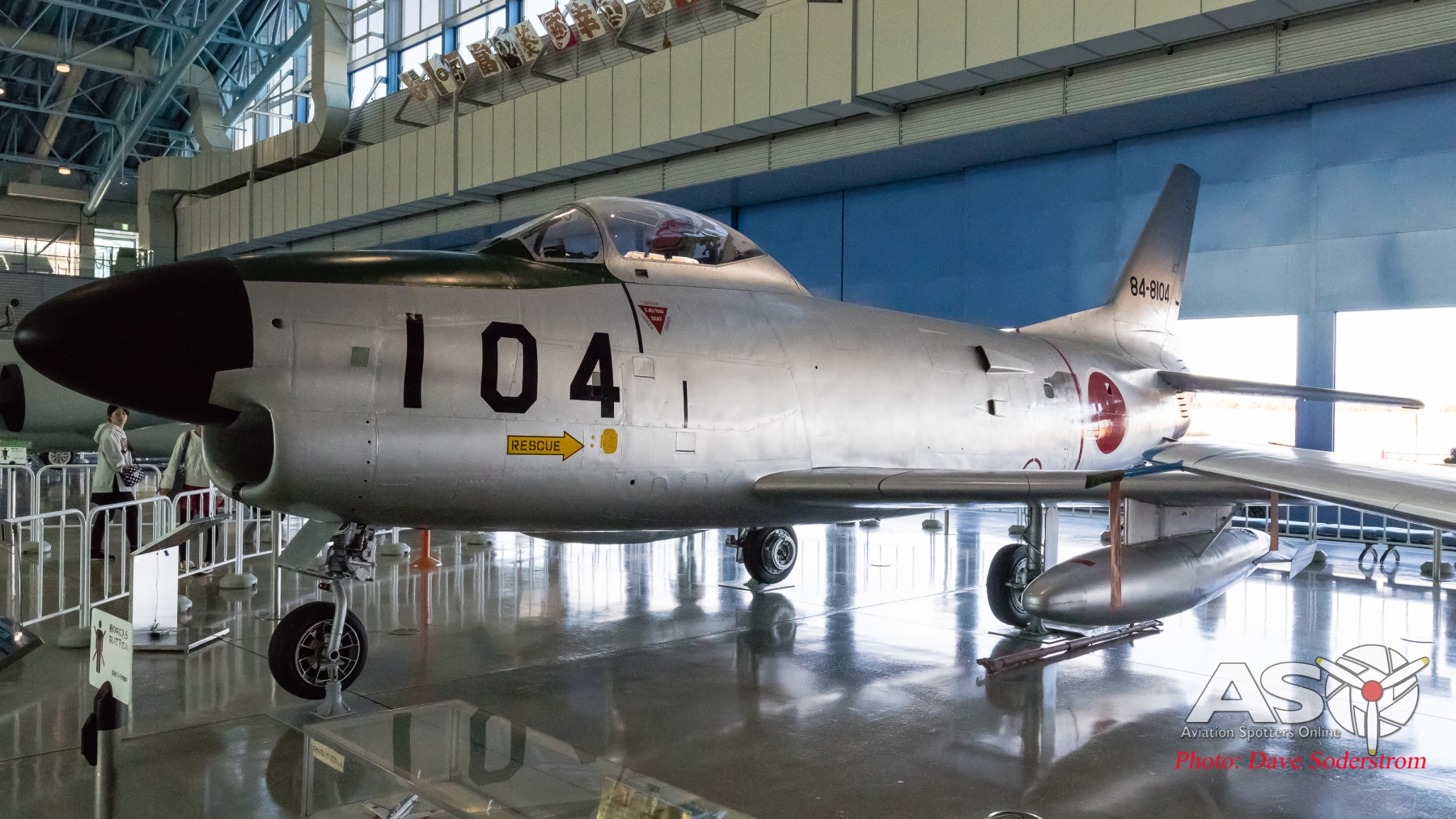 Beechcraft T-34 Mentor
Japan operated 173 T-34 Mentors with them being built locally by Fuji Heavy Industries. Derived from the Beechcraft Model 35 Bonanza, it first flew in 1948. On display is 51-0382.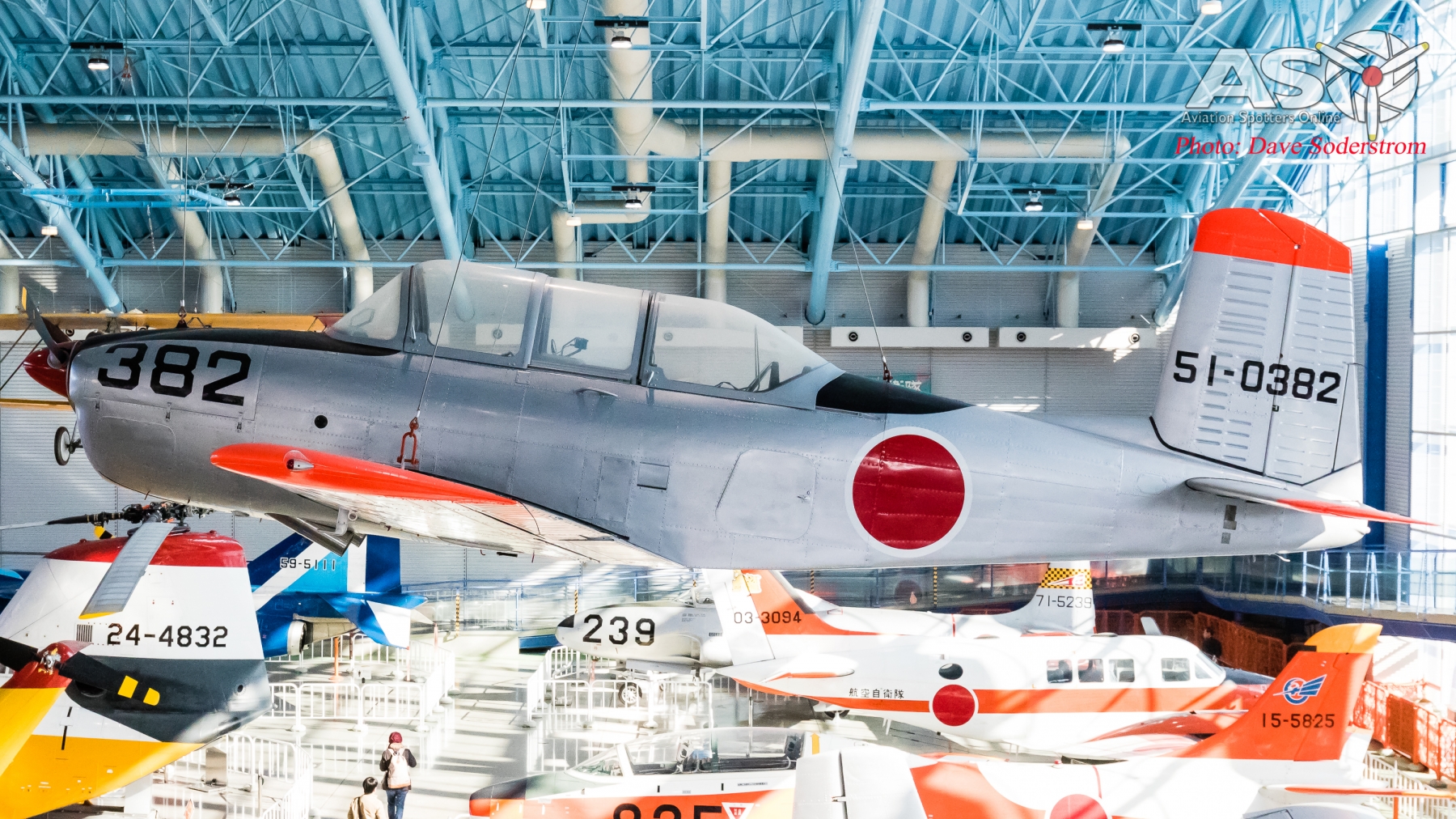 Fuji T-3
The Fuji T-3 is a primary military trainer aircraft that was used by the JASDF. Manufactured by Fuji Heavy Industries. Its first flight was in 1978. In total 50 aircraft were produced. The type was replaced by the Fuji T-7 in 2002. 91-5517 is on display.
Mitsubishi T-2
The Mitsubishi T-2 is a supersonic jet trainer. Introduced in 1975, it was the twin seat development of the Mitsubishi F-1 military aircraft. It was also the first Japanese aircraft to break the sound barrier. All T-2s were retired by 2006.
Entering service in 1975, with the first unit, the 21st Hikōtai becoming fully operational on 1 October 1976, with a second squadron, the 22nd Hikōtai following on 5 April 1978, allowing the North American F-86 Sabre to be phased out of the advanced training role.
The "Blue Impulse" aerobatic display team of the JASDF re-equipped with the T-2 in the winter of 1981–82. T-2s were also used by a dedicated Aggressor squadron. T-2s were also used as conversion trainers for squadrons operating the Mitsubishi F-1, a development of the T-2.The type was retired from service by 2006.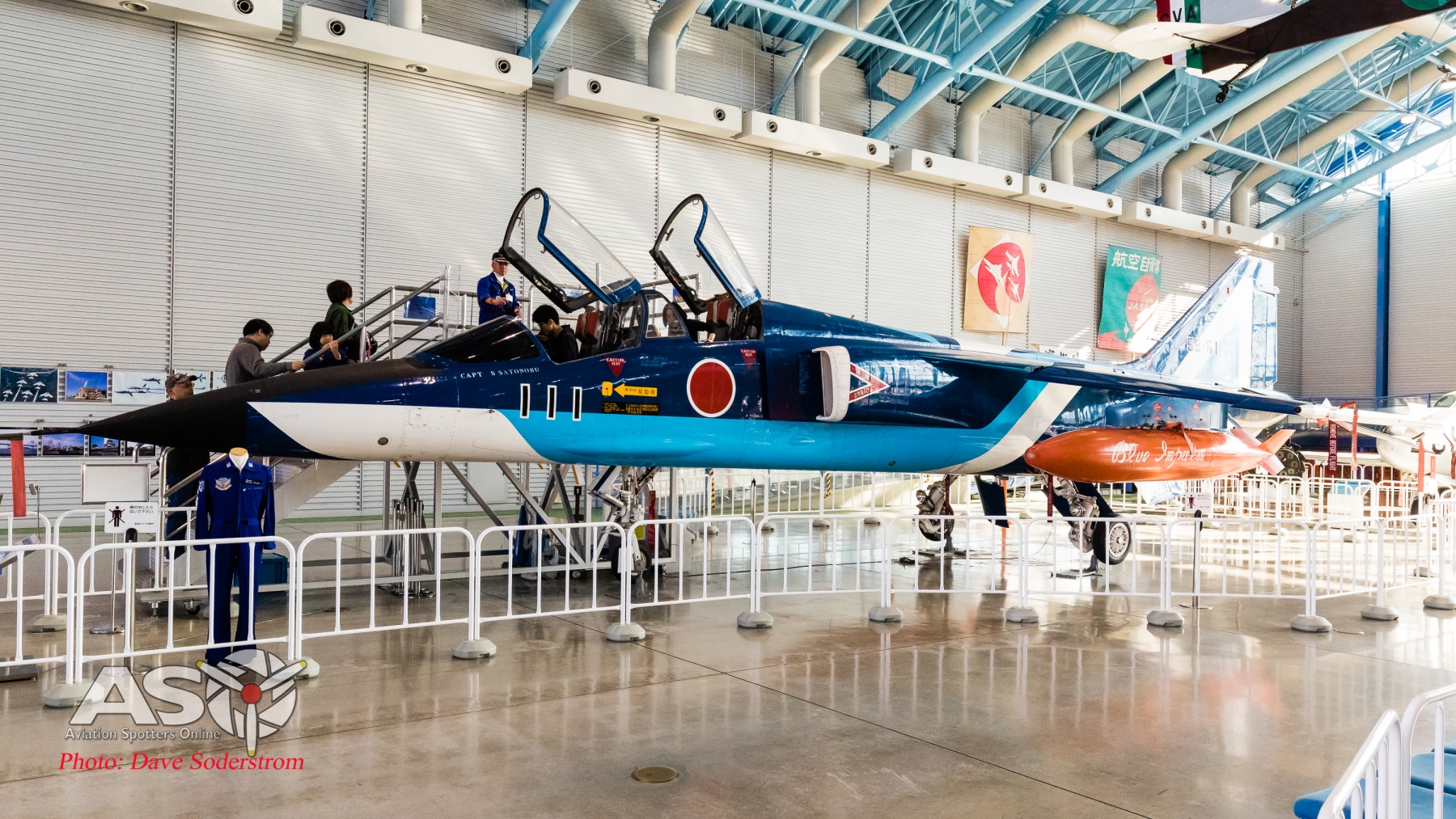 Mitsubishi F-1
The Mitsubishi F-1 is Japan's first domestically developed and built supersonic jet. It was nicknamed "Supersonic Rei-Sen" (Rei-Sen being the Japanese term for Mitsubishi's A6M "Zero" fighter). Mitsubishi Heavy Industries and Fuji Heavy Industries jointly developed the F-1. Entering service in April 1978 the type Continued until its retirement in March 2006. Seventy Seven airframes went on to serve the JASDF. Its primary role is anti-ship attack with a secondary ground attack role. It can carry AIM-9 Sidewinder missiles for self-defense.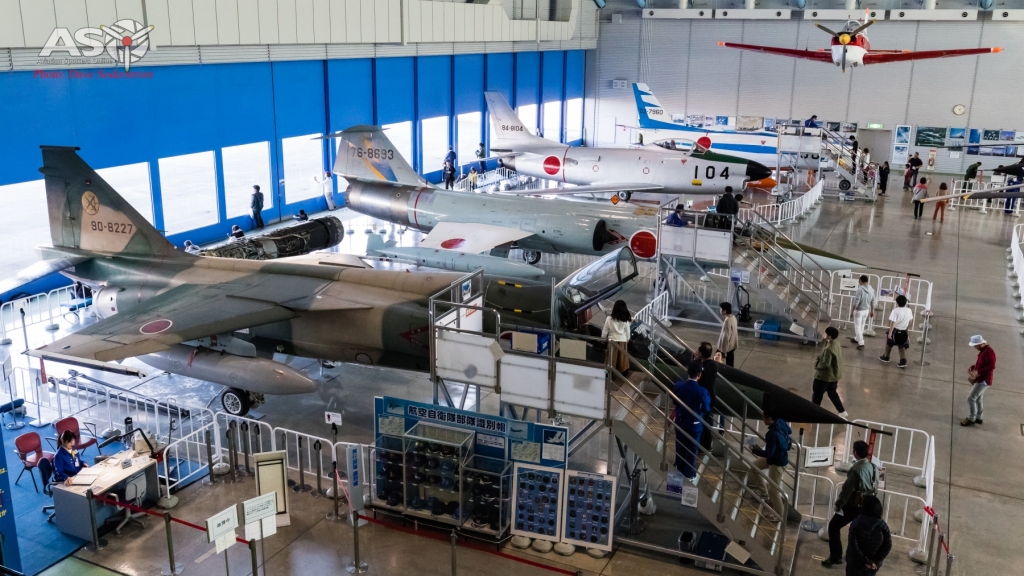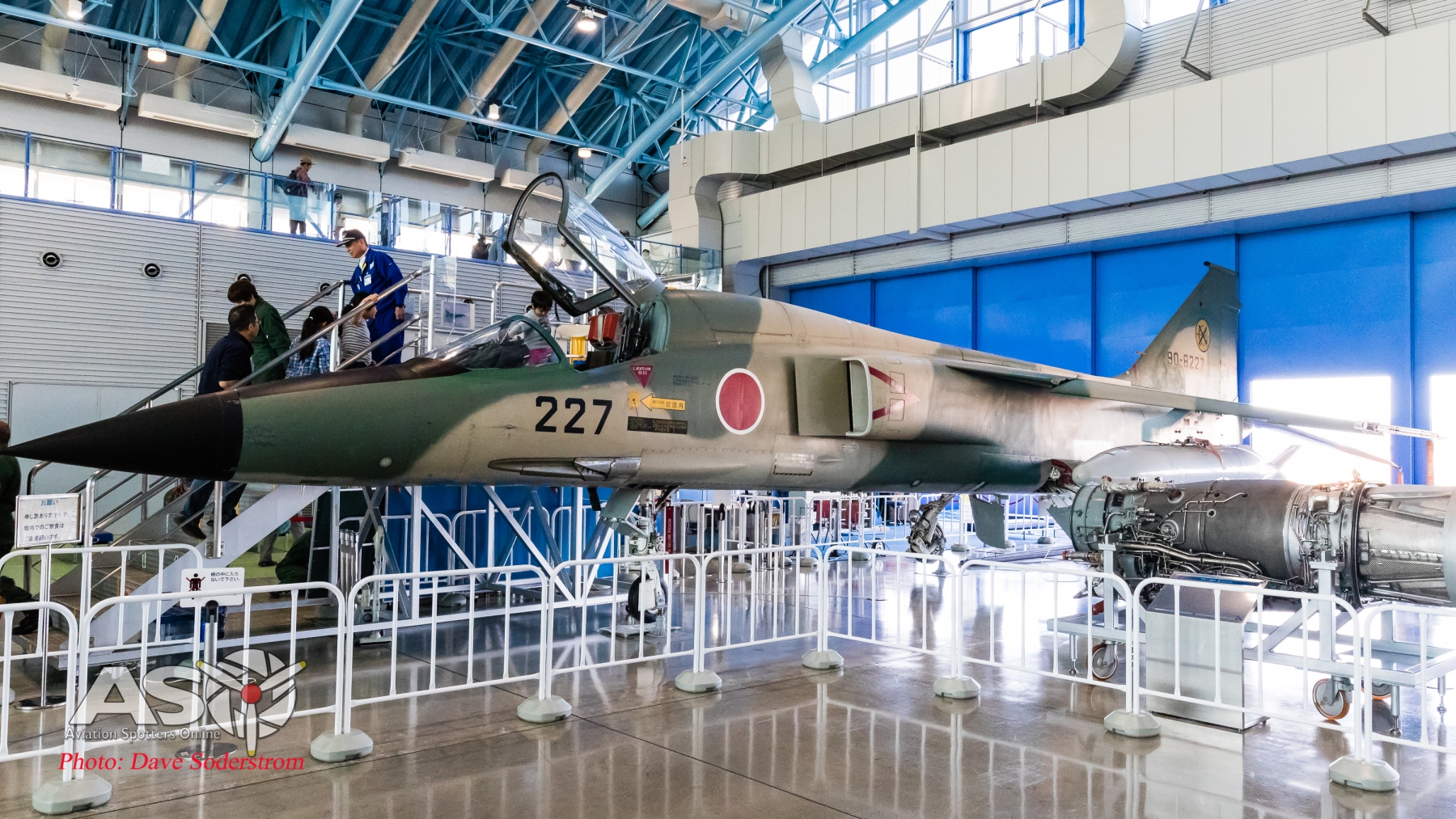 Lockheed F-104J Starfighter
Some 210 F-104J air-superiority fighters and 20 dual-control trainer F-104DJs. Called Eiko ("Glory"), they served from October 1962 to 1986, losing only 3 airplanes in this time including a mid-air collision accident. Seven air-superiority squadrons used them: 201, 202, 203, 204, 205, 206, 207. Japanese F-104s were constantly engaging intrusive Soviet airplanes during the types long service. Twenty two of the Japanese F-104s were eventually converted to drones for aerial target practice. 31 F-104J and five F-104DJ aircraft were sold to Taiwan. The museum has two examples on display, 76-8693 and 76-8998.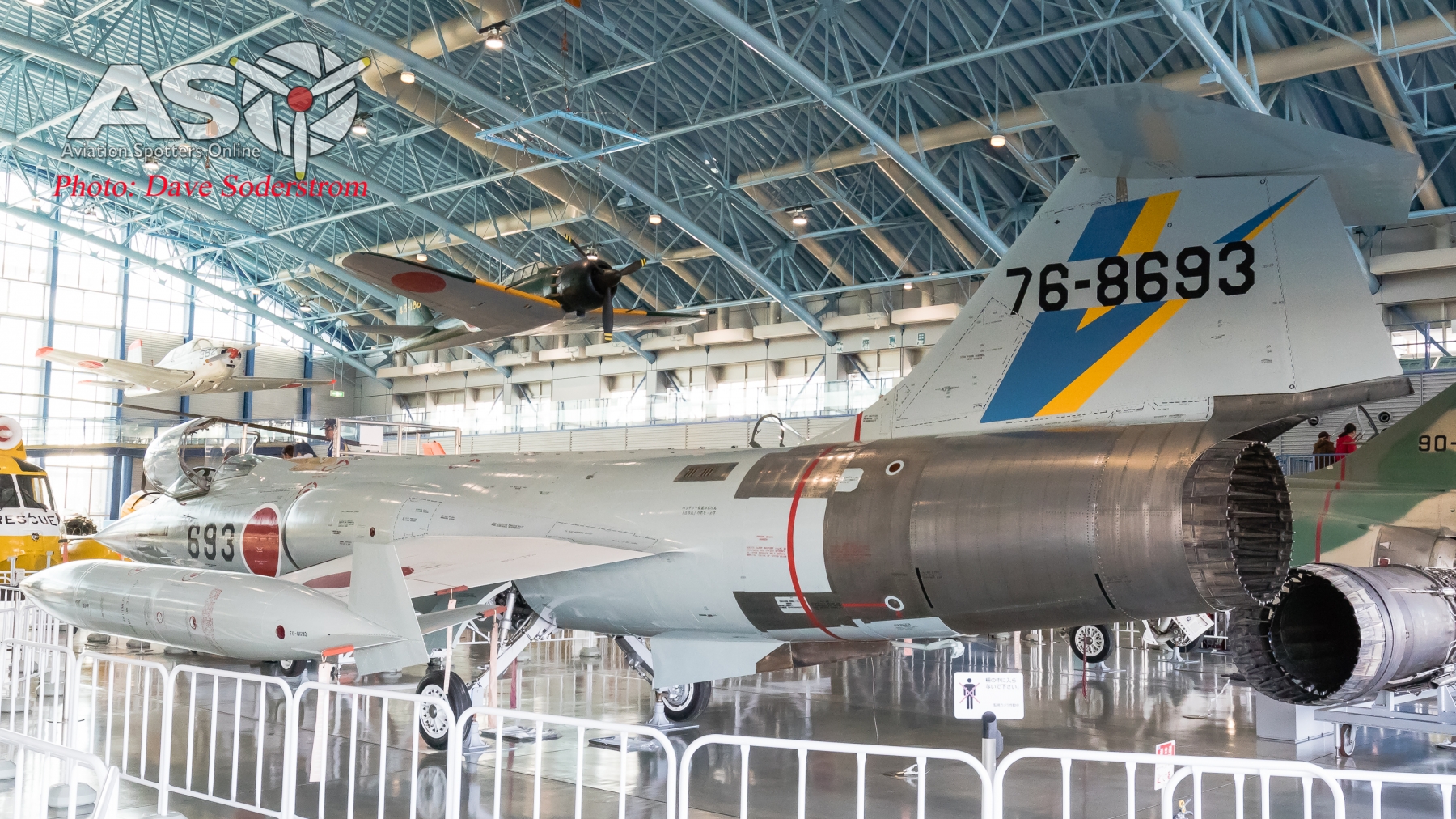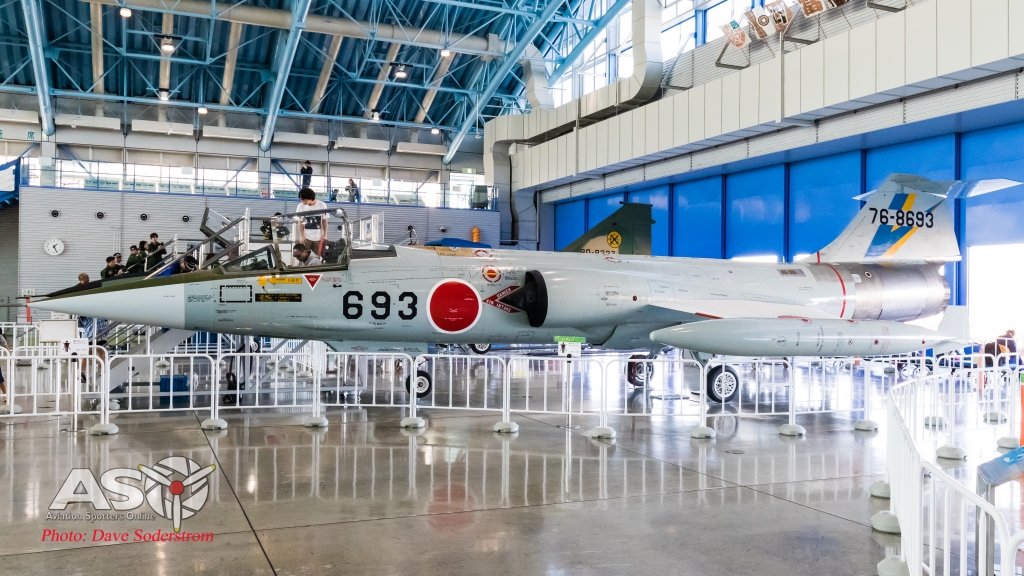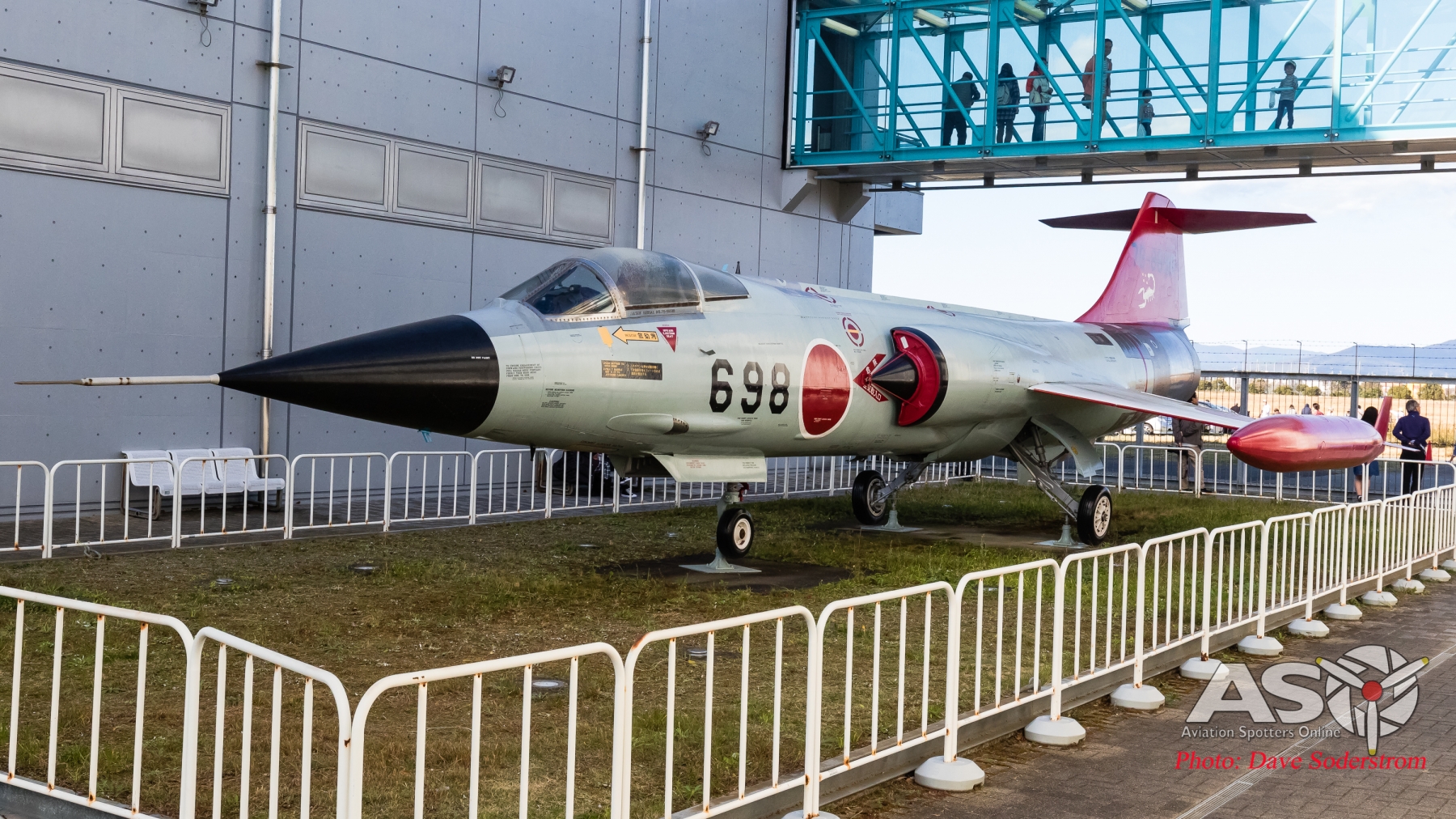 In the second hall are display relating to the history of the JASDF and its current fleet. Some creative and interactive parts are sure to have you spending some time in this hall. Two aircraft are also on display within the hall. A mockup of the F-2 and a F-1 which has been de-skined to show the inner workings of an airframe.
I highly recommend this museum, it is a great place to learn about the JASDF from its humble beginnings to its current incarnation.
Cheers,
Dave Soderstrom
Photographer, Aviation Spotters Online