The southern hemisphere's premier air training exercise, the Royal Australian Air Force's Exercise Pitch Black 2018, was officially opened today by Air Commodore Michael Kitcher at RAAF Base Darwin. With him was Air Commodore Noddy Sawade – who was also present at Pitch Black 2016.
AC Kitcher welcomes the media and explains that "Normally my day job is Commander Air Combat Group but for Pitch Black I am fortunate to be in charge of the whole box and dice, running of the exercise. I am here with Air Commodore Noddy Sawade who will talk about the Mindil Beach event and the open day. Also with me is Wing Commander Steve Parsons who is permanently based here as the senior ADF Officer."
"In an hours time we will have the mass air brief for partners and allies but Pitch Black proper starts on Monday. This Pitch Black 18 is the biggest we've ever done…we've got about 140 aircraft from 16 different countries involved with about 4000 people, including 2500 Australians and about 1500 partners and allies here with us. The exercise is mainly based here in Darwin and Tindal which is quite full, and we have people located down at Batchelor as well…. and aircraft based out of Kununurra. We also have another five or six locations for our ground control agencies and we are using Bradshaw and Delamere Air Weapons Ranges in the Top End as well – so it's a big exercise"
There are a few 'firsts' for this exercise. We have the Indian Air Force here for the first time, they were part of the International Observer Group last time and decided to come along this time with their Sukhoi 30 aircraft and their C-130J's – a wonderful addition to what is a great exercise."
"We've also got the French Rafales here for the first time…the French have been here before but not with their Rafales.
"For the Royal Australian Air Force we have a couple of firsts… the C-27J behind me here and also our EA-18 Growler airborne electronic attack aircraft participating for the first time. Our partners and allies have been coming here for many, many years such as the Singaporean Air Force, the Thai Air force, United States Air Force and Marine Corps – the Indonesians are here this year as are the French and many others that make this truly an international exercise."
"One of the things that makes Pitch Black special is the amount of airspace available – from just south of Batchelor to down past Daly River – it extends from the Stuart Highway out to the coast and out over the ocean up to 50,000 feet, which is unparalleled pretty much anywhere in the world. Considering the number of aircraft we have, that chunk of airspace is vital to us, for conducting as realistic operations as we can for the coalition."
"The other thing is that we appreciate is the support of the local community here – so I would like to hand over to Air Commodore Noddy Sawade who will run through a couple of events."
AC Sawade says " We really enjoy being up here, it's not just the training that we do, but we also get involved with the community. This year as we have done in other Pitch Black's, we are going to do two main events. The first one is next Thursday down at the Mindil Beach markets – from about 5 o'clock to about six-thirty the aircraft that are in the exercise are going to be flying down the beach in close formations – be prepare to see quite a few aircraft over an hour and a half."
"That's the lead in to the second event at the base – the Open Day where we turn all the aircraft around (for display), with a little showground – it's free, and you can get here by bus, plus we have free parking. Come in from 9 Oo'clock in the morning until about 4 o'clock in the afternoon where you can talk to the people who actually fly the aeroplanes, fix the aeroplanes and look after all of the exercise activities. They will be happy to talk to you, and you can come in and get real close to the aeroplanes, take photo's and it's all free to enjoy. They are the two main events to give back to the community something we take from here with all our activities. So we look forward to seeing you there and get on the website at https://www.airforce.gov.au/exercises/pitch-black to find out all about it to enjoy – for the people of Darwin and the Top End – thank you."
AC Kitcher continues explaining the first week is really about familiarisation training which is small packages (of aircraft) going out as different nations to get used to operating together in relatively simple missions. Weeks two and three build gradual and deliberate scenarios – which might be up to 100 aircraft involved in a particular mission. It might be a strike mission to Delamere, it might be a C-27 or C-130 or even C-17 into Delamere to pick up or drop off people. Whist there is a focus on air combat we involve multiple types of aircraft in some of the most challenging missions, some that could require a transport aircraft getting through the airspace into a target in the Delamere or Bradshaw areas."
"For the first time we are opening up Batchelor airfield so will have C-27's operating out of the Batchelor area practicing some humanitarian and disaster relief type activities."
As for noise the Air Commodore discusses the ways they will control and minimise the impact of noise near the airports. "We have day flying only in week one, then afternoon and night flying in weeks two and three and those times are all available on the website. The departure procedure dictates almost 20km each end of the runways – flying up over 1000m before we turn through the departure gates. We come back as quickly and efficiently to put the jets on the ground as quickly as possible, which is the best way we can minimise noise to the communities of Darwin and Katherine. This particular exercise with 4000 people over three for four weeks is going to put an estimated $30 million into the community – which is great."
"As we take off from here I look forward to seeing people at the end of the runways watching what's going on, as that's quite impressive for us – at Bagot Rd off runway 29 or Amy Johnson Ave off runway 11. Thats about all I have at the moment to talk to you about but happy to take some questions"
I ask the Air Commodore how they will be integrating the various participants – will they mix it up in each package or mission? He says " Yes, they have a matrix where they plan to have all the partners fly with each other to gain experience working with different aircraft in different packaged missions. Once completed, the matrix box is ticked off for that combination or specific mission"
He also explains – "We try to get as many partners working with each other as we can, and although we all speak english and all have fighters or other aircraft, we all do it slightly differently. So exercising in as realsistic as passible scenarios that we present in Pitch Black, we can actually learn from each other. We can perform the mission and come back and talk about it and go through the mission in slow time. This means we end up far more effective at working together and achieving the objectives set. "
As for the ageing F/A-18 Hornets – "This is one of the last Pitch Blacks for the Classic Hornets but they will be participating in exercises for a couple of years yet – but Pitch Black 2020 may very well be their last one. The F-35 Joint Strike Fighter (JSF), the first two of those arrive at my base, RAAF Williamtown, in December and may participate in a very small way in Pitch Black 20. By Pitch Black 2020 they will be participating definately."
As the interview wrapped up, a nearby RAAF Hercules, A97-441, was given the thumbs up for start so we moved across the road to watch it depart the hardstand for runway 11 – the typical morning departure direction this time of year in Darwin. The crew taxied past giving the onlookers a wave – probably amused at us standing there with hands shading our eyes as we looked into the morning sun.
Finally we were escorted back to the front gate to hand in passes and thanked the media team and look forward to what they have in store for us in the coming weeks of this exercise. Being the largest exercise to date, I am sure we will not be dissapointed in any way.
Another veteran of the Pitch Black exercises is the USAF B-52H – although we may never see them land this time, they will however begin entering exercise airspace high above the NT but can drop low – often to less than 5,000′ depending on what missions they are tasked with during the exercise.
So if you are in the Top End keep an eye out for the multitude of aircraft that will be in our skies for the next few weeks – and get on down to the Mindil Beach display and the Pitch Black Open day on base…. I have been to a number and always worth attending.
I would like to thank the RAAF PB18 media team for arranging access to the brief and of course Air Commodore's Kitcher and Sawade for their insight as to what we, the public, can expect to see and the free events we can attend during Exercise Pitch Black 2018.
Cheers from Sid in the Top End.
If you cant wait for all the action to start or want a taste of what Pitch Black is all about … check out the ASO coverage from Pitch Black 2016 by clicking the image below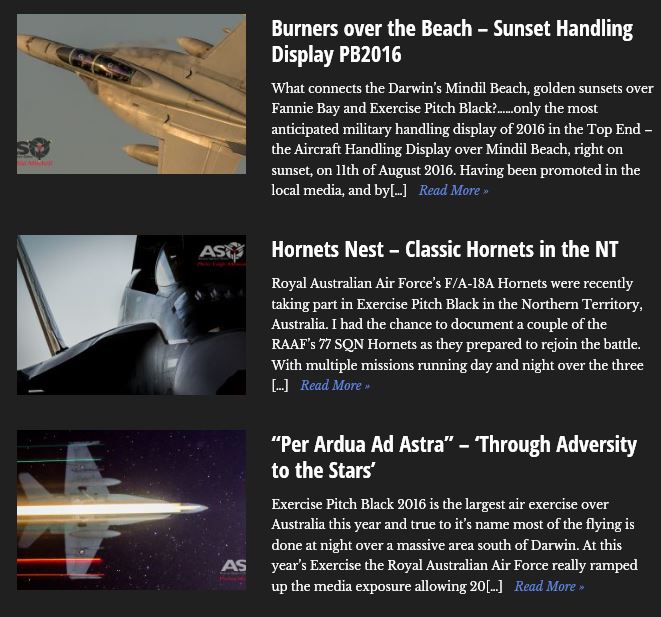 For more information on the public events or the exercise in general check out the RAAF Web site