Located on the Mornington Peninsula in Southern Victoria, Tyabb aerodrome is operated by the Peninsula Aero Club. The Airshow on Sunday 13th March is held every two years. This years event wasn't without dramas with rather strange seasonal weather held a few aircraft back from being able to attend. The low cloud and high humidity didn't stop the large crowd, approximately some 15,000 people from attending and witnessing an airshow where local warbird and vintage aircraft operators were able to display their wonderful planes to the delight of the crowds.
The show had two privately owned fast jets perform at the start of the show, Stephen Gale with his ex Singaporean Air Force SIAI-Macchi S-211, RSAF 381 VH-DZJ jet trainer was an impressive performer. Initially the display was flown with Aero Vodochody L-39C Albatross VH-WFY.
Video by Mark Pourzenic.
The Temora Aviation Museum based in Temora New South Wales was a major contributor to the airshow and brought with them their CAC Boomerang and not one, but two Supermarine Spitfires. This was the first time where both Spitfires flew from their home base to take part in an airshow. Of course the displays by all the TAM aircraft was absolutely stunning. The howl from the Boomerang with the wind passing through the gun ports and the symphony of two Rolls Royce Merlins on the Spitfires is enough to make grown men weep.
VH-HET a Mk.VIII Version of the Spitfire and is painted as the personal mount of Royal Australian Air Force, Wg. Cdr Bobby Gibbes of 80 Wing RAAF, based on Morotai in 1945. The aircraft serial number is A58-758 however it is marked as A58-602.
The second Spitfire is VH-XVI s/n TB863. This Spitfire is a later mark to the one above. It is a Mk.XVI and is a genuine combat veteran. Having accumulated 23 plus hours of under combat conditions. Painted in the original marking as she appeared in the war the aircraft is a fine tribute to the men who went to war in another country and flew for 453 Squadron (RAAF) at RAF Drem in 1942.
Video by Mark Pourzenic.
Australian built 'Panic Fighter' the Commonwealth Aircraft Corporation CAC-12 Boomerang A46-122 is another aircraft flown in its original wartime markings. Suzy-Q as the aircraft was christened was meticulously restored by Matt Denning in Queensland.
Video by Mark Pourzenic.
Locally based operator Judy Pay who runs her business the Old Aeroplane Company from the airfield and has a rather sizeable collection of aircraft is a staunch supporter of the airshow. Many of her aircraft were performers at the show.
Curtiss P-40F Kittyhawk  41-14112 which is an exceedingly rare Merlin engined version of the famous Kittyhawk was flown on several occasions during the day.
Video by Mark Pourzenic.
Doug Hamilton flew the P-40F during the displays. Pilots always enjoy the applause after a display.
Commonwealth Aircraft Corporation CA-18 A68-105 Mustang or VH-JUC is flown with a colour scheme in honour of 3 Squadron when it was operating in Scilly during World War Two.
Video by Mark Pourzenic.
One of several T-6/SNJ's at this years event Judy is the carer of two Harvard/Texans and both were displayed during the event, VH-NZH which isn't actually a SNJ but a ex New Zealand Airforce Harvard as its registration implies. Built as an AT-6C Harvard Mk II for the USAAF as 41-33767, for forwarding to the RAF as EX794. It was, however, shipped to New Zealand in August 1943 and became NZ1051. It served with the RNZAF until 1978.
Another T-6 that participated in the show was VH-TXN is a rather unique example here in Australia as it was built by Noordyn in Canada. It is painted as a RAAF 3 Squadron aircraft AJ845 Owned by John Rayner and is one of the Southern Knights T-6 formation team.
Graham Hosking another local warbird and vintage aircraft operator based at Tyabb had two of his aircraft on display at this years airshow. The star for many was of course the bent winged Chance Vought F4U-5N Corsair, BuNo 123168, VH-III. Flown masterfully by Peter Clements the aircraft puts on a fantastic show where ever it displays.
The Big fighter flown in its original Honduras Air Force markings FAH 603, this aircraft previously served with the US Navy. Now firmly one of the favourites at the airshow the aircraft is one of the biggest and fastest on the Warbird circuit.
A man pleased with his work and so he should be. Peter Clements with a big smile after the display well done to you sir.
Another of Graham's steeds on display was a very rare Ryan ST-A. VH-SQD, sn 193. This beautiful airframe made its public debut after a meticulous restoration at Tyabb. Painted also in a Hondorus Air Force livery, the aircraft has also been fitted with over wing gun pods a feature when used by some air forces. This 1938 built aircraft was one of four Ryan's on display and flown on the day.
The STA was joined by three other unique Ryan produced aircraft which included a STM, PT-22 and the beautiful SCW-145.
Ryan SCW-145 VH-SCW c/n 211 is one of only 6 known to fly in the world and the only example in Australia. This particular example flew with the USAAF on Liaison duties during World War Two as a L 10. Powered by a Warner Super Scarab engine it has a rather unique sound.
VH-AWG is a 1940 built Ryan STM delivered new to the NEIAF, it was also operated by QANTAS briefly. During WWII it was impressed into the RAAF as A50-11 Now part of Graham Hosking's collection.
VH-RPT is a Ryan PT-22 owned by Scott Taberner
Paul Bennet Airshows was a major participant of the show and brought down a fleet of aircraft from their home base of Newcastle in New South Wales. Paul and his team brought down two Wolf Pitts and the Grumman TBM-3 Avenger.
Grumman Avenger TBM-3 Bu. 53857, VH-MML was built in 1943 and saw service with the US.Navy. After her wartime service like many Avengers is found civilian use as a Fire Bomber and saw many years of service in the USA and Canada. Restored back to a stock military condition the aircraft was displayed along side another Navy type in a lovely formation with the Corsair.
Video by Mark Pourzenic.
Paul waves back to the appreciative crowd. Thanks for making the airshow a bit more interesting with your displays Paul.
Paul also wowed the crowd with a single and two ship performance with the Wolf Pitts, fresh from having just competed in the 2016 Victorian Aerobatic Championships where they finished first in Program 1 of the Unlimited and Advanced category.
Video by Mark Pourzenic.
The RAAF Trainer Heritage team had a large presence this year. The team displayed three CAC Winjeels and four CT-4s. The display was flow by SQNLDR Glen Coy was #1 in RAAFM Winjeel, Matt Grigg #2, Darren Craven #3,in the Winjeels and Matt Denning #4 Murray Wallace #5, FLTLT Chris Tulk #6, Matt Henderson #7 and WGCDR Warren Madsen #8 in the CT-4s.
A trainer cue, reminiscent of a scene from RAAF Point Cook FTS days. the team line up for their large formation display.
Matt Grigg flew Winjeel A85-450 in the display.
Darren Craven flew his Winjeel A85-440 in the display.
The RAAF Museum supports the display team with two of their flying exhibits present. Winjeel A85-439 and CT-4 A19-077.
Matt Henderson in his ex ARDU CT-4 VH-MCT.
Matt Denning in his CT-4 VH- displays the original yellow and green livery the CT-4s were delivered to the RAAF in. Thus earning the nickname 'plastic parrot'.
Defence were also a participant at this years show, with both Air Force and Navy represented. With aircraft at both ends of the scale the Navy brought one of their Bell 429 helicopters, N49-047 and the Air Force flew down Boeing C-17A A41-206 from Amberley based 36 Squadron. The C-17 certainly had the largest presence of the show with a low speed pass coming from out over the bay before preforming two more passes and then departing the show.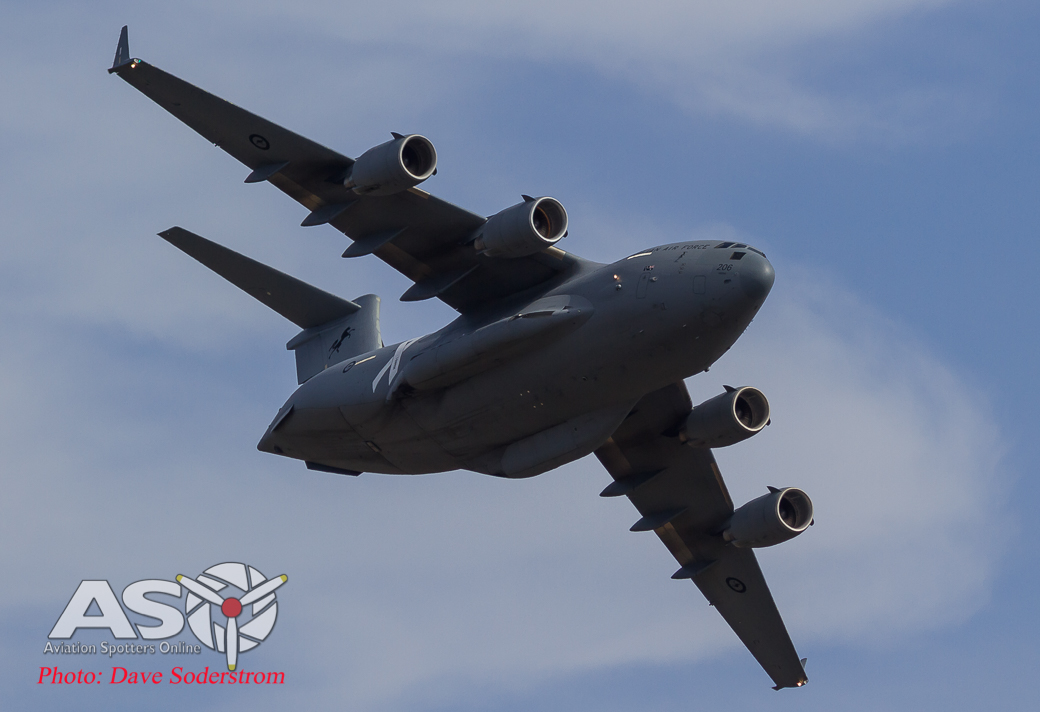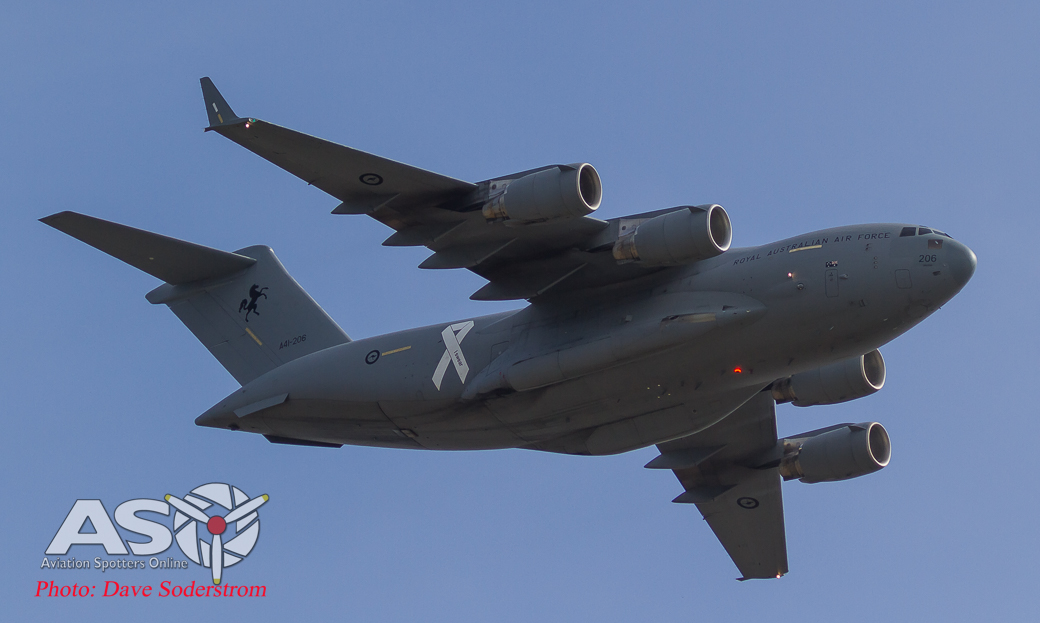 Video by Mark Pourzenic.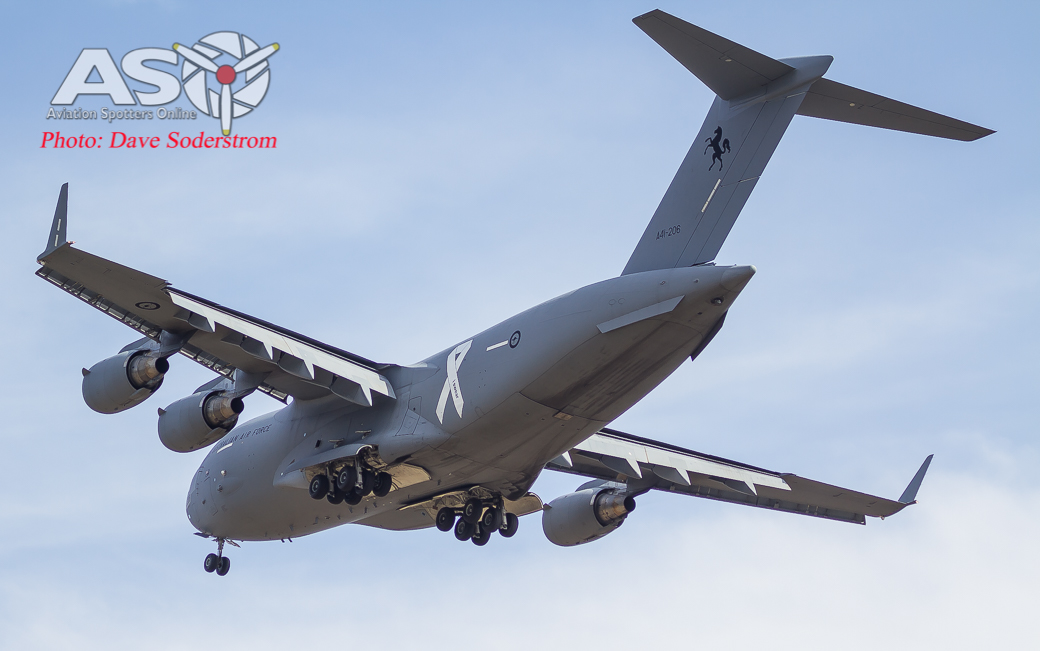 Video by Mark Pourzenic.
You can't have an airshow without at least one Dehavilland Tigermoth. Three were flown on the day. VH-BVB also one of Judy Pays aircraft lifts off for its performance.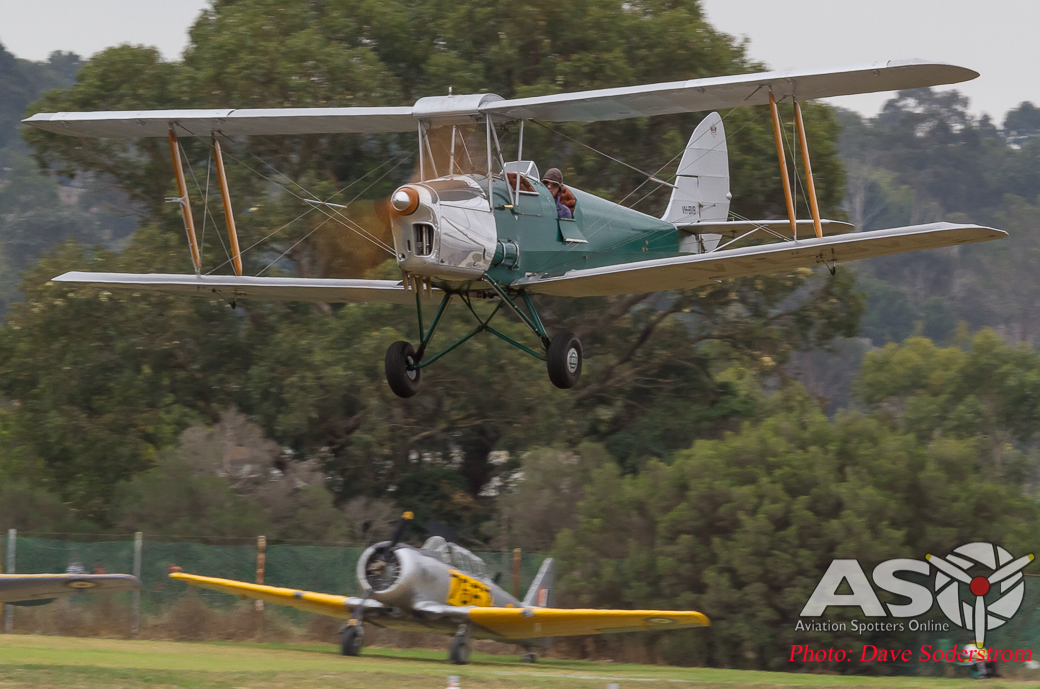 Cessna O-1 Birddogs were represented by Rob Fox in his South Vietnamese Air Force marked O-1 VH-FXY, Rob is here discussing the finer points of the world with fellow Birddog display pilot Michael Dalton.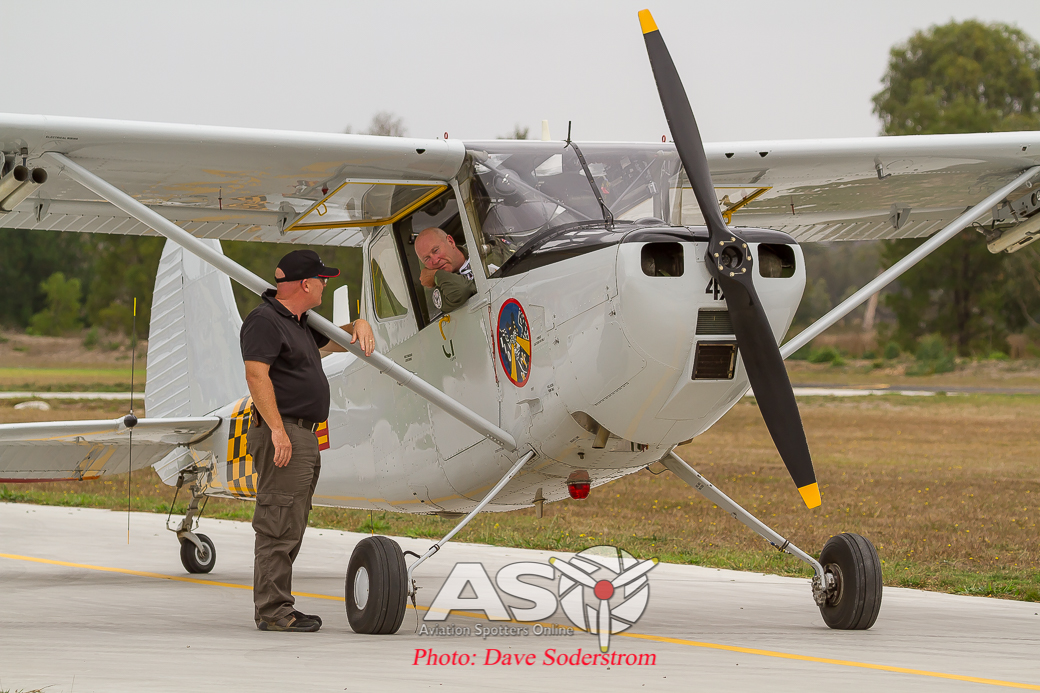 Michael flew Matt Hendersons O-1 VH-FAC during the show.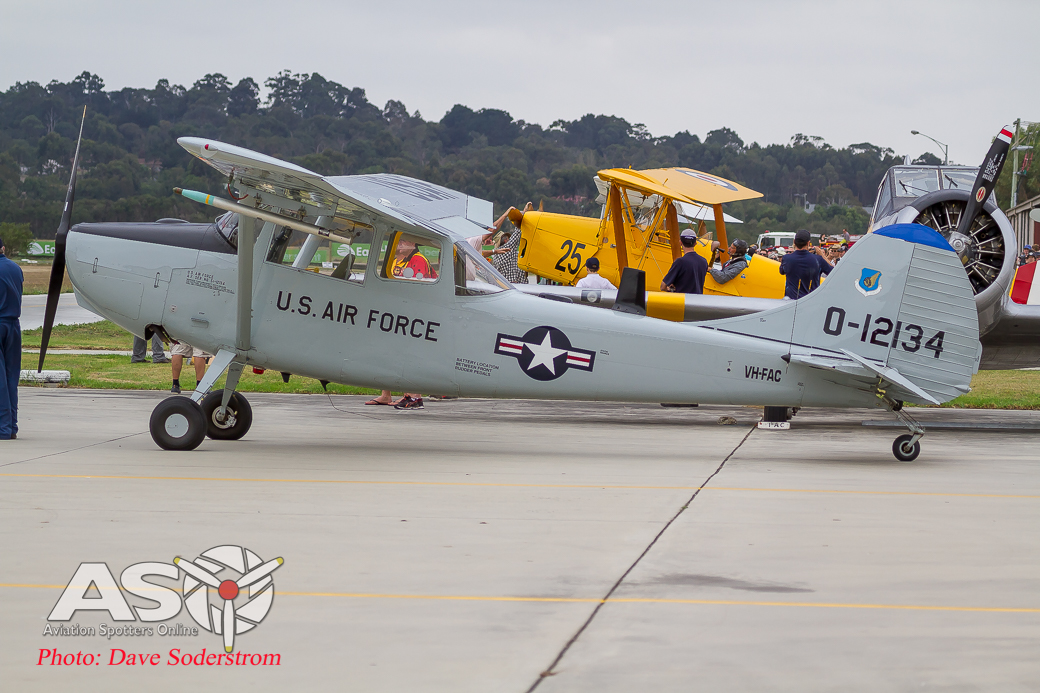 Fellow Vietnam veteran North American T-28D Trojan VH-CIA Flown by Stephen Death comes into land as the Birddogs taxi out for their display.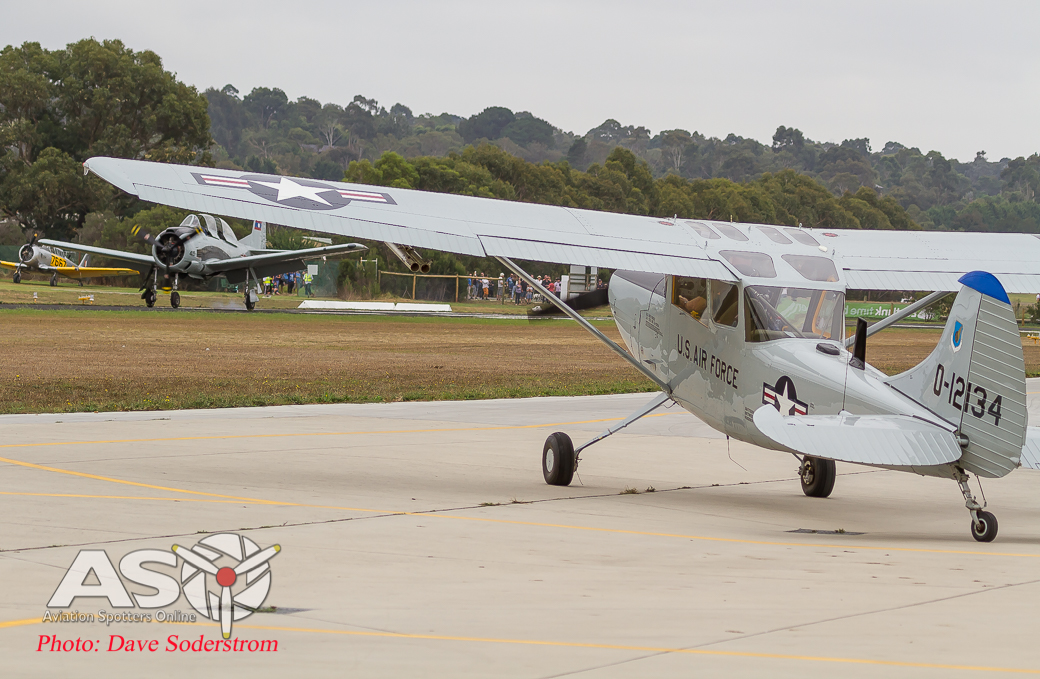 13 time Australian Aerobatic Champion Chris Spirou but on a dramatic demonstration in his Super Stinker which involved flying loops around Beechcraft Bonanza VH-GIP.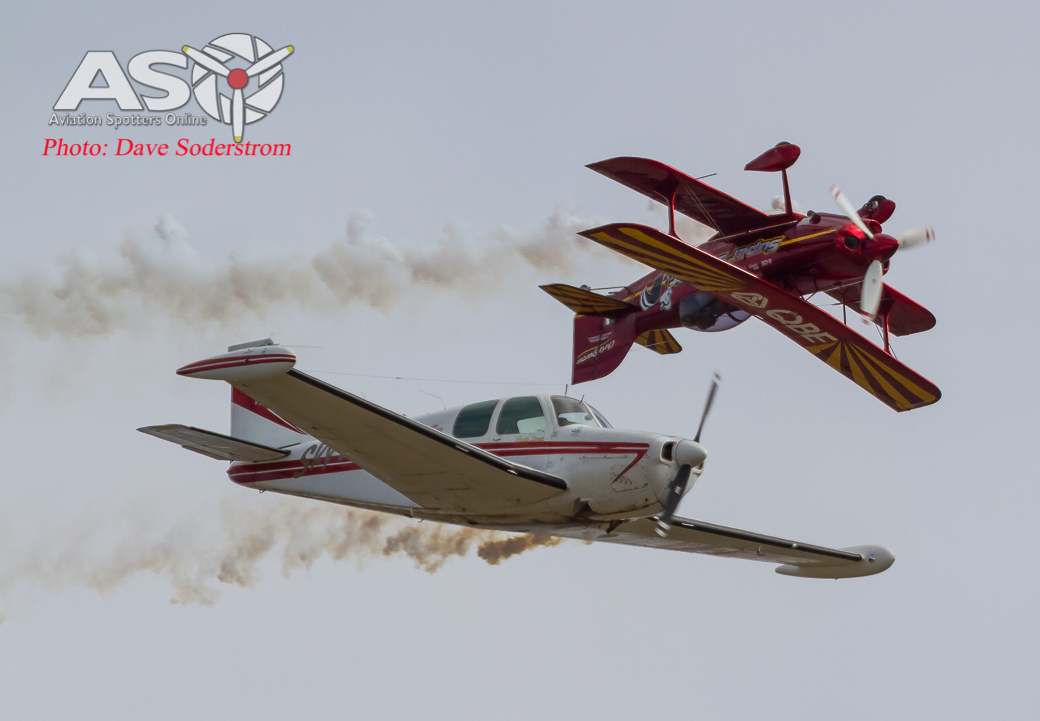 Another CAC aircraft on display was VH-CAC, Wirraway A20-722. Owned by Borg Sorenson. This lovely old ex RAAF trainer always looks a treat when its out and about.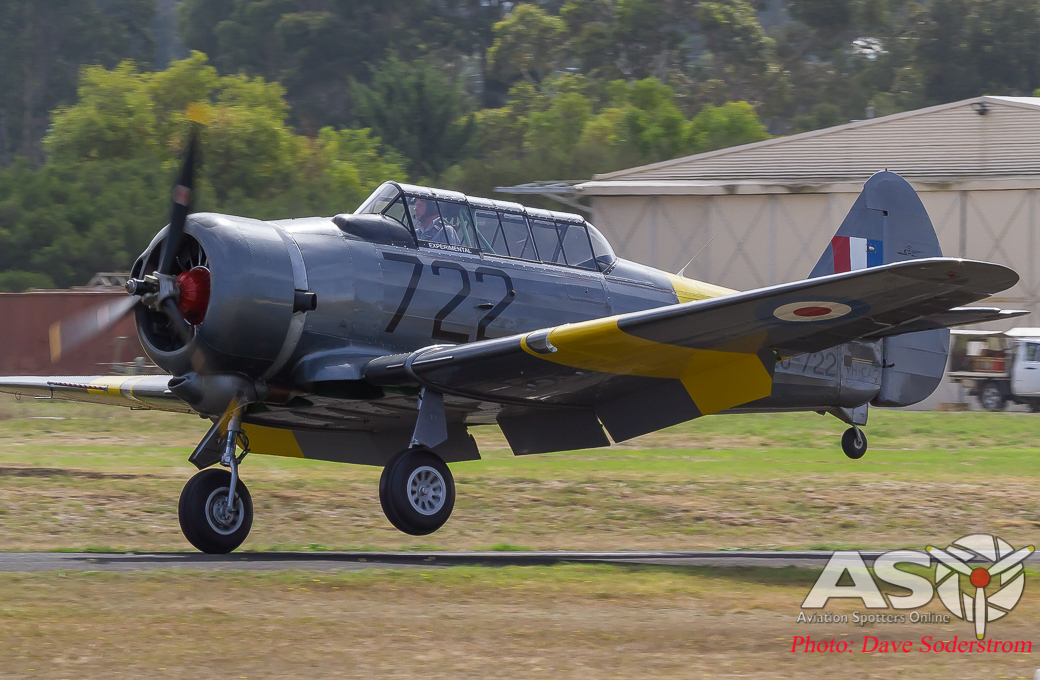 Another rarity in Australia is the Vultee BT-13 Vibrator VH-JKV. This is the only flying example in Australia and was imported into the country only a couple of years ago. Owned by John Kempton and based in Albury it was lovely to see this rare aircraft at the airshow.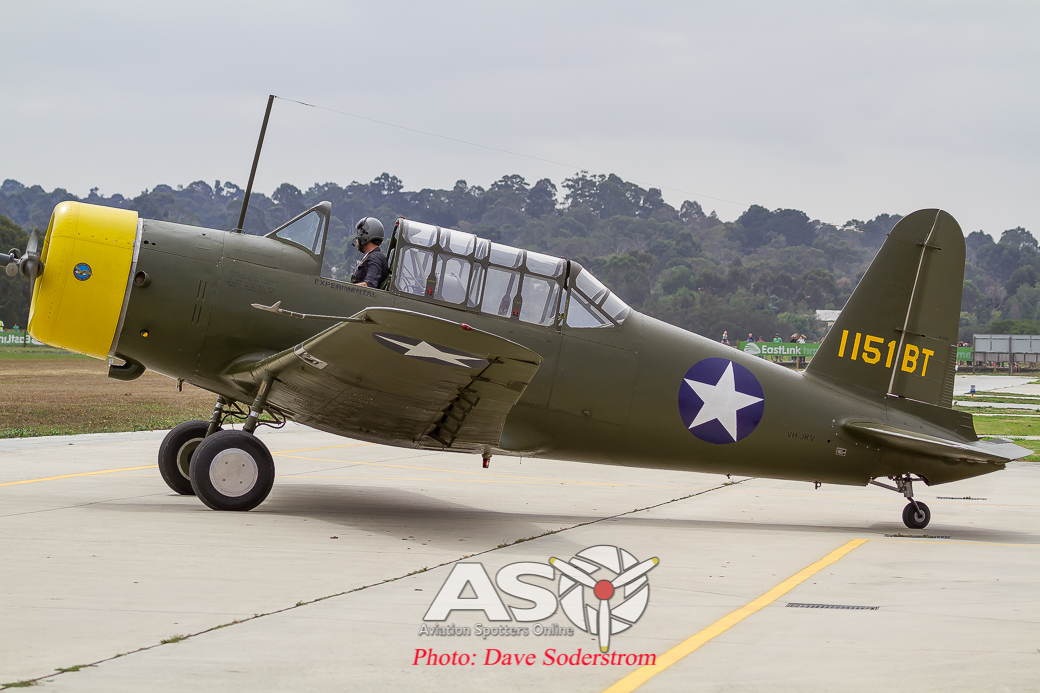 The finale of the airshow was the Balabo sequence where nearly all aircraft on the field were launched in various groups and flown in several passes across the flight line. The sight and sound of so many warbirds was certainly something to behold.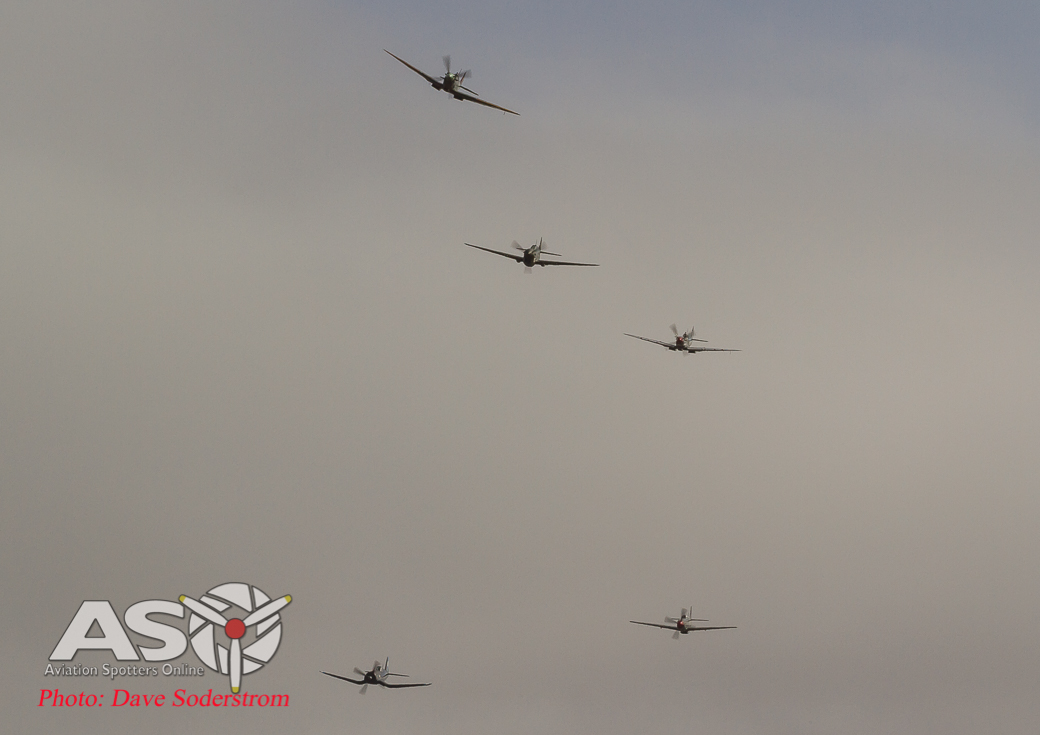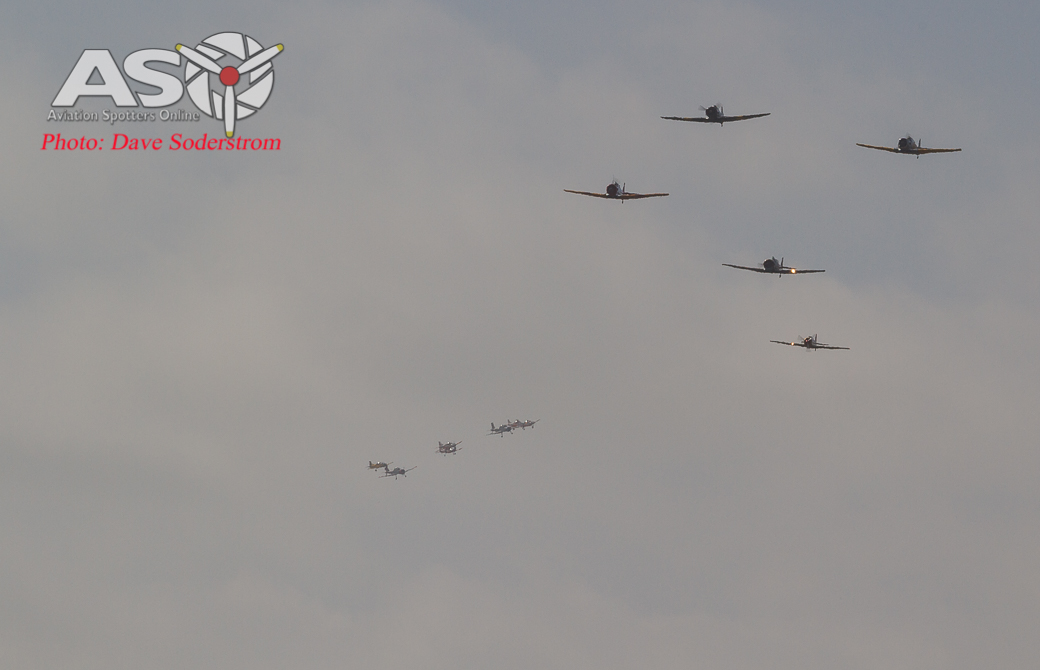 Video by Mark Pourzenic.
http://https://youtu.be/X5KzPhb5u2Q
Video by Mark Pourzenic.
It was a great day and a fantastic opportunity to see (and hear) so many rare and impressive machines in their element. A big thank you to the show organisers and all the pilots, owners and crews who made it all possible.