Sunday the 23rd of October 2016, saw myself leaving my flat in Ascot Vale in the early hours of the morning for the long drive across town towards Western Port Bay, around an hour and a half drive or so heading in a south easterly direction. Heading across town can be difficult on a good day, but being the weekend it wasn't as heavy as usual so my timing was pretty spot on, or so I thought!
I was headed to HMAS Cerberus, a Royal Australian Navy Base that serves as the primary training establishment for RAN personnel, which is located adjacent to Crib Point on Victoria's Mornington Peninsula. With approximately 6000 personnel trained annually, which roughly equates to an average of 600 trainees at any one time, this makes for one busy base. HMAS Cerberus from the outside looking in looks big, and for good reason as the base itself covers 1517 hectares and is 70 kilometers from Melbourne on Hann's Inlet, Western Port Bay. The base was originally purchased in 1911 and called Flinders Naval Depot, and was officially commissioned in 1921.
I'd only heard about the Open Day a few day's earlier from a post on a facebook page, so was keen to head down after having a glance at the program of events that where planned for the day, and to visit this establishment that I've always had an interest in, but never had the chance until now. As expected I did take the wrong turn and ended up on the wrong side of the base trying to gain entry, with the local recruits advising myself and many other's on which road to travel down to enter the grounds. This all seemed fine until every road that led to HMAS Cerberus became one, and that's were the long queue to get in started. Half an hour or so later the long line of vehicles started to slowly move and before long, I had been marshalled to my car park and the adventure began.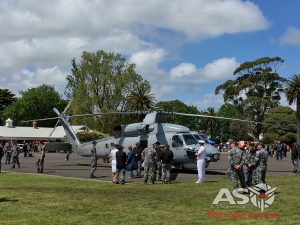 One thing I will mention is how picturesque HMAS Cerberus is, with it's heritage listed buildings and vast landscapes, it truly is a beautiful part of Victoria and it's coastline, and well worth the visit if you have the opportunity to do so. HMAS Cerberus main business is specifically Naval based training, which includes School of Survivability and Ship Safety, that specialises in firefighting, damage control and nuclear biological chemical defence, seamanship and weapons training, also the home of the Recruit School which, for all sailors, their first contact with life in the Navy.
I won't lie to you and say I was only there to witness the going's on of young recruits, and question them on their decision to enter the military..no, I was there for the airshow and military hardware on display. Yes, whenever these Open day's are held, one must make the effort, if possible, to go and be entertained by the Men and Women of the Australian Defence Force that provide our protection, and in turn learn and take in, what it is they actually do, which is very humbling, and very cool having the opportunity to do so as a member of the Australian public.
HMAS Cerberus has for the past decade or so become a tri-service training establishment that caters for the Army and Air Force also. With a wide range of training on hand, recruits can find themselves upon graduation from recruit school promoted to Seaman Star and undertake training at their respective category school.
Recruits will, with their respective future careers find themselves being schooled at the many faculty's on base, such as the School of Ships Safety and Survivability, Engineering Faculty, Defence Force School of Signals, Supply and Health Faculty, and the School of Music. One thing I did notice whilst walking around this vast Naval Base was how clean and well presented it was, and although it was the weekend, the members of the RAN and ADF alike, where more than happy to have the public inspect their premises, which made the whole experience that much more enjoyable.

Making a bee line for the parade ground upon seeing the Sikorksy S70B-2 Seahawk, and MRH-90 Taipan Helicopters on static display, I was very excited and proceeded to get my video camera out and start filming. Although there were hundreds of people about, it was very relaxed, and crews from both squadron's where on hand to answer any questions about their Helicopters. Before long, the soothing sound of a radial engine was in the air with the presence of Judy Pay's T-28 Trojan putting on a display for the gathered crowd.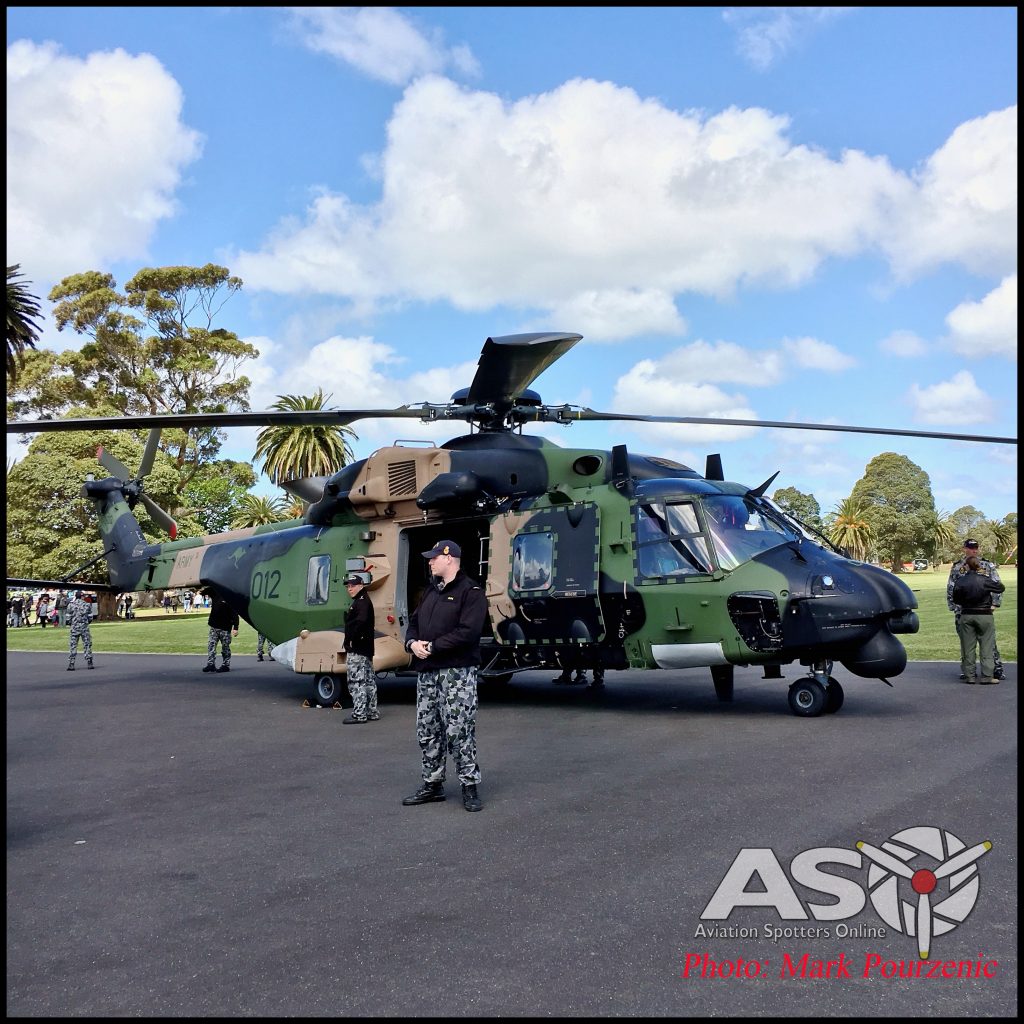 After having a stroll around the base that was accessible to the public, and viewing some of the many ground displays it was great to see so many people had taken the time to visit the base, with many gathering around the local community groups stands that where selling food and refreshments, and was pleasantly surprised to see an open bar which I stopped at quickly to replace lost fluids.
Things where getting busy around the Sikorsky S70B-2 Seahawk from 816 Squadron, with the ground crew from HMAS Albatross giving the aircraft a pre- flight inspection prior to it's fast roping display, which I didn't capture properly due to my location, although managed to be in the right spot for its wet winching demonstration which you'll see in the video below.
The NHIndustries MRH-90 Taipan from 808 Squadron also flew, and was open for inspection for the many curious onlookers that had made their way to view this newest addition to the fleet during the course of the day.
Amongst the many attractions that where taking place during the day, the Federation Guard made up of RAAF, RAN and Army personnel put on a fantastic display of precision marching that drew large crowds when they performed. As HMAS Cerberus is situated close to Phillip Island, it was a great thrill to have an RAAF F/A-18 Hornet perform a flypast on its way to the MotoGP that was being held over the same weekend.
In summary I would highly recommend visiting HMAS Cerberus if the chance presents itself, as there is much to see and do. The following video is a compilation of the many highlights during the open day.