Returning to Australia again for fire season 20/21 was the blue, orange, and white Sikorsky S-61N C-FIZA. Returning to Australian skies wearing it's Helitak 369 call sign (this is an Australian bushfire call sign) from Indonesia where the machine worked during the local fire season on behalf of the local government the, Indonesian National Board for Disaster Management or (Badan Nasional Penanggulangan Bencana).
Now in their second season in Australia working in partnership with Paton Air Helicopters the team is here to bolster the resources of the State of Victoria.
This season the team is on a called when-needed basis. This means that the company is only paid for hours spent in the air, as opposed to many other companies who are on a full paid contract. The partnership is hopeful that in the next round of contracts to be awarded this next season they will secure a contract. This will secure a steady stream of resources being deployed and much-needed financial security to the partnership. A notable feat for the Helicarrier team last season was that the S-61 while on a call-when-needed basis in Victoria for approximately 70 days not a minute of that was lost due to maintenance and crewing issues. This static alone shows that the team involved with Helicarrier is serious about the level of service they bring to the firefront. This proves the strong presence of a Type 1 machine is on the fire ground.
Company Background
Founded in 2010 by Frederic Carrier and business partner Richard Lafrance the two established Helicarrier inc at their Quebec, Canada base. The small company quickly developed into an organisation with a fantastic reputation of professionalism with its first Eurocopter AS350 B3. Since then Hélicarrier has added further aircraft to its fleet. This includes four B3 Squirrels, one example of the Robinson R44, two Airbus Super Pumas, and two Sikorsky S61Ns.
Last year was the first year for HeliCarrier and Paton Air in Maindample to pair up and form their Australian division. During the last season one S-61, Helitack 369 was deployed to Victoria. This year 369 is back and should the need arise a Super Puma that is on the company's Australian Operating certificate and is ready to deploy for the 2020-2021 season. This machine C-FPUK joined the company fleet in 2019.
Sikorsky S-61 History
The Sikorsky S-61 version is the civil variant of the successful Sikorsky SH-3 Sea King helicopter.
On the 7th of August 1962, the S-61N made its first flight. This version is optimized for overwater operations, particularly oil rig support, by retaining the SH-3's Sea Kings version's floats. Most civilian operated S-61s have been updated to Mk II standard with improvements including the more powerful CT58-140 engines giving better hot and high performance, vibration damping, and other refinements. Some 119 airframes were built over six different versions. HeliCarrier today operates two examples of the Sikorsky S-61, with C-FIZA and N448JS being the second. Both have had interesting lives with previous owners.
Helicarrier S-61 Fleet
C-FIZA was built in 1972 and was soon operating for Air Greenland. Other operators have included, Trump Airlines, VIH Helicopters, Cougar Helicopters, HRT Participações em Petróleo SA, before joining the Helicarrier fleet in 2015. A comprehensive overhaul was required for the airframe, this included removing the VIP interior.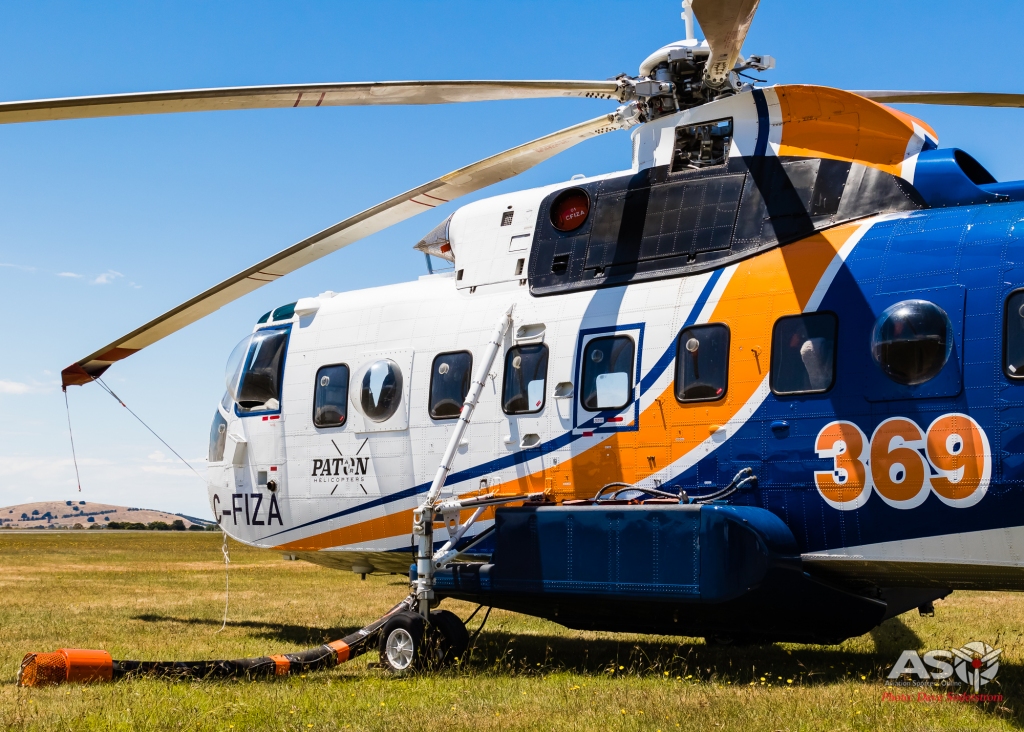 N448JS built-in 1968 was originally delivered new to New York Airways, flying in Pan Am livery. This lasted until 1977. It was soon imported into Canada and took up the registration C-GJDR with Okanagan Helicopters. Other operators have included Canadian Helicopters, Coulson Aviation, Carson Helicopters before it was purchased by Helicarrier in 2019.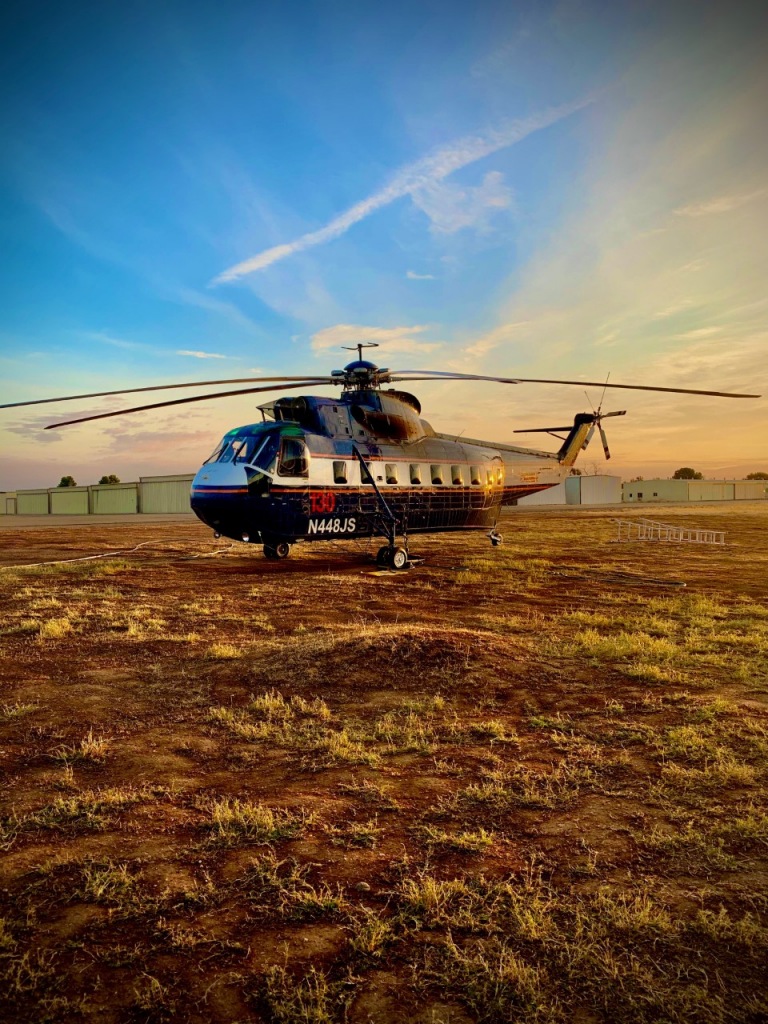 An overview of the type is as follows:
Helicarrier has equipped them with the Carson Composite Main Rotor Blades allowing the aircraft to lift 1,000 lbs more than the original blades fitted to the aircraft.

This configuration has also increased the useful load capacity to 8,500 lbs for internal and up to 10,000 lbs for external.

Can be configured with either a long line 3,400-litre Power-Fill Gated Bucket or a 4,000-litre Quick-Fill Belly tank which can be filled within 45 seconds on an intake fill.
4 hours endurance with an 800 Kilometer Maximum Fuel range capability.

Power is generated by two General Electric CT58 turbines. Producing some 1400 horsepower.

A cruise speed of 122 knots without the belly tank, and 110 with it fitted.
Operated in one

pilot plus one copilot, they can also carry 19 passengers or

10,000 lbs of freight.
Paton Air
The company was originally founded as a fixed-wing operation servicing the high country of Victoria and southern New South Wales. Today Paton Air operates from its Maindample base some 15km's North West of Mansfield in Victoria and began operations as a Helicopter company in 2003. Today the fleet comprises five aircraft with the Airbus AS350 Squirrel, and Bell B206-L3 Longranger forming the backbone of the company. Operations include aerial application, utility, aerial work, and of course fire management.
Integrating Canadian and Australian companies
Aviation Spotters Online spent some time with Aaron Lighter the Chief Pilot of Helicarrier USA in a COVID-safe environment. Aaron is no stranger to Australia. He has been coming here for the bush fire season for the past five years. The company has trained some Australian pilots in the operations of the S-61 with a future plan to see Paton Air take over operations of the S-61 in Australia with a view of having the airframe permanently in the country.
This will include registering the S-61 on the Australian VH register. Paton Air and Hellicarrier are gearing up for a long-term relationship which will see both companies growing their respective footprints in fire aviation within Australia.
Aviation Spotters Online wishes to thank Aaron and his crew and Paton Air for their time in the preparation of this article. We wish them all the best in their Australian venture and look forward to the next time we catch up.
Dave 'Soda' Soderstrom