Over the last few weeks the tempo has ramped up to the final days of Exercise Diamond Storm 2017 which has been held in the Northern Territory. During just one week ASO was able to attend photographic and video opportunities arranged by RAAF Public Affairs Office to capture various aspects of the exercise operations based at both RAAF Darwin and RAAF Tindal. Additionally we also were able to capture some rarely seen action within the actual exercise area, from ground level to 20,000ft.
The initial influx of foreign aircraft began during the last week of May 2017 with USAF KC-10A Extenders from 60th/349th Air Mobility Wing – arriving with the USMC F/A-18D Hornets from VMFA-242 'DT' "Bats" MCAS Iwakuni, Japan. This is the first time the 'Bats" have deployed to Darwin. Darwin is familiar with the KC-10A as they call in several times a year.
Deployment support for them were USAF C-17 from 204th Airlift Sqn 15/154th Wing and an Omni Air International 767-300 in from MCAS Iwakuni. Omni Air International are a familiar sight in Darwin, having brought many Marines to Darwin for the USMC Rotational Force-2017. Darwin will continue to see these come and go as they are the mainstay of many US Forces deployments to Australia.
The first week of June saw the arrival of the Royal Australian Air Force into Darwin – 2OCU F/A-18A/B 'Classic' Hornets from RAAF Base Williamtown New South Wales, and 1Sqn with their F/A-18F Super Hornets from RAAF Base Amberley in Queensland.
Support for the deployment was provided by 33 Sqn KC-30A Multi Role Tanker Transport (MRTT), C-17 Globemaster III from 36 Sqn and C-130J Hercules from 37Sqn bringing the last of personnel and equipment from RAAF Base Williamtown.
Additional participants such at the RAAF 2 Sqn E-7A AEW&C Wedgetail and 5 Flight Heron Unmanned Aerial Vehicle, plus 32Sqn Beechcraft King Air 350 and 10Sqn AP-3C Orion aircraft have been operating in northern skies during the exercise. Flying in the background and not seen by the public as often as other aircraft – the play an critical role in gathering and communication of real time situational information.
Continuing the Jet Air Support contract, non-military services were provided by four Learjet 35A/36A from Air Affairs in Nowra, NSW. The Learjets flew Tactical Missions in both adversary and counter offensive roles. It was great to see them back again in Darwin
The view from most Air Traffic Control towers is pretty spectacular for the general public, and Darwin Tower is no different. The Tower and surrounding airspace is controlled by the personnel from RAAF 452 Sqn – both civilian and military traffic. 452Sqn work hand in hand with the Exercise Airspace Controllers making the transition to and from the battle space as efficient as possible.
ASO was fortunate to spend the last daylight hour of the day on the mesh platform surrounding the Control Room. The platform affords a view of the runways, taxiways, operations facilities and beyond – right to the Darwin City skyline and Arafura Sea. The first wave out of the OLA's were the Classic Hornets.
The launches went on until well after sunset – both RAAF Super Hornets and USMC Classic D models.
Early in the week ASO also visited RAAF Base Tindal, a leisurely 330km south of Darwin. Once on base having passed through security, we were escorted to the the grassed area next to taxiway Romeo. We could hear them idling in the OLA's and it wasn't long before the engine pitch changed and they left the OLA's. Emerging from the scrub and taxiing out of the heat haze, they all passed right in front of where we were standing meters from the taxiway.
A quick trip up to near the 5000′ marker and we were able to capture the waves of Hornets lining up on Runway 14, then rapidly tacking off to the south-east. Leaving between the waves of F/A-18's a lonely 32Sqn King Air 350 took off flying north towards Darwin. Even as we were getting back into the ute we could still hear them climbing away into the distance. It's a sound most aviation photographers never get tired of hearing.
Next on the list was a stop and a photo session in an OLA where A21-17 greeted us. These days it is not that unusual to see multiple tail identifications on one RAAF Base as squadrons freely swap aircraft between themselves to meet operational requirements, and in this case A21-17 was wearing the 3 Sqn livery.
Having OLA 8 to ourselves we managed some walk-around photography and chatted casually with the two 75Sqn RAAF Techo's manning the OLA. We climbed into the ute just as some of the previously launched Hornets were returning to base.
It was back to the Flight Line office to sign out and admire some of the squadron paraphernalia in trophy cases and up on the walls. This year is the 75th Anniversary of 75 Squadron and it was pleasing to see the entrance to the ops area displaying a welcome sign celebrating this event. The squadron has come a long way from the 25 P-40 Kittyhawks used to form up the squadron in March 1942. It was a little amusing that not only out Hornet, but the memorial Mirage tail on display was also 17 (A3-17)
One of the natural features of the Top End this time of year is the fantastic sunsets Darwin experiences. RAAF Public Affairs Office out-did themselves this year by arranging for a strip side mass launch photographic opportunity at RAAF Base Darwin.
Split into two groups we were provided different perspectives of Classic, Super and Learjet departures, with a USMC KC-130J Hercules thrown in for something different. The first group positioned themselves at the end of the runway – in this position it was perfect for using the sun, which was close to the horizon providing a brilliant light for silhouetting aircraft and their occupants.
Once lined up on Runway 29 it wasn't long before the throttles were pushed to the max delivering some great afterburners and heat plumes.
The second group was positioned at the 7000′ marker near the lift off point, but managed to catch a little taxiway action as well.
A short lull between F/A-18 waves and a USMC KC-130J managed to depart from midfield.
The last rays of sunlight seemed to fade so quickly as we captured our final pics before nightfall before mustering back at the old HQ building and departed the base. There was some really amazing light to backdrop the AWIC aircraft heading out for night operations.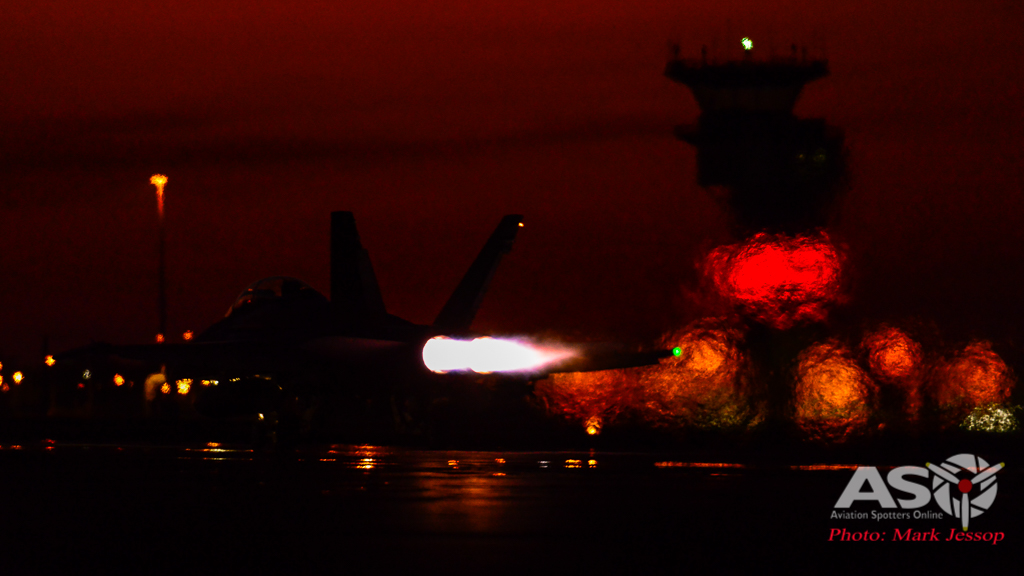 On Thursday ASO's two Marks departed Darwin for a 10 hour round trip to a location in Bradshaw Field Training Area. The Bradshaw Field Training Area is located over an area of approximately 900,000 hectares, 150 kilometers west of Katherine and 270 kilometers south of Darwin. It hosts military activities by both the Australian Army and the Australia-US Joint Combined Training Center and in this year is a battle space for Exercise Diamond Storm.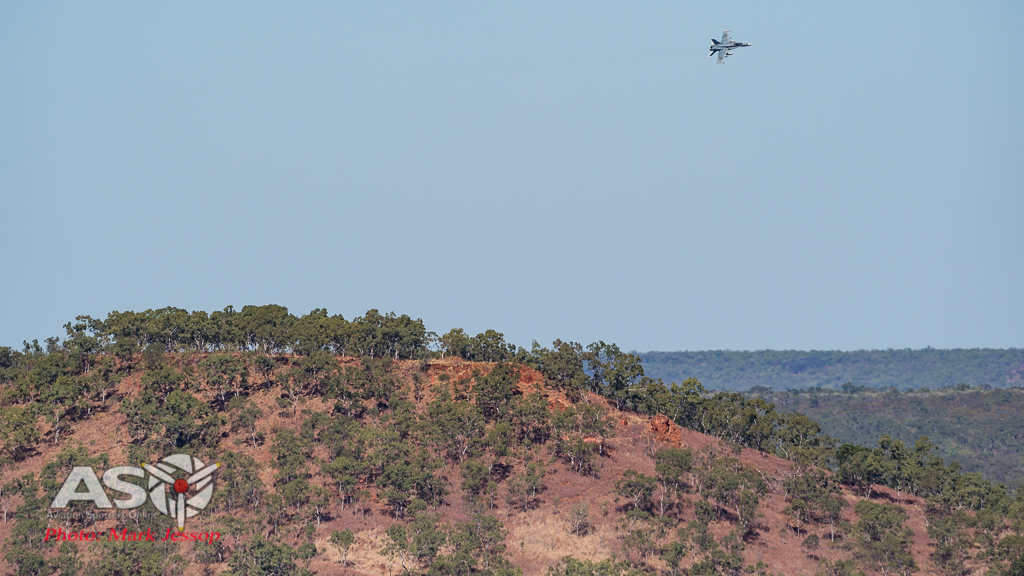 Finally, positioned at a vantage point, we waited for the first pass by low level traffic. We didn't have to wait long before the sound of approaching low level jets grabbed our attention. Looking horizontally and sometimes downwards on passing fast jet aircraft back-dropped by the ancient Northern Territory landscape, is definitely a unique experience.
While photo stills were being captured, video footage was being committed to memory card as the jets roared past. But that wasn't all, shortly the sound of 4 Allison turboprops filled the air. A 37Sqn C-130J Hercules appeared at low level and repeatedly flew past our position banking as it passed by. Amazing indeed, in a bush setting quite far from the nearest town.
Repeated passes by A97-465 offered some spectacular angles of a C-130J at low level – each pass different to the last.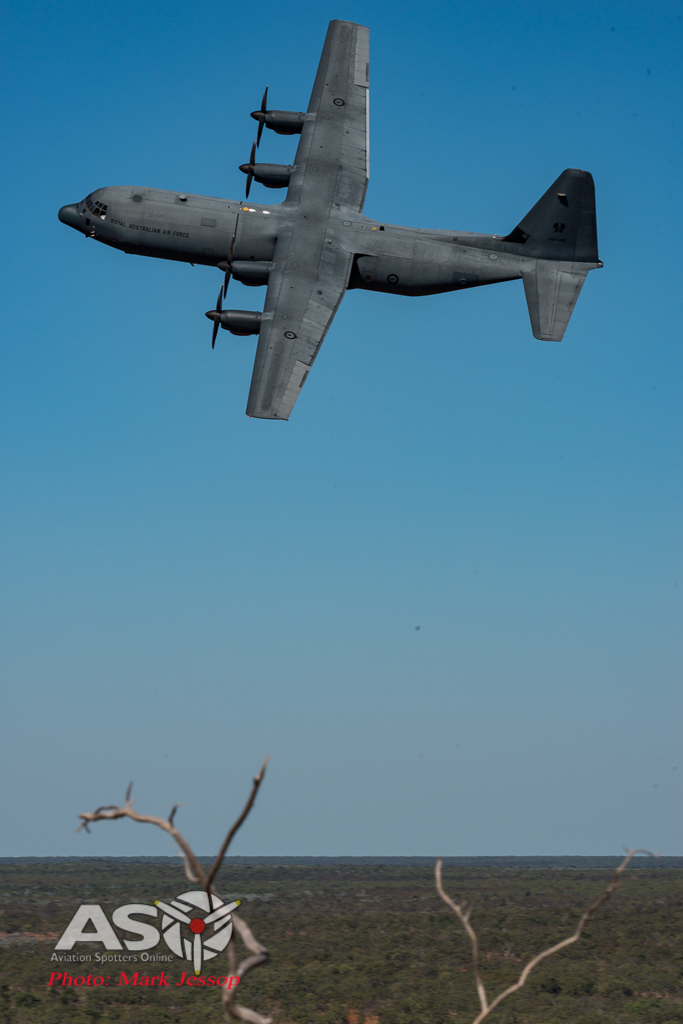 While some members of ASO were out bush on Thursday, the RAAF PR team arranges for a full day of visits to operational locations in RAAF Base Darwin. The first was a photo opportunity at an OLA with two F/A-18's parked within, A21-39 a single and A21-102 a dual seat version.
From the OLA, we were driven to the Military Hard Stand where a RAAF KC-30A Multi Role Tanker Transport (MRTT) awaited us on the apron. Essentially a modified Airbus A330, the KC-30/A is a veteran of RAAF overseas deployments and is often in high demand. The crews and aircraft are well regarded by coalition forces for their versatile boom and drogue refueling capability, and have topped up many different types of aircraft during operations.
KC-30/A pilot FlLt Nic escorted us a round the outside of the aircraft and then up to the forward crew area where he spent some time explaining the intricacies of the boom/drogue operator,s position. He operated the camera joystick to demonstrate the field of view the operator has, explaining that the screens provide not only low light night capability, but also 3D to provide depth of perception when using the boom.
One interesting point is that the MRTT will carry and use the same specific fuel type required by the 'receivers'. This is due to the fact that as it draws fuel for its own engines and the air to air tanking system from the standard Airbus fuel tanks – no additional fuel capacity is fitted.
The third event organized was a trip to the Darwin Air Traffic Control Tower on the opposite side of the base. Meeting at the base, we signed in and ascended to the top level by elevator. Again a brilliant view across the base and beyond as Lears and 1 Sqn Super Hornets roared off into the hazy afternoon.
With some aircraft out flying already, maintenance crews take the opportunity to tow aircraft between OLAs, sometimes for maintenance, engine runs or arming.
To end the day off , 1 Sqn had prepared a F/A-18F Super Hornet to be available for us to photograph. Due to the sensitive nature of some specific aircraft systems and hardware we were only permitted to take external photographs. A44-214 was parked at the end of the line next to a USMC KC-130J.
Air Force Security (AFSEC) teams were observing us and at one point came over to check that we were in possession of the correct permit documentation to take photo's – ofn course we were but it was good to see them applying the rules.
ASO were part of the small contingent of media who were able to experience an air to air refueling flight in one of the RAAF's KC-30/A MRTT tankers, which was scheduled to top up aircraft involved in the AWIC exercise. Leaving mid morning, the KC-30, A39-004 initially climbed and held station before moving into the assigned flight level block for refueling operations.
Once established in the pattern, several flights of Hornets moved into proximity then lined up ready to tank. Tanking two at a time, one each from the reel hose and drogue/basket pod mounted on each wing, they maintained station and provided the perfect opportunity to take both still and video photography.
With each pair transferring the required amount they disengaged the basket and moved away to allow the next pair in to top up. During the sequences a Super Hornet from 1 Sqn took also slipped in to take on some fuel.
The final aircraft performed a few practice approaches for some of the pilots to hone their skills, and so by the time all had broken formation with the MRTT, a total of approximately 80 tonnes of Avtur had been transferred to the fighters.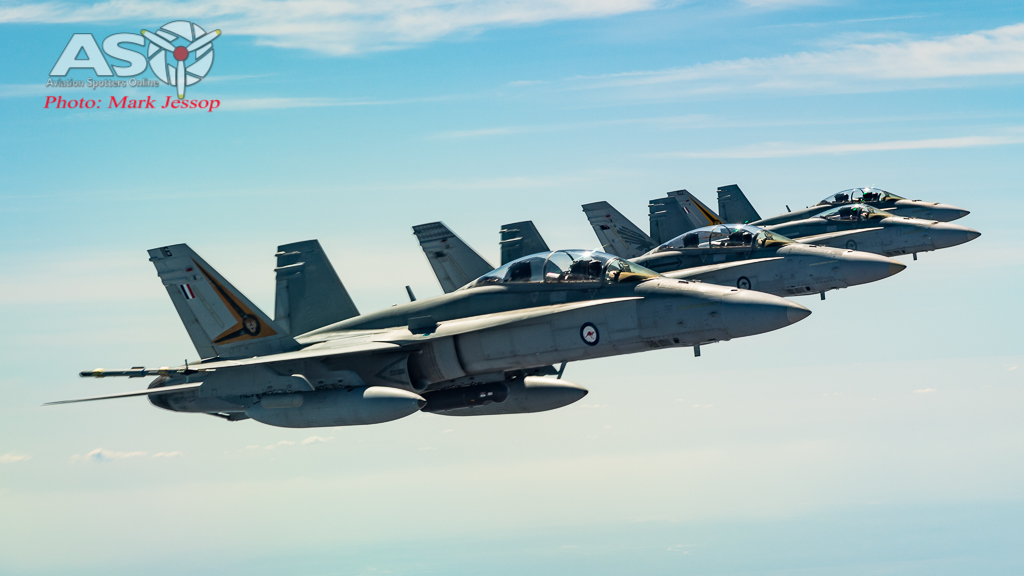 During the transfer ex F/A-18A Hornet Solo Display Pilot FLTLT Matt "Traylz" Trayling was on on board as the knowledge base for any questions being asked along with the Commanding Officer for 28Squadron – just keeping an eye on proceedings.
Come for a ride on board with the Royal Australian Air Force from taking off to refueling with the KC-30A.
In the final week of the exercise I was afforded a rare chance to ride with the crew of an Air Affairs Learjet during a Tactical Mission in the Bradshaw exercise area. We were a 'Red" team element and maneuvered in two separate engagement scenarios. Something that I won't forget for some time to come. For more on this pax ride and some air to air pictures between two Learjets, please click the following link Air to Air Learjet flight
To complete the AWIC training phase of Exercise Diamond Storm ASO was on hand in several locations to catch the now famous "Dawn Strike", a mass flyover as the sun broke over RAAF Base Williamtown on Friday morning.
For those in attendance it is one of the premier low level flyovers performed by the RAAF. This isn't actually a public display, but the final part of offensive v.s counter-offensive aircraft mixing it up after overnighting at RAAF Amberley, and before the AWIC detachment aircraft touchdown at home base. For a more detailed look at some fantastic early morning light on Hornets, Hawks, Wedgetail and Hercules aircraft, click HERE
Again RAAF Bases Darwin and Tindal have been able to host another military exercise that brings many photographic opportunities to us at Aviation Spotters Online. We are always in appreciation of the efforts that the Royal Australian Air Force Public Affairs Office goes into allowing the media to attend special events. It allows us to share an insight into various aspects of exercise operations that the general public rarely gets to see.
Special Thanks to WgCdr Bruce Chalmers and his team, FlLt Nick, FlOff, Dea, Tracey and Stephanie in Darwin, FLt XXX and Sgt Andrew down in RAAF Tindal, plus 452Sqn team at ATC Darwin Tower. Thanks must also go to Fllt Nic and 'Traylz" in respect to the Air to Air flight…. Always a highlight of any media experience, plus to Adam and Geoff from Air Affairs for the opportunity to fly with them on one of their Learjets.
Thanks also goes to the Crews, Techs and Base personnel that escorted us and answered our questions when we paid them visits at OLA's, Hardstands, Darwin runway and aircraft.
Looking forward to next time, as always.
Cheers….Mark,Sid and Mark
ASO photographer/videographer – NSW/NT/VIC
We use Nikon DSLR cameras, Nikkor VR lenses and Canon Video equipment.