When was the last time you saw, not just one, but two Caribou in formation and operating from a grass strip in Australia?

Luskintyre, in the Hunter Valley,  west of Newcastle and just a couple of hours up the freeway from Sydney, is an idyllic place. A small grass airstrip, set in the rural farmland around Maitland and arguably, the "home" of the Tigermoth in Australia today with a major restoration/rebuild facility Luskintyre Aircraft Restoration on site and around 15 operational machines based there along with other vintage and warbird types.
The members have built a marvellous, rustic clubhouse where, once a month, they host a barbecue for visitors and you can sit and watch some of the Tigermoths and other types, puttering around on a pleasant afternoon's aviation. Fly-in visitors are welcome as well with everything from gyrocopters, ultralights, home builts, Stinsons, Austers, Cubs and other light aircraft all either based there or frequent visitors. It's not uncommon to see some much more powerful machines coming and going as well, ranging from Yak-52s, Stearmans and Winjeels up to a Wirraway, Trojan and even a huge Grumman Avenger.
The Wirraway, Trojan and Avenger are all part of  airshow pilot, Paul Bennet's stable based just a few minutes away at Maitland. Paul often stops by and visitors are occasionally treated to high performance aerobatic displays from Paul and his team in their family of Pitts Special bi-planes. This includes Paul's amazing Wolf Pitts Pro, the ultimate example of a Pitts and one of only two (soon to be three) in the world. As you can imagine, it's a great place to hang out and take photos of aeroplanes too. 😉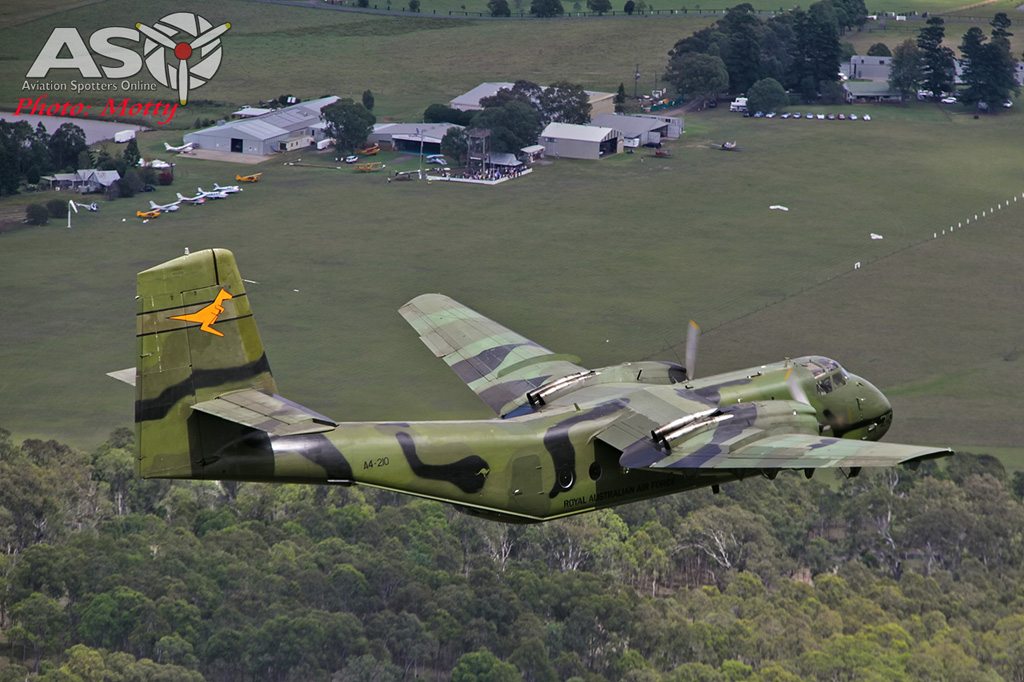 As if all of this wasn't already enough to make Luskintyre a wonderful place to relax and enjoy aviation at it's best, a few months ago, word began to spread of a possible event which would be unlike any seen at the airfield before. The Historic Aircraft Restoration Society (HARS), based at Albion Park, south of Sydney, might bring one of their de Havilland Caribou up for a visit! Quite exciting news for a small country strip.
HARS is a not-for-profit organisation which was formed in 1979 by a group of aviation enthusiasts interested in the preservation of Australian aviation history and their aim is; "To recover, and where possible, restore to flying condition, aircraft or types of aircraft that have played a significant part in Australian Aviation History both in the Civil and Military arenas."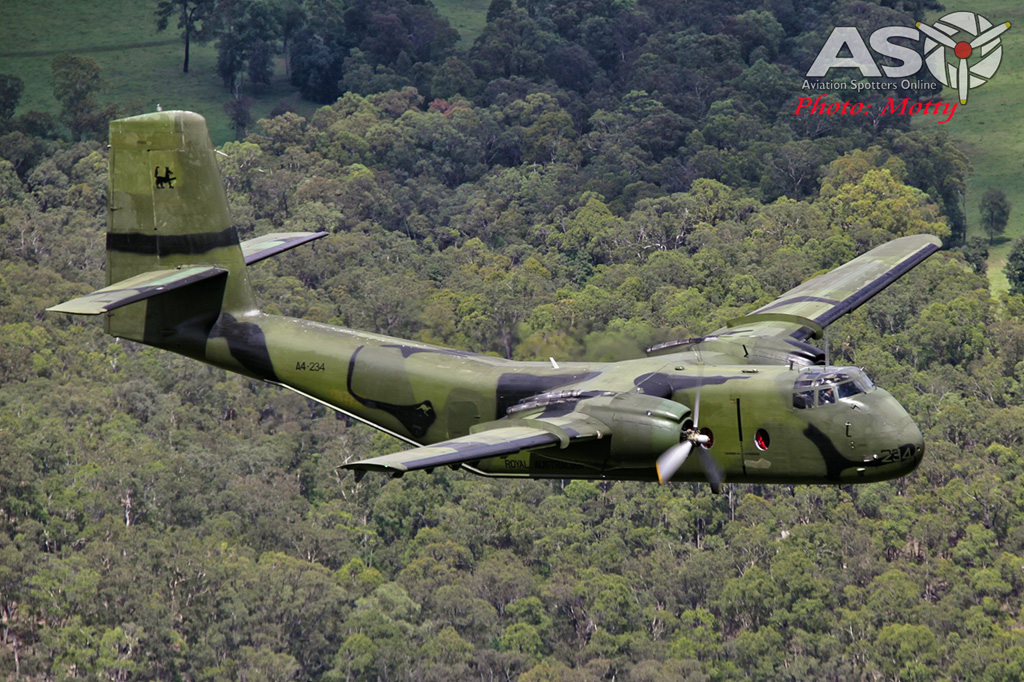 HARS is widely known in Australia for their amazing efforts in restoring and preserving some truly unique types and operate an impressive fleet of airworthy historic civillian and millitary types which include a Tigermoth, de Havilland DHA-3 Drover, Cessna 310B, CAC Winjeel, Harvard, Douglass C-47 Dakotas, P2V-7 Neptunes, PBY-6A Catalina, Lockheed Super Constellation and, of course, a pair of DHC-4 Caribou, along with some equally impressive static exhibits such as an F-111C, Mirage IIIO and an ex-Qantas 747-438.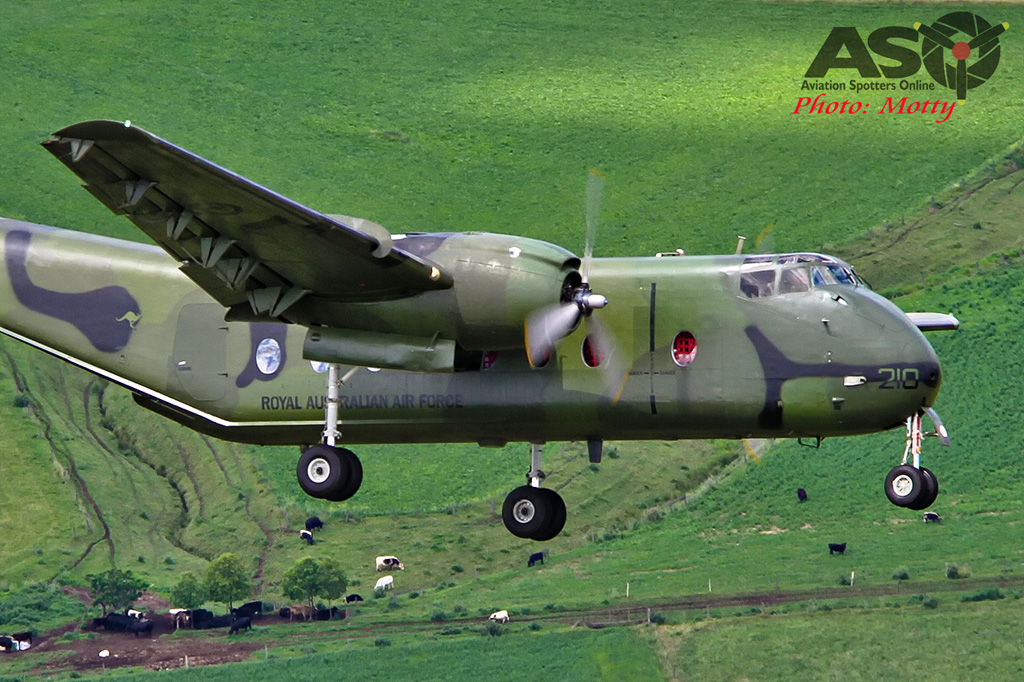 As a non-for-profit organisation, HARS relies heavily on donations and sponsorship for it's operations and projects. With the Caribous for example, some believe that, after they were retired from RAAF service in 2009, the Australian Government simply donated them to HARS in 2011, but this was not the case. It was a competitive tender for which HARS had to raise funds to purchase them.
HARS' Caribous are the only two airworthy, radial engined examples in the southern hemisphere, as far as we can tell there is only one other flying in the United States. These rare aircraft are only able to be kept flying thanks to the continuing support of major sponsors such as Airbus Australia Pacific and Shell. Both machines saw service in Vietnam with the Royal Australian Air Force (RAAF) and the society operates them as living tributes to the men and women who served in that conflict.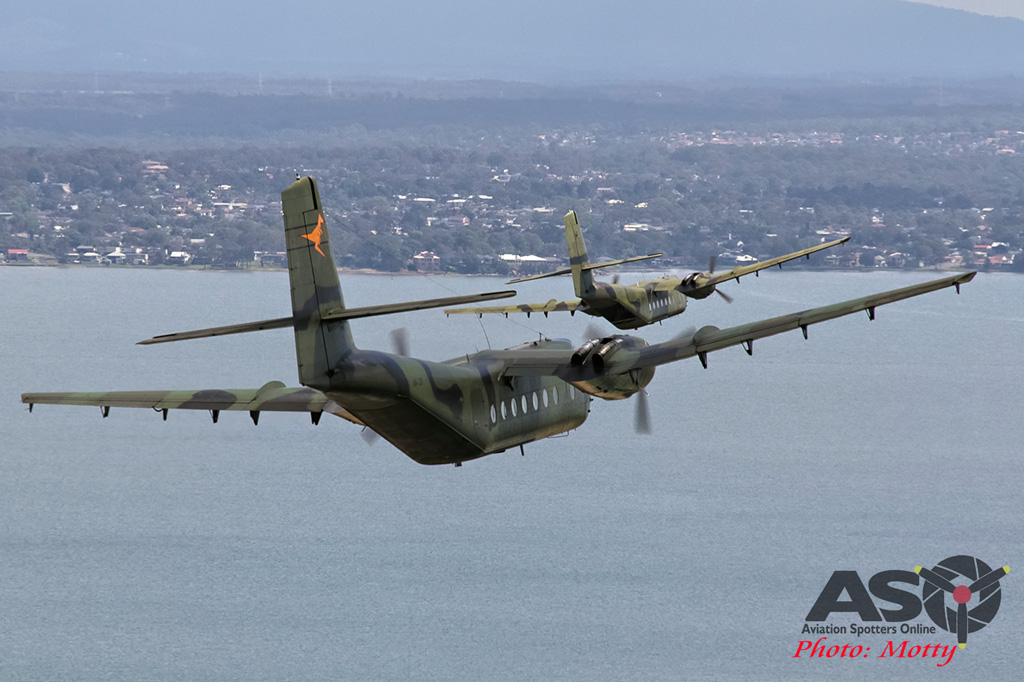 Why visit Luskintyre?
One of HARS' current projects is the restoration of the Southern Cross replica VH-USU. The original Southern Cross being the Fokker FV11B flown by pioneering Australian aviator, Sir Charles Kingsford Smith on his record-breaking flights during in the 1920s and 30s.
This machine was constructed in the 1980s for Australia's Bi-Centenary celebrations in 1988. Specialising in the rebuilding and restoration of Tigermoths and other types from that era means that the team at Luskintyre have a lot of experience in the fabric coverings of vintage aircraft. The manager of HARS' Southern Cross project wanted to get in touch with the team and seek their help and advice for the restoration. It seemed like a great opportunity to take one of HARS fleet along for the trip and the Caribou seemed the natural choice for operations on the grass strip at Luskintyre, possibly the first time a Caribou would be seen on such a field since they were retired from the RAAF. As the trip would only be possible if enough funds could be raised with donations coming from any society members who wanted to make the trip and even the aircrew themselves.
The plan was to just bring one machine but, once word got out, the idea was so popular that there was enough support and demand that it was decided to take both aircraft! This was significant for HARS too as, with crew availability, aircraft serviceability, funds etc, this would be a very rare opportunity to get both of their Caribous in the air together.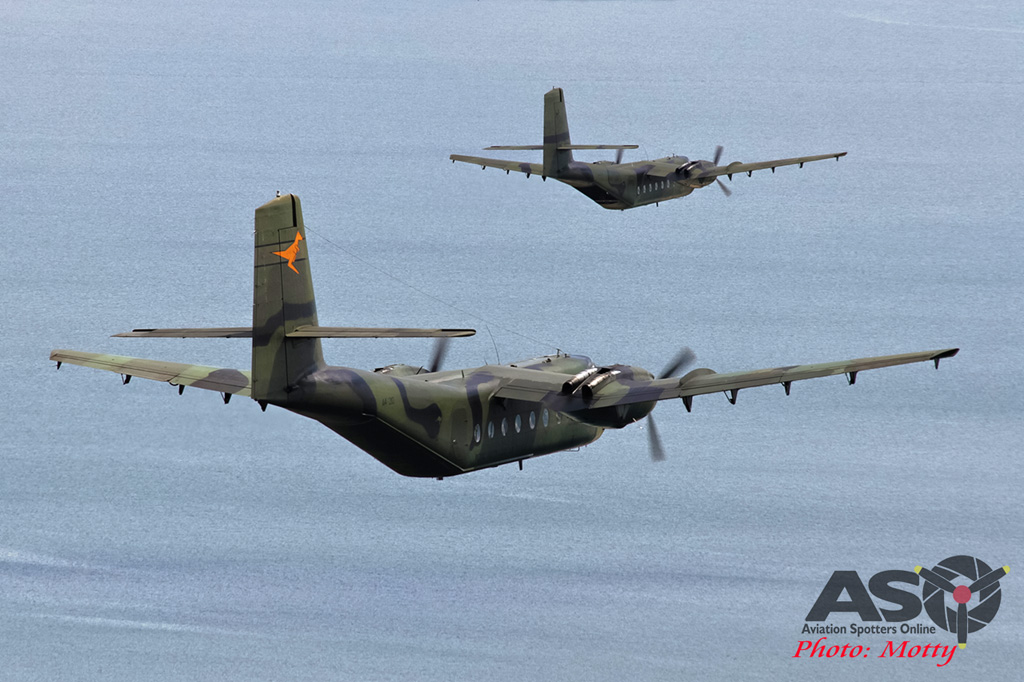 Shooting two Caribou
For spotters, as if seeing a beast like a Caribou at Luskintyre wouldn't be cool enough, now it looked like there would be two (and the only two at that)! An event like this was going to be too good to go undocumented and with great generosity from the people at Luskintyre and HARS, I was given the incredible opportunity to meet up with the Caribou during their flight up to record this rare occasion.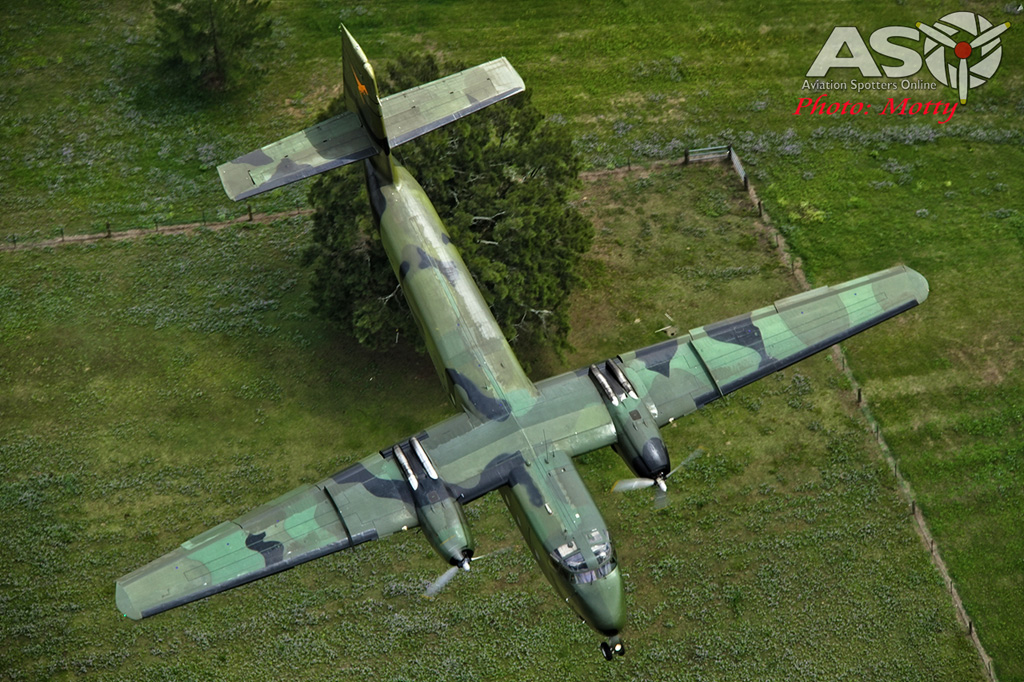 I had been away right up until the day before they were due to come up and I had been hearing of quite significant rain in the area on the days leading up to the weekend. Thankfully for everyone the Saturday dawned mostly clear with scattered clouds and no rain (at least at the Luskintyre end). After hearing confirmation of their departure from Albion Park, it was time to strap in to a Yak-52 and head off to meet up with them around the central coast area. After orbiting over Tuggerah Lake for a few minutes we made radio, then visual contact with them as they crossed the coast and headed inland to track north for Luskintyre.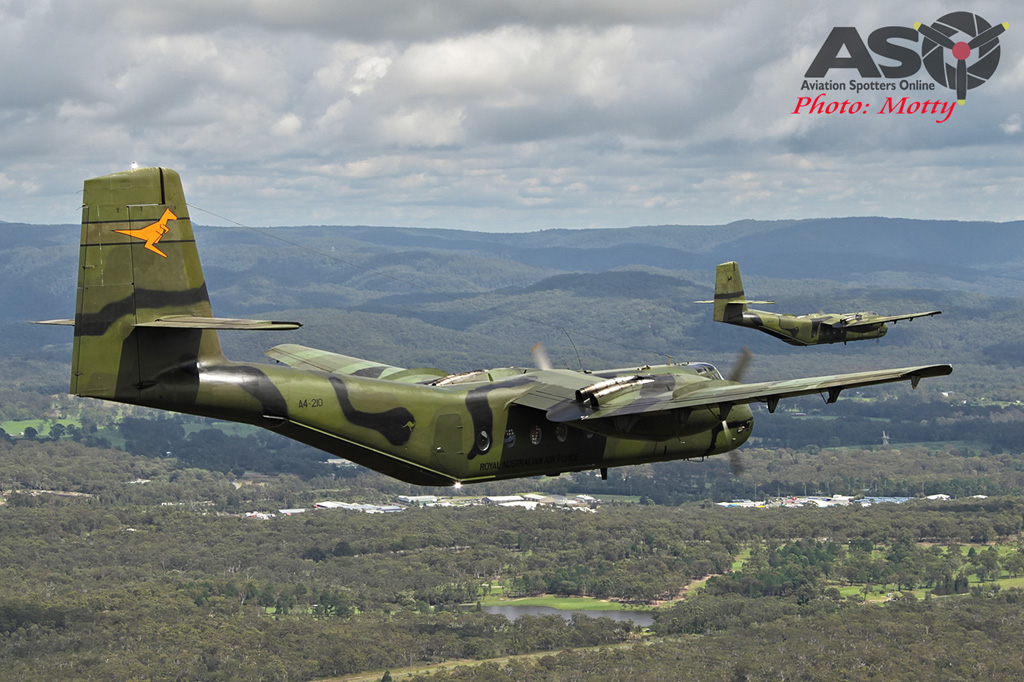 We were able to fly with the Caribou in various positions around the aircraft, always at a safe distance, waiting for sunny patches and looking for nice backdrops and occasionally getting rare chances to capture both aircraft in the same shot (all the while, thinking to myself; "Don't stuff it up, Don't stuff it up!").
It only felt like a few minutes before I realised we were over Luskintyre already and the Bous were preparing to land (but wait, I haven't finished yet… ). It was incredible to see these two awesome machines in the air together and the chance to catch it on camera was a absolute privilege. While the weather was fairly good, it was also "bumpy" and bouncing around whilst looking sideways through a view-finder, my stomach didn't quite enjoy the time as much as the rest of me. 😉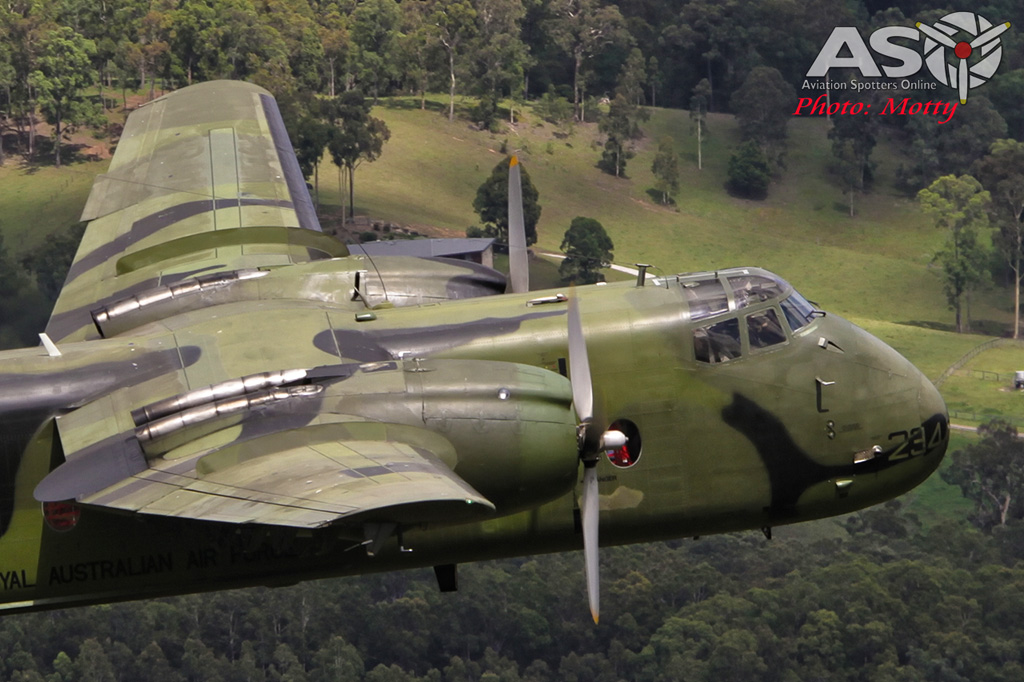 It didn't stop there though as, after landing, it was time to capture these special guests on the ground as well. Taking up quite a bit of real estate (as you can imagine), they were specially positioned next to Luskintyre's Nacy Bird-Walton Memorial Tower. This gave the opportunity to get shots from a brilliant vantage point, plus that's where the food and club-house are (Priorities).
Not long after arriving, the crews took one aircraft back up for a 'quick' (can I use that word about a Caribou?) circuit to give us another look at the beast in action before it was time for lunch. Quite a few HARS members had made the journey up in the back of the two aircraft and were treated to a great barbecue and drinks while watching a few of the local residents (and a visitor or two) doing the rounds of the strip. Quite a few locals and enthusiasts also came to take advantage of this rare opportunity and the two big machines were the subject of much attention during their stay and certainly for some of the younger visitors, this would have been their first time seeing and hearing these unique aeroplanes.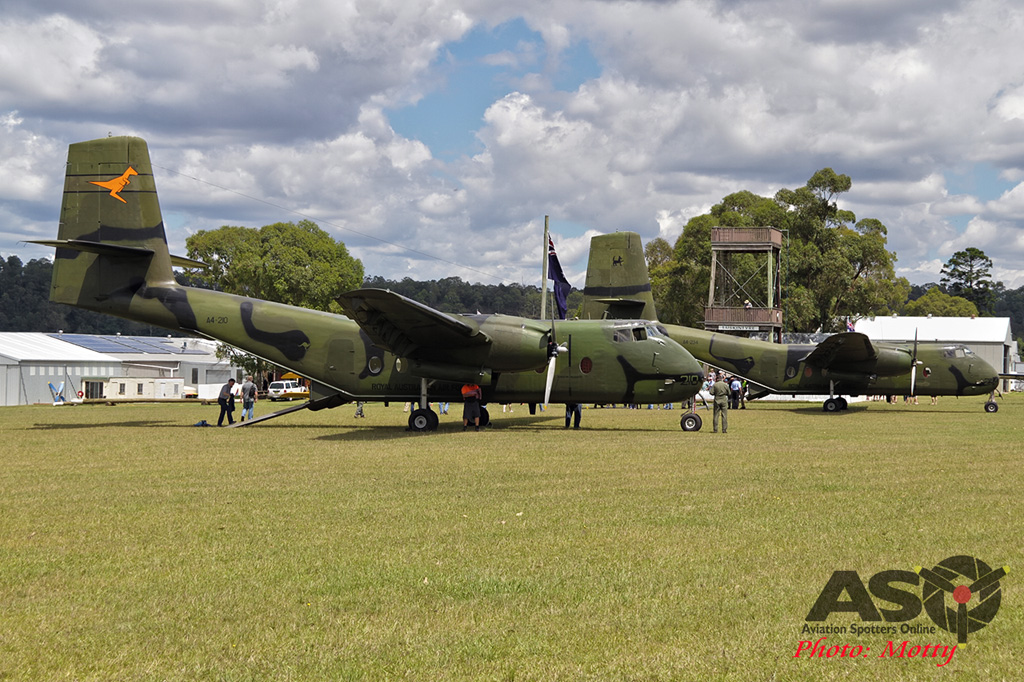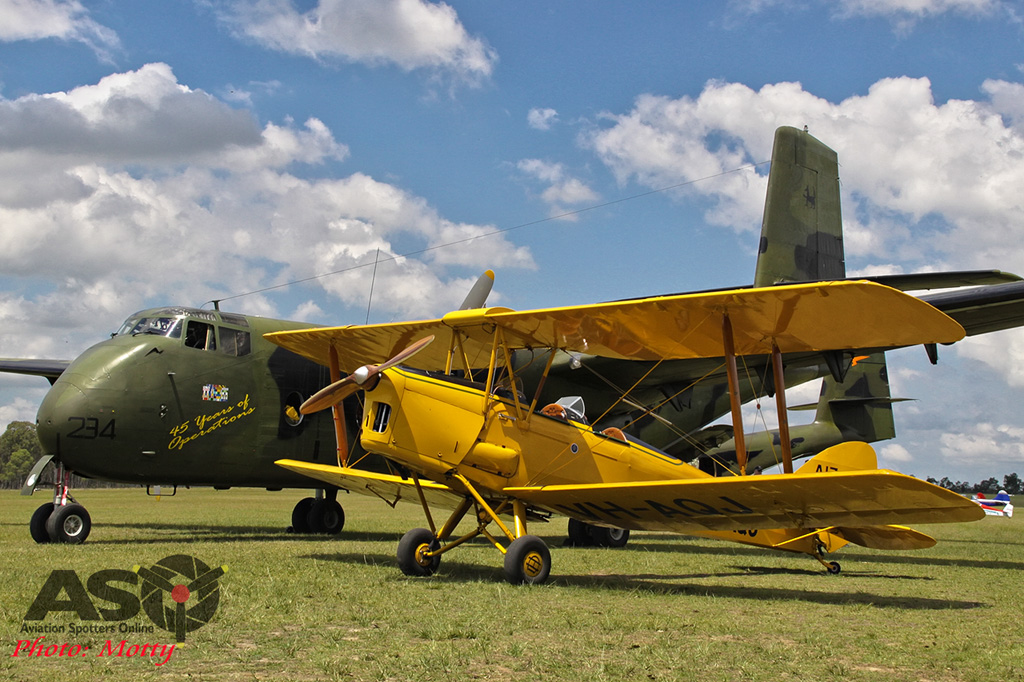 By mid-afternoon, it was time for the team from HARS  to head home so everyone climbed back on board and the two Bous started up and took off separately, each giving us a fly-over and one last chance to hear that awesome sound before heading south into the distance (eventually  😉  ).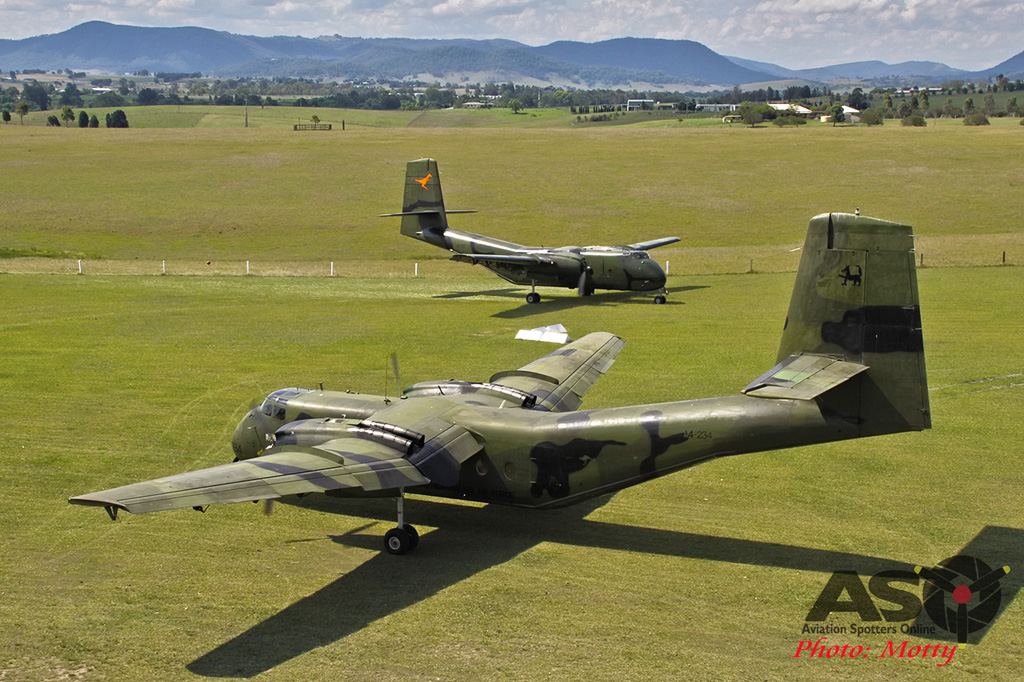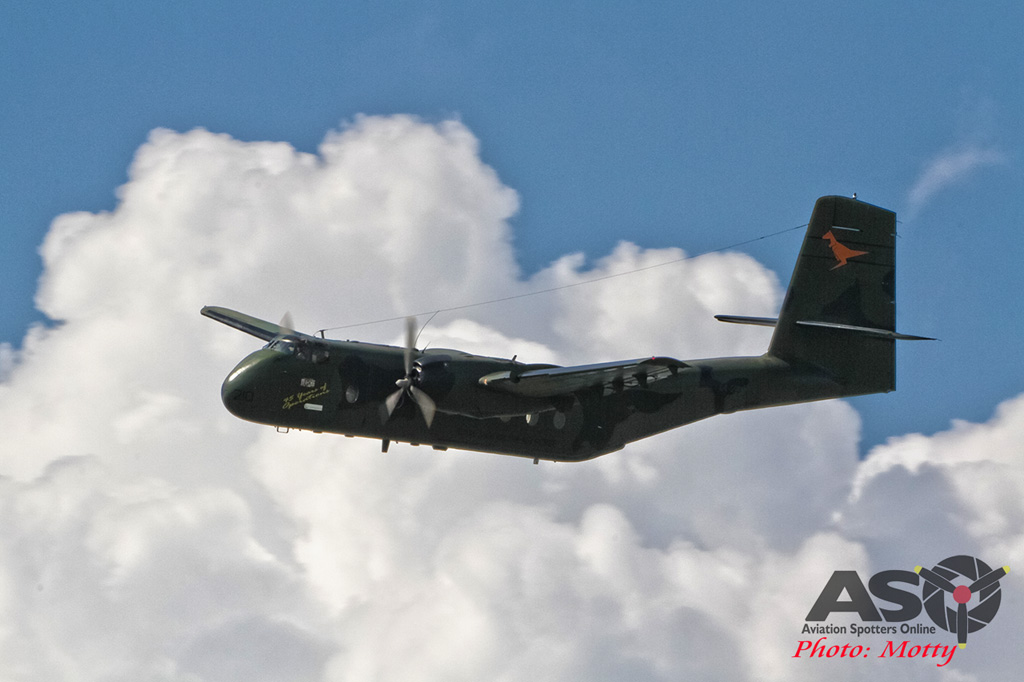 Seeing these two classic machines together again was fantastic. Even more so for it to be in such an unusual (since they retired) and picturesque location like Luskintyre and to be given the opportunity to capture some images in the air was a real privilege. I hope that in some small way these images can provide some recognition and thanks for the time effort and money that the team at HARS and their supporters all put in to keep them flying for us to see and as a tribute to those who served.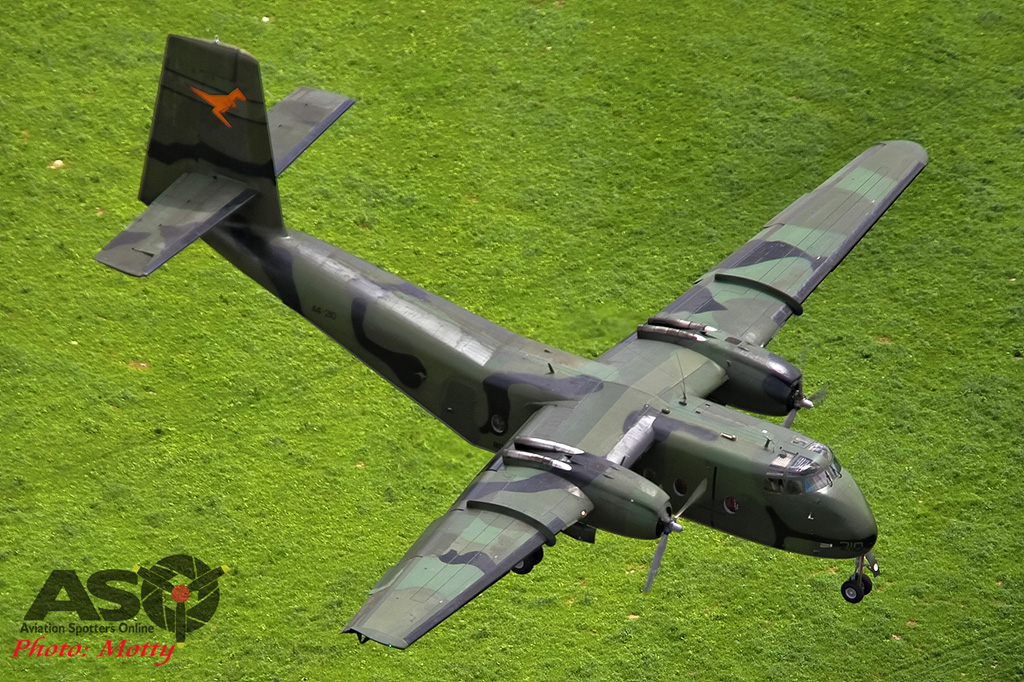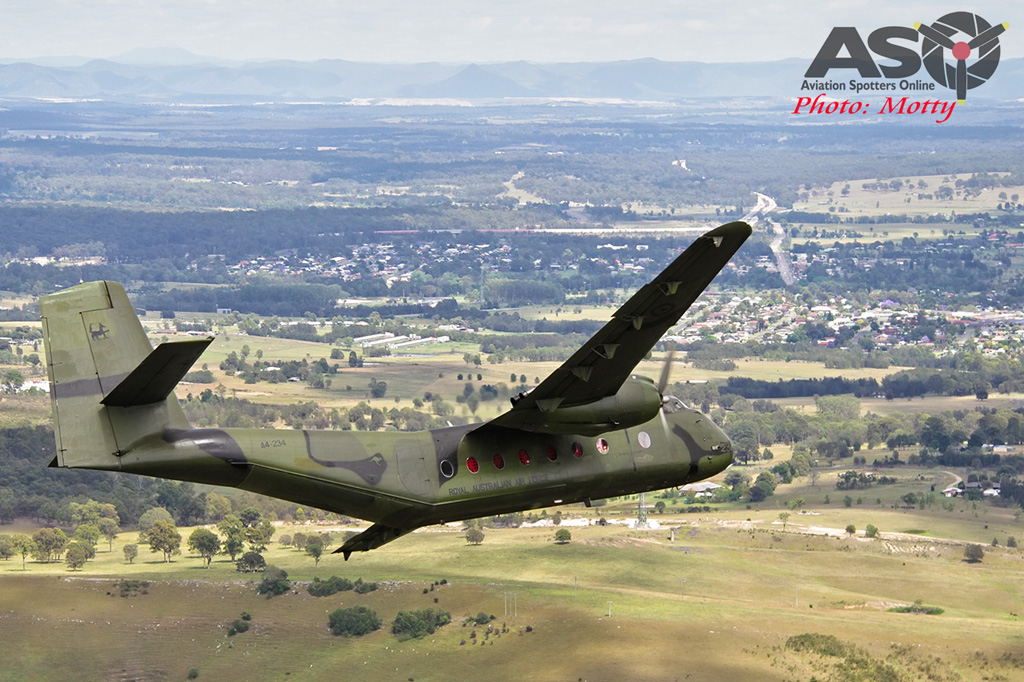 My sincere thanks to Niall Higgins and everyone at Luskintyre and Doug Haywood, Rod Holzwart, Leigh Peddell, Kent Corney, Dave Dredge, Bob St John and everyone at HARS who made this day possible.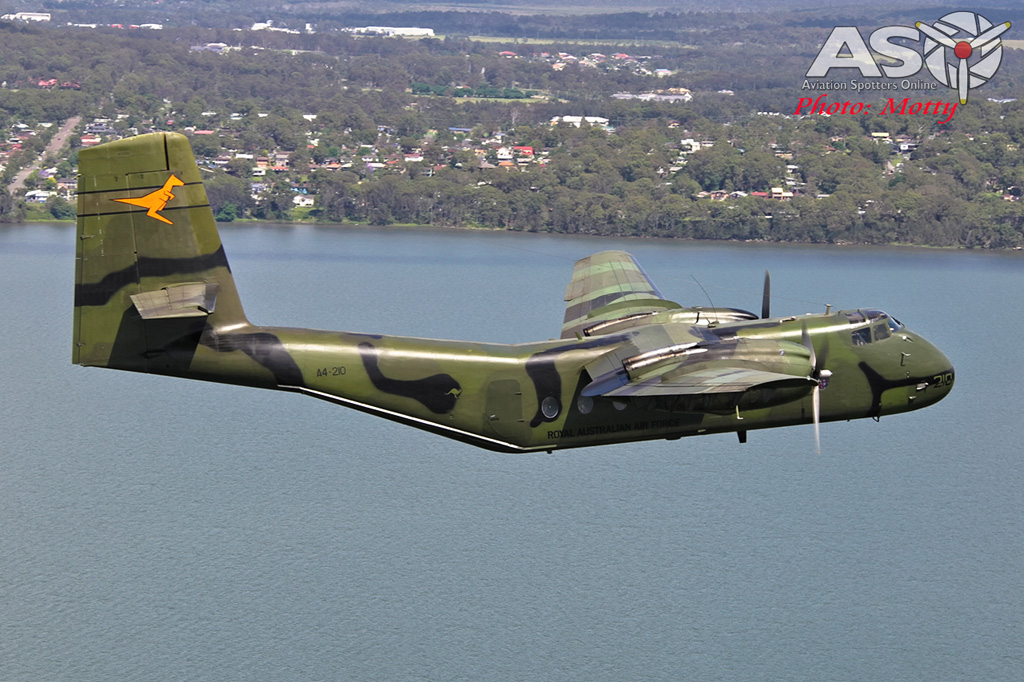 Motty.
Click HERE to go to the full gallery of photos.