Raglan is a little town on the Bruce Highway located between Rockhampton and Gladstone in Central Queensland, Australia. Not many people think twice about it other than another road sign and the local Tavern they see when travelling past it. Slowly the secret is getting out there, that once a year on the 4th weekend in May, "The Old Station Flying Club" hosts a very popular Fly-In Airshow. It is held on the Creed family Cattle Station approximately 12km off the highway just south of Raglan with an unsealed 2000m x 18m wide airstrip . "The Old Station Fly In & Heritage Show" as it is now known as, brings people from all over the region for the 2 day event which is growing rapidly in size each year, in terms of the people attending and displays held.
Some of the things one might see when visiting would be of course the vast amount of different aircraft – some providing joy flights and aerial displays or for just going up for a circuit or two. Types of aircraft that have previously visited were that of ex military warbirds, military, GA light aircraft including ultralight, home-built, helicopters and also the high performance racing aerobatic type! Aviation is not the only thing you will see here at Old Station, there are things for the who family to experience, for example….the Heritage and Competition Tractor Pulling, Judged Truck show, Vintage & Collectible Cars and Motorbikes, Market Stalls, Children's Amusements, Fashion Parade and assorted displays, Saturday night chainsaw and crosscut races with a live band.
As it is a 2 day event, attendees make the most out of the weekend by staying and camping from the Friday to Sunday either under the wing of the aircraft they fly in on, or in the designated caming area on the opposite side of the airstrip. All toilet/shower amenities are taken care of including AvGas and the Licenced Bar!
On top of the relaxed atmosphere, great hospitality and friendliness, the best part I believe about this event is that the airfield is open to the public and you can get right up close to most aircraft, close enough to touch them or to get some great photo's and even talk to the owners about their pride and joy! This years planned event on the 27th & 28th May 2017 is hoped to bring the Royal Australian Air Force Roulettes, Matt Hall Racing, Paul Bennet Airshows, Capricorn Rescue Helicopter Service and other regular exciting aviators.
Please take a moment to review some of many photos I captured from last years event and I hope to see you there!!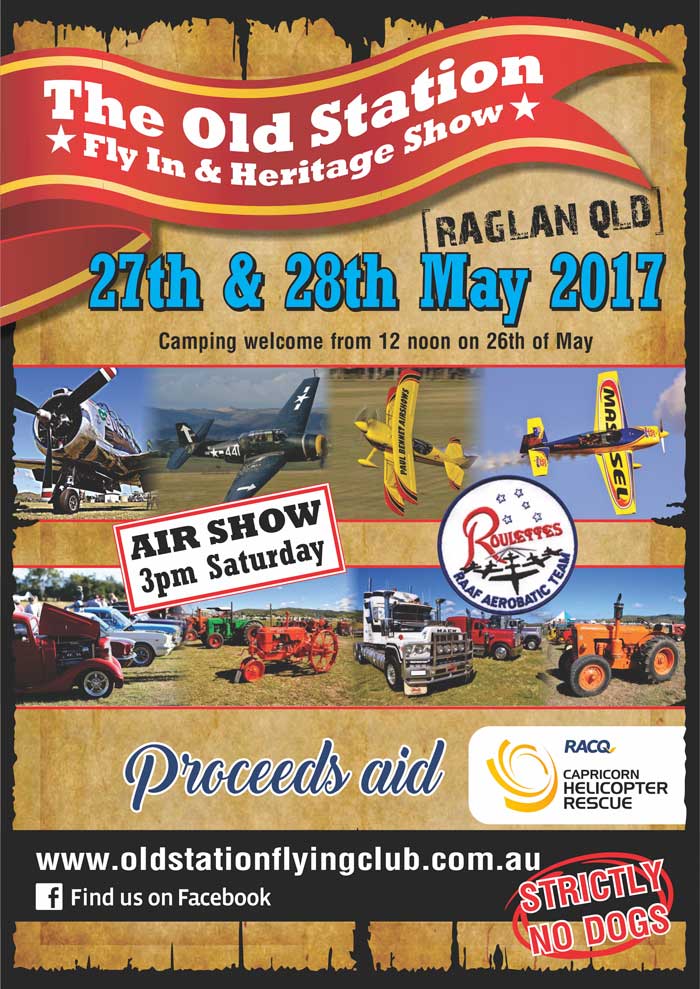 More Pictures below in the slideshow!