Worldflight is on again this year from the 5th November to the 11th November. The aim of Worldflight is to raise money for the Australian Royal Flying Doctor Service or the RFDS as it is commonly known in Australia and has risen over $220,000 to date. This year there are a total of 13 home built flight simulator teams joining in flying around the world raising money for the RFDS.
Worldflight kicked off in the UK before an Australian division started in 2001 using VATSIM as the virtual world. As Worldflight continues to grow other home simulators join in from Australia and around the world. Those who are not in Australia contribute to one of their chosen local charities.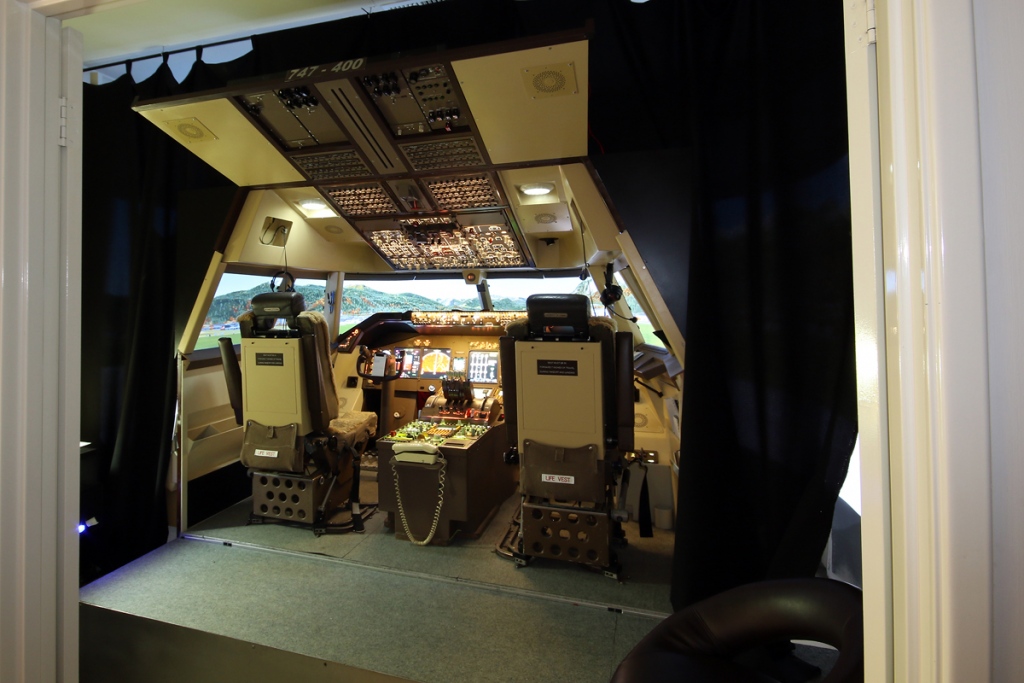 Worldflight 2017 starts and finishes in Sydney this year with the 13 teams participating in 15 fixed based home built flight simulators. Each team has their own pilot roster which everyone takes a turn. At each airport they land at there is a 45-60min turnaround time which is enough time to take on new crew, and plan the next route and get updated real time weather.
This year's flights will be Sydney-Brisbane, Brisbane- Cairns, Cairns-Jackson, Jackson-Frans Kaisiepo, Frans Kaisiepo-Manilla Intl, Manilla Intl-Macau, Macau- Chaiang Kai Shek, Chaiang Kai Shek-Nagasaki, Nagasaki-Vladivostok, Vladivostok-Petropavlovsk-Kamchatsky, Petropavlovsk-Kamchatsky-Anchorage, Anchorage-Juneau, Juneau-Calgary, Calgary-Saltlake City, Saltlake City-Lindbergh Fld, Lindbergh Fld-Robert Muller Muni, Robert Muller Muni-Cancun, Cancun-Kingston, Kingston-Eldorado Intl, Eldorado Intl-Velazco Astete, Velazco Astete-La Paz, La Paz-Sao Gabriel Da Cachoeira, Sao Gabriel Da Cachoeira-Basseterre Gldn Rock, Basseterre Gldn Rock-Leeward Point, Leeward Point-Orlando, Orlando-John F Kennedy, John F Kennedy-Goose Bay, Goose Bay-Sondre Stomfjord, Sondre Stomfjord-Keflavik, Keflavik-Dyce, Dyce-Arlanda, Arlanda-Innsbruck, Innsbruck-Houari Boumediene, Houari Boumediene-Punta Raisi, Punta Raisi-Samos, Samos-Queen Alia, Queen Alia-Hamad Intl, Hammad Intl-Quaid E Azam, Quaid E Azam-Indira Gandhi, Indira Gandhi-Paro, Paro-Chiang Mai, Chiang Mai-Phuket, Phuket-Changi, Changi-Bali, Bali-Darwin, Darwin-Alice Springs, Alice Springs-Adelaide, Adelaide-Melbourne, Melbourne-Sydney. Which is 4 days 11hours and 45mins of scheduled flying time for a total distance of 36,390Nm.
The teams consist of two Sydney based 747-400 Sims, Matt Sheil and Joe Corrigan, Worldflight Perth which is Greg Hately 747-400 (Giant 1474 GTI1471) and Gwyn Perrett 737-800 (Velocity 738 VOZ738), Worldflight Mangrove which is XX with a Boeing 737NG, Worldflight Team Airbus with their A330 based at Lynton Barretts house in Nowra NSW, Worldflight Hobart with a B737NG, Worldflight Team Noble based in Adelaide with their Boeing 737-800 sim, Simfest UK with a Boeing 737-800/BBJ2 and a Boeing 747-400, Team Jetsim UK with Simon Lummis' B737-800 sim, Worldflight Germany with a Boeing 737-800 sim, Worldflight Team Airbus A330, CB-Worldflight Team USA with their Boeing 737-800, and Midwest 737 Simulations with their Boeing 737-800.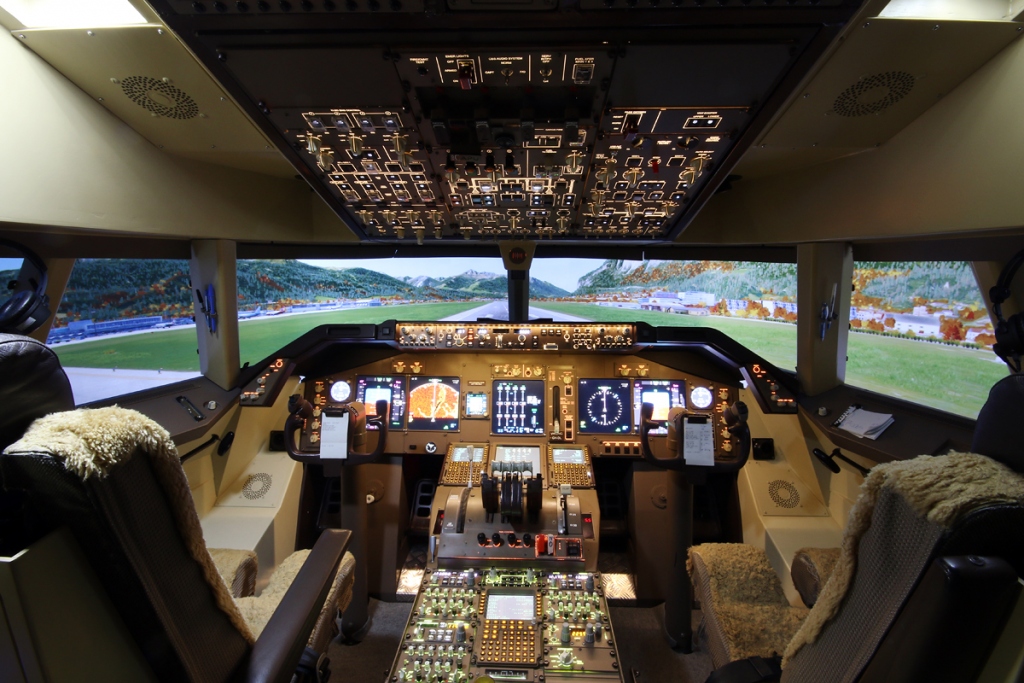 In September Brenden visited Greg Hateley in Perth. Greg has built a Boeing 747-400 simulator in his house over 5 years costing over $40,000 (He has a very understanding wife) and managed to get into Worldflight in 2015 and 2016. There is a group of people who join Greg in weekly flights with others around the world.
The simulator has 7 computers in total with 4 running the software for the simulator (Aerowinx) and 3 running the visuals (P3D). The visuals are 3 projectors at 1080P at 72Hz so the visuals end up being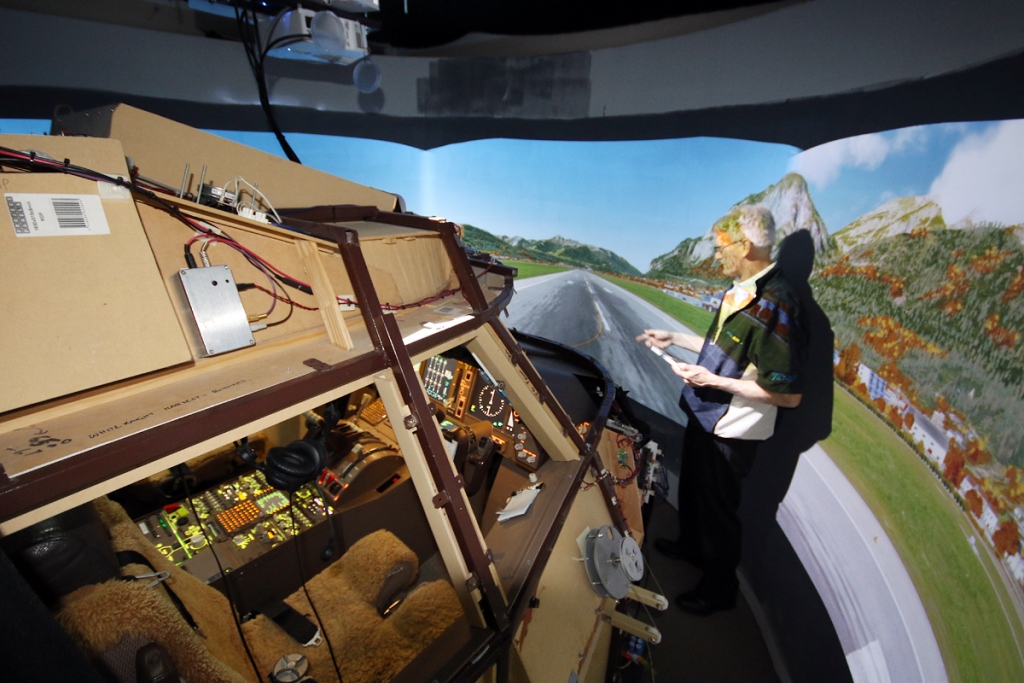 very smooth with the 3 projectors blended with Fly Elise-ng warping software. The last flight sim that I flew was FSX and the P3D visuals are stunning with some fantastic sunsets so it was great to see some fantastic improvements.
While I was taking photos Greg had Lesley and Darren flying the simulator while Greg was talking about his creation. There are some real parts from the B747-400, but there are others which Greg has made from his own CNC machine in his garage. With my background as an aircraft engineer working on Boeing 747-400's Greg has done a fantastic job of recreating the Jumbo in a fine form.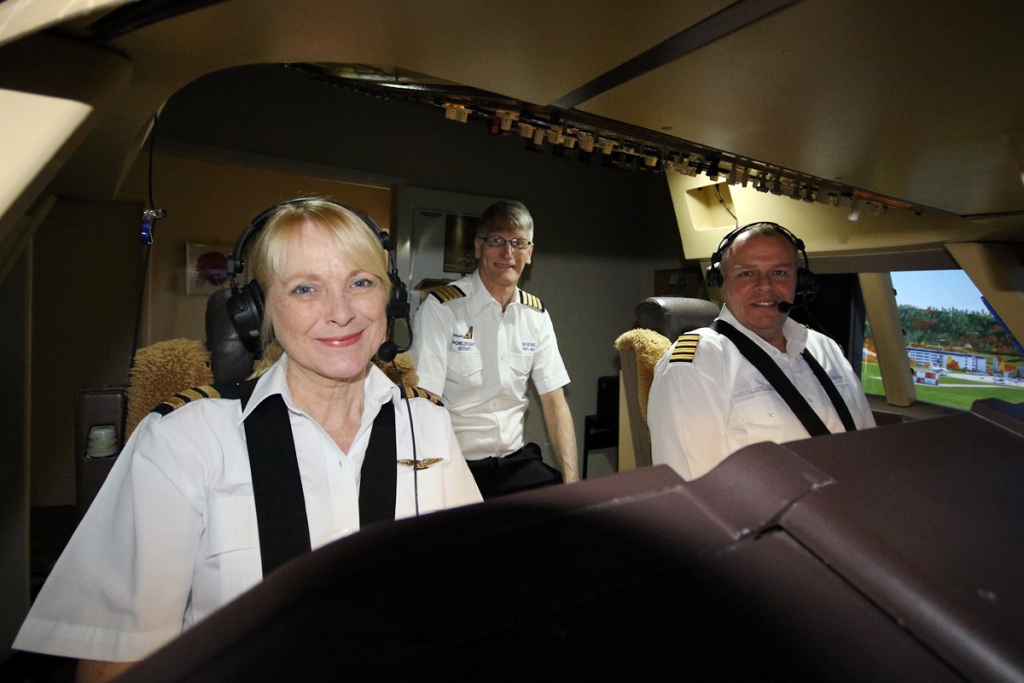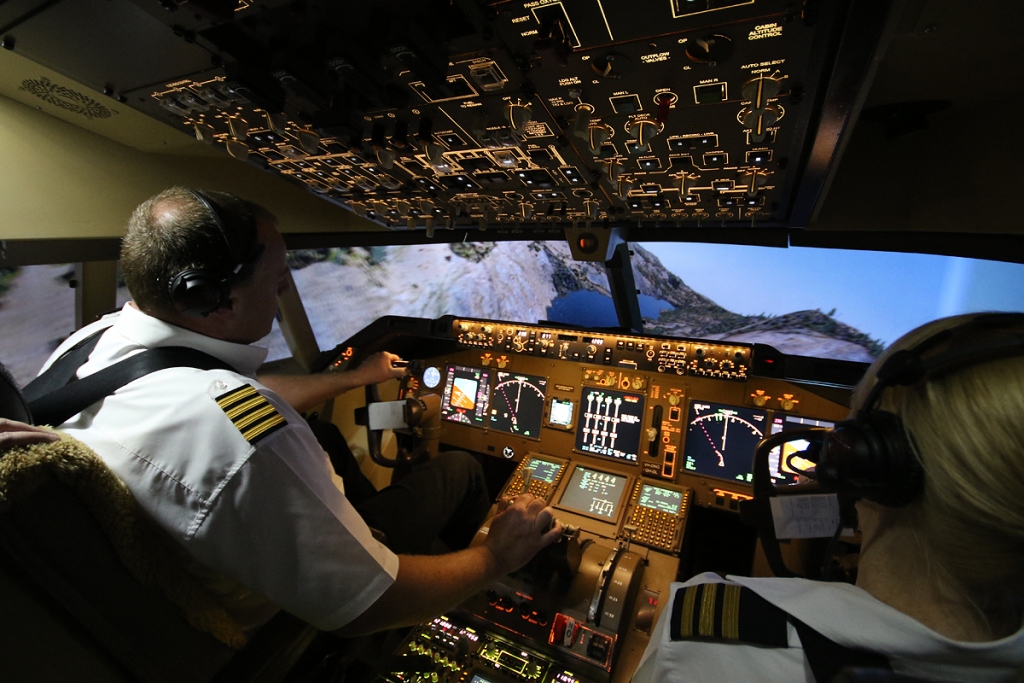 During the beginning of Worldflight 2017 Brenden visited Gwyn Perrott and some of the volunteer pilots in Gwyn's Boeing 737-800 Sim "Velocity 738". I watched the last 45mins of the Nagasaki-Vladivostok sector with Ken and Gwyn at the controls. Tom was the designated Breakfast chef for the sector and right on time the breaky rolls rocked up at top of decent. Tom's timing was impeccable and as he stated he cooks the best crispy sausages! (Apparently a European delicacy according to some of the team members)
Upon landing Luke and Tom had done the plan for the next sector which was Vladivostok-Petropavlovsk-Kamchatsky, however the sim had other ideas! A few resets had to occur and a delay in departure from Vladivostok was inevitable. The simulator had a defect which required a full reboot of the sim, just like what occasionally has to happen to real aircraft. Luke and Tom then took up their positions in the sim and carried out the pre-flight for their sector. Once they were up and away I managed to have a good chat to Gwyn about his sim.
The Sim in the photos is Gwyn's second 737 sim, and like all projects it is never complete. This version 2 has taken Gwyn over 5 years to build and at a cost of over $50,000. I asked him if he had a very understanding wife as there would be many hours spent in the shed. The reply was yes he does which was great to see. The throttle quadrant for example took over 250 hours to design in CAD and then a lot more to CNC and assemble the components together.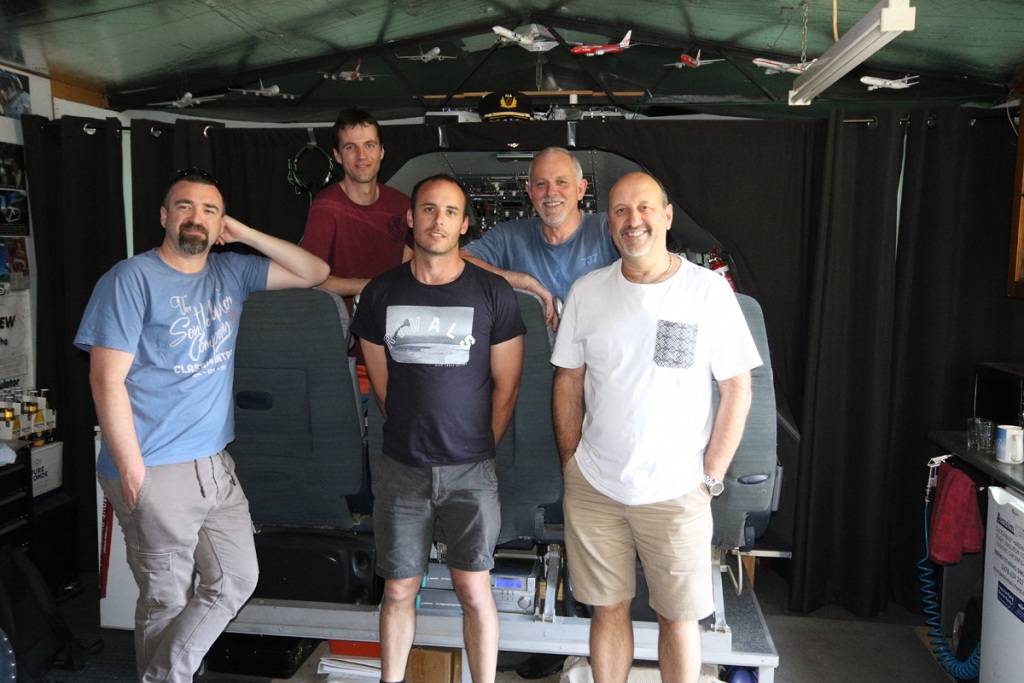 Tom who is one of the volunteer pilots also assists Gwyn in writing the code for the various components that they make. It is then integrated into the sim and tested like what happens on normal aircraft. Once the bugs are all ironed out the sim is good to go once more.
Gwyn is currently in the process of remaking all the panels with dimmable LED backlighting, which in itself if a very time consuming process. This is due to the labour intensive part of milling out the base plate on the CNC machine and then hand soldering in all the LED's. Gwyn is also looking forward to the next release of Prepare 3D which comes out in January 2018 which will enhance the visuals and the installation of HD projectors.
When the group are not preparing for Worldflight Gwyn lets pilots who fly the 737 come in and get up to speed with the sim before their checks. This helps the pilots out a great deal when they go into the sim as they have already practiced the drills. The other side of the sim is that sometimes the pilots use the sim to familiarise themselves with an airport that they have never been too. This is great to see that pilots upskilling themselves to make sure that the passengers are 100% safe. Gwyn only ask for a donation which goes to the RFDS, a very noble decision on Gwyn's behalf.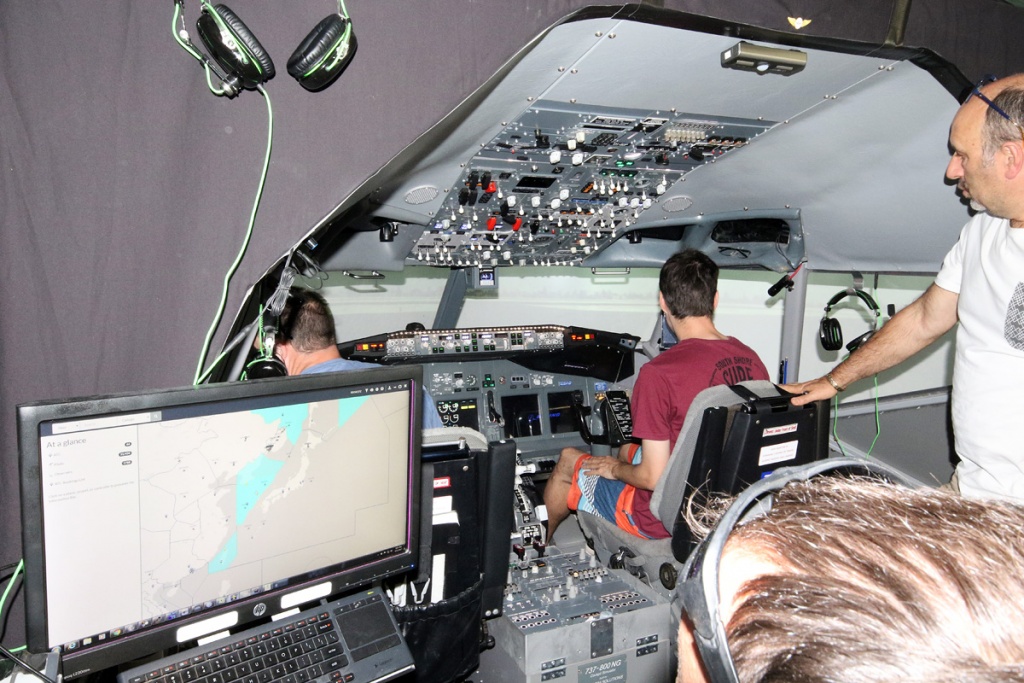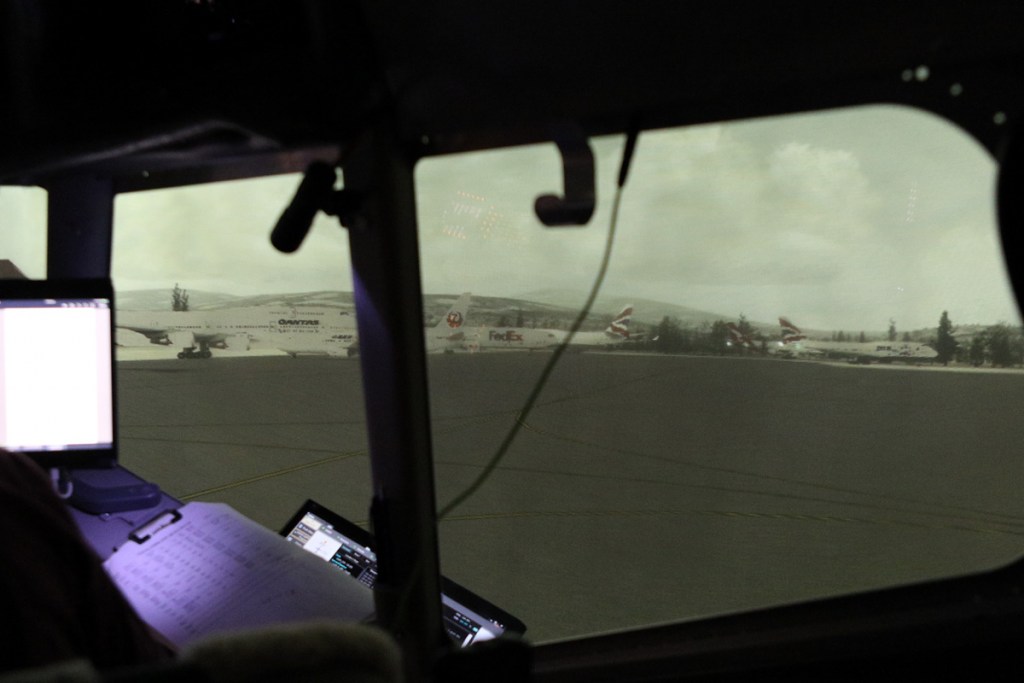 I would like to say thanks to Greg and Gwyn and the volunteer pilots for their time with this article and also allowing access to take photos. We hope that the Western Australian section smashes the previous $6000 raised the year before.
This article has been produced by Brenden Scott from Perth Western Australia.
Brenden is an engineer for an Australian Airline and has a long held passion for aviation. ASO thanks him for this great insight on an extremely worthy cause.
If you'd like to donate to the teams and help the RFDS out please click on the following links:
http://worldflightperth.com.au/ Link to the Perth Team
https://rfdswa-fundraisers.everydayhero.com/au/perth-worldflight-team
https://worldflight2017.everydayhero.com/au/qfa25