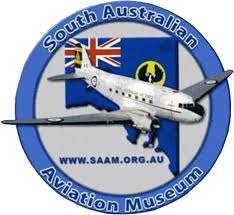 Recently I was able to make a quick stop at the South Australian Aviation Museum (SAAM) located in Port Adelaide. Having been to the museum a number of times previously I was keen to see how things had progressed on their restorations and the hangar reshuffles with new exhibits due and others out of restoration.
As with most Aviation Museum's in Australia, all restorations and works performed are done so with an army of volunteers who do exceptional work to display their treasures to the aviation aficionados and the general public.
Telling the story of aviation in South Australia is no easy task, however, the volunteers at SAAM have done a great job with what resources that they have. As my time was limited due to the current COVID situation in Australia we have looked into the large items showcasing South Australian Aviation.
Fokker F-27-109 Friendship VH-CAT
Built for an order from the Department of Aviation the aircraft first flew in 1959. Flying with the Department of Transport until 1978 before it was transferred to the C.S.I.R.I.O in Tamworth, being used for many research projects. 1993 saw another change of operator with the aircraft going to Australian Flight Test Services, based in South Australia. VH-CAT continued to operate with them until 2001 when the aircraft was advertised for sale.
A sale overseas failed to materialise and the aircraft languished at Parafield until it was secured by the SAAM. Moving to the museum premises in2008 where it is displayed alongside its elongated nose probe seen hanging behind and at the front of the aircraft nose. The aircraft is also fitted with its various sensor and test probes unique to this aircraft.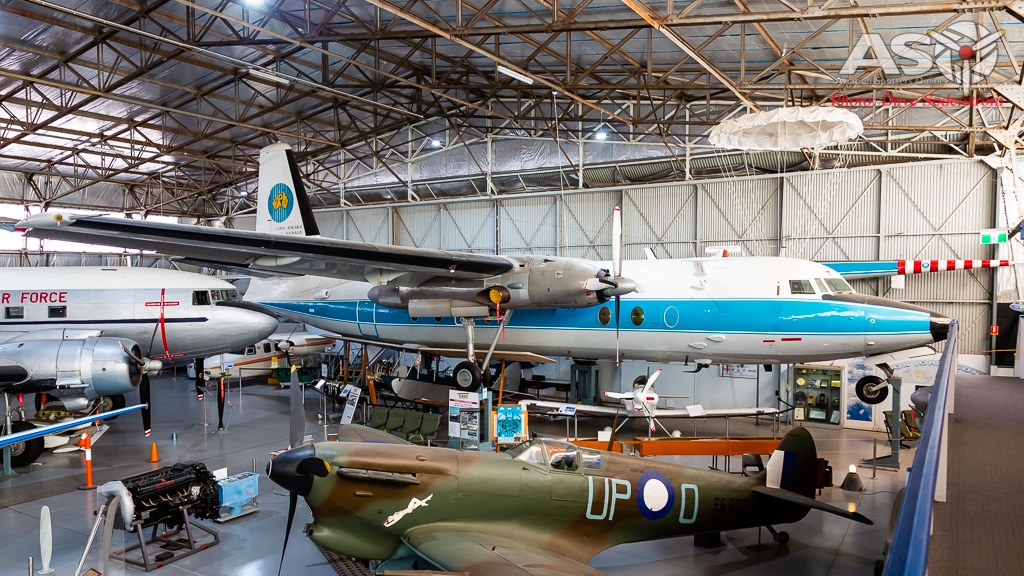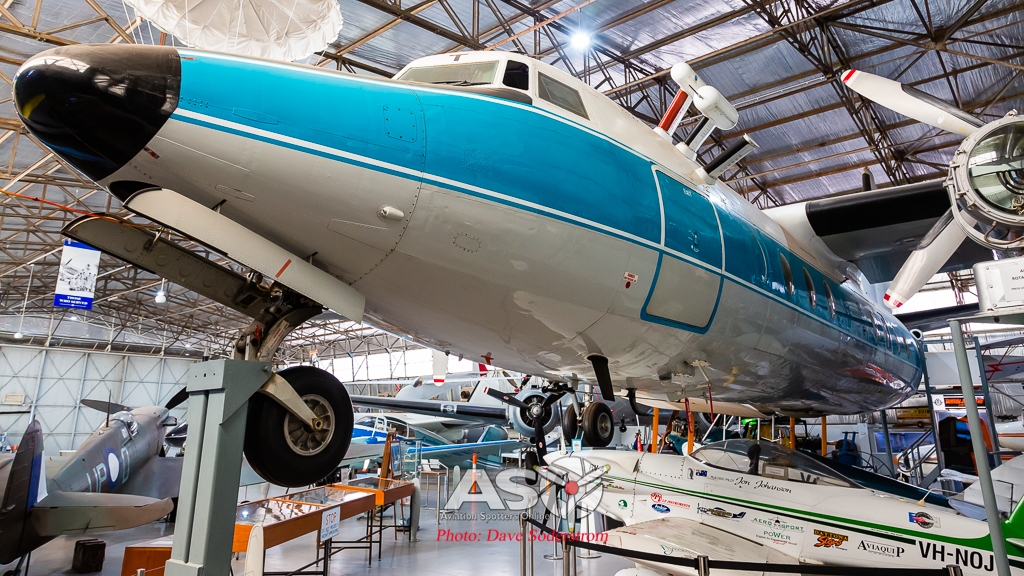 Supermarine Spitfire Mk Vc EE853
I make no apologies for sounding smitten with this aircraft, it is in my opinion the best Spitfire in Australia. EE853 or A58-146 was built in 1942 and shipped to Australia. Flying with 79 Squadron based at Goodenough Island in PNG. Its time in Australian service was short as it crashed on Kirwina island in August 1943. Transported for parting out back in Goodenough Island the airframe was abandoned until its recovery by Langdon Badger in 1973.
Restored to its former glory the aircraft was housed with Langdon until put on display at SAAM in 2001. The Mk Vc was fitted with the Volks tropical filter to aid in helping the aircraft perform in tropical environments. It was a failure with many being removed from front line aircraft to cool the aircraft. Personally, I think it looks fantastic along with the two Hispano cannons protruding from the wings.
Amassed around the Spitfire are items from Langdons personal collection, with some very interesting pieces among them.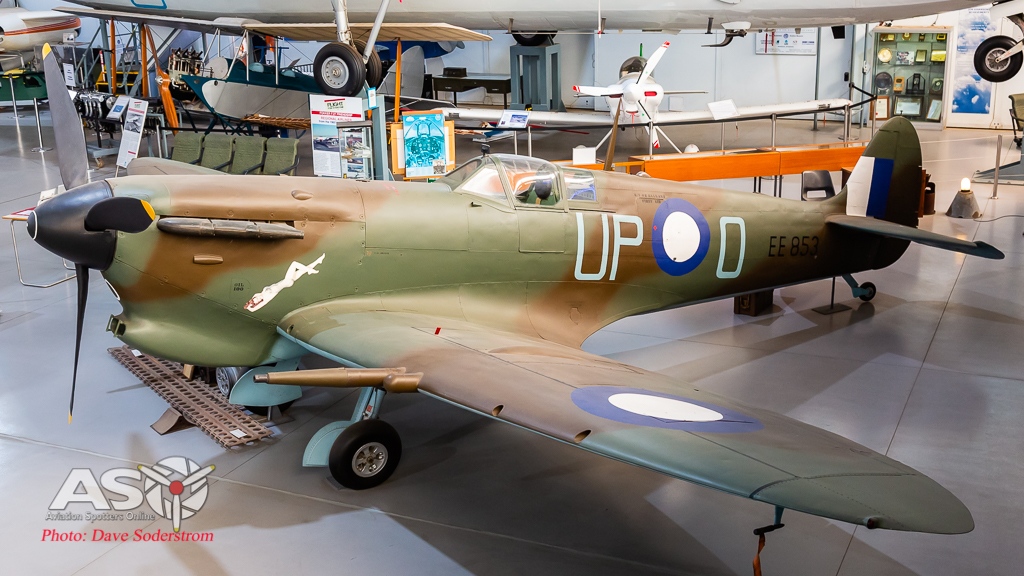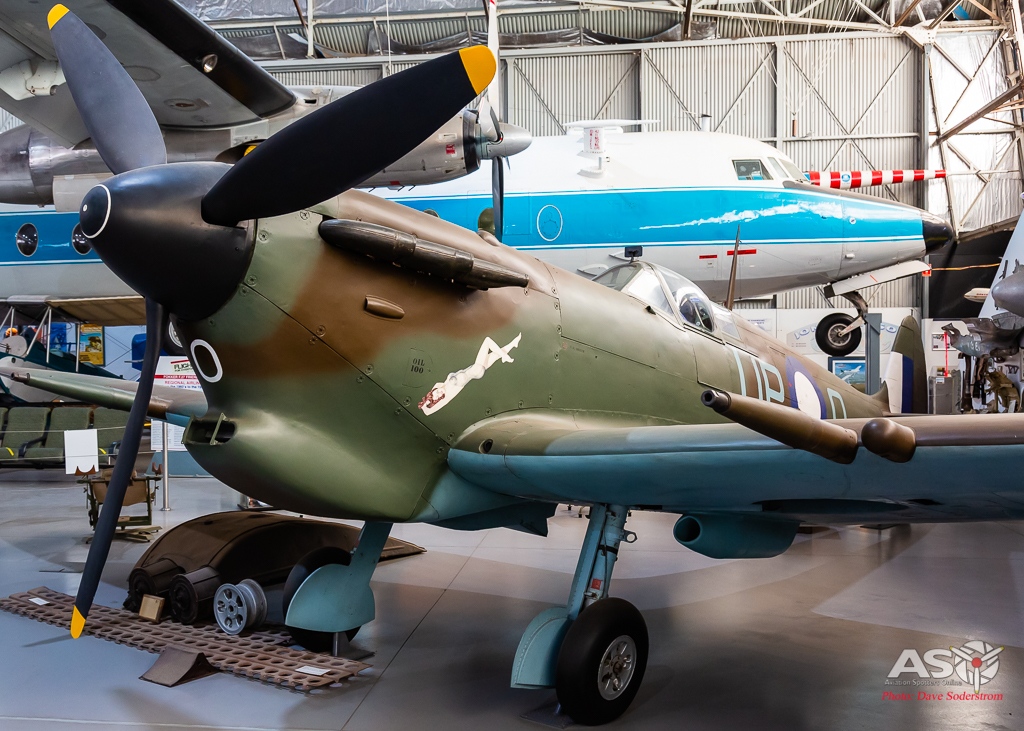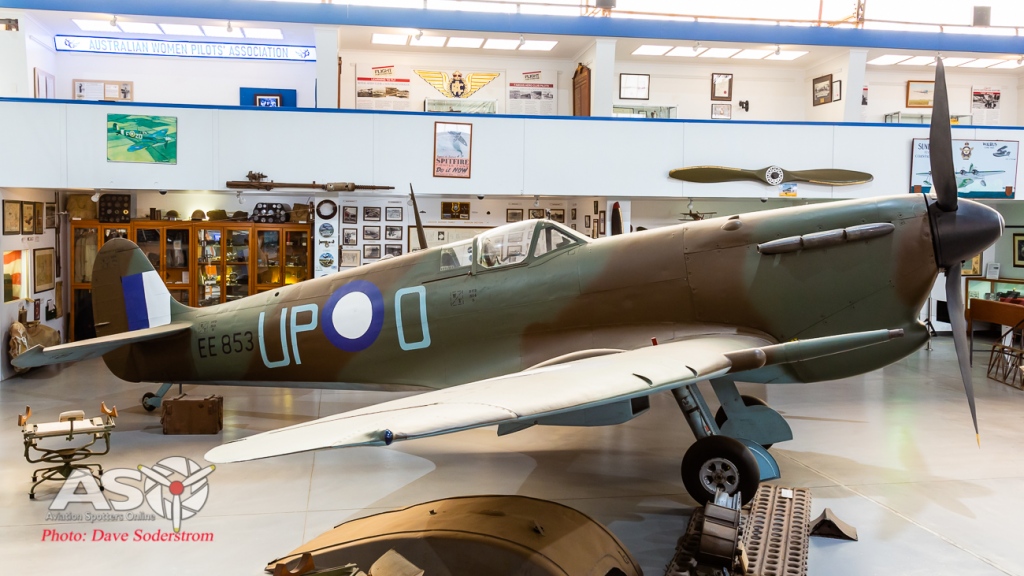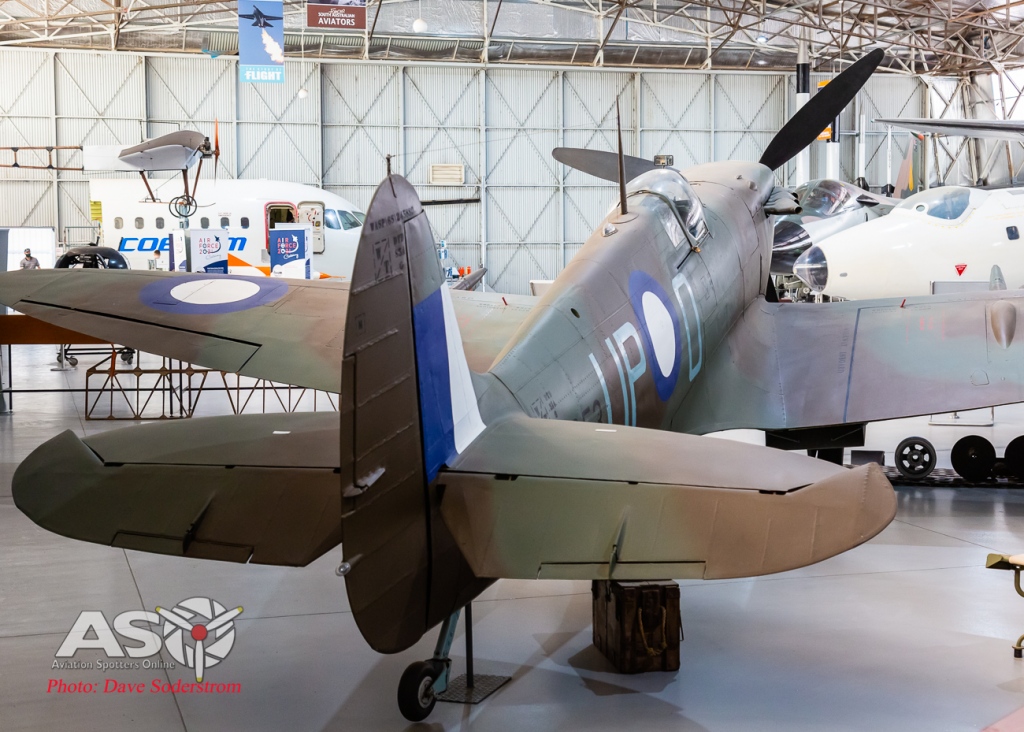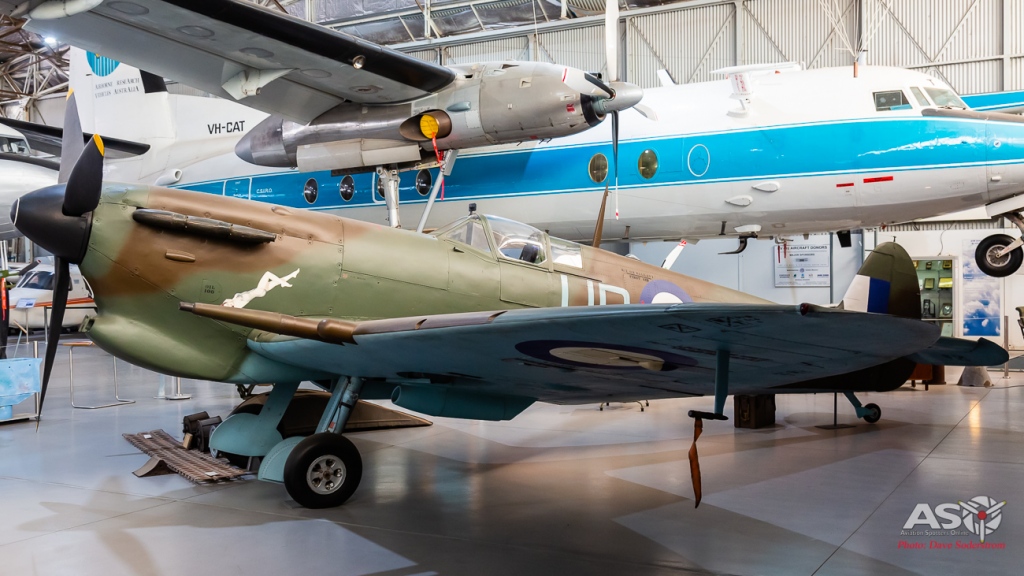 CZL Aero 45 Super Series II VH-WWC
This unique aircraft emerged from a thorough restoration recently bringing the aircraft back to pristine condition again. Built-in Czechoslovakia in 1956 the aircraft arrived in Australia as VH-PXA to Phoenix Aviation in Adelaide. Its stay in South Australia was short before being sold to Bell Brothers in Western Australia in 1957.
The aircraft crashed not long after arrival. Sold again this time to Commodore Aviation in Port Lincoln SA, the aircraft was repaired and returned to work. Commodore would eventually operate three of these aircraft, doing charter work and fish spotting. It had another incident in 1966 which ended its flying days. In 1989 it became part of the museum's collection and was only finished not long ago before going on display within the main display hangar.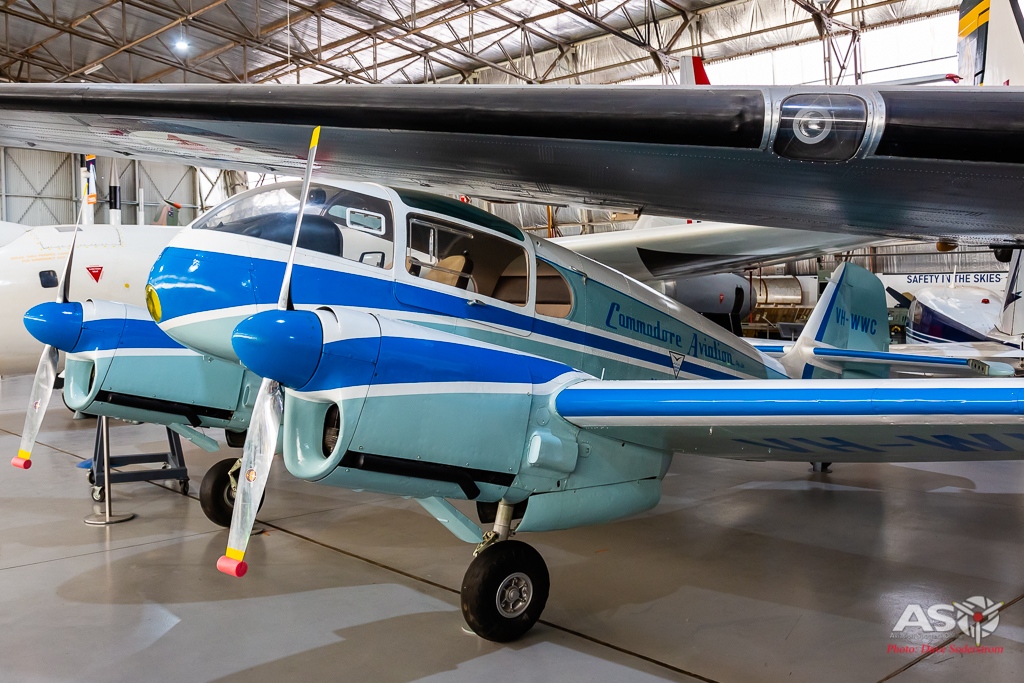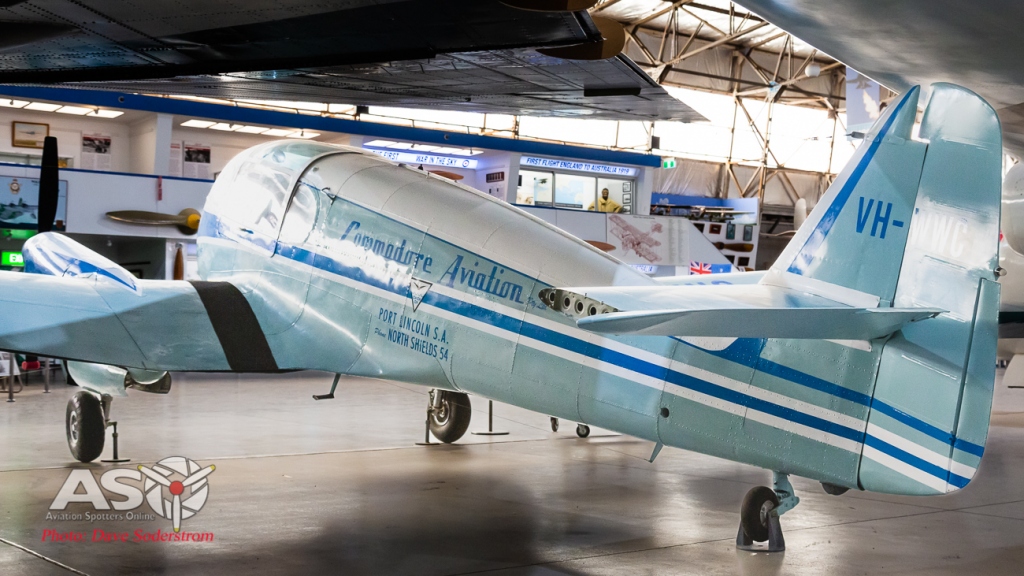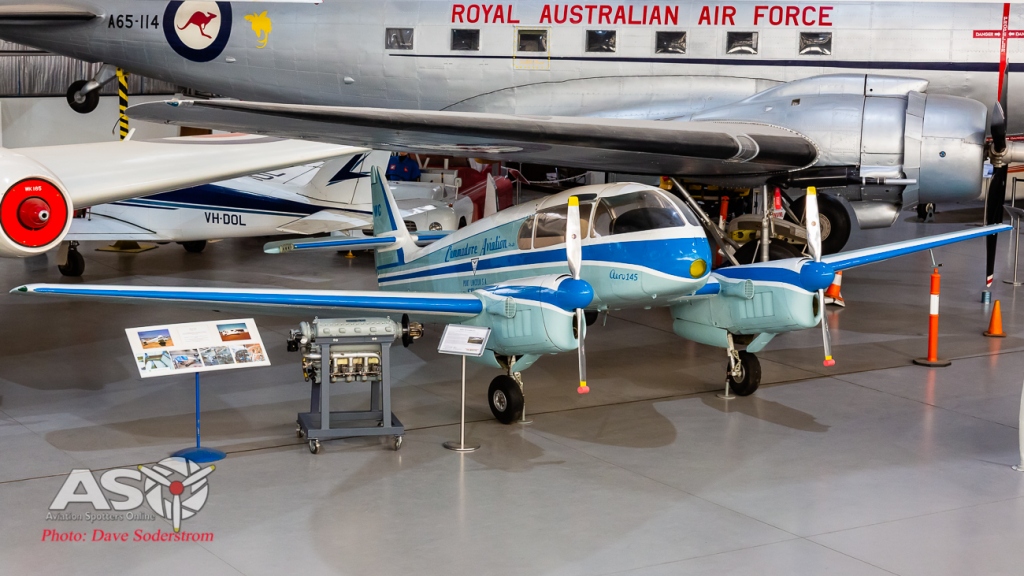 Douglas C-47A A65-114
This example of Douglas's famous Gooney Bird or Biscuit Bomber was delivered to the Royal Australian Air Force in 1945, following transfer from the USAAC. It was used after the end of hostilities to transport POWs from Singapore to Australia. Later in its career, it was converted for VIP use. By 1954 it was then being operated by No 38 Squadron at RAAF Richmond.
Passing onto the Aircraft Research and Development Unit or ARDU firstly at RAAF Laverton, ARDU relocated its operations to RAAF Edinburgh where the aircraft saw out its service until its last flight in 1988. Suffering an engine failure on takeoff the crew returned to base whereupon landing the left undercarriage collapsed causing substantial damage. Declared a write-off, the aircraft remained at Edinburgh until being purchased by the museum in 1991. Restored and proudly wearing its ARDU scheme the aircraft highlights the units South Australian heritage and continued operations.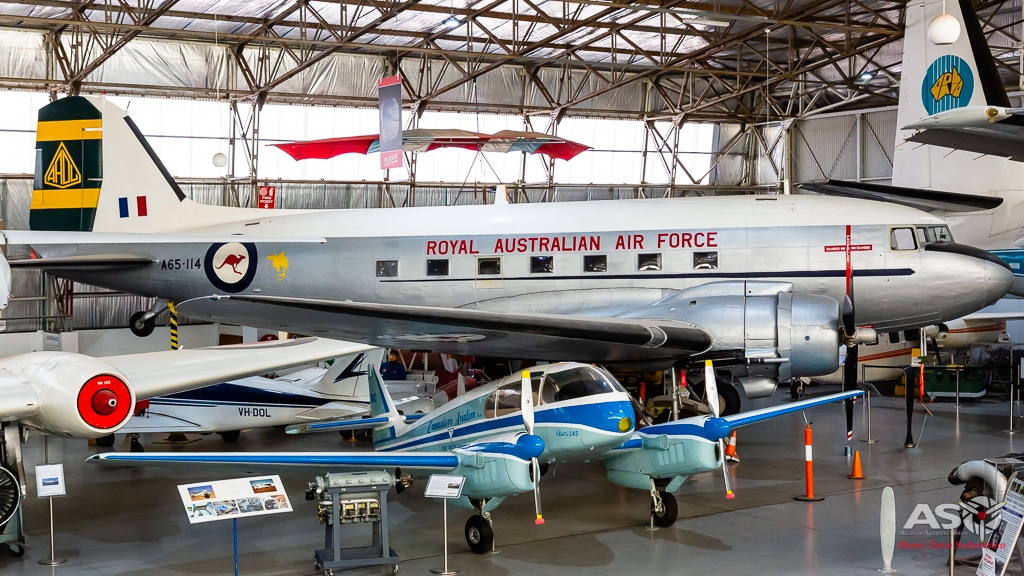 English Electric Canberra B2 WK165
Built in 1955 in the United Kingdom, it was transferred to the RAAF where it undertook operations at RAAF Edinburgh. Operations at Maralinga and Woomera were also conducted. In 1970 it was struck off charge and became a museum exhibit in 1997.
Unique in Australia as most preserved Canberra's are Australian built B20 models, this and three others, another one in store with SAAM an example in Greenock SA and one at Amberly are all British built examples.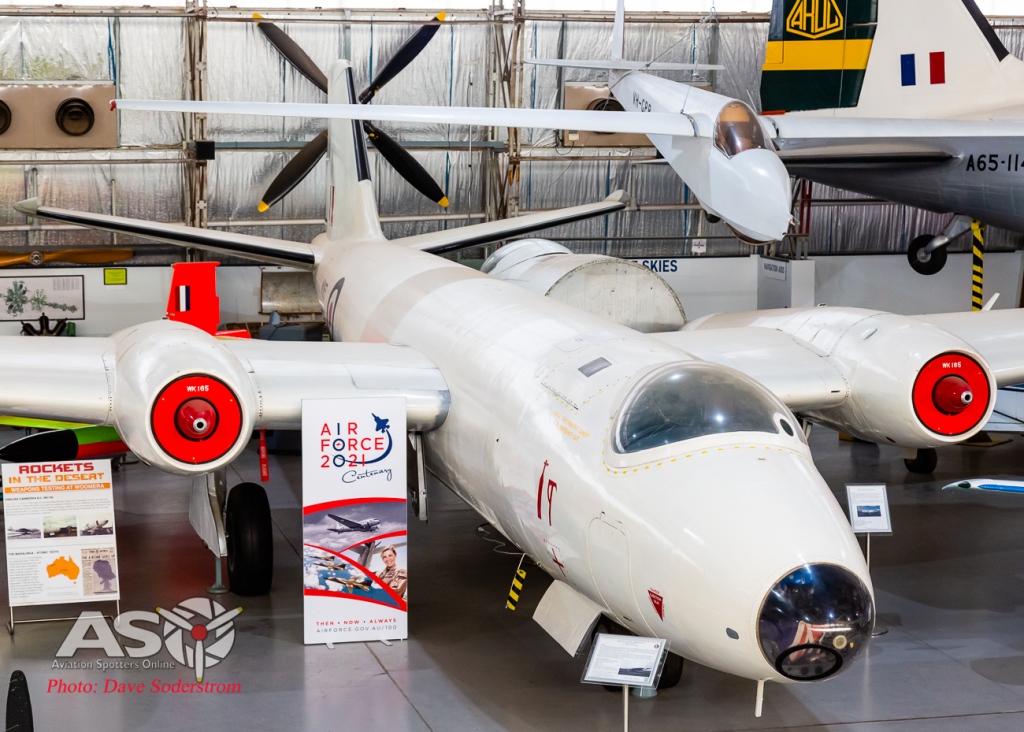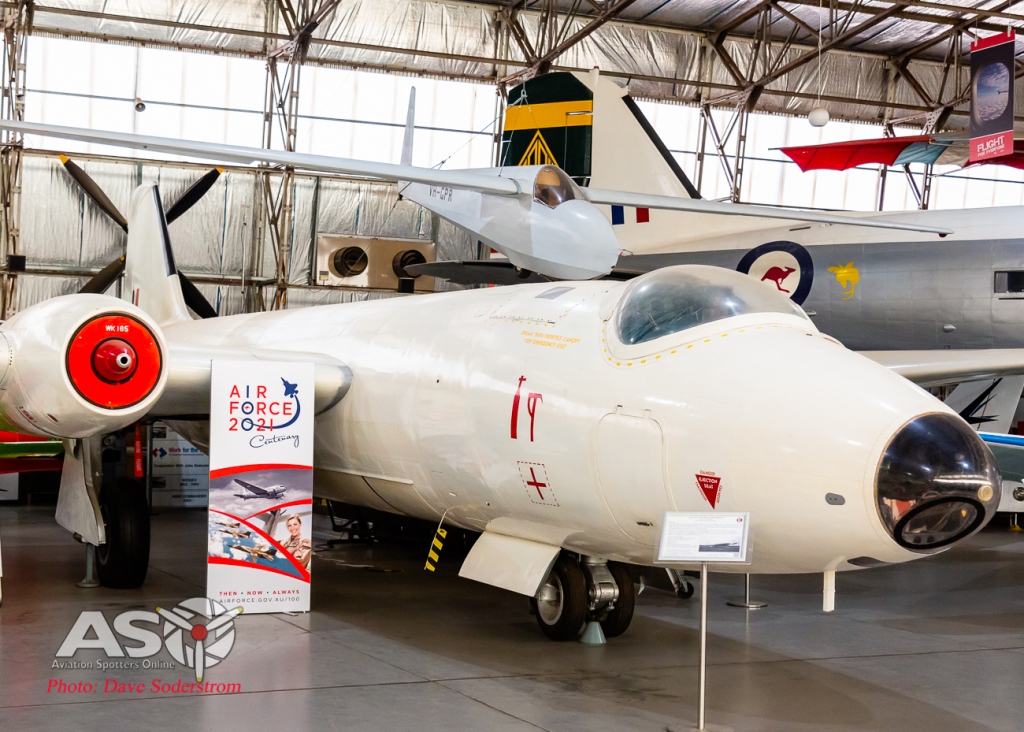 Also on display is the nose section of Canberra WD954 T.4. The thirteenth production Canberra, it was transferred to Edinburgh for continued training for the Weapons Research Establishment (WRE) program. Struck off charge in 1970, the rest of the airframe is in storage with the museum.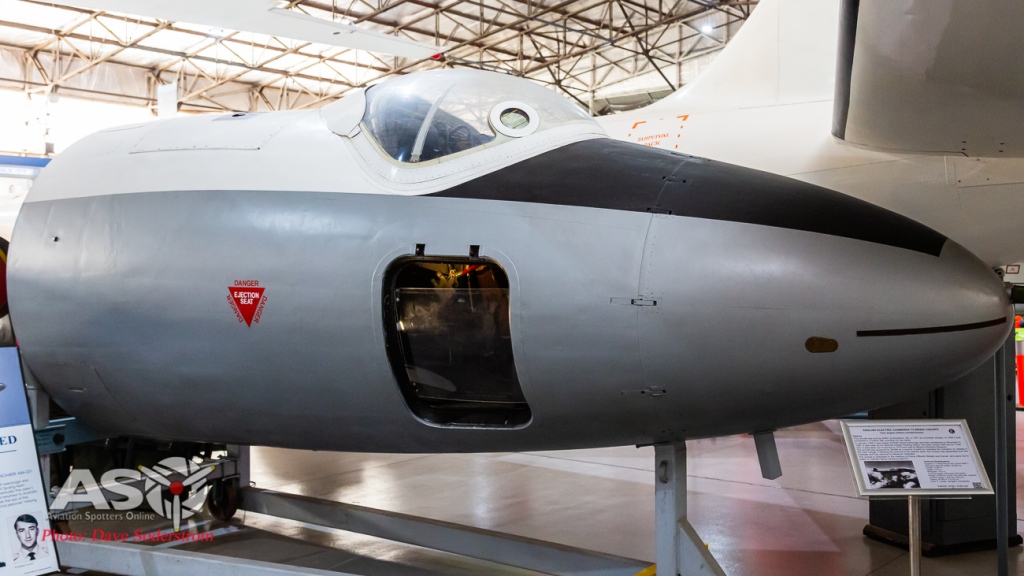 General Dynamics F-111C A8-132
This is actually the second F-111C the museum has been charged with caring for. Initially, the museum received A8-134 which has now been sent to the Australian War Memorial. A8-132 was delivered to the RAAF on the 27th July 1973 and conducted its last flight on the 24th May 2010.
The airframe has over 4900 hours on the clock. Used by the ARDU between 1982-1988 the distinctive white undersides, aided in the filming of weapons releases. The aircraft also helped develop a complete performance model on the F-111C. After its last trial in 1998, the F-111 returned to the fleet to resume duties as a strike aircraft. Today it stands as a testament to F-111 and is a firm favourite at the museum. Pre Covid cockpit tours were conducted by the staff.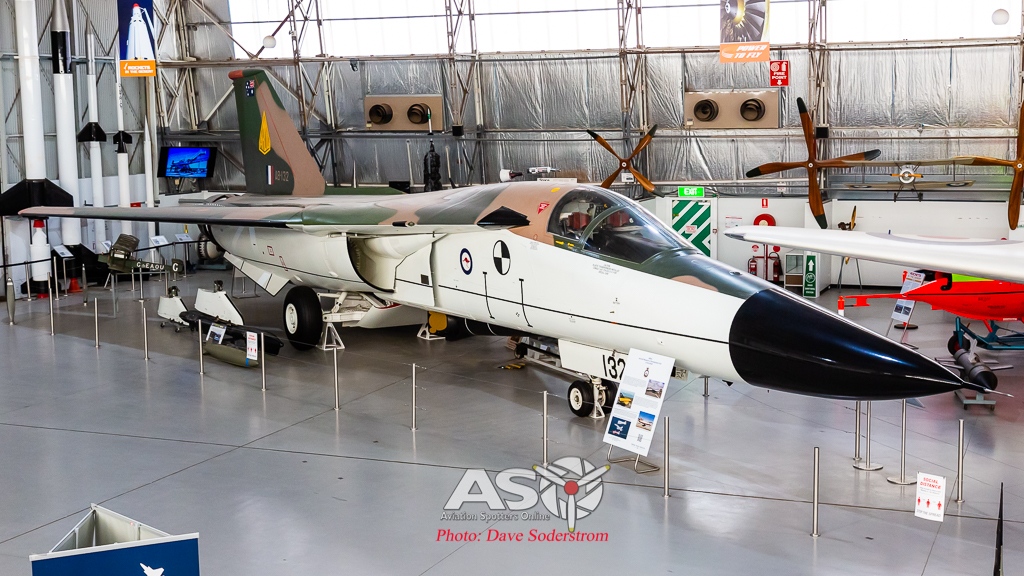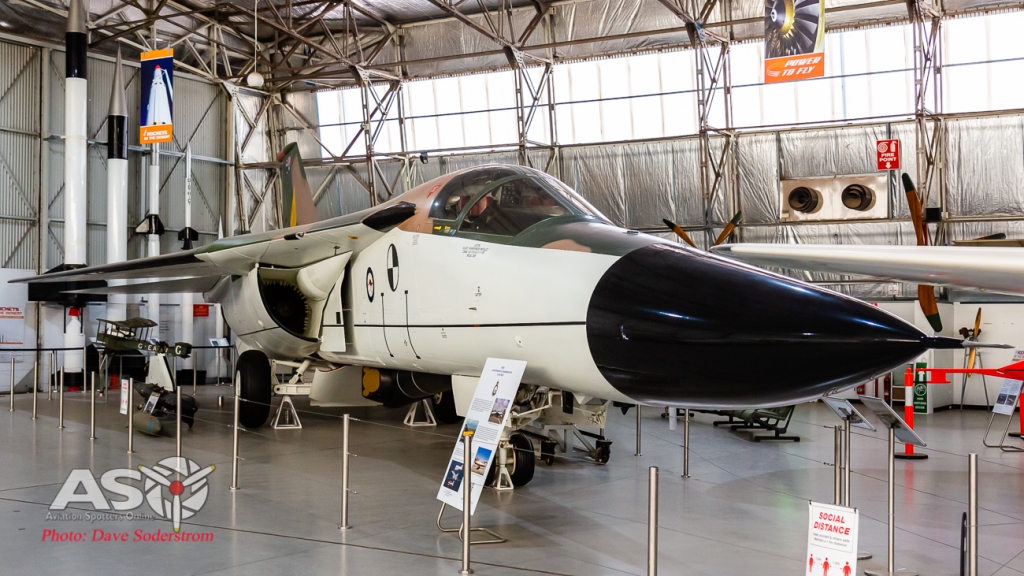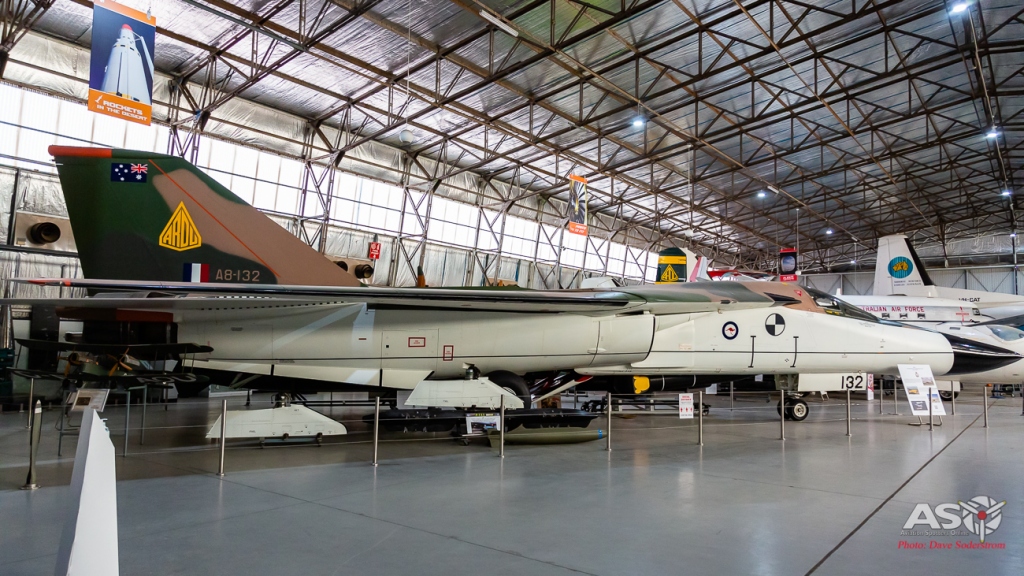 Vans RV-4
In 1989 Jon Johanson was working as a charter pilot and became interested in building his own aircraft. After investigation, he decided to build the Van's RV-4. The building process was slow but was completed in 2,000 man-hours. A permit to fly VH-NOJ was issued in January 1992 and two days later the aircraft flew for the first time.
Following a visit to the Sport Aircraft Association's Mangalore fly-in in 1992, Jon started plans to fly to Oshkosh, USA. Long- distance flying started in 1994 and the first world trip occurred in 1995. Jon departed Parafield on 26 June for the USA and Oshkosh. After a stay of a few days, he headed across the Atlantic Ocean for Europe, the Middle East, Asia, and then back to Parafield, where he arrived on 4 September. The total flight time was 198.20 hours, the distance 26,350 nm (48,800 km), and the average ground speed was 133 kts (246 kph). Jon undertook two further world trips in 1996 and 2000, and more flying records were broken.
The RV-4 was retired and transported by road to SAAM in September 2009 for display.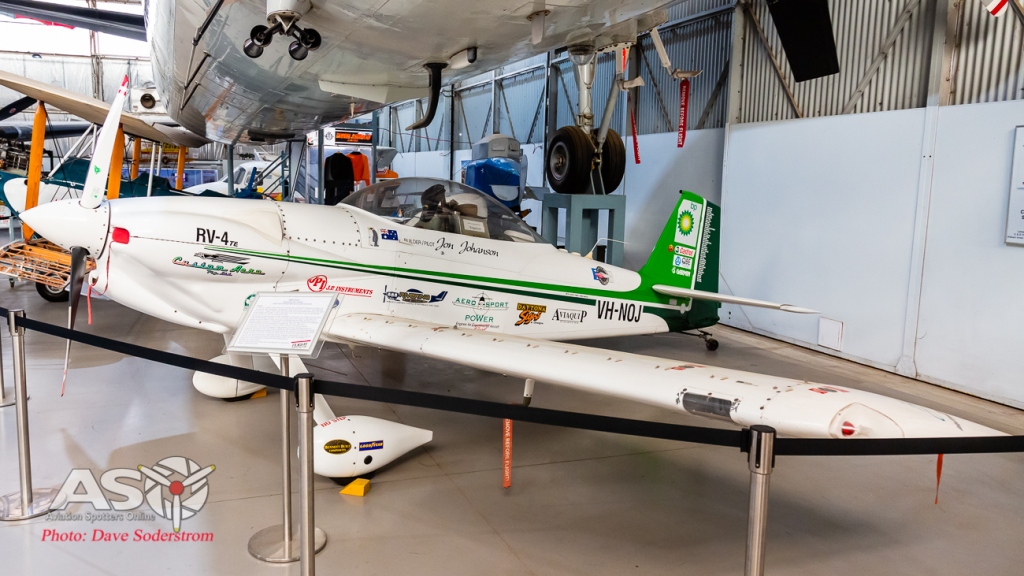 de Havilland DH-60G Gipsy Moth VH-ULJ
This pre World War Two biplane was first registered as VH-ULJ in August 1929. After a host of other owners, the aircraft became part of the Guinea Airways fleet in 1941 before being grounded due to cracks in the rear fuselage in 1942. After being imported back to Australia after being flown back from PNG it was then sold as a training aid to the SA Education Department. After spending time with the Technological Museum it was finally transferred to SAAM in 1991.
Consequently, the museum also has a second partly restored airframe which is VH-ULO. This aircraft is in storage presently and is different to ULJ being an all-metal fuselage compared to the formers wooden one.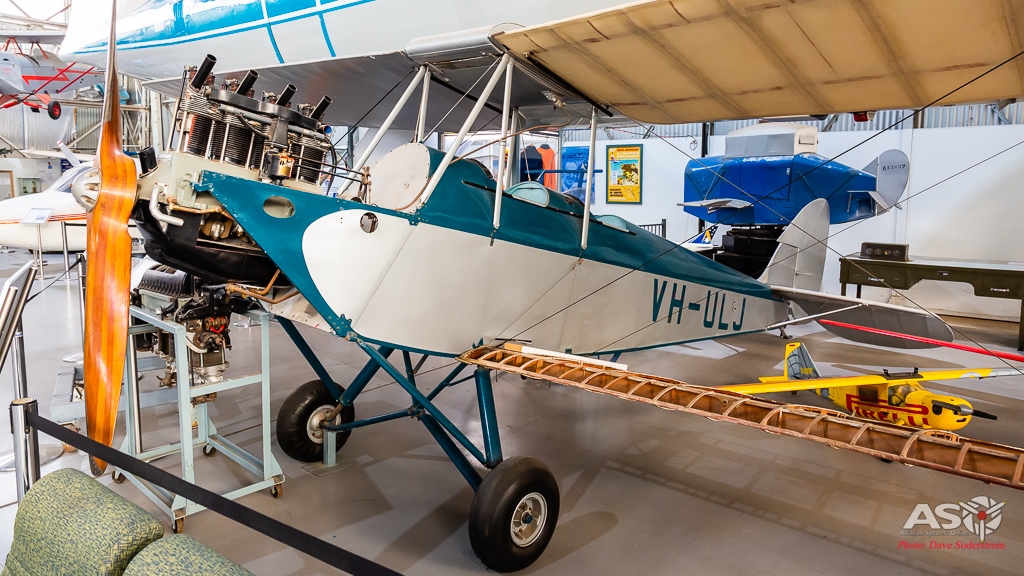 Aero Commander 680 VH-PSG
The Aero Commander on display is a 1956 built aircraft that came to Australia as VH-SMA owned by the Snowy Mountains Hydro-Electric Authority in 1961. It was re-registered as VH-PSG in 1967 when purchased by Chartair Aviation in Adelaide. The aircraft was sold on and enjoyed a host of other operators before being acquired by the museum in 1991.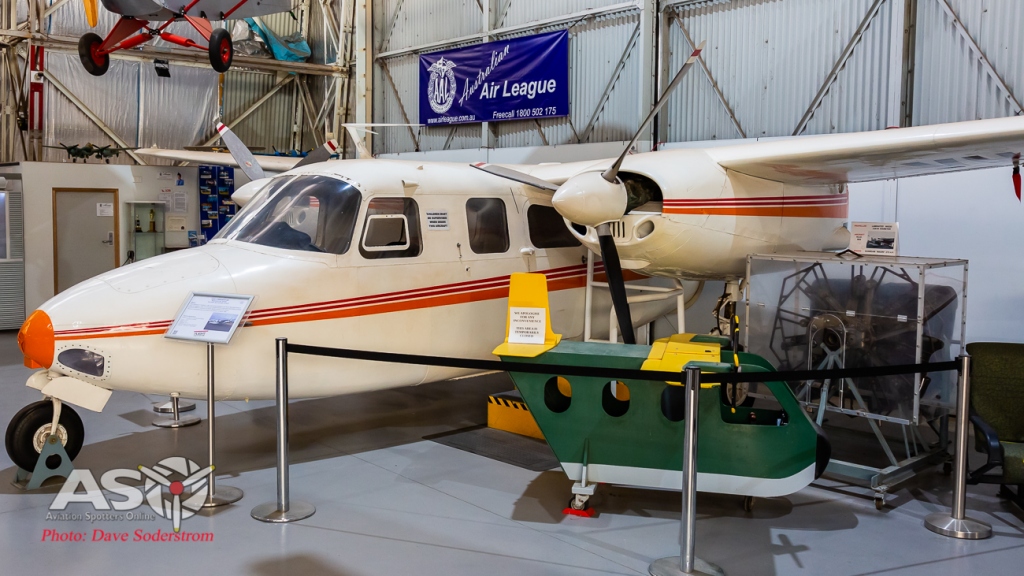 Piper PA-24-250/A1 Comanche VH-DOL
Long term SA resident is Piper Comanche VH-DOL. was manufactured by Piper in 1959 where it was registered as N6230P. It was first registered in Australia in 1962 in South Australia and remained there throughout its operational life. The aircraft was withdrawn from service in 1992 and was stored in a hangar for twenty- two years until it was donated to SAAM by Mr Buchanan's son and daughter, arriving at the museum in December 2014.
It has a notable history having competed in the 1969 London – Adelaide – Sydney BP Commemorative Air race flown by its owner, Rick Buchanan and Ian Britten- Jones, and placed second in class.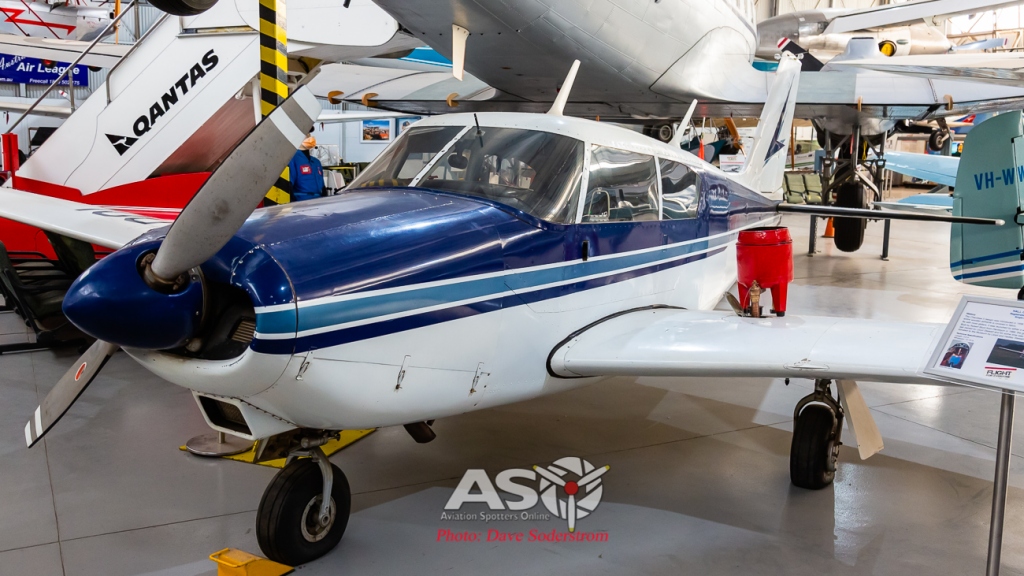 Sheppard CS2
An interesting and not very common display is the Sheppard CS2. Designed in the 1930s by South Australian Clem Sheppard, Clem first designed and built a glider before turning to the CS2. By 1938 the aircraft was ready to fly, flown and tested by the local instructor Bill Maddocks, the outbreak of World War Two saw its development halted and not flown. Today it hangs as a testament to a local and his dream of flying.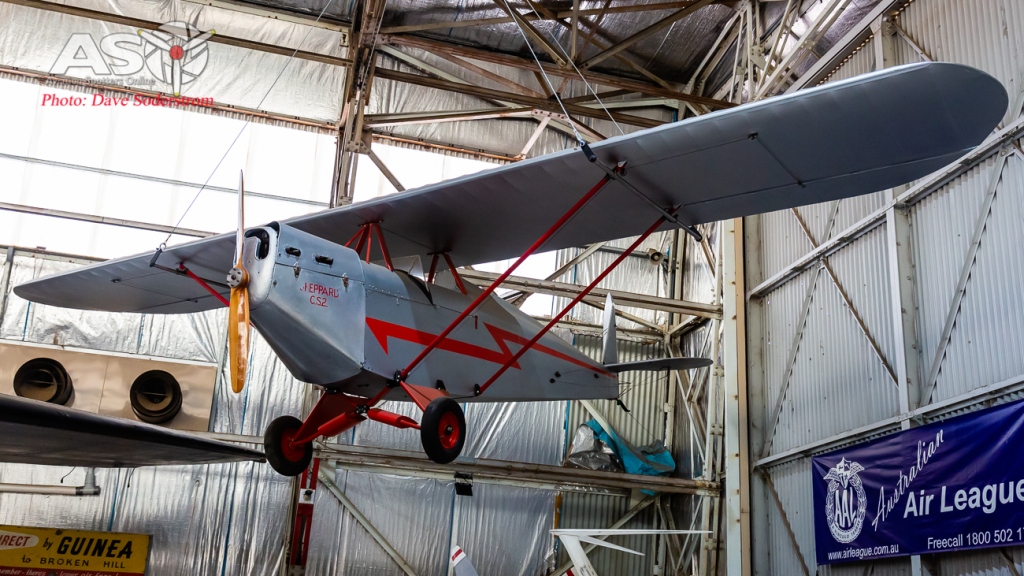 GAF Jindivink N11-752
It wouldn't be an Australian collection without an example of the locally designed and manufactured unmanned aerial target high-speed drone. This particular example was delivered to the Royal Australian Navy in 1987. Its service was short as it crashed on takeoff in 1992. Stored for a number of years it eventually joined the museum in 2004.
The Jindivink was not only to serve the RAAF and RAN, other examples were built and sold to the RAF, US Navy and the Swedish Airforce.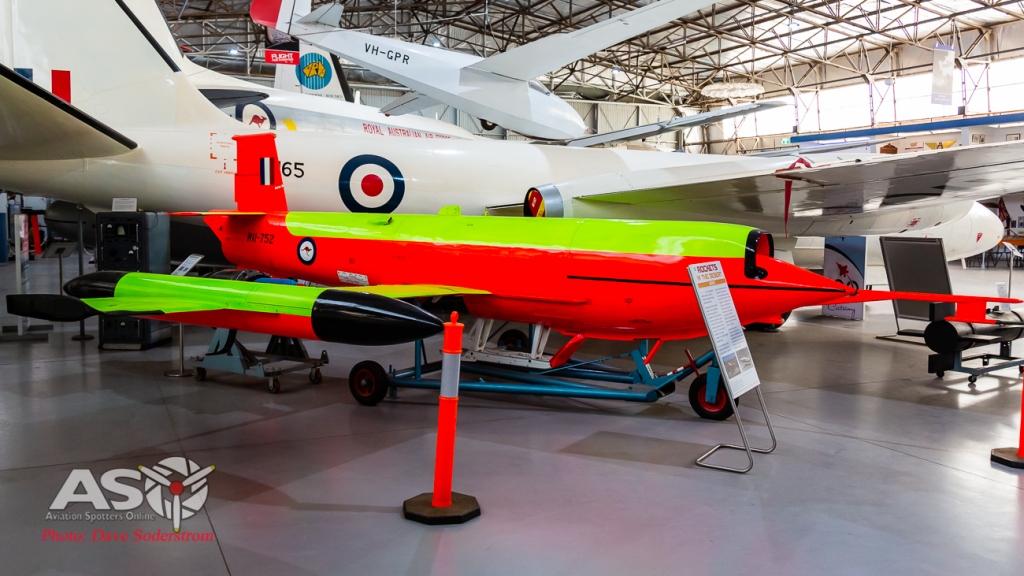 British Aerospace BAe 146-300 VH-NJL
Manufactured in 1992, the aircraft was first flown on 21 July. After some time in storage, it was registered as G-BVPE on 25 July 1994, registered to British Aerospace (Operations) Ltd. The aircraft was leased to National Jet Systems Australia in October 1994 and was registered on the Australian register as VH-NJL. It was flown to Australia arriving in Adelaide on 30 October 1994.
VH-NJL was operated by National Jet Systems on behalf of QANTAS Airlink on regional services in South Australia and Western Australia until 2006 and then by National Jet Systems as the registered operator. National Jet Systems was renamed Cobham Aviation Services in 2009, and VH-NJL was re-painted in the new livery in February of that year. It continued operations with Cobham until retirement in May 2017. The forward fuselage was added to the museum collection in 2018.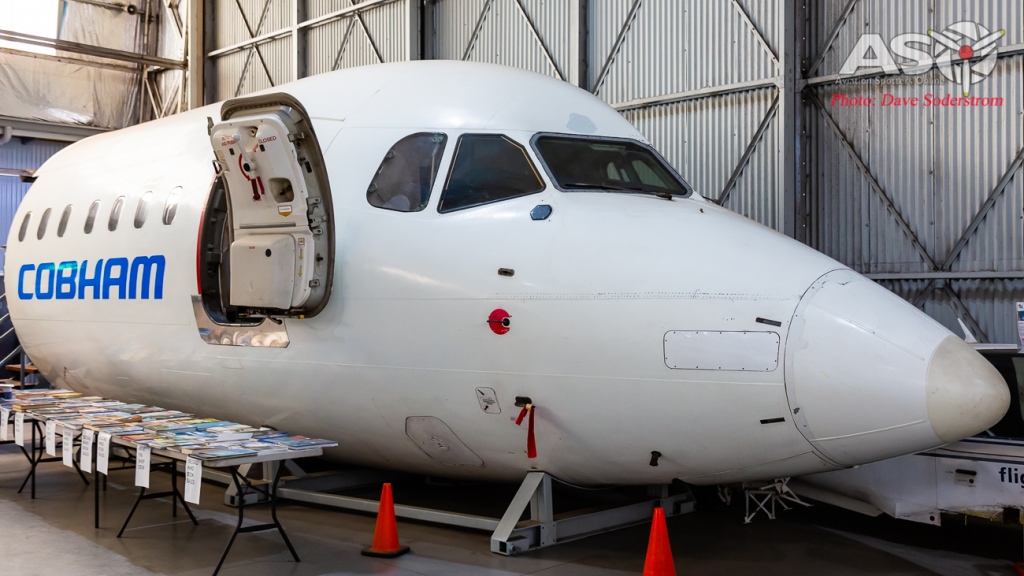 Moving into the second hangar which also houses the restoration area, you see a host of military aircraft from early jets to the recently retired AP-3C Orion.
de Havilland Dh-112 Sea Venom WZ931
One of thirty-nine delivered to the Royal Australian Navy is WZ931. Delivered in 1956 and serving on Australia's then aircraft carrier HMAS Melbourne the Sea Venoms were part of the Fleet Air Arm embarked which included Fairey Gannets and Wessex Helicopters.
The all-weather fighter bomber served Australia until its retirement and replacement by the A-4 Skyhawk in 1967. WZ931 served with both 724 and 805 Squadrons. The aircraft became part of the museum's collection in 1987 after being transferred from the RAN Museum at Nowra.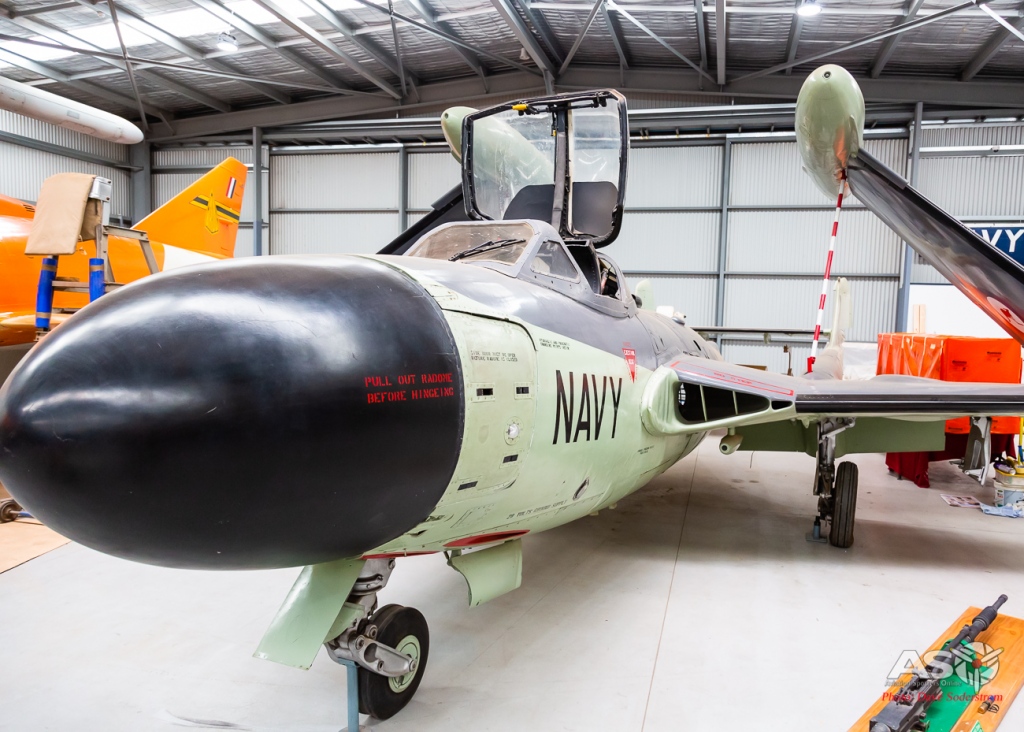 Dassault Mirage IIID A3-115
The Mirage was ordered by the RAAF to replace its obsolete CAC built Sabres. After intense evaluation the French design was selected with an order for one hundred single-seat and ten dual seat aircraft, the latter increased to 16 in 1970. The first initial aircraft were built by Dassault in France until local supply by the Government Aircraft Factory being the prime contractor and the Commonwealth Aircraft Corporation being the major sub-contractor, building the wings, fin and engine, were able to do so.
A3-115 was delivered to the RAAF in December 1973, and served with 2 Operational Conversion Unit (OCU) and with 77 Squadron at RAAF Williamstown, and also with the Aircraft Research and Development Unit (ARDU) at RAAF Edinburgh. It was withdrawn from RAAF service in December 1986. After being held at Edinburgh for display purposes and as a gate guard the Mirage was delivered to SAAM in 2018.
Currently, the aircraft is undergoing repainting and conservation work to address issues for long term display.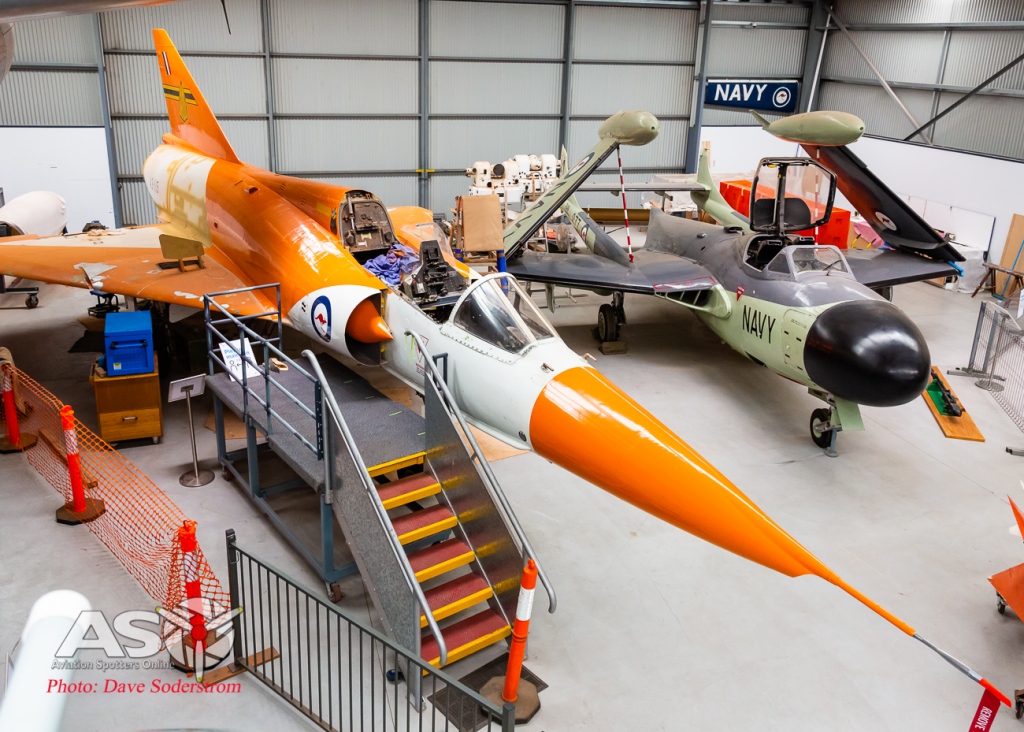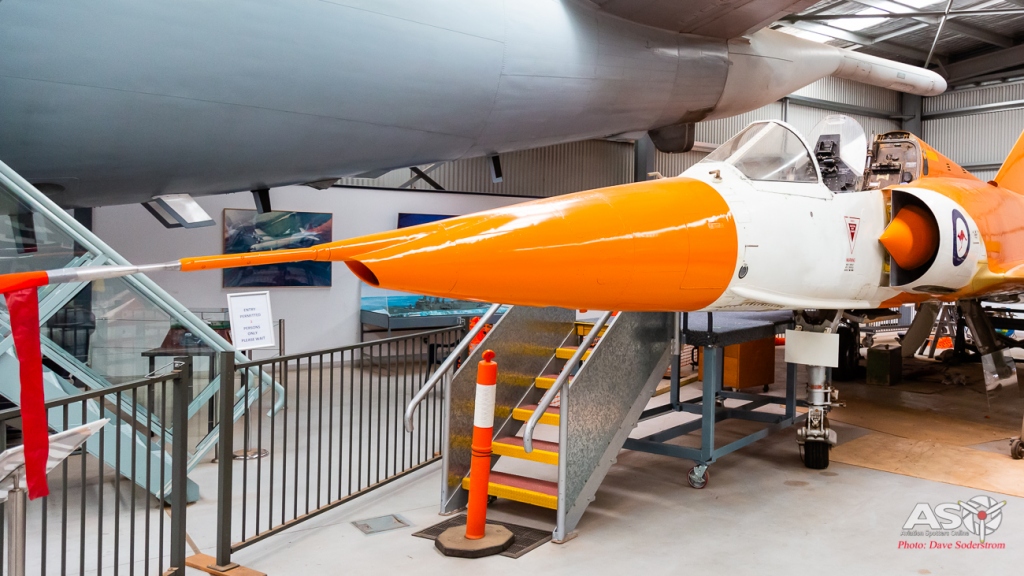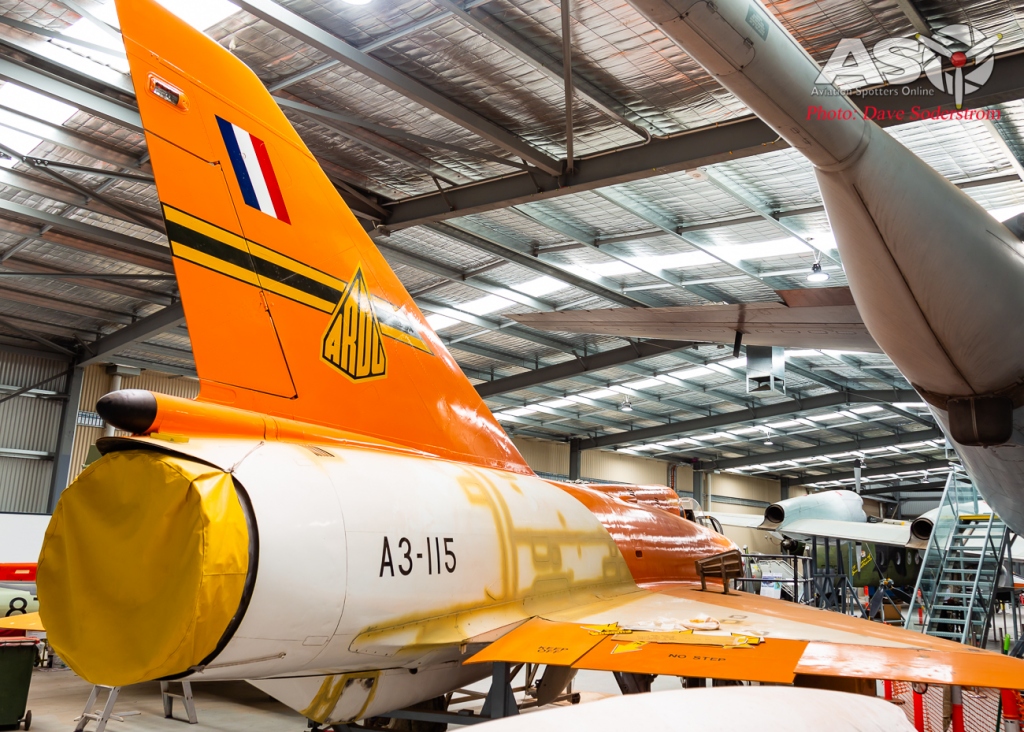 Westland Wessex N7-224
The Australian Navy was a quick adopter of helicopters, and when HMAS Melbourne was entering service a large order of twenty-seven Mk 31 versions of the Wessex was also ordered. Used in the anti-submarine and transport roles. This particular airframe was built in 1963, and served on HMAS Melbourne and later HMAS Stalwart. Retired in 1987 with the introduction of its successor the Seahawk.
N7-224 became an instructional airframe before moving to become a museum piece at the Fleet Air Arm Museum at HMAS Nowra. It then moved to be part of the SAAM Collection in 1998.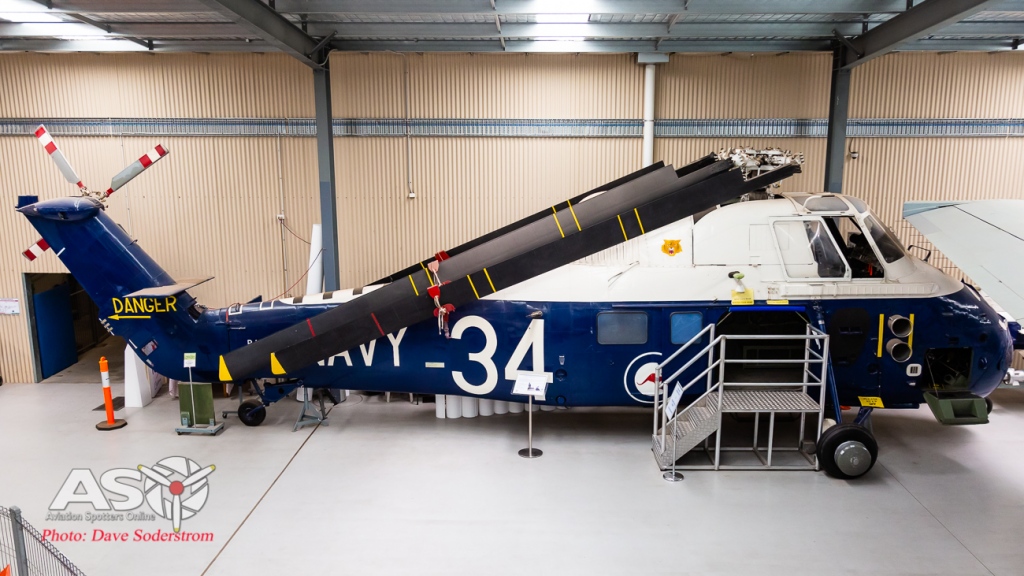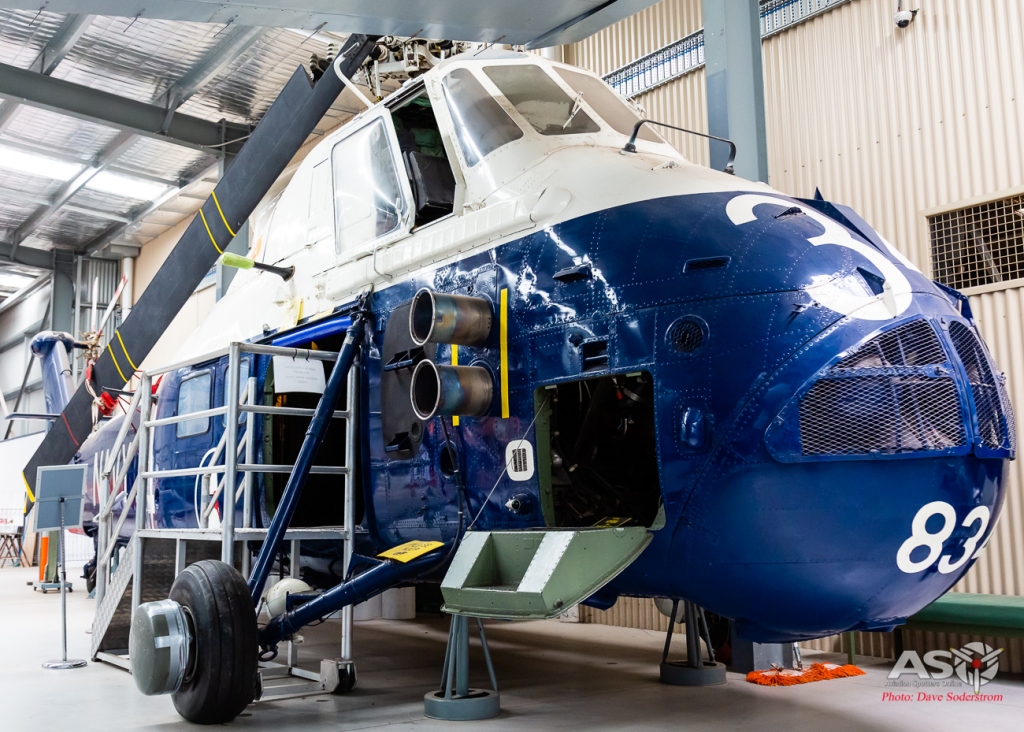 Lockheed AP-3C Orion A9-756
Certainly, the largest exhibit at SAAM is the Lockheed Ap-3C Orion. Used in the anti-submarine and Search and Rescue, Surveillance and some fitted and used for electronic intelligence (ELINT) role. A9-756 was delivered to 10 Squadron at Edinburgh in September 1978 as a P-3C. It was then upgraded to AP-3C standard during the early 2000s. Retired as part of the progressive withdrawal as the type was replaced by the Boeing P-8 Poseidon. A9-756 is right at home as RAAF Edinburgh just up the road was the Orions home for its entire life. Today just two examples configured in the ELINT form are still operational at the base which is due for replacement by the MC-55 A Peregrine, which is based on the Gulfstream G550 airframe.
Currently, A9-756 is displayed minus its port wing and engines and vertical tail. These are hoped will be added when the extension to the hangar is done.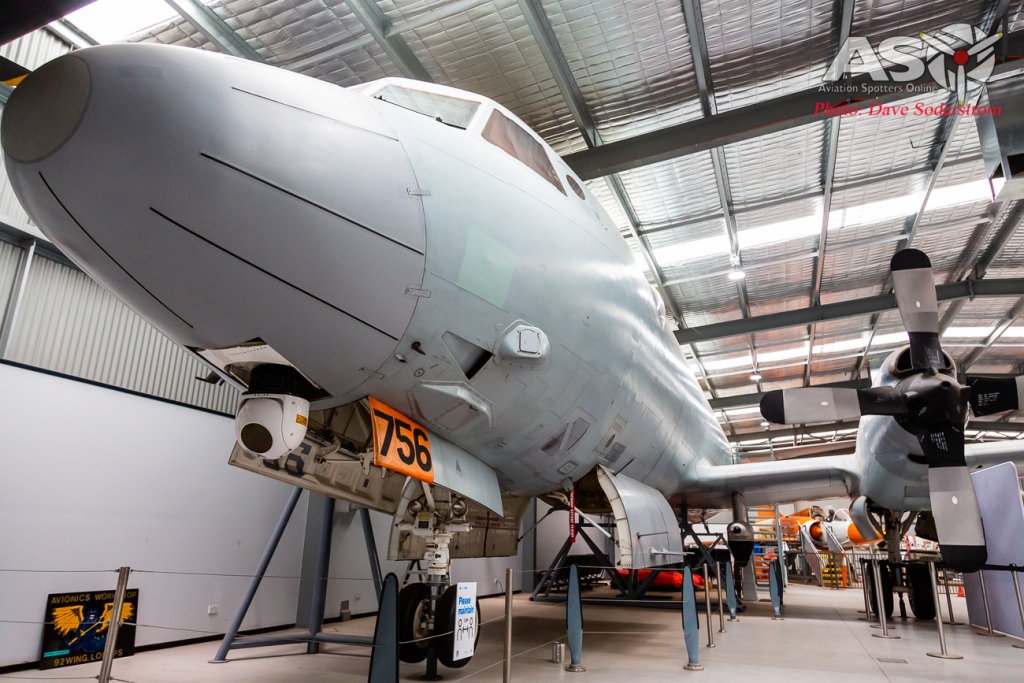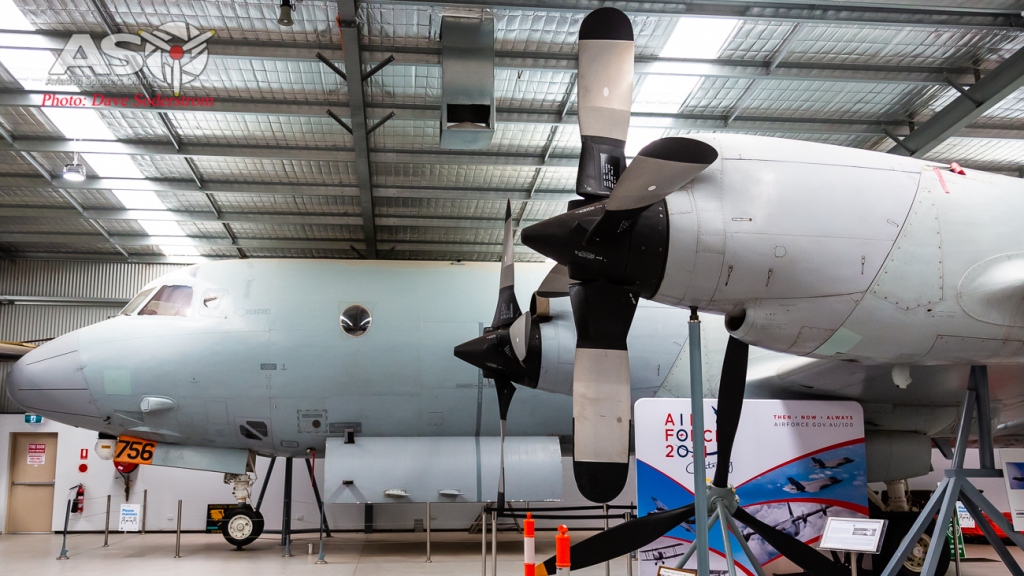 de Havilland DH100 Vampire F30 A79-202
The Vampire was selected as Australia's new fighter and entry into the fast jet world. Built-in Bankstown NSW it was one of eighty single-seat and one hundred two-seaters built. A79-202 was built in 1951 and was delivered to RAAF Williamtown in December of that year. After sustaining damage in a wheels-up landing in 1953 and being repaired it was then transferred to No 23 Citizens Air Force and then, No 21 Squadron. Withdrawn from service in 1960 it then ended up in Mildura with the Warbirds Museum until its acquisition by SAAM in 1989.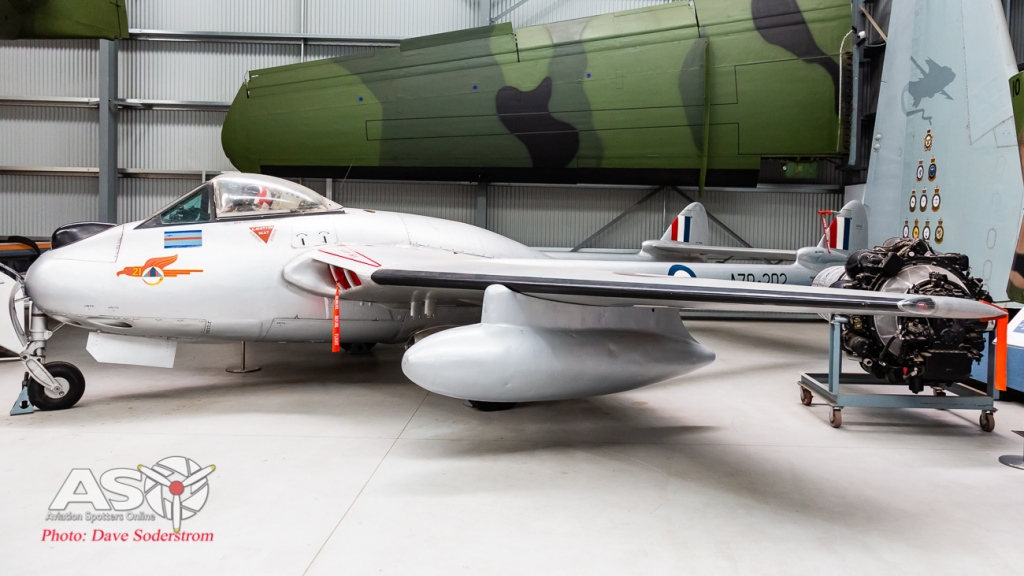 CAC CA-32 Kiowa (Bell OH-58 Kiowa)
On display is A17-010 one of twelve Bell built examples before production of the type was undertaken by the Commonwealth Aircraft Corporation at Fisherman's Bend, in Victoria. Another fifty-six were then built before production was finalised. A17-010 saw service with the 161 Reconnaissance Squadron in Darwin and 162 Reconnaissance Squadron in Townsville in reconnaissance, communications, supply and pilot training.
Retired from the Australian Army in December 2005, A17-010 was acquired by SAAM from Defence Disposals in 2017. The Kiowa was replaced by the Airbus ARH Tiger helicopter which its self is due for replacement by the Boeing AH-64E Apache soon.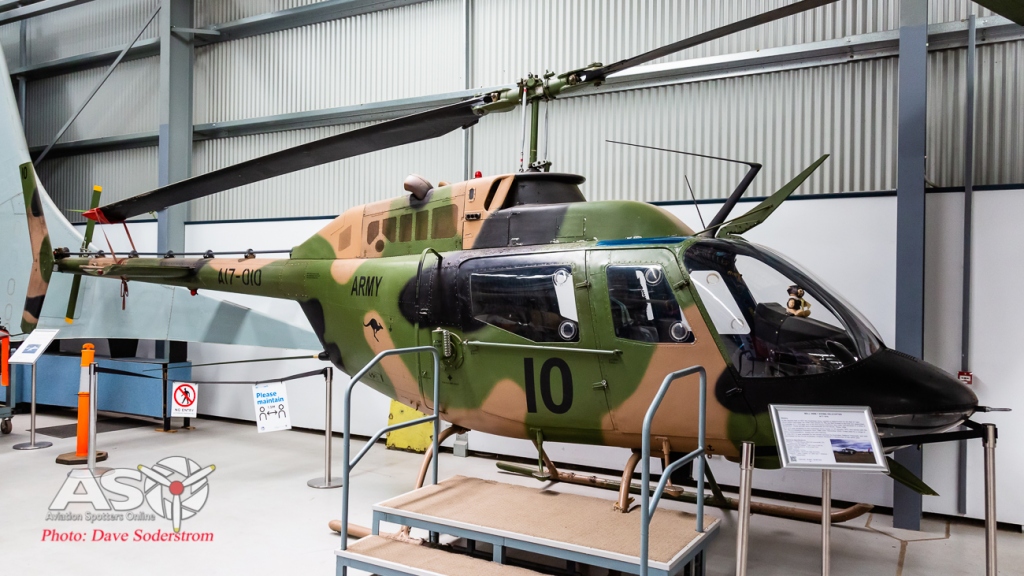 CAC CA-30 (Aermacchi MB-326H) A7-026
Built under licence by the Commonwealth Aircraft Company in Fishermans Bend in Victoria. the RAAF and RAN ordered ninety-seven examples. A7-026 was delivered to the RAAF in 1968. Serving with the Central Flying School it was then painted for its role as a Roulette display aircraft. The aircraft crashed in 1985 and then became a training aid at RAAF Wagga. It was then one of several examples put up for disposal in 2004 and arrived at SAAM in 2006.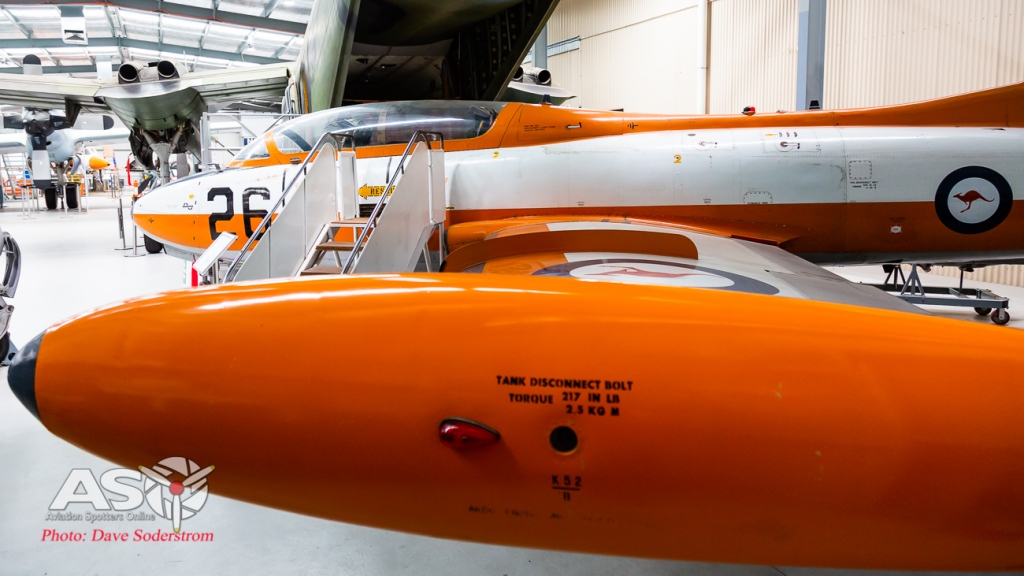 de Havilland Canada DHC-4 Caribou A4-225
Ordered to replace the old Douglas C-47s still in service. Twenty Nine were ordered by the RAAF with the first examples flying direct to Vietnam to support the war effort.
The Caribou subsequently served in Vietnam until February 1972 carrying a total of 700,000 passengers and 41,300 tonnes of freight over 47,000 flying hours, the Australian detachment being known as 'Wallaby Airlines'.
A4-225 was accepted by the RAAF from de Havilland Canada in June 1965. It was allocated to 38 Squadron at RAAF Richmond in June 1965 and served in New Guinea with Detachment 'A' between 1965 and 1971, where it was used to qualify crews in tropical and difficult terrain conditions before deployment to Vietnam. During its time in New Guinea, this aircraft discovered the wreck of a RAAF Dakota missing since 1945. Retired from service in 2009 it was acquired by the museum in 2016.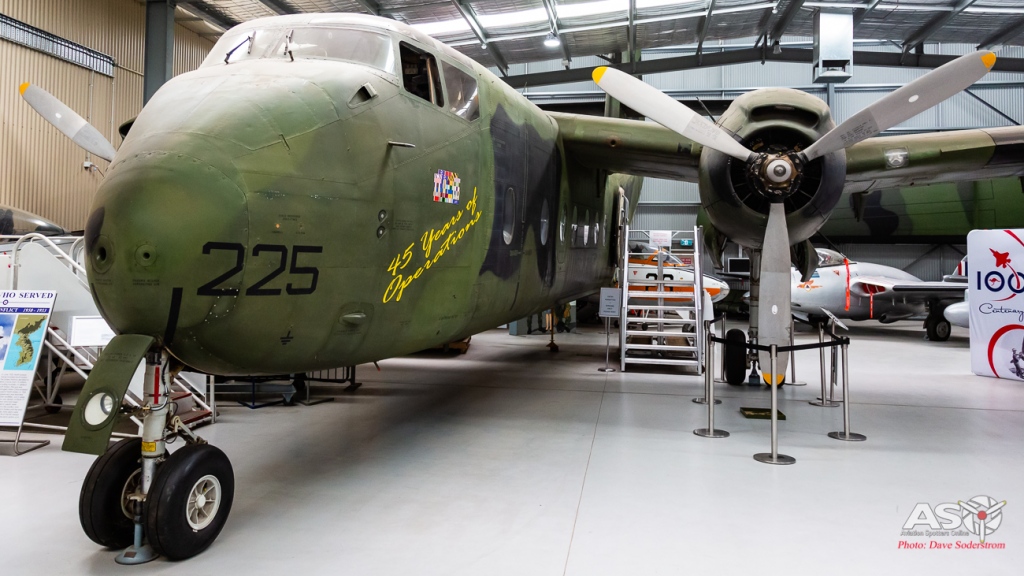 Gloster Meteor F8 A77-851
The Meteor was ordered as a replacement for the CAC and North American built Mustangs which were now being used in Korea and were being outclassed by the Russian designed Mig-15s. Eventually, ninety-three F.8 single-seaters and four two-seat T.7s were delivered to the RAAF. 77 Squadron took the Meteor to Korea making it the first combat RAAF squadron. Again outclassed by the superior Mig design the Meteor operations in Korea took a heavy toll with 77 Squadron losing fifty-three aircraft, and thirty-two pilots in either combat missions or operational accidents.
The cockpit section on display is a significant airframe, while being piloted by George Hale it shot down a Mig-15 and later another probable was credited to the airframe. After Korea, the aircraft was sent home and was converted to U.21 Drone configuration. A crash landing at Woomera would see its flying days ended and being sent for scrap. Fortunately, the cockpit was saved and was initially on display at the Warbirds Museum in Mildura, before becoming part of the SAAM collection in 1990.
One can only hope that one day the aircraft can be completed as a tribute to the men of 77 SQN again. The museum has a rear fuselage and outer wings in storage but needs the centre fuselage. If anyone can help I'm sure the museum would love to hear from you.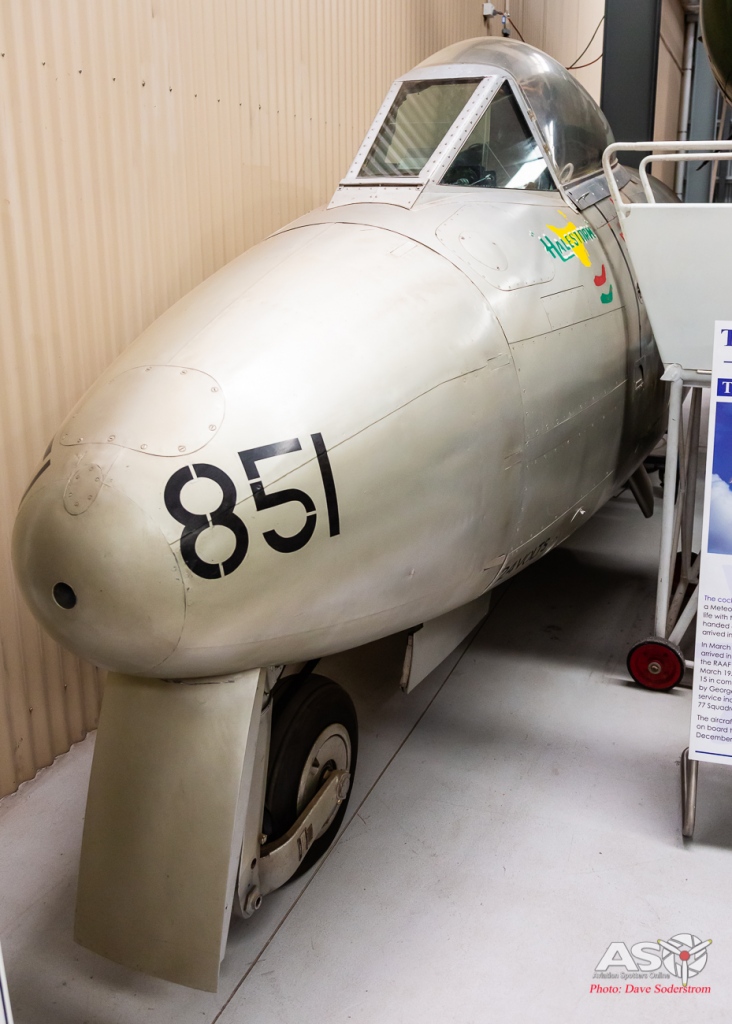 Moving out and into the restoration are two projects that are progressing along very nicely. Two World War Two types are currently undergoing restoration to display condition. The Avro Anson and Fairey Battle were far from complete examples when acquired by SAAM.
Anson EF954 is getting closer to the end of its restoration with the second outer wing now ready to be hung on the airframe. EF954 spent a good part of its service life in South Australia so will become a fine tribute to the men and women who flew, and maintained the type in service.
The Fairey Battle is also edging along and the restoring team have come along leaps and bounds from the corroded wreck they started with. N2188 was recovered in 1974 and became part of the museum's collection in 1998. What makes this restoration all the more significant is it will be one of only four examples when completed. Unfortunately, I was unable to get an image of the restoration as the area was closed off. So I have attached an image from a previous visit. (Note a lot of work has been done since this image was taken)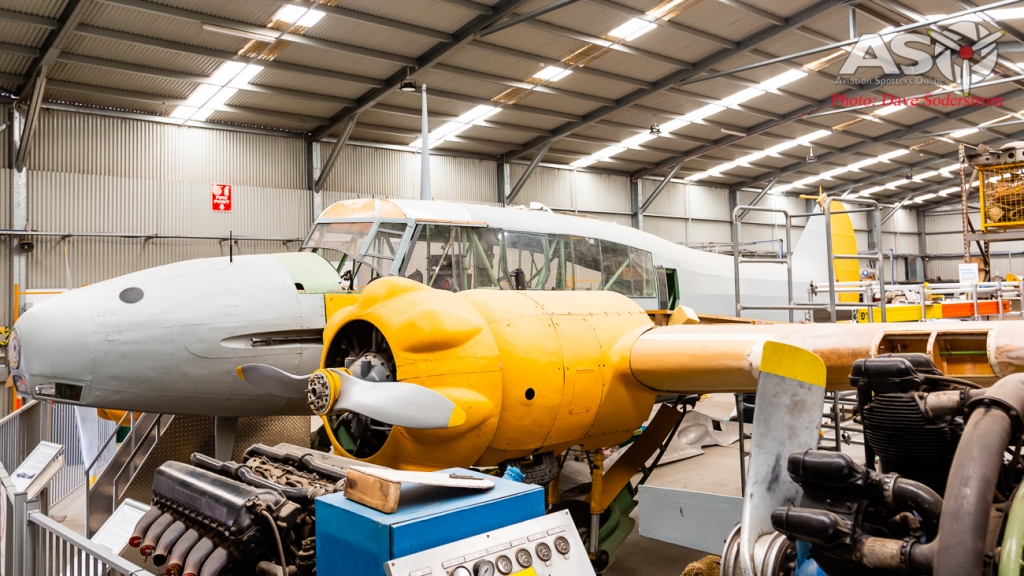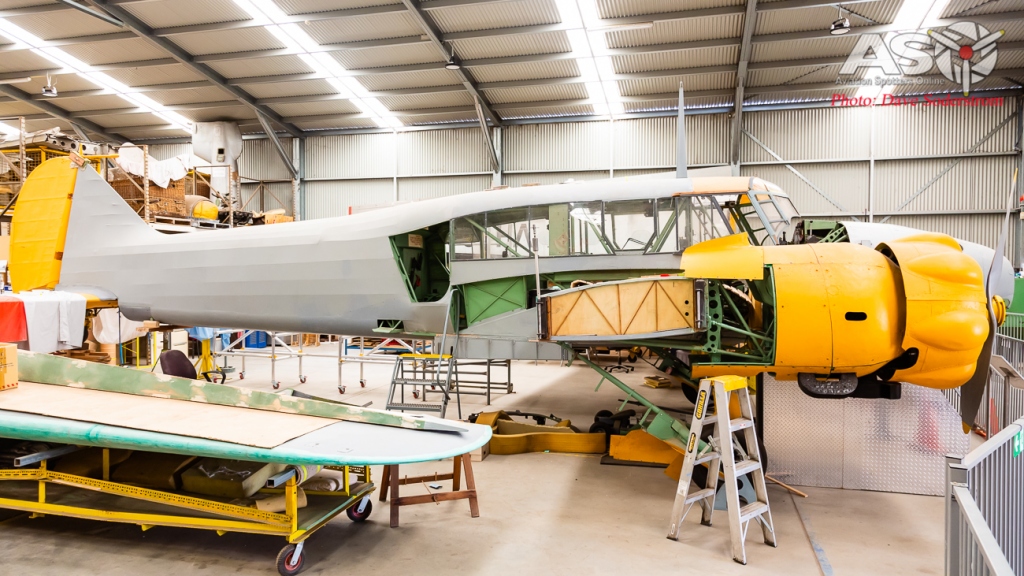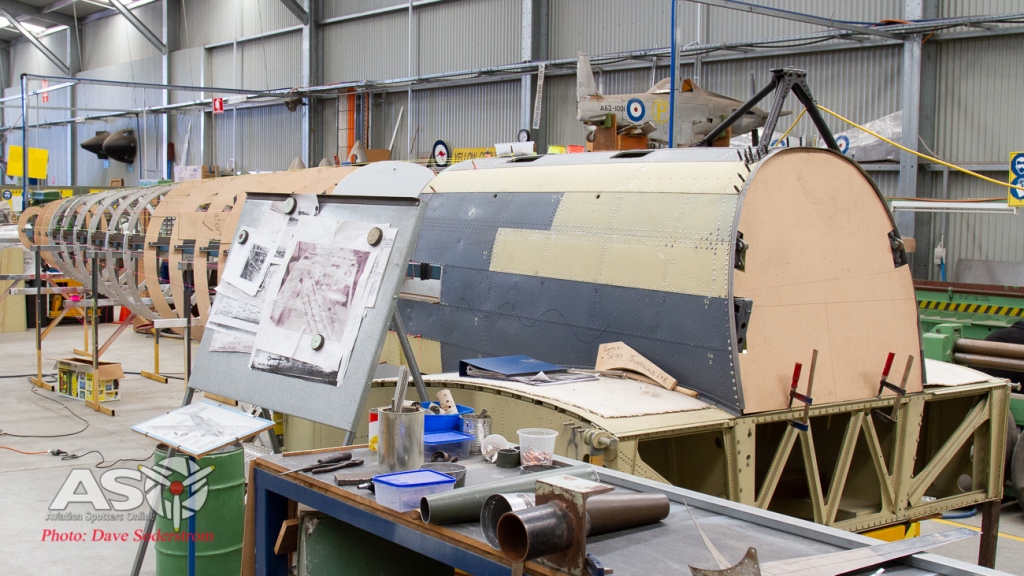 Going forward the museum has been preparing its main display hangar for some impending arrivals. Due over the course of 2022 is three new editions. These include McDonnell-Douglas FA-18 A21-32 in its ARDU scheme, Pilatus PC-9 A23-032 (painted as ARDU A23-045) and ex-RAF Percival Proctor NP184.
So another visit will be needed as soon as these editions arrive. I can't thank the volunteers for their time and dedication to their museum. If you are in Adelaide please make an effort to see the collection. Every dollar spent there is turned into these quality displays you see here.
Dave