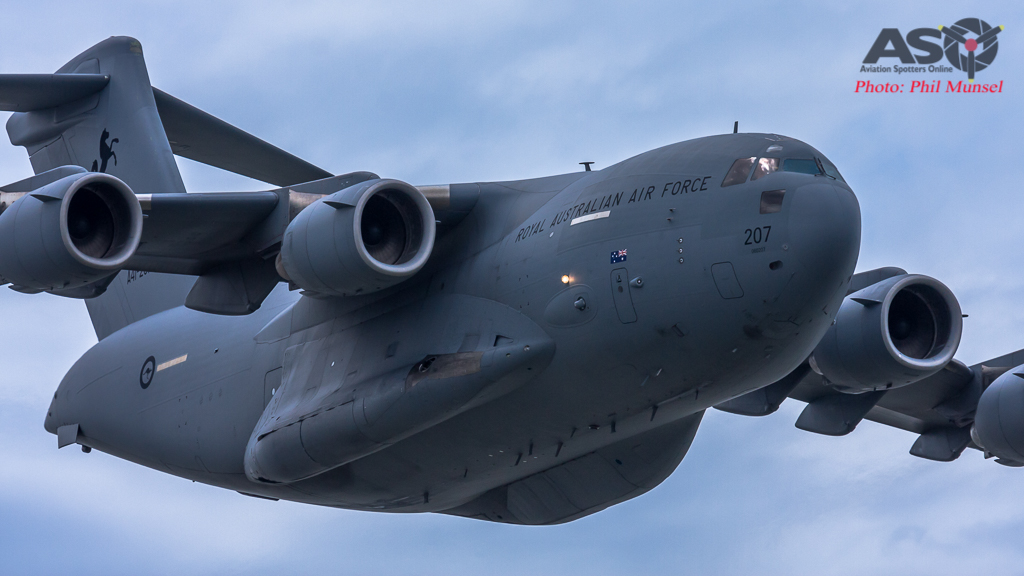 The 2019 Australian International Airshow and Aerospace & Defence Exposition held at Avalon Airport near Geelong in Victoria, is the 14th time the show has been held since its inception back in October 1992. This biennial show is one of the Asia-Pacific regions most prestigious and the largest of its kind in the southern hemisphere. This airshow, like the ones before has something for everyone, from aerospace industry professionals, the military, aviation enthusiasts, recreational pilots and the general public, there are attractions and displays to cater for the most discerning of interests.
Royal Australian Air Force-
The Royal Australian Air Force, in conjunction with Airshows Downunder, has been the driving force behind each of the shows held at Avalon Airport that have been staged since 1992. The Australian International Airshow over the years has seen almost every current type operated by the RAAF make an appearance, at one time or another, either as a static exhibit, or as part of the flying display. Since it's debut at the 2007 Australian International Airshow, the crowd pleasing Boeing C-17A Globemaster III always attracts large lines of people to walk through its cavernous hold, and this year was no exception.
Boeing C-17A Globemaster III –
The Royal Australian Air Force has been operating the Boeing C-17A Globemaster III since November 2006. The RAAF ordered an initial batch of 4 aircraft in mid 2006 after options where considered during the 2000's after it was revealed that the RAAF wasn't able to meet its strategic airlift capability to transport large and heavy vehicles, along with other items of equipment that was being utilised by the Australian Army. This situation materialised during the 1999 East Timor deployment, and operations in the Middle East in 2001, as the Australian Defence Force at the time, were using USAF Transports and chartered Russian built Heavy lift aircraft to help with movements of supplies and troops to and from Afghanistan, and the Middle East, due to the RAAF's fleet of Lockheed C-130 Hercules transport aircraft not able to carry oversized loads over long distances as was the requirement at the time.
With the governments decision to purchase the Globemaster, this improved the ADF's ability to operate outside of Australia and its region. The first four aircraft were delivered between November 2006 and January 2008, with another pair ordered in 2011 and 2014 respectively, with the eighth and final airframe arriving in November of 2015. With then Defence Minister Brendon Nelson's decision to acquire the Boeing C-17A Globemaster III, it was announced that 36 Squadron would be the sole operator of the type, and that their Lockheed C-130H Hercules aircraft would be transferred to 37 Squadron which is based at Richmond in New South Wales, and the C-17's new home would be located at RAAF Base Amberley in Queensland. Along with this move, it was necessary to upgrade the Air Movement facilities at all major RAAF Bases across the country to accommodate the increased capability offered by the Globemaster.
The RAAF's fleet of C-17's were acquired via the United States Governments Foreign Military Sales program, which meant they were delivered to the USAF first, before transferring over to the RAAF, that enabled a very fast delivery time due to no changes or modifications, other than national markings being applied, that allowed delivery within nine months after initial commitment.
Operational Service-
With the C-17 Globemaster production line now closed, maintenance of these aircraft to help them remain in service for atleast 30 years is undertaken by the RAAF and Boeing. As an operator of the C-17, Australia is included in the Globemaster III Sustainment Partnership, which sees Australian Air Force technicians responsible for routine servicing, whilst Boeing is responsible for all major maintenance tasks required on the aircraft. Along with maintenance, Boeing also provides technical support during deployments outside of Australia by RAAF C-17's.
Before the first Australian C-17A was delivered, a select group of RAAF pilots and loadmasters received conversion training with USAF C-17 units at Altus Air Force Base in Oklahoma, Charleston Air Force Base in South Carolina, and McChord AFB situated in Washington. These locations were utilized for technical staff training, and conducted during the latter half of 2006, which was led by Wing Commander Linda Corbould, who at the time was the Commanding Officer of 36 Squadron, and who would eventually deliver the Royal Australian Air Force's first Boeing C-17A Globemaster III, A41-206 to RAAF Base Amberley, on December 7 2006.
During 2007 plans were afoot to acquire the associated equipment needed to convert the C-17 for the all important Aeromedical Evecuation role, that is an integral component when a 36 Squadron C-17 is tasked for any deployment within Australia or Internationally, during times of war or natural disaster, as is the case when heavy lift transport is required and tasked accordingly. September 5th 2008, will be remembered in RAAF C-17 circles as the date the first Aeromedical flight took place, which occurred exactly one day after the type was approved to operate in this most important of roles.
December 2008 also marked another milestone for the RAAF, and 36 Squadron C-17 operations, when Wing Commander Corbould, led the first all female aircrew during a training flight over South East Queensland, for the types second anniversary of service. 2010 also saw 36 Squadron take sole responsibility for the training of aircrew with their newly installed simulator coming online, with the first Australian trained pilot graduating in May.
With Amberley based 36 Squadron achieving final operating capability status towards the end of 2011, this set the squadron up to begin its own in-house training for all aircrew positions, without the need to rely on USAF qualified trainers. Early 2013 witnessed the commissioning of another simulator facility to provide training for loadmasters, air movements and medical staff, as well as develop and trial advanced cargo carrying techniques, with the emphasis focusing on associated procedures related to the roles that the C-17, and 36 Squadron would be employed under, primarily that of Humanitarian and Disaster relief, with the first Australian trained batch of loadmasters graduating from the newly commissioned facility during the middle of 2014.
Since it's arrival into service, the C-17 Globemaster has had a significant impact on the RAAF's airlift capability, and the ADF as a whole. With a maximum range in excess of 10,000 kilometres, not including its air-to-air refuelling capability, and with it's ability to operate from short unsealed airstrips, makes the C-17 invaluable in times of need. Each Globemaster can carry up to 77,000 kg of cargo and up to 102 persons or 36 stretches if needed. An example of what can be carried inside the C-17 include the Australian Army M1 Abrams tank, three Eurocopter Tiger ARH Helicopters or five Bushmaster Mobility Vehicles.
Deployments –
As early as 2008, the RAAF's fleet of C-17A Globemaster III's have been tasked to support Australian military deployments throughout the world. 36 Squadron and their Globemasters have been tasked with numerous trips to many of the worlds hot spots, in support of the Australian Defence Force's contribution to the global war on terror, with supply trips made to the Middle East and Afghanistan. As an example of the Globemasters ability to support ongoing overseas deployments, during the course of 2012, RAAF C-17's flew 60 sorties, which would equate to roughly 330 flying hours, they moved 290 vehicles, up to 1,800 passengers, and a staggering, 3,600 tonnes of cargo, and able to perform 20 aeromedical evacuation flights.
As well as supporting the Australian Defence Force (ADF) during times of conflict, 36 Squadron C-17's are regularly called upon to support overseas deployments from resident squadrons when partaking in military exercises with coalition partners, or when invited to take part in the static, or flying display, at any number of airshows throughout Australia, and the world.
Humanitarian missions-
Along with the C-17's military role, the Australian Government in times of natural disaster will turn to 36 Squadron, and their fleet of C-17A Globemasters to be first on scene with supplies and equipment. Since November 2007, when an RAAF C-17 delivered 27 tonnes of aid to the people of Port Moresby in Papua New Guinea following flooding caused by Cyclone Guba, C-17's have been involved in numerous situations. 2009 saw them off to Samoa following an earthquake, then to Pakistan in 2010 after widespread flooding, to one of the squadrons busiest times in 2011, which saw them fly over 227 tonnes of supplies to flood affected regions of Queensland, 100,000 sandbags to the south in Melbourne due to flooding, before heading north to Cairns with 200 tonnes of groceries as part of Operation Yasi Assist, following Cyclone Yasi ravaging parts of North Queensland.
During 2011 C-17's headed east across the Tasman to assist the people of New Zealand, following the tragic earthquake that hit Christchurch. Following this, three 36 Squadron Globemasters were called upon to head to Japan after the 2011 Tōhoku earthquake and tsunami, which saw widespread destruction across parts of Japan.
Along with aid supplies, C-17's have carried various pieces of equipment such as power generators and transformers, the likes of which were needed in 2013 during the deadly bushfire that swept through Tasmania, to a water purification plant that was flown to Samoa in 2011, for the isolated community of Tuvalu.
2014 witnessed a pair of C-17's travel to Eindhoven Air Base in the Netherlands following the tragic shooting down of Malaysian Airlines Flight 17 over the Ukraine. Working in partnership with the Royal Netherlands Air Force C-130 Hercules squadrons, they were tasked to carry international police, including their associated equipment, along with the bodies of the victims from this tragedy back to the Netherlands from the Ukraine.
History was made in November 2015 after an RAAF C-17 was tasked with a supply drop for the Australian Antarctic Division, landing on Wilkins runway after departing Hobart. This flight was reported as the first RAAF mission to the Australian Antarctic Territory since 1978, after a 36 Squadron, C-130H Hercules landed at McMurdo Sound, after the Antarctic Flight was withdrawn way back in 1963. Whilst at Wilkins, the 36 Squadron crew practiced evacuating casualties from Wilkins. Further missions were conducted to other regions in the Antarctic with the use of air-to-air refuelling, as occurred during 2017 with supply drops to Davis Station.
36 Squadron –
With its motto of 'Sure', Royal Australian Air Force 36 Squadron, which currently operates the Boeing C-17A Globemaster III, and is based at RAAF Base Amberley in Queensland, is employed in the role of Strategic Transport.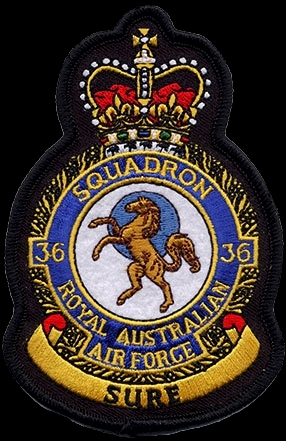 Since forming at RAAF Base Laverton in Victoria, in March of 1942, under the control of Southern Area Command, the Squadron was equipped with the Douglas DC-2, along with early de Havilland types such as the DH.84 Dragon. As World War II progressed, 36 Squadron would take charge of the venerable Douglas C-47 Dakota, which it flew until the introduction of the Lockheed C-130 Hercules in 1958. The years 1946 through to 1953 saw 36 Squadron controlled by No.86 (Transport) Wing, which at the time was based at RAAF Schofields, and Richmond in New South Wales.
1953 witnessed the outbreak of hostilities in Korea, with the Squadron reforming at Iwakuni in Japan, as part of No.91 (Composite) Wing. On its return to Australia in 1955, the Squadron was once again under the control of No.86 Wing. With the Squadron equipped with the Hercules at RAAF Richmond since 1958, 36 Squadron in 1964 became its own entity, independently operating as a unit under the command of headquarters at RAAF Base Richmond, following the disbandment of No.86 Wing.
Whilst Richmond was home for close to half a century, operating two models of the Hercules, the C-130A and C-130H, the Squadron over the years has seen active service during World War II, Korea, the Indonesia-Malaysian confrontation, Vietnam, Afghanistan and Iraq.
Whilst operating the C-130 Hercules, 36 Squadron notched up 200,000 accident free flying hours in 1984. During 1990, whilst operating the C-130H, the Squadron achieved 100,000 accident free flying hours, an achievement many strive for. During 36 Squadrons time operating the world's workhorse that is the Hercules, 36 Squadron was there to assist the people of Darwin, following Cyclone Tracy in 1974, moved thousands of passengers during the pilots dispute between Australian domestic airlines in 1989, supported the Royal Australian Navy during the first Gulf War, and transported Australian troops to help restore order in Somalia in 1993. More recent actions included INTERFET operations in East Timor during the late 90's, and evacuation of Australian holiday makers following the deadly Bali bombings in 2002.
After the decision to acquire the Boeing C-17A Globemaster III in 2006, 36 Squadrons fleet of 12 Lockheed C-130H Hercules where transferred to 37 Squadron located at RAAF Base Richmond, with 36 Squadron heading north to relocate at RAAF Base Amberley.
During the 2019 Australian International Airshow, held at Avalon Airport in Victoria, ASO's videographer Mark Pourzenic was given the rare opportunity to chat with a 36 Squadron C-17 pilot, and ask a few questions about life in the Royal Australian Air Force, and what it's like to fly the mighty C-17A Globemaster III.
Aviation Spotters Online would like to take this opportunity to thank the media team at Airshows Downunder for providing access and contacts, along with the RAAF Public Affairs team for granting permission for the interview.