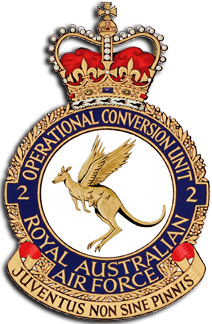 2 Operational Conversion Unit, Royal Australian Air Force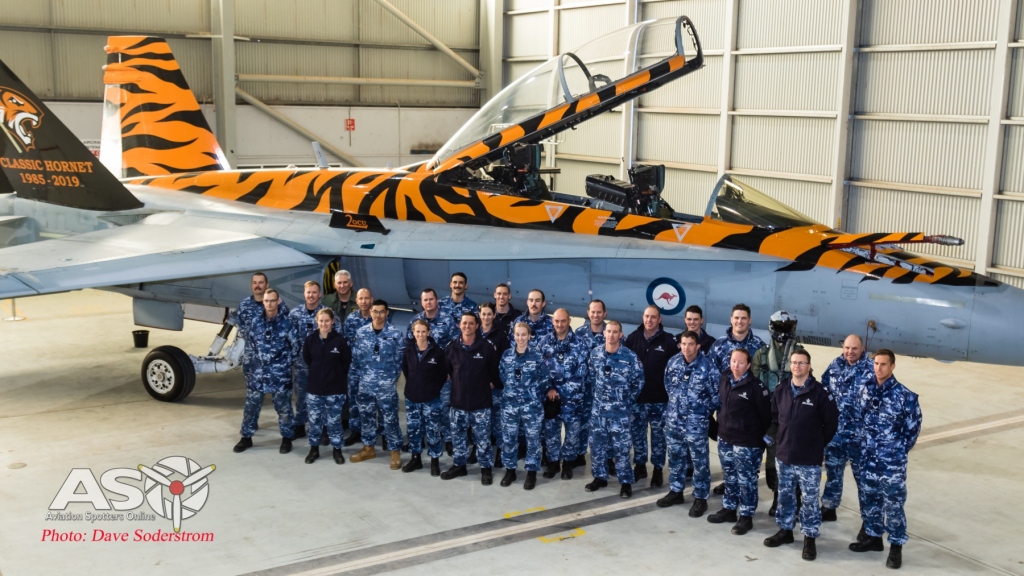 Mildura Airport located approximately five hours from Melbourne has a significant wartime heritage. This weekend that history was again honoured with a visit by a Royal Australian Air Force F/A-18B 'Classic' Hornet. The aircraft from the 2 Operational Conversion Unit (2OCU) arrived to honour the units history which started at this very airport. A21-116 painted in the spectacular Anniversary Tiger livery, arrived Friday afternoon. The units Commanding Officer Wing Commander (WGCDR) Scott Woodland, arrived in the aircraft which would be the last opportunity to showcase the aircraft before the squadron transitions to the F-35A Joint Strike Fighter.
A parade with a contingent of 2OCU personnel along with Australian Air Force cadets marched through the city of Mildura on Saturday morning, which was followed up with the Hornet inspection on the Sunday. Some 10,000 people descended on Mildura Airport.
Unit History of 2OCU:
Established and stood up as an active unit in April 1942, the No. 2 (Fighter) Operational Training Unit (No. 2 OTU) initially operated from Port Pirie, in South Australia. The unit was soon relocated to the new RAAF Station Mildura, Victoria, in May the same year. The unit was formed to train pilots for the war effort.
Wing Commander Peter Jeffrey, a fighter ace who had led No. 3 Squadron in North Africa. Wing Commander, Jeffrey brought Nos. 75 and 76 Squadrons on line to defend Northern Australia as the Japanese advanced toward New Guinea. Fellow instructors included, Clive Caldwell and Wilf Arthur fellow aces from the North African campaign.
Once the unit established itself in Mildura it was quickly operating a diverse range of types which included, P-40 Kittyhawks, Vultee Vengeances, Avro Ansons, CAC Boomerangs, Supermarine Spitfires and Airspeed Oxfords. The unit remained operational after the war, March 1947 it was disbanded.
2OCU Museum
It is worth noting that at Mildura Airport there is a museum dedicated to the preservation of the unit's history while stationed at Mildura. The 2OTU museum is run by volunteers and has a fantastic and interesting history on display of the unit within their building. The museum is under going some expansion with the addition of its first complete aircraft, a CAC Sabre, example A94-989 that is soon to arrive from the Australian National Aviation Museum at Moorabbin. The group is also wishing to acquire an F/A-18 Hornet from defence disposals once the aircraft is formally retired.
A second group is also trying to build a new memorial and museum to honour the men who served at 2OTU. The group formed by Anthony Koch and Sean Morgan back in 2014, had their plans and display on show.
In addition to this a further project being embarked upon is the desire to display a P-40 Kittyhawk within a building expansion also under planning. Some of the museum's volunteers were on hand during the Hornet inspection on Sunday to showcase their works and some parts of the P-40 Kittyhawk which were collected and will be incorporated into a static airframe. A recent piece of work has been on a new tail assembly which was on display.
As with all projects this is no small feat nor is it cheap. So the group is asking for the donation of P-40 parts and also financial help to see the honour of the men who paid the ultimate sacrifice presented appropriately. Please contact the team via their Facebook page for any assistance you can offer: https://www.facebook.com/mildura2OTUheritage/
It wasn't long before the unit was re-formed, this time at RAAF Williamtown in March 1952. This was due to the demand for more highly trained pilots to serve in the Korean War.
Equipped with Wirraways, Mustangs, and de Havilland Vampire jets. Dick Cresswell took command of No. 2 OTU on 21 May 1953. The unit ceased flying Mustangs that October, retaining its Wirraways and Vampires. In April 1954, it began conducting fighter combat instructor courses, as well as refresher courses on jets. Dick Cresswell also delivered the first Australian-built CAC Sabre jet fighter to No. 2 OTU in November.
It was renamed the No. 2 (Fighter) Operational Conversion Unit in September 1958. From then the unit conducted training with the CAC Sabre, Dassault Mirage III, and Macchi MB-326, prior to taking delivery of the Hornet.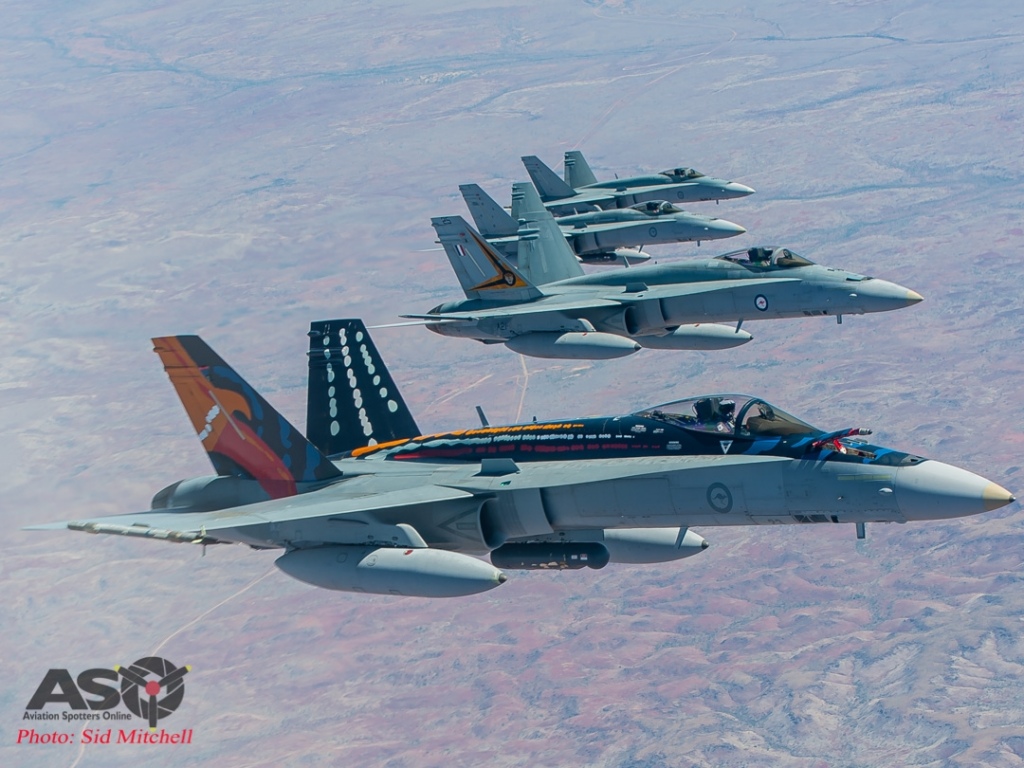 Currently the unit trains pilots to operate the McDonnell Douglas F/A-18 Hornet. Conducting refresher courses for pilots returning to the type and trains future Hornet instructors. Pilots new to the Hornet enter No 2 OCU after first qualifying to fly fast jets at No. 79 Squadron on the BAe Hawk 127. Then undertaking initial fighter combat instruction at No. 76 Squadron. Once qualified on the F/A-18, they are posted to one of No. 81 Wing's operational Hornet units, No. 3 Squadron, No. 75 Squadron or No. 77 Squadron.
Today the 2OCU is under going another transformation. With the winding down of the classic Hornet fleet and its replacement by the 5th Generation Lockheed Martin F-35A Lightning II. The unit is having a change of training syllabus and also a new type brings about advancement in tactics thanks to the new hardware.
The Air Force expects that Initial Operating Capability (IOC) for the F-35 to be achieved by 2020. By this date two F-35 squadrons, No. 3 Squadron and No. 2 Operational Conversion Unit (2OCU) are expected to be equiped with between thirty and thirty-three F-35s. RAAF Williamtown will eventually be home to 56 F-35s. 2OCU will continue to look after all aircrew and maintenance training for the RAAF F-35 capability.
Mildura Weekend-Saturday
With the Hornet arriving on Friday afternoon, there was a noticeable buzz around the town (No pun intended).
Saturday Morning Mildura was presented with a parade by the 2OCU members and 623 Squadron cadets from Mildura.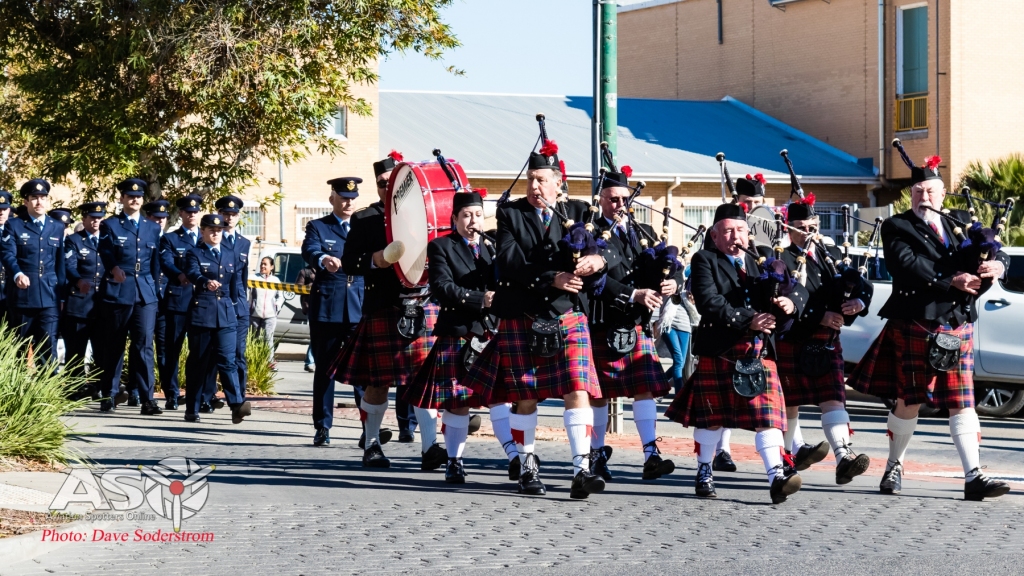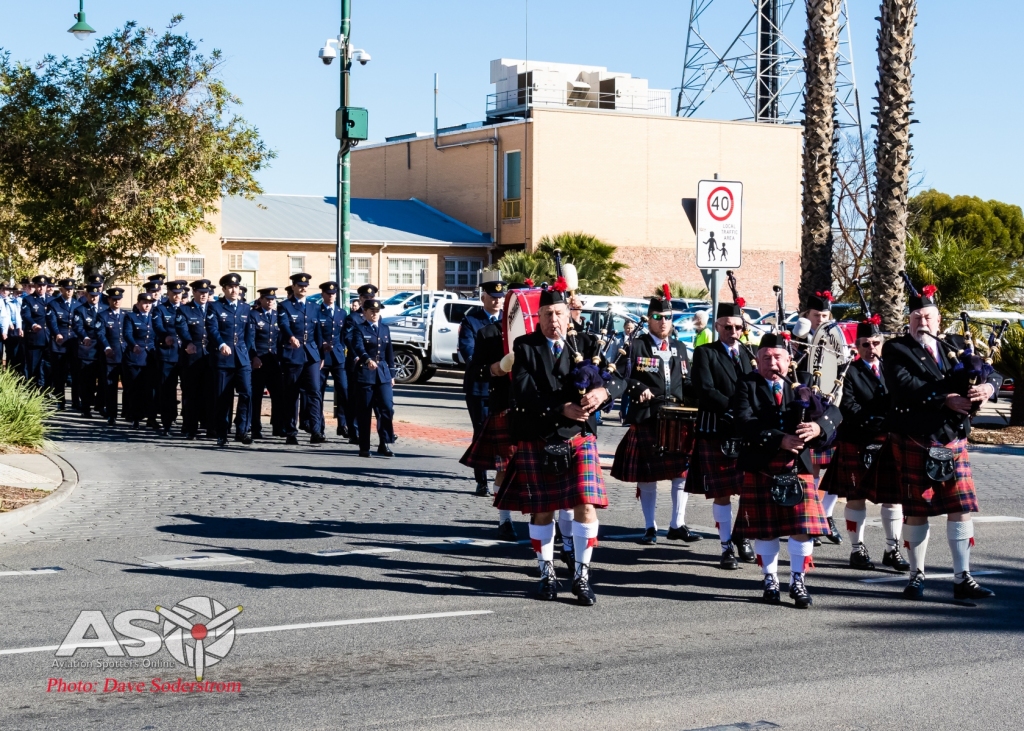 Mildura Weekend-Sunday
Sunday morning was the open day at Mildura Airport. A21-116 was positioned in the hangar near the airport terminal. A huge crowd of locals descended on the airport keen to see the Hornet up close.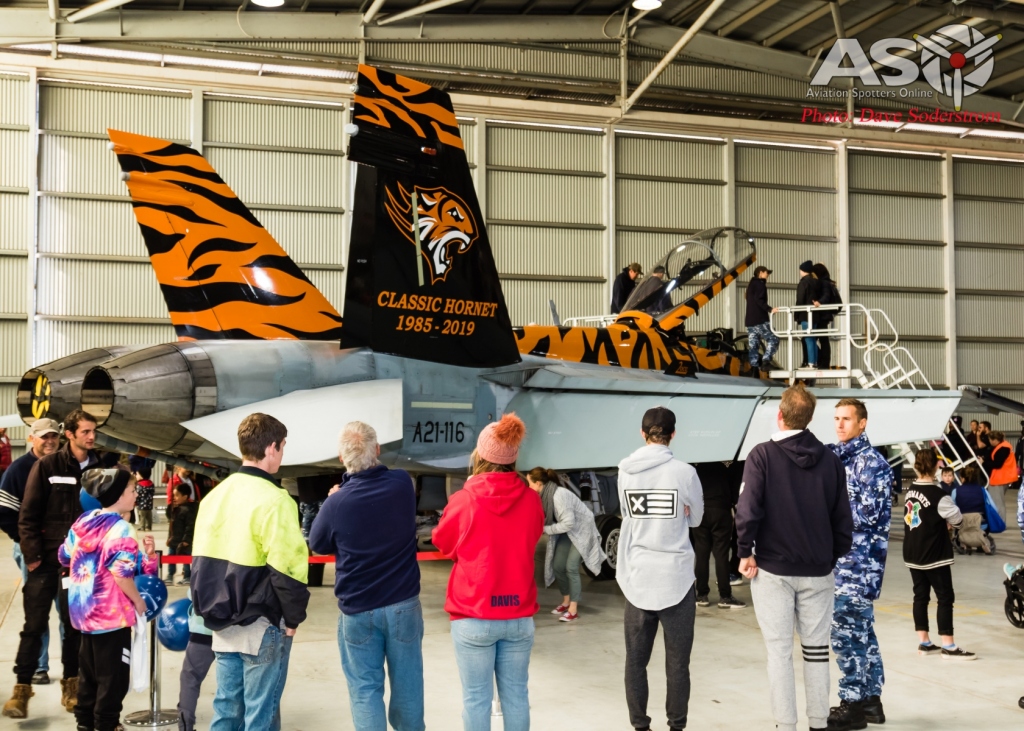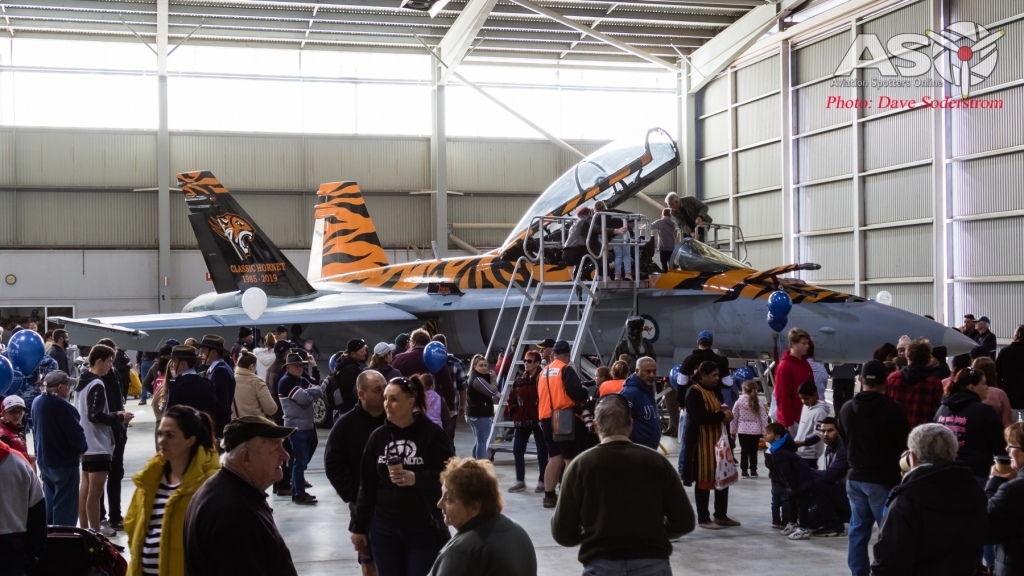 As the crowds dispersed the time had come for Hornet A21-116 to begin preparations for its departure from Mildura. The jet was descended upon by RAAF personal who got the aircraft ready to come out of the hangar. Wing Commander (WGCDR) Scott Woodland, took the time to give ASO a shortened version of a 'Classic' Hornet preflight. See the video here:
Once the aircraft was ready it departed the hangar for refuelling.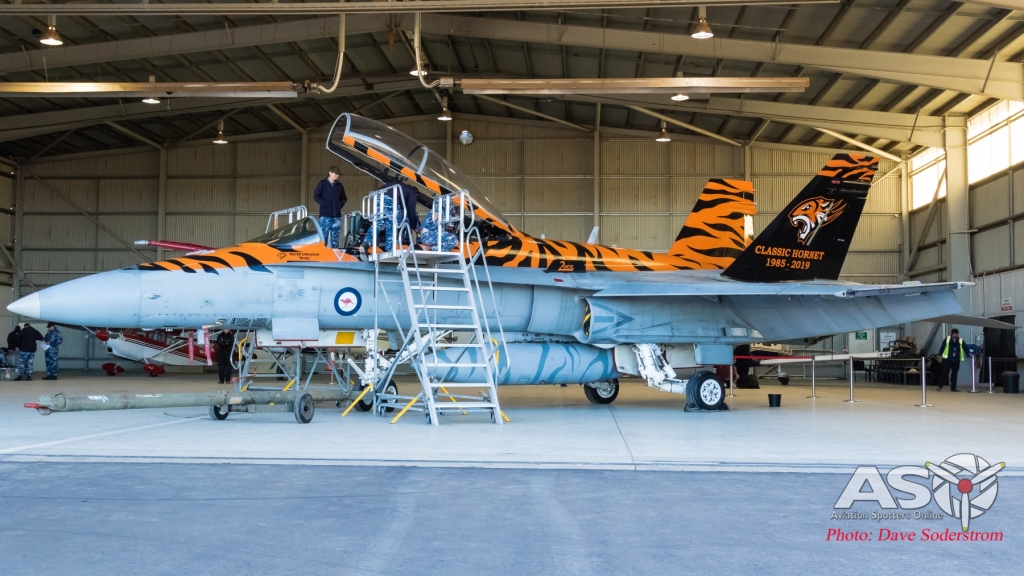 History of A21-116
The aircraft was ordered in 1981, and built as a Block 22, B model Hornet construction number ATF-16. The aircraft was one of eighteen twin seat B models ordered by the RAAF. Along with fifty seven single seat A models. The aircraft was delivered on 31st of August 1988. At the end of 2019 the aircraft will retire from flight along with Wing Commander (WGCDR) Scott Woodland. A fitting tribute to an aircraft and serviceman who have both served Australia and its people so well.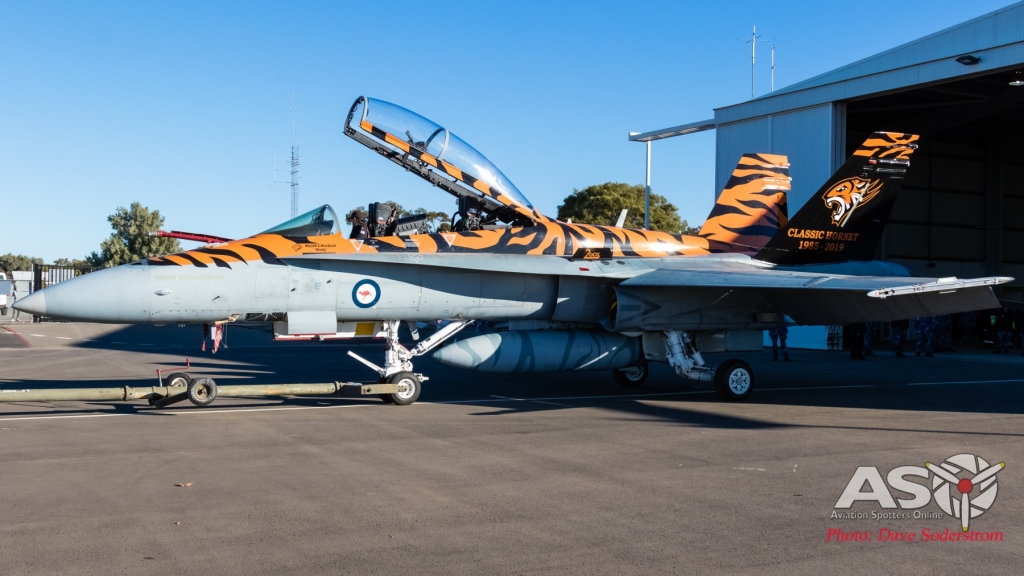 Monday Departure
On a very cool winters morning F/A-18B A21-116 was fired up and departed Mildura Airport. Wing Commander (WGCDR) Scott Woodland wanted to make his departure a good one. We think you'll agree it was a spirited one.
Aviation Spotters Online wishes to acknowledge the help and time granted to both Mark and Dave during their time at Mildura. Thanks go out to Mildura Airport Corporation, Royal Australian Air Force, Wing Commander (WGCDR) Scott Woodland and members of 2OCU, 623 Royal Australian Air Force Cadets and finally the Royal Australian Air Force media department.