Red Flag 16-1
For anyone with even a passing interest in military aviation, these 2 words would be synonymous with fast jets, big bombers and lots of noise.  For many civilians, scenes of Maverick & Goose chasing "MIG-28's" around in their Tomcats spring to mind, but for the real world pilots, it's anything but a game.
In the following article we will look at the first Red Flag for 2016, known simply as 16-1.  We take a look at who participated, and sit down with Group Captain Phil Gordon, Commanding Officer of 81 Wing of the Royal Australian Air Force and also exercise commander for Red Flag 16-1. ASO was lucky to spend 2 days on the base getting shown various operations and being allowed some amazing photo opportunities.
Red Flag takes place up to 4 times per year in the Nevada desert.  Most forces are based out of Nellis Air Force Base which is situated 23km north of downtown Las Vegas, although in recent years more virtual forces have been participating from their home bases in various parts of the country and the world.
Nellis AFB is also home to other, non Red Flag forces, including F-15's, F-16's, A-10's and F-22's from the 422nd test & evaluation squadron.  It is also the home base of the famous USAF aerial display team, the Thunderbird's.  These alone provide plenty of action on the base to photograph!
16-1 was scheduled to run from the 25th of January to the 12th of February in the crisp Nevada winter. Weather for the event was generally perfect, although with many days never reaching double figures standing outside for whole days on end photographing the aircraft was a real challenge!
For 16-1, active participants included:-
United States Air Force
United States Navy
Royal Air Force
Royal Australian Air Force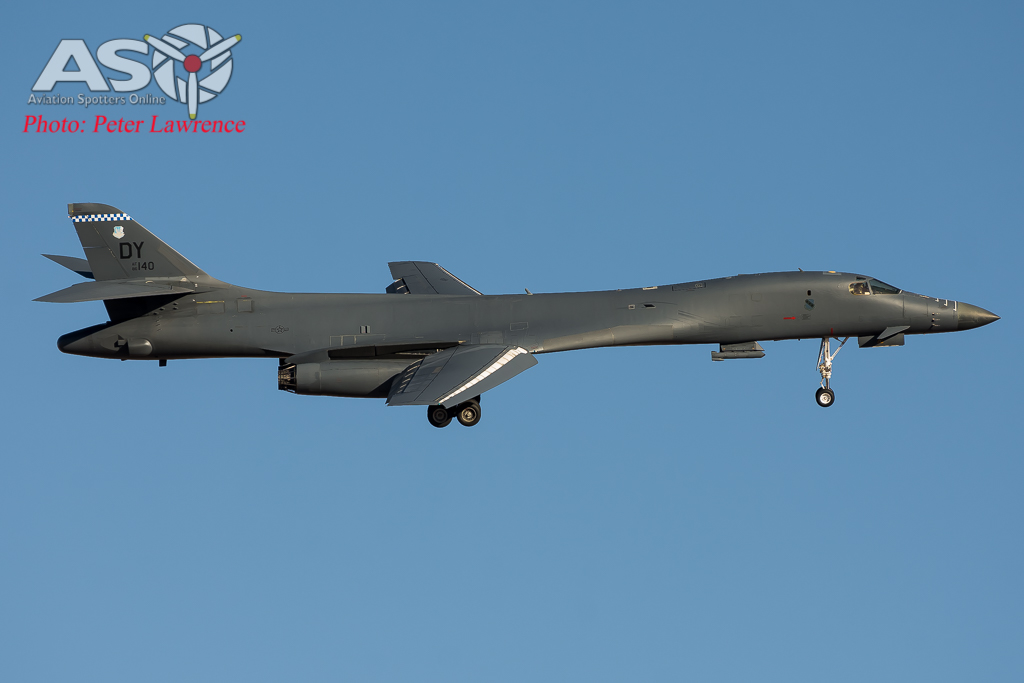 ---
---
With over 130 aircraft and thousands of personnel participating in 16-1, it makes it one of the largest multi-national military training exercise in the world.
The forces are split into 2 teams, red & blue, with red being the 'enemy' and blue the 'good guys'. Specially trained pilots of the red team use enemy-like tactics & manoeuvres to simulate a foreign threat to provide the most realistic training possible to competing units.
An example of these units are the 57th Wing, 64th Aggressor Squadron flying specially painted F-16C's.  These aircraft and others, are based permanently at Nellis AFB.
Usually there are 2 sorties a day, a day and a night launch, with the engagement exercise lasting 90 minutes.  The sorties are different every time with the aim being not only training the pilots, but also training the units & commanders on the ground to work as a team. As was explained during the press conference, the different units start Red Flag working successfully alongside one another, but by the end of the flag they are all working as one.
With a large variety of aircraft with widely varying capabilities, the chance for pilots and ground crew to learn how to integrate with each other is an invaluable lesson that can only be learnt by close proximity operations with each other.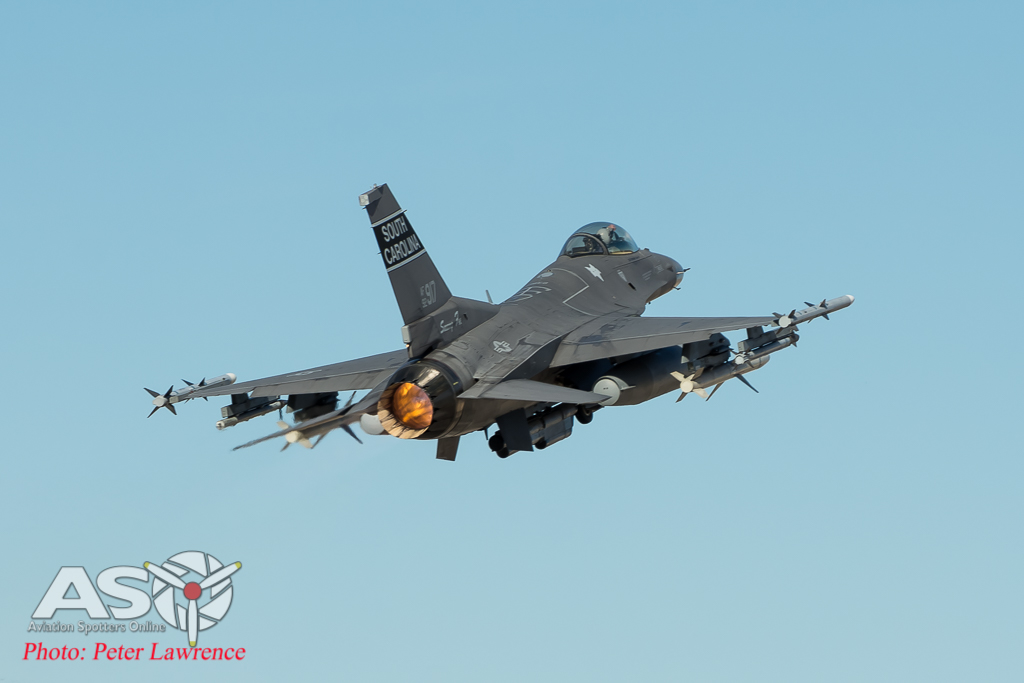 Some notable blue team players from the US included:-
7th Bomb Wing, 9th Bomb Squadron, B-1, Dyess AFB, Texas.
325th Fighter Wing, 95th Fighter Squadron, F-22, Tyndall AFB, Florida.
552nd Air Control Wing, 965th Airborne Air Control Squadron, E-3, Tinker AFB, Oklahoma.
Electronic Attack Squadron 138, EA-18G, NAS Whidbey Island, Washington.
31st Fighter Wing, 510th Fighter Squadron, F-16CM Block 40, Aviano Air Base, Italy.
144th Fighter Wing, 194th Fighter Squadron, F-15C, Fresno ANGB, California.
16-1 Featured international presence from 2 of its strongest NATO allies, Great Britain & Australia.
The RAF brought with it:-
3 Fighter Squadron, Royal Air Force, Typhoon, RAF Coningsby.
5 Squadron, Royal Air Force, Sentinel, RAF Waddington.
8 Squadron, Royal Air Force, E-3D, RAF Waddington.
47 Squadron, Royal Air Force, C-130J, RAF Brize Norton.
As for the RAAF, they brought a large contingent, including:-
1 Squadron, Royal Australian Air Force, F/A-18F, RAAF Amberley.
2 Squadron, Royal Australian Air Force, E-7A, RAAF Base Williamtown.
10 Squadron, Royal Australian Air Force, AP-3C, RAAF Base Edinburgh.
75 Squadron, Royal Australian Air Force, F/A-18A, RAAF Base Tindal.
With 14 aircraft and 410 personnel, this was a large scale deployment for the RAAF, in itself valuable training.
It was also the first Red Flag for the Australian Super Hornets and by all accounts they performed flawlessly.
I sat down with Group Captain Phil Gordon, the officer commanding 81 wing of the Australian Air Force, and spoke with him about Red Flag.
Group Captain Gordon brings a wealth of experience to 16-1…..
"My background in the RAAF started on the Classic Hornet. This included instructing along the way where at one stage I was the Commanding Officer OF 2OCU based at Williamtown NSW teaching the new pilots how to fly and running the fighter Combat Instructor Course. Following that I worked in Washington DC for a couple of years doing Ops related work and then spent three and a half years. I then spent three years as lead planner for the introduction to service of Australia's next front liner aircraft the F35A joint strike fighter down in Canberra. I was the director of the air combat transition office, then since October 2014 I've been officer commanding 81 Wing RAAF. This wing comprises of 1 squadron of classic hornets at Tindal and 3 squadrons based at Williamtown. On this particular exercise I am the commander of the Australian task group comprising 14 aircraft and over 400 personnel and their equipment. And lastly in the context of this exercise I am the Vice Commander of the Air Expeditionary Wing bringing together forces from all over the world and providing leadership to build them in to a team."
You're still an active pilot, when do you fly again?
"Next flight is Wednesday during the day. I flew Monday and Wednesday nights this week. I try to only fly once a week so I don't steel too much flying from the young guys."
Speaking of night flying, how do you find the difference between night flying and day flying?
"The missions are constructed entirely the same, it is literally just the added complexity of being in the dark flying with night vision goggles. So as a pilot you lose the comfortable feeling of being able to see what's around you. Much more of an instrument cross-check required, discipline to stay within your allocated height block.   The way we get 100 aircraft airborne and not crash into each other is we have a really solid, what we call a de-confliction plan. We assign individual formations "Right you have to stay between 22000 & 24000, because you've got someone above you between 25000 and 27000 and someone below you. We divvy up based on where you're flying, when you're flying, so there's a lot of discipline required to stick with your contracts so that you make sure you don't have a confliction with the other blue players on your team while you're in the heat of battle trying to defend against surface to air missiles and shoot down adversary aircraft."
As well as the pilots in the air maintaining their own situational awareness are there people on the ground in the control centre monitoring for any potential conflicts?
"Yes, one of our contracts is command and control. One of their functions is to monitor the airspace above the battlefield. While they won't give too much input on vertical deviations but they will swiftly inform on any lateral deviations. These days in our modern jets with our GPS, INS and our moving map displays we have the ability to draw a dotted line to signify the boundaries of our air space so unless we're really busy and fail to check we have got the information available to us in the cockpit. It is still a relatively small area of airspace in relation to the number of aircraft participating. If we compare it to the airspace we have in Australia, such as the airspace between Darwin and Tindal in the north of Australia where exercises such as Pitch Black are held, the space is something like 25 times larger than what's available here for Red Flag. It certainly constrains us but drives it's own positive lessons by forcing us to operate closely with other aircraft creating quite a complex dynamic."
As a whole, what is the role of 81 wing in the RAAF?
"81 wing is the 4 squadrons of A model Hornets, 3 of which are based at RAAF Williamtown and 1 at RAAF Tindal. We are a multi role fighter so we are the critical mass of Australia's air combat capability. In times gone past we had the F-111 of 82 wing based at RAAF Amberley and now we have the Super Hornet, obviously a newer aircraft with better avionics and radars, but we only have 24 of those so we still rely on 81 wing to provide the bulk of Australia's air combat capabilities. We will do a range of tasks over Australia including when the president of the USA is visiting and other special national events. Also, since March 2015 we have been providing a continuous presence in the Middle East. As a wing we do the full spectrum of operations including deployments to domestic exercises and international exercises which in its own right is exercising national power, that is advancing the government objectives. When we go to a country like Malaysia, Thailand or Indonesia and conduct exercises with them that is obviously building those strong ties, that mutual understanding so even when we are conducting training I believe we are furthering Australia's nation interest."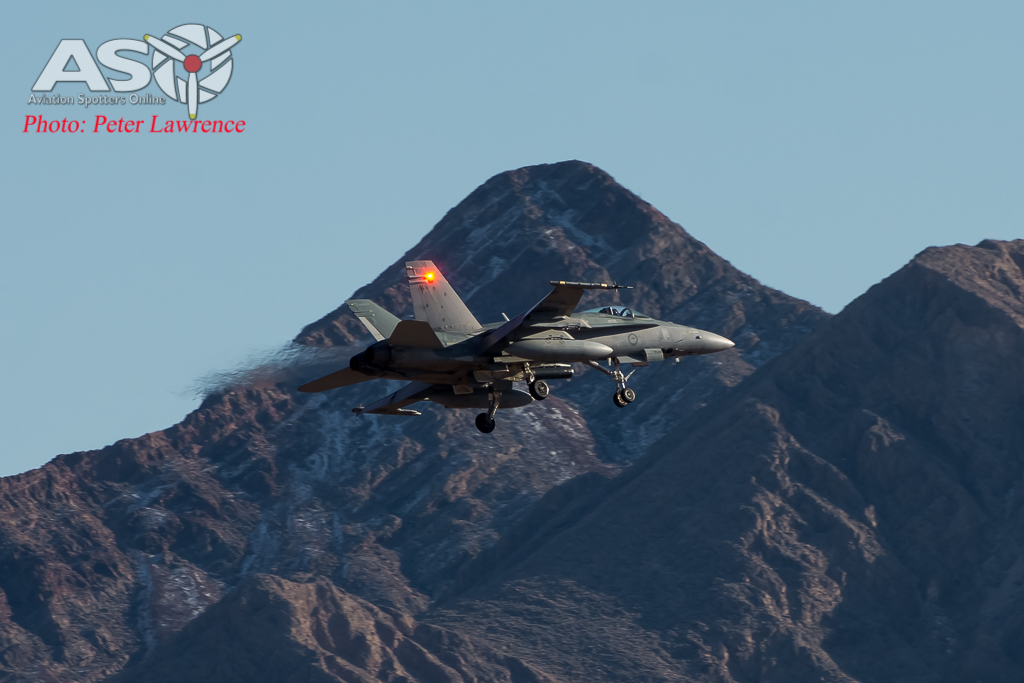 Has the classic Hornets role changed much since the introduction of the Super Hornet?
"We've done a great job in upgrading our classic Hornets' over the years so although they are A models they are now more like the US Navy C models. We have the joint helmet mounted cuing system with all the clever stuff projected onto the visor which allows you to shot missiles over your shoulder. We have the full integration of the data link, secure radios, so quite an advanced platform but in an aging platform. It is 30 years old but we are managing that. We have some incredibly smart engineers and scientists that are world leaders in understanding aircraft fatigue. We have a very good understanding of the health of our fleet and are managing it as best as possible.
So to finish your question the classic Hornet is still very capable, but it has a mechanically scanned radar and other systems which are not as capable as the Super Hornets, so what we have done is to develop ways where the Super Hornets and the classic Hornets can work together to create the mass that we need to create an effective air combat capability whilst exploiting the advanced avionics of the Super Hornet."
Is the integration of 4.5 & 5th generation aircraft a major consideration of this Red Flag exercise?
"Absolutely, we have deployed the Super Hornet for the first time but importantly we have also deployed the classic Hornet so we have a mixed force so that we are training and developing the tactics, techniques and procedures. We use the Super Hornets advanced avionics and radar to enhance the situational awareness of the classic Hornet. Very much like the way the US air force use the F-22 Raptors' extremely capable avionics to increase the effectiveness of the still capable F-15."
How are the Australian forces perceived at operations like Red Flag?
"Australia continues to commit and expose its personnel overseas, and impress, and its one of the key reasons we continue to come to events like Red Flag. We expose a broad range of Americans and British to the quality of our people and our training. If we ever end up down range in the future and an allie sees an Australian they don't think that persons is foreign, they think OK they are an Aussie so they are very capable, competent and professional."
Does Australia have an active involvement in other roles at Red Flag?
"We have done a number of mission commander roles, package commander role, where we have been giving the overall responsibility for developing the plan and guiding the team that runs that mission and the airborne execution and at every instance our people have performed outstandingly to the highest praise."
If you could describe the operation objectives as a whole?
"We (the RAAF) can do a lot of unit level training back home in Australia where we practice in our individual roles in the best training environment we can muster, but there is no way in Australia we can represent the scale, complexity & realism of Red Flag. By coming to Red Flag with about 130 aircraft participating from 3 nations we work with and against assets which we just don't have in Australia. Some of them do similar things to us but in a different way while others are brand new to us. A great example of this is the US Growlers that we have been flying with.  We plan on bringing these into service with the RAAF shortly and by operating with them now, we are already developing a keen understanding of its tactics & procedures so we can best integrate it into our forces".
Group Captain Gordon also spoke of the logistics of moving a force of that size across the world to the Nevada desert via Guam & Hawaii.
"The planning for this exercise started over 6 months ago with a wide section of people from across the Air Force contributing including air mobility, command centre, combat support & air lift teams. It's all come together in what was essentially a flawless deployment to the other side of the world. We moved over 400 people, 14 aircraft (of which 12 were fighters which are generally harder to move over longer distances) more than 15,000 kilometers and 20 flying hours. We departed on time and arrived on time. There are not many Air Forces in the world that could do that type of expeditionary operation so well without help from other nations."
In summary, the entire journey to Red Flag is one I would highly recommend. Even without base access there are many vantage points to take in the flying action.  The weather is generally good, accommodation near the base is inexpensive and you are only 20 minutes from downtown Vegas!
The flying action happens for most of the day and well into the nights so there is something for every photographic skill level!
One thing is for sure….I will be back!
Peter Lawrence