Time to head home to Darwin but with more than 5000km planned ahead, how could I not call in to RAAF Base Wagga on the way. Splitting the trip from Newcastle to Wagga into two days gave me a chance to take a spin around the Mount Panorama circuit at Bathurst and tick that one off the bucket list. The last time I had been to Bathurst was on a weekend trip up from training at Wagga back in 1983 – the James Hardie 1000 with HDT drivers Brock/Perkins and Harvey taking the win in a VH Commodore. How the public viewing areas had changed – no more dirt and mud up the top at Skyline back then, where we camped in a sea of tinnes next to the track. And gone is the easy access to the edge of the circuit and watching Group C cars get out of shape at the Dipper and at the end of Conrod Straight (pre The Chase). Ahhh…those were the days.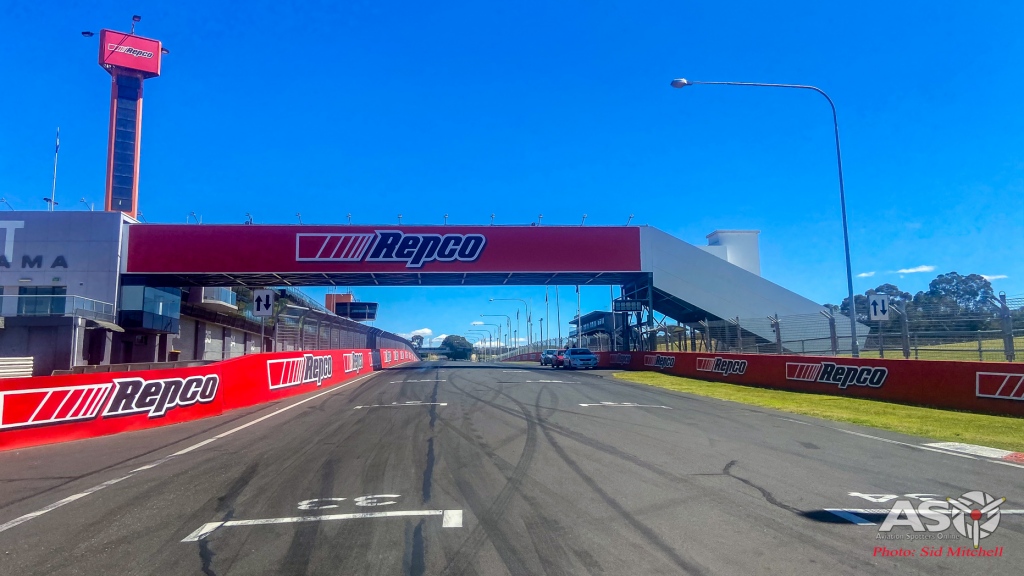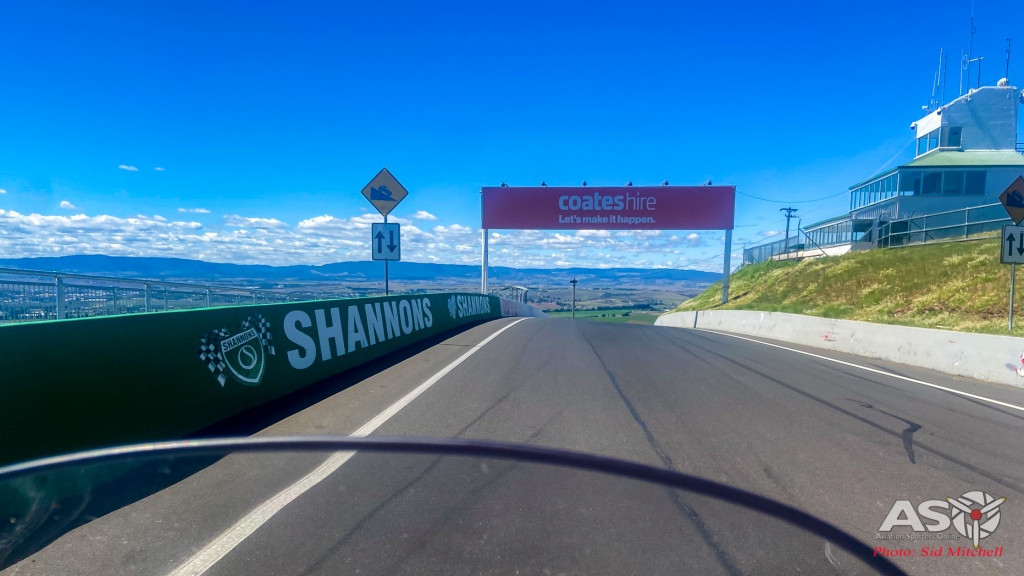 Now a huge stand, air conditioned pits area and even a hotel have been just some of the upgrades. Gone of the days are where empty Tooheys and VB cans would arc back and forth between the Ford and Holden fans on the stands along Main straight.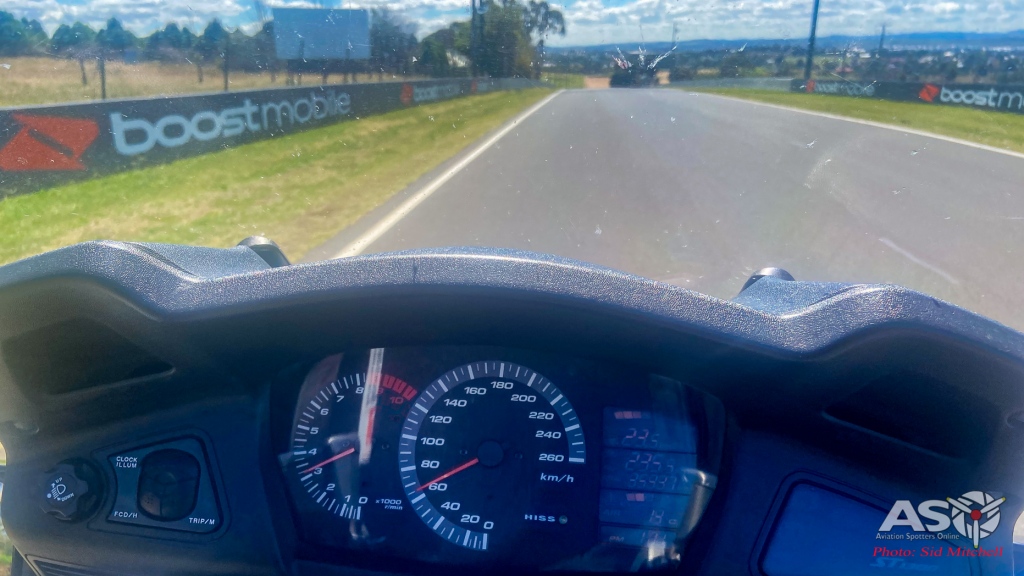 But a ride around the circuit at 60 KPH (yep it is radar monitored at times) really opens your eyes to how narrow the track is, and the sharpness of the drop at the Dipper, even for a road bike at 60kph. A quick visit to the Veteran's Rest before heading to Cootamundra RSL for dinner.
The next morning I rode into Wagga and as expected, the town had changed, even from my last visit in 2015. That old Vampire, A79-612, was still up on the pole in town, not sure if it had been made weatherproof or refurbished as the plywood was pretty buggered I vaguely recall.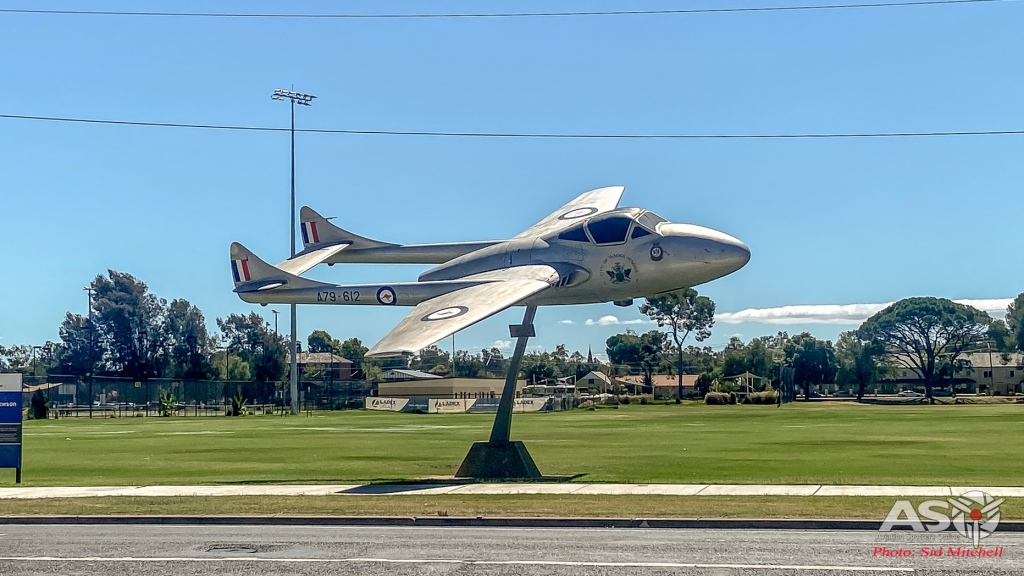 Riding out through Gumly Gumly (I remember the old Drive-In very well), the Forrest Hill profile didn't look that different. I had arrived at RAAF Base Wagga from recruit training at RAAF Edinburgh (1RTU) on a Greyhound bus one dark, cold, night early in 1982, to undertake my Aircraft Fitter and Armament Fitter Courses. Passing out of Wagga at the end of 1983, it was off to a recently returned No. 75 Sqn in Darwin, operating Mirages.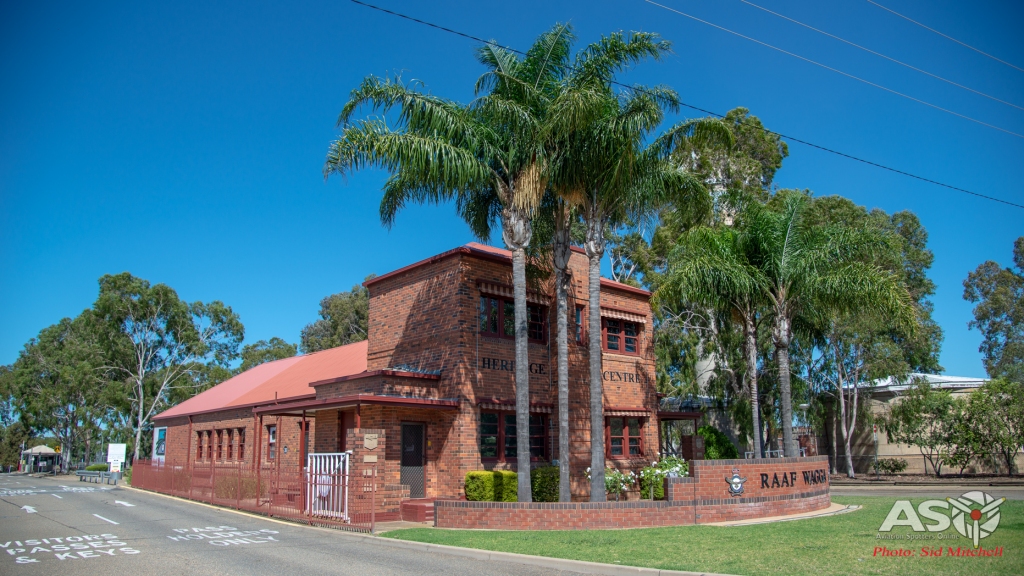 The old Guard House building was still there – it had been slated for demolition but thankfully it has been preserved – I wonder how many airmen and airwomen have passed through these gates over the years since its construction in 1940, especially now that Wagga also accommodates recruit training.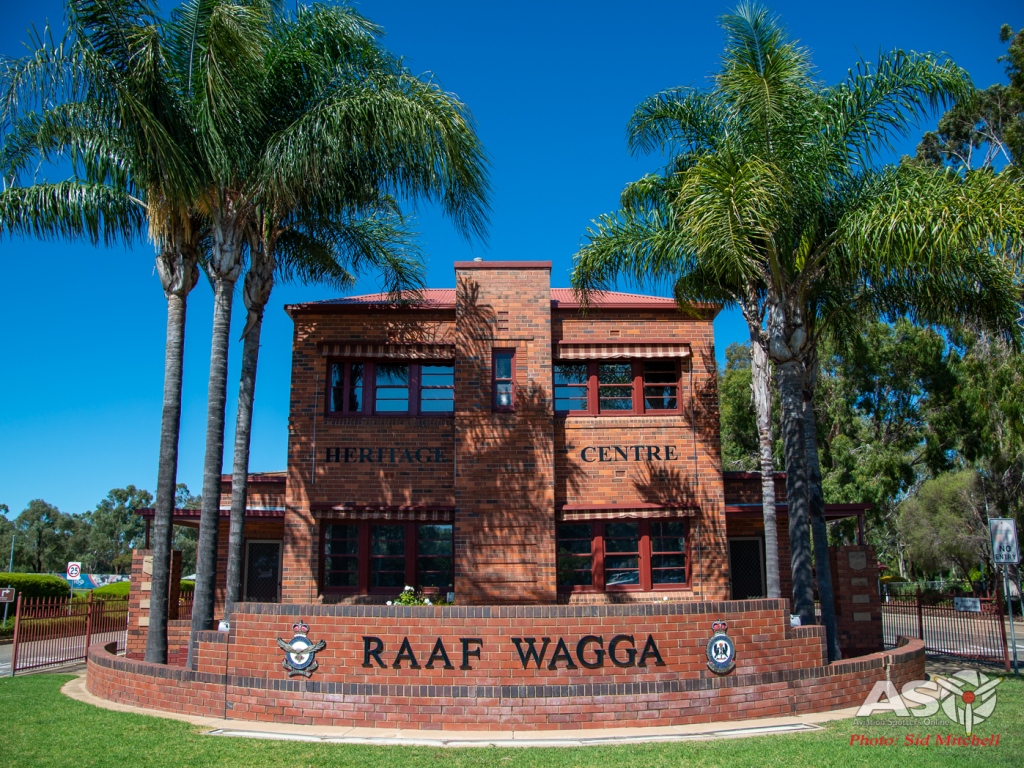 For 2021 the rear fence had been adorned in a banner anouncing the Royal Australian Air Force's Centenary Year with images related to RAAF Wagga. These types of banners have been put up at bases right across Australian to celebrate the world's second oldest independent Air Force on the 31st of March 2021.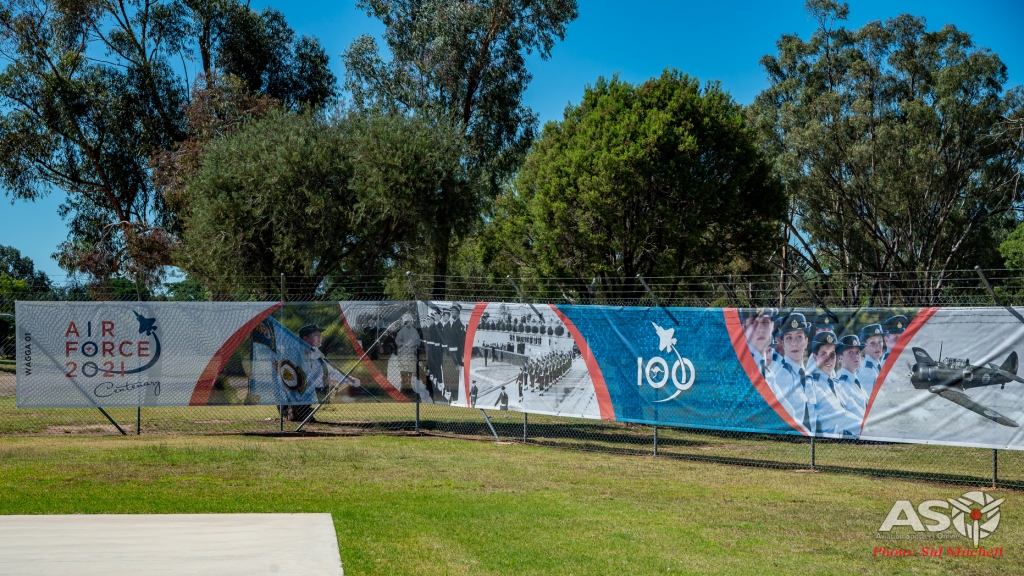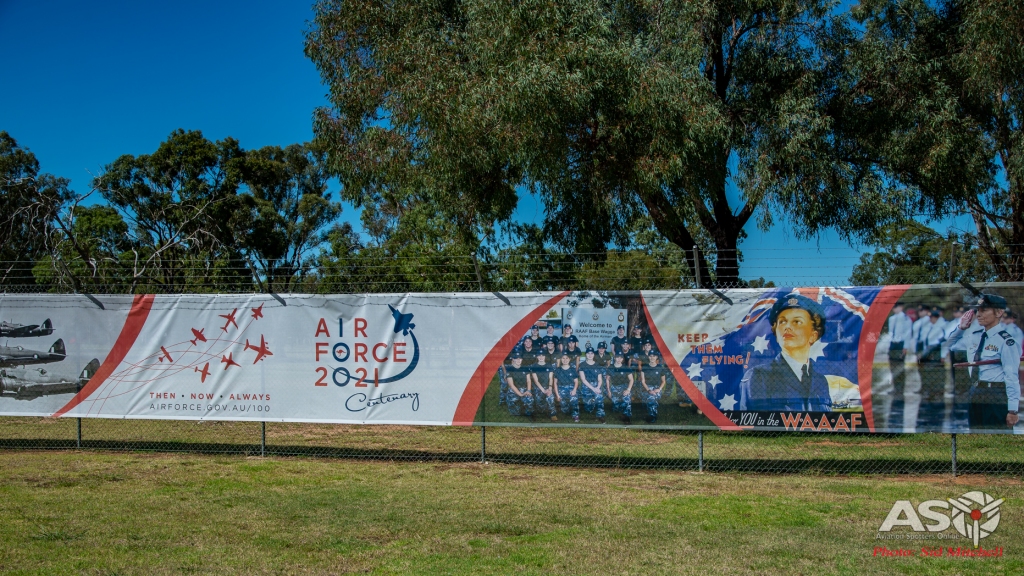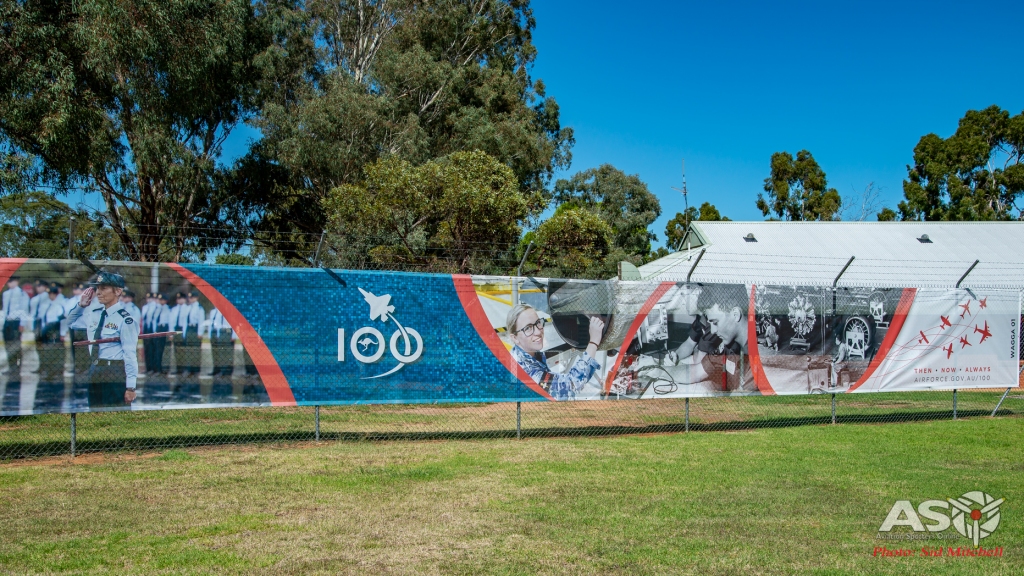 The number of display aircraft at the base entrance has grown over the years also. I seem to remember just a Sabre, Meteor and a radial – maybe a Wirraway or Winjeel out on the road frontage back in 1982? I did notice that the CAC Sabre A94-982 and the Winjeel A85-403 had been removed from when I last visited in 2015. The Sabre may well have been the one we had in the Armament Hangar for the Missile Systems phase of training – the old Sidewinder Aim 9B at the time. 982 has subsequently been relocated to Point Cook for restoration. We also used a Winjeel for the Aircraft Ground Handling (towing, marshalling etc) phase of training, very easy to push around the apron.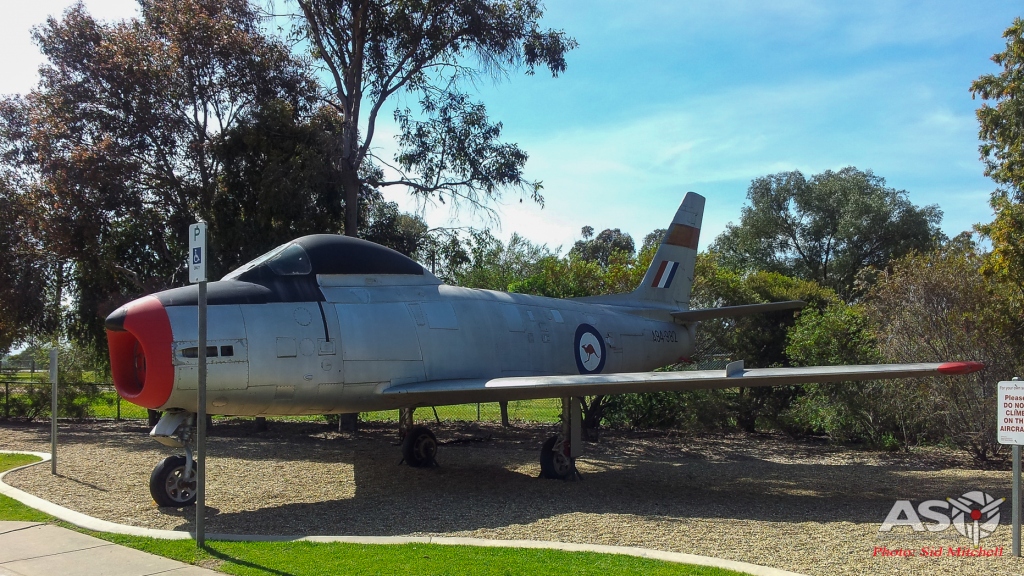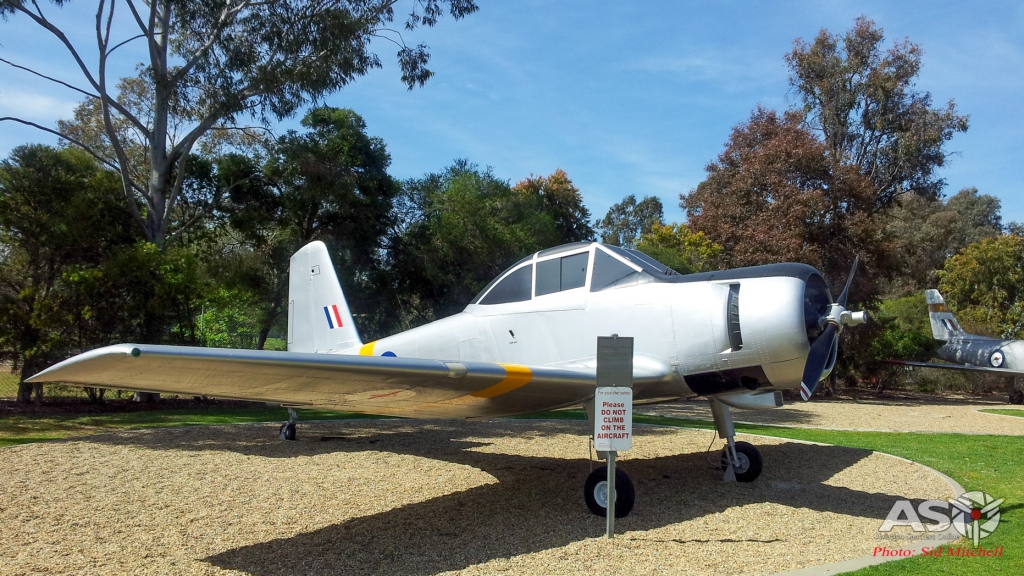 Front and centre these days is a Vietnam veteran, Canberra Mk 20, A84-235. This aircraft has been refurbished in No. 2 Sqn livery although spent a short time at ARDU before arriving at Wagga.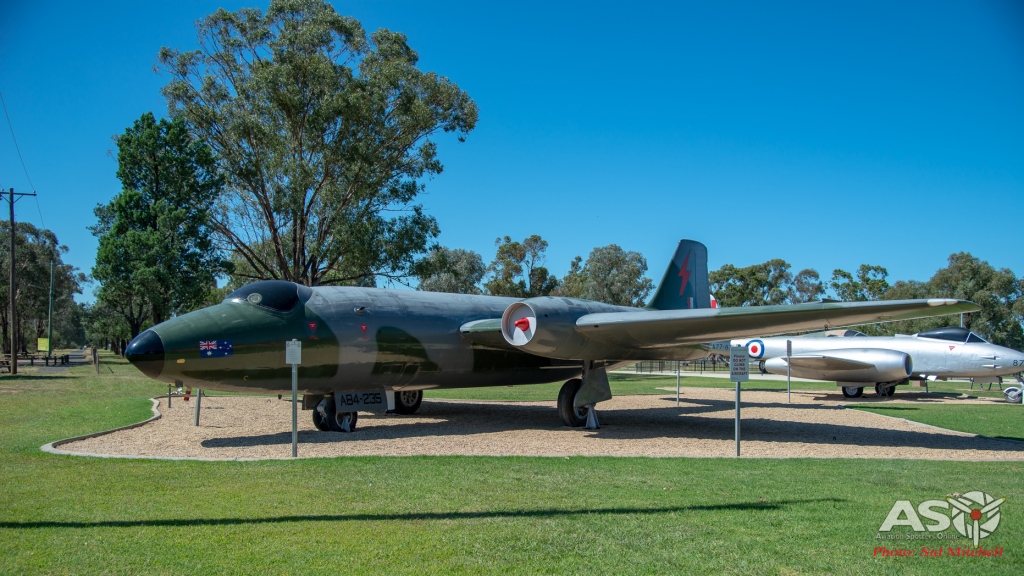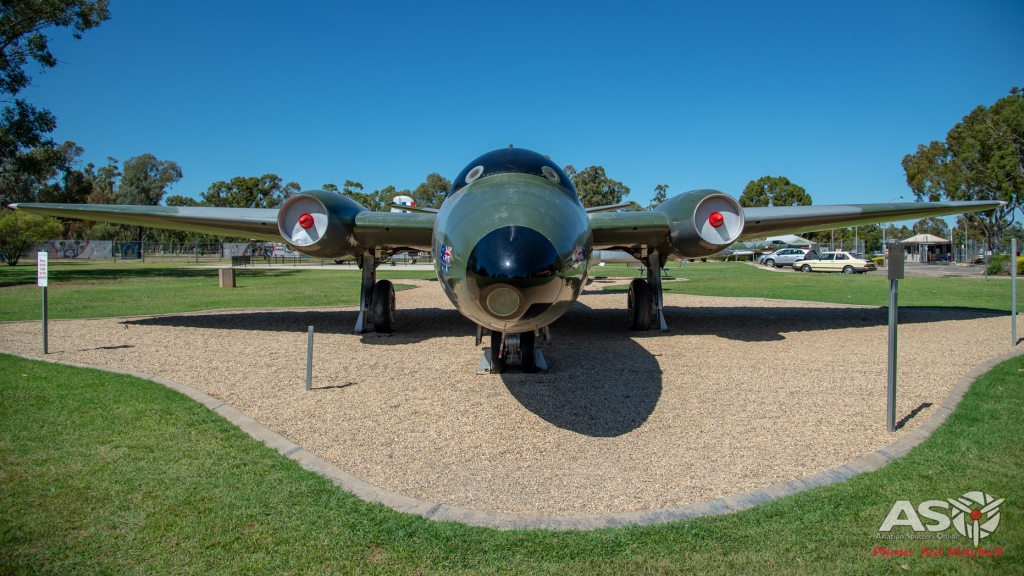 I remember climbing through it as an Armament trainee when learning Bombing Systems during my course, such a low aircraft to crawl under when bombing up.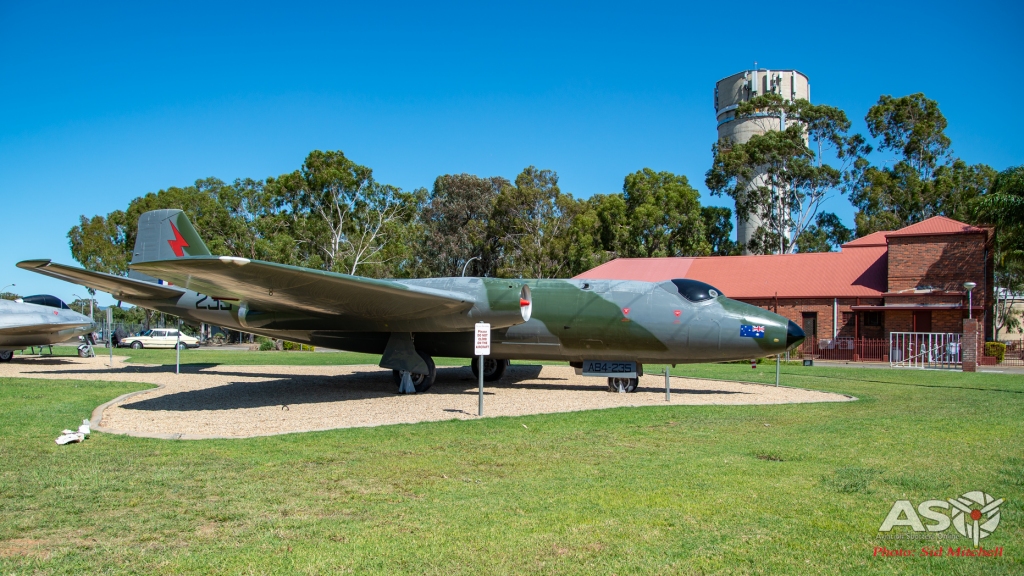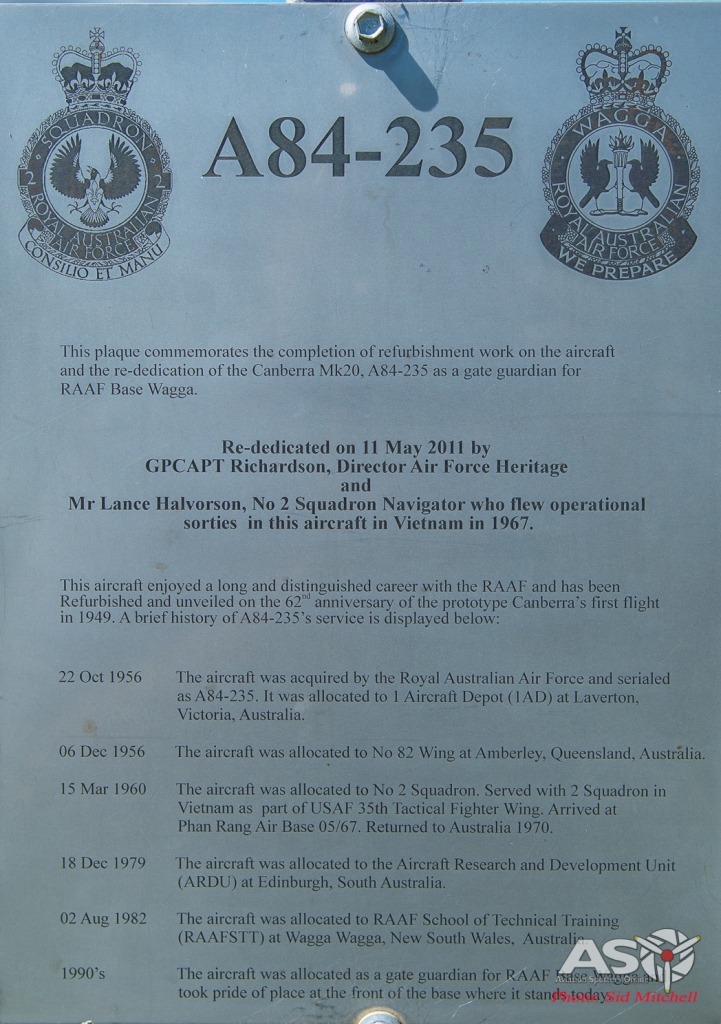 Next in the park was Korean War veteran, a Gloster Meteor Mk 8, A77-871, operated by No. 77 Sqn in Korea.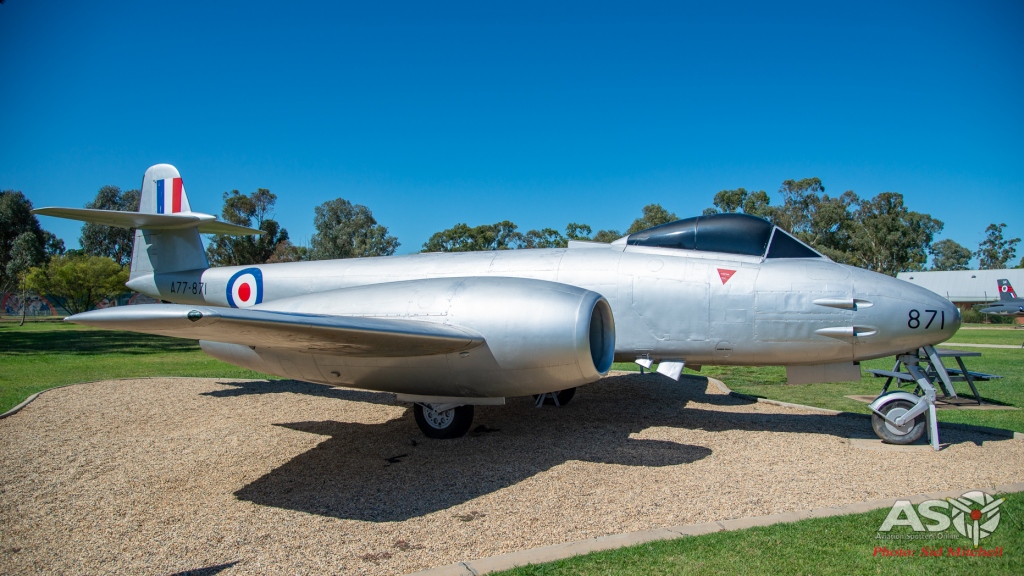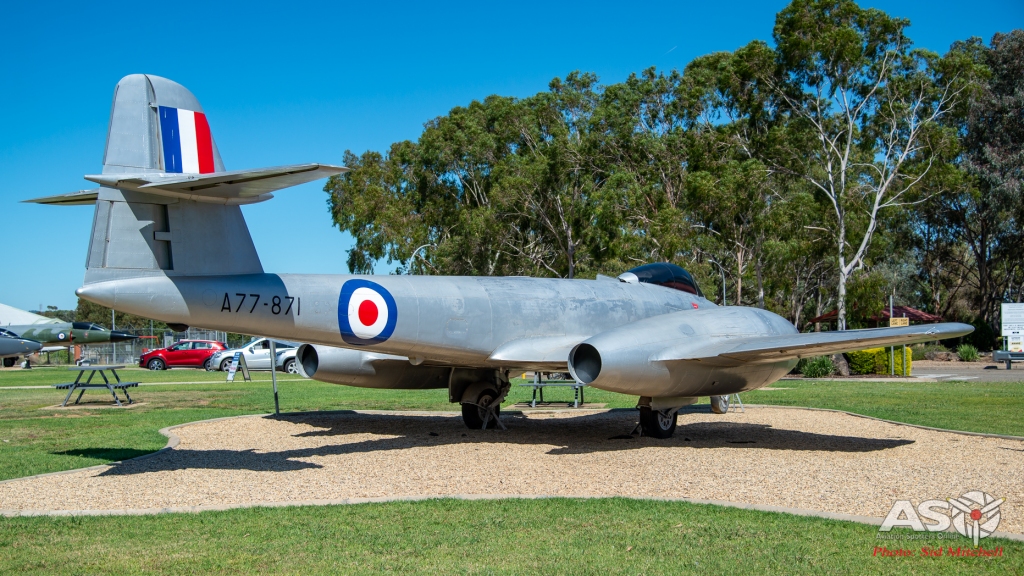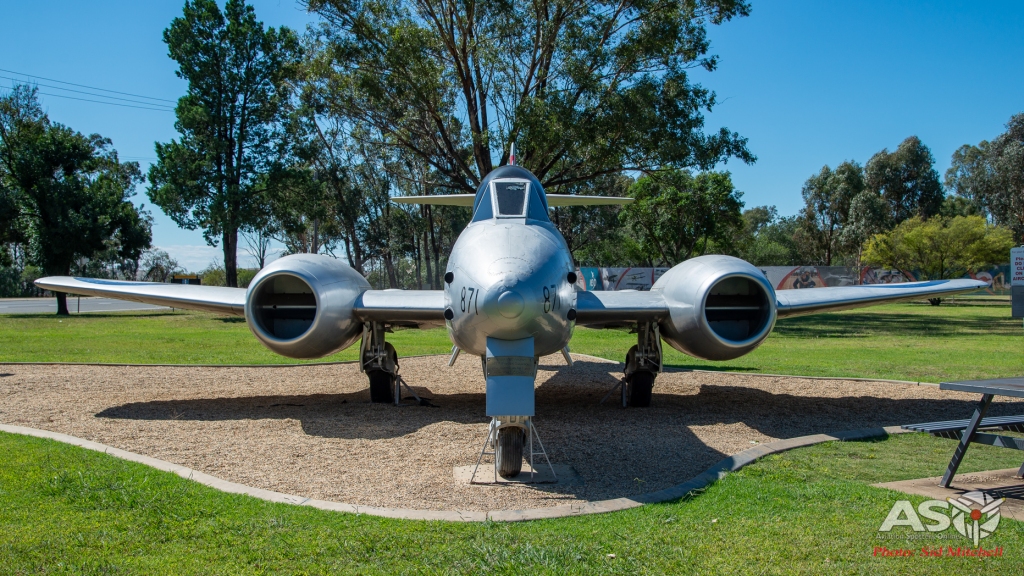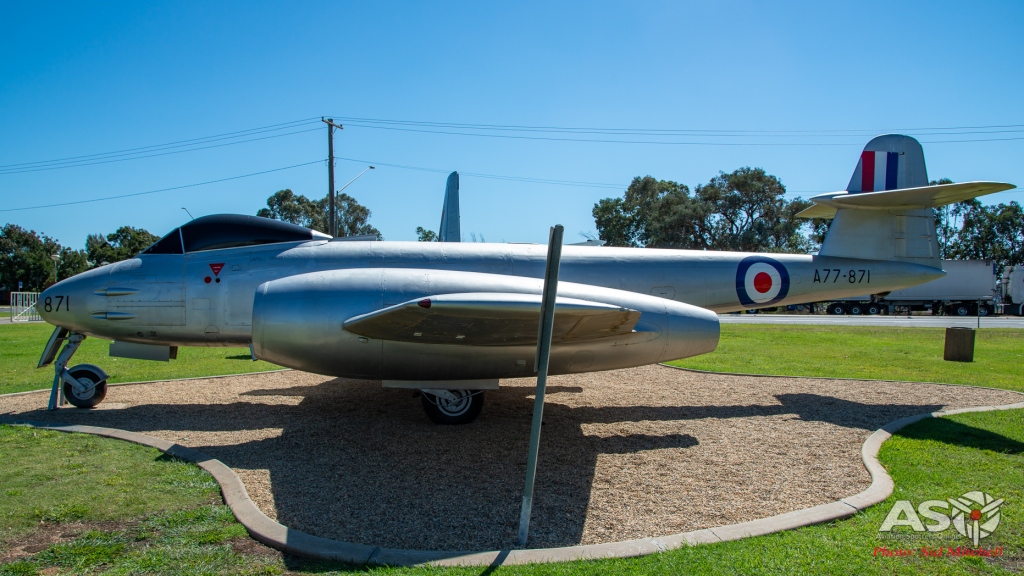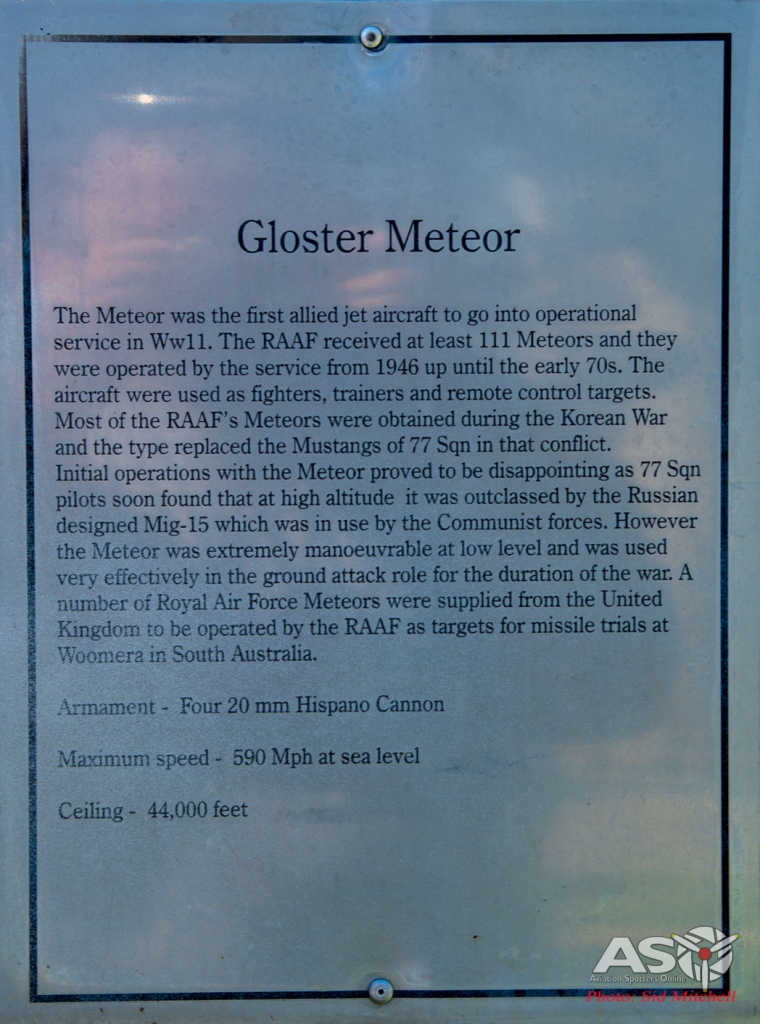 The next exhibit is the most recent to be unveiled, a General Dynamics F-111C, A8-142, having served with both No. 1 and No. 6 Squadrons at RAAF Base Amberley. Before relocation to the front gate, 142 had been hangared at RSTT since late 2012 and used as a backdrop for many course photo's.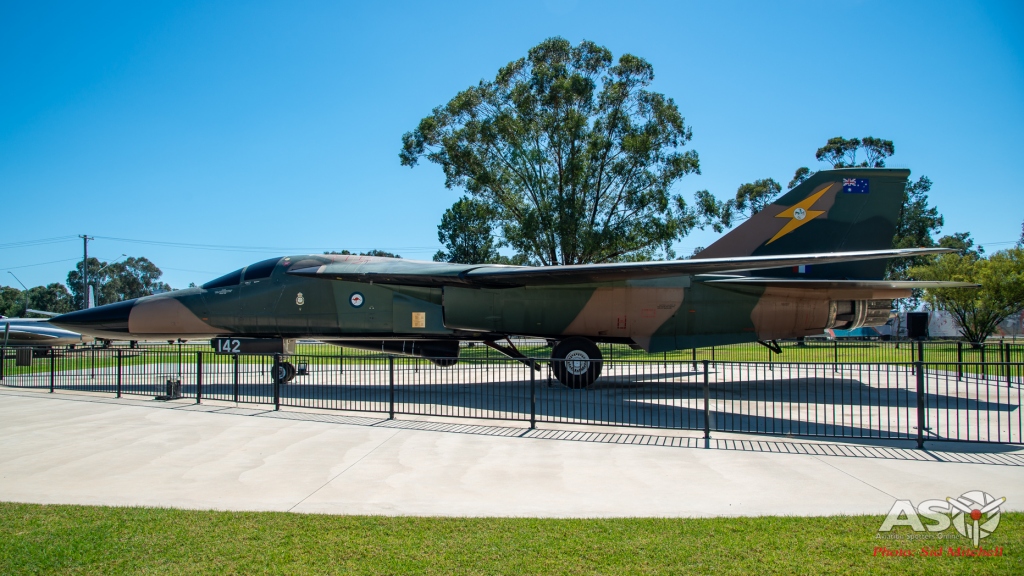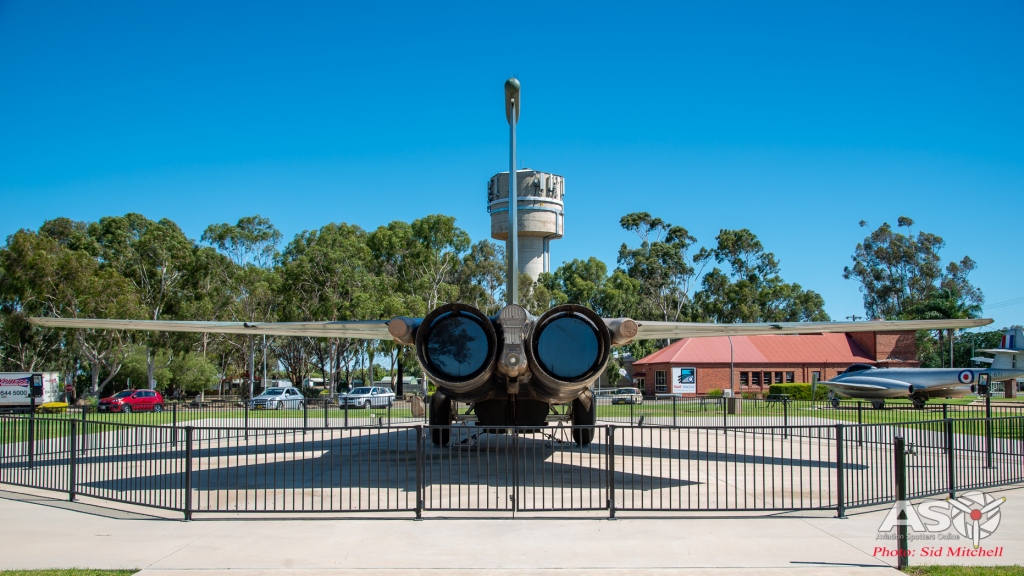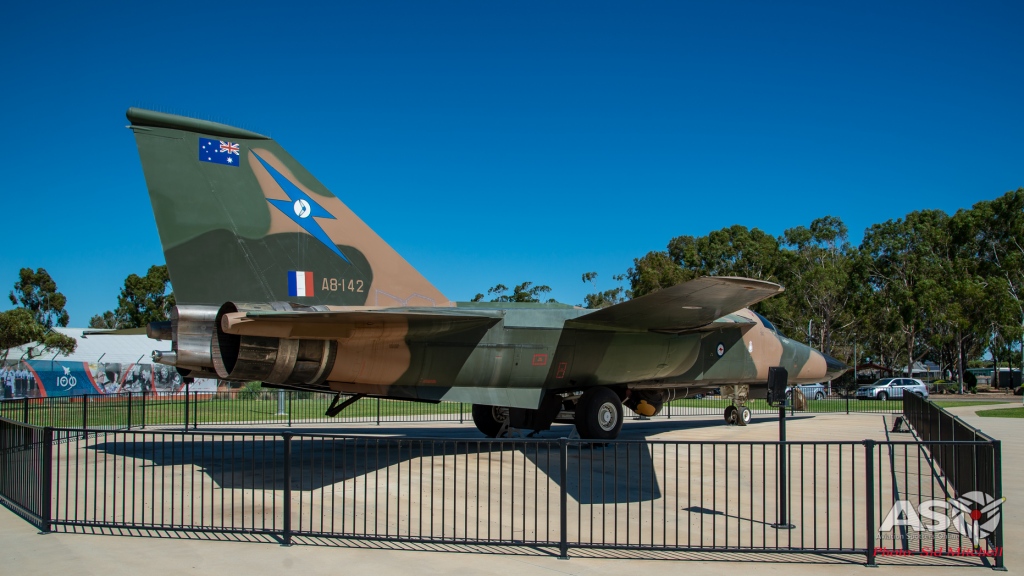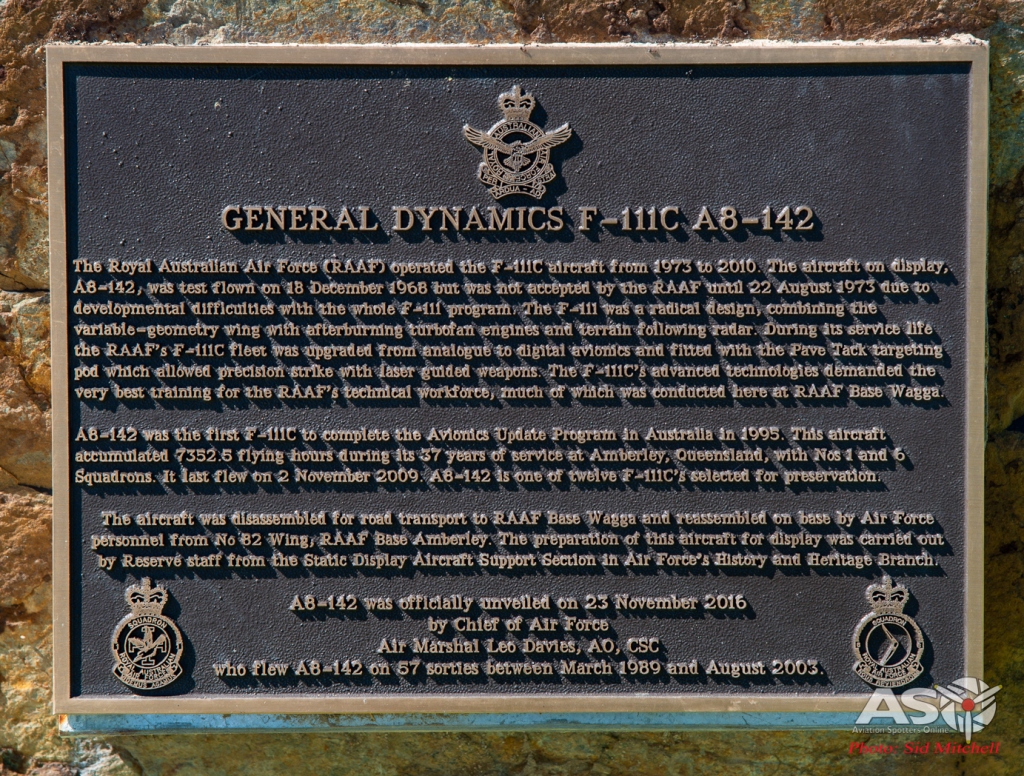 Further back sits a GAF (Aermacchi) MB-326H, A7-004, dressed in No. 76 Sqn livery. Macchi A7-004 served in multiple aircrew training squadrons and even with the 'Telstars' aerobatic display team based out of Central Flying School at RAAF Base East Sale, VIC.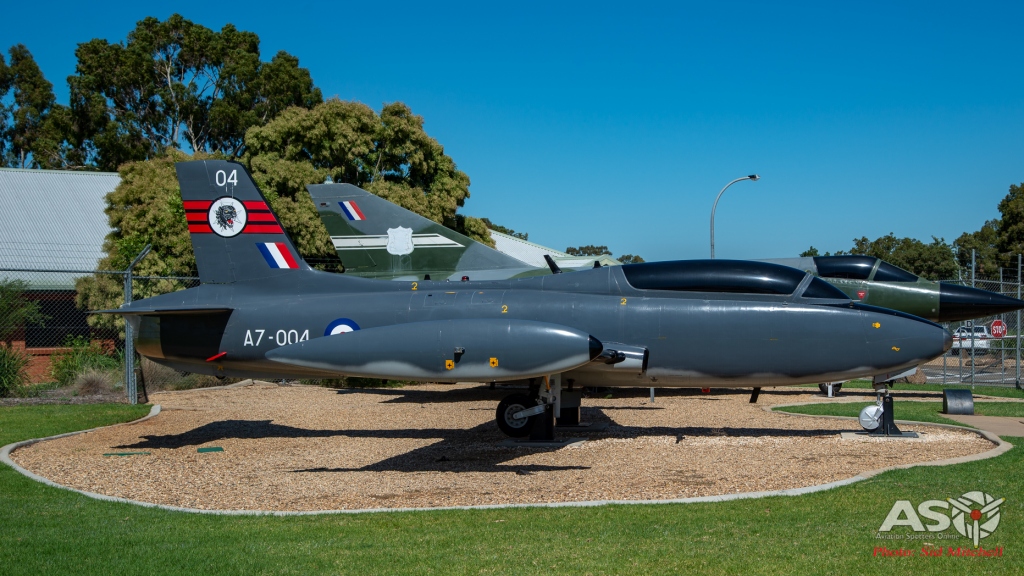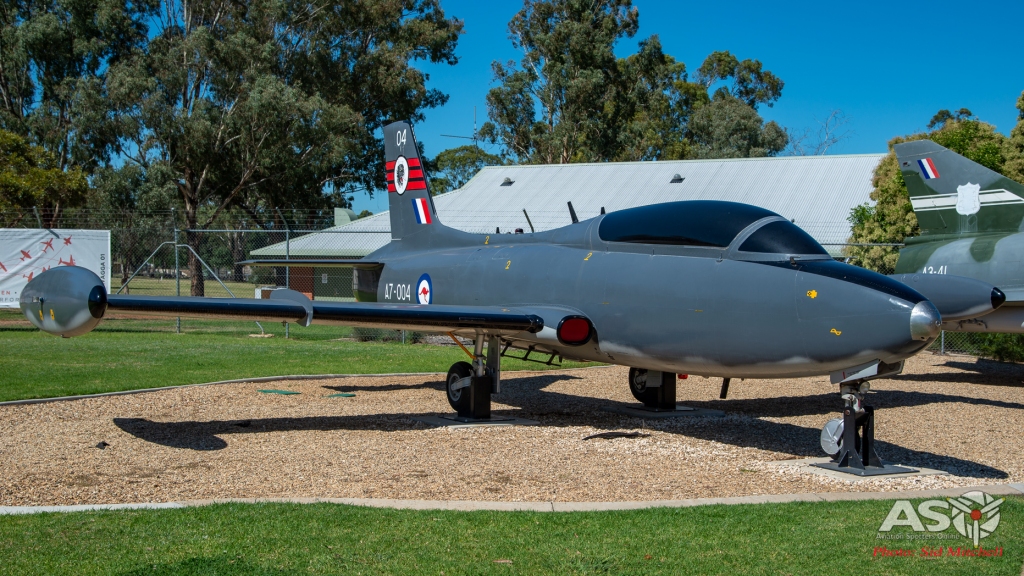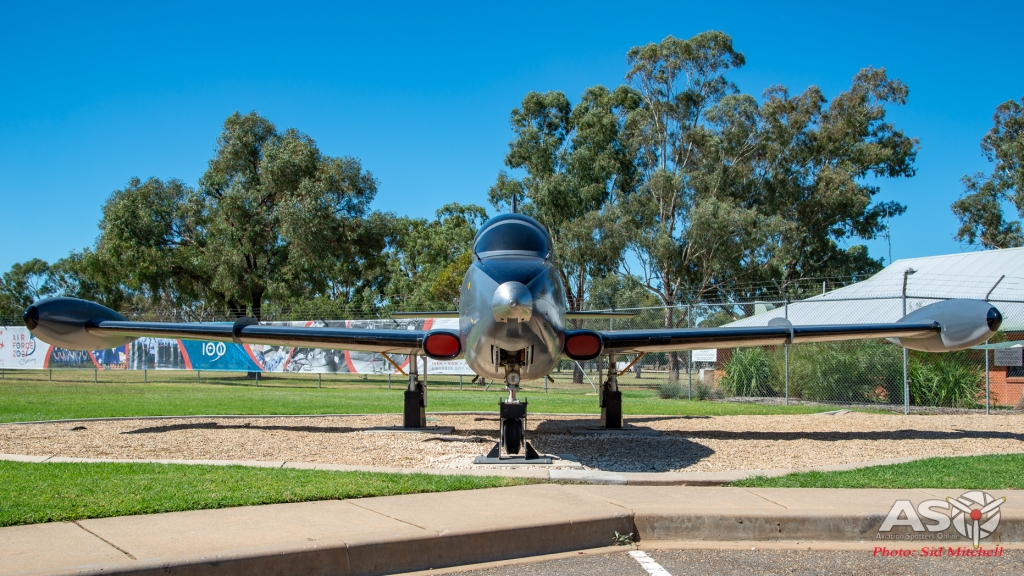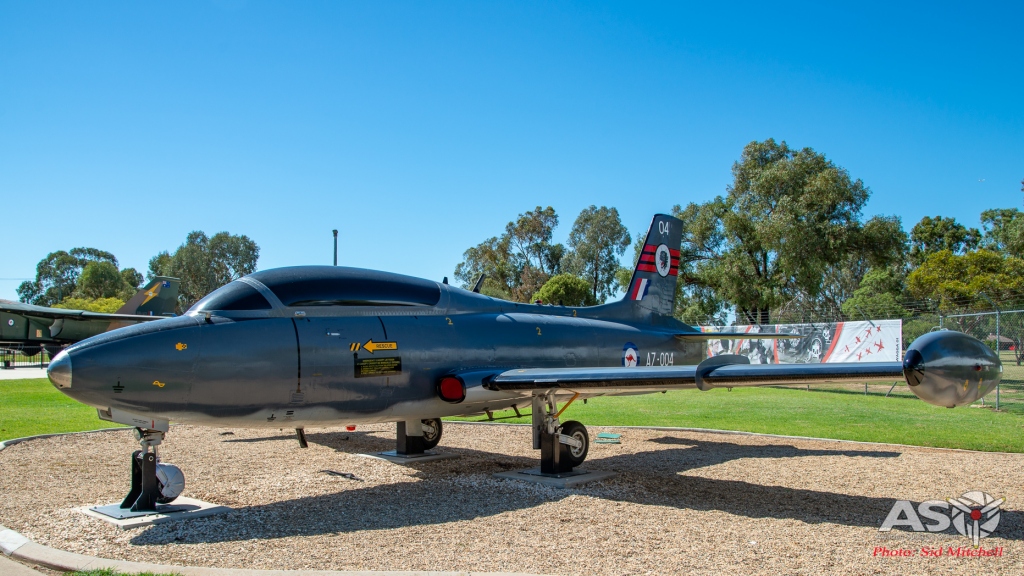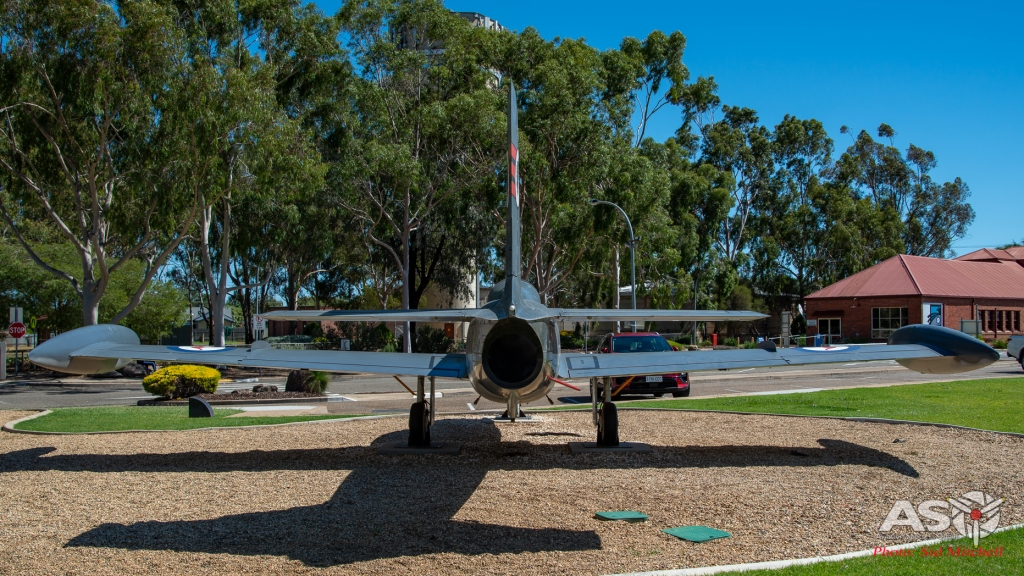 Looking a little worse for wear Dassault Mirage IIIO(F), A3-41, in N0. 77 Squadron colours rounds out the static aircraft at the front of the base. This Mirage is a 'bitza' after being put together as a training aid – again probably the one we had in the Armament Hangar up the top at RSTT before being assigned duties as a gate guard. Used for Gun, Bombing and Ejection Seat phases of training.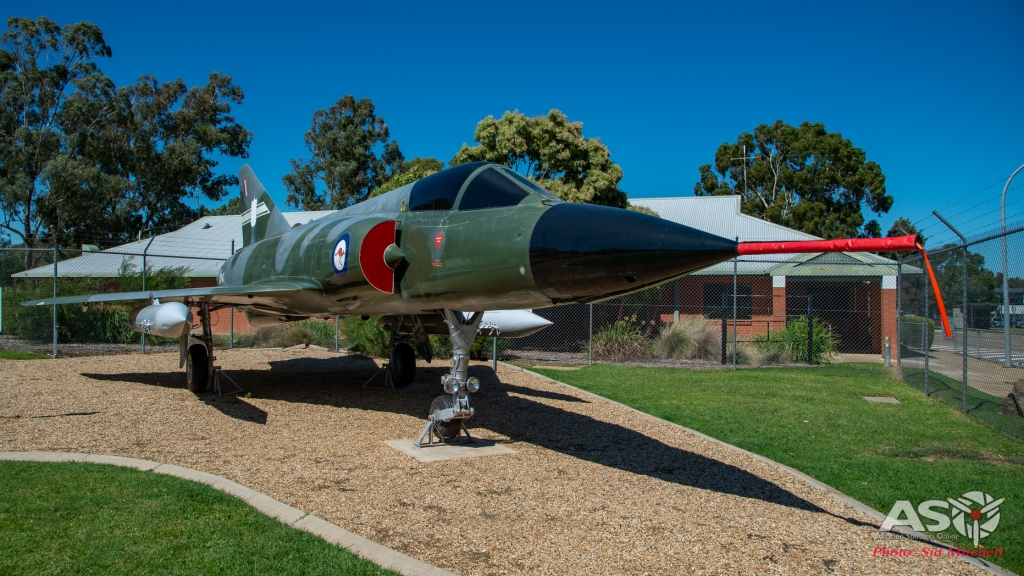 Originally fitted for display, A3-41 has been missing those nose wheel door plates for a while, which I see drives ex-Mirage folks a bit nuts on various forums.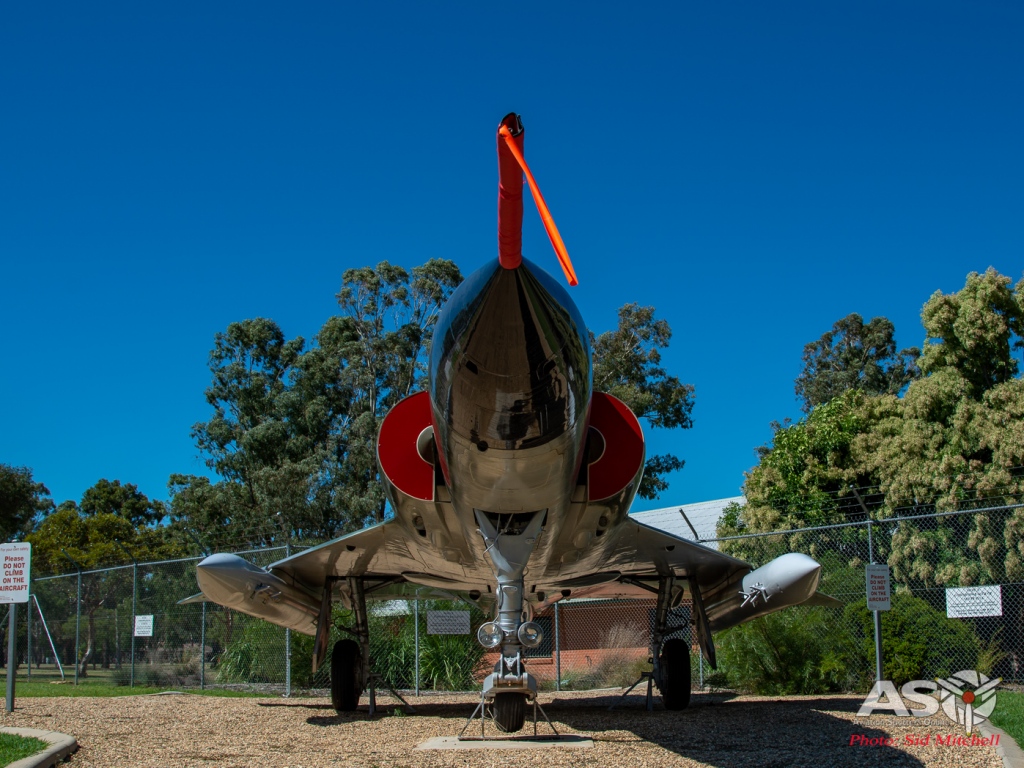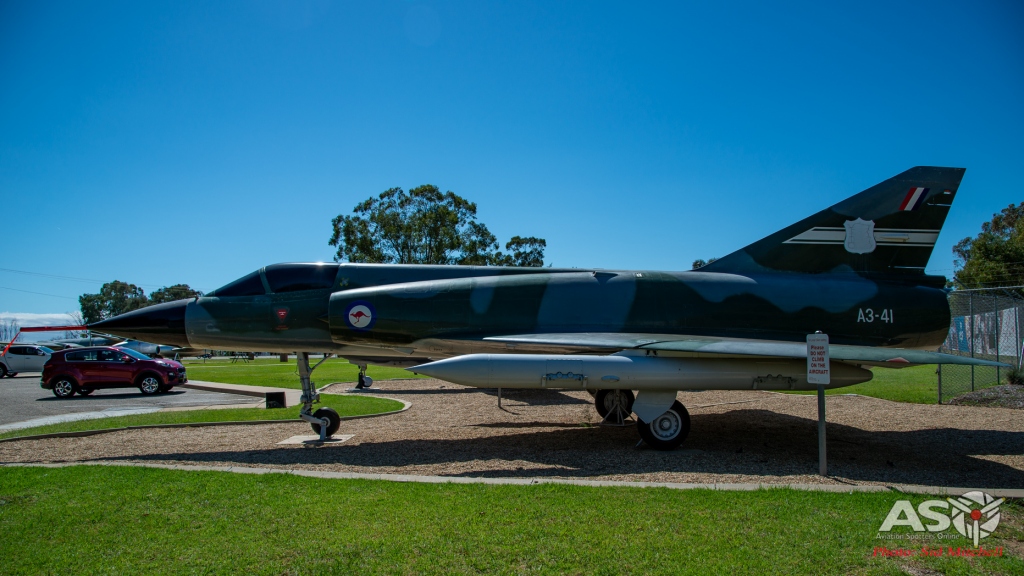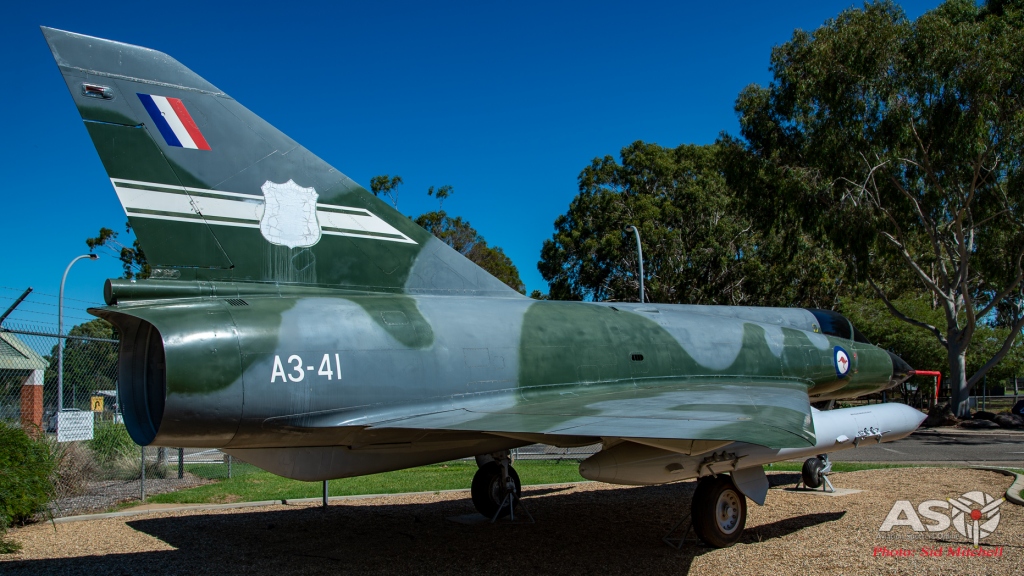 Time to visit the RAAF Wagga Aviation Heritage Centre within the old Guard House. Many will remember this historic building, from doing guard duty checking ID's and leave passes, to escorting those under confinement in cells – those naughty chaps reflecting on the error in their ways while a guest at the guardroom, or even just the long jog up the main drag to report to the Guard Commander, and back, as punishment for some misdemeanour. All good fun in reflection I guess.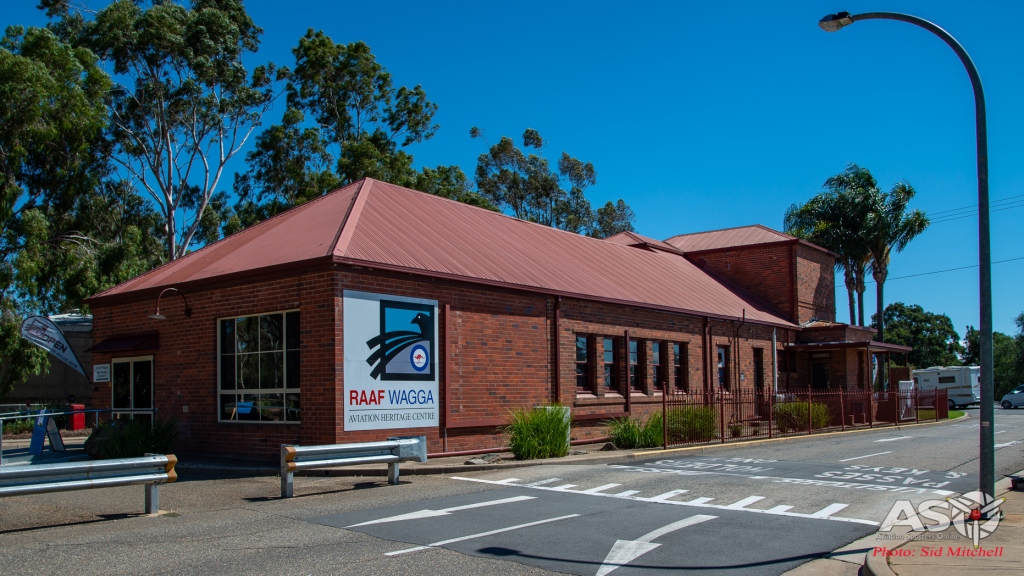 Signing in was easy and free but a donation is most welcomed as the museum is manned by volunteers, many of them ex-service. In the foyer a nice scale cut-away model of a RAAF B707, A20-624 'Richmond Town' operated by No. 33 squadron, dominates the room.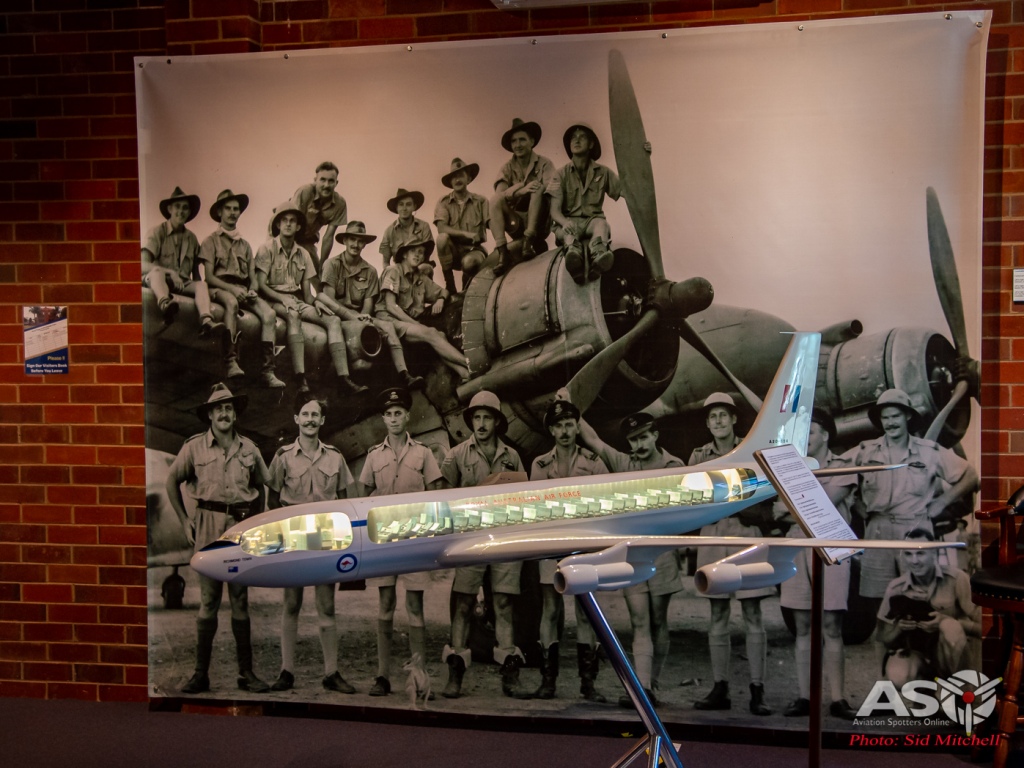 Behind the model hangs an image of No. 31 Sqn crews on a Bristol Beaufighter at Coomalie Creek Airstrip, N.T. in January 1943. No. 31 Sqn was formed at Wagga in 1942 so holds a long tradition with the base.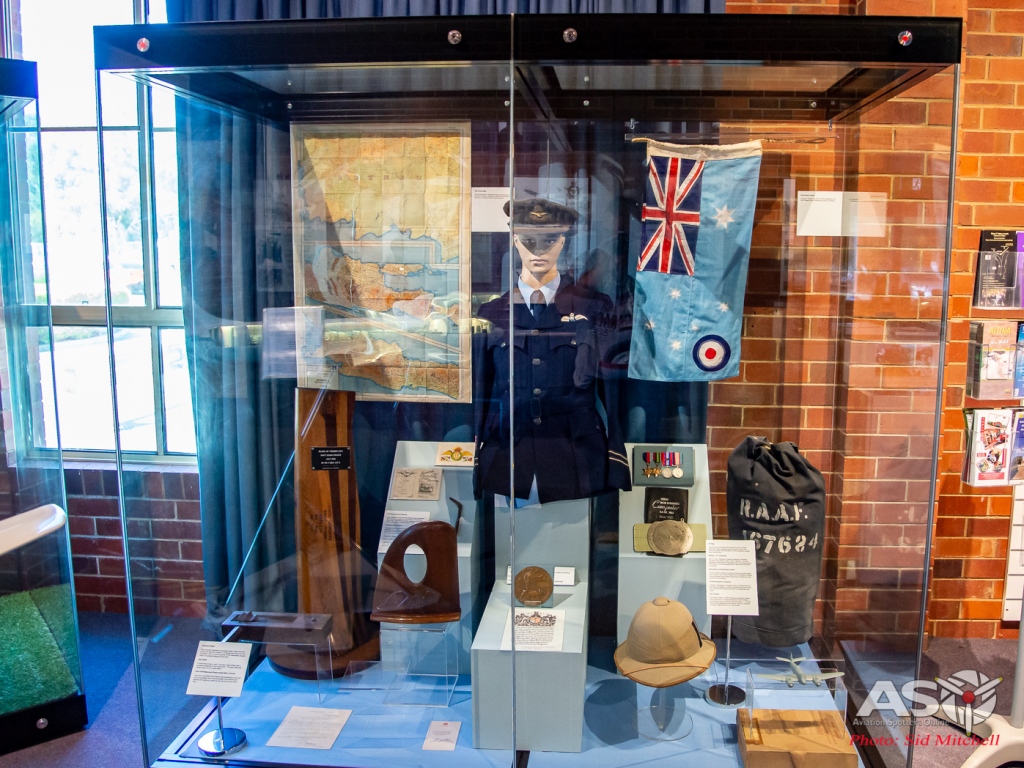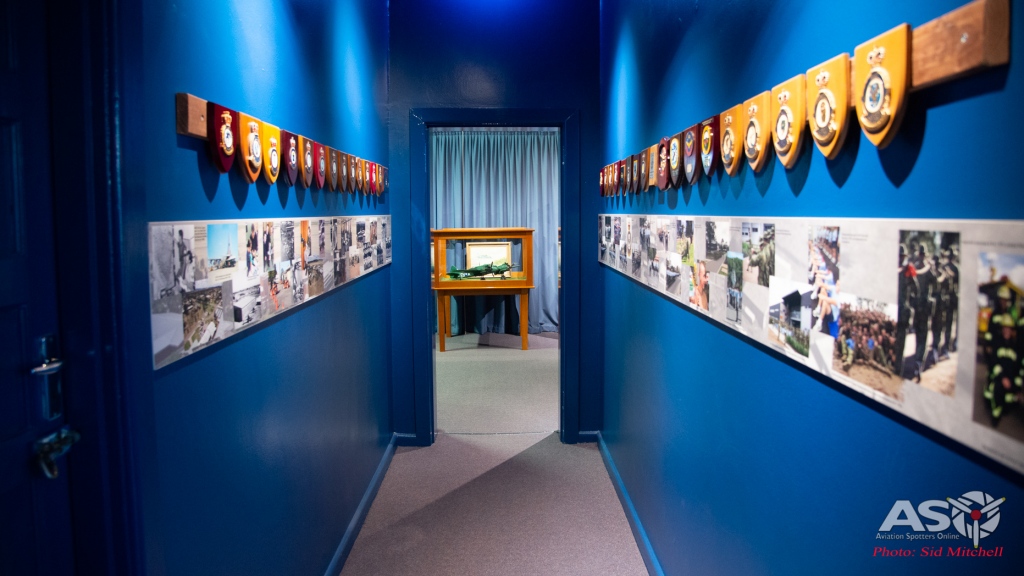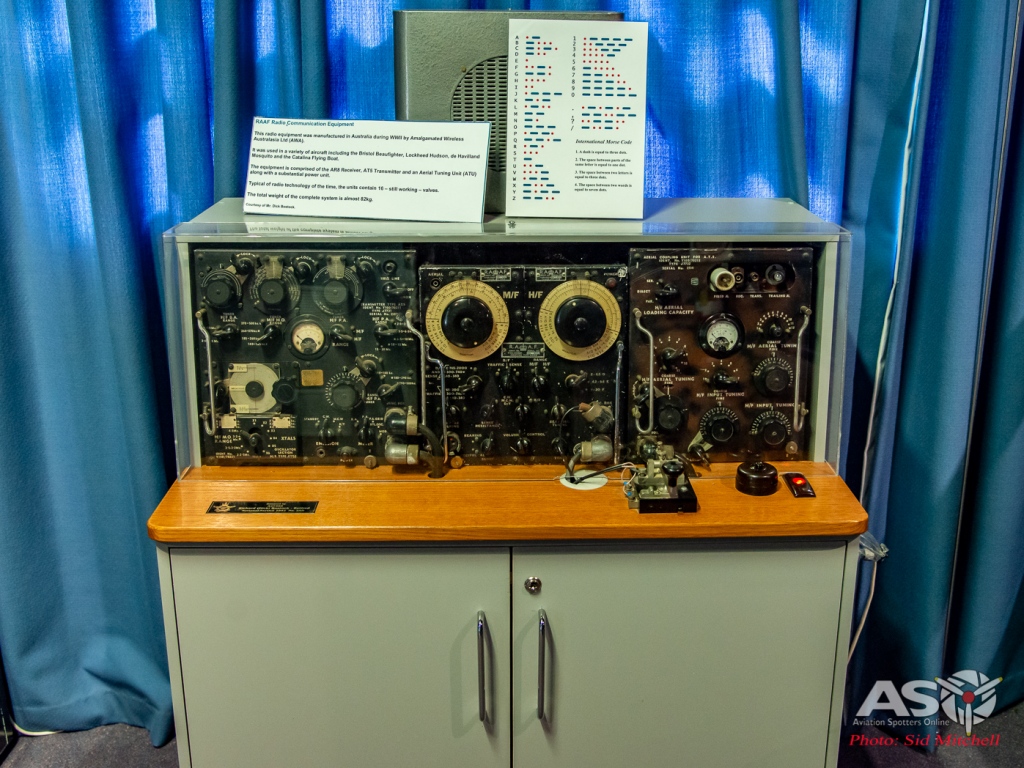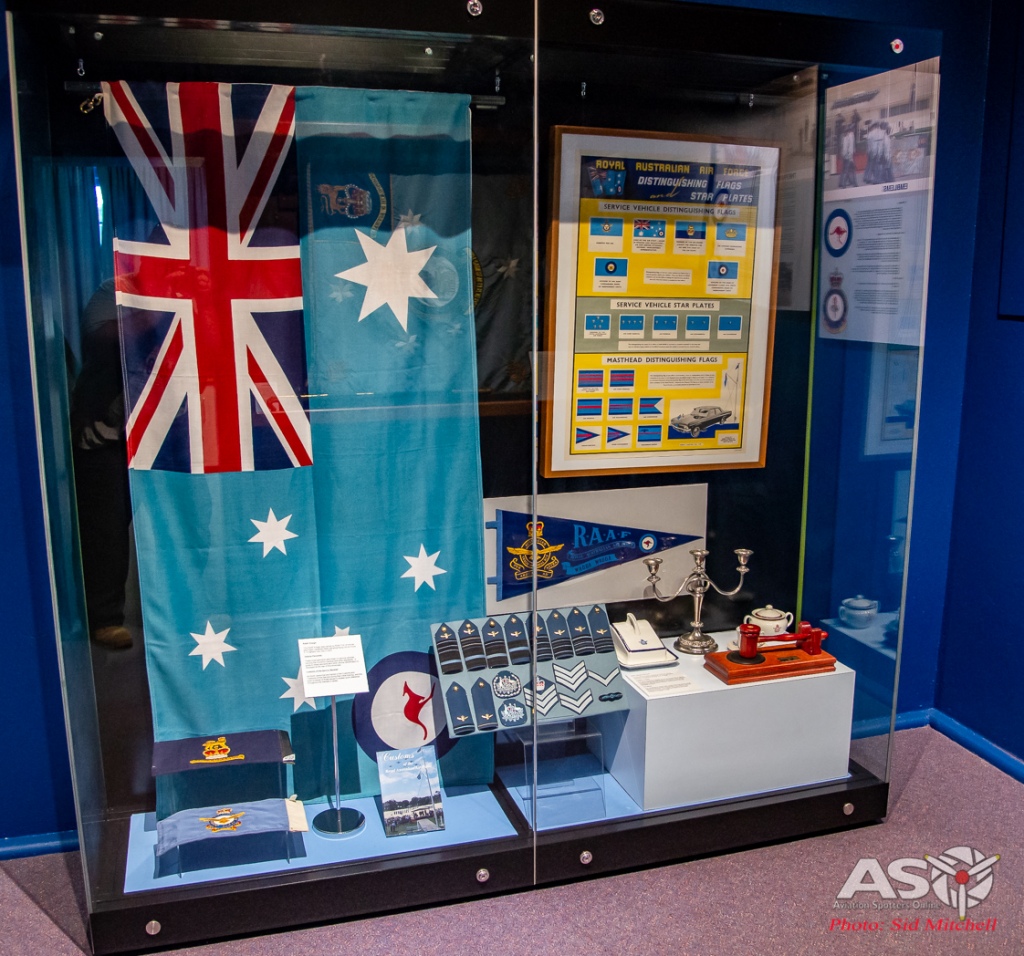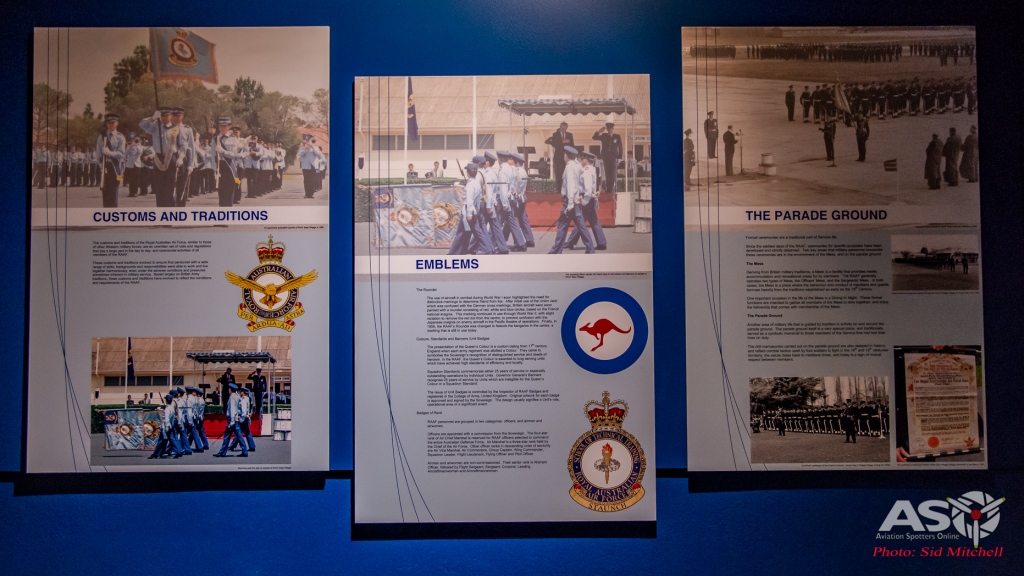 As I move from room to room various displays depict the history and life as trainees at RAAF Base Wagga – from apprentices and adult trainees to the various trades taught over the years. I even spot a pic of WOFF Ted Hesket, the base WOD to whom I was assigned to as a lacky while doing 'Pool Flight' (Poolies) – a sort of limbo period between courses where we were farmed out to keep us busy. I recall him one day ripping a flight of apprentices a 'third one' as the were marching up over the railway line from lunch (rather sloppily hence attracting the attention of the WOD) After they departed, smartly bringing their arms up to shoulder height while marching on, he turned to me and winked…"I bet you're glad to be going through Wagga as a 'Thick", hey Mitchell?" .. Yes Sir! I replied. A Thick was a term referring to adult trainees (17 yrs or older) who spent much less time at Wagga than apprentices did.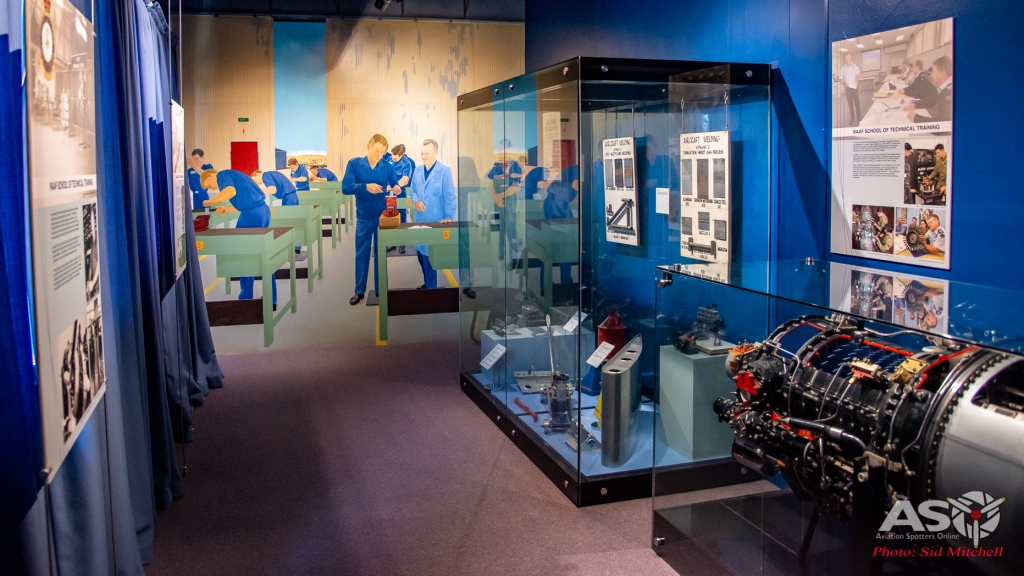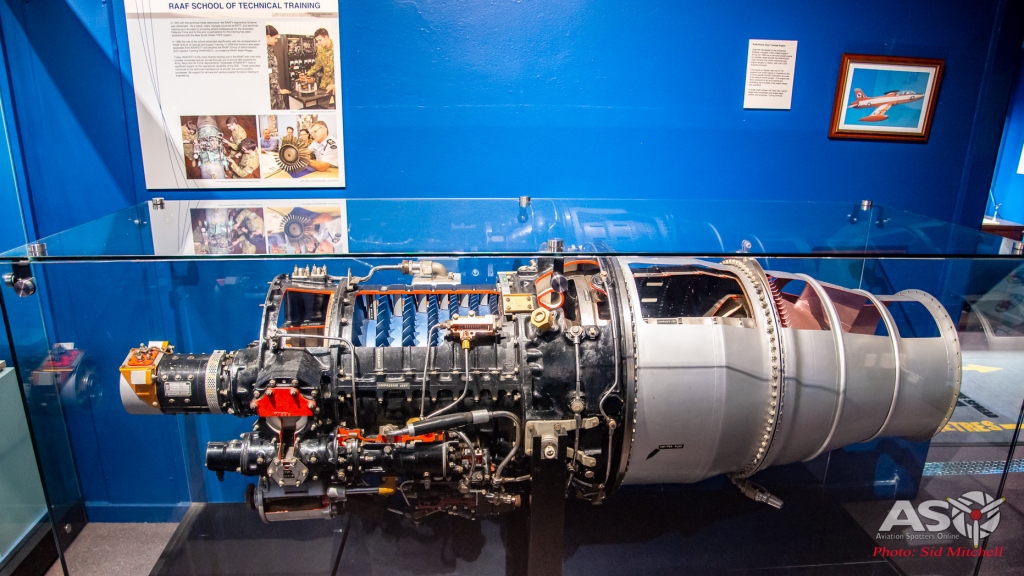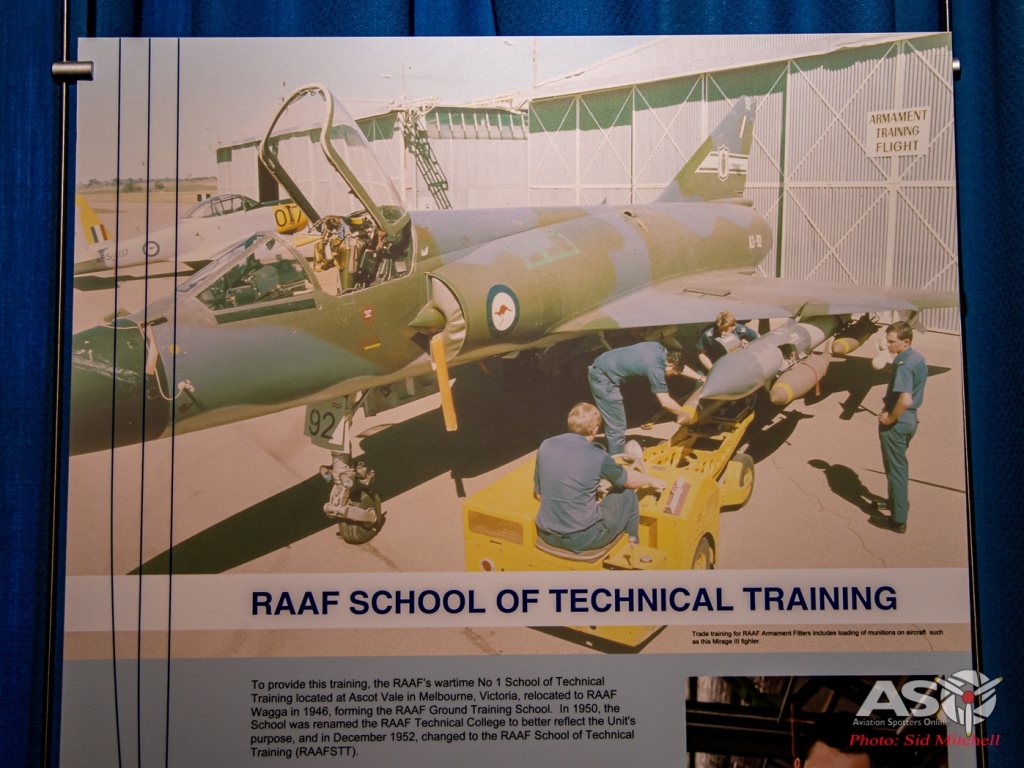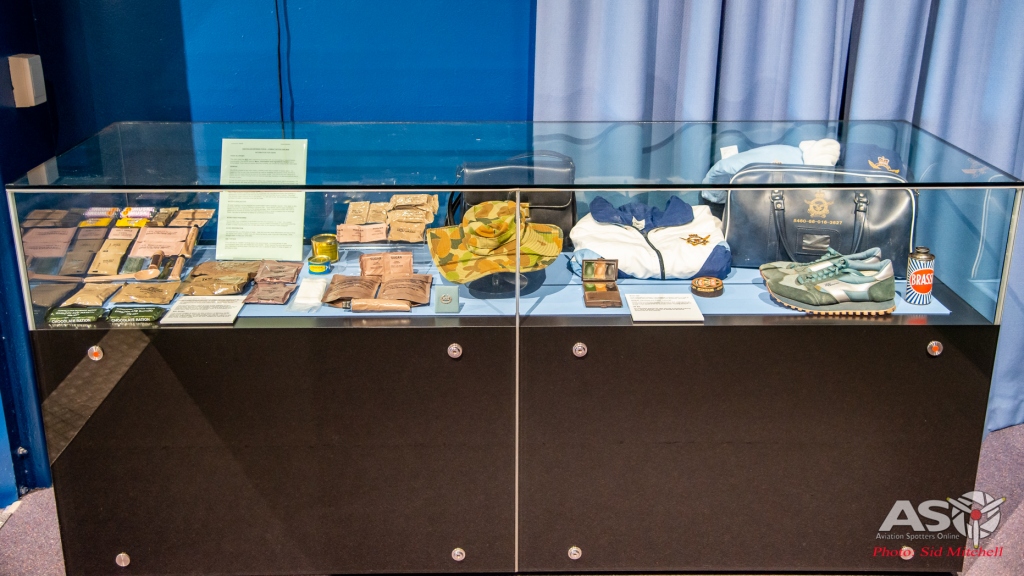 It is great to see individual course memorabilia being preserved – projects as part of trade training, banners and patches which were worn on overalls during training. I still have my miniature vice that was hand filed as part of our 'Filies' course… and my cold chisel made in that scorchingly hot blacksmith shop…still going strong after 39 years. I also recognise a few names of fellow Gunnies I had worked with and met over the years. A display cabinet shows off many items issued to 'Rookies' as they have passed through No. 1 Recruit Training Unit, now one of the training units incorporated at Wagga.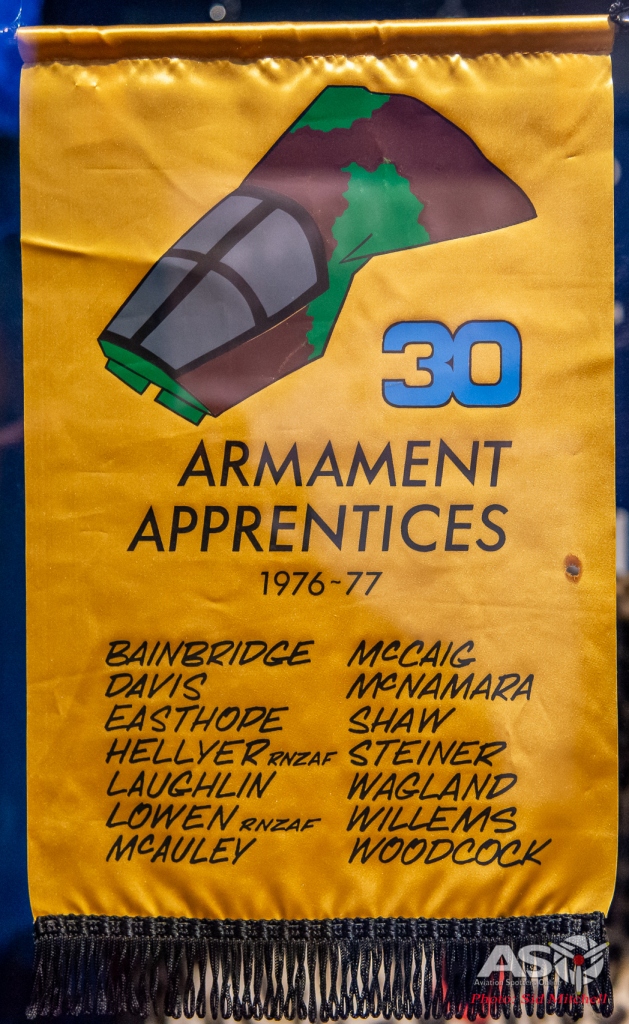 Coomalie Creek airstrip still exists, although in private hands, just north of Adelaide River township about an hours drive south of Darwin. If you look on google earth on the northern end of the strip, you can see painted silhouettes of the wartime aircraft that operated out of there. Private aircraft still fly in and out of Coomalie Farm's strip and the occasional fly-in does occur – the airstrip can still accommodate aircraft up to C-130 Hercules size.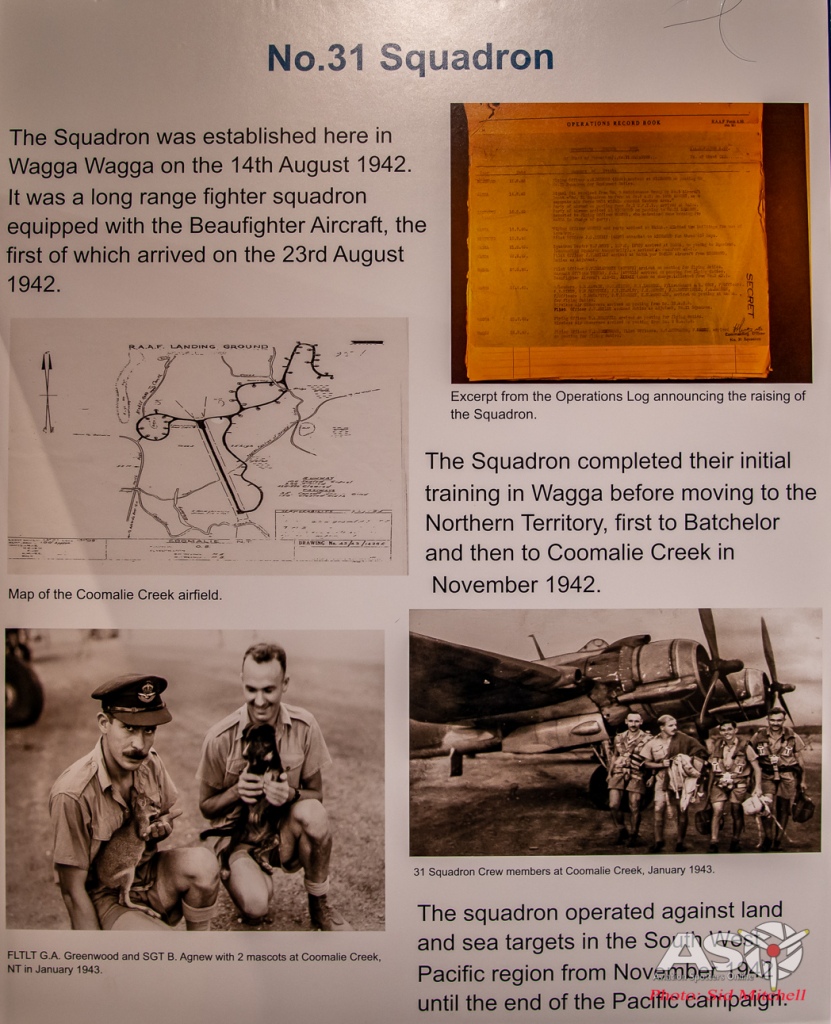 It holds significance as it was from here that the RAAF flew its last sortie of the war – a solo Mosquito recon mission to Timor, but the pilot was radioed to return home (Japan's surrender had been announced) and performed an impressive low pass over the airstrip above the celebrating troops below. Although disbanded in 1946, No. 31 Squadron was re-raised on 1 July 2010 as the unit responsible for providing airbase support services to RAAF Base Wagga.
After a 'back in the day' chat with the guys at the entrance I take a moment to look down the main drag and smile…..one of the periods in life that have fired my passion for aviation. And so onwards to Victoria, and eventually Darwin.

I had seen the sign pointing to RAAF Base Nhill when I had passed through a few years before, but never actually visited the Aviation Heritage Centre. The Centre was conceived by the community back in 2008, and is only open on weekends. Today, Thursday the 18th of March 2021, I thought I might as well ride out and have a look around as I needed to stretch my legs after a 300km ride.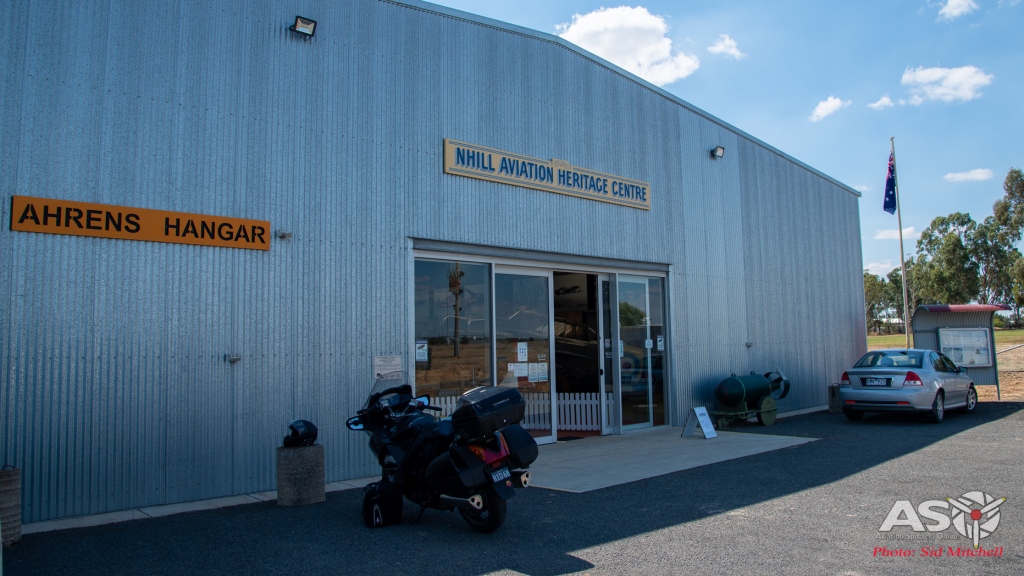 Operating as a training base from 1941-1946, Nhill RAAF Base was originally the home of No 1 Operational Training Unit (1OTU), which provided advanced operational flying and instruction until the relocation of 1OTU in 1942. The Nhill RAAF No. 2 Astro (Air) Navigation School was built in 1941, training more than 10,000 people over the coming five years. In December 1943 the Armament School relocated from Hamilton to Nhill airfield. It was renamed the Air Armament School in January 1944, and later renamed again to the Air Armament and Gas School (AA&GS).
To my surprise the centre was open but with no tourists to be seen, and as I popped my head through the door I was greeted by Wendy. She explained that, yes the museum is normally closed, but today they have opened up to allow a booked private group viewing in about half an hour. 'Would you like to sit in'? How could I say no.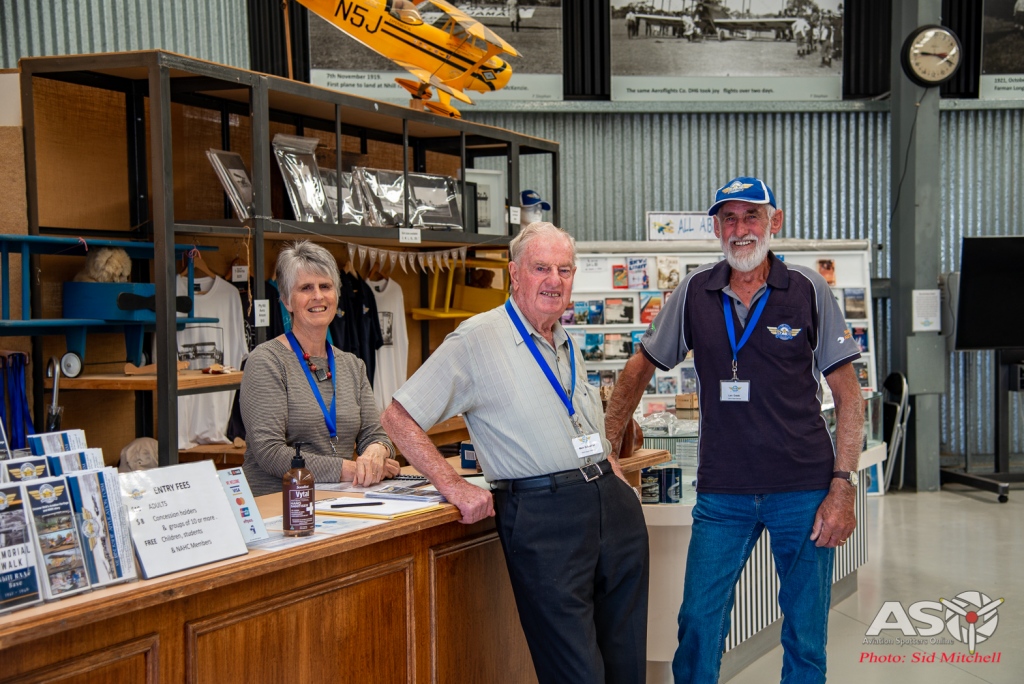 Wendy introduces me to her partner Len Creek, an engineer, and another gentleman called Merv Schneider who turns out to be an ex-RAAF Navigator stationed here during WWII. All three are a bit surprised to hear I was just passing through on my way to Darwin. We have a chat about the history of the museum which is housed within a huge shed and I happily hand over the $10 visitor fee.
Wendy and Len move off to prepare for the bus arrival and Merv guides me around the exhibits. What an amazing gem this place is. He explains how they have managed to cobble so much together with minimal funding but some generous locals, Ahrens, Victoria Government, Hindmarsh Shire and others have helped greatly along the way.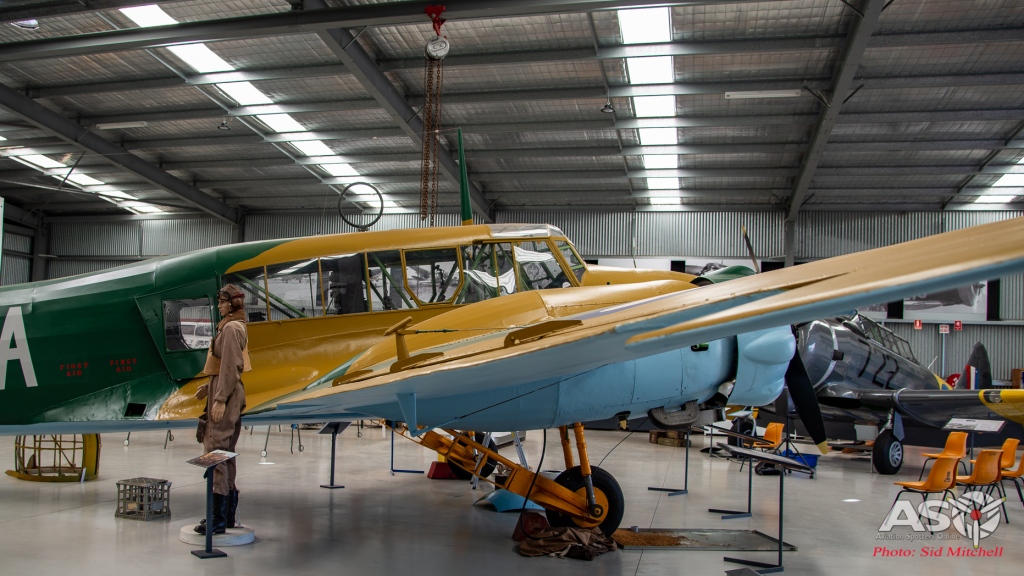 The main area is dominated by an Avro Anson MK-A, W2364, which was originally constructed in 1941 and is now in the livery representing its time at a WWII Maritime Patrol unit, No. 67 Squadron, Laverton. Merv recalls of his time here training as a young Observer/Navigator as he shows me the interior of the Anson. The detail in the restoration is amazing considering the condition after decades of deterioration. A true credit to the skills of the Heritage team, the attention to detail is incredible.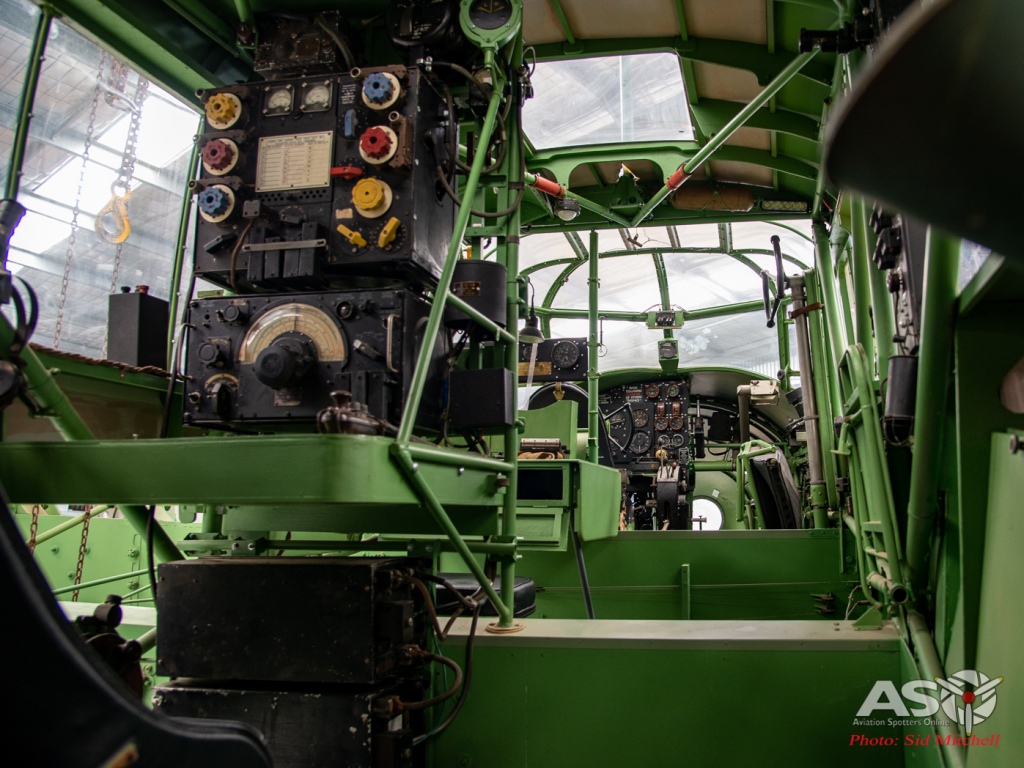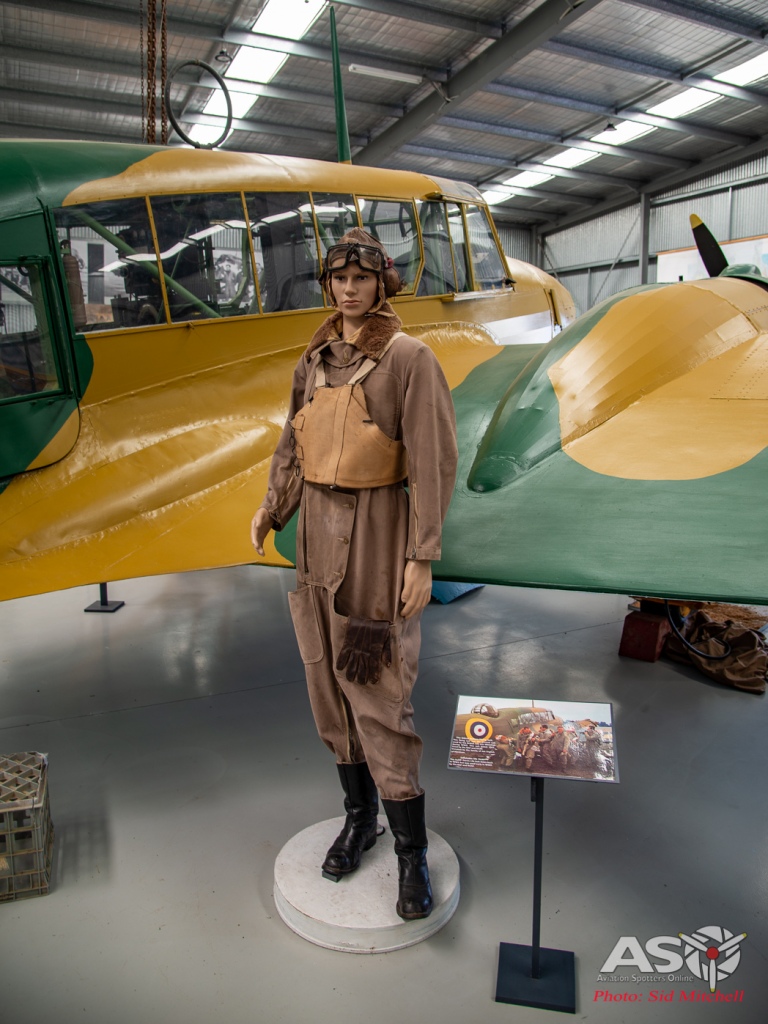 A nearby picture board shows the recovery and rebuild of the main display aircraft back in early 2009 – Mike, Whimpey, Len and others have, using original plans, refurbished original parts, combined various assemblies and spent many many hours fabricating both steel and timber aircraft parts from scratch at the Kingwell Engineering shed.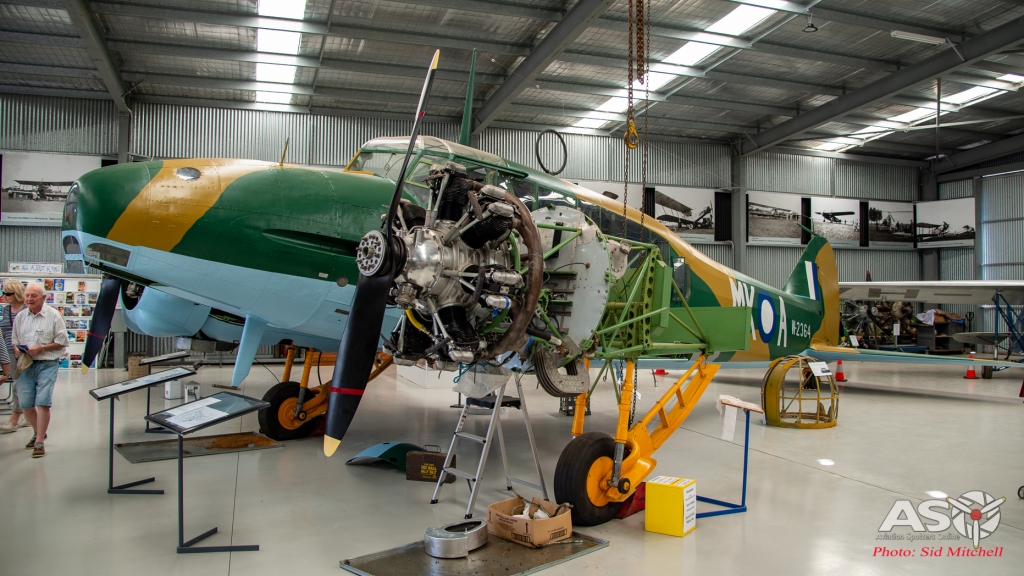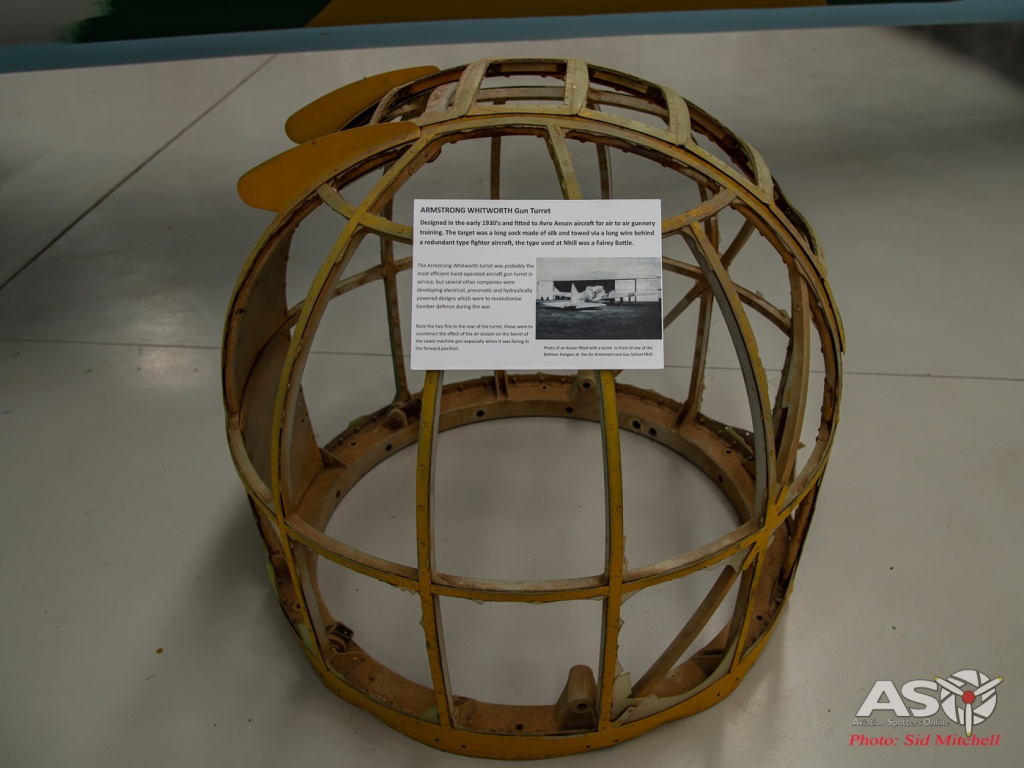 The "Faithful Annie" airframe is now fitted with two running 355 hp Armstrong Siddeley Cheetah IX Radial engines and will feature in the Nhill Engine Start Up Day on April 10. Work continues on the remainder of the port wing.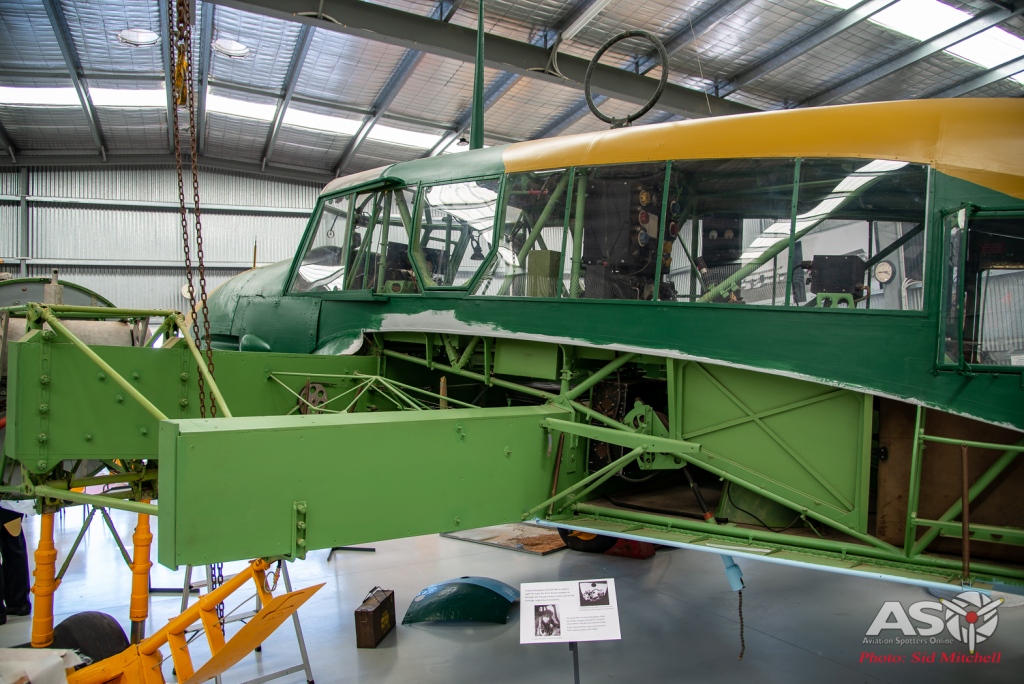 Merv shows me the Link Trainer, A13-54, that has been restored to working condition, I suspect probably the only one in Australia in this pristine condition. Len arrives explains that Neil and Bill and himself had to repair many small parts, replace canvas and wooden parts and actually make some of the bellows components that tilt the 'cockpit'. The second trainer A13-60 they also obtained from a shed in Murray Bridge, S.A. was in the restoration process as well. The plotting table for A13-54 uses a map of the northern Wimmera district where Nhill is actually located.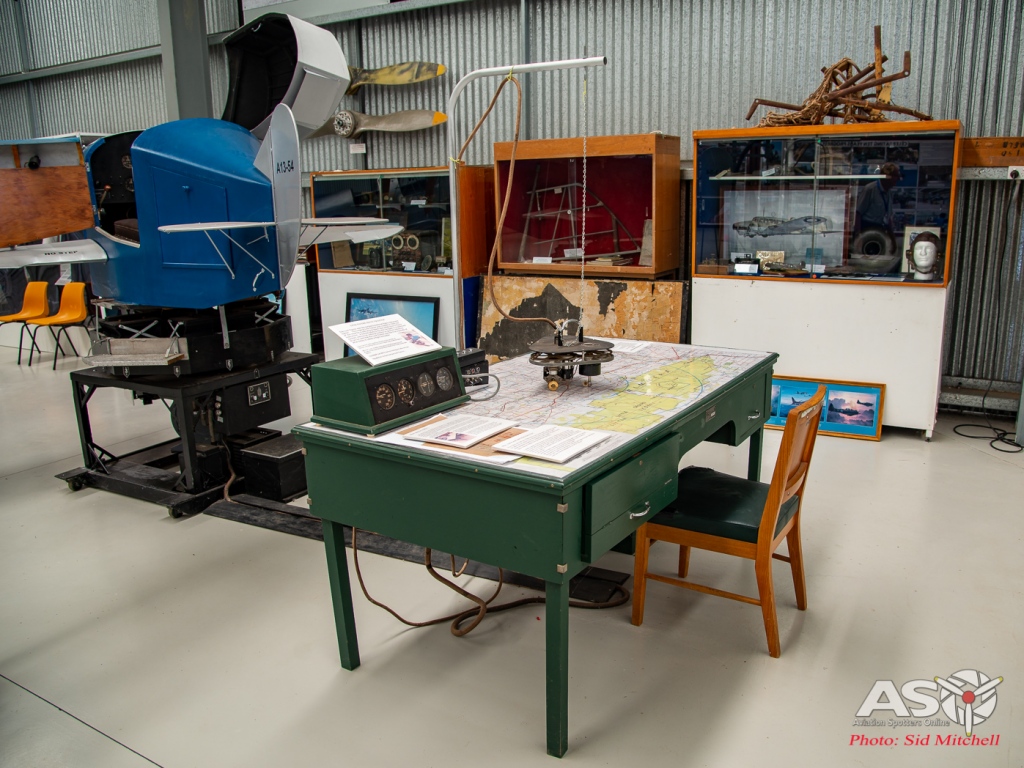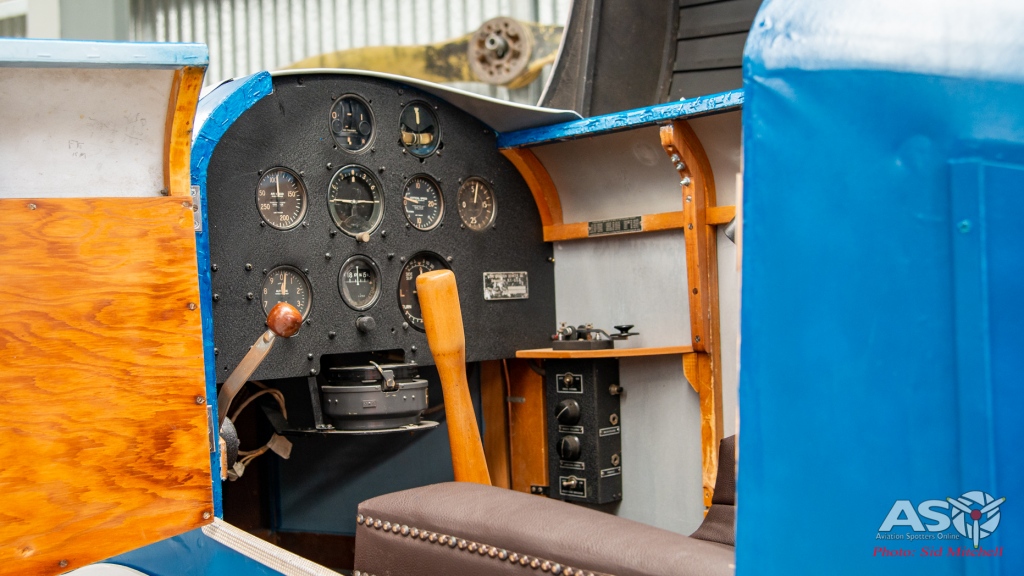 Along the walls are numerous paintings, photos and posters of the various aircraft that operated from Nhill, from the first aircraft to land in 1919, a De Haviland DH-6 to the WWII era warbirds like the Ansons, Wirraways, Tiger Moths, Fairey Battles, Beauforts and more. A print of what looks like RAAF Lancaster 'G for George' on its 1945 War Loans promotional tour leans against the wall, another 'Lancaster Q for Queenie' had also dropped in during during 1943 on its Liberty Loan tour. Of course I get drawn to the weapons and munitions displays, very interesting.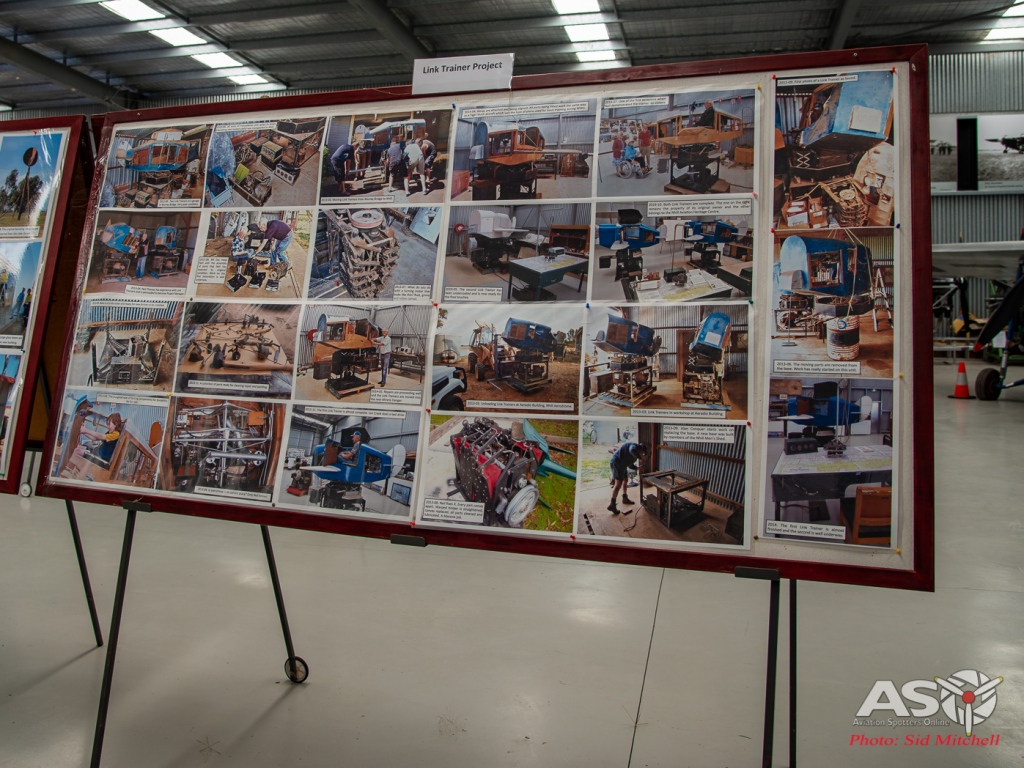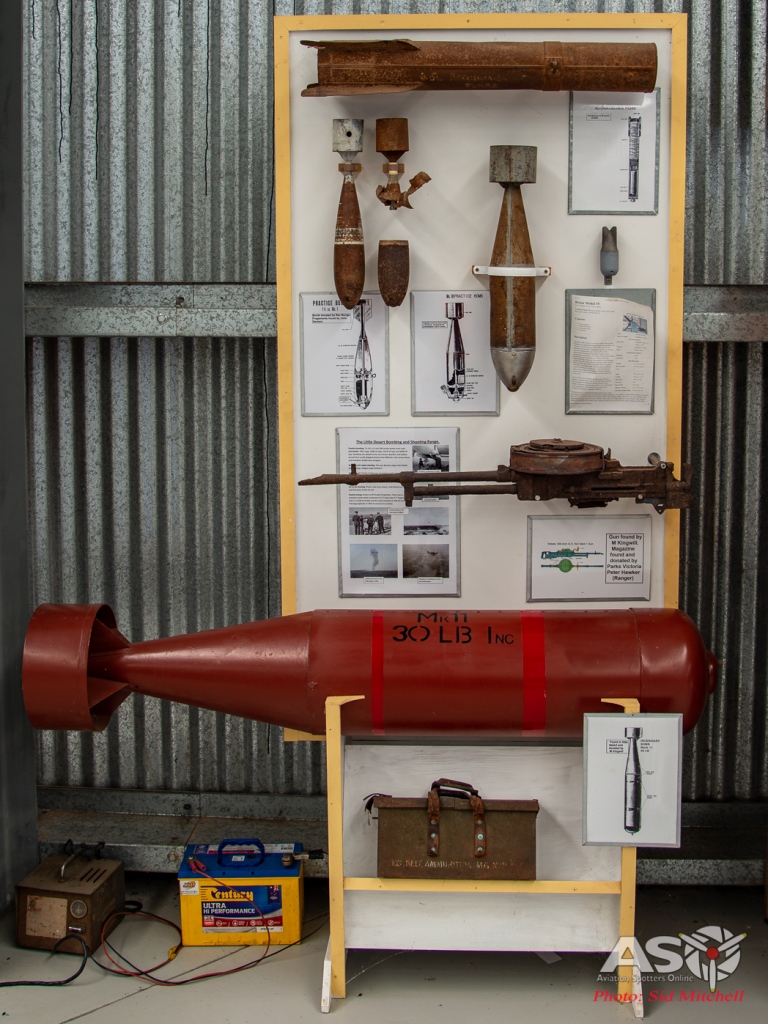 Nhil has played a crucial role in early between-war Australian aviation as a stop over point for those early aviators and crews, Amy Johnson, Bert Hinkler, Ross and Keith Smith in their Vickers Vimy, Sir Charles Kingsford-Smithand, Australia's early prime Minister Stanley Bruce and of course the Royal Australian Air Force in their Bristol Bulldogs and Hawker Demons.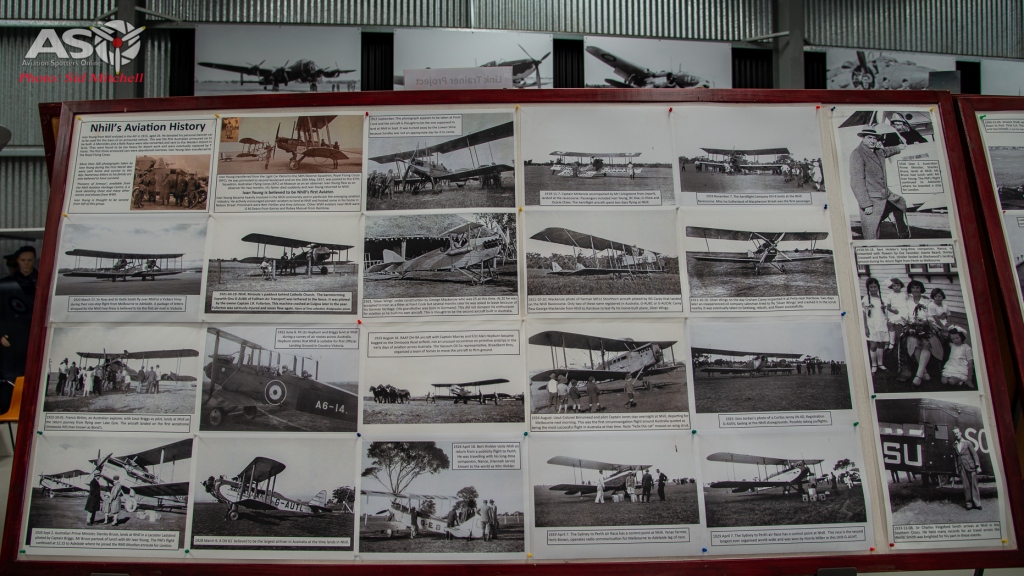 The second impressive display aircraft taking up the front is an immaculate CA-16 Wirraway Mk. III, A20-722 (formerly registered as VH-CAC). I understand that this was a 18 year restoration carried out by Borg Sorenson at Tyabb, in southern Victoria and had been flying the warbird circuit since 2002. In a very generous gesture Mr Sorenson sold the aircraft, after the Nhill community fundraised enough money, for way less than its real value, and flew it home to Nhill himself in 2018.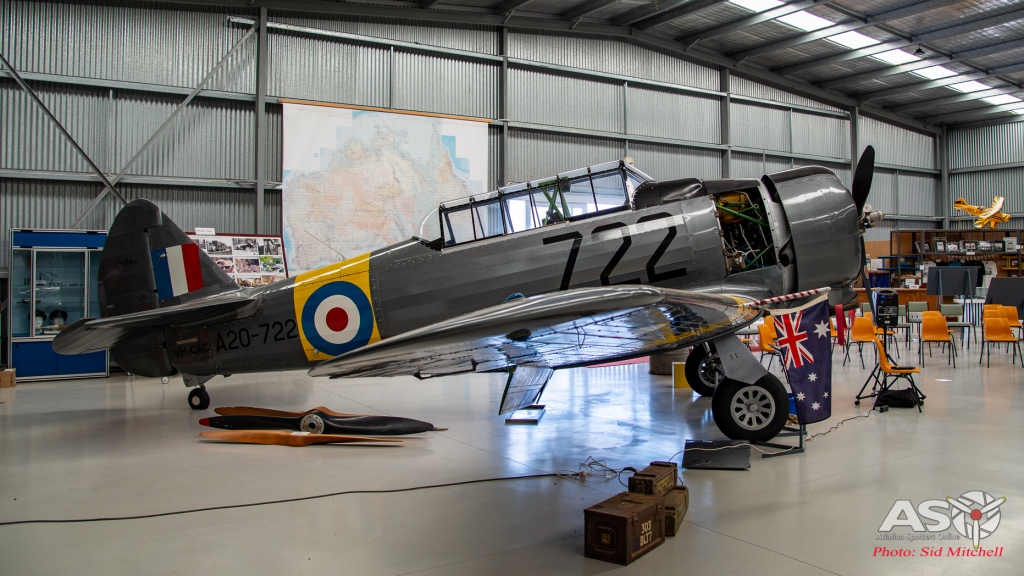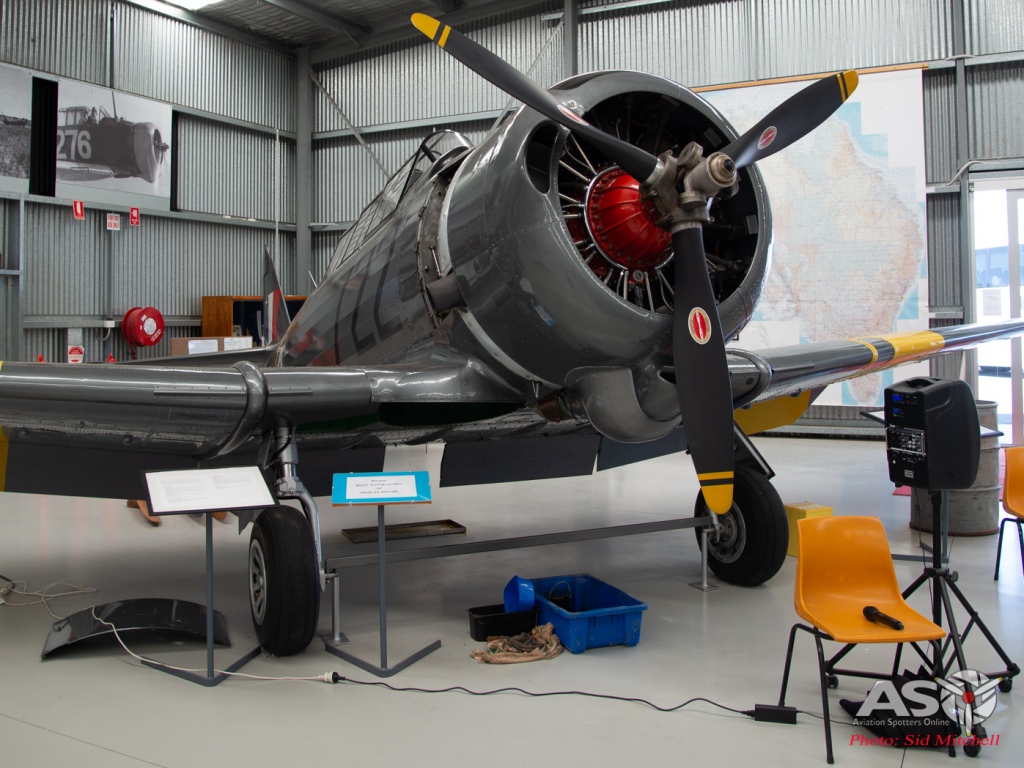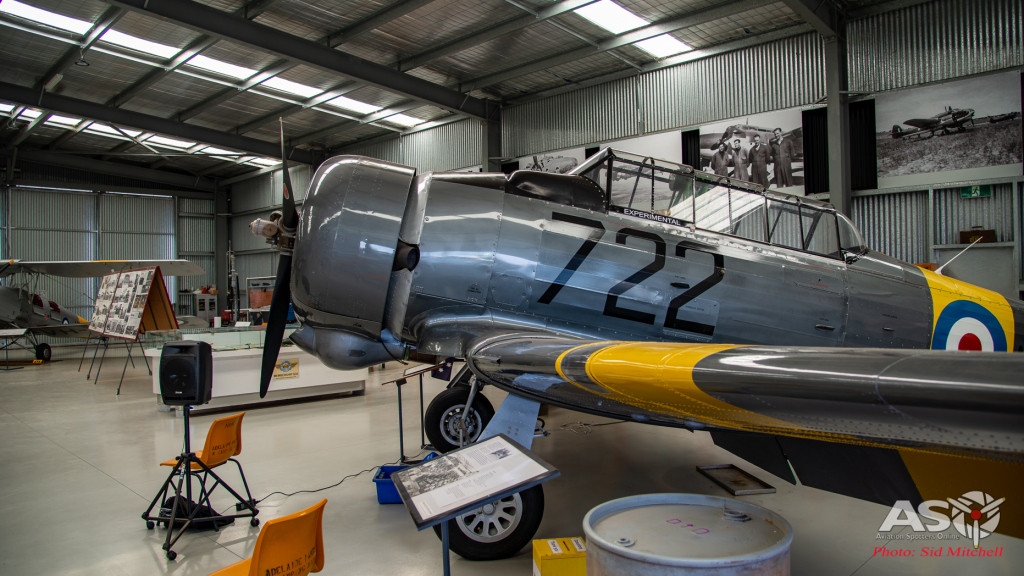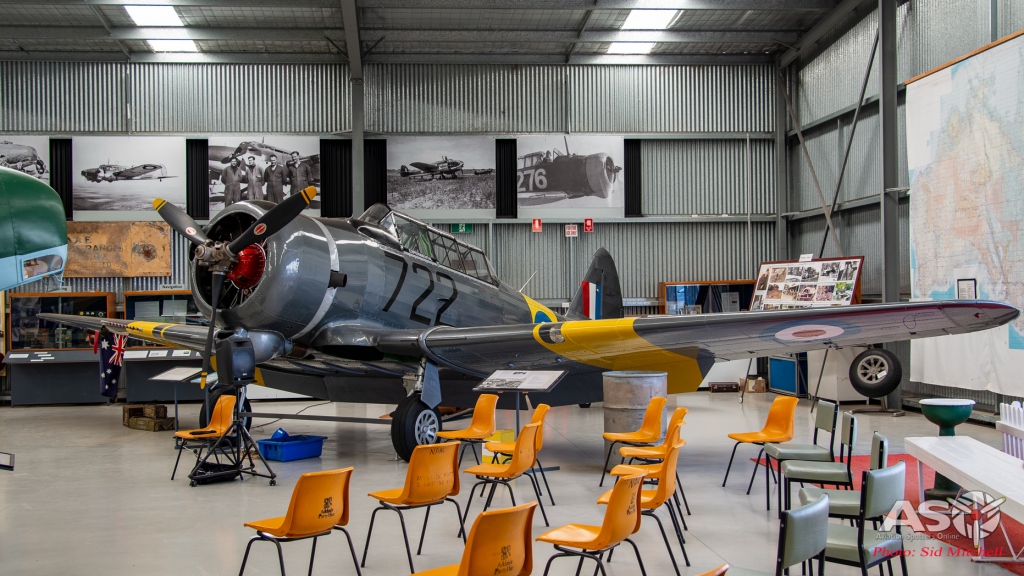 The immaculate A20-722 will also be towed out of the hangar for the April 10th Engine Start Up Day at Nhill.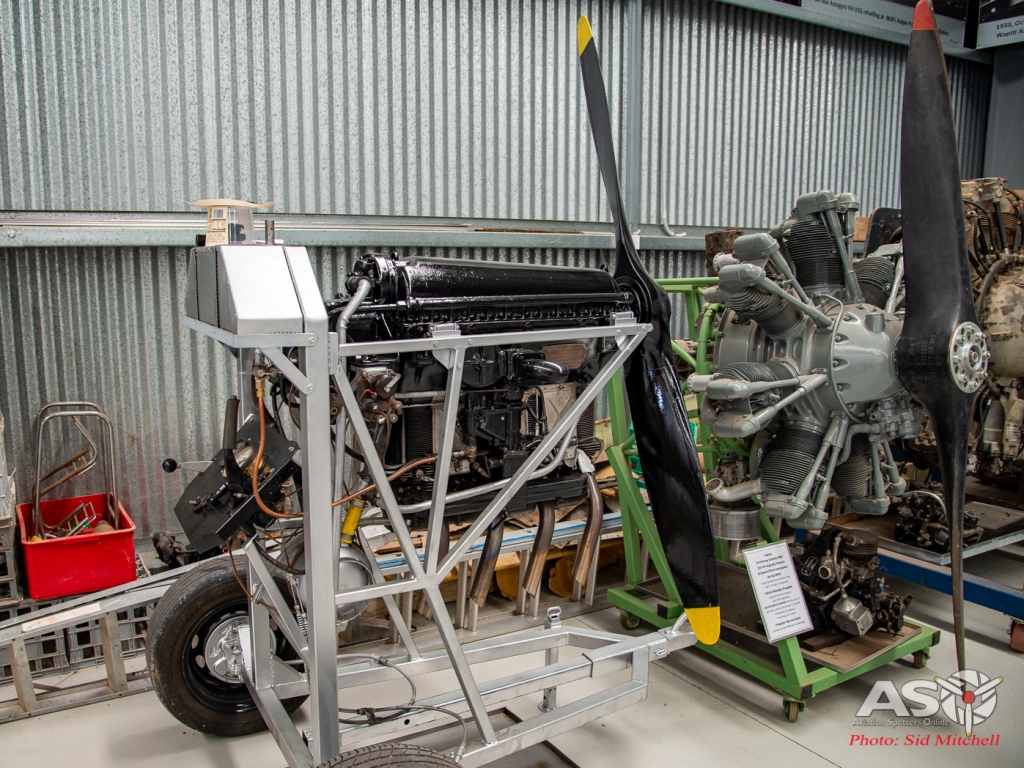 To the back of the building behind engines on stands and various project and historical information boards sit another couple of aircraft – Len's own 1942 de Havilland DH.82 Tiger Moth, VH-RIN A17-588.The Tiger Moth has to be one of the most well known training aircraft ever built. Countless military and civilian pilots have learnt basic airmanship skills on this type before progressing to the next level, a true classic which almost all I have seen have been restored to their former glory.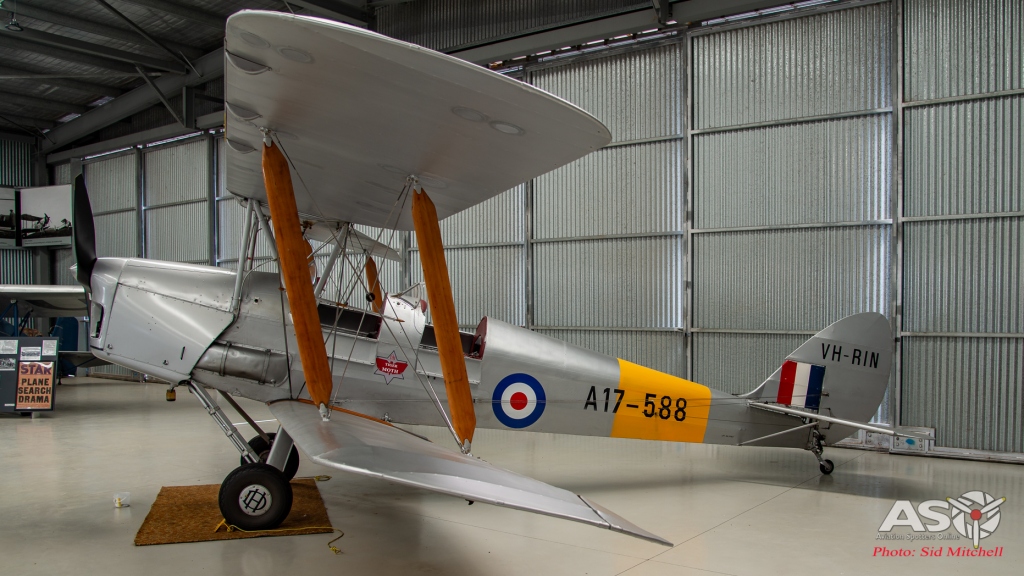 Tucked away in the rear is an example of early Australian aviation history, the first Desoutter II, VH-UPR, one of three to be imported into Australia, arriving in 1930. VH-UPR was imported by local Desoutter agent Hart Aircraft Services and operated out of Essendon Airport until 1937, and is now one of three examples surviving world wide, and the only one that had been flying in the southern hemisphere.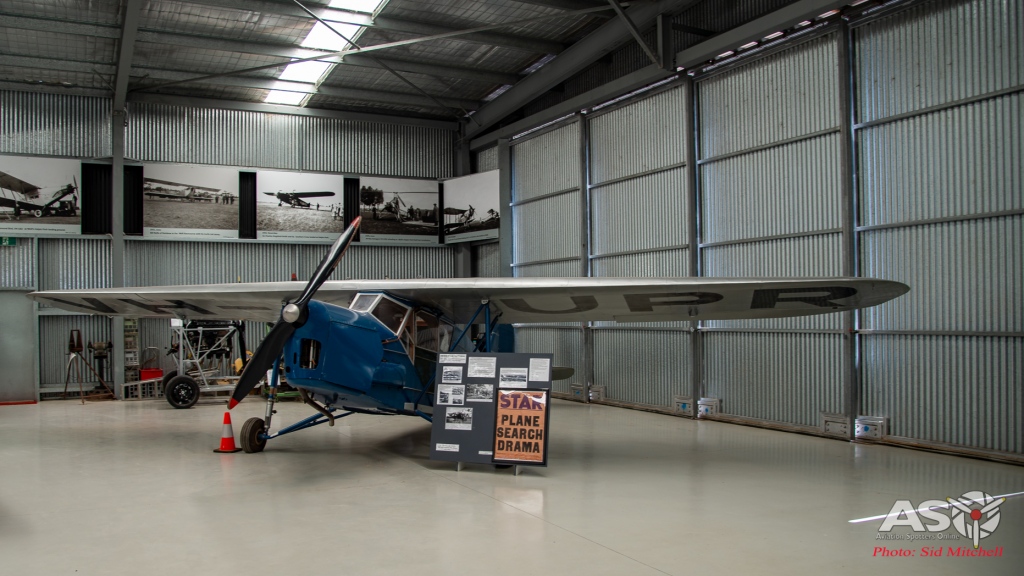 By now the crowd had arrived and we sat to hear Len and Merv describe the long and interesting history of Nhill aerodrome in the early days, through the war years and up until today, about the restoration techniques, sourcing parts, construction of the Heritage Centre and maintaining adjacent building restorations – the Bellman Hangar and next door, the 'Flight Office'.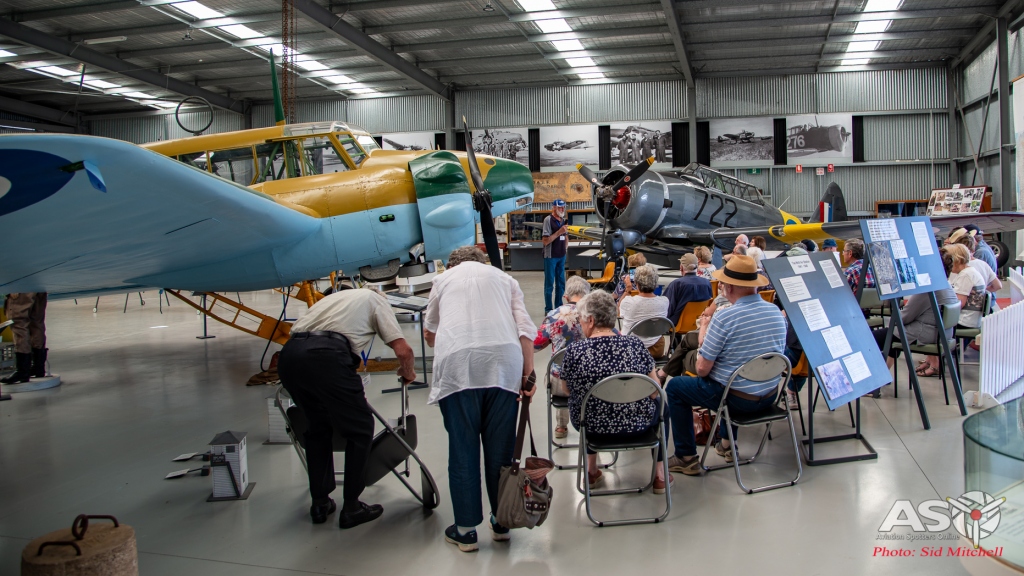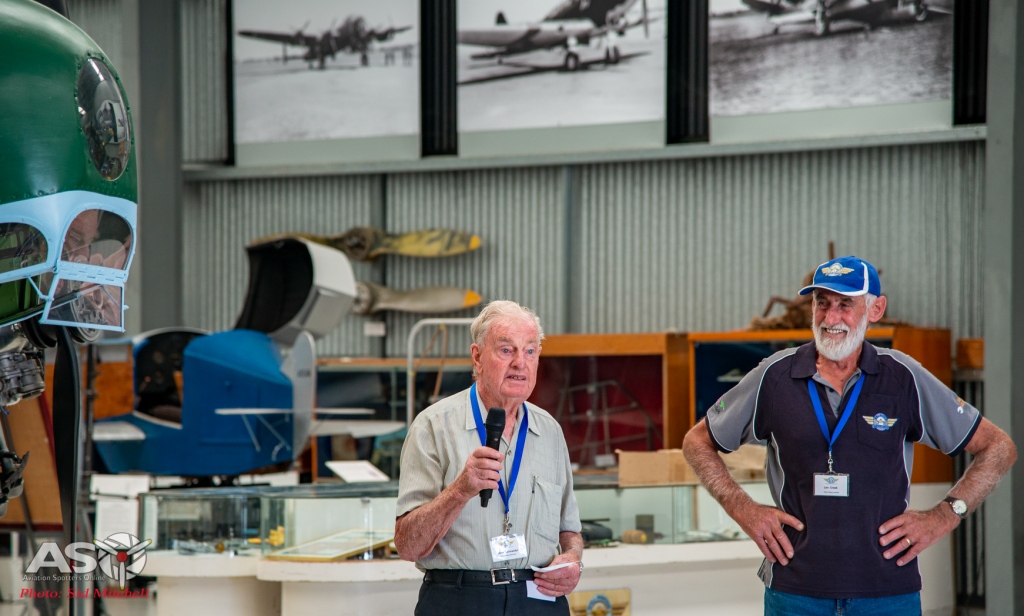 Merv has a few yarns about his time here at the RAAF Navigation School including when he was on guard duty and the CO with WRAAF 'friend' popped out of the ti tree scrub one night. His 96 year old wit is a sharp as ever as the visitors laugh. I bet he has many more stories to tell.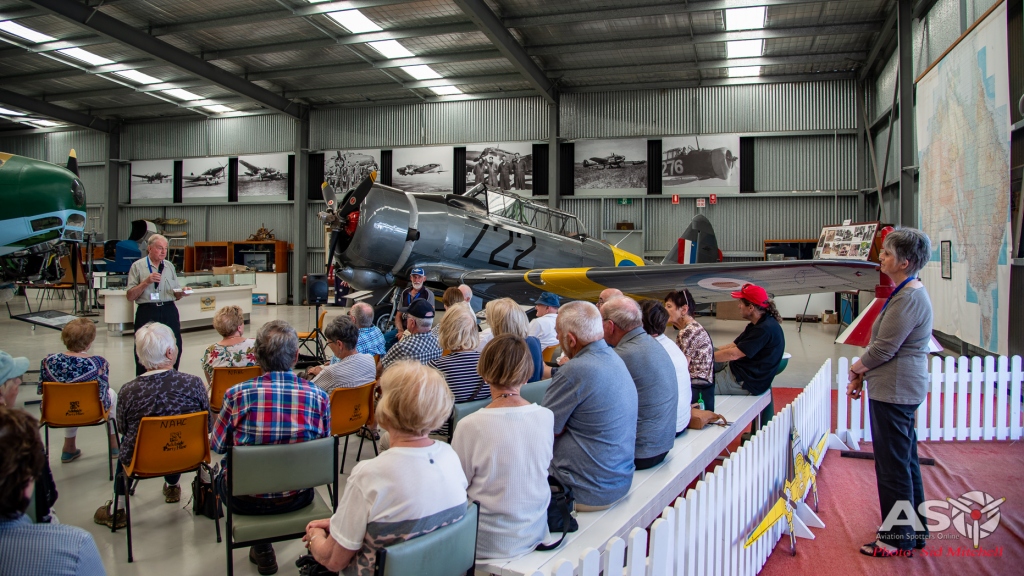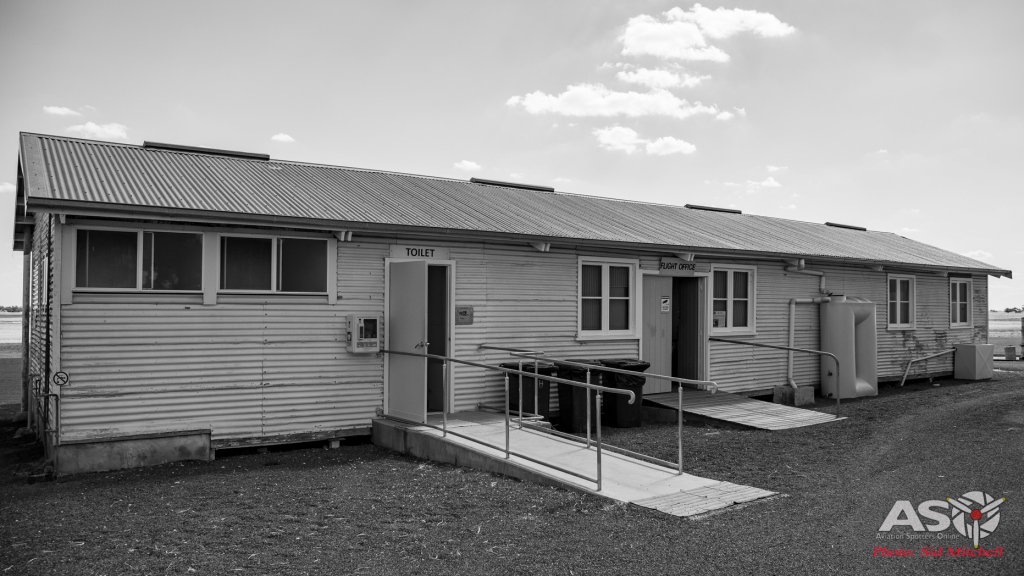 Time is fleeting so I say thanks to Wendy and ask her to pass on my best to Merv as we are so appreciative of those fewer and fewer remaining ex- service folks who can share their stories first hand. And thanks to Len and all the other members for their efforts in restoring the physical artefacts of aviation history in Australia, it has been such an interesting visit and a wonderful glimpse into one of those remote RAAF Bases and Museums that often get passed by. For more information about the Heritage Centre opening times and the up coming engine start up day, please click here – https://www.nhillaviationheritagecentre.com.au
If you are ever in the Wimmera district I urge you to pop into the Heritage Centre and have a look, and have a chat with the dedicated and passionate team that run the centre, it's such an interesting place right in the middle of Victoria's flat wheat growing plains.
Well, back on the road for another 360km to reach Adelaide for the night and to continue with Part IV of my trip… the last 3000+ km.
Cheers…Sid Mitchell